Made In Alabama Quick Facts
See Our "Visiting Montgomery" Travelogue … Scroll Down
This Post is about Made in Alabama Gifts and Specialty Alabama Products
Want To See Your Business / Products On Our Made In Alabama Page?
Visit "Advertise With Us"!
FEATURED MADE IN ALABAMA BUSINESS

ES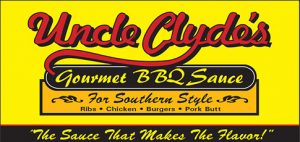 Uncle Clyde's Gourmet BBQ Sauce: The topic of great barbecue tends to bring out a level of passion in conversations. Everyone, it seems, has their regional favorites – whether it's North Carolina, Texas, Memphis, Oklahoma, or in this case, Alabama …
If you're an Alabaman or are fortunate enough to spend time here, you understand folks here are rightly proud of their barbecue. Most every Alabama city or town boasts a terrific barbecue place or two, or local businesses dedicated to the art …
And so it is in Selma, a town of just over 20,000 on the banks of the Alabama River. This history rich south-central Alabama town is home to Uncle Clyde's Gourmet BBQ Sauce, known statewide as "The Sauce That Makes The Flavor" …
Here at State Gifts USA, we're barbecue fanatics and love spotlighting all things bbq. Owner Clyde Thomas creates one of the best BBQ sauces in the Heart of Dixie, along with "Gold Dust" and "Red Dust" seasonings. Best yet, even if you don't live in Alabama, you can buy directly online to get your Alabama barbecue fix!
Perfect to pair with pork, beef, or chicken, Uncle Clyde's Sauce is a labor of love which takes 12 hours to make. A true Southern style sauce, it's made to enhance your bbq creations and bring out their natural flavor. A friend of ours who travels to Birmingham brought us back a bottle … wow! For something a little different, try mixing in a few spoonfuls of Uncle Clyde's with macaroni and cheese … you'll thank us later!
If you live locally, pick up this fantastic sauce at fine retailers around the state – there's a list on the Uncle Clyde's website. Live farther afield? Visit the Uncle Clyde's BBQ online store and you can have BBQ sauce and seasoning delivered right to your doorstep …
Don't forget to order both the Gold Dust and Red Dust … they're excellent when used as rubs for any cut of meat, or sprinkled atop when serving. We particularly like the Red Dust, as it's a nod to Alabama's famous red clay soil. It adds the ultimate finishing touch to that macaroni and cheese we mentioned above!
We're so pleased to spotlight Uncle Clyde's Gourmet BBQ Sauce on our Made In Alabama page … proudly made in Selma and a stellar example of why Alabama is known as one of America's BBQ capitals. Uncle Clyde's … "The Sauce That Makes The Flavor"!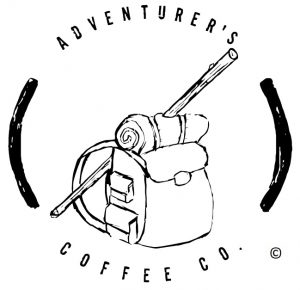 Adventurer's Coffee Co.: Historic Calera, AL is located just south of Birmingham along the I-65 corridor. This town of 12,000 is one of the fastest growing areas in the state and offers several popular natural attractions and an historic downtown district that's listed on the National Register of Historic Places …
Calera is also blessed with a great location – it's at the crossroads of Routes 25 and 31 with easy access to I-65. If you're fortunate enough to spend time in Calera, you'll discover a great new coffee centric business just steps from the 25 / 31 intersection … Adventurer's Coffee Co.
Founded on the idea that everyone deserves a better cup of coffee, Adventurer's Coffee serves both the local retail market and businesses wholesale. Their outpost in Calera is a destination for area coffee lovers and adventurers alike, offering coffee ground fresh daily and teas, espresso drinks, and baked goods. A coffee lover's dream, Adventurer's Coffee offers flavored coffees like Chocolate Milano, Caramel, and Hazelnut along with traditional brewed coffees and seasonal specialties.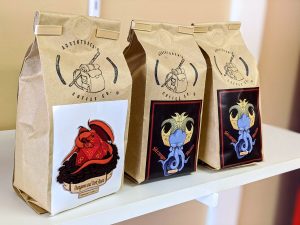 For those living farther afield, Adventurer's Coffee is available for shipment right to your door. There's sure to be a variety you'll love! Try the medium roast Base Camp, Adventurer's flagship coffee, or the rich Dungeons & Dark Roast, a deep flavored smooth and smoky roast. These and other specialty roasts are available to you at the Adventurer's Coffee Co. online store, where you'll also find seasonal roasts and all sorts of fun swag to perfectly pair with your adventurous cup of coffee …
Are you a business, hotel, or retail outlet seeking coffee service? Adventurer's Coffee stands ready to help! Contact the staff directly to discuss arranging artisanal coffee at very competitive pricing.
We're happy to introduce you to this vibrant new Calera, Alabama business! Click through to their website, linked above, to discover all they have to offer. Adventure Awaits You at Adventurer's Coffee Co. – Proudly Made in The Heart of Dixie …
MADE IN ALABAMA SPECIALTY FOODS
Alaga Syrup – Whitfield Foods Inc.: Alabama is chock full of culinary history. Much of this stems from revered local companies that produce timeless products beloved by Alabamans (and beyond) for generations …
If you're from The Heart of Dixie, you've probably grown up with the sweet, enticing flavor of Alaga Syrup, packaged in distinctive bottles. But do you know how this iconic company got its name?
Well over 100 years ago, company founder Louis Broughton Whitfield, a Georgian, founded the Alabama-Georgia Syrup Company in Montgomery, AL where it remains today. His wife Willie Vandiver was a native Alabamian and the couple decided to honor the two great states by combining abbreviations … "ALA" for Alabama, and "GA" for Georgia. In the 110+ years since, Alaga Syrup's secret recipe cane syrup has become known as the "Sweetness of the South" …
Fast forward to the present day, and Alaga Syrup is still proudly served at breakfast tables all across the South. The company continues to grow the product line, now producing much sought-after- pancake syrup varieties like Butter Maple, Strawberry, and their new best tasting Sugar Free syrup …
A fourth generation family owned company, Alaga Syrup has expanded not only their product line but also their corporate profile. One of its divisions is Whitfield Foods, offering product blending and co-packaging capabilities for both small and large customers.
New to the Alaga Syrup product line is its "Sweet Hot Alabama" Alaga Hot Sauce. This taste bud tingler starts with traditional Louisiana-style hot sauce, which is enhanced by just the right amount of Alaga Original Cane Syrup for an unbeatable sweet and hot flavor. It's perfect on chicken wings, in casseroles, and added to dips and appetizer mixes.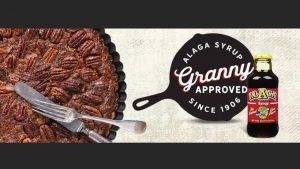 Also new to the Alaga Syrup website is the Alaga Syrup Online Store, where you can order your favorites for delivery to your door or as a special gift. If you prefer to buy locally, check out the "Request Our Products" tab, accessible as a drop down from the "Home" tab. Here you can contact your local grocer and request they carry your favorite Alaga products …
We are so pleased to spotlight the rich history of this beloved Alabama company here at State Gifts USA! Visit its online store, linked above, to order any of the traditional "granny-approved" syrups or anything else to help make your family meal time special!
Made in Montgomery …
B & B Pecan Company: Based in the southern Alabama community of Fairhope, B & B Pecans is an institution in The Heart of Dixie. They've been around for over 60 years and offer the finest grove fresh pecans in a variety of styles …
Alabama is famous for their pecans, and B & B Pecans is a great option for anyone across the country who craves a taste of the South. Whether it's salted shelled pecans, glazed or candied, or even bulk pecans for cooking, this southern Alabama business is ready to serve.
B & B Pecans will ship right to your doorstep … visit their website and click on "Shop Our Online Store" to see all their selections. While you're there, you'll also find some valuable information about storing pecans and the nutritional advantages of this distinctly American treat …
Perfect as a Made In Alabama gift!
5ive Oaks Pepper Jelly: Here at State Gifts USA, we love introducing you to small local businesses whose products embody the essence of their surroundings. Such is the case with this family owned and operated company based in Birmingham … they're known as 5ive Oaks and their specialty is pepper jelly, a traditional Southern favorite …
If you're from The Heart of Dixie, you're familiar with good pepper jelly, but if you hail from elsewhere, pepper jelly is (sort of) like it sounds. Think fruit jelly like you'd use on a sandwich or spread on crackers and you've got the idea. The difference, though, and the ingredient that makes pepper jelly a distinctly Southern tradition is it's made using fresh peppers of varying heat levels …
Pepper jelly can range from a combination of sweet fruit and smoky peppers to something that offers a real "kick" … depending on the heat level of the peppers used in the recipe. It can be used on sandwiches, as an appetizer spread paired with crackers and cream cheese, or in tailgate fare like nachos, chicken wings, and burgers …
Lovingly named after a favorite childhood gathering spot, 5ive Oaks brings the long standing tradition of pepper jelly to your table. Created from a decades old family recipe, 5ive Oaks Pepper Jelly combines three different fresh pepper varieties to offer the perfect "sweet heat". It's the ideal accompaniment from breakfast to dinner, and versatile enough to be served at any type of gathering …
At the 5ive Oaks website, you'll find a comprehensive list of local outlets in Alabama and Georgia, and if you live farther afield you can also buy directly online. It's available in 6 ounce and 14 ounce sizes (you'll want the 14 ounce, and more than one jar), and wholesale inquiries are welcomed …
And while you're at their site, be sure to check out the "Recipes" tab, where you'll see traditional and creative uses for 5ive Oaks Pepper Jelly … we're big fans of spreading it on grilled burgers for a one of a kind Southern taste sensation!
Click through to learn more about the 5ive Oaks story. We're very pleased to spotlight this vibrant family run business … Made in Alabama!
Jala Jala Foods (Dos Amigos Salsa): If you're a fan of jalapeno peppers and the zippy, flavorful kick they add to your favorite dishes, there's a thriving small business in Huntsville, AL whose products are calling your name …
They're Jala Jala Foods and founder and owner Jay Short helps create a product line of jellies, salsa, barbecue sauces and more featuring locally grown jalapeno peppers. A long time devotee of spicy cuisine, Jay founded Jala Jala (pronounce "hala hala") a few short years ago after a good friend's garden was bursting with fresh jalapeno peppers …
After a very successful trial run making both salsa and pepper jelly, this small company launched in earnest and now you'll find their jalapeno specialty products across The Heart of Dixie and of course online. Jalapeno peppers, as you may know, are what we like to term an approachable hot pepper – you'll definitely feel the "glow", but not too hot to overwhelm your taste buds …
Jala Jala Foods grows and harvests their jalapenos directly from Alabama soil … try their many pepper jellies like the Fire Red (picture above). It's made from a proprietary blend of jalapeno and cayenne pepper mash and you'll love it on appetizer platters or as a glaze atop your favorite meats. Take a peek at the Jala Jala Foods website and you'll discover the full line of pepper jellies, including varieties created with strawberries, blueberries, and blackberries …
If you're into salsa and chili, Jala Jala offers both medium heat and hot salsa as well as a Red Chili Mix that's a proud 100 year old family recipe. The chili is ultra easy to prepare … just add two pounds of ground meat and two cups of water and you're good to go!
If you're a local Alabaman, check out the "Locations" tab on the website – there's a list of retail locations carrying their products. And don't forget the "Recipes" section of the site to help you explore your culinary creativity – the Easy Chicken Enchilada Casserole sounds fantastic!
If you're looking for a Made in Alabama gift, gift baskets are available too – you can order for yourself or as a gift right there at the Jala Jala website …
We're so proud to feature this creative and vibrant small Alabama business here at State Gifts USA – stop by their site to learn more!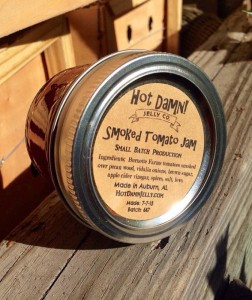 Hot Damn Jelly Company: This small Auburn, AL business creates a line of pepper jellies, and if you've never heard of pepper jelly, well, you're not from Alabama …
A southern specialty, pepper jelly is just what it sounds like – a fruit based jelly or jam mixed with peppers, usually habaneros or jalapenos. The end result is an irresistible combination of sweet and hot, just perfect to spread on toast, sandwiches, or as a glaze for ham, pork roast, or grilled chicken …
Hot Damn Jelly Company makes an impressive array of these specialty jellies, in flavors ranging from Mango Peach Habanero to Cranberry Jalapeno to the Smoked Tomato Jam pictured. All are made in individual small batches, with no additives or preservatives making the ingredient list …
At their website, you'll find a list of local retail locations where you'll find the products. Click on "Products" and you'll be taken directly to their Etsy store, where you can buy and have them shipped.
Great stuff from The Heart of Dixie!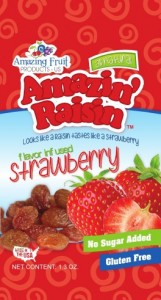 Amazing Fruit Products: We love healthy snacking – as long as it tastes good! This Fort Payne, AL company hits the mark with an innovative, convenient treat you'll be pleased to offer anyone in your family from six to ninety six …
Owner Kathy McClung was kind enough to get in touch and send us samples of her company's flagship product, Amazin' Raisins. We've always enjoyed raisins as a mid day pick-me-up snack, but these are no ordinary raisins out of a box. They're fruit infused (with all natural fruit flavors) and come in five different varieties: Peach, Pineapple, Strawberry, Orange, and Lemon. You've got to try them … they're fantastic!
Raisins, of course, are one of the healthiest snacks to enjoy. Amazin' Raisins are no sugar added, fat free, gluten free, vegan, Kosher certified, and contain no GMO's. The experience is that of eating a raisin, but the taste is like eating an orange, peach, pineapple, etc.
An ideal snack for your children, the company is proud to note Amazin' Raisins are listed as a Smart Snack by the Alliance For A Healthier Generation. But even if healthy isn't your primary motivator, they taste great!
You can order individual flavors or handy variety packs directly at their website. They're packed in handy 1.3 ounce size bags – each bag equates to about a one cup serving of dried fruit!
Click through to the Amazing Fruit Products website to discover this innovative small Alabama based business …
McEwen & Sons Gristmill: This family owned and operated gristmill is located in Wilsonville, a short drive southeast of Birmingham and due east of Tuscaloosa. Frank McEwen and his sons produce organic stone ground cornmeal, grits, and polenta which they supply to many famous restaurants across the country, and you!
So why buy organic? Well, the primary reasons include no usage of pesticides or fertilizers which damage and contaminate our water supply via runoff. No genetically modified are added either, which results in healthier crops and more sustainable farming practices. Here at the mill, organically grown corn is tone ground into cornmeal, rolled oats, golden flax seed, and grits offering the true flavor of The Heart of Dixie!
If you live in the area, you'll find their products at local specialty stores in the Birmingham area, as well as at the Wilsonville mill. Or, order directly online for the culinary oriented person on your gift list as well as yourself!
Learn more about this thriving small company at the McEwen & Sons website …
Tennessee Valley Pecan Company: Don't be fooled by the name – the Tennessee Valley Pecan Company is a native Alabama company! They were founded in 1942 and are still located in the heart of historic Decatur's downtown business district. You'll find Decatur in the north central part of the state, not far west of Huntsville and about an hour and a half north of Birmingham …
We were fortunate enough to have a friend bring us back some of the company's Honey Glazed Pecans (we have some nice friends!). These mammoth half pecans are about the freshest most flavorful pecans we've ever enjoyed, and the touch of local honey tops it off in grand fashion!
You can order any manner of pecans at their website, including plain, toasted, and candied. They're available in a variety of sizes, including gift tins for a special holiday or any time gift. We can tell you that you sure won't go wrong with the honey glazed!
Check out all your options at the Tennessee Valley Pecan website. Enjoy!
Conecuh Sausage: We discovered Conecuh Sausage on our recent trip through Alabama – they're located just off I-65 in Evergreen, a small town located between Montgomery and Mobile and not too far from the Alabama – Florida border. They've been around since 1947 and are well known in the area for smoked sausages, hams, bacon, turkey, and other smoked delicacies …
The company is also known for their assortment of gift boxes like the twelve pound assortment shown. A great Alabama made gift idea, this package is perfect for those who appreciate trying a little of this and a little of that. It contains twelve one pound packages of Conecuh Sausage, including their flagship hickory smoked variety as well as Cajun and Hot & Spicy …
Assortment packs are also available for bacon, ham, and turkey too! Conecuh also sells a really good Steak & Hamburger seasoning mix – don't miss it when you visit their website.
They'll ship anywhere in the country – a wonderful idea for the foodie on your list, or just yourself!
Heaton Pecan Farm: Located in Clanton just off I-65, the Heaton Pecan Farm is not only a one stop shopping experience for pecan related goodies, but it's also a really good Alabama restaurant …
We stopped there on our most recent trip to The Heart of Dixie and indulged ourselves in their famous pecan chicken salad … we've subsequently yet to find a better chicken salad. But for anyone who can't get to Alabama any time soon, we suggest ordering any of their pecan gifts online, especially their pecan pies and pecan honey butter …
We tried the pecan pie while we were there and it's one of the best! We took a jar of the pecan honey butter home and wish we'd bought a few more jars (isn't that always the way?!). It's the perfect spread on any type of artisan bread … loaded with pecans and made with honey, margarine, and spices …
You can order any of Heaton Pecan Farms gift items to be shipped … they'll deliver right to your front door or as the perfect Alabama themed gift for someone special!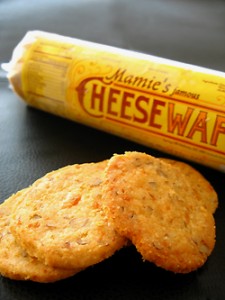 Mamie's Famous Cheese Wafers: The Heart of Dixie is well known for their famous cheese straws, but here's an interesting and more convenient twist on the iconic southern appetizer … Mamie's Famous Cheese Wafers. Founded in Mobile in 2003, the company essentially makes cheese wafers instead of cheese straws and packages them in a convenient roll, similar to breakfast sausage. Just slice, bake, and serve!
Perfect for a quick treat for guests or family, the cheese wafers bake up a golden brown in 15 minutes or less. The ingredients are simple and natural … cheddar cheese, flour, butter, pecans, and a bit of cayenne pepper for flavor. There's also a Tuscan style with Romano cheese and sunflower seeds …
You can order these wonderful convenient wafers directly from the Mamie's Wafers website. Serve up a delectable taste of Alabama!Ice Coffee Company: This Birmingham based small company does one thing and does it well … bottled ice coffee. They start with roasted and dried coffee beans, pour it over Arctic ice and infuse the mixture with pure molasses …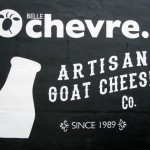 Belle Chevre Cheese: An award winning creamery in Elkmont, AL has specialized in goat's milk cheese for 25 years. Choose from artisan cheese discs, breakfast spreads, cheesecakes, and a variety of interesting gift boxes which make the ideal gift …
We enjoyed the "Beets and Chevre" gift package, perfect for creating a salad. The box contains pickled beets, walnuts, and Belle Chevre goat cheese …
Visit the creamery online at BelleChevre.com …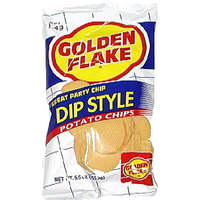 Golden Flake Chips and Snacks: Founded in Birmingham, Alabama in 1923, Golden Flake is known as "The South's Original Chip Since 1923" … and we love local companies with a lot of tradition turning out delicious products!
For over 90 years, Golden Flake has been making all sorts of snack foods, including several styles of potato chips, pork skins, cheese curls, tortilla chips, and more.
You can tour their factory if you're in Birmingham and buy their products online through the Golden Flake Company Store on Amazon.
Priester's Pecans: Priester's is a small company with big flavor! It was founded in 1935 and is located in the small town of Fort Deposit, Alabama … about 35 miles south of Montgomery. Pecan trees abound in and around Fort Deposit, and Priester's takes full advantage, churning out pecan brittle, pecan pies, pralines, chocolates, and other delectable items.
We love the Back Country Snack Mix and the fig preserves, both of which you can order online at the Preister's Country Store …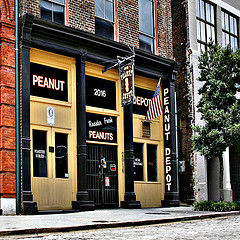 Peanut Depot: One of our favorite places in Birmingham without a doubt is the Peanut Depot …
Since 1907, this small operation has been roasting and selling fresh peanuts by the bag. Located on Morris Avenue, the Peanut Depot is a well known destination for all walks of life around town.
When you get close to the location, you'll know … the wonderful aroma of roasted peanuts is in the air!
Order some peanuts for yourself at the Peanut Depot Store at Amazon, or better yet stop in during your next visit to Birmingham. It's a place all the locals know about and you'll definitely feel like a local after experiencing this place!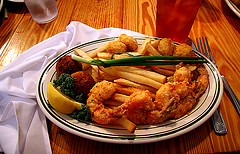 Wintzell's Oyster House: If you're ever fortunate enough to be in Mobile, Alabama, be sure to stop in for lunch or dinner at one of the Wintzell's locations. We prefer the old time feel of the downtown location at 605 Dauphin Street …
There are several Wintzell's locations in Alabama (and even one in Pittsburgh, PA) where you can enjoy fresh oysters, crab cakes, shrimp, and other seafood delicacies at ultra reasonable prices.
They've been around since 1938 and are a real Mobile original!
You can't order their oysters online, but they've got an online store coming soon. Check their site out at WintzellsOysterHouse.com …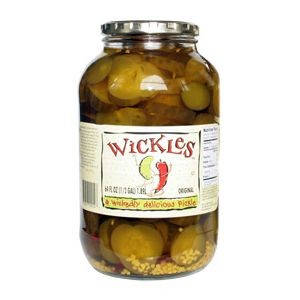 Wickles Pickles: Made by Sims Foods of Dadeville, Alabama, Wickles Pickles are probably the most well known pickle in the south, as well as having probably the best name! We were fortunate enough to find a jar at our local Cracker Barrel store, which apparently carries them in certain locations. Just recently, we also found several of their products at our brand new WalMart …
The sweet dill slices are the perfect combination of sweet with a little bit of spicy tang … put them on burgers or eat them right out of the jar!
Another good idea is to coarse chop the pickles and add them into any kind of salad, i.e. chicken salad, tuna salad, etc. It livens up your recipe and gives it a great sweet and spicy kick!
The company packages all kinds of pickles, okra, relish, and peppers … learn more and buy them online right here …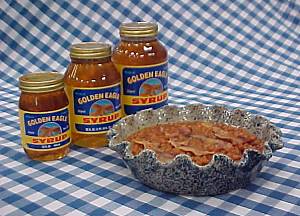 Golden Eagle Syrup: Since 1928, Golden Eagle Syrup of Fayette, Alabama has been turning out their fantastic honey based syrup …
Check out their website to buy some for yourself and be sure to check out their recipes for baked beans, pecan pie, and bbq sauce!
Tucker Pecan Company: Alabama's capital, Montgomery, is a friendly small city well worth exploring. If you do, you'll find hidden gems like the Tucker Pecan company, located in the Old Town section of the city since 1952.
The company offers a wide range of fresh pecan products, gourmet candies, and southern themed gift assortments. You haven't experienced Montgomery until you've tasted Tucker pecans and their other delicacies …
MADE IN ALABAMA GIFTS
Iron City Trading: Here's another small company we learned about courtesy of some friends who brought back a few of Iron City Trading's products from their Alabama trip …
Iron City Trading creates small-batch soap, lip balm, facial scrubs, and other body care products from their Huntsville location. Their products are truly all natural, meaning they never use synthetic colors, fragrances, or preservatives …
Iron City Trading is a company that's really invested in your health and their products and policies show that. Be sure to check out the Dark Roast Mint Soap, a partnership with Rooster's Crow Coffee Roastery in Huntsville. It's soap made with actual coffee!
You'll love Iron City Trading's super low shipping costs – they cover 70% of the shipping costs to orders shipped to Alabama and 20% to the rest of the United States. Plus you get free shipping when you order over $34! If you're looking for the perfect personal gift, or even just a gift to pamper yourself, choose from an extensive line of body care products, including a men's line and their convenient Subscribe and Save Option. A convenient holiday or birthday gift for anyone on your list, the Iron City Trading subscribe and save option ensures their products are shipped directly to your or your gift recipient on a set schedule. The ideal "set it and forget it" gift from The Heart of Dixie!
Iron City Trading also offers a vegan yoga mat spray which according to my wife works like a charm to clean and disinfect yoga mats. For a special treat for your hair and scalp, check their website for the lavender lemongrass mint shampoo bar … it'll leave your hair soft, shiny, and clean without any residue build up from traditional shampoo.
Be sure not to miss Iron City Trading's shampoo bar for dogs! Handmade shampoo bars are so much better for your dog's coat than traditional dog shampoo, which can leave them with a dried out, scratchy sensation. Your four legged friend will love you even more for introducing them to a dog shampoo bar that leaves their coat soft, smooth, and smelling great!
Take a few minutes and scroll through their whole site … you'll find lots of sure to be appreciated gifts, including a Clean Living Starter Package which contains an assortment of ICT products …
We are so pleased to showcase Iron City Trading on our Made in Alabama page! Click through to place your order today …
Wholesale opportunities and private labeling services are available too – visit the "Wholesale" tab to discover the details …
South Boutique: We're pleased to introduce you to this growing specialty women's boutique which is becoming quite well known across The Heart of Dixie …
They're South Boutique, a destination for fun and flirty fashion as well as unique homewares and gifts. If you're local, they've got three retail outlets in Alabama – Birmingham, Trussville, and Huntsville …
In addition to their fashion (which you can view and order online), we wanted to call attention to their beautiful South Candles (pictured). Click on the Shop tab at their website and under "Gifts", you'll see specialty candles with a distinctly Southern theme, like Sweet Tea, Mountain Brook, Antebellum, and more …
The perfect gift, these candles are ideal for housewarming gifts, birthdays, special occasions, or just as a thank you to a dear friend …
Click through to the South Boutique website – we're certain you'll find something you just can't live without!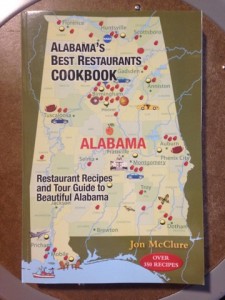 Alabama's Best Restaurants Cookbook: We enjoy featuring state themed cookbooks here at State Gifts USA, and here's one from The Heart of Dixie …
It's called "Alabama's Best Restaurants Cookbook" and it's a handy guide for discovering some of the great restaurants in the state (and there are many!).
You'll also learn to duplicate some of the famous recipes from these restaurants, from appetizers to main courses to desserts …
You can order a copy for yourself or for someone who loves Alabama directly at the Cahaba Brewing online store, which is itself a fantastic destination in downtown Birmingham.
Click through to learn more!
Fairhope Soy Candle Company: If you ever have the good fortune to visit Mobile, AL be sure to take some time to spend a few hours or more in the small town of Fairhope. It's about a 25 minute drive from downtown Mobile, located on the eastern shore of Mobile Bay. Fairhope is a charming small community well known for independent shops, friendly locals, and some of the freshest seafood imaginable …
One of the town's creative businesses is the Fairhope Soy Candle Company. Founded in 2005, the company produces an attractive array of hand poured and hand labeled soy candles and reed diffusers. Every candles is made with all natural soybean wax, all cotton wicks, and are wonderfully fragrant whether lit or not …
Did you know that soy candles burn longer and cleaner than traditional paraffin wax candles? They're a lot healthier for you and your home as well – there's no soot or black smoke with these candles and soy is made from a renewable resource harvested right here in America.
Check out the full line of Fairhope Soy Candles at their website. You'll also find a list of retailers in southern states which carry their line and wholesale opportunities are available too.
A great gift for someone special, direct from beautiful Fairhope, Alabama!

Alabama Chanin: We're so pleased to feature Alabama Chanin, a fashion and community focused company founded by Natalie Chanin and based in Florence, AL. The company is housed in an historic Florence building known as The Factory, which includes the workshop headquarters, local cafe, retail store, and learning space where various educational seminars are hosted …
One of the more interesting aspects of Alabama Chanin, and there are many, is their use of exclusively organic cotton. The cotton is harvested from their own 7 acre field in northwest Alabama and hand cut and sewn into limited edition garments by talented local artisans. The company also employs a lean manufacturing process, meaning each garment is prepared to order, thereby minimizing unnecessary stock and minimizing environmental impact …
You can view the current collection at the Alabama Chanin website and also at famed designer Billy Reid's site at BillyReid.com . Locally made in Florence!
Naturally Rad: We really enjoy seeing every day products with creative ingredients – sort of a different twist to an old standby. There's a small little company in Prattville, AL called Naturally Rad which does just that …
Naturally Rad is owned by Rachel Dickinson, who creates soaps and scrubs out of natural ingredients, including some you might not expect. We wanted to introduce you to her "Hey Joe" Coffee Soap because we think it's a great gift for anyone who likes a cup of coffee (or cup of joe, as it were) to get their day going. This soap is made with fair trade coffee, extra virgin olive oil, and coconut oil. It smells great and will wake you up!
Check out all the Naturally Rad Shop to see all their natural soaps and scrubs. There's a "Hey Joe" coffee scrub too!
A cool gift from The Heart of Dixie!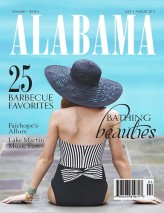 Alabama Magazine: If you're looking for an easy-to-give and very enjoyable gift to someone who's Alabama centric, consider a gift subscription to the state's lifestyle magazine, Alabama Magazine …
Alabama Magazine features the people, destinations, and events that help make The Heart of Dixie great. Each issue has stories about food and drink, shopping, home and garden and much more …
Bring Alabama into someone's home with a gift subscription! You can purchase back issues as well …
Visit the Alabama Magazine website for details …
The Green Bottle Candle Company: We love small companies whose products are the result of recycling. Such is the case with The Green Bottle Candle Company, a Birmingham business creating all natural 100% soy candles hand poured into recycled wine bottles …
Discarded wine bottles are sourced from local restaurants and cleaned, polished, and cut. Soy wax is poured in and the candle is custom labeled by hand. Because the candles are soy, they have a lower burn rate and last significantly longer than traditional wax candles …
Over a dozen different scents are offered, including a Spa Collection and a Seasonal Collection. Check out their website for all the selections and to order.
A great Made in Alabama gift for all your eco conscious friends and family!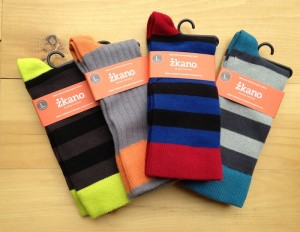 Zkano Organic Cotton Socks: Based in Fort Payne, AL the Zkano company has become a leader in the production of organic cotton socks for women's and men's socks …
These beautiful, colorful socks run the gamut of any type of sock you'll ever need. There are anklet styles, under the knee, dress socks, sport socks, and fun casual styles. The socks are created from start to finish in Alabama, using local cotton …
These socks are ultra comfortable and wash nicely. Turn them inside out before washing for best results. They even have socks for guys with larger shoe sizes (like me!) and sell convenient 3-packs as well as single pairs if you like a certain style and want to diversify your sock drawer!
Buy these Made in Alabama socks at Zkano.com …
Bourbon Pens: Although Alabama might not be as synonymous with bourbon as say, Kentucky, the Heart of Dixie is home to a small company whose specialty is crafting pens from bourbon barrel wood …
The company is Bourbon Pens, a one man operation located just south of Birmingham. Several different styles of pens, like the ones shown, are hand crafted mostly to order. A scrap of the barrel wood and a certificate of authenticity is included …
These are great gifts for those who appreciate not only bourbon, but fine craftmanship as well. Barrels are used from some of the United States' most famous bourbon brands like Makers Mark, Jim Beam, Wild Turkey, and several others. Custom orders and custom engraving are available and welcomed …
See the current inventory and order a pen or two for yourself at the Bourbon Pens website …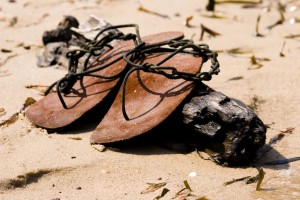 IAM Sandals: Two entrepreneurs from Fairhope, AL started IAM Sandals after learning how to make these sturdy and very comfortable sandals from a local craftsman. They now produce and market these sandals to order for men, women, and kids …
These sandals are made with ultra durable Vibram no mark soles, breathable supple leather, and strong and pliable parachute cord to provide form and keep them fastened. Each pair is custom made and you can choose your lace color too … olive, khaki, or teal.
They're great for those of us who love the fresh air feel of sandals! You can get a pair for you or as a gift … they're available in all the standard shoe sizes …
Learn more and order a pair for yourself at the IAM Sandals website …
Alabama Dirt Shirt: We thought this was one of the coolest t-shirts we've seen in a while. It's the Alabama Dirt Shirt , a t-shirt made from 100% organically grown Alabama cotton, and color dyed with genuine Alabama dirt. This is about as Alabama as it gets … take a look: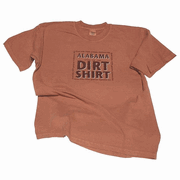 Freedom Soap Company: Owned by Chastity Curtis of Birmingham, these homemade palm free soaps and body products were recently featured in the wedding edition of Southern Living magazine. Try the peppermint lip balm, it's better than any chap stick by a long shot! Freedom Soap Store …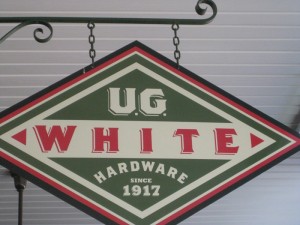 U.G. White Mercantile: Located in Athens, Alabama U.G White Mercantile is the kind of store everyone should experience … probably because it has something for everyone!
This store, located here since 1917, is part hardware store, part dry goods store, and part community gathering spot. It's right on the town square, a must stop if you're traveling anywhere around these parts …
Click here to learn more about this Alabama tradition: U.G. White.
MADE IN ALABAMA LOCAL ART
Bottle Tree Bob Creations: The history of bottle trees dates back many centuries, stretching back to ancient times. Folklore suggests colorful bottles were often placed at entry ways and door openings to trap and capture wandering evil spirits at night, to then be destroyed by the light of day. In the southern United States in particular, colorful glass bottle displays eventually became attractive decor in the form of what is commonly known as a bottle tree (see images shown) …
In Marbury, AL Bob Milton and his son Mark proudly carry on this revered Southern tradition. Their family business is Bottle Tree Bob Creations, dedicated to this whimsically appealing form of glass art. Bob creates colorful bottle arrangements that add a modern twist to the beloved Southern bottle tree …
Perfect as ornamental decor for any outdoor space, Bob's creations reflect the essence of the South. Dogwood blooms, persimmon trees, and peach tree blossoms are just some of the natural scenes captured in these attractive displays. Decorate and accent your tree with your own choice of colorful bottles! Changing the color scheme is as simple as switching your bottles to suit your preference …
Bottle Tree Bob Creations also offers rain gauges, hummingbird feeders, and more which you can explore at their website. Order directly from the site with PayPal … there's also a link on the homepage to their Etsy Shop where you can see over two dozen of Bob and Mark's creations …
Proudly made in Alabama, a gift from Bottle Tree Bob Creations is ideal for any homeowner … or for yourself! We're excited to feature this small family owned business here on State Gifts USA. Click through to see more and to place your order …
Alabama Mud: Showcasing the talents of artist Jamie Blattmann, Alabama Mud offers ceramic and clay handmade specialty items. Jamie is a certified ceramist who has diversified her skills and now creates a wide variety of inspirational items, decorative and functional pottery, and a botanical series of works for outdoor living …
Jamie recently opened the Alabama Mud online store where you can see many of her works and add them to your home. Click on the "Products" tab and see faith items, wind chimes, botanical plaques, bird feeders, and dozens of items for every day use. We particularly like the Alabama Bread Tray (shown), which can also be used as a display tray for your cocktail table or to focus attention on your favorite Alabama made candle …
See all this talented artist has to offer by clicking through to her site. If you live locally in the Heart of Dixie, there's a list of stores who carry her products. Wholesale and commission opportunities are available as well …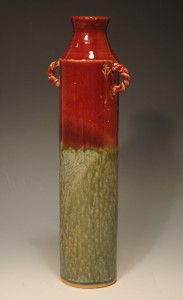 Green Chair Clay: On our recent visit to Montgomery (see below for our travelogue), we learned of the work of area resident Randy Shoults. Educated in photography, printmaking, painting, and ceramics, Randy is a long time art instructor and administrator who has recently devoted his full time attention to creating decorative and functional art from his studio …
Working primarily in clay, Randy also dabbles in other media and focuses on function and design. We saw his work locally at the Montgomery Museum of Art Gift Shop – you can see a sampling at his website where you'll appreciate the detail of his work. We love featuring local artists here since it is one of the best gifts or mementos you can purchase on your travels. Stoneware is especially desirable as it often becomes a family heirloom …
The Green Chair Clay Etsy store is linked at the front page of Randy's website. There you'll see all the pieces available for sale – have your order shipped directly to your door. Enjoy the fine work of a talented Montgomery artist!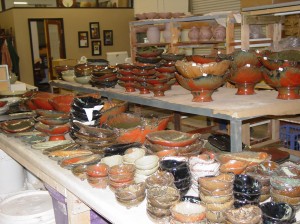 Earthborn Pottery: Located in Leeds in eastern Alabama, Earthborn Pottery is well known for their restaurant quality dinnerware and cookware. Pieces are glazed at extremely high temperatures, ensuring their durability for decades and beyond …
Some of the beautiful pottery you'll find at the Earthborn Pottery online store are platters, serving dishes, drinking vessels, bowls, dinnerware, and baking dishes …
All pieces are microwave, oven, and dishwasher safe. You can see the entire selection, including some of their limited edition collections, at their online store. Earthborn also offers on site classes to teach the art of pottery making, so if you live in the area be sure to inquire!
MADE IN ALABAMA DESSERTS & SWEETS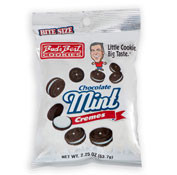 Bud's Best Cookies: If you've been around Birmingham for any length of time, you're probably familiar with the cookies made by this family owned company. Known as "the little cookies with the big taste", you can find Bud's Best in stores across the country as well as at their online store.
Best known for their handy bite sized cookies, Bud's Best features a lineup headed by Chocolate Chip, Vanilla Wafers, Vanilla Cremes, and our favorite, Chocolate Mint Cookies. They're perfect for lunch time, snack time, or any time!
Click through to the Bud's Best Cookies website to see their entire selection and to place your order. Enjoy the great taste of Alabama!
Mylks Cookies: There's nothing quite like deliciously creative baked goods and if you're ever fortunate enough to be in downtown Auburn, AL you'll find them at this charming independent operation which recently enjoyed some positive national press as having the best cookies in The Heart of Dixie …
The company is Mylks Cookies, founded, owned, and operated by Sarah Toomer, who has had a lifelong passion for baking. Sarah also earned her degree in Visual Arts, and her combination of skills helps create some absolutely fabulous sweet treats!
Located in the heart of downtown, this inventive bakery serves not only the local community, but fans nationwide. From her spectacular Red Velvet Crinkles to the fresh cocoa and white chocolate Tuxedo Cookies (pictured), Sarah's creations are sure to make a fan of you too!
For a fun gift idea, visit the Mylks website and check out the "Mylks Cookie Jars". Packaged in a handsome jar, they feature any type of cookie on the menu along with butter cream frosting layered among cookie crumbles. What a great way to impress someone on your list …
Mylks ships nationwide – enjoy their many unique flavors!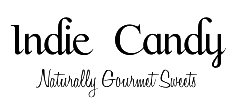 Indie Candy: Based in Moody, AL this small company fills a very important niche. Indie Candy specializes in gourmet candies that are naturally allergen free …
Anyone with food allergies understands the frustration of not being able to eat certain foods. It's especially difficult to be forced to refrain from candy. The president of the Indie Candy, Hanson Watkins, knows this all too well. With a gluten intolerance as well as milk and soy, he's a primary customer of his own company …
Indie Candy creates toffee, truffles, gourmet gummi candy and more. Everything is created in house and the company welcomes questions about their products from potential customers to ensure compatibility. They even make dairy free fudge and chocolates, so there's no missing out on great taste!
If you or someone you love is unable to enjoy candy due to food allergies, click through to the Indie Candy website to learn more about their creations and to order!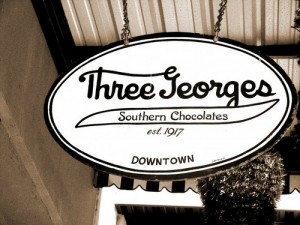 Three Georges Southern Chocolates: We love Mobile, AL … the walkable downtown, the historic architecture, and the Gulf shores just a few miles away … America's first Mardi Gras celebrations were held here dontcha know??
A true southern city with a style all its own, Mobile is a great place to spend a long weekend. Places like Wintzell's Oyster House (see below) and Three Georges Southern Chocolates will definitely draw you in … and that's a good thing!
Three Georges is Mobile's "go to" chocolate shop … they've been around since 1917. You can have any number of their sweet treats shipped to you or as a gift … they do it every day for folks wanting a special taste of Mobile …
Everything they have is really good, but we especially like the Three Georges Heavenly Hash. It's a tradtional southern candy consisting of marshmallows and pecans smothered in milk chocolate. We bought a few to go after dinner at Wintzell's and oh my are they good …
Check their website for all their specialties and be sure to try the Heavenly Hash!
MADE IN ALABAMA BARBECUE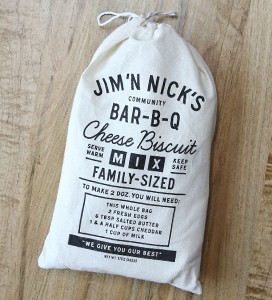 Jim 'N Nick's Bar-B-Q: Based out of Birmingham but with locations throughout Alabama and surrounding states, Jim 'N Nick's is one of the revered barbecue meccas of the south. The company has been around now for 30+ years and their menu features all the items you'd expect a great BBQ place to do well … pulled pork, beef brisket, hot links, smoked chicken, ribs, and an array of lip smacking side dishes.
We absolutely love their food and were especially pleased when we visited the Jim 'N Nick's website and saw they're offering some of their signature products for sale online. First and foremost is their famous Cheese Biscuit Mix – if you make these at home your guests will undoubtedly hail you as a true Southerner. They are that good!
Spices, sauces, and all kinds of good looking Jim 'N Nicks swag are also available. If you can't visit one of their locations in person, a website visit is the next best thing. For barbecue worth going out of your way for, it's Jim 'N Nick's. Locations are listed by state on their website …
Howton Farm's Gourmet Sauces: We love finding and trying locally made sauces, particularly barbecue sauces. In Alabama, that's quite a project as there's fantastic "Q" all across the state. Styles differ depending on what part of the state you're located, and fierce debates often erupt as to which sauce is "best" …
Well, we don't want to get in the middle of that debate, because frankly we've learned there's a whole lot of great BBQ sauces in The Heart of Dixie. A few in particular are from a small operation in the Huntsville area in the northern area of the state. They're Howton Farms and you'll find their wide array of sauces (and rubs) available online and in area stores.
The one we had the opportunity to enjoy is their Southern Belle Sweet, which features a bit of local honey and brown sugar. They make a hotter version of this sauce (pictured) for those who like the wonderful sweet/hot combination …
At their website, you'll see the wide array of offerings you can purchase in all sorts of sizes. If the rest of their BBQ sauces are anywhere near as good as the Southern Belle Sweet, you might have a compelling "Best of Alabama" argument! Click through to the Howyon Farm website to learn more …
Dixie Dirt Rub: You know you've got a good thing going when your friends and neighbors keep asking for more of that good stuff you've been making … such is the story of Jeff Grimes from Adalusia, AL. He'd been mixing up meat rubs for years when he ultimately developed a special rub for pork that had the consistency of Alabama dirt. He named it Dixie Dirt, everyone loved the rub, it caught on, and the rest is history!
Made from a secret blend of spices, Dixie Dirt is best used on a Boston Butt, which is also known as a pork butt. If you're unfamiliar with cuts of meat, it's from the shoulder of the hog, the most common cut used for pulled pork and at barbecues and cookouts …
The rub has the consistency of rich red clay dirt and is best used generously on a cut of pork shoulder, although it's just as good on steaks, pork chops, and even a whole chicken. Spread it all over the meat to help keep the juices in, cook low and slow, and you've got yourself a winner! There's a touch of brown sugar in the mix and the little bit of sweetness really comes through – try it for your next barbecue!
You can order for yourself directly at the Dixie Dirt Rub website, where you'll also find their barbecue sauce and some logo swag to help you really look the part. Click through and go ahead and get your Q on!
SlapHappy BBQ: If you ever travel through Alabama as we've done a few times, it's practically guaranteed you'll have a barbecue urge. Chances are it'll start while driving through a small town and catching a whiff of some slow smoked pit barbecue coming from an unassuming corner joint and thinking, "I KNOW the barbecue has gotta be great in there!"
Well, one thing we know for a fact is Alabama is one of the best bbq states in the country. Chat with the locals and let them tell you all about their favorite place and their favorite sauce. In and around Birmingham, you'll get lots of different opinions, but one sauce company that comes up a lot is SlapHappy BBQ, a relative newcomer founded in 2011.
We heard about SlapHappy just that way … chatting up a local. He raved about their three sauces – Sweet, Heat, and Fire. Not mass produced, just a labor of love by a few guys who banded together to come up with sauces they truly loved, sauces where, as they put it, you can "Feel the Flavor".
You don't need to travel to Birmingham to get some, although it's really a cool city which we've enjoyed seeing. They've got a great restaurant scene there, and real Alabama hospitality. But back to SlapHappy BBQ, get yourself some at their website – they sell cases or a three pack with each of their varieties.
Check out the recipes on their site too … if you ever wanted to learn how to smoke chicken wings, they've got you covered!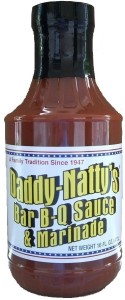 Daddy Natty's BBQ Sauce and Marinade: We don't know a whole heck of a lot about Daddy Natty's BBQ Sauce and Marinade other than a friend brought us back a bottle he bought at a Birmingham area grocery store. The sauce is a family recipe dating back to 1947 and is sold locally in the Birmingham area and some other Alabama locations …
That aside, the main point is, this sauce is really good and you should try it! It's got a full, flavorful smoky taste and we can see why it's called a marinade even though we used it as a barbecue sauce. Alabamans are proud of their barbecue and this sauce does Alabama proud!
You can buy Daddy Natty's Sauce by the case directly from their website – shipping is free!
While you're there be sure to check out the many recipes and grilling tips. We used Daddy Natty's over a chopped pork shoulder sandwich – all we can say is oh yeah!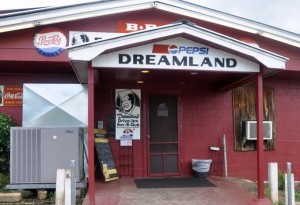 Dreamland BBQ: Since 1958, Dreamland BBQ has been a huge part of the Alabama culinary scene. Dreamland started out in a small cafe in Tuscaloosa and has now expanded to eight locations across the state.
You can order a wide variety of Dreamland BBQ gift packs, which include ribs, sauces, and other Dreamland delicacies …
We're big barbecue fans and enjoy various styles from across the country. Believe us when we tell you, Dreamland is right at the top of our list!
Perfect Bite BBQ: When many people think of barbecue, they think of various regions in the U.S. that specialize in bbq … Kansas City … Texas … North Carolina … and Memphis to name a few. Traveling across the U.S. has really opened our eyes, though. Great barbecue isn't limited to those well known parts of the country – there's all kinds of barbecue, particularly in the south. Alabama is a perfect example!
Perfect Bite BBQ in Trussville, Alabama produces a line of bbq sauces and rubs that make an ideal complement to any meat you might be grilling … order online at their online store and enjoy a taste of Alabama no matter where you are …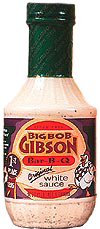 Big Bob Gibson's White BBQ Sauce: Just about every BBQ restaurant in the northern half of Alabama has white barbecue sauce on the menu. It's unlike any other type of bbq sauce you've had, primarily because the two main ingredients are mayonnaise and white vinegar …
Big Bob Gibson's is an Alabama bbq institution. It's been around since 1925 and their white sauce is the standard bearer. It has a creamy, tangy, and peppery taste but it's not bitter or sour at all … another key ingredient is sugar. It's a perfect balance between tangy and sweet …
Use it on sandwiches or as a dipping sauce. You can also use white bbq sauce as a coleslaw base!
Order it online at the Big Bob Gibson's website.
MADE IN ALABAMA HOT SAUCES, SPICES, & CONDIMENTS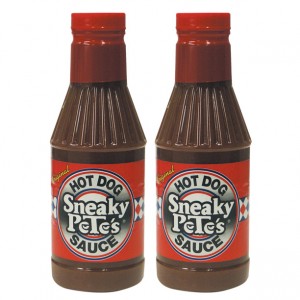 Sneaky Pete's Hot Dog Sauce: If you've spent any time traveling around Alabama, you've probably seen a Sneaky Pete's Hot Dogs location. There are over 30 in the state and they're all known for serving great hot dogs along with breakfast items, burgers, chicken sandwiches, and more …
Ask any Alabaman what makes their hot dogs so special and they'll probably tell you it's the sauce. Sneaky Pete's Hot Dogs makes a unique sauce they've been adding atop their dogs since opening in the mid 1960's. Their Original Sneaky Pete Dog is served with this unique sauce, along with chopped onions, a bit of mustard, and some tangy sauerkraut, and wow are they good! We stopped at two locations on our recent trip through The Heart of Dixie …
As native Chicagoans, we're kind of, well, particular about what we want on a hot dog, but traveling around the U.S. and being a bit more flexible has opened our eyes to the different styles across the country. This sauce isn't ketchup, it's a blend of spices blended into a tomato base that pairs well not only with hot dogs, but really any cut of meat. We mixed a bit into a beef stew and it was fantastic!
If you can't make it down south but want to try the sauce, Sneaky Pete's sells it from their online store and will ship it right to your door. Just click on "Store" when you get to their site and you'll see your options. Really cool T-shirts are available too!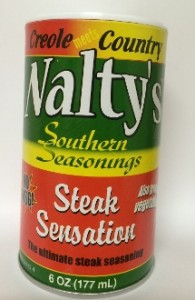 Nalty's Southern Seasoning: We were introduced to this Alabama company by a friend of ours who visits The Heart of Dixie frequently on business – he is kind enough to bring us back a few local products now and again to feature here on State Gifts USA …
Recently, we were pleased to enjoy some terrific products from Nalty's Southern Seasonings. Their tag line is "Where Creole Meets Country" and we've learned they create a line of seasonings and marinades including a Creole Seasoning and Voodoo Marinade. The Marinade will flavor and tenderize even the toughest cuts of meat – we used it on a tough piece of flank steak for fajitas and were really pleased how tender the meat was! Sprinkle the Steak Seasoning on steaks, chops, and burgers before grilling – excellent!
Their seasonings are very versatile and you can use them on pork, corn on the cob, chicken, and just about everything else including steak. As noted, we mixed the Steak Seasoning into some ground chuck to make burgers and it really brought out the meat's flavor. You can also add it to potato or macaroni salad to help liven it up!
The company is family owned and operated and they've got a nice website where you can click through and order any of their products, including a sampler case. Good stuff from Alabama!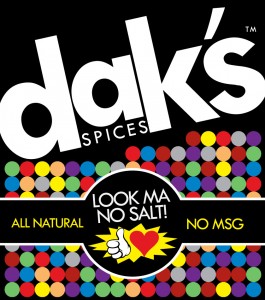 dak's Spices: Drew and Karen Clark, a young Alabama couple, have something really good going. They've developed a line of savory spice mixes for just about any culinary application you can imagine, and added an important twist – they're entirely salt and MSG free!
If you've found yourself concerned with high sodium content but don't want to sacrifice flavor, you've just found your destination with this small company from The Heart of Dixie. They create a dozen spices in all and we're sure there are more to come …
At the dak's Spices website, you'll find varieties like Original Red, Green Zest, Cajun Voodoo, Italian Blast, and many more. There's one for anything and everything you like to cook, and to make things easier, check out all the great recipes at the site. We are definitely trying several of them – the Green Zest Zucchini Pasta being one of the first!
If you live in or near Alabama, you'll find the full line of dak's Spices in specialty stores near you. If not, shop directly at their online store and they'll ship to wherever you are. Oh, and if you were wondering about the dak's name, it stands for Drew and Karen!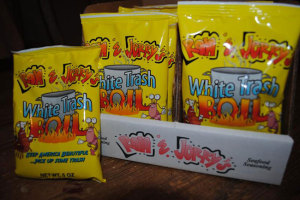 Ron & Jerry's White Trash Seafood Boil: If you thought seafood boils were solely for the fine folks in Louisiana, we'd like you to meet Ron Williams and Jerry Kitchens, two buddies from Birmingham …
Jerry, a local surgeon, and Ron (a Baton Rouge native) decided to create the ultimate fish boil spice mix, naturally over a few cold beers. After two years of testing, the end result is Ron & Jerry's White Trash Boil. Of course, it's great with crawfish, but you can use it for any type of shellfish or as a seasoning dust for any seafood or Cajun style recipes …
And we love the tagline: "Keep America Beautiful – Pick Up Some Trash". You can order it in one or five pound packets directly at Ron and Jerry's website. Enjoy the flavors of the Deep South!
Berdeaux's Sauces: Be sure to scroll to the bottom of this page, where you'll see the recap of our visit to Montgomery, Alabama's capital city. One of the local specialty products we picked up was a couple bottles of Berdeaux's "Vintage Revenge" Sauces. They're a popular item in the city, having originated here in the first half of the 20th century at the legendary Pickwick Cafe …
Known most for their steak sauce, Berdeaux's offers three other sauces as well. They make a Vintage Revenge Barbecue Sauce, and two specialty sauces named Simply Creole and Sweet Island. Each of the sauces are natural – no MSG or liquid smoke flavoring. They are naturally fat free, low in sugar as well as calories. One taste of the steak sauce will let you know you're tasting something special – if offers a bold yet sophisticated taste designed to bring out the flavor in any cut of meat from a filet to a grilled burger and anything in between …
Truly a taste of Montgomery and a really cool gift from the capital city! You can order via PayPal on the Berdeaux's website, and several combinations and gift packages are available …
Limin Lady Mustard: Each jar of this distinctive mustard is individually made in Chelsea, Alabama. The mustard is great when rubbed on a pork roast before cooking, or when served with shrimp. All proceeds go toward sustaining their local farm and herd of horses.
Get some for yourself at Limin Lady Mustard …
Alabama Sunshine: From Fayette, Alabama, this company produces a line of BBQ sauces, gourmet sauces, jellies, and all sorts of delicious add on's. Family owned, they pride themselves on making sauces that complement your food but don't overwhelm it.
In fact, they grow most of the peppers used in their sauces themselves, in order to maintain visual and product quality standards. One of their gift packs makes an excellent gift from The Heart of Dixie. 
John's Famous Angel Hair Slaw and Salad Dressing: This sweet, tangy dressing is well known throughout the south. We'd never heard of it before, but we're glad to know about it now! "John" was the mastermind behind the recipe, which was created in the 1940's and began being bottled over 40 years later. The angel hair aspect of the name refers to red cabbage being shredded very thin and served with John's Famous on the top.
You can find this wonderful cole slaw and salad dressing in large grocery stores across Alabama and surrounding states…
Sweet Melissa's Sauces: A small Birmingham company run by a husband and wife team, Sweet Melissa's Sauces are best known for their Ruby Red sauce. It's kind of like a barbecue sauce, but it's better described as an all purpose spicy sauce (but not too spicy) that's ideal on any grilled meat, or any meat at all for that matter.
We bought a bottle while going through Birmingham a while back, brought it home and kind of forgot about it for a few weeks. Then, we mixed it into some hamburger patties and discovered how great Ruby Red really is! They also make rubs and dipping sauces. Buy any of their products online at SweetMelissasSauces.com.
MADE IN ALABAMA HONEY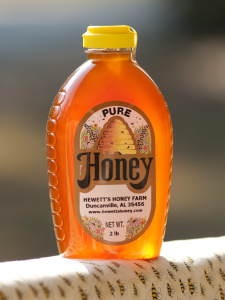 Hewett's Honey Farm: We love tasting honey from different parts of the country. A honey's taste is reflective of the flowers the bees pollinate, so honey can taste quite different from one state to another. On a trip through Alabama recently, we were able to find a bottle of Hewett's Honey, made on the Hewett family honey farm in Duncanville, a central Alabama community just southeast of Tuscaloosa …
If you're at all health conscious, Hewett's Honey is the type you should consume. It's straight from the hive to the jar, not pasteurized, blended, or tainted with additives. Pure, natural honey is a great source of energy and it's known to offer significant health benefits. A teaspoon of natural honey, for example, will help you sleep better when taken before bed time. Honey is the perfect tonic for a sore throat and local honey has been shown to minimize the effects of seasonal allergies …
Hewett's Honey is available for purchase directly from their website in various sizes along with their honey soap. The three pound bottle is an excellent value and we can vouch for how good it tastes!
Visit their website for more details … a great local gift from The Heart of Dixie!
Kittrell's Daydream Apiary: If you've been reading State Gifts USA for any length of time you know we are big fans of local honey. A true artisan product, honey is like wine in a way. The flavor of honey, just like wine, depends upon where it is made. With wine, the key element of course are the grapes. With honey, it's the type and variety of flowers the bees pollinate …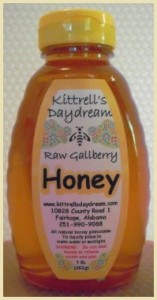 Kittrell's Daydream Apiary is located in Fairhope. This small southern Alabama community is one of our favorite destinations in the state. It is snug up against the eastern shores of Mobile Bay, about 1/2 hour from downtown Mobile. Fairhope is a vibrant, creative town with a flourishing art scene and many wonderful restaurants. And it's a great place to linger for a few days and get away from it all!
The area is also rich with flora – there are hundreds of varieties of plants thriving in this lush sub tropical climate, and we suspect the local bees love it here. One of the plants, the Gallberry, is a small evergreen shrub that is highly prized as a honey source due to its light color and flavor. The plant is only commonly found in this general southeast U.S. area of Alabama, Georgia, South Carolina, and Florida.
In addition to wildflower honey, Kittrell's Daydream, owned by John and Cheryl Kittrell, produce Gallberry Honey. They are the only source we've encountered who sell it online and will ship all across the country. A very unique gift from Fairhope and the Mobile area!
Visit their website to order and to learn more about what they do …
Tell us about YOUR favorite Alabama products – reach out at our Contact page! …
The History of Alabama
Alabama Trivia and Fun Facts

1). Alabama's capital city is Montgomery. Montgomery is also the state's 2nd most populous city, behind Birmingham. Mobile is 3rd and Huntsville is 4th …

2). Due to its proximity to the Gulf of Mexico, Alabama's topography is rather low lying, except in the mountainous northern portion of the state. Alabama's highest point is Cheaha Mountain, which is just over 2400 feet in height …

3). "Alabama" means "tribal town" in the Creek Indian language …

4). Contrary to modern day belief, "Sweet Home Alabama" is not the state's official song. That honor goes to a song appropriately enough titled simply "Alabama", written by Julia Tutwiler and adopted as the state song in 1931 …

5). 10 Famous People Born in Alabama: Hall of Fame baseball players Hank Aaron and Willie Mays, actress Kate Jackson, singer Emmy Lou Harris, Civil Rights Activist Rosa Parks, musician Lionel Hampton, entertainer Nat "King" Cole, boxing champion Joe Louis, singer Hank Williams, former Miss America Heather Whitestone.
Visiting Montgomery, Alabama's Capital City …
In the first of our 50 part series on America's State Capital cities, we'll visit Montgomery, capital city of The Heart of Dixie. A compact little city, Montgomery was recently voted as the Best Historic City in the United States in a USA Today poll.
It's easy to get to Montgomery – it's situated at the intersection of Interstates 65 and 85, about 90 miles south of Birmingham and 155 miles north of Mobile and the Gulf of Mexico. To be sure, a lot of history has occurred in this city, stretching back to the Civil War and before and up to the present day.
We stayed here overnight in the midst of an Alabama vacation recently, having the better parts of two days to explore the downtown area and cover many of the sites. While it wasn't near enough time, you can get a good feel for the city in a day or two …
The first thing you'll notice is the people are warm and friendly. It seems Montgomery's citizens genuinely enjoy hosting visitors in their city. The traditional southern hospitality shines through, and we only hope we get a chance to make a return visit …
What To See In Montgomery
The city's center is situated on the south bank of the Alabama River. The immediate area adjacent to the river, known as the Riverwalk, has been redeveloped over the past ten years and now features an entertainment center, baseball stadium, and the Harriott II Riverboat for cruises and events.
Nearby the Riverfront is downtown's primary entertainment area, The Alley. Here you'll find all sorts of dining options from casual to chic, plenty of boutique shopping, and ample nightlife. In the vicinity is historic Union Station, where you'll find the Montgomery Visitor's Center and the Montgomery Trolley, a convenient way to get around downtown and see all the sites …
To appreciate Montgomery's present, start with the city's past. In the 1950's and 1960's, this city was a focal point for the Civil Rights movement. See sites like the Civil Rights Memorial and Center on Washington Street, the Dexter Avenue King Memorial Baptist Church, and the Rosa Parks Library and Museum.
You'll learn about the important events that shaped the country's views on civil rights and see where they actually took place. For current events, take a free tour of the Alabama State Capitol Building on Dexter Avenue. The building is open for visitors every day except Sundays and holidays …
If you're traveling with youngsters, two attractions stood out to us. First is the Montgomery Zoo, home to over 500 animals divided into five continent visiting areas. There's a special Giraffe Encounter event where kids can feed the zoo's giraffes.
The second is the year around Ice Palace at Eastdale Mall, where the family can strap on skates and twirl around the city's indoor ice rink. Skate rentals are available on site and it's a perfect activity for those days when the Alabama heat gets a bit high …
Montgomery's downtown area is very walkable. Explore the early 20th century architecture or stop in for a bite at the many downtown restaurants to take a break from your stroll. It's especially enjoyable around 5 pm, as workers file out of their offices and head to some of the hot spots in the area …
Montgomery Eats: Good Places To Dine
Be forewarned, here at StateGiftsUSA.com we like local places. You won't find any chain restaurant recommendations here, unless they're small local chains. We figure you can find the chains on your own!
We also favor casual places offering a good value. Oh, we splurge very once in a while like everyone else but for the most part, our recommendations represent "where the locals eat". Here are a few of our Montgomery favorites and top picks …
Our favorite Montgomery joint is Chris' Hot Dogs on Dexter Avenue. This place was calling our name for three reasons. One, it's historic (Chris' opened in 1917). Two, it's a casual lunch counter where you feel the pulse of the city, and three, it specializes in hot dogs. We're from Chicago, so we truly enjoy trying the different styles of hot dogs served around the country. Try the "All The Way" dog, dressed with Chris' Hot Dog Sauce, sauteed onions, mustard, and sauerkraut. We loved it!
It's Alabama, so we wanted to visit a barbecue place, and we opted for a Heart of Dixie legend, Dreamland Barbecue (see our feature on this page). Dreamland has locations across the state, and this one has outdoor dining and it's convenient to downtown and the Riverfront. Go with whatever strikes your fancy because it's all good here. We loved the pork sandwiches with white barbecue sauce, another Alabama specialty. Order some sweet tea to go with your meal and you'll practically be a native!
Learn More About Montgomery
For more information about Montgomery, do as we did before we visited and check out the Montgomery Visitor's Bureau website, which does a great job outlining all the in's and outs of this highly enjoyable small city!
We really enjoyed visiting Montgomery. One of the locals remarked the city is kind of a "pass through" place, and when we asked why, he said "Everyone from Birmingham passes right through on their way to the Gulf!" Well, we're glad we stopped and got to experience a small taste of Montgomery …
If we did it again, we'd spend two nights, but alas, there isn't always time for everything. But this is a cool little city, steeped in history, with friendly people wherever you go.
Should your travels take you to Alabama, spend some time in Montgomery. We're confident you'll be glad you did!