Made In Alaska Quick Facts
See Our "Visiting Juneau" Travelogue … Scroll Down
This Post is about Made in Alaska Gifts and Specialty Alaska Products
Want To See Your Business / Products On Our Made In Alaska Page?
Visit "Advertise With Us"!
FEATURED MADE IN A

LASKA

BUSINESS

ES
Glacier Smoothie: Here at State Gifts USA, we love spotlighting small businesses who incorporate local natural resources into their product line. We're also big fans of small batch handmade soap, so we're delighted to introduce you to a family owned Juneau business producing a uniquely Alaskan line of bath and body products …
If you're lucky enough to visit Juneau via cruise ship, you'll see this thriving entity right at the ship dock on Franklin Street. They're Glacier Smoothie, and their flagship product line is a patented soap known as Glacier Silt Soap …
Handmade soap, as you may know, offers significant benefits versus mass produced soap. First, small batch soap contains no artificial chemicals or suds enhancing agents, which can leave your skin dull, dry, and lifeless. You'll also find a bar of small batch produced soap lasts longer than mass merchandise varieties due to the absence of artificial ingredients …
Glacier Smoothie's Glacier Silt Soap takes it a step further with the addition of actual glacier silt to every bar produced. Alaska, of course, is home to many ice age glaciers, which are essentially rivers of ice which move slowly to the open sea. As the glacier slides along, a fine powder of rich clay is produced, known as silt. The silt is harvested, hand sifted, and then added to every bar of Glacier Smoothie soap …
The glacier silt serves as a mild abrasive, gently exfoliating your skin and removing weathered skin cells. The exfoliating action leaves your skin smooth and refreshed with a healthy, vibrant glow. Produced only by Glacier Smoothie in beautiful Juneau, these one of a kind soaps have been awarded an Alaska Trademark, U.S. Trademark, and U.S. Patent. If you're looking for a special Alaska Made gift, these soaps are sure to please!
Glacier Smoothie Soap is available in many distinctly Alaskan themed varieties, including Arctic Entry, Glacier Girl, Juneau Body, and Lemon Creek (named after one of the area's glaciers). Each offers a clean refreshing scent and natural skin softening ingredients, just perfect for any gal or guy on your list …
While you're at the Glacier Smoothie online store, be sure to check out their enticing line of other bath and body products, including body creams, bath salts, scrubs, and more. You'll also find a wide selection of Combination Gift Packs, including a Soap of the Month option and the Deluxe Soap Sampler if you're having a hard time choosing …
You can place your order online and Glacier Smoothie will ship directly to your door. And when you're in Juneau, be sure to stop in and say hello!
We're proud to feature Glacier Smoothie's line of Glacier Silt Soaps and bath & body products here on our Made in Alaska page! Click through to their website, linked above, to discover the entire selection and place your order …
MADE IN ALASKA SPECIALTY FOODS
American Pride Foods: This Anchorage based company specializes in Alaskan wild game, sausage, premium beef and chicken, and Made in Alaska gifts and a tantalizing array of products …
We discovered wild game meats well over 20 years ago and have been devotees ever since. These meats are lower in fat than traditional meat, healthier for you, and easy to cook. In fact, the biggest challenge is not to overcook them (luckily, getting the hang of it is easy!).
American Pride Foods selection is impressive, which you'll discover at their website. Choose from caribou, elk, reindeer, venison, and more in a wide variety of cuts. We enjoyed a few reindeer hot dogs on our visit to The Last Frontier – delicious!
If you're looking for one stop shopping for Alaskan food gifts, click through to their site. You'll find all sorts of variety packages and they ship to all 50 states. A perfect gift for the gourmet in your life, or as a memorable thank you gift for neighbors, clients, or anyone on your list!
Alaskan Salsa Salmon: This independent Anchorage business combines two distinctly delicious flavors in their products – salmon and salsa!
They're Alaskan Salsa Salmon and at their website, you'll see the unique varieties of salmon based salsa they produce. The Unsmoked Hot Pleaser (pictured) is chock full of salmon and offers a spicy peppery kick. It's perfectly balanced and pairs well with crackers, crusty bread, or as a party dip …
If you're not a fan of spicy, a mild variety is available too. Just click through to the Alaskan Salsa Salmon site where you can buy directly for shipment right to your door …
A unique taste of Alaska!
Indian Valley Meats: We love spotlighting local companies who reflect their surroundings, and you won't find a better example than Indian Valley Meats, located about 1/2 hour south of Anchorage …
The company is well known to locals as a processor of local game, fish, and specialty meats. In recent years, they've expanded to service wholesale and retail accounts along with a thriving internet store which ships their products anywhere in the U.S. …
Click on "The Meat Shoppe" tab at their website and you'll find all sorts of interesting products representative of The Last Frontier. Caribou steaks, Alaskan hot dogs with reindeer, elk, and bratwurst with buffalo are just a few of the fresh meat options. If you're looking for something shelf stable as a gift, consider Indian Valley Meat's jerky, pepper sticks, and trail sausage …
The company also offers packages of smoked salmon, reindeer chunks with gravy, gift boxes, freezer packs, and much more. Check them out for a truly Alaskan experience!
Echo Lake Meats: Established in 1976, Echo Lake Meats is one of Alaska's largest specialty meats stores and processors of fish, meat, and other delicacies. Best known for their delightful Jalapeno Cheese Spread, they're also a destination for sausages, smoked fish, and Alaska themed gift boxes …
Some of the interesting products you'll find at their online store include Double Smoked Game Hens, Alaskan Smoked Salmon Spread, Smoked Chinook & Sockeye Salmon, and over a dozen specialty sausages. Any of their products can be ordered online – they're shipped FedEx Overnight for maximum freshness.
Be sure to check out the Echo Lake Meats wide variety of Alaska themed gift packages. We were drawn to the "Salmon & Jam" Box, which combines a pound of smoked salmon along with three different Alaska Wild Berry jams …
Enjoy the flavors of The Last Frontier!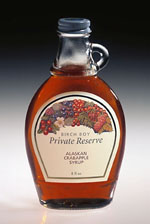 Birch Boy Wilderness Plant Syrups: This small company in Haines in the southeast part of the state creates a variety of syrups you're unlikely to find anywhere else …
Specializing in birch syrup drawn from native birch trees, Birch Boy offers well over a dozen varieties of syrups made from Alaskan wilderness plants. Fruit like red currant, raspberry, cherry, high bush cranberry and more are used to make syrups intended for traditional and dessert uses. Fruit in Alaska is abundant but traditionally early harvest, and the taste is usually slightly different than fruit you'll find in the lower 48 states …
Birch Boy offers a syrup called Everybody's Rhubarb, made from the rhubarb plant which seems to sprout in everyone's garden and yard. This sturdy plant, a Siberian transplant, typically grows as tall as a man and is used in pies, baked goods, and now syrup!
The company also has a combination case of syrup available for sale – an excellent Alaska made gift! Check out their website to learn more and see all the syrup varieties they have available …

Santa's Smokehouse: Located in Fairbanks since 1984, this Alaska business is one of the state's busiest fish and game processors. They don't limit their activities to only that, however, as they produce a bevy of specialty food items and gifts just perfect for someone looking for Alaska made gifts …
You'll see all their different products at the Santa's Smokehouse website and there are a few in particular we'd like to highlight. First is their Salmon Caviar, rarely seen available for online purchase. Add a touch of elegance to your gathering with this – it's fresh and ready to serve right out of the jar.
Second is the Santa's Smokehouse Salmon Chowder Kit. It includes two 7 ounce cans of freshly packed salmon and a bag of their Chowder Mix – perfect for those chilly days in Alaska, or wherever you may call home!
You'll find both of these items under the "Wild Salmon Specialty Items" tab at the website. Don't forget to explore their fresh wild caught salmon options as well … fresh from The Last Frontier!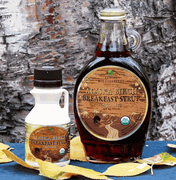 Kahiltna Birchworks: This family run business has been involved with producing birch syrup since 1990. Birch syrup is one of the scarcest types of syrups and the most difficult to produce …
The company's syrup is known as Kahiltna Gold and is certified organic. Birch syrup is made just like maple syrup … from extracting sap from the trees. The biggest difference is that it takes 100 gallons of birch sap to make one gallon of syrup, whereas the ratio is 40-1 for maple syrup …
When birch sap is extracted, it looks and tastes like water. Only when it is boiled down does the sugar become more prominent, thus giving birch syrup its distinctive taste …
The tapping season is in April and lasts only two to three weeks until the trees bud. You can use birch syrup as a sweetener in recipes or on any dish where syrup is commonly used. It's great when added to ice cream!
You can order birch syrup directly from Alaska via the Kahiltna website. They also have gift packs!
Alaska Herb Tea: Another good choice is Alaskan made herbal teas from Alaska Herb Tea in Anchorage. The spices and mixture is developed locally and they have a large range of products to choose from …
Kobuk Coffee Company: The Kobuk Coffee Company of Anchorage, Alaska makes a variety of house blend teas, coffee, and honey. Their online store offers many of their products. Try the North Country Sleeper tea, a relaxing blend with hops as one of the ingredients …
Alaska Wild Berry Products: Alaska Wild Berry Products has produced wild berry jams, chocolates, smoked salmon, and Alaska gift baskets in Anchorage since 1946 … a great one stop source for Alaska souveniers! And don't forget your best dog friend … check out the Alaska Canine Cookies! Alaska Wild Berry Products …
Alaska Artisanal: Buy tasting packs and gift boxes of Alaska made delicacies, including Alaska made potato chips, cereals and mixes from the Alaska Flour Company, salmonberry jam, raw wildflower honey, and more. Check out their variety of Alaska food gifts here … one stop Alaska shopping!
Alaska Wild Harvest Birch Syrup: Have you ever tasted birch syrup? It has a spicy sweet flavor that's different from maple syrup … and much harder to find! It takes about 100 gallons of sap tapped from Alaskan birch trees to make one gallon of syrup – typically less than 5000 gallons are produced a year.
Birch syrup is used not only with traditional breakfast dishes, but also baked goods, milkshakes, natural sodas, and barbecue sauces, just to name a few … buy some online right here.
Alaska Sausage: Smoked meats and fish like salmon and reindeer are produced by the Alaska Sausage and Seafood Company of Anchorage … a reindeer meat hot dog is an Alaskan delicacy! In fact, hot dog carts in Anchorage do a brisk summer business selling these delectable reindeer dogs to lunch crowds … and now you can buy them and other Alaska made products direct to your door from AlaskaSausage.com …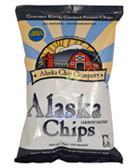 Alaska Chip Company: Did you know potatoes grow in Alaska? They do, and the Alaska Chip Company of Anchorage uses them to create several flavors of Alaska made potato chips …
These chips are kettle cooked in peanut oil for a fresh, crisp, crunchy taste that will stand up to any appetizer dip. You can order Alaska Chips for yourself or as part of an Alaska themed gift at their online store …
MADE IN ALASKA GIFTS

Alaska Books & Calendars: Literary gifts are always appreciated, and as an added bonus they're relatively economical. And there's no better source in The Last Frontier for books and more than this Anchorage outfit …
They're Alaska Books & Calendars, and at their website you'll find scores of titles dedicated to The Last Frontier. History, fiction, adventure, biographies, and documentaries are just a few of the genres you'll find within their online catalog.
If you're looking for Alaskan themed calendars and gift items, this is your source. Note card sets, CD's, DVD's, magnets, and maps are all waiting for you. There's something for everyone here!
Easy one stop shopping – click through to view their large collection!
Sara's Loot: We're big fans of local art and talented artists who create unique works from discarded or otherwise unwanted local resources. That's why we are so pleased to discover Kodiak Island artist Sara Sundsten, whose skills and artistic imagination combine to craft one of a kind artworks reflecting the beautiful Alaskan coastline and the bounty of the surrounding sea …
Her small company is called Sara's Loot and when you visit her online shop you'll understand what we mean. She collects beach shells and items discarded by the sea to create jewelry pieces, home decor, whimsical gift items, and much more.
The piece shown is a collage of a captain's wheel, glass fishing float, real shells, sand dollars, and sea sponges. It's just one of dozens of dozens of fascinating works you can bring into your home from the Sara's Loot store. Vases, wind chimes, and frames are among the many other items, all created by hand and reflecting a true piece of Alaska.
If you're looking for something unique from The Last Frontier, click through to Sara's site. Inventory is changing frequently, so you're sure to find something just right for you or as a special gift …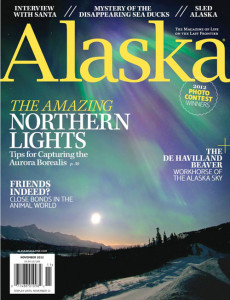 Alaska Magazine: Known as "The Magazine of Life on the Last Frontier", Alaska Magazine is a perfect gift for someone on your list who loves our 49th state. Each issue's stunning photography makes a digital or print subscription well worth the nominal cost …
One of Alaska Magazine's most useful features is their Communties section. Each Alaska community is profiled with a bit of history, visitor overview, helpful links, and video highlights of the area.
Subscribers will find an updated calendar of events outlining what's happening in the state, as well as a Best of Alaska feature with interesting stories like the recent "49 Places To Go In The 49th State" …
Click through to the Alaska Magazine website to order a subscription … a very useful and economical Alaska themed gift!
Alaska Rug Company: Here's a company that offers truly Made in Alaska products with a nice recycling angle …
The Alaska Rug Company, based in Port Bailey, uses 100% upcycled Alaskan rope and fishing line and turns it into rugs, placemats, and more.
The rope and fishing line is cleaned and repurposed into items like the doormat shown. They're hand woven and virtually indestructible … resistant to sun, rain, mildew, salt and anything else Mother Nature can throw at it!
Alaska Rug Company also makes coasters, decorative letters and numbers, wall plaques, and even earrings and bracelets featuring fishing rope!
A very unique gift from The Last Frontier! Check out their site for all the details …

Lead Dog Designs: This Alaska company makes stylish and practical gifts for man's best friend … colorful and very cool dog collars!
These good looking handmade collars start at just ten dollars. They're available in a wide range of designs and if you really want to pretty up your girl dog, some even sport Swarovski crystals!
Why settle for an ordinary dog collar when you can buy one that's extraordinary? After all, as the Lead Dog Designs website so accurately states, "Because Your Dog Wants To Look Awesome!"
Click through to their site to see all the fun designs … Woof!
The Soyo Shop and Wolf Dreams: This small operation in Eagle River, AK specializes in Alaskan aromatherapy with Alaskan made gifts and accessories like soy candles, body creams, bath salts, and other good for your well being items …
Use their bath salts to transform your bath into an Alaskan spa or pamper your skin with natural honey or soy yogurt Alaska soap.
They also make soy sugar scrubs for your face and body that will open your pores and leave your skin soft and smooth! Aromatherapy accessories are also available …
Grab any of these or their other made in Alaska items directly at The Soyo Shop website …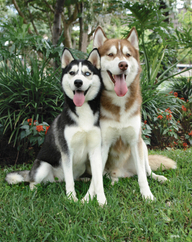 Yummy Chummy Dog Treats: Need to buy a gift for a four legged friend? Try Yummy Chummies, a really healthy dog treat made with Alaska salmon and rich in Omega 3 oil.
These dog treats are soft and chewy and make for a perfect training treat. They come in a variety of flavors, guaranteed to please! Check out their full line at YummyChummies.com …
Alaska Ulu Company: This Anchorage company has been producing unique knives and cutting boards for over 40 years …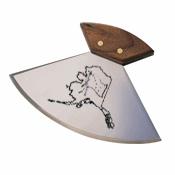 the handles are made from Alaska birch trees and they are handcrafted in the same manner Eskimos have done for centuries. Ideal for preparing fish, the ulu knife is a symbol of Alaska and used all over the world.
Learn more about these kitchen knives at TheUluFactory.com …
Oomingmak: An Alaska owned company based in Anchorage, this cooperative has produced warm clothing items made from the Arctic Musk Ox since 1969. These beautiful creatures naturally shed during the spring, and the fur is hand knitted into garments that are eight times warmer than wool and extremely lightweight.
Best of all, these hats, scarves, wraps and other garments won't scratch and don't shrink – no matter what temperature they're washed in! They're also very durable and quite comfortable in frigid weather or slightly cool evenings. Take a look at their video and buy these garments at the Oomingmak site …
The Great Alaska Bowl Company: Based in Anchorage, this company produces sturdy wood serving and decorative bowls from sustainably harvested Alaskan Birch trees. See the process at the video on their website. Among their many handsome sturdy bowls are a series of U.S. Quarter Bowls, which have each state's official quarter design embossed within …
Polar Bear Gifts: Anchorage's largest gift store is located in the heart of downtown and offers a wide range of Alaska made products ranging from art to edibles. Click to see the online catalog …
Denali Dreams Soap Company: Alaskan made soaps, lotions, body products (even dog shampoo soaps!) are created by Denali Dreams of Anchorage.
Visit them at DenaliDreams.com.

ALASKA SEAFOOD
Tonka Seafoods: Established in 1981, Tonka Seafoods is one of the largest processors of sockeye salmon in the state. Sockeye salmon is the variety best known to consumers, with bright orange-red flesh and rich taste that's brimming with heart healthy oils and nutrients …
Petersburg is a fishing village located in the far southeast portion of Alaska, adjacent to the Frederick Sound. The company is privately owned by the fishermen themselves, and has steadily grown to supply freshly smoked salmon chunks and fillets to consumers all across the country.
The salmon is smoked and packaged in special moisture sealed pouches. You will not need to refrigerate your salmon until the package is opened – ideal for gift giving!
You can order directly at the Tonka Seafoods website in 8 or 16 ounce packages or in cans. Skinless boneless sockeye salmon is available as well!
Check out their site for all the details …
Copper River Seafoods: When a state is as well known for great seafood like Alaska, it's hard to narrow down the most appropriate gift. Choose salmon and you'll miss out on king crab legs, choose wild halibut and miss out on Alaskan cod and more … the dilemma of a natural bounty!
We learned of Copper River Seafoods from an associate of ours who uses them for gifts for business clients. Based in Anchorage, the company has facilities all across the state, ensuring the freshest and most diverse selection of fish from the surrounding waters. Copper River King Salmon, Wild Pacific Cod, Scallops, Smoked Delicacies, and Crab Legs are just a few of the treats you'll find available at their website, ready to ship our from the online store.
Further, Copper River Seafoods has a wide selection of gift boxes and combination packages which make your decision much easier. We particularly like the Denali Alaska Seafood Feast, one of their best sellers. It offers over 20 servings of a combination of King Crab Legs, Wild Halibut, and the salmon the state is known for. The fish is vacuum packed and shipped priority overnight nest day air.
And don't forget about your best friend! Copper River also produces natural dog treats made from fresh salmon, and trust us – your pal will love them! Click through to their website to see the entire product line and to place your order … great gift ideas from The Last Frontier!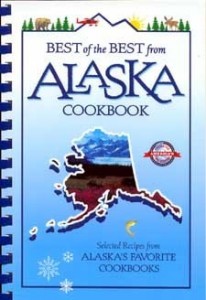 10th & M Seafoods: Named due to their location at 10th and M Streets in Anchorage, this company has been serving Alaskans and those beyond since 1943. They specialize in fresh seafood from the bounty of the waters surrounding the 49th State and ship it directly to your door, anywhere in the country …
Among the many specialties you'll find at their site are Alaska Sea Packs – King Salmon, Red Salmon, and Silver Salmon packed in jars or cans. Smoked varieties are available too, as are crab legs, Alaskan Cod, and a wide selection of seafood gift baskets and specialty gift packs. There's something for every seafood lover on your list!
10th & M Seafoods also carries several Alaskan cookbooks, like the one shown, which make great gifts for anyone with a fondness for the state or simply someone who enjoys preparing seafood. The book pictured is "Best of the Best From Alaska", which contains 350 recipes compiled from a wide range of sources across the state as well as beautiful pictures and Alaskan trivia. It's the ideal economical gift from The Last Frontier!
Click through to their site to learn more and to place your order …
Taku Fisheries: Based in beautiful Juneau, Taku Fisheries is known as Nature's Fish Store. They specialize in all types of salmon – hot and cold smoked, fresh frozen, canned, jarred, and much more. A sustainable fishery, the company has developed long standing relationships with area fisherman and guarantees each of the products they sell …
If you're looking for Alaskan salmon gift boxes, you'll find what you need at the online Taku Store. You can order salmon to be shipped to your door or as a gift, along with many of their other items like King Crabs, prawns, and other salmon items like caviar and jerky.
They've even got you covered through the preparation process – at their website you'll see their line of Taku Rubs, expressly make to season fish. Nine different rubs are available including a unique apple chipotle variety that'll add a sweet kick to your culinary creations.
Visit the Taku website to learn more about all their products and to order some of the freshest Alaskan salmon available …
Solomon Falls Salmon Caviar: Solomon Falls Seafood is a specialist in salmon caught in the waters of Prince William Sound, not far from Anchorage and on the eastern side of the Kenai Peninsula. In addition to smoked salmon and salmon sampler packs, Solomon Falls is one of the few places we know who deal in salmon caviar, a delicacy you can have shipped right to your door anywhere in the country …
There are two types of salmon caviar you can purchase – Pink Salmon and Silver Salmon. The pink is briny and sweet, while the silver is a stronger and more pronounced flavor. A true delicacy, salmon caviar is perfect for holiday parties and is shipped frozen overnight to your home or office. Simply thaw and enjoy!
You can also buy salmon sides, smoked portions, samplers, and combination packs. A wonderful gift for a special client who is a fan of Alaskan seafood!
Click through to the Solomon Falls Seafood website to learn more and to order …
Simply Incredible: Based in Anchorage, Simply Incredible specializes in one of our favorite Alaska products, wild salmon. Did you know that Alaska is home to almost 90% of the wild salmon in North America?
Wild salmon is exceptionally good for you … low in calories and high in protein. The salmon from Simply Incredible are hand trimmed and smoked with sustainably harvested local birch, then vacuum sealed to ensure freshness …
In addition to smoked salmon fillets, the company produces a unique smoked Alaskan salmon bacon, made with all natural ingredients. A healthy alternative to traditional bacon, it tastes just like pork bacon and features a slight maple sugar flavor. It's very lean and has no additives or nitrates …
Order yourself some smoked salmon or salmon bacon by visiting the Simply Incredible website. Consider combining your order with a family member or friend and save on shipping costs!
Denali Seafood: Wild caught Alaska salmon is probably the most highly thought of gift from Alaska. The taste is markedly richer than farm raised salmon and chock full of healthy nutrients.
One of the best places to buy real Alaska salmon is Denali Seafood, which packs and ships the same day the fish is caught. They offer a wide variety of gift packs and can ship just about anywhere.
Alaska Cannery and Smokehouse: This Juneau smokehouse produces all sorts of interesting smoked and packaged fish products using only sustainable fisheries. They offer unique shelf stable smoked salmon products which don't require refrigeration, as well as a healthy alternative to bacon bits called "Alaska Bits" made from salmon. See their full line of smoked fish and related offerings at their website …
ALASKA CONSERVATION & WILDLIFE ORGANIZATIONS

Alaska Conservation Foundation: Occasionally we like to feature worthy non profit charitable organizations here at State Gifts USA, and we're proud to call your attention to the Alaska Conservation Foundation, which has been making a positive difference in The Last Frontier for over 35 years …
A true problem solving organization, the Foundation connects donors, businesses, and volunteers with grassroots conservation groups all across the state. They've been instrumental in helping protect the Arctic National Wildlife Refuge and are at the forefront in spearheading conservation efforts relating the the state's environment, wildlife, and natural resources …
Since 1980, the ACF has distributed almost $50 million dollars in grant initiatives to businesses and individuals within the state. Preserving communities, ecosystems, and local economies are at the forefront of their efforts.
Learn more about this worthy organization and their projects at AlaskaConservation.org …
Alaska Wildlife Conservation Center: As life long animal advocates, we're very pleased to spotlight a non profit organization in The Last Frontier that supports the well being of many of Alaska's native wildlife. They're known as the Alaska Wildlife Conservation Center and they take in injured and orphaned animals year around …
Based in Girdwood on Seward Highway, the Center provides care for grizzly bears, moose, elk, eagles, musk oxen, and the rare wood bison, which is being reintroduced into the wild. While the goal is to rehabilitate the animals and return them to their wild domain, any which cannot be rehabilitated due to permanent injury are given lifetime homes and quality care …
Perhaps more importantly, the Center is actively involved in educational efforts, particularly with school groups around the state. The emphasis is to educate young and old about these animals, their habitat, and learning to peacefully co exist in our shared world.
The Center operates on admission fees and donations – visitors can observe these magnificent creatures up close in open air enclosures which mimic the animal's natural habitat.
You can support the vision of this noble endeavor by shopping at the Center's online store. You can also adopt individual animals, purchase a membership for yourself or as a gift, or gift the center with a tax deductible donation.
Learn more about the Center's current residents by visiting their website!
MADE IN ALASKA BARBECUE
Kenai Premier BBQ Sauce: Here at State Gifts USA, we love introducing you to each state's distinct barbecue flavors. America, of course, has several tried and true barbecue capitals like Kansas City, Memphis, North Carolina, Texas, and more, but great BBQ is certainly not limited to these areas …
From the Kenai Peninsula, we're pleased to showcase Kenai Premier BBQ Sauce. Offering a bold, rich line of barbecue sauces which complement the flavors of The Last Frontier, this family run business has been on the scene since 2010 …
Ranging the entire heat scale from Mild to Extra Spicy, you're sure to find the perfect sauce for your grilling endeavors. These sauces are made in small batches with no high fructose corn syrup or MSG. They're also gluten free and most importantly, stand up to everything from chicken wings to barbecue salmon to chops and roasts.
Can't decide which flavor is for you? Check out Kenai Premier BBQ Sauce's combination gift packs, available in both 6 ounce and 16 ounce sizes (we recommend the 16 ounce bottles). In addition to online ordering at their website, linked above, you'll find these sauces in retail outlets across Alaska and also in the Lower 48 with their recent expansion into the Oregon market and beyond …
Alaska Made Barbecue Sauces – a great gift idea!
MADE IN ALASKA HONEY
Sarah's Alaska Honey: A small family run business, Sarah's Alaska Honey is located on the Kenai Peninsula, near Sterling. Now if you ever wondered "What's the big deal about honey, I can buy it at the grocery store", then we'd encourage you to try local honey straight from the hive to the jar because it'll be unlike any honey you've ever tried …
Pure, natural honey offers numerous health benefits, including almost instant long lasting energy. Ever get drowsy mid afternoon? Take a spoonful of natural, non pasteurized honey and you'll notice the difference! Honey is also very good for helping regulate blood sugar levels and when taken consistently will mitigate the high and low blood sugar swings often associated with diabetic or pre diabetic conditions …
The honey from Sarah's Alaska Honey is known as Fireweed Honey because the fireweed plant is the primary source of nectar for their bees. It's very light in color and in taste … you'll never want to go back to store bought honey again!
The company also produces and offers a line of honey ingredient personal care products like honey salve, body butter, lip balm, and scrub, as well as beekeeping kits …
You can learn more about the company at their website and place an order for yourself or as a special gift direct from The Last Frontier …
MADE IN ALASKA HOT SAUCES, SPICES, & CONDIMENTS
Talkeetna Condiments: This company is making some very interesting and unique Alaska inspired condiments, spices, and sauces designed to complement the flavor of some of the state's famed meat and fish dishes. From their Savory Salmon Seasoning to dipping and hot sauces, there's something here for anyone who likes to cook or just enjoys good food …
Pictured is one of their products called Athabascan Hot Sauce. It's made with hot pepper mash, vinegar, garlic, and black pepper and designed to enhance meat, fish, rice dishes, and more. The sauce is named after the native Athabascan people, who traditionally lived in the state's interior and noted for their hunting and fishing skills.
Among Talkeetna Condiments other products are the aforementioned Salmon Seasoning, halibut & seafood seasonings, hot sauces, and their Merlot Moose Sauce for steaks and wild game.
Learn more about their entire line of products directly at their website. You can order their sauces by the bottle and have them shipped to yourself or as a unique Alaskan themed gift …
Alaska Sweet and Spicy: This small Alaska company started bottling sauces in 2010, although the genesis of the business began over 20 years ago when owner Pam Turner began making a sauce for chicken wings. The recipe has been tweaked over the years and now Alaska Sweet and Spicy makes Alaskan Umami Sauces and Mandarin Sesame Vinaigrette and Marinade …
The Alaskan Umami Sauce comes in three different varieties … mild, hot, and extra hot. The sauce is very versatile … use it atop any type of meat or fish, as a dipping sauce, or as a marinade. The Alaska Sweet and Spicy website has a number of useful suggestions too, including adding the sauce to stir fry dishes or simply mixed with a block of cheese!
Brown sugar, cayenne pepper sauce, garlic, sesame oil, and sea salt are some of the primary ingredients in their sauce … completely natural and qualified as vegan. They're soy free and wheat free as well!
Learn more about the company and these versatile sauces at their website … you can order online for yourself or as a unique Alaska themed gift!
Alaska Pure Sea Salt Company: As you look through the state pages here on State Gifts USA, you'll see we're big fans of unique seasonings to complement the flavor of our cooking. One of the best natural seasonings you can add to your own culinary creations is sea salt, like the salt made by the Alaska Pure Sea Salt Company of Sitka, AK.
The husband and wife team of Jim and Darcy Michener harvest fresh sea water near the shores of Sitka. The water is heated for a time, and when evaporation occurs, the salt becomes concentrated. The end result, pyramid shaped salt crystals, offer a delicate texture and a unique clean flavor much superior to standard salt. Use Alaska Pure Sea Salt on anything … it adds a wonderful finishing touch on seafood, steaks, or even fresh popcorn!
In addition to their flagship product Original Sitka Flake Salt, you can also buy Adler Smoked as well as some seasonal flavors which are available in limited quantities …
Click through to their website Alaska Pure Sea Salt and visit their online shop for all the details …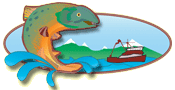 Alaska Spice Company: This company is another we discovered via the courtesy of a friend who is familiar with their products …
Based in Wasilla, Alaska Spice Company makes one of the best fish dip mixes we've had … it's their Alaska Salmon Dip. Just add your own salmon, mix the ingredients together, and you've got a dip that'll be the highlight of the party!
You can also use the mix with chicken, tuna, or any other fish. For best results, let the dip sit overnight before serving …
Alaska Spice Company also makes teas, spices, and dozens of other dip mixes. Click through to their site to see all they have …
MADE IN ALASKA LOCAL ART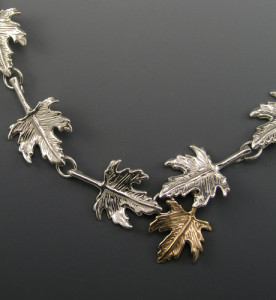 Judie Gumm Designs: Judie is a long time Fairbanks area resident whose talents have been featured in Coldwater Creek stores. Her nature inspired jewelry reflects her passion for working with metals and her love for The Last Frontier …
Judie works with sterling silver, pewter, and mixed metals. At her website, you can view a gallery of her work, which includes well over 300 pieces. You'll see beautiful necklaces like the "Falling Leaves" piece pictured, as well as earrings, pins, and accessories. Check out the pin she designed titled "Birch Tree In Fall, one of many Alaska themed designs …
Judie has also created an inspiring line of animal spirit pins, formed from sterling silver. Alaska's wildlife is well represented in this collection – she offers pins for the Arctic Hare, Moose, Musk Ox, Loon, Grizzly Bear, Caribou, and more …
Any of these pieces make wonderful gifts from Alaska. Even if you're not a native Alaskan, you'll treasure their beauty for years …
You can see Judie's entire collection and order for yourself or as a gift at Judie Gumm Designs …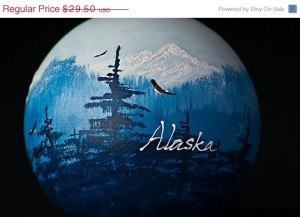 Alaska Balls Themed Ornaments: Craig, AK artist Cindy Wortman-Ziel creates unique and beautiful ornaments for Christmas and as decorative pieces for your home. Each ornament is made to order and hand painted with an Alaska theme or personalized per your specifications …
These attractive ornaments are made from glass and then painted and signed by Cindy. The paint used is a durable acrylic so your ornaments will last for years and more … a great legacy gift or a special memento for someone with a special love for The Last Frontier …
Check out Cindy's Alaska Balls Etsy Shop to see her various designs and to order for yourself or as a gift …
Artique Ltd. Alaskan Art: We heard about this Anchorage art gallery recently from a friend who visited the city and wanted to share it with our readers …
Artique Ltd. has been one of Alaska's longest tenured art galleries, located in downtown Anchorage since 1971. If you're looking to add authentic Alaskan art to your home decor or as a gift, you're sure to find something from their vast collection …
They carry art prints from Alaskan artists, like the one shown done by Byron Birdsall, as well as posters, ceramics, hand blown glass items, jewelry, and more.
Best of all, you can shop online if your travel plans aren't taking you to Alaska …
Check out the Artique Ltd. website to see everything they have to offer …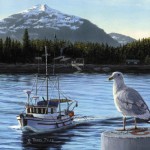 The Point Art Cafe: This combination cafe and art gallery is operated by Alaskan artists Terry and Cheri Pyle … their motto is "Serving Community Through Art, Craft, and Food". Many of Terry's prints and paintings are available online, like the harbor print shown. The cafe is located in Ketchikan and offers a free shuttle for visitors from their hotel or ship. Visit their site to see the Alaskan art for sale: Alaskan Art.
MADE IN ALASKA DESSERTS & SWEETS
KetchiCandies: This small artisan chocolate maker creates Alaskan handcrafted chocolates, fudge, and more at their location in the beautiful small Alaskan city of Ketchikan. Try the salt water taffy, available in over 40 different flavors! Order online at KetchiCandies.com …
Tell us about your favorite Alaska made products … comment at our Contact Us Page!
The modern History of Alaska
Alaska Trivia and Fun Facts

1). Alaska has the most coastline of any state, 6,640 miles …

2). Alaska was the 49th state admitted to the Union, in 1959. Hawaii was the 50th …

3). The highest point in Alaska is the summit of Mt. McKinley at 20,320 feet. It is also the highest point in the United States …

4). Juneau is Alaska's capital city and the state's 3rd most populous city. Both Anchorage and Fairbanks have a higher population …

5). Barrow, Alaska is the nation's northernmost city. Barrow lies only 800 miles south of the North Pole …

6). Lake Clark, located about 150 miles south of Anchorage, is Alaska's deepest lake. It is 1,056 feet deep and part of Lake Clark National Park.
Visiting Juneau – Alaska's Capital City
Welcome to the second in our 50 part series, "Visiting America's Capital Cities". We'll recap a visit to Alaska's capital city, Juneau. Located on a peninsula in the far southwest portion of the state, Juneau is usually visited by cruise ship passengers. In fact, most of Juneau's visitors arrive either by plane or boat during the high tourist season, which typically runs from June through September …
Juneau is unlike any of the other U.S. State Capitals. For starters, its charm and beauty aren't matched by its population, which is a relatively meager 31,000+ permanent residents. But walking around downtown Juneau, you'd swear there were more people than that – the city is flooded with visitors whenever the cruise ships arrive in port. It's estimated close to 1,000,000 visitors arrive in Juneau's port via cruise lines like Holland America, Princess, Royal Caribbean, and more …
One of the first things you'll notice is Juneau's beauty. Surrounded by large snow capped mountains just outside of town, it's easy to become mesmerized by the area's scenery, especially if it's not raining. Which reminds us – if you're planning to visit Juneau, pack an umbrella. It's rainy here, with an average of about 225 days of precipitation per year. June and July, the driest months, typically bring measurable precipitation about half the days of the month …
But that's not to say the climate is inclement. It's not! Juneau enjoys a climate moderated by both the mountains and the Pacific Ocean. It rarely gets hot here – summer high temperatures typically range in the mid to upper 60's. On the off chance you're visiting in winter, expect high temperatures in the low to mid 30's. To Midwesterners like us, that doesn't sound too bad!
Downtown Juneau: The cruise ship docks are located at the southern end of downtown. Unless you're going on an excursion, most visitors will have 8 or so hours in the city, which is ample enough to see the highlights and explore a bit.
One of the first sights you'll see after disembarking your ship is a statue of a dog, whose history dates back to the late 1920's into the 1940's. Her name was Patsy Ann, a bull terrier stray who arrived in the city via a ship from Portland in 1929. The dog, who was born deaf, became known as Juneau's Official Greeter because she recognized vibrations from the ship whistles as they docked.
Patsy Ann would run to the docks every day when the ships came in, greeting visitors and getting her fair share of treats and photo opportunities. At night, she'd sleep in a nearby longshoremen tenement, only to return to the docks the next day. An outright celebrity, Patsy Ann was one of the most famous dogs in the West.
When Patsy Ann died in her sleep of old age in 1942, Juneau residents mourned at her funeral. She was buried in the waters near the docks she so loved, and in 1992, a statue was erected in her honor. It was forged with dog hair collected from all over the world, a lasting symbol of a friendly soul and wonderful dog …
Strolling into downtown, you'll get the feel of a frontier town. There aren't many high rise buildings here, and the entire downtown is compact enough to comfortably visit in a day or even just a few hours …
On cruise ship days or during the city's annual festivals, things can get a little crowded, but not so much so to make things uncomfortable. Poke your head into one of the many shops for Alaska souvenirs, and plan your lunch or dinner at a couple of really interesting local spots …
Juneau's Capitol Building
Not the fancy edifice you might find in other state capitals, the Alaska State Capital Building is a former territorial government center that now serves as the epicenter of The Last Frontier. Free tours are given daily by well informed docents who enjoy narrating the building's history and how the legislature functions.
Just a few short blocks away is the Governor's Mansion, one of the better looking buildings in downtown. The Governor can literally walk to work!
A good way to experience downtown Juneau if you don't want to walk is the Red Trolley City Tour, which takes about 45 minutes and provides an excellent overview. We walked, but some friends really enjoyed taking the trolley …
There's also an express bus to one of the area's biggest attractions, the Mendenhall Glacier. Most cruise ship passengers opt for an excursion to see the glacier, so you'll have plenty of company …
Eats and Drinks In Juneau
As mentioned, you won't have a whole lot of time in Juneau if you're on a cruise, but you will have time for at least one meal and a stop for refreshments or libations.
We loved the vibrant scene at the Red Dog Saloon on Franklin Street. Yes, it can be a bit touristy, but the food is good and the decor kind of reminds you of being in a gold rush town, which Juneau was at one time. It's casual pub food and cold beer here (perfect!). For something a little different, and local, try the reindeer sausage sandwich. It's not unlike a lean bratwurst – very enjoyable!
Just a block up Franklin Street is the iconic Alaska Hotel and Bar. This place dates back over a century (1913 to be exact). It's got quite a history – it was at one time rumored to be a house of ill repute. Now it's remodeled and cleaned up and a great place to try some Alaska brewed beer and get off your feet. Highly recommended if you like historic bars!
Another good place for breakfast or lunch is just around the corner, B's Bakery and Bistro, where you'll find great casual sandwiches, wraps, and bagels. It's a cozy place where you can watch the Juneau world go by and plug in if you need a technology fix …
For More Juneau Information
In just a few hours, you can get a good feel for Juneau, but of course, there's much more to see and do especially as you get farther afield. An excellent source of information about the city and the area is the TravelJuneau.com website, which offers a comprehensive list of things to do and places to stay if your travels give you more time in the city.
An Alaskan cruise, needless to say, is a wonderful experience. Seeing Juneau is just a small part, but a real pleasure! The city is friendly, welcoming, and happy to see you! Stop in a few of the local spots to shop or rest your feet a bit and have a bite to eat – you'll enjoy it!