Made In Oklahoma Quick Facts
This Post is about Made in Oklahoma Gifts and Specialty Oklahoma Products
Want To See Your Business / Products On Our Made In Oklahoma Page?
Visit "Advertise With Us"!
FEATURED MADE IN

OKLAHOMA

BUSINESS

ES

Blue Turtle Soap Company: The creative mind behind this homemade soap company is Jeana Davis of Tulsa, who prides herself on making soap less drying and harsh on your skin that commercial soaps …
We've used homemade soaps for years and can attest to the claim. Your skin will be smoother and softer and as an added bonus, a bar of homemade soap will last longer than a mass produced bar due to the absence of commercial chemicals. At the Blue Turtle Soap Company Etsy store, you'll find a wide selection of soap for men, women, or general use.
Lavender Cream, Cucumber, Pumpkin Spice, and Pine are just a few scents available, along with soap gift sets. Handmade soap is always a much appreciated gift – click through to the Blue Turtle shop to order!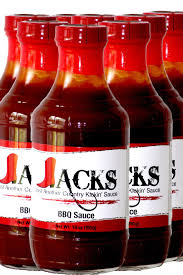 Jack's Barbecue Sauce: Whenever we travel, we've always got our eyes open for locally made barbecue sauces (and BBQ joints too for that matter!). It's a lot of fun sampling different styles of barbecue across the U.S. and smiling whimsically at the "which is best" debates …
We have no horse in that race, but we will say the brisket down Oklahoma way is absolutely fantastic. It's made even better by the addition of some of The Sooner State's fine barbecue sauces, like one we found in a Tulsa store. It's actually made in Muskogee and the sauce is simply known as Jack's BBQ Sauce …
It's the pride of the company's owner, Sharla Jackson McDaniel. Her father Jack Jackson taught Sharla the finer points of barbecue, and some years later she developed and fine tuned the recipe for this wonderful sauce.
It's got a slight peppery kick but it's not too spicy, nor is it too sweet. Like any great barbecue sauce, it helps bring out the flavor in whatever meat it's added to – and this stuff is so good you should put it on everything! We stirred some into a bland potato salad and perked it right up!
Jack's is available at select stores which are listed on their website, but if you're not in the area you can buy it online using PayPal by clicking the "Buy Now" button on the Product page …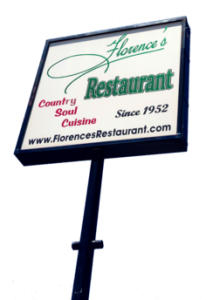 Florence's Restaurant: Want a great place to eat in Oklahoma City? Try Florence's Restaurant on NE 23rd Street. This legendary comfort food has been welcoming those in the know since 1952 and has been in this location since 1969 …
The menu features home cooked food for the soul … smoked chicken, pot roast, beef tips, chicken fried steak, catfish, and ox tails are just a few of the delights you'll experience here. They make a dish called Honey Meatloaf that will have you singing the praises of meat loaf even if you've never liked it!
Florence's Restaurant is open from 7 a.m. to 7 p.m. daily to accommodate their many fans. And after years of request, they now sell their mixes and famous barbecue sauce online at their site. Featured are Fried Chicken Seasoning, Corn Bread Mix, Pancake & Waffle Mix, and the aforementioned BBQ Sauce. Click on the "Products" tab, scroll down, and you'll see them all.
You haven't been to Oklahoma City until you've been to Florence's!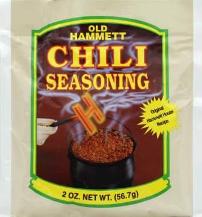 Old Hammett Chili Seasoning: Much like barbecue, chili differs depending where in the country it's made. And although you often hear claims of "the best" in different regions, it's enjoyable to compare and contrast the different styles and appreciate their uniqueness.
We're always on the lookout for a great bowl of chili, so when a friend brought us back a seasoning mix from Oklahoma recently, we were anxious to give it a whirl. We highly recommend this mix! It's from Old Hammett Food Products out of Sapulpa, OK and is simply called Old Hammett Chili Seasoning.
Add the meat of your choice and the spice packet (we like ground chuck), you'll be rewarded with a batch of hearty, bold, Oklahoma style chili. It's assertively spiced and leaves a pleasant mild "after glow". We didn't feel the need to add anything in terms of hot sauce or other spices, and served it over elbow noodles chili mac style. Fantastic!
Also check out the recipes at the Old Hammett website for other uses like enchilada sauce and chili party dip. A winner direct from The Sooner State! You can buy it in either two ounce or ten ounce bags and case lots …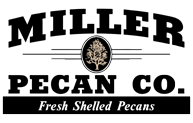 Miller Pecan Company: Most folks don't necessarily associate The Sooner State with pecan groves, but the Oklahoma is an important part of the southern U.S. pecan belt. One of the most popular nuts for consumers, pecans are exceptionally good for you and are great in baked goods or simply roasted and salted.
In the small town of Afton along Historic Route 66 in the extreme northeast corner of Oklahoma, Miller Pecan Company carries on the tradition of pecan harvesters in this great state. A family owned and operated business, the shelling facility in Afton was completed in the fall of 2014. Now, they sell a wide assortment of their fresh pecans directly from their website for delivery across the United States …
A perfect "Made in Oklahoma" gift, Miller pecans are available bulk in pieces of halves, in pralines, chocolate covered, and more. Go to their website and click on "Buy Now" and you'll see all your options.
There aren't too many things that sound better than fresh Oklahoma pecans! Order for yourself or as a special gift – custom gift baskets are available too!
A & J Salsa (and Relish) Company: This Sooner State company is officially known as the A & J Salsa Company but if we didn't tell you about their relish products we'd be doing you (and them) a disservice …
First of all, A & J are Alicia and Jimmy Morgan of Chickasha, a town of just over 16,000 people just southwest of Oklahoma City via Interstate 44. The Morgan's specialty is salsa, which they make in assorted heat varieties for every taste. They start with Mild, and progress through Warm, Medium, Hot, and "Exxtreme" which is made with habaneros and ghost peppers. Each of the salsas listed at their online store describes which peppers are used, so you can dial directly into your personal heat preference …
A & J also make a line of Pepper Relishes that we're happy to tell you about. They're great on hot dogs, burgers, sandwiches, and in any recipe where you'd use relish or chow chow. Just like the salsa line, they're made in varying degrees of heat, from Mild on up through Hot. Try them!
Discover this family run company at their website A & J Salsa. You'll also find a list of retailers and distributors if you live locally. Otherwise, order online for yourself or as a gift and have their salsa (and relish) delivered to your door!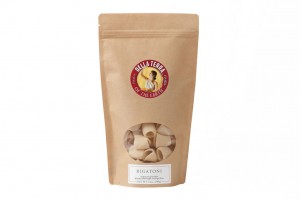 Della Terra Pasta: If you haven't already, make sure you take the time to experience the flavor difference between hand made pasta and the mass produced brands from a box at your local grocery store. There really is no comparison – hand made pasta's flavor is much richer and satisfying! We've been buying pasta from small batch local vendors for years now and wouldn't dream of going back to those mass produced varieties …
In The Sooner State, one of the best known artisan pasta makers is Chef Chris Becker, who founded his company Della Terra Pasta to make specialty pasta available at home to fine food devotees. Chris, whose company name means "of the earth", uses organically grown durum wheat semolina and water without any preservatives or additives.
Working with internationally known chefs like Mario Batali and Mark Ladner (among others) helped hone Chris' appreciation for finely crafted pasta. At the Della Terra online store, you can order several different varieties, including Fusilli, Galleti, Rigatoni, Campanelle, and more …
If you live in Oklahoma, you'll find the company's products available in specialty food stores across the state (check the Shop Local list on the website). Order directly online to have it shipped directly to your door or to the foodie on your gift list. Direct from Oklahoma City!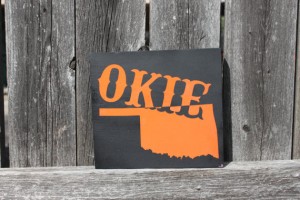 Torrey's Touches: Artist Torrey Inestroza of Bethany, OK creates very cool and stylish distressed wooden signs for use as home decor and markets them via her Etsy shop. Torrey is a self taught artist who repurposes cabinet doors and wood slabs to create inspirational and whimsical signs from the heart of The Sooner State …
She also does custom work and can create a sign especially for you. Hand painted signs can be created with any type of message, from greetings to quotes to teacher themed signs and much more …
Take a look at Torrey's shop for ideas and examples of her work. We especially liked this colorful Oklahoma themed sign that's perfect to adorn your desk or as a hanging piece in your den, powder room, or four season room. Other state themed signs are available as well, and if you don't see one for your state, inquire and Torrey will create one for you!
Beautiful works from a talented Oklahoma artist – visit the Torrey's Touches Etsy Shop online today to find something special for your home!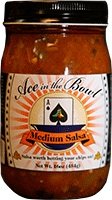 Ace in the Bowl Salsa: This cleverly named small business is owned by Oklahoma City resident Susan Witt, who made her unique salsa for friends and family for 20 years. Encouraged by their comments and positive reaction, Susan took the necessary steps to commercialize her salsa and bring it to market. The result is Ace in the Bowl Salsa … Salsa Worth Betting Your Chips On!
The company distributes their salsa to specialty stores in Oklahoma and has recently expanded into Missouri. Of course, you can also buy it online! Three varieties are available … Mild, Medium, and Hot. They're differentiated by the addition of jalapeno and habanero peppers – Medium contains jalapenos and Hot contains both jalapenos and habaneros …
Jump on board with what the good folks from The Sooner State already know – order a three pack of Ace in the Bowl salsa for yourself or as an Oklahoma themed gift!
Steele Family Farm: We love using goat milk soaps, and we're pleased to introduce you to the Steele Family Farm, which raises goats and other animals on their farm in the small community of Washington, just south of Norman. Run by Todd & Angie Steele and family, the farm's goats help produce a line of soap, gift sets, and accessories …
At their online soap shop, you'll find a dozen rotating varieties of goat milk soap. Goat milk has the same pH as our skin, and because the milk is rich and high in fat content, it's smoother on your skin than normal bar soap – much smoother! You'll notice a positive difference in your skin tone after just a couple uses. For a really cool Oklahoma themed gift, consider the Red Dirt Soap, inspired by the state's iron rich red colored dirt. Ground flax seed is incorporated in the ingredients for a gentle exfoliating experience …
Also try their Goatmeal Honey bar, made with ground oats and honey to help your skin remain moist. The Soap Shop offers an array of other bars and unique fragrances, like Farmhand which is made with five different natural oils with a honey almond scent. You can also order multi bar gift packages and baskets if you can't decide on a specific variety!
Visit the Steele Family Farm website to see all their products and to place an order …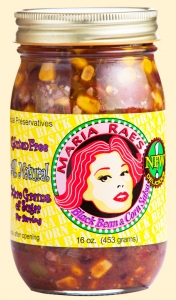 Maria Rae's Gourmet Foods: This small Enid, OK business draws their inspiration from the current Maria Rae's great grandmother of the same name. During the Oklahoma Land Rush of the 1890's, Maria Rae set up a homestead and served meals to passerby travelers out of her kitchen. Rumor has it she wanted a sign hung outside saying "DINE" but it was somehow hung backwards so it read "Enid" …
True or not, Maria Rae's Gourmet Foods evokes the spirit of Oklahoma's beginnings with spirited, lively foods. Salsa, specialty chips, and dip mixes all stem from the original Maria Rae's recipes, lovingly preserved for over a century.
We had the opportunity to buy one of their salsas locally during a venture through the state recently. It was Maria Rae's Black Bean & Corn Salsa and if you like a lively, fresh chunky salsa bursting with flavor, try this stuff! It's mildly spicy with plump corn kernels and black beans that sticks to the chips!
This small company makes three levels of salsa, denoting the heat level, and a trio of dip mixes ideal to make an appetizer spread. They're all available online at the Maria Rae website, and remember, a gift of locally made specialty food is one of the best gifts you can give!
Direct from Enid, known as "The Wheat Capital of the United States"!
Southern Okie: Owner and founder Gina Hollingsworth started Southern Okie from the ground up. After moving to Oklahoma with her husband, Gina began selling her gourmet fruit spreads at a local holiday market and was overwhelmed with the positive response. Soon after, she began producing and marketing her products as a full time small business and they are now found in stores all over The Sooner State and beyond …
Southern Okie offers four different fruit spreads. While you can use them similar to a standard jam or jelly, they really shine in recipes. Pound cake, tarts, and cobbler recipes are available on their website, but the uses include pairing with main courses as well. The company makes Apple, Pumpkin, Peach, and Pear Fruit Spreads, so think pork roasts, ribs, chicken, baked beans, and more!
One recipe really caught our attention … it's for a slow cooker pork roast with a jar of Gourmet Apple Spread. Add in one package of onion soup mix and let the slow cooker do its thing! The combination of fruity apple with the slow cooked pork is ideal for pulled pork sandwiches …
You can buy any of Southern Okie's gourmet fruit spreads directly at their website. Combination and gift packs are available too!
Ralph's Circle R Brand: Since the late 1950's, Ralph's has been a favored destination for smoked and fresh meats in the small town of Perkins. Located northeast of Oklahoma City, Perkins is just about due south from Stillwater, the home of Oklahoma State University …
Renowned for the quality of their hams, whole hogs, and other meats throughout The Sooner State, Ralph's also makes a few products you can order from their online store to get a taste of this iconic meat packer. Beef and pork jerky strips and sticks as well as seasonings are available, and if you're a Bloody Mary fan like we are, we recommend their Lil Momma Bloody Mary spice. They like things big and bold in Oklahoma, and we're right on board with this mix … it's ideal for full throttle or virgin drinks. Just follow the directions on the label and start the party! You can also buy their beef or pork seasoning/rub to liven up your next steak or pork roast.
If you're ever in the area, stop by their retail store. They're open Monday through Friday and Saturday mornings. Look for the big Circle R Brand sign on their building!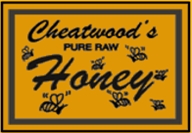 Cheatwood's Pure Honey: Based in the small Oklahoma town of Sapulpa, Cheatwood's Honey has been producing pure Oklahoma clover leaf honey with no additives for over 35 years. We enjoy spotlighting different local honey here on State Gifts USA as honey offers a unique flavor profile from one location to the next – no two honeys are exactly the same.
In addition to their local honey, Cheatwood's also produces sorghum, available at their website along with honey in various sizes. Sorghum has a rich, earthy sweetness and can be used in place of maple syrup in your favorite recipes. Popular in many southern states, sorghum is actually a grain that is cooked down into liquid form …
Raw honey, as you may know, offers many health benefits and is ideal for a quick burst of energy, especially when taken before or after exercise. A tablespoon of raw unpasteurized honey like Cheatwood's taken after lunch will help combat the drowsy feeling people often experience mid afternoon …
Honey is also great for baking – it lends a sweet, distinctive flavor and because it retains moisture, it helps baked goods remain fresh and moist. You can generally substitute honey in place of sugar in most recipes and enjoy a healthier taste!
Click through to the Cheatwood's site to learn more about their honey and sorghum and to place an order …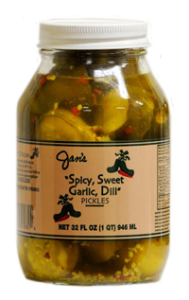 Jan's Pickles: A friend of ours was bragging on some spicy sweet garlic dill pickles he'd brought back from a business trip to Oklahoma, and after convincing him to save a few until we got to drop by, we tried a few of Jan's Pickles out of the small town of Dacoma, OK. Dacoma is in the northern part of the state, not far from Alva and the Oklahoma & Arkansas border …
The business was founded by Jan Williams and her husband Glenn. Jan developed a recipe for pickles reminiscent of the pickles she enjoyed as a child, and offered a few jars for sale at local craft shows. Once they kept selling out on the first day, a business was born!
Jan's Pickles makes their signature Spicy Sweet Garlic Dills as well as Sweet Garlic Dills without the spice and standard Garlic Dills. They also make a Spicy Garlic Dill (without the sweet) and offer them all for sale from their website. You can buy them in increments of three quart jars and trust us, you'll want to have more than one jar on hand anyway!
Also be sure to check out the pickle centric recipes on the Jan's Pickle website – there's a great one for making your own 1000 Island Dressing and one for Tuna Salad Extreme!
Oklahoma Barn Wood: Here's something really cool that's a genuine piece of The Sooner State …
Check out Tulsa's John Calkins' Etsy store. John makes picture frames from re-purposed wood from an Oklahoma barn! Each frame is made to order and they're available in just about any size that suits your picture framing needs …
John planes and sands the barn wood down until it's ready to be bleached back to a natural light wood color. Then oils and stain are added to provide color and seal any small holes or cracks in the wood.
The end result is a one of a kind genuine Oklahoma artifact – ideal for displaying your photographs or prints of the state or as a gift to someone who holds Oklahoma near and dear to their heart!
To learn more and to order, visit the Oklahoma Barn Wood store …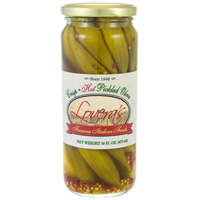 Lovera's Italian Market: Krebs is a small Oklahoma town located about two hours southeast of Oklahoma City in the eastern part of the state. There's a strong Italian-American presence here, perhaps best personified by Lovera's Market, a local treasure since 1946 …
Lovera's carries all kinds of specialty foods like cheese, fresh cut meat, sauces, and marinated vegetables. They're well known for their jarred pickled okra, a special treat that's crunchy and tart. It's available in both mild and spicy versions along with pickled asparagus, garlic, peppers, and more …
Lovera's is also widely known for their award winning artisan cheese. They make an outstanding semi soft creamy cheese called Caciocavera, which is in the same family as mozzarella and provolone. It's been one of Lovera's best sellers for decades! Their online store also offers a convenient Cheese Sampler Gift Box – a wonderful thank you gift for the foodie on your list (or anyone for that matter!) …
If you're ever in the area, stop in at the market! Not only is it a fun place to browse and shop, but the selection of specialty products is impressive! A real historic slice of Oklahoma!
Snyder's Sauces: This relatively new Shawnee, OK based outfit creates two unique mustard based sauces adaptable enough to be used in any type of cooking, from barbecue to fine dining …
The original style is called Snyder's Spicy Mustard Sauce and its newest counterpart is a spicier version called X-Spicy Mustard Sauce. Each of the two are mustard and local honey based and can be used as marinades, grilling sauces, or simply as a dipping sauce. The X-Spicy has a real nice spicy kick that complements brats, chicken breast, sausages, and potato salad …
These two sauces are perfect for burgers or as an appetizer dip for pizza rolls, chicken nuggets, egg rolls, and more. Or just use it like a traditional mustard on deli sandwiches for a tasty pick me up!
You'll find both sauces on the shelves in some Shawnee area grocers, or order directly online at the Snyder's website. A nice change of pace from traditional barbecue sauces!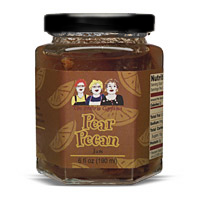 The Prairie Gypsies: This vibrant and creative Oklahoma City based catering and carry out company added a new aspect to their thriving business – manufacturing a line of home made jams, jellies, salad dressings, fruit butters, and more …
Starting with their signature house vinaigrette dressing called Parmesan Gypsy, the company expanded their line and introduced some very unique and flavorful products. Witness Prairie Fire Jam, created to honor Oklahoma's centennial. It's made with five different local berries along with jalapenos and can be used as a glaze or tasty appetizer spread …
Or, try something you've probably never tasted before – Blackberry Sage Jelly – it'll add a new dimension to your standard peanut butter sandwich!
The Prairie Gypsies also offers unique mustards and fruit herb jams and jellies. We were intrigued by their Pear Pecan Jam, made with pears and pecans grown locally …
For a wonderful "Grown in Oklahoma" gift, check out their entire line of products and order directly from their online store …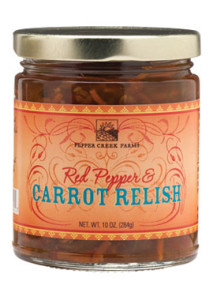 Pepper Creek Farms: This family owned business based in Lawton, OK is located at the foot of the Wichita Mountains – a great place to grow produce and use it to create a range of specialty food products.
Pepper Creek Farms product line includes condiments, salsas, dips, seasonings, specialty sugars, and much more. We are very fond of their bread dipping blends – they're available in flavors like Parmeson Garlic, Greek Isle, Italian Pesto, and more. Just mix the blend with your favorite olive oil and spread it on any type of artisan bread …
Pepper Creek Farms also offers a line of pepper relishes like the one pictured – Red Pepper and Carrot Relish. This delicious creation features ripe bell peppers, sweet onions, carrots, and chile peppers. We've used it on tacos and have also stirred it into baked beans … it's great!
Any of their products are sure to be appreciated gifts from The Sooner State. Check out their website to see all they have to offer and to order …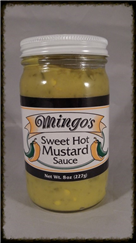 Mingo's Sweet Hot Mustard & Pepper Butters: A friend of ours brought back a jar of this company's sweet hot mustard sauce recently, and it was so good we checked the company out and want to tell you about them …
We found out the sweet hot mustard is a complementary product in the Mingo's Pepper Butter line. This Oklahoma based company is making a name for themselves with their pepper butters – not really a butter but a spreadable pepper condiment that's great on any type of deli sandwich. The pepper butter comes in varying degrees of heat … mild, medium, or hot.
There's a great recipe page on their website – use the pepper butter as a base in chicken or tuna salad, as a dip with vegetables, or in a pasta salad.
As for the mustard, use it like you'd use any other mustard. It adds a bit of zip to any dish (we loved it on a hot dog) and it's a great dipping sauce for pretzels or hot appetizers.
Learn more about Mingo's products and order a few jars directly at their website …
Head Country Barbecue: One of the biggest names in Oklahoma barbecue is Head Country Barbecue, stemming from their iconic sauces and their legendary restaurant in Ponca City, located in the north central part of the state, not far from the Kansas border …
They've been around since the late 1940's and you can often find their sauces in specialty grocery stores around the country. There are three kinds – Original, Hickory Smoke, and Hot. We like the Original the best, but try them all!
Head Country is also known for their seasoning and marinade. A wonderful Oklahoma themed gift is Head Country's Oklahoma Gift Basket, which includes a bottle of each of their sauces as well as a shaker of their Championship Seasoning …
You can buy any of the Head Country items individually or in combination gift packages at their online store. Click through to their site to see all they have to offer for the BBQ lover in your life!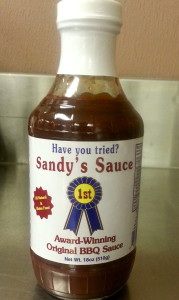 Sandy's Sauce: We were delighted to try this wonderful barbecue sauce when a friend brought us back a bottle after a business trip to Oklahoma …
Sandy's Sauce is a hearty BBQ sauce available in two varieties, Original and Hot & Spicy. We tried the Original, which has been made in Oklahoma for over 30 years and offers a a bit of brown sugar to balance out the flavor. The Hot & Spicy adds cayenne pepper to the mix for a blast of heat …
You can use Sandy's Sauce as a traditional barbecue sauce or as a dipping sauce for oven browned potatoes as we did. Great on hamburgers too!
You can order Sandy's Sauce in either 18 ounce or gallon sizes directly from the front page of their website. One thing for sure – Oklahomans sure know how to make a great sauce!

Oklahoma Magazine: If you're looking for an informative, affordable gift for the Oklahoman on your list, consider a subscription to Oklahoma Magazine, the state's leading lifestyle and events magazine …
Features like "100 Things To Do This Summer In Oklahoma" and "Oklahoma City Energy" are just two of the many stories you'll find in each monthly issue. At press time, a 12 issue subscription to this full color glossy magazine costs about $20 – a real bargain!
In each issue you'll find restaurant spotlights, listings of current events, and stories on influential Oklahoma citizens. There are yearly features as well as special features sure to be of interest to anyone who lives in Oklahoma or simply has a soft spot for the state …
Check out the Oklahoma Magazine website to see the gift subscription options …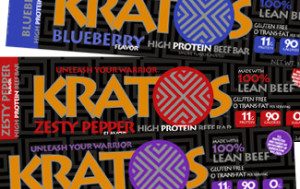 Kratos Foods: This Tulsa based company makes an interesting line of protein bars for an after workout pick me up or as a snack for active adults who want to avoid excess sugars and calories …
The product is Kratos High Protein Beef Bars, made with 100% lean beef. We were impressed by the ingredients … zero grams of sugar, only 70 calories, 15 grams of protein, and just 200 milligrams of sodium. If you enjoy a challenging workout like we do, enjoy a Kratos Bar afterwards to replenish what your body needs …
Kratos Bars come in four flavors – Original, Zesty Pepper, Ginger and Wasabi, and Acai Berry. You can order them in quantities of 12 at the Kratos Foods website … a healthy gift for you or the workout enthusiast close to your heart!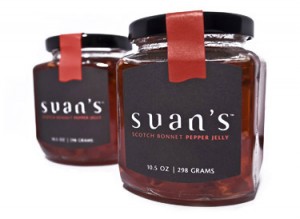 Suan's Scotch Bonnet Condiments: Although the name of the company is Suan's Foods, we noted this entry referencing their flagship products, made with the deliciously hot scotch bonnet pepper …
As you may know, the scotch bonnet is one of the world's hottest peppers. It is frequently used in Jamaican style cooking as the pepper grows abundantly in that island nation. Suan's Foods started in late 2009 and is becoming well known for their many jellies, sauces, relish, and jams all featuring the scotch bonnet pepper …
One of their most interesting products is the Scotch Bonnet Mango Lemon Butter, which combines the fruitiness of lemon and mango with the kick of the pepper. Try it spread over any grilled fish!
You can see the full line of Suan's products at their website, which links to their Yahoo store for ordering …
Pioneer Pies: Pecans are big business in the south, and Oklahoma is no exception. The Sooner State consistently ranks as one of the top ten pecan producing states.
It's no wonder then that Oklahoma turns out some mighty fine pecan pie. One local restaurant / bakery doing exactly that is based in Oklahoma City, right off Interstate 240. It's the Pioneer Pies Restaurant and Bakery, a local's place turning out renowned pies and several other tempting flavors …
You can order any of Pioneer's pies via their website, be it their pecan, cherry crumb, rhubarb, or others. They bake sugar free pies too, in both apple and cherry.
Enjoy the home made taste of Oklahoma pecan pie, or send one as a Sooner State gift!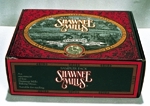 Shawnee Milling Company: The pride of Shawnee, the Shawnee Milling Company has been milling grain for food products and animal feed for well over 100 years. The food division of the company mills corn and flour into a wide range baking products and mixes to create homemade family friendly baked goods …
A wonderful gift from Oklahoma is the Shawnee Sampler Pack, shown. It comes in a beautifully decorated box and contains 12 assorted pouch mixes, just ready to create something delicious …
The Shawnee Milling Company online store offers a wide variety of the Mill's products, from cornbread and muffin mix to pizza crust mix and fudge brownie mix. You can buy in cases or larger quantities for certain items …
Taste 100+ years of Oklahoma pride and tradition from Shawnee Milling!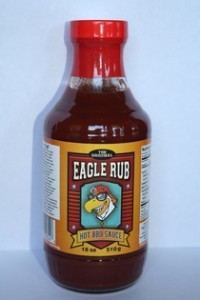 Eagle Rub Foods: Tom Evans of Edmond, OK got the nickname "Eagle Eye" years ago due to his sharp eye for detail, especially when it comes to making great barbecue … he capitalized on the name to form Eagle Rub Foods, specializing in a special rub and sauces to help you grill your own BBQ masterpieces!
Eagle Rub Foods signature product, not surprisingly, is their all purpose seasoning, Eagle Rub. It's designed to go on anything you can put on a grill or smoker, like meat, fish, chicken, and veggies to add a new flavor dimension. The rub contains only natural ingredients like sea salt and evaporated cane juice – it tenderizes and flavors all at once.
Tom also makes his special recipe BBQ sauces in both hot and mild varieties. The hot (pictured) has some really nice complex flavors and a good little kick to it … try it on brisket and you won't go wrong!
Eagle Rub Foods offers an online store where you can pick up their rub and sauces, as well as some great recipes for the next time you fire up your grill! Check out their site to learn more …
History of Oklahoma
Oklahoma Trivia and Fun Facts

1). The Oklahoma State Capitol Building is the only capitol building in the United States with a working oil well on the grounds …

2). The first shopping cart was used in Oklahoma City in 1937 …

3). On November 16, 1907 Oklahoma became the 46th state admitted to the Union …

4). "Oklahoma" is a Choctaw Indian term meaning "Land of the Red People" …

5). The state of Oklahoma is sunnier than most. Oklahoma City averages over 300 days of sunshine per year …

6). Oklahoma is bordered by six states: Texas, Missouri, Arkansas, New Mexico, Colorado, and Kansas …

7). Oklahoma City is one of two state capital cities that include the state's name. Can you name the other? It's Indianapolis …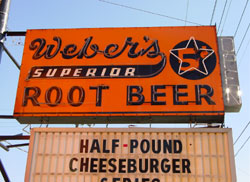 Weber's Root Beer: Several years ago, we had the distinct pleasure of taking an extended road trip tracing the general old Route 66 from the Chicago area out to southern California. "The Mother Road" as it was called is decomissioned now, with some parts of the original road abandoned and others paved over for newer, faster freeways going from downtown Chicago to the west coast …
But even if the road only exists in pieces, you'll still travel through some great American towns and cities. Like the song goes, "Down to St. Looie, over through Missouri, Oklahoma City is oh so pretty …".
One of the cities you'll travel through is Tulsa, where a wonderful traditional drive in still serves hundreds of folks daily. It's called Weber's Superior Root Beer Restaurant and it's been around in the same family since 1933 …
Their claim to fame is their original root beer, which you can order online from their web site. If you're ever in Tulsa, stop by. They've got fantastic cheeseburgers and onion rings … and of course root beer!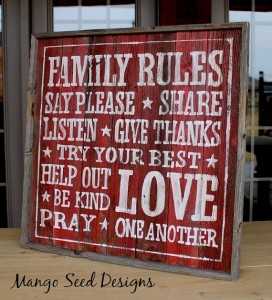 Mango Seed Designs: We found this really cool custom design sign studio surfing around on Etsy and wanted to share it with you …
It's a small husband and wife team shop called Mango Seed Designs … they create hand painted designs for your home or business like the one shown. It's made from reclaimed wood and adds a wonderful personal touch to your surroundings …
The business is run by a couple from Owasso, OK as a part time venture. Every sign is completely hand painted (no stencils or vinyl are used) so every piece is completely unique.
Turnaround time is typically a couple weeks to a month and you can contact them via their Etsy shop. All of the work is glazed and sealed for long lasting durability and beauty. A truly unique handcrafted gift for yourself or a loved one from The Sooner State!
I Love Okie Dirt: We found this clever Oklahoma small business that makes Sooner State themed shirts, but they're not just any kind of souvenir shop t-shirts …
The shirt pictured captures a Scissor Tailed Flycatcher … Oklahoma's state bird. It has the slogan "Nice Tail" added for a touch of sass! It's available in both men's and women's cuts.
They also make a really unique "Okie Dirt Shirt" which you can see on the I Love Okie Dirt website. The shirt is dyed using actual Oklahoma red clay dirt, so you can actually wear an honest to goodness part of The Sooner State!
It's one of the most clever made in Oklahoma gifts we've seen. They also carry hand made local crafts and hand crafted soap infused with Oklahoma dirt. Check out their website … seeing is believing!
KS & A Orchards Gourmet Cheese, Meat, Soaps, and Wood Products: KS & A Orchards, located in Commanche in the south central part of the state, produces an array of unique products with an Oklahoma flavor …
Best known for their lamb products and sheep milk soap, KS & A also handcrafts products from local wood, like cutting boards and the cheese box shown. Further, the orchard produces a wonderful blue cheese called "Tru Blue" which is made in limited quantities and always sells out …
You can order lamb meat products like summer sausage, rack of lamb, and lamb jerky sticks as well as all their other products online. Check out the KS & A Orchards store to see everything …
Stan's Smokehouse: Stan's Smokehouse in Yukon, OK has been producing gourmet meat and cheese since 1970. They're best known for their aged cheese, jerky, and wild game meat summer sausages like elk and bison …
The Stan's Smokehouse website is fun to browse if only to see all the interesting products they produce … ever heard of fajita jerky? Stan's has it. How about hickory smoked cheese? You'll find that on their site too …
Stan's Smokehouse also makes a line of seasonings and rubs, as well as an award winning barbecue sauce. Oklahoma is big on barbecue, so you know it'll stand up to pork, brisket, or whatever else you throw on the grill!
If you're ever in Oklahoma City, Yukon (where Stan's is located) is just a few miles west, a few minutes north of Interstate 40. They've got a retail store and they'll be glad to see you!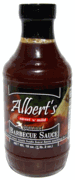 Albert's Sauces: In our never ending quest for great barbecue, The Sooner State kept coming up on our rader … Oklahoma BBQ has influences of both Texas style as well as Memphis and Kansas City style, each of which is wonderful and distinct in their own right …
We learned about Albert's Gourmet BBQ Sauces from a friend who travels frequently to Tulsa, where the company is located. Albert's makes six styles of barbecue sauce, ranging the whole spectrum of the heat scale …
Albert's Sweet and Mild struck a chord with us, and it's sure to please any BBQ lover as well. We found it to be a cross between a sweeter Kansas City style sauce with the pleasant smokiness of a great Texas sauce to complement brisket. Of course, it's a sauce unto it's own … so let's just call it Oklahoma style!
Check out all the Albert's BBQ Sauces on their site and order some for yourself or as an Oklahoma themed gift …
The Twisted Chile: Another Tulsa company turning out tasty sauces and marinades is Bequette Gourmet Foods, doing business as The Twisted Chile …
The company makes a line of appetizer kits, salsas, marinades, and sauces. One we tried that we'd like to share with you is pictured … Asian Black Pepper Glaze.
Now if that doesn't sound very Oklahoma to you, baste some of this tangy sauce over grilled hamburgers, steaks, or brisket. Anything you barbecue, the glaze will bring out the meat's flavor and add an exotic touch …
Asian Black Pepper Glaze is a combination of fresh cracked peppercorns, sesame oil, and ancho peppers.
Needless to say, it's great in a stir fry too! Check out The Twisted Chile's website to see all their products …
Bryant Pecan Company: Did you know that Oklahoma is one of the nation's largest producers of pecans? The hardy pecan tree thrives in groves across The Sooner State, and the Bryant Pecan Company of Ada brings pecans and pecan related products to you via their online store …
Pecans are one of the healthiest foods you can add to your diet. They are known to reduce cholesterol and are very high in protein, Vitamin E, and fiber. Pecan oil is one of the best oils to cook with, as it has an even lower saturated fat content than olive oil …
The Bryant Pecan Company tends to over 6,000 pecan trees in and around Ada. They offer all sorts of pecan treats and gift baskets on their website – give someone a tasty gift from the heart of Oklahoma!
Daddy Hinkle's Meat Marinade: Based in Cleveland, OK Daddy Hinkle's makes a meat marinade that is one of hte best we've found. It adds a light touch of garlic and onion to meat and doesn't overwhelm the flavor as some marinades tend to do …
You can use it for stew meat, pot roast, steaks, chops, and any kind of meat that can use a bit of tenderizing.
Try it as a marinade for flank steak, a notoriously tough and chewy cut for a few hours before you place it on the grill … you'll be amazed at how tender flank steak can be!
Daddy Hinkle's also makes a variety of rubs in addition to their three flavors of marinades. Gift baskets are available … send one to the steak lover on your list!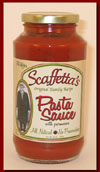 Scaffetta's Pasta Sauce: Scaffetta's Original Pasta Sauce has been around for well over 100 years. The sauce recipe has its roots in the Abruzzi region of Italy and brought to Oklahoma by Nicola Scaffetta in the early 1900's …
The sauce is still made in Anadarko, OK and is sold in retail outlets in the immediate area. You can order jars of Scaffetta's online though, and they're sure to be appreciated by anyone who enjoys Italian style cooking.
Check out the Scaffetta family story and order their Original Pasta Sauce at Scaffettas.com …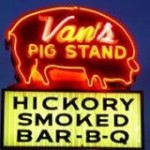 Van's Pig Stands: As the oldest family owned BBQ restaurant in Oklahoma, Van's is a legend in the Sooner State. The original location in Shawnee has been around since 1930 …
As the name implies, Van's is best known for their pork sandwiches, along with their one of a kind sauces and rubs. While you can't have Van's BBQ shipped to you, you can buy Van's Pig Stands sauce to help you enjoy a traditional Oklahoma barbecue …
They offer a BBQ Kit which contains their hot and mild sauce along with Van's rub … perfect for seasoning that pork shoulder or any cut of pork in your refrigerator.
Just add in your grilling skills and you're ready to roll!
We'll Be Adding More Oklahoma Made Products Soon … Tell Us About Your Favorites By visiting our "Advertise with Us" Page.