Made In Hawaii Quick Facts
See Our "Visiting Honolulu" Travelogue … Scroll Down
This Post is about Made in Hawaii Gifts and Specialty Hawaii Products
Want To See Your Business / Products On Our Made In Hawaii Page?
Visit "Advertise With Us"!
FEATURED MADE IN

HAWAII

BUSINESS

ES
Da Vine Foods: We love introducing State Gifts USA readers to thriving small businesses producing small batch products made from fresh, local ingredients …
And that's why we're so proud to spotlight Da Vine Foods, who create an appealing line of products from the lilikoi, also known as the Hawaiian passion fruit …
Based on the beautiful Big Island, Da Vine Foods is well known for showcasing the special flavor of the tropics. Their first product, Lilikoi Cocktail Mix, is a vibrant, lively mix which perfectly pairs with your favorite alcoholic beverage (try it with rum or vodka!). Perfect for happy hour sunsets, this Cocktail Mix is just one of Da Vine's many offerings which will brighten any social gathering …
The lilikoi, or Hawaiian Passion Fruit, is locally beloved and often used in The Aloha State's many culinary specialties. It imparts a pleasing natural sweetness to any dish, and is equally adaptable for meals served any time of day. Da Vine Foods offers several lilikoi options for the culinary minded, including Lilikoi Chili Pepper Sauce, Passion Fruit Puree, Lilikoi Coconut Syrup, and Lilikoi Jelly.
The Passion Fruit Puree, a Da Vine Foods best seller, is a true puree with no water or sugar added. Use it in any Hawaiian or tropical themed dish – it's incredibly versatile!
Set your creativity in motion with these Hawaiian Passion Fruit selections by visiting the "Recipes" tab at the Da Vine Foods website. There you'll find recipe suggestions for cocktails, breakfast, appetizers, dinner time, and more. You'll love the sweet, tangy flavors fresh from the Big Island!
Available locally in Hawaii at farmers markets, you can also order online at the Da Vine Foods online store. Choose from all your favorites and if you can't decide, be sure to check out the convenient Lilikoi Deluxe Package (pictured), which includes the Cocktail Mix, Lilikoi Coconut Syrup, Chili Pepper Sauce, and Lilikoi Jelly …
Monthly shipments are available as well – the perfect "set it and forget it" gift idea for anyone who loves the flavors of Hawaii or simply loves to enjoy life!
Click through to the Da Vine Foods website, linked above, to discover the unmistakable flavors of the Big Island!
Proudly Made in Hawaii …
MADE IN HAWAII GIFTS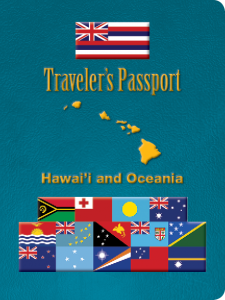 Traveler's Passport To Hawaii: Here's an ideal and useful stocking stuffer gift for anyone who's planning a Hawaiian vacation …
It's the Traveler's Passport to Hawaii and Oceana, the latest in a fun and enjoyable series authored by Dr. Ron and Betsy Snipe. This Hawaii passport handbook features 64 full color pages of informative detail about the geography, culture, food, and more of The Aloha State and other destination islands.
Part guide book and part travel log, the Traveler's Passport is perfect for any age traveler. Inside, you'll find an outline map of each island, a list of attractions, and insider information about local products. You can log details about your visit for a permanent record and lasting memories!
Other particularly helpful features are a list of Hawaiian words (and their meanings) to help you navigate menus, signs, and local conversations, as well as a trivia quiz (answers provided) about the islands …
Be sure to check out our Made in Washington page for more information and descriptions of the other Traveler's Passports in the series …
A perfect thoughtful add on gift for anyone who loves Hawaii …
Three Coconuts: We love featuring businesses whose products reflect the vibrancy and heritage of their home state. A perfect example from The Aloha State is the children's clothing company founded and operated by Maui resident Marla McManus, who was born and raised on Oahu …
Marla's blossoming company is known as Three Coconuts, lovingly named after her three grandchildren who serve as inspiration for the product line. Fueled by a desire to introduce island traditions to future generations, Marla began designing a line of infant and children's clothing inspired by her childhood memories and beloved Hawaiian traditions …
Truly a local success story, much of the Three Coconuts line is designed, printed, and manufactured in the islands, drawing rave reviews at the recent Made in Hawaii Festival. Uniquely Hawaiian is the Palaka Collection, reflected in the picture shown. Palaka, a soft yet very durable fabric, has an almost century old history in the islands. The colorful bold prints are synonymous with Hawaii, favorites of visitors and locals alike …
Today, Three Coconuts pays homage to this iconic fabric in the widely acclaimed Palaka Collection. Available directly at their website, these adorable garments are ideal baby shower gifts and are sure to be appreciated. Long lasting, bright, and colorful, they'll have everyone who sees them asking where you shop!
See all the Hawaiian influenced styles at the Three Coconuts website, linked above, or at select stores in Maui. If you're a retail merchant, you can carry these beautiful clothes at your store – wholesale opportunities are available. Click through to learn more about this family owned and operated business – we're proud to feature them here at State Gifts USA!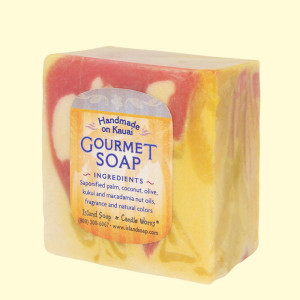 Island Soap & Candle Works: Founded over 25 years ago on Kauai, this company has grown to three locations on the island and several more retail outlets across the state. They're best known for their all natural coconut soaps and also make Hawaiian scented lotions and candles …
We learned of this company when a friend brought us back a few bars of their soap from a visit to the islands. The soap shown is called Mango Coconut Guava, and showering with it is the next best thing to being in Hawaii! It's made with oils of coconut, palm, macadamia nut, olive, and kukui oils and is exceptionally rich and soothing to the skin. Another was the Island Soap Gardenia bar, which evokes the scent of this beautiful tropical flower …
Shea butter and essential oil soaps are also available, along with skin care and bath products and tropical scented candles. They're perfect gifts for anyone and especially appropriate if your recipient has a soft spot for The Aloha State!
Visit their website to see all the Island Soap & Candle Works products …

Manuheali'i: Family owned and operated since 1985, Manuheali'i is well known in The Aloha State for their line of beautiful and unique clothing and lifestyle items for women, men, and children. The company's clothing line features intricate patterns and vibrant colors, reflective of the Hawaiian Islands culture and traditions …
Manuheali'i has two gallery stores in the state at Honolulu and Kailua, as well as their online store where you can view their various collections and purchase some of their clothing like the stunning and colorful dress shown. Traditional aloha shirts are available in eye catching designs you won't find anywhere else!
While you're visiting their website, be sure to check out their cheerful, functional accessories. You'll find cell phone cases, totes, cosmetic cases, eco friendly bags, and more. Any of their creations would make a wonderful made in Hawaii gift!
Ecolicious: We are proud to feature Ecolicious, a small Hawaiian company founded and operated by artists and husband and wife team Carol D'Angelo and Dexter Doi. The company began with a shared mission to reduce the use of plastic bags, so a series of colorful canvas tote bags were introduced.
Their product line has expanced significantly since their 2008 beginning, and now includes totes and carrying cases made from recycled fabric, prints, cards, and men's and women's apparel. If you're looking for a colorful and eco friendly item, look no further than Ecolicious!
On their site, you'll find dozens of creative designs made from recycled Hawaiian fabric, and everything is one of a kind. Choose from shoulder bags like the one shown, clutch purses, small totes, eyeglass cases, and phone cases. A wide spectrum of beautiful colors and hues are available!
Prices are very reasonable, and you can really feel good about buying a Hawaiian made gift like this. Ideal for the eco conscious person on your list, or simply for yourself!

Hawaii Flower Lei: Have you ever wondered where you can buy the beautiful Hawaiian flower leis you see in The Aloha State? Well, you can have them shipped anywhere across the country directly from Hawaii from the go to source, Hawaii Flower Lei …
The traditional Hawaiian lei custom was introduced by Polynesian voyagers hundreds of years ago. Originally intended to provide a distinguished look and to differentiate one's self from others, the lei is now better known as the symbol for "Aloha" …
Based in Oahu, Hawaiian Flower Lei creates and ships lei for special occasions like weddings, anniversaries, graduations, celebrations, and so on. There are special designs for both men and women, and they're made with fresh island flowers guaranteed to please.
Check out their website to see a wide selection, as well as tropical flowers and other Hawaiian gifts …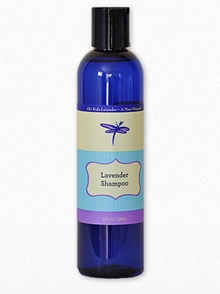 Alii Kula Lavender Farm: Located at a 4000+ foot elevation at Kula on Maui, the Alii Kula Lavender Farm is home to over 50,000 lavender plants representing 45 different varieties of lavender …
The essence of these beautiful and fragrant plants are made into a series of bath and body products beneficial to your scalp, skin, and well being. We thoroughly recommend their lavender shampoo (pictured), which keeps your hair naturally clean and full …
Lavender based shampoo is known as a deep cleaning hair cleaner, and very beneficial to your scalp. It helps prevent thinning hair, and revitalizes the hair leaving a clean, natural shine …
You can order this and many other lavender based bath and body products at the Alii Kula Lavender website. They'll ship directly to you or as a special gift …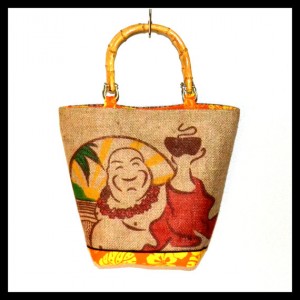 Sasaki Bags: Artist Barb Sasaki has been designing and crafting stylish handbags on the Big Island since 1994. Among her many designs are tote bags, purses, yoga mat bags, and cell phone cases, each of which she creates herself at her Kona studio …
The designs, like the one shown, are inspired by the natural surroundings of Hawaii. Many of the bags are created from recycled or upcycled materials … a great eco friendly gift for yourself or a loved one!
You can browse and buy from Barb's Etsy shop, where you'll see all of the designs currently available …
Sig Zane Designs: Outside of Hawaii, these colorful print shirts are known, of course, as Hawaiian shirts. In Hawaii, they're known as Aloha shirts … colorful patterns, often of native Hawaiian flowers, adorn the shirt in unique designs.
One of the most well known and respected designers of Aloha shirt is Sig Zane Designs. These beautiful tropical feel shirts are available in pullover or button down styles and are available for men, women, and children. See all the unique patterns and styles at their site and order online …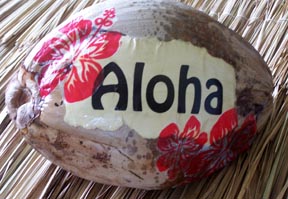 Coconut Postcards: Every time you think you've seen it all, a company comes along with an eye catching new idea …
Coconut Messages on the island of Kauai specializes on sending personalized hand painted greetings on an actual coconut, as shown. They're shipped in a box, so they won't get damaged, nor will they scratch. You can send your own photo to be embossed on the coconut or have your own personal message painted on the coconut shell … and they last indefinitely so you can enjoy it for years.
The coconuts are hand picked on the island … ideal for birthday gifts, announcements, invitations, party favors or even fun home decor!
Hilo Hattie: Known as "The Store of Hawaii" for over 50 years, Hilo Hattie has grown from one store to a chain of seven all across the Hawaiian islands. The Hilo Hattie name is synonymous with vacation shopping, and the company is Hawaii's largest retailer of Hawaiian gifts and fashions …
No trip to Hawaii is complete without a trip to Hilo Hattie, but if you can't get to Hawaii, you can still shop online. Browse their site for fashion items, gifts, Hawaiian food specialties, island jewelry, t-shirts, and souveniers …
Ecohashi Chopsticks: Another clever idea from Hawaii artisans is Ecohashi, which are reusable bamboo chopsticks wrapped in a decorative cloth napkin. When you're ready to eat, reach for your Ecohashi chopsticks instead of disposable utensils … and when you're done, place the chopsticks in the sink and the cloth napkin in the wash.
Did you know that over 25 million trees are used to make chopsticks every year? These eco friendly options prevent used chopsticks from filling up landfills. They're small and portable … you can carry them with wherever you go!
Ecohashi comes in several different designs, and you can order online at Ecohashi.net.
Sunrise Sea Shell Jewelry: Sunrise sea shells are one of the more rare shell varieties, and according to Hawaiian tradition were considered sacred …
These shells are typically hues of pink or gold, and got the name Sunrise because they tend to reflect the sun's colors. These precious shells are being crafted into beautiful jewelry by Sunrise Shell Jewelry which you can view and buy online.
Choose from necklaces, earrings, bracelets, rings, and other works of art adorned with sunrise and other Hawaiian sea shells …
Filthy Farmgirl Soaps: Located in Pahoa, HI, Filthy Farmgirl Soaps are "Made in Hawaii With No Yucky Stuff", which is an interesting way to say they're all natural soaps, vegan friendly, and without any artificial suds enhancing chemicals added …
Choose from scents like Lucky Ducky Lemon Drop, Cheeky Ginger Citrus, Creamy Coconut Cutie, and Happy Orange Cream. There's even a soap for the guys … Manly Mint … and you can order all their soaps online at FilthyFarmGirl.com …
Filthy Farmgirl also produces a line of body lotions as well as a lip balm called Filthy Elf Smoochie Lip Balm …
MADE IN HAWAII LOCAL ART
HaoleGirlHaiku: We love the boundless creativity flowing from The Aloha State – it manifests itself in Hawaii's culture, food, art, and especially the warm, wonderful people. It's particularly gratifying when we get the opportunity to share some of the state's creativity by featuring talented local artists here on our Made in Hawaii page …
We're so pleased to introduce you to HaoleGirlHaiku, owned and operated by talented Hilo resident Laura Owens. A lady of many creative abilities, Laura's HaoleGirlHaiku Etsy shop features beach and island inspired jewelry and is one of six Etsy stores managed by Laura and her husband …
Inspired by her Hawaiian surroundings, Laura creates an array of beautiful tropical themed jewelry for women, men, and children. Colorful necklaces, earrings, bracelets, and more are among the hundreds of hand crafted items you'll see at the HaoleGirlHaiku online store …
Just a few of Laura's many works are pictured here – we love the gorgeous Turquoise Starfish Necklace, a colorful accessory sure to complement your look. We're also showcasing one of many pairs of beautiful shell earrings, and an abalone shell necklace which perfectly invokes the spirit of Aloha …
Hundreds more attractive (and surprisingly affordable) of Laura's creations can be seen at her tropical Hawaiian jewelry Etsy shop, including stunning sea glass jewelry, beach inspired gifts, Hawaiian clothing, and traditional Puka Shell Necklaces …
While you're at the HaoleGirlHaiku Etsy store, click on the "About" page to learn more about Laura's creative process and see her full Etsy portfolio. These one of a kind island inspired items are wonderful gift ideas for that special someone on your list … or just to treat yourself. Laura will ship your selections directly to your door step – click through and discover jewelry that's uniquely Hawaii!
We're very proud to feature HaoleGirlHaiku here on State Gifts USA … Made in Hawaii!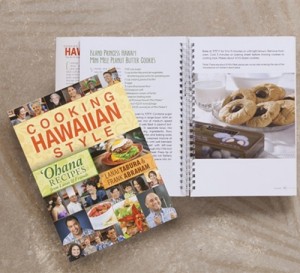 Cooking Hawaiian Style: We're in the process of discovering cookbooks specializing in each state's cuisine, and if there's one state with cuisine like no other, it's The Aloha State!
After learning of a Hawaiian cooking show called "Cooking Hawaiian Style", we were pleaed to learn of a cookbook based on the show, complete with lots of recipes. It's named after the TV show and this easy to use softcover book has 132 pages and full color pictures of every dish …
You can get ahold of copy right here and start cooking Hawaiian style in a few days!
Click through on the link and discover some of these unique Hawaiian delights …
Mike Carroll Gallery: Without question, local art is one of the best gifts to give, or receive for that matter. It provides a lasting memory of a special time and place, while supporting local artists who dedicate their time and efforts to create beautiful images of their surrounding area …
One Hawaii artist whose works are influenced by his surroundings is Mike Carroll of Lana'i. Mike is a nationally recognized talent and fomer Chicagoan who relocated to Hawaii after a successful 20 year career as a professional artist. He owns his own gallery on Lana'i which showcases his original oil paintings and prints depicting The Aloha State's natural beauty and that of his other favorite destinations.
At his online gallery, you can view and purchase prints of many of Mike's finest works, including the stunning print show. A wonderful gift for yourself or anyone who loves Hawaii, these works will meld perfectly into anyone's home decor …
Check out Mike's gallery and bring the lasting pleasure of local art into your life …
MADE IN HAWAII SPECIALTY FOODS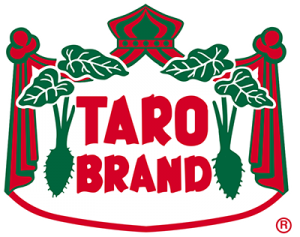 Taro Brand: This company, which has been around since the 1940's, is best known for making poi, a Hawaiian staple. But what exactly is poi?
Poi dates back to the Polynesian culture and is a staple in The Aloha State. It's made from the plant stem of the taro plant, which is baked or steamed until it is almost in liquid form. Poi is served as a side dish, almost like a porridge, and is loaded with nutrients, particularly potassium and B vitamins …
Taro Brand is synonymous with poi in Hawaii, and at their online store, you can buy poi in frozen or powdered form. Use it to make pancakes as a special treat!
Special mixes for macadamia nut and chocolate chip pancakes are available. Now that's Hawaiian! Click through to the Taro Brand store for all your options …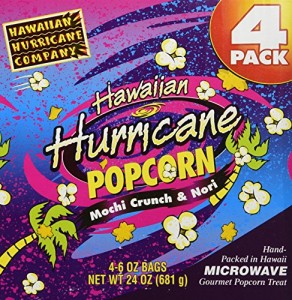 Hawaiian Hurricane Popcorn: Looking for a snack with a real Hawaiian twist? Have we ever got one for you …
It's from the Hawaiian Hurricane Company of Honolulu. Their specialty is popcorn and popcorn toppings and do they ever do it right! The microwaveable popcorn, called Hawaiian Hurricane Popcorn, is unlike any we've ever experienced. It's a popcorn mix containing gourmet popcorn, rice crackers, and Nori. Nori is a mix of seasoned seaweed flakes and sesame seeds and it's delicious! The mix is finished with a buttery topping that makes it an island favorite …
The topping described above is also available in packets by itself … just mix with your own popcorn and you've got an authentic Hawaiian treat!
Click through to the Hawaiian Hurricane website – there's a link where you can order their products online in various sizes …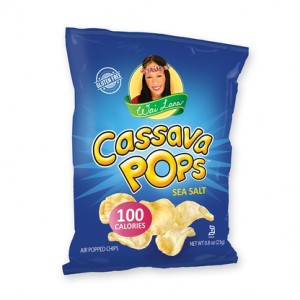 Wai Lana Snacks: We're pleased to tell you about these Made in Hawaii snacks we happened to discover quite by accident at our local Butera grocery store here in suburban Chicago …
They're Wailana Snacks and the best way we can describe them is a cross between a potato chip and a light crispy snack cracker. Unlike potato chips, they're not fried … they're cooked (actually popped) by a unique pressure and heat method and they've got 70% less fat than standard chips.
We tried their Cassava Pops Luau BBQ variety. Cassava is actually yucca root and is a preferred alternative to the potato for many throughout the world. They're really good – a combination sweet and tangy!
The company makes all kinds of different flavors – we're going back to try some others! They also produce a full line of other healthy, creative snacks. If you can't find them at your local store, you can order them directly from the Wai Lana Snacks website.
Something really delicious from The Aloha State!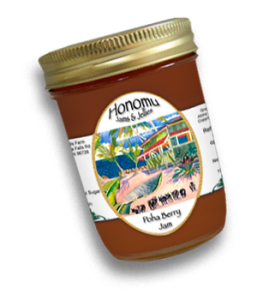 Honomu Jams: Located on the Big Island near Akaka State Park, Akaka Falls Farm produces Honomu Jams, named after the historic agricultural community where they're located. Using only fruit grown on their own farm, Honomu Jams takes full advantage of the clean tropical climate and uses no chemicals or preservatives in their jams …
This small company offers 18 different flavors at the Honomu Jams website, and they're distinctly Hawaiian. Choose from flavors like Guava, Meyer Lemon Pineapple, Passion Fruit, or Papaya Pineapple, to name a few. If you like something with a little bit of zip, try Pineapple Habanero Marmalade or Passion Fruit Jalapeno. They make a perfect Hawaiian themed gift!
One particularly unique product made here is called Poha Berry Jam. The Poha berry is found only in limited quantities around The Aloha State – they have a unique slightly sweet and tart flavor. The jam itself is made from Poha berries from the Akaka Falls Farm, pure cane sugar, and a bit of Meyer Lemon. It's not often produced, let alone seen for sale around Hawaii, so grab a jar or two when you order!
Visit their website to see the entire line of flavors – Enjoy!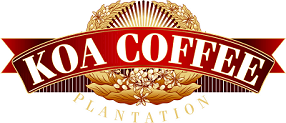 Koa Coffee: One of the best known coffee companies in the islands, Koa Coffee has been growing and roasting some of the world's best coffees since 1997. Noted for the smooth taste of their blends, Forbes Magazine named their coffee "Best in the United States". High praise, but not surprising, as Koa Coffee has developed a legion of regular customers and passionate fans all over America who enjoy their products daily …
If you're a coffee fan, check out the various blends available at the Koa Coffee website. They offer Private Reserve and Estate Blend coffees, Hawaiian Espresso, and a special Peaberry Coffee. Peaberry Coffee comes from tiny solo coffee beans which are the first growth of a coffee tree. The result is an exceptionally smooth and mild coffee!
Koa Coffee also offers an array of Hawaiian themed gift packages in addition to their coffee. Chocolate covered macadamia nuts and chocolate covered coffee beans are just two which will make a thoughtful thank you or special occasion remembrance. Visit the Koa Coffee website for all the details!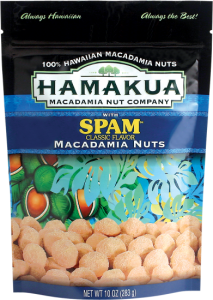 Hamakua Macadamia Nut Company: Did you know Hawaii is the #3 producer of macadamia nuts in the world, trailing only Australia and South Africa? The Aloha State is far and away the largest producer of these healthy and tasty nuts in the United States, and the Hamakua Macadamia Nut Company is one of Hawaii's most prominent specialty nut companies …
Hamakua produces a wide range of flavors, most notably a Spam flavor! Spam has been closely associated with Hawaii for decades and is used in a variety of island dishes. For those slightly less adventurous, macadamias are also available in flavors like Honey Mustard, Hula Jalapeno, Island Onion, or simply roasted and salted …
If you're looking for a special Hawaiian themed gift, check out the Hamakua Macadamia Nut website. Just a few of the specialty gifts you'll find include nut gift baskets, brittle, chocolates, Hawaiian specialty coffee, and local honey. They even carry a line of island made rum cakes – coffee flavored and Hawaiian pineapple!
Ideal for anyone on your list! Visit their site to learn more and to order …
Big Island Abalone Corporation: Abalone is a type of shellfish that has become increasingly rare due to over harvesting. It is found in Pacific Ocean waters, and the Big Island Abalone Corporation in Kona is one of America's leading producers and processors of this unique delicacy …
Abalone is very rich in vitamins and prized for its unique taste, which is compared to scallops with more depth of flavor. The texture is like calamari. Abalone requires a specific cooking technique to prevent toughness when served …
Big Island Abalone sells this unique shellfish already cooked in cans, or you can order it live and cook it yourself if you live on the West Coast. Canned abalone can be eaten as a snack, on crackers, as an appetizer, or mixed into a seafood dish. If you've never tried abalone, it's quite a treat!
Visit the Big Island Abalone website to learn more and get details for ordering …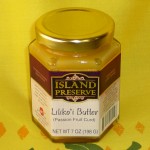 Lilikoi Butter: A uniquely Hawaiian product, lilikoi butter is a best selling product made by the Island Preserve company. It's a versatile spread which can be used as a dessert topping or as a spread on breakfast items like toast, bagels, and muffins …
Lilikoi Butter is made with pure cane sugar, passion fruit puree, eggs, butter, and corn starch for binding. Spread it on a bagel for a little taste of the Aloha State!
You can buy a few jars direct from Made in Hawaii Foods …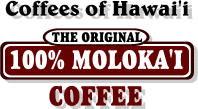 Coffees of Hawaii: The Aloha State is known world wide for the quality of their coffee, emanating from lush plantations with rich soil to grow coffee beans. In fact, some of the most famous names in coffee are Hawaii based, and here's one that's under the radar from the seldom traveled island of Molokai …
It's called Coffees of Hawaii and it is the only coffee 100% produced on Molokai, the most rural and least visited island in the Hawaii archipelago.
The soil here is rich, red, and known for coffee plants and sweet potatoes. For a special treat, try Molokai Island Princess, grown with Hawaiian vanilla beans. Unlike any coffee you've ever had!
Order online at their website and they'll ship directly to you or to your gift recipient …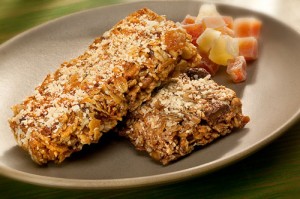 Anahola Granola: This small company began in the mid 1980's when Becky Burns opened a small cafe which later turned into a full fledged Hawaiian granola and snack company …
Based in Kauai, the company offers granola specialties, trail mix, and delicious macadamia bars called MacaMania Bars …
The MacaMania Bars (shown) are made with Anahola granola, brown rice cereal, honey, butter, brown sugar, and macadamia nuts. They're available in two flavors, and you can buy them online at the Anahola Granola store …
Mauna Loa Macadamia Nuts: Pineapple, coffee, and macadamia nuts are three of Hawaii's most popular products, and if you're ever visiting the state, be sure to stop in at the Mauna Loa Visitors Center at Keaau …
You'll discover everything you wanted to know about the macadamia nut, and why they're one of the healthiest nuts to eat. You'll also learn about the many uses for the macadamia in snacks, desserts, and fish and chicken recipes …
If you can't make it to Hawaii, shop online at the Mauna Loa online store. You'll find all sorts of goodies ready to be shipped to your home or as a gift …
Insider Tip: Try the dark chocolate macadamias!
Kauai Coffee: As we mentioned above, Hawaii is known for their rich gourmet coffees, and one of the most famous producers is Kauai Coffee, the largest grower in the United States with a history dating back over 200 years …
The company is dedicated to sustainable farming practices and uses a drip irrigation system which applies both water and fertilizer directly to the tree, eliminating the need for spraying …
Kauai Coffee is available at many upscale grocers, or you can order direct at KauaiCoffee.com. They also offer a monthly coffee club with special roasts and limited production flavors … a great Hawaiian themed gift for any coffee lover!
Hawaiian Chip Company: Based in Honolulu, the Hawaiian Chip Company is best known for their sweet potato chips and taro chips, both made from produce grown in Hawaii …
Two distinct types of sweet potatoes are used to make Hawaiian Chips. The first is Okinawan sweet potatoes grown on the Big Island and the north shore of Oahu, along with golden sweet potatoes grown on Molokai. When cooked, the chips end up purple colored, and are lightly salted for the original flavor.
Hawaiian Chip Company also makes garlic flavored and sugar coated sweet potato chips, as well as taro chips in similar flavors. Taro is a root vegetable which grows in Hawaii. The taro is peeled and then sliced … the slices are then cooked and salted .
The company also makes an interesting and highly popular line of hot sauces and marinades. Check out their website for all the details and to experience the flavor of Hawaii!
MADE IN HAWAII DESSERTS & SWEETS

Kauai Kookie: For over 50 years, this family owned company has been baking some of the best cookies you'll ever experience, in traditional island influenced flavors. A treasured taste of Hawaii awaits in every bit of varieties like Chocolate Chip Macadamia, Coconut Krispies, Guava Macadamia, and many more …
Almost as well know as the Kauai Kookie baked treats are their line of dressings and marinades. We really like one of the first they introduced called Papaya Seed Dressing. Ideal for any salad, fish, chicken, or pork dish, this dressing offers a sweet fruit flavor that brings out the flavor of whatever you're serving. It's one of several dressings and marinades you can find in retail stores both in Hawaii and the mainland, or order directly online if you can't find them in a store near you.
All products are made fresh daily with the best locally sourced ingredients – you'll notice the difference!
Honolulu Cookie Company: Founded in 1998, the Honolulu Cookie Company is one of the best known cookie companies in The Aloha State. Baked fresh daily with recipes emphasizing island flavors, their signature pineapple shaped shortbread cookies are known throughout the United States …
The array of flavors made by the Honolulu Cookie Company is at the same time both dizzying and mouth watering! Choose from some of their best sellers like Butter Macadamia, White Chocolate Coconut, and White Chocolate Kona Coffee, or opt for one of their many gift boxes like the creative pineapple shaped box pictured …
A wide variety of combination collections are available at their online store, and you can also narrow your choices down by price. To capitalize on their growing popularity, the company recently opened a satellite store at The Venetian in Las Vegas, in addition to their numerous locations on Oahu and Maui.
Delicious gifts that definitely say "Aloha"! Check out their site to learn more …
Big Island Candies: A Hilo tradition since 1977, Big Island Candies specializes in Hawaiian treats, wedding and party favors, corporate gifts, and more. They are best known for their exquisite shortbread cookies, like the ones shown …
The shortbread cookies come in a variety of flavors and are available in single flavor boxes or combination packages. Some of the flavors include macadamia nut, pineapple, lemon, coconut, mocha, and chocolate dipped with mint. Some sugar free varieties are available as well …
If you're a Kona Coffee fan, check out Big Island Candies line of Kona Coffee flavored candies, biscotti, and chocolates. Ideal as part of a Hawaii themed gift!
Be sure to check out the "Hawaiian Treats" section of their website, which spotlights some of the unique traditional snacks enjoyed by Hawaiians and made by Big Island Candies …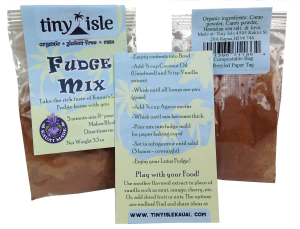 Tiny Isle: Based on the beautiful island of Kauai, Tiny Isle is well known for their organic gluten free fudge and other island made organic treats. For freshness sake, the fudge is only made available on the island, but they do offer a Fudge Mix packet so you can make it anywhere!
It's a simple five minute pour and mix process … just add coconut oil, nectar, and vanilla. Don't worry, directions are included!
The other Tiny Isle products to try are their Macadamia Nut Butters. They're made with macadamia nuts and Hawaiian sea salt … about as natural as you can get. There are also varieties available with Kauai honey and raw cacao powder added.
Visit the Tiny Isle website to discover all their products and to learn more …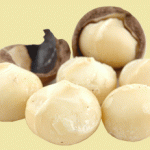 Waimea Chocolate Company: With Hawaiian roots stretching back well over 100 years, Waimea Chocolate Company is generally recognized as the originator of delicious chocolate covered macadamia nuts …
The company uses Hawaiian grown cacao, locally grown macadamia nuts, and other native Aloha State ingredients to create a true made in Hawaii taste. The macadamia creations are coated in your choice of chocolate which are fully described on the Waimea Chocolate website. You can order in six piece quantities but you'll want more than that!
Hula Baby Bakery: Located on Kauai, this Hawaiian artisan bakery is well known for their Hula Baby line of biscotti, granola, snack mixes, and other Hawaiian delicacies. We were fortunate enough to sample their CocoCanana Biscotti, a flavorful mix of coconut, pecans, and unique Kauai grown apple bananas …
There are over a dozen flavors in all, but don't forget their other baked goods like island themed cookies, macaroons, and snack mixes (we loved the Island Fruit and Nut with macadamia nuts) …
You can also buy Hula Baby Baking Mix online and bake your own tropical biscotti at home … each package makes about three dozen biscotti and it's very easy to do … just add two eggs and butter!
Products are shipped anywhere in the United States … we recommend you try the biscotti baking mix because biscotti always tastes best when it's fresh right out of your oven!
MADE IN HAWAII HOT SAUCE, CONDIMENTS, & SPICES
Adoboloco Hot Sauces: Based in Maui, Adoboloco grew as a business resulting from a home schooling garden project. The jalapeno peppers that grew in abundance were turned into a sauce and shared with family, friends, and neighbors. The feedback was so overwhelmingly positive, a new business was born!
Fast forward a few years and Adoboloco now makes seven varieties of hot sauce ranging from mild to very hot. Each of the sauces are all natural – no corn syrup, added sugars, fillers, or thickeners.
The seven distinct flavors are Jalapeno, Bangkok, Habanero, Hawaiian, Pineapple Habanero, Hamajang (a mix of habanero and ghost peppers), and Maui No Ka Oi (with scorpion and Carolina Reaper peppers – very hot!). They've been featured by Hawaii Magazine, Epicurious, and Bon Appetit and you can order single bottles or a multi bottle gift package (recommended!) at their website …
A great Hawaii gift for the culinary-centric members of your list!
Pacifica Hawaii Salt: Salt holds a special place in the hearts and traditions of Hawaii's natives. It symbolizes balance in one's life as well as a natural connection with nature. On the most natural of Hawaii's islands, Molokai, this tradition is carried forward by the Pacifica Hawaii Salt company, founded and owned by master salt maker Nancy Gove …
Nancy began creating these artisan salts over ten years ago after a 20+ year career as an award winning sculptor and part time farmer. Using Hawaii's abundant access to sea water, she learned and refined the process of creating sea salt that is both traditional and vibrantly new. Her company makes both gourmet sea salt as well as bath salts, both of which evoke the spirit and tradition of The Aloha State …
For chefs, a gift from Pacifica Sea Salt's Hawaiian Traditional line will be most welcome. Two intriguing salts in particular are Red Alaea and Black Lava (pictured). These two salts echo two of Hawaii's most enduring images – red alaea clay pans and the black sand beaches created from lava explosions. Exotic yet approachable, each of these salts add a flavorful dimension to fish, salads, grilled meats, and more.
Specialty flavored and smoked salts are also available. One which caught our eye is called Koloa Rum, and it's an intoxicating blend of sea salt and dark rum. There's no alcohol content, but it sure looks good ringing the glass of a tropical drink!
Each of these gourmet salts are available in handsome bamboo salt boxes or refill bags. We are huge fans of sea salt due to its fresh, concentrated flavor – we've long ago bypassed standard table salt and use sea salt to accent many of our meals!
Visit the Pacifica Hawaii Salt website to learn more and to order …
Sea Salts of Hawaii: Hawaiian salt carries with it many island traditions. Local salt was used as a blessing for outgoing fishing vessels and to help preserve the catch, and to this day, a gift of salt is given as a gesture of good will and friendship …
Sea Salts of Hawaii carries on these customs with their line of gourmet cooking salts, harvested on island as well as from local waters. Five different specially flavored sea salts are available from the company, each providing a different Hawaiian flavor profile …
In addition to their five regular flavors, you can buy special Hawaii flavored salts like Fresh Ginger, Spicy Seaweed, Sweet Pineapple, Maui Onion, and more. Anyone who enjoys cooking will revel in these salts. They add the perfect complement to fish, pork, chicken, or vegetable dishes and add the ideal finishing touch to any dish needing a bit of flair!
You can find these wonderful salts at the Sea Salts of Hawaii website. They're available by individual flavor or in handy sampler gift boxes like the one shown. A fantastic and practical gift from The Aloha State!
HAWAII CONSERVATION & WILDLIFE ORGANIZATIONS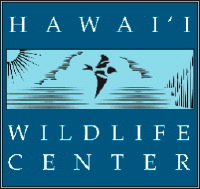 Hawaii Wildlife Center: Located in Kapa'au, the Hawaii Wildlife Center is a rescue, rehabilitation, and education center focused on native Hawaiian wildlife. The center provides emergency response and preparation for release back into the wild …
Through their programs, the Center emphasizes public outreach and education by teaching the importance of native wildlife conservation. The staff works closely with governmental agencies and educational institutions and provides internship opportunities for students …
The Hawaii Wildlife Center houses over 70 different species native to the Aloha State and accepts seabirds, birds of prey, forest birds, and more.
The Center is open seven days a week for wildlife intake. You can support this much needed non profit organization via convenient PayPal donations as small as $10 – visit their website to learn more …
History of Hawaii (video)
Hawaii Trivia and Fun Facts

1). Measuring from east to west, Hawaii is the widest of the 50 states. Of course, there's a fair amount of water included in the measurement …

2). Hawaii is 2,390 miles from California shore to shore. California is the closest state to Hawaii …

3). The 50th State, Hawaii was admitted in August, 1959 …

4). The climate of Hawaii is known as tropical, but the temperature rarely gets above 90 degrees. Temperatures of 92 and above occur only once or twice a year …

5). Hawaii is a worldwide leader in the production of pineapples, macadamia nuts, and orchids …

6). The eight stripes in Hawaii's state flag represent the state's eight main islands …

7). Hawaii is the only state with its own time zone. It's known as Hawaiian Standard Time and is two hours behind Pacific Standard Time …

8). Located on Hawaii's Big Island, the Kilauea Volcano has been continuously erupting for over 30 years, and since that time has added 500+ acres of land to the island …

9). Did you know the interior of Hawaii's Capitol Building in Honolulu is shaped like a volcano? It's meant to symbolize the state and how it was geologically formed and it's quite a sight!
What are your favorite Hawaii made products … Add Your Comment Via Our Contact Page
Visiting Honolulu, Hawaii's State Capital City
Honolulu Overview
Welcome to our ongoing series "Visiting America's State Capital Cities"! Our farthest flung state capital is Honolulu, located on the island of Oahu and the Hawaii's largest city. We were able to visit here during a cruise of the Hawaiian islands, which by the way is a wonderful way to experience The Aloha State for first timers. Cruises typically schedule a day or more at each major island in the chain, along with ample time to join day excursions which visit major attractions.
Most cruises start at Honolulu, meaning this is where your flight will arrive and depart. Depending on your arrival and departure times, you'll have an opportunity both before and after the cruise to explore this city. Honolulu is really a gem – you can easily spend several days or more here and still not see everything!
The metro area has a population of just under 1 million, making this a bustling world class city. It's metropolitan, of course, but with natural attractions like Waikiki and Diamond Head lurking nearby, the feel is decidedly tropical.
Hawaii is our 50th state, gaining admission to the Union in August, 1959. It's a preferred destination for visitors from around the world and any time is perfect for visiting. As an example, January temperatures hover in the mid 70's! Even if you're not on a cruise, Honolulu offers ample opportunities to reach other islands in the state via small commuter plane. The city is an ideal base of operations to explore the entire state if you so desire …
What To See & Do In Honolulu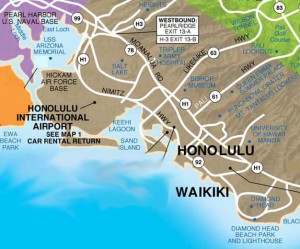 Honolulu is much like many American cities, except for the fact that it's in a tropical locale. You can get around fairly easily, everything is more or less centralized, and major attractions are well marked and reasonably convenient.
If you're embarking on a day trip via a cruise as we were, you'll have transportation to the attractions of your choice. Otherwise, renting a car for a few days is a good idea. You can cover the city's "must see" destinations in a day and a half or two. But remember, Hawaii is made for lingering! Try not to rush and enjoy getting to know the city, The Aloha State, and its people …
If you're a typical first time visitor, your wish list probably includes Diamond Head, Waikiki, and the Pearl Harbor historical sites. None of these should be missed! Hike Diamond Head and visit Waikiki Beach in the same morning or afternoon – they're located close to one another (see the picture) and the beach will refresh you after the one mile hike to the summit of the former volcano.
Visiting Pearl Harbor is something every American should do. Try to reserve tickets online in advance, because waits can stretch to a few hours if you're a walk in. You'll see a short movie presentation outlining the events of the dawn of World War II. Then, you're taken on a 5 minute ferry ride to the site of the sunken USS Arizona. You'll be able to peer down through the harbor's waters and see the wreck of the battleship – a reflective and reverent experience indeed.
We enjoyed visiting three attractions in and around downtown Honolulu – Chinatown, the lolani Palace, and the Hawaii State Capitol. The latter two are very close to one another – the Palace is a wonderful historic landmark built in 1879 and beautifully restored. Learn about Hawaii's prestigious past via a guided tour and enjoy the luxurious decor and opulent setting. Interestingly, this was Hawaii's former state house until the current capitol building was opened in March, 1959.
The present day capitol center is where the state's executive and legislative branches meet to conduct the business of government. Located on Beretania Street, the complex is surrounded by a reflecting pool and several monuments honoring local and American people and events.
The complex is well worth a visit and tours can be arranged by appointment. Be sure to check out the building's columns – they're shaped like palm trees!
Lastly, don't miss the city's Chinatown. More of a melting pot of Hawaiian and Asian cultures and cuisines versus a traditional Chinatown, this area is bustling, particularly in the mornings where you'll find yourself amid the many produce vendors delivering their wares.
This area is the perfect place to visit around lunch time, where you can enjoy plate lunches of traditional Hawaiian cuisine as well as Thai, Filipino, and Chinese specialties …
Honolulu Eats: Our Dining Recommendations
Whenever we travel, our dining choices usually trend toward local, casual, and historic. If we find places that fit all three descriptions, so much the better! We're also big on finding historic local taverns – they're great places to mingle with the locals and learn more about the city …
In our limited time in Honolulu, we were able to find three great places to recommend. In Hawaii, restaurant prices tend to be high, but with a little advance research you can find really good food without spending an arm and a leg.
First, discover Honolulu's oldest bar, dating back to 1934. It's Smith's Union Bar, locally known as Smitty's. Located in the Chinatown neighborhood, this bar is where you'll find friendly locals, cold beer, and impromptu live musical entertainment. Ukulele performances are often featured, and the bar is open from mid morning until late night.
Despite its name, you don't have to belong to a union to enjoy Smitty's. Very casual (some might term it a dive bar), this place was a regular watering hole for sailors on leave during World War II and decades beyond. If you're visiting Chinatown, which we highly recommend, stop here for a drink or two before wandering over for dinner at one of the many inexpensive places calling out to you. Follow your nose and you won't go wrong!
Two other Honolulu mainstays we recommend are the Crab Bucket and South Shore Grill. Located near Diamond Head, South Shore Grill is an inexpensive, casual place that's perfect for lunch. Experience local Hawaiian cuisine like plate lunches, fish tacos, BBQ, and more. A great value!
On Keeaumoku Street, the Crab Bucket is one of the best places for a casual seafood dinner in the city. You can order bucket combinations in varying degrees of spiciness and choose your own combination of sauces if you wish. Fresh crabs are the specialty but you'll see all kinds of seafood and daily specials available on the menu. A funky, graffiti on the walls type of place, Crab Bucket is a fine choice for great food without breaking your budget …
There are, of course, dozens and dozens more restaurants to explore, ranging from ultra casual to fine dining. We didn't have much time in Honolulu, so we weren't able to hit all the places we wanted to try. But get out of your hotel, explore the city, and trust your instincts! Chinatown, as mentioned above, is a great destination to start – you really can't go wrong with any places you'll find there …
Summary & Learn More About Honolulu …
If you're fortunate enough to visit Hawaii, be sure to spend a day or two in Honolulu. In addition to world class destinations like Waikiki Beach and Diamond Head, the area is home to the USS Arizona Memorial, Pearl Harbor, and much more. The city's tropical year around climate makes any time of year ideal for a stay, and the airport serves as a convenient base to explore the rest of the state …
We really enjoyed our visit to this city, and only wish we'd had more time to spend here. We hope this brief travelogue whets your appetite for Hawaii's capital!
You can discover more detailed information about Honolulu by visiting Go Hawaii, an excellent resource site for not only the capital but also the island of Oahu and the entire state.
Thanks for reading and Aloha!