This Post is about Made in Ohio Gifts and Specialty Ohio Products
Want To See Your Business / Products On Our Made In Ohio Page?
Visit "Advertise With Us"!
FEATURED MADE IN

OHIO

BUSINESS

ES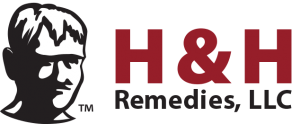 H & H Remedies, LLC: Located in eastern Ohio about an hour south of Cleveland, Tuscarawas County is one of the more beautiful and scenic parts of the state. Rolling hills, small town life, and time honored American values abound here …
This area is also home to a 4th generation family owned and operated business that we're very proud to spotlight here on our Made in Ohio page. The company is H & H Remedies and they've been creating traditional original formula home remedy products for over 100 years …
Handmade in small batches, H & H Remedies trusted products are based on the concept of homeopathy healing, which treats the patient by stimulating the body's own healing resources. These products have been relied upon and used by families for generations for countless health concerns including infections, skin irritations, muscle aches, insect bites, and dozens more …
Operating with the mission "Quality Is A Family Tradition", each H & H Remedies product is packaged with exceptional care and attention to detail. Made with natural ingredients, you and your family will be delighted with their simple effectiveness. Click on the Our Products tab to discover the entire selection. You'll see a handy clickable list of what may be ailing you, from abrasions to allergies to congestion to sun damage and more. Click on what's troubling you and you'll be taken to the appropriate H & H Remedies product for a straightforward, thorough description …
One of the company's traditional products is their wonderful Union (black) Salve, available online (and at retailers) in several sizes. A "drawing and healing" salve, Union (black) Salve is formulated to heal wounds and draw out splinters and infections as well. This salve is well noted for healing cuts, abrasions, soothing sun burn and even diaper rash!
Another H & H Remedies product you should know about is their White Liniment, a multi purpose solution for insect bites, muscle aches, cramps, and rashes. Created with peppermint and wintergreen essential oils, White Liniment is packaged in a convenient spray applicator bottle to prevent spills, mess, and waste. The liniment's natural healing properties promotes relief within minutes and like all H & H Remedies products, comes with a 100% Money Back Guarantee.
Be sure to visit the H & H Remedies website, linked above, to see for yourself how these time tested products can bring relief to your life. Looking for an economical gift that's sure to please? Sample Packs, Relief Kits, and Travel Size First Aid Kits are among the many choices just waiting to be shipped directly to your door.
We are so pleased to share with our readers what generations of Ohioans already know … H & H Remedies products continue to stand the test of time and exceed customer expectations! Be sure to read the many testimonials at their website, and if you prefer to shop retail, there's a comprehensive Store Locater tab to help you find your way …
H & H Remedies … Made in Ohio for over four generations!
Ben Heggy Candy Company: Canton, OH is located just under an hour south of Cleveland and it's known across the country for a handful of renowned people, places, and businesses …
Did you know, for example, our 25th President William McKinley had a long connection with Canton? In fact, it's his final resting place. Football fans know Canton as the home of the Pro Football Hall of Fame, which draws visitors world wide.
Iconic businesses also shape the community landscape, perhaps none more beloved than the Ben Heggy Candy Company. Heggy's is a Canton tradition for over 90 years, dating back to 1923 …
Well known for their fabulous chocolates and candy assortments, Heggy's is beloved by locals and visitors alike. Using time honored original recipes and patient hand making techniques, this Ohio gem has built a loyal following of repeat customers …
You don't need to live in or near Canton to enjoy Heggy's products … they'll ship right to your door, even in the warm weather months with special packaging. Check out their website for specialties like Caramels, Peppermint Creams, Milk Chocolate Pecan Clusters, and many more. Be sure to order the one of a kind Milk Chocolate Marshmallows!
If you can't decide, Heggy's Assortments are just the ticket. They offer combinations of milk chocolates, dark chocolates, caramels, and other delectables. Perfect as a thank you gift, hostess gift, or an enticing selection for parties …
Visit the Heggy's website to experience the special flavor of The Buckeye State!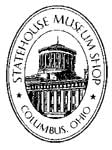 Ohio Statehouse Gift Shop: As we continue to add state themed products to State Gifts USA, we've found most states feature gift shops at their state museums or state houses …
In Columbus, you'll find such a gift shop at the Ohio Statehouse, which also offers convenient online shopping and shipping.
At the gift shop's online store, you'll find all kinds of Ohio related gifts and home wares, including an attractive "Buckeye" candle which makes a great gift for any Ohioan. You'll also see a variety of Ohio made food products, apparel, collectibles, flags, books, and much more …
When in Columbus, stop by! If you're online, click through!

Spangler Candy Company: Here's to America's independent candy companies – they've been putting smiles on people's faces for decades and they're a big part of our American culture. In Ohio, one of the most revered long standing companies in this niche is the Spangler Candy Company, producer of iconic candies like Dum Dums, Candy Canes, and Circus Peanuts …
The company is located in Bryan, about 10 miles south of the Ohio Turnpike west of Toledo. They offer a fun tour of the plant via tram bus where you get to see how candy is made and visit their on site museum. It's a great family stop and samples are fantastic!
The company also produces bulk and private label candy, so if you need a special promotional gift for your company, Spangler Candy can help you. They also sell online if you can't find their products at your local store. Visit their website, linked above, for more information …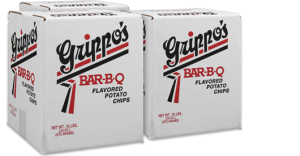 Grippo's Chips: We love Cincinnati and we've got a thing for local potato chips, so it's no surprise we always seek out some Grippo's Chips when we're visiting The Queen City …
Grippo's has been around for over 90 years and in addition to their chips, they're known for pretzels, pork rinds, and other snacks. The chips come in several flavors in addition to their Original and Barbecue – Sour Cream & Onion, Cheddar & Horseradish, and Maui Onion are some of the varieties available …
If you've got an Ohio or Cincinnati themed get together on the horizon, invite Grippo's Chips to join you … you can order them in many different size packages directly at their website. The Grippo Variety Pack makes a great gift – it's got a little bit of everything! Enjoy a taste of Cincinnati …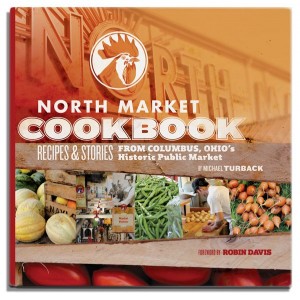 North Market Cookbook: One of our favorite places to visit in The Buckeye State is the iconic North Market in Columbus. Located in the heart of the city, it's the city's public market …
The North Market is bustling with vendors which make it an Ohio destination. If you're looking for fresh produce, come here. Ditto specialty meats, spices, local specialty foods, and Ohio made products. It's the perfect place to get the pulse of Columbus and a must visit destination for those visiting the city …
At the North Market website, you'll find a new cookbook under the "Shop" tab. It's called "North Market Cookbook: Recipes and Stories From Columbus, Ohio's Historic Public Market". And since that's as perfect a description of what the book is all about, we won't belabor the point, other than to say this is an ideal gift for anyone on your list who's fond of Columbus!
Click through to the North Market site and get your copy … and if you're anywhere near Ohio's capital, be sure to spend a few hours here!
Humphrey Company Popcorn: If you're from the Cleveland area, you know about the popcorn products from The Humphrey company – they've been around since 1897 and are famous for their popcorn balls, gift canisters, and assortments of popcorn flavors and other savory treats …
Headquartered in the southeast Cleveland suburb of Warrensville Heights, the company still grows the corn for their products at the 500 acre Humphrey farm in Wakeman. The business is family owned and their pride shows in every batch of their specialty popcorn – every time we're in Cleveland we make sure to get some!
At the Humphrey Company website, you'll see (and can purchase) many of the goodies that make them famous. Try the Euclid Beach Sampler – 12 popcorn balls along with a bag of candy kisses and a two pound bag of their Premium White Popping Corn. A great gift for anyone who loves Ohio! You can order the popcorn popped, unpopped, flavored, and more – we especially like the snack size popcorn balls – perfect for a mid day snack or to add some fun to a brown bag lunch …
Pay a virtual visit to The Humphrey Company by clicking through to their website, and discover what the folks in Cleveland have known for decades – they're The Buckeye State's popcorn experts!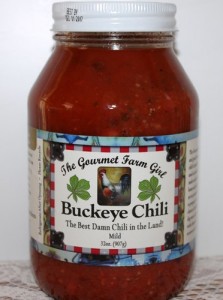 The Gourmet Farm Girl: The actual gourmet farm girl would be Deborah Mahon, a native Ohioan who grew up on a farm in the northern part of the state. Based on her experiences helping her mother and grandmother prepare satisfying comfort food meals, Deborah started her own small food business. Now based in Delaware, OH just north of Columbus, her company creates a line of chili and soup packaged in jars, along with seasoning blends and infused olive oils and vinegars …
The Gourmet Farm Girl's best known product is her Buckeye Chili, which on its own is vegetarian but works just as well or better by adding fresh ground beef or turkey. This hearty mixture is made with a mixture of spices, beans, tomatoes and peppers – if you like your chili spicy, just add a few drops of your favorite hot sauce. Each jar serves four …
The company also makes several chili style soups which double as great nacho dips. One in particular is the Midwest Sweet Corn Chili Soup, chock full of fresh sweet corn!
You'll find Gourmet Farm Girl products on store shelves in central Ohio, or for a unique Buckeye State gift, order directly at their website. Click through to see the entire product line!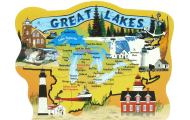 The Cat's Meow: Located in Wooster, The Cat's Meow is a wonderfully unique Ohio business. Proudly owned and operated by Faline Jones, the company creates several lines of themed keepsakes handcrafted by a dedicated staff of local artisans.
We were particularly enchanted by their pieces featuring beloved travel destinations, cities, town, and landmarks across the United States, like the Great Lakes keepsake shown. Crafted from handsome, durable wood, each piece represents a special time, place, or memory to cherish for decades to come …
The Cat's Meow Village offers three distinct lines of keepsakes, all designed to display beautifully in your home or office. Their National Line includes holiday, themed, and many surprise releases and accessories. The Retailer Custom collection features special locations and destinations, many commissioned by national Cat's Meow retailers. Finally, the My World grouping offers enthusiasts the chance to commission their own designs – ideal for fundraisers, group events, schools, churches, and more …
Surprisingly affordable, most pieces are offered for around $20 or even less. A wonderful gift, you can choose from literally hundreds of themed designs directly at their website. If you prefer to shop locally, you can also search for a local Cat's Meow dealer in your area (there's a search feature on the website).
Beautiful, creative keepsakes and mementos hand crafted in the heart of Ohio! Check out The Cat's Meow website for further details and to order one or more for your home …
Ole Ray's Sauces: Owned and operated by Ray & Susan Greene, this gourmet sauce and seasoning company is based in Goshen, OH in the southwestern part of the state near Cincinnati. Ray is an active member of the National Barbecue Association and draws his inspiration from experience sampling barbecue all across the country. He creates sauces with distinctive flavor combinations you've probably not seen before …
Two examples are Ole Ray's Red Delicious Apple Bourbon Sauce and Ole Ray's Peach-A-Liscious BBQ Sauce. Apple and peach flavors pair extremely well with any cut of meat on your grill, especially pork! These are just two of the flavorful sauces in the product line … they also create mustard based sauces, salsa, and cooking sauces like their Blackberry Wine BBQ & Cooking Sauce. It's a deep, rich sauce you can use for anything from dipping to a marinade and it's created with blackberry jelly, Burgundy wine, dark brown sugar, and more.
Pepper Sauce and Dry Rub round out the Ole Ray's offerings, and the unique flavors will open your taste buds or those of anyone on your gift list. You can order any of their products via the "Order Online" tab at their website.
Unique flavors from Southwestern Ohio!
Middlefield Cheese: Ohio isn't normally thought of as a cheese producing state, but did you know Ohio is the nation's leading Swiss cheese producing state?
In the midst of Ohio's Amish country in Geauga County, Middlefield Cheese is one of the better known producer of Swiss cheese in the state. They're actually one of the biggest Swiss producers in the country and have been around since 1956 …
Middlefield produces several varieties of Swiss, including mild and a robust version known as Ursario. Their Middlefield Cheese House is a well known attraction in eastern Ohio for cheese lovers all across the country.
You can order any of their excellent cheese varieties online at their website. Gift boxes, spreads, jams, and many other local products are also available. Wonderful gifts from The Buckeye State!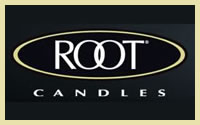 Root Candles: We're pleased to introduce you to one of the nation's oldest candle makers and an Ohio tradition, Root Candles. They've been located in Medina since being founded in 1869 and their flagship store on Liberty Street is a shopping destination well known across the state and beyond …
Their candles, available in a variety of styles and fragrances, are carefully designed to be self extinguishing. Holiday, pillar, jar, votive, and travel tin candles are just a few of their core products you'll find at the Root Candles website. There's also a list of stores on the site where you can find them locally near you …
The company also carries a line of gourmet products, specifically local Ohio honey. Depending upon what's in bloom, the honey's flavor varies from season to season. You can purchase wildflower, buckwheat, clover honey, and more directly at their online store.
A wonderful and sure to be appreciated traditional gift from one of the most revered companies in The Budkeye State! Click through to discover all their products and to place an order …
Legend Hills Orchard: This 340 acre orchard located in Utica, OH northeast of Columbus has been in the same family for four generations. Legend Hills produces an amazing variety of fruits and vegetables yearly, including apples, peaches, pumpkins, squash, strawberries and much more …
Popular as a U-Pick destination, Legend Hills Orchard also operates a bustling country store with an online component allowing you to shop their products from home. The store features hundreds of products, ranging from apple butter to summer sausage and just about everything in between!
For a true taste of Ohio, check out their many gift boxes featuring local products and orchard favorites. You can even have orchard fresh apples delivered directly to your home or to anyone on your gift list.
Experience a central Ohio tradition … Legend Hills Orchard!
Brandt's Candies: A couple of years ago on our way from the Cleveland area heading toward Buffalo and Niagara Falls, we stopped in Willoughby, a suburb east of Cleveland for lunch. We got talking with our server, asking a bit about the community and any noteworthy local businesses. Without hesitation, she said, "You've got to stop at Brandt's Candies!" …
We did, and we're pleased to introduce you to this local candy maker that has been around since 1948. A family owned and operated business, Brandt's Candies specializes in hand dipped chocolates, creams, nut clusters, and specialty sweet treats, using the original tried and true recipes dating back over 65 years …
We're not entirely sure if Brandt's is famous for their maple creams, but they should be! These melt in your mouth little gems are made with either milk or dark chocolate covering whipped maple cream and are they good! We particularly enjoyed the dark chocolate variety – the contrast between the chocolate and the maple is practically addicting!
You can order these and other Brandt's treats directly at their website. They also offer a variety of gift baskets and assortment boxes – there's sure to be something for everyone on your list!
Frog Ranch Foods: Founded in 1994, Frog Ranch Foods is located in the small village of Glouster in the southeast portion of the state. The company is known for their salsas and pickles and they've successfully grown to have their products in grocery stores all across the Midwest …
Their salsa line consists of Mild, Medium, Hot, and Chipotle varieties. You can't miss the colorful labels on the jars! Each of the salsas are made with jalapeno and Hungarian peppers and have won awards from the prestigious Fiery Foods Challenge. We were actually turned on to Frog Ranch after buying a jar of their Zesty Bread & Butter Pickles. We use them on burgers – it adds a special jolt of flavor! They also make a spicier version of pickles called Hot & Spicy Peppered Pickles with sliced jalapenos right in the jar …
You can order single jars, mixed cases, and gift packs at the Frog Ranch website. It's a great gift idea, because really, who doesn't like salsa or pickles?? Click through to see all their products …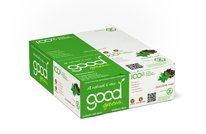 Good Greens Bars: As a bit of a workout guy, I find myself in our local health club about five times a week. Some of my workout buddies were talking up a nutrition bar which I promised to try. Frankly, I'm not that big on protein and workout bars because we're ardent believers in eating a healthy diet.
But I did try the bars the guys suggested … Good Greens Bars, made in Shaker Heights, OH. These bars meet all the requisite nutrition plusses and in fact exceed most of them. They're vegan, packed with vitamins, high in protein and low in fat, carbohydrates, and sugar (nutrition details are at their website). But the key factor for me, and I think a lot of other people, is how do they taste?
These bars are good! They're covered with organic dairy free dark chocolate and are available in eleven flavors. Just a few are Chocolate Mint (my favorite!), Chocolate Coconut, Banana Nut, Pumpkin Spice, and Chocolate Peanut Butter. They're good as a before or after workout energy boost, and just as good as a mid afternoon snack to chase away the 2 p.m. drowsiness.
Check out the Good Greens website to learn more. You can find their bars at many stores across the country or get a hold of them in 12 bar cases directly from their online store …
Krema Nut Company: A Columbus tradition since 1898, the Krema Nut Company is a well known destination for nut mixes and sweet treats. They're also a popular lunch time stop for sandwiches and delicious milkshakes. They're located on Goodale Boulevard near the Grandview Heights neighborhood …
Krema makes traditional candies, nut mixes, classic candies, and other snacks, but they also have a few specialty items unique to them. The first is their Buckeye Crunch, pictured. It's a mix of caramel corn, peanut butter confection, and chocolate. Very similar to the state candy of Ohio, the Buckeye!
They also grind the choicest nuts into their signature nut butters in six different varieties – Creamy, Crunchy, Almond, Cashew, Smoked Almond, and Hot & Spicy. These natural nut butters are just that – natural. They contain no added sugar, salt, vegetable oils, or preservatives. They're absolutely fantastic and in our estimation way better than standard grocery store peanut butter!
Krema Nut Company is also a great online destination for corporate and holiday gifts. They offer a wide variety of traditional gift tins, jars, and combination boxes for anyone on your list. Visit their website for all the details …

Lake Erie Artists Gallery: Now based in Cleveland Heights, the Lake Erie Artists Gallery is the premier organization promoting the work of Cleveland and Lake Erie area artists of all mediums. Formerly housed in downtown Cleveland's Tower City, the organization has grown and expanded and now offers classes and events promoting the work of dozens and dozens of fine artists …
Prints, ceramics, jewelry, Lake Erie sea glass items, and home decor are just a few of the categories of art you'll find both at their gallery and online store. If you're looking for local art from the Cleveland and northern Ohio area, this is a great place to start! One of the featured artists is noted Cleveland photographer Jim Ptacek, who has been known for decades for his striking photos and prints of the greater Cleveland area …
If you've got an attachment to the area, or know someone who does, the Lake Erie Artists Gallery is a great place to shop! If you can't get to their gallery space, check out their online store and order a unique piece of beautiful local art …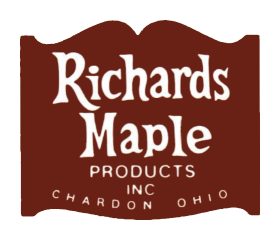 Richards Maple Products: Located in Chardon in Geauga County, Richards Maple Products is an Ohio institution – they've been around for over 100 years offering fine Ohio maple syrup, maple confections, and unique maple candies. This area about 40 minutes east of Cleveland is the heart of Ohio's maple syrup industry …
In addition to their maple syrup, the company is well known for their Maple Spread. This spread is similar to honey butter or peanut butter – spreadable and perfect for toast in the morning or on waffles instead of syrup. Maple cream candies, sugar cakes, and maple cream swirl with or without walnuts are also available. Shop at their online store for the local taste of eastern Ohio!
A wide variety of gift baskets, boxes, and gift crates are also available. Each offers a unique combination of specialty products from the company along with a few from other local Ohio producers. Click through to their site to see all your options …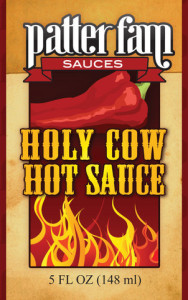 Patter Fam Sauces: The creation of a small Ohio town pastor by the name of Sam Peters and his wife Joyce, this small company makes an impressive line of sauces which can be used as marinades, dipping sauces, glazes, and more …
No matter your preferences on the heat scale, Patter Fam Sauces offers something to suit your taste. If you're a fan of hot, go for their Holy Cow Hot Sauce or Holy Ghost Revival, made with ghost peppers and ideal if you like hot wings.
If your tastes run a bit more to the milder side, try their Pawpaw Chipotle Sauce. Did you know the Pawpaw is Ohio's official state fruit? It grows abundantly in the state and offer a smooth texture and a sweet taste. A great idea for an Ohio themed gift!
Patter Fam Sauces also makes barbecue sauces (hot and sweet), pasta sauce, and a Jamaican Jerk Sauce. Click through to their site to see all their products and learn more …
Oh, and the company name? It seems Pastor Sam was addressed by a young lad in his congregation as "Patter Fam" as he couldn't quite pronounce "Pastor Sam". The nickname stuck, and here we are!
Montgomery Inn: We are so pleased to feature one of our favorite Cincinnati destinations and their wonderful barbecue. Montgomery Inn has been around since 1951, and they're famous for their ribs as well as all the celebrities who've dined here!
They have a handful of locations in and around The Queen City, but we're most familiar with the Montgomery Inn Boathouse, located on the Ohio River just a stone's throw from the heart of downtown Cincinnati. Not only are their ribs and other creations outstanding, but their bar is one of our favorite watering holes every time we visit the city. It's a great place for a happy hour drink, especially if the weather is warm and you need a break from the heat.
While Montgomery Inn is a Cincinnati classic, prices aren't too expensive, and it's a place you really should visit if you're ever in the city. It's a lot of fun to see the pictures of all the famous people who have enjoyed their hospitality!
If you can't get to Cincinnati, you can experience Montgomery Inn at home. There's a link on their website where you can order delivery of their famous ribs, pulled meats, and barbecue sauce. Just look for the "Shop and Ship" icon in their top navigation menu …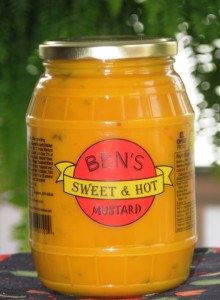 Ben's Mustard: You know you've got a winner when you start making a product for your personal use and in a short time, you're making more for your friends than for yourself! That's the story of Ben's Mustard, a family run company in Kingston, OH …
After a few test runs, the company launched in late 2003 as an official business. The next year, over 50,000 jars of Ben's Sweet and Hot Mustard were sold, and ten years later, Ben's is distributed in almost every state in the U.S. …
Ben's Sweet and Hot Mustard has a pleasing sweet flavor up front and then a little zing of heat in the back. It's not what you'd call a sweet mustard and not what you'd call a hot mustard – it's the perfect combination of the two! Ben's claims that even people who don't like mustard like Ben's Sweet and Hot …
You can order by the jar, or better yet by the case at the company's website. Also check out their newer products, like applejack jelly, jalapeno jelly, and sweet and hot barbecue sauce. Get yourself a little taste of The Buckeye State!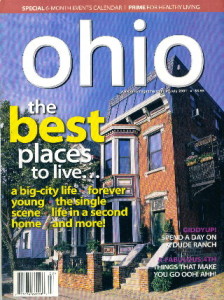 Ohio Magazine: Do you know someone who loves Ohio? If so, consider getting them a gift subscription to Ohio Magazine, the state's leading lifestyle, dining, and events magazine …
The magazine offers a yearly "Best of Ohio" feature, as well as periodic features on best places to live, current events calendar, and stories on those who make a positive difference in The Buckeye State. There's a monthly guide to the best Ohio restaurants, an up to date listing of live events, and much more …
Ohio Magazine offers gift subscriptions both for their print magazine and digital edition. It's a great way to stay in the loop on the state's lifestyle issues and the beautiful photography is an aspect of the magazine anyone is sure to savor and enjoy …
Click through to the Ohio Magazine website for all the subscription details …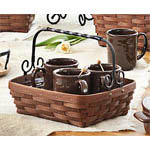 The Longaberger Company: Based in Newark, OH The Longaberger Company is America's best known maker of artisan baskets, which are hand woven by skilled local craftsmen. The company is unique in that one of their primary methods of selling and distribution is through independent home consultants who showcase and sell company products through small local events and home shows …
Longaberger also makes housewares, home and lifestyle products, pottery, wrought iron decor, fabric accessories, and more. They are committed to a Made in the USA philosophy and proudly support local charities and educational institutions through their well respected Longaberger Foundation …
See all of the Longaberger product line and buy for yourself or as a gift at their website …

Nectar of the Vine: We learned of this company recently at a wine tasting party. Nectar of the Vine creates specialty wine related foods and drink mixes … some of their products include a wine salsa, wine frappe mixes, and specialty foods that pair well with wine.
Based in Burton, OH Nectar of the Vine offers over a dozen wine frappe mixes. Just combine the packet ingredients with a bottle of red or white wine, mix, freeze, and serve! A convenient mixer for summer evenings or any gathering …
Flavors include cranberry, pomegranate, margarita, raspberry, peach mango, and several more. Their specialty Salsa de Vino is made with chardonnay wine and comes in mild, medium, and hot varieties …
Do you know someone who enjoys wine? Nectar of the Vine products made a convenient gift, and they'll ship directly to your gift recipient. Visit their website for more details about their products … you'll find a lot of handy recipes there too!
Seagull Custom Courier Bags: If you find yourself on the go a lot (and who doesn't these days?) and need to carry a bunch of items for work, consider a custom courier bag from Seagull Bags. They're made with pride in Columbus, OH and are perfect for anyone who needs a durable, stylish carrying case …
Pictured is their most popular bag, "The Commuter", which has two big front pockets and a fully closing interior pocket. This waterproof bag also has a side pocket for easy access to your items and an additional hidden interior pocket …
The company makes messenger bags, tote bags, cell phone cases, lap top bags, and more. You can order them in numerous sizes and all sorts of colors.
Carry your stuff in style and buy American with Seagull Bags!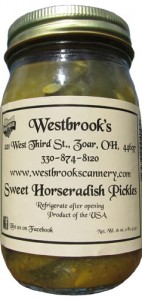 Westbrook's Cannery: We travel to Ohio frequently, and it seems every time we're there we discover something new. Several months ago, it was the Historic Zoar Village in the east-central part of the state.
The Village is a community of about 75 families originally founded almost 200 years ago by German immigrants. Today, there are various historic attractions, wonderful 19th century architecture, and quaint village scenery …
One of the businesses in Zoar Village is Westbrook's Cannery, who produce old fashioned canned specialties and bulk foods. They offer several unique hard-to-find items, like caramel apple jam and sweet horseradish pickles, shown.
Some of Westbrook's other items include Piccadilli Relish, Pepper Butter, and Caraway Sauerkraut. They're all based on time honored recipes and canned using old fashioned methods. We tried many of their products, and those sweet horseradish pickles really stand out!
Click through to their website to discover their products and learn more about Historic Zoar Village …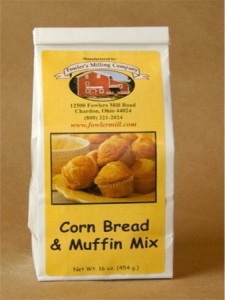 Fowler's Milling Company: Located about 25 miles east of Cleveland, Fowler's Mill is one of Ohio's most historic businesses. They were founded in 1835 and bought and re-energized in 1985 …
Fowler's uses the old world milling technique of grinding grain between two large stones. It's a slower method of milling, but it allows the grain to remain cool and retain its high nutritional value …
The mill grinds local corn and grains into flour to create muffin, pancake, and other baking mixes. They also offer other products for baking needs, along with additional traditional favorites. Gift boxes and baskets are available for someone on your "Ohio Made" gift list!
Check their website for all the product details … just click on "Retail Shopping" to learn more …
History of Ohio
Ohio Trivia and Fun Facts

1). The highest point in Ohio is Campbell Hill, located in Logan County, elevation 1,549 feet …

2). On March 1, 1803, Ohio became the 17th state to join the Union …

3). Can you name the seven U.S. Presidents born in Ohio? They are Ulysses Grant, Warren G. Harding, William Howard Taft, Benjamin Harrison, Rutherford B. Hayes, James Garfield, and William McKinley …

4). Ohio's state flag (see above) is designed like a pennant. It is the only such state flag in the United States …

5). In 1879, Cleveland became the first American city to be lighted electronically …

6). The cash register was invented in Dayton in 1884 …

7). Cleveland disc jockey Alan Freed was the first to coin the term "rock and roll" …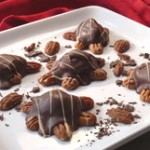 Schmidt's Fudge Haus: Most big cities have a unique area capturing their heritage and celebrating their history with great food and drink, and in Columbus, it's the German Village near downtown …
One of the prime spots to stop when in the Village is Schmidt's Fudge Haus which has been around since the 1880's. There's a nearby sausage restaurant (Schmidt's Sausage Haus) which is a fine place to eat …
Schmidt's is known, of course, for their fudge, but whenever we're in town we always stop by to pick up a few "schmurtles", pictured. They're very similar to the standard chocolate turtles, or pixies, except they're larger and in our estimation, better!
They add some creamy peanut butter to the rich chocolate, pecans, and caramel to make an old standard even better … you can buy schmurtles and Ohio's favorite candy, the buckeye, and their fudge online …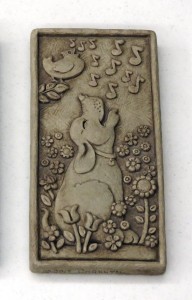 Carruth Studio Garden Art: Located in Waterville near the shores of Lake Erie, Carruth Studio specializes in artistic stone sculptures designed for indoor or outdoor display …
Each piece is hand carved from stone and designed to stand up to the harshest weather conditions. Every item is cast in stone and created by nationally known artist George Carruth, who is one of the most collected sculptors in America …
Pictured is "Morning Duet" which depicts a hound harmonizing with a wild bird in the garden – makes an ideal gift for anyone on your list!
Carruth Studio was recently featured on the ABC News segment "Made in America", so be sure to check out their website to see the beautiful stone decor pieces for your home – designs are available in inspirational pieces, family and holiday themes, welcome plaques, and many more …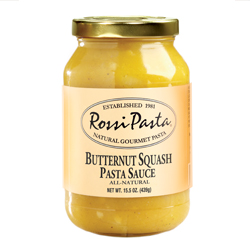 Rossi Pasta: Based in Marietta, OH Rossi Pasta has been making gourmet pastas for almost 25 years, as well as other Italian specialty foods. One of our favorite Rossi products is their Butternut Squash Pasta Sauce … it has a bit of a sweet taste with just enough spicy kick.
You can find Rossi Pasta in many gourmet food stores and specialty grocers, but you won't always see their sauces and gluten free items. They carry several interesting gift baskets combining their sauces and pasta … an excellent Ohio themed gift!
Check the Rossi Pasta website for more details and gift ideas … they have lots of gifts under $20 and $30.

Cincinnati Chili: We first discovered Cincinnati style chili about 30 years ago on one of our first trips to the Queen City …
Cincinnati has chili parlors much like Chicago has hot dog stands … they're everywhere. The two biggest chains are Skyline and Gold Star, and there's other classic chili parlors like Camp Washington. And as you might imagine, there's an endless debate as to which is "best" …
Cincinnati style chili is a thinner, slightly sweeter concoction that was introduced to the area by Greek immigrants. The secret ingredients are said to be cinnamon and a bit of chocolate, but only the recipe owners know for sure.
It's typically served three way, four way, or five way … five way means five ingredients – meat, beans, chopped onions, cheese, and served over spaghetti. When you're in Cincinnati, it's a must try. Have a "Coney" … a small hot dog smothered with chili and fluffy cheddar cheese!
You can order Skyline and Gold Star in cans direct from their websites, both of which are linked above. Just warm up the chili, chop some onions, grate some cheddar cheese, and ladle it over spaghetti noodles!
Jeni's Splendid Ice Creams: Jeni's Splendid Ice Creams is the brain child of Jeni Britton Bauer, who opened her first ice cream store in Columbus in 2002. Since then, a small enterprise has grown significantly, with nine Ohio locations, one in Tennessee, and a thriving online ordering presence …
Jeni's is known for their many unique flavors and seasonal blends. Some of these include dark milk chocolate, brambleberry crisp, and pistachio and honey. You can order all sorts of interesting ice cream toppings and other goodies from the Jeni's online store. A perfect "Welcome to Ohio" gift!
Ohio's Potato Chips: OK, we admit it. We love trying potato chip brands from different parts of the country. Recently, one of the managers at a local bar and grill near our home was discussing a local potato chip made in his Ohio hometown. He kindly brought us back a few bags of Ballreich Potato Chips from Tiffin, OH which is about an hour south of Toledo.
Ballreich chips are so good that it got our wheels turning. Surely there must be other great local chip manufacturers that could use a little boost … and there are! They're scattered across the state, like Conn's Chips in Zanesville and Husman's Potato Chips in Cincinnati.
Not to be outdone, there's Jones Chips in Mansfield and Mike Sells Potato Chips in Dayton …
These are all local companies employing local hardworking people. Check out their websites and see what they're all about. Maybe even have a few bags shipped to you or to someone who has a soft spot for The Buckeye State …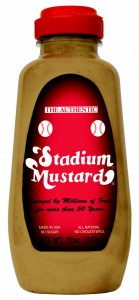 Original Stadium Mustard: If this isn't my very favorite Ohio made product, it's pretty close …
Original Stadium Mustard is a brown mustard, slightly tangy and ever so slightly sweet, that was served at Cleveland's Municipal Stadium for decades (it's still served at Cleveland's sports venues). We first became acquainted with it at a ball game in Cleveland over 20 years ago. I can't remember who won the game, but I sure did remember the really good brown mustard!
We've been buying it ever since, a few bottles at a time during our many visits to Ohio or when a friend happens to bring some back as a favor. It's outstanding on a brat or a hot dog, which is about all that needs to be said.
Just a really good mustard and truly a Cleveland tradition. Order some for you or a friend and see for yourself!
Tony Packo's: Tony Packo's restaurant has been a Toledo mainstay since 1932. The Packo family are Hungarian-American, and the menu features a few delicious rib sticking Eastern European specialties …
Tony Packo's is probably best known for its hot dogs, sausages, and pickles. The restaurant itself, on Toledo's south side, is located just minutes off the interstate and bustling day and evening …
The Tony Packo Online Shop sells many of their pickle products and other food specialties, as well as Toledo Lovers Gift Packs like the one shown. Ideal for someone who appreciates Ohio traditions!
From The Homestead Soaps: Whenever we drive through Ohio in the summer, we always try to time it so we can make a stop at the Toledo Farmers Market. It's located right downtown and in addition to all the fresh fruit and produce vendors, you'll find a lot of local small business owners selling some wonderful and useful products …
It was at the Toledo Farmers Market that we found out about From The Homestead Soaps, located just outside of Toledo in Sylvania, OH. They hand craft a variety of unique natural soaps which we use every day. The owner uses many local herbs to create the soaps, which range from bath soaps to shampoo bars. You'll be amazed at how soft and manageable your hair is when using one of these bars instead of bottled shampoo!
You can order From The Homestead soaps online. We love them!
Blue Ribbon Spices: Blue Ribbon Spices of Granville, OH is a company we looked up after being served on of their products called Aimee's Blue Ribbon Bagel Spread. The company makes all kinds of specialty foods, including dips, spreads, mixes, seasonings, salsa, and more …
The one we were fortunate enough to try was the Cherry Walnut Spread, which can be made with standard cream cheese. We haven't tried their other products, but if they're as good as the Cherry Walnut Spread, you're in for a treat!
Check out their entire product line at BlueRibbonSpices.com …
Woeber's Sandwich Pals: Woeber's may be a familiar name to you because their mustard and "Sandwich Pal" dressings are in most large grocery stores across the country …
Woeber's has been around since 1905, based in Springfield, OH. They produce all kinds of mustards, horseradish sauces, and gourmet mayonnaise sauces, but one product in particular really tickles our taste buds …
It's the Sandwich Pal Sandwich Spread, pictured. It's readily available in stores but you can order it online at Woeber's website if you can't find it.
If we had to compare it to something, it's sort of like a 1000 Island Dressing but with an interesting tangy taste. There are a couple of other sandwich spreads in the "Sandwich Pal" line, including a horseradish variety that's also really good, especially on a roast beef sandwich …
Put some on your turkey sandwich and liven it up a bit!
Waggoner Chocolates: We bought some Waggoner's Chocolates (buckeyes, specifically) for a friend of ours from Ohio not long ago. They looked so good we ordered some for ourselves!
Buckeyes are an Ohio candy specialty. They're essentially chocolate with a real peanut butter center and wow are they good! Waggoner Chocolates of North Canton is one of Ohio's best known candy manufacturers, and they'll ship these unique candies anywhere in the United States …
Waggoner's has been around since 1954 … the perfect Ohio themed gift!

Garlic Expressions: Another favorite made in Ohio product of ours is Garlic Expressions, a vinegar and oil salad dressing and marinade with a liberal and healthy dose of garlic …
It's made in Perrysburg, not far from Toledo, and you can find the product in many specialty foods grocery stores. You can use it on a salad, of course, but we love using it as a marinade …
If you've got a tougher cut of meat, like flank steak for example, cover the piece of meat on both sides with Garlic Expressions. Not only will it tenderize the meat, but it'll add a significant amount of flavor. It does wonders on cuts of pork too! Drizzle it over a pork roast before cooking and you'll have a tender, tasty roast worthy of a gourmet!
If you can't find Garlic Expressions in your area, check out their website for more uses and to order …
Bob's Best Salsa: Another great product we discovered at the Toledo Farmers Market is Bob's Best Salsa, who make two salsa products we really like …
The first is a black bean and corn salsa, available in mild and hot versions. The other is a thick and chunky standard salsa, also available in hot and mild, that is one of our favorite salsas ever … you can really taste how fresh the vegetables are! We wouldn't be surprised a bit if they weren't sourced at the Toledo Farmers Market …
You can order any of Bob's Best Salsa products directly from their website in a two jar minimum … trust us, you'll want at least two jars!

Monteleone Peppers: One more from the Toledo Farmers Market …
We love Italian style specialty foods, so wherever we encounter a local producer, it's just about a guarantee we'll "try and buy" …
Monteleone Peppers are full sized peppers packed in oil (no vinegar) either mild, medium, or hot. They're great with any Italian themed dish like pasta or pizza … cut them up and use as a condiment, similar to giardiniera. And they're a great snack right out of the jar too!
You can order Monteleone Peppers directly from their website … we recommend the "Quarter Monty" pack which includes one jar each of mild, medium, and hot.
The company is based in Bowling Green, OH and you'll find them in stores in the northern part of the state.
Robert Rothschild Farms: This Urbana, OH company has transformed itself from a local farm operation selling jellies and jams to one of the better known national food specialty companies in America. Founded in 1976, they are still well known for their delicious jams, but have branched out into literally dozens of food products that make a great gift …
Some of the products you'll find at the Robert Rothschild website include mustards, condiments, soup and dip mixes, sauces, rubs, baking mixes, snack foods, and much more …
They specialize in sending out a variety of gift boxes and gift packages, so check them out for one stop shopping and great gifts from Ohio!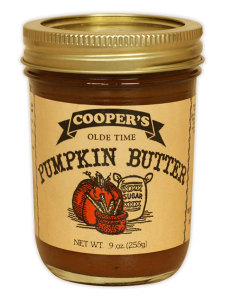 Cooper's Mill: Cooper's Mill and Market has been a Bucyrus, OH mainstay since 1969. They're best known for delicious edibles like jams, fruit butters, pickles, relishes, syrups, and toppings …
We love their pumpkin butter, which we found in a specialty grocer while traveling in Ohio. It's fantastic on a bagel, muffin, or toast.
They also offer some interesting gift sets at their website and they'll ship anywhere in the country …
You can find Cooper's Mill products in most areas of the country … but their site is a convenient way to shop for a gift made in Ohio. They offer over two dozen gift packages for your convenience …
We've Got More Ohio Made Products On The Way … Tell Us About Your Favorites! Get in touch with us via our Contact Us page …