Made In Maine Quick Facts
See Our "Visiting Augusta" Travelogue … Scroll Down
This Post is about Made in Maine Gifts and Specialty Maine Products
Want To See Your Business / Products On Our Made In Maine Page?
Visit "Advertise With Us"!
FEATURED MADE IN

MAINE

BUSINESS

ES
Wild Maine Chaga Tea: Rangeley, Maine is located in the lower western section of the state, an area filled with fresh air, scenic woodlands, and cool clear lakes. It's not far from the Maine – New Hampshire border and a couple hours northwest of Augusta …
Rangeley is the home of a creative small business by the name of Wild Maine Chaga Tea. Chaga, if you weren't aware, is a type of medicinal mushroom that's wild harvested from the outside of birch trees …
Known for centuries as possessing numerous health benefits, chaga is most commonly consumed as a tea. It offers a slight vanilla flavor due to the presence of a natural vanillan, the same as found in vanilla beans. A natural food source, chaga helps regulate the immune system, controls blood pressure, reduces inflammation, and serves as an anti aging agent …
Wild Maine Chaga Tea was founded by two sisters, Lisa Hall and Sue Glover, who literally stumbled across chaga while hiking in nearby woods. Chaga is not commonly found – it has been the victim of over harvesting and is only seen on occasional birch trees. Maine is one of the areas in North America where it can be found to some degree …
Lisa and Sue learned about chaga's health benefits and established their own Etsy Store featuring many varieties of chaga tea you can enjoy at home. The tea is available for purchase either loose or in convenient string bags …
Try the Wild Maine Chaga Tea Sampler, which includes 12 hand packed tea bags in three of their most popular flavors. You'll receive four bags each of Soothing Chai, Plain, and Refreshing Spearmint. If you have a preference, you can order these flavors individually at their Etsy Store as well …
Truly a local product from The Pine Tree State, Wild Maine Chaga Tea makes a perfect Made in Maine gift. It's ideal for those who love unique varieties of tea or appreciate small businesses and locally made products …
Click through to the Wild Maine Chaga Tea store to order … you can also buy chaga chunks in various sizes and ground bulk chaga if you'd like to try your hand at creating your own recipe!
We're so pleased to feature this small Maine business on State Gifts USA. Visit their online store and check them out!
VitaminSea Seaweed: One of the most rewarding aspects of managing a Made in the USA products website is the continual learning process about unique, beneficial products offered by independent businesses across the country …
We're especially pleased to introduce you to a small family owned business in Buxton, ME whose specialty is harvesting and creating healthy, nutritious products from seaweed. They're VitaminSea Seaweed and their products are as "Made in Maine" as it gets … everything the company produces is hand harvested from the waters off the coast of Maine, then packaged and produced in Buxton …
If you've never thought of seaweed as an edible plant, you're in for a pleasant (and healthy!) surprise. Best described as a vegetable of the sea, seaweed is one of the most powerful and adaptive plants on earth …
Not a weed at all in the traditional sense, seaweed adapts itself to its ocean home. A renewable plant resource, seaweed is rich in antioxidants, calcium, and vitamins. It's perfect for anyone following an organic, vegan, or vegetarian diet, although anyone will benefit from seaweed's many nutritious advantages …
VitaminSea Seaweed's ocean-to-table process starts with hand harvesting seaweed plants from Maine's coastal waters. The seaweed is stored in sea water filled insulated boxes, then naturally sun dried, which helps retain all of its nutrients.
Once dried, the seaweed is processed into the company's many products, ranging from whole leaf sea vegetables, sea vegetable flakes, seasonings, and more …
If you're looking for a healthy Maine Made snack, be sure to order a few packs of VitaminSea Seaweed's proprietary "Sea Crunch". Available in Cranberry, Blueberry, or Dark Chocolate, Sea Crunch is created from a mixture of Kelp seaweed, almonds, sesame seeds, sweet dried fruit, and touch of maple syrup. Nutrition never tasted so good!
If you enjoy your time in the kitchen, you'll be pleased with how easy it is to incorporate seaweed into your every day meals and desserts. For a bit of inspiration, check out the Simply Sea-Licious Cookbook, which is chock full of ideas and recipes and is available for purchase at the website. You'll also find a useful "Guide To Maine Seaweeds" page and a Seaweed Nutrition page, which serves as an excellent introduction to this super food of the sea …
Last but certainly not least, don't forget your lawn, garden, and animal friends! Just as seaweed is ultra nutritious for humans, it's also very beneficial for pet health and garden vitality. Check out the Animal Supplements and Lawn & Garden sections for an overview of all the products and to place your order …
We've only touched upon the many uses and benefits of seaweed here, so be sure to vist the VitaminSea Seaweed website to learn more about this amazing sea plant. Made in Maine!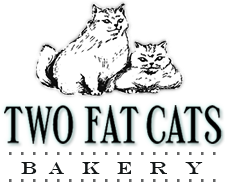 Two Fat Cats Bakery: If you're ever lucky enough to visit Portland, ME be sure to wander to the east side of town and stop in at Two Fat Cats Bakery. They've been around since 2005 and are well known around Portland (and beyond) for their distinctly New England and American pies and desserts, all baked from scratch …
The pies here are, in a word, spectacular. For a true taste of The Pine Tree State, go for the Blueberry or Mixed Berry pies, featuring berries grown in Maine. Seasonal specialty pies are also available (try the apple) which feature the best and freshest ingredients from the state's bounty …
You can have select pies shipped anywhere in the country via the Two Fat Cats Bakery website. Cupcakes and Whoopie Pies are also available on site.
This bakery has been featured by The Food Network, Travel & Leisure, Food & Wine, Bon Appetit, and many more. Check them out – you'll love it!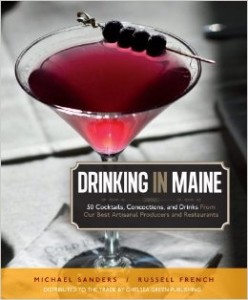 Eventide Oyster Company: We're big oyster fans, and whenever we're in states known for them near the oceans, you'll probably find us at a local oyster bar …
In Portland, ME one of the best is the Eventide Oyster Company. It's located in the bustling downtown waterfront area on Middle Street and in our estimation, it's a can't miss stop if you're visiting Maine.
Eventide offers about ten varieties of oysters from the waters off the Maine coast, and several more from farther afield. We enjoyed ourselves here for a couple of hours which, frankly, flew by too quickly. In addition to oysters, they've got all kinds of local beer available as well as an inventive cocktail menu …
While you can't have the oysters or the ambiance of this great place shipped to you, they do have an online gift store at their website. There you'll find an interesting book called "Drinking In Maine: 50 Cocktails, Concoctions, and Drinks From Our Best Artisanal Restaurants and Producers". That's quite a long title, but it's quite a book! If you're a mixologist (or have to buy for one), this book is handy to have. There's some very creative (but easy to prepare) drink recipes from all around The Pine Tree State – anyone from Maine who appreciates a good cocktail will enjoy this book!
Order it online direct from the Eventide website, linked above …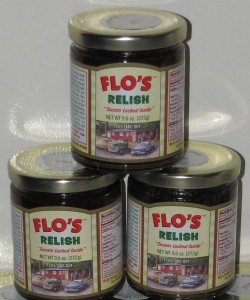 Flo's Hot Dogs: We're always on the lookout for a good hot dog joint, and if you share that particular passion, you'll find one in Port Neddick …
It's Flo's Hot Dogs, located on Route 1 (Blue Star Highway) not far off Interstate 95. A humble small place, Flo's has been around since 1959 and specializes in steamed hot dogs.
They're not open for lengthy hours, but if you happen to be near Port Neddick during lunch hour, stop here. The star of the show is their famous relish, a concoction that's slightly sweet and slightly tart and 100% delicious. No matter what condiments you like on your hot dog, this relish is the perfect complement …
You can't order hot dogs at the Flo's website but there is a link to an online sotre selling their famous relish. A quintessential gift from The Pine Tree State!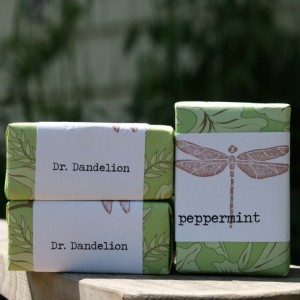 Dr. Dandelion: We've always respected and appreciated companies who operate by the philosophy of "less is more". It's the motto of Deb Weigand-Robbins' body care product business known as Dr. Dandelion. Specializing in natural olive oil soaps, body & bath scrubs, and lip balms, Deb named her company in honor of a 19th century resident of her historic home by the name of Moses Hansen.
Mr. Hansen, who was fondly known in the area as Dr. Dandelion, preferred simple ingredients and natural methods to alleviate life's challenges. Deb continues his philosophy by using only natural ingredients in her product line, completely avoiding any synthetic additives or artificial colors. She creates soaps and bath oils which are gentle and skin nourishing and friendly to the environment and your family …
If you're a gardener, be sure to check out their "For The Gardener" section – there you'll find some great gifts for those on your list who like to play in the dirt, including Hand Balm and Hand Scrub. The Scrub is made with olive oil soap, lavender buds, orange oil, and a pinch of raw sugar. Smells great and leaves your hands smooth, soft, and clean!
Wonderful and sure to be appreciated gifts made in The Pine Tree State!
EcoSeaTile: Here at State Gifts USA, we love featuring businesses whose product line is created from recycled materials. This Kennebunkport company started in 2008 as a tile company, making unique decorative tile from recycled lobster, clam, & mussel shells.
Since that time, EcoSeaTile has expanded their line to over a dozen recycled products using all sorts of shells as well as copper, aluminum, PVC, and more. All this waste material which would otherwise end up in a landfill are transformed into jewelry, drawer knobs, coasters, frames, outlet covers, and several other creative products.
At their online store, you can purchase many of the EcoSeaTile creations for yourself or as a special gift. Customization is available and the designs are remarkable! We think the coasters are really cool, and the frames and switch covers add a unique decorative touch to any room in your home …
Click through to their site to see all of these unique Made in Maine recycled treasures!
Shipwreck Galley Salsa: When you think of states making great salsa, Maine might not immediately come to mind but there are some great salsas being made in The Pine Tree State – a fine example being the creations of a small company located in beautiful Presque Isle, just a few miles from Canada's New Brunswick border …
The company is Shipwreck Galley Salsa and their salsas offer a distinctly Maine flavor profile. Harty varieties include Black Bean & Beer, Black Pepper & Ale, Cherry & Brandy, Blueberry & Vodka, and more! For your next happy hour, how about chips and some of their Olives & Gin Salsa, a unique recipe that'll mix well with any of your favorite libations. Or, opt for the Peach & Schnapps Salsa, a fun flavor that's also perfect added to any fresh fish dish …
Discover more about the Shipwreck Galley products at their website, where you can order all the spirited flavors direct from Maine. Shipping discounts are available on 5+ jar purchases! A flavorful and decidedly unique gift from Presque Isle …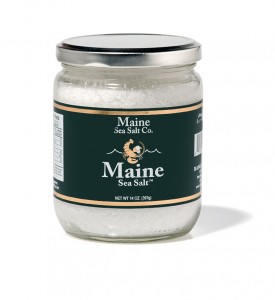 Maine Sea Salt Company: Sea salt is big business these days, and those of us who use it know why. First of all, it's a natural product and minimally processed. More importantly, sea salt offers a more concentrated flavor – you can use it sparingly and it provides a better seasoning profile to the food you prepare …
With Maine's ample coastline, it's a natural assumption you'll find a couple stellar sea salt companies calling the state home. And that's the case! One of them is the Maine Sea Salt Company, located in Marshfield and founded by Steve and Sharon Cook in 1998. The company harvests sea water off the Maine coast and trucks it to their greenhouse facilities so the salt can evaporate naturally from the water. Now, their products are sold throughout the United States!
Available in grinders, plastic bags, and gift jars, this is the perfect Made in Maine gift for anyone on your list. At their website, you can order original, coarse grind, and flavored smoked salts, including a Maple Smoked Sea Salt that's about as original to The Pine Tree State as you can find …
Click through to their site to learn more about the company and to order. We exclusively use sea salt instead of standard table varieties and have for years – it really brings out the flavor in your food, especially fresh vegetables and seafood. Discover for yourself what a difference it makes and help support a small business doing some great things way up in the Northeast!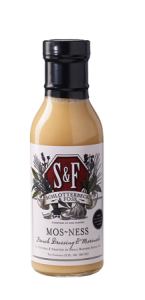 Schlotterbeck & Foss: This gourmet specialty foods company has been a Portland mainstay since 1866 and has fans all over the world. They produce a diverse line of toppings, sauces, salsas, and condiments that add a special touch to anything you're creating in the kitchen …
We'd like to acquaint you with one of their products which we've been enjoying for years. It's their Mos-Ness French Dressing, which is actually as much an all purpose sauce as it is a salad dressing …
Mos-Ness is a vibrant blend of spices, fresh onions, garlic, molasses, cane sugar, and more. It's perfect drizzled on chicken or fish and works wonderfully well as a cole slaw base. Just shred some cabbage, carrots, and a few radishes and mix well with Mos-Ness … fantastic!
You can find this versatile sauce & dressing at specialty food retailers in many parts of the country, although it can be a bit hit or miss. There's a store finder at the Schlotterbeck-Foss website, or you can order it by the case online there.
We've been seeking it out for over 20 years – a great taste from Maine!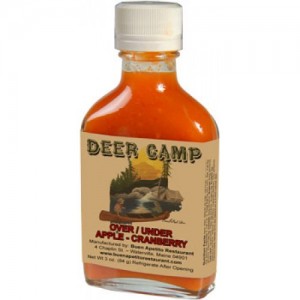 Deer Camp Sauces: We learned of this small Maine company and their line of sauces from an associate of ours who travels to Maine on business. He was kind enough to bring us back a bottle of Over/Under Apple Cranberry Hot Sauce, a lively concoction made with local fruit and habanero peppers …
It's just one in a line of barbecue and hot sauces which have taken home awards from the National Barbecue Association and the Scovie Awards. They also make a very appealing 10 Point Plum Hot Sauce, which dials back the heat and adds a bit of sweetness from damson plum preserves …
Another in the line is Deer Camp's Buckshot Blueberry Hot Sauce, made with Maine grown blueberries, carrots, and heated up with habaneros. An excellent mix of sweet and hot!
The company also makes a couple of barbecue sauces and a wing sauce – check them out online at DeerCampSauces.com …
Portland General Store: Actually a general store in name only, this company based in Maine's largest city is an apothecary featuring natural organic skin care and grooming products for men and women …
Shown is Portland General Store's Women's Dopp Kit, a limited edition locally crafted canvas bag containing four items from the company's line. Perfume, Toner, Face & Body Oil, and Shampoo & Body Bar are packages together as a wonderful gift idea for the special lady on your gift list. There's ample room in the Dopp Kit for other items too, like keys, compact, small brush, etc.
For men, Portland General Store offers beard care and shaving products, cologne, hair care, and skin care items. Several gift sets are available, including a Dopp Kit for men which includes their proprietary Whiskey Cologne, adapted from a 1920's recipe containing organic sugar cane alcohol …
Check their website for more gift ideas that are sure to please and impress!
Glidden Point Oyster Company: Located in Edgecomb, ME not far from Newcastle and Boothbay Harbor, this small company is well known for their fresh Maine oysters, clams, and hard shell lobsters. They lease oyster growing areas from the state along the Damariscotta River estuary and then let Mother Nature do her thing. No artificial antibiotics or feeds are used, and the end result are Glidden Point Select Oysters, which are uniform in size and contain rich, plump meat.
The company's expertise allows them to be one of the few Maine companies who will ship oysters and clams direct to you from their facility. If you know an oyster lover, or if you're one yourself like us, this is one of the best gifts you can order! Oysters and clams are available by the dozen, and you can also order 1 1/2 pound live Maine lobsters. Their online store is also a great source for shucking utensils, oyster knives, and oyster related gifts.
Check them out to learn more and to taste the freshest flavors of Maine …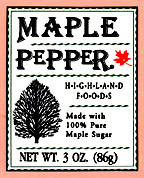 Highland Foods Maple Pepper: Owner and founder Alison Macmillan has been making unique seasonings in Newcastle, ME for over 20 years. Her family owned and operated company, Highland Foods, offers their signature product, maple pepper, made from 100% pure maple sugar and black pepper.
This versatile seasoning can be used to season fish, meat, and poultry dishes during and after cooking. It's also excellent with eggs, omelettes, and popcorn! The company makes three varieties, including Maple Pepper with Garlic and Maple Pepper with Habanero. The sweet and peppery combination is irresistible!
You can order in various sizes, including a beautiful Maine pine gift box, directly at the Highland Foods Maple Pepper website. While you're there, check out their recipe for Maple Pepper Pork Chops and more. It's a wonderful Maine themed gift for anyone who likes to create in the kitchen!
Haven's Candies: Ask anyone who has lived in Maine for a while what their favorite candy store is, and chances are great they'll tell you it's Haven's. This iconic candy company, a local tradition, has been around since 1915 and has stores in Westbrook, Portland, and Scarborough.
Haven's specialties are their chocolates, created in all sorts of varieties and flavors. They're well known for their peanut butter fudge and offer two specialty Maine assortments for the perfect gift from The Pine Tree State …
The first is the State of Maine Assortment, a collection of local flavors like blueberry, maple, raspberry, strawberry, and the state's signature candy, Needhams. The second is Haven's Sea Salt Caramels. These are creamy caramel centers cut into bite sized pieces and finished with a touch of locally harvested sea salt. Either assortment is sure to please anyone with an affinity for Maine!
Shop online directly at their website – they ship anywhere in the country!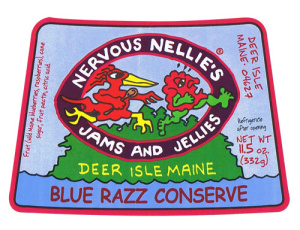 Nervous Nellie's Jams & Jellies: A small multifaceted business located on Deer Isle, Nervous Nellie's is perhaps best known for their jams and chutneys made with locally grown fruit. Their signature product is a jam called Blue Razz Conserve, a luscious mixture of Maine blueberries and raspberries. It's one of over a dozen flavors of fruit jams and chutneys hand crafted in their busy kitchen …
Strong advocates of the "Made in Maine" concept, Nervous Nellie's also offers several other local products from other small businesses. Honey, candles, pottery, and goodies for your pets are just a few! They're available in person or at their website and they all make ideal Maine themed gifts …
While you're at their site, be sure to check out their selection of gift boxes. You can order assortments of their edibles and themed boxes for breakfast, home decor, and more.
Unique one stop shopping for some of Maine's best locally made products! Visit their site to see all that's available …
Weownit Cranberry Company: Based in the small coastal community of Jonesport, this company produces cranberries and related confections from cranberries grown in Maine and the surrounding area. Cranberries, in fact, are often found growing wild on out islands off the coast …
Weownit Cranberry, whose online presence is via their store CranberryShop.com, offers just about everything for the cranberry lover. Themed candieslike Lobster Eggs and Black Fly Bites taste a lot better than their name might imply! They're actually dried sweetened cranberries covered with semi sweet dark chocolate or a candy shell …
Cranberry fudge, jellies, baking mixes, and of course actual dried cranberries are also available for online purchase. There's also a great selection of recipe books and cranberry related gift items!
Visit CranberryShop.com to see the entire selection and to order for yourself or as a gift …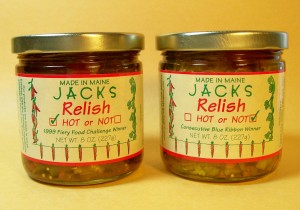 Jack's Gourmet Specialty Foods: Located in the popular resort area of Monmouth, Jack's Gourmet has been around since 1994. They've made a name for themselves for their pickles, jams, and condiments and are frequent participants at various New England festivals …
Their best selling product is a relish that's made in two varieties – Hot or Not, which you can tell by the check mark on the front label. The Hot Relish won a first place award in the acclaimed Fiery Food Challenge and pairs well in cold salad recipes or simply served on a hot dog. The "Not Hot" variety can obviously be used in the same manner for those tamer occasions!
Jack's also creates a number of interesting jams, like their Fruits 'N Roots, a cranberry horseradish combination. Liven up a turkey sandwich with this one. Another is called "Carrot Cake You Don't Bake", which contains pureed carrots and lemons spiced with cinnamon and clove. Unique!
Sweet Onion Garlic Jelly, Maine Blueberry Jam, and Bread & Butter Pickles help round out the Jack's Gourmet product line. If you're not near Maine, no worries … you can order any of these products and more via PayPal at their website!
Maine Homestead Farm: The small town of Arundel is located in southeastern Maine just off the coast. Incorporated in 1915, it was formerly part of Kennebunkport and was originally named North Kennebunkport. The town was renamed Arundel in 1957 as a tribute to local author Kenneth Roberts, who wrote the historical novel "Arundel" in the late 1920's …
This community is home to the Maine Homestead Farm, a thriving small business creating some deliciously unique pickled products as well as jams, jellies, relish, and sauces …
Two of Maine Homestead's products really stood out to us. The first is their Hot Dill Carrots, cut into salad size pieces and the perfect spicy addition to any table salad. The second is their Wild Maine Blueberry Jam, which is likely the best and freshest blueberry jam ever! Maine of course is known for their blueberry crop and they really shine through here – we found ourselves enjoying it by the spoonful right from the jar, not even waiting for our English muffins to toast!
Maine Homestead Farm makes a variety of pickled products, including asparagus, dilly beans, pickles, beets, garlic, and more. But don't forget that blueberry jam!
For a real taste of Maine, click through to their site and order for yourself or as a gift …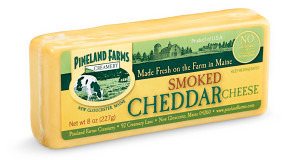 Pineland Farms: Located on a 5000 acre picturesque setting in New Gloucester, Pineland Farms is renowned throughout Maine and New England for their world class dairy and produce products. A regional destination, the farm is open 7 days a week for visitors. An equestrian center, creamery, poultry barns, and educational and fun nature walks are just a few of the ongoing activities which take place here.
Trails, forests, and ponds provide ample opportunities for outdoor recreation, and there's also a large on site market offering Pineland Farms products and other Maine specialties. The market also offers an opportunity for shoppers across the country to buy online – there are over two dozen of their award winning cheese, specialty foods, and gift baskets available for purchase.
One of our favorite Pineland Farms products is their smoked cheddar cheese. Flavorful and hearty, this cheddar is equally at home as an appetizer or with a good glass of wine or cold beer. We're also big fans of their Blueberry Salsa, made with blueberries grown at the farm. Check out their site to learn more …
Fresh from Maine flavor, courtesy of Pineland Farms!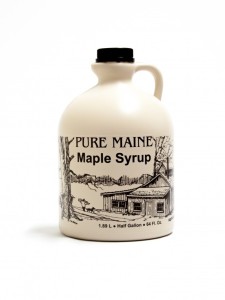 Spring Break Maple and Honey: This small company dedicated to producing maple products and pure wildflower honey is located in the far northeast section of Maine. They're in the small hamlet of Smyrna, about an hour south of Presque Isle and not far from the state's New Brunswick border …
During March, Spring Break Maple and Honey focuses on maple syrup production. From humble beginnings, this family farm is now one of the biggest producers in the state. Their maple candies, available for purchase at their website, were recently judged to be the best in the U.S. by the North American Maple Syrup Council …
Owned by Kristi and Kevin Brannen, the company's products contain no additives or preservatives. No pesticides or chemicals are used on the maple trees or the wildflowers where the honey process begins.
At their online store, you'll find maple syrup, candy, honey, and other local food products for sale in a variety of sizes and packaging. They even offer a cool maple candy lobster … delicious maple candy shaped like a Maine lobster!
A real taste of The Pine Tree State! Visit their website to learn more …
Hope Elephants: We were delighted to learn and read about a wonderful animal rescue organization located in Hope, Maine called Hope Elephants. The mission of the organization is to provide care and lifetime homes for injured and aging elephants, as well as providing educational programs to inspire animal conservation efforts …
One of several elephant sanctuaries in the United States, Hope Elephants is often asked if elephants can tolerate the Maine coastal climate. Interestingly, elephants thrive in very diverse climate conditions in the wild, so living in Maine doesn't pose a problem!
Pictured are two current residents of the sanctuary, Rosie and Opal, both of whom need special medical care and retired here after performing for the public for four decades. Hope Elephants has successfully adapted and applied innovative treatments for both and have drastically improved their quality of life …
You can learn more about these social, magnificent creatures along with the organization's ongoing educational efforts at their website linked above. Further, you can shop for some really cool logo gear at their online store as well as donate if you're so inclined …
We are proud to feature this unique elephant rescue organization here at State Gifts USA!
Beast Feast Maine: This innovative small company in Bridgton, Maine originated with a wild game feast which led to the development of products to enhance the flavor of wild game and other meats …
Since their founding in 2007, the company has developed dozens of sauces, marinades, rubs, condiments, and more – anything that complements your food, Beast Feast Maine does it!
One of their distinctly Maine products caught our eye – it's their new Lobster/Seafood Hot Sauce, made specifically to pair with lobster but equally good with any other fish (or just about anything!). It's made with real Maine seaweed, lemon, spices, peppers, and butter. Very unique and one of a kind!
They also make specialty sauces and syrups, like their Habanero Infused Maple Syrup – a real breakfast time eye opener! Further, they've created an all natural Classic Ketchup, made with Maine well water, blue agave, and local apple cider vinegar. This and all their other signature products are available at their online store …
Visit their site and get yourself a gift of something really unique from Maine!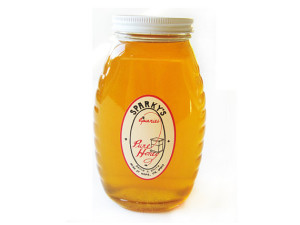 Sparky's Apiaries: This family run honey and maple syrup business is based in the small town of Hope, located in Maine's mid coastal area …
Owner David Smith started Sparky's Apiaries in 1980 and now tends to over 250 hives. The honey producing season, much like the maple syrup season in Maine is very short – just a matter of several weeks. Bees pollinate Maine's wildflowers and the end result is a pure natural honey direct from The Pine Tree State …
Honey, much like wine, offers a different taste depending where it's from. The two are similar in a way, because the natural elements of a particular geographic area directly impact the flavor profile. If you enjoy honey, we definitely recommend trying as many as you can made in different parts of the country …
You can buy Maine honey, maple syrup, beeswax candles, skin care products and more directly from Sparky's Apiaries. There's a link on their site directing you to their Etsy store …
Cranberry Island Kitchen: Billed as "Simple Pleasures From The Coast of Maine", Cranberry Island Kitchen of Freeport creates a variety of Maine specialty baked goods and specialty foods, including the famous Whoopie Pie …
Pictured is their version of a Pumpkin Whoopie Pie. Basically, a Whoopie Pie is two baked treats surrounding a creamy filling. In this case, it's pumpkin cake with Maine maple cream cheese filling, made with maple syrup and maple sugar. Several different varieties are offered – they're shipped cold and can be easily frozen and re-thawed.
Cranberry Island Kitchen also creates another uniquely Maine treat – their Island Buttermilk Cakes. Native to Maine's Little Cranberry Island, these moist, rich cakes are made either with locally grown blueberries or raspberries – a real taste of The Pine Tree State! Ideal for breakfast, brunch, or dessert!
All sorts of other goodies, including gift boxes, are available at their website – oh and be sure to check out the Lucky Lobster Shortbread Cookies!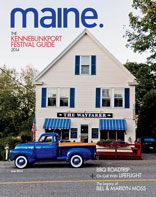 Maine Magazine: This publication makes an ideal gift for anyone who loves Maine. The state's leading lifestyle publication, Maine Magazine is a full color magazine with features on travel, the food scene, the arts, and much more …
Maine Magazine also keeps tabs on Maine's movers and shakers, the music scene, and an updated series of guides on home trends, restaurants, and more. Subscriptions are very reasonable and your gift recipient will think of you fondly each time a new issue arrives …
Get a give a subscription to Maine Magazine and stay in the know about events in The Pine Tree State!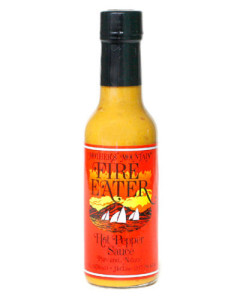 Mother's Mountain Pantry: This family owned specialty foods company is based in Falmouth and they've been around since the early 1980's. Over the last 30+ years, they've expanded their product line from a single specialty mustard to dressings, marinades, jams, hot sauces, honeys, and more …
Well known as a food gift company, the Mother's Mountain website is chock full of gift boxes filled with their Made in Maine products. Ideal as a thank you gift, Mother's Mountain packages their gifts in sturdy handsome mini crates and has several specialty themes available …
We are particularly fond of one of their products, Fire Eater Hot Pepper Sauce, pictured. It's a mustard based sauce containing peppers, spices, and rum. We don't know if it's the rum that does the trick, but this stuff is delicious mixed with chilled shrimp!
Of course, you can use it on other foods as well, like chicken or pork or any other types of seafood. Check out all their many interesting products at the Mother's Mountain Pantry website. A really nice Maine Made gift for someone on your list!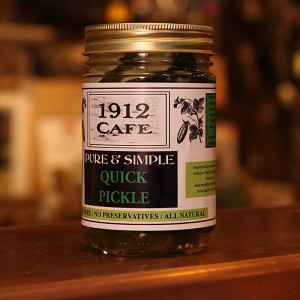 1912 Cafe: Normally here at StateGiftsUSA.com we like to promote smaller independent businesses. Rarely do we feature a large corporation, but the 1912 Cafe inside the flagship L.L. Bean store in Freeport is an exception …
When people visit Maine, they almost always stop in Freeport and almost always stop in at L.L. Bean. It's a great store, and the 1912 Cafe is located right inside, so it's an ideal spot to relax for a bit over coffee and a bite to eat.
Some of the cafe's signature items have become famous on their own, like their many salad dressings and their pickles. The product line is called Pure and Simple and includes cocoa mix, tea sets, and the aforementioned dressings and pickles …
You can buy any of these items online at the 1912 Cafe website, or have them shipped as a Maine themed gift. Click on "Online Products" on their website and you'll see the full selection of souvenirs and food items …
Eggemoggin Salt Works: We truly enjoy products created from the terroir (or in this case the surrounding water) of all the 50 states. Products reflecting the unique aspects of a certain geographical area broaden our knowledge, taste buds, and overall perspective about what makes each state special …
Near the town of Sedgwick in Maine's Downeast region, there's a narrow channel of water named Eggemoggin Reach. A "reach" is essentially a narrow slice of water, like a strait, and it's here where you'll find the Eggemoggin Salt Works and their signature product, appropriately named Reach Salt …
In the Eggemoggin Reach, there's a great deal of swift current and water exchange during high tide and low tide. It's an ideally clean location to source sea water and hence, sea salt. The conditions here help create a sea salt taste unique to this part of Maine and like no other you may have tried …
Reach Salt is comprised of fine salt crystals which will dissolve into powder form when rubbed between your fingers. It's perfect for cooking and seasoning since it blends in quickly and easily with whatever you're preparing. Try a few sprinkles on fresh seafood – you won't need to season with anything else!
You can order Reach Salt at the Eggemoggin Salt Works website in reusable Mason jars or in gift containers. A special true-to-Maine gift for someone on your list!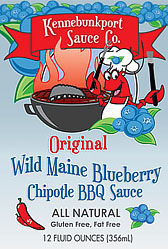 Kennebunkport Sauce Company: Barbecue sauce made in Maine? Well yes, when it's made with fresh wild Maine blueberries!
It's always a great taste experience when you try a product made with a state's fresh fruit. Such is the case with the Kennebunkport Sauce Company and their line of barbecue and hot sauces made with Maine fruit.
Starting with the barbecue sauces, the company makes a blueberry chipotle varsion, and two with blueberry and apple (a mild and a hot). They also make a Wild Maine Blueberry Hot Sauce and a Wild Maine Blueberry Cocktail Sauce!
Maine of course is noted for their blueberry and apple crops, particularly blueberries. Blueberries do very well in the cool Main coastal climate and are prevalent in many of the state's edible products.
You can have any of the Kennebunkport Sauce Company's products shipped directly to you or as a gift. Take a look at their website for all the details …
Sea Bags: This forward thinking company recycles boat sails and turns them into stylish, functional tote bags in a variety of sizes. Called Sea Bags, they're handsome examples of the recycling process …
Based in Portland, Sea Bags offers a program whereby you can exchange sails for one of their bags. They are constantly sourcing sails and crafting them into bags that are functional conversation pieces …
Their bags are as small as lunch bags and as large as utility bags. You can buy duffel bags, wine bags, baby bags, courier bags, and even bucket bags that can tote all your necessities to a party!
Shown is the Red Claw Tote, made from recycled sail material and hand spliced rope as handles. It comes in medium and large sizes and can be spot cleaned or even machine washed!
Take a look at all the cool styles available at their website …
Hancock Gourmet Lobster: Looking for a Maine lobster feast? Well, look no further than the Hancock Gourmet Lobster Company, one of the state's leading producers of specialty lobster and seafood items for the mail order marketplace …
Hancock Gourmet Lobster is based near Cundy's Harbor, the state's oldest commercial lobstering village. While lobster tails (shipped frozen and ready to heat and serve) are a big part of their business, the company creates a tempting variety of specialty lobster dishes, ranging from lobster cakes to casseroles to the famous Lobster Newburg …
If you're having a party or want to give a special gift, Hancock offers a few ready made feasts, like the Maine Lobsterman's Catch. This ready to bake banquet includes four lobster tails, shrimp, mussels, scallops, corn, and baby potatoes … it's just like dining on the coast of Maine! There's also a Maine Clambake which features fresh clams along with lobster, shrimp, and potatoes.
Any of these feasts can be shipped and are carefully packed for maximum flavor and freshness. All entrees and feasts are easy to prepare … just heat and serve!
A gift from the Hancock Lobster Company is sure to be appreciated! Check their website for more details …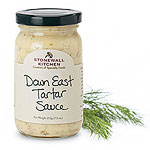 Stonewall Kitchen: Stonewall Kitchen of York, ME is a well known purveyor of specialty foods, kitchen accessories, tableware, and other home and garden products …
Their specialty food line ranges from condiments to dessert toppings to salsa and sauces and everything in between. We like their Down East Tartar Sauce (pictured), as well as their Bleu Cheese Herb Mustard …
Stonewall Kitchen is also well known for their prepared foods which are idea for Maine themed gifts. Notably, they offer a pack of cranberry and walnut tarts and lobster rolls, among other selections.
For one stop shopping, pick up the Downeast Feast, featuring two sweet lobster tails, mussels, shrimp, scallops, corn, and herb lemon butter sauce. Just heat in the oven or on the grill and you've got an authentic Maine clam bake! It's a great gift from the Pine Tree State!
Check the Stonewall Kitchen website for their specialty food options and all the details …
History of Maine
Maine Trivia and Fun Facts

1). As you might expect, Maine is the nation's lobster harvesting leader …

2). Maine has almost 3,500 miles of coastline. That's more than Florida and trails only Florida and Louisiana for the most in the country …

3). Maine's state animal is the moose …

4). Maine has two unique distinctions – it is the only state with one syllable and it is the only state bordering just one other state …

5). Portland is Maine's largest city. The population of Portland is approximately 67,000 …

6). Eastport is the eastern most city in the United States …

7). Maine's average summer temperature is a pleasant 70 degrees …

8). Maine has 3,166 off shore islands. Of these, only 1,200 are an acre or more in size …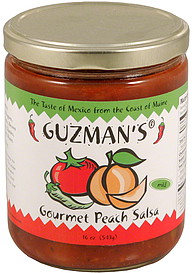 Guzman's Gourmet Salsa: Back in 1998, Scarborough, ME resident Roy Guzman found his mom's peach salsa recipe. With the help of his wife, he recreated and perfected the recipe and shared it with friends and family. A few months later, the salsa became a local hit and a business was born …
Now, Guzman's Salsa can be found in Maine specialty grocers and fortunately for the rest of us who can't get to the Pine Tree State, online at their website. The peach salsa is one of their signature products, but they also make mustard, rubs, pepper jams, and hot sauces …
Try their cranberry salsa, made with local fruit and a touch of brown sugar. Great during happy hour with some chips, a few friends, and a cold one!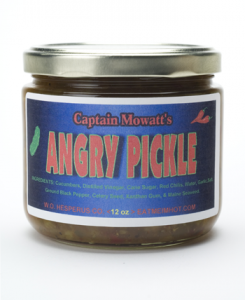 Captain Mowatt's: Family owned and based in Portland, this Maine company turns out a wide range of hot sauces, condiments, seasonings, rubs, and barbecue sauces …
We are big fans of the Angry Pickle Relish … it's a spicy but not overwhelming cucumber relish that finds itself on hot dogs or in a tartar sauce in our kitchen. There's also an Angry Tomato and Dirty Mustard in Captain Mowatt's product line if you like a little kick to your ketchup and mustard …
Captain Mowatt's also makes twelve different varieties of hot sauce, from sort hot to hot. Some have a bit of fruit in the ingredients to balance out the flavor of the peppers, a feature we really like in hot sauces. On their website, each hot sauce is described in detail along with a heat scale from one to ten so you know what you're getting in to!
Some great gifts from Maine here, so be sure to click over to their site!

Raye's Mustard: Since 1900, Raye's has been making stone ground mustard in small batches in beautiful Eastport. The company is run by the 4th generation of the Raye family and was originally founded to complement Maine's sardine fishing business …
Raye's makes several styles of mustard. We like their Sweet and Spicy variety, which pairs well with just about anything. The Raye's Mustard website suggests brushing a little on a sausage or piece of fish before grilling, which frankly we'd never heard of. We tried it and highly recommend it!
Raye's flavors include a spicy horseradish blend, a brown ginger flavored mustard, a traditional yellow, and a Dijon style Old World Gourmet. They also have a mustard specifically designed for hot dog lovers called "Top Dog".
There are over 20 flavors available … check out their website and get your mustard fix!
The Captain's Wife – Maine Sea Glass: Kerry Daly from Scarborough Maine really is a sea captain's wife. One of her favorite past times is combing the southern Maine beaches for naturally tumbled sea glass. She collects the sea glass and turns it into beautiful and functional jewelry, like the necklace shown …
Maine sea glass jewelry is a wonderful gift for anyone who appreciates the beauty of the state. See the many different pieces of Kerry's creations at her Etsy shop at The Captain's Wife Maine Sea Glass Jewelry …
Bellingham Bell Company: Located in Hiram, Bellingham Bell operates a foundry creating custom crafted brass bells. These bells are most commonly seen on sailing vessels, but are also used for decorative purposes and other uses …
Bellingham Bell creates bells in a variety of sizes and finishes, including polished bronze, gold plated, and stainless steel. You can order from their standard stock online or arrange for a custom designed bell. The company originated in 1981 and is known as one of the premier U.S. bell foundries …
Art Designs By Julie: These beautiful hand painted welcome signs are painted on actual slate roof tiles salvaged from Maine homes from the 19th century!
Artist Julie Jipson of Greene, Me paints colorful designs and triple seals the tile so they can be displayed in any season's weather …
Choose from patriotic scenes, holiday designs, welcome signs, ocean scenery, sports logos, pet portraits, or a scenic Maine setting design …
Check out all of Julie's designs at Art Designs By Julie and bring an authentic piece of Maine decor into your home …
Bar Harbor Jams: Maine is known as the blueberry state due to the proliferation of blueberry patches that thrive in the state's cool, damp climate. As such, you'll see many Maine products created with this bountiful harvest, like jams,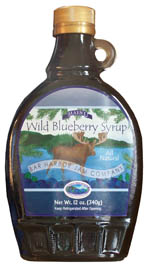 jellies, syrups, and more …
Bar Harbor Jam is one of the best online sources for Maine blueberry products. We are big fans of their Blueberry Syrup, which is not only good on pancakes and waffles but in a martini too!
Bar Harbor Jams can ship just about anything blueberry, from salsa to to sauces to wild blueberry pie …
Browne Trading Seafood Company: Browne Trading Market is a purveyor of fresh fish, fine caviar, and smoked seafood with a retail market located on Commercial Street in beautiful Portland, Maine. For those not living close to the Pine Tree State, Browne Trading offers overnight delivery of fresh Maine seafood anywhere in the country …
You can order native Peekytoe crab meat, Diver scallops, fresh Maine lobster, crab claws, Razor clams, smoked salmon, exquisite caviar, and many more delicacies. Whatever you order today was in the water just hours before!
Ployes: So what exactly are ployes? First of all, the word ployes rhymes with toys, and they are French Acadian pancakes made with buckwheat flour and wheat flour. They've also been described as a flatbread and often eaten like a crepe, i.e. stuffed with fruit, vegetables, meat, or ice cream …
Ployes are a Maine tradition, and the Bouchard Family Farm in the northern part of the state carries on the tradition by creating and selling a packaged mix to make ployes. They're very easy to make … just add water to the mix, stir, and let it sit for five minutes. Then, spread the mixture on an electric griddle or a non stick pan and cook until lightly brown, just like a pancake. Enjoy them for breakfast (they're fat free!) with Maine blueberry syrup or for dessert with vanilla ice cream!
Also, ployes are vegan friendly … there are no eggs, milk sugars, or oils in the mixture …
Blueberry Bliss: Getting back to the Maine blueberry theme for just a moment, there are three products from Jonesboro's Blueberry Bliss you're likely to enjoy …
The first is Blueberry Bliss Dessert Topping (pictured). Simply spoon this good stuff right over your dessert (or breakfast for that matter!). Excellent on waffles or ice cream!
The second is their Blueberry Vinegar. It's mix of wine vinegar and wild blueberries, and it's excellent on a plate of mixed greens or basted on to chicken breast …
Finally, try the Blueberry Gingerbread Mix. It's easy to make and it's a wonderful dessert. Just add molasses, water, cooking oil, and eggs …
You can order all of these Blueberry Bliss products online at their website, linked above …
Hatties Lobster Stew and Chowder: Maine is well known for its ultra fresh seafood, which often turns up in hearty, delicious soups and chowders that help warm the chilly Maine climate …
Some of the best you'll find can be ordered from Hattie's Chowder House, which makes four different varieties you can have shipped to your home or as a gift.
There's a seafood chowder, haddock chowder, lobster stew, and of course a clam chowder …
If you're ever in Maine, stop by Hattie's Chowder House for lunch or dinner. They're located in Hallowell and are open seven days a week …
Maine Coast Sea Vegetables: We think this company makes some really interesting products that are well worth trying …
Maine Coast Sea Vegetables of Franklin, ME specialize in seaweed based products, which are organic and packaged in bulk for cooking, or as energy bars and chips …
All of the products, like kelp and seaweed, are harvested naturally off the coast of Maine. We had no idea there are so many different varieties of seaweed! It imparts a naturally slightly salty taste, basically eliminating the need for extra seasonings. The products are really easy to use … just cut off small portions and add to salads, soups, stews, and stir-fries …
One sea vegetable, Dulse, is soft and chewy and can be eaten right out of the bag as a salty tasting snack … it can also be fried and added atop any type of warm sandwich.
If nothing else, explore the website and learn about these interesting vegetables of the sea. You'll be surprised at all the varied uses and how healthy these sea veggies are for your diet …
Brownie's Barkery: If you've got four legged friends, get them a special treat from Maine!
Brownie's Barkery makes all kinds of fun dog treats, but they're best known for "Woofie Pies", pictured. They're made with peanut butter and carob dog cookies combined with a filling of wild Maine blueberry yogurt … now I can't imagine any pooch not going crazy for these!
Also check out the lobster shaped peanut butter cookie … your dog will sniff them out before you get the package open!
You can treat your dog friend with any of Brownie's treats by shopping at their online store …
Maine Needhams – Potato Candy: Potatoes are another agriculturally significant crop in Maine. The state has produced a significant crop of spuds for generations, and Maine kitchens have turned out some interesting potato recipes. None are more unique than "Needhams", though.
Needhams are a candy made using Maine potatoes. It might sound a bit odd, but they're really good! The ingredients are Maine potatoes blended with coconut, confectionery sugar, vanilla, and butter. A soft center is created, and then they're hand formed and dipped in chocolate …
Needhams are hard to find outside of Maine, but you can order them by the pound from Sue's Needhams, who will ship anywhere in the U.S. Be careful though … these candies are delicious! They make a great gift for someone who has a soft spot for Maine …
Whoopie Pie: One of Maine's favorite desserts is the iconic Whoopie Pie. It's two layers of chocolate cake with sweet vanilla filling, and kept frozen until it is served …
Whoopie Pies come in a variety of sizes and fillings. You can order a large 12″ pie as shown, or smaller single serving pies. You can also get vanilla cake Whoopie Pies and different flavored fillings …
Labadies Bakery in Maine is where you can order Whoopie Pies to be shipped anywhere in the country. They've been around since 1925 and are the undisputed Whoopie experts!
More Maine Products Are On The Way … In The Meantime, Tell Us About Your Favorites By Reaching Out To Us On Our Contact Us Page …
Visiting Maine's Capital City … Augusta
Continuing on our journey to visit all 50 of America's state capital cities, a trip to New England checked a few more off the list. Our primary objective was a visit to Maine, one of the few areas of the country we'd never seen. It's as spectacular as everyone says!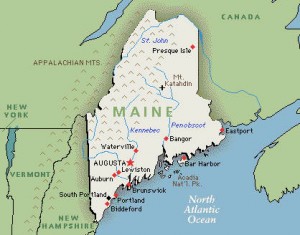 If you go, plan to spend at least a week to see as much of this beautiful state as possible. Our schedule didn't allow us to do that, and we missed out on some areas north of the sea coast. Most every Maine visitor takes in the state's largest city, Portland, Rockport further east, and Acadia National Park – fantastic destinations all.
But there's so much more to this state, including the gorgeous rural areas in the north which we only skirted. The good news is, we've got lots on our agenda for the next time through The Pine Tree State!
One agenda item accomplished was a visit Maine's capital city, Augusta. For Maine travelers, it's not hard to reach – about an hour northeast of Portland on Interstate 295. Did you know Augusta is the 3rd smallest state capital in the U.S.? The population here is just under 18,000 … only Pierre, SD and Montpelier, VT are smaller.
After spending two nights in Portland, we headed up to Augusta to spend the day before heading south to the coast. This is a friendly little city that's accustomed to visitors – representatives from all across the state are in and out of here frequently. It's a pretty town too … the Kennebec River meanders right through the heart of Augusta and towering pines greet you just outside the city limits.
Join us as we spend a day in Maine's capital city, Augusta!
Augusta: An Introduction
Early in the fall is an excellent time to visit Augusta, and Maine in general. Summer crowds on the state's coast have tapered off, and the weather is delightful. Many people think of The Pine Tree State as a frigid tundra, which is not exactly accurate. Yes, it gets cold here, but the marine climate extends northward beyond the Sea Coast for a hundred or so miles, keeping temperatures moderated. September and early October highs linger in the mid to upper 60's – glorious weather for testing out those walking shoes!
As we noted, you can reach Augusta pretty easily from Portland, which is where most Maine agendas begin. From Augusta, it's only about an hour back south and east to more of the state's coastal areas. Augusta is small and a great place to unwind – there aren't a whole lot of lodging options but you'll find several choices off the interstate if you want to stay away from the coastal towns.
We planned to spend a whole day here. The agenda included visiting the state capital, exploring the downtown on foot, and taking in a few historic and natural sites. If you're even more pressed for time, it's possible to hit the highlights in half a day. But this is Maine … slow down, relax a little, and enjoy what nature offers!
What To See & Do In Augusta
For your convenience, we'll list Augusta's top attractions along with a short description of each and why you should visit. Getting around Maine's capital is a breeze – you can reach each destination in ten minutes at most.
The most enjoyable part of our day here was strolling downtown near the river. Augusta is really a peaceful community, and while you'll notice the bustle of state government, there's a laid back vibe and little traffic. The downtown area is quite compact and you won't have any problem finding your way …
Here's our list of Augusta attractions …
Maine State House: Maine's capitol, known as the Maine State House, is located in a complex with the Maine State Museum and the historic Blaine House. Forty five minute tours of the State House are conducted Monday through Friday during morning hours, along with a noon tour. You'll see where the state's government gets things done, including the legislative chambers, the governors office, and the visual history of this handsome building.
The State House was built in 1829 to 1832 and is perched on a hill overlooking the Kennebec River. The grounds outside are perfect for picture taking!
Viles Arboretum: This 200+ acre preserve is the state's leading arboretum and is open year around. Developed in 1981, the grounds and trails are ideal for an after lunch stroll.
As you walk the grounds, you'll be surrounded by conifers, chestnut trees, hosta plants, lilacs, native plants, and natural gardens. The Viles Pond Loop is a one mile trail that goes through many of the gardens and takes you past a beautiful pond where it's common to spot native Maine wildlife.
We recommend anyone visiting Augusta take the time to explore this arboretum!
Old Fort Western: One of the most historic locations in the state, Old Fort Western sits adjacent to the Kennebec River and has been here since 1754. It's the country's oldest surviving wooden fort and is closely tied to events leading to the American Revolution …
Soldiers were stationed here until 1767, after which the fort took on a new life as a civilian store and private residence. A visit here is a trip back in time and especially engaging for history buffs and younger children. The grounds are spectacular and overlook the river and surrounding area.
Blaine House: The Blaine House is located adjacent to the Maine State House and serves as the Governor's Mansion. Completely restored in the 1990's, this historic house is named after James Blaine, and dates back to 1833. Blaine, a prominent and well respected 19th century politician from Maine, served as the Speaker of the House in Congress, Secretary of State, and U.S. Senator. He was narrowly defeated in the 1884 presidential election and to this day remains the most prominent historical figure in Maine politics.
More than a residence, the Blaine House is also a public building. Tours are given Wednesdays and Fridays several times daily …
Augusta Eats – Our Dining Recommendations
We enjoyed two meals during our day in Augusta, one very casual and then an early dinner at a Maine institution, The Red Barn.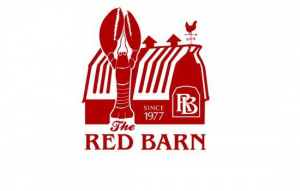 Always being on the lookout for a good hot dog joint, we were tipped off to a small place on Mount Vernon Avenue called Don's Famous Franks, which was a very pleasant surprise. Our taste buds were set on hot dogs, but our eyes widened when we saw another customer's lobster roll, the unofficial Maine state lunch. Plump, fresh lobster salad is stuffed into a soft, chewy roll and the result is … well … pure bliss! Just to say we did it, we also split one of their "famous franks" which match up to anything you'll find at America's hot dog meccas. Recommended for lunch any time you're in or near Augusta!
An Augusta "must stop" has been a tradition in the city since 1977. It's The Red Barn and it's located right on Riverside Drive. Stop in for breakfast, lunch, or dinner – they're open 9 a.m. to 8 p.m. every day except Monday.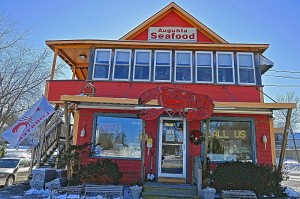 The Red Barn is a casual place best known for their fried chicken, fish baskets, seafood stew, and homemade desserts. We enjoyed an early dinner of a Clam Strips Basket (wow are they fresh here!), bowl of Seafood Stew, and homemade Whoopie Pies, a Maine specialty. This is a family owned and operated place and a gathering spot for Augusta residents. Everyone seems to love it here and you can really feel the sense of community …
Finally, a good spot for fresh seafood "to go" is Augusta Seafood on Belfast Avenue. Here you'll find all kinds of fresh seafood the state is famous for, available to take with you to prepare. Their fresh clams and oysters are legendary and all the locals shop here, if they aren't busy in the coastal waters catching the fish themselves!
Summary and More Information
A state capital that's really a small town at heart, Augusta is a nice place to visit to help you get the true picture of Maine. It's about an hour inland from the coast, and is less traveled than the more popular destinations in the state.
You can spend the night here if you wish, but if you're pressed for time, a day's visit can give you the flavor of the town. Linger in Augusta's walkable downtown and savor some of the historical sites – and make sure to drop in at one or both of the restaurants mentioned above!
For more information about Augusta and to help further plan your visit to Maine's capital, visit the town's website at AugustaMaine.com …
For a broader perspective on all the state's attractions, check out the Visit Maine website.
Thanks for reading!