Made In Wyoming Quick Facts
This Post is about Made in Wyoming Gifts and Specialty Wyoming Products
Want To See Your Business / Products On Our Made In Wyoming Page?
Visit "Advertise With Us"!
FEATURED MADE IN

WYOMING

BUSINESS

ES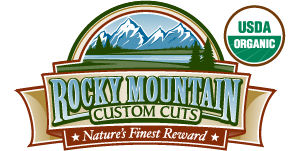 Rocky Mountain Custom Cuts: This Powell, WY business specializes in organic Wyoming beef, but the selection doesn't stop there …
Pork, poultry, lamb, roasts, organic vegetables, snacks, and much more are a part of their diverse product line. Their organic grass fed beef hot dogs receive rave reviews as being some of the nation's best. The link will take you to their "organic Snacks & Deli" page, where in addition to their hot dogs, you'll find other Wyoming products like pure maple syrup, raw organic honey, gluten free honey beef jerky, and lamb rosemary sausage …
All these products are available for purchase and shipping directly from the Rocky Mountain Custom Cuts website – a great Made in Wyoming gift idea for the holidays or any time of year!
SnJ Brand Made in Wyoming Gift Baskets:

One of the questions we receive with regularity here at State Gifts USA is "Where can I get a state specific gift basket filled with locally made specialties?" We're extremely pleased to have an answer for The Equality State – SnJ Brand Made in Wyoming Gift Baskets, a family operated business based in beautiful Laramie …
Founded and owned by Sue & John Demaree, SnJ Brand is your one stop source for gift baskets bursting with Made in Wyoming products. Whether your gift list has someone who's hard to shop for or you just need a special occasion gift with a Wyoming flair, SnJ Brand has you covered!
At their website, you'll find a wide selection of thoughtfully assembled gift baskets filled with locally made products – ideal for corporate or client gifts or a sure to be appreciated "Welcome To Wyoming" housewarming package. Whether it's one of their pre-filled baskets or a basket you customize, your recipient will love receiving an assortment of one of a kind products made across the entire state …
Packed in unique containers and padded with recyclable Wyoming newspapers, SnJ Brand's gift baskets include items meant to spark memories of our 44th State, like aromatic pine cones, sprigs of sagebrush, a Wyoming road map, locally made note cards, and more. The essence and pride of The Equality State is captured in every basket ordered …
We especially like their themed baskets, including "Prospector", "Equality", and several others. Products range from local cheese and honey, jams, snack foods, and mixes to attractive note cards, bath and body specialties, and Wyoming made bandanas. Of course, you can assemble a personalized basket yourself as well, choosing from a wide variety of items proudly made in the state …
SnJ Brand's Wyoming Gift Baskets are perfect for birthdays, anniversaries, or for anyone with roots in The Equality State. You can even include something really Wyoming if you wish – check out the genuine railroad spikes, horseshoes, and spurs at their website …
We are so pleased to feature SnJ Brand here on our Made in Wyoming page … they're the Wyoming Gift Basket specialists!
Rocky Mountain Framing & Gallery: Worland, WY is in the north central part of The Equality State, in the Big Horn Basin in view of the Big Horn Mountains. It's a beautiful part of the state (and the country!) and if you're looking for clean air and starry nights, you'll certainly find them here …
Worland is the home to Rocky Mountain Framing & Gallery, the area's best source for your custom art and framing projects. They've also got a thriving internet presence and feature quite a number of items on their site of interest to those seeking a Made in Wyoming gift …
Among the items the Gallery offers are beautiful pieces of artwork, metal art, and a selection of Made in Wyoming products like the etched glass beer mug shown. They do custom etching as well, and offer handsome University of Wyoming diploma frames, just perfect for display in your office or as a gift for the recent graduate …
Check out their website, linked above, to see all happenings at Rocky Mountain Framing & Gallery …

Bridge Outdoors: Lander, WY is a community of about 7,500 located not far southeast of Grand Tetons National Park. It's home to a company called Bridge Outdoors, specialists in outdoor geat personalized with your businesses brand or logo …
An ideal marketing or branding idea, the staff at Bridge Outdoors can customize products to your specifications or integrate your logo on their line of outdoor gear. Examples include outerwear, gear, and accessories like knife sharpeners, stainless stell water bottles, and more …
The company also produces their own label called Red Canyon if you're simple looking for some great Wyoming made gear for yourself or as a gift. Check out their website for all the details …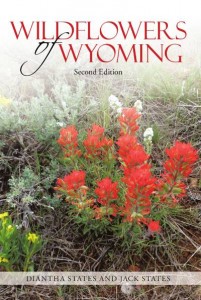 Wildflowers of Wyoming: We truly enjoy spotlighting books exploring the natural beauty of each of our 50 states and in fact seek them out to plan some of our travels. That's why we were pleased to learn about a stunningly photographed book compiled by Equality State residents Diantha and Jack Stales titled Wildflowers of Wyoming. This book is the definitive field guide to the state's natural beauty and showcases over 300 Wyoming wildflowers …
Diantha is also the owner and creative force behind Canyon Apple Art, which we've featured further down on the Made in Wyoming page …
The perfect gift for anyone who calls the state home, "Wildflowers of Wyoming" is organized by common plant family name along with Wyoming's six main vegetation areas. Detailed and striking photographs highlight the book, and there are narrative descriptions for each of the flowers you'll encounter along the way …
You can order a print or e-book copy of the book from the website linked above, where you'll find a "Buy Now" button which links to a store page at Lulu.com. Ideal for anyone who appreciates nature and the gorgeous Wyoming landscape!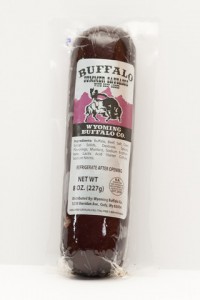 Wyoming Buffalo Company: Located on Sheridan Avenue in downtown Cody, the Wyoming Buffalo Company has long been known for their smoked summer sausages. Elk, bison, and venison salmi and sausages are their mainstay, but they're recently added a significant number of new products to their online store and we're glad to feature them …
In addition to smoked and packaged sausages, you can also order jerky and snack sticks too. Their online catalog features dozens and dozens of specialty products … salsa, seasonings, hot sauces, cheese, syrup, and candy are just a few (check out the chocolate covered sunflower seeds!).
There are several different gift packages to choose from as well, including wearables, decor, and specialty items …
You can do some serious one stop shopping at their site – or if you're in beautiful Cody, stop by!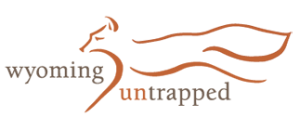 Wyoming Untrapped: For each state, we're in the process of identifying and spotlighting worthy animal and wildlife advocacy groups. For The Equality State, we've chosen Wyoming Untrapped, a non profit organization headquartered in Jackson.
Wyoming Untrapped focuses on advocacy, education, and reform to create a safe and humane environment for people, pets, and wildlife. Their reform and advocacy efforts are aimed to revitalize the state's antiquated trapping regulations. Sadly, dozens of people are injured or maimed each year from inhumane trapping, in addition to countless wildlife. The group's educational efforts are aimed at informing the public of these hazards.
You can learn more about this worthy group at their website, where you can support their efforts through volunteerism, tax deductible donations, or by shopping at their online store.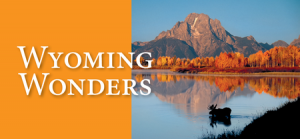 Wyoming Wonders: Wyoming celebrated the 125th anniversary of statehood in 2015 and to commemorate the occasion, syndicated columnist and author Bill Sniffin recently published his 6th book titled "Wyoming At 125: Our Place In The West". It's the third leg of his trilogy honoring The Equality State …
Available at his company's website Wyoming Wonders, the book reflects on the state's history from before statehood up to the present day. A coffee table style edition that's beautifully illustrated, it's another of Bill's best works.
His other recent efforts, putlished in 2014 and 2012, are "My Wyoming: 101 Special Places" and "Wyoming's 7 Greatest Natural Wonders". The three books are available as a special boxed set or individually, along with previous titles.
Every Wyoming resident (or anyone who loves the state) should own a copy of these books. Visit the author's website linked above to learn more …
Wyoming Gourmet Beef: Some of the best beef in the world comes from The Equality State, and this company owned by Cody resident David Fales works with select ranches across the state. The company's goal is to make beef as synonymous with Wyoming as other state themed foods found across the United States …
Among the many products offered by Wyoming Gourmet Beef are beef sticks, Angus strips, and of course world class steaks like strips, porterhouses, filets, and many more. Gift packages are available – who wouldn't be proud to give a box of Wyoming's finest steaks as a thank you gift to clients, friends, or family??
Scenic Wyoming greeting cards, a specialty cookbook, and gift certificates are also available at their website, linked above. One stop shopping for anyone on your list!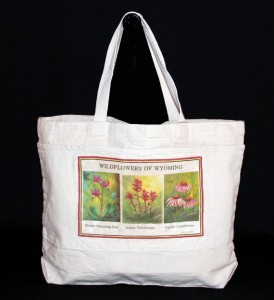 Canyon Apple Art: Wyoming resident Diantha States is a talented artist who is inspired by the wildflowers and landscapes of The Equality State. She has combined her talents and inspirations into a line of tote bags, paintings, and irresistible teddy bears which are perfect for anyone seeking a gift made in Wyoming.
Diantha has established an Etsy storefront where she showcases her latest works. In addition to the tote bag shown, be sure to check out some of the paintings of Wyoming's wildflowers. There are several to choose from, and the teddy bears are sure to melt your heart!
Click through to Diantha's store and check out everything currently offered …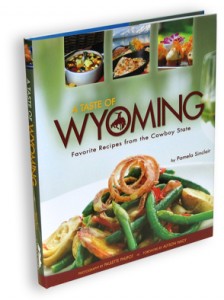 A Taste of Wyoming: Here at State Gifts USA, we've recently been asked to compile a collection of cookbooks for each of the 50 states. We think it's a fantastic idea since there are so many unique culinary specialties around the country, many unique to a particular region or state.
For The Equality State, we discovered a great representative in the book, "A Taste of Wyoming – Favorite Recipes From The Cowboy State". Published by Farcountry Press, this 144 page edition is the perfect blend of contemporary cuisine and Wyoming's culinary traditions.
Beautifully photographed, this book contains recipes from the state's finest restaurants, bed and breakfasts, and chefs, along with many traditional cowboy campfire favorites. It's the perfect gift for anyone who lives in or loves Wyoming!
You can order this recipe book and other Farcountry Press titles directly from their website. Both hardcover and e-book versions are available!
Mountain Meadow Wool: Sheepherding and wool production go back a long way in Wyoming, and despite the loss and closure of many mills over the past few decades, we're pleased to introduce you to a local company that is keeping the tradition alive …
They're Mountain Meadow Wool, a full service mill opened in 2007 by co owners Karen Hostetler and Valerie Spanos. The company produces a range of locally harvested 100% wool products like blankets, hoodies, clothing, eco friendly home goods, and more …
All of these products are durable, renewable, and hypoallergenic. Wool is cool in warm weather and warm in cooler weather and best of all, no animals are harmed in the production process – the sheep are merely "given a haircut" (which means sheared) once a year.
At their website, you can check out the selection of available products and purchase directly. They're got some great gift ideas there – perfect as a truly Made in Wyoming gift!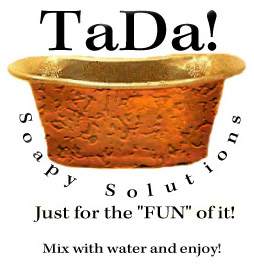 TaDa Soap: This whimsically named company based in Sheridan uses the cold press process to produce a product line of natural soaps for all your bath and body needs (and that of your dog, too … more on that in a minute!). The cold press process basically ensures no external heat is introduced to diminish the soap's ingredients, like camelina, coconut, and olive oil for a rich lather and moisturizing effect …
Packaged in 100% recycled packaging, all of the Ta Da Soap product line is mixed, cut, labeled, and boxed by hand. The personal attention shows in the quality of the soaps, which are long lasting, invigorating, and smell great. Try varieties like Lavender, Lemongrass, and Minty Fresh for starters, and explore their specialty bars like the Gardener's Bar or fun seasonal bars.
To keep your best pal smelling clean and fresh, order a few bars of Sudsy Pup, a shampoo bar made especially for dogs. It contains peppermint essential oil which helps naturally repel bugs! TaDa also creates a shampoo bar soap called Hair Bubbles which offers a super clean lavender, rosemary, & peppermint scent …
A great Made in Wyoming gift idea for anyone on your list, you can check out the full line directly at their website. Direct from The Equality State!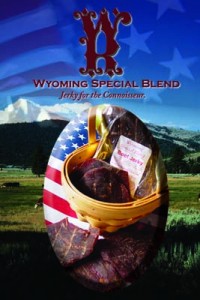 Wyoming Special Blend Jerky: Thermopolis, near the gateway to Yellowstone National Park, draws its name from the many mineral laden hot thermal springs located in the area. A town of just over 3,000, it's also home to a company owned by Wayne Hanson called Wind River Processing which makes jerky from 100% Wyoming beef, bison, and turkey …
In operation for over 25 years, the company processes and smokes the meat at their own facility. The jerky needs no refrigeration, contains no filler, preservatives, artificial coloring, or MSG.
You can buy directly online at their site in various flavors. Gift and combination packages are available as well. You can't get more authentic Wyoming than this!
Click through to order some for yourself or as a special Made in Wyoming gift …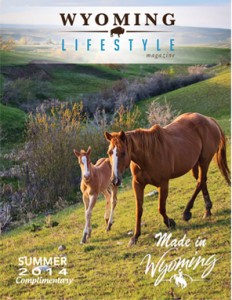 Wyoming Lifestyle Magazine: If you're looking for a fun and economical gift for someone who loves Wyoming, consider a subscription to the state's premier publication, Wyoming Lifestyle Magazine. This beautiful full color magazine covers the entire state, focusing on the people, places, and events that make The Equality State so special …
Published quarterly, the magazine also produces special annual issues like their Wedding feature, and Wyovore, a magazine filled with Wyoming cravings. You can also access their up to date guides for Dining, Lodging, Shopping, and Adventure.
The ideal gift for a newcomer to the state, you can purchase a subscription directly at their website, where you'll also find some good looking Wyoming themed apparel and swag …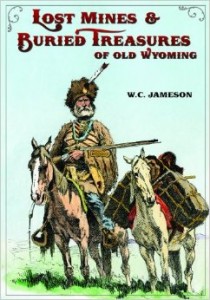 High Plains Press: Whenever we travel, one of our favorite "down time" activities is settling in to a good book about the area we're visiting. You can really immerse yourself into the local culture, and every once in a while you can turn a local on to an interesting book they may not have heard of featuring their part of the country …
And that's one reason why we value small publishers who specialize in books written by local citizens about their area's lore, history, cuisine, and so on. One such publisher in The Equality State is High Plains Press located near Glendo, WY.
Since their founding in 1984, they've published over 50 titles featuring the state's history and that of The Old West. New titles are introduced regularly, featuring both new and seasoned authors …
The gift of a good book is always in fashion! For Wyoming, you won't find a much better place to find one than High Plains Press. Click through to their website to see all the available titles …
The Bunnery: A local favorite, The Bunnery Bakery & Restaurant is located 1/2 block off the town square in Jackson Hole. A popular breakfast spot, the restaurant offers traditional favorites, fresh baked goods, and their own natural specialty granola, available in four flavors …
Recommended by Rachael Ray, The Bunnery enjoys repeat visitors from locals and visitors alike. Some of their most popular items, like the aforementioned granola along with pancake & waffle mixes are available at the online store at their website.
This Jackson Hole gathering place is also known for their unique and hearty O.S.M. Bread – it stands for oats, sunflower, and millet and is nationally renowned. They're recently made an O.S.M. Bread Mix available for purchase online as well.
A wide variety of mixes, jams, syrups, cereals, sauces, and gift baskets are available too! Click through to The Bunnery's website for a tasty gift direct from Jackson Hole …
Blythe Living: Jackson Hole artist Barbara Blythe Gentry is the creative mind behind a series of functional and attractive artistic accessories like the attractive key ring shown. Using her local surroundings as part of her inspiration, Barbara's company Blythe Living offers ornaments, key rings, scarf ties, napkin rings, pi stones, and more beautiful works …
Many of Barbara's works feature The Cathedral Group, the youngest and tallest group of mountains in the Teton Range. These majestic mountains rise directly from the Wyoming valley and have been featured as a backdrop in several movies and now in the designs of Blythe Living. The tallest mountain in the group is Grand Teton, which rises to well over 13,000 feet and is the second highest peak in the state …
Click through to Barbara's site to see all of her unique creations. She does custom designs as well as bridal and groomsmen gifts, so contact Barbara directly and she'll be glad to help you out. You can purchase any of her standard product line at the Jackson Hole Marketplace online store – there's a direct link on her Products page.
Wonderful gift ideas hand made in Jackson Hole!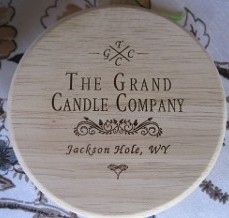 The Grand Candle Company: We love eco friendly candles with locally inspired scents. That's one reason why we're pleased to introduce you to a small company based in beautiful Jackson Hole called The Grand Candle Company, who create a line of clean burning soy candles featuring several Wyoming inspired scents …
One unique aspect of these jar candles is their use of cotton wicks. A cotton wick provides a soot free burn, leaving you to enjoy the scents instead of a burning wick. Among the many fragrances of these candles are Teton Pine, Saddle Up, Jackson Lake, and Lavender Sachet. If you like seasonal scents, they're available too, both in 12.5 and 20 ounce glass containers …
Locally make candles are one of the best gifts you can buy, not only to support small businesses but to also bring back the memories of a special place, either for you or someone special on your list. You can purchase candles from The Grand Candle Company via the Purchase Online link on the home page of their website …

Cowtown Candy Company: Cody, WY is a cool historic town located in the northwest part of the state on the eastern edge of Yellowstone National Park. Named after one of the town's founders, "Buffalo Bill" Cody, this vibrant community serves as the gateway to Yellowstone and is a haven for artists.
The downtown Cody area is a shopper's delight, and one must stop retailer when visiting is the Cowtown Candy Company, which has been creating sweet treats here since 2003. Well known for their wide selection of decadent truffles, the company also offers chocolate covered turtles, fudge, and one of their signature items called Sea Foam …
So named because the center of the candy looks a bit like sea foam, this treat has a crispy, slightly crunchy yet delicate center covered by dark chocolate. You may also know it as honeycomb candy or sponge candy but whatever you call it, you're sure to call it delicious!
You can order many of the Cowtown Candy product line directly at their website – it's the ideal gift from one of Wyoming's most appealing towns! Click through to learn more about them and to order …
Sundance Clayworks: Owner and founder Deborah Penning is the creative force behind Sundance Clayworks, located in the small northeastern Wyoming town of Sundance. Inspired by her every day surroundings along with her personal experiences, Deborah creates beautiful and practical three dimensional pottery for any area of your home or outdoor living space …
At the Sundance Clayworks website, you'll see one of a kind pieces for your garden, kitchen, and bath as well as multi purpose accent decor like the vase shown. In the Garden section, you can choose from a stoneware glazed bird house to feeders to outdoor garden candle holders. Bath sets and mixing / serving bowls are also available …
You can purchase any of Deborah's creations via PayPal directly at her website. These are wonderful gift ideas that anyone will truly appreciate! These sturdy, durable pieces will last for decades or more with minimal care and can be passed down as a beloved family heirloom.
See the Sundance Clayworks site for more details and to see all of Deborah's creations …
Jackson Food Company: Owner and founder Annabelle Marvin uses local produce picked at the peak of freshness to create a small but very intriguing line of specialty preserve style products. She's a regular at the popular Jackson Hole Farmers Market and now offers her products online as well …
Jackson Food Company products aren't just your standard fruit preserves. A seldom seen Beet Relish is one of their most popular products – spread some on a turkey sandwich and you'll feel as if you found a new best friend! Another is Kasoundi. a sweet & spicy Middle Eastern style spreadable chutney that is the ideal complement to salmon or wraps of any kind.
A wonderful Onion Chili Jam and their savory Tomato Chutney round out the product line. Recipe suggestions for each are available at the Jackson Food Company website, but suffice it to say just about any dish you create will be enhanced!
Click through to their website to learn more about these interesting products and savor the flavor of Jackson Hole!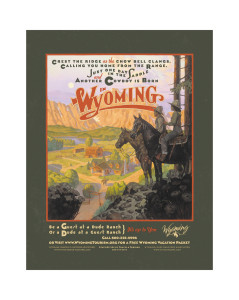 JB's Wild Wyoming: The colorful dude ranch themed print shown here is part of the collection of Wyoming tourist prints sold by JB's Wild Wyoming, a Lander, WY company owned by Jerry and Sandy Bath. In the late 90's, the Wyoming Department of Tourism designed a series of prints depicting traditional scenes which capture the essence of The Equality State.
Rather than let the prints fade away into obscurity, the Bath's worked with the state and began showcasing them in their local retail outlet. Now, the prints are available for sale at their website …
In addition to the prints, which are made on durable paper stock suitable for framing, you can order these same designs on greeting cards, magnets, mugs, and more. Twelve different spectacular designs are available! The prints are the perfect gift as a special home decor piece, and a postcard or greeting card set are ideal as part of a Wyoming themed event.
Click through to their site to see all the designs and to place an order …

The Utter Soap: Based in the community of Douglas, The Utter Soap specializes in fragrant goat milk soap. Owned and operated by Ginger and Mel Utter, these goat milk soaps are made primarily with pasteurized goat milk, purified water, and palm, coconut, and safflower oil. Douglas, by the way, is located in eastern Wyoming about 45 minutes east of Casper …
Utter goat milk soaps come in a variety of sizes and fragrances. We have long been advocates of goat milk soaps because they're so creamy and lather beautifully. They're exceptionally gentle on your skin and can be used as an all around face and body bar and even as a shampoo!
Each bar is packaged with a "Made in Wyoming" sticker – a great gift from The Equality State! Visit The Utter Soap's website to order …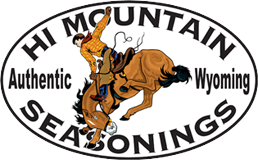 Hi Mountain Seasonings: Based in Riverton, Hi Mountain Seasonings creates and carries a diverse line of products. If you've ever wanted to make your own jerky or sausages, the company offers a line of kits to help you through the process start to finish.
If you'd prefer to let someone else do the front end preparation and simply cook or grill instead, <Hi Mountain Seasonings has you covered too! The company makes a wide range of seasonings, from specialty wild game seasonings to rub blends, marinades, dip mixes, and more.
We are big fans of their Western Garlic Pepper Seasoning, one of over a dozen they offer for sale at their online store. It's great for seasoning burgers, steaks, chicken, and we're sure a whole lot more!
They offer most of their products in bulk sizes as well as standard size shaker bottles. Nothing quite says Wyoming like a great grilled meal! And whatever you're grilling, Hi Mountain has the seasoning for it! Check out their website to see their full line of products and to get your hands on some …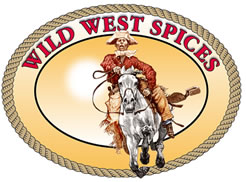 Wild West Spices: Cody based Wild West Spices has been around for almost 20 years and creates unique spice blends which evoke the spirit of cowboy country and the west. They're also known for their western dip mixes like Dashin' Lemon Dill, Stampede Salsa, and Chargin' Cheddar Bacon …
At the Wild West Spices website, you'll find the dips and their spice mixes available for purchase and shipping anywhere in the country. The spice mixes include a Wyoming Steak Rub and a really interesting blend called Prairie Potato. Accented with paprika, this blend is perfect for any meat and potato dish as well as the ideal complement for mashed or baked potatoes. Or just sprinkle it on french fries!
All told, six spice mixes are available, and if you like a little heat with your meat, try their Yahoo Barbecue Mix – it has a dash of habanero to kick things up a notch!
Visit the Wild West Spices website to see their entire line and to order …
Zap's Smoke Shack: We've always been partial to anything smoked with apple wood. It's ideal for smoking pork, and although rarely seen, it's an excellent way to smoke cheese. Apple wood is much less harsh than other types of wood, leaving a pleasant, slightly fruity flavor …
Located in Powell in the far northern part of the state, Zap's Smoke Shack uses apple wood to cold smoke their line of cheeses. Owners Tricia and Eric Czapla produce an impressive range of Wyoming made apple smoked cheese. Choose from pepper jack, sharp cheddar, provolone, swiss, and more …
At their online store, Zap's also sells apple smoked mozzarella sticks – the ideal snack! Check out their site for more details and to order. An authentic Made in Wyoming gift for anyone on your list!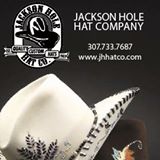 Jackson Hole Hat Company: If you're looking for a cowboy hat, a real cowboy hat, there isn't a more authentic place to get one than the Jackson Hole Hat Company, located in the beautiful Wyoming town of the same name, just off the town square …
These aren't the kind of cheap hats you'd pull off the shelf at a department store. These are custom made beauties, designed to fit perfectly and last for years. At their site, you'll see samples of numerous styles for both women and men, in various colors and shades.
Further, their online process for selecting a hat is very thorough and specialized. You'll be taken step by step from picking your hat style to specific fitting …
The people who make these hats at their store and on site manufacturing facility actually use and wear the company's hats, so there's a proud investment in every product they make! Check out the Jackson Hole Hat Company site for something uniquely Wyoming …

Rawhide Studio Western Jewelry: We were so pleased to learn about this company while researching Wyoming made products because their jewelry line definitely captures the essence of The Equality State …
They're Rawhide Studio, based in Cheyenne and run by the husband and wife team of Dave and Georgia Rowswell. A high school art teacher and gallery owner respectively, the couple found their business calling creating Western influenced jewelry pieces out of rawhide …
Rawhide is much like leather except it's untanned as opposed to tan. Did you know parchment is a type of rawhide? Rawhide was used by Native Americans for hundreds of years to make bags and carrying cases and it is still frequently used in making saddles for horses …
Rawhide Studio jewelry is made from rawhide, although you'd never know it looking at some of the beautiful pieces available for sale on their site. And by that we mean no slight to rawhide, but the studio's earrings, necklaces, cuffs, and more look like they're created from precious metals.
If you're looking for a creative, authentic Wyoming gift, click through to their site and see their entire jewelry line. It is surprisingly affordable and a one of a kind style evoking Wyoming and the Western Plains …
Rawhide Studio is delighted to ship purchased anywhere in the country, so order for yourself as well as a special person on your list!
Wyoming Silvers Lariat Rope Baskets: Owned by Jill and Dennis Hendrix of Upton, WY, Wyoming Silvers creates a wide range of jewelry products and home accessories, including authentic lariat rope baskets like the one shown …
Wyoming cowboys use lariats to rope cows, and the lariats get their colors from daily use. The more color in the lariat, the more it has been used – they're generally available in tans, muted greens, reds, and blues. The baskets are made by authentic Wyoming used lariats, which have been washed before they're crafted into baskets …
Various sizes are available, and you can request which color style you prefer. A very authentic gift from Wyoming! Wyoming Silvers also creates rings, pendants, necklaces, earrings, and more – check out their site to see all of their unique Wyoming made products …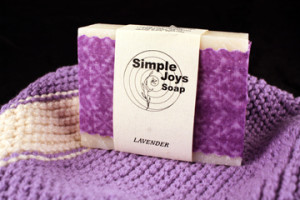 Simple Joys Soap: Based in Sheridan at the foot of the Big Horn Mountains, Simple Joys Soap makes handmade soap and bath & body products with the western high plains climate in mind. Soaps are made using olive oil, coconut oil, and cocoa butter to help keep your skin soft, hydrated, and silky smooth …
Scents are added to the soaps to provide an aromatherapy experience – some that you'll see on the Simple Joys Soap website include Lemongrass & Calendula, Honeysuckle, Rosewood Almond, and Sage & Pine …
For a real Wyoming treat, get yourself a few bars of their Cowboy Coffee soap. It's a rich lathering bar with a mild spice scent. This soap is enriched with clove as an antiseptic, cinnamon, Vitamin E, and coffee as a deodorizer. Guaranteed to remove any odors from garlic to gasoline!
You can also order a gift pack of six hospitality bars (1 – 1.25 ounce size) to sample several of their soaps – ideal as a Wyoming themed gift!
Click through to their website to see all their products and to order …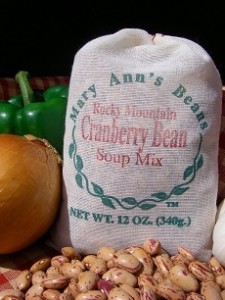 Mary Ann's Beans: Even though the name of this Casper, WY company is Mary Ann's Beans, it's known for much more than their signature products, several varieties of bean soup mixes like the cranberry bean soup mix shown here in the picture …
A friend visiting Wyoming brought us back a packet of Mary Ann's Spinach Cheese Ball and Dip Mix. Just mix the seasoning packet with 1 1/2 cups sour cream along with 1/2 cup of mayonnaise (or plain yogurt if you prefer). Carve out a bread bowl, or just serve in an appetizer dish with pretzels, crackers, or fresh vegetables. An instant party favorite!
The Mary Ann's Beans website contains numerous recipes as well as descriptions of all their products. There are ample selections of soup mixes, dips, seasonings, as well as gluten free products …
A wonderful and sure to be appreciated gift from beautiful Casper, Wyoming!
Wahoo Frontier Toppings: Wahoo Frontier Toppings is a family operated business located in Buffalo, WY at the foot of the beautiful Bighorn Mountains. The company creates a variety of sauces, syrups, mixers, as well as the Johnny Midnite line of steak sauces …
One product in particular caught our attention. Have you ever had a chokecherry margarita? Chokecherries grow on bushes and the fruit is about the size of a pea. They thrive in Wyoming and a few other northwest states. The chokecherries are picked by hand and used to create their Chokecherry Margarita Mix – ideal for your next warm weather gathering!
They also make a rich, delicious ketchup called Coyote Ketchup. It's got a bit of a kick, but not too much to overwhelm your food – it's known as "the big kid's ketchup". You can use it as a dipping sauce for appetizers as well as traditional uses …
For a specialty taste of Wyoming, check out the Wahoo Frontier Toppings website and order a few of their great products for yourself or as part of a Wyoming themed gift …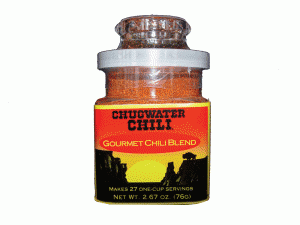 Chugwater Chili: Chugwater, WY is so named because of the many small streams running far below giant cliffs which surround the town. It was here in these streams that herds of buffalo came to drink, and the Native Americans gave the area a name which translated to "place where the buffalo chug water" …
The town is located in the southeast corner of the state, just north of Cheyenne. The company, Chugwater Chili, was founded by several ranch families who combined to purchase a Wyoming State Fair champion chili recipe. Chugwater Chili sells this same chili recipe in a mix, allowing you to enjoy the hearty taste of Wyoming style chili …
You can buy the chili mix (just add meat) in anything from a single serving size to an economical Chili Tub. They also offer a chili dip / dressing mix and packaged chili nuts, made with the special chili spices and perfect for snacking!
Gift sets are available … check out the Chugwater Chili site for more details and give someone a hearty gift from The Equality State!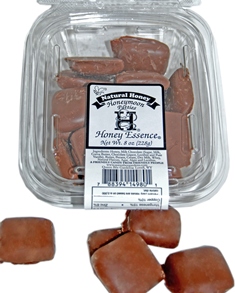 Queen Bee Gardens: This farm producing interesting honey candies is located east of Yellowstone National Park in northern Wyoming. In addition to the honey candies we'll talk about in a second, they also create and sell pure Wyoming honey, honey sticks, and bees wax …
The candies are unique in that the honey is the prominent ingredient. They're chocolate candies such as pralines which have a creme honey center and surrounded by chocolate and rolled in nuts. One of their most popular candy is called "Honeymoons", which are made from creamy honey caramel and bathed in milk chocolate or carob. They're placed on a bed of nuts to provide a little crunch …
You can order any of Queen Bee Gardens candies or honey products at their online store. Variety gift packages are available and can be shipped anywhere in the U.S. – a really nice Wyoming themed gift!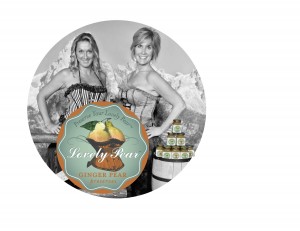 Lovely Pear Preserves: You don't see pear preserves on the shelves often, so when we learned about this local two gal company making preserves with fresh Wyoming pears, we wanted to share it with you …
The company is Lovely Pear Preserves, operated by owners Natalie and Molly, whose smiling pictures are on the left. Based in Teton Village, WY the two ladies use ripe pears along with ginger and rosemary to craft their unique preserves …
They've been busy offering Lovely Pear Preserves at local farmers markets and are now taking orders at their website. You can buy jars of Lovely Pear Rosemary or Lovely Pear Ginger, or a two pack (or case) mix of both.
These pear preserves are gluten free, low in carbs, and low in calories. Delicious, and good for you too!
History of Wyoming
Wyoming Trivia and Fun Facts

1). Cheyenne, the state capital, has a unique distinction in the United States. It is the state capital city which sits closest to another state's border. Cheyenne is just ten miles from the Wyoming-Colorado state border …

2). Yellowstone was the first National Park, being designated in 1872 …

3). Wyoming has the lowest population of any of the 50 states …

4). The name "Wyoming" is an Indian word meaning "mountains and valleys alternating" …

5). In 1925, Wyoming inaugurated the first woman governor in the United States, Nellie Tayloe Ross …

6). The land area that is now Wyoming was acquired by the United States from France in the Louisiana Purchase of 1803 …

7). Wyoming is the 9th largest state in the nation in terms of acreage …

8). The highest point in Wyoming is Gannett Peak at 13,804 feet …

9). Located in the northwestern portion of the state, Fremont Lake is Wyoming's deepest lake at 607 feet.
Pig Candy: If you love bacon, here's something for you direct from Wyoming …
It's spiced candied bacon, made by the folks at well known Jackson Hole restaurant Cafe Genevieve. You can buy it directly from their site in 4 oz. or 8 oz. bags like the ones shown in the picture …
Bacon candy … wow now how good does that sound?
Quite a unique gift from the Equality State!
Jackson Hole Buffalo Meat Company: You probably already known how much healthier buffalo meat is vs. standard red meat, but did you know the same is true for other cuts of wild game?
It's true. Cuts like elk and wild boar have significantly less fat and cholesterol than traditional red meat and they're actually easier to cook too! Because they have less fat, you can cook buffalo, elk, wild boar, etc. for less time at lower temperatures. The end result is a tasty gourmet meal with less fat and calories!
We've been enjoying cuts of buffalo for years (we love buffalo burgers!) and one of the best places to buy these non traditional cuts is Jackson Hole Buffalo Meat Company. They've been around since 1947 and are one of nation's leading providers of buffalo and elk meat …
On their website, you'll find all sorts of gift packages for you or as a great Wyoming gift. Not only can you have the freshest packed buffalo and elk meat delivered to your door, but they also sell jerky packs like the one shown and delicious smoked Rocky Mountain trout …
Be sure to check out their recipes and the "Teton Cam" for a live view of Wyoming!
Sevenfold Spice: Sevenfold Spice of Casper, WY creates perfectly blended spice mixes that will help you prepare food like a pro. These blends, both original and salt free varieties, are combined to help bring out the flavor in your meat and other dishes …
On their website, they have a Chef's Tips page with some of the best common sense tips for grilling meat you can find. Did you know, for example, when grilling a burger it's a good idea to poke a small hole entirely through the middle of the patty? This prevents the burger from bulging and allows it to cook evenly. It also prevents the need to press down on the burger while grilling, which does nothing but flare up flames and allow the juicy goodness to escape …
Be sure to try Sevenfold Spice burger seasoning. It's made with a blend of salt, pepper, granulated garlic and onion, a tiny bit of cayenne, and other spices … really good!
Check out the Sevenfold Spic website and see all their blends and value packs … a sure to be appreciated gift from the Equality State!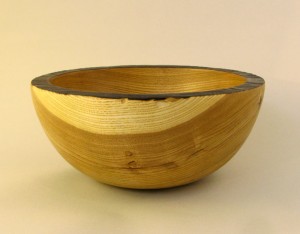 Wyoming Wood Turner: Worland, WY master wood crafter Sam Angelo creates practical and decorative hand turned wood items using mostly Wyoming wood like ash, maple, walnut, cherry, and more …
Pieces range from decorative art pieces to urns, salad bowls, serving bowls, natural edge bowls, and utility bowls. Each piece is sealed and finished so they are food safe, even for dairy products.
The various platters and bowls made by Sam make great heirloom pieces that can be passed down generation to generation …
You can buy any of the pieces shown on the Wyoming Wood Turner site, and your wood piece will be shipped directly to you or to someone you love as a special gift from Wyoming …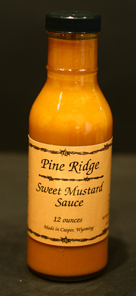 Pine Ridge Sauces: Pine Ridge Sauces are the creation of a young mother named Melissa Armstrong, who created three table sauces for her family on a Wyoming ranch …
The sauces proved very popular and the production and distribution rights were bought by a catering and garden supply retail store, Herbadashery of Casper, WY.
The three Wyoming sauces are barbecue, sweet mustard, and jalapeno barbecue.
We've had the sweet mustard and it's great on sandwiches and as a dip for appetizers …
You can order any of the three sauces at the Herbadashery website … they're available as single bottles or as a three bottle gift pack … a great gift idea from the Equality State!
Wyoming Pottery: Artist Adele Young of Glenrock, WY is creating some unique pieces which she's showcasing in local shows and online at her Etsy shop …
Shown is an example of Adele's work, a horsehair lamp base, which is created by pulling the pottery out of the kiln while it is still red hot. Horse hair is placed on the surface and spontaneously ignites at the high temperature. The pattern on the lamp base is the carbon which is left behind. The piece is then satin finished so it's smooth to the touch. You can wipe the piece off with a soft cloth when it needs cleaning …
Adele creates home decor, kitchen accessories, pet memorial pieces, and specialty items. Check out her shop for details …
Cheyenne Honey Stix: Here's a neat product from Wyoming … liquid honey in a straw! They're known as Cheyenne Honey Stix – instant energy treats and perfect for your lunch box, shirt pocket or purse …
Wyoming liquid honey is poured into a bio degradable sealed straw with flavoring added. Just pinch one end of the straw and you're ready for a great pick me up snack!
Of course, you can also use the liquid honey to flavor hot drinks or pour over muffins or ice cream … see all the flavors offered right here …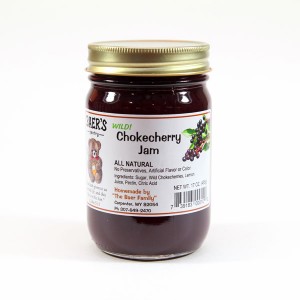 Baer's Pantry Chokecherry Jam: Baer's Pantry of Carpenter, WY makes jams in fifteen different flavors, but they're best known for their chokecherry jam …
Chokecherries are mostly found in the high desert areas of the west – they grow wild in throughout the state. Unlike many commercial jams, no artificial flavorings or colors are added … what you're getting is pure fresh fruit from Wyoming …
You can use chokecherry jam on toast, in sandwiches (great with peanut butter!), or as a glaze for ham and pork roasts. It's certain to be a much appreciated gift for anyone on your list with a soft spot for The Equality State …
Baer's also makes a chokecherry syrup for waffles and pancakes. Check out all the flavors and buy some for yourself or as a great gift from The Equality State at Baer's Pantry website …
Kronski's Sausage: Since 1930, Rock Springs, WY based Kronski's Sausage has been producing specialty sausages for the local Wyoming market and beyond …
Kronski's is most famous for their kielbasa, a mild and slightly spicy sausage that's great on its own or sliced up and added to casseroles and stews. It's a traditional, natural casing kielbasa which is vacuum packed for shipping and contains about eight links per pound …
Kronski's also makes potica, a sweet bread dough mixture wrapped into a loaf with a moist walnut filling. It's moist, rich, and perfect for breakfast or dessert …
Kronski's will ship anywhere in the U.S. – check their website for the full selection …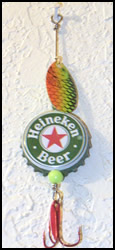 Cap Lures: Got a fisherman on your gift list? Here's a unique Wyoming product for them …
They're known as Cap Lures … fishing lures made from recycled cans and bottle tops.
Now we don't know if it'll help the fisherman in your life catch more fish, but we suppose the colorful caps might catch the fish's attention!
See all the different designs at CapLures.com …
Wyoming Scenes Art: We always like to include an online source where you can pick up local art, like photos of well known places in a particular state, landmarks, or just interesting scenes capture in painting or photography …
For Wyoming we found the site of photographer John Partain, who captures Wyoming scenes and Wyoming wildlife with his camera. The result are some beautiful and compelling photos!
Check out John's online gallery at JohnsWyoPhotos.com …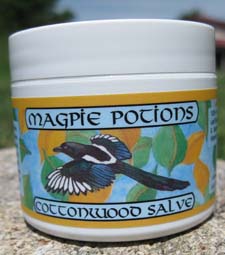 Magpie Potions: Magpie Potions are truly Wyoming, literally to their roots …
This small company produces a line of salves, balms, and creams using native plants known to help soften skin, ease sore muscles, and sooth stiff joints. The ingredients for the products are all plants indigenous to Wyoming, like cottonwood, native buckbrush, and calendula to name a few …
Pictured is Magpie Potion's Cottonwood Salve, effective in soothing muscles and joints, clearing skin rashes, and easing the itch and sting of bug bites. Cottonwood trees contain the helpful anti-inflammatories populin and salacin, which also help reduce and eliminate scar tissue …
See all of these uniquely Wyoming products at Magpie Potions …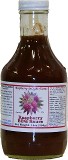 Raspberry Delight Farms: Raspberry Delight Farms is located in Shoshoni, the high desert area of Wyoming about 150 miles from Jackson Hole. Conditions here bring warm days and cool nights, perfect for growing raspberries …
The products from Raspberry Delight Farms are created from these Wyoming grown fruit. They offer raspberry jam, vinegar, chipotle sauce, topping, syrup, and raspberry bbq sauce (pictured).
They'll also create ready made gift packs and gift boxes which you can either choose yourself or have them do it. See all of their products and have some shipped to you at the Raspberry Delight Farms site …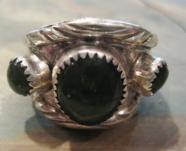 Wyoming Jade Jewelry: Jade is Wyoming's state gemstone, and Wyoming Nepherite Jade is increasingly rare and dificult to find in jewelry appropriate stones …
Jade is believed to bring good luck and good fortune, as well as attract knowledge and power. While we don't know if this folklore is true, we do know jewelry set with Wyoming Jade is a wonderful gift …
You can find Wyoming Jade jewelry at Teton Art Gallery in Jackson Hole. They accept orders online and also will do custom pieces like rings, pendants, bracelets, and so on …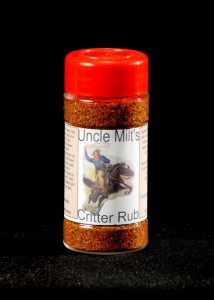 Uncle Milt's Gourmet Sauces: Uncle Milt's Gourmet Foods is a Wyoming based company creating gourmet sauces and spices with a cowboy attitude. There really is an Uncle Milt … he began making salsa and spice rubs in Cody, WY and soon had so many requests for his products that he started his own business …
His most popular products are a spice rub (pictured) and a habanero hot sauce which was featured in a national hot sauce competition as well as Chile Pepper magazine …
You can find these Wyoming made products at the Uncle Milt's Gourmet Foods website …
We've Got More Wyoming Made Products To Come, So Stay Tuned … In the Meantime, Tell Us About Your Favorite Products That Are Made In Wyoming … Reach Out To Us Via Our Contact Us Page!