Made In Georgia Quick Facts
See Our "Visiting Atlanta" Travelogue … Scroll Down
This Post is about Made in Georgia Gifts and Specialty Georgia Products
Want To See Your Business / Products On Our Made In Georgia Page?
Visit "Advertise With Us"!
FEATURED MADE IN

GEORGIA

BUSINESS

ES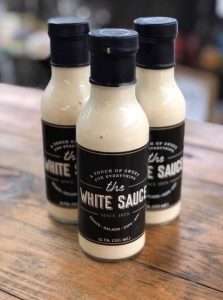 The White Sauce: Here at State Gifts USA, we love featuring regional specialties … especially when they're delicious!
Are you familiar with white barbecue sauce? If you're from the South, chances are you've experienced it in travels to Alabama, Georgia, and surrounding states. Traditional white barbecue sauce is mayonnaise based but offers a somewhat tart flavor profile, as horseradish is typically a staple ingredient.
Our latest Made In Georgia product offers a slightly different (and sweeter!) twist to traditional white barbecue sauce, and we're so pleased to introduce it to you. It's called The White Sauce and it's decidedly more versatile than white barbecue sauce, as we'll explore …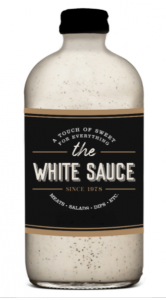 Based on a family recipe dating back to 1978, The White Sauce is beloved by anyone who tries it … and that's because it's got a pleasant, slighly sweet flavor that pairs well with just about anything! Like white barbecue sauce, The White Sauce is mayonnaise based but also includes a bit of sugar along with a touch of vinegar and a special blend of spices …
Offering a flavor that's the perfect blend of creamy and sweet, The White Sauce is the perfect complement to sandwiches (barbecue or otherwise!), salads, dips, smoked meats, dips, and more. Try it mixed into a stir fry or your favorite potato salad recipe for an unforgettable burst of Georgia flavor …
The White Sauce has been made for over 40 years, but it's just now being offered online for sale at The White Sauce website. Click through to order and get this wonderful Southern specialty delivered right to your door!
Made in Flintstone, Georgia …
MADE IN GEORGIA DESSERTS & SWEETS
Monastery of the Holy Spirit Bakery: In scenic Conyers, GA about 35 minutes from metro Atlanta, you'll find the peaceful grounds of the Monastery of the Holy Spirit, a multi generational community of monastic life. Here about three dozen monks dedicate their lives to work, prayer, friendship, and communal life …
One of the community's support systems is the baking talents of the monks themselves. Known as the Monk's Bakery, dedicated community members make various flavors of fudge, biscotti, and moist Southern style fruitcake …
The biscotti, perfect for enjoying with coffee, tea, or sweet wine, is soft in texture and enhanced with cherries, blueberries, cranberries, and nuts. Fudge is available in three flavors and features real butter and premium quality cocoa. Southern style fruitcake is a moist delicious treat aged with peach brandy and sherry. They're fruitcakes like no other you've tried … packed with pecans, peaches, raisins, dates, and pineapple …
The Monastery has set up an online store for direct ordering and shipment of their baked goods. Access it at HolySpiritMonasteryGifts.com …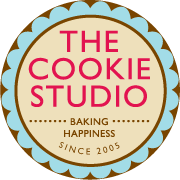 The Cookie Studio: Every time we visit Atlanta, we make sure to stop in Buckhead Village, a few miles north of the downtown area. This is the city's shopping and nightlife area … there's restaurants galore, all kinds of fun places to spend an evening, and more interesting shops than just about any neighborhood in America.
One of the spots we discovered is a place you should know about if you're visiting Atlanta – it's called The Cookie Studio and as the name implies, they bake a wide array of cookies which are, in a word, extraordinary.
We actually stopped twice for breakfast while in town, and every day features 18 different cookie flavors, brownies, bars, cupcakes, and more. Some of the flavors include Chocolate Walnut, Key Lime Sugar, Peanut Butter, Pecan Chocolate Chip, and Butterscotch Oatmeal. They do a lot of catering and corporate events and recently started shipping many of their products via their online store.
You can order cookies by the dozen, cookie mixes, collections, bars, brownies – all ideal for a thank you gift or just to tell someone how you feel …
This is a great place – stop here when you're in Atlanta and visit them online in the meantime!
Savannah's Candy Kitchen: If you're ever fortunate enough to visit historic Savannah, you'll surely spend some time on Water Street. It's the oldest and most popular part of the city – it's where visitors congregate due to the variety of shops and restaurants located here.
One of many must stops on Water Street is Savannah's Candy Kitchen, a true southern destination for sweet treats like pecan pralines, chocolates, popcorn, gourmet nuts, and more. They've got five locations across the southeast, including one in the Atlanta airport where we first learned about them.
If you want to bring back a gift from Savannah but don't want the hassle of transporting it, click through to their website. There you'll find a wide assortment of gift baskets, boxes, and tins that'll take care of anyone on your list. They've also got a section for nostalgic candy like Bit 'O Honey, rock Candy, and many others.
Don't forget the pecan pralines, though! It's their specialty and they're made using Georgia grown pecans, the best there is …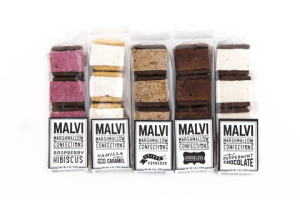 Malvi Marshmallow Confections: This Georgia small business has created something irresistible … especially if you like gourmet sweet treats! Named malvi (short for the Spanish word "malvavisco", which means marshmallow), they're little cubes of goodness. Two small shortbread style cookies sandwich a marshmallow filling, creating a marshmallow cookie sandwich of sorts …
Malvi makes several different yummy flavors, including Vanilla, Mint Chocolate, Spiked Espresso, Raspberry Hibiscus, and more. They're made with ingredients like whole vanilla beans, dried powdered hibiscus flowers, butter, and chocolate. No corn syrup, eggs, or artificial ingredients make the cut. They stay fresh for about two months and can easily be frozen for later use …
Serve Malvis at a party (they look as great as they taste!) and if you want a special treat, just warm them up a few seconds in your microwave. They've been featured on The Food Network and make a great gift for anyone on your list with a sweet tooth!
Visit the Malvi website to see all the distinctive flavors and see all their products. You can order directly at their online store!
Byrd's Famous Cookies: The Byrd Cookie Company is a Savannah treasure – they've been in business since 1924 and it's a true Savannah experience to visit their store and factory on Waters Avenue. You'll know you're close when you catch the aroma of cookies baking!
Byrd's is well known for their cookie collections, specialty gifts, and many different flavors of baked cookie treats. We are partial to Byrd's Red Velvet variety as well as their signature Georgia Peach Cookies, pictured. The peach cookies are a combination of ripe peaches and rich cream … bite sized and absolutely delicious!
Gift packages are available in Byrd's Classic Cookie Jars as well as tins and combination packs. They specialize in corporate and party gifts, wedding favors, and much more.
To learn more and to order, visit them at ByrdCookieCompany.com …
Stewart Candy: Stewart Candy of Waycross, GA has been in the candy business since 1929. They are producers of all sorts of sweet treats but are best known for their peppermint candies, particularly Stewart's soft peppermints …
The candies are just as they're described … soft chewable peppermint candies with a fresh, invigorating flavor. You can buy Stewart soft candies in several flavors … in addition to peppermint they have lemon, honey, strawberry, cherry, peach, orange, cinnamon, key lime, and huckleberry.
Check out the Stewart Candy online store at Stewart Candy …
MADE IN GEORGIA HOT SAUCE, CONDIMENTS, & SPICES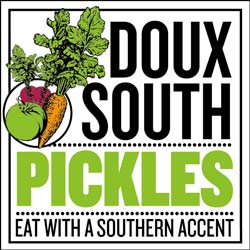 Doux South: The brainchild of Atlanta chef Nick Melvin, this growing business celebrates the art of pickling, a Southern tradition. From their production kitchen in Decatur, Doux South creates a variety of pickled masterpieces perfect for your best recipes or just snacking on from the jar!
At their website, you'll see what we mean … Drunken Tomatoes, Angry Cukes, Chow Chow, and Sweet Georgia Red Relish are just a few of their products waiting for you to try. The company grew their brand awareness via a steady presence at Atlanta area farmers markets, and have now branched out to retailers and online sales …
Doux South also makes a line of specialty mustard, including Drunken Mustard, created with red wine brine and mustard seed to formulate a really spectacular flavor!
Click through to their site to see all they're doing – there's a also a list of local retailers if you live down Georgia way …
Hot Tar Sauces & Honey: We love eating fish and try to prepare it a few times a week. At lunch time, there's nothing better than a nice piece of pan sauteed fish on a fresh roll with a thin slice of onion and tartar sauce …
Recently, we were sent a jar of tartar sauce made by a company in Cairo, GA called Hot Tar. Owner Mark Bradley runs his company as a habanero blending outfit – Hot Tar makes a variety of sauces and local honey infused with locally grown habanero peppers. The tartar sauce we received from a friend of ours is called "Hot Tar – Tar Tar Sauce" and it's one of the best I've tasted. It's got a little bite from the peppers, which just serves to enhance the traditional tartar sauce taste. There's no need to add hot sauce to your fish sandwich though … this one has plenty of heat by itself!
The company also makes a cocktail sauce, habanero infused honey, habanero cooking vinegar, and more. The peppers are grown locally – Cairo is a town of about 9,000 in the far southwest corner of the state, not far from the Georgia – Florida border.
Check out their website to buy any of the Hot Tar products. The Tar Tar Sauce is highly recommended! They also offer gift boxes in several different sizes …
Salacia Salts: We loved learning about this company because their entire inspiration emanates from the Georgia sea coast and the fragrances of the South …
Founded in 2012 by designer and branding expert Cari Phelps, Salacia Salts creates a line of restorative bath and body products created from a blend of natural Southern botanicals and 100% pure sea salt harvested from the coastal waters off Savannah. The name "Salacia" is a nod to the ancient Roman sea goddess, whose name was derived from the Latin word "sal", meaning salt …
If you're eco conscious as we are, Salacia Salts will suit your lifestyle. All products are made in Savannah with completely natural ingredients, free from any sulfites and colorants. Native herbs are carefully hand mixed to create Georgia inspired scents like Southern Pecan, Magnolia, Peach, and Midnight Garden …
Choose from a wide array of blissful products, including hand and body scrubs, salt soaks, body lotions, soaps, and more. Pictured is the Southern Pecan Gift Set, a wonderful holiday or anytime gift containing soap, hand and body scrub, and salt soak featuring the Southern Pecan scent and packaged in a silver mesh bag. The hand and body scrub is ideal after a day spent gardening or to remove cooking scents from your hands …
You can find Salacia Salts products at fine retailers nationally or via their online store – the perfect Georgia inspired gift!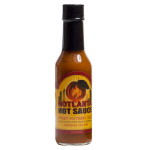 Hotlanta Hot Sauce: Straight from Georgia's capital city comes this versatile peach flavored hot sauce, appropriately called Hotlanta Hot Sauce. This gem of a hot sauce has won prestigious Scovie awards at the national Fiery Foods contest and is available online as well as at many Atlanta metro locations …
Made with Georgia peaches and a blend of peppers and spices, this sauce is as versatile as it is good! It's wonderful added to Mexican style dishes, or drizzled over a plate of pasta. Try it in the morning on your scrambled eggs – a real eye opener!
An ideal economical gift from Atlanta, you can order Hotlanta directly from their website in single bottles, two packs, or cases of twelve.
If you like a little sweet with your hot, get some … it's really good!
MADE IN GEORGIA GIFTS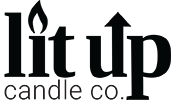 Lit Up Candle Company: We've long had a passion for fresh, cold beer and have always admired creative entrepreneurs who are able to transform their love of beer into a thriving small business venture. In the case of this Decatur, Georgia business, we're not talking about a brewery, but a candle company. Intrigued? We are too! Read on …
Lit Up Candle Company was founded by two beer lovers who are as passionate about sustainability as they are about beer. After discovering the Atlanta area no longer recycled glass, a new business was born …
Here's the genius idea behind this small company's success … Lit Up Candle Company collects empty beer bottles from events and businesses, saving them from clogging a landfill in the process. The bottles are then meticulously prepped; labels are removed, the bottles are cut and imperfections smoothed out, and the glass is carefully polished and shined. The upcycled bottles are then ready for new life as beautiful, eco friendly containers for soy candles …
Using only all natural premium soy wax, Lit Up Candles offer a long, slow, clean burn lasting up to 60 hours (significantly longer than traditional candles). But these aren't just any soy candles – they're made with a lead free hemp wick, which is much more sustainable than a cotton wick and ensures a better fragrance coverage when lit …
What's really unique about this small company is their creative, inspired selection. With over twenty fragrances to choose from, there's something for everyone! Whether you're searching for a seasonal candle or something for a specific room in your home, Lit Up Candle Company is sure to please. We love their Collections – themed grouping of candles with specific multi note scents developed with expert help from a perfumer.
Some of the Collections include "Ripe For The Pickin'", a fruity and spirited collection reminiscent of a fresh Georgia orchard. Then there's "So Fresh, So Clean", which offers fresh, cheerful aromas, and "Lumberjack", an earthy, masculine collection that's a favorite of both men and women …
Do you have someone on your gift list that's a horse lover? Don't miss the "Horsin' Around" equestrian themed Collection, featuring an array of candle scents designed to evoke fond memories for anyone who's passionate about the equine life. This Collection offers long burning soy candles with scents like Hay Bale (reminiscent of freshly mown hay), Pine Bedding (the scent of crisp, clean pine shavings) and more …
Best of all, Lit Up Candle Company's selections are available in both eight ounce upcycled beer bottle candles as well as convenient six ounce 100% recyclable travel tin candles … perfect for your travels, your office, or any time you're away from home.
At the Lit Up Candle Company's online store, you'll discover the entire range of Collections, aromatherapy candles, and seasonal selections. There's a convenient feature at the site which allows you to narrow down your choices by your favorite fragrances – over two dozen in all. You can also select based on your intended use in your home … kitchen candles, bathroom candles, etc.
You don't have to live in Georgia to experience these Georgia Made premium soy candles – Lit Up will ship right to your door. These long burning richly scented candles make the perfect gift for any occasion – holidays, house warming, birthdays, thank you gifts, and more …
And while you're at the Lit Up Candle Company website, scroll down on the home page to join their notification list for exclusive offers and the chance to win monthly giveaways. There's also a "Free Rewards" program where you can get discounts and coupons (and doesn't everybody love a discount??)
We're very proud to feature this creative small business here on our Made in Georgia page … click through to learn more. Direct from Decatur, GA!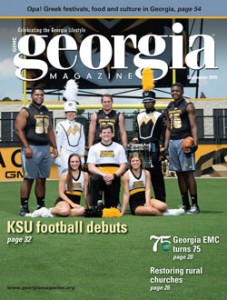 Georgia Magazine: Looking for a practical and very inexpensive gift from The Peach State? Consider a subscription to Georgia Magazine, the state's premier monthly publication covering new and features from Dalton to Valdosta and everywhere in between …
Georgia Magazine showcases people, places, events, and lifestyle topics like cooking and gardening. Each issue spotlights beautiful images of all the places that make the state special – a wonderful gift for anyone on your list that holds a soft spot for the state, and a perfect housewarming gift too!
Click through to the Georgia Magazine website to check out their subscription options. Choose from a regular print subscription or opt for reading the magazine online …
Either way, it's a gift that is sure to be appreciated!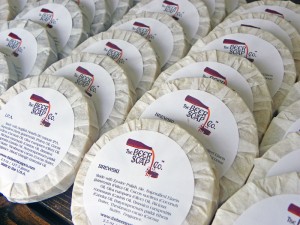 The Beer Soap Company: We love what this Georgia company is doing … creating healthy ingredient soaps enhanced by some of the great ales, lagers, porters, and stouts of the world …
They're The Beer Soap Company and their beer soap product line is almost 150 strong! We bet your favorite beer is a part of one of their offerings – a great gift idea and take it from a guy who has used beer soap, it gets you squeaky clean!
The company also makes vegan deodorants, solid colognes, and assorted other bath care products.
Click through to their website to see the collection!
Gorilla Sacks: We love companies that are eco friendly, and Gorilla Sacks based in Atlanta certainly fits the bill …
The company makes tote bags, messenger bags, and sling bags created from recycled billboards. These billboards, which are frequently changed, would otherwise probably end up in a local landfill.
Each bag is created by hand cutting recycled billboards, so no two bags are exactly the same …
Further, 10% of their profits are donated to saving gorilla habitats in the wild – a great cause!
What an excellent idea for an eco friendly gift from Georgia, or to make your own "green" statement …
MADE IN GEORGIA SPECIALTY FOODS
Blackberry Patch: If you ever get to southwest Georgia, check out Thomasville, which we talk a little bit about below. It's an historic town surrounded by fertile farmland which benefits from early and long springs, hot summers, and warm autumns. Lots of fruit grows well here, and in abundance!
A company we learned about when we visited the town is Blackberry Patch, a specialty foods company whose products are so acclaimed you can find them in specialty stores all across the country. Known for their namesake blackberry products made from locally grown berries, the company is also famous for their flavors of syrups, toppings, jams, salsa, and a lot more …
We were also told about their fruit flavored ketchup – they're fantastic! Fruit flavored ketchup might sound a little odd, but wait until you try it on burgers, hash browns, pork tenderloin, or really anything you'd normally enjoy with ketchup. At their website, you'll find Raspberry Chipotle, Blueberry Balsamic, and Blackberry. Try them!
If you're looking for a great Georgia made gift, check out their Gift page where you'll find all sorts of combination packages, crates, and themed assortments perfect for anyone on your list. We of course recommend the Fruit Ketchup Gift Crate shown!
Click through to this Thomasville company's site to learn more and to place your order …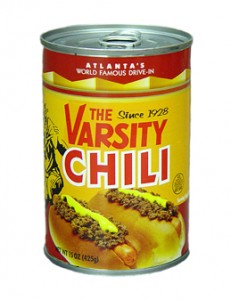 The Varsity: If you've spent any time in Atlanta, you've undoubtedly heard of or stopped by The Varsity, known as "The World's Largest Drive In Restaurant". It's an institution in the city and has been around since the late 1920″s. The original location is near downtown and they've branched out throughout the metro area. We mention them in our travelogue feature about Atlanta (scroll to the page bottom) …
The Varsity isn't a gourmet location by any means, but that's what makes it so good! We're talking hot dogs, chili, burgers, milk shakes, and fantastic fries and onion rings. If you only have time for one meal in the city, this is a good choice!
If you can't get to the Georgia state capital city, you can always buy The Varsity's chili from their online gift shop. They also offer some cool logo items and other swag – you'll feel just like a native Atlantan! Click through to their site and get some for yourself or as a gift …
Sweet Grass Dairy: Thomasville is a cool Georgia town of slightly less than 20,000 residents located in the southwest part of the state about 40 miles north and slightly east of Tallahassee, Florida. You'll find a lot of fertile farm country here, an historic downtown, and one of the state's award winning cheese makers, Sweet Grass Dairy …
The Dairy uses a rotational cow grazing system, meaning the farm's cows continually graze on fresh pastures. The result is superior quality milk, the first step in producing world class cheese. A family business, Sweet Grass now consists of a 140 acre farm, cheese shop, production facility, and a thriving mail order business to keep up with demand for their popular cheese …
Well known for their Asher Blue, Pimento, and Tomme varieties, the Dairy also makes a wonderful style called Green Hill. It's a creamy textured soft ripened cheese in the camembert style. We had the opportunity to taste some of this cheese while in the area recently and just had to tell you about it!
Their online store offers a wide variety of gift packages and combination options – and who doesn't like the gift of an artisan cheese basket? Be sure to visit their Cheese Shop in Thomasville if you're ever in the area, but if not, click through to their website to place your order!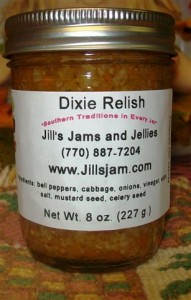 Jill's Jams & Jellies: From Cumming, GA near Atlanta, this small family run company creates an amazing variety of specialty food products, including (of course) jams, jellies, fruit butters, condiments, pickles, and relish.
It's the relish we'd like to spotlight here, because a neighbor of ours brought us back a jar from a visit to the Atlanta area. Specifically, their Dixie Relish, made with bell peppers, mustard seed, cabbage, onions, vinegar, and celery seed. It's sort of like a Chow Chow, which Jill's makes as well, and it can be used in a variety of ways. We enjoyed it atop a grilled sausage sandwich with a bit of mustard and also mixed it in with some store bought potato salad to give it a dose of personality!
And if you're into unique flavored jams as we are, check out the selection at Jill's website and online store. There are a few you've probably never heard or thought of, like Butternut Squash & Vanilla Jam, Apple Cinnamon Rum Jelly, and Cherry, Hazelnut, and Kahlua Jam. All sorts of gift packages are available, and be sure not to forget to pick up some Dixie Relish!
Click through to the Jill's Jams & Jellies website to see all they're doing and get some for yourself!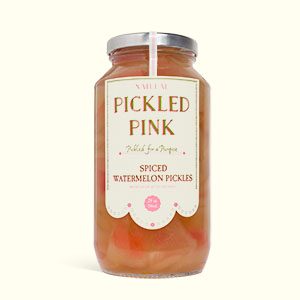 Pickled Pink Foods: Based in Roswell, Pickled Pink Foods was launched in 2013 with the introduction of their Gourmet Sweet Pickles. Since then, they've been racking up awards all across the country at various food shows and have also been featured in Specialty Food Magazine – we're now proud to feature them on our Made in Georgia page here at State Gifts USA!
Since launching, Pickled Pink Foods has expanded their product line to include Gourmet Sweet Heat Jalapeno Pickles and a really interesting Southern themed Spiced Watermelon Pickles (pictured) – a delicious combination of two standards!
The company has been growing by leaps and bounds and their products are now available in over 200 stores across 28 states and counting! If you can't find them near you, click through to their website to order. You can get single jars and six packs of any of their products. Check out the Assortment Six Pack – you'll get two jars of each!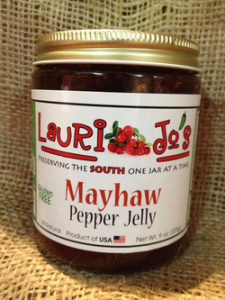 Lauri Jo's Southern Style Canning: We're so pleased to introduce you to this family owned and operated company because they personify what American small business should be about. The company, whose motto is "Preserving The South … One Jar At A Time", creates a line of pepper jellies, pickled products, and pepper sauces using fresh local produce and special family recipes …
Started as a hobby, Lauri Jo's now offers their products in 40+ states. The family oversees all aspects of the business and are strong supporters of local farmers. The product line includes true Southern specialties like Mayhaw Pepper Jelly, Southern Pecan & Jalapeno Jelly, and of course Georgia Peach Pepper Jelly …
One particularly interesting product is Lauri Jo's "13th Colony Southern Corn Whiskey Pepper Jelly". Georgia was one of the original American colonies (the 13th, actually) and the product is their newest creation. Great with cream cheese or on crackers during happy hour!
Dill, Sweet, and Sweet & Spicy Cucumber Pickles help round out the selections, and gift packages are available containing a mixture of the Lauri Jo products. The company is based in Norman Park, a small far southern Georgia community located in Colquitt County.
Visit the company's website, linked above, to see all their locally made products and to place an order …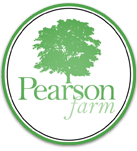 Pearson Farm: Pearson Farm is a central Georgia treasure … they're known for their fresh Georgia peaches, pecans, and the best peach ice cream in the state! Located southwest of Macon just north of the town of Fort Valley, the farm is home to 1400 acres of peach trees and 2300 acres of pecan trees, some of which are over 100 years old …
You'll need to visit their location to get the peach ice cream (it's well worth it!), but you can avail yourself of many of the Pearson Farm peach and pecan based products via their online store. Gift boxes of peaches with preserves, pecan gift tins, peaches & cream cakes, and peach hot sauce are just a few of their signature items.
Check out the "Gift Ideas" tab on their site – you can shop by price and order gifts like the "Georgia On My Mind" box, which contains peach preserves, Vidalia onion salad dressing, and peanut brittle with two varieties of their pecans. Or, opt for their "Homemade Goodness" box containing their roasted and salted pecans, Buttermilk Pecan Pie, and the decadent and delicious Whipping Cream Pound Cake …
Pearson Farm will ship anywhere in the country and any of their gift packages are sure to be appreciated and remembered by your recipient! Visit their site to see all your options …
Patten Pecans: The Patten name has been associated with Lakeland, GA since the 1890's. That's when Robert Patten opened a general store in downtown Lakeland which eventually became known as the Patten Seed Company. A branch of that company is the company we're introducing to you today, Patten Pecans …
Patten Pecans is the owner and caretaker of a flourishing pecan orchard here in the area, and the plump, flavorful pecans are now enjoyed in Georgia and across the country. A popular source for corporate gifts, Patten Pecans offers these wonderful nuts salted & roasted, covered in chocolate, or baked into that famous Southern delicacy, the pecan pie.
The company has just introduced some specialty pecan confections like pralines, clusters, and cinnamon glazed pecans, among others. Great gifts for any special occasion or for your favorite Southern transplant, you can order directly from their website.
We were particularly attracted to their Georgia Gourmet Gift Box, pictured. It contains two bags of Patten Pecans as well as specialty products from two other local businesses featured on this page, Gayla's Grits and Georgia Olive Farms … one stop shopping for a true taste of southern Georgia!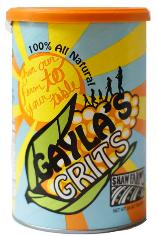 Gayla's Grits: Georgia farmers Gayla and Kevin Shaw started grinding white corn into grits back in 1997, packaging and sharing them with friends and family as personal gifts. The response was so positive that a small business was formed to augment their farm fresh products – Gayla's Grits.
These 100% all natural grits are grown with heirloom corn seed at their Lakeland farm. A new enclosed stone mill was added a few years ago to keep up with demand … the mill can grind 1000 pounds of corn per hour. The grits are gluten free and refrigerated on site to retain their fresh, creamy flavor …
The Shaw's are also partners in the nearby Georgia Olive Farm (see the next feature just below) and have an on site store selling both products. Grits are a healthy and nutritious breakfast, and easy to prepare. Check Gayla's original recipe on their website, which recommends adding a bit of sour cream and mozzarella cheese …
You can buy Gayla's Grits at their online store either for yourself or as a wonderful Made in Georgia gift … they're packed in attractive cloth bags or a logo round container as shown …

Georgia Olive Farms: We were pleased to discover Georgia Olive Farms … not only because of their fine olive oil, but also to learn olives do indeed thrive in The Peach State!
The company began in 2009 when five Georgia farmers near Lakeland decided to resurrect olive farming in the state. In 2011, the first commercial olive crop east of the Mississippi River was harvested, and now Georgia Olive Farms is a full fledged producer of olive oil and also sells olive trees to growers …
Currently, two types of olive oil are produced … Arbequina and Chef's Blend. The Arbequina Extra Virgin Olive Oil is 100% Georgia grown and is available from their online store in packs of two or cases of four. The Chef's Blend Extra Virgin Olive Oil is a blend of Georgia Extra Virgin Olive Oil and other extra virgin olive oils. It's also available online in quantities of one, two, or six bottles …
These olive oils make a wonderful Georgia gift, especially for someone who loves to cook (or eat!). Check out their website for pricing and ordering details …
Emily G's: Emily G's is an Atlanta based specialty foods company founded by Emily Myers, a former classically trained chef. The company began in 2008 when Emily started selling her specialty sweet and savory jams at farmers markets and has grown to a line of almost 20 unique jams and gourmet sauces …
We particularly want to call your attention to two condiment style sauces from Emily G's. The first is a Berbere Sauce, an Ethiopian style sauce with a wonderful, complex flavor. It contains clove, cardamom, coriander, and allspice, among others. Great on pork or chicken!
The second is the Three Pepper Relish, which contains a mix of bell peppers and is ideal with any casual food like burgers or sausages. It's not hot, but the depth of flavor will have you trying it on all sorts of dishes!
Emily G's offers gift sets of their products too … check out their website for more details.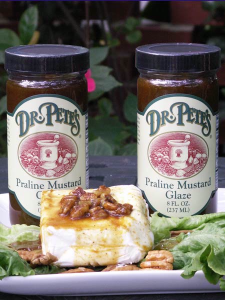 Dr. Pete's Specialty Foods: Based in Savannah, this small specialty foods company is named after a Savannah doctor by the name of T.A. Peterson, known as "Dr. Pete" in the community …
Dr. Pete enjoyed cooking as well as practicing medicine, and some of his best dressing, sauce, baking, and marinade recipes are now packaged by the company which is run by his daughter and son-in-law …
Dr. Pete's is best known for their Praline Mustard Glaze, a mix of brown sugar, pecans, and mustard. It adds a Georgia touch to ham, chicken, or fish and pairs beautifully with artisan cheese!
At their online store, you'll also find marinades, salad dressings, baking mixes, and more. An ideal gift from beautiful Savannah!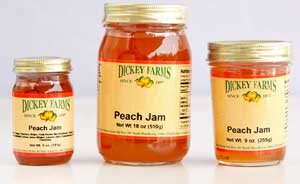 Dickey Farms Peaches: Since 1897, Dickey Farms has been one of Georgia's leading peach producers. It's located in the tiny town of Musella and is home to the oldest continuously operating peach packing houses in the state … since 1936.
This family owned and operated company is synonymous with Georgia's state fruit. Peaches are sipped in refrigerated trucks, reaching most markets within 24 hours. Did you know peaches are a member of the rose family? The peaches you buy should have a pleasant, sweet smell and be soft (but not mushy) to the touch.
Dickey Farms is renowned for peaches and peach related products, many of which you can order on their website all year long. Peach preserves, peach butter, peach salsa, and peach barbecue sauce are just a few of the items you'll find on their site. They make great gifts from Georgia!
By the way, did you know the best method for peeling a peach? Dip it into boiling water for 30 seconds. Remove it and place the peach in a bowl of cold water for the same amount of time. The skin will slide right off!
Bacon's Heir Pork Clouds: Introducing pork clouds, the next, healthier, and better tasting generation of pork rinds …
Made in Atlanta, these puffy Pork Clouds are cooked in olive oil versus lard, which is commonly used for pork rinds. The olive oil helps create a soft, air like texture to the cooked pork skin, and the end result is a tasty snack that resembles a cloud …
On their website, Bacon's Heir shows the nutritional value of their pork clouds. Almost all of the fat is from the olive oil used to cook the clouds. The layer of fat underneath the skin is removed before salting and cooking, so pork clouds are much better for you than traditional pork cracklins … and they taste better too!
Follow the "Get Pork Clouds" link on their site … there are a couple of ways to get these tasty snacks for yourself or as a gift. A great idea for football parties!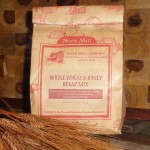 Nora Mill Granary: Nora Mill Granary Grist Mill and Country Store is a north Georgia institution. They've been located in Helen, GA along side the Chattahoochee River since 1876 …
This working granary and grist mill still processes grains and grits the old fashioned way, with stone and water power. While they make dozens of products you can buy in their country store, they are probably best known for great bread mixes, grits, and other southern specialties …
Check out their online store … you can buy anything from bath and body products to old fashioned candy to stone ground corn meal. A real slice of Georgia and a perfect gift for the Georgia person in your life!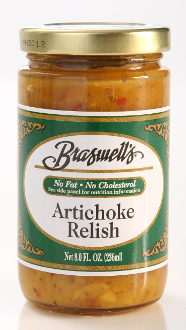 Braswell's Foods: Since 1946, Braswell's Foods of Statesboro, GA has been producing fine specialty foods for the Georgia community and across the country.
They're known for their gourmet jams, salad dressings, specialty relishes, mustard, and seafood sauces, in addition to many others.
We are big fans of their artichoke relish (pictured), which pairs well with pork dishes or even as a gourmet hamburger condiment …
There are literally dozens of specialty products you can shop for at the Braswell's site, many of which are available in convenient gift sets and packages …
A gift from Braswell's is sure to be appreciated and definitely says "Georgia"!
Calloway Gardens: Located in Pine Mountain, Calloway Gardens is one of the most beautiful areas of Georgia. People flock from all over the world to view the spectacular azalea gardens, as well as hike and stroll amid the many paths and trails.
Calloway Gardens is also a well renowned golf destination, as well as a popular spot for weddings. At the Gardens, there are many stores where you can buy something special from Georgia, from food products to various souvenirs.
A favorite Georgia themed gift from Calloway Gardens is the Georgia Special (shown), a gift package with pear and fig preserves from the Peach State. Get this delicious Georgia gift and see the rest of the selection at the Calloway Gardens online store where you can order direct …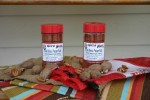 Ellis Brothers Pecans: This Vienna, GA company is not just about pecans, although they sell some of the best in the state. Ellis Pecans is also about their great sauces, rubs, and butters, including pecan and peanut butter …
Two of our favorite Ellis Bros. products are their pecan rub and the natural peanut butter. Pecan rub, and pecan wood, are excellent for smoking food, particularly pork. We used the pecan rub on a pork tenderloin and smoked it low and slow … the pecan rub imparts a slightly sweet taste which brings out the meat's flavor.
The natural peanut butter (or pecan butter) will have you thinking twice about ever going back to mass produced peanut butter again … you can taste the fresh nut flavor shining through, and there are no preservatives or sugars added.
And don't forget the Ellis Bros. mustard based BBQ sauce! See everything they have to offer at Ellis Brothers Pecans … a taste of Georgia!

Lane Southern Orchards: Just five minutes off of busy Interstate 75 in Fort Valley, Georgia is a large production farm, Lane Southern Orchards, famous for their peach products along with all things Georgia (from an agricultural standpoint) …
Tours of the farm and orchard are offered, and the on site Peach Tree Cafe offers delectables that are truly "farm to table". Some of the numerous products grown and/or produced here are Georgia pecans, peaches, berries, citrus, salsa, artisan breads, cider, candy, condiments, and more …
Shop online to bring home a sample of Georgia, or as a tasteful (and tasty) gift …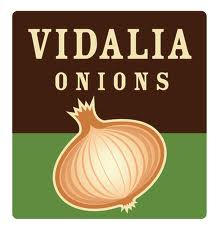 Vidalia Onion Committee: Located in Vidalia, Georgia (where else??), the Vidalia Onion Committee is a trade organization dedicated to promoting vidalia onions, a relatively new type of onion first planted less than 100 years ago.
When farmers in south Georgia began to bring these sweet onions to market, they became well known as "those sweet onions from Vidalia", and the name stuck. Now, Vidalia onions are one of the most sought after and popular onion varieties in the country …
The Vidalia Onion Committee website provides not only the history of this unique onion, but links to Georgia companies where you can order Vidalia onion products like relishes, sauces, condiments and more online …
Georgia Pecan Company: The Georgia Pecan Company of Sylvester, GA has been one of the many companies representing the state's thriving pecan industry. Pecan trees are indigenous to North America and thrive in Georgia. Pecans themselves are a heart healthy snack and are often using in baking and to create condiments …
At their online pecan store, the company offers all kinds of pecan related products as well as items from other Georgia based businesses. We recommend the pecan honey butter, which comes in twelve different flavors and is ideal for breakfast when spread on muffins or toast …

Walter's Caviar and Seafood: When you think of Georgia, caviar probably isn't the first thought that pops into your mind … but Walter's Caviar and Seafood has been producing caviar caught off the Georgia coast for over 30 years …
Caviar (fish eggs) comes from sturgeon, specifically the Hackle-Back Sturgeon in this case. They're located off the Georgia coast about an hour south of Savannah, and you can order caviar and other fresh seafood online. The company is noted for their catches of wild White Georgia Shrimp and jellyfish. The jellyfish is typically sold to the Asian market where there's a high demand. Jellyfish is usually eaten dried and is actually quite healthy for you … very high in protein and very low in carbohydrates and fat …
Be sure to visit their website, where you'll find several tantalizing shrimp, seafood, and jellyfish recipes …
Stripling's Sausage: Located in Cordele, GA since 1964, Stripling's General Store produces and sells condiments, specialty relishes, seasonings and sauces, cheese and more, but they're most known for their specialty sausages …
In fact, the store's motto is "You Never Sausage A Place" (Sausage = Saw Such) …
Several types of their original recipe sausage are available and you can order online from Striplings.com, and in addition to the sausage there are all kinds of other products you'll want to taste. A taste of Georgia at its finest!
And take it from a Chicago guy … the Stripling's Sausage Dogs (pictured) are outstanding!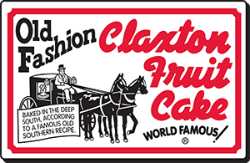 Claxton Fruit Cake: You know what they say about giving fruit cakes as Christmas gifts, that they seem to get "re-gifted"? Well, with a Claxton Fruit Cake from Claxton, GA you won't have to worry about that. We received one as a gift last year … it was the best fruit cake we ever tasted!
This company has been making fresh fruit cakes with Georgia pecan halves since 1910 … and bottom line, they know what they're doing. You can even buy packaged fruit cake by the slice, tins of fresh pecans, or combination gift packs. Also check out their colorful selection of Claxton t-shirts … almost as colorful as their fruit cake!
They offer free shipping in the continental United States … the perfect Christmas gift for a Georgian on your list.
MADE IN GEORGIA HONEY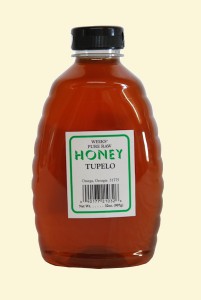 Weeks Honey Farm: We love talking about local honey here at State Gifts USA. Not only is local honey very good for your health, it's also very unique in that its flavor depends entirely on where it is produced.
Weeks Honey Farm has been around since the early 1960's in the small south central Georgia town of Omega. Family owned and operated, the farm produces six different varieties of honey, candles, lip balm, honey spreads, and more …
Each variety they produce offers a different flavor profile. Galberry honey is unique to the southeast and has a hearty, robust flavor while Tupelo honey has a delicate floral taste. You can also buy clover, orange blossom, wildflower, and buckwheat honey as well.
At their website, Weeks Honey Farm offers several different sizes of each of their honeys along with gift baskets and specialty honey products. Raw, untreated honey like this is the very best you can buy, and you'll be supporting local beekeepers who are so critical to our nation's food supply.
A wonderful local Georgia gift!

Savannah Bee Company: If you're looking for some really interesting bee-centric products as a Georgia gift, Take a look at the Savannah Bee Company online store …
You'll find fresh honey and all sorts of bee related products like lip gloss, hand salve, honey shampoo, honey hand soap, and dozens of others. The selection of honey is nothing short of incredible, and they also have a limited edition "God Save The Queen" t-shirt to bring attention to the national shortage of honey bees …
MADE IN GEORGIA BARBECUE
Causey's BBQ Sauce: For most of his adult life, my dad was in the meat business. He worked for companies in and near Chicago's Stockyards and was a top salesman. He passed away recently, but one of my prevailing memories is how much he liked to go out for good barbecue in particular …
On one occasion several years ago, he told me "Great BBQ is a precious thing, so when you find it, tell the world!". With that in mind, I'd like to introduce you to Causey Foods of Vienna, GA and their line of BBQ sauces developed by founder and owner John Causey.
John honed his barbecue craft as chief chef for the Vienna Volunteer Fire Department. He adapted his sauce recipes from memories of his father's barbecues and sauces served at local events. After perfecting the recipe, he ultimately opened Causey Foods to tell the world about his sauces and rubs …
A neighbor of ours who does business in The Peach State was kind enough to bring us a bottle of Causey's Original, one of three varieties the company makes. It's a tangy Southern style vinegar masterpiece that's just as good for dipping your french fries as doctoring up your BBQ pork sandwich. Yeah, it's really good!
You can experience this sauce for yourself (and tell your world about it!) by visiting the Causey Foods website. Also check out their Hot and Sweet & Smoky varieties – great stuff from Georgia!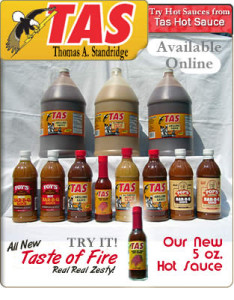 TAS Sauces: From western Georgia near Columbus comes TAS Sauces, owned and operated by retired Columbus firefighter Thomas A. Standridge. During his years as a firefighter, Thomas was the go-to guy for making sauces for the Fire Department's barbecues and cook outs …
Upon retirement and with encouragement from colleagues and friends, he began to market his sauces to the public. The product line consists of a Zesty (and Mild) all purpose Grilling Sauce, and a Hot Q Sauce. The Hot Q Sauce is made with mustard, peppers, vinegar, and a special blend of spices. It's recommended for anything you can grill and will also perk up any cold salads (try a spoonful mixed into potato salad).
You can use either of the TAS Sauces as dipping sauces or as a finishing sauce for chicken wings. Cook the wings as you'd normally due and then add either the Grilling Sauce or the Hot Q Sauce – or brush on a mixture of both!
You can order these sauces directly at the TAS website – they'll ship right to your door! Enjoy!
Baxter's Original Premium Smoker Woods: Here's a cool Georgia company for all you backyard grillers and barbecue enthusiasts out there …
It's Baxter's Original and they supply premium smoker wood for your barbecue smoker or grill. Unlike the wood you'd get at the local Home Depot or the like, this is premium wood that's naturally dried and not exposed to the elements.
The woods are debarked and dried with forced air flow to allow the wood to retain its natural sugars. As any BBQ pit master knows, there's only four key elements to great barbecue … meat, heat, time, and wood.
You can order pretty much whatever type of wood you like to cook with from Baxter's … cherry, oak, hickory, apple, maple, peach, or pecan.
Take a look at the Baxter's Original site and get your BBQ going!
Southern Soul BBQ: Ever had Georgia barbecue? Well, if you haven't, this is as good a place as any to experience the real thing …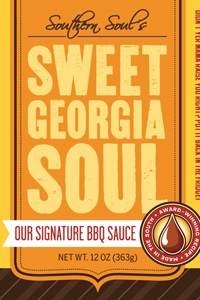 Southern Soul BBQ is located on St. Simons Island, one of the famed "Golden Isles" just off the south Georgia coast. It's a friendly, laid back place where you can order the barbecue standards you might expect … brisket, pulled pork, ribs, and so on. What sets this place off as being distinctly Georgia is the presence of Brunswick Stew on the menu …
Brunswick Stew is something you don't see often away from this coastal area … it's a tomato based stew that's as much soup as it is stew, augmented by whatever fresh vegetables the chef has on hand. It might be okra, corn, lima beans, celery, root vegetables, etc. and it is usually a combination of several, along with smoked sausage and/or some kind of meat …
Most places have a standard recipe for Brunswick Stew so their customers will know what to expect from visit to visit, but some places don't. Either way, it's great here at Southern Soul BBQ and highly recommended!
We also recommend their bbq sauces, and lucky for you, you can order from their website linked above! There are four different kinds … Red Sweet Wine, Sweet Georgia Soul, Hot Georgia Soul, and Low Country Soul. As you can imagine, there's a lot of soul in these sauces! If you're a barbecue fan, try them, you will not be disappointed! You can also order their rub and a cool Southern Soul BBQ hat!
The history of Georgia
Georgia Trivia and Fun Facts

1). To date, Jimmy Carter is the only U.S. President born in Georgia …

2). Before it was named Atlanta, the settlement was called Terminus, because it was the end location of a railroad line …

3). Many scenes from the famous movie "Forrest Gump" were filmed in Savannah …

4). Ever wonder how the famed Six Flags Over Georgia got the name? It's because six flags have flown over the state in its history. They are Great Britain, Spain, France, United States, Confederate States, and the state flag of Georgia …

5). Macon has more cherry blossoms than any other city in the world, including Washington, D.C. and cities in Japan …

6). Georgia was named for King George II of England …

7). More peanuts are produced in Georgia than any other state. The same is true for peaches and pecans!

8). Georgia is the largest state in acreage east of the Mississippi …
MADE IN GEORGIA LOCAL ART
Dirt Bag Pottery: This small operation in Cornelia, GA does a few things not particularly unusual, and one thing that makes them stand out …
They offer on site pottery classes (not unusual) and help students create their own pottery by hand (also not unusual). But what is unusual is that Dirt Bag Pottery offers you the opportunity to provide specifications to owner Claudia George to create a one-of-a-kind piece of pottery … pottery designed to your specifications without needing to get your hands dirty!
You can contact Dirt Bag Pottery through their website to start the ball rolling … or the pottery wheel in this case!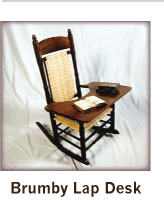 Brumby Rockers: From Marietta, GA, Brumby Chair Company is probably best known for their famous Brumby rocking chairs …
These handcrafted rockers come in a variety of styles and have a refined, classy look.
They add a beautiful accent to any room in your home and are super comfortable (we have a friend who owns one) …
Check out their website at BrumbyRocker.com to learn more about these Georgia originals (they've been around since 1875) and how you can own one …
Augusta Artists Row: One of our favorite home decor items are print and paintings depicting scenes of places we've visited. Not only does it remind us of our travels, but it's also a great conversation starter for visitors to our home.
As such, we're always on the lookout for local artists at our destination who create originals or prints of the local area. Sometimes it's not as easy to find as you might think! Yes, there are lots of artists out there creating a bevy of interesting art pieces, but it pays to know of a local artist before hand …
Augusta, GA is well known as a golf destination, but beyond the beautiful golf courses is a thriving art scene in the city. There's an area called Augusta Artists Row downtown which makes for a wonderful afternoon stroll. You'll find literally dozens of local artists, and maybe end up with something beautiful for your home! The area also hosts a First Friday event every month with entertainment and extended gallery hours …
Check the artist listings, as many have an online presence where you can view their work and purchase online …
Are there other Georgia made products we should feature here? Let us know via our Contact Us page!
Visiting Atlanta, Georgia's Capital City
Welcome to our Atlanta feature in our continuing series, "Visiting America's State Capital Cities"! We are so pleased to bring you a travelogue overview of this world class cosmopolitan city that's not only one of the South's premier destinations, but also a metropolitan area that's literally known world wide …
We had the opportunity to visit this great city not long ago for a long weekend, which while nowhere near enough time to experience everything Atlanta has to offer, is enough time to hit the tops of the trees and acquire a good overview.
In addition to being a world class destination on its own, the city is also a perfect launching point to experience Georgia's northern mountain area, eastern Tennessee and western North Carolina, and of course the southern and eastern sections of The Peach State. There's something happening here all year around, but mid autumn is a perfect time to visit. The intense heat of the summer has diminished, and warm days & pleasant evenings make it the perfect time to explore all this city has to offer …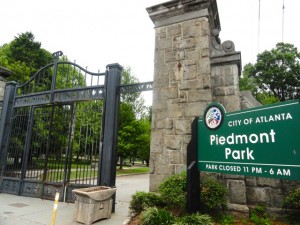 On this trip, we spent all our time in the city proper, so that's what we'll focus on in our travelogue. But when you visit, don't overlook all the appealing destinations within an hour or so drive of the city -Dahlonega straight north is an especially scenic area well known for the Georgia wine country …
Sit back and grab yourself a tall glass of sweet tea as we explore the capital of Georgia, the bustling and lively Atlanta …
Atlanta Overview
Atlanta has a long history, and in the last 50 years has cemented itself as the hub of the southeastern United States. A major transportation center, its airport is the world's busiest, and the metro area is the 9th largest in the United States and growing …
One of the first things you'll notice if you spend any amount of time in the city is the traffic, not so much in the downtown but in the collar communities. Following and monitoring the area's traffic is akin to a spectator sport – it always seems to be on the lips of Atlanta residents. Much like any major city, it pays to plan your routes and travel times to avoid peak congestion hours – but frankly it's no worse than other metro areas across the country … everyone has a traffic nightmare story!
That aside, if you're a first time visitor you can easily confine your visit to the immediate city core. Atlanta is a city of distinct neighborhoods and you can traverse most of them without a car. The city's rail system, known as MARTA, does a good job moving people from place to place, but even if you'll be using MARTA as your primary means of getting around, as we did on our recent visit, you'll want to bring along walking shoes. You'll need to walk a block or two or three from certain stations to your sightseeing destination.
Speaking of neighborhoods, visiting them is where you'll get the best feel for Atlanta. They're distinctly different, all with their own personality. From the Beverly Hills-like shopping and nightlife vibe of Buckhead to the slightly grungy alt culture feel of Little Five Points, the city has something for everyone, no matter your age or interest. That's a lot of what we love about Atlanta – it's really a microcosm of our society. And we say that in a good way!
Plan to spend, at minimum, three days and two nights here to at least scratch the surface. A week allows you to explore farther afield – which we definitely recommend to anyone.
And by the way, it's true what they say about "Peachtree Street" – there are over 70 different Peachtree Streets in the city! It's a common joke among locals – they'll know you're a tourist if you ask "Where is Peachtree Street?".
We love Atlanta and have visited many times, dating back over 40 years when I was in grade school. It's a city everyone should experience at least once, much like New York, Boston, Chicago, and San Francisco to name a few. With that, let's dive into what there is to see and do in this world class southern city …
What To See In Atlanta
As we mentioned, all of our recent visit was focused on the city itself and several of the neighborhoods. Our travelogue here will touch upon Atlanta's downtown, the neighborhoods of Virginia-Highland, Buckhead, Midtown, and Little Five Points. Actually, if you get around to all of these, you've done a pretty good job getting acclimated!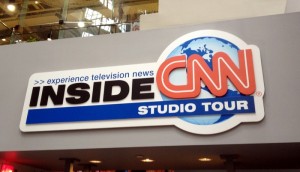 com" width="300″ height="172″>Midtown, so named because it's in between the downtown core and Buckhead, is a great place to get your bearings and a perfect place to stay. You're not far from many of the city's attractions, yet far enough away to keep lodging prices reasonable. Peachtree Street (the main one!) goes right through Midtown and it's an ideal way to reach downtown, whether you're driving or using MARTA.
Midtown is best described as a mix of business district, educational center, and cultural oasis. It's here you'll find offices of many large corporations and colleges like Georgia Institute of Technology and John Marshall Law School. You'll also find the historic Fox Theater – if you can see a live event at this 1920's era architectural masterpiece, don't pass it up!
Immediately to the north of Midtown is iconic Piedmont Park, a green oasis and gathering place for Atlanta's citizens since being established in 1895. A true example of grand American city park, be sure to spend some time here. The park encompasses almost 190 acres and is a host location for public events, tennis, fishing, jogging, and simply relaxing. Plus, there's great views of Midtown and much of the city from the park's gently rolling topography …
Adjacent to Piedmont Park is one of our favorite Atlanta neighborhoods, Virginia-Highland. The neighborhood draws its name from the intersection of two main thoroughfares, Virginia & Highland Avenues. A great place for a stroll, shopping, and dining, you'll want to spend at least an afternoon and evening here.
In addition to all the convenience attractions, Virginia-Highland is known for its architecture, particularly homes built in the bungalow style. Be sure to check out Atlanta's oldest fire station, dating from 1924. It stands at 1063 N. Highland Ave. and actually looks just like a bungalow!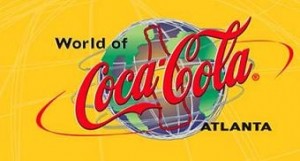 We spent the better part of a day downtown, playing tourist and enjoying ourselves. Two must see attractions are The World of Coca Cola and the headquarters for CNN. At the latter, join one of the organized tours of the operation – you'll see the studios where familiar news programs originate – you may even see one being done live if the timing is right. And if you've ever wondered how your local weather reporter works with those big weather maps seemingly behind them – check out the demonstration on the tour, they don't do it like you think they do!
Also in the immediate downtown is Underground Atlanta, a walking, shopping, and dining area that's literally under the streets of the city. This area, and the adjacent Five Points neighborhood, are easy to reach – they're at the crossroads of two MARTA lines. Descending down the entrance to Underground Atlanta makes you feel like you're being transported into some other world and if it's a hot day, this is a great place to go!
Once the hub of the city's nightlife, Underground Atlanta has always had an up and down history, dating back to the early 1970's when I first visited. Recently, the city announced new revitalization efforts to augment the area into a mixed use development, with more retail options and above ground housing units. It's right next to the World of Coca Cola, or at least the entrance is, so see what's there when you make your visit.
Little Five Points is a bit reminiscent of San Francisco's Haight-Ashbury, Chicago's Old Town, and Cincinnati's Mt. Adams. It's a generally youthful area with live music, pizza joints, tattoo parlors, and late night diversions. Not to be confused with the Five Points neighborhood, Little Five Points is about two miles east of downtown, a bit south of Virginia-Highland.
Stroll around and you'll find an impressive variety of storefronts, ranging from record stores to used clothing outlets to independent bookstores and coffee shops. It's actually quite a fun place to walk around, and maybe grab a quick ultra casual bite to eat …
If you're really pressed for time, you can see all these neighborhoods in a day, assuming you start fairly early and stay out well into the evening. They're all just a few miles apart, and as we suggested, the various MARTA lines are a great way to get around the city without needing to fight traffic …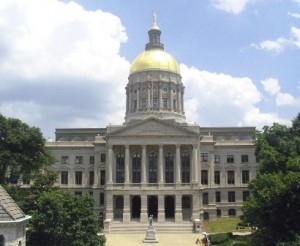 Two other cultural points of interest are the Georgia State Capitol and the Jimmy Carter Presidential Center. Former President Carter's library, museum, and learning center requires a car – it's out on the eastern edge of the city. It's well worth the trip if you're like we are and have visiting presidential historic sites on our to do list any time we're near one.
The State Capitol Building & Museum is on the National Register of Historic Places and dates back to 1889. The ornate dome is finished with gold leaf from the Dahlonega area and the building closely resembles the U.S. Capitol Building in Washington, D.C. Tours are available and the Capitol Museum houses an impressive collection of artifacts representing the state's long and colorful history.
Atlanta Eats – Our Dining Recommendations
Whenever we travel, be it a familiar destination or one less familiar to us, we always seek out "local" with an emphasis on historical. Now, those are two fairly broad terms, but in essence, we enjoy visiting places which have stood the test of time and truly represent a town or city. "Where the locals go" is a good way to describe it – we're beyond the stage of seeking out the ultra chic cutting edge cuisine types of places. But if that's your vibe, you'll find no shortage of sparkling choices in Atlanta – the culinary scene here is one of the best in the country, especially in the Buckhead section, about 8 miles north of downtown.
Buckhead is also nightlife central for Atlanta. Fashionable shopping by day gives way to a vibrant nightlife scene where a well heeled crowd comes to meet, greet, see, and be seen …
For dining choices on this visit, we chose two places we'd been to before, one we always wanted to try, and a couple others that caught our eye either via recommendation or simply from exploring the city.
In the Virginia-Highland area, stop in at Atkins Park Restaurant & Bar. We've been here a few times and like their casual, comfortable atmosphere and creative comfort food. This is the city's oldest continually licensed tavern and it's in the heart of the neighborhood. They've been around since 1922 so you know they know what they're doing!
We especially like a few of the Atkins Park menu items, like Southern Fried Chicken, fresh Georgia trout, and a really good Cobb Salad. Craving a fresh, unique salad? You won't go wrong with the North Georgia Apple Salad, made with walnuts, crumbled blue cheese, and a locally made apple cider vinaigrette.
Just down the street is one of the best local bars you'll find anywhere in the country, the wonderful Manuel's Tavern, an institution since 1956. Old fashioned bar stools, wooden chairs and tables, big picture windows, and an eclectic clientele from all walks of life give this place its personality. A must stop while in Virginia-Highland, come here for their great chili, Brunswick Stew, pork chop sandwiches, and all kinds of good stuff on tap. The best way to describe Manuel's Tavern is, when I'm not there I miss it!
For a true Atlanta experience that's easy on the wallet, stop in at The Varsity, known as the world's largest drive in restaurant and pictured above. Ultra casual and ideal if you're on a budget, this place has been around since the 1920's and each day serves huge amounts of hot dogs, chili, french fries, and fried pies. This is the original (it's near the intersection of Spring Street and North Avenue) and they've branched out to a bunch of locations across the metro area, including two in the airport. You won't necessarily eat healthy here but you sure as heck will eat great!
In the Little Five Points area, stop in at another perennial Atlanta favorite, The Vortex Bar & Grill a melting pot of a place with some of the city's best burgers. Don't let the huge skull at the entrance intimidate you – The Vortex is a friendly destination with a laid back vibe and a dose of live music to go along with it. We loved the burgers, and be sure to try the zucchini chips – they're fantastic!
Summary and Learn More About Atlanta
No matter your reasons for visiting Atlanta, you're sure to have a good time. The city itself is pretty easy to get around, and there's something for everyone in every age group or interest level. And of course, the city is easy to get to – there are direct flights from just about anywhere in the country!
If you're visiting for the first time, we suggest allowing two days at minimum to get a good feel for the city. A long weekend is perfect, although you'll need more time to explore the many areas not far from the metro area like Stone Mountain and Dahlonega.</b<atlanta's>
Be sure to walk the neighborhoods like Virginia-Highland and Little Five Points, and don't forget to see Piedmont Park – it is a spectacular example of foresight in urban planning …
If you'd like to know more about the city and metro area, a good place to start is Atlanta.com which provides all the overview information you'll need and a lot more detail than we were able to go into here …
We hope we've given you a flavor for this wonderful American city. Enjoy yourself in Atlanta!