See Our "Visiting Des Moines" Travelogue … Scroll Down
This Post is about Made in Iowa Gifts and Specialty Iowa Products
Want To See Your Business / Products On Our Made In Iowa Page?
Visit "Advertise With Us"!
FEATURED MADE IN

IOWA

BUSINESS

ES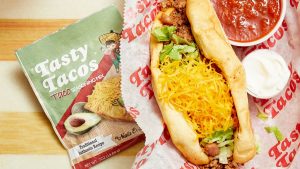 Tasty Tacos: If you've ever visited Iowa's vibrant capital city, you're aware Des Moines boasts a growing reputation as a foodie town …
But we're not talking stuffy, nose-up-in-the-air fancy places that'll set you back a whole paycheck. Des Moines is bursting at the seams with tried and true local establishments – family owned and operated, proudly independent, and thriving for decades.
Like any big city in America, just about any style of cuisine is available in Des Moines. Having spent a fair amount of time in The Hawkeye State (and Des Moines in particular), we're proud to steer you to the wonderful Tasty Tacos for your Mexican food craving …
Founded by the Mosqueda family in 1961, Tasty Tacos is still family owned and operated almost 60 years later. A real American success story, the business has grown to be a Des Moines area institution. Operating with the mission that "Nada Es Imposible" (Nothing Is Impossible), Tasty Tacos now offers six busy locations in the metro area …
We recently visited the Tasty Tacos E. Grand Avenue location on our way through the city. Comfortable, welcoming, and friendly describes the vibe. You'll be served quickly with a smile, but make no mistake, Tasty Tacos isn't fast food, it's great food served fast. Everything is made fresh daily – which you'll notice with every bite!
You won't go wrong with anything on the menu, but be sure not to miss Tasty Tacos legendary Flour Taco. Served in a fluffy flour taco shell, it's filled with seasoned ground beef (or your choice of beans, chicken, pork, or steak), lettuce and cheese. A real "two hander", it's no wonder Tasty Tacos recently won City View's "Best Local Taco" award. Not to be outdone, Tasty Tacos also captured awards for "Best Local Mexican Food" and "Best Local Place For A $5 Lunch". If you're wondering where the locals go for a great meal in Des Moines, now you know!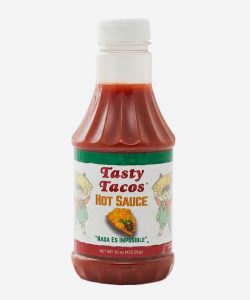 We'd be remiss not to mention the only thing that makes a Tasty Tacos flour taco better – their family recipe hot sauce. If you like a hot sauce with a balanced jolt of heat that doesn't overpower your food, you've hit pay dirt. Tasty Tacos hot sauce is so popular with customers that it's now available for purchase from their website by clicking right here. You can also order the family's famous authentic recipe taco seasoning mix, along with some very cool swag (definitely check out the good looking Des Moines IA t-shirt).
State Gifts USA is so happy to spotlight one of our favorite Des Moines restaurants on our Made In Iowa page! If you're in the area, do yourself a favor, stop in and be sure to tell us how good it is …
And if you're not near Des Moines, click through to the Tasty Tacos website, linked above, to check out their menu and order yourself some hot sauce, taco seasoning, and wearables …
Tasty Tacos … legendary in Iowa's capital city!
MADE IN IOWA HOT SAUCE, SPICES, & CONDIMENTS
Rube's Steaks: The small Iowa town of Montour sits just minutes south of legendary Route 30, west of Cedar Rapids. It's perhaps best known as the home of the original Rube's Steakhouse, a central Iowa fixture since 1973 …
Ask Iowans for a recommendation of where to get a great steak in The Hawkeye State and Rube's is sure to be in the conversation. In recent years, Rube's has introduced a mail order branch of their operation, shipping fresh steaks and other prime cuts of meats anywhere in the United States …
The biggest difference between Rube's Steaks and larger mail order meat companies is how the orders are processed. When you order from Rube's, the steak is immediately hand cut, sealed, and shipped fresh to your doorstep in a weather resistant cooler. Any of your favorite cuts are available, from strip steaks to ribeyes to t-bones and more …
Premium pork, sauces, and seasonings are also available to order, and we wanted to call your attention to one of Rube's signature items, their skillet potatoes. They're nothing short of fantastic and now you can make them at home with a bottle of Rube's Skillet Potato Seasoning. There's nothing that goes better with a great steak than a savory side order of skillet potatoes!
A true Taste of Iowa, a gift from Rube's Steaks is sure to impress. Click through to learn more about them and to place your order …
Mo' Rub: This small Iowa company was founded in late 2011 by an Iowa wife and husband team with a signature product … Mo' Rub.
Mo' Rub is a rub and spice mixture that's good on any type of meat or fish. Rub it on before grilling, or sprinkle a bit on after it's cooked. You can also use it various other ways, like as a dip. Mix it with a 16 oz. container of sour cream and you're good to go!
Mo' Rub has a little kick but not too much to overwhelm the meat. Sprinkle it on to ground beef and you've got a tasty taco meat. Liven up roasted potatoes by misting it atop the potatoes before they hit the oven.
The uses are practically unlimited! Check out Mo' Rub online to have a packet or three shipped to you, and don't forget to take a peek at all the great recipes …
MADE IN IOWA SPECIALTY FOODS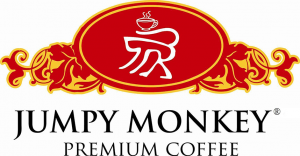 Jumpy Monkey Premium Coffee: Sergeant Bluff, Iowa is a small town just south of Sioux City in the far northwest corner of the state. This is a beautiful area of Iowa … it's nestled along the great Missouri River very near the confluence of South Dakota, Nebraska, and The Hawkeye State …
This bedroom community is home to a small business not only producing wonderful coffee, but with a wonderful mission and results. Meet western Iowa's Jumpy Monkey!
Synonymous with the phrase "coffee with a cause", Jumpy Monkey has been roasting, packaging, and shipping their premium select coffees all across America. Their portfolio includes impressive single origin coffees, blends, decaf options, flavored coffee, and more …
The brand was purchased by current ownership in 2003 with one thought in mind – to provide meaningful employment to individuals with disabilities. Now, Jumpy Monkey Premium Coffee is distributed by a growing network of non profit organizations sharing the kindred mission of unlocking inner potential through employment opportunity.
Our readers who delight in exceptional coffee will undoubtedly gravitate to selections like "Cinnamon Sticky Bun", a freshly ground flavored coffee featuring warm spicy cinnamon notes accented with notes of sweet creamy vanilla. Or, partake in single origin varieties, blends, and more – they're all ready to be shipped directly to your door at the Jumpy Monkey "Shop" tab at their website …
Fundraising, distribution, and wholesale opportunities are available too! Check out their website for all the details …
We're delighted to feature this small western Iowa business that contributes so much to so many! Click through and discover their complete story and the entire array of coffee selections …
How To Buy: Visit the Jumpy Monkey website by clicking right here …
Clayton Ridge Farm Meat Market & Gift Shop: Located on the banks of the Mississippi River north of Dubuque, Guttenberg, IA is a charming river town featuring historic buildings, friendly people, and family owned small businesses …
Adjacent to the river is the town's main thoroughfare, River Park Drive. Visit here and one business you'll be drawn to in particular is Clayton Ridge Farm Meat Market & Gift Shop. Housed in a handsome limestone structure toward the south end of downtown Guttenberg, this combination meat market, gift shop, and cozy cafe attracts visitors from all over the upper midwest …
Owned and operated by Jane and Tom Augustyn, this small business offers a wide variety of farm fresh products, along with a diverse menu and daily specials in the on site Picket Fence Cafe …
If you're looking for naturally raised meat, check out the selection of bratwurst, pork, and beef available here. All meat sold at the Clayton Ridge Farm Meat Market is sourced from the family farm just north of Guttenberg … you'll notice the difference fresh makes! The gift shop is also known for house brands of salsa, jellies, BBQ sauces, relishes, and more, many of which are featured in the meals served in the cafe. One not to miss item is the home made popcorn … the corn is grown right at the farm and packaged fresh in several different varieties and flavors …
When you visit the cafe, be sure to save room for one of Jane's award winning pies. We sampled the Triple Berry, which features a tantalizing combination of berries and a rich, delicious crust. It's one of many homemade desserts you'll see, along with fresh salads, soups, and entrees prepared from traditional recipes passed down through generations …
If you're not located near Guttenberg, contact the Market directly and they'll arrange for shipping of select products – we recommend the popcorn and the Sweet Onion Peach Salsa!
Guttenberg is a wonderful, friendly small river town featuring many welcoming businesses like the Clayton Ridge Farm Meat Market & Gift Shop … if you're in the area, be sure to stop by and say hello!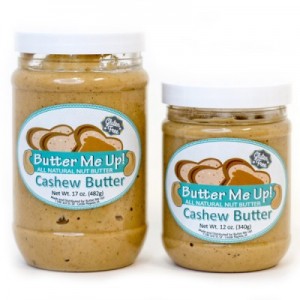 Butter Me Up Nut Butters: One of the joys of compiling State Gifts USA is coming across new small businesses providing healthy alternatives to mass produced products. Such is the case with this Cedar Rapids company, founded in 2013 by local resident Tracey Norman. Tracey was seeking out freshly ground nut butters as a healthy source of protein for her family … finding none locally available, she began to make them herself!
From humble beginnings and the power of word of mouth, Butter Me Up Nut Butters has built up quite a following. Distribution started at a Cedar Rapids farmers market, and has spread to additional markets and over 20 groceries. With nine different savory flavors available, there's lots of excitement ahead for this growing Iowa enterprise …
Nut butters are similar to peanut butter, except these are made with healthy ingredients and no unnecessary additives and preservatives. Use them on traditional sandwiches, on crackers, toast, or even in recipes. Some of the flavors, like Dark Chocolate Hazelnut and White Chocolate Almond, are excellent choices for dessert – something a little sweet and natural!
You can shop for these Iowa made nut butters directly at the Butter Me Up website. For traditionalists, Dry Roasted and Honey Roasted Peanut Butter are available too – taste the difference freshly ground makes vs. mass produced varieties. We're anxious to follow this creative small company's progress – Click through to learn more about them!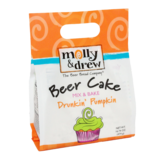 Molly & Drew – The Beer Bread Company:
This enterprising Iowa company got their start by marketing 100 bags of a homemade beer bread mix at a local craft show. It went over so well that they're now in hundreds of retail outlets across the country … and the company has branched out beyond beer bread mixes.
The Beer Bread Company creates beer cake mixes, hot and cold dip mixes, and of course their signature beer bread mix. We particularly like their line of beer cakes mixes – all you need is an egg and your favorite beer and you're ready to roll. For a special treat for company, try the Drunken Pumpkin Mix – it rivals any fresh bakery cake you'll find!
At their website, you'll find a store locater feature where you can find the products near you. Or, shop online and order for yourself or as a cool gift!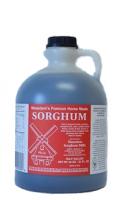 Maasdam Sorghum Syrup: Lynnville is a small central Iowa town of about 400 residents and since 1926 the home of one of the nation's best known sorghum syrup producers. Sorghum syrup is a natural sweetener made from the juice of the sorghum cane plant. A very versatile sweetener, it is used in baking, as a table syrup, to sweeten drinks, and frequently in barbecue sauce …
A very healthy product, Maasdam Sorghum makes the syrup directly from sorghum cane, without additives or blending. The cane grows prolifically in The Hawkeye State and is harvested when it's about 15 feet tall. High in potassium, iron, and calcium, sorghum syrup is a shelf stable product that has been used in America for centuries. If you haven't tried it, you should! It has a unique sweet taste without all the arificial ingredients you'll commonly find in store bought syrup.
Maasdam Sorghum ships their syrup in pint, half gallon, and gallon jugs and they're also produced two helpful recipe books with hundreds of ideas for using this healthy sweetener in your every day cooking. You can even buy a batch of sorghum suckers (lollipops) … they're delicious! Click through to their website to buy and enjoy a true taste of Iowa!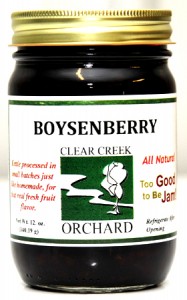 Clear Creek Orchard: If you're looking for a real taste of The Hawkeye State, consider some of the 30+ flavors of jam made by this small company located in Collins, a small town that's practically the geographical center of the state …
Made in small batches with no added preservatives or anything you can't pronounce, Clear Creek Orchard offers just about every jam flavor imaginable, including some creative blends like Apple – Strawberry, Red Raspberry – Peach, and Apple Blueberry. There are a few unique varieties too, like Seedless Marion Blackberry, a bold flavored style that's great on an English muffin …
Pepper Jams are available too, made with locally grown peppers. A gift of good taste is always welcomed!
Click through to their website to see all the different jam varieties available …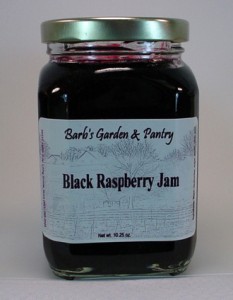 Barb's Pantry: This small family owned and operated specialty jam company is based on an eastern Iowa farm where they make 30 different varieties of jams, jellies, and more. They even make and ship fresh made from scratch glazed apple cider doughnuts!
If you're looking for fresh, natural jams in traditional flavors and some not often seen, check out the Barb's Pantry website. There you'll find flavors like Black Raspberry, Gooseberry, Clementine Marmalade, Rhubarb, Strawberry, among others. One of their combination jams is really something – it's called Fruits of the Forest and contains blackberries, red raspberries, apples, strawberries, blueberries, and rhubarb. Wow!
You can order any of these jams by the jar and they'll ship right to your doorstep. Jellies and sugar free fruit spreads are available too. And don't forget the doughnuts!
Click through to the Barb's Pantry site – fresh from eastern Iowa!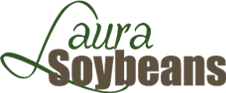 Laura Soybeans: From the heart of the midwest soybean country, Laura Soybeans are harvested and packaged right at the Chambers Family Farm in the small village of Corwith in the north central part of the state. They sell soybean snacks and whole soybeans which can be used to make soy milk at a fraction of the cost of buying it in the store.
Their signature product is called Tosteds, a crunchy 100% roasted crunchy snack that's very high in protein. They can be eaten right out of the bag or used in a variety of recipes, many of which you'll find at the Laura Soybeans website. The company also makes a trail mix using roasted soybeans called Tosted Trail, which includes a blend of bananas, blueberries, cranberries, and dark chocolate. Healthy and delicious!
If you consume soy milk for dietary reasons, you can order not only bulk soybeans but also soy milk machines to make the milk yourself. The net cost for making soy milk versus buying it in the store is about a $5 per gallon savings!
Check out all the Laura Soybean products at their website. Fresh from the farm in Iowa!
Brandmeyer Popcorn Company: Founded in 1969, Brandmeyer Popcorn Company is one of the best known Iowa businesses specializing in this wonderful snack created from one of the state's best agricultural assets …
Located in the small city of Ankeny just north of Des Moines, Brandmeyer Popcorn produces two brand names you'll see on the shelves of stores in the Midwest – Lotta Pop and Iowa State. Made from Iowa corn, the popcorn is available from their website in unpopped packages or ready to eat in a wide variety of gift tins and specialty boxes.
Many of the tins, like the one shown, are decorative and make ideal major holiday gifts! The company also offers popcorn in various gift size quantities, like two bag, three bag, and six bag boxes.
A great idea for client thank you gifts and office parties! Visit their site to get all the details …
Freddie's Popcorn: Dubuque is one of our favorite long weekend destinations. Nestled along the Mississippi River in northeast Iowa, this cool river city is just 20 miles west of the popular historic town of Galena, IL. Home to the well known Mississippi River Aquarium, much of Dubuque is built into bluffs arising from the riverfront. The city is known for their historic riverfront, walkable shopping district, recreational opportunities, and several institutions of higher learning like Loras College and the University of Dubuque …
Just about ten blocks up from the riverfront area, you'll find a charming little popcorn shop called Freddie's Popcorn on Main Street. Their popcorn is carried at several local stores and the owners are consistent participants at the vibrant Dubuque Farmers Market. At their shop, you'll find well over two dozen flavors of fresh Iowa popcorn, gift sets, and tins for any occasion. Have you ever met anyone who didn't like a gift of popcorn? We haven't either!
If you can't get to Dubuque, Freddie's will ship many of their popcorn products directly to your door. Visit their website to learn more about them and to place an order!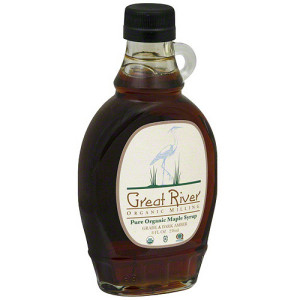 Great River Maple: When you think of Iowa, maple syrup probably isn't the first thing that comes to mind. But near the small village of Garnavillo in the extreme northeast portion of the state, maple syrup is indeed being tapped. Owners Dan and Dorinda Potter founded Great River Maple and create maple syrup and related products from their 50 acre setting on the bluffs high above the Mississippi River …
Dan's family has a long history making maple syrup in this part of the country and the tradition continues. Their pure syrup, maple cream, and gift baskets are marketed at area farmers markets and at their online store. And if you thought all maple syrup is the same, you should know the syrup offers a different flavor profile depending where it's sourced. Similar to honey and wine, the type of maple tree as well as other important environmental factors help dictate the syrup's flavor. The bottom line is, if you enjoy maple syrup as we do, try as many as you can from all different parts of the country!
A truly local product like Great River Maple's syrup makes a great gift! It's about as Iowa as can be and sure to be appreciated … visit their website to learn more and to order …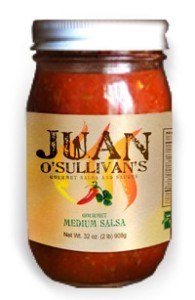 Juan O'Sullivan's Gourmet Salsa: The Des Moines area husband and wife team of Sean and Becki Sullivan began their salsa company back in the mid 1990's by showcasing their products at the Des Moines Farmers Market. Bouyed by the overwhelming positive response, a company was born. Now almost 20 yers later, Juan O'Sullivan's salsa continues to be in demand not only locally, but across the United States …
Using roasted peppers like poblano, Fresno, habanero, and several more, Juan's has a salsa for you, no matter your heat scale preferences. We recently tried a jar of their Roasted Tomatillo Verde Salsa, a thicker consistency, medium heat salsa that's not only ideal for chip dipping, but as a base for fajitas and tacos as well. The thicker (but not chunky) consistency is perfect for cooking as well as allowing the roasted pepper flavor to shine through …
All in all, Juan O'Sullivan's makes six different varieties of salsa and sauces, including a Gourmet Enchilada Sauce for all the culinary types out there. Check their website for more details on each of the salsas. You can order single jars or better yet, combination packs so you can enjoy all the flavors!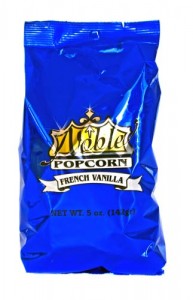 Noble Popcorn: Corn, of course, is one of Iowa's most well known products. It's grown in most parts of the state and is a big part of Iowa's economy …
So it makes sense that one of corn's most popular by-products – popcorn – is associated with Iowa. And one of the state's most well known popcorn specialists is Noble Popcorn of Sac City …
Noble Popcorn in a specialty tin is a very popular gift from the Hawkeye State. It's available on their website in tins ranging from one to 6 1/2 gallons or by the single bag. We really like their vanilla flavored popcorn … sounds unique but tastes great!
The company also does a lot of private labeling and fundraisers and sells unpopped corn and popcorn accessories. If you're stuck for an Iowa themed gift idea, Noble Popcorn's website is a good place to start!
Zaza's Pasta: This North Liberty, IA small company makes artisan pasta varieties like tortellini, ravioli, flavored fettuccine and more oh so good items …
Like all good pasta makers should, the company starts by hand kneading the dough and then rolling it out and cutting it into shapes. Zaza's Pasta is completely egg and dairy free so they are vegan …
We recommend their pumpkin fettuccine, which is great simply tossed with a bit of olive oil and served with a glass of Iowa wine!
Learn more about Zaza's Pastas and order pasta and other goodies at their online store …

Krogh Family Farms Corn Cob Sweetened Spread: Now here's an interesting product you're bound to like … it's a sweetened spread made from corn cobs!
The product of Krogh Family Farms in Atlantic, IA, this spread is just like a jelly except it's made from corn cobs. They also make a corn cob maple syrup!
The spread can be used on anything one would normally use jelly on … toast, muffins, scones, bagels, and so on. It's also excellent as a dipping sauce or as a glaze for pork and chicken.
Learn more about these unique products and order some online at the Krogh Family Farms website and store …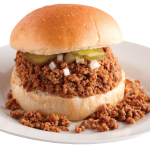 Maid-Rite: Even though there are numerous Maid-Rite restaurants in other states, the Maid-Rite concept has always been associated with Iowa. Their first location was in Muscatine in 1926, and you'll find Maid-Rite locations all across the state …
The original Maid-Rite sandwich is a loose meat (ground seasoned beef) sandwich served on a bun, with a choice of condiments like ketchup, mustard, onions, and pickles. It's best compared to a sloppy joe, but without the tomato base sauce. The company is headquartered just outside of Des Moines, and beyond Iowa there is a growing presence of Maid-Rite restaurants in surrounding states …
You can order Maid Rite Party Packs and logo apparel at their online store. The Maid-Rite party pack is a great idea if you're throwing an Iowa themed party. Just add ground beef!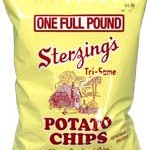 Sterzing's Potato Chips: We admit we're suckers for good, local potato chips, especially made by companies that have been around for a long time …
Sterzing's Chips of Burlington, IA fit the bill … they've been around since 1933 and are still locally owned and operated. More importantly, they're excellent chips!
Sterzing's has a long standing tradition of sending their chips to service men and women stationed overseas, a practice which began in the 60's. You too can have Sterzing's Potato Chips shipped to you, or to someone special as a gift. Be sure to check out their sour cream and onion dip and cool yellow t-shirts too!
Maytag Bleu Cheese: The famed Maytag Bleu Cheese is made by Maytag Dairy Farms of Newton, IA. Since 1941, each wheel of this award winning bleu cheese is made by hand and aged for long periods to impart its unmistakable flavor …
Maytag Bleu Cheese is probably the most sought after bleu, and if you've never tried it, it's something you simply must do … even if you don't like bleu cheese, chances are the Maytag variety will change your mind!
The company makes everything locally, and offers other varieties of cheese as well as spreads, gift boxes, and custom cheese packs …
Their website explains the cheese making process, along with the history of the company and descriptions of all the different cheese products you can order and have shipped. Maytag Bleu is a real slice of Iowa, and a great gift for just about anyone …
Soy Nuts: Since 1985, the Lee Seed Company of Inwood, IA has been a leader in the soy snack food industry. Soybeans, of course, are one of Iowa's many major agricultural products, and roasted soy nuts are known as a healthy, satisfying snack …
These soy nuts are harvested and roasted at the Lee family farm in northwest Iowa, then packaged and prepared for shipping. You can order soy nuts in a wide variety of flavors at SoyNuts.com …
Soy nuts are loaded with fiber and protein … they're also very low in carbohydrates, sodium, and calories. The fat content in soy nuts is low, and it's monounsaturated (the "good" fat). Plus, soy nuts are a very dense snack food … just a few hand fulls will leave your hunger satisfied, and they provide a great energy boost!
Nick's Sticks Snack Sticks: Nick's Sticks are the brainchild of Iowa farmer Nick Wallace, the co founder of Wallace Farms in Keystone. His herd of cattle are grass fed, free range cattle who thrive on sunshine, lush green grass, and lots of fresh air …
Nick's Sticks are just like jerky, but without all the artificial ingredients often found in traditional jerky products. And they're surprisingly healthy for you too!
You can order Nick's Snack Sticks online in packages of all beef, all turkey, or a combination of the two. There's even a "Nick's Sticks Club", where you'll be shipped a new batch of snack sticks monthly (a perfectly outstanding Iowa gift idea!).
Milton Creamery: Milton Creamery in southeast Iowa is owned by the Musser family, who began dairy farming in this part of the state over 20 years ago. Herds of cows are managed and milked by the immediate family, and never given any growth hormones. From the best cows come the best milk, and from the best milk comes the best cheese!
The Milton Creamery evolved from the farm and has produced award winning cheese since 2006. You can buy Milton Creamery cheese online and have it shipped overnight. Two different varieties of special recipe cheddar are available in a variety of sizes.
Check their website for all the flavor profiles, details, and availability …
Simply Parker's: Bellevue, IA is an historic small river town located along the Mississippi north of the Quad Cities and south of Dubuque. A charming community just perfect for Midwestern weekend visits, it's also the home of Simply Pakrer's, a specialty food company producing a wide range of tasty products for your culinary endeavors …
This family owned and operated company is well known for their Pine Ridge line of barbecue sauces and sweet mustard, an area favorite. They also offer a savory collection of butters and cheese spreads, including Buffalo Blue Cheese, Cheddar Bacon, Cheddar Roasted Red Pepper, and more …
At the "Shop" tab at their website, linked above, you can discover the entire Simply Parker's product line and have your favorites shipped directly to your door. Be sure to check out their fantastic seafood spreads … perfect for an appetizer tray or directly on your choice of crackers …
If you live locally, visit the "Retailers" tab where you'll find a list of Iowa (and beyond) locations where you can buy in person …Made in Iowa!
MADE IN IOWA GIFTS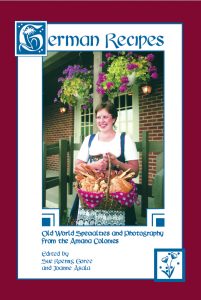 Penfield Books: We're pleased to introduce you to Penfield Books, specialists in ethnic books, cookbooks, state, and regional books. The company creates and distributes books of interest to those of various ethnic descent, like Czech, Danish, Dutch, Finnish, French, German, Irish, Italian, Mexican, Norwegian, Polish, Scandinavian, Scottish, Slovak, Swedish, and Ukrainian …
Joan Liffring-Zug Bourret, the founder of Penfield along with her late husband John Zug, was a photographer for over thirty years before
becoming a publisher. In 1979, the couple established the company and named it in honor of Joan's grandmother, Eva Adora Penfield. Eva was the daughter of a Civil War veteran and his wife who flipped a coin and decided to join the last covered wagon train west from Wichita, Kansas, to Bellingham, Washington, in the 1870s …
Over 37 years and more than 110 titles later, Penfield now sells throughout the United States, Canada, Europe, Australia, and New Zealand …
In 2009, Penfield Books was recognized as a Midwest Independent Publishers Association (MIPA) prize winner for the 2008 title, "License to Cook, Missouri Style". The company was also recognized by MIPA for the title "Recetas DeViejo Mexico: Recipes of Old Mexico" …
More recently, in 2014, Penfield placed as a finalist by MIPA for the "Canadian Cuisine: Recipes and Sites" stocking stuffer. These titles are included in their stocking stuffer series of 3-1/2 x 5 1/2 wire bound cookbooks, popular in gift and museum stores. Other larger format award winning books by Penfield are "The Amana Landscape" and "Swedish Touches" …
The company offers several series such as the Proverb Series, Touches Series, and the Stockholm Series. Check out the entire line of books at PenfieldBooks.com . In addition to books, the company also produces ethnic magnets and postcards. A selection from Penfield Books makes a great gift for any occasion!

Heart of Iowa Market Place: We love Des Moines and almost always make it an overnight stop any time we travel across the country on Interstate 80. The city is vibrant, easy to navigate, and there's plenty to see and do. If you're fortunate enough to visit, we'd like to tip you off to one business district in the metro area you're sure to fall in love with …
It's Historic Valley Junction, which is actually the downtown shopping district of West Des Moines. A thriving example of downtown revitalization, this several block section of 5th Street is a Midwest destination for independent shops, locally focused dining, and community events. A well known and much beloved attraction for locals and visitors alike, this area of West Des Moines Is a wonderful way to spend an afternoon and evening strolling and exploring the various shops and restaurants …
One must visit shop, whether in person or online, is the Heart of Iowa Market Place, situated in the midst of Historic Valley Junction. Frankly, this is the kind of shop we seek out when visiting a state, and we're proud to feature them here. Owned and operated by Iowa native and Des Moines resident Kelly Sharp, this destination store is truly "all things Iowa". You'll find hundreds of unique Hawkeye State gift ideas like local specialty foods, state themed souvenirs, tempting gift baskets, home made fudge, and much more …
At the Heart of Iowa Market Place website, you can browse through their many offerings and download the current catalog. Looking for a personalized business gift or promotional item? Kelly can assist you with personally branded corporate logo gifts – ideal for customer appreciation, special events, or marketing campaigns. An especially enticing idea is their custom Rice Krispy Treats, hand crafted and custom designed with beautiful colored chocolate to display your logo, personal message, or design …
We love the Market Place's showcase of Iowa made specialty foods – you'll see dozens of local delicacies you'd be hard pressed to find elsewhere. Small batch breakfast and dessert syrups, local jams, mustard and sauces, and delectable artisan chocolates are among the large selection. Hosting an Iowa themed party or tailgate? Show your state pride with appealing logo items as well as dips, salsa, and popcorn treats that'll make your gathering one to remember! Even if you can't make it to their physical location in Historic Valley Junction, click through to visit them online and Kelly will ensure your order is shipped right to your door!
For All Things Iowa, shop the Heart of Iowa Market Place and savor some of what makes The Hawkeye State special!

Milkhouse Candle Creamery: Based in Osage, IA Milkhouse Candle Creamery started as a hobby for founders Eric & Janet Sparrow. The couple started making candles in canning jars, inspired by the goal of creating the cleanest burning candles anywhere …
Within a few short years, Milkhouse Candles began to become well known due to word of mouth and requests for more candles from family and friends. Today, the company is a thriving enterprise known all over America for their ultra clean burning beeswax and natural soy wax candles made with pure Midwest ingredients. Following their natural and sustainable theme, Milkhouse uses 40% recycled glassware containers which in turn are 100% recyclable …
Best of all, candles make wonderful gifts for any occasion. Milkhouse candles are made in dozens of scents, and in unique containers that serve as impressive accent and home decor pieces. When you visit their website, check out the Creamery Collection … you'll find long lasting candles poured into vintage style milk bottles, butter crocks, and more. Clever and fun!
You can find their beautiful candles at many specialty and gift stores across the country, but for easier shopping, check them out online. Sure to be appreciated gifts from northern Iowa!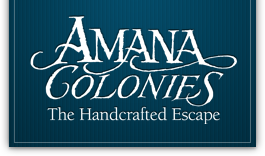 Amana Shops: The Amana Colonies are one of Iowa's most prominent attractions. Popular for both families and large tour groups, the colonies are a grouping of small Amish villages located about 30 miles southwest of Cedar Rapids and west on Interstate 80 from Iowa City …
One of the most popular aspects of the colonies is seeing Amish craftspeople at work, creating everything from food products to fabric items to furniture. The quality of these goods is renowned and the area draws customers from all across the country …
For those who can't visit the Amana Colonies in person, you can always visit the Amana Shops, an online outlet. Featured here are the Amana Meat Market, the Amana Furniture and Clock Shop, the Amana Woolen Mill, and the Amana General Store. It's the next best thing to being there!
If you're looking for a gift that says "Iowa Made", it's a good bet you'll find something perfect at the Amana Shops …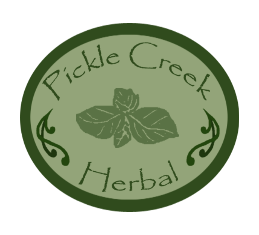 Pickle Creek Herbal: Pickle Creek Herbal is a family owned herb farm in Brighton, IA who create a variety of artisan products from the farm's output. Everything is done by hand, from planting to packaging.
Owned by Tim and Jocelyn Engman, family recipes are used to create infused olive oils, natural soap, vinegars, salve, lip balm, and more. They've been growing organic herbs since 2006 and have garnered a strong local following, particularly for their unique olive oils …
Some of the specialty olive oils you can buy from Pickle Creek Herbal include Greek Basil and Garlic, Basil and Roma Tomato, and Greek Oregano and Garlic. They also make a sweet tarragon infused white wine vinegar, great on salads and sauces or as a marinade … check their website for the full product selection. A great "From Iowa Soil" gift!
Fox River Mills Socks: Fox River Mills, Inc. of Osage, IA is arguably the socks capital of the Midwest, if not the country. Originally founded in Wisconsin, the company produces socks for just about anyone and any profession …
They make socks for members of the armed forces, sports and performance socks, women's and children's socks, John Deere license socks, and … well, you get the idea.
Any type of socks you need for everyday use, you'll find them online at the Fox Sox online catalog. You can even buy a sock monkey, which was invented by the company!
Upcycled Style: This small operation in Rockwell, IA upcycles used bottles of all shapes and sizes and turns them into functional art and glassware. Shown is a picture of two drink glasses that were repurposed from a bottle of Iowa's famous Templeton Rye Whiskey …
We're seeing more and more of this kind of handiwork and we love it. Reuse, recycle, and upcycle!
You can order items like these at the Upcycled Style online store … there's a great selection and prices are really reasonable.
Broom and Basket Shop: This store is located in Iowa's famed Amana Colonies, and the name speaks for itself … you can buy a wide assortment of brooms and baskets made by local Amish artisans. The Amana Colonies are located in the east central part of Iowa, about 35 minutes southwest of Cedar Rapids, and they're a very popular attraction …
One reason why the Amana Colonies are so popular with visitors is the opportunity to purchase handcrafted furniture, functional home decor, and household items like those offered at Broom and Basket. You can buy brooms of all styles and sizes, as well as willow baskets and reed baskets.
If you can't make it to the Amana Colonies, visit the Broom and Basket Shop online store …
Rada Cutlery: Rada Cutlery has been one of America's leading cutlery manufacturers since 1948. Headquartered in Waverly, IA, the company is probably best known for their handy tomato slicing knife, although they make a full line of knives and cutlery …
The Rada Kitchen Store is a great place to shop online for steak knives, bread knives, carving knives, kitchen utensils, and more. Cutlery gift sets are available, as are handy little knife sharpeners … which every home chef should own!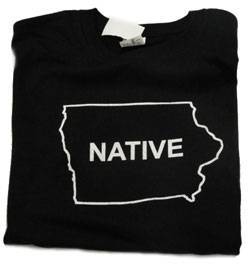 Native Iowan T-Shirt: What better gift to give a person born in Iowa than this t-shirt that says it all in one single word?
This comfortable all cotton t-shirt is available in all sizes at Iowan.com and there are several other good looking designs too … for men, women, and children.
We'd imagine anyone born in Iowa who wears t-shirts would like this one … it's a clean and clear message of Iowa pride!
Be sure to check out all the other Iowa related gift items on the site too …
MADE IN IOWA LOCAL ART
Sara B Illustration: Sara B is Sara Burrier, an Iowa native and Des Moines resident who knew at a young age that drawing and illustration would be part of her life's work. Educated at the Minneapolis College of Art and Design, Sara is a talented artist who illustrates children's books, creates cover art, and teaches classes in addition to creating her own original works …
Sara specializes in fantasy genre drawings, like the beautiful print shown. She is passionate about connecting with the younger community through art and is a sought after commissioned artist and presence at many regional events.
At Sara's website, you can learn more about her creative process as well as see many of her available drawings. They make a wonderful, inspiring gift for the young person on your list, with the added benefit of teaching them the inner value and beauty of art …
Visit Sara online and help support talented local Iowa artists!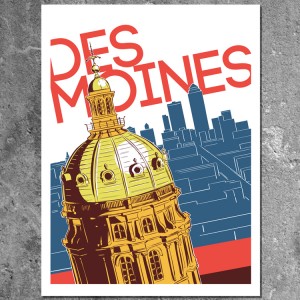 Bozz Illustration: "Bozz" is John Bosley, a Des Moines artist, illustrator, and designer who specializes in screen prints and illustrations. John focuses his work on local subjects, like the screen print poster depicting the Iowa capitol building in Des Moines shown at left …
A multi talent, John also paints and does free lance design work in addition to his head designer position at a local area company. If you're searching for some really cool Iowa (and beyond) themed work, take a look at the Bozz Ilustration website, where you'll see a sampling of his works you can order online …
We learned of John via the Iowa Made Network, a value added outfit promoting local Hawkeye State artisans and small businesses via social media and at community events. They're definitely worth a follow on Twitter …
Locally created art is one of the best gifts you can give … it's also a great way to remember your personal travels and decorate a special room in your home. Support your local Iowa artist!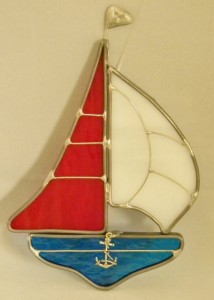 Crafti Critter Creations – Stained Glass: Patty Wilcox of Cedar Rapids was introduced to stained glass in 2007 and creating art in this medium has become her passion and her business …
She designs, creates, and ships beautiful stained glass art like the sailboat sun catcher shown here …
In addition to sun catchers, Patti creates fireplace screens, lamps, night lights, window panels, and more.
Check out her Crafti Critter Creations website to learn more about her and her work.
On the site there's a link to her Etsy store where you can order many of her pieces and have them shipped anywhere in the country …
Geode Jewelry: Geode is the state gemstone of the Hawkeye State, and what better Iowa gift to give to someone special than a beautiful piece of jewelry incorporating the state gem?
Erin Schmitz of Calamus, IA offers pendants, earrings, and more stunning jewelry directly from her online shop. Many, like the one shown, are made incorporating geode.
There are numerous other precious and semi precious stones Erin turns into functional jewelry, like agate and amethyst.
Check out her shop to see all the interesting pieces she's created …
Willow Avenue Pottery: At her family farm in Panora, Becky Brandow has been creating some pretty amazing pottery pieces (when it's not harvest time, that is!). She creates traditional pottery pieces as shown to your left, as well as a series of pendants that can be worn as jewelry or simply hung up as funky decor …
See all of what Becky is doing at her Willow Avenue Pottery website, which links to her Etsy store where you can buy her creations for yourself or as a gift …
MADE IN IOWA BARBECUE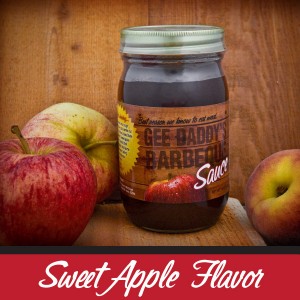 Gee Daddy's BBQ: We love good barbecue and make it ourselves as often as we can. And whenever we find a truly exceptional barbecue sauce, we love to talk about it!
With that in mind, we're happy to introduce you to Gee Daddy's BBQ of Centerville, IA. A friend of ours does business near the town, located in the extreme southern part of the state just a few miles from the Missouri border. He brought us back a jar of Gee Daddy's Sweet Apple BBQ Sauce and we loved it!
The owner of the company, Jon Schmidt, was inspired by an Iowa tradition to create the recipe. Very often when a pork dish is served in The Hawkeye State, a cup of applesauce is served along side for dipping. Putting two and two together, Jon developed his recipe and it's a winner – it not only pairs well with anything pork, but chicken as well!
Gee Daddy's also offers an Original flavor and an all purpose rub – you can buy them directly at their website in 18 ounce jars or gallon containers. Great stuff from a great barbecue state!
Cookies Barbecue Sauces: Here in Chicago's western suburbs, we've got a local supermarket that occasionally carries products we don't normally see in this area. A few weeks ago, we noticed they stocked Cookies BBQ Sauce made by Cookies Food Products of Wall Lake, IA. A small town of less than 1,000 residents, Wall Lake is located in the western part of the state and was the birthplace of legendary singer and entertainer Andy Williams …
Cookies makes four types of barbecue sauce, a hot wing sauce, salsa, taco sauce, and more. We bought a bottle of each of their bbq sauces … thick, rich, and savory!
We particularly enjoyed the Sweet Hickory variety, which offers a bit of sweet along with the barbecue hickory tang. Cookies also makes an Original and Western style, as well as a Country Blend. They're reasonably priced and very good!
You can buy any of these sauces or other Cookies products directly at their website. They've got a handy gift box available which contains five of their products – an ideal sampler for the BBQ lover in your life! Visit the Cookies site for more details and get your "Q" on!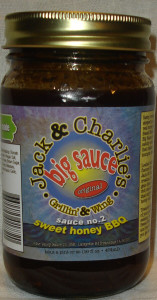 Jack and Charlie's Big Sauce: Iowans have a way with barbecue, especially pork, so it's no surprise to see some really interesting barbecue sauces being made in The Hawkeye State …
We bring you Jack and Charlie's Grillin' and Wing Sauces, a line of four bbq sauces made in Evandale, IA. Evandale is toward the northeast part of the state, adjacent to Waterloo and just down the road from Cedar Falls …
You'll find four different sauces available for purchase on their website, starting with their Roasted Garlic BBQ sauce, which features medium heat. Sweet Honey BBQ is the sauce we tried recently – it has a medium spice kick rounded off very nicely by the addition of honey. Baste this sauce on as you grill and you'll get a wonderful glaze on your ribs!
For those who like their sauces a little hotter, try their Spicy BBQ Sauce or their hottest, which is called Holy #%/*@! (that's how they list it!). We didn't try this one but we'd like to! Comment below if you have …
A fine Iowa made gift for the foodie on your list …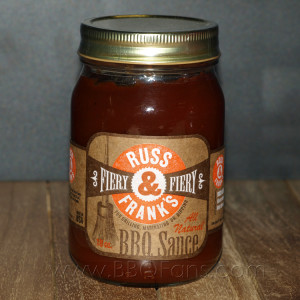 Russ and Frank's BBQ Sauce: We love trying different locally made sauces, and here's a great line of barbecue sauces we discovered on a recent trip to Iowa …
It's Russ and Frank's BBQ sauce, made by a Des Moines area company. They offer a spectrum of flavors, from Mild to X-Fiery. Iowa is known for their great pork products, and this stuff is wonderful on chopped or pulled pork … or any pork dish for that matter!
Pictured is Russ and Franks Fiery BBQ Sauce. It's one of two we tried, the other being our favorite, called Sassy. All in all, there are four different heat levels, so no matter how hot or mild you like your sauce, Russ and Frank's have you covered!
You can order directly from their website in pint jars or gallons. We brought home a couple of jars and recommend going with the gallon size … these sauces are great!
MADE IN IOWA DESSERTS & SWEETS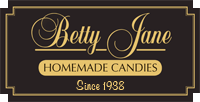 Betty Jane Homemade Candies: We love visiting Dubuque … it's an interesting historic city nestled along the banks of the Mississippi River and built into towering bluffs, atop which you can enjoy a view of three states. It's been a favorite long weekend destination for us for over 30 years, and every time we visit, we explore the downtown area and beyond, meet warm friendly people and feel like native Dubuqueans …
If you've got a sweet tooth like we do, one of the city's long established businesses will satisfy your craving. It's Betty Jane Candies, a local candy making institution that's been around since the 1930's. They've got two locations in Dubuque and another in Marion near Cedar Rapids. They specialize in all sorts of chocolates and we've enjoyed their milk chocolate covered caramels for years …
A few other delectable treats the company makes are Cashew Gremlins, which are best described as a chocolate covered nut cluster, and toppings like Caramel and Fudge for all you ice cream fans. Everything is hand made the old fashioned way – a real treat from Dubuque and The Hawkeye State anyone will appreciate!
We really hope you get to visit in person, but if your travels don't take you to Dubuque, check out their website and place an order for yourself or as a gift. They ship nationwide and were awarded the honor of "Best Culinary Gift Made in Iowa" by People Magazine. Enjoy!
Jaarsma Bakery: There's nothing quite like a great local bakery, and Pella, IA has one. This old fashioned Dutch influenced bakery turns out treats like apple bread, pecan pie bars, almond butter cakes, and a whole lot more …
Jaarsma Bakery also specializes in candy – check their website for cashew clusters, peanut clusters, and a unique treat called Coconut Bliss. They're coconut macaroons covered in milk chocolate!
If you're near Pella, stop by and pay them a visit six days a week. They're also got a location in Oskaloosa making the same wonderful baked goodness. You can also order many of their products directly online at their website – click through to see all they're doing!
Monastery Candy: Monastery Candy is the business name for the candy products made by the contemplative nuns of Our Lady of the Mississippi Abbey in Dubuque. The nuns support themselves through manual labor, some of which is focused on their candy enterprise …
They've probably best known (regarding candy making) for their Trappistine Creamy Caramels. These caramels come in several varieties, either individually wrapped or coated in light or dark chocolate.
Monastry Candy is much more than caramels, though. The nuns also make meltaways, mints, truffles, topping sauces, and maple syrup!
Gift assortments are available. You can learn more about these nuns and their beautiful Abbey and order candy online at their website …
MADE IN IOWA HONEY

Spring Valley Honey Farms: Perry, IA is a town of just under 8,000 residents in the central part of the state not far from Des Moines. It's home to a family honey business owned by Curt & Connie Bronnenberg which produces over 140,000 pounds of honey annually …
In addition to honey, Spring Valley Honey Farms creates a line of bath & beauty products like Hand & Body Lotion, Lip Balm, and Lotion Bars.
They also make beeswax candles, including the very cool corn cob shaped candle shown. It's the perfect Made in Iowa gift!
You can order their honey and any of the honey and beeswax based products directly at their website linked above.
Locally made gifts from the heart of The Hawkeye State!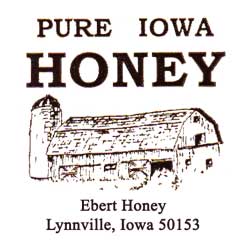 Ebert Honey: This Lynnville, IA family business has been tending to bees and producing honey since 1980. In their almost 35 years of existence, Ebert Honey has grown to one of if not the largest honey producer in the state, turning out over 100,000 pounds of honey annually …
We love trying honey from different locations around the country. Many people think all honey tastes the same, but it doesn't! The flavor profile of honey is directly related to the flowers the bees pollinate. In the case of Ebert Honey, their base in central Iowa between Iowa City and Des Moines offers quite a bit of clover. Clover honey is one of the best tasting you'll find – it has a light color and a pleasant, sweet taste.
Having said that, not even all clover is alike. Dutch clover, yellow clover, and white clover all provide a slightly different flavor palate. That's just one reason why we continually promote the idea of trying different honey from different states, especially local producers like Ebert Honey …
You can buy their honey at their online store, where you'll also find pure beeswax, packaged bee pollen, and beeswax candles. A really wonderful local gift from The Hawkeye State!
History of Iowa
Iowa Trivia and Fun Facts

1). The 31st President, Herbert Hoover, is the only President to date born in Iowa. The Hoover Presidential Library and Museum is a popular historic site located just off Interstate 80 in West Branch, just a few miles west of Iowa City. Hoover himself attended the official dedication ceremony to open the museum at age 87 in 1962. The former president and his wife are buried at the site …

2). The Fenelon Place Elevator in Dubuque is the world's shortest and steepest railway …

3). Actor John Wayne was born in Iowa. So was actress Donna Reed …

4). Iowa is the only state whose name begins with two vowels …

5). Iowa is also the only state whose eastern and western borders are entirely formed by rivers …

6). Des Moines is Iowa's largest city, followed by Cedar Rapids and Davenport …

7). Hall of Fame baseball pitcher Bob Feller was born in Van Meter, IA …

8). Iowa has the highest high school graduation rate of any state in the country, hovering at just over 90%.

9). The Hawkeye State is the largest producing corn and soybean state in the U.S. …

10). The state with the nation's highest literary rate? It's Iowa, at 99% …
There are a lot more Iowa made products coming to this page … but in the meantime tell us the ones you love! Reach out to us on our Contact page …
Visiting Iowa's State Capital City – Des Moines
Traveling America's Heartland is a joy in any season, but particularly in early summer. Flowers are blooming, outdoor patios are bustling, and locals are shaking off the effects of the preceding months. A journey on Interstate 80 is like a pilgrimage to America … you'll experience cities, small towns, and the vast bread basket region teeming with farms and open space.
Our history with Des Moines dates back many years, decades in fact. My mom and dad moved our family for a year to Denison in the western part of the state when I was a first grader. We passed through Des Moines lo those many years ago and have been back to visit several times on our travels.
If you're anywhere in middle America, Des Moines is easy to reach. It's located in the heart of Iowa, at the intersection of two major interstates – I-35 and I-80. A perfect overnight stop on a cross country journey, the capital city of Iowa offers an abundance of reasons to stop and linger.
But if your plans aren't taking you this way any time soon, that's ok, just sit back and join us as we introduce you to this friendly mid American city in the heart of The Hawkeye State …
Des Moines: An Overview
Iowa's largest city, Des Moines is located in practically the dead center of the state. All roads lead here and the city is an ideal stopping point for a few hours or a few days. The metro area is one of the 100 largest in the United States, although the city itself feels somewhat like a mid sized town …
Des Moines is a river city – directions and city lingo tend to focus on locations adjacent to or in directions from the two rivers (Des Moines & Raccoon) which meet here. The city drew its' name from the Des Moines River, which translates to "river of the monks". The city is an insurance industry hub, with many large companies either headquartered or with a major presence here.
When you arrive in the city either on I-80 or I-35, the first landmark you'll notice is the gleaming capitol building dome, which rises 275 above street level. It's located on the eastern side of downtown at the terminus of an area known as East Village, which we'll delve into shortly.
A great walking city, Des Moines offers a very useful skyway system, which protects pedestrians from the elements. And there are times when protection is in order – the center of Iowa can get awfully hot in the summer and quite cold in the winter. But the change of seasons here is glorious! If you're lucky enough to avoid the extremes, any season is a fine time to visit here …
On this trip, we spent the better part of two days here before heading west to Nebraska and Kansas. We did a ton of walking – we encourage you to explore the city on foot – and got to experience the downtown farmers market, said to be the 2nd largest in America and quite an enjoyable spectacle. We also enjoyed visiting the capitol and soaking in two of our favorite Des Moines neighborhoods – the East Village and the Court Avenue District.
Let's get into the details and show you around the hub of The Hawkeye State …
Things To See & Do
Sometimes you visit a city with a specific agenda in mind, and that was the case for us this time around in Des Moines. We wanted to reintroduce ourselves to Court Avenue, enjoy a few restaurants we had our eye on, and finally tour the capitol grounds, which we'd never done before. During a busy two days, we crossed everything off the pre set agenda, but you'll want to allow more time if possible. A long weekend is perfect to see the highlights of the city and a few in the surrounding area …
We were lucky enough to pull into Des Moines early on a Saturday morning, with ample time to explore the fantastic farmers market. These markets are always a treat for those who enjoy fresh local produce and small independent businesses showing off their wares, but this one is really something special.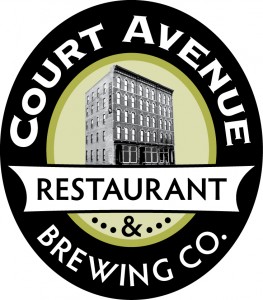 As we mentioned above, the market is one of the largest in the country and engulfs several square city blocks and spills over onto numerous side streets. You'll find everything here, from fresh corn to local honey to local art, jewelry, and area food vendors. Entertainment abounds and it's great people watching! We heard a couple remark, "It's worth the drive to Des Moines just to experience this!" and we nodded in agreement …
The market is held in and around the Court Avenue District, which is the city's center of dining, entertainment, and nightlife. One of our long standing Iowa favorites is located here, the Court Avenue Brewing Company. This place always makes our list of favorite places to eat, and the historic building it's housed in dates back to 1881.
There's plenty of live music in the vicinity and open air is the rule of the day. Walking along Court Avenue in the evening is a Des Moines right of passage, with outdoor patios and open doors & windows beckoning passer by's in for a drink or a meal. Shops abound too, so don't miss exploring this area! We recommend hitting Court Avenue late in the afternoon to give you plenty of time to explore, enjoy happy hour, then dinner and music.
Another area downtown to add to your agenda is the East Village. So named because it's immediately east of the Des Moines River, it's accessible over the Court Avenue, Locust Street, or Walnut Street bridges. Located at the east end of East Village is the Iowa State Capitol Building (you can't help but see it), surrounded by its magnificent grounds and gardens.
East Village is as much a neighborhood as it is a dining and entertainment destination, and that's what makes it so appealing. There's a real vibrancy to the area and it's an ideal place for a stroll. We walked through it to tour the capitol, and then strolled back through to check out all the happenings. And one of the biggest happenings in the East Village is the shopping – if you like small independent businesses like we do, don't miss this area!
Just a few of the shops we visited while here are From Our Hands, a fun multi dimension craft gallery, and Green Goods For The Home on Grand Avenue. There are probably two dozen places to shop in the area, plus all kinds of places to eat and drink too.
The East Village comes alive later in the evening – it's a gathering place for young professionals (and not so professionals) for live music and late night bar hopping. If you're a fan of old saloons and dive bars, one of Des Moines' best is on Locust Street – The Locust Tap. It's been around since the 1930's and is one of the city's oldest bars, if not the oldest. It was closed for a while but recently underwent some repairs, such that they are, and having a cold beer or two here is a central Iowa must!
At the eastern end of downtown is the Iowa State Capitol. You can see the tall gleaming gold dome for miles around, and it towers over the East Village landscape. The building was completed in 1886 and tours are offered Monday through Saturday. Take a tour and you'll see numerous works of art, all sorts of beautiful colored marble, and handsome wood and stone carvings. The surrounding grounds are equally impressive, and it's an easy walk back to the heart of the East Village.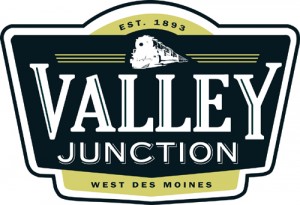 As we mentioned, Des Moines is a great walking city. If the weather is nice, be sure to take advantage of strolling along either of the two rivers downtown. The riverwalk system is continually expanding and there are lots of green spaces to enjoy some peace and quiet.
If you have time, another wonderful shopping and dining area is Historic Valley Junction, just minutes away in West Des Moines. This several block area features over 100 shops, galleries, and restaurants. See our write up of The Heart of Iowa Market Place further up on this page …
Des Moines Eats – Our Dining Recommendations
One of our main reasons for stopping in the city this time through Iowa was to finally visit a few restaurants we'd been wanting to hit for years. We love putting the guide books aside and checking out places featuring regional specialties or twists on all American classics. We only had two days, but brought along our appetites and sampled quite a few!
Near the top of our to do (to eat??) list was Gusto Pizza, a casual & inexpensive place on the western edge of downtown, a block north of Grand Avenue. Rated as the best pizza in Des Moines and boasting some recent national press, this place serves fantastic pizza with creative (but not weird) topping combinations. We ordered their Spartacus Pizza, loaded with locally made Graziano sausage (more about them in a minute), mozzarella, and banana peppers. They serve sandwiches and salads here too, but go for the pizza, it's one of the better ones we've had!
For something very casual and uniquely Iowa, visit Smitty's Tenderloin Shop, a local institution since 1967. The tenderloin sandwiches here are like eating a hubcap on a bun, and we mean that in a good way. The pork is flattened, hand breaded to order, and served on a fresh bun with pickles and onions. Their onion rings are equally as good and if you're on a budget, you won't go wrong here … you'll be hard pressed to spend $20 for two. The Hawkeye State is known for their pork tenderloin sandwiches and you won't find many better than what they serves at Smitty's …
Another casual Des Moines classic is George The Chili King, an all American style place serving burgers, hot dogs and of course chili in a diner and car hop setting. Great for families, this place has been around since the early 1950's and if you like Coney dogs (hot dog with chili and cheese), don't ask questions, just stop here!
Even if you're not hungry, the shakes are fantastic too – try the strawberry or cherry. We loved it here – a really cool traditional place in the city with good food where you won't break the bank!
Downtown, we love the Court Avenue brewpub as mentioned above, and if you're visiting the farmers market, we found out their bar is open at 9 a.m.! A block away is the Hessen Haus, a beer hall with all kinds of German favorites like sauerkraut balls, beer cheese soup, goulash, and Schweine Flugel, which are tender bone in pork shanks. You're guaranteed a good time in here – beer drinking games are known to start spontaneously and the Hessen Haus is the headquarters of the Iowa Polka Music Hall of Fame. A great place to loosen up or liven up your group …

In the East Village, stop for a sweet treat at the creative Scenic Route Bakery, and while you're in town, stop on the south side's Union Street to visit Graziano Brothers market. It's less than five minutes from downtown and their delicious Italian sausage is served at restaurants all over Des Moines. We were sold the instant we tried it at Gusto Pizza, and made it a point to visit.
Graziano Brothers has been around since 1912 and you'll find a wide array of house made sausages, cheese, meat, pasta, and desserts. Try the Medium Hot or Sweet Italian Sausage – we can't decide which one we like better!
Bottom line … if you like to eat, you'll love Des Moines!
Summary & Learn More About Des Moines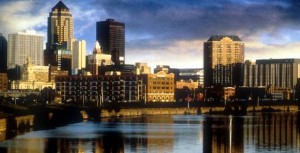 We've been to Des Moines several times over the years, but this had to be our absolute favorite visit. Even though we only spent two days here, we covered a lot of ground. You can too – the city is easy to get around and two of the most fun destinations – the East Village and the Court Avenue District – are just minutes apart. Iowa's capital is easy to walk, so get out there and explore, get some exercise and fresh air, and immerse yourself into this underrated Midwestern city …
Whatever you like to see and do on your long weekends, Des Moines has it! Anywhere you live in middle America, this city is within easy reach. The people are friendly and there's a small town vibe you'll notice wherever you go. We loved visiting here and we're confident you will too!
For more in depth information about Des Moines, including where to stay and attractions in and around the city, visit the very helpful Catch Des Moines website. There you'll find the latest edition of their visitor guide, helpful maps, suggested itineraries, and much more.
Have a great time!