Made In Montana Quick Facts
This Post is about Made in Montana Gifts and Specialty Montana Products
Want To See Your Business / Products On Our Made In Montana Page?
Visit "Advertise With Us"!
FEATURED MADE IN

MONTANA

BUSINESS

ES
Montana Gemstone Jewelry: The Treasure State named two state gemstones, sapphire and agate, both of which are found in certain sections of the state. Jewelry using a state's gemstone is one of our favorite recommended gifts … ideal for a native of the state or as a special memento of a visit …
Montana Gems of Philipsburg creates rings, pendants, and other jewelry crafted from both Montana agates and sapphires. They're located adjacent to the Gem Mountain sapphire deposit in Montana, in between Yellowstone and Glacier National Park …
Montana agate is a very durable stone, so you can be sure your jewelry will be enjoyed for years to come. Agate contains a large percentage of quartz, one of the strongest stones on earth. As you can see from the picture, the stone offers beautiful earth tones with unique and interesting patterns. Visit Montana Gems online or in person at their shop in historic Philipsburg, one of the state's most charming towns …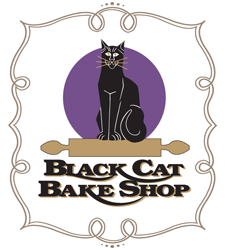 Black Cat Bake Shop: Since 1997, Christy and Jack Wich's Black Cat Bake Shop has been the go to spot in Missoula for fresh baked treats. Formerly based in the basement of their home, the bakery has been located on West Broadway Street since 2010. The bakery is particularly famous for their stollen, a German style sweet loaf cake made with fruit, spices, brandy, or rum …
Featured recently in Epicurious, Black Cat Bake Shop also features coffee cakes, including a Montana specialty, Wild Huckleberry Sour Cream. Coconut Macaroons and their specialty granola is also available for online purchase – a little bit of everything!
If you're traveling through Missoula, stop in at the bakery in the heart of downtown. In the meantime visit them online for a freshly baked sample from Big Sky Country!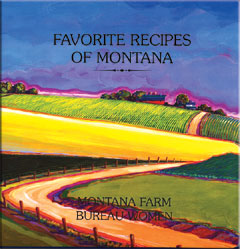 Favorite Recipes of Montana: We're in the process of compiling state recipe cookbooks from all over America and recently found the perfect volume for The Treasure State …
It's called Favorite Recipes of Montana and it's a collection of over 700 recipes from across the state. Put together by the Women's Farm Bureau Leadership Committee, this book contains all sort of recipes that are sure to warm the hearts of any Montanan …
Whole Wheat Banana Bread, Ranch Meatballs & Pan Gravy, Crock Pot Elk, and Cowpoke Beans are just a few of the representations you'll find in this edition. It's a perfect economical gift for anyone on your list that holds Montana near and dear to their heart!
Purchase it directly from the site linked above – click on "Montana Recipes" and you'll be taken to the purchase page …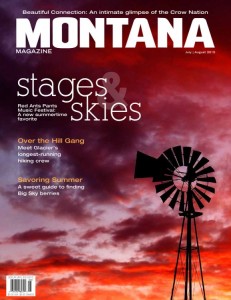 Montana Magazine: If you're looking for a sure to please economical gift for someone who loves the state of Montana, consider a gift subscription to Montana Magazine, the most comprehensive publication available covering this beautiful state and its citizens …
Published six times yearly, Montana Magazine offers beautiful photography, feature stories on travel within the state, current events, and feature stories on some of The Treasure State's most interesting people.
At their website, check out the "More of Montana" tab where you'll find interesting features like Love Letters To Montana, web cams, and features about vacationing here or moving to the state.
Continually published since 1970, a subscription to Montana Magazine is the perfect gift!
Montana Spice Trader: This small Stevensville, MT business develops flavors as big as The Treasure State … they blend the freshest natural ingredients to create a line of seasonings and rubs containing no MSG, chemicals, or fillers.
Whatever you like to cook or barbecue Montana Spice Trader offers a spice mix to kick things up a notch. They've got seven mixes in all, from Stevensville Rib Rub to a richly flavorful blend called Gunslinger that's great on steaks, chops, or burgers. This one's got some paprika, garlic, brown sugar, and a bit of coffee to really bring out the meat's flavor.
You can buy any of their mixes directly at their site, including the Montana Adventure Pack, which makes a great affordable gift. It contains a sample of each of Montana Spice Trader seasonings and rubs, as well as recipes to help get your culinary wheels spinning …
Click through to place your order and taste the spirit of Montana!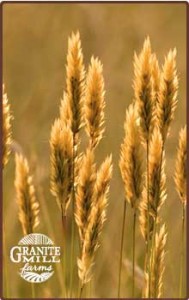 Granite Mill Farms: We're pleased to introduce you to this family owned business located in Trout Creek, a small western Montana hamlet located not far from the Idaho border. Granite Mill Farms grows and mills organic grain which is sprouted and dried before the milling process takes place, making it more easily digestible – an important consideration for those with gluten intolerance or other digestion issues.
Owned and operated by Wendell & Lisa Beachy, some of the company's products include Hard Red Wheat Flour, Spelt Flour, Barley Flour, Hard White Wheat Berries, and more. You can order right from their website in handy sized quantities if you want to experiment and judge the difference sprouted flour makes in your baking. While sprouted wheat is not gluten free, it offers a very low starch content and is quite often tolerable for those on a gluten free diet.
Sprouted wheat also offers a low glycemic index, important for those with diabetic concerns. It allows the blood sugar to remain stable vs. the troublesome "spike" often associated with consuming starches and baked goods.
Check out the Granite Mill Farms website to discover more facts about sprouted grain along with handy recipes using their flour products. You can order directly at the site via PayPal and they'll ship right to your door. Healthy and made in Montana!
Big Sky Soap Shop: We love exploring Etsy – it's a great place to find unique handcrafted products that are locally made and reflect the personal pride of the business owner. It's also a perfect site to find home made all natural soaps, which are so much better for your skin than the mass produced varieties …
One such small business owner who showcases her pure, natural, nourishing soaps on Etsy is Stacy Allee of Billings, whose company is known as the Big Sky Soap Shop. Stacy creates a line of products free from chemicals or any artificial ingredients – only the ingredients nature intended to help nourish and revitalize your skin.
Some of the soothing scents include Peppermint & Lavender, Eucalyptus & Fir Needle, and Grapefruit, Calendula, & Safflower. Stacy also offers natural lip balm, shaving soap, and handsome redwood soap decks to help prolong the life of each bar …
We've used handmade natural soaps for years and wouldn't dream of going back to standard retail soaps. Not only are soaps like those from Big Sky Soap Shop better for your skin and deeper cleansing, they also last longer! Try them … you'll discover what you've been missing!
Click through to Stacy's shop for some great gifts for yourself or someone special in your life …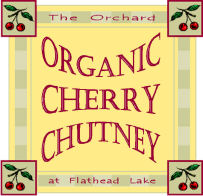 The Orchard at Flathead Lake: One of the many beautiful places in The Treasure State, Flathead Lake is situated in the shadow of Glacier National Park on the western slope of the Rocky Mountains. The lake's location and unique geographical conditions help form a micro climate where fruit grows in abundance. It's a particularly prolific area to grow cherries, along with apples, peaches, plums, raspberries, and more …
The Orchard at Flathead Lake is well known for their orchard of cherry trees in particular. From their bountiful harvest, the Orchard produces cherry related products like chutney, jam, and barbecue sauce along with other food specialties made from their local fruit.
Available in limited quantities and sometimes according to the season, you can purchase them via the Orchard's website. The fruit grown here is organic, ensuring a fresh, clean flavor you'll long remember!
Click through to their site to learn more and order – great flavors from Montana!
Klind Pottery: We love featuring local pottery studios here on State Gifts USA – the talented artists who create these beautiful and functional pieces are usually inspired by their surroundings, which assures you of a truly local gift or remembrance for your home …
Further, pottery can be passed down from generation to generation and become beloved family heirlooms. Durable and attractive, pottery is literally made from the local soil and serves as a lasting memory of a special time and place. Located along Highway 2 in Hinsdale, MT Klind Pottery offers a wide array of special pieces for your home or that of a loved one.
All of Klind Pottery's works are microwave and dishwasher safe, and feature scratch free bottoms. We're really impressed with their Made in Montana Collection, featuring honey pots, pitchers, jars, and more …
You can order any of their stoneware online at the Klind Pottery online store. Give a very special Made in Montana gift that will bring your gift recipient joy for decades!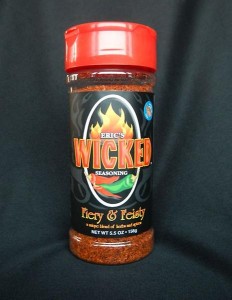 Wicked Seasoning: Eric Anderson of Great Falls is an anesthesiologist by trade, but he's also got a nice little side business going with help from his wife. As many great ideas do, this one started in the family kitchen. Eric wanted some spice with a little heat to add to a dish he was making, and the end result became Eric's Wicked Seasoning, an all purpose spice mixture that does indeed offer heat, but not too much to overwhelm your food …
This incredibly versatile spice mix can be used on breakfast dishes, stews, tacos, stir fry platters, just about anything you cook where a bit of heat brings out the flavor. It's available in many retail locations in both Montana and Washington and slowly expanding.
The Andersons don't mix Wicked Seasoning in their own kitchen any more … they use a local commercial kitchen to do that but still bottle everything themselves. If you're not out in the Great Northwest, check out their website to learn more and to order. Give the gift of seasoning, direct from The Treasure State!
Gem Mountain Sapphire Mine & Store: The sapphire is one of two official Montana state gemstones, and in fact, one of the mountain ranges in The Treasure State is the Sapphire Mountains. It's probably no surprise then that an actual sapphire mine exists in the state, but unlike many other mining operations, the Gem Mountain Sapphire Mine is open to the public.
The mine is located about halfway between Yellowstone and Glacier National Parks, not far from the historic town of Philipsburg. This quaint town of less than 1,000 residents is where you'll find the oldest continually operating theater in the state, The Opera House Theatre. Philipsburg is also the home of the Gem Mountain retail store, which offers sapphire jewelry, gemstones, and other unique gifts.
Sapphires have been mined in this area since the 1890's. Visitors to the mine, which is open seasonally, can actually mine for these gems and keep what they uncover. Gravel buckets taken from the mountains are sold and shipped by their retail store. You can actually do some sapphire mining at home! The buckets are guaranteed to contain certain amounts of the gems – check their site for specific details.
One of the most unique Montana themed gifts available on the internet!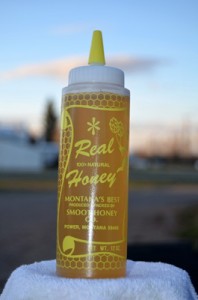 Smoot Honey Company: Here at State Gifts USA, we thoroughly enjoy tasting honey made in different states. A honey's flavor is predicated on what type of flowers they pollinate, so much like wine, honey offers a different flavor profile depending on where it's produced.
The north central area of Montana is well known for excellent honey – there's an ample supply of clover and alfalfa. The end result is a light colored, sweet honey that's a real taste treat right from the bottle or spread on your favorite baked goods. The production of Smoot Honey is the best type you can buy – all natural, unprocessed, and only filtered to remove inedibles like wax or bee parts.
A natural health food, honey is ideal as an energy booster. It also helps promote better sleep patterns and is known to help moderate blood sugar levels and high blood pressure. Not to mention it tastes good!
You can order honey from north central Montana directly at the Smoot website – a truly local gift!

Western Trails Food: Located in Glendive and specializing in mixes created with Montana grown barley, Western Trails Food packages soup mixes, bread mixes, and more. The company is very proud to use Montana grown ingredients in their mixes, and we're proud to feature them here at State Gifts USA!
Barley is a very beneficial and healthy grain – it is high in fiber, protein, and helps lower cholesterol levels. You can use barley as a healthier substitute for white rice and it's also excellent when used as a stuffing. And unlike rice, it freezes well if you want to use it at a later date …
Western Trails Food's product line includes waffle and flapjack mixes as well as a few Montana specialties. Their Niterider Chili Mix features locally grown pinto beans and the Hucklebuddy Flapjack Mix features purple barley flour and makes lavender pancakes! If you like to cook with barley (or would like to learn), they offer a variety of barley and packaged barley flour. Instructions are included and there are many appealing recipes on their website …
The company also makes a variety of bread mixes and don't forget to order a jar or two of Rustler Bean & Meat Sauce – ideal for creating an easy to prepare side dish. Great gift ideas and proudly made in The Treasure State!
Alpine Valley Kitchen: Located in the small community of Trego in the far northwestern corner of the state, Alpine Valley Kitchen is turning out some uniquely Montana products. Syrups, jams, toppings, candies, and baked goods comprise their offerings which feature flavors beloved in this area …
Starting with their baked goods, Alpine Valley Kitchen creates double crust and crumble top pies in varieties you don't often see like Marionberry and Huckleberry. They can be ordered already baked or unbaked and frozen. Cheesecake and a variety of artisan breads are also available …
Syrups and jams include flavors like Huckleberry and a combination of cherries and huckleberries called Chuckleberry. Marionberry and Huckleberry syrups are available, as well as similar varieties of toppings best served over ice cream or baked treats …
Be sure to check Alpine Valley Kitchen's Chocolates and Candies section of their website for a wide variety of treats like Western themed candy bars in milk or dark chocolate, Huckleberry Bark Candy, Cowboy Caramels, Fudge, and more. Several gift basket options can be ordered and they'll ship right to your door!
Tasty treats from Trego! Great gifts from Montana for anyone on your list …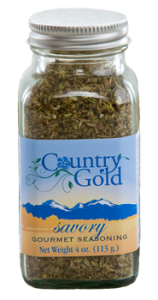 Country Gold Gourmet Seasoning: Developed in Montana's Rocky Mountain country from a generations old recipe, Country Gold is an all purpose seasoning you can use on just about anything. Beef, pork roast, fish, tacos, stews, soups, and more all fare better with this all in one spice mixture …
Country Gold Gourmet Seasoning is made with sea salt, garlic powder, lemon pepper, and a propriety blend of spices. Sprinkle a bit on your foods before grilling or roasting, then use it as a finishing spice before serving. Try it on cold salads like cole slaw, potato salad, and chicken salad to bring out the flavors and add it to your stews and soups too!
Based in beautiful Stevensville, Country Gold Savory Spice is sold directly on their website at the online Spice Shop. A bottle or two makes an economical Montana themed gift!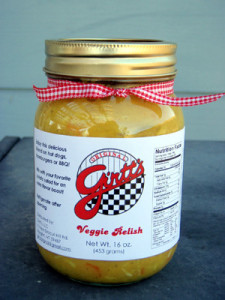 Girtt's Mixes & Condiments: Girtt's is a small company making a variety of baking and cooking mixes and condiments based in Vaughn, MT. Vaughn is a small town in the north central part of The Treasure State, just west of Great Falls …
At the Girtt's website, you'll see some of their easy to use mixes like dessert and baking mixes, dip mixes, and mixes for bread dips. We'd like to call your attention to one of their condiments – their Veggie Relish (shown). A neighbor of ours who occasionally travels to Montana brought us back a jar as part of a thank you gift for watching his dog. It's a mix of chopped vegetables and mustard … the description suggests using it on hot dogs, hamburgers, barbecue pork, and potato salad. Well, we followed the suggestion and used it on all the above. It is fantastic!
Girtt's also makes spicy pickled beets (another of our favorites!) and a hushpuppy mix that turned out the best and lightest hushpuppies we ever made. We wish all our thank you gifts tasted this good!
Girtt's also puts together gift baskets of their products, which you can order along with individual mixes or their relish and beets directly from their site. Definitely recommended … enjoy!
Yellowstone Agate Jewelry: Based in Livingston, MT near the Yellowstone River, Yellowstone Agate Jewelry is a small business owned and operated by Paul and Patricia Gates. Drawn to the area for its world class trout fishing, the couple became enchanted with the beautiful Montana Agate and other native stones they found in the bed of the river …
Montana Agate is one of two state gemstones. Part of the quartz family, Montana Agates offer striking colors and patterns. They're ideal for jewelry makers because they are a durable, hard stone that retains their luster with minimal care.
Yellowstone Agate Jewelry handcrafts these beautiful gemstones into one of a kind pieces of jewelry. Necklaces, earrings, pendants, and more are available directly from their website. A wonderful souvenir from The Treasure State, these wearable works of art are also an ideal gift for the special someone on your list who has a soft spot for Montana …
Click through to the Yellowstone Agate Jewelry website to view the entire collection and own one for yourself or a loved one!
Glacier County Honey: Greg Fullerton grew up around the beekeeping business – his dad founded the Chief Mountain Honey Company in the 1970's. Now Greg and his wife Courtney own the Glacier County Honey Company, located just outside Glacier National Park. The company is a producer of honey, beeswax products, candles, ornaments, and fun accessories …
We are big advocates of local honey – we buy it wherever we travel in the United States and enjoy experiencing the subtle flavor differences of honey made in different parts of the country. Raw non pasteurized honey is extremely good for you! It's a natural source of energy, aids digestion, and offers numerous other health benefits …
If you enjoy trying different honeys, Glacier County Honey is a great place to buy Montana made honey online. It's available at their website in various sizes and varieties, including honey sticks and comb style honey. While you're there, take a look at all the company's other products – great gifts from Montana!
Montana Toffee Company: This Montana based small company is owned and operated by Christine Copple, who makes each batch of her toffee and sweets with the finest quality all natural ingredients, like pure cane sugar, rich chocolate, and creamery butter …
One of Christine's products that caught our eye is her Huckleberry Toffee. Huckleberries grow wild primarily in the northwestern states and this toffee is made with 100% Montana huckleberries – a true taste of The Treasure State! It's available at her site in six ounce bags or 1/2 and one pound tins (go for the one pound size!) …
Any of the Montana Toffee products can be shipped anywhere in the country – check out their site for details!
Granrud's Lefse: If you're of Scandinavian heritage, you probably know what lefse is, but if not, it's a type of flatbread made with flour and milk or cream and cooked on a griddle. Often, potatoes are used to create a thicker flour, and lefse is served on its own or as an accompaniment with fish or flavored with cinnamon or fruit jellies. Lefse can be served for any meal of the day and is sometimes compared to a tortilla …
Lefse is very popular in the northern plains states, and one of the prominent makers of this traditional dish is Granrud's Lefse in the small Montana town of Opheim. The town is located in northeast Montana not far from the Canadian border …
Granrud's is one of the very few places in America that sell and ship lefse via mail order. At their site, you can buy 1/2 or one pound packages of lefse, or by the case. They're shipped frozen and can be thawed and eaten after heating. You can keep them fresh in your refrigerator for about a week, and if you keep them frozen they'll last for several months …
To learn more about this unique delicacy and to order, visit the Granrud's website …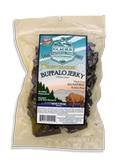 Silent Creations Buffalo Products: This small Ronan, MT company is owned by Matthew Silent Thunder, a Mescalero Apache who has been creating his signature buffalo jerky for over ten years. Mesquite smoked and very lean, buffalo jerky is a very healthy snack – it's high in protein, low in cholesterol and fat, and exceptionally tasty!
Silent Creations Buffalo Jerky is available online in six different flavors – Original, Habanero, Crushed Red Pepper, Black Pepper, Teriyaki, and special recipe Glacier Centennial. A true taste of The Treasure State!
To order, visit their website at IndianBuffaloJerky.com …
Montana Wreaths: Here's a very unique Made in Montana gift idea – a wreath made from fir and cedar trees from just north of Missoula …
Wreaths, of course, are traditionally displayed around the holiday season but are also an exceptional gift any time of year. Each wreath if processed at the peak of freshness and packed in its own special gift box. They're very fragrant with the fresh scent of the Montana outdoors!
Montana Wreaths ships anywhere in the country, and several different styles and designs are offered.
An ideal holiday gift as well as a unique, natural hand crafted item from The Treasure State!

Rook's Hot Sauce: This small Missoula company was born in 2011 when founder and owner Bryce Rook was watching a feature about ghost peppers on The History Channel. Intrigued, Bryce began experimenting with using the hot peppers in a sauce. Lo and behold, Rook's Hot Sauce was born!
The ghost peppers is one of the hottest peppers you can find, and while Rook's Hot Sauce is indeed hot, it doesn't lack in flavor whatsoever!
The heat and mixture of spices and other ingredients meld very well together, and you can use Rook's on anything from scrambled eggs to stews to stir fry dishes. It adds a jolt of smoky heat and real depth of flavor …
You can buy Rook's Hot Sauce directly at their online store in single bottles, two packs, or cases.
We recommend getting the two pack – you'll get a little discount, and if you're buying Rook's as a gift, you get to keep a bottle for yourself!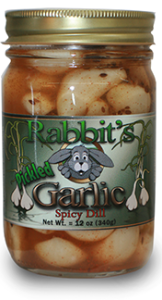 Rabbit's Pickled Garlic: We've been wanting to feature Rabbit's Pickled Garlic on State Gifts USA for a few months, and now that their website has been updated to include online ordering, here they are!
You'll often see fresh garlic at the grocery store, but it's not often you see pickled garlic. We've been eating flavored pickled garlic for years – it's a real treat and garlic is exceptionally good for you!
Rabbit's Pickled Garlic comes in five different flavors and a jar or two makes a great produced-in-Montana gift for anyone on your list. Choose from Smoked Garlic, Spicy Dill, Chipotle, Habanero, and Habanero Dill. You can mix or match too!
There are a couple dozen interesting recipes on the Rabbit's Pickled Garlic website, including a great one for a garlic appetizer dip. If you've never tried it, pickled garlic is great right out of the jar!
Click through to their site to order and get your pickled garlic fix!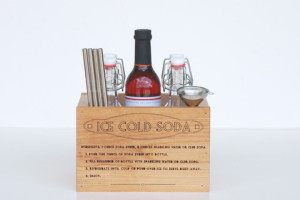 Meriwether of Montana: This artisan crafting and design company is producing some really cool products in Whitefish, a beautiful town at the doorstep of Glacier National Park …
Combining a passion for outdoors with an equally strong passion for design, the company handcrafts a remarkable line of accessories for use anywhere in your home. On the Meriwether of Montana website, you'll find unique and practical items for home decor, kitchen, bath, entertaining, and more. Pictured is the fun Old Fashioned Soda Kit, which contains everything you need to create your own infused soda, from bottles to soda syrup to a funnel for blending. The kit even has stainless steel straws to help you enjoy the fruits of your labor!
Visit their website and you'll see dozens and dozens of other interesting creations, like an engraved cedar bath mat to a vintage inspired coffee mill. If you're stuck for a gift idea, Meriwether of Montana has something creative for anyone on your list!
An interesting company creating wonderful products from a beautiful area of Montana!
Montana Redneck Sauce Company: The Montana Redneck Sauce Company is a family owned business making sauces, rubs, and specialty jellies. The recipes have a southern influence as that's where the owners spent their formative years before relocating back to their Montana roots …
We particularly like one of their sauces called Wild Thang, which is called a wild game and steak sauce. We used it as a marinade and dipping sauce and mixed a bit in to one of our stir fry dishes with great results. It's actually intended to be an overnight marinade … the instructions say to brush it on your meat and refrigerate overnight. You can do that of course, or just use it as a sauce on the side or added as a flavorful ingredient to your cooking …
Wild Thang has a sweet and spicy taste, with just a little bit of heat. If you like things a little hotter, try some of their other sauces and jellies!
Discover everything they're doing at the Montana Red Neck Sauce website …
Montana Grassland Mixes: Based in Nashua, MT this small company creates package dry mixes based on ranch style cooking. They're packaged in colorful bags with western themed labels evoking the spirit of the Treasure State …
Some of their easy to prepare mixes include traditional fry bread mix, biscuit and pancake mixes, and several mixes to make Bannock bread. Bannock bread is an old camp style bread, made with the most basic of ingredients and buried in the ground in a Dutch oven until done. This particular mix is more user friendly though! Just use a cookie sheet and place in the oven for 20 minutes for hot, fresh bread …
Montana Grassland Mixes offers many unique mixes to bring the flavor of Montana to your table. There are also several gift boxes available like the one shown … check out their site for all the details.
Montana Valley Hams: Helena's Montana Valley Hams have been a holiday tradition for over 30 years to residents of the capital city area and well beyond. These hams are glazed and vacuum packed to retain all its fresh, tender taste …
A great gift, they're very easy to prepare. You can order either full hams or half hams, and all it takes is warming in the oven in accordance with instructions. The full hams are about 10-12 pounds and the half hams approximately 4-6 pounds …
Be sure to order some extra Montana Valley Ham Glaze! You can choose the day you need your order to ship, and their website offers helpful shipping guidelines and several recipes – enjoy a wonderful Montana ham any time of year!
Montana Monster Munchies: This Bozeman company is in the cookie business … the certified gluten free cookie business to be exact!
Montana Monster Munchies creates two all natural cookies, original flavor and with raisins. One look at the ingredients tells you these are indeed all natural – the original flavor contains whole grain oats, sugar, peanut butter, chocolate chips, butter, eggs, water, and baking soda.
The company has specialized in corporate gift giving for almost 25 years … you can order the cookies individually wrapped or in larger sizes. Special gift boxes are also available like the one shown.
Check out their site to discover more! Visit them at MTMonsterMunchies.com …
History of Montana
Montana Trivia and Fun Facts

1). Montana contains 56 counties, and the vast majority have a population density of less than 6 people per square mile …

2). Flathead Lake in northwest Montana is the largest freshwater lake in the western United States …

3). The highest point in the state is Granite Peak, 12,799 feet high …

4). The official state animal of Montana is the Grizzly Bear. It is recognized there are more of these bears here than in any other state besides Alaska …

5). Much of the population of Butte is Irish-American, and it is said the annual St. Patrick's Day party in Butte is one of the best parties in the state …

6). Montana is home to seven Native American Indian Reservations …

7). A person from Montana is known as a "Montanan" …

 
Mustard Seed Sauces and Dressings: Montana is home to a couple of well known Asian themed restaurant mini chains, the Mustard Seed Asian Cafe and Noodle Express Asian Bowls. At these restaurants, signature sauces are used in the cuisine and the company introduced them to the online and retail market so more people could enjoy their distinctive flavors …
Four distinct sauces and dressings are available … Asian Oil and Vinegar, Teriyaki Grill Sauce, Ginger Dressing, and our personal favorite, Osaka Sauce. A friend of ours brought us back a bottle from the Treasure State and suggested we use it on rice dishes. It is excellent! Quite often we'll cook up a cup of rice, slice a few green onions, and mix in some Osaka Sauce for a quick and satisfying meal …
You can order all four sauces in a variety pack from the Mustard Seed Sauce and Dressing website, or you can order four bottle packs of individual sauce, or cases of twelve …
Don't be surprised if you hear yourself saying, "Pass the Osaka Sauce, please!".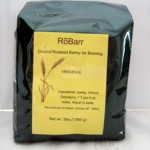 Robarr Roasted Barley Coffee Substitute: Here's a Montana company making a really interesting product … it's called Robarr, and it's a roasted barley warm drink you can make just like coffee …
Robarr is made from local barley which is roasted and packaged. It has a taste somewhere in between coffee and tea, but it's caffeine free and lacking in the acids you'll find in coffee drinks.
It's also better for your teeth and gums, and quite a bit less expensive than coffee … a pound costs about six dollars as opposed to almost twice that much for a pound of specialty coffee.
You can order samples at the Robarr website in addition to larger sizes of their several varieties. Check out their site for more details …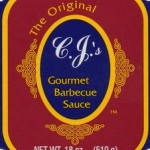 CJ's Gourmet Barbecue Sauce: Located in Thompson Falls, MT CJ's has been making their gourmet barbecue sauces for 15 years.
Like Montana itself, their flagship original sauce is big, bold, and full of flavor …
CJ's makes several varieties of BBQ sauce, all of which you can order from their online store.
Besides the original, you can get extra spicy, hickory, mesquite, habanero, teriyaki, and raspberry.
They're available in either pints of quarts … enjoy the taste of Montana barbecue!
Parker's Hangover Tonic: Made in Ulm, MT this isn't really a tonic as much as it is a great Bloody Mary and Bloody Caesar drink mix … but it's much more than just that!
With a slogan like "When You Feel Dead, It'll Clear Your Head", you'd be right on the mark if you'd expect a spicy, eye opening experience with Parker's Hangover Tonic. Yes, it'll definitely make you more clear headed, although it's not overwhelmingly spicy at all.
Use it as a drink mixer, with or without alcohol, or use it in recipes or as an excellent red meat marinade. They have a whole bunch of intriguing recipes on the Parker's Hangover Tonic website which will keep you busy with this stuff for a while!
To try and buy, just click on the "storefront" link on the first page of their site …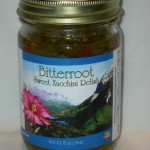 Montana Sweet Zucchini Relish: Western Montana Specialty Foods of Superior, MT is primarily a one woman operation. Mary Ippisch made a zucchini based sweet relish for her two sons who prodded their mom into selling the relish they loved so much to consumers in Montana and online …
The product is called Bitterroot Sweet Zucchini Relish and is made with locally grown zucchini, a special spice mix, and sweetened red pepper all together in a brine. The bitterroot is actually Montana's state flower and adorns the label, as you can see from the product picture …
The relish is great on crackers or in salad dressings and you can use it just like pickle relish. It's a nice taste sensation on hot dogs and hamburgers too!
You can buy a few jars online at Montana Specialty Foods where you'll find the sweet style as well as a dill style zucchini relish …
Cream of the West: Cream of the West is Montana's hot breakfast cereal … not to be confused with Cream of Wheat. Cream of the West is made with 100% organic Montana grains like red wheat, barley, and oats. There are several varieties; the company has been around almost 100 years and Cream of the West is a staple on Treasure State breakfast tables …
The most popular variety is Roasted Wheat, which is made with red spring wheat. Red spring wheat is very low in fat and high in fiber. This hot cereal has actually been dubbed "cowboy porridge" because it's a common hot breakfast for ranch hands and field workers …
Cream of the West is easy to cook – only three minutes on the stove top or microwave. You can order any of their products online, which include not only hot cereals, but snack mixes and other snack foods as well …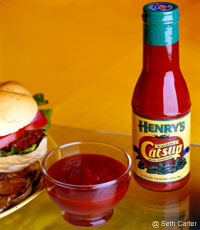 Henry's Catsup: So what is the big deal about ketchup (or catsup, if you prefer)??
Well, nothing really. That is unless you've ever had watery, overly perfume smelling catsup that tastes more like water and tomatoes than a sturdy, hardy condiment that stands up to your burger and fries …
Introducing Henry's Catsup, made in Bozeman. It's a rich blend of local tomatoes, apple cider vinegar, onions, spices, and sugar. It has a pleasantly sweet flavor you'll go back to again and again!
A friend of ours who travels to Montana brought us back a bottle, and now we can't wait until he goes back to Montana again! Call it ketchup or catsup, but this stuff is way better than any of the name brands on your grocery store's shelf.
Give yourself a real Montana treat and order some from their website, linked above …

Huckleberry Haven: Located just outside of Glacier National Park in northwest Montana since 1987, Huckleberry Haven produces hundreds of gourmet specialty foods like jams, jellies, sauces, syrups, and more. They also make a line of bath and body products using local ingredients, specifically wild harvested berries that grow in this part of the country …
We particularly like some of their dessert toppings made with wild huckleberries and chokecherries. It's great over ice cream, pound cake, or drizzled over fresh fruit. The company makes products using just about every type of wild berry they can harvest in the area. In fact, most of the berries are picked by hand because no means of commercial harvesting has proven effective. Enjoy these wild berry products for yourself or as a Montana themed gift … you can order online at HuckleberryHaven.com …
Alpine Touch: Alpine Touch is a spice company that has been around since 1947 and is best known for its all purpose spice blend …
It's called Alpine Touch and is nicknamed "Montana's Special Spice", and it makes a great gift from The Treasure State …
The company is located in Choteau, MT and makes several different blends of spices. We like the original all purpose seasoning as well as the lemon pepper variety.
Use them like you would any other spice blend … to liven up grilled meats, in cold salads, or as a rub. The lemon pepper seasoning is fantastic on potato salad!
You can buy any of these spices individually or in gift packs at the Alpine Touch Spices site … it's the perfect Montana gift which anyone will appreciate!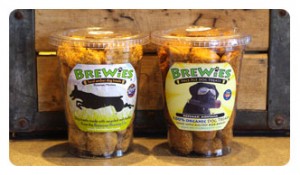 Brewies Biscuits: Don't forget about your four legged friends while seeking a gift from Montana!
Based in Bozeman, Brewies makes all natural, beer inspired dog treats. They're actually made from spent grains from the home brewing process … in fact two of the dog treats they produce are Brewies Organic Pale Ale and Brewies Local Amber Ale.
The spent grains are combined with other natural ingredients for a taste dogs can't resist. We bought some from Dog Patch Pet Store in Naperville, IL and our neighborhood dog friends loved them!
You can order online via PayPal at the Brewies Biscuits site …
Red Gate Garlic: Did you know Montana is notable for the quality of their garlic crop? Neither did we!
Regardless, the glacial soil in Montana is ideal for growing garlic. Red Gate Garlic farms their garlic in Stevensville, about a half hour south of Missoula in the western part of the state.
Red Gate Garlic's online store sells garlic seed for planting, garlic scape, and whole bulbs of garlic by the pound. You'll be amazed at how much better ultra fresh garlic tastes versus store bought, which many times is imported from other parts of the world.
Even if you're not in the market to buy fresh garlic, check out their site. They offer several different garlic varieties, and it's interesting to learn about all the taste profiles and uses …

9 Fingers Mustard: Curt Reimann of Columbus, MT has been making mustard for over 60 years, based on a German mustard recipe taught by his father. A sweet and hot mustard, 9 Fingers Mustard has been produced in Montana for decades and is a local treasure …
The name derived from Curt's own experience. He lost a finger on his right hand in a truck accident many years ago, so the mustard's slogan is "If 10 is perfect, nine is as close to perfect as you can get!" Bravo, Curt!
Curt is not only a mustard maker, but also owner of a tavern, a pizza restaurant, and a Montana casino. His customers actually use 9 Fingers Mustard on their pizza! You can order the mustard online at the 9 Fingers site linked above …
Bequet Gourmet Caramels: Located in Bozeman, Bequet Confections produces a line of gourmet caramels. Owner Robin Bequet opened the company in 2001 with the encouragement of friends and families who had always enjoyed her home made caramels …
Various sizes and styles of gift boxes are available from the Bequet Confections online store. When an order is placed, the caramels are made, so you can be assured you're getting (or giving) the freshest of the fresh. Eleven different flavors are available to you … try the soft vanilla butter caramels.
They'll stay fresh when stored at room temperature for three months … but it's a challenge to have them last that long!
Huckleberry Patch Huckleberry Pies: The Huckleberry Patch is a producer of everything huckleberry, the wild purple berry that is picked by hand in the northern Rocky Mountain region of western Montana …
Huckleberry Patch will ship huckleberry pies as well as other products made with this tough to find berry … like preserves, syrup, pie filling, and honey. They even make bath and body products using huckleberries, like lip balm, hand cream, and scented candles …
You can order any number of huckleberry related products by visiting HuckleberryPatch.com …
Glacier County Honey Company: Glacier County Honey is a small family owned firm run by Greg and Courtney Fullerton of Babb, Mt. bordering Glacier National Park …
They sell 100% pure, raw, natural honey in honey sticks, comb honey, and table honey. You can also buy beeswax candles, ornaments, and fashion accessories. Pictured is one of their beautiful gift boxes, appropriately named the "Queen Bee Gift Box" which includes two types of honey and a pine cone beeswax candle …
You can shop online for a true gift from Montana at Glacier County Honey.
We've got a whole lot more Montana made products to add, but in the meantime, tell us about your favorites! Add your comment via our Contact Us page …