Made In Arizona Quick Facts
See Our "Visiting Phoenix" Travelogue … Scroll Down
This Post is about Made in Arizona Gifts and Specialty Arizona Products
Want To See Your Business / Products On Our Made In Arizona Page?
Visit "Advertise With Us"!
FEATURED MADE IN A

RIZONA

BUSINESS

ES
Verdegal Ceramics: Of all the scenic locales in The Grand Canyon State, beautiful Sedona sits at or near the top of the list. If you've ever experienced a sunrise or sunset surrounded by Sedona's one of a kind red rock vistas, you know exactly what we mean …
We love introducing our readers to small businesses whose handiwork captures the essence of their home state. Discover the essence of Sedona through the handiwork of Verdegal Ceramics, owned and operated by talented Arizona native Stephanie Sexton …
Stephanie captures the spirit of Sedona with handmade dinnerware and gorgeous stoneware Red Rock mugs (shown). An ideal Made in Arizona gift, each piece is microwave safe and ready for daily and special occasion use. At her private studio just outside Sedona, Stephanie paints scenes of famous Red Rock formations, including Bell Rock / Courthouse Butte, Red Rock Crossing, and more …
Most small businesses have an interesting story how they began and blossomed, and Verdegal Ceramics is no exception. Stephanie found she had a natural knack for creating stoneware and decided to honor part of Arizona's landscape she holds dear to her heart. What started as a stress reliever sideline activity has now grown into a thriving Etsy business featuring some of Stephanie's best artistic efforts …
You'll be pleased to own a Verdegal Ceramics creation, or giving one or more as a Sedona themed gift for someone special. These durable mugs and dinnerware pieces will last for decades – a great idea for a generational gift!
Click through to the Verdegal Ceramics Etsy Shop, linked above, to view and purchase Stephanie's latest offerings. You can also learn more at the Verdegal Ceramics Facebook page …
We love spotlighting the local art of talented artists from all 50 states here at State Gifts USA and are especially pleased to introduce you to Verdegal Ceramics on our Made in Arizona page. Be sure to visit the Verdegal Ceramics Etsy Store to bring these beautiful stoneware pieces into your home!
MADE IN ARIZONA DESSERTS & SWEETS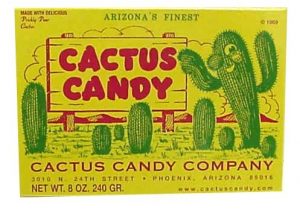 Cactus Candy Company: A tried and true Arizona souvenir, cactus candy is synonymous with The Grand Canyon State. You'll find it almost everywhere in the state, and if you've forgotten to buy a box on your trip, don't worry … you're sure to find it in airport stores!
Cactus candy has quite an interesting history. It has been produced since the early 1940's by the Cactus Candy Company. The Cactus Candy Company is actually a part of the Amelio C. Enterprises group, a Phoenix based specialty foods manufacturer …
The candy (and related products) are made from the fruit of the prickly pear cactus plant. It offers a distinctive sweet and pleasant flavor and everyone loves it! The company not only offers cactus candy, but prickly pear licorice twists, prickly pear marmalade, cactus candy lollipops, and more.
If you've got the urge and you don't live in Arizona, click through to their website, linked above, and place your order online …
Made in Arizona!
Untamed Confections: Situated south of Tucson and just west of the sprawling Coronado National Forest, Tubac is a thriving artist enclave and popular day trip destination for Arizonans and visitors alike.
This charming village is home to scores of unique independent shops offering art, home decor, and more. One of our favorite Tubac desitinations is Untamed Confections, a family run business who've made a name for themselves all across the country with their Arizona inspired confections and sweet treats …
This environmentally friendly business proudly creates a line of unique, flavorful confections that have customers returning again and again. A wide variety of caramels, chocolates, and "HoneyMallows" highlight the selections, all of which are made with a nod to organic ingredients and sustainable practices, from the fresh local ingredients to the attractive earth friendly packaging …
At the Untamed Confections website, you'll see these unique sweet treats for yourself. For a special Made in Arizona gift, opt for Carameleno Jalapeno, featuring spicy Jalapeno peppers blended with honey vanilla caramel. Another Grand Canyon State inspiration are the Desert Date Pecan Caramels (pictured), which combine organic Arizona dates and pecans with creamy organic vanilla honey caramel …
If you or someone you know loves chocolate, take a look at Untamed Confections offerings, particularly the gift box of Baby Desert Tortoises. It's the Sonoran Desert version of the famous "turtle" chocolates, offering a sublime blend of organic fair trade dark chocolate, fresh organic Arizona grown pecans, and desert wild flower honey organic vanilla caramel.
Baby Desert Tortoises make the perfect gift for any chocolate lover on your list … or just for yourself!
One of Untamed Confections "must try" specialties is their HoneyMallows, also pictured. A combination of local wild flower honey and light, fluffy marshmallows, they're available in several flavors … Orange, Vanilla, Peanut Butter, and any of these dipped in luscious dark chocolate.
And speaking of honey … did you know honey is the only sweetener used at Untamed Confections? Their caramels are made from Sonoran Desert wildflower honey, and their chocolate is Peruvian organic, tempered with honey. No refined sugar, corn syrup, or anything artificial … ever!
Even if you're not planning a visit to charming Tubac, not to worry, as Untamed Confections ships all across the United States and Canada. Warm weather shipping is available too, as are corporate gift options and wholesale opportunities …
Visit Untamed Confections online and indulge in the flavors of beautiful Arizona!
Fairytale Brownies: This Phoenix based company has been bringing happiness to people all over America through their delicious brownies since 1992. Their brownies, cookies, and bars are made with premium chocolate, farm fresh eggs, real butter, and cake flour. The company is known for putting together creative packages as thank you's, business occasions, office parties, holiday gifts, or just to offer warm and heartfelt greetings …
Owned and operated by two childhood friends, Fairytale Brownies is a one stop solution for anyone on your list. After all, who doesn't like brownies?? They come in a variety of flavors, like Caramel, Chocolate Chip, and Mint Chocolate just to name a few, and are available in different sizes too. Full size brownies, snack size, and bite size are perfect for any gathering …
Gift packages and boxes are waiting for your order … you can also customize a box to your specifications! Click through to their website to discover all your tasty options …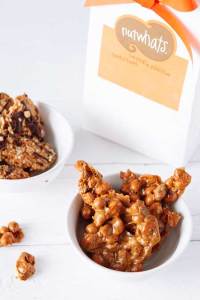 NutWhats: This Chandler based small company is creating some really interesting edibles that are similar to toffee or peanut brittle, but not quite …
Similar to a confectionery scramble, NutWhats are a combination of nuts with a sweet and crunchy texture all clustered together into little irregularly shaped nuggets. You have to see (and taste) them to know what we mean! They're ideal for a mid afternoon snack, although you can eat them any time of day. They're best described as a sweet, slightly chewy, slightly crunchy treat – perfect for dessert or any time you want something delicious!
NutWhats come in eight different varieties like Pecan, Almond, Jalapeno Beer, and Green Chile Beer. The company also makes a line of confections called NutWhat Scribbles. There are five flavors, each "scribbled" with chocolate – they include Cashew Coconut, Cinna Walnut Oat, Bacon Pecan, Peanut Pretzel, and Pecan.
In the Phoenix area, you can find NutWhats in Whole Foods and AJ's Fine Food stores, or you can order directly at their website. They've also got corporate gift programs, specialty boxes, and bulk orders for office parties or gatherings. We bought some locally in Chandler on our most recent visit – they're delicious and definitely one of a kind!
MADE IN ARIZONA GIFTS
Genuine Sedona Red Rock Sand: As Arizonans know, Sedona is one of the most beautiful places in the state. Appealing to visitors of all ages, the magnificent world class scenery here in unrivaled not only in Arizona but anywhere in America …
If you love Sedona, why not own an actual part of the land (or give as a gift) … introducing actual vials of Genuine Sedona Red Rock sand, packaged in eithr large or small sizes. Collected from the famous Boynton Canyon, it's the perfect souvenir or gift from this one of a kind area.
Each plastic tube is labeled with Bell Rock, and the large tube measures 6 1/2 inches tall and 1/2 inch in diameter. Click Here to Order Genuine Sedona Red Rock Sand online … own an actual piece of Arizona!
Pie Town Soap Company: If you've been following State Gifts USA for any length of time, you're well aware of our passion for natural handmade soaps. Natural soaps are so much better for your skin as opposed to mass produced big box store varieties – in addition to helping keep your skin soft and younger looking, they're longer lasting too …
That's why we were pleased to discover a small Sedona, AZ based business owned by the very creative and accomplished Vyktoria Keating called Pie Town Soap Company. Vyktoria, a former award winning musician and touring artist, personally creates a vibrant line of soaps, aromatherapy items, and natural bath and body products that make wonderful gifts for anyone on your list … especially yourself!
Conveniently available in both large and small bars, Pie Town Soap Company's soaps offer a gentle deep cleansing experience and a rich, natural lather. Choose from fragrances like Lavender Sugar, Jasmine Moon, or Vintage Rose, created from cardamom, cedar, and rose. For a special touch of Arizona, opt for the Cactus & Sage bar, which features sage, lemongrass, and soothing aloe …
Over four dozen varieties of soaps are available directly from the Pie Town Soap Company Etsy shop, including seasonal scents, beer soap, and a special line of aromatherapy soaps made from essential oils only.
If you're looking for a sure to please personal gift, take a look at Vyktoria's line or aromatherapy products, including perfume balms, body sprays, and mists. Aromatherapy Gift Bags, an exceptional gift idea, feature two soaps, essential oil, a mister, and balm, all beautifully packaged and shipped right to your door. Sampler packs and gift boxes are available as well … click through to order!
We are proud to feature this creative small business on our Made in Arizona page. To learn more about Vyktoria's musical career and where to buy her soaps locally, visit her website at Vyktoria.com …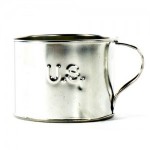 Jacob Bromwell Americana Collection: The Bromwell Company has been a part of classic American cookware since 1819, and now this Tempe based company reintroduces some of their famous standards in the Jacob Bromwell Americana Collection …
Far more than just nostalgia, the company manufactures sturdy classic kitchenware items like wonder shredders, pyramid toasters, frontier frying pans, and many more. The classic tin cup shown is probably the best way you can enjoy a cold sip of bourbon during happy hour (or any other liquid for that matter). These tin cups were standard issue to Union soldiers during the Civil War and are still made on the same non electric type of machinery as they were almost 200 years ago …
Also check out the original popcorn popper and the chestnut roaster! They're perfect gifts for new couples or anyone who appreciates the perfect blend of function and nostalgia. Check their website for details …

Daisy G's Handcrafted Soaps, Skincare, & Bath Products: Owner Valerie Gray handcrafts soaps and related products with her Sonoran Desert surroundings in mind … since the Arizona sun tends to be unforgiving, soaps are best when they're exceptionally gentle!
Holding true to this business philosophy, Daisy G's Soaps creates a line of products with your skin's well being in mind. Only the choices oils and botanicals are used to create the line of soaps, featuring such varieties as 100% Olive Oil, Bay Rum & Molasses, and Coconut Lime Verbena.
In terms of bath care, Daisy G's features Shaving Soap, Shea Butter & Jojoba Oil Body Lotion, Sugar Scrubs, Natural Deodorant, and more. At their website you'll even see a special Natural Laundry System, containing a stain stick, laundry butter, wool dryer balls, and a bottle of essential oil. The dryer balls naturally replace fabric softener sheets – you'll never need to buy them again!
Handmade soaps are a wonderful personal gift, and Daisy G's carries liquid soap as well. A great gift idea direct from Arizona!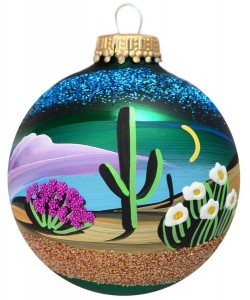 Southwest Ornaments: If you're searching for a gift that truly says "Arizona", take a look at some of the beautiful ornaments created by this Phoenix area company …
Southwest Ornaments is the creation of artist Brenda Schodt, who came to Arizona for college and fell in love with the state's spectacular landscapes. She uses her talents to design appealing ornaments (like the one shown) depicting the scenery of The Grand Canyon State.
Along with her husband Rick, Brenda creates custom ornaments as well as officially licensed ornaments for Arizona State University, University of Arizona, and Northern Arizona University. Check out the attractive selection of hand painted ornaments at the Southwest Ornaments website – the ideal gift for anyone who holds the state near and dear to their heart!
You can purchase any of the available ornaments by clicking on the "Shop" tab, or arrange for custom work. Wholesale opportunities are available as well …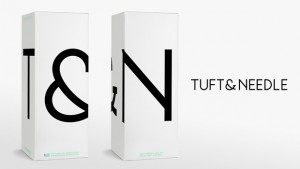 Tuft and Needle: We love American companies meeting every day needs and helping bring transparency to industry – this Phoenix based company certainly fits the bill …
They're Tuft and Needle, and their business is mattresses. Founded in 2013 by two bright young men who both experienced horror stories buying their first mattress, they decided to form a company and manufacture revolutionary mattresses that have everything you need and nothing you don't need.
Simply put, Tuft and Needle makes mattresses that aren't too hard, aren't too soft, and distribute body weight evenly. They're exceptionally cool and breathable, and feature a "localized bounce" so you don't disturb your partner every time you move. The company sells direct to you, so there's no middleman marking up prices (you wouldn't believe how much mattresses are marked up – as many as 12 times!).
The mattress is delivered to you vacuum packed in a small box about 3 1/2 feet tall. It takes its shape within a few short hours and the company offers a 100 night sleep guarantee. There's a user friendly 10 year warranty and best of all, the cost is just a fraction of what a mattress costs at the retailer!
If you're in the market for a better night's sleep, and who isn't, check out Tuft and Needle at their website linked above. We love their creativity and we love their mission!
Lifetime Leather Company: We're big fans of traditional American craftsmanship, and it doesn't get any more authentic than this small Mesa company. Owner and founder Ty Bowman literally started from the ground up – he cut some leather from an old discarded couch he found in an alley near where he lived. Using leather crafting tools he inherited from his grandfather, Ty has built his small business up and now employs eight people. The company crafts all sorts of leather goods you've just got to see!
At the Lifetime Leather website (and also at their Etsy shop), you'll find leather goods for men and women like Dopp Kits, cosmetic cases, shaving kit bags, tool cases, courier bags, and so much more. There are a number of smaller items appropriate for groomsmen or office gifts, and plenty of carefully crafted items you personally won't want to do without. Passport holders, wine totes, wallets, and duffel bags are a few more of the items Ty & his group create.
If you're looking for a durable gift that will last for generations, check out the selection at Lifetime Leather. The detail in these items is something to behold and they're made right here in The Grand Canyon State. Click through to both their website and Etsy store to see everything that's available …

Happy Tails Barkery: If you're dog lovers (like we are), you know how enjoyable it is to see their reaction when they're given a home baked dog treat. Dogs just love freshly baked natural dog treats and it sure makes us feel good to know they're better for a dog's health too!
We found a company in Queen Creek, AZ very near my dad's place who've been baking healthy dog treats for over ten years. They're called Happy Tails Barkery and the business is run by Holly Pace and her team of quality control supervisers (her border collies!).
Holly has been selling at local farmers markets and has now begun selling on a broader scale, including wholesale and on the Barkery's website. The lineup of products is impressive and sure to start your dog's tail 'a waggin'!
Starting with Chop Lickin' Chicken and Lamb Muttballs, these treats are made with 100% all natural real meat – not the stuff you'll find in a box at WalMart. Peanut Butter Lover Treats, Bacon Cheesy Bites, and Honey Blue Blueberry Treats are a few more your dog will love! Holly uses ingredients like grain free flour with dog allergies in mind – check each product's description for more information. She'll also work with you to bake treats especially for your dog if they have a specific food allergy …
Oh, and don't forget their Sweet Potato Jerky Treats, made with organic local Arizona sweet potatoes! Click through to their website and order a few different flavors for your best dog pal!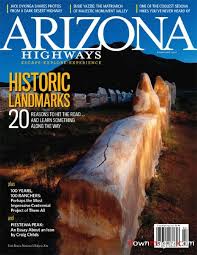 Arizona Highways Magazine: For over 80 years, Arizona Highways magazine has been the state's leader in providing an overview for residents and visitors alike. Each issue is filled with travelogues, beautiful photography, and interesting features to keep the reader up to date on everything Arizona …
Whether you're looking for lodging and dining tips, getaway ideas, or features on the latest developments, Arizona Highways is an indispensable resource. A subscription is a great idea for a newcomer to Arizona, or for the snowbird who likes to keep up with all the state's happenings and events …
You can order a personal or gift subscription online at the Arizona Highways website. The perfect economical Arizona gift!
Armadilla Wax Works: Based in Prescott Valley, Armadilla Wax Works is one of the largest home made candle companies in the U.S. Candles always make great gifts, especially for someone with a soft spot for Arizona … see their many unique candles at the Armadilla Wax Works website …
Queen Creek Olive Mill: This is one of our favorite Arizona attractions. It's located in the southeast Phoenix area (Queen Creek), and offers tours of a working olive grove, as well as a wonderful cafe for lunch.
Their online store offers all sorts of olive based products, edible and otherwise. If you're ever in the Phoenix area, it's a fun place to visit!
Strawberry Hedgehog: This Phoenix based small business specializes in handmade eco-friendly bath and body products, including vegan soaps and other pampering goodies …
The company was founded over ten years ago by Tracy Perkins, who creates and packages all of her products with some help from family and friends she affectionately dubs "Soap Gnomes". Tracy also teaches at a local college as a adjunct geology instructor, imparting her knowledge about sustainability techniques.
See what Tracy's doing and buy her products here: Strawberry Hedgehog …
Arizona Sun: Arizona Sun is an appropriately named Scottsdale company specializing in skin care products, fashion items, accessories, and as their tagline says "Everything Fun Under The Sun". They carry all sorts of prickly pear products, edibles, sun and skin care items, and a whole lot more …
They've got an easy to use and good looking website, check it out at ArizonaSun.com …
Fabulous Glass: This small Arizona operation creates serving trays from wine bottles that are salvaged, melted down, and turned into fabulous functional works of art! Now that just about says it all, doesn't it??
See what they do, and how to order at: FabulousGlass.com …
Four Winds West: Based in Tucson, this small operation crafts handmade bags, purses, belts, and other home decor items from leather and metal … see their selection of items at their website.
Arizona Emu Oil Products: The Twin Feathers Emu Ranch in Benson, Arizona raises emu's, the unique creature shown at left. The oil from their feathers is used for numerous health related purposes, which you can see here at the emu oil benefits page.
You can even buy an emu egg from their site!
The ranch creates all sorts of products, including lip balm, emu oil which is very concentrated and great for sunburn, hand crafted soap, and hand and body lotions …
Emu oil is a life long product … it's good for everything from diaper rash to reducing age spots! I've personally used it to diminish insect bites and as an after shave tonic to sooth irritated facial areas …
Peppermint Jim Mint Products: "Peppermint Jim" is Jim Crosby, a 4th generation mint farmer who expanded to Tucson a few years ago and is now growing mint in Arizona. He is part of the family whose name adorns one of the largest mint producing farms in the country, the Crosby Mint Farm in Michigan …
Mint is not only used in drinks and cooking, but its oils are very beneficial to your health. They are known to be soothing, calming, and rich in nutrients. They're particularly helpful for your feet, lips, and improved capacity to exercise … who knew?
You can order all sorts of mint related products, from essential oils to candles to lip balm at Peppermint Jim's website …
MADE IN ARIZONA HOT SAUCE, SEASONING, & CONDIMENTS

Arizona Salsa & Spice Company: We're in Arizona frequently, and one company's products we see a lot of are those from the Arizona Salsa & Spice Company. If you're looking for a gift with southwestern flavor, you've found the right place!
This company, as their name suggests, offers a full line of salsa and spices and a whole lot more. We are big fans of their Arizona Seasoning Salt (great mixed with ground chuck for burgers!), along with their Jerk Rub which comes in Mild and Hot. Their products are all natural, with no added ingredients or fillers and they add a distinctive rich flavor to whatever you're cooking …
Also try their hot sauces and salsa. If you live in the Phoenix area, you'll find them on store shelves but if you want to shop online, click through to their website. There you'll see a wide variety of choices, including many gift packs – perfect for the culinary oriented person on your gift list!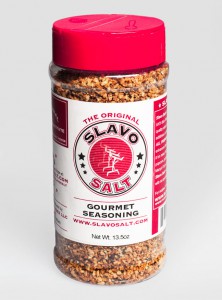 Slavo Salt Gourmet Seasoning: Whenever we travel, we're always snooping around local grocery stores and farmers markets looking for interesting local products. On a recent visit to see my dad outside of Phoenix, one of those local products was a seasoning mix called Slavo Salt …
Former chef Michael Stephens developed this versatile seasoning mix and named it after his long time nickname, "Slavo". It's great on burgers and steaks, but can (and should!) be used on anything. Sprinkle it on chicken breasts before grilling, add it to stews and casseroles, or simply liven up that store bought potato or macaroni salad with a blast of flavor … it's got a nice little kick of garlic and pepper!
It's available via the Slavo Salt website, which also offers up a wide variety of interesting recipes … be sure to check out the one for roasted lamb with potatoes and artichokes. We did – it's great!
While you're at their site, check out the Slavo Seasoning Trio (Original, Garlic, & Spicy). A great gift idea direct from The Grand Canyon State …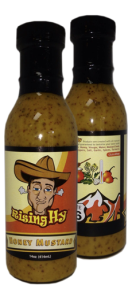 Rising Hy Sauces: This small company, based in Flagstaff, creates a line of hot sauces along with a spicy mustard and spice mixes. We bought a bottle of their GreenGo Sauce in suburban Phoenix and were hooked!
We'll get to all their products in a moment, but the GreenGo Sauce is extremely versatile and exceptionally good! It's a mix of fresh lime, roasted tomatillo & jalapeno peppers and you can really taste the peppers – no vinegar is added to any of the Rising Hy Sauces because vinegar detracts from the true taste of the ingredients. You can literally use GoGreen Sauce on everything from breakfast to dinner – it's excellent splashed on omelets!
Rising Hy also makes a Honey Mustard made with local honey, fresh habanero peppers, and mustard. Try some on a deli sandwich or any recipe calling for mustard for a little blast of sweet heat.
Habanero Hot Sauce, Habanero Olive Oil, and their signature spice mix called Devil Salt round out the product line. And did you know habanero peppers are really good for your health? They possess more Vitamin C than an orange and help raise your metabolism in addition to warding off blood clots. There you go – it isn't just the heat, it's the health!
You can order any of the Rising Hy products at their website. Gift packs are available too, as is a list of locations in Arizona where you can get a hold of some if you live in The Grand Canyon State …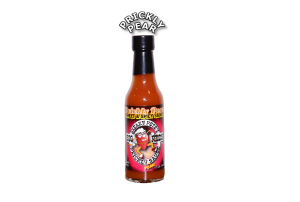 Big Red's Hot Sauce: We visit the Phoenix area a lot – my dad lives in suburban San Tan Valley – and whenever we're in town we're always checking out the markets and grocery stores looking for interesting locally made products. Last time in town we discovered the line of Big Red's Hot Sauces and wanted to tell you about them …
As fans of sweet-hot sauces, the first we gravitated toward is Big Red's Prickly Pear Sweet & Spicy Sauce. Made with local prickly pear and habanero peppers to add heat and balance the sweetness, this sauce is fantastic over any kind of rice dish – try it with a stir fry!
This Phoenix based company also makes a sauce called Big Yella, a combination of habanero peppers and sweet mango, and their flagship Original Sauce, made with just a touch of habanero for spice but not heat. And if you like things hotter, try Smokey Habanero, which kicks up the hot pepper ratio. Even further up the heat scale is God's Wrath, featuring ghost peppers, one of the hottest peppers on the planet …
You don't have to live in the Phoenix area or even visit there to get ahold of any of these sauces. They're available directly from the Big Red website in single bottles or The Big Five Combination Pack, which offers one bottle of all their sauces. Enjoy them for yourself or give a sampler to friends and family!
Mano Y Metate: One of our favorite Mexican style dishes is enchiladas mole, or anything mole ("MO-lay") for that matter. Mole sauce is made with oil and mole powder and has a deep rich flavor which some say is reminiscent of dark chocolate …
Did you know there are several different kinds of mole powder? We found this out after discovering a Tucson company called Mano Y Metate. The company grinds fresh whole nuts, spices, chili peppers, and seeds into powders which allow you to make your very own mole sauces at home …
There are five different mole spice mixes available, ranging from orange colored to green to very dark, and each offering a different flavor profile. Making the mole sauce from the spice mix is quite easy – simply mix a tin of the mole powder with two tablespoons of cooking oil to make a paste, then adding broth and simmering. Some mole sauces can run toward the hot side while others are quite mild. Discover the differences between each on the Mano Y Metate site as they explain the nuances beautifully …
You can buy these fine mole spice mixes by the tin or in larger quantities. If you want to try them all, or give them as a gift to the culinary centric person on your list, gift boxes are offered as well.
Freshly ground mole spice mixes are a wonderful Made in Arizona gift! Visit their site to order …
Renee's Desert Rub and Glaze: We bought a jar of Renee's Desert Glaze (made in Scottsdale) last year at the Queen Creek Olive Mill. It's made with prickly pear cactus syrup, various spices, and chiles. My dad used it as a glaze for his rubs and it is excellent! The company also makes dry bus as well …
The product is available online from the Queen Creek Olive Mill Store and it's well worth buying due to its unique, interesting flavors. We couldn't locate a separate site for the product itself, other than a Facebook page, but we'll update this listing if one becomes available online …
If you live in Arizona, their products are available at many Phoenix area AJ's stores …
b>Arizona Chili Pepper Company: This company makes the famous Cholula Hot Pepper Sauce which can be found in grocery stores nationwide, but it's another of their products that caught our attention (and taste buds) … the Santa Cruz Chili Powder, shown here.
You can buy this eye opening chili powder with just the right amount of heat and all their other products online at ArizonaChilePepperCo.com …
Arizona Rub: If you like to grill or just give your normal cooking a little kick, try a few of these spice mixes from Airzona Rub … there's all sorts of different varieties available, from mild to as spicy as you want …
The company is located in Sahuarita, south of Tucson and ships their products all over the U.S. You can also find some great recipes at their site …
MADE IN ARIZONA SPECIALTY FOODS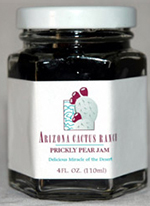 Arizona Cactus Ranch: Located in Green Valley south of Tucson, the Arizona Cactus Ranch has become well known for producing pure juice and jam from the prickly pear cactus plant which grows in prolific fashion in this part of the state. The plants bear fruit buds in the late summer, and the fruit is hand harvested and the nectar is made without chemicals or added sugar …
Prickly Pear nectar has gained a positive reputation as being very good for insulin intolerant patients as well as for related blood sugar issues. It offers a pleasantly sweet taste, similar to a cross between a watermelon and strawberries. If you enjoy a specialty cocktail, use the nectar in a margarita or punch recipe for something out of the ordinary and uniquely Arizona …
You can order the nectar and the jam in various sizes at the Arizona Cactus Ranch Website. If you need some use ideas, there's a list of recipes for both there as well! Unique gifts direct from The Grand Canyon State …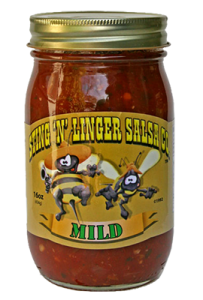 Sting 'n' Linger Salsa Company: We learned of this company via a Fry's grocery store on our latest visit to the Phoenix area …
Sting 'n Linger is based in Tempe and creates a line of salsas, hot sauces, cooking oils, marinara sauces, and ghost pepper products. We found a display of their Mild Salsa (pictured), tried a jar, and loved it! So much so, a couple jars went home with me on the plane! The Mild is one of 10 different varieties the company makes – no matter your heat level preference, they've got you covered …
You can find many of the Sting 'n Linger products around the metro Phoenix area, or you can order directly from their website – cases offer discounts on shipping. And if you're a fan of the really hot stuff, take a look at their many offerings made with ghost peppers, including a Bloody Mary Mix.
Click through to see all they're creating and order for yourself or as a gift from The Grand Canyon State …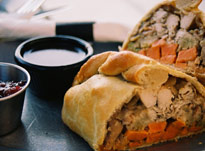 Cornish Pasty Company: My dad has introduced me to literally hundreds of wonderful local independent restaurants during my lifetime – something for which I'll forever be grateful. He's always had a knack for finding really memorable places, especially if they've got an eclectic selection of draught beer!
One such spot is the Cornish Pasty Company in Phoenix's East Valley. They've got locations in Tempe (the original), Mesa, and Scottsdale and are slowly but surely expanding farther afield. Their specialties are pasties (pronounced "Pass-tees"), best described as a turnover stuffed with meat, vegetables, potatoes, and other goodies …
Kind of an all in one meal, pasties originated in Cornwall (southwest England). They were eaten as a lunch by tin miners who needed something filling they could eat quickly and easily. Subsequently, pasties became popular in northern Michigan and now in Arizona …
We eat at one of their locations every time we're in town and if you're out that way, you should too! We just noticed Cornish Pasty has started shipping their pasties across the country – you can order directly at their website. We're especially fond of "The Pilgrim", stuffed with roast turkey, sweet potatoes, grilled onions, and stuffing. And if you stop in, be sure to enjoy one of their many great beers on tap! Click through to their website to learn more …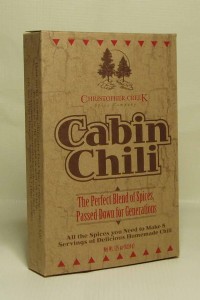 Christopher Creek Spice Company: Christopher Creek is a small Arizona town about 120 miles northeast of Phoenix and 20 miles east of Payson, at the foot of the Mogollon Rim. It's a place where fresh mountain breezes complement the warm days and cool nights, and it's home to the Christopher Creek Spice Company …
We've purchased and enjoyed the company's signature product, a chili mix known as Cabin Chili. An easy all in one mix for 8 servings of hearty, spicy chili, all you need to do is supply the meat. We made it with ground chuck but you can use whatever you'd like – ground turkey, ground pork, or a mixture works just as well.
The company also makes a Green Chili Mix if you're feeling a little on the New Mexico side of things, and also a variety of rubs and gift sets. We recommend the Cabin Chili Mix – it's really good!
Click through to their website to learn more and to order …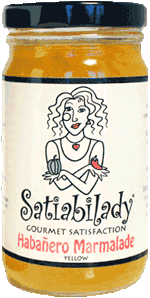 Satiabilady Habanero Marmalades: If you're a fan of sweet & hot, here's the perfect Arizona made product for you … it's the three varieties of habanero marmalades from a company called Satiabilady (Satiable Lady).
You might think of marmalades as only being appropriate for spreading on toast or English muffins, but they're much more versatile. These habanero marmalades are ideal as appetizer spreads on crackers, brushed on meats during and after cooking for a unique flavor, or simply paired with wine and cheese …
Satiabilady features red, green, and yellow styles. They're made with fresh habanero peppers which not only offer a dose of heat, but also health benefits. Did you know, for example, that habaneros are helpful in warding off insulin spikes in addition to being loaded with vitamins? Not to mention the pairing of sweet & hot is irresistible!
A great gift idea for anyone culinary oriented – order directly at the Satiabilady website …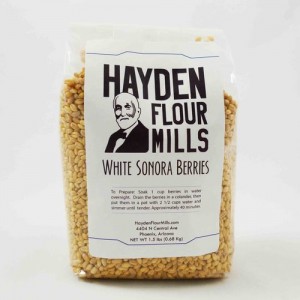 Hayden Flour Mills: A legendary presence in Phoenix since the 1870's, Hayden Flour Mills is a beloved company milling flour and heritage grains. Using a traditional stone wheel in the time honored process, Hayden Flour Mills is a true partner to Arizona farmers – all of the grains used are grown on small farms across The Grand Canyon State …
Specializing in flours, mixes, and specialty grains, you can enjoy products from the company even if you can't find them on your local supermarket shelves. The Hayden Mills online store offers mixes for scones, pancakes, and cornbread as well as hard to find grains like local White Sonora Berries, pictured.
White Sonora Berries are actually soft wheat berries offering a mild flavor and chewy texture. They're great in salads, in any of your favorite recipes, or simply mixed in with yogurt and honey for a healthy snack or dessert! The store also features several types of flour, including pizza flour and pasta flour. The Hayden Mills Artisan Bread Kit is a great gift too!
Click through to their website and see all this iconic company is producing …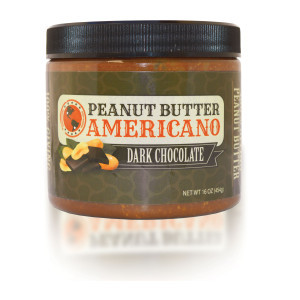 Peanut Butter Americano: On a recent visit to the Queen Creek Olive Mill (see feature below), we ran across a gourmet peanut butter from the Peanut Butter Americano company of Phoenix. The company makes a unique line of 100% natural nut butters and aligns with the "A Roof For My Country" organization, which provides emergency housing construction and job training programs …
Peanut Butter Americano products are sold retail mostly in Arizona but you can order directly from their website. If you're a fan of interesting peanut and nut butters like we are, try them! They're natural nut butters, not the over processed brands with added salt and sugar you'll find in stores. Choose from four varieties of peanut butter and two almond butters …
The peanut butters include Original, Cinnamon Honey, Choco Blanco, and Dark Chocolate. The Dark Chocolate is out of this world – a peanut butter sandwich will never be the same again! Almond Butters are available in both Classic and Cinnamon Roasted. Natural nut butters are very healthy for you … they are a great source of protein and they're loaded with antioxidants.
If your travels aren't taking you to Phoenix any time soon, visit the Peanut Butter Americano website to order some for yourself …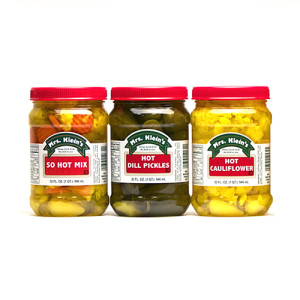 Mrs. Klein's Pickle Company: We love trying new products whenever we travel, and on a recent trip to visit my dad in the Phoenix area I was able to enjoy a few products from a long standing Phoenix company, Mrs. Klein's Pickle Company …
Mrs. Klein's has been around since 1945 and sources their pickles and peppers from local Phoenix area growers. In addition to dill pickles, hot dills, and kosher dills, Mrs. Klein's pickles a wide variety of hot peppers and vegetables.
One of their products we thoroughly enjoyed is their So Hot Mix, a tangy mix of carrots, hot cauliflower, dill pickle slices, and yellow hot peppers. It's terrific as an appetizer with a cold beer!
You can order any of the Mrs. Klein's Pickle Company products directly from their website in convenient three packs or in larger quantities. A tasty locally grown and packaged gift!
Sphinx Date Company: One of our favorite places to visit every time we're in the Phoenix area is the famous Sphinx Date Company on Scottsdale Road, not far south from Old Town Scottsdale and just north of Tempe …
They've been around since 1951 and the main reason we always stop at their retail location is to enjoy a date milkshake. We've not found them anywhere else, and Sphinx Date Company serves them every day – a really unique and cooling treat! Of course, the company is best known as a date producer – Arizona and neighboring California are the two biggest date producing states in the country …
The store, as well as their online site, offers really interesting date based products. Date salsa, date hot sauce, date cookies and bread are just a few you'll find. And of course, you can buy dried fruit and dates! We recommend trying Black Sphinx dates, a hybrid date which only grows in Arizona. They're slightly smaller and sweeter than traditional Medjool dates, and make an excellent healthy snack served slightly chilled. They're not always available, so check their site for details …
And if you're ever in the Phoenix area, stop for one of those date milkshakes – you'll thank us later!
Pickled Perfection: We learned about this company while strolling through a large grocery store in southeast suburban Phoenix. It's Pickled Perfection, and the name is apropos since they pickle all sorts of vegetables and do it very well …
In addition to pickles, Pickled Perfection creates over a dozen other pickled specialties, including beets, garlic, green beans, brussel sprouts, carrots, peppers, and more. If it can be pickled, chances are Pickled Perfection does it!
At their online store, Pickled Perfection sells combination packs of their products, including Gourmet and Premium Pickle Packs and Special Order Four Packs. From the Arizona fields directly to you! Check their site to see all their products and how to order …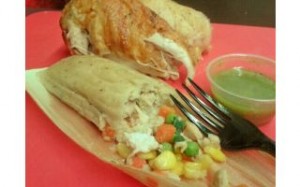 Tucson Tamale Company: We discovered the Tucson Tamale Company during our most recent trip to the Old Pueblo. It's located in the heart of town on East Broadway Ave. with an additional east side location out on Tanque Verde Road …
What attracted us to the company is the wide range of tamale flavors, or stuffings if you will. The tamale's names reflect their style and ingredients. You can buy Santa Fe, New Delhi, Pumpkin, Paella, Little Italy, Blue, Chicken Pot Pie, Austin, Berkeley, and many more. Each version is filled with fresh ingredients, shipped frozen, and ready for you to pop in the oven or microwave …
Tucson Tamale Company offers vegetarian and vegan tamales, breakfast and dessert tamales, and sampler packages …
An absolutely delicious gift from Tucson! Check out their online store for complete details …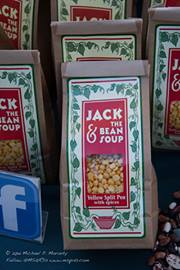 Jack and the Bean Soup: When you live in the Midwest like we do, you appreciate hearty, satisfying meals that are easy to prepare, especially on cold evenings. There's nothing like a great lentil soup, or a hearty bean soup to satisfy stomach and soul …
We discovered this company on our most recent trip to Tucson at one of the city's bustling farmers markets. Jack and the Bean Soup is a group of ready to cook gourmet bean soup mixes which are incredibly easy to prepare. All you need is a crock pot and water per the instructions. Add the bean soup packet, turn the crock pot on low, and when you return home in the evening your meal is ready!
These soups come in one pound bags and include beans and a seasoning packet. They're vegan and gluten free, but you can add some diced cooked chicken or pork at the end if you wish. We do, it turns out great!
You can order any of their soups at JackandtheBeanSoup.com. They also have gift packets!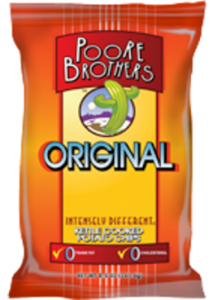 Poore Brothers Potato Chips: Poore Brothers potato chips are an Arizona staple … walk into any convenience store in the Grand Canyon State and you'll see them, packaged in a variety of sizes.
These kettle cooked chips are sliced a little thicker and cooked at a slightly lower temperature, giving them a hearty, crunchy taste. They're great with dips or right out of the bag!
Poore Brothers chips have been around since 1986 and are now part of the Inventure Foods Group of Phoenix. Our favorites are the Original (pictured) … we've been eating them while on trips to Arizona for the past 25 years …
You can buy them by the bag or case by clicking on the Poore Brothers logo on the Inventure Foods site …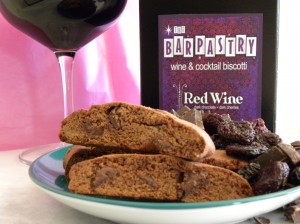 The Bar Pastry: This clever Arizona company makes sweet and delicious biscotti to pair up with your favorite wine or cocktail … such a brilliant idea it's amazing no one thought of it before!
Seven different flavors are available, each with a flavor profile to match certain types of wines or cocktails. Premium chocolates are used and the biscotti have pleasantly sweet crunch, not at all hard like some traditional biscotti (you won't need to dunk!).
Varieties include cranberry vodka, tequila lime, red wine, white wine, and more. Check out the Bar Pastry website to learn more and to order …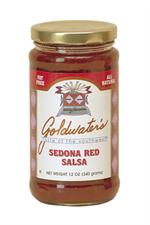 Goldwater's Foods: Founded and owned by Carolyn Goldwater of the famous Arizona Goldwater family over 25 years ago, Goldwater's Foods is best known for their line of fruit salsa and other specialty foods …
The company offers four different fruit salsas, all of which are a great mixture of fruity and spicy. There's Mohave Mango, Papago Peach, Paradise Pineapple, and Ruby Raspberry. The company also makes traditional salsas along with a family recipe chili mix and specialty sauces …
You can order single items or gift packs at the Goldwater's Foods website and they'll ship anywhere in the U.S.
A real taste treat from Arizona!
Miracle Munchies: Miracle Munchies is a Tucson based company founded by Mindy Stickney, a business woman and mom whose three sons had significant allergies to wheat, corn, and dairy. Unable to serve them traditional desserts, Mindy set out to create them herself. She now offers over 25 mixes and baked goods that are allergy free breakfasts, treats, and desserts …
Miracle Munchies products are for anyone, but especially those who need gluten free, wheat and dairy free, vegan, and yeast free products. Many sugar free products are offered too …
One of the products is a German Apple Bread Mix that's gluten free although you'd never know the difference. Great for breakfast as well as a dessert treat! And try the Pumpkin Bread Mix, also gluten free and quite healthy for you … pumpkin is loaded with helpful vitamins and is very good for your vision.
Order any of the Miracle Munchies products directly from their online store … enjoy!
Arizona Cactus Ranch: One of the most recognizable symbols of Arizona is the cactus, and one of Arizona's many great products are prickly pear cactus products, which you can have shipped directly to your doorstep. They are delicious (and very good for you) and come in nectar, jam, and other varieties. It's a taste sensation like no other!
Cheri's Desert Harvest: We found out about Cheri's Desert Harvest while visiting family in Arizona. Their products, which include prickly pear cactus, are made from fruit and vegetables native to the Arizona desert region.
The company is based in Tucson, and have produced an amazing array of enticing products. And FYI, prickly pear syrup is an outstanding ingredient in margaritas! Check out Cheri's Desert Harvest website by clicking here …
Green Valley Pecan Company: Pecan groves are plentiful near Tucson, so it's no surprise that Arizona is one of the America's leaders in pecan production. We visited the Green Valley Pecan Company a few years ago south of Tucson and became big fans of their pecan products … try the pecan tea and pecan coffee!
Fire On The Mountain: Frankly, we didn't know whether to list Fire On The Mountain products under Arizona or New Mexico, because their best seller is a green chile stew. Green chile is commonly associated with New Mexico, but the company makes its home in Tucson … so Arizona it is!
The company produces a variety of green chile products, including a green chile meal-in-a-jar (just add meat) as well as chile sauce, dip mixes, green chile vinaigrette, and seasoning packets.
If you've got a taste for green chile, be sure to visit the Fire On The Mountain website …
MADE IN ARIZONA HONEY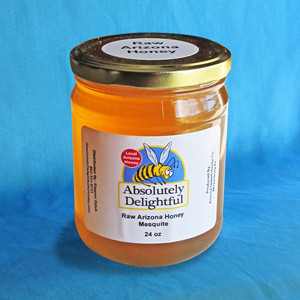 Absolutely Delightful Arizona Honey: On a recent visit to the Phoenix area, I learned of this family run honey company and am delighted to tell you about them here at State Gifts USA …
Based in the Phoenix area, the company is named Absolutely Delightful Arizona Honey and they fill a void for small beekeepers and honey producers we wish would be duplicated in other states …
Depending on the season, Absolutely Delightful represents a handful of small Arizona beekeepers by selling their honey at metro Phoenix farmers markets. The honey is from all over the state and not mixed with other honey so you get a unique taste of a specific area's honey. Just a few locations represented are Flagstaff, San Tan Valley, Gilbert, Camp Verde, and Wickenburg. Some of the varieties include orange blossom, mesquite, desert wild flower, prickly pear, and cholla. The company also markets honey made by African killer bees from time to time …
They maintain a weekly presence at a series of farmers markets to connect with regular and new customers, and in the last five years also sell at their website. If you appreciate the nuances of local honey, check out their site! These are all raw, natural honeys with all the health benefits intact.
What a wonderful gift from Arizona!
ARIZONA CONSERVATION & WILDLIFE ORGANIZATIONS
Southwest Wildlife Conservation Center: Located in Scottsdale, the Southwest Wildlife Conservation Center rescues and rehabs native Arizona wildlife before releasing them back into the wild. Many of these animals have lost their home and habitat due to development or were found injured, orphaned, or abandoned.
The Center has been instrumental in the recovery of the Mexican Gray Wolf, an endangered species. They house and care for many of these wolves (Like Himuti, shown) and participate in the species' official survival plan.
Animals that are unable to be released back into the wild are given permanent homes at the facility. The Center focuses efforts on education by hosting summer camps, tours, and field trips. They're supported by a dedicated staff of volunteers, donations, and grants …
You can donate to the Center or adopt one of their resident animals directly at their website. The Center is Arizona's leading facility for wildlife rehabilitation and educational efforts. Learn more about their good works at SouthwestWildlife.org …
The tale of Arizona's unique journey to statehood
Arizona Trivia and Fun Facts

1). Did you know that more copper is mined in Arizona than all the other states combined?

2). Arizona became the 48th state admitted to the Union on February 14, 1912. The admittance was originally scheduled for February 12th but President Taft didn't want to overshadow Lincoln's Birthday. The admittance was then postponed from the 13th to the 14th because the 13th was considered unlucky …

3). Mount Lemmon (accessible from Tucson) is the southernmost ski area in the United States …

4). President Lincoln did have a connection with Arizona. He signed the Arizona Organic Act in 1863 which created the Arizona Territory. Before that, the area was considered part of the New Mexico territory …

5). The Arizona Cardinals are the NFL's oldest continuously operating franchise. The franchise began in Chicago in 1898. They were the Chicago Cardinals until early 1960, then the St. Louis Cardinals until 1987, and now the Arizona Cardinals …

6). If you've ever wondered how those large Saguaro cactus can survive in Arizona's desert climate, it's probably because a Saguaro can store over 8 tons of water …

7). Arizona's highest point is Mt. Humphreys, just north of Flagstaff. It is 12,643 feet in height …

8). A person from Arizona is called an "Arizonan", although some incorrectly use the term "Arizonian" …

9). Roosevelt Lake is the largest lake located entirely within the state's borders. It is also the deepest lake carrying that distinction at 349 feet …
MADE IN ARIZONA LOCAL ART
Practical Art: We love artist co-ops like Practical Art in Phoenix. Everything is made by local artists, whether it be jewelry, paintings, sculpture, or whimsical decor and furniture pieces. Bring a little Arizona art into your home! Shop online at Practical-Art.com …
Refresh Glass: It's truly rewarding to see companies repurposing recyclable items into usable art and unique home decor … once such company is Refresh Glass of Phoenix. They've made a name for themselves by creating functional art made from recycled wine bottles collected from the community.
Did you know that almost 70% of wine bottles in the U.S. are not recycled? Bottle currently account for almost 10% of landfill waste. Refresh Glass is striving to change those statistics with their "10 Million Bottle Rescue Mission". Learn more about their efforts and shop at RefreshGlass.com …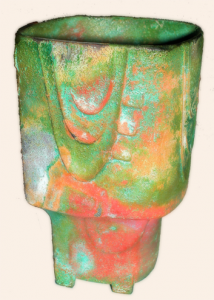 Cosanti Originals: A creative art company located in Paradise Valley, Cosanti produces wind bells, planters, pottery, artwork pieces, bronze sculptures, and all sorts of home decor items …
Most of the items have a creative southwestern flair, ideal as a housewarming gift or to add a bit of warmth to any room in your home. Their many items forged from bronze are particularly attractive … see the Cosanti website to get an idea of their creations …
We'll Be Adding Lots More Arizona Made Products … Tell Us About Your Favorites By Adding Your Comment via our Contact Us page …
Visiting Arizona's Capital City: Phoenix
Phoenix is an area of great familiarity to us – we visit frequently as my dad lives in southeast suburban San Tan Valley. Phoenix is the sixth largest city in America and is well known for its many world class resorts and opportunities for outdoor recreation. It is indeed a pleasure to visit here every year – the metropolitan area is fairly easy to get around and the sun shines here well over 300 days a year!
Phoenix itself is really more thought of as a metropolitan area as opposed to a self contained city. Some of the city's suburbs and outlying areas have developed their own well recognized personalities – communities like Scottsdale, Tempe, Chandler, Glendale and others are attractions unto themselves. The entire metro area is sprawling … it encompasses over 2,000 square miles and it is not uncommon for a car trip from one end to the other to last 90 minutes or more.
The weather here, on the whole, is spectacular. Phoenix is situated in the midst of the Sonoran Desert, one of the greenest and wettest deserts anywhere due to annual rainfall of close to 15 inches. January through March are idyllic times to visit, with daytime temperatures hovering in the 70's. The summer is, well, hot! Daily highs in the peak of summer routinely reach well into the triple digits. Even though it's not humid here, it's still ultra hot! We've been fortunate enough to visit frequently in January and March – two months when the rest of the nation is blanketed with ice and snow …
Downtown Phoenix
For purposes of this travelogue, we'll more or less limit our comments to the downtown area, because as mentioned, many of Phoenix's collar communities are destinations unto themselves. You'll want to explore them all, especially our four favorites – Scottsdale, Tempe, Chandler, and Glendale. Each offer plenty enough to see and do for at least a few days …
Downtown Phoenix, very frankly, doesn't hold the appeal of other major metropolitan downtown areas like New York, Chicago, or Boston. It's a business and government hub as well as the home to the city's baseball stadium and basketball arena. But, there are plenty of places to stay, things to see, and places to stop for a great meal!
Things To Do
One of downtown Phoenix's most walkable areas is Roosevelt Row, an urban cultural district known for art galleries, restaurants, boutiques, and live events. It is the home of monthly art walks and many live music events and covers a nine block area from 7th Avenue east to 16th Street. The surrounding neighborhood was one of Phoenix's earliest, dating back over 100 years. In the past decade, Roosevelt Row has become one of the most dynamic areas downtown …
Most of Roosevelt Row's sights and sounds are clustered on and around Roosevelt Avenue between Central and 7th Street, a roughly five block area. Galleries beckon, the sights and sounds of reataurants, bars, and cafes abound, and the people watching is top notch. An ideal place for a stroll when the heat of the day passes into evening!
One of our favorite places to stop in Roosevelt Row is Portland's Restaurant and Wine Bar. Stop in during their happy hour, weekdays from 5-7 p.m. featuring discounted appetizers and drinks. It's known for gourmet salads, artisan pizza, and unique burgers and steaks (try the White Cheddar Burger!).
A Little History …
Arizona gained statehood in 1912, with Phoenix being named the state capital. The original capitol building, built in 1901, is now known as the Arizona Capitol Museum and is open to visitors. The state's governmental affairs are handled in additions adjacent to the museum and house the Arizona House and Legislative branches …
Located at 1700 W. Washington Street downtown, The Arizona Capitol Museum is well worth a visit even if you're not that into history. The architecture is beautiful and construction included many materials native to Arizona, like the copper adorning the dome …
Two of the most interesting exhibits in the Capitol Museum are the silver and copper punch bowl service from the ship USS Arizona and the collection of gifts sent to Arizona from France as part of the "Merci Train" after World War II. The USS Arizona was a battleship that did not survive the Pearl Harbor attack of 1941. The ship, as you may know, still sits underwater in Hawaii's Pearl Harbor and serves as the centerpiece to the Pearl Harbor National Memorial …
The punch bowl service actually survived the attack as it was taken off the ship for cleaning just prior to the incident. It is said to be a one of a kind piece, with copper panels showcasing desert scenes. The Merci Train exhibit is a rotating display of gifts sent to the United States by French citizens in gratitude for American assistance after World War II. Each state at the time received an entire box car worth of thank you gifts from France …
There is no admission charge to the Capitol Museum and it'll take you about an hour to see and enjoy all the exhibits. It's best to visit during the afternoon hours as mornings are usually quite busy with various school groups …
Places To Visit and Places To Eat
If you're staying downtown and time permits, take in a live performance at downtown Phoenix's most historic venue, The Orpheum Theater. The Orpheum was built in 1929 and totally rehabilitated in the 1980's and 90's. With a capacity of just under 1,400, there isn't a bad seat in the house! It's the current home of the Phoenix Metropolitan Opera and hosts a wide array of live performances …
Just a few blocks down Adams Street from The Orpheum is one of Phoenix's most revered restaurants, Pizzeria Bianco. They're famous for two things: Italian style wood fired pizzas and the inevitable wait for a table at dinner. Go at lunch time to avoid the wait and enjoy one of their specialty pies. If you find yourself on the wait list (which usually is about 45 minutes to an hour), stop at the adjacent Bar Bianco for great drinks and finger food!
Without question, our favorite downtown Phoenix lunch and dinner spot is historic Tom's Tavern. Located in the heart of the downtown core at 1st Avenue and Washington Street, it's walking distance to any downtown hotel or attraction. Tom's has been around since 1929 and was just recently renovated by the new owners. Fortunately, it has lost none of its historical charm and Tom's is consistently rated by local publications as one of the best lunch spots in the city …
A favorite of locals and those in the know, Tom's offers a well chosen mid scale pub menu, featuring their signature Tri Tip Salad and Fish & Chips. Tri Tip is a delicious cut of beef that is sometimes known as a Boston Butt roast and it is one of our personal favorites. Tom's is also a great place for happy hour as they've got several appetizer and drink specials at their lively bar …
Summing It Up
Any visit to the Phoenix area will likely involve most of your time being spent in the city's many outlying communities. And while Scottsdale, Tempe, and others are indeed world class, don't forget about downtown Phoenix! If you're staying downtown for business or pleasure, you'll have plenty to see and do – most of it within walking distance …
Catch a ballgame, see a live music show, or simply stroll around and see the sites in Roosevelt Row. And be sure to settle in for a great pizza at Pizzeria Bianco, and drink in the historic atmosphere at Tom's Tavern. Schedule your trip for late winter or early spring to leave the snow and cold behind, and you'll be drawn back to Phoenix over and over … enjoy!
For More Information About The Phoenix Area
An excellent overview site for Phoenix and planning a trip to the area is VisitPhoenix.com …