Made In Nebraska Quick Facts
This Post is about Made in Nebraska Gifts and Specialty Nebraska Products
Want To See Your Business / Products On Our Made In Nebraska Page?
Visit "Advertise With Us"!
FEATURED MADE IN

NEBRASKA

BUSINESS

ES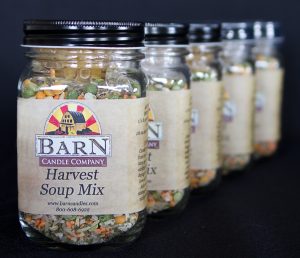 Barn Candles:We're pleased to introduce you to Barn Candle Company, creating candles since 1998 in Hastings, Nebraska …
Their signature Barn Candles are hand-poured in reusable mason jars – complete with a matchbook attached! This line is offered in pint and half-pint candles, which you'll see at their website. Harvest Soup mix, a dry blend of seasonings, beef broth, lentils, split peas, pasta and barley is also packaged in our signature Pint mason jar, for great gift giving.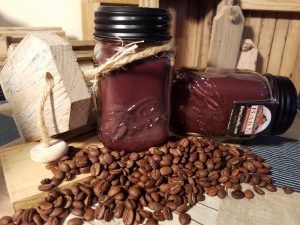 Barn Candles offers over 70 fragrances in their candle line, and in Barn Bricks for electric melters, Room Sprays and Reed Diffusers. The flameless products are perfect for community living environments …
Come visit Barn Candle Company at 2665 N. Highland Road, Hastings; just one mile west and one mile north of the Hastings Airport; or see the complete line of products available at www.BarnCandles.com.
Made in Nebraska!

Oliver Ridge Company: Based in Omaha, Oliver Ridge Company is a producer of quality small batch goods for men. We are especially proud to feature this growing small business because they've followed their vision – they began the company as a retail venture and subsequently discovered their passion lies in producing their own products versus selling other people's goods …
The company's first venture into quality goods for men is showcased in a line of natural and organic beard oils. Developed to make even the roughest of beards soft, manageable, and touchable, these beard oils are available in three distinct varieties …
Oliver Ridge Company's Woodshop Beard Oil offers the fresh, clean scents of cedar and pine. It's formulated with organic essential oils and leaves your beard refreshed and comfortable. Also in the product line is the signature Idyllwild Beard Oil, inspired by the crisp aroma of mountain pine and augmented by warm, earthy tones and the scent of cedar …
If you prefer an unscented beard oil, opt for the appropriately named Classic, which offers the same benefits of softness and manageability without any fragrance …
You'll hear the term "small batch" frequently these days, but Oliver Ridge truly personifies the concept. Ingredients are exclusively sourced in the United States, and each of their products is typically produced in batches of 100 or less, with meticulous focus on quality and user experience. You can purchase the beard oils directly from their website (free shipping is available), and be sure to stay tuned … numerous products are in the development stage!
Visit the Oliver Ridge Company website to learn more about their products and values. If you live locally, check out the "Stockists" page to see a list of current retail partners. Wholesale opportunities are available as well – contact them for more details …
Fine small batch products for men from the Oliver Ridge Company – treat yourself to the very best. A wonderful Made in Nebraska gift idea too!
JellyDish Garlic Peeler: If you enjoy using fresh garlic in your recipes, here's a handy new product you're really going to like …
It's the JellyDish Garlic Peeler – it totally takes the hassle out of peeling garlic!
If you enjoy cooking like we do, you know using fresh, healthy garlic cloves adds a tasty dimension to countless dishes. But until now, it's always been tricky to peel the cloves – the skins are hard to remove and your fingers and hands end up smelling like garlic …
Recently, Larry Owens, the owner of a Nebraska based business (Concentric Communications) got in touch with us. His company just introduced a handy small kitchen gadget that looks like a small crystal jelly dish but is made from flexible, squishy FDA grade material. It peels the skin off a garlic clove in seconds.
Here's how it works (see image) …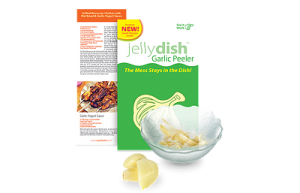 Just place a garlic clove in the JellyDish and pinch the bowl around the clove. Give it a twist with your fingers and the friction peels off all the pesky skins in a flash. Simply remove the peeled garlic clove and continue your meal preparation – all the skins from the clove stay within the JellyDish.
The JellyDish Garlic Peeler is easy to clean too … just snap the skins off into the garbage and rinse with soapy water – it's ready to use again for your next meal!
Larry was kind enough to send us a sample, and we love it … we use a lot of garlic and this ingenious little gadget saves us time and frustration. It's made in Nebraska and is a perfect stocking stuffer for the foodie on your list. Anyone who likes to cook will appreciate owning the JellyDish Garlic Peeler – it works for seeds and nuts too!
JellyDish Garlic Peeler is available in stores in the Lincoln & Omaha area as well as online at MyJellyDish.com where you'll also find great recipes calling for fresh garlic. Wholesale inquiries are welcomed – every chef or cook (amateur or pro) needs one of these!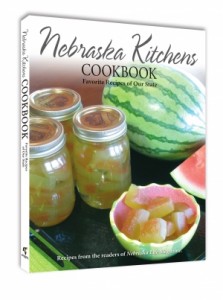 Nebraska Kitchens Cookbook: We're in the process of featuring a state themed cookbook for each of the 50 U.S. states, and for Nebraska, it doesn't get any better than the two volume set available from the Nebraska Life store …
The set, available singularly or as a twosome, is titled Nebraska Kitchens Cookbook. The first volume features over 130 recipes Nebraskans know and love, and the second volume adds to the lore. We understand there will be a Volume III out in the near future!
The books are available (along with many other Cornhusker State themed publications, via the link to the Nebraska Life online store listed above.
A state themed cookbook is one of the best gifts you can give to someone who holds a strong feeling toward a particular place, whether they enjoy cooking or not. If they don't, this two volume set will get them in the mood!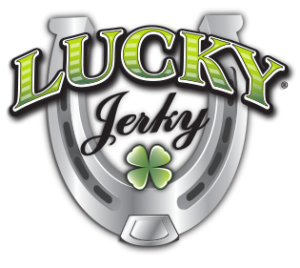 Lucky Brand Jerky: Holdrege, NE is a town of about 5,500 located about 20 miles south of Interstate 80 and 25 miles southeast of Kearney. This is Nebraska beef country … and it's also the home of one of the nation's largest producers of beef jerky, Lucky Brand Jerky …
If you're a fan of packaged meat snacks, you owe it to yourself to try the many varieties Lucky Brand produces. This is all natural, Angus beef jerky (no antibiotics or growth hormones) offering a rich, satisfying taste. This family owned company produces slab, stick, and specialty varieties, as well as seasoning kits if you like to make your own …
All of their jerky is available for purchase at the Lucky Brand Jerky website and can be shipped to your doorstep. Try the Variety Pack – it contains all the flavors! Proudly Made in Nebraska …
Beatrice Bakery: Pronounced "Bee-AT-triss", this small southern Nebraska town is situated just over 20 miles north of the Kansas border. One of the town's claims to fame is the legendary Beatrice Bakery, which is nationally known for their one of a kind coffee cakes, dessert cakes, fruit cakes, and more …
In business for almost 100 years, the bakery ships holiday fruit cakes all across the country along with their specialty liquor cakes like their spectacular Chocolate Rum Dessert Cake. It's one of many one of a kind items you can order directly at the Beatrice Bakery website and guaranteed to make any occasion special.
We've long been fans of their Fruit Cakes and Apple Cinnamon Nut Cakes – perfect for holidays or any time of the year. They make great gifts and are sure to be appreciated!
Another of their many cakes you've simply got to try is the Blueberry Walnut Cake. It's available in individual bars, a 12 ounce bar in a gift box, or a 24 ounce ring. Something really unique for the person who holds a soft spot for The Cornhusker State! Visit their website to learn more and to order …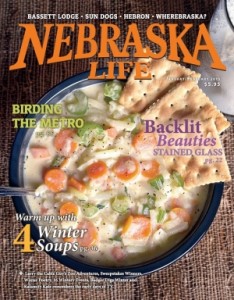 Nebraska Life Magazine: Are you looking for an economical and sure to be appreciated gift from The Cornhusker State? Consider a yearly subscription to the state's premier lifestyle and local features publication, Nebraska Life Magazine ..
Published six times yearly Nebraska Life's issues spotlight the state's food and dining scene, travel, culture, and the interesting people who keep Nebraska moving. A great choice as a gift for anyone who loves the state, it's the perfect way to stay in touch if you're a snowbird, occasional visitor, or former resident. And if you're a Nebraska native, you'll discover new and interesting stories about your home state in every issue!
Click through to the Nebraska Life website – you can subscribe for yourself or someone special as well as purchase back issues and themed merchandise like calendars, books, t-shirts, and more …
Johnny's Cafe House Dressing: We've long had a strong affection for Omaha, one of our favorite Midwestern cities. Back in 1966 when I was a very young boy, my mom and dad would drive us down from Denison, IA for a weekend of big city adventure. We've been back several times since and always spend at least a night every time we travel in the near vicinity …
Omaha is a steak town, and a mile or so south of the Old Market District is one of the city's legendary steakhouses. It's Johnny's Cafe, an old school steakhouse with an unpretentious atmosphere, perfectly grilled Angus steaks, and great drinks.
We try to stop here for lunch or dinner every time in town. It's been around since the early 1920's and you won't go wrong with any of their steaks, burgers, chops, famous onion rings, and bread pudding for dessert …
They also make a fantastic house vinaigrette salad dressing, and it's available at their online store. Each bottle is filled and packaged by hand and it's a classic gift from Omaha. Visit the Johnny's Cafe website and click on their "Store" tab. Better still, stop by when you're in town, you'll love it!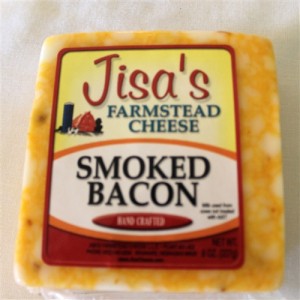 Jisa Farmstead Cheese: You may not think of The Cornhusker State as a large dairy producing state, but in reality, Nebraska is home to scores of dairy farms and cheese manufacturers. One of the most prominent and beloved is Jisa Cheese, located in Brainerd in the east central part of the state, less than an hour from Omaha …
Jisa Cheese has been around since 2005, but the family's dairy farming legacy dates back to the mid 1940's. Today, the company produces dozens of cheese varieties, all using the Grade A milk from their adjacent farm. A popular local attraction, the factory offers tours on the 4th Saturday of every month where you can observe the cheese production process first hand …
The company is well known for their cheese nuggets (think curds) as well as specialty varieties like Smoked Bacon, Spinach & Artichoke, Havarti, and many more. You'll find their cheese in many larger grocery stores across the country as well as online at the Grow Nebraska Jisa Cheese page.
Enjoy the fresh flavor of Nebraska made cheese!

Udderly Naked Goat Milk Soap: Have you ever tried goat milk soap? If not, you should … goat milk has the same pH balance as our skin, so goat milk soap leaves your skin soft and smooth as well as fresh and clean. Out in western Nebraska, this family farm business is raising goats and using their milk to create long lasting soap bars for you and your whole family …
Udderly Naked Goat Milk Soap is available in a variety of styles and scents. Apple Cider, Cocoamint, and Lavender a just a few you'll find at their website. They also carry hard to find goat milk shampoo bars – check out their Luxurious Locks bar! Natural shampoo bars are so much better for your hair than regular shampoo, especially bars made with goat milk. Itchy scalp, dandruff, and brittle hair will be a thing of the past, and using a goat milk shampoo bar can even help with hair loss. Try it and see!
Udderly Naked also makes lotions, lip balms, and convenient gift sets. The gift sets are arranged by price so you can easily budget your spending!
Click through to their website to see all the cool goat milk products and meet their goats!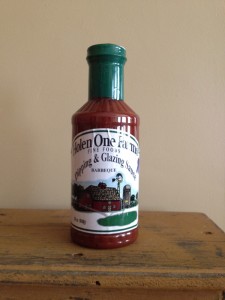 Holen One Farms: Founded by Mike & Renee Holen, this company was founded in 1999 after almost 30 years successfully running a family farm. Starting as a food concession business and then transforming into a barbecue products company, Holen One Farms now creates barbecue sauces, rubs, marinades, and custom grill solutions …
You'll find their sauces all across the Midwest at HyVee stores (that's how we found them) as well as selected Whole Foods locations and specialty shops. We particularly like their thick and chunky BBQ Dipping & Glazing Sauce, pictured. It's just the way we like good barbecue sauces … a little sweet but with a little bit of bite too. Use it as you would any bbq sauce as well as a dipping sauce for meat, french fries, and appetizers …
At their website, you'll see a recipe for Renee's Sunday Meatloaf. We tinkered with it a little bit by adding some ground pork to the mix and per the instructions used almost a cup of Holen One BBQ Dipping & Glazing Sauce on top. Outstanding!
If you can't find their products at your local retailer, they sell them at their online store, along with a few gift packs. They're based in Loomis, a small village in the south central part of the state …
Click through to their site to learn more and to order some authentic Nebraska barbecue sauce!
Nebraska Star Beef: We're from the Midwest, and we've always felt the best meat comes from this part of the country. Maybe it's because my dad was in the meat business for almost 50 years or maybe we're a bit biased, but nonetheless, we've always had a great appreciation for Midwest beef …
One of the best producers in the country is Nebraska Star Beef, located in Holdrege. The company produces USDA Choice (and better) Natural Angus and American Kobe style beef in a variety of cuts and packages. For starters, their ribeyes and filets are nothing short of outstanding and they stand by everything they sell …
If you're looking for an exceptional holiday gift, consider one of the Nebraska Star Beef special packages. Among them are their Premium Ribeye Package, the Natural Angus Steak Sampler, and the Ultimate Chili Package. If someone on your list enjoys grilling (or eating!) and appreciates top quality Midwestern beef, you won't go wrong with any of the packs you'll find at their website.
From the simple to the sublime, you'll find it at Nebraska Star Beef! Click through to learn more …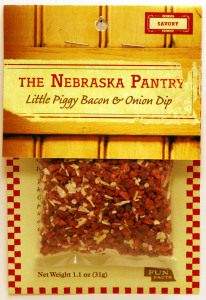 The Nebraska Pantry: This small company was founded as a gift basket company by Kirk and Jodi Jacobs of Mullen, located in the heart of the Sand Hills area of the state. They still create Nebraska themed gift baskets and have branched out the business to include a line of twelve different easy to prepare gourmet dip mixes …
Each of the twelve flavors includes a Nebraska Fun Fact on the packaging, making these dips an ideal gift from The Cornhusker State! Choose from Buffalo Bleu, Old West Chipotle, Mac's Irish Cheese, Tomato Horseradish "Husker" Dip, and several more like the Little Piggy Bacon & Onion Dip shown …
If you live in Nebraska, you'll find Nebraska Pantry dip mixes available at specialty and gift shops across the state – a list is available on their website at the "Our Stores" page. Or, simply order via their online shopping cart!
Everyone enjoys a good party dip! Easy, economical gifts from the heart of Nebraska …
Sweets By Suzanne: Sue Kemp of Lincoln is a career educator who began making toffee to give as holiday gifts when she was a student teacher. Continuing her toffee giving tradition throughout her career led to compliments and accolades on the toffee's quality, which resonated with Sue. A few years ago, she was inspired to start a side business and as a result, Sweets By Suzanne was born!
In addition to her mixed nut toffee, Sue has expanded her product line to include toffee covered pretzel sticks and peanut brittle. Sue's toffee is hand stirred, spread, and broken into pieces individually – no piece is identical. The peanut brittle, known as "Smitty's Brittle", comes from a treasured family recipe of Sue's friend Gail Smith Lorenzen. It's available for purchase during the holiday season and by special request …
If you live in Lincoln, Sweets By Suzanne offers free delivery within the city. But if you live farther afield you can order directly on their website and have it shipped to your door. Toffee (and brittle) make wonderful holiday gifts, or any time of year for that matter!
Learn more about this small company and their products by clicking through to their site …

Monument Foods: Based in the small town of Eustis in southwestern Nebraska, Monument Foods is truly a family owned business. Seven siblings of a rural farm family pooled their expertise and resources to form and run this small company which makes a line of wheat based snacks and salad toppers …
Their 100% whole grain wheat snacks are called WheatBursts … they're made from the berry of the wheat stalk and are lightly toasted and salted. You can enjoy them right out of the bag or as a crunchy topping for salads or wraps. A very healthy snack, WheatBursts are packed with whole grain goodness!
Monument Foods makes WheatBursts in several varieties using different grain types – both spelt and Kamut WheatBursts are available, as well as a sweet variety made with a kiss of brown sugar and a Trail Mix with WheatBursts and other wholesome ingredients.
Flavored wheat berry salad toppings are also available. You can order any of their products directly from their website – a unique good-for-you taste treat from The Cornhusker State!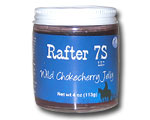 Rafter 7S Jellies: We love featuring small family run companies here at State Gifts USA because we feel they're the backbone of America. In The Cornhusker State, we found such a company not far from the small village of Paxton in the western part of the state – Rafter 7S Jellies. Based on a working cattle ranch about 30 miles north of Paxton, this small operation is best known for their pepper jellies …
We were introduced to pepper jellies a few years ago, and now it's rare when we don't have one in our refrigerator. They're just like normal fruit jellies except they're mixed with locally grown peppers, which can be mild or with a bit of heat, like a jalapeno. Pepper jellies are best served mixed in with cream cheese as an appetizer spread with crackers. They're equally good on bagels, toast, or as a unique twist on a sandwich …
Rafter 7S creates eight pepper jellies, ranging from Raspberry Jalapeno to Blackberry Habanero with many in between. All the fruit and peppers are locally grown, which is also the case with their line of fruit jellies. Some of these are closely aligned with Nebraska and make a great state themed gift. Choose from Sandcherry, Wild Plum, Chokecherry, Autumn Apple, and Sandhills Cowboy Jelly which offers a mix of wild plums and chokecherries. Sound good? You bet it does, and none of Rafter 7S jellies contain preservatives or corn syrup … just the natural goodness of the fruit!
The company also makes glazes, fruit syrups, baking mix, and gift baskets. You can't get any more authentic Nebraska than this! Click through to their site to see all their products and to order. Oh by the way, about that Rafter 7S name … it's the brand used for their cattle!
Heartland Gourmet: Lincoln, NE is one of the coolest little Midwestern cities we've had the pleasure to visit. About 50 minutes from Omaha, it's home to the legendary main University of Nebraska campus and serves as state capital. Lincoln really lights up on home football weekends, but any time is a great time to visit the city. There are some fun, casual restaurants here, lots of vibrant night spots (or happy hour spots if you're around our age!), and plenty of opportunities for shopping and strolling.
Lincoln is also where you'll find the good folks at Heartland Gourmet, a family owned company making a line of gourmet, gluten free, organic baking mixes. Dips, baking, dessert treats, and breakfast mixes are just a few of the items you'll find at their website, but we'd like to call your attention to one mix in particular because we've used it and we love it …
It's their Organic Ten Grain Bread Mix, a finished loaf of the bread is shown. Simply put, this is one of the best breads we've ever had, and it's easy to make. Whether you use a conventional oven like we did or a bread machine, this mix will turn out one healthy, tasty loaf of bread. There's no cholesterol, no additives, no artificial flavor, and it makes a hefty 1 1/2 pound loaf.
Of course, the company makes all kinds of other mixes and they private label and have some cute gift items available on their site. You can even buy mixes for homemade dog and cat treats!
Check them out to see all they have to offer. Direct from Lincoln!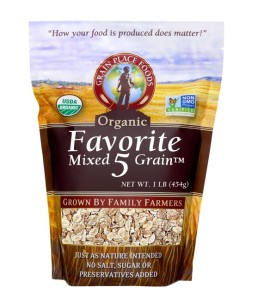 Grain Place Foods: If you appreciate foods made with organic grains, you'll want to know about Grain Place Foods of Marquette, Nebraska …
Since 1953, the Vetter family farm has followed organic farming practices and was one of the pioneers of the organic movement – their farm was certified organic in 1978. Now known as Grain Place Foods, they've grown into grain processors for small scale organic farms and remain leaders in their pursuit of organic farming methods.
As one of the leading Midwest suppliers of organic grain products, Grain Place Foods offers barley, brown rice, cane sugar, oats, rye, popcorn, and more. One of their intriguing ready to eat products is a breakfast cereal known as Organic Favorite Five. This low fat high protein cereal is a wholesome blend of oats, barley, wheat, rye, and sesame seeds. A great way to start your day!
If you follow the organic lifestyle and want to buy direct from the source, you can order any of the Grain Place Foods products directly at their website. Even if you're not in the market to buy at the moment, it's well worth visiting their website to learn the complete story about what the company does and why …
Franke's Sweet Corn: Based in Wood River, Franke's Sweet Corn produces a line of sweet corn products made from whole grains of non GMO extra sweet corn grown on the Franke farm. The kernels are dried and milled and made into specialty items like corn nuts, cornbread & muffin mix, pancake & waffle mix, and more …
One of Franke's products we found especially interesting is their packaged whole grain kernels of their extra sweet corn. They're particularly handy for any of your recipes like stews, casseroles, or for use in making a batch of corn nuts (recipe included). Add them to any soup for a special treat!
Franke's Sweet Corn also makes corn meal and sorghum mix, both of which are ideal as a standard baking mix or coating for chicken, fish, wild game, or any other type of meat. A very authentic central Nebraska gift idea for yourself or anyone on your list!
See the Franke's website for more details and to order …
Double K Popcorn: In a state known for corn, Double K Popcorn is one of Nebraska's well respected producers of this tasty treat. They're located in Valentine in the northern part of the state, not far from the South Dakota border …
Double K Popcorn produces both kernel and microwave popcorn in three distinct styles. First there's yellow butterfly popcorn, which is what you'll normally find at movie theaters. Then there's natural white popcorn, a softer variety with less hulls (so you get less stuck in your teeth!), and finally a variety we've never experienced called yellow mushroom popcorn.
Yellow mushroom popcorn doesn't taste like mushrooms – it simply pops larger and looks like a mushroom cap. This variety is commonly used for kettle corn and caramel corn …
Popcorn is a great gift, and you can order from Double K by the jar or in microwave packs. We recommend the Combo Pack which offers one jar of each of the three styles!
Click through to their site to learn more and to order …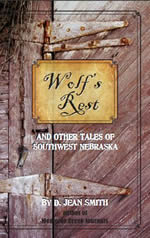 Nebraska Author D. Jean Smith: Born and raised in southwest Nebraska, author D. Jean Smith has written two non fiction books detailing the lives and times of some of the area's prominent personalities from the late 1800's …
The two books, titled "Wolf's Rest" and "Medicine Creek Journals", tell the stories of those who shaped the history of southwest Nebraska as it developed from an untamed frontier to the beginnings of the communities we know today. The author is uniquely qualified to write on the subject, being the 4th generation of her family to live on an original home site overlooking Medicine Creek in the southwest corner of the state …
Books like these make an ideal gift for any Nebraskan or simply those interested in history. Learn more about D. Jean Smith and buy copies of her books at her website …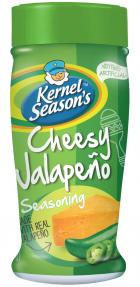 Preferred Popcorn: Preferred Popcorn is a 100% farmer owned company that grows and processes popcorn for national and international consumption. Located in the Platte River Valley of south central Nebraska, the company also has a location based in Indiana …
Did you know not all popcorn tastes the same, even before flavoring? Like many crop based products, the taste of popcorn is highly influenced by the soil where the corn is grown. Nebraska is one of the best known producers of popcorn products – they consistently rank first or second in the United States …
In addition to their many flavors of ready to eat and microwave popcorn, we'd like to call your attention to popcorn seasonings from Preferred Popcorn. Using seasoning on popcorn as opposed to drenching it in butter is a much healthier option, while adding a unique flavor dimension.
Choose from Ranch, Nacho Cheddar, Cheesy Jalapeno, Buffalo Wing, Cajun, and Caramel. We'd bet you can think of other culinary creations to sprinkle these seasonings on as well!
You can order these seasonings directly from the Preferred Popcorn site. Put your favorite movie into the DVD player and enjoy!
Volcanic Peppers: Based in Bellevue, Volcanic Peppers is a grower and processor of hot chile peppers like habanero, cayenne, and ultra hot peppers like the renowned Trinidad Scorpion pepper …
These peppers are used to create a wide variety of products for those who enjoy the depth of flavor and smoky heat they provide. The Volcanic Peppers product line includes sauces, fresh peppers, spicy treats, and their signature spice mix known as Volcano Dust …
Volcano Dust is a blend of dried and smoked peppers you'd use out of a shaker like any other spice. You can add it to any dish needing a jolt of heat and flavor, from eggs at breakfast to stews for dinner.
Volcano Dust comes in three different levels, each a progressively higher "heat". Pictured is Level Two, which adds a bit of ghost peppers along with four other hot peppers to the habanero flavor you'll experience with Level One. Level Three is hotter still, a great gift for those who like it really hot!
Check out their online store to see all the interesting pepper based products they're creating at Volcanic Peppers. An ideal foodie gift from Nebraska!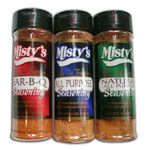 Misty's Seasonings: Recently in our hometown of Naperville, IL we got to chatting with a nice young lady who waitresses at one of our local places. She's a University of Nebraska student and we talked a bit about Lincoln, where the university's main campus is located …
We asked if she'd ever been to Misty's Steakhouse and Brewery, a downtown Lincoln legend and one of our favorite places in town. She replied indeed she had, and remarked "I love their seasonings!" … which reminded us they needed to be featured here!
Misty's makes several kinds of all purpose seasonings which they use on their steaks. We brought a few bottles back home a couple of years ago and used it on burgers, potato salad, fish, and of course steak. We like the original style but you can buy a Cajun variety, BBQ, and one with no salt as well …
Click through to their website to order. A really cool gift for anyone who likes to cook or anyone who's a Cornhusker fan!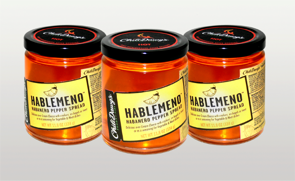 Chili Dawg's Foods of Fire: Based in Blair, NE this company's website is where you want to land if you're looking for spreads, jerky, and seasonings with a blast of heat …
Chili Dawg's likes to note they've put the "eat" in "heat" (it's on their t-shirts!). Their signature product is an habanero pepper spread called Hablemeno, which is pronounced "hab-la-MEAN-oh". This very robust and versatile spread is not a pepper jelly or jam, it's a spread to be used on appetizers, bread, snack crackers, or grilled meat dishes. It's distinctive flavor is a little bit sweet and then a blast of hot …
Chili Dawg's also makes five different seasonings, available in single containers or in mixed six packs. Choose from green chile, cayenne, chipotle, jalapeno, and of course habanero. Dawghouse Fiery Beef Jerky and additional spreads are also available.
Be sure to look at their gift packages which include a mixture of spreads and seasonings in a variety of sizes … enjoy the heat from Nebraska!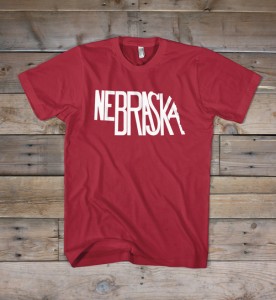 The Stately Shirt Company: Take a look at that Nebraska shirt, is that cool or what?
It's one of the many "show pride in your home state" shirts made by The Stately Shirt Company out of Kearney, NE. This small company began their operation as a sideline business in 2013, and offer state themed shirts for most of the 50 states (36 as of this writing) …
As you can tell from the Nebraska shirt, the state name is spelled out in accordance with its geographical shape … a clever idea!
The Stately Shirt Company also offers state decals with similar designs to their shirts and are developing a City Collection as well (there's an Omaha decal available for you Nebraska folks!).
It was a lot of fun for us to browse through their website to see the various state shirt designs … take a look for yourself! We hope to feature this company more prominently when they've got all 50 state designs ready to go …
Crane Trust: Here at State Gifts USA we like to call your attention to at least one deserving non profit organization in each state. Typically we focus on animal related non profits which closely align with a particular state. For Nebraska, we'd like to introduce you to Crane Trust, Inc. …
The Crane Trust is an organization dedicated to protecting and enhancing the migratory habitat for whooping cranes, sandhill cranes, and other birds along the Platte River in central Nebraska. From mid February to early April each year, cranes stop along the Platte River near Kearney during their migration north.
During their several week stay in the area, they feed on waste corn in local fields. In the evenings, the cranes perch on sandbars in the river and prepare for their lengthy journey to Canada. These spectacular birds are a sight to behold – they stand five feet tall with colorful plumage and a wing span of up to six feet. The rare whooping crane, a critically endangered species, is even larger …
Hundreds of thousands of sandhill cranes stop here every year, as do other migratory birds. The Crane Trust helps manage the habitat for these birds and works to prevent invasive plant species that would alter the habitat. You can support the Crane Trust via your donation or as a gift.
Visit their site to see a fascinating video of the crane's migration and to learn more …
History of Nebraska
Nebraska Trivia and Fun Facts

1). Arbor Day started in Nebraska in 1872 …

2). The weight room at the University of Nebraska in Lincoln is reputed to be the largest in the country. It covers 3/4 of an acre …

3). Nebraska is well known for sand hills. Basically, sand hills are sand dunes covered with grass. They cover about 25% of Nebraska's land area …

4). Gerald Ford, the 38th U.S. President, was born in Omaha in 1913. His birth name was actually Leslie King, but he later took his stepfather's surname …

5). The 911 emergency system was first used in Lincoln …

6). "Nebraska" is an Indian word meaning "flat water" …

7). Nebraska is known for its abundance of Czech-Americans. One town, Prague, hosts an annual Kolache Festival, dedicated to the famous Czech style pastry …

8). The Ak-Sar-Ben Coliseum was Omaha's most prominent multi use ice rink and concert venue for over 70 years. An adjacent racetrack was also a popular attraction. Popular singers like Frank Sinatra and Elvis Presley, classic rock bands like Cream, and numerous sporting events were hosted here. The Coliseum closed in 2002 and was demolished in 2005. Ak-Sar-Ben is Nebraska spelled backwards …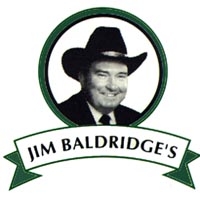 Jim Baldridge's Secret Seasoning: This family operated North Platte, NE company makes a special seasoning blend that's known all across Nebraska and enjoyed by thousands …
It's Jim Baldridge's Secret Seasoning, based on a recipe developed by his mother. It's a combination of herbs and spices that works well with just about anything you'd eat, with the exception of your morning cereal! It adds flavor (and tenderizes) meat, chicken, and fish. It's also great on any kind of vegetable or as an extra addition to dips and stews …
Spread Secret Seasoning on a loaf of french bread that's cut in half, layer cheese on top and than bake in the oven (or toaster oven). You've got an ideal substitute for garlic bread – perfect with any meal or just by itself!
You can order Baldridge's Secret Seasoning in 4.7 or 12 oz. bottles, or better yet, get yourself a case or send it as a gift … and enjoy the taste of the Cornhusker State!
Heavenly Creations: Heavenly Creations is a family owned company in Stapleton, NE making a line of artisan food products perfect for foodies and families alike …
One of the more interesting aspects of the Heavenly Creations website is their section "Native Flavors". Here is where you'll find products they've developed using local Nebraska fruit like chokecherries and wild plums. They're made into delicious and unique jelly, syrup, and there's a Nebraska Jellies gift box …
Heavenly Creations also offers gourmet toffee, maple syrups, and an all natural baking mix. Choosing from one of their gift sets is an excellent choice for a special gift from the Cornhusker State …
And don't forget to see their Serving Ideas and Recipes page … there's lots of good ideas there!
HR Poppin' Snacks: You've had popcorn before, but have you ever tasted Vin de Mais?
Vin de Mais is a unique specialty of the HR Poppin' Snacks company located in central Nebraska …
Translated, vin de mais means "wine of corn", and that's what this popcorn is. It's wine flavored popcorn, available in your favorite wine styles like chardonnay, cabernet, merlot, pinot grigio, and more.
Fresh popcorn and grapes are harnessed together in these unique snacks which will be a hit at any gathering featuring wine! The company also makes quite a few other specialty flavored popcorn varieties, and offers seasonal favorites and gift tins … check their website for all the details and to order!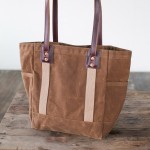 Artifact Bag Company: This small Omaha company, in business since 2010, makes an attractive line of purses, totes, and carrying cases from the finest waxed canvas and leather …
The carry tote shown is just one of many sturdy bags made by Artifact. Check out their online catalog to see the full collection and order one for yourself or as a gift …
Made with pride in Omaha!
JB's Fat Boy Sauces and Rubs: This Grafton, Nebraska company makes a line of barbecue sauces and rubs which we sampled on a recent trip to the Omaha area. JB's barbecue sauces are really good, but one sauce in particular stood out to us and we'd like to introduce it to you …
It's the sauce we've got pictured, JB's Apple Cider Honey Mustard Sauce, which you can buy online at JB's Fat Boy Sauce and Rubs website. The ingredients in this sauce are spiced up with just a bit of habanero pepper, giving it a little kick but not too much.
You can use the sauce as a glaze for pork, as a finishing sauce for fish, or just as an appetizer dip with pretzels …
JB's Fat Boy offers all kinds of other sauces, most notably barbecue, as well as rubs and spice mixes. A great gift for the chef or grillmaster in your life!
Big Red Popcorn: We saw this product at a store in Lincoln, NE and thought it was really clever, and a perfect Nebraska gift. It's microwave popcorn on an actual ear of corn!
Ears of corn are harvested at the Kehrli Farm in Schuyler and then air dried on pallets. After they dry out a bit, they're packed in clear vacuum sealed bags and shipped.
Basically, you place the clear bag in your microwave and pop the corn just like any other microwave popcorn, but it's much better tasting since the corn is still on the cob … no preservatives whatsoever are added. The kernels pop right off the cob … and you simply add salt and/or butter to your taste preference …
Order Big Red Popcorn for yourself or as part of a Nebraska themed gift …
Omaha Old Market Prints: Omaha holds a special place in my memory … when my family lived in western Iowa many years ago, we spent many weekends there. In recent years, we've had several opportunities to visit Omaha and enjoy the city and its many attractions, most notably the Old Market area adjacent to downtown …
The photo shown is a print by Omaha artist Yvonne Eymann, who captures Omaha scenes like this one of the Old Market. You can see many of Yvonne's works right here, as well as beautiful Omaha scenes taken by photographer Rick Anderson.
Any of the prints and photos can be purchased online … the perfect memento of a visit to Nebraska!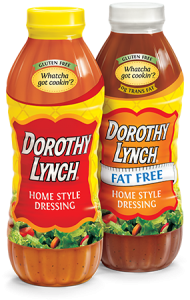 Dorothy Lynch Home Style Dressing: Dorothy Lynch Home Style Dressing is a "Nebraska Thing". There really was a Dorothy Lynch, and this unique dressing has been made in Nebraska since the 1940's …
The dressing itself has a sweet and spicy taste. It's tomato based and is an excellent substitute for ketchup or even barbecue sauce.
Use Dorothy Lynch's it not only as a salad dressing, but as a marinade, finishing sauce, or dipping sauce.
Dorothy Lynch Salad Dressing can be hard to find outside of Nebraska, but you can order it online at their website. Regular and fat free versions are available …
Ely Farms Pickled Asparagus: Ely Farms pickled asparagus is grown and packaged at the Ely Family farm in Grafton, NE. The business was established in 1999 and has since branched out to pickled bell peppers in addition to the asparagus.
Ely Farms Pickled Asparagus has proven to be a very popular product. It's excellent in stir fry recipes, as baked asparagus, and when added to soups. Chop some up and add it to your favorite salsa for a unique taste twist!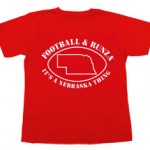 Runza Restaurants: If you've ever lived in Nebraska, or spent any time traveling through Nebraska, you know about Runza restaurants. They're a chain of made to order restaurants featuring a unique sandwich that's actually more like a turnover or wrap. It's always one of our first stops when we visit the Cornhusker State …
Appropriately enough, it's known as a "Runza". Basically, a Runza is a yeast dough casing stuffed with premium ground beef which is sauteed with chopped onions. minced cabbage, and spices. Add a dash of hot sauce, a side of Runza's famous onion rings, and you've got yourself a great meal …
While you can't have the company ship you a Runza, you can order the cool t-shirt pictured. The perfect gift for any Nebraska football fan, or any fan of Nebraska! Get one at Runza.com …
Ogallala Bay Rum: Bay Rum is a traditional men's fragrance with a clean, crisp scent. A barber shop staple for years, it's often described as a "man's man" after shave without any cloying overly perfume like scents …
Genuine Ogallala Bay Rum makes all kinds of interesting bay rum products in addition to the traditional men's after shave. You can order bay rum deodorant, air fresheners, bay rum bath soap and shampoo bars, just to name a few. They're based in Ogallala, Nebraska …
They even have a pet care section of bay rum products! Check their site for all the details …
Moody Girl Salsa: Moody Girl Salsa out of Columbus, Nebraska began years ago when owner Becki Zanardi was a newlywed. Her new husband had a palate for Mexican food, so Becki began tinkering with salsa recipes she developed, using peppers from their garden …
The salsa she created was a smash hit, and soon thereafter friends and relatives encouraged her to package and sell her salsas. Now, Moody Girl Salsa is available in three varieties … mild, medium, and hot.
You can order Moody Girl Salsa in three packs, six packs, or twelve packs of 12 ounce jars …
Valentino's Pizza: If you've spent any time in Lincoln, Nebraska you've likely heard about (or visited) Valentino's Pizza …
Cities across America, especially college cities, boast pizza parlors beloved by students and residents alike. In Lincoln, it's Valentino's, which has been part of the local landscape since 1957 …
Growing from a single location in Lincoln to over 35 restaurants in four states, Valentino's is a Midwest original. We enjoyed a Valentino's pizza the last time we were in Lincoln, and as Chicagoans we know a little about pizza. Our advice? If you're ever in Lincoln, go there!
If you can't visit Lincoln, you can order Valentino's Pizza online. After all, hungry University of Nebraska alums across the country order it every day. The pizza is shipped frozen and arrives at your door ready to bake. You can also order Valentino's lasagna, sauce, and dessert pizzas too!
Verdigre Bakery: Nebraska has a significant Czech heritage population, so it's no surprise to find several wonderful old fashioned Czech bakeries in many communities across the state …
One is located in the small town of Verdigre, located in the northeast corner of the state. It's the Verdigre Bakery, where you can order delicious fresh baked traditional Czech specialties. We found out about the bakery from their second location in Omaha's Old Market district …
Choose from walnut crinkle bread, caraway rye, rohlicky, and of course kolaczki with several different fillings. And if you're ever in Omaha, stop by their Old Market location for a treat right out of the oven!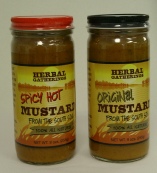 Herbal Gatherings Mustard: This Lincoln, NE company makes two styles of mustard, original and spicy hot. The mustard contains no preservatives and is one of the most popular gourmet mustard products in the state …
You can use it just like a traditional mustard or even as a dip, which is how we first discovered it. It's great with pretzels or on a deli sandwich, and you can also use it to spice up chicken breasts … the Herbal Gatherings website has lots of great recipes as well as the ability to ship you either flavor of mustard.
They're available in some Whole Foods Markets around the Midwest, but to get it in your hands quicker, head to their site and order online …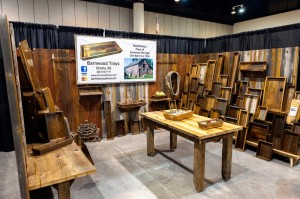 Barnwood Trays: This clever operation is based in Omaha and does something we truly respect … crafting something useful from outdated or outmoded structures …
In this case, Barnwood Trays collects and reuses the wood from old unused or decaying barns and creates useful household items like coffee tables, trays, wine racks, and more.
The barn wood is "harvested" from barns mostly in Nebraska, and some from Iowa and Missouri …
What a great, practical and one of a kind gift from America's heartland!
Check out all the items at their website …
Stay Tuned For More Nebraska Made Gifts … In The Mean Time, Tell Us About Your Favorites! Reach Out To Us On Our Contact Us Page …