Made In Oregon Quick Facts
This Post is about Made in Oregon Gifts and Specialty Oregon Products
Want To See Your Business / Products On Our Made In Oregon Page?
Visit "Advertise With Us"!
FEATURED MADE IN

OREGON

BUSINESS

ES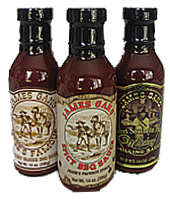 James Gang BBQ Company: Oregon hasn't been traditionally known as one of the nation's barbecue hubs, but that doesn't mean there aren't some exemplary BBQ products coming out of The Beaver State …
Take, for instance, Pam and Jesse James of Newberg. They bought a barbecue joint in the small Oregon coastal town of Lincoln City and received rave reviews from customers about their special recipe sauces. The restaurant has since been sold, but the sauces live on as the "James Gang BBQ Company, In addition to sauces, the company makes a chili mix, specialty spices, and even a barbecue cookbook!
James Gang produces seven different varieties of sauces, so there's sure to be one or more that suit your palate. Their original version is called James Gang Hickory Smoke BBQ Sauce, and it's been an award winner at many prestigious barbecue competitions, including the American Royal International BBQ Sauce Competition.
Take a look at their website and click on "Products" – you'll see all they've got to offer, including Variety Packs, which make great gifts. It goes to show … great barbecue is where you find it!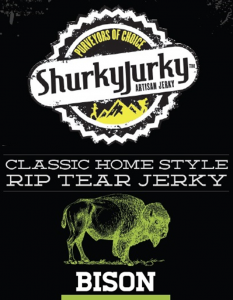 Shurky Jurky: This Portland based company is far from just another business producing jerky. They're actually a wellness focused snack company whose first product just happens to be jerky responsibly produced from 100% grass fed, pastured, free range stock. The result is guilt free protein on the go!
Available in beef, bison, turkey, and pork, this jerky contains no refined sugars, additives, or preservatives. It's designed for the active lifestyle and will change the way you think about meat snacks …
You can learn more about this innovative small business at their website, where you can also order single flavors of jerky, combination packs, and two great gifts ideas – monthly and yearly subscriptions. Perfect for the healthy snacker on your list …
Stay tuned to Shurky Jurky as they introduce more products in the near future (a marinade is on the way). Made in Oregon!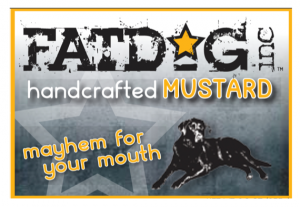 Fat Dog Mustard: Our travels take us all over the U.S. and in addition to seeing the sights, we always take time out to look for interesting locally made products. Doing so takes us to grocery stores, specialty shops, and all kinds of interesting stores …
One of the products we always seek out is locally made mustard, and we found a good one in Oregon. It's Fat Dog Mustard, made by a small family owned business who also make a companion product, Fat Cat Pretzels. We were assured no dogs or cats were harmed in the manufacturing process, but in all seriousness the mustard is outstanding – it's starts off with a pleasing sweetness and finished with a tangy bite. Perfect for sandwiches, dips, deli subs, or … pretzels!
You'll find Fat Dog Mustard in area stores (check the "Find Us" tab on their website), or simply click on the "Order" tab to have some sent your door or that of your gift recipient …
Taste buds always appreciate great tasting mustard!
Otto's Sausage Kitchen: A Portland institution, Otto's has been handcrafting specialty sausages, smoked meats, and deli products since the early 1920's. They're the type of family owned and operated business every city needs – Portlanders flock here and until you try some of Otto's sausages, you haven't been to Portland!
Not long ago, Otto's added e-commerce capability to their website, which you'll find at OttosSausage.com. You can order many of their fantastic specialties right there and Otto's will ship to your doorstep. If you're looking for a Portland themed gift, you've just found one!
Smoked pork links, bockwurst, Adler smoked bacn, and Hunter sausage are just a few of the items awaiting you. Be sure to check out their Grill Packs to receive a little bit of everything …
You won't go wrong ordering a gift from Otto's Sausage Kitchen!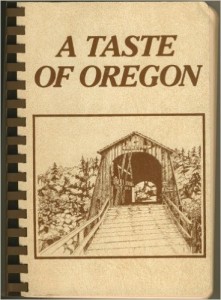 A Taste of Oregon: Here at State Gifts USA, we're in the process of compiling a state themed cookbook for each of the 50 states. Recently, we were made aware of a good one for The Beaver State titled "A Taste of Oregon".
This book has sold over 300,000 copies and is the definitive Oregon cookbook. It contains 600 easy to follow gourmet recipes covering many of the state's legendary dishes. Also included are storied and anecdotes about the state and its cuisine.
A convenient spiral bound cookbook, it's the ideal gift for the Oregon chef on your list …
Rogue Creamery: You may have heard of this company's cheese and seen it in specialty grocers in your area. If you've tried any of their creations, you know why the cheese from this Beaver State institution is one of the state's most beloved product lines …
Based in the Rogue River Valley since the 1930's, Rogue Creamery makes some of the finest cheese you'll find anywhere. Blue, Cheddar, and their highly acclaimed Touvelle head the list of their specialties. If you haven't heard of or tried Touvelle, it's an American cheese featuring a sweet creamy flavor, hints of milk chocolate, roasted nuts, and vanilla. You'll wonder why all cheese doesn't taste this good!
Rogue's online cheese store is well known for their many gift packages and specialty combinations perfect for anyone on your gift list, from loved ones to corporate clients. We particularly like the "Rogue Blue Sampler" and "Oregon Tradition" packages, and they also offer a Monthly Cheese Club in 3, 6, or 9 month increments. You or your recipient will get the best the Creamery has to offer, including limited edition and special recipe cheese reserved specifically for the Club.
Click through to their site to discover all your options. A wonderful gift idea from Oregon!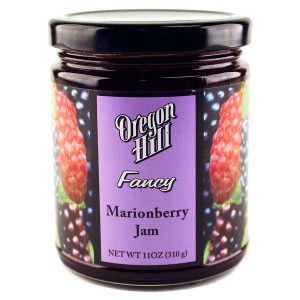 Oregon Hill Farms: Since 1987, this company has been producing gourmet fruit preserves, jams, syrups, and specialty baking products like scone and pancake mixes. Their mission has always rested upon the use of Oregon's finest and sweetest fruit – grown in the rich fertile soil of The Beaver State's Willamette Valley.
Oregon Hill Farms makes one of our all time favorite jams, which we occasionally find in specialty markets in the Midwest – it's their fruity Marionberry Jam, made from these special berries which grow beautifully in the Pacific Northwest. Kind of like a cross between a raspberry and blackberry, marionberry jam is great on any baked goods and also makes a fantastic PB & J sandwich!
The company also offers other specialty jams like Tripleberry, Apple – Cranberry, and a combination Blueberry – Orange. Many of their products are available at their online store if you can't find them in your area (and they're well worth seeking out!).
Enjoy the fresh flavors of the northwest with Oregon Hill Farms!
Cary's of Oregon: A family owned toffee business located in Grants Pass, Cary's of Oregon began when Cary Cound received a toffee recipe and marble slab from his wife Jan's grandfather. What started as a holiday tradition of making toffee soon turned into a full time business when requests for more batches came pouring in from family, friends, and acquaintances …
Cary and his company now make over 175,000 pounds of toffee yearly and ship to all 50 states! Nine different varieties are available, including Dark Chocolate with Espresso, Milk Chocolate Vanilla Bean, and many more.
Cary's of Oregon also features a wide array of toffee gift packages, all beautifully packaged like the FourSome Toffee Gift Box, pictured. It contains four 8 ounce boxes including Milk Chocolate Almond, Dark Chocolate Hazelnut, and Toffee Bites. They're all made with pure cane sugar, Oregon butter, and nuts from the immediate surrounding area …
An ideal office gift (or just for someone special), Cary's of Oregon will ship right to your door. Click through to their website to see all their toffee creations!
NW Elixirs: Portland based NW Elixirs is a unique hot sauce company founded by award winning chef Andrew Garrett and veteran food industry entrepreneur Mitch Miller. They've combined their passion for food and creativity into a line of sauces using a broad spectrum of natural ingredients and bold flavors …
We are big fans of their NW Elixirs Verde Hott #2 sauce – it's a wonderfully flavorful serrano and jalapeno pepper based sauce that's flavored by a bit of cilantro and agave. It pairs perfectly with any Mexican style dish and is more than versatile enough to pair with pork, chicken, and fish. We've used it with carnitas as well as brushed onto pan roasted chicken – it has a kick of heat but can be used liberally!
If you like things a little hotter, try their Hott Sauce #1, a habanero based creation, or the Bangkok #4, made with Thai chiles, lemongrass, garlic, and coriander (ideal for stirfrys!). There's also a more mild Hott Smoke #3, a chipotle, ancho chile, and smoked onion grilling sauce which can be used as a substitute for barbecue sauce. We love the flavors in this one too!
There's a link at the NW Elixirs website on the Order Now page where you can order any or all of their sauces at their online store at IBurn.com . You'll love these sauces – a flavorful Oregon made gift for yourself or the foodie on your list!
Pacific Hazelnut Farm & Candy Factory: The hazelnut, also known as the filbert, is harvested primarily in Oregon and is unofficially known as one of the state's signature snacks. High in protein and very good for you, hazelnuts are used in confectionery treats, recipes, or simply enjoyed salted and roasted.
Located in the beautiful antiques town of Aurora, Pacific Hazelnut is one of the best places in the country to buy these tasty nuts. They're available in various forms, including roasted and seasoned, chocolate covered, or in crunchy toffee.
Either in person or at their website, the company also offers chocolate covered local fruit and a wide variety of pre made gift box selections. You can also purchase hazelnuts in the shell – a great Oregon themed gift idea!
Click through to their website to view all their products, and if you're ever in the area, stop by for a tour of their candy making operation to see how it's done up close and personal!
Tater Piks: You've heard of pickled asparagus, pickled beets, and pickled peppers … how about pickled potatoes? Yup, an innovative company in Malin, OR just a few miles north of the Oregon-California border has mastered the art of pickling gourmet potatoes!
The company is called Tater Piks and they proudly make two varieties of pickled potatoes. One is Savory Classic Dill and the other is Zesty Pep & Garlic Dill, a spicier version. They're made with a brine similar to what is used for pickles. Tater Piks can be used as hot or cold appetizers, as a unique side dish, or added to soups and salads! There are several mouth watering recipes at their website with serving suggestions …
You can order these Oregon made products in various quantities directly at the Tater Piks site. They're an ideal gift for someone culinary oriented!
Lillie Belle Farms Handmade Chocolates: Chocolatier Jeff Shepherd owns and operates Lillie Belle Farms Chocolates based in Central Point, OR. The business is named after his wife and daughter and Jeff has garnered numerous accolades for his specialty creations, including being named one of the Top 10 Chocolatiers in the United States by Dessert Professional magazine. He has grown his business over the past decade plus to the point where the company now employs ten people who help ship Lillie Belle Farms Chocolates to customers worldwide …
If truly unique artisan chocolates intrigue you as it does us, take a look at the company's website to see some of their chocolate specialties. Many use fresh local ingredients, like the Chocolate Covered Rogue Valley Pears shown. Or how about two of the best foods in the world combined into one with Lillie Belle Farms Chocolate Covered Bacon? It's made with chipotle and brown sugar crusted bacon enhanced with a dash of smoked sea salt – wow!
Organic berry cordials, ganache filled chocolates, specialty bars, and gift packages are also available. For a wonderful gift for that "hard to buy for" person on your list, Lillie Belle Farms offers a Chocolate Club which includes a selection of chocolates and organic confections in 3,6, or 12 month increments.
Corporate gifts in various sizes are offered at their site for convenient one stop shopping too! Check out LillieBelleFarms.com for all the details …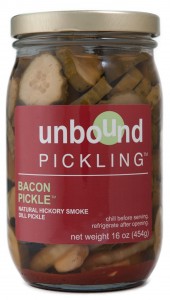 Unbound Pickling: In 2009, Jesse and Katie Hancock of Portland decided to pickle some excess green beans from their garden. Pleased with the results, a new business was born!
The couple formed Unbound Pickling and ever since they've been doing some pretty amazing things using the traditional art of pickling. One quick look at their product line will tell you this isn't an ordinary pickle-in-a-jar operation!
Have you ever tasted Pickled Peas & Carrots? Here they're made with honey, mint, and garlic. Or how about a Bacon Pickle, made with garlic dills and hickory smoke flavoring and paprika …
Some of their other products include pickled beets, pickled local Walla Walla sweet onions, and a line of pickled cherries (take a look at the Vanilla & Cayenne variety). All these products are made with locally grown produce direct from farms to ensure the freshest vegetables and fruit available …
All of the Unbound Pickling products are available by PayPal directly from their website. We don't know anyone who wouldn't enjoy a gift like this! Visit them to see the entire product line …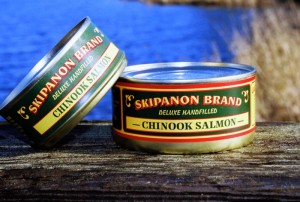 Skipanon Brand Seafood: In a state well known for outstanding seafood, one of the best known purveyors of salmon, tuna, sturgeon, and other ocean delights is Skipanon Brand Seafood of Warrenton, OR adjacent to the Skipanon River …
Skipanon's processing plant and cannery are where all the magic happens … after the fish is caught of course! Albacore tuna, Chinook and Coho Salmon, sturgeon, and fresh crab are just a few of the delicacies processed here. The fish are hand filleted and packed in cans which are cooked once to preserve them for the retail market. Some of the fish is reserved for smoking, which is done via the cold smoking process with selected hardwoods to impart a one of a kind flavor.
The company houses a retail store at the cannery, but if you can't get to their location, their online store allows you to order their products and have them delivered directly to your door. Gift packs are available!
Click through to their site to see what's available and to place your order …
Greif's Gourmet Garlic: The foothills of Oregon's Blue Mountains near the town of Elgin offer ideal soil and climate conditions for growing garlic. In fact, the area is known as the Gourmet Garlic Capital of the World – a pretty lofty distinction!
We love featuring truly local products, and Greif's Gourmet Garlic is just that. Big and plump cloves are perfect for any use – try slicing a few cloves into a fresh Oregon fish dish! Garlic is exceptionally good for you – it helps regulate your blood flow and is great for your digestive system …
You can buy Greif's Gourmet Garlic directly from their website. They also offer garlic powder, garlic infused olive oil, pickled garlic, garlic pesto, and more. While you're on their website, take a look at their Greif's Product Sampler, pictured. It includes their garlic infused olive oil, a pint of pickled garlic, and a pack of their garlic powder.
A wonderful locally grown gift. Anyone who spends time in the kitchen will thank you!
Cranberry Sweets & More: Bandon, located in Oregon's coastal Coos Bay area, has long been known as the state's cranberry capital. And there's no better place to find a tempting variety of cranberry confections than Cranberry Sweets & More, an Old Town Bandon staple since 1974 …
Cranberry Sweets & More is a family owned company creating hand made fruit candies and chocolates, brittles, toffees, and many other treats. They are well known for their Original Cranberry Jelly Candy, a one of a kind treat made with no artificial flavorings, color, or preservatives. They're available with or without walnuts, and also chocolate covered …
The company also offers gourmet jellies and condiments made with fresh local fruit, including Cranberry Jam, Cranberry Relish, and a Cranberry Vinaigrette (perfect for adding to your salads!). Also check out their signature "Pie Candies" which are lemon fruit pates dipped in white chocolate offering the flavor of a lemon meringue pie! Dozens more unique specialty products are available – these few short paragraphs don't do their selection justice so you'll want to visit their site to see for yourself!
What a wonderful gift from coastal Oregon! Click through to order …
Olympic Provisions: Founded in 2009, Portland's Olympic Provisions practices the fine art of charcuterie using Old World techniques with patience and attention to detail. Using antibiotic free Pacific Northwest pork, spices, and sea salt, the end result is a variety of hard to find specialty smoked meats like salami, ham, kielbasa, frankfurters, and much more …
We were intrigued by their signature Salami of the Month Club, something we'd never seen before. You or your gift recipient can choose to receive one, two, or three of Olympic Provision's twelve varieties of salami for a whole year. Included are detailed tasting notes and serving suggestions …
In addition to all their wonderful smoked meats (they even offer a chocolate salami sampler!), Olympic Provisions also creates pickled items – beets, vegetables, and of course pickles. Be sure to check out their Pickle of the Month Club too!
To place an order for the foodie in your life, visit the Olympic Provisions site linked above. Enjoy the flavor of Oregon, Old World style!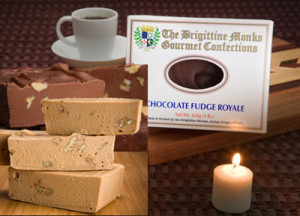 Brigittine Monks Fudge: The Brigittine Monks of Amity, OR are well known for their chosen path of a life dedicated to prayer and work. Part of the monk's work in this order is production of gourmet confections, which are sold to help support their activities and sustenance …
The Brigittine Monks produce several varieties of fudge which have garnered national attention in magazines like Town and Country, Bon Appetit, and Chocolatier. The monks use fresh dairy butter, cream, and the choicest nuts to create their fudge and truffles, which are available for sale at their online gourmet fudge shop …
Flavors available include Dark Chocolate, Chocolate Hazelnut, Chocolate Amaretto, and more. Eight to ten flavors of truffles are also available depending on production schedules. A delightfully tasty hand made gift from the beautiful Willamette Valley!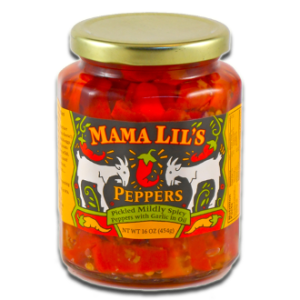 Mama Lil's: This Portland company uses local produce to pack their line of mild and hot peppers in a variety of different styles and heat levels …
Mama Lil's offers their Mildly Spicy Peppers, Kick Butt Peppers, and Sweet Hot Peppers packed in extra virgin olive oil. The peppers are Hungarian goathorn peppers that taste great right out of the jar! You can also cut them up and use on sandwiches or salads …
Mama Lil's also makes two products ideal for relish fans. The first is a mild mustard pickle relish (put it on a hot dog!) called Mama Lil's PeppaLilli … it's got a little bit of spicy zing from the peppers but an overall mild flavor. The second is a hotter version – Honkin Hot PeppaLilli – made with a hotter variety pepper and also great on hot dogs …
The company's online store also sells bread and butter pickles & peppers, as well as pickled asparagus and green beans. You can buy in quantities of three or six jars in different sizes – a tasty Made in Oregon treat for the foodie on your gift list!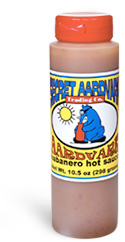 Secret Aardvark Trading Company: This small Portland company is making a big name for itself with its line of three hot sauces you'll find on restaurant tables all around The Rose City and beyond …
They're called Secret Aardvark Trading Company and they create three types of hot sauce – their flagship Habanero Hot Sauce, Drunken Garlic Black Bean Sauce, and Drunken Jerk Sauce …
Secret Aardvark's Habanero Sauce is interesting as it's made with roasted tomatoes which balance out the heat from the habaneros. It's a great table sauce which can be used on just about anything …
The Drunken Garlic Black Bean is a garlic lover's dream, and made "drunken" by a couple of shots of southern whisky. The Drunken Jerk Sauce, a Jamaican style creation, gains the first part of its name via the addition of a bit of dark rum …
All three of these sauces are available at the Secret Aardvark website. We recommend picking up one of their combination gift packs so you can try all three!
Marshall's Haute Sauce: Marshall's Haute Sauce is a small and growing company owned by a Portland couple, Sarah and Dirk Marshall. They've created a unique line of sauces using local produce, vinegar, spices, and sometimes sugar and local honey. No additives or hidden ingredients!
The flavor combinations in their sauces are really appealing – Cranberry Red Jalapeno, Ghost Pepper Apple, Habanero Carrot Curry, Serrano Ginger Lemongrass, and more. These sauces are versatile and can be used as a traditional hot sauce or as key ingredients in your culinary creations …
We love the company's emphasis on local ingredients! All their sauces are vegetarian and gluten free too.
You can find varieties of Marshall's Haute Sauce in the Portland area as well as specialty food retailers in Oregon and Washington. They're slowly but surely expanding their distribution but in the interim, click through to their website and order for yourself or as a gift – taste the freshness of Oregon!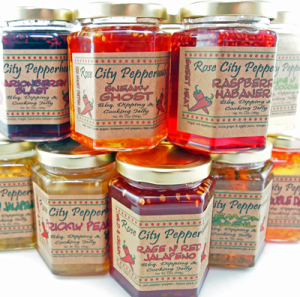 Rose City Pepperheads: This Portland based company has been creating interesting peppery products since 1998 – they specialize in barbecue, dipping, and cooking jellies.
Pepper jellies are just like they sound, in a way. They're a spreadable spoonable jelly that's mixed with garden peppers and have varying degrees of heat just as different peppers do (some mild, some hotter). Rose City Pepperheads creates three different classifications of these pepper jellies – Mild, Wild, and Wicked which correspond to how much "sass" or heat you'll experience …
Most people use pepper jelly to spread on sandwiches or mix with cream cheese as an appetizer. While they're great when used in that fashion, they're so much more versatile. We like to make stir fry dishes, and a few spoons of pepper jelly added to the mix offers a perfect combination of sweet and hot. They're also ideal when used as a glaze or brushed on to any type of barbecued meat …
Rose City Pepperheads makes a wide assortment of flavors, from apricot to marionberry to raspberry jalapeno. For those who like a lot of heat, try the "Double Dare" or the "Sneaky Ghost", made with ghost peppers. There's over 25 varieties in all!
You can order Rose City Pepperheads pepper jellies online at their site in single jars or in convenient gift packs. A really nice gift for anyone who likes a little zip with their favorite dishes!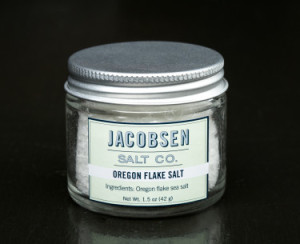 Jacobsen Salt Company: If you like to cook, as we do, you probably know the difference between using higher quality seasonings versus run of the mill 99 cents a shaker spices from the discount aisle …
We started using sea salt in the past few years and wouldn't ever go back to standard salt. Sea salt has a fresher, more concentrated taste (which means you can use less) and we've found sea salt and lemon are about the best companions for fresh fish by a long shot …
So we're pleased to tell you about Jacobsen Salt, a small Oregon company harvesting fresh sea salt directly from the cold coastal waters off Netart's Bay. Owned and operated by Ben Jacobsen, this exquisite seasoning is garnering rave reviews from professional chefs as well as amateurs like us …
The company's sea salt comes in several varieties, from the original Pure Flake Sea Salt to flavored salts like cherrywood, ghost pepper, Oregon pinot noir, and several more. No matter what flavor you're seeking to add to your culinary creations, you'll find the appropriate companion salt here …
You can buy individual containers of Jaconbsen Salt at their website, as well as a few other related items like sea salt soap and salty black licorice (which sounds great!). A perfect gift idea for the culinary centric person in your life!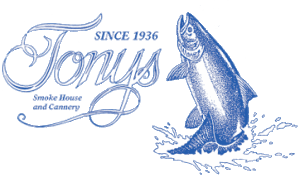 Tony's Smokehouse and Cannery: There's nothing like great smoked fish, and that's exactly what you'll find at Tony's Smokehouse and Cannery in historic downtown Oregon City, where they opened in 1936 …
Tony's is a popular local destination for fresh fish in their dining area, and also to go for preparation at home. On the smokehouse and cannery side of the operation, Tony's has been canning fish like chinook salmon, albacore tuna, and smoked sturgeon for decades. The sturgeon is caught right from the Columbia River, and the salmon and tuna are from waters off the Oregon coast …
You can buy these wonderful delicacies individually or in gift packs directly at Tony's online site. A sure to be appreciated gift directly from Oregon!
The Wooden Nickel – Myrtlewood Gifts: The Wooden Nickel is a really cool shop located in Port Orford, along the state's southern coast. In this immediate area you'll find the rare Oregon Myrtle tree, a slow growing tree that is native only to this section of southern Oregon and extreme northern California …
Myrtlewood is known for its hardness as well as its grain colors and patterns. After the wood is harvested, it is cut into logs and then dried slowly and carefully for six to eight weeks to prevent cracking and splitting. After drying, the wood is crafted into beautiful functional art pieces like bowls, cutting boards, kitchen items, decorative pieces, and more.
It should be noted that every item is different due to the unique grain wood. These pieces are carefully prepared and sealed and will last for decades with proper care.
These are wonderful gifts which are unique to Oregon! Check out the Wooden Nickel site to learn more about the entire process and to order one or more of these beautiful items for yourself or as a gift!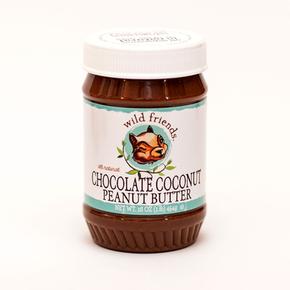 Wild Friends Foods: Wild Friends Foods is a growing company with a great story. Started almost by accident by University of Oregon roommates Erika Welsh and Keeley Tillotson, the company makes an ever expanding line of flavored peanut butters and nut butters …
While sitting in their college apartment on a stormy Sunday a few years ago, the two young women discovered they were out of peanut butter. With an ample supply of celery but no motivation to battle the rain to buy more peanut butter, two enterprising minds went to work …
With a bag of peanuts on hand along with a food processor, Erika and Keeley created their first flavored peanut butter with ingredients on hand, like cinnamon, chocolate chips, coconut, and more. After sharing their creations with friends, the two were encouraged to start a business.
A Kickstarter campaign and an appearance on the popular show Shark Tank now in their rear view mirror, this blossoming company is now distributing their unique nut butters across the country …
If you can't find the Wild Friends line in your local store, order them online from the Wild Friends Foods website. There you'll be able to choose from peanut butter varieties like Chocolate Coconut, Cinnamon Raisin, Honey Pretzel, and more. Or, get yourself some flavored almond butters, sunflower seed butters, combination packs, and some good looking Wild Friends logo swag … they all make cool gifts from Oregon!
We love "from the ground up" successful small companies like this, and we're very happy to introduce them to our State Gifts USA readers!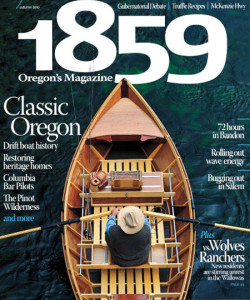 1859 Oregon Magazine: Looking for an inexpensive gift for the Oregonian in your life? A gift subscription to 1859 Oregon Magazine will fit the bill nicely!
The magazine draws its name from the year of Oregon's statehood – 1859. Published bi-monthly, the magazine offers sections on each geographic area of the state … the coast, eastern Oregon, Portland, the Willamette Valley, and more. You'll find beautiful photography, feature on dining, the outdoors, current event, and art and culture.
There are several Oregon publications, but this one is our favorite. It's timely, enjoyable to read, and keeps you in the loop without being too overtly political or preachy. A great gift idea for anyone with ties to The Beaver State – check their website for subscription details …
Freddy Guys Hazelnuts: Okay, so you've got a can of mixed nuts in front of you, and you're ready for a snack. Which nuts do you pick out first? Most people tend go for the cashews or almonds … I go right for the hazelnuts (also known as filberts) …
I always knew filberts tasted great, but never knew Oregon was a leading grower of this delectable, healthy nut. One of the leading producers in the Willamette Valley region is Freddy Guys Hazelnuts, owned by the Foulke family since 1998. They're based in Monmouth and the family has been growing and processing hazelnuts for over 15 years …
You'll discover some interesting facts about hazelnuts (or filberts if you prefer) at the Freddy Guys website. For example, these nuts, when purchased dry roasted, should be stored in the refrigerator and can last for up to a year. Or, you can purchase raw nuts and roast them yourself in the oven – the process is easy. Just lay them out on a baking sheet and bake at 250 degrees for an hour.
Freddy Guys offers hazelnuts and related products in all sorts of flavors and gift packages. You can buy the nuts roasted, salted, or covered with toppings like chocolate or marionberry (an Oregon specialty). At their online store, you'll also find hazelnut oil, spreads, mixes, and more.
A true taste of Oregon, hazelnuts from Freddy Guy's make a wonderful gift from The Beaver State!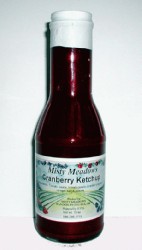 Misty Meadows Jams: The central coast of Oregon is a prolific fruit growing area, aided by the area's coastal climate and moderate temperatures. The area around Bandon, a coastal community about 100 miles north of the California border, is particularly well known for cranberries …
One local company, Misty Meadows Jams, had been creating jams, jellies, and other products from cranberries and other local fruit since 1970. In addition to cranberries, blueberries and huckleberries grow in abundance here. The end result is some of the freshest tasting jam you'll ever experience …
Misty Meadows makes an interesting product we tried recently and really enjoyed. It's their Cranberry Ketchup (pictured) which combines the tart and sweet taste of cranberries with a rich ketchup. Use it like regular ketchup or as a dipping sauce. It's great with hot appetizers! They also make a Cranberry Mustard and jalapeno versions of both …
Click through to the Misty Meadows website to see all their products and order …
Willamette Valley Pie Company: This company, based in Salem, is actually a berry grower processing over 12 million pounds of fruit. Oregon is known as one of the country's largest fruit producers, and fruits like strawberries, boysenberries, blueberries, and others are prolific crops here …
Oregon is also known for their Marionberries. Marionberries are a type of blackberry developed in conjunction with the University of Oregon, and they're a very popular ingredient in pies. The Willamette Valley Pie Company has been creating Marionberry pies (and dozens of other flavors) at their facility since 2001 …
You can order Marionberry pies, fruit bars, and packaged fruit directly from the company's online store. The pies are shipped frozen and in quantities of two (trust us, you'll want more than one!). Simply thaw and bake for a special Beaver State treat! Ideal as an Oregon themed gift too!
Oregon Sunstone Jewelry: Oregon's state gemstone is the sunstone, a very durable gem about the hardness of quartz. They are typically found in the mining area of eastern Oregon and are very popular for just about any type of jewelry, like the ring shown as well as earrings and pendants …
Sunstones are easy to clean … just use a very mild soap like Ivory Liquid along with a very soft bristle toothbrush. Cleaning the stone a couple times a year is normally sufficient …
Oregon Sunstone is an excellent source for a wide variety of jewelry featuring the Oregon state gemstone. Located in Bend, they also specialize in loose gemstones and Oregon Fire Opal jewelry, another beautiful gem.
The Oregon Sunstone typically gets its hue from the inclusion of copper crystals, meaning they occur naturally in the gem. The more copper crystals, the darker the hue. Shades of red are commonly found, as are clearer varieties. One of these jewelry pieces is the perfect gift from Oregon and will be treasured for years!
Visit the Oregon Sunstone website to see their extensive selection and to learn more …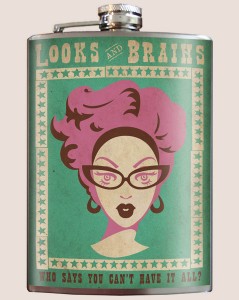 Trixie and Milo Flasks: Ah, the humble flask. It's a right of passage, a prized possession. It's about being discreet, and being bold. It's about taking the party wherever it needs to go …
Flasks are cool … they always have been. Trixie and Milo, a Portland based company, takes flask designs to a whole new level …
If you ever get stuck for a gift idea, a flask is there to bail you out. They're perfect, and appreciated, for college graduation gifts, retirement, bon voyage, groomsmen and bridesmaid gifts … the list goes on and on.
Looking for a stylish flask? Check out the Trixie and Milo website to see all their wonderfully unique designs, just like the one shown here …
History of Oregon
Oregon Trivia and Fun Facts

1). Oregon's Crater Lake is the deepest lake in the country. It is 1,932 feet deep …

2). Mt. Hood is the highest point in Oregon – 11,239 feet in elevation …

3). Jack Nicholson starred in "One Flew Over The Cuckoo's Nest", which was filmed in Salem …

4). Oregon produces almost 100% of the U.S. commercial crop of hazelnuts …

5). The Tillamook Cheese Factory (featured on this page) is said to be the largest cheese factory in the world …

6). Oregon is said to have more ghost towns than any other state …

7). Portland is the most populous city in the state, followed by Eugene. Salem, the state capital, is the 3rd largest Oregon city …
Pacifica Perfume: Products from this Portland based company are frequently seen around our house because not only are they affordable and high quality, they're also cruelty free (as well as 100% vegan). Some perfume manufacturers test on animals, but it's not Pacifica Perfume's style …
The company makes a full range of beauty products, including perfume, body washes, eye and lip care items, and much more. They also offer products for your home, and it's a lot of fun looking at the Pacifica Perfume website to see the wide spectrum of choices in various categories …
if you're looking for a special gift, the site is categorized for Gifts over and under $25, and there's a number of Value Sets as well. The Value Sets are created with a new fragrance collection every month! Check out their site for all the details …
Beaverton Foods: Founded in 1929 as a company that produced horseradish, Beaverton Foods has grown into one of the largest producers of specialty condiments in the United States. They sell products under many different brand labels, including Beaver, Napa Valley, Inglehoffer, Tulelake, and many others.
The company still makes horseradish and just about every condiment you can imagine. Mustard, salsa, ketchup, tartar sauce, and cocktail sauce are just a few of their seven dozen products …
Anyone who likes to eat, cook, or both will appreciate receiving one of Beaverton Foods gift packages. Pictured is an Inglehoffer gift pack with several types of mustard and a horseradish sauce …
You can also buy individual products on the website. It's a lot of fun to go through their site just to see all the different condiments they make …
Tillamook Cheese: There really is a Tillamook, and it's a town not far from the Oregon coast. Tillamook is an old Native American term meaning "land of many waters". The valley where the town sits is surrounded by five rivers, several bays, and of course, the Pacific Ocean …
The climate is cool and rainy, which is ideal for dairy farming. Which is what has been happening here for over 100 years, the pride of which is Tillamook Cheese and other dairy products …
Tillamook is best known for its cheese, but it also has a long history with butter, yogurt, ice cream, and sour cream. You can buy the cheese online and Tillamook will ship it anywhere you'd like, either for yourself or the cheese lover in your life.
Check out their site for the various cheese gift boxes, like the one shown. It's a sure to be appreciated gift …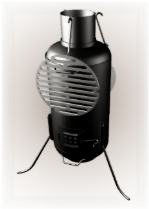 PAC Stoves and Grills: We'd seen these handy little grills at tailgate parties, but never knew they were made in Oregon. The company is PAC Stove, and these handy portable grills offer many uses besides a tailgate party …
First, they're ultra easy to assemble … all the parts simply slide together. They fold flat in seconds, or use them to carry gear, goods, and utensils. They can be used as a smoker, a grill, or a heater for camping and survival outings. A PAC Stove is the perfect solution when you're not able to build a fire pit, which is the case in many national forests and certain campgrounds …
If you have a small patio, like those outside a townhouse, PAC Stoves are the perfect space saving solution. You can do everything you normally would on a grill with these stoves and use a fraction of the space. They burn either charcoal or wood, and burn very efficiently to minimize leftover ashes …
Check out the PAC Stove website to see all the varieties offered! The company is based in Lebanon, OR.
The Jump Rope Store: Based in Portland, the Jump Rope Store knows what many amateur and professional athletes know … jumping rope isn't just for kids!
The Jump Rope Store lets you design your own jump rope online. You choose the colors, you choose the lengths, and they'll build an Olympic training jump rope for you. These are the same high quality jump ropes used by sports teams and fitness facilities.
Jump rope training is proven to increase speed, agility, coordination, and cardiovascular fitness levels. Even 60 seconds of jumping rope is an excellent warm up for any type of exercise, and did you know that learning how to jump rope helps improve your reaction skills?
What are you waiting for? Get jumping!
Pendleton USA: Oregon based Pendleton USA has been around for 150 years, and they're well known across the country for their clothing lines for men and women and their high quality bedding and blankets made from 100% virgin wool …
For many years, Pendleton has made a series of blanket honoring some of America's greatest treasures, our National Parks …
Shown it the Crater Lake National Park blanket. Many National Parks are available in the series, including Yellowstone, Grand Canyon, and Glacier. Each blanket is affixed with a logo featuring the name of the park and an image of one of the park's most prominent features …
The blankets come in several colors, and in addition to being warm and functional, they're collectors items. What a great made-in-Oregon gift for anyone who appreciates natural beauty and American history and conservation!
Beer Chips: Portland is known as one of America's most prominent beer cities, so it's no surprise that a Portland based company would come up with a snack line called Beer Chips …
The name notwithstanding, beer chips don't contain any beer … but they taste great with a cold one!
There are several different flavors, depending on your beverage of choice.
Beer Chips makes Margarita Shots Chips, BBQ Rib Chips, Buffalo Wings Chips, Tavern Style Chips, and well … you get the idea!
All the styles of chips are kettle cooked, so you'll get a crisp, hearty crunch along with your libation …
They'll ship anywhere in the U.S. – a great gift idea! Click through to their site to get all the details and place an order for your next gathering …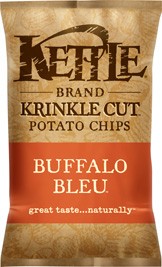 Kettle Brand Chips: Another Oregon snack manufacturer is Kettle Brand. This Salem based company is best known for their line of potato chips …
Kettle Brand offers a variety of styles, flavors, and textures, including a few you're not likely to find anywhere else, like Sweet Chili Garlic and Buffalo Bleu, pictured.
Kettle Brand also makes a line of samplers, snack mixes, and an organic line of chips. Order directly from their website and have these delicious chips shipped anywhere in the United States …
We'll Have A Lot More Made In Oregon Products Listed Here Soon! Tell Us About Your Favorite Oregon Made Products!