This Post is about Made in Washington D.C. Gifts and Specialty Washington D.C. Products
Want To See Your Business / Products On Our Made In Washington D.C. Page?
Visit "Advertise With Us"!
FEATURED MADE IN

WASHINGTON D.C.

BUSINESS

ES
Jon Wye Industries: You've got to admire a business whose tagline is "We Make Awesome in Washington D.C." …
Better still, this vibrant company backs up the statement. They've been around since 2004, turning out a wide variety of goods from their local D.C. based workshop …
You've really got to visit the Jon Wye website to get the full picture, but here's a teaser … clicking through will bring you to some of the most creative designs imaginable. Hoodies, shirts, belts, wallets, guitar straps, and even dog collars are showcased, any of which can be shipped across the country or across the world …
The business has aligned themselves with an ultra talented group of free lance designers from across the U.S., each of whom brings their own unique talents and creative inspiration to the designs. It's a shining example of following one's passion to do what you love, and success will follow …
If you're looking for a one of kind gift made in Washington D.C., click through. You'll thank us later!
Karmic Kollections: Karmic Kollections is the online artistic handmade jewelry shop of D.C. resident Aisha Shabazz, who has been inspired by high fashion and crafting jewelry for over 30 years …
Aisha works with a varied array of materials to create her line of pendants, earrings, bracelets, and much more. She is particularly comfortable working with metals like steel, brass, and copper, which you'll see by visiting the Karmic Kollections Etsy store. This talented resident of the nation's capital has created hundreds of inspiring designs that will bring out your sparkle, whether you're a diva or just out for a night with friends …
We love publicizing small independent artists like Aisha and her Etsy store! Click through to see her entire collection …
Ice Cream Jubilee: Next time you're in our nation's capital and need a break from the museums and historic sites, navigate down to the waterfront area near the ballpark and look for Ice Cream Jubilee. As their name suggests, their business is ice cream and they've been recognized as The Best Ice Cream Shop In DC by the local press as well as garnering some national praise …
Located on Water Street SE very near the Anacostia River, Ice Cream Jubilee changes their menu seasonally to feature fresh ingredients and area specialties. Some of their current flavors at press time include a decadent Banana Bourbon Caramel, Fresh Minty Chip, Boozy Eggnog, Pumpkin Honeycomb, and Strawberry White Chocolate. Not your ordinary ice cream store, the staff here is passionate about sharing the simple pleasures of America's most popular dessert treat …
Ice Cream Jubilee has become so popular that they've partnered with a major foodie online store to offer their ice cream via mail order. Don't worry, it won't melt on the way to your doorstep – the ice cream is packed in cooler packs designed to keep the precious cargo fresh and cold!
Visit the "Shop Online" tab at their website for your ordering options …
Uncle Brutha's Gourmet Sauces: Area wise, the District of Columbia is pretty small, so it's a challenge to find products actually made within the District's borders. On our most recent trip out east, though, we found a gem at one of the local Whole Foods market …
It's Uncle Brutha's Gourmet Sauces, made by a company owned and founded by D.C. native Brennan Proctor. Armed with a passion for cooking, Brennan experimented for years on sauce recipes to complement hot wings.
He settled on two special sauces and introduced them in D.C. at the iconic Eastern Market. Fast forward a few years and Uncle Brutha's now sells the two sauces online – AllSauce #9 and AllSauce #10 …
#9 is a mix of chile verde, garlic, ginger, and spices, while #10 is a combination of four peppers, garlic, and spices. Of course you can use both on chicken wings, but they're so much more versatile. Try either in stews, any Mexican inspired dish, in stir frys, or even potato salad. Our bottle of #10 disappeared quickly, being used as a dipping sauce for appetizers and also to give a little kick to a pork roast. Try them on anything!
At their website, you can buy a combination pack of both AllSauce #9 and #10. Get the larger size – you'll go through it quickly!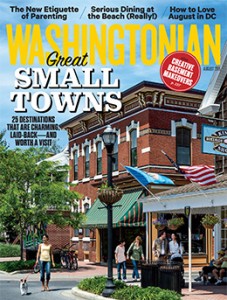 Washingtonian Magazine: If you're looking for a useful and economical gift for someone who lives in or around the District of Columbia, consider a subscription to Washingtonian Magazine …
This monthly publication is a great source of information about local restaurants, nightlife, shopping, and much more. Recent features include a travelogue of day trips from the Capital and an historical view of life in the region. Subscribers can opt for print, Ipad, and digital delivery and access, or a combination of the three.
To learn more, click through to the Washingtonian Magazine website where you can order gift subscriptions quickly and easily …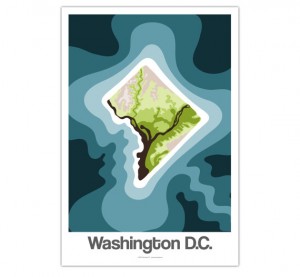 Cartoloji: Cartloji is the wonderfully creative business founded by talented D.C. artist Bhaval Shah Bell. She's a native of Kenya who studied in the UK and now resides in our nation's capital. Bhaval creates abstract art prints, map accessory bags, and pillows, focusing on iconic locations across the world like Washington, D.C.!
The print shown is a blue & teal map art print handmade on archival paper. It measures 12 x 18″ and is perfect as a distinctive wall hanging for your home or office. It's just one of the hundreds of different options and locations available at Bhaval's Etsy shop where you can order directly for shipment right to your front door …
Additional District of Columbia varieties are also available, as are similar prints and decorative pillows depicting other U.S. cities and cities across the world. Wonderful gifts!
Also check out Bhaval's main site Cartoloji.com for more detailed information and the full selection of prints, map art & pillows, and map accessory bags …
Pizzeria Paradiso: In a country known for great pizza, Pizzeria Paradiso in the District of Columbia is one of the most revered. Patrons flock to their two locations in Georgetown and Dupont Circle for their magnificent pizzas, happy hour, and lively social scene …
The crust here is sublime … made in a wood burning stone oven and rising to just the perfect height – not too flat and not too thick. Our favorite pizza on the menu is their Bosco, which is adorned with mozzarella, spinach, red onion, and mushrooms. Either location is a must do on any trip to the Nation's Capital!
Owner Ruth Gresser has written an easy to navigate cookbook to help anyone become a pizza making expert. It starts from the basics with dough making recipes and progresses to special recipes directly from the files of Pizzeria Paradiso. It's like taking a master's level course in pizza making!
You can order the cookbook online at their website – a creative Washington, D.C. themed gift!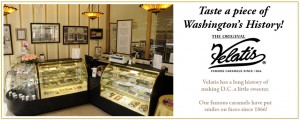 Velatis Caramels: Though they're now made across from the District of Columbia in Silver Spring, MD Velatis Caramels have been closely identified with D.C. for almost 150 years …
The company makes delicious creamy caramels known world wide. Established in Richmond, VA before the Civil War, Velatis moved their operations to the District and were a presence here for 116 years, until 1995. In 1997, the company was revived by the Servais family and ultimately the Valatis store was located over the Maryland border in Silver Spring.
Discover the whole Velatis Caramels story at our Made in Maryland page …
Gordy's Pickle Jar: Here's an innovative company based in the District of Columbia creating familiar products with a new and intereting twist …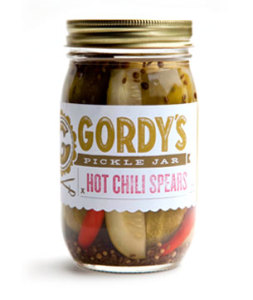 Gordy's Pickle Jar jars several varieties of pickles and pickle relish that transcend the ordinary. Consider Gordy's Hot Chili Spears (pictured). These crunchy pickle spears are brined with a blend of spicy and sweet flavors, a bit of garlic, and then jarred with hot chili peppers that'll liven up your lunch. They also make Thai Basil Jalapeno slices, a blend of basil infused brine and jalapeno peppers – they're great as an appetizer to get the conversation flowing!
Gordy's two other products currently available at their website include a Sweet Pepper Relish, which has the consistency of a chow chow or a pickle relish. Use it on hot dogs, burgers, or any type of sausage. And don't forget their Sweet Pickle Chips, made with a dash of ginger and garlic.
Gordy's Pickles – a way better gift from Washington, D.C. than that little glass snow globe!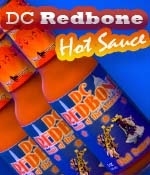 Sun Pony Inc. Hot Sauces: This award winning small company creates three different flavor filled hot sauces made in the District of Columbia …
The company is Sun Pony Inc. whose owners have roots in the Native American and Caribbean cultures. Their signature sauce, DC Redbone Hot Sauce, pays tribute to their D.C. home and offers a pleasantly hot, engaging flavor. You'll want to try it on chicken, fish, or any rice based dishes …
Their second sauce has an island like Caribbean flavor. It's called Coco Loco Mango – a combination of ghost peppers for heat, along with coconut and mango for sweet. Try it in stews or your favorite stir fry dish – it'll add a spicy hot & sweet flavor kick …
Finally, Sun Pony makes a decidedly Jamaican influenced jerk marinade called Shak Shak Gourmet Jerk Sauce. Marinade your chicken overnight in this sauce, or pour or brush it on while grilling …
You can order any of these sauces online at their website – a great local gift from D.C.!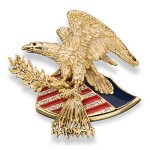 Ann Hand American Collection: Washington, D.C. based jewelry designer Ann Hand is best known for her signature American Collection of pins and brooches which have been worn by government dignitaries, corporations, and members of the Armed Forces for over 25 years …
Her signature pin, the Liberty Eagle, has been worn by First Ladies, Congressmen, and Senators. Her American Collection has received national acclaim and features pins depicting flags, eagles, national landmarks, and other patriotic themes.
Ann also custom designs art work for formal and casual wear, including earrings and bracelets.
See all of Ann's work and order a piece online at the Ann Hand website …
Langdon Wood Barrel Aged Syrup: This small D.C. based operation creates a very distinctive maple syrup by aging the syrup in used whiskey and brandy barrels …
The barrels come from a small distillery in northern Virginia and the syrup itself is from Pennsylvania, but the magic happens in the District of Columbia. The syrup is aged for several months and takes on a different flavor profile depending on what type of barrel is used.
The syrup can take on fruity characteristics from brandy barrels or a deep, rich flavor from aging in whiskey barrels. As their company saying goes, it won't change your life but it'll change your pancakes!
You can buy this unique maple syrup from the Langdon Wood Maple Syrup Etsy shop …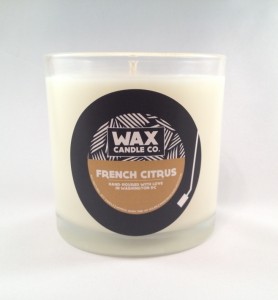 Wax Candle Company: Not just another candle company, D.C. based Wax Candle Company creates soy candles with a twist.
Each candle is paired with a professional DJ curated mix tape to create a unique aromatherapy listening experience …
Company owner Jennifer Bryant came up with the concept based on her own experience of lighting an aromatherapy candle and listening to music after work. The mixes are jazz based and designed to put you into a relaxed, peaceful mood with the assistance of the aromatherapy candles …
Learn more about the company and this clever idea at the Wax Candle Company site …
Bureau of Engraving and Printing: The Bureau of Engraving and Printing in Washington, D.C. is part of the U.S. Treasury Department and produces paper currency. The Bureau has an online store called The Money Factory where you can buy some unique items like uncut currency sheets and other interesting collectors items …
Some of the items include a "Landmarks of Distinction" note card series (shown) which features pictures of famous local landmarks. They also offer copies of famous speeches like Lincoln's Gettysburg Address and even a copy of the Declaration of Independence!
Ben's Chili Bowl: Ben's Chili Bowl is one of the most casual … and popular … places to grab a bite to eat in the District of Columbia …
Ben's has been around since 1958. They're well known for their chili, but especially for their "smokes", which are half pork and half beef smoked sausages and served on a bun with onions, mustard, and chili … sort of like a chili dog but with a totally unique taste.
The menu also features standard hot dogs, burgers, and so on. It's also quite popular for breakfast, opening most days at 6 a.m. U.S. Presidents have been known to stop in for lunch on occasion …
You can order Ben's Chili as well as their famous sausages online. Ben's has been featured on the Food Network and it's a favorite of the D.C. set, visitors, and locals alike …
They also have all sorts of combination packs and Ben's Chili Bowl swag … check out their website at Ben's Chili Bowl …
Mumbo Sauce: Mumbo Sauce is a unique condiment that has been aligned with the Washington, D.C. food scene for decades. The sauce is tomato based, slightly sweet, tangy, and with a little spicy kick …
Mumbo Sauce is most commonly found at D.C. Chinese take out restaurants, most of which concoct their own unique variation. It's used as a condiment on chicken wings, french fries, and probably egg rolls!
There is some debate where Mumbo Sauce originated … Chicago or Washington, D.C. … but we do know it's a D.C. staple and that's why we're introducing it here. A recent court battle awarded the trademark to a Chicago based company, so it appears the D.C. based company we refer to below may have to change its name or not use Mumbo Sauce in their title (it's also been referred to as "Mambo" sauce over the years) …
We found a company located in D.C. that makes and ships Mumbo Sauce … you can buy it online from Capital City Mumbo Sauce, and they'll ship it anywhere in the country.
History of Washington D.C.
Washington D.C. Trivia and Fun Facts

1). The "Washington" in Washington, D.C. is obvious, but did you know where the "Columbia" potion of the name originated? It is in tribute to Christopher Columbus …

2). President Washington personally chose the site to build Washington, D.C. in 1791 but he never lived there. His successor, John Adams, was the first president to live in Washington, D.C. beginning in 1800 …

3). Washington, D.C. is smaller in area than any other state in the U.S., but it has a higher population than Vermont and Wyoming …

4). The District of Columbia flag was adopted in 1938. The design is partly based on the coat of arms of George Washington's family …

5). There is only one president buried in the District of Columbia – Woodrow Wilson.

6). The large park directly across from the White House is named Lafayette Square. There is a statue of Andrew Jackson on horseback in the center of the park …

7). One former president died in the U.S. Capitol building. It was John Quincy Adams who suffered a stroke in 1848 (after his presidency) while giving a speech …

8). The composer of "The Stars and Stripes Forever", John Phillip Sousa, was born in Washington, D.C. …

9). The corner stone for the Washington Monument was laid in 1848, but completion of the monument didn't happen until 1885 due to construction complications and delays. It was opened to the public as an attraction in 1888 …

10). The Washington Monument was originally designed to have a flat top. A pyramid shaped addition was added in 1879 …

11). Among the items buried at the base of the Washington Monument are copies of the Declaration of Independence, the Constitution, and a collection of American coins …

12). When the Washington Monument was completed in October, 1888 it was the world's tallest structure at 555 feet. It held the title for a mere six months until being surpassed by the Eiffel Tower.

13). As of 2015, the Washington Monument is still the tallest all stone structure in the world …
National Cherry Blossom Festival Gifts: The National Cherry Blossom Festival takes place in Washington, D.C. every spring, with the primary focus being the beautiful cherry blossom trees that bloom in the nation's capital during March and April …
These trees were originally a gift from Japan in 1912 and have been an integral part of Washington, D.C. ever since …
You can buy gift items from the National Cherry Blossom Festival online, including official artwork prints and a Plant A Tree card as shown. The gift of a card ensures a new tree will be planted in a National Forest in conjunction with the Festival's partnership with the Arbor Day Foundation.
A great greeting card to send anyone who appreciates the value and beauty of trees!
Tell Us About Your Favorite Made In Washington, D.C. Products By Visiting Our Advertise with Us Page!