Made In Michigan Quick Facts
This Post is about Made in Michigan Gifts and Specialty Michigan Products
Want To See Your Business / Products On Our Made In Michigan Page?
Visit "Advertise With Us"!
FEATURED MADE IN

MICHIGAN

BUSINESS

ES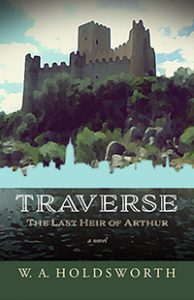 Local Author W. A. Holdsworth: We love featuring local authors here at State Gifts USA and are very pleased to introduce you to Michigan resident W. A. Holdsworth, a talented novelist who has two published titles to his credit …
A graduate of the University of Michigan, Oakland University, and Michigan State, William is in the midst of a distinguished career which now finds him as Director of a prominent county in the state. A devotee of the Arthurian legend, he began his writing career in his late 30's …
William has written and published two books in a trilogy series which bring the story of Arthur and Camelot into the modern world. The first, titled Traverse: The Last Heir Of Arthur", tells the story of a man who, nearing death, rekindles the hope of a greater destiny by discovering the nobility of his ancestors …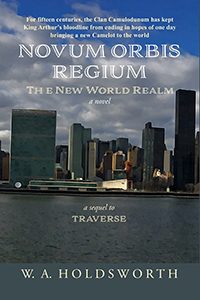 The second title is Novum Orbis Regium: The New World Realm, a 382 page novel published in May, 2019. In this book, the author furthers the story with an intriguing mixture of the tides of war, political and social intrigue, and ultimately the light of hope …
These novels are sure to be welcomed gifts for any fan of Camelot and the Arthurian legend. Both titles are available directly online via Adelaide Books where you can also discover more about this accomplished Michigan author. Click on each title's cover photo (or their bold links) for more information and to purchase.
We're anxiously awaiting the third of the trilogy and will update this listing as soon as it's published. Support local Michigan authors!
Imply By Design: Looking for ways to decorate your house with your home state or need wedding favors for your guests?
Imply By Design is a small Michigan business that crafts ornaments, keychains, and other accessories out of various metals. This Michigan-based small business knows how much we all love the Great Lake State and enjoys replicating it in any creative form they can think of …
Get your Michigan accessories in chrome for a shiny look or naturally rusting steel for an earthy, rustic touch for your cabin up north. Find them online at the Imply By Design Etsy shop, linked above and below. Looking for a particular state? Message the owner for details …
Among the many delightful items you'll see at the Imply By Design Etsy shop are ornaments, wall hangings, table lamps, plaques and signs, and wind chimes. Ideal for any home's decor, you'll love the detail and craftsmanship in each piece. Items are available in both metal and barn wood designs and make wonderful gifts for any occasion …
Imply By Design is owned and operated by Brett Rogers, a native Michigander and father of four. His Etsy shop gives him the opportunity to share quality time in the workshop with his kids as they work on projects together. Brett is passionate about his home state and loves the natural look of steel, copper, and repurposed barn wood to create all the items in his shop.
Click through to the Imply By Design Etsy Shop for a special one of a kind Michigan gift!
Michigan Mittens: Hey, it can get really cold in The Great Lake State, so wear your mittens!
Michigan Mittens, that is. This clever company based in Pontiac makes a line of winter mittens in a variety of colors with the map of the state woven into the design. Michigan, of course, is sometimes referred to as "The Mitten" since geographically it resembles one …
The mittens, available online at the Michigan Mittens website come in colors like Fog Grey, Vintage Rustic, Black Bear, Michigan Grayling, Great Blue Heron, and more. And it doesn't matter if your rooting interest leans Green or Blue … they've got those colors too!
You can have these colorful (and useful!) mittens delivered right to your door by ordering on their site. They've got a bunch of other cool stuff there too!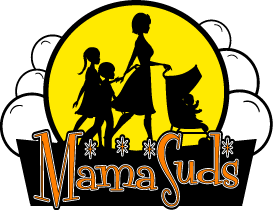 Mama Suds: This family owned small Michigan based business creates a unique line of hand crafted eco friendly products you and your family are sure to love …
Mama Suds is owned and operated by Michelle Smith, a Michigan native and former math and English teacher who was always searching for safe and affordable household products for her growing family. Determined to find eco friendly products that actually worked and didn't cost an arm and a leg, Michelle spent several years developing a line of 40+ products herself. Her business is called Mama Suds and as you'll see by clicking the link, she's developed quite an online presence …
Non toxic skincare products, earth friendly household cleaners, and hand crafted aromatherapy offerings highlight the product line. Check out the Mama Suds Automatic Dishwater Powder, which is 100% biodegradable and was given the thumbs up by EWG.org's "Guide To Healthy Cleaning". Also, take a look at the Age Defying Skin Cream (we can all use that!) along with the rest of the safe-to-use products Michelle features … there's even a pet shampoo for your best four legged friends!
Click through to the Mama Suds website and see all the products that'll make your life just a little bit better and easier. Wholesale opportunities are available too!
Mind Your Beeswax: Recently, we spent a long weekend in Detroit. We've been visiting the city for various reasons over the last 30 years and every time we're in town, we make sure to stop at the wonderful Eastern Market, the largest public market in the country and a fixture here since 1885.
The Market is chock full of fresh produce, flowers, local products, meat, fish, and just about anything else you can think of …
We're always on the lookout for locally produced honey, and were very pleased to discover Mind Your Beeswax Honey, produced from the bounty of Michigan wildflowers.
The taste of honey depends on where it is sourced, i.e. what type of flowers the bees pollinate. Of all the honey we've sampled over the years, this is one of the best ever! When you try it, see if you agree … it has a pleasant sweetness that's perfect on any baked goods or in recipes. As an example, check out the recipe for Flour Free Brownies Made With Honey at their website …
Our only regret is not buying more than the one bottle! You can shop directly at the Mind Your Beeswax website (linked above) – they also produce soaps made with olive oil and honey to pamper your skin …
Next time you're at the Eastern Market in Detroit, stop by to say hello! There's also a list of other farmers markets and area stores where you can buy their honey if you live locally …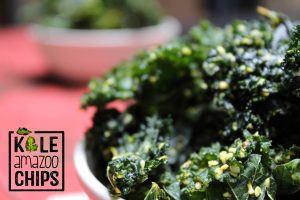 Kaleamazoo Chips: Have you ever been to Kalamazoo? We hadn't for many years and just recently paid on overnight visit to check out a few local joints and see what's new. Located just off Interstate 94 almost exactly between Chicago and Detroit, Kalamazoo is often described as "a small big city", and if you spend time here, you'll discover what that means …
The downtown area has quite a few great restaurants and breweries, including the iconic Bell's Brewery. No matter your budget or price range, you'll find something you'll like here …
One local business we discovered downtown is Kaleamazoo Chips (no, that's not s typo). They make kale chips using locally grown kale. The kale is dehydrated and the texture is light, crispy, and very satisfying. They're good for you too!
These chips come in lemon or lime flavors and they're available at stores across Michigan (there's a list at their website) and also online.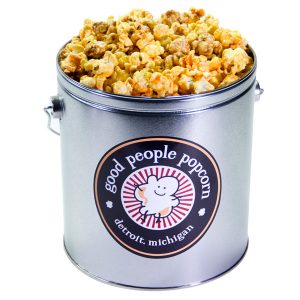 Good People Popcorn: Whenever we travel, we try to bring back a few edible souvenirs of our trip for friends who may not have as much opportunity to get out on the road. One of our go-to spots in downtown Detroit is Good People Popcorn. It's located just off downtown Detorit's People Mover and practically next door to two of our favorite Detroit restaurant/bars, The Detroiter Bar and Jacoby's on Brush …
Michigan Made and available in a variety of flavors from traditional to tantalizing, a gift from here will be most appreciated. We've learned one indisputable truth – everyone loves popcorn!
Stop in for a visit the next time you're in Detroit, or click through to their website, linked above, to order online. They've got all sorts of gift tins just waiting for you or that special lucky someone to enjoy!
Green Toe Gardens: We've visited Detroit dozens of times over the last 30+ years, and when people ask "Why would you go out of your way to visit Detroit?, little do they know they're about to hear 10 solid minutes of the many reasons why …
Yes, Detroit has it's challenges (much like any other big city). But it's also full of great restaurants, compelling history, fantastic music, welcoming local taverns, and a creative energy which puts many other more popular cities to shame …
We get a big kick out of visiting the city's iconic Eastern Market, the largest urban farmers market in America. It's chock full of local vendors, many of whom produce their products locally in Detroit. We learned of one such producer here called Green Toe Gardens, a small business making local honey from bee hives located all through metro Detroit …
If you're a honey fan like we are, you know honey tastes different depending on where it is sourced. It's a lot of fun trying different honey made in different geographic locations. Green Toe Gardens makes one called Eight Mile Road Honey, pictured. It's as real a taste of Detroit as you can get!
This small business also produces honey related items like candles and offers gift sets as well. At their website, you'll find a list of market locations where you can visit them and buy if you're a local. You can also shop at their online store and they'll ship to your doorstep. We can tell you from personal experience, their honey is fantastic!
Two Hearted Cabincraft: We're very pleased to introduce you to this creative family owned and operated business based in Comstock Park, MI just north of Grand Rapids. They're Two Hearted Cabincraft, and if you're looking for uniquely crafted home furnishings which capture the essence of The Wolverine State, you've come to the right place …
Two Hearted creates furniture for any space in your home, be it your living room, bedroom, dining room, or outdoor area. One of their most popular items is the Michigan Adirondack chair (pictured along with the Upper Peninsula coffee table) – it's just one of dozens of pieces just waiting to be welcomed into your home.
Two Hearted's philosophy is to create for function, heart, and home. In addition to standard furnishings, they will custom craft almost any item to match your style and space. Using handsome, durable wood like cherry and cedar, Two Hearted Cabincraft will custom make furniture ranging from wall entertainment units to rustic furniture to lawn chairs for your family and friends. Standard items include coffee tables, bedroom furniture, sofas, night stands, beds, lamps, dressers, items for your patio, and many more …
Do you have materials which hold a treasured place in your heart? Two Hearted specializes in crafting functional items from repurposed wood … turn those rafters from your childhood home into a headboard or coffee table, or floor planks from a beloved living space into a dresser or end table. Reach out to their designers and craftsmen and transform your imagination into reality …
Be sure to check out the Two Hearted Cabincraft online store. There you'll see a representative sampling of some of their work – you'll also get some great ideas for custom pieces! And if you have a soft spot for the U.P., order yourself one or two of the fun and creative Upper Peninsula coffee tables … a great gift idea too!
We love featuring talented local family owned companies like Two Hearted Cabincraft. Click through to see everything they're doing and tell them you found them on the Made in Michigan page!
National Coney Island: We travel to Michigan frequently, and our friends and relatives often joke with us that our sole reason for visiting the state is to stop at all the different Coney Island hot dog joints …
Well, that's not completely true, but it certainly is an added benefit. Michigan is well known for their Coney Dogs, which are similar to chili dogs except the meat is known as Coney Sauce in The Wolverine State. There are many famous Coney places here … some small chains, some independents, and in our estimation, they're all pretty good!
One we really like is a southeast Michigan small chain called National Coney Island. Their menu isn't large but it's very tasty … they feature Coneys of course, but also a special chicken tender wrap they call a "Hani". It's served with a special mayonnaise based sauce along with shredded cheese, lettuce, and chicken tenders in a pita …
At their website, you can satisfy your craving by ordering a special "Coney Kit", or their special Coney Sauce and hot dogs. They'll ship anywhere in the U.S. – perfect for Michigan or Michigan State themed parties!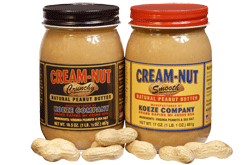 Koeze Peanut Butter: Have you ever tried a specialty brand of a common product and thought to yourself "Why can't they all taste like this?". That happened to us when we enjoyed a jar of Koeze Peanut Butter, made by the Koeze Company located just outside of Grand Rapids.
This stuff is fantastic! It's all natural with no added sugars or preservatives like you'll find in the grocery store brands. The only ingredients are peanuts and a pinch of sea salt. It's creamy and spreads like a dream – quite possibly the best peanut butter made anywhere!
The company has established a catalog and e-commerce arm called Koeze Direct, and we've linked directly to the peanut butter page. They also make Crunchy and Organic varieties as well, and sell by the jar or by the case at the website. If you've got a peanut butter lover on your list, get them some, they'll love it!
Holland Bowl Mill: Holland, MI is a friendly small city in the central west part of the state – it's well known for their annual Tulip Festival, great shopping, and as a gateway to many of the Lake Michigan beaches just a short drive away …
Since 1926, the city has also been home to the Holland Bowl Mill, a proud company making wooden bowls, utensils, cutting boards, and more. They offer a lifetime guarantee on their products and their bowls clean easily with water and bit of mild soap …
We discovered one of their classic products recently at a summer barbecue … it's their 12 inch solid cherry wood fruit bowl (pictured). This cleverly designed bowl has aeration holes built in to the wood to help your fruit and produce stay fresh longer! We see this bowl has also been recently featured in an edition of Midwest Living Magazine …
You can purchase any of the Holland Bowl Mill products directly at their website, or check out where you can find a retailer in your location. Great as a shower or wedding gift!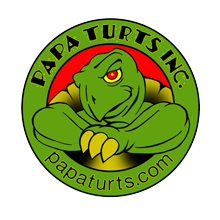 Papa Turts Hot Sauces: Matt and Mandy Blauer of Fowlerville, MI have got something really hot going on you'll want to know about, whether you're a native Michigander or simply love a spicy dose of flavor …
Their thriving little business is called Papa Turts Hot Sauces and they're proudly made in The Wolverine State using Michigan ingredients. The company's product line consists of two enticing and versatile hot sauces just perfect for stir fry dishes, stews, sandwiches, or any of your favorite recipes. Using fresh peppers grown in their own garden, Matt and Mandy have turned their love of spicy flavors into a successful business venture involving their entire family …
These two small batch sauces (with more on the horizon) are known as Papa's Smoked Peppa and So Hot It Hurts. The latter is created with a mix of chiles and roasted garlic and makes an ideal complement for everything from breakfast dishes to soups to Bloody Mary's. Papa's Smoked Peppa offers a blend of chipotle chiles, tomatoes, and roasted garlic just perfect for chicken and pork dishes or as a pick me up for tacos and pasta recipes. The perfect combination of flavor and heat!
You'll find Papa Turts Hot Sauces in an increasing number of retail establishments across the state (check the Where To Buy page on their site), or order a few bottles online as a flavorful Made in Michigan gift. And if you're wondering about the Papa Turts name, it's an offshoot of Matt's nickname in high school …
Click through to the Papa Turts website linked above and check out their story and all they've got going on. They also do custom labeling – perfect for corporate events, special gatherings, or as a unique gift for the hot sauce lover on your list. Be sure to see all the cool Papa Turts swag available at their site too!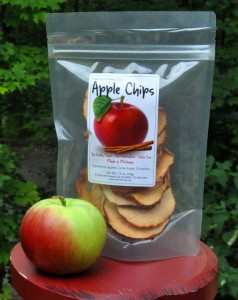 Greene Town Foods: When you think of Michigan, there's all kinds of culinary delights which come to mind. Cherries, local wine, fresh fish, Coney dogs, the list goes on and on. And let's not forget about apples!
Apples are one of The Great Lakes State's best known crops. In the early fall through October, orchards in the northern part of Michigan are teeming with fresh, crisp apples. They're really a treat!
But if you can't enjoy them in freshly picked, we found the next best thing – dehydrated apple slices packed by Greene Town Foods of Traverse City. The apples are picked fresh from the orchard, then dried out and packaged with a dash of cinnamon. They're fantastic! The perfect balance of sweet and tart, these apple slices are packed with no added preservatives and they're very good for you as a healthy snack (loaded with fiber!)
At their website, the company sell s them in various quantities along with a jalapeno variety if you like things a little on the zippy side. Click through and order yourself something very Michigan!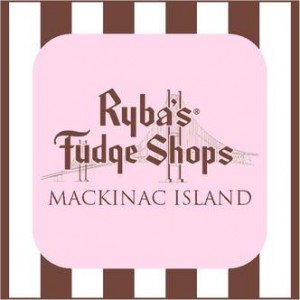 Ryba's Fudge Shops: Beautiful Mackinac Island is well known for for many specialties, with decadent fudge being near or atop the list. If you've visited the island, you know one of the best places to experience this special treat is at Ryba's Fudge Shop on Main Street. They've been an Mackinac tradition for over 60 years, featuring house made fudge, toffee, brittle, caramel corn, and taffy just to name a few of their sweet treats …
During the winter months, Ryba's bases their operations in suburban Detroit and for you Chicagoans, there's also a location on Navy Pier. You can conveniently shop at their website, where the Ryba's online store offers corporate gifts, wedding specialties, and more. Custom fudge flavors are available, and don't forget about your dog – they make yummy dog treats dipped in a special recipe peanut butter fudge to get your best friend's tail wagging!
A wonderful Made in Michigan gift, Ryba's fudge will bring back the special memories of a special place for anyone who experiences its rich, mouth watering flavor. Order directly from their site for yourself or as a thank you gift. Guaranteed to please, because really, who doesn't love Mackinac Island fudge??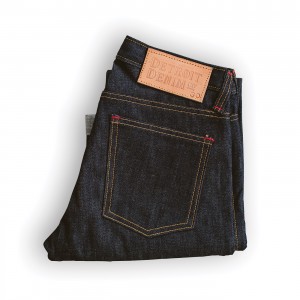 Detroit Denim Company: We've visited Detroit dozens of times, mostly to see hockey or baseball games or to spend a night before trekking into Ontario. Despite the grief the city takes, we've always enjoyed our time here – there are numerous great local restaurants and unique neighborhoods to explore, and the locals have always been warm and friendly …
The city is undergoing a rebound, fueled by independent entrepreneurs starting new small businesses and building up the economic base. One such business, located in the downtown core, is the Detroit Denim Company, founded to bring back the tradition of high quality durable & fashionable American jeans.
Founder Eric Yelsma ensures each pair of the company's jeans and other denim products are expertly crafted with U.S. sourced materials. Just as a good pair of jeans should, Detroit Denim's are made to be worn often and washed infrequently. The more you wear them, the better they conform and feel a part of you and the better they look!
And should they ever need to be repaired, the company offers a service to handle any rips, patches, or other mishaps for a nominal fee – they want your jeans to last for years too!
Click through to learn more about the Detroit Denim Company and check out their jeans and other denim creations. You can order directly at their website – Made in Detroit!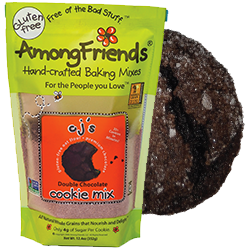 Among Friends Baking Mixes: This small Ann Arbor business is the by product of two friends, Suzie Miller and Lizann Anderson. Starting with the simple goal of making great tasting cookies nutrient rich and healthy, the two have developed an entire line of baking mixes embracing the same concept …
Among Friends creates traditional mixes for just about anything you enjoy baking and your family enjoys eating – the product line includes mixes for brownies, chocolate cake, chocolate cranberry cookies, fruit crip mix, molasses ginger cookies, and more. The hard part is done for you … most mixes simply require adding eggs and butter per the simple instructions and letting your oven do the rest!
Among Friends also features a line of gluten free mixes and there's a section on their website filled with recipes and tips for special diets. You can find their products at stores in the Ann Arbor area (check the store finder at the site) and at their online store as well …
Convenient easy to bake healthy treats for you and your family – enjoy!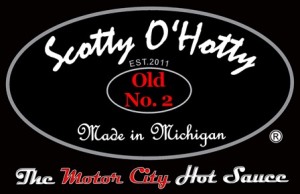 Scotty O'Hotty Gourmet Hot Sauces: Avid gardeners Scotty & Suzi Owens have been growing peppers and other fresh vegetables in their Dearborn area garden for years and began tinkering with hot sauce recipes a while back. At the end of each growing season, the couple would bottle their sauce as gifts for family and friends. Bouyed by the volume of compliments they received, in 2008 they started their own company, Scotty O'Hotty's Gourmet Hot Sauces …
Fast forward a few years and their sauces have won numerous industry awards, including Chili Pepper Magazine and the New York Hot Sauce Expo. The product line is led by their Premium Pepper Sauce, a richly flavorful recipe that adds character to any food it encounters (try it on scrambled eggs). If you like things a little hotter, go for their Premium Habanero or Ghost Sauce – they'll liven things up for you!
Scotty O'Hotty also makes a fantastic Beer – Bacon Chipotle Sauce – add some atop a BLT sandwich or on pork chops. It's mild and offers the smoky flavor of chipotle peppers. We mixed a bit with some store bought potato salad and thought we were in taste bud heaven!
You can buy any of their sauces for yourself directly at their site – a true Made in Michigan gift idea too!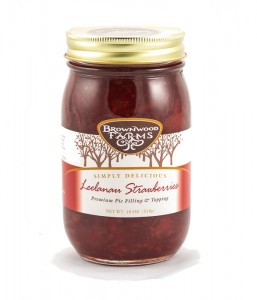 Brownwood Farms: A specialty foods company located in Williamsburg, Brownwood Farms is about as Michigan as it gets. They create a line of 30 different gourmet-yet-simple products, all of which stem from their long standing relationships with local Michigan farmers …
Brownwood Farms is proud to source their base products from area farms, like Leelanau cherries, blueberries from Holland, and apples from Williamsburg. They all come together in some of the signature creations the company is well known for, like their Cherry Fruit Butter and Famous Kream Mustard, to name two. The mustard is a creamy Dijon style that pairs well with every type of food it touches! We absolutely love it and have enjoyed it for years …
Brownwood Farms is also well know for their line of preserves (try the Michigan Blueberry) and pie fillings which will turn your next fruit pie into a masterpiece. Their Leelanau Strawberries are so good you can enjoy them right out of the jar!
The company offers a wide variety of gift packs for special occasions as well as corporate gifts. Click through to their site and enjoy the fresh taste of Michigan!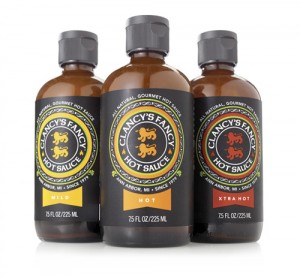 Clancy's Fancy Hot Sauces: Founded by owner Colleen Clancy in the 1970's in Ann Arbor, this small company makes three varieties of completely unique accompaniment sauces for just about any type of dish. Exposed to global flavors at a young age while in boarding school overseas, Colleen began experimenting with various flavor combinations and created sauces which garnered rave reviews from anyone who sampled them. The end result is Clancy's Fancy Hot Sauces, made with natural ingredients like fresh garlic, cayenne peppers, and local Michigan honey …
Three signature sauces head the product line, to be followed soon by barbecue sauces. Featured on both The Travel Channel and The Food Network, Clancy's Fancy is available in Mild, Hot, and XTRA Hot varieties. Each offers varying degrees of heat, combined with bold flavors from fresh ginger, paprika, extra virgin olive oil, and apple cider vinegar.
They pair well with anything from vegetarian dishes to pork roast to stews and soups. Recipe suggestions are available at their website too! These sauces are well known throughout The Wolverine State and beyond, and are definitely a great part of a Michigan themed gift …
Click through to the Clancy's Fancy site where you can order online …

Sweet Sass Flavor Sauces: It seems whenever we travel, even for a weekend, we're always poking around local grocery stores and gourmet shops looking for interesting local products. On a recent quickie weekend jaunt to Michigan, we did just that, and wanted to introduce you to one of our "finds" …
It's Garlic Fix Flavor Sauce, one of line of all purpose gourmet sauces developed by Michigan based Sweet Sass Foods. We enjoy using garlic when we cook and are always on the lookout for sauces featuring garlic. Bottom line – if you like garlic, get a hold of some of this sauce!
Garlic Fix Flavor Sauce can be used as a marinade, a glaze, or simply added to soups, stews, casseroles, you name it. We used it as a primary ingredient in a pork stir fry and were ultra pleased with the results! It's a mix of apple, cinnamon, honey, and roasted garlic – a marvelous combination!
Sweet Sass Foods makes several other all purpose sauces, like their Chipotle Craze, Hickory Kick, Habanero Flare, and their original sauce, Straight Up. We're anxious to try these too!
All their sauces are available directly at their website, as well as at many stores in The Wolverine State. Enjoy some unique flavors – Made in Michigan!
Southwestern Michigan Buttery: We've been visiting southwestern Michigan since high school days when we used to pile into the car and spend a leisurely day at the Warren Dunes State Park soaking up the rays. This area, adjacent to Lake Michigan's eastern shore, is an exceptionally beautiful part of the state and offers wonderful weekend getaway destinations and a relaxed, leisurely pace …
Due to a unique combination of climate factors, southwest Michigan is also one of the Midwest's best areas to grow fruit. One of the great pleasures of visiting this area is stopping at a road side stand to buy a few pieces of juicy fresh fruit.
It's in this area that a small company called Southwestern Michigan Buttery produces a line of all natural fruit butters. In case you didn't know, fruit butters contain no butter – they're a spreadable accompaniment made from actual cooked fruit with a bit of sugar and spices added.
A true Michigan product, everything from the fruit to the packaging is local to The Wolverine State. The company produces Apple, Peach, Rhubarb, Plum, and Blueberry Fruit Butter with more flavors in development.
An ideal gift, you can purchase gift packages of these delightful spreads directly at their website. Three packs and five packs are available, and don't forget to check out the many recipes listed for a number of creative culinary suggestions!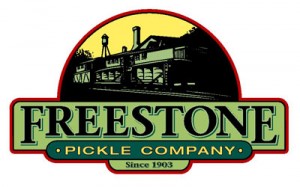 Freestone Pickle Company: We're very pleased to feature Freestone Pickles, located in the small southwestern Michigan town of Bangor. We've been familiar with Freestone Pickles since the late 1970's when during our high school years we used to visit the famous Michigan Dunes area, about 90 minutes from suburban Chicago. After sunning for a few hours, we used to explore a few area small towns and stop in a grocery store where we inevitably found some of these delicious pickles …
Founded in 1903, Freestone Pickles have always been a family owned business. They still are! Their initial distribution area has grown and now we don't need to drive to the Dunes area to get some. The company makes dills, sours, relish, and more. Many of their products are wholesale only but their online Pickle Store sells many in their line …
Freestone makes a unique pickle called the Chili Lime. As the name suggests, it's a spicy lime pickle whose flavor is one of a kind! They're available in 12 count packages and can be shipped anywhere in the continental United States. Just click on "Pickle Store" on the Freestone Pickle website to get yours!
Brede Foods Horseradish: My dad and I always had a thing for beet horseradish. Back in the late 60's and early 70's he would take me for a meal at Mama Batt's, a legendary restaurant on Chicago's near south side. Now long gone, Mama Batt's used to serve a delicious skirt steak with a small silver plated cup of beet horseradish on the side. We'd always stop before the hockey games and I remember being very saddened when the restaurant closed sometime in the late 70's …
I kind of forgot all about beet horseradish until one day I saw a jar of Brede's Beet Horseradish at our local Garden Fresh Market. Anxious to try it again after all these years, it was as good or better than I remembered! A few jars were promptly shipped out to my dad's home in Arizona …
Brede Foods has been around in Detroit for over 90 years. They're best known for their horseradish products but also make a variety of mustards and a specialty sauce called Great Lakes Grillin' Sauce, which has a big following, particularly in Michigan. It's kind of a midwestern take on barbecue sauce … a combination of spicy and sweet that can be used just like a barbecue sauce or ketchup. It's great on burgers!
You can find many of Brede's products at local grocery stores, but if you're looking for something specific, as I was with the beet horseradish, check out their online store. They deliver to all 50 states and I hope you bring back great memories from long ago just as I did!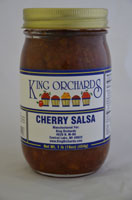 King Orchards: Located in the heart of northern Michigan's cherry growing area, King Orchards grows a wide array of fresh fruit like apples, peaches, plums, nectarines, and more. But they're best known for their fresh cherries, both sweet and tart. They have two large roadside markets where they sell these delicious cherries, along with their other fruit and related products …
For those of us who don't live close enough, King Orchards offers an online store that's popular for Michigan and cherry themed gifts. Fruit butters, jams, dried cherries, and cherry salsa are just a few of the items you'll find on their site. They also offer Montmorency Cherry capsules, made from the tart cherry variety grown in this area and noted to help those suffering from swelling and stiff joints …
For one stop shopping, a variety of gift packages and boxes are also available. We are big fans of their cherry salsa! It's medium heat and comes in both sweet and tart cherry styles …
See their online store to see everything they've got available!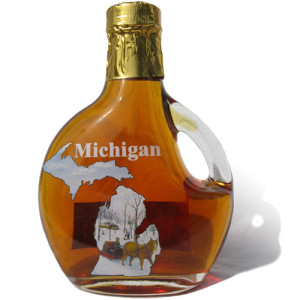 Harwood Heritage Gold Maple Syrup: When most folks think about maple syrup and where it's harvested, the northeastern states usually come to mind. And while it's true most maple syrup comes from New England, Michigan actually has a thriving maple industry, particularly in the northwest part of the state near Charlevoix …
Dating back to the late 1930's, creating maple syrup became an important part of the Parsons family's spring activities on their farm adjacent to Harwood Lake. Generations later, the Parsons family carries on the tradition with their signature Harwood Heritage Gold Maple Syrup. Though things have been modified and updated on the farm, the basic process of tapping maple trees remains the same as it did over 75 years ago …
Today, you can enjoy this 100% pure Michigan maple syrup directly from the Harwood Heritage website. It's available in unique glass bottles, some adorned with the outline of Michigan like the one shown. You can also order and enjoy several related maple treats made on the farm, like maple candies, maple cream, and a special maple barbecue sauce. This small company also puts together beautiful maple syrup focused gift baskets containing a mixture of the products mentioned above …
A truly unique gift from The Wolverine State! Visit their site to learn more …
Fessler's Original Sauce: If you're from Michigan, you already know about Fessler's Original Sauce. Made famous at Frank's Tavern on the shores of Lake Pomenah in Fenton, it is best known as a sauce to squirt on fried fish from a squeeze bottle. It has been made since the 1920's and is truly known as a "Michigan Thing" …
Fessler's Sauce is kind of a sweet and tangy concoction that's best used as a condiment. Pour it liberally over fish, and we've found it also goes very well with fried chicken or just over a baked chicken breast. You can also use it on hamburgers, sausages, or a plate of french fries to take the place of ketchup …
Fessler's also makes a series of spice mixes which you can find at their online store …
We buy a few bottles of Fessler's every time we're in Michigan, it's great stuff! You can order gift packs, single bottles, or multi packs online …
The Ultimate Pretzel Company & More: Since 1997, founder and owner Lynn Kughn has been creating a unique line of award winning gourmet pretzel treats. Recently adding to her product line, Lynn and her staff now also offer buttery toffee and chocolate bark products embedded with pretzels and more!
To get an idea of how creative gourmet pretzels can be, take a peek at the Ultimate Pretzel Company & More website. There you'll find a wide array of dipped pretzels in a variety of special flavors and ingredients – there's sure to be one to catch your eye! We were taken in by one of the products called Grande Nut … it's a signature pretzel rod dipped in caramel, rolled in Rice Krispies, dipped in gourmet chocolate, then rolled in crushed walnuts. Now that ain't your ordinary pretzel!
If you're looking for a unique gift, the company makes an assortment of gift packages and boxes with Ultimate Pretzels, Toffee, and Bark. Pictured is "Pick Up Sticks", a dozen pretzel rods drizzled with artisan chocolate. There are special gifts for Congratulations events and other personalized messages.
A really fun line of products made in Brighton, Michigan! Click through to their website to see everything they're creating and to place an order …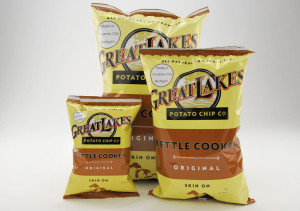 Great Lakes Potato Chips: We love discovering new potato chips! As readers of State Gifts USA may know, we're potato chip aficionados, having tried dozens of different brands across the U.S.
On a recent trip to Michigan, we discovered Great Lakes Potato Chips, a Traverse City based company making a special skin on style of kettle chips. They're really good! The skin on a potato is known to be good for you (lots of fiber), but the company keeps the skin on because they taste better that way …
Great Lakes makes four flavors of chips, including Original, Sea Salt, Barbecue, and Sea Salt Pepper and Onion. We thoroughly enjoyed the Original and are anxious to try the other flavors. The company also makes tortilla chips and salsa, all of which you can buy online at their website …
These chips are hearty and pack a great crunch … give them a try!
Esch Road Foods: Based in the Sleeping Bear Dunes National Lakeshore area of northwest Michigan, Esch Road Foods is relatively new on the scene. Founded in 2012, the company is based just a good stretch of the legs from the shores of Lake Michigan.
They make an absolutely delicious line of products which are all natural with no preservatives. The ingredients are grown on owners Tim and Kathy Young's organic farm. The Young's are also owners of another specialty food company, Food For Thought, which you can learn about on the Esch Road website …
Their most well known products are a line of fruit toppings called "Fosters" … the Blackberry flavor is shown. They contain fruit, rum, and brandy and can be used as an ice cream topping or as an extra element atop baked dessert goodies …
Aside from the Blackberry Foster, you'll find Blueberry, Cherry Raspberry, Tart Cherry, and a line of fruit salsas, preserves, and barbecue sauces. The company has partnered with the wonderfully Michigan-centric online store TraverseGourmet.com where you can order all the Esch Road products either in single quantities or combination gift packs. Give yourself a tasty gift from Northwest Michigan!
Cangles: We're always on the lookout for eco friendly gifts made in the USA, and here's a really interesting company from Michigan creating wearable and approachable jewelry from recycled soda cans …
The company is Cangles, and you won't believe this good looking jewelry until you see it! Choose from almost every type of jewelry you can imagine, from necklaces, earrings, bracelets, hair clips, and more …
We are really impressed with Cangle's locally inspired jewelry, like the Faygo cuff bracelet shown. Faygo, which you can learn about below, is a long time Detroit soda pop manufacturer. What a great Michigan themed gift! And for all of you Vernor's fans out there, don't worry, Cangle's makes similar products recycling their cans too!
Check out all the interesting Cangle products at their website. Prices are exceptionally reasonable!
The Heritage Tree Reclaimed Lumber Gifts: We love creative uses for recycled natural resources. This small Michigan operation uses reclaimed lumber to create specialty household and entertainment items like coasters, name tags, gifts tags, buttons, and more …
Called The Heritage Tree, they have a shop on Etsy showcasing their work. Cherry, pine, walnut, and maple are just a few of the lumber varieties used.
The coasters pictured are made from cherry wood and have been sanded and sealed in a protective coating. They're then sealed with a coat of beeswax and orange oil to give them a durable sheen.
Prices are very reasonable, and you'll be helping a worthwhile endeavor thrive! Click through on their site to see all the different items and their unique designs …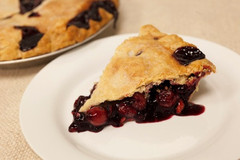 Achatz Handmade Pie Company: Located on a ten acre apple orchard in Chesterfield, MI the Achatz Handmade Pie Co. has made quite a name for itself since being founded in the 1990's. They've been featured by prominent television shows like Good Morning America as well as The Food Network for their all natural delicious pies …
Achatz (rhymes with "jackets") is best known for their Michigan 4 Berry Pie, pictured. Their best seller, it includes Michigan cherries, raspberries, blueberries, and blackberries. A wonderful gift from Michigan!
They offer other flavors like apple, cherry, strawberry rhubarb, and even make fruit juice sweetened pies if you can't have sugar in your diet. Achatz has a Pie of the Month Club which you can order in 3 month increments …
Any of their pies are available for purchase online and they'll ship anywhere in the USA!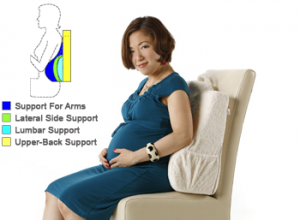 Back Buddy: Back pain can be really annoying, and we'd imagine it's got to be especially difficult for expectant or nursing mothers …
Enter Back Buddy, a Michigan based company who created a unique lumbar support wedge/pillow to help keep your spine in proper position …
The Back Buddy, as show, provides support for your upper and lower back, as well as your arms. As mentioned, it's ideal for expectant or nursing mothers, but its benefits extend to anyone who needs more back support and proper spinal position while sitting (and that's everyone!).
Check out their website for all the details and benefits … you can order directly online.
Strawesome: Here is one of the coolest eco friendly products we've ever seen, made by a family owned small Michigan company …
They're reusable glass drinking straws, made in dozens of colors and styles. If your immediate question is "why use a glass straw", then consider a few things …
One, millions (and millions) of plastic straws are dumped into landfills daily. Two, these straws are durable, dishwasher safe, and better for your oral health than drinking through plastic. Three, they're handmade in the U.S. and carry a lifetime guarantee! These straws are also great for drinking pesky teeth staining beverages like coffee, tea, or soda since the liquid never touches your teeth surfaces …
The glass straw pictured is Strawesome's "See Thru Barely Bent" variety. There are numerous colors, sizes, lengths, and designs available …
You can even get a carrying case and cleaning brush for your straw for portability sake (but you can hand wash your straw or put it in the dishwasher as mentioned too) …
Check out the entire Strawesome line of stylish reusable glass straws, and start drinking eco friendly!
History of Michigan
Michigan Trivia and Fun Facts

1). A person from Michigan is most commonly known as a "Michigander" …

2). Michigan has the most lighthouses of any state – at last count 116.

3). Michigan has more public golf courses than any other state …

4). The only occurrence of traveling south from the United States to get to Canada occurs at the Detroit and Windsor border since Windsor is actually south of Detroit …

5). Michigan is the largest producer of cherries in the United States …

6). There are more than 11,000 lakes in Michigan …

7). Michigan has more freshwater shoreline than any other state …

8). Michigan is the only state touching four separate Great Lakes. Lake Ontario is the only Great Lake not touching Michigan shoreline …

9). Isle Royale National Park is located in the northwestern section of Lake Superior. Although it is part of Michigan, it is actually geographically closer to the Minnesota shoreline. Due to the park's island location, it hosts less yearly visitors than Yellowstone receives in a day …

10). Torch Lake is the state's longest inland lake at 18 miles. It is also the deepest inland lake in the state at 302 feet.

11). In far southeast Michigan, actually adjacent to Toledo, Ohio, is an area called "The Lost Peninsula". It is a small peninsula of land jutting out into a bay adjoining Lake Erie on one side, and the Ottawa River on the other. Residents of the Lost Peninsula must drive through a portion of Ohio to get to any other point in Michigan. This unique strip of land was created by the drawing of the state line which resolved land dispute issues between the two states dating back over 200 years.

At the actual state line, there is a small 3 foot tall granite marker which was placed there in 1965 …

McClure's Relish, Bloody Mary Mix, and Pickles: Started in 2006 just outside of Detroit, McClure's Pickles was founded based on an old family recipe for packing pickles. The company now makes garlic, spicy, and sweet and spicy pickles, along with relish and one of the best bloody mary mixers you'll find …
The relish (pictured) comes in two varieties … garlic and spicy. We like the spicy, adding it to potato salad, in our tuna salad recipe, and on hot dogs. McClure's slogan for the relish is spot on … "Great on anything, so put it on everything."
In our estimation though, the star of the show is McClure's Bloody Mary Mix. It's made from leftover spicy pickle brine and enhanced with spices, tomato paste, and hand pressed cucumber juice. Great on its own as a vegetable drink, it also pairs exceptionally well with your favorite bloody mary spirit …
You can order cases of any of these products at the McClure's Pickles website …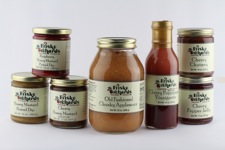 Friske Orchards: In a state teeming with fruit orchards, one of the best known in northern Michigan is Friske Orchards, a 240 acre farm near Charlevoix …
Operating since the early 60's, Friske Orchards is now a full fledged family destination. The site features the beautiful orchards, a farm market, general store, cafe, bakery, and even a petting zoo …
Friske is famous for showcasing the bounty of Michigan fruit in many of their products. You can buy them online on their site … they make great gifts! Some of our favorites include their jams, cherry products, local honey, salsa, and syrups. You can even buy fresh fruit shipped to any location (their apples are outstanding!).
Check out their site to see everything that's going on at Friske Orchards …

Mackinac Straits Fish Company: One of our favorite culinary delicacies from the Wolverine State is the wonderful smoked whitefish fillets, smoked fresh and served on crackers with a good glass of Michigan wine from one of the state's many wineries …
If you live in the state, you probably have a favorite smoked fish purveyor, but if you reside elsewhere we can heartily recommend the Mackinac Straits Fish Company located in St. Ignace, a small town on the north end of the famed Mackinac Bridge …
You can order smoked whitefish, trout, salmon, and all kinds of dips and spreads incorporating the smoked fish directly from their website. They also make a unique product called "Lake Links", which are sausages made from whitefish! They're delicious, and can be grilled or pan fried or simmered on the stove top …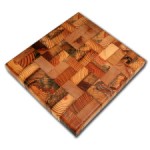 Detroit Cutting Board: This really cool item is about as "Made in Michigan" as it gets …
It's a butcher block style cutting board made from reclaimed wood from old abandoned Detroit structures. Rather than the wood simply being thrown into a landfill, it is reconditioned and sealed with several coats of food safe mineral oil and beeswax.
Non slip feet are then installed on the under side and the result is a truly unique gift for yourself or someone with a soft spot for Michigan. All the work is done in Detroit …
The cutting board measures 10.5 by 13 inches and it's two inches thick. You can buy one of these eco friendly boards right here from Pure Detroit …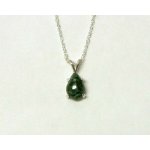 Isle Royale Greenstone Jewelry: Michigan's state gem stone as noted above is Isle Royale Greenstone, which is found in small quantities on the beaches of Isle Royale, naturally tumbled to a beautiful colorful finish by the waters and sand of Lake Superior …
Isle Royale Greenstone is actually the common name of the gem. It is officially known as chlorastrolite and is tricky to work with for a jeweler as the stone is hollow, although very hard.
A gift of jewelry featuring the state stone is a wonderful memento of the Wolverine State. Take a look at all the jewelry available online at Keweenaw Gem and Gift of Houghton, MI. They are specialists in Isle Royale Greenstone and Michigan's state stone (not gemstone), the Petoskey stone which we discuss below …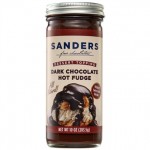 Sanders Fine Chocolates: Sanders is the Detroit area's go to place when it comes to chocolates. They've been around since 1875 and have 11 locations in Michigan, mostly in the metro Detroit area …
You can find (and order online) all kinds of chocolate dessert treats from Sanders, including boxes of chocolate, snacks, gift baskets, and more. Our absolute favorite is Sanders Dark Chocolate Fudge dessert topping … it is practically addicting!
Not only is it excellent over ice cream, but it's equally delicious drizzled over cake or really any kind of dessert …
Order some of Sanders dark chocolate fudge and some of their other fine products for yourself or as a gift. You can have their products shipped by going online at SandersCandy.com …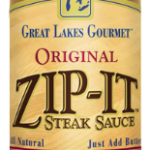 Zip It Steak Sauces: Made by the Troy, MI based Pantry Passions Inc., Zip It Steak Sauce is one of the best dipping sauces we've ever tried …
We found out about it from some friends who summer in Michigan and use the Original Flavor Zip It Sauce with steaks or any cut of beef for that matter. It's a cream based sauce which you can basically use right out of the jar … just add some unsalted butter.
Zip It Steak Sauce complements the flavor of the meat without overwhelming it. It comes in several different flavors like cabernet, mushroom, bleu cheese, and roasted poblano.
You can get it online at the Zip It site …
Buddy's Pizza: When people talk about Detroit, the negative quickly surfaces … population flight, abandoned buildings, failed industry, etc. And while these realities are part of modern day Detroit, the city has numerous saving graces, with more surfacing all the time …
Detroit is a wonderful foodie city, and restaurants tend to emphasize local ingredients and local producers. There's a lot of unique and yet very down to earth cuisine here, many that you won't find far from the Motor City. Did you know, in fact, that Detroit has its own style of pizza?
It's true. Detroit's "square pizza", aptly named as it's shaped like a square (or rectangle), is a Detroit tradition much like Chicago deep dish or New York thin crust. It's somewhat thick and crispy on the outside and soft and chewy in the interior, with a bit of tomato sauce splashed on top of a unique blend of cheese …
One of the original makers of square pizza is Buddy's Pizza, a Hamtramck legend that's been serving these pies since the mid 1940's. They have a few locations in the metro area, but the original at the corner of Conant and Six Mile Road is legendary.
They're also known for their famous vinaigrette salad dressing, which you can buy online (along with Buddy's t-shirts) at their online store, linked above.
American and Lafayette Coney Island: Another of Detroit's culinary highlights come from these two independent restaurants, sitting side by side in downtown for almost 100 years …
They are Lafayette Coney Island and American Coney Island which both serve legendary "coney's", aka Coney Island hot dogs.
They have nothing to do with Coney Island (of New York fame) at all, they're just named that. A Coney Island dog starts with a natural casing wiener (made locally) on a steamed bun along with a dash of mustard, chopped raw onions, and a slathering of Greek style chili. Eating at one or the other (or both) is a Detroit tradition …
There are ample arguments as to which is "best", Lafayette or American. Our advice? Have a Coney at each and pass your own judgement on the debate. They've both been around forever. Every time in town, we eat at both, and we love both!
American sells "Coney Kits" containing 12 hot dogs, fresh buns, chili, and a sweet onion, all direct from the restaurant. They'll ship anywhere in the country … a fantastic Michigan gift!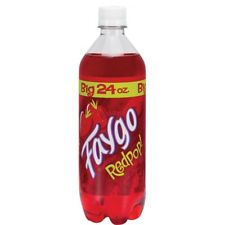 Faygo Beverages: Another Detroit original is Faygo Beverages, part of the local landscape since 1907.
Faygo, who has been part of the National Beverage Corporation since 1987, makes 50 different flavors of pop (or soda if you will) from original cola to their famous "red pop" and dozens more …
Faygo has an online store where you can purchase and ship a 24 can case of any flavor you want to someone craving these Motor City flavors.
You can also buy cool looking original logo Faygo t-shirts, hats, and other swag too!
Better Made Snack Foods: A Detroit original since 1930, Better Made Snack Foods has outlasted dozens of metro Detroit snack makers over the years. Known for their potato chips, Better Made also turns out pretzels, popcorn, potato sticks, and more …
If you've been reading this site for any length of time, you know we're a big fan of local potato chips. Our favorite chips from Better Made Snack Foods are their Rainbow Chips. They're basically darker potato chips that look more well done (cooked longer) than a traditional chip, but really they're from a specially formulated potato with a higher sugar content.
Rainbow Chips are a little sweeter in taste … we love them! You can order these distinct chips online, as well as any of Better Made Snack Food products. Made in Detroit!
Roxo Bracelets: We love learning about success stories and the entrepreneurial spirit, and Roxo Bracelets certainly fits the bill …
The company was founded a few short years ago by Greg Ramfos, who owned an automotive related business that was failing. A clever bit of re-engineering turned an automotive factory into a charm and bracelet company … and the company has now churned out over a million Roxo bracelets which allow individuals to express themselves … and make people happy! A great story!
Roxo bracelets are basically something which is worn on your wrist. The bracelets can be easily personalized with pictures of a loved one, a pet, or a television / movie celebrity. Check out everything the company does at their website, where you can order one for yourself … find them at GetRoxo.com …
Kilwins Mackinac Island Fudge: If you've ever been fortunate enough to visit Mackinac Island, you probably enjoyed a taste of Kilwin's Fudge at their iconic location on the island. In a word, it can be best described as "spectacular" …
Founded in 1947, Kilwins has grown to almost 90 locations across the U.S. But if you don't have a location near you, you can order Kilwins fudge and other products online at Kilwins.com. Fudge comes in several different flavors like chocolate, butter pecan, pumpkin walnut, and more. Their best selling product is actually "turtles" … chocolate covered pecans and melted caramel.
Another great gift idea are Kilwins Salt Water Taffys, which you can order by the bag in 12 ounce or 32 ounce sizes …
Al Dente Pasta Company: Based in Whitmore Lake, MI the Al Dente Pasta Company specializes in artisan, low carb, and specialty wheat pasta …
Al Dente Pasta has grown from literally a kitchen table operation to having a presence in all 50 states. A family run company, they offer different flavors of linguine, fettuccine, and several other types of pasta …
The company has also garnered acclaim for their low carb and wheat pastas, as well as gourmet sauces. Some of the sauce flavors are olive and caper, leek and sun dried tomato, and roasted garlic …
You can find Al Dente Pasta in many specialty markets across the country, but if it's not available in your area or you want to send it as a Michigan themed gift, can can order online directly from the company. Just go to AlDentePasta.com where you can order in quantities of six or twelve bags of pasta.
Gift baskets and special combinations are available as well … check their website for all the details.
Winter's Sausage: Winter's Sausage is a Detroit area tradition since 1951. Located in Eastpointe, the company makes standard and specialty sausages for the local market …
Some of their products include natural casing wieners, landjager sausage, hot dogs, and Coney dogs (shown). Coney dogs are a Detroit staple … they're a smaller hot dog served on a steamed bun and smothered in special recipe chili and chopped onions with mustard. Two landmark restaurants sit aside one another in downtown Detroit – American and LaFayette Coney Dogs. It's sort of a right of passage in Detroit to have one or more Coney Dogs at each place!
You can order many of Winter's Sausage products online …

Grand Traverse Pie Company: Since 1996, the Grand Traverse Pie Company has been baking pies using Michigan ingredients, most notable fresh Michigan cherries. From a humble beginning in downtown Traverse City, the company has blossomed to nationwide acclaim …
Grand Traverse Pie Company is best known for their cherry pie (pictured), which can be shipped anywhere in the country. They make popular gifts, particularly for someone without a GT Pie location nearby!
You can also buy all sorts of other flavors online, including fruit pies, cream pies, pumpkin and pecan pies, and other baked delights. It's a real taste of Michigan!
Pewabic Pottery: We became acquainted with Pewabic Pottery over 20 years ago during frequent business trips to the Detroit area. Located on the far east side of Detroit since 1903, Pewabic is one of the most respected names in American pottery …
Pewabic is best known for their hand made ceramic tiles as well as vases and dinnerware. They utilize a unique method of glazing each piece, which gives them a classic, handsome look …
You can visit the Pewabic Pottery studios seven days a week. If that's not convenient, just shop online at the Pewabic store …
Pewabic Pottery makes a great gift for anyone … it's like owning a piece of classic Americana!
Sleeping Bear Farms: Sleeping Bear Farms of Beulah, MI is well known for their honey, honey mustard, and maple syrup, but it's another of their products that caught our attention …
It's the cherry creme honey (pictured), which combines the taste of Michigan cherries and fresh honey. The mixture is whipped until it's smooth and spreadable … perfect on toast, muffins, pound cake … you name it!
They also make a lemon honey creme, raspberry honey creme, and a standard whipped spreadable honey. You can order by the jar or by the case at SleepingBearFarms.com …
Cherry Republic: Based in Glen Arbor, Cherry Republic is all things cherry … basically they bring Michigan cherries to the world!
Here is just a partial list of some of the cherry products you can have shipped from Cherry Republic: chocolate cherries, dried cherries, nut mixes, jams and jellies, baked goods, beverages, salsa, sauces – the list goes on and on …
You can also combine many of their products in handy gift baskets and boxes … perfect for a client gift, welcome gift, or going away present. Check their site for all your cherry gift giving options!
Zingerman's: Ask anyone from Michigan, and chances are they know about Zingerman's. Located in Ann Arbor, Zingerman's is part deli, part bakery, part gourmet food operation, and all delicious …
Zingerman's reputation extends far beyond Michigan's borders, so they've taken to shipping many of their most popular products all across the country. You can shop online at the Zingerman's store and have your favorites shipped to you or to a lucky someone as a sure to be appreciated gift …
We are big fans of Zingerman's ginger coffee cake, which boasts an almost exotic blend of spices, like Indonesian cinnamon, cloves, and dark molasses. You can also shop for gifts of cheese, meat, unique baked goods, and more …
Petoskey Stone Jewelry: Twisted Crystal is a small jewelry crafting business located in Mackinaw City, and although their shop is only open seasonally, their website is open all year around …
The site showcases many examples of Petoskey stone jewelry, a stone that is unique to the northern shores of Michigan. Petoskey stone is actually fossilized ancient coral, and the stone offers beautiful patterns and a smooth, almost shiny finish resulting from years of being scrubbed by waves and sand.
Petoskey stones are highly desired by collectors who comb the state's northern beaches to harvest them. They are frequently crafted into jewelry … a beautiful gift unique to Michigan!
Be sure to check out Twisted Crystal's site to see their collection and buy online …
Country Home Creations: Country Home Creations of Goodrich, MI is best known for their line of easy to prepare gourmet dip mixes. We love their BLT Dip Mix, which is the next best thing, or maybe better, to having a bacon, lettuce, and tomato sandwich …
The company also makes several drink mixes, like a fantastic strawberry lemonade mix and numerous mulling spice mixes for cold winter evenings …
You can buy Country Home Creations mixes and other food products directly from their site. They'll put together a nice gift package for you, and there's lots of great recipes on the site too!
Stay Tuned For More Michigan Made Products … There Are A Lot More To Come! To Add Your Comments, Visit Our Contact Us Page …