Made In North Carolina Quick Facts
This Post is about Made in North Carolina Gifts and Specialty North Carolina Products
Want To See Your Business / Products On Our Made In North Carolina Page?
Visit "Advertise With Us"!
FEATURED MADE IN

NORTH CAROLINA

BUSINESS

ES
Snack Wagon Concessions "The Fried Pickle People": True Southerners have a deep passion for their tried-and-true recipes. From tantalizing barbecue to sensational sides to decadent desserts, a simple Southern meal has wonderful way of creating special memories …
Recently, we were introduced to a small North Carolina business who take the hassle out of the culinary aspect of a gathering – they're Snack Wagon Concessions, a catering and concession business who also enjoy a rapidly growing reputation as the "Fried Pickle People" (more about that in a minute) …
Founded in 2011 with a passion for creating high quality, family friendly food, Snack Wagon Concessions has been a consistent presence across The Tar Heel State and beyond at festivals, business and charitable events, weddings, and more. No matter your event focus or budget, Snack Wagon will create the perfect meal for any size group. Featuring a diverse, adaptable menu, you'll be assured of a selection with something for everyone, including vegetarian and special dietary needs …
Signature items include traditional Southern fare like Pulled BBQ Chicken Sandwiches, Spiral Ham on Tea Biscuits with Chutney, and Grilled Potato Salad with Bacon. Or venture into theme focused menu items ranging from Italian to Greek to Backyard Barbecue …
Perhaps Snack Wagon's most famous menu item is their Fried Pickles, which they started serving at festivals a few years ago. This beloved Southern specialty is just as it sounds … a crunchy pickle coated with special seasoning mix and deep fried. Word soon spread and countless inquiries ensued, asking "What makes your fried pickles so wonderful??"
The secret, of course, is in Snack Wagon Concessions' Fried Pickle Mix, which is now available for you no matter where you live. Conveniently packaged, it's a perfectly seasoned flour blend for homemade fried pickles, the perfect snack or appetizer for any gathering or even a casual family meal …
This special Fried Pickle Mix can be found in a handful of North Carolina retail stores or ordered directly from Snack Wagon Concessions. If you've never enjoyed a fried pickle before, here's your chance to cross it off your bucket list!
Click through to the Snack Wagon Concessions website and see all they have to offer for your next area event, and while you're there, discover what thousands already know … they're definitely the "Fried Pickle People!" …
Made in North Carolina …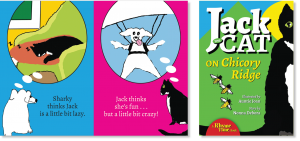 Rhyme Time Storybooks – Jack The Cat On Chicory Ridge: Do you have a young reader on your list who'd appreciate a fun story book based in North Carolina?
We're pleased to introduce you to Rhyme Time Storybooks and author Debora Emmert, who penned the clever tale of "Jack The Cat On Chicory Ridge" …
This rhyming young readers book, aimed at children up to age 8, showcases Jack The Cat and his dog friend Sharky (based on an energetic, real life dog). The unlikely friendship between feline and canine is further complicated … Jack thinks Sharky is a little crazy, while Sharky thinks Jack is a little lazy! So what can these two possibly do together? Read and find out … the story is heartwarming and youngsters will love it!
"Jack The Cat On Chicory Ridge" is one of five current titles penned by Debora and featured at Rhyme Time Storybooks, with more on the way in the very near future. And if your young reader has a Florida connection, check out Rhyme Time's Jack The Cat adventures in The Sunshine State at our Made in Florida page …
A perfect birthday, holiday, or any time gift for young readers, Rhyme Time Storybooks makes reading fun! Click through to their site to learn more …
Truzzi's Bath & Body:: The effects of time and harsh weather often have a less than desirable effect on the glow and vibrancy of our skin. But have you ever considered another culprit is your daily cleansing regimen?
For the better part of two decades, we've abandoned traditional mass produced bar soap and instead opted for all natural soap for our daily use – in particular goat's milk soap. Besides the compliments we occasionally receive about looking younger than we actually are (thank you!), there are numerous tangible benefits to using goat's milk soap …
That's why we're very pleased to introduce you to a family owned North Carolina small business that handcrafts nourishing goat's milk soaps, lotion, and skincare products for gals and guys of any age. Truzzi's Bath & Body, based in Colfax, has been creating products that pamper your skin and leave it soft, touchable, and refreshed since 2009 …
What makes goat's milk soap so special?
Goat's milk has a naturally higher fat content, and soap made from rich, creamy goat's milk nourishes your skin instead of drying it out like traditional bar soaps. Truzzi's raises and keeps their own herd of goats and combines the luxurious milk with natural ingredients like coconut oil and olive oil to give your skin a healthy glow.
If your skin is chronically dry from the effects of weather and aging, you'll be delighted with the difference goat's milk soaps make. Truzzi's soaps offer relief from excema and are just the ticket for cracked, rough hands …
At the Truzzi's website, discover more than four dozen varieties of goat's milk soap, conveniently organized in fragrance preferences (Floral & Fruity, Earth & Herbal, Masculine, etc.). We were particularly drawn to "Peppermint Stick" (pictured), a cool, minty bar that's reminiscent of a fresh peppermint stick. Unscented varieties are also available, as are facial only bars and seasonal specialties …
Click on Truzzi's "Shop" tab to view the entire selection of soaps, lotions, accessories, and gift items. For a special one of a kind gift, opt for the sure to be appreciated "Soap of the Month Club". Available in six to twelve month duration, this unique gift offers you or someone special a different Truzzi's goat's milk soap bar and other bath and body care goodies each month, all packaged in a beautiful gift box. The perfect gift for holidays, anniversaries, birthdays, and more!
Truzzi's also offers gift sets, wholesale opportunities, and special quantity discounts. If you live in or near The Tar Heel State. be sure to check out the Retail Locations section for a growing list of retailers where you'll find the Truzzi's Bath & Body line …
If you haven't tried goat's milk soap before, click through and order some for yourself. Your skin will thank you!
Proudly Made in North Carolina …
Neecy's Necessities: If you've read State Gifts USA for any length of time, you know we're big fans of hand made, natural soap …
Small batch soaps are so much better for your skin than traditional soaps – they don't strip away the natural oils which protect your skin from harsh environmental elements like wind, sun, and inclement weather …
Further, unlike mass produced soaps you'll find in large chain stores, these soaps are specifically designed to leave you moisturized, smelling great, and feeling refreshed. They're made without any artificial chemicals or suds enhancers and as an added bonus, they're much longer lasting too!
And that's why we were so pleased to learn about this North Carolina based body care products business. They're Neecy's Necessities and they create a line of locally focused soaps, lotions, and other bath and body essentials …
Looking for the perfect Southern inspired gift from The Tar Heel State? Check out some of Neecy's Necessities Milk Soaps at their website. There you'll find Tea Soaps and Boozy Bars, both created from local specialties for a sublime spa-like experience …
You'll especially like Southern Sweet Tea, a tea soap bar brimming with tropical notes of peach, mango, lemon, and hibiscus. This bar is crafted with special varieties of tea to give you an added boost of soothing bubbles that will delight your senses and leave you feeling refreshed and invigorated …
The selection of Boozy Bars offers a nod to North Carolina's burgeoning craft beer culture. The Outrigger Bar, available scented or unscented, are created with the addition of local brewer Full Steam's Humidity Pale Ale (a fine North Carolina brew by the way!). This delightfully creamy soap is enhanced with coconut milk and is perfect for men and women alike.
It's one of several local brew themed soaps available at the Neecy's Necessities website (order directly online) and makes an ideal gift for anyone who holds North Carolina near and dear to their heart …
This blossoming small business also offers lotions, bath butters, balms, scrubs, and more. Be sure to check out the "Just For Men" tab for great gift ideas for that special guy in your life …
Wholesale opportunities are available too – just reach out via the Contact Us page at their website …
We are proud to spotlight Neecy's Necessities here on our Made in North Carolina page … visit their website, check out their full line of wonderful North Carolina made bath and body products, and go ahead and pamper yourself!
Blue Ridge Specialty Foods: Located just south of the Pisgah National Forest east of Asheville, this company has been producing handcrafted gourmet food products since 1961. Best known for their fantastic preserves and jams, they're Blue Ridge Specialty Foods and we're proud to feature them on our Made in North Carolina page …
You may have heard of companies making their products in "small batches", but do you know what that really means? Well, Blue Ridge has built their reputation on it! Their jams, for example, are hand stirred and poured, using real fruit and produced in small quantities of 18 jars at a time. These products are made the old fashioned way, and you'll taste the freshness and attention to detail in every jar …
In addition to tried and true flavors like Strawberry, Peach, and Raspberry, jams and preserves are also offered in specialty varieties like Black 'n Blue (a mix of blackberries and blueberries), Blue Ridge Special (featuring mixed fruit), and many others. We were especially intrigued by a tempting offering called Smoky Mountain Special Preserves – a real fruit jam and preserve that's a combination of strawberries, raspberries, and cherries … wow!
If you like a little heat, check out Blue Ridge's many jams and jellies featuring habanero and jalapeno peppers. Over a dozen flavors are available, including Habanero Black Raspberry Jelly and Jalapeno Cherry Preserves. For a simple yet elegant appetizer, spread them over a block of cream cheese and serve with artisan crackers. Or, serve with chunks of crusty bread and accent with local cheese …
All told, over 120 varieties of specialty food products are available, including salsa, dry soup mixes, relishes, and pickled vegetables in addition to their line of jams and preserves. Gift baskets and gift sets are available directly at their website, where you'll see all the enticing flavors just waiting for you …
A selection from Blue Ridge Specialty Foods makes an excellent and much appreciated hostess gift. Or, stock up for yourself and your family and enjoy the special flavors of North Carolina! Click through to their website, linked above, and shop online. Wholesale opportunities and special event labeling are available as well. Blue Ridge Specialty Foods – A Delight In Every Bite!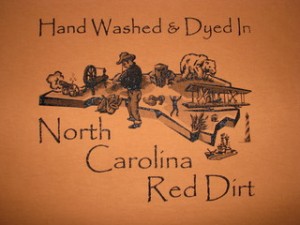 North Carolina Dirt Shirt: Here's an authentic product from The Tar Heel State if there ever was one!
It's the North Carolina Dirt Shirt, an all cotton shirt washed and dyed in authentic North Carolina red dirt. The dyeing agent is actually the iron oxide present in the dirt, so each shirt is a true original – colors vary slightly from shirt to shirt but they're all straight from NC soil!
This creative product is available in seven unique designs which you'll see at the linked page above. All sizes are ready to ship and you can purchase easily via Pay Pal.
Everywhere you go, take some of North Carolina with you!

Elizabeth's Pecans: North Carolina is the eastern most, and some say the beginning, of America's pecan growing belt. Pecan trees thrive in groves in select areas of the United States, stretching all the way from The Tar Heel State westward out to New Mexico …
Best known for their "Elizabeth's Exceptional Pecan Brittle", this Turkey, NC pecan processor packages and markets a wide variety of pecans and related products. The brittle is truly special – it's softer than standard brittle because it contains less sugar and more pecans … what a welcome concept and easier on your teeth!
You can find Elizabeth's Pecan Products at numersous east coast retail outlets and over 140 national grocery stores. Better still, visit their website to see the entire selection and order there – who wouldn't love pecans as a holiday time gift, or come to think of it, at any time of year??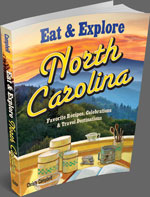 Eat & Explore North Carolina: Here's a great idea for an economical North Carolina themed gift …
It's one in a series of state themed cookbooks by Great American Publishing Company titled Eat and Explore North Carolina. This 270+ page resource not only includes recipes from some of the state's most beloved restaurants, but also serves as a guidebook for traveling in The Tar Heel State.
Written by Christy Campbell, the book also offers insight into some of North Carolina's best known festivals and events, like the Cotton Festival held in Dunn, the Poultry Jubilee in Rose Hill, and many more. A wonderful and easy to use keepsake, this book is a must have for any resident, frequent visitor, or someone who holds warm feelings for North Carolina …
You can order online directly at the Great American Publisher page linked above …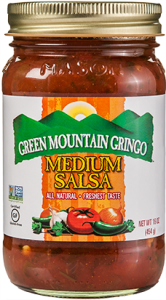 Green Mountain Gringo Salsa & Tortilla Chips: The TW Garner Food Company has been a Winston-Salem stalwart for over 85 years, committed to producing quality products for area consumers and always on the lookout for more to add to their line. They recently purchased this salsa company from Vermont, featuring flagship salsas made from simple, all natural ingredients …
The salsa, known as Green Mountain Gringo and available for purchase at their online store, comes in five different varieties. Beyond the Mild, Medium, and Hot flavors, they also boast robust Roasted Chili and Roasted Garlic styles, both checking in with a medium heat level. They're great for any southwestern style dish … add some to your favorite chili recipe for a unique zesty zing!
If you like to use salsa for dipping, try the company's line of tortilla strips, available in Original, White Corn, and Blue Corn. Click through to their website to learn more. Tasty goodness from The Tar Heel State!
Winkler Bakery at Old Salem Museums & Gardens: If you're ever in Winston-Salem, be sure to carve out some time to spend at the Old Salem Museums and Gardens. It's an historic village preserving the traditions of Salem's early Moravian settlers, including historic trades and craft demonstrations, garden and home activities, and more. A small village amidst modern day North Carolina, Old Salem is a great place to visit with kids (of any age!) and has shops and restaurants to browse around as well …
One of the must stop attractions in the village is the historic Winkler Bakery, who offer some of their traditional treats via the Old Salem online store. There you'll find famous Moravian style cookies and an easy to prepare mix for the bakery's legendary sugar cake. The baking mix contains flour, brown sugar, and cinnamon – all you need to add are eggs, butter, water, and sugar. The instructions are easy to follow and the cake is absolutely scrumptious!
There are all kinds of other items available from their online store, ranging from food items to trades products to home and garden decor. A wonderful traditional North Carolina gift idea!
Buddy's Jeans: If you scroll around the different state's pages on this site, you'll find a few local blue jeans manufacturers featured who are located across the country. We're big fans of that combination (blue jeans & local companies), and we're pleased to introduce you to some fine companies making the ultimate American wearable, blue jeans. One such company you should know about is Buddy's Jeans originally from Mississippi and now made in The Tar heel State …
Buddy is Buddy Steverson, a rancher, cowboy, and jack of all trades manufacturer in his day. Never satisfied with the quality and durability of store bought jeans, he sought out to make his own. He ran the company in New Hebron, MS (where their brick and mortar store is still located) until the mid 1990's when a health issue forced its closure, but happily, a long time friend recently purchased the business and revived it. Her name is Jane B. Little and these iconic jeans are now again proudly made in Asheboro, NC, a town of about 22,000 in the central part of the state …
Buddy's Jeans are made with durable American 14 ounce cotton and are approved for any type of hard work or play. You can buy them directly at their website and there's helpful tips for measuring your proper size (it's easy!). They're available in Original, Relaxed Fit, and Cowboy Cut (a bit more room in the seat and thighs). Stylish jeans shorts and un-lined denim jackets are available too – take a look!
And if you're an odd waist size (33, 35, etc.) – no worries, that's Buddy's specialty! Click through to their site to discover the history of this cool company and try a pair on for size …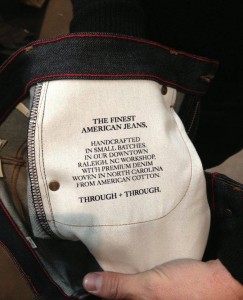 Raleigh Denim: We love companies bringing back the pride and craftsmanship to traditional American goods. In downtown Raleigh, one company is doing just that with one of the most iconic products known in this country – blue jeans!
Using American ingredients and American know how, Raleigh Denim crafts jeans one pair at a time. Sturdy, stylish, and ultra comfortable, the jeans are available for both men and women in a variety of styles. Check their website for examples!
If you're in the city, you can stop in and see them at their workshop where you'll see the hands on process up close and personal. The detail involved is fascinating! The company also has a retail outlet in Ralight and a flagship store in New York City …
You can also shop online at their website – a stylish practical and long lasting gift for yourself, direct from the heart of The Tar Heel State!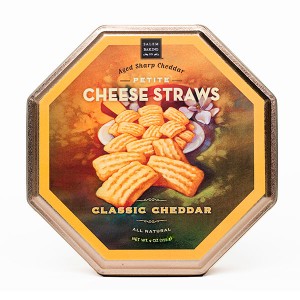 Salem Baking Company: This company is actually an offshoot of a beloved local bakery called Dewey's Bakery that has been an area tradition since 1930. In 1992, Salem Baking Company was created to focus on delivering their baked goods to a national audience. They're best know for their Moravian Cookies, but also make a number of fine products, including our favorite, their cheese straws …
Moravian Cookies, a specialty in the Winston-Salem area, are a unique thin wafer type cookie richly flavored with spices like cinnamon, allspice, and vanilla. Over the decades, flavors have expanded to include Pumpkin Spice, Meyer Lemon, Key Lime, and many more. They're a real North Carolina treat!
Cheese straws, of course, are a southern specialty and we love them! They're made with real cheddar cheese, fresh butter, and wheat flour. A one of a kind flavor, the cheese straws from Salem Baking are especially good as they're spiced with a touch of paprika and cayenne pepper! Several different varieties are available at their website, along with their many other baked specialties.
A gift anyone will enjoy, direct from the heart of North Carolina!
Goodness Gracie: Owned and operated by Sallie and Carter Price, this Wilmington based baking and specialty foods company has been growing steadily since being founded in 1995. Their original product, Heavenly Toffee Cookies, are a sweet, crunchy cookie based on a favorite cookie recipe of Sallie's mother. The toffee cookies proved so popular that they've ultimately come to be sold in over 40 states!
In addition to toffee cookies available in four different varieties , Goodness Gracie also offers tantalizing snack mixes. Some of the flavors include Buffalo Blue Cheese Pretzel Bites, Cheddar Cayenne Crackers, and Cocktail Snack Mix. Holiday and gift tins are available in many different assortments for anything from special occasions to corporate and thank you gifts.
Each of the Goodness Gracie products are still made in small batches to ensure quality, and at their website, you can shop by price or by Top Sellers. Be sure to check out the Special Values page where you'll see several of their sampler packages …
Tasty gift ideas direct from beautiful Wilmington!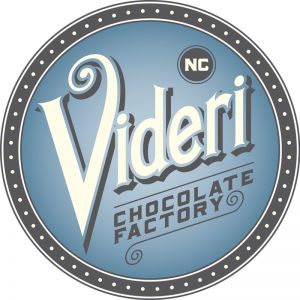 Videri Chocolate Factory: Housed in the historic Raleigh Depot, Videri Chocolate is best known for their "Flagship Four" Chocolate Bars – Dark Chocolate with Sea Salt, Pink Peppercorn, Classic Dark, and Dark Milk Chocolate. Featured in Southern Living, Travel & Leisure among others, the company proudly uses all organic fair trade ingredients.
Their Pink Peppercorn Bar is deliciously unique – it's a blend of 60% dark chocolate and crushed pink peppercorns to give it a zesty flavor. All of the bars are available in a convenient Flagship Four Gift Box, which you can find at the Videri Chocolate website. They also offer a Videri Direct option – four bars each month delivered direct to your doorstep in six or twelve month increments.
If you'd like to find these gourmet chocolates locally in your area, check out the "Where To Buy" page on their site – you'll find them all across North Carolina, in adjoining areas, and many other states around the country. A perfect gift from The Tar Heel State for the sweet tooth on your list!
KDH Salt Rocks: Sea salt is the most natural of natural products – it comes directly from sea water and offers a true flavor palette of a specific local area. In the Kill Devil Hills / Kitty Hawk coastal area of North Carolina, you won't get much more local than sea salt from KDH Salt Rocks …
Harvested nearly every weekend of the year from the Atlantic Ocean at Kill Devil Hills, KDH Salt Rocks combines the naturally concentrated flavor of pure sea salt with locally grown spices and peppers. We were given a jar of their Roasted Jalapeno Sea Salt (pictured) and absolutely loved it. Because sea salt is much more concentrated than regular table salt, you can actually use less and experience more flavor! Sprinkle it on salads, sandwiches, burgers, or a fresh filet of fish as we did!
KDH makes several varieties of sea salt and combination and gift packages are available – you can also order single packages of your favorite varieties directly at their website. You won't find a more local North Carolina gift than this – it's perfect for the culinary oriented folks on your list. Enjoy!
Big Spoon Roasters: Based in Durham, this is one fun company to follow as they're always coming up with something new and different!
Big Spoon Roasters makes a line of gourmet nut butters, fresh energy bars, and decadent dessert treats (can you say Peanut Pecan Oatmeal cookies??). Founded by Durham's own Mark Overbay, the company works directly with local farmers and honey providers to make truly North Carolina products. Peanuts, in fact, are a big deal in The Tar Heel State – did you know North Carolina ranks 6th in the U.S. in peanut production?
The photo shows four of the current ten varieties of nut butters produced by the company. No palm oil is added to these natural nut butters to prevent oil separation. That means if you see some oil on the upper inside part of the jar, it's completely natural – it's from the nuts themselves! Just stir it back in and enjoy. Nut butters, of course, can be used just like traditional peanut butter – in recipes, on a traditional sandwich, or simply right out of the jar! Check their website to see some of the other varieties not shown – they've got a Peanut Cocoa Butter that sounds fantastic!
If you're looking for a fresh, locally made gift from the great state of North Carolina, you won't go wrong sending a few jars of Big Spoon Roasters products. Buy directly at their website – the products are made every week depending on orders, so you'll get something as fresh as can be!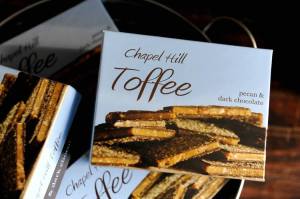 Chapel Hill Toffee: A family business founded in 2006, Chapel Hill Toffee draws upon the toffee recipe of Karen Graves, who decided to turn her hobby into a part time business. Her son Mark joined the business in 2008 to help it grow and expand, and Mark's wife Christy came aboard four years later. The family's toffee is now available in over 300 retail locations as well as their online store. Which goes to show – starting small with a great product can lead to big things!
Chapel Hill Toffee is made by hand and cut into bite size pieces. The toffee is coated with a blend of dark chocolate and sprinkled with chopped pecans. The result is a light, crispy texture with a chocolate nutty flavor second to none! For online orders, the toffee is made when the order is received, ensuring you or your gift recipient will receive the freshest product possible. The toffee is available in both five and ten ounce boxes and shipped out via UPS …
If you prefer to buy in person, be sure to check out the "Retailers" section of their website. There's a drop down list of states which indicates where Chapel Hill Toffee is available in your area. Their distribution reaches from Florida to Oregon and many states in between!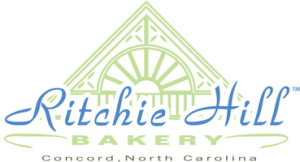 Ritchie Hill Bakery: Located in a former creamery building in historic downtown Concord, NC the Ritchie Hill Bakery was founded in 2010 by the brother and sister team of Heath Ritchie and Beth Ritchie Alm. Using a century old family recipe, the bakery creates the most wonderful of southern style treats, the cheese straw …
Great as a gift or just a snack for you and your family, cheese straws have a light crispy crunch with the delicate melded flavors of butter and cheddar cheese. Enjoy them with a glass of iced tea (or southern sweet tea!) for happy hour or on an appetizer tray. They've got a mildy spicy tang – two of the ingredients are paprika and a bit of cayenne papper …
Ritchie Hill Bakery ships all over the continental United States, so your cheese straws are never too far away! They've available in gift tins, small or large packages, and a family size carton for the serial snacker out there …
Check their website for more details and to order …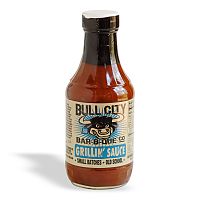 Bull City Barbecue Company: Based in the heart of North Carolina barbecue country in Durham, Bull City BBQ creates a line of barbecue sauces, rubs, grilling sauces, and everything you'll need after you get the grill going. The company was founded as a championship local barbecue team and these are the same recipes that are used to create their award winning barbecue …
Our favorite Bull City product is their Sweet and Tangy Grillin' Sauce, pictured. It has a moderately thick consistency but not too thick to use as a marinade. It's an alternative to traditional vinegar based North Carolina sauce, with all due respect to that style. It works equally well on fish fillets as it does on pork and chicken! Use it in a slow cooker in the colder months when the grill is stashed away as it's great on a braised pork roast …
Bull City is also known for gift baskets for corporate gifts which include their line of sauces, rubs, and grilling sauce. There are several to choose from and they're sure to be appreciated!
Click through to their website for all the details …
Atkinson Milling Company: Located at the intersection of Highways 39 and 42 in Selma, NC, the Atkinson Milling Company has quite a history. It was founded in 1757 and remained property of the original owner's family well into the 20th century. A traditional stone ground milling operation has been located here since before the American Revolution!
The current mill is actually the second incarnation, the first having been decimated by fire in 1950. The company has been owned by the Wheeler family since 1971. This thriving traditional business now employs over 60 people and makes products like stone ground corn meal, muffin mixes, grits, breaders, and all sorts of specialty mixes.
If you like to bake (or cook!) or know someone who does, a combination package from Atkinson Milling is the perfect gift idea with a North Carolina theme. The pack shown includes Hushpuppy Mix, Biscuit Mix, Chicken Bake Breader, and Seafood Breader Mix. Breakfast, Frying, and Specialty Packs are also available and you'll find them all at the Atkinson Milling Company online store …
You can also purchase selected products individually, including white and yellow grits as well as seasonings and spices. Traditional Tar Hell State products from one of the oldest grist mills in America! Click through to their website to learn more about their history and to order …
Mrs. Hanes Moravian Cookies: A style of thin, flavorful cookie which originated in Germany by early Moravian settlers, Moravian cookies are somewhat of a lost art in America. Thankfully, the baking of these tasty traditional treats is carried on in fine fashion in North Carolina …
Mrs. Hanes' Hand Made Moravian Cookies are the best known baker of Moravian style cookies in the United States. Over the past 50+ years, the company has grown to over 50,000 mail order customers located in each of the 50 states. The cookies are still made in the original fashion … hand rolled and cut, and packaged by hand. They're made in six different flavors which are literally rolled into the cookie!
Their signature cookie is the Sugar Crisp, and they also make Ginger Crisps, Lemon, Chocolate, Butterscotch, and Black Walnut. The cookies are exceptionally light, crispy, and bursting with flavor!
Popular during the holidays as well as any time of year, Mrs. Hanes' Moravian Cookies are a welcomed gift. They're made in Clemmons, NC and the company has always been family owned. They offer tours of their bakery through most of the year (except November and December) where you can watch the cookies being hand rolled and enjoy a few samples!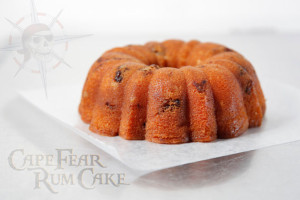 Cape Fear Rum Cake Company: The Cape Fear area of North Carolina is a beautiful place to visit. Centered around the port city of Wilmington in the state's far southern coastal area, Cape Fear also has a harrowing history. For hundreds of years, pirate ships terrorized the seas in this locale, looting merchant ships, with a particular fondness for those ships carrying rum from the West Indies …
Although the pirates are long gone from the coastal North Carolina waters, one of their traditions remains, carried on by the Cape Fear Rum Cake Company. If you've never enjoyed a rum cake, you should! It's like a bundt cake, usually made with walnuts and cooked with rum to help provide a moist, rich taste …
The company makes and ships their specialty rum cakes all across the country. They're delicious! You can order them in six different flavors – Golden Vanilla, Pineapple, Chocolate, Coconut, Cherry Chocolate, and Velvet Rum. In case you were wondering, there is no alcohol content in a rum cake – it is burned off in the baking process, leaving only the distinct flavor behind!
A very unique gift from the Wilmington area! Check out their website to order …
Outer Banks Sea Salt: We love trying products that on the surface appear they'd taste the same no matter where they're from. Actually though, some products which appear the same offer slight flavor differences due to their unique geographic factors. Wine is certainly one of those products, as is honey. You can also add sea salt to the list …
Many people think "sea salt is sea salt" or don't really give it a second thought at all. For us, it has been a real eye opener to try sea salt made in different coastal regions. Not that one is necessarily "better" than the other – it's just each one offers subtle yet distinct flavor and taste profiles …
We long ago gave up on table salt. When we use salt, it's either within a seasoning or it's sea salt. Sea salt is more concentrated, so it can be used more sparingly. For a piece of fresh fish, there's nothing better than seasoning with lemon and a sprinkle of fresh sea salt …
In North Carolina, there's the Outer Banks Sea Salt Company. Their sea salt is harvested fresh from coastal waters off the Outer Banks and processed immediately. This is a true taste of the Outer Banks and makes a wonderful North Carolina themed gift!
You can buy Outer Banks Sea Salt in attractive packaging in several different sizes. Once you start seasoning with sea salt, you'll wonder what took you so long. Enjoy!
Cloister Honey: A small honey producer based in Charlotte, NC Cloister Honey tends to the process from start to finish – from tending to the hives, observing the behavior of the bees, and harvesting the honey from the hives at just the right time …
We often talk with our friends and acquaintances about the differences in honey from location to location. Actually, the fact there's a difference in taste from honey produced in North Carolina versus any other state is simple. Different flowers pollinated by the bees results in different flavored honey, so with every locality's honey you taste, you're getting a different flavor of America …
Cloister Honey offers several different varieties of honey. Choose from wildflower, bourbon infused, or whipped honey. For a taste of their products, they offer a Honey Sampler Pack which consists of three travel sized jars of predetermined flavors or pick your own …
The Honey Sampler Packs are ideal gifts as a stocking stuffer, wedding favor, or thank you gift. A real taste of North Carolina! Check the Cloister Honey website for details …
Fancy Rednecks: We love companies that can have a little fun and not take themselves too seriously, and such is the case with a Raleigh company called Fancy Rednecks …
Their signature products are fancy looking mason jar beverage glasses. They come in a variety of styles, ideal whether you're sipping wine or guzzling a cold beer!
The company also makes a line of jewelry featuring .38 caliber bullets, camouflage hair bows and scarves, 12 gauge money clips, wearables, and more!
Check out their fun site and shop for your favorite redneck at the Fancy Rednecks online store …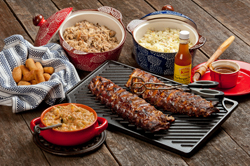 King's BBQ Restaurant: Long time readers of StateGiftsUSA.com know how much we appreciate great barbecue, whether it's from Texas, Kansas City, Memphis, or the wonderful pork being served up in eastern North Carolina. To continue the love affair, we're proud to introduce you to King's BBQ Restaurant in Kinston, NC …
From humble beginnings as a country store more than 75 years ago, King's has grown to be one of the south's largest restaurants. They entertain visitors from all over and can seat over 800 hungry patrons at a time. The restaurant serves over 8,000 pounds of pork and over 6,000 pounds of chicken per week!
The restaurant is justifiably famous for the King's BBQ Sandwich, featuring hand chopped bbq pork piled high onto a bun and topped with creamy cole slaw. Ribs and smoked chicken are legendary as well, and having been to King's, it's fair to say wherever you are, it's worth the trip!
If your travels can't take you to North Carolina, you can order King's BBQ online via their Oink Express service. Just about anything the barbecue lover would want is available, like The Oink Sampler, pictured. It includes chopped bbq pork, ribs, two vegetable sides, a pint of Brunswick stew, King's hushpuppies, and sauce. If you've never had the good fortune to try eastern North Carolina style barbecue, here's your chance! You can order this feast or any of several others at their website and they'll have it shipped nationwide for you or as a gift. Visit King's BBQ to learn more …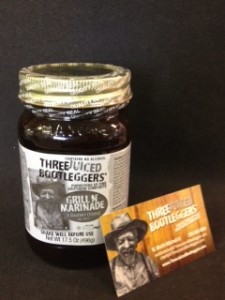 Three Juiced Bootleggers: Three Juiced Bootleggers is a Tar Heel State company making specialty moonshine, marinade, and their own clothing line! Yup, quite a combination!
You can only buy the moonshine locally for now, so we're featuring their grilling and marinade. It's appropriately called Grill'n Marinade and it's designed to seal, tenderize, and flavor any kind of meat you're cooking on the grill …
The marinade's main ingredient is molasses, a traditional North Carolina grilling staple that provides a slightly sweet and sticky coating to your grilled meats. Use it liberally on any cut and marinade it in a sealed plastic bag for a couple of hours. You should brush it on while grilling and once again when the meat is cooked to your desired "done level". Use it as a dipping sauce too!
Learn more about the company (and their cool clothing) at Three Juiced Bootleggers …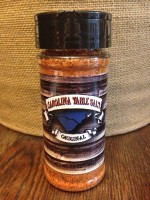 Carolina Table Salt: Carolina Table Salt is the signature product from the husband and wife team of Michael and Geena Woodard. Based in Charlotte, they started the business after their wedding. Michael had developed a rub based on his family's eastern North Carolina roots and Gina added some Lowcountry flavors. The result, named Carolina Table Salt, was handed out as wedding favors and soon after, a business was born!
The product is essentially a rub, but can be used as a seasoning, topping, crust, and garnish for not only barbecue, but side dishes as well …
Carolina Table Salt differs from other rubs because it's sticky … it sticks to meat, fish, or the rim of your Bloody Mary glass. It's perfect for any chef or grill master who wants to add a flavorful dimension to anything coming out of the kitchen or off the grill …
They have some great recipes on their site (check out the one for Holiday Chex Mix) and suggestions for how to use Carolina Table Salt. Roasted potatoes, macaroni and cheese, and mixed into any dip are just a few of the dishes to use it on …
You can order Carolina Table Salt in packages of one bottle, three bottles, or twelve bottles. It's a great locally made gift item too!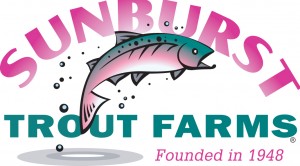 Sunburst Trout Farms: Did you know that North Carolina, particularly the western part of the state, is known for their trout fishing? Crystal clear streams, untouched by industry, yield some of the best trout fishing in the country …
This part of the state is also known for the very first commercial trout farm in the south – Sunburst Trout Farms. Founded in Canton in 1948, Sunburst has been raising and harvesting trout for use in gourmet restaurants, as well as anyone who appreciates these fresh, healthy, and delicious fish …
Sunburst Trout Farms distributes their famous products locally to many gourmet restaurants in the Asheville area, as well as vacuum packed delicacies for shipment across the U.S. Their most popular products include red trout boneless fillets, cold smoked rainbow trout, and exquisite trout caviar in season …
You can also order trout sausage patties, a healthy alternative to standard sausage or bacon. They're great when served with eggs and make a fine substitute for meat in just about any dish!
For all their products and for additional details, visit their website at SunburstTrout.com …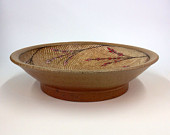 Kyle Carpenter Pottery: Kyle Carpenter's studio is located in Asheville's Historic River Arts District, and it is here he creates beautiful and functional pottery works like the serving bowl shown to the left. His salt fired stoneware pieces are made in appealing earth tone shades that evoke the feel of Asheville's captivating outdoor scenery …
Kyle has been creating pottery since 2002. His work is varied, and consists of serving dishes, decorative home ware, beverage servers, vases, and more. All of his pieces are fired in a salt kin and hand painted.
Take a look at some of Kyle's recent work at his online gallery. There you'll find a direct link to his Etsy store where you can order any of the pieces currently in inventory …
Local pottery is a wonderful, personal gift that will be treasured for many years to come …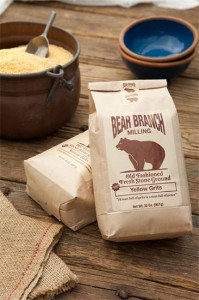 Bear Branch Milling: Located in Ash, NC Bear Branch Milling resurrected an old mill which closed in the 1930's and began milling and producing local specialties in 2005 …
The mill produces natural grain based products like yellow and white corn meal, grits, and whole wheat flour. The grains are grown and milled here in North Carolina. They're very nutritious and gluten free!
You can order a wide variety of Bear Branch Milling specialty products directly from their website. There you'll find a number of North Carolina traditional recipes, like shrimp and grits, hush puppies, corn bread muffins, and Carolina popcorn …
A great gift idea for the culinary inclined person on your list, or just for you!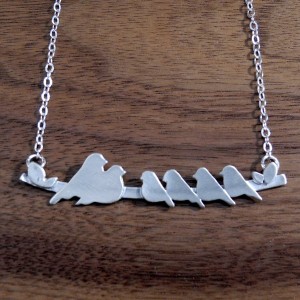 Figs and Ginger: Figs and Ginger is a small family owned craft and design company specializing in gifts, jewelry, and goods with a forest theme … meaning things you'd encounter while walking through a forest, real or enchanted …
Based in the western part of the state, Figs and Ginger is an eco conscious team focusing on recycled materials in their designs. They're becoming well known for their line of Mother's Jewelry, like the pretty mother bird and chicks necklace shown …
Figs and Ginger also create rings, wedding and party items, guest books, earrings, and more. You can find their works at museum shops, catalogs, specialty retailers, and of course online at their site. Be sure to check out all they do … the handiwork is beautiful!
Coastal Carolina Pottery: Pottery maker Christine O'Connell creates beautiful works as shown at left in the coastal North Carolina town of Cedar Point. Her company, appropriately titled Coastal Carolina Pottery, sells mostly at local shows and galleries but they do accept online orders …
Check out the "new pots" and "pottery" pages at her website to view the latest works, which are inspired by the nearby ocean and the inland North Carolina forests …
History of North Carolina
North Carolina Trivia and Fun Facts

1). The state vegetable of North Carolina is the sweet potato …

2). The state's nickname, "The Tar Heel State", is said to have several origins. One is that tar was made from the sap of the state's plentiful pine trees, and workers were said to have collected the tar on their feet and heels. Another popular notion is tobacco workers in the state would have black feet from working with the tobacco plant …

3). North Carolina is the nation's leading producer of tobacco …

4). Two U.S. Presidents were born in North Carolina: James Polk (11th) and Andrew Johnson (17th) …

5). The Wright brothers made the first successful airplane flight in North Carolina in 1903 …

6). Mt. Mitchell is the highest point of elevation in North Carolina at 6,684 feet …

7). The current city of Winston-Salem was once two separate towns that combined …

8). The 7th U.S. President, Andrew Jackson, may have been born in North Carolina but his actual birthplace is uncertain. It is accepted he was born in the border area of North and South Carolina …

9). Did you know that Beech Mountain, NC is the highest elevation incorporated town east of the Rocky Mountains? It's actually at a higher elevation than Denver! The town is 5,506 feet above sea level. Beech Mountain is very near the North Carolina border with Tennessee …
Long Family Farm Soaps: Located in Stokes County near the Sauratown Mountains, Long Family Farms produces many types of natural soaps, most notably a goat's milk soap …
Goat's milk contains several beneficial fats and nutrients that are very helpful for your skin. They are known as moisturizing soaps which help rejuvenate your skin and keeping it fresh and younger looking. It's also very beneficial for people dealing with nagging skin conditions …
Long Family Farms offers their goat's milk soaps and other body care products online … check their website for details.
Cheerwine: If you've never heard of Cheerwine, you're definitely not from North Carolina!
Cheerwine is a cherry soft drink that has been around since 1917. It's made with pure cane sugar and has a distinct sweet cherry taste that's perfect on warm summer days …
Cheerwine is available via mail order in bottles and cans and in regular and diet varieties … it's like having a bit of North Carolina in your refrigerator!
Aunt Ruby's Peanuts: Aunt Ruby's Peanuts are a line of peanut products produced by the A+B Milling Company of Enfield, NC in the north central part of the state. This area is the largest peanut producing area in The Tar Heel State, and Aunt Ruby's Peanuts are a popular gift item in these parts …
Choose from several varieties of peanuts, as well as cashews, almonds, peanut brittle, and all kinds of gift basket combinations …
Bakers Peanuts: Another North Carolina peanut producer is Bakers Peanuts, who are most known for their blister fried peanuts …
The peanuts aren't actually fried, but they turn out super crunchy as if they were. The peanuts are roasted in pure peanut oil to give them an added crunch, and then lightly dusted with salt …
If you like a crunch to your peanuts, you'll love these! They also make a spicy version called Carolina Cajun that aren't overly spicy or hot, but with just a little zip. You can order any of Bakers Peanuts online … they also offer some really nice combo gift packages!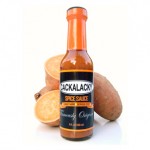 Cackalacky Sauce: As you probably know, North Carolina is famous for its barbecue. Even within the state, there are two distinct styles … one made in the eastern part of the state and one in the west.
So it stands to reason there'd be all kinds of interesting sauces made in The Tar Heel State. Not just bbq sauces, although there are many outstanding ones to choose from. But there are other sauces too … sauces you can use as a marinade, as a basting sauce, or even drizzled over your favorite main dishes and appetizers.
One of these North Carolina sauces is Cackalacky Spice Sauce, which is particularly unique because it's made in part with sweet potatoes. Combined with its other ingredients, the sweet potatoes give Cackalacky Sauce a full bodied sweet and spicy taste that matches up well with just about everything …
Based in Chapel Hill, you can find this unique sauce in large grocery stores all over the southeast and even in many other parts of the country. If you know someone who likes it, or might like it, you can order it online in several different sizes from Cackalacky.com, which is linked above …
Blue's Chipotle Mustard Pepper Sauce: This sauce is one of many made by Blue's BBQ of North Carolina, who have been producing gourmet table sauces and hot sauces since 2002 …
We enjoy trying different sauces, barbecue or otherwise, and we love letting people know about them. This sauce is accurately described as "a hot sauce that thinks it's a mustard". It's made with smoked cayenne and chipotle peppers as well as garlic, turmeric, and paprika …
The end result is a sauce you can use on any meat imaginable, either as a finishing sauce, a glaze or a marinade. We like to pour it directly on to a pulled pork sandwich … oh yeah!
Order some at Blue's BBQ Sauces …
Bone Suckin' Sauces: Another well known North Carolina sauce company is one you've probably seen on your grocer's shelf. It's the line of Bone Suckin' barbecue sauces which come in a variety of flavors …
They're based in Raleigh and have been around since 1992. If you can't find their sauces locally or want to send some as a gift, you can order at BoneSuckin.com …
Fryar's Sauce: Based in McLeansville, Fryar's Sauce grew from a humble beginning. This barbecue sauce was originally concocted and used at pig roasts and turkey cook outs at the Fryar family farm. Demand from friends and neighbors grew and Fryar's Original BBQ Sauce was first bottled in 2000 …
Demand for additional products soon followed, and now you can order not only the Original, but a hot version, a sweet and mild version, and a special poppy seed dressing.
Fryar's offers gift baskets too … a great idea for the bbq lover in your lift who wants to try just about every great sauce there is (like me)!
Ginny O's Cheese Straws: As you may have seen on some of our other southern state pages, cheese straws are a beloved southern specialty …
In North Carolina, one of the best known bakers of cheese straws is Ginny O's of Raleigh. They've been served at the North Carolina Governor's Mansion and have been featured on the Food Network and several regional and national magazines …
You can order Ginny O's cheese straws (or send them as a gift) directly at their website, linked above …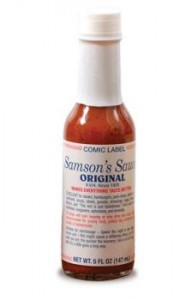 Samson's Sauce: Samsson's Sauce has been a North Carolina tradition for over 80 years. It has been family made and family owned all of that time, and is used to spice up meats, casseroles, and side dishes …
Samson's Sauce can also be used as a marinade … it does a great job flavoring and tenderizing meat. We have used it as a table sauce and add it to our stir fry dishes …
Three varieties are available, all of which you can buy online. There's the original, a gourmet sauce, and one called Town and Country sauce which is a little sweeter. All three have a bit of a bite to them, but they're not overly hot. We would best describe the flavor as part sweet and part hot.
The Samson Sauce tagline is 100% correct … "It Makes Everything Taste Better". Order some for yourself and see!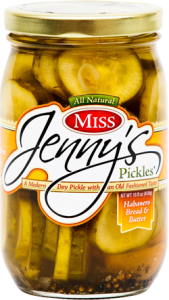 Miss Jenny's Pickles: This small company from Kernersville, NC is a great example of how misfortune can turn into success by doing something you love …
Two friends, Jenny Fulton and Ashlee Furr, were employed in the financial services industry until they were both laid off several years ago. Wondering what to do next, the two came up with the idea of starting a pickle company using an old family recipe …
A few short years later, and the company, Miss Jenny's Pickles, is now shipping their pickles all over the globe …
They make all the traditional pickle varieties, like bread and butter chips, and a few specialty types like habanero bread and butter and salt and pepper pickle slices.
They'll ship anywhere you want the pickles to go! Check out their website for more details …
Zing Sauce: Zing Sauce, a hearty and lively gourmet table sauce, is the brain child of Cheng and Weng Ng, who grew up in Malaysia and ultimately settled in North Carolina. Their unique creation, called Zing Sauce, is a mix of hot peppers, apple cider, raisins, garlic, vinegar, and spices …
Zing Sauce is great in stir frys, vegetable dips, on salads, and seafood. It's a shelf stable product, so there's no need to refrigerate the sauce, and it remains fresh for up to 18 months …
You can order bottles of Zing Sauce online or as part of a gift package …
North Carolina Hams: Here's an idea for something to eat with all the sauces we've profiled on this page … a country cured ham from Johnston County Farms in Smithfield …
These cured hams are renowned … they were recently featured in Men's Journal on their list of "100 Best Things To Eat In America". High praise indeed!
You can order several different types of hams from their site, including country hams, honey cured hams, and other smoked meats …
They're perfect for holidays, birthdays, corporate clients, or just as a special "thank you". What a great gift from North Carolina!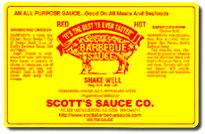 Scott's BBQ Sauce: Scott's BBQ is located in Goldsboro, the heart of eastern North Carolina barbecue country. You may be aware there are two different styles of barbecue in the Tar Heel State … eastern North Carolina style and central style, from the area around Lexington.
The primary difference between the two styles is in the eastern part of the state, they use the whole hog, whereas the central style utilizes the pork shoulder. The other major difference is in the sauce … central style uses ketchup as a base, whereas the eastern style is vinegar based.
Scott's has been around for almost a century (since 1917) and has long been considered an eastern North Carolina barbecue staple. They ship over one million bottles of their sauce every year … and if you haven't tried it yet, what are you waiting for??
Order online at Scott's BBQ …
We've Got More North Carolina Made Products To Come! Tell Us About Your North Carolina Favorites By Reaching Out To Us At Our Contact Us Page …