Made In New Mexico Quick Facts
This Post is about Made in New Mexico Gifts and Specialty New Mexico Products
Want To See Your Business / Products On Our Made In New Mexico Page?
Visit "Advertise With Us"!
FEATURED MADE IN

NEW MEXICO

BUSINESS

ES
Lori Faye Bock Original Art: We're pleased to introduce you to popular New Mexico animal artist Lori Faye Bock, who publishes a line of greeting cards and museum quality limited edition prints, which are replicas of her original paintings …
A Detroit transplant by way of Los Angeles and Santa Fe, Lori has been residing in the tiny agricultural hamlet of Los Silvestres, just north of Abiquiú, New Mexico along the Chama River. It's in this beautiful area that she has found endless inspiration for three decades on the farm where she lives,works and observes alongside a bevy of sheep, cats, dogs and a multitude of wildlife …
Lori Faye is a nationally acclaimed artist whose creative contributions to PetSmart Charities, the ASPCA, American Humane Association and scores of humane societies, animals shelters and rescue organizations have raised the consciousness of pet owners. She is a passionate advocate of microchip technology and traditional tagging of companion pets, as well as promoting the humane and kind treatment of all animals. From 2000 through 2006 she created specific paintings each year for the AHA Tag Day™campaign …
Her creative technique may appear simple, yet at the same time complex. Variegated textures and intricate details emerge upon layered surfaces of venetian plaster with acrylic paint on cradled Baltic birch. Lori Faye's colorful paintings of companion pets, farm animals, birds and owls are fanciful and real, ordinary and beautiful, delicate and robust, reserved & bold …
The artist says, "Knowing animals and caring for them is one of life's joys. Even the most ordinary-seeming animals are truly extraordinary and gives us so much. My reward comes when the joy I feel in portraying my animal subjects is communicated to those who see my paintings."
As a woman-owned small business, she also publishes an extensive line of art note cards or blank greeting cards as well as museum quality limited edition prints, all replicas of her original paintings and available through her online store.
Her cards are printed in Albuquerque on environmentally-sensible card stock using soy-based inks and the limited prints are published in Santa Fe on Hahnemühle Fine Art Paper …
Through the state's rigid certification process, all of Lori Faye Bock's reproductions are New Mexico True Certified 100% Made In NM.
She invites the friends and supporters of StateGiftsUSA to visit her at LoriFayeBock.store and just for stopping by, take 25% off on orders of $25 or more by entering StateGiftsUSA25%OFF in the coupon code at the checkout as a way of her saying 'Thank you". As an added bonus, there's FREE SHIPPING on all orders!
Please feel free to pass this information on to friends and neighbors who have pets and/or love animals! We are very proud to feature this talented Land of Enchantment artist on our Made in New Mexico page …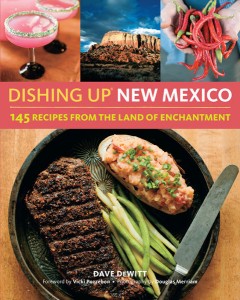 Dishing Up New Mexico: We're pleased to add this colorful guide to New Mexico's cuisine to our feature of state themed cookbooks … it's called Dishing Up New Mexico and it's available from the New Mexico Magazine online store (linked).
This cookbook contains 145 of the state's best recipes collected from New Mexico farmers, food entrepreneurs, and chefs. You'll delve into red or green, along with an exploration of what makes cuisine in The Land of Enchantment so special …
A state themed cookbook is a wonderful gift that's personal and very economical!
It's perfect for anyone who loves New Mexico! Click through to learn more and order a copy for someone on your list …
The Old Windmill Dairy: McIntosh, NM is a small town of about 1,500 located southeast of Albuquerque, just a few miles south of Interstate 40. It's home to The Old Windmill Dairy, best known in these parts for their many wonderful varieties of cheese …
A community focused operation, Old Windmill hosts many community events like cheese making classes and farm outings for kids. For cheese lovers, this is a place to know about – they make several New Mexico specialty cheeses you'd be hard pressed to find anywhere else …
For example, their "New Mexico Traditions" package contains a variety called Chili 'N Hot, a blend of chevre, jalapenos, New Mexico green chile, garlic, and cilantro. Not to be outdone, their newly introduced Habanero Hot and Sweet combines chevre, habaneros, and apricot preserves for the perfect marriage of hot and sweet …
Also check out the "Santa Fe Farmers Market Favorites" pack. It contains two of their best sellers, Cheddar and Hickory Smoked Goat Milk Gouda. The latter is best served warm and is perfect for any Land of Enchantment themed get together.
The Old Windmill Dairy ships these and other artisan cheese packages across the country, so you can enjoy their cheese wherever you live. An exquisite gift for anyone who appreciates the state of New Mexico!

Los Poblanos Inn & Organic Farm: If you can pick just one place to stay during a visit to Albuquerque, we'd heartily recommend the Los Poblanos Historic Inn, an area landmark since 1934. This long standing local legend is as well known for hosting local events and working organic farm as being a welcoming destination for visitors and overnight guests …
Formerly an experimental farm and dairy, Los Poblanos offers renovated dairy shed cottages with views of adjacent lavender fields, gardens, and mountains. Guests are hosted for special farm to table menus for breakfast and dinner, with many ingredients sourced directly from the on site farm. A true New Mexico experience, a stay here is a memory to be treasured for a lifetime …
If you're looking for a special gift from The Land of Enchantment, click through to experience the Los Poblanos Farm Shop. There you'll find dozens of locally sourced food products, lavender specialties, card & books, and much more. House made granola, culinary lavender, honey, and caramels direct from their award winning kitchen are just a few of the great ideas awaiting you. Numerous combination and gift sets are also available if you can't decide on just one item. Something for everyone!
Visit the Los Poblanos Historic Inn & Organic Farm website to discover their history and learn more …

Virgil's Beef Jerky: You might think all beef jerky is pretty much the same, and if you do, you haven't tried the stuff made by Charlie Virgil's company in Albuquerque …
His company is Virgil's Beef Jerky and they've been making carne seca (dried beef) since 2000. Thin and crispy, it's hand made by the employees who hand mix and add the spices. For a real touch of The Land of Enchantment, red & green chiles are added to the mix to create a wonderfully unique flavor you'll find no place else!
You'll find Virgil's at many retailers and convenience stores in the southwest and also directly at their website. Green Chile, Red Chile, Buter Mesquite, Natural, and Jalapeno are several of the flavors available and you'll find the complete product line by clicking through to their site.
On our recent visit to the Southwest, we picked up some of the Green Chile flavor – it's fantastic and totally unique!
Cervantes Food Products: If you like to enjoy local food specialties when you travel, The Land of Enchantment is a great place to test your skills. All across the state, you'll find countless variations of New Mexico food styles, most notably different takes on the ubiquitous red and green chile …
In Albuquerque, the Cervantes Food Products company is actually an offshoot of their famous restaurant on Gibson Boulevard. Formed by family members in 1998, the company bottles their renowned red and green chile sauces and salsa. We stop at their restaurant every time we're in the area and really love their salsas – not salty at all like some others, and made with all natural ingredients with no preservatives or added colors.
For a great gift made in New Mexico, check out their website, where you can order their salsas, chile, and new barbecue sauces. Products are available in quantities of four, eight, or cases of twelve. The combination pack is an especially great idea for a taste of everything! We especially love the Medium Green Chile Sauce, but be your own judge and enjoy a taste of Albuquerque!
Tularosa Pecan Company: Tularosa, NH is town of about 3,000 located in the southern portion of the state, along the western border of the Sacramento Mountains. Known as "The City of Roses", Tularosa is also home to groves of pecan trees which thrive in this high desert climate.
The town is also home to the Tularosa Pecan Company, who tend to over 230 acres of pecan groves. Their retail store is a popular stop in the area, and they're well known for their fresh pecan gifts, especially their seasoned pecans.
You can order pecan gifts online, including their red and green chile spiced variety or mesquite spiced, a real New Mexico treat. They also offer a variety of holiday and gift tins filled with pecans in various flavors and coatings … a wonderful gift!
Visit their website to see all your options and to order for yourself of anyone on your list …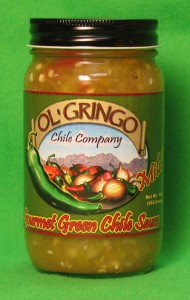 Ol' Gringo Chile Company: This Las Cruces based company, named after the family patriarch, has been around since 1992. They're right in the heart of the New Mexico chile growing area and they make some of the best red and green chile sauce you'll ever taste!
We are big fans of their Mild Green Chile – they also make Medium & Hot varieties, available (of course!) in both red and green. They also offer a wide selection of salsa …
Did you know, by the way, that red and green chile are very healthy? They're extremely low in fat, high in Vitamin C, and have no cholesterol. Most importantly, it tastes great! Spoon it on tortillas or mix in your favorite meat, heat up, and serve for a filling, satisfying meal.
You can buy any of the Ol' Gringo chile & salsa products directly at their website in case lots. Be sure to look at the Taster Case – it offers a nice selection of their products. When you arrive at their site, click on Shopping Cart to see all they do!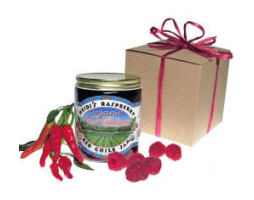 Heidi's Raspberry Farm: Located in the village of Corrales in the northern part of the state not far from Albuquerque, this local business is best known for their U-Pick raspberry operation and luscious raspberry jams. The area around Corrales is one of the most fertile agricultural areas in the state and known as one of the best places to grow raspberries in the United States …
Heidi's Raspberry Jam is made in small batches by hand. A blend of four different local raspberries are used and the end result is best described as blissful – some of the best raspberry jam you'll ever experience! We were fortunate enough to have some friends of ours bring us back a few jars after a visit to The Land of Enchantment. If you're looking for a tasty local gift from New Mexico, you've found it!
In addition to raspberry jam, Heidi's also makes raspberry ginger, raspberry red chile (our favorite!) and raspberry red chile ginger. You can order convenient three jar gift packs directly from their website, or go with the flavor you like best. They'll pack your jam in handy gift boxes too!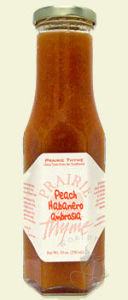 Prairie Thyme: This innovative culinary company based in Santa Fe produces a line of cider vinegar based cooking sauces which add a little sweet heat to your creations. The company's tag line is "Great Taste From The Southwest" and in our estimation it's spot on!
Their signature products is called Raspberry Jalapeno Ambrosia, reflecting its two main ingredients, red raspberries and jalapeno peppers. Brush it onto any pork dish, salmon, or simply mix in with cream cheese or baked brie as an appetizer. A more fiery version of this sauce is available as well which features habanero peppers …
Our favorite Prairie Thyme product is their Peach Habanero Ambrosia – it's not too hot and offers loads of flavor! We brush it onto pork medallions – try it drizzled over a pork roast during the last 1/2 hour of cooking. A very versatile, vibrant sauce, it is also perfect for grilled chicken breast and any type of fish. Mix it into stir fry dishes too!
Mountain Blackberry Jalapeno and a flavorful Tomato Chutney round out the product line. If you're a fan of a little sweet with your heat, give them a try! You can order directly from the Prairie Thyme website in single bottles, convenient three packs, or 12 packs …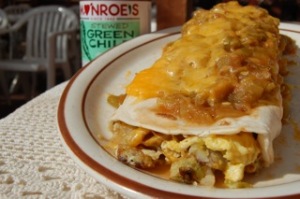 Monroe's Mexican Food: Monroe's is one of our favorite stops in Albuquerque. It has been around since the early 1960's and is well known in the area for freshly prepared reasonably priced tasty Mexican food and New Mexico specialties. Monroe's has two locations in Alburquerque – we tend to find ourselves at the Osuna Road location just off Interstate 25 …
The menu at Monroe's isn't fancy, it's just good! Combination platters, quesadillas, and fajitas are some of the items you'll find, and they also make a fantastic green (or red) chile cheeseburger with sweet potato fries! They're open from breakfast through dinner and you'll always find a relaxed, friendly crowd.
Monroe's is also famous for their house recipe green and red chile, which you can buy online and have shipped directly from the Monroe's Online Chile Shop. Salsa and Red Chile Honey are also available. For a great Albuquerque themed gift, opt for their 3 Jar Combination Pack – one green, one red, and one jar of Monroe's salsa!
The next time you're in Albuquerque, stop here for lunch or dinner. You'll love it!

Salman Ranch: Dating back to 1825, Salman Ranch has a long history in northeast New Mexico. For area visitors, the ranch is a destination attraction with U-Pick raspberries, cafe, nursery, store, and gardens. The U-Pick field offers six acres of raspberry picking – the crop thrives here with bright sunshine, cool nights, and salt free soil.
At the Salman Ranch store, raspberry treats are offered in the form of candy creams, jams, salad dressings, and more. Salmon Ranch Raspberry Jam is known nationally for its rich, farm fresh flavor and makes a wonderful gift from this part of the country.
Specialty products and gift baskets are also available. One unique products is called Chile Berry, a combination of raspberries and green chile with lime and garlic. Use it as an appetizer spread or glaze for chicken and pork. Eight different gift basket options are also available which include several of their jams and specialty items …
Visit the Salman Ranch website for more details and plan to visit if your travels take you to Santa Fe. The ranch is a pleasant drive from the capital city through the beautiful New Mexico high country …

New Mexico Pecan Company: Based in Las Cruces, the New Mexico Pecan Company has been offering roasted and flavored pecans as well as other nuts grown in Rio Grande Valley soil for over 15 years. Well known for their Red Chile Pecans, the company ships these tasty and very-good-for-you nuts all across the country …
If you're looking for a holiday or special occasion gift, check out their many one pound tins. You can order yogurt covered, chocolate covered, cinnamon praline, and the aforementioned red chile pecans.
For a special treat, take a look at the New Mexico Pecan selection of pistachios, the most popular nut variety in these parts. Jalapeno, red chile, or roasted & salted are three varieties you can have delivered right to your doorstep.
If you've never been to Las Cruces in the southern section of the state, put it on your travel to do list! It's a beautiful part of the country with pleasant year around weather, great food, ample recreational opportunities, and friendly people!
Enjoy a taste of southern New Mexico!
Sun Mountain Honey: Here at State Gifts USA, we're big advocates of local, natural honey. Minimally processed raw honey is extremely beneficial for your health, and it tastes great too!
Further, honey made in different parts of the country offer unique flavor profiles. Not all honey is the same, since the flavor depends on the flowers pollinated by bees. It has become a "healthy hobby" for us to experience the tastes of honey made in various locations across the U.S. …
In southern New Mexico near beautiful Las Cruces, Sun Mountain Honey has been producing raw, natural honey for over 40 years. The company, owned by Gordon and Laura Solberg, creates several unique varieties of honey. Their bee hives in the lush Mesilla Valley offer a wide variety of flowers for the bees to pollinate.
Sun Mountain Honey produces five varieties from their local hives, all of which are available for online purchase at their website. Mesquite, from mesquite blossoms, offers a light color and mild flavor. Summer Blend, Valley Blend, and Desert Wildflower are more medium colored with a slightly more robust flavor. For something a little different, try their Chile Honey. It's made with red chile powder added to their Valley Blend – a real treat from The Land of Enchantment!
Their website is a wealth of information about raw natural honey – click through to discover the many benefits of honey and to buy honey made in New Mexico!
Gila Garlic: New Mexico's high desert climate is just about perfect for growing garlic … rich soil, warm days, and cool nights help the crop grow here in a prolific manner. In the west central part of the state, a family owned and run enterprise by the name of Gila Garlic Farm grows and harvests over two dozen varieties …
If you never knew much about garlic varieties, the Gila Farms website is a great place to learn! They offer descriptions of each type they grow and sell, including sweetness level, best uses, heat level, and more. Garlic, depending on the type and where it is grown, can offer a very different flavor profile … not all garlic is the same!
We've become converts to locally grown garlic from different parts of the country. It is akin to trying the wines of different areas, or the local honey. Of course, the most fun stems from using various types of garlic in our recipes! Even the same variety of garlic will offer a slightly different palate depending on where it is grown.
Gila Garlic will ship directly to your door whenever the crop is ready for harvest. You'll get the freshest garlic imaginable, and you'll definitely notice the difference compared to what you'd normally buy in the store! Without question, a very special and unique locally grown New Mexico gift for the amateur chef or foodie on your list …
Hatch Chile Express: Hatch Chile Express is located in the small village of Hatch, known as the Chile Capital of the World. It's actually a business name for Lytle Farms, a long standing producer of Hatch chiles and chile products since the 1980's …
The company grows these wonderful peppers and sells them frozen whole or diced. The chiles are picked, flame roasted, peeled, either left whole or diced, and then packed for shipment. The diced chiles are packed in fourteen pound boxes with 14 one pound bags, and the whole chiles are shipped in ten pound boxes (10 one pound bags). You can choose from four different heat levels from mild to extra hot …
If you're just looking for chile powder, Hatch Chile Express sells red or green, also in four heat levels. The medium green chile powder is our favorite!
For a unique New Mexico style decorative gift, the company also sells ristras in various sizes which you can see at their site. Ristras are a traditional decoration during holiday seasons and they're made from treated inedible peppers. They're long lasting, depending upon whether you display them indoors or out – a well made ristra can last five years! Click through to their site to learn more …
New Mexico Mountain Girl Photography: CheyAnne Sexton is an artist, photographer, and designer whose beautiful photographs of New Mexico vistas capture the spirit of The Land of Enchantment …
At CheyAnne's Etsy shop, you'll see numerous wonderful photos like the one shown of a New Mexico meadow with grazing Taos blue ponies. These photos can be printed onto canvas and made into larger prints or photo pillows if you'd like. Prices are exceptionally reasonable for such fine work!
Photos and prints like this are one of the best New Mexico themed gifts you can own. Original art like this is a fantastic way to add your own unique personality to any room in your home. We have always been big fans of buying local art as a visual reminder of many of the places we've been fortunate enough to visit over the years …
Check out CheyAnne's shop to see all of her stunning images and to order …
Plaza Bakery: Located in the heart of Santa Fe's historic district for over 30 years, the Plaza Bakery is a must stop attraction while strolling through New Mexico's capital city …
The bakery is known for their southwest specialties, like biscochitos, wedding cookies, and pinon nut brownies. You can also find a line of specialty cakes called Cathedral Cakes, inspired by Santa Fe's many historical cathedrals …
Pictured is the Chunky Carrot Cathedral Cake, named and designed after the St. Francis Cathedral downtown. It's a moist delicious carrot cake made with a buttered rum glaze and dusted with powdered sugar …
A thoughtful corporate gift is the Plaza Bakery's cookie collection appropriately named "Taste of Santa Fe". It's filled with local specialty cookies and will be a hit with anyone lucky enough to receive it!
Browse the selection at the Plaza Bakery website to see all your options …
Eagle Ranch: Located in Alamogordo, Eagle Ranch is home to New Mexico's first and largest pistachio grove, dating back over 40 years. The farm is home to 85 acres of pistachio trees, as well as a vineyard of almost 25,000 vines producing grapes for some of the state's finest vintages …
Best known for their various flavors of salted and roasted pistachios and wines, Eagle Ranch and Heart of The Desert also make a wide variety of candy and snacks with a New Mexico twist. There are chocolate covered pistachios, chile pistachio chocolate bars, pistachio caramel popcorn, and more. One of our favorite products is their Pistachio Baklava, a twist on the traditional Greek style dessert …
Baklava is made with phyllo dough rolled thin, honey, and crushed pistachios. It is baked to a light golden brown and served alone or with a scoop of vanilla ice cream. The combination of sweet and salty is irresistible! Great for breakfast too!
Dips, seasonings, and other gourmet food products are also available at their site. There's an ample selection of combination packs and gift basket too! Visit their site to see all their products and to place an order …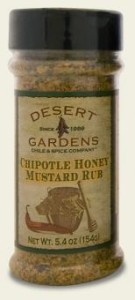 Comfort Foods: This Albuquerque based company is a division of Copperleaf Kitchen and have been around since 1989. Well known for their spices and seasonings, the company also creates a line of dip mixes, salsas & sauces, soups, stews, and more …
Whenever we're traveling in New Mexico and the southwest, we always look for their Chipotle Honey Mustard Rub, pictured. Ideal on chicken and pork, it has a slightly spicy flavor with the subtle taste of mustard. We like to rub it on the meat and let it sit covered in the refrigerator for a few hours to let the rub soak in. With pork cuts in particular, we use a sharp knife to score the meat to allow the rub to penetrate.
Comfort Foods makes over a dozen spice mixes, and offers a number of flavorful dip mixes as well. We also enjoy their Five Chile Salsa and their red and green chile sauces …
Gift packages are available on their site for a wonderful gift that says New Mexico! Check them out to see all the details …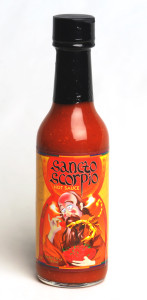 Sancto Scorpio Hot Sauce: If you like it hot, here's a little something for you …
It's New Mexico State University's Sancto Scorpio hot sauce, made with the Trinidad Moruga Scorpion Pepper, officially crowned as the world's hottest pepper …
Winner of several awards at the annual Zest Fest, a competition and showcase for hot foods, Sancto Scorpio is perfect for your friends and family members who claim "I like it even hotter" …
This hot sauce is available at the Chile Pepper Institute website.
The Chile Pepper Institute is located on the New Mexico State University campus in Las Cruces and proceeds from the sale of Sancto Scorpio help fund an endowment for chile pepper research …
A great New Mexico gift for those who know how to beat the heat!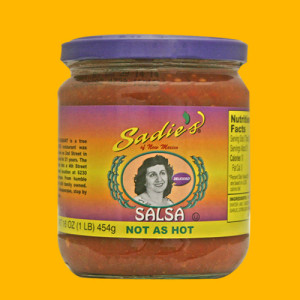 Sadie's Salsa: Sadie's is a well known name for Mexican specialties on the Albuquerque restaurant scene – they've got four locations in and around the city and they're popular places for dinner and drinks.
In addition to their famous margaritas, Sadie's is known for their distinctive salsas and sauces. They're all made with the iconic New Mexico Hatch chile pepper and jalapenos. The salsa comes in four varieties – hot, not as hot, roasted green chile, and con queso. Sadie's also offers red and green chile sauces, both of which can be used as a salsa as well …
At the Sadie's Salsa website, you can order jars of their salsa in quantities of four, six, case size, or in variety gift packs. Sadie's Salsa has been around for over 50 years and makes the perfect gift for anyone who is an Albuquerquean or for the salsa lover on your list … and if you're ever in the city, stop by one of the Sadie's locations for lunch or dinner – the stacked enchiladas are fantastic!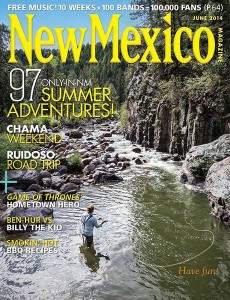 New Mexico Magazine: Looking for a thoughtful yet inexpensive gift for someone who loves New Mexico? If so, consider a gift subscription to New Mexico Magazine, the state's leading informational lifestyle publication …
New Mexico Magazine features interesting road trip stories, features on interesting and accomplished New Mexico citizens, and coverage on upcoming events in the state. Featuring beautiful photography, a gift subscription is a bargain for anyone who lives, winters, or visits The Land of Enchantment …
There are special annual issues spotlighting travel in the state, the arts scene, and dining destinations. You can subscribe to receive the print copy 12 times per year or save by subscribing for 24 months …
Everything you want to know about New Mexico, every month!
New Mexico Pinon Nuts: Synonymous with New Mexico, pinon nuts are a pine nut harvested from the pinon trees in the mountains of the state. Due to climatic reasons, pinon nuts from here are highly prized due to their soft almost buttery taste …
These nuts are only harvested in the wild … there are no farms or groves like pecan or almond trees. The pinon tree produces a prolific harvest once every several years, so availability is always in question. A company in Gallup called New Mexico Pinon Nut is the best source we're aware of to buy pinon nuts.
You can get them raw or roasted and lightly salted (we prefer the latter). These are meant for eating and not cooking … if you're looking for pine nuts for cooking, you can find them readily in grocery stores. Pinon nuts from New Mexico are the gold standard due to their unique flavor!
You can buy these wonderful nuts online at the New Mexico Pinon Nut website in quantities of 1/2 lb. up to ten pounds – an ideal gift from The Land of Enchantment!
Diaz Farms: Did you know New Mexico harvests more acres of chile peppers than any other state in the U.S.? Most of these chile peppers are grown in the southwestern part of the state, near Deming, Hatch, and Silver City …
The question one most often encounters in the Land of Enchantment is "red or green?" which of course refers to how you like your chile. But were you aware that, red or green, it all comes from the same plant? Red chile peppers are simply more mature peppers … they stay on the vine longer and turn red.
These fun facts are brought to us by the folks at Diaz Farms, located in Deming. They've been farming Hatch chile peppers for over 50 years, along with pecans, pinto beans, and traditional crops like onions, cantaloupes, sweet corn, okra, and other farm fresh produce.
If you're ever lucky enough to spend time in this beautiful area, you can stop by their farm stand to buy these items fresh, but for those of us halfway across the country, you can visit the Diaz Farms Chile Shop, which you'll see at their website. You can buy fresh peppers in season and green chile powder in hot or mild varieties. If you prefer red, you'll find their chile powder packaged in mild, medium, hot, and extra hot levels …
We like the mild green chile powder best, but that choice is up to you! While you're at their site, consider ordering their farm harvested pinto beans and pecans … enjoy the flavors of New Mexico!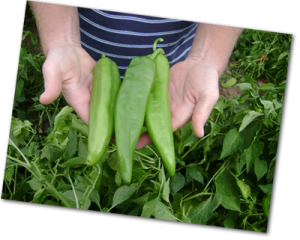 Young Guns Produce Hatch Green Chile: The small village of Hatch, just north of Las Cruces, is of course famous for Hatch green chile peppers. The term "Hatch green chile" isn't a variety of pepper, it denotes the area where the pepper is grown …
There are several varieties of Hatch green chile peppers, and it's from these peppers the famous red or green New Mexico style chile is made. Hatch itself is a unique geographical area, bordered by mountains to the west and the Rio Grande River on the east. This river valley micro climate provides the growing conditions for the peppers to thrive …
Young Guns Produce has been growing these peppers as well as pinto beans and other produce in Hatch and nearby Deming for over 25 years. You can buy these hard to find peppers online, either hot, medium, or mild and shipped frozen and diced or whole.
Pinto beans and red chile are available as well … perfect as a gift or for making your own batch of New Mexico style chile! Visit the Young Guns Produce website for all the details …
McGinn's Pistachio Tree Ranch: Home of the world's largest pistachio, McGinn's is located along U.S. Route 54 between Alamagordo and Tularosa. New Mexico is well known for their pistachio crop and McGinn's produces numerous specialty food products featuring this delicious and healthy nut …
In addition to standard roasted and salted pistachios, you can buy chile flavored pistachios, pistachio brittle, pistachio candy, and corporate gifts.
They offer a large selection of gift packages, including gifts under $25 and corporate pistachio themed gifts …
If you can't get out to the Land of Enchantment to see the worlds largest pistachio, shop online at their website. You'll find it at Pistachioland.com.
They offer free shipping on any order over $50!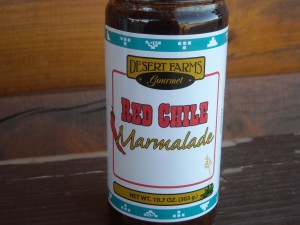 Desert Farms Red Chile Marmalade: Here's a unique product from the Land of Enchantment we really like … it's a marmalade spiced up with New Mexico red chiles, appropriately called Desert Farms Red Chile Marmalade.
You can of course use it as a traditional marmalade, like on toast, muffins, or croissants. However, we like to use it in an appetizer spread. Just soften some cream cheese and blend in two or three teaspoons of the marmalade until it's mixed thoroughly. Chill it for about an hour and then serve it at happy hour with a variety of crackers … it's great!
Desert Farms also makes a Green Chile Marmalade, a Jalapeno Ketchup, and several other jellies and jams. Order some for yourself online right here …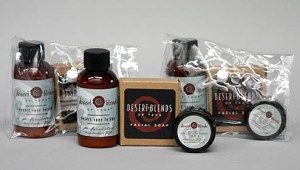 Desert Blends of Taos: If the name of the company sounds familiar, you may have seen their products in higher end hotels and spa centers … Desert Blends of Taos formulates moisturizing and revitalizing bath and body products formulated for the desert climate (but useful anywhere!).
These personal care products are infused with plant extracts native to the mountains around Taos … for centuries Native Americans used plants to promote healing and purification. The beneficial properties of these native plants are now used in this exclusive bath and body line …
Products include facial creams, body wash, skin treatments, soap, shampoo, and more. A great way to try these products (or give them as a stocking stuffer) is their Mini Gift Set, shown. It contains Desert Sage lotion, lip balm, and Desert Blends facial soap …
You can view all the Desert Blends of Taos product line and purchase directly at their website …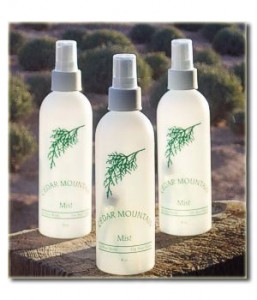 Clear Light Cedar Company: Clear Light Cedar Co. based in Placitas, NM is in the business of creating products for your body and home featuring the natural scent of New Mexico cedar …
The clean crisp scent of cedar trees is prevalent in the high desert New Mexican landscape. Clear Light Cedar uses cedar needles picked at precisely the right time and then cured to preserve their fresh aroma. They're used to create moisture lotion, air fresheners and mist, shampoo for people and dogs, aromatherapy candles, and bath and body products …
Native Americans have long known the theraputic qualities of cedar to help ward away insects and freshen living quarters. Cedar also helps prevent mildew and the fresh clean scent will invigorate every room in your home …
Clear Light Cedar offers the individual products mentioned above at their online store, as well as many combination gift packs which make a wonderful gift from the Land of Enchantment!
History of New Mexico
New Mexico Trivia and Fun Facts

1). Santa Fe's Governor's Palace was built in 1610, making it the oldest seat of government and one of the oldest buildings in the United States …

2). Santa Fe is also the highest elevation state capital in the U.S. with an elevation of over 7,000 feet …

3). Named after Mexico, New Mexico is the only state named after the country who formerly owned the territory …

4). New Mexico was admitted as the 48th state on January 6, 1912 …

5). The Federal Government employs about 25% of New Mexico's working population …

6). A city in New Mexico, Truth or Consequences, changed names in 1950 to honor a popular quiz show of the time. The city's former name was Hot Springs …

7). New Mexico has the lowest land-water ratio of all 50 states. Less than 1% of the state's total area is comprised of lakes and rivers …

8). New Mexico is officially a bilingual state, actually trilingual. It is estimated over 30% of households speak both English and Spanish and the Navajo language is also very prevalent in the state …
Biscochitos: Did you know New Mexico has an official state cookie? They do, and it's the biscochito, also spelled with a "z" as in bizcochito …
No matter how you spell it, the biscochito is a small shortbread cookie with Spanish origins. It has been served in New Mexico for hundreds of years, usually for wedding and holiday celebrations.
The cookie is a bland of flour, anise, cinnamon, and a bit of wine or brandy (recipes differ). Either way, it's a distinctly New Mexican tradition!
You can buy biscochitos online from Osito's Biscochitos of Las Cruces …
505 Southwestern Sauces: Every state seems to have a specialty food they're known for … and in New Mexico it's red chile and green chile. In other parts of the country, the dish is spelled with an "i" at the end, but here it's chile with an "e". That's because these two New Mexican style staples are made with either red chiles or green chiles …
In a lot of ways, the tastes are similar in that they're both comprised of meat, spices, and chiles. But red and green are different because the peppers are different and offer a unique taste. You don't have to go to a New Mexico restaurant to get red or green chile … most supermarkets in the area sell it already made in cans or jars so you can simply heat it up at home …
You can also order both styles online, and an excellent source is 505 Southwestern Sauces, a well known New Mexico company specializing in New Mexico foods …
A gift pack of red and/or green chile makes a great New Mexico themed gift … let the recipient decide which style they like best, red or green!
El Pinto Salsa: Located in Albuquerque, El Pinto opened as a one room restaurant in 1962 serving New Mexico style cuisine. Over the past 50+ years, the restaurant has grown into the largest in New Mexico, with the ability to seat 1200 diners at a time!
El Pinto is not only famous for their cuisine, but also for their salsa and chile. They operate a manufacturing facility on site to satisfy demand both locally and across the country. You can buy any of the El Pinto products from their online store and have it delivered to your home.
We are big fans of their green chile sauce, which we love mixing into omelets. There are, of course, dozens of uses for the sauce beyond just enjoying it at breakfast!
New Mexico Pinon Coffee: The pinon tree is prolific in the high desert areas of New Mexico, Arizona, Texas, and Colorado. They look like small pine trees, and feature cones which yield small seeds. These seeds are processed to make pinon coffee, a popular morning beverage in this part of the country …
The coffee has a smooth, slightly nutty flavor … without the bitterness sometimes found in coffee blends. If you're a coffee drinker and have never tried it, pinon coffee should be on your to do list!
You can order pinon coffee direct from the New Mexico Pinon Coffee Company of Albuquerque. We suggest getting a two pound gift bag (shown) because we're quite certain you'll love it!

The Truck Farm Sauces and Marinades: Located in beautiful Las Cruces, The Truck Farm has produced specialty foods since 1998 …
You can get just about any New Mexico and southwestern specialty food items from their website, from the famous green and red chile to sweet and spicy condiments and meal mixes …
One of our favorite products from The Truck Farm is a gourmet sauce called Cherry A'More. It's a mix of cherries and chipotle chilies, and can be used as a finishing sauce for chicken dishes or even spooned over vanilla ice cream and other desserts …
They also carry all sorts of interesting condiments, marmalades, mustards, and more, so be sure to check out their site for all they have to offer …
FruChile Mango Chile Chutney: For anyone who likes a little sweet with their hot, here's a New Mexico made product that's right up your alley …
It's mango and green chile chutney called FruChile … it comes in three different heat levels just like a salsa – mild, medium, and hot.
Use it just like you would a jelly or a condiment. Spread it on crackers, spoon it over fish and pork dishes, or to coat sauteed chicken breast. It's also great as an appetizer dip! FruChile is made in southern New Mexico …
Frolicking Deer Lavender Farm: Located in Datil, NM the Frolicking Deer Lavender Farm grows and harvests lavender plants and creates specialty items like insect repellant, lotions, creams, and spice mixes …
Lavender is one of the most beneficial plants for overall health, with many different uses. It's a natural repellant of bugs and mosquitoes, even for your pets!
Frolicking Deer also makes a salve from native pinon trees, which is shown on the left. Pinon Salve is ideal for soothing the rough areas of your skin, like elbows and feet. It also works well as a general hand cream and helps replenish your skin's natural oils … order some online for you or as a gift at the Frolicking Deer online store …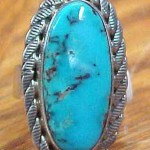 Golden Fleece Trading Company: This craft and jewelry maker in Albuquerque creates pendants, rings, earrings, and numerous other styles of jewelry using local gems and wood …
What caught our eye was the number of pieces utilizing New Mexico's state gem stone, turquoise. The jewelry is beautiful and not overly expensive … an ideal local gift from the Land of Enchantment! Pictured is one of their turquoise rings … check out their entire inventory at Golden Fleece Jewelry …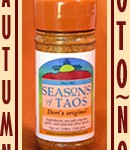 Seasons of Taos Seasonings: This long established spice company has been a Taos, NM fixture since 1962. They make several varieties of spice blends which capture the flavor of New Mexico …
Occasionally, you can find Seasons of Taos seasonings at specialty stores across the country, but the best source is online at their website. They offer a gift pack of all five of their spice blends which makes a great gift. Pictured is the flagship variety "Dori's Original", which contains sea salt, paprika, and garlic along with other spices. It's really good on deviled eggs!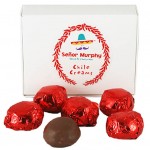 New Mexico Chile Creams: These unique candies are made by Senor Murphy's Candies of Santa Fe. They are vanilla creams spiced with a bit of red chile powder for a taste that is uniquely New Mexico …
Senor Murphy's has been a Santa Fe tradition since 1971. They are also well known for their pinon specialties, like "carameles", which feature vanilla fudge dipped in caramel and then rolled in pinon and wrapped in a tamale corn husk.
You can also get various assortments of made in New Mexico sweets and have them delivered anywhere in the country. Check out the Senor Murphy website for all the details …
Old Pecos Gourmet Mustard: Based in Glorietta, Old Pecos Foods bring the taste of New Mexico to a series of gourmet mustard products …
The company produces six different mustards, including red chile and green chile flavored. You can also try pinon garlic, hickory almond, pecan honey, and spicy garlic.
Find these mustard products online at Old Pecos Foods and order some mustard for yourself or as a New Mexico themed gift …
We'll Be Adding More New Mexico Made Products Soon! Tell Us About Your Favorites By Visiting Our Contact Us Page …