Made In Vermont Quick Facts
This Post is about Made in Vermont Gifts and Specialty Vermont Products
Want To See Your Business / Products On Our Made In Vermont Page?
Visit "Advertise With Us"!
FEATURED MADE IN

VERMONT

BUSINESS

ES
Sillycow Farms: Recently, we received a thank you gift from one of our neighbors who knows we love sampling products from small independent businesses across the U.S. …
This particular gift warmed us up all over, literally! It was a gift of hot chocolate mix from Sillycow Farms of Vermont, and wow is it fantastic …
A small specialty foods company, Sillycow Farms produces over a dozen different varieties of hot chocolate mix. They're packed in nostalgic small glass bottles, individual packets, and milk tins. Combine the mix with a mug of heated milk, top with whipped cream, and you'll experience one of the finest mugs of hot chocolate you've ever had in your life …
Sillycow Farms has been around for 30 years, building their product line and reputation creating hot chocolate mixes using wholesome, all natural ingredients. You'll find their products in select specialty markets across the country (check their website for details). While you're there, see their clever gift packages, just perfect for any occasion.
You can also shop directly online and have their fabulous hot chocolate mixes shipped directly to your door!
PrettyPillowCase.com: Here at State Gits USA we really enjoy spotlighting businesses who introduce a different twist to a standard product. That's certainly the case with this Vermont company, who help you add a splash of color and decor to your bedroom ..
The business is PrettyPillowCase.com, and wait until you see some of their vibrantly colored products!
if you want to liven up your bedroom's decor, check out these pillow cases, which add a layer of complementary color and pattern to your sleeping area. Made from durable medium weight cotton, these colorful pillow cases make a great personal gift! The selection includes many fabrics that go so well together that they come in matching sets … one pillow case features the main fabric on the body of the case, while the matching case features it on the cuff, and vice versa. Clever!
Special For State Gifts USA Readers: 20% Off Your Order – Use Code SGU At Checkout …
Also, be sure to take a look at the Nap Pillows (another great gift idea). They're mini travel pillows perfect for plane trips, long car rides, extra support on your office chair, or just for a relaxing nap on your favorite comfy couch …
All sizes of pillow cases are available, even miniature doll bed size! Visit their website, linked above, and join their email list for discounts and new design alerts …

Burnt Point Lodge: This creative and inventive Vermont company creates an eclectic line of goods targeted for the outdoorsman. We love visiting their website, which is chock full of good stories and unique products you'll be hard pressed to find anywhere else …
Under the "Our Shop" tab, you'll see sections for Clothing, Gear, Accessories, and Books & Maps. The selection is rotating, so you never know what you'll see, but carrying packs, wool blankets with leather carriers, compasses, and buck knives are a few current selections. The Books & Maps tab offers items like antique maps of National Parks and
Army Survival Guides, while the "Attic" tab showcases buck knives, hand carved decoys, and historic American flags.
Visit the Burnt Point Lodge online to pay them a virtual visit. Explore the site and enjoy, and be sure to check out everything they've got to offer …
Vermont Butcher Block: From Williston, VT and fresh off an appearance on the popular TV show "Shark Tank" is Vermont Butcher Block, a truly local company which uses local hardwoods to create beautiful long lasting home and kitchen ware …
Cutting boards, platters, bowls, utensils, and of course butcher blocks are handcrafted from Green Mountain State wood. The end result is nothing short of spectacular – with minimal proper care their products will last for decades and be cherished family heirloom pieces.
There's a wide variety of pieces available at their website, linked above, and the company also accepts special orders. A gift from Vermont Butcher Block will be appreciated for years – everyone can use something beautifully crafted like these pieces in their home …
You can order directly online – proudly Made in Vermont!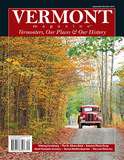 Vermont Magazine: If you're searching for a Made in Vermont gift and don't want to spend an arm and a leg, consider a gift subscription to Vermont Magazine …
Published five times a year, this publication is all about The Green Mountain State, from the people, the scenery, the restaurants, and more. Every issue features stunning photography of Vermont's beautiful landscape, along with a spotlight on current events and issues of importance to Vermonters.
Subscriptions are extremely reasonable and you can get one at the Vermont Magazine website. While you're there, be sure to check out their online store where you'll find a nice selection of calendars and books too!
Bee's Wrap: This environmentally conscious Vermont company produces a welcome alternative to plastic wrap for sandwiches, cheese, bread, and any other food you'd like to preserve …
It's called Bee's Wrap, a washable and reusable cotton wrap made with beeswax, jojoba oil, and tree resin. It comes with an easy to use handy button closure – perfect for lunch boxes or that loaf of crunchy bread you'd like to keep fresh for more than a few hours, and the lemons you want to remain juicy after slicing them open.
Bee's Wrap is made in several different sizes and attractive colors and prints. If you're tired of hassling with plastic wrap, here's your solution! The wrap washes easily with cool water and a little mild soap and will last for hundreds of uses.
Visit their website to learn more and feel good about using sustainable food storage!

Johnson Woolen Mills: We love American businesses which have stood the test of time. That statement certainly describes Johnson Woolen Mills, who've been producing good looking durable wool garments for Vermont residents and beyond for over 170 years …
Located off Route 15 northwest of the state capital in the town of Johnson, the mill is today producing just about any kind of wool clothing and accessory you might imagine. From wool coats to dog coats and from hand bags to hats, you'll find it at the Johnson Woolen Mills website or one of their many retail dealers across the country.
There's a reason why wool garments are timeless and always in style … they're breathable, warm in the winter and cool in the summer. A wool throw or a wool commuter or tote bag is the perfect gift for the hard to buy for person on your list, and it's a durable gift that will be treasured and last for years and years.
We're so pleased to introduce you to (or remind you about) Johnson Woolen Mills. Click through to their website to learn more and see everything they're producing!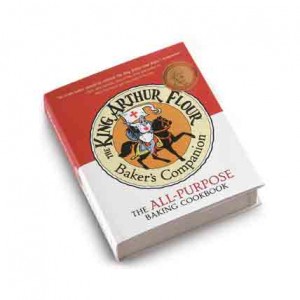 King Arthur Flour: Proudly based in Norwich, VT this company goes far beyond flour, the foundation of baking. Their business campus is literally a baker's utopia – a popular visitor attraction featuring a store, cafe, and Baker's Education Center where you can learn how to create masterpieces just like professional bakers.
King Arthur Flour has a long and storied history and is one of America's standard bearers in the baking industry. Since 1790, they've been creating just about everything you need to show off your culinary skills as a baker. At their website, you'll find all sort of helpful tips to guide you along the way, as well as recipes to inspire your creativity.
Click through to their "Shop" page and you'll get a better sense of everything this iconic company creates. From bread essentials to mixes to helpful kitchen gadgets, you'll find it all here. If you like to make your own pizza, we can personally recommend their King Arthur Perfect Pizza Blend Mix. It'll help you make the best pizza dough (foccacia and calzones too) you can ever imagine …
Pictured is their one of a kind recipe book that covers everything from basic to complicated – the perfect gift for someone just getting started, or anyone who needs a refresher!
Vermont Shepherd: One of the oldest sheep dairy farms in the country is located in Westminster, VT and it's now known as Vermont Shepherd. They produce award winning cheese that has been lauded by the New York Times and other publications as having some of the best cheese in the United States …
The farm itself is home to over 250 dairy sheep who are cared for by shepherds from the two families who own the operation. At their online store, you'll find a wide variety of cheese along with wool products, jams, quince butter, sheep milk soap, and more.
A wonderful Made in Vermont gift idea is their Cheese Assortment Package, which can be shipped anywhere in the continental United States. It contains nine pounds of products from the farm, including three of their cheese varieties along with quince butter and fig jam. It's packed in hay from the farm – a true sample of The Green Mountain State!
Click through to the Vermont Shepherd website to see everything they're doing and to place your order …
Jan's Farmhouse Crisps: We're pleased to introduce you to perhaps the best snack crackers we've ever had the pleasure to try, proudly made in Stowe, VT …
They're Jan's Farmhouse Crisps, and they're a healthy mouthful of delicious packed with pumpkin seeds, pistachios, cranberries, and flax & sesame seeds. They're wonderful with a slice or two of your favorite Vermont made cheese, but just as good on their own!
Jan is Jan Gorham, a mom of three who's passionate about offering snacks without processed or artificial ingredients. Perfect to bring to a dinner party or as a casual mid afternoon snack, Jan's Farmhouse Crisps have garnered all kinds of positive foodie press, including a feature in Martha Stewart's Living and the Specialty Food Association's SOFI Awards. A friend of ours brought us back a sample from a business trip to The Green Mountain State and we almost sent him right back to get more!
You can buy these one of a kind crackers in 16 states (and growing) across the country (check the website for details) and there's a link to order online at Jan's site as well.
Some real goodness from Vermont!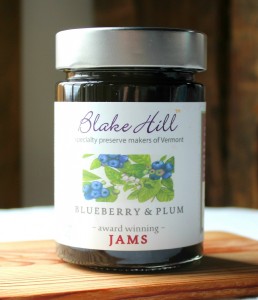 Blake Hill Preserves: Based in Grafton, this enterprising small company is a marmalade, jam, and chutney specialist. Their product line offers some of the most interesting flavor combinations you'll find, influenced by many different culinary cultures …
Using as many local ingredients as possible, Blake Hill Preserves turns out creative chutney flavors like Plum with Fennel & Ginger and Cranberry & Orange with Cinnamon. Or how about Raspberry & Hibiscus Flower Jam? These are just a few of the truly unique varieties they're creating, all of which are available at their website …
Formed in 2009, the company is owned and operated by Vicky Allard, a preserve maker originally from England, and Joe Hanglin, who hails from Gibraltar. The farm itself is located in the Green Mountains offering spectacular views and an abundance of fresh fruit. Ripe blackberries, blueberries, gooseberries, and rhubarb all make their way into these delectable products.
Gift sets and combination packages are available – Click through to their website to see all their creations and order for yourself or as a wonderful gift!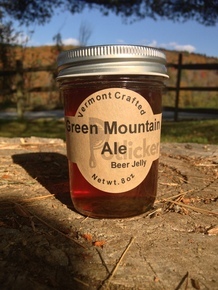 Potlicker Kitchen: Have you got a beer guy or gal on your list? You know, someone who really likes beer, beer t-shirts, beer glasses, beer bread, beer anything? Well, instead of getting them something they're already expecting (beer), why not get a little creative?
And that's where Potlicker Kitchen of Waterbury Center, VT comes in. This creative small company creates small batch Vermont beer and wine jellies along with artisan jams. For example, one of their products is Green Mountain Ale Beer Jelly, produced with locally brewed Long Trail Ale. Another is a delectable Black IPA Beer Jelly, made with Otter Creek Brewing's Black IPA. If you don't want to enjoy it on crackers, use it as a glaze for chicken wings!
The company also makes jellies with Vermont wines as well as some really interesting flavors like Blueberry Sage Jam, Carrot Cake Jam, and one we've never heard of, Wild Knotweed Jelly. Turns out knotweed is a wild invasive plant found in the northeast that's similar to rhubarb. Instead of trying to weed it out (literally), Potlicker Kitchen decided to turn this unwanted plant into something tasty … if you can't beat it, eat it!
Truly Vermont made gifts from a very interesting and clever company. Check them out!

Big Picture Farm: This 88 acre sustainable farm is located in Townshend, a small Vermont community in Windham County in the southern part of the state. It's home to over two dozen beautiful goats who are rotationally pastured so they can enjoy ultra fresh greens and produce rich goat milk. The Farm uses the milk to create award winning cheese and goat milk caramels …
For a unique and delicious gift from The Green Mountain State, consider one of Big Picture Farms four caramel flavors. They're available in Sea Salt & Bourbon Vanilla, Goat Milk Chai, Maple Cream, and Cocoa Latte. The caramels are packaged in farm designed recyclable boxes featuring drawings of the goats, as shown …
Big Picture Farm's cheese was recently judged an American Cheese Society award winner in the aged goat cheese category. Their tomme style cave aged Sonnet is a creamy smooth delight that's sure to please any cheese lover.
The Farm's online store offers their cheese in limited quantities along with gift sets featuring Vermont made cutting boards inscribed with an image of one of their prized goats. And be sure to visit their Gifts page, featuring a variety of colorful and creative packaging for their cheese and caramels along with other fun items. Wonderful gifts, direct from Vermont!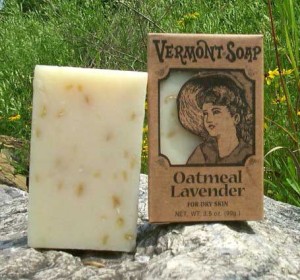 Vermont Soap: Based in Middlebury, Vermont Soap is a company you'll want to know about if you appreciate handmade natural soap. For over 20 years, this company has made natural cleaning products for just about anything in your life that needs cleaning!
Just a few of the Vermont Soap products you'll find at their website are bar soaps, child and baby care, non toxic cleaners, deodorants, moisturizers, and pet care soaps. You can shop by your skin type and also by scent, which include honey, lavender, peppermint, and many more …
All of the company's bar soaps are all natural and cold processed. They last twice as long as traditional mass market soaps and are gentle enough for anyone with more sensitive skin.
These products make great gifts for anyone on your list, especially those who appreciate how clean and fresh natural soap makes them feel! Click through to the Vermont Soap website to see everything they're doing!
Catamount Specialties: This small specialty foods producer in Plainfield, VT creates a line of small batch condiments, salsas, sauces, jellies, and seasoning mixes. Owner Debbie Hill creates products from natural ingredients and attractively packages them for any gift giving occasion …
The company makes a particularly interesting line of mustard. At the Catamount Specialties website, you'll find varieties like Fire Roasted Garlic and one called Forest Fire, a combination of habanero mash, horseradish mustard, and a bit of natural hickory smoke. Another is a nod to the state's signature product, Maple Mustard, which combines gourmet mustard with pure maple syrup. Think honey mustard with a maple twist!
Catamount Specialties is also well known for their Fire on the Mountain line of salsa. From mild to hot and hottest, they're Brush Fire, Forest Fire, Wild Fire, and Raging Wild Fire. They've garnered quite a following in Vermont and beyond and make a perfect Vermont themed gift …
When you visit their site, be sure to check out the authentic Italian style pasta sauces along with gourmet jellies which are perfect for appetizer trays. Several varieties are available for ordering – enjoy the classic flavors of The Green Mountain State!
Way Out Wax: We love ecologically friendly candles, and the folks at Way Out Wax in North Hyde Park, VT have been creating them since 1995. This thriving company creates all natural aromatherapy candles made with pure essential oils and natural wax blends. No synthetic fragrances or dyes are used and all of the company's container candles are made with 100& soy wax.
Way Out Wax offers dozens of healthy air candles for your home in three distinct collections – Green Mountain, Clean Air, and Bug Out. At their site, you can search for candles by style, desired mood, essential oil, or wax type. Just a few of the essential oils used are Eucalyptus, Fir Needle, Cedarwood, and Lavender. Candles are created to help impart a mood of cleansing, meditation, passion, and many more …
We are particularly impressed by their Green Mountain Collection. If you're looking for a gift that's distinctly Vermont, here it is! Shown is their "Northern Forest" candle, a blend of cedarwood, fir, and spruce with a burn time of well over 40 hours. Ten different varieties of this collection are available all told, with each evoking the spirit of The Green Mountain State …
Visit the Way Out Wax website to discover all their all natural candle products and to order for yourself or as a special Vermont themed gift …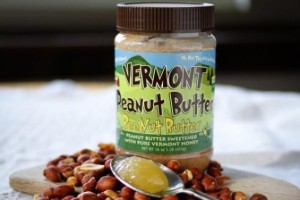 Vermont Peanut Butter Company: Founded and located in Morrisville, the Vermont Peanut Butter Company makes a line of nut butters containing more personality, more protein, and more flavor!
Made without preservatives or the extra salt and sugar found in store bought brands, the Vermont Peanut Butter Company varieties are each made using two different strands of USA grown peanuts. Each strand is grown to a differing level of darkness, creating their unique and proprietary flavor. Each of their peanut butters offer a unique personality – some have chocolate, some cranberries and flax seeds, and some have pure Vermont maple syrup or honey. Of course, traditional creamy and chunky varieties are available as well!
We particularly like the company's Bee Nut Butter. It's a combination of peanut butter and Vermont honey and it's extraordinary! You'll never think of peanut butter sandwiches the same way again!
You can order any of the Vermont Peanut Butter Company products online. Click through to their site to learn more about the company, including their charitable activities, and to order …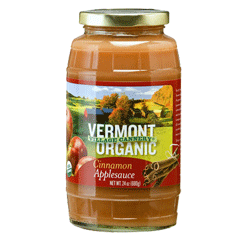 Vermont Village Applesauce: Vermont is well known for the quality and variety of their apples, so it stands to reason the state is equally acclaimed for applesauce. Near the town of South Barre, a company is turning out natural, organic applesauce and apple butter which proudly exemplify Vermont's quality apple crop …
Vermont Village Applesauce makes applesauce like no one else. The entire apple – including core and skin – is cooked in small batches and allowed to stew without the addition of water and sugar. This captures the full flavor of the apple and the entire process is certified organic. Local Vermont apples are used – a true taste of The Green Mountain State!
The company makes several different varieties of applesauce and apple butters as well. You can buy two packs of 24 ounce jars online at their website as a Vermont themed gift. You can also find the brand at selected specialty food retailers …
Blue Ledge Farm Goat Milk Cheese: This active goat dairy farm located in Salisbury, VT is home to over 100 goats whose milk is processed into inventive and award winning cheese, recognized by national publications like Martha Stewart Living and Yankee Magazine …
Blue Ledge Farm is a 110 acre mixture of natural wetlands, pasture, and woods. The development rights for the property were sold to the Vermont Land Trust in 2004, ensuring the land will remain open and never commercially developed. The company makes a variety of artisan cheese from the milk from their goats and cow's milk from a neighboring Vermont dairy farm …
Variety packages of Blue Ledge Farm goat and cow's milk cheese are available from their online store. This includes their fresh chevre, like their Maple Chevre – a mix of goat cheese and pure Vermont maple syrup. Also available is the farm's signature cheese, Crottina, an American Cheese Society award winner with a smooth, delicate flavor …
See all the Blue Ledge Farm cheese combination packs by clicking through to their site. They'll ship anywhere in the country by UPS overnight or 2nd day air!
Suzanne's Sweet Savories: This small family run company creates a line of sauces and dips made from fresh local produce and natural ingredients. A fixture at many Vermont farmers markets, they just recently began selling their wonderful fruit and vegetable based creations via their website …
The products are called Piquant Preserves, made with a variety of fruit or vegetables and blended with their signature recipe spices. Choose from apple, carrot, pear, blueberry, cranberry, rhubarb, and tomato. At the Suzanne's Sweet Savories website, you can order by single jars or a four jar sampler pack.
Their site also offers many recipes and suggestions for use. The sampler pack makes an ideal fresh from Vermont gift item! Click through to learn more …
Orchard Hill Farm: Orchard Hill Farm located in South Woodstock, VT was first homesteaded in the 1840's and it is still run and managed by the same family. Six generations have made maple syrup here, and the farm is one of the leading producers of maple syrup and related products in the state …
Vermont, of course, is known for its maple syrup. The Green Mountain State produces more maple syrup than any other state! Orchard Hill Farm proudly produces maple syrup, maple cream, maple candy, and gift boxes for those seeking an iconic gift from Vermont …
At their online store, you'll find syrup available in four different grades ranging from cooking syrup to Fancy Light Amber. You can buy the syrup in plastic jugs (ideal for freezing) or glass bottles. Their website explains the available syrup grades so you can choose according to your preferences …
There's free shipping on orders of $75 or more! Check the Orchard Hill Farm site for details …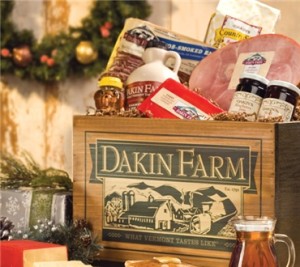 Dakin Farm: Dakin Farm has been around in Vermont's Lake Champlain valley since 1792, but business has really grown since being bought by the Cutting family in 1960. Now operated by the 4th and 5th generations of the family, the farm is now a go-to source for many Vermont made specialties, which prompted their slogan, "What Vermont Tastes Like" …
Dakin Farm now has two locations in The Green Mountain State, the original farm store in Ferrisburgh and a branch store in South Burlington. At both locations, you'll find many of the products the farm is famous for, like smoked bacon and sausage, maple products, ham, poultry, cheese, and much more.
Dakin has partnered with the famed Cabot Cheese and now offers their renowned cheese varieties at the online Dakin Farm store. There's a fantastic selection of all the products mentioned above, as well as many Vermont themed baskets for your shopping convenience …
Click through to their site to see all their products and gift suggestions, like the one shown which is called "Most Impressive Gift", a selection of Vermont's finest. And really, who on your list wouldn't be impressed receiving a box called "Most Impressive Gift"??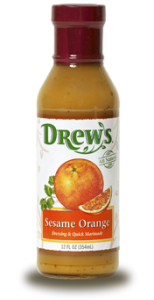 Drew's All Natural: Grocery shopping can be a chore … or, you can make it fun!
We enjoy grocery shopping because it allows us to discover new products as well as lean on old favorites. Recently at our local Caputo's store, we discovered a Vermont based company making a line of all natural and organic salad dressings as well as several varieties of natural salsas …
The company is Drew's All Natural, founded by Chef Drew Starkweather in 1995. Drew worked as head chef for a prestigious New England inn and found his customers were requesting to take home his various all natural salad dressings …
Fast forward a number of years and Drew and his team established a production facility in Chester, VT to keep up with the burgeoning national demand. The facility was certified organic in 2001 and now you can find Drew's products in specialty grocers all across America …
We bought two of his salad dressings while shopping and absolutely loved both. The first is called Lemon Goddess and has a sparkly lemon flavor and accented by soy, creamy tahini, garlic, and chives. The second we tried is Sesame Orange, which we used as a pork marinade and subsequently on a salad. It has an Asian style flavor complemented by a bit of ginger …
If you can't find Drew's products where you live, you can always order online at their website. We can't wait to try more of his dressings as well as the line of salsas!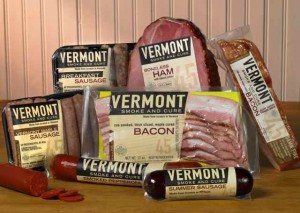 Vermont Smoke and Cure: This well known northern Vermont company has been naturally smoking and curing meat since 1962 …
Vermont Smoke and Cure specializes in smoking, curing, and packaging pork products like bacon, sausage, and hams. Much of their meat comes from local Vermont farms, like the famous 5 Knives line of pork products. Vermont Smoke and Cure's snack sticks, which come in a variety of meats and flavors, were rated as one of the healthiest snacks in America by MSN.com …
If you're looking for convenient one stop Vermont gift shopping, consider their "Vermontavore" or "Camel's Hump Sampler" gift packages. The Camel's Hump package (shown) contains smoked bacon, ham, summer sausage, smoked pepperoni, Vermont breakfast sausage, and maple sausage. Wow … I'd love to get that delivered to MY door!
Be sure to stop by the Vermont Smoke and Cure website to see all their products and order for you or as a gift for someone who appreciates the pride of The Green Mountain State …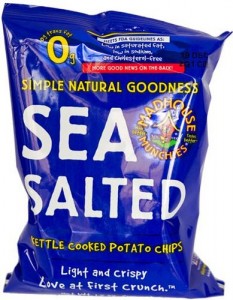 Madhouse Munchies Potato Chips: Since 1996, this South Burlington, VT company has been making potato chips in the healthiest way possible … they kettle cook the chips in 100% high mono unsaturated Canola oil. This type of oil is recommended as a part of a healthier diet because it has no cholesterol and is the lowest saturated fat cooking oil …
Beyond the nutritional plus, these chips taste great! There's no oily after taste, and they use nothing artificial in seasoning the chips. You can get them in several flavor varieties … Sea Salt, French Onion, or Mesquite BBQ. They also make stone ground tortilla chips and a Sea Salt flavor with vinegar …
Madhouse Munchies chips are available in many stores in the northeast, but if you can't find them they can be ordered online via their site …
We'll admit to having a lot of fun trying different potato chips from all across the U.S. – the differences in taste are interesting if we ever do a potato chip review site, Madhouse Munchies chips will definitely be right near the top!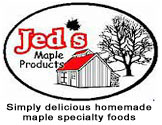 Jed's Maple Products: Located in Derby in northeast Vermont, Jed's Maple Products is renowned for their variety of maple related products …
To give you an idea, Jed's produces maple syrup, maple candy, and maple cream (kind of like a maple butter). They also have maple frosted nuts and maple dressing for salads. If it's a maple based food product, you'll find it here!
Jed's also offers a great assortment of gift boxes packed with a variety of these products, along with pancake mixes and more. An ideal gift from the Green Mountain State, Jed's will ship anywhere in the country. Discover more at Jed's Maple Online Store …
Wagatha's Organic Dog Treats: Did you know the average dog will consume over 13,000 treats in their lifetime? Wow! That's a lotta dog cookies, and it also means dogs should be fed quality snacks with premium ingredients …
Introducing Wagatha's, a Vermont based organic dog treat baker. These premium treats for your best friend are wheat, corn, and soy free … they only use organic ingredients and are proudly baked in the Green Mountain State …
They're available in all kinds of interesting flavors, made only with human grade food. The flavor shown in the picture is cranberry, cheddar, and mint. Cranberry is known to help a dog's urinary tract health, mint helps diminish "doggie breath", and cheddar … well, cheddar tastes good!
A percentage of Wagatha's sales are donated to the Morris Animal Foundation's Canine Cancer Campiagn, a great cause helping eliminate cancer in dogs. Set your dog's tail a-waggin' with Wagatha's!
History of Vermont
Vermont Trivia and Fun Facts

1). The highest point in Vermont is Mt. Mansfield, 4,393 feet elevation …

2). The name "Vermont" means green mountain. It is a combination of the French words "vert" (green) and "mont" (mountain) …

3). Vermont is the nation's leading producer of maple syrup …

4). Vermont's capital city of Montpelier has the smallest population of any state capital …

5). Calvin Coolidge, the 30th U.S. President, was born in Vermont …

6). Vermont is the second largest state in New England, next to Maine …

7). The state is twice as long as it is wide. Vermont is 160 miles north to south and 80 miles east to west …

8). The hottest temperature ever recorded in Vermont was 106 degrees …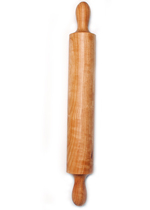 Vermont Rolling Pins: Based in South Burlington, the Vermont Rolling Pins Company creates ultra sturdy world class rolling pins which are hand turned and will last for decades …
The hardest of woods are used … cherry, maple, and walnut. You can choose your desired type of wood (the colors differ) as well as the size and style.
Rolling pins are an underrated kitchen accessory … until you need one! They're a great gift for showers, weddings, and new apartment or home parties. You'll be able to hand yours down to your family members if you wish!
Even if you're not in the market for a rolling pin, you should check out the Vermont Rolling Pins website. I learned some very interesting facts and care tips about rolling pins … how they're made, how to display and care for them, and how to clean them.
The company also carries essential pizza making tools … and there are lots of great recipes for all the dough you'll be preparing with your Vermont rolling pin!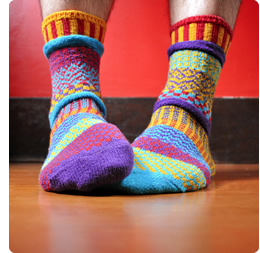 Solmate Socks: This unique small company based in South Strafford, VT thrives by the motto, "Life Is Too Short To Wear Matching Socks". Owner Marianne Wakerlin creates vibrant and colorful socks for men, women, and children in a variety of styles …
In addition to their dazzling colors, these aren't just any socks … they're made from recycled cotton. The cotton yarns are sourced from recycled materials, thereby creating and environmentally friendly products that's fun to wear …
You can buy these cool socks for yourself or as a gift at the Solmate Socks website. Be sure to check out their unique "Sock of the Month" Club for a really fun gift and also their mismatched accessories page …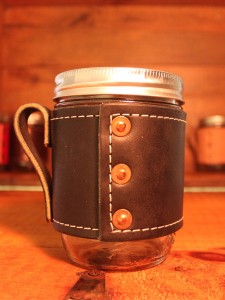 Holdster USA: Based in Burlington, this small company strives to make your beverage and drinking experience more stable …
The company crafts leather "holdsters" which neatly fit around a mason jar. Each holdster has a sturdy grip allowing you to easily grasp the jar without worrying about slippage or handling excessively hot or cold containers …
The mason jar is included with your purchase, and the hand tapped rivets make for easy removal of the holdster when the jar needs cleaning. Clever!
They also make sturdy key chains with a similar gripper, as well as coasters. Multiple colors and designs are available … check them out at Holdster USA …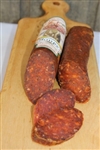 Fortuna's Sausage: Fortuna's Sausage of Sandgate, VT is a third generation Italian-American sausage manufacturer that has garnered national press and national acclaim for their specialty meats and sausage products. Known for their outstanding salami, Fortuna's makes it the old fashioned way … with hand trimmed pork in small batches …
One specific product of note is a dry cured Calabrese style of soppresata called "Soupy" … it's rarely seen in this country and is available in varying levels of hotness. You can serve it sliced on crackers or bread, or with salads.
Fortuna Sausage is also well known for their monthly clubs and gift packages … you can order a Salami of the Month Club containing about three pounds of specialty sausage every month. What a great gift! There are also plenty of gift baskets to choose from, so check their website for all the details …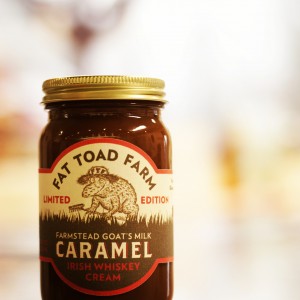 Fat Toad Farm Goat's Milk Caramel: Fat Toad Farm is located in Brookfield, VT and specializes in raising dairy goats. Much of the goat's milk is turned into the farm's signature products, goat's milk caramel sauce …
The farm creates four types of caramel. There's the original, which is goat's milk combined with cane sugar, and there's vanilla bean which is goat's milk and whole organic vanilla beans. They also make a cinnamon caramel and a bourbon caramel, infused with Kentucky bourbon …
Each batch takes about six hours to produce and is hand mixed. The caramel is bottled using a maple syrup filler. It is then labeled and packaged for sale at local farmers markets and for you at the Fat Toad Farm website …
Get some for yourself or as a gift for a friend … a really unique Vermont made gift!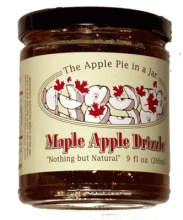 Morse Farm Maple Sugar Works: Located in Vermont's capital city, Montpelier, Morse Farm is synonymous with maple syrup, maple products, and farm fresh items from central Vermont …
The working farm, which is a popular visitor attraction, is home to countless maple trees where sap is tapped and ultimately turned into syrup. At the Morse Farm website you can order fresh maple syrup, maple sugar for baking, and the fantastic fruit topping shown, maple apple drizzle …
You can also get all sorts of other wonderful Vermont products like Morse Farm cheese, maple candy, and maple cured bacon. Morse Farm has been around since the late 1700's so it's safe to say they know what they're doing!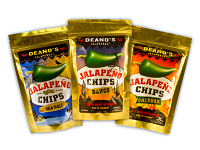 Deano's Jalapenos: Deano's Jalapeno Chips were born at the Cactus Cafe restaurant in Stowe, VT. The home made chips proved so popular that the owners established a second business to share them with more than just their restaurant customers!
Deano's Jalapeno Chips are available in several different flavors … white cheddar, sea salt, ranch, and cheddar. They also make jalapeno bits (think Bacon Bits) which are diced flavored bits of jalapeno in all the same flavors …
Munch on the chips and use the bits to liven up a salad!
You can order directly online at Deano's Jalapenos …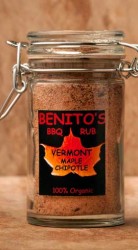 Benito's Hot Sauces: You might not think of Vermont as being a logical location for a hot sauce company, but peppers are grown organically here and that's what is used in Benito's Hot Sauces …
When you check out the Benito's Hot Sauce website, you'll see they make an interesting variety of different sauces in varying heat levels. But we want to tell you about an equally interesting product they make which is really heart and soul Vermont …
It's their Maple Chipotle BBQ Rub, pictured here. It's completely salt free, medium on the spice level and slightly sweet from the Vermont grown peppers and pure Vermont maple sugar …
Try it on anything … burgers, steaks, chicken, and roasts. It's especially good on any cut of pork!
Highly recommended as something unique to try. Order directly from their website …
Grafton Village Cheese: Located in Brattleboro, Grafton Village Cheese is one of the oldest cheese makers in The Green Mountain State, dating back to 1892 …
They are well known for their specialty cheese as well as their aged cheddar, available aged from one to five years. If you've never tasted a cheddar cheese aged five years, you should! It's deep flavored, rich, and complex … unlike any store bought cheddar cheese.
Grafton Village Cheese is a perfect stop for Vermont gift shopping … they offer various cheese gift baskets as well as Vermont jams, mustards, and other specialty foods.
Learn about all their products online at Grafton Village Cheese …
Vermont Flannel: Vermont winters call for warm clothing, and what better to wear than original Vermont Flannel …
This East Barre, VT company makes shirts, robes, jackets, pajamas and more for men, women, kids, and dogs as you can see!
Blankets, scarves, head warmers, and pillows are some of the other necessities you'll find at the Vermont Flannel website …
Vermont Flannel garments are exceptionally well made and durable … they'll last for years!
What a great gift for anyone who has to survive cold weather … in Vermont or otherwise!
Simon Pearce Glassblowing: This Quechee, VT company may specialize in glass blown artifacts, but they also have a popular restaurant and several retail stores in the northeast …
Specializing in home decor and tableware, Simon Pearce is also well known for hteir holiday items, like the beautiful Vermont evergreen shown …
The tree, which comes in several sizes, has a distinctive crackle finish which mimics snow crystals on a real tree. This is done using a technique of applying hot water to the glass sculpting after it is formed into shape …
A glass blown item from Simon Pearce will surely be appreciated … many are passed from generation to generation!
Green's Sugar House: Located in Poultney, VT Green's Sugar House is a great local source for Vermont maple syrup and other Vermont products like jam, pancake mix, and honey …
You can also buy maple candies and maple cream, both made with local maple syrup … and granulated maple sugar, which is just like brown sugar but richer tasting and dare we say much better!
Check their site for their various gift box sets, which make giving a Vermont themed gift a snap!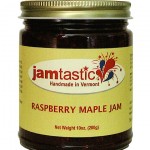 Jamtastic Jams: Jamtastic Jams owner Ross Warren of Rupert, VT creates hand made jams using local ingredients which he calls "Jamtastic" … and they sure do look good!
The jams are available in several flavors, including some infused with Vermont maple syrup like the jar of raspberry shown. Some of the other flavors include blueberry, strawberry, bourbon peach, and jalapeno strawberry …
Learn more at the Jamtastic Etsy shop at Jamtastic Jams and enjoy a real taste of The Green Mountain State!
Vermont Sweetwater Beverages: Located in Poultney, Vermont Sweetwater Beverages is a family owned business producing flavored all natural sodas for over 20 years …
Eight unique flavors are available … maple, maple seltzer, Kickin' Cow cola, mango, tangerine cream, apple jack, root beer, and raspberry rhubarb …
You can order Vermont Sweetwater products online. They'll ship right to your door, or to a gift recipient …
Vermont Morning Multi Grain Oatmeal: If you tend to avoid oatmeal because it sometimes tastes like wallpaper paste, try Vermont Morning Multi Grain Oatmeal …
It's a wheat free blend that's made with organic whole grains, oats, rye, and a touch of cinnamon for flavor … unlike any oatmeal you may have tried and not liked!
Vermont Morning Multi Grain oatmeal is available online right here, and be sure to browse the site for other interesting Vermont food products …
Battenkill Brittle: This small company based in Arlington, VT makes a line of high energy natural snacks that are perfect for anyone on the go …
It's made in bars and loose in a bag for spooning over yogurt, oatmeal, or ice cream. Ingredients are all natural and include sunflower, sesame, and pumpkin seeds as well as Vermont maple syrup …
Learn more about this healthy snack and order some for yourself at BattenKill Brittle …
Distler's Pretzels: Distler's of Williston, VT puts a new spin on pretzels … they make bite sized spicy sour dough pretzels which are seasoned with spices to give them a kick!
Flavors include maple flavored, ranch, spicy, extra spicy, and fiery …
Distler's pretzels can be ordered online and shipped across the U.S. – see more at Distlers.com …
Vermont Pickle: Vermont Pickle is one of hundreds of small specialty food producers that help make America great. We love spotlighting small companies like this where every product is packed by hand with individual attention from the owner who truly cares what goes into every jar …
The company cans several different products … pickles of course, pickled garlic, beets, dill beans, and being in Vermont, bread and butter slices with a dash of maple syrup …
You can order online at VermontPickle.com … gift packs are available!
Big Lenny's: Being from Chicago, we have an affinity for local hot dog joints, and you'll find one in Rutland, VT called Big Lenny's, which has operated as a roadside stand since 1988 …
In addition to his hot dogs and sausages, Big Lenny is known for some of his unique condiments, like sweet red onion sauce, maple mustard, and apple cider mustard. They've proven to be so popular that Lenny started selling them online, where you can get them now … just visit Big Lenny's online …
Gormly's Vermont Specialty Foods: If you're looking for one stop Vermont gift shopping, try Gormly's of South Burlington, who specializes in various Vermont made food products.
They carry grilling sauces, glazes, mustard, marinades, and mixes from the Vermont Farm Girl line. Our favorite product from Gormly's is their Maple Rum Glaze, which is great on ham and cheese sandwiches!
Another good one is the Roasted Garlic Country Mustard, made with Vermont grown garlic. Yup, it's also good on ham and cheese sandwiches!
We've Got More Great Vermont Made Products To Come! Tell Us About Your Favorite Made In Vermont Products…