Made In Virginia Quick Facts
This Post is about Made in Virginia Gifts and Specialty Virginia Products
Want To See Your Business / Products On Our Made In Virginia Page?
Visit "Advertise With Us"!
FEATURED MADE IN

VIRGINIA

BUSINESS

ES
Spicers Mill: This small spice company located in Oak Park, VA harkens back to traditional packaging methods from a century ago … they use environmentally friendly glass to package their line of spices instead of plastic …
But it's not just the packaging that's user friendly … it's also the Spicers Mill spices themselves. At their online store, or for local pick up, Spicers offers a full line of blends, baking ingredients, and traditional spices in handsome packaging (perfect for gifts) …
Take a look at their Barbecue Seasoning (pictured) or Crab Boil spice for a traditional Old Dominion cookout. If you like specialty spice blends, there's Seafood Seasoning, Lemon Pepper, and Seasoned Salt among others. Know a creative baker? Give them the gift of any one of a number of Spicers Mill products, including Red, White, and Blue Sprinkles or colorful sanding sugars …
Click through to the Spicers Mill website to see their entire selection and to place your order …

Birchmere Hot Licks Hot Sauce: If you're a music fan of any genre, you've probably heard of the legendary Birchmere Music Hall in Alexandria. For over 50 years, this renowned venue has hosted some of the greatest names in the music industry, from rock to jazz to country and much more …
It's only appropriate there's a Virginia made hot sauce named after this world class venue … it's known as Birchmere Hot Licks Hot Sauce. Best described as a pepper sauce, it's the perfect complement for oysters, crab, soups, stews, and anything else that needs a little kick …
It's distributed by the Ashman Company of Virginia Beach, whose website is linked above. It's a great gift for any fan of music, hot sauce, or Old Dominion!
Sweet N Sassy BBQ: Virginia is an underrated barbecue state … it doesn't get the national press of some of the more famous BQ meccas across the country but if you travel the state, you'll find scores of great barbecue restaurants and small businesses creating some terrific flavorful sauces and rubs …
One of the those companies is Sweet N Sassy BBQ Company. They're located in Fredericksburg and produce a line of BBQ Sauces and rubs, all of which are available locally and also at their website.
The sauce we enjoyed most was their Sweet Peach, made with a combination of carmelized peaches and onions. It's sweet and tangy and pairs amazingly well with any type of chicken dish … try it brushed on grilled salmon too!
Visit their website and click on the "Store" tab, where you'll see all their products and how to purchase online …
The good "Q" keeps on comin' from Old Dominion!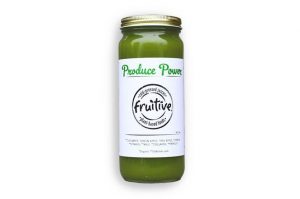 Fruitive: Fruitive is a Virginia Beach based restaurant / juice manufacturer who also boast a popular location in Wasington, D.C. Theri juices are plant based, with only legumes, nuts, fruits, vegetable, grains, seeds, herbs, and spices in their products …
Fruitive is passionate about sustainability and all their ingredients come from organic local farmers. Under the "shop" tab at their website, you'll see a fantastic array of juice fasts and juices, many you've likely not seen before …
On the juice side of things, Fruitive offers over a dozen varieties, plus milks and lattes. Each juice contains about two pounds of produce, or the equivalent of 3 large salads. Pictured is "Produce Power", which offers a combination of cucumbers, apples, lemon, kale, spinach, collards, and parsley …
Click through to see all this innovative Virginia business is coming up with, and visit them if you're in Virginia Beach or D.C.!
North Cove Mushrooms: We love talking about unique and creative American small businesses, and this Virginia operation certainly qualifies. They're North Cove Mushrooms, based out of Madison County about an hour from Charlottesville and two hours from Washington, D.C. …
As the name states, the company's business is mushrooms and related products. Their business philosophy is based on environmental sustainability and the health benefits of mushrooms. Their crop is grown and tended to via natural methods and no harmful chemicals are used.
Shitakes, oyster, and lion's mane mushrooms are grown in greenhouses to ensure year around freshness – North Cove is a consistent presence at area farmers markets and they're well known by local restaurants and food businesses …
In addition to their on site activities, the business offers an Etsy shop where a unique array of products are available for shipping. Click the "Shop – Etsy" menu item on their website to see all that's offered – personally, we're intrigued by the mushroom seasoning salt (pictured).
Interesting products from Virginia!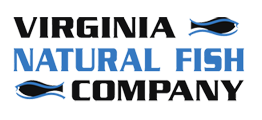 Virginia Natural Fish Company: This co-op of sorts combines the efforts of several aqua pond farmers in southern Virginia who raise various species of fish, including shrimp. The obvious advantages are the lack of pollutants and more closely monitored environment for the fish, resulting in better flavor for consumers …
Because the supply is relatively consistent, their farm raised fish is offered for online ordering direct from the Virginia Natural Fish Company website. Choose from prawns, tilapia, catfish, rainbow trout, sea bass, and striped bass …
Good eating from Old Dominion!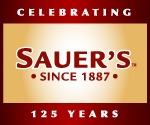 C.F. Sauer Company: We're a little embarassed to admit that until recently, we'd never heard of the C.F. Sauer Company out of Richmond, Virginia. They've been around since 1887 and are well known in the east for making, spices, flavorings, cooking oils, and a comprehensive line of pantry essentials …
We discovered the company by buying a bottle of their barbecue sauce, which we enjoyed very much. It's a tangy southern style sauce that's equally adept as a marinade as it is on your pulled pork sandwich. Sauer's Barbecue Sauce has a peppery kick, which along with the tomato and vinegar base, make it ideal on a barbecue pork sandwich with some nice creamy coleslaw atop … Southern style!
At the company's website, you'll get an idea of the depth of their product line. They're all available to be shipped right to your doorstep, along with some of their combination and gift packs …
Click through and learn about C.F. Sauer's – don't be a stranger to them like we were!
Red Truck Bakery: We've noticed more and more popular local bakeries broadening their product distribution by shipping some of their revered specialties across the country. Such is the case with Virginia's Red Truck Bakery, located in the northern part of the state near the Shenandoah Valley. The bakery creates a spectacular line of specialty cakes, pies, muffins, and sweets, many of which are available from their online store …
One of their most famous cakes is the one pictured … it's an apple cake with maple frosting using fresh apples from the Shenandoah Valley. Red Truck also bakes moonshine cakes, fruit cakes, stollen, and other delights using fresh in season ingredients …
Any of their cakes make a wonderful gift from Old Dominion! Visit them in person in historic Marshall, about an hour or so west of our nation's capital …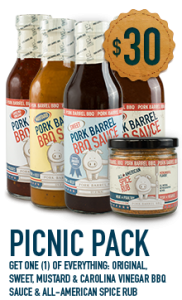 Pork Barrel Barbecue: Alexandria is one of our favorite Virginia cities – it's almost always where we stay when visiting our nation's capital. And although Alexandria is just a stone's throw from the District of Columbia, it has a feel and personality all its own, from the city's unique history to their waterfront and great restaurants.
One of our favorite places to eat in Alexandria is Pork Barrel BBQ on Mt. Vernon Avenue. Here you'll find all you need to satisfy a barbecue craving, from pulled pork to smoked turkey to sliced brisket and more. We particularly like their pulled pork nachos, pulled chicken sandwiches, and their wings – fantastic!
Part of what makes Pork Barrel's food so great is their own sauces and rubs. They make all the varieties you like – Original Sweet, Carolina Vinegar, and Mustard BBQ Sauce. They're available at their online store in combination packs and case lots. The Picnic Pack makes a wonderful gift!
While you're there, for something really unusual, take a look at their Que'Adore Cologne. It's the first ever barbecue scented cologne (really!) – truly the gift for the man who has (almost) everything!
Royal Oak Peanuts: We have a neighbor who travels a lot to Virginia on business, so we're happy to water his garden while he's away because he always bring us back something delicious …
Recently, he brought back a tin of Virginia Crabbers (shown), made by Royal Oak Peanuts. The company is located in the small community of Drewryville, which is located in the far southeast portion of the state. They harvest and package true Virginia peanuts … the big plump ones with the distinctive crunch you just can't get anywhere else …
The Virginia Crabbers are peanuts dusted in a Chesapeake Bay style seasoning and wow are they good as a happy hour snack – we'd water a garden all day long for more of these!
Royal Oak Peanuts is a family owned and operated business that has farmed peanuts since the late 1800's. They're cooked in 100% peanut oil – no additives or preservatives – and they're not cooked until you place your order. Fresh as fresh can be!
In addition to the Crabbers, Royal Oak offers all sorts of peanut varieties and gifts at their online store, linked above. Try some of their peanut brittle or peanut squares too!
A wonderful Grown and Made in Virginia gift idea …

Gypsy Hill Foods: This Vienna, VA small business creates some very handy and tasty spice and dip mixes just perfect for entertaining or every day use. Everything is hand blended without the use of preservatives, MSG, or salt. Just great taste and good for you!
Gypsy Hill produces a really diverse line of products … there's something for everyone here. From rubs to salsa to seasoning blends and single serve soups, you're guaranteed to find the perfect accompaniment for your culinary creations. Check out their full line of fruit dips – varieties like Black Raspberry, Watermelon Delight, Tangerine Splash, and Chocolate Covered Cherries are ideal to spread on a breakfast bagel or to pair with fresh fruit for an afternoon snack or dessert.
They also create a special line of rubs and seasonings for diabetics and as many herbs as possible are sourced from local Virginia farms. A great idea for Old Dominion themed gift baskets or to keep on hand for unexpected company! Click through to the Gypsy Hill Foods website to see their entire selection and to order online …
Virginia Rock Shop: The state of Virginia hasn't designated an official state gemstone, but that' doesn't mean rock hounds won't find semi precious stones in Old Dominion. One shop we're pleased to feature where you'll find a lot of them in one place is the Virginia Rock Shop. Their showroom is located at the Rockfish Valley Community Center on Route 635 West between Afton and Nellysford.
If you're not in the area, you can check out the selection online and purchase some one of a kind pieces of jewelry featuring stones found in the state. There's no better gift for someone who loves Old Dominion than an actual piece of the earth! Stones like Virginia Unakite and Purple Agate are crafted into pendants, earrings, bracelets, and more. The picture depicts a beautiful unakite stone found from the Rose River in Madison County that has been crafted in a wearable accessory any Virginia lady will love …
The VA Rock Shop also offers cut & polished stones, mineral specimens, shells, and just about any variety of jewelry you can imagine. Click through to their site to see the selection … prices are suprisingly affordable!
Good Earth Peanut Company: When you think of Virginia, you think of peanuts, long one of the agricultural staples of the state. Old Dominion peanuts are known as being some of the world's best – plump, full of flavor, and grown with pride …
Since 1989, the Good Earth Peanut Company has been supplying peanuts to customers near and far. They're located in Skippers, a southern Virginia town just off Interstate 95 and Route 301 a few miles north of the North Carolina border. A family owned and operated company, Good Earth offers just about any type of peanut gift imaginable, from tins, gift assortments, bagged peanuts, and more …
Check out their website to see the full selection of products. It's one stop shopping for things uniquely Virginia! There's nothing better than perfectly roasted peanuts in the shell, whether salted, Cajun style, or unsalted. Brittle, chocolate covered, and honey roasted are three more varieties waiting for you there …
If you're looking for a local gift from the southern part of the state, you'll be hard pressed to do any better than a selection from the Good Earth Peaqnut Company. Click through to place your order – they'll deliver right to your door step!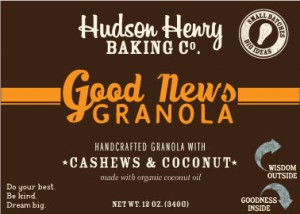 Hudson Henry Baking Company: Based on a small farm near Charlottesville, Hope Lawrence and her family operate a small batch bakery from their commercial kitchen. Hope's specialty is known as Good News Granola and it's available in five different varieties that'll please anyone seeking a healthy, satisfying breakfast or snack …
Founded in 2012, the company has already generated thumbs up recommendations from various media outlets like Virginia Living and Edible Blue Ridge magazines, as well as The Today Show. Described as "addictively delicious", flavors include Maple & Walnut, Cashews & Coconut, and Pecans & Chocolate. If you're a pistachio fan, try Hudson Henry's Pistachio, Almond, & Coconut blend and there's also a Maple, Pecans, & Coconut variety available.
You can find these granolas in a growing number of Virginia, Maryland, and D.C. stores (there's a list on their website), or place your order online. Trio combination packs are available, as well as their "Something For Everyone" package which includes a bag of all five flavors!
Click through to their site to learn more and get your granola on!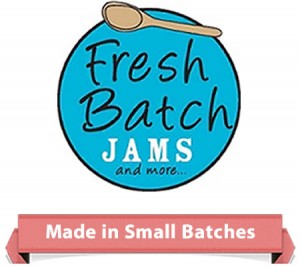 Fresh Batch Jams: This small Chesapeake, VA business is known for their creative flavors of jam, all made in small batches with pure cane sugar. We discovered them at an area farmers market while visiting Old Dominion, which is a great way to find out about and experience fantastic local products …
Some of the unique flavors of jam they make include Raspberry Zinfandel, Blueberry Lime, and an interesting combination called Triple Berry Jam. It's made with blackberries, raspberries, and blueberries for a real burst of fruit flavor!
Fresh Batch Jams also offers gift sets and other specialty products like Honey Apple Butter, Pomegranate Jelly, and Hot Pepper Jelly. Click through to their website to see the entire product line and order for your family!
Fresh fruit taste from Old Dominion!

The Virginia Chutney Company: Most people have heard of chutney, but ask them exactly what chutney is and you may get a quizzical look in return. Chutney is a jam, a savory jam to be more precise. Depending where you are in the world, chutney contains any number of ingredients. Traditional Indian chutney, for example, might contain mint, tamarind, mango, and cilantro and served as a relish …
In Flint Hill, VA chutney is made more in the Old Dominion style … peach, apple, and other plentiful fruits and often served with ham or roast pork. These are just some of the styles made by the very creative family owned Virginia Chutney Company.
A combination best described as both sweet and savory, the company's products are designed to versatile, more than appropriate as a breakfast spread or part of a beautiful appetizer tray. Spicy Plum, Mango, Sweet Peach, and Balsamic Fig are just a handful of all the flavors available directly at their website.
And if you're looking for a sweet & savory gift, combination 3 Packs are available as well. These chutneys are sure to be appreciated and enjoyed by anyone on your list – direct from Virginia!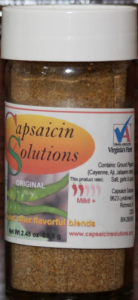 Capsaicin Solutions: The word "capsaicin" refers to the active component in chili peppers providing the heat or hotness if you prefer. It's also sometimes used in a medical / wellness context because capsaicin is known to help remedy certain health conditions, particularly muscle, nerve, and joint pain.
The Virginia based company we're spotlighting, Capsaicin Solutions, creates a series of pepper powders and spice mixes from locally grown peppers. Their signature product, introduced over 15 years ago, is Patrick's Pepper Powder, a slightly warm on the palate spice mix designed to season foods before, during, and after cooking. We'd best describe the heat level as medium, and there are mild and hot versions available as well …
Each of their Pepper Powders and spice mixes are rated on a heat scale of 1 to 5. As you might expect, 1 is mild and 5 is hot; they have a few "extra hot" mixes that drift into category 7 and 8, with the warning they're not for the faint of heart!
Chile powder, Cajun seasoning, snack mix and chili seasoning mix are just a few of their other products. If you know someone who likes to cook, or even yourself, Patrick's Pepper Powder is an excellent made in Old Dominion gift! Click through to their website to see the entire product line and to order …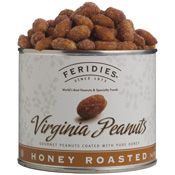 Feridies: If you've ever been near Courtland, VA you probably already know about a really cool gift shop called The Peanut Patch which offers delectable Virginia peanuts for sale. The Peanut Patch has been around for decades and is a familiar stop for those traveling north and south near Virginia's eastern seaboard.
The Peanut Patch is owned and operated by the company who produces the peanuts, Feridies, whose name is a combination of the three owning family's last names. Feridies is a Virginia peanut specialist, and their peanuts and related products are some of the best peanut products in the world …
Virginia peanuts are one of a kind. We've been fortunate enough to enjoy them on many occasions, and we're always struck by how plump and crunchy they are. We love them straight out of the bag or mixed in some of Feridies candy creations. The company is known for their honey roasted peanuts, peanut brittle, snacks & trail mixes, and more.
If you're looking for an authentic gift from Old Dominion, check out the Feridies website. They offer numerous gift packages, combination packs, and just about every type of Virginia peanut confection you can imagine! Click through to learn more about the company and to order …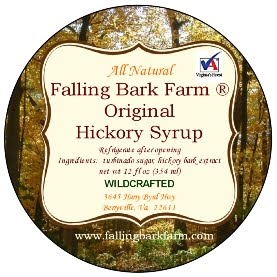 Falling Bark Farm Hickory Syrup: Located in Berryville in the northern Shenandoah Valley, Falling Bark Farm specializes in traditional and flavored hickory syrup. Unlike maple syrup, hickory syrup is made from the bark of trees as opposed to tapping the tree for sap. Typically, the bark of shagbark hickory trees is used, as this tree sheds its bark naturally at the seven year mark …
The bark is gathered from the forest and then cleaned and lightly toasted, Then, the syrup is extracted from the bark, filtered, and aged. A cane sugar called turbinado is introduced to create an exquisite flavor unlike any syrup you've tried!
Falling Bark Farm produces vanilla and brandy & vanilla hickory syrups as well as their original variety. Use them just as you would any syrup – on breakfast dishes, baked goods, or mixed into a grilling sauce. It's excellent when added to baked sweet potatoes. And did you know hickory syrup is known to help alleviate the effects of inflammation and arthritis? Native Americans were known for centuries to use it as a natural remedy …
You can order any of these syrups directly from the Falling Bark Farm website. A distinctly Virginia gift!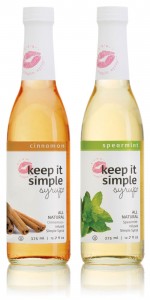 Keep It Simple Syrup: If you're a fan of enjoying the occasional mojito, mint julep, and other specialty drinks featuring mint, you'll be pleased to know about Keep It Simple Syrup. A convenient adaptation of traditional simple syrup, Keep It Simple Syrup was developed by Susan Martinson of Richmond. Searching for an alternative to typical bar syrups containing loads of artificial ingredients, Susan developed a recipe using pure cane sugar, filtered water, citrus acid, and natural spearmint extract taken directly from spearmint leaves …
The net result is a syrup you can use to make drinks requiring mint if you don't have fresh mint on hand or don't want to be bothered with the process of muddling mint. These syrups are highly concentrated (it actually contains more cane sugar than water), so just a tiny bit suffices. Susan has now added a new product to her line – Cinnamon Keep It Simple Syrup. If you're a fan of cinnamon flavored cocktails, it's an ideal alternative made with healthy ingredients!
These shelf stable products can be used in non alcoholic drinks as well – they're perfect for flavoring water or tea and great in baked recipes requiring a bit of sweetness! The company is proud to bear the "Virginia's Finest" trademark …
Check the recipes tab on the Keep It Simple Syrup website to get more in depth suggestions on how to use it. You can also order directly online – they'll ship right to your door. A nice gift for your favorite mixologist, direct from Old Dominion!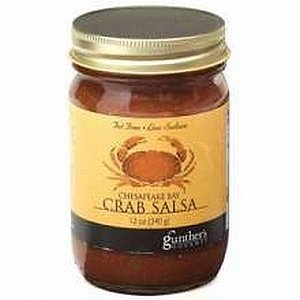 Gunther's Gourmet: This innovative Richmond based company is making quite a name for themselves with their line of all natural vinaigrettes, marinades, dips, and salsas. Founded by two food loving siblings, Nick and Mike Lampros, their products have been awarded numerous accolades by such prestigious culinary events as the Fiery Food Challenge and The Scovie Awards …
Using all natural ingredients and multi faceted flavor profiles, Gunther's Gourmet marinades and vinaigrettes can be utilized equally well as salad dressings or traditional marinades. Their Orange Balsamic variety is ideal for adding depth of flavor to any cut of pork, poultry, or fish, while the Lemon Oregano Marinade can be enhanced with capers to create a convenient, flavorful Picatta sauce.
If you're a fan of hot & sweet fruit salsas as we are, check out the Gunther's Gourmet salsa page. At present, eleven gourmet salsas are available, and they're noted with a heat scale if you're unsure of how much heat each offers. Choose from creative flavors like Spicy Ginger Pineapple or Fiery Peri-Peri Dark Cherry. For an Old Dominion specialty gift, there's Gunther's most popular item, the Chesapeake Bay Crab Salsa, pictured. It's made with a blend of herbs, spices, and Blue Crab claw meat!
You can order any of the Gunther's line directly at their website. Gift packages are available, like a Salsa Sampler, Marinade Try Pack, and a clever Salsa Suitcase which contains all eleven of the salsas and a jar of Gunther's newest creation, Spicy Black Bean Dip with Lime. A portion of the proceeds from every sale is donated to the Richmond SPCA, a no kill animal adoption agency that has saved the lives of over 36,000 companion animals …
Learn more and see all their products by visiting the Gunther's Gourmet website, linked above …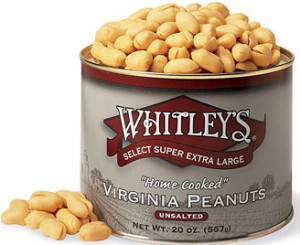 Whitley's Peanut Factory: With locations in Gloucester County and Williamsburg, Whitley's Peanut Factory is a great place to stop for Virginia peanuts while touring the state's historic sites. The plump, crunchy peanuts grown in Old Dominion are one of the state's most recognizable specialties and always make a wonderful thank you or special occasion gift for anyone on your list …
Whitley's uses extra large Virginia peanuts and hand cooks them to ensure they're slowly roasted to crunchy perfection. They're a 25+ year tradition both locally and nationally – they ship gift tins or peanuts, peanut candy, and other nuts and confections all over the country …
For a gift that keeps on giving, check out Whitley's peanut clubs. Roasted and salted, unsalted, or assortments can be shipped to your chosen recipient monthly throughout the year. What better way to tell someone they are appreciated than a tasty gift of Virginia peanuts? We would love to be appreciated in this way!
Peanut candies, boiled peanuts, gluten free products, peanut butter, and nut mixes are just a few of their other products. To learn more and to buy, visit them at Whitley's Peanuts …
Pierce's Pitt Bar-B-Que: Wherever we travel, we're always on the lookout for local cuisine. A little research ahead of time, or chatting up a few locals, always turns up a great meal at a beloved local restaurant. And the more casual it is, generally the better we like it …
In Williamsburg, one of our long standing favorites is Pierce's Pitt Bar-B-Que, which has been turning out mouthwatering smoked bbq specialties for decades. Pulled chicken, pulled pork, and pork shanks are the specialties, but they also turn out a pretty mean burger too! It's as casual as can be, off the tourist track, and it's where you'll find the locals.
We never leave without ordering both their pulled chicken and pulled pork sandwiches. They're not fancy but wow are they good! And so is the barbecue sauce – it comes in two varieties, Original and Honey.
You can have their bbq meats delivered in four pound increments by calling the restaurant, but you can buy both of Pierce's BBQ Sauces at their online store. For a fine Old Dominion gift, pick up the Triple Play Gift Set, shown. It contains one each of the two sauce varieties as well as a bottle of Pierce's Hot Sauce.
When in Williamsburg, stop by! It's a local institution … you'll love it!
Willie Byrd Dark Chocolate Sauces: You've probably heard that dark chocolate is good for your health. A bit of dark chocolate every day is known to improve cognitive abilities and promote healthy blood flow … and the added advantage is the delicious rich flavor. Very seldom does something so good for you taste so good!
For a unique dark chocolate experience, acquaint yourself with a small family run company from Richmond called Willie Byrd Dark Chocolate Sauce. They make three styles of sauce based on a family recipe developed by their grandfather, William Byrd Rawlings. Of course, Willie Byrd's sauces can be spooned over ice cream, but you can also enjoy them with baked goods, breakfast items, hot chocolate, and more!
Willie Byrd's three flavors are their original dark chocolate, espresso, and sea salt caramel. You'll find them in specialty stores in Virginia and surrounding states (there's a list on their website), or better still, order a three pack directly from their website.
It's a great gift for the holidays or any time of year – especially summer if you enjoy a bit of dark chocolate flavor with your ice cream!
Belmont Peanuts: One of the state's best known producers of peanuts and related peanut specialties, Belmont Peanuts is located in the small town of Capron in far southeastern Virginia. Known for their plump, flavorful Virginia grown peanuts, the company is also known for cashews and their unique nut-of-the-month club known as The Belmont Plan …
The Belmont Plan is one of the very best Made in Virginia gifts we've seen. Each month, your designee receives a 22 ounce tin of a Belmont Peanuts specialty along with your gift message. Varieties they'll receive include Old Fashioned Peanut Brittle, Chesapeake Bay Spiced Peanuts, Honey Roasted Peanuts, Peanut Squares, and more. It'd be hard to find a more authentic taste of The Old Dominion!
The company also offers a tasty and affordable package called the Holiday Trio. This gift pack includes 10 ounce tins of Virginia Salted Peanuts, Butter Toasted Peanuts, and Chocolate Covered Peanuts.
Visit their site to see all your options and to place your order …
Decadence Gourmet Cheesecakes: We're very pleased to introduce you to a company named Decadence Gourmet Cheesecakes, formed in Colorado and now also operating in the Richmond area …
They're the originators of a deliciously original concept called "Cheesecakes in a Jar". Founder and owner Lee Mathis developed a method to bake his 20+ flavors of cheesecakes in single serving jars!
As you can see from the photo, a single serve portion of cheesecake is added into a small jar, then packed in a gift crate, shrink wrapped, and shipped directly to your door. A wonderful gift idea for birthdays, corporate occasions, or just for the foodie on your list!
Flavors include favorites like Tiramisu, Strawberry New York, Key Lime, German Chocolate, and over a dozen others. They're available for ordering in handsome gift packs of six or cases of 24. One of the cooler concepts we've seen! Learn more at the Decadence Gourmet Cheesecakes website. Made in Old Dominion!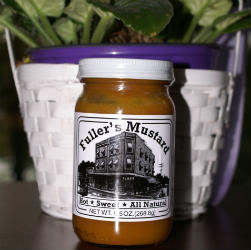 Fuller's Mustard: Fuller's Mustard isn't often seen outside of Virginia, but it is revered within the Old Dominion. This unique sweet and slightly hot mustard has been opening nasal passages with its distinct flavor for well over 100 years …
The mustard was once served at a restaurant owned and operated by the Fuller family of Phoebus, VA. What was formerly Phoebus is now an historic district of the same name within the city of Hampton, on Virginia's eastern peninsula. The restaurant suffered a fire in the late 1980's and never reopened, but the mustard lives on, made by a Virginia company …
You can buy iconic Fuller's Mustard here in 9.5 ounce jars and have it shipped to you or anywhere as a gift. A Virginia eastern shore tradition!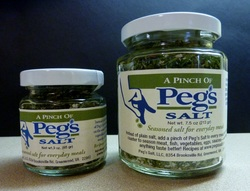 Peg's Salt: Made in Greenwood, VA Peg's Salt is based on a more than 40 year old family recipe. It's a unique seasoning blend that's made with kosher salt and almost 30 other spice ingredients and has been described as "a spice cabinet in a jar" …
We'd best describe Peg's Salt as an all purpose seasoning. Use it in place of regular salt, or any other spice for that matter. On fresh fish, Peg's Salt and a bit of lemon is all you'll need!
There are dozens of recipes on the Peg's Salt website, ranging from cole slaw to beef brisket to roasted potatoes. You can buy this wonderful seasoning mix in three or seven ounce jars, and private labeling opportunities are also available. A thoughtful and economical gift from The Old Dominion!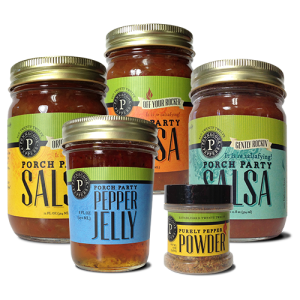 Pennacook Peppers: This small Virginia Beach family owned and operated company is making quite the name for themselves with a line of salsas and pepper jelly, but it's their original product called Purely Pepper Powder that got the ball rolling …
Purely Pepper Powder is a handy spice mix that's extremely versatile. You can use it instead of standard pepper, but it's also a great addition to dishes like mac & cheese, stews, pasta, and even pizza. A spice blend with a slightly peppery kick, it's a key ingredient in all the company's products …
The salsa, which comes in three levels of heat, is part of a line of products called Porch Party. The names of the salsa describe the progressive heat level – Gently Rockin', Original Rockin', and Off Your Rocker. In addition, the company makes a Pepper Jelly. All of the products are available online, and for a great gift idea, go for the "Pennacook Everything Pack", shown in the picture.
Cool products from the Virginia shore! Click through to Pennacook Peppers to learn more and to order …
Van Cleve Seafood Company: You may have seen this Virginia company's signature product on Lifetime and QVC – it's a distinctive treat known as a crab pie …
So what is a crab pie? Well, it's not a crab cake, it's not a quiche, and it's not a pot pie. It's an actual pie shaped creation made with real Chesapeake Bay blue crab meat. You cut it into slices just like a dessert pie and serve it as a decadent appetizer of tantalizing main course …
The original recipe comes from the Stratford Hall Plantation, where General Robert E. Lee's family lived for many years. It is said that crab pie was one of the family's favorite dishes, and this fine Old Dominion tradition continues to this day!
Certified as a Virginia's Finest Product, you can buy frozen crab pies at selected locations along the eastern seaboard, or order online. You'll find a link to purchase online at CrabPie.com along with a list of locations to buy in person. Taste a Virginia tradition!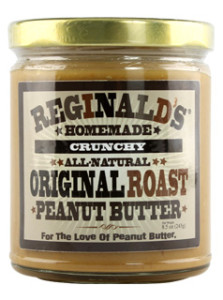 Reginald's Homemade: If you've ever spent time in Virginia, chances are you've tasted one of the state's flagship crops, peanuts. Of course, Virginia isn't the only state producing peanuts, but Virginians will tell you there's nothing quite like a plump, roasted Virginia peanut …
Virginia is proud of their peanuts, and rightfully so. They've found their way into some wonderfully appealing products, one of which is the natural peanut butter from Reginald's Homemade, a small company featuring some big peanut taste …
Based in Rockville, Reginald's Homemade makes traditional peanut butter varieties (like the crunchy shown) along with cashew and macadamia butters and several specialty flavors. Some of these flavors include apple peanut butter, double chocolate chunk, hazelnut amaretto, and bourbon pecan …
The original crunchy and creamy varieties contain roasted unsalted Virginia peanuts and a dash of peanut oil … no filler, preservatives, or extra ingredients to interfere with the great Old Dominion peanut taste …
Looking for a real taste of Virginia? Click through to the Reginald's Homemade online store and order a few jars for yourself! Sample packs and themed samplers are available as well …
Gearhart's Fine Chocolates: Gearhart's is a fine chocolatier located on Main Street in the heart of beautiful and historic downtown Charlottesville. They're a popular stop when walking about the downtown area and are well known for their artisan yet approachable chocolate creations …
One of their most famous specialties are called Peanut Butter Pups (shown). Made to look like a puppy face, they're created with milk chocolate surrounding Virginia peanut butter. The ears are toasted almonds and the pups are cute … and delicious!
Gearhart's Chocolates donates a portion of the proceeds from every sale of Peanut Butter Pups to the Companions for Heroes organization. Companions for Heroes matches companion animals up for adoption with America's wounded veterans. A wonderful cause!
You can order Pups and any of Gearhart's chocolate creations directly at their website …
Mamacita's All Purpose Condiment: We love a good hot sauce with a depth of flavor, particularly one where you can taste the peppers, use it on a variety of foods, and not be overwhelmed by the heat …
If that makes us a little "hot sauce intolerant", well, so be it. A really good hot sauce should add a bit of zip and spicy flavor to your food, not obliterate it with hotness. And that's what Mamacita's Hot Sauce of Richmond, VA does best.
The product is made with fresh jalapenos, which provide the heat. But it's got a thicker consistency from other added peppers, which you can see in the photo. It's thick enough to basically use as a salsa, and all the different peppers and spices give it a more complex, rich taste that outpaces other hot sauces – just wait until you taste it!
Mamacita's is as much an all purpose condiment as it is a hot sauce. We enjoyed it mixed into a tilapia, rice, and carrots dish for dinner. The next day at lunch, we added it to tacos and it livened them right up …
Mamacita's first made its name from farmers markets in the Richmond area. It has now expanded to some retail outlets and you can order bottles on their website. Some of your best local food finds will come from farmers markets, and Mamacita's is no exception. Order some today and see what we mean!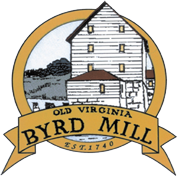 Byrd Mill: Located in Ashland, VA along the South Anna River, the Byrd Mill is a family run operation. The Attkisson family purchased the business in 1954 and have been involved in day to day operations ever since …
Grain has been ground at this site since 1740 and today, Byrd Mill produces baking mixes, cornmeal, specialty peanut flour, grits, and other specialty foods. The peanut flour is used for making peanut butter spreads, Asian style sauces, icings, and pancakes …
Byrd Mill makes baking mixes for waffles, biscuits, bread, butter pecan cookies, and more. Gift boxes like the Grist Mill Sampler include mixes for cornbread, biscuits, grits, and home made bread …
A great gift from the heart of Virginia! See all they have to offer and learn more about their history at the Byrd Mill website …
Rodgers Banana Pudding Sauce: This family owned small company in Chesapeake, VA goes to show that if when you do just one thing really really well, you can start a successful business …
Reggie Rodgers was a young boy in Mississippi who loved his mother's banana pudding recipe. As a young man in the U.S. Navy, Reggie began making banana pudding using the same recipe, and it was a big hit. Fast forward several years, and Reggie and his daughters are proud owners of a small company specializing in a versatile banana pudding product packed in a jar and being used in a variety of different recipes …
The pudding is used as traditional banana pudding of course, but it's also a key ingredient in pancakes, milkshakes, marble cake, cream tarts, and even martinis!
Look for recipe ideas and order a few jars for yourself or as a gift at the Rodgers Banana Pudding website …
History of Virginia
Virginia Trivia and Fun Facts

1). Eight United States Presidents were born in Virginia, more than any other state. They are George Washington, Thomas Jefferson, James Madison, James Monroe, William Henry Harrison, John Tyler, Zachary Taylor, and Woodrow Wilson …

2). Even though Virginia is sometimes known as "the birthplace of a nation", Virginia was not the first state admitted to the Union – it was the 10th.

3). Well over half of the battles of the Civil War were fought on Virginia soil …

4). Richmond, the capital of Virginia, was also the capital of the Confederacy …

5). Located in Arlington, The Pentagon is the largest office building in the world …

6). The most populous city in Virginia is Virginia Beach …

7). Tobacco and peanuts are two of Virginia's best known cash crops …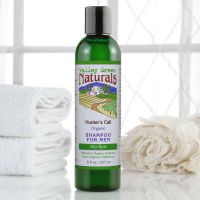 Valley Green Naturals: Located in Amissville in Virginia's Piedmont Region, Valley Green Naturals creates soothing, gentle, natural products for your entire body …
On the Valley Green Naturals site, you'll find products for both women and men encompassing hair care to foot care. One particular product I've used is pictured, the organic Hunter's Choice Shampoo, made with moisturizing aloe vera that smells great and provides a rich lather. Another is their honey and glycerin soap … long lasting and leaves your skin soft and smelling great!
You'll find Valley Green Natural products at specialty retailers nationwide … there's a store locater on their site. Or, go ahead and order direct … their products make great gifts!
Morphed Products: This small Virginia Beach business does something we find very admirable … they create practical and fashionable items from upcycled wine, beer, and liquor bottles!
The earrings shown in the picture were created from a discarded Sapphire Gin bottle. Glassware, jewelry, trays, a tiki torches are just a few of the unique items found at the Morphed Products Facebook page. There you'll find an excellent representation of their eco friendly products …
The Facebook page also lists local events where Morphed Products appear to showcase their wares, so if you're in the area, stop by to see them!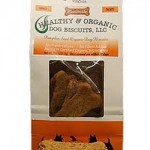 Healthy and Organic Dog Biscuits: If you prefer organic food, what about your dog? This one woman Virginia operation run by Lee Shonyo was developed to create healthy dog treats for her daughter's dog …
Lee uses organic ingredients only, such as organic unbleached white flour, organic beef broth, organic peanut butter, and organic rice flour. Treats are available for small, medium, and large dogs in two flavors … beef and peanut butter and organic pumpkin seed.
Order some of these healthy dog treats online at their website and be sure to check out the videos showing all the cool dogs enjoying the organic lifestyle!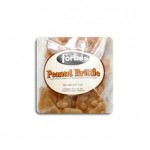 Forbes Candies Peanut Brittle: Forbes Candies, Inc. is a long standing Virginia Beach candy maker specializing in saltwater taffy, fudge, and their famous Virginia peanut brittle.
They've been around since 1930, but peanut brittle has been around longer … it is said Civil War soldiers survived on peanut brittle they were able to make themselves. Forbes carries on the tradition with peanut, mixed nut, and cashew brittle you can order from their Forbes Candies website … a great gift from the Old Dominion!
Smithfield Hams: There's nothing quite like the rich taste of a Virginia ham … dry cured and aged for up to a year, these bone in hams are among the finest in the world.
Based in historic Smithfield, Smithfield Hams is the standard bearer of elegance and fine taste in Virginia ham. They've been around for well over 100 years and can ship hams of all sizes … cooked or uncooked.
With one of Smithfield's cooked hams, all you need to do is glaze and heat. Ideal for a holiday gathering or even a family picnic!
You can order these hams online, along with many other Smithfield products, including gift baskets and Virginia themed items …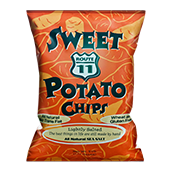 Route 11 Potato Chips: Route 11 potato chips have been making several flavors of chips for over 20 years. They're a small scale producer, but well known and sought after in the Old Dominion …
If you haven't already, try their sweet potato chips, pictured. They source most of the sweet potatoes they use for these chips from Virginia's eastern shore …
Of course, Route 11 also makes the traditional varieties you love … check out their website where you can buy Rt 11 Potato Chips in individual bags, cases, and decorative tins. The company is located in Mount Jackson, VA. Anyone who knows Virginia knows Route 11 potato chips!
The Virginia Shop at the Library of Virginia: If you're looking for a traditional gift from Virginia, consider shopping online at The Virginia Shop, which is affiliated with the Library of Virginia in Richmond …
The Virginia Shop carries Old Dominion items you just won't find anywhere else. They have a wide selection of historical prints and numerous state seal items like pins, ties, and the silk scarf shown. You can also buy traditional souvenirs and local recipe cookbooks … something for everyone on your Virginia shopping list!
You can even add to your Christmas ornament collection with themed ornaments or even a bottle of grape juice made at a local winery … check out their site to see the entire selection.
Fire Fly Hot Sauces: Fire Fly Hot Sauce is a local company making a line of hot sauces made using Virginia grown peppers.
The sauces are designed to complement your cooking, not overwhelm it, and the flavors are subtle with a kick.
Choose from Garlic Fire, Cosmic Curry, Smokin' Apple, Original, and Kickin' Cayenne …
The sauces are made on a produce farm in the Shenandoah Valley … buy some for you or a friend at Fire Fly Hot Sauce …
Old Virginia Home: This family owned business located in Nelson County, VA is the result of three generations of cabinet makers … they make hand crafted wood items like traditional shelving units, quilt displays, and kitchen accessories like peg racks and lazy susans.
This is Virginia craftsmanship at its finest … take a look at Old Virginia Home …
Emerson Creek Pottery: Since 1977, Bedford, VA based Emerson Creek Pottery has grown to be one of America's most recognized names in pottery.
Emerson Creek is most distinguished by their blue crab design pottery (shown). They offer many other designs and create pottery for almost every household use, from kitchenware to table settings to vases and more …
They also create lead free ceramic pet bowls, and can personalize them with your pet's name if you wish …
The facility is located about 30 minutes from Lynchburg and a 45 minute drive from Roanoke …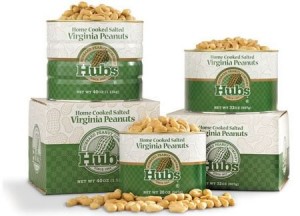 Hubbard Peanut Company: Virginians are rightly proud of their agricultural production, particularly their peanut crop. Virginia, like Georgia, is noted for their peanut production, and no Old Dominion producer is tied with the state's heritage more than the Hubbard Peanut Company of Sedley, founded in 1954 …
Locals know them as Hubs Peanuts, and they're a popular gift from Virginia … the company ships them all across the country daily. If you're looking for a gift that keeps on giving, enroll someone in the Hubs Peanut Club, where a fresh supply of Hubs is delivered monthly, bi-monthly, or quarterly.
Their flagship, Hubs Salted Peanuts, are their best seller, but they've got quite a selection of gift options which you can see on their website …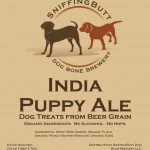 Beer Grain Dog Treats: We love dogs and we love beer, so seeing this Virginia product made us happy …
They are Beer Grain Dog Treats, made by Jeff Lutton, a Virginia dog lover and home brewer. Dogs love beer, but it's not healthy for them, but the spent grains are very appealing to their taste buds. There is absolutely no alcohol in these organic dog treats … just natural ingredients like peanut butter, barley, and healthy grains.
There are three types of treats for your dogs available … Pug Porter, India Puppy Ale, and Wheaten Wit. All are dog tested and have gotten an enthusiastic tail wag and a paws up!
So don't forget all the furry four legged friends when considering a Virginia themed gift … the dogs will howl their approval! Order some at Beer Grain Dog Treats …
Edwards Virginia Hams: Another product Virginia is well known for is smoked ham … a ham from the Old Dominion is sure to be a very appreciated gift! Edwards Ham of Surry, VA has been in business since 1926 and specializes in more than just ham … they're well known for producing southern smoked meats and specialty foods …
Explore their website at EdwardsVAHam.com and you'll be amazed at all the different products and gift packages you can order. There are hams of course, Virginia seafood, turkey and turducken, peanuts, desserts, sausage, bacon, and … well, you get the picture!
Shown is their All Virginia Made Sampler, which you can order for yourself or as a great gift. It includes Edwards ham, salami, and aged colby cheese. Now who wouldn't be thrilled to see that package come in the mail!
Blue Crab Bay Company: The Blue Crab Bay Company of Selfa, VA has been celebrating the art of coastal cuisine since 1985. They are well known for seafood, appetizer kits, spices, soups, and chowders, but also the Blue Crab line of stoneware …
Truly a one stop shopping destination for anyone looking for a gift from the Old Dominion, Blue Crab Bay has an amazing assortment of gifts, either for yourself, a client, or someone special …
Shown is a bread plate from the Blue Crab Stoneware line. You can order it one piece at a time or as a set. They also have a gift registry for those getting married … what a great idea! Stop by their site and see everything they have to offer …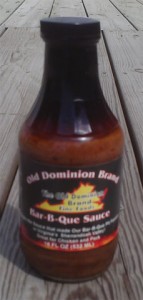 Wholesome Foods, Inc.: Wholesome Foods, Inc. of Edinburg, VA has been a specialty foods distributor since 1964 and is home of the "Old Dominion" brand of ham, bacon, deli turkey, and roast beef line of products …
The Wholesome Foods website has a large online store where you can order all sorts of specialty products made in the state, from meat to cheese to Old Dominion BBQ Sauce (shown). It's another one stop shopping destination for Virginia themed gifts!
Bright True Organics: This woman owned company in Charlottesville specializes in organic skin care products ideally suited for those with sensitive skin or simply seeking organic skin care products …
The products are soy, tree nut, and peanut free and made with organic olive oil and organic herbs and plant essences …
Several gift packages are available, all of which are packaged in a plant fiber bag which is made in Virginia from recycled cardboard.
We've Got A Lot More Virginia Made Products To Come! Tell Us About Your Favorite Made In Virginia Products – Reach Out To Us Via Our Advertise with Us Page …