Made In Rhode Island Quick Facts
This Post is about Made in Rhode Island Gifts and Specialty Rhode Island Products
Want To See Your Business / Products On Our Made In Rhode Island Page?
Visit "Advertise With Us"!
FEATURED MADE IN

RHODE ISLAND

BUSINESS

ES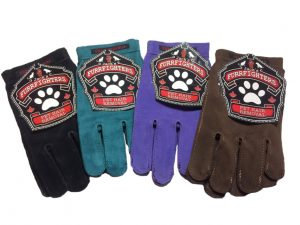 FurrFighters: We love dogs and everything about them … well, almost everything …
Anyone who owns a pet knows excess shedding pet hair is part of the bargain. Dogs and cats add a lot to our lives, but all that loose fur covering your clothes and furniture is a frustrating side "benefit" …
That's why we were so pleased to discover a Rhode Island made product called FurrFighters. Developed by local firefighters, FurrFighters are excess pet hair removal products that work by simply swiping over a targeted area …
FurrFighters are available in gloves and furniture brushes and a clever pocket sized FurrFighter. They clean the pet hair off any hard surface, and work like a charm not only on cats and dogs, but car seats, blankets, and more …
Check out the video on the FurrFighters website, linked above, to see how they work and how easily they'll eliminate your excess pet hair problem. The FurrFighter collects the pet hair, and a firm tap allows for quick and easy disposal. As an added bonus, your pet will love being groomed by their FurrFighter and will proudly show off their soft, shiny coat!
Click through to their website to learn more …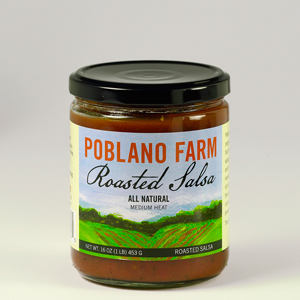 Poblano Farm Salsa and Sauce: South Kingstown is a small community in far southeast Rhode Island – it's adjacent to Narragansett and just a few miles from the waters of the Block Island Sound. It's an excellent agricultural area – the ocean moderates the climate and provides ideal growing conditions.
The town is home to Poblano Farm, a family run operation that has been making quite a name for themselves for their line of salsas and pasta sauce. Their three salsas – Roasted (medium heat), Chipotle, and Mild have been featured on the Cooking Channel along with their signature pasta sauce.
The pasta sauce features farm grown tomatoes and no added sugar. Taste the delicious sweetness of Rhode Island grown tomatoes and see why they're sought out all over New England!
You can find Poblano Farm products at select markets in The Ocean State as well as online at their website's store. Give the gift of Rhode Island freshness and flavor!
Three Dogs Barbecue Sauces: Out of Saunderstown, RI comes a due of habanero barbecue sauces inspired by three rescued beagles … those of owners Lisa Natanson and Scott Drabinowicz. The sauces are called Puppum's Three Dog Barbecue Sauces, and they're formulated to let the flavor shine through and not just the heat …
The sauces, which come in Mild and Hot varieties, are thicker in consistency than your normal barbecue sauces, which make them all the better for dipping and spreading on sandwiches. If you like a little bit of hot but still want the flavor foremost, try the Mild. Like things a little hotter? The Hot's for you – you'll get the nice habanero pepper blast you're craving – try it pasted on pork chops before grilling for a special treat!
At the Three Dogs Sauces website, you'll find a list of area stores where the sauces are available, and you can also order online. We especially like the jars they're packaged in – wider mouth to help you enjoy every bit!
As an added plus, proceeds are donated from every jar sold to local animal rescue groups. Great stuff from The Ocean State!
Sea Glass Boutique: Rhode Island is known as The Ocean State, so it stands to reason talented artists would rise to the forefront to create jewelry out of sea glass from the coastal areas …
Sea glass are broken pieces of glass washed up from the ocean. Many pieces of sea glass have been smoothed and polished by years of surf and sand before they ever hit the beach. They're as beautiful as gemstones and look stunning when made into earrings, bracelets, necklaces, and more …
And that's exactly what jewelry artist Flori Nelon of Newport does. In addition to owning her own shop in the iconic seaside resort town, she operates an Etsy store called Sea Glass Boutique. There you'll see beautiful pieces of sea glass jewelry, each ready to be shipped directly to you or the doorstep of your gift recipient.
Sea glass jewelry is a wonderful, personal gift and we can't think of a better Made in Rhode Island wearable!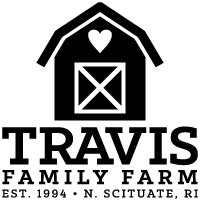 Travis Family Farm / Rachyl's Goat Milk Soap: We have great respect for family owned and operated small businesses. They're the backbone of America, and it's especially admirable when an entire family pitches in to make things run smoothly …
That's exactly what happens at the Travis Family Farm in North Scituate, RI (west of Providence just off Route 6). Founded and operated since 1994 by David and Lillian Travis, the couple's seven children are instrumental in the farm's success. Each have their specialties, from caring for the farms herd of goats and other animals to cleaning barns and delivering products. And this small farm produces a lot of products!
Rachyl's Goat Milk Soap is one of them. Named after one of the Travis daughters, this skin friendly soap is created with fresh milk from the farm's Nubian goats. Rachyl herself milks and tends to the goats, and each bar contains at least an ounce of pure goat milk. Did you know goat milk is ultra rich and is bursting with bitamins and nutrients? The end result is softer, smoother, and clear, clean skin! We speak from experience – we've long ago stopped using standard bar soap and now only use goat milk soap …
At the Travis Family Farm website, you'll find twenty different varieties of their soap, including Eucalyptus Mint, Vanilla, and Lilac & Lily – there's even a bar especially made for your best dog friend! See how soft and shiny your pal's coat will be … you'll never go back to harsh dog shampoo again.
In addition to their line of goat milk soap, the farm offers Goat Milk Lotion & Body Butter, the ideal gift to keep that special someone soft and touchable. Handsome soy wax candles, bath and skin care products, and accessories are also available (check out the homemade washcloths!) …
Click through to the farm's website, linked above, and click on "Products", where you'll see the full spectrum of what this busy family farm is turning out. Oh, and don't forget the divine Goat Milk Caramels – they're crafted with bourbon vanilla and a sprinkling of sea salt …
Fantastic gift ideas, direct from the heart of The Ocean State. Help support America's small family farms!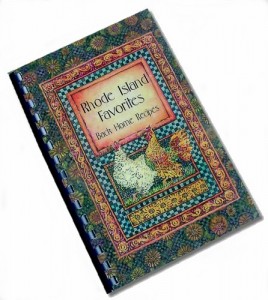 Rhode Island Favorites Cookbook: If you find yourself missing the iconic flavors of Rhode Island culinary specialties, here's a wonderful recipe book you can use to create them at home …
It's the Rhode Island Favorites Cookbook and it contains 200 Ocean State recipes, submitted by Rhode Islanders. A perfect gift, the book contains how to instructions for creating everything from the state's Italian-American specialties to seafood dishes to NY System Hot Wieners (see below for more about them!).
You can order this cookbook directly at the site linked above. There's also an option to purchase a downloadable e-book version which you can access from your computer and print out pages as needed. Enjoy!
Scialo Bros. Bakery: Have you ever spent time in Providence? We've visited twice before and it's on our agenda for our ongoing "Visiting America's State Capital Cities" travelogue feature. Providence is an underrated New England city and if you like to eat, you won't go wrong here!
The city's Federal Hill area is filled with wonderful places to shop and enjoy a meal. If you're a fan of traditional bakeries, you'll find an American gem here – Scialo Bros. Bakery. They've been creating some of the best baked goods in the city since 1916 and their old school brick ovens are something to behold. The bakery has been featured on The Food Network and is beloved throughout the New England area.
Best known for their bundt cakes, cookies, and specialty breads, make it a point to stop here if you're visiting Rhode Island. For those of you who can't, you're in luck, because Scialo Bakery can now ship many of their famous baked goods across the country. If you're looking for a gift for someone who's from The Ocean State, you can't go wrong!
Click through to the bakery's website and see all they're creating. We can guarantee you from personal experience – whatever you see tastes even better than it looks!
Silk Tree Farm: Located in Little Compton, this sustainable farm pasture raises a variety of goats, chickens, and hogs on property that is under a conservation easement with the Nature Conservatory. Their goals include heritage breed conservation, sustainability, conserving our food system, and raising happy healthy animals …
From the farm's goats come a variety of liquid, scented, and unscented goat milk soaps. If you're looking for a natural gift idea from The Ocean State, consider the Liquid Goat's Milk Soap with Copper Pump shown. It includes a handsome mason jar containing the soap and is available in lavender and lemongrass – refills are available as well. Silk Tree Farm offers goat milk soap bars in various scents, including peppermint, sandalwood, and eucalyptus mint among others.
At their online store, you'll also see an enticing collection of soy wax candles, poured right on the farm and featuring a burn time of 80 hours each. Soy candles are environmentally friendly, soot free, and offer a clean burn. Ideal as a Rhode Island made gift!
Check out their site for all the details and to place an order for yourself or someone special …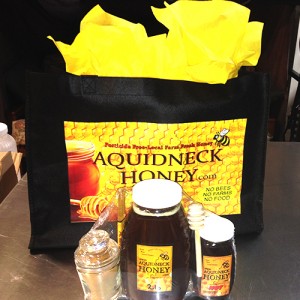 Aquidneck Honey: Here at State Gifts USA we love featuring local honey companies. Honey is quite a special product – it offers so many health benefits and depending where it's from, offers a truly unique flavor profile. Tasting and enjoying honey produced in different parts of the country is akin to sampling wine from varied wine regions … it's still called wine but the taste is dictated by the area itself …
We're pleased to showcase Aquidneck Honey from Middletown, very near Newport and just a few short miles to the ocean shore. The company produces wildflower honey, hand cut honey comb directly from the hive, and a special "hot" honey infused with Ghost and Trinidad Scorpion Peppers (great for using in recipes!). They also make a few specialty products, like lip balm, honey straws, and honey infused local milk chocolate.
You can order their honey and other products directly at their website, along with several handsomely packaged gift sets like the one shown. Enjoy the great taste and health benefits of local unprocessed honey, direct from The Ocean State!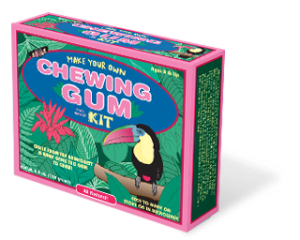 Glee Gum: We learned of this unique Providence company making a product we'd never seen before …
It's Glee Gum, an all natural chewing gum available in nine different flavors made with sustainably harvested rain forest chicle. Chicle is sap from the sapodilla tree, which grows in Central America rain forests and was the original basis for all chewing gum until synthetic gum bases were developed. The gum, which comes in nine flavors, is completely natural and contains no preservatives, aspartame, artificial flavorings, or colorings …
The company also makes products which are ideal for children's science projects. Make Your Own Gum Kits allow you or your children to actually make gum at home. Each kit makes anywhere from 30 to 50 pieces of gum and contains all the base ingredients and a step by step lesson plan. You can make gum from the kit in about an hour or less!
In addition to gum kits, you can also buy kits for gummies and candy, as well as refill kits. Glee Gum is available both online at their website or at specialty retailers across the country – there's a store locator feature to find the nearest store to you.
A great idea and a great product from Providence!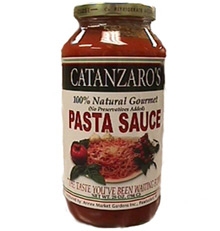 Catanzaro Food Products: Based in Pawtucket, this small company was founded by the husband and wife team of Steven and Kristen Catanzaro. As a professional firefighter, Steven developed his pasta sauce recipe as the firehouse cook, while Kristen's love for baking was a natural to expand the focus and product line of the company …
A Sicilian inspired recipe, Catanzaro Pasta Sauce is chock full of all the good stuff – fresh tomatoes, garlic, basil, pure olive oil, and natural herbs and spices. You know what to use it on!
Kristen's many baked creations include a few specialties not often seen … Italian Pepper Biscuits, Anisette Toast Biscuits, Italian Butter Ball Cookies, and more. Ideal for a party tray or as a hostess gift! You can order them individually or in some of the themed gift baskets available at their online store.
Catanzaro Food Products are available in Rhode Island specialty food markets, as well as their website. Buon Appetito!
Iggy's Doughboys & Chowderhouse: If you've spent a fair amount of time in The Ocean State, you likely know about Iggy's Doughboys & Chowderhouse. They're a casual, family friendly restaurant serving sandwiches, chowder, fried clams, and fish platters. There is a seasonal location in Narragansett and the original year around location in Warwick …
Iggy's doughboys are best described as a fritter and they're a very popular side dish. They can be served plain or sprinkled with powdered sugar or sugar and cinnamon for dessert. As for the chowder, it's available in both red and white varieties, as well as Rhode Island style (clear). Everything on the menu is inexpensive and served promptly – a great place for a fun meal!
If you can't get to Iggy's, they've just instituted an online store where you can order gift baskets, novelty items, clam cake mix, Iggy's chopped clams, doughboys, and more. The perfect Rhode Island themed gift! Check out their selections at Iggy's Doughboys …
Nantucket Bound: Based in Pawtucket, Nantucket Bound was founded in 1997 to produce a line of sport fishing tackle bags and accessories for boating. A few years ago, the company branched into the home decor area, specifically by designing a series of nautical themed pillows like the one shown, as well as home goods …
The pillows are made with ultra durable fabric in vibrant colors and then adorned with artful embroidery capturing the coastal essence. Door draft stoppers, all purpose totes, and firewood carriers are among the company's other products, all of which you can view and order on their website …
If you're a boater, take a look at their Boating / Fishing section, featuring several of their useful and good looking products emanating from Nantucket Bound's original focus. Great gifts for anyone who loves life on the water, direct from The Ocean State!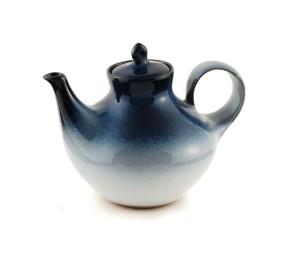 Peter Pots Pottery: Housed in the landmark Glen Rock Mill in West Kingston for over 60 years, Peter Pots Pottery is a beloved Rhode Island legend. Founded in 1948, the company creates handcrafted stoneware which your family will enjoy for generations. Each piece is completely unique and hand signed with the words "Peter Pots" …
Their stoneware is made in just about any piece you can imagine. Place settings, casseroles, pitchers, bowls, platters, and dining accessories are just a few of the pieces available. They're made in three distinct color patterns – Seagull Blue, Mahogany Brown, and Spruce Green. In addition to their durability, each piece is lead free and dishwasher safe …
Check out their website to see all the handsome pieces available. Special orders are accepted as well! And on your next visit to southern Rhode Island, stop by their showroom for an up close and personal look – they'll be glad to see you!
It's All Washed Up Sea Glass Jewelry: We've long been attracted to sea glass … knowing that some small discarded object has been scrubbed and tumbled by sand and waves to create beautiful frosted gems that wash up on the shore and are fashioned into wearable art by creative souls …
The Ocean State offers ample opportunity for collectors of sea glass, with its many secluded rocky coastlines offering hundreds or even thousands of one of a kind pieces of glass just waiting to be repurposed. And that's just what Mary Nunemaker of Newport does, as she turns sea glass from the Rhode Island coast into necklaces, pendants, and earrings …
Each piece of sea glass is personally collected by Mary and her daughters – and then the creative process begins! Items like the stunning pendant shown are hand crafted with silver plated wire and offered for sale at the It's All Washed Up Etsy store. Due to the nature of sea glass, every piece is completely unique, creating a one of a kind gift that is distinctly Rhode Island!
Visit Mary's online shop to see her current beautiful creations and to place your order …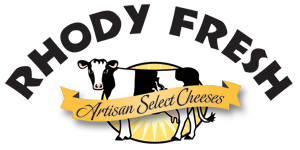 Rhody Fresh: Rhody Fresh is a dairy farms cooperative of eight milk producing Rhode Island farms. They produce a brand of milk sold fresh all across the state, as well as butter, cream, and cheese …
Their special Butterkase Cheese is available to be shipped anywhere in the country. This German style cheese is semi soft with a mild flavor that is best served room temperature. It's an excellent cooking cheese for any sort of recipe or simply to melt atop a hamburger. Butterkase makes a wonderful grilled cheese too!
Rhody Fresh cheese is available in half pound or one pound increments at their online store. You can also order special Rhode Island themed combinations and gift baskets. Enjoy the taste of Rhody Fresh!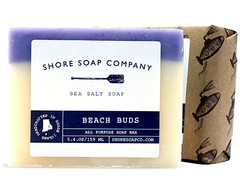 Shore Soap Company: Based in beautiful Newport, the Shore Soap Company hand crafts every bar of their high grade soaps using natural ingredients. They specialize in sea salt soaps, which make for a harder, longer lasting bar and also provide rich nutrients for your skin …
Shore Soap Company produces a wide variety of bath, body, and facial soaps and related products for women and men. They also carry a line of shampoo bars, which are naturally cleansing for your hair without the extra foaming agents present in standard shampoos. They're available in a variety of fragrances and are great for the health of your hair and scalp.
Choose from bath bars with a nautical Rhode Island theme, like Beach Buds (shown). This bar features sweet lavender and basil, as well as olive oil as a moisturizer. There's also Changing Tide, with hints of lemon, patchouli, and sandalwood … wonderful as a Rhode Island themed gift!
Bath accessories, scrubs, gift baskets, and solid fragrances are also available. See their website for further details and to place your order …
Tipsy Skipper: This vibrant Rhode Island company is owned and operated by designer Kearsley Lloyd, who draws much of her inspiration from waters around The Ocean State. Tipsy Skipper is a fashionable and approachable line of shoes, jewelry, and accessories designed for those who enjoy a healthy dose of creativity in their lives …
Kearsley is a graduate of the Rhode Island School of Design and just happens to be a descendant of the legendary pirate Captain Morgan, which in part inspired her company's name. Women and girls will adore the patterns shown on her website – they adorn Tipsy Skipper's line of casual shoes, sandals, and totes.
We were enchanted by a beautiful pair of earrings inspired by Rhode Island's offshore gem, Block Island. These post earrings are available in a series of colors – there are cuff links for guys as well as other nautically themed items …
If you're looking for interesting gifts for the fun and fashion conscious person on your list, check out the Tipsy Skippers website – you'll love the creative designs!
North Light Fibers: Block Island is a very special place located about 12 miles off Rhode Island's southern coast line. Very popular in the summer for running events, the island is a small New England paradise offering cool breezes and a welcomed leisurely pace for visitors …
One of the businesses located on the island is North Light Fibers, who hand weave and knit garments and home decor items from hand made yarn. Among their many truly local products are baby blankets, throw rugs, hats, gloves, and other knit and woven items.
Pictured are beautiful Block Island Sunrise – Sunset Rugs, which capture the colors of the sun rising and setting over the island. Several sizes and colors of rugs, throws, and place mats are available. Any would look great in your home!
Click through to their website to learn more about their products as well as Block Island …
Stella Marie Soap Company: We're always very pleased to feature small handmade soap companies here on State Gifts USA. Natural soap is so much better for your skin and it's made environmentally friendly with no emulsifiers or artificial ingredients like most mass produced soap …
Stella Marie Soap Company in Warren makes a wide variety of soap for both women and men. Most unique are their fruit and vegetable soaps, which contain fresh fruit and vegetable purees. Choose from Cucumber Slumber, Banana Smoothie, Avocado Dreaming, Tropical Rescue, and more.
Stella Marie Soap also offers massage bars, body scrubs, gift sets, and a line called Rhode Island Bath and Body. This line features soaps and lip balms inspired by some of the state's favorites. You'll find a soap called "Home Brewed", made with Rhode Island brewed coffee and Autocrat Coffee Syrup, and "Last Call", a beer based soap made with the iconic Narragansett Lager!
Their "Rhody Guest Soap Set" (pictured) is a perfect hostess or thank you gift with an Ocean State theme! Click through to the Stella Marie Soap website to see all their unique bath and body products …
Jack's Snacks Dog Bakery: Based in Cranston, Jack's Snacks is a bakery for your best dog pal. Founded over ten years ago, the company makes unique treats for dogs from all natural ingredients in flavors pooches crave …
Pictured is a pizza party for dogs. It looks like the real thing and even smells like the real thing as it's made with basil and oregano! It feeds eight and is shipped in a pizza box – perfect if you've got a few furry friends!
Jack's Snacks also makes bone shaped birthday cakes, peanut butter treats, apple dog cookies, and sweet potato dog chews. You'll find other useful ideas for your best friend on their website, like a special dog shampoo soap bar that'll leave your pal's coat shiny and smelling great!
Check them out, and get your dog a tasty sample of The Ocean State!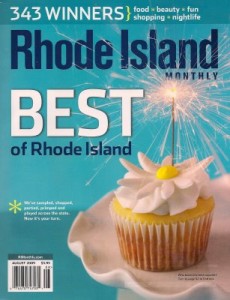 Rhode Island Monthly Magazine: Here's a great idea for an economical gift for anyone who appreciates the Rhode Island lifestyle … a subscription to Rhode Island Monthly Magazine, the state's leading current events and lifestyle publication …
Rhode Island Monthly features engaging stories like "36 Reasons We Love Rhode Island", a Best of Rhode Island survey, current events, and more. Photos from around The Ocean State abound in every issue, along with highlights of what to do in the state, where to dine, and spotlights on Rhode Island's movers and shakers. Combination subscriptions (print and digital) are offered for one low price …
Visit the Rhode Island Monthly site to subscribe or send a gift subscription to someone on your list with a soft spot for The Ocean State!
Lighthouse Portraits: Artist Ron Schmitz of Cranston, RI creates beautiful portraits of Rhode Island lighthouses and beyond on canvas or slate, like the one shown of three iconic lighthouses …
Many lighthouses are endangered due to location, weathering, or outdated capabilities. Ron preserves the images of these lighthouses and he'll gladly complete a portrait of a lighthouse holding special memories for you. Most of his works depict Rhode Island and New England lighthouses, but there are other works from the eastern seaboard and beyond …
These one of a kind portraits are available directly from the Lighthouse Portraits Etsy Shop. Each portrait is identified on the reverse with the location and name of the lighthouse.
A very special one of a kind gift from The Ocean State!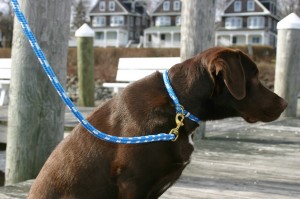 The Fair Lead Dog Leashes and Collars: Here's a clever Rhode Island company making useful accessories for man's best friend …
The company is The Fair Lead and they create dog leashes and collars made from marine grade rope designed to stand up to even the most boisterous pooch. Available in many different colors and sizes, these handsome collars and leashes will have your dog as the talk of the boardwalk and beach!
The Fair Lead's leashes are practically indestructible … they have a minimum breaking strength of 3300 pounds and up to 7000 pounds. They're eco friendly too – the rope materials are sourced locally and they're produced locally as well.
Each leash and collar is affixed with sturdy bronze hardware that won't rust, even in the worst of weather. And for those of you with more than one dog, The Fair Lead makes Double Doggie Coupler leashes to handle two dogs at once! These leashes feature a swivel snap to prevent your two pals from getting tangled up while you walk …
These leashes and collars are a great gift for a Rhode Island dog lover, or any dog lover for that matter! Click through to their website to see all the available colors and styles …
WaterFire Providence: Providence, Rhode Island's capital city, is known for being a great foodie town. It's also renowned for its unique downtown civic event called WaterFire …
WaterFire is actually several things … it's an event, a dynamic example of urban art, and an ongoing performance event. WaterFire began with the installation of 100 bonfire-like sculptures just above the surface of downtown's three rivers. On WaterFront evenings, upwards of 40,000 residents gather downtown to see Providence transformed by flickering firelight and walk along the river paths in Waterplace Park …
Live music is featured and the event is presented from late May until early November. WaterFront is presented free of charge (donations are requested and accepted) and is managed by the non profit WaterFire.org and aided by corporate sponsorships …
WaterFire.org operates on an site store during the events, as well as a year around online store. The online store offers WaterFire themed merchandise like beautiful pendants made by local company Gather Glass. You can also buy posters, shirts, and other accessories …
A great souvenir from Providence and an ideal Rhode Island themed gift!
Island Mist Bath and Body: Island Mist Natural Bath and Body is a small company located on Block Island. This beautiful island is located 12 miles off the Rhode Island coast and 14 miles east of Montauk Point on Long Island, NY.
With an area only seven miles by three miles, Block Island is a small island paradise, very popular for running and cycling events in the summer. It is a year around destination (though much more popular in summer), accessible by ferry and small plane flights. Some say the island is reminiscent of Ireland, with steep bluffs and rocky outcroppings leading down to the Atlantic Ocean …
One of the island's businesses is the aforementioned Island Mist Natural Products, which creates facial, bath, and healing products from natural island ingredients. The company also makes solid stick perfumes which are ideal for people with scent allergies. At their website, you'll also find many natural healing products as well as spa gift baskets, like the Block Island Spa Gift Basket shown …
This basket contains Taste of Summer Sea Bath, Ocean Facial Scrub and Mask, a lobster loofah, lavender and lemon lotion, candles, and a wooden fish soap dish. An ideal gift from iconic Block Island, RI!
History of Rhode Island
Rhode Island Trivia and Fun Facts

1). Rhode Island was the last of the thirteen colonies to become a state …

2). Cheers! Rhode Island never ratified the 18th Amendment of the Constitution, which was for prohibition …

3). Rhode Island is the smallest state in the U.S. by total area …

4). It is only 37 miles from the eastern border of the state to the western border …

5). The highest point in Rhode Island is Jerimoth Hill. It's 812 feet above sea level …

6). The town of Bristol has held July 4th celebrations since 1785. It is the longest running continuous streak of such celebrations in the United States …

7). Rhode Island has five counties, but they're not governed by a traditional county government. The state is divided into 30 municipalities, each of which have their own local government …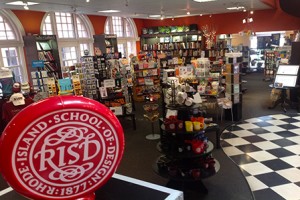 Rhode Island School of Design: Located in Providence, the Rhode Island School of Design has something we just love to see … an online presence showcasing works designed and created by the school's artists …
Called RISD Works, the website showcases everything done by these design students from accessories to tech toys. The shop is categorized into sections for fine art, products for the home, jewelry, items for kids, kitchen products, and a lot more. Many of the products are eco friendly and there's a section introducing the individual designers …
This particular site is great for promoting not only the design school, but the designers themselves. Shoppers get unique items made in Rhode Island and help sustain the creative process.
Hundreds of really creative items are available … spend some time and take a look!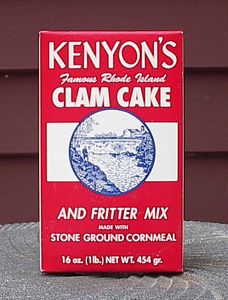 Kenyon's Grist Mill: A Rhode Island landmark, Kenyon's Grist Mill is the oldest manufacturing business in the Ocean State … they've been grinding meal and flour at this site since 1696.
If you're not quite sure what a grist mill does, it's a grain mill that turns whole grains and kernels of corn into meal and flour using large granite millstones. The stones are powered by a nearby water supply; in the case of Kenyon's it's the adjacent Queen's River in Usquepaugh …
The mill creates and packages old fashioned white corn meal, clam cake mix, bread and muffin mixes, and many other mixes. They also make sea salt from water collected off the Rhode Island coast, and to our knowledge are the only producer of sea salt in The Ocean State! You can order these products directly at the Kenyon's Grist Mill site and enjoy a true taste of Rhode Island pride!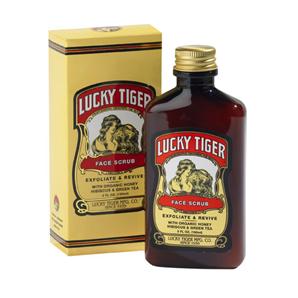 Caswell-Massey: America's oldest retailer, Caswell-Massey, was founded in Newport, RI in 1752 and has come to be known as "America's Enlightened Apothecary" …
The company produces bath and body care products for women and men, like artisan soaps, fragrances, facial care, and dozens more time tested products …
Their products are found in fine retailers across the country and they also offer shoppers a thriving online presence. One of my favorite products is their Lucky Tiger Face Scrub, which is gentle enough to be used daily. Its key ingredients are honey, hibiscus, green tea, and calendula. The end result is moisturized and revitalized skin!
Take a look at all the classic products offered at the Caswell-Massey website. Makes a great gift from the Ocean State!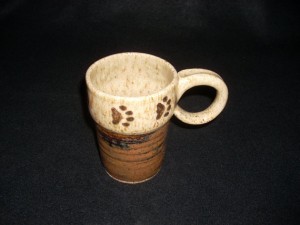 CB Pottery Works: Artist Christine Beaulieu of Foster, RI uses inspiration from her dogs and the surrounding environment to create beautiful decorative and functional pottery pieces with an eco friendly focus. All items are made with a non toxic glaze and are food and microwave safe …
The collection at Christine's CB Pottery Works Etsy shop is varied and well worth exploring … you'll find mugs, dishware, candle sleeves, bowls, serving dishes, and many other one of a kind pottery pieces directly from her Rhode Island home studio.
Truly original art from the Ocean State!
Del's Lemonade: Del's Lemonade, a Rhode Island tradition since 1948, is really more like a slushie or a fruit ice … a mixture of lemonade, sugar, and crushed ice. It's called a frozen lemonade and it's beloved in Rhode Island.
Del's started with one location in Cranston and has since blossomed into a twelve state operation, mostly on the east coast but also in some farther flung locations …
You can make Del's at home from a packaged mix that's available at Del's online store. It includes individual serving packets along with instructions … bring a taste of Rhode Island into your home!
Autocrat Coffee Syrup: Rhode Island's official state drink (yes, Rhode Island has an official state drink!) is coffee milk. It's sort of like adding a little milk to your coffee, but in reverse. The drink is basically milk with a coffee syrup added …
In Rhode Island, you'll see coffee milk in the dairy case at supermarkets, right next to regular milk, chocolate milk, etc. Or, you can make coffee milk yourself by adding Autocrat Coffee Syrup, which you can buy online right here …
As the story goes, coffee milk was originally concocted in a Rhode Island diner sometime in the mid 1930's. The owner mixed coffee grounds with milk and sugar to create a syrup like liquid, which he then added to milk. The rest is history!
Olneyville NY System Hot Wiener Sauce Mix: It may seem like an odd name for a Rhode Island business, but Olneyville N.Y. System refers to a Rhode Island style hot dog topped with a special meat sauce. Here is the story …
The Stevens family originally settled in New York, Brooklyn to be exact, until moving to Providence, Rhode Island in the late 1930's. They opened up a small lunch counter restaurant on Providence's Olneyville Square and have been in the area ever since …
The specialty is a Rhode Island style hot dog. They start with a natural casing wiener and top it with mustard, onion, celery salt, and a special meat sauce, which you can make at home from a spice packet available at the Olneyville N.Y. System website. Served on a steamed hot dog bun, it's a Rhode Island favorite …
So, just to review … Olneyville is the square in Providence where the restaurant is located, N.Y. stands for New York, where the family lived before settling in Rhode Island, and System is the system of assembling the hot dog. Whew! All we can say is, order the spice packets and try it for yourself!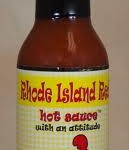 Rhode Island Red: Here's a hot sauce made in Rhode Island by the Sauce On The Side company of Exeter, RI. It's called Rhode Island Red, which comes in two heat levels, hot or mild. Great on oysters, but also in stews, soups, and stir fry dishes …
The sauce is made with locally grown produce … peppers, carrots, tomatoes, as well as mustard, vinegar, sugar, and salt. You can buy a bottle or a case online here …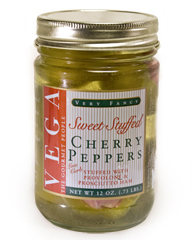 Vega Peppers: Vega Foods is a small specialty foods company based in Cranston, RI that packs a variety of interesting pepper products, including antipasto, eggplant mix, and stuffed cherry peppers …
Pictured is a jar of the stuffed cherry peppers. They also make a very interesting product called Pepper Poppers, which are single serve vacuum packed hot stuffed cherry peppers.
They're shelf stable and perfect for tailgate parties, gatherings, or just as a snack …
Check out the full line at Vega Foods …
Sea Breeze Creation: Tiverton, RI artist Barbara Cook-Kohler creates some beautiful works of art using Rhode Island sea glass and beach stones. Some of the pieces are jewelry, like earrings and pendants, while others are like the one shown in the photo … a moon lit beach solar antique Mason jar.
Barbara takes a quart Mason jar and puts beach sand in the bottom, along with beach stones and shells, along with sea glass. The top lid is affixed with a small solar panel. Leave it in the sun or light during the day and at night, you have a beautiful moonlit beach scene!
You can literally have the Rhode Island beach at your finger tips all year around … what a clever idea and a great gift from The Ocean State!
Check out all of Barbara's works at the Sea Breeze Creation Etsy Shop, where you're sure to find something that strikes your fancy …
Daniele Foods: This company in Pascoag, RI produces the Del Duca brand fine meat products with an Italian bent, like prosciutto, capocollo, salame, pancetta, and more …
The meats are dry cured for lengthy time periods to ensure a rich, full flavor. If nothing else, check out the Daniele Foods website to learn all about these specialty meat products and how to serve them …
Daniele Foods has been around since 1945 and will ship anywhere in the United States …

The Black Pearl Clam Chowder: The Black Pearl in Newport, RI is one of The Ocean State's best known and most beloved restaurants. Located on the waterfront in this bustling seaside destination, The Black Pearl has been around since 1967, and its waterfront patio and raw bar are one of the most popular destinations in town …
In addition to fresh seafood, The Black Pearl is famous for its legendary clam chowder. If you can't get to Newport, you can order some online at BlackPearlNewport.com … just heat and serve!

Dotterer's Mustard: Dotterer's Mustard has been a Newport RI staple for years … it's available in small quantities around the Ocean State at specialty grocers.
In addition to mustard, they also make a really good hot pepper jelly which you can serve with roast beef sandwiches … might not sound like the ideal combination but you'll be surprised how good it is!
Order Dotterer's Mustard and Hot Pepper Jelly online at the Dotterer's website.
We've Got More Rhode Island Made Products Coming Soon … Tell Us About Your Favorites By Touching Base Via Our Advertise with Us Page…