Made In Nevada Quick Facts
This Post is about Made in Nevada Gifts and Specialty Nevada Products
Want To See Your Business / Products On Our Made In Nevada Page?
Visit "Advertise With Us"!
FEATURED MADE IN

NEVADA

BUSINESS

ES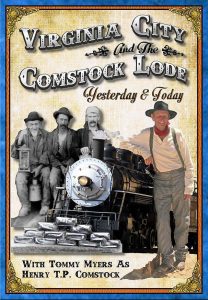 Virginia City And The Comstock Lode DVD: If you or someone on your gift list holds an interest in one of Nevada's most historic locales, you'll be pleased to know about this newly released 2 1/2 hour DVD showcasing what was once "The Richest Place On Earth". We're pleased to introduce Video Velocity, a local Virginia City business who have compiled this comprehensive video based on their 30+ years researching the area. It's all here in "Virginia City and the Comstock Lode: Yesterday and Today" …
Videos make wonderful gifts, and anyone who loves The Silver State will appreciate having this DVD in their collection. Narrated by Henry T. P. Comstock (portrayed by long time local Tommy Myers), this is the most comprehensive video of the area ever produced. You'll learn the fascinating story of the discovery of the Comstock Lode and travel with Mr. Comstock through the years as he shares the remarkable adventures of Mark Twain, the Bonanza Kings, the Grosh brothers, Eilley Orrum, Sandy Bowers, and many more …
You'll also spend time aboard the historic Virginia & Truckee Railroad, and ride the "Queen of the Short Lines" through Virginia City, Gold Hill, and Carson City. You'll also experience a fascinating tour of beautiful Virginia City, visiting significant buildings, saloons, mansions, and museums – while spending time with a few ghosts along the way!
You can buy a copy of "Virginia City and the Comstock Lode: Yesterday and Today" by visiting the Video Velocity website, linked above. While you're there, be sure to check out all their other productions, especially if you're interested in horses. Numerous horse training and educational videos are awaiting you at their site …
We're proud to feature this new DVD release and all the Video Velocity productions on our Made in Nevada page!
Nevada Pine Nuts: Did you know one of The Silver State's most famous crops is the humble pine nut? These nuts are found within pine cones and are extremely tasty and good for you … they're loaded with vitamins and can be used for snacking or in recipes calling for nuts …
Equally good raw or lightly toasted, pine nuts aren't always available and usually sell out annually. We found a good source for buying Nevada pine nuts raw and fresh … ready to be eaten or stored in your freezer.
The linked site does a good job providing instructions for roasting and storage if you're not exactly sure what to do. Pine nuts are very "Local Nevada" and make a welcome gift!
Grandma's Fudge Factory: One of historic Virginia City's most beloved businesses, Grandma's Fudge Factory has been satisfying Nevada sweet tooths (and beyond) since 1971. They're well known for their all natural fudge, made in antique copper kettles over an open flame for almost 45 years …
Fudge is their namesake product, but you really need to try their caramels. These are some of the softest, sweetest caramels you've ever tried! We particularly like the Caramel Pecan Toads (pictured). These beauties are made with luscious caramel, milk chocolate, and plump pecans … and you can't go wrong with that!
Grandma's Fudge Factory also features peanut brittle, toffee, and chocolate almond bark in addition to their caramels and their eight different varieties of fudge. They've been shipping their treats to satisfied customers all over the country for years now, so why not order some for yourself or as a Nevada made gift and see for yourself how good Grandma's is!
Click through to their website to see all the goodness for yourself …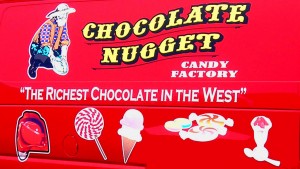 Chocolate Nugget Candy Factory: If you're looking for a sure to please gift from The Silver State, consider some sweet treats from this small company making over 100 varieties of candy …
The Chocolate Nugget Candy Factory has two locations in Nevada … they manufacture near Virginia City on Highway 341 and also have a retail store complete with an ice cream parlor on Highway 395 between Reno and Carson City.
Their specialty is chocolate, which you'll see at their website, but try one or more of the many varieties of brittle offered. If you shy away from brittle due to it getting stuck in your teeth, try this thin and crisy variety – if you can eat potato chips, you'll love their brittle!
The Factory roasts their own peanuts, almonds, and cashews and offer over 40 flavors of taffy, including a unique cantaloupe taffy you've probably never tried! Cantaloupes are a prolific crop in the state, so a pound or two of Cantaloupe Taffy makes a great Nevada themed gift …
Click through to their site to see everything they're creating. They'll ship anywhere in the U.S.!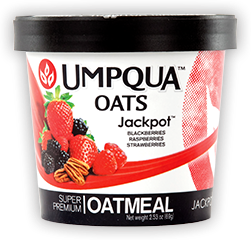 Umpqua Oats: This small company turned national success is proof positive of the American Dream – do one thing really really well and listen to your customers and you'll be successful! Now based in Las Vegas, Umpqua Oats makes premium single serving oatmeal cups featuring premium ingredients and bold flavors that are changing the way people think of oatmeal …
Founded in 2008, the company has grown by leaps and bounds and is now a national brand. Available in over 2000 retail locations across the country (and at their website), this easy to prepare breakfast break through will change the minds of anyone who's tired of unappealing, mushy oatmeal.
The secret is custom milled oats and using the whole grain, plus the use of super premium ingredients and flavor combinations. Instead of soggy, think "al dente" and you'll get the picture! Varieties include Salted Caramel, Vanilla Almond Crunch, and several more. Try their unique "Jackpot" flavor, which includes blackberries, strawberries, raspberries, and pecans!
Check out the entire product line at the Umpqua (pronounced "Ump-Kwah") website. Order a few for yourself and see what you've been missing at breakfast time!

Halleluyah Honey: Those who've read State Gifts USA for a while know we're passionate about honey. We consume raw locally made honey every day and always seek it out whenever we travel. Like enjoying beer from different breweries, it's a lot of fun – and very educational – to sample honey produced in different parts of the country.
The flavor of honey, as you know, is dependent on the flowers pollinated by the bees. Honey tends to offer a different flavor profile from one part of the country to another – it's a whole different availability of flowers and plants. But no matter where in America it's from, raw unprocessed natural honey is very good for you! A source of natural energy, honey is know to help lower blood pressure, normalize sleep patterns, and countless other benefits. Best of all, it tastes good!
In The Silver State, Halleluyah Honey is an apiary and beekeeping supply company located in Carson City. They keep hives throughout Carson Valley, Gardnerville, Mason Valley, and several other surrounding areas. A real taste of Nevada!
You can purchase their honey and related honey products like beeswax candles directly at their website. It's available in various sizes and forms, like cream honey, comb honey, and more.
A wonderful and sure to be appreciated Made In Nevada gift idea!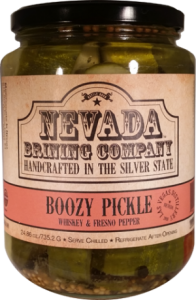 Nevada Brining Company: Headquartered in Reno with a canning kitchen in Sparks, this Silver State company is a welcome addition to the state's specialty foods scene. Starting out with four enticing products offering a distinctly Nevada twist, we can't wait to see how the Nevada Brining Company grows and develops over time …
The company's specialty is dill pickles, and they're stepping up to the plate with two styles … a Deli Style Dill, which are cut into spears and brined with hand cut garlic & dill weed, peppercorns, mustard seed, and coriander. Next is a really cool style dubbed Boozy Pickles, which are packed with Fresno peppers and brined with whiskey made by the fledgling Las Vegas Distillery.
Nevada Brining also makes a Pickled Cauliflower, packed with a salty and sweet brine containing pure cane sugar. A bit of curry and peppercorns are added to balance out the flavor. Even if you're not a fan of cauliflower, try this version! We bet it'll change your mind …
Finally (for now at least), they make Stagecoach Carrots (in a mild & sweet brine with ginger and cloves) and a Pit Master BBQ Rub. The Rub a combination of smokey & sweet and pairs with any kind of meat, from ribs to chicken wings to everything in between. Check out the pulled pork recipe on their site and notice the low cooking temperature that's recommended. That's how to do it right!
You can order any of the Nevada Brining Company products directly from their site. A tasty new gift idea direct from The Silver State! Click through to learn more about the company and to place your order …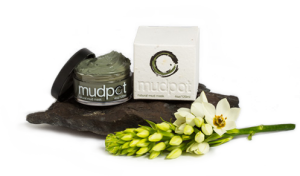 Black Rock Mud Company: The Black Rock Desert is located in the northwest part of the state, northeast of the town of Gerlach. In this area, mineral rich hot springs have long drawn explorers and travelers, who rejuvenated themselves with the healing waters and rich mud baths.
An innovative small firm is also located here called the Black Rock Mud Company, who harvest the mud in small batches for use in skin care products. The most prominent of these products is known as MudPot, which harkens to the age old tradition of using natural clay to revitalize the skin. The clay from this area is brimming with calcium, iron, potassium, and magnesium, minerals known to clean, preserve, and energize your skin …
The mud actually bubbles to the earth's surface, much like mini volcanoes. It is harvested in limited quantities each year, so availability is limited to the season's specific harvest.
Use the MudPot like a mud bath or mud pack. Leave the mud on for anywhere from 5 – 20 minutes, spritzing occasionally to keep the mud moist. Then, rinse off in warm water and feel the positive difference in your skin!
Consistent with Black Rock Mud Company's earth friendly focus, the MudPot is packaged in a recylable jar inside of a cardboard box embedded with non invasive wildflower seeds. You can actually plant the box – what a cool Made in Nevada gift! The company also makes Clean as Mud Soap, a Natural MudPot Skin Spot Treatment and a few other clever items. Check the site to see them all!
There's a list of retailers where you can buy the products on their website, and you can also order directly online …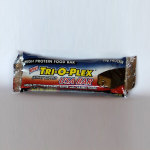 Chef Jay's: Las Vegas based Chef Jay's creates a line of high protein all natural cookies, bars, brownies, pancake mix, and more for people with active, healthy lifestyles. Operating under the principle that active people should consume a gram of protein for each pound of body weight, the company's products are intended to supplement the protein intake we receive from a standard diet …
You may have seen their flagship brand name Tri-O-Plex bars in large super centers or at your local health club. We particularly like one bar they make, the Skinny Dipped Bar, which features peanut butter flavor with a caramel filling dipped in chocolate. Each bar contains 20 grams of protein and they taste great!
You can buy these bars at selected retail locations or directly from the Chef Jay's website. In addition to the chocolate peanut butter flavor, they're available in Smores, Banana Walnut, and Chocolate Coconut varieties. Protein never tasted so good!
Check out the full product line at their online store. A healthy and great tasting gift!
Ethel M Chocolates: A famous visitor destination in an area full of attractions, Ethel M Chocolates is the premier name in chocolate confections and other delectable treats. Best known for their Classic Pecan Brittle, Ethel M Chocolates has their flagship location in Henderson (a close by Las Vegas suburb), a Vegas outpost and several airport shops …
At their main location, you'll be able to take a factory tour and view their beautiful cactus botanical garden. This garden hosts over 300 types of plants laid out on over four acres. Many of the cactus plants are described on their website, where you can also have their brittle and chocolates shipped anywhere in the country …
Their pecan brittle is unique because it has a much softer crunch – you won't break your teeth! It's chock full of fresh pecans and makes a wonderful and unique gift from the area. Truffles, creme liqueurs, and sea salt caramels are also available, as well as their Taste of Las Vegas Collection. This gourmet chocolate collection includes many of the pieces Ethel M is known for, dating back to 1978. Almond Butter Crisps, Satin Cremes, nut clusters, and buttery caramels are just a few …
Click through to the Ethel M website for a traditional Las Vegas area treat!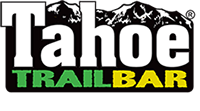 Tahoe Trail Bar: This vibrant and growing small company creates a satisfying energy bar made for anyone with an active lifestyle. Known simply as the Tahoe Trail Bar, it is made with chunks of chocolate, peanut butter, raisins, cranberries, and coconut. Yup, all the good stuff!
The Trail Bar is designed to provide long lasting fuel with a flavor that far surpasses normal dry protein or energy bars. The combination of fruit and chocolate alone will have you reaching for them even if you're stuck inside behind a desk!
The company has been around since 2002 and they've grown distribution to many ski resorts, athletic stores, and grocers around the country. You can also order them at their online store in quantities of six, sixteen, or thirty two.
Get going, keep moving, and get yourself a Tahoe Trail Bar!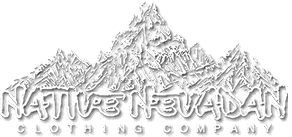 Native Nevadan Clothing Company: This company designs and creates high quality clothing items for native Nevadans (or anyone who loves Nevada!) that you won't find anywhere else. Shirts, hoodies, hats, tanks, knits, and more are available with clever logo designs for men, women, teens, and kids …
These durable items are perfect to show off some Silver State pride, and they're comfortable 100% cotton too! They've got some great hat and t-shirt designs!
You can order for yourself or as a gift directly at the Native Nevadan Clothing website …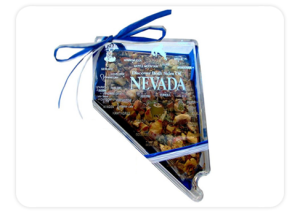 Tahoe Toffee Candy Company: Located in Gardnerville is the Tahoe Toffee Company, founded and owned by Mindy Miller. Known for their sweet butter toffee with chocolate and chopped almonds, the company makes other decadent and delicious treats to tempt your taste buds …
For a gift that really says "Nevada", you can't get much better than Tahoe Toffee packed into a Nevada shaped box. For something a little larger, they also offer a Nevada shaped basket containing toffee, peppermint bark, caramel corn, and their signature honeycomb candy. The honeycomb is a sweet treat covered with either milk or dark chocolate …
You can order any of the Tahoe Toffee products in a variety of sizes directly on their website. The peppermint bark is especially appropriate around the holidays! Click through to see your options and to place your order …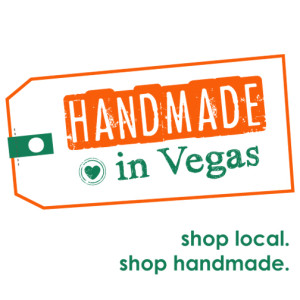 Handmade In Vegas: Handmade In Vegas is the type of organization we wish we'd see more of … they help market the handmade products of small businesses (many home based) located in the Las Vegas area. It's a member based organization run by the vendors themselves, dedicated to getting the word out and providing an Etsy store showcase for their approximately two dozen members …
Handmade In Vegas members include jewelry makers, bath and body products specialists, creators of accessories and children's items, and more. Some of their members are spotlighted here on this page, and all of them are represented on their online store, linked directly from their site. There are almost 600 Made in Nevada products for sale at their store, so there's sure to be something that strikes your fancy!
We love hearing about organizations like this – not only is it good for the vendors themselves, but it's good for consumers as well since it provides a one stop shopping experience for those seeking locally made goods or a specialty Nevada made product.
Click through to their site to learn more and browse through all the member's hand crafted items!
Heaven's Seasonings: Heaven's Seasonings is owned by Chef Nelson Domacasse, a native of the island of Curacao who eventually landed in Las Vegas. Dissatisfied with the seasoning mixes he was given at a stint at an area cafe where he worked, he began mixing his own, settling on a combination of 21 herbs and spices. He began calling the mix Heaven's Seasoning …
After receiving some positive press in a national food service magazine, Heaven's Seasonings is now enjoyed locally and worldwide. A second hotter version, called Heaven's Meets Hell, was recently introduced and contains one additional ingredient (22 total) from the original Heaven's …
Chef Nelson's spice mixes have garnered praise and accolades from customers located as far away as Australia. Heaven's Seasonings enhance the flavor of any meat or fish – just apply it before cooking and add a bit more during the cooking process if you wish!
You can order the original version and the hot & spicy version directly at their website linked above …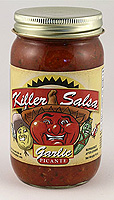 Killer Salsa: Owner Fran Pritchard founded this small salsa company in Gardnerville over 20 years ago and has grown it to where her line of shelf stable salsas can now be found in over 125 grocery stores, including several Costco and WalMart locations …
Now being made in Minden, eight varieties of Killer Salsa are available, and recently the company introduced a line of dehydrated salsa for outdoor enthusiasts (just add water and serve!). The flavors include Original, Smoked Chipotle, Hot Picante, Garlic Picante, Salsa Verde, and more …
The products are shelf stable and don't need refrigeration until after opening. They're made with local produce and there's even a Cheddar Cheese Sauce made with aged cheddar. Recipes are available on the Killer Salsa website where you can order jars of these hearty Nevada made salsas for yourself or friends!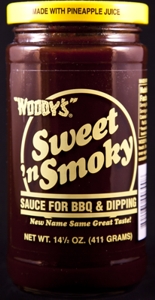 Woody's Foods: Woody's Foods of Reno, NV is the creator of three unique marinade and bbq sauces called Cook-In Sauce, Sweet 'n Smoky Sauce, and Bold 'n Spicy Sauce.
We are big fans of their Sweet 'n Smoky Sauce (pictured), a thick style dipping and barbecue sauce made with a dash of sweet pineapple …
First made in the 1940's, Woody's Sauces are available in Nevada, the west coast, and via links on their website. They're versatile and can be used on any type of meat, either before or after the cooking or grilling process …
The Woody's Foods website has favorite recipes submitted by Woody's fans and there's sure to be one of more to tempt your taste buds.
Visit their site to learn more and to order!
NV Woodwerks: Gardnerville, NV artist and woodworker Zac Higgins owns NV Woodwerks (yes that's how it's spelled!) and creates one of a kind woodworking gifts like pens, ring boxes, and gifts for wine lovers …
One of the more interesting items on the NV Woodwerks Etsy shop is a Genuine Nevada Sagebrush Ballpoint Twist Pen, pictured. Sagebrush is Nevada's state flower and it grows on bushes. The wood from the sagebrush plant is collected, dried, and infused with resin to help the wood stabilize and allow it to be turned on a lathe …
Once that process is completed, an acrylic cast is placed over the sagebrush. Once the cast is dry, it is cut and created to look like a blue Nevada sky …
The pens can easily be refilled (a few refills are included) and they're packed in a handsome gift box. Zac also creates other sagebrush items like bangles and rings – check them out at his store. To our knowledge, NV Woodwerks is the only place you can buy items crafted from genuine Nevada sagebrush!
Rock Envy: Rock Envy is exactly the type of artist we like to feature on State Gifts USA – they create unique stone jewelry out of locally gathered rocks which are polished and formed into pieces like pendants, necklaces, earrings, and more …
Some of their beautiful pieces are created from Nevada Wonderstone. These colorful stones, which tend to showcase shades of pink, are found in the central Nevada desert. The versatile piece pictured is a real part of Nevada and is attached to a silver plated wire – it will hang either way as the stone is polished and finished on both sides …
Rock Envy is owned by Reno artist Alan Metzger. He specializes in agates and geodes from the Black Rock Desert north of Reno. There's a section on the Rock Envy store website specializing in Nevada Wonderstones and other Nevada stones.
These jewelry pieces make great gifts from The Silver State – truly one of a kind! Check out the Rock Envy site to see all their enchanting jewelry creations …
Voodoo Child Kitchen Pepper Sauces: We love trying interesting hot pepper sauces, especially those where you can actually taste and enjoy the sauce and not be obliterated by the heat …
Such is the case with the three great pepper sauces made by a small Las Vegas company, Voodoo Child Kitchen. Their sauces are made with a tangy vinegar along with habanero and jalapeno peppers – hot to be sure, but with a taste leaving you wanting (and able) to have more …
Their original sauce is called, appropriately enough, Original Habanero Pepper Sauce. It's fantastic with any rice dish or mixed into a stir fry. The same is true with Voodoo Child Kitchen's other two sauces, Roasted Garlic Jalapeno Sauce and Peach Molasses Habanero Sauce. The latter is our favorite – the combination of habanero peppers, peach, and sweet molasses is a hit! Use it as a glaze for chicken, a dipping sauce for appetizers, or add a bit to stews and stir fry dishes …
You can order these sauces individually or a money saving variety pack at the Voodoo Chile Kitchen website, so click through and order for yourself or as a hot gift!
Jo Jo's Jerky: Based in Las Vegas, Jo Jo's Jerky makes one of the most unique jerky products we've ever seen …
In addition to their varieties of flavored beef and turkey jerky, they make a jerky our of prickly pear cactus! That's right, cactus jerky, available in Pepper and Triple Threat (hot) flavors. It's listed on the "Veggie" section of their website …
Jo Jo's makes nine flavors of beef jerky, ranging from Pepper to Curry to Teriyaki. So whether you like it tangy or hot, one of their flavors has got you covered! They also make meat and poultry rubs, as well as spiced nuts in a similar range of mild to spicy flavors …
To learn more about their products and to order, go ahead and visit their site at JoJosJerky.com …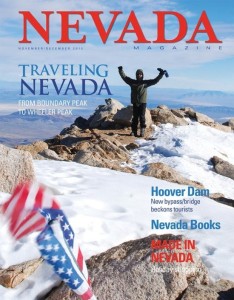 Nevada Magazine: If you're looking for an economical Nevada themed gift, consider a gift subscription to Nevada Magazine, published since 1936 and the state's premier lifestyle publication …
A division of the Nevada Commission on Tourism, this bi-monthly publication offers features on prominent Nevadans, travel opportunities within the state, dining destinations, and much more. Filled with great photography and stories on gaming and the state's history, Nevada Magazine is a must read for residents and visitors alike …
Nevada Magazine is available in both online and print editions. A perfect gift for Nevada snowbirds, gift subscriptions are exceptionally reasonable. Check their website for all the details …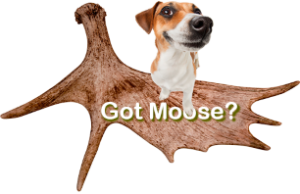 Got Moose Natural Pet Chews: This Las Vegas company markets natural dog chews that we've never seen before …
The chews are made from naturally shed moose and elk antlers. They're a great alternative to rawhide and other messy dog chews since they don't splinter, stain, or smell bad. Moose and elk antlers are a bone material with marrow inside (and dogs love marrow!) and they're available in several sizes …
Antlers are grown by the males of the species in preparation for mating season. They can grow up to an inch per day during the warmer months and are typically shed, or parts thereof are typically shed, during the winter months. The cycle then repeats itself the following year …
Antlers are a bone like material but really have more in common with a hoof or a finger nail. They're a great source of calcium and other beneficial minerals for your dog.
You can see the different sizes of these chews and order at the Got Moose website …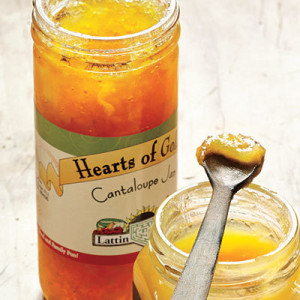 Lattin Farms: Lattin Farms is an organic farm and family fun destination in Fallon, located in western Nevada slightly east of Reno and Carson City. Known for their organic vegetables (and corn maze!), they also produce a variety of jarred and dried goods which are shipped all over the country …
One product we found particularly interesting is their Cantaloupe Jam, produced from cantaloupes grown on the farm. It's great on fresh baked bread for breakfast!
Lattin Farms also makes specialty dressings, pickles, pasta sauces, salsa, pickled vegetables, honey, and pumpkin pecan butter. A perfect gift with a "Fresh From the Nevada Farm" taste!
You can find many of the Lattin Farms items for sale online here …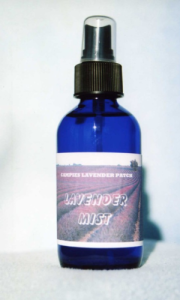 Campie's Lavender Patch: Campie's Lavender Patch is a small northern Nevada lavender farm near the town of Stagecoach. The elevation of the area is roughly 4,000 feet so the lavender is more fragrant than plants grown in lower altitudes …
Lavender is widely known as a healing plant. Lavender soaps and mists, for example, are used to hydrate and tone skin, as well as heal minor skin abrasions and rashes. Lavender soap is ideal for acne prone skin and also provides a healthy sheen when used as a shampoo.
Campie's Lavender Patch sells lavender plants locally and also produces a line of lavender based products for online sales and gifts. You can buy soaps, lotion, natural oils, mists, and more. They offer a great gift idea on their site – a Nevada Lavender Basket. It contains a combination of lotion, soap, sachet, and lip balm or if you wish, salve, lotion, cuticle care, and sachet …
Check their site to learn more about the benefits of lavender and to order …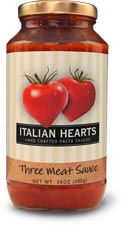 Italian Hearts Pasta Sauces: We learned of this small Reno based operation from a friend who visited Nevada recently. Owner Val and Sal Gray took three of their family recipe sauces public and the result is Italian Hearts Hand Crafted Pasta Sauces …
We were able to try Sal's Three Meat Sauce and wow, is it good! Normally when we buy pasta sauce in the store we "doctor" it with extra meat, a little red wine, and a few other ingredients. No need for that with this sauce! The three meats referred to on the label are sweet Italian sausage, meat from pork ribs, and chuck roast. It's a hearty, filling sauce that works well over pasta as well as heated and spooned over any Italian style sandwich …
Two other flavors are available … Val's Vegetarian and Bella Amore Sauce, which is flavored with meatballs and sausage. You can buy them online at their Etsy store, which is linked from their website. Buon Appetito!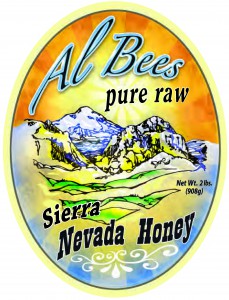 Al Bees Sierra Nevada Honey: Whenever we travel, we always try to buy local honey because it tastes a little different from location to location. Bees, of course, start the honey making process by pollinating flowers. Different geographical areas offer different flowers and hence, the honey comes in different hues and flavor nuances …
In the Sierra Nevada Mountains, Reno to be exact, you'll find Al Bees Sierra Nevada Honey, who have been producing honey for over 15 years. Their honey comes in different shades of gold, depending on the location of the hives and the nearby flowers.
You can order their honey online in a variety of sizes, from a half pound to two pound jars. Also try their creamed raw honey with organic cinnamon which is just the thing for your morning bagel, toast, or croissant. Local honey is also a wonderful Nevada themed gift!
One Big Tree Designs: Reno artist Cindy Ryder specializes in creating wearable works of art from abalone shells, which she discovered from her husband's diving expeditions. Cindy cleans, polishes, and combines the abalone shells with sterling silver and gemstones to create one of a kind earrings, bracelets, and necklaces like the one shown …
Abalone shells come in many different iridescent color palettes and are very easy to clean and durable. The abalone itself is a type of edible sea snail. While most abalone today are raised on farms, they can still be found in waters off the coast of California. They are highly protected and while the taking of live abalone is strictly regulated, their shells can still be found.
Check out all of Cindy's abalone shell jewelry at her One Big Tree Designs website …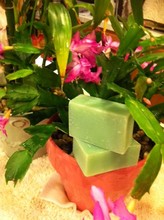 Hill's Handcrafted Soaps: Every time we travel, we always try to pick up a few bars of fresh, local handmade soaps. Handmade soap is free of chemicals, is actually more concentrated than standard bar soaps, and is much better for your skin, especially if it's dry …
Based in Sparks, NV Hill's Handcrafted Soaps creates specialty soaps and creams for both women and men. These soaps make wonderful gifts! A gift of handmade soap is always appreciated and tends to lead to repeat orders. That in turn helps small local businesses … a true win/win situation!
Hill's Handcrafted Soaps offers soap for sensitive skin, shaving soap, bars with invigorating scents, and even a doggie shampoo bar! If you have a dog friend and have never used handcrafted soap to bathe them, take our word for it and try it. Their coat will turn out lush, clean, and shiny. They'll be less prone to itching and scratching … watch their tail wag!
You can order any of these soaps directly online at their website, linked above …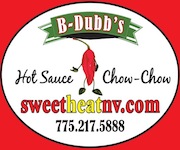 B Dubb's Ghost Pepper Sweet Heat Sauces: We've been patiently waiting for B Dubb's e-commerce site to get set up so we could tell you about these wonderful Nevada made hot sauces made with ghost peppers …
The (currently) four sauces B Dubb's sells are called Sweet Heat, and as you might surmise, the taste is a combination of sweet and hot. The sauces are best used in stews, stir fry dishes, or to liven up chili …
Ghost peppers are one of the hottest, if not THE hottest peppers on the planet but they blend very nicely in B Dubb's sauces. The sauces come in three levels of hotness … hot, extreme heat, and inferno. Start with the hot if you're not sure, then go from there! There's also a Sweet Heat Chocolate Inferno which contains a bit of cocoa taste …
B Dubb's also introduced a chow chow mix in both mild and hot varieties … chow chow is a minced mixed vegetable mix that can be spooned on any type of sandwich or salad to give it a kick of flavor. Here in the Chicago area we put it on hot dogs or Italian sandwiches, just like a giardiniera …
Yes! You can order B Dubb's sauces online at their site and have them shipped anywhere in the U.S.!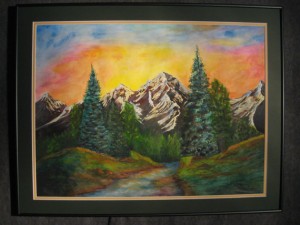 Nevada Glassworks: Run by artist Danny Sullivan from Spring Creek, NV this small operation creates functional and decorative pieces of glass art as well as traditional artwork for your home …
The picture shown, available at the Nevada Glass Etsy Shop is one of a kind, meaning it may be gone by the time you get there … it's called "Glow of Summer" and has a companion piece called "Winter Chill".
The shop also has quite a few glass items, like bowls, trays, necklaces, and more …
Take a look at the shop, as new items are always being added. All made in Nevada!
History of Nevada
Nevada Trivia and Fun Facts

1). Did you know it was once illegal to gamble in Las Vegas? It wasn't until 1931 that Nevada passed a bill legalizing gambling in the city …

2). The Hoover Dam was completed in 1935. It took five years to complete all the work …

3). The Stratosphere Hotel and Tower is the tallest building west of the Mississippi River …

4). In 1966, the reclusive multimillionaire Howard Hughes began his lengthy stay at the Desert Inn. In 1968, when hotel management asked him to leave, Hughes promptly bought the hotel …

5). The first resort to open on the Las Vegas Strip was the El Rancho Vegas in 1941 …

6). 85% of the land in Nevada is Federally owned …

7). Nevada leads the nation in the production of gold …

8). Las Vegas has more hotel rooms than any other city in the world …

9). John Wayne's final movie, 1976's "The Shootist" was filmed in Carson City's historic district …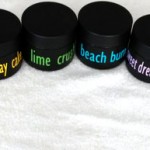 The Coconut Crush: We found this cool little Las Vegas based soap and body care outfit with an Etsy store recently and wanted to let you know about it …
The Coconut Crush creates handcrafted artisan soaps and unique bath essentials for men, women, and children. Soy melts, body butter, lip balm, and scrubs are just a few of the products offered to help you pamper yourself …
Pictured is the collection of soap scrub sorbet. It's a scrub more than gentle enough to use as a facial cleanser and also as a body scrub. It's packed in an 11 ounce recyclable jar and available in eight different scents, ranging from blackberry swirl to lime crush …
There's lots of goodies for guys too, so take a look at their shop!
Bain Tussler's Rubs and Sauces: Based in Virginia City, this Nevada company is known for their grilling rubs, barbecue sauces, and spices. Their flagship spice rub is called "The Kind", which is best used on prime rib or ribeye steaks but works well with any cut of meat, poultry, or pork …
They also sell a barbecue sauce with the none-too-modest name of "Best Ever BBQ Sauce" and while we wouldn't go quite that far, it's certainly in the ballpark!
The sauce has a combination sweet and tangy flavor (not hot) and stands up to grilled meats as a basting sauce or as a substitute for ketchup as a dipping sauce …
You can order Bain Tussler's Rubs and Sauces online. Be sure to check out their handsome gift baskets and combination gift packs of sauces and spice rubs …
Gourmet Rooster Specialty Foods: Gourmet Rooster is a specialty food company in Reno that makes barbecue sauces, appetizer spreads, salad dressings, and condiments. We learned about the company when one of our friends brought back a bottle of their Strawberry Balsamic Salad Dressing from a Nevada trip …
The dressing is fat free and is perfect drizzled over a spinach salad, or any chicken dish for that matter. You can order any of their products online at GourmetRooster.com … the roasted red pepper and garlic spread sounds fantastic!
Mr. G's Teriyaki Sauces: Mr. G's Teriyaki Sauces sound like they should be made in Hawaii, but they're proudly made in Reno, NV. They make about a dozen different flavors of teriyaki sauces that are perfect for chicken wings, stir fry dishes, or as a marinade.
Some of the flavors include Spicy Apple and Ginger, Tangerine, Mango, and Spicy Garlic. They also make specialty salts and organic macadamia nut oil …
Check out their product line and gift packages at Mr. G's Teriyaki …
Nevada Art: Artist Susan Zerga, is an experienced Nevada artist who captures the beauty of the local landscape for gallery quality photos and calendars …
The picture shown is just one of Susan's many creations. She is also the author of the photography book "Nevada Colors", a comprehensive collection of some of her photographs …
Nevada wildlife, mountain landscapes, and the four distinct seasons of the area are all represented in her work.
Check out Susan's website to order a unique gift from The Silver State …
Martin Hotel Salad Dressing: The Martin Hotel in Winnemucca, NV is located near the intersection of Interstate 80 and Highway 95 in the northern part of the state. Just a stone's throw from where the Southern Pacific Railroad comes through, it dates back to 1898 and is listed on the National Register of Historic Places …
Now, the Martin Hotel has meeting rooms and a traditional historic dining room serving Basque-American meals. Just as in years before, it's still one of the primary gathering places in the area. The menu features lamb dishes (a Basque specialty) as well as boneless pork loin, rib eye steaks, chicken fried steak, and more.
One of their best known recipes is for a garlic oil and vinegar salad dressing (pictured), which you can buy directly from the Martin Hotel website store. It's a distinctive taste of Old Nevada!
Kimmie Candy Company: This Reno based candy company has been based in Nevada since 2007 and employs over 25 local residents.
Kimmie Candy sells locally as well as internationally and is best known for their kettle corn nuggets (pictured), which are corn nuggets covered in chocolate with a candy coating …
The kettle corn nuggets are also available in an habanero flavor for those who like a little heat with their sweet …
You can order Kimmie Candy online and they'll ship these unique corn nuggets anywhere you need them to go …
We've Got A Lot More Nevada Made Products To Add … Tell Us About Your Favorites!