Made In Indiana Quick Facts
See Our "Visiting Indianapolis" Travelogue … Scroll Down
This Post is about Made in Indiana Gifts and Specialty Indiana Products
Want To See Your Business / Products On Our Made In Indiana Page?
Visit "Advertise With Us"!
FEATURED MADE IN

INDIANA

BUSINESS

ES
Cat People Press: Do you love cats, or just have someone near and dear to you who loves these adorable creatures? If so, you'll be happy to get to know this creative Fort Wayne business that celebrates the joy of having felines in our lives …
They're Cat People Press and they design and create a comprehensive line of cat themed greeting cards. No matter the occasion, there's a perfect one of a kind greeting card available … birthdays, friendship, love, thank you, and more …
Artist created and depicting joy and light hearted humor, Cat People Press delivers cards and sentiments just perfect for anyone who loves cats …
Click through to their website to see all the cute cards, and the themed collections. Wholesale opportunities are available too!
Made in Fort Wayne …
MADE IN INDIANA SPECIALTY FOODS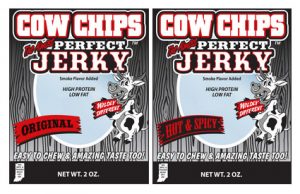 Cow Chips Jerky: From Warsaw, IN this small business produces a completely different style and texture of beef jerky … you've got to try it and see for yourself!
If you're turned off to traditional jerky because it's like chewing shoe leather, well you just found jerky heaven. The company name, Cow Chips, derives from two aspects … it's jerky made from beef (hence the "cow") and it has the easy eating texture of a potato chip (hence the "chip"). This jerky practically melts in your mouth!
In addition to its great taste, Cow Chips Jerky is an exceptionally healthy snack … there's 18 grams of protein in every bag. And what you'll get in every bag is all jerky, not water weight as you'll find in convenience store brands …
Cow Chips Jerky is available in their Original variety along with a Hot & spicy. You can order directly from their website and be sure to check out the quantity discounts …
A beef jerky company in Indiana … who knew??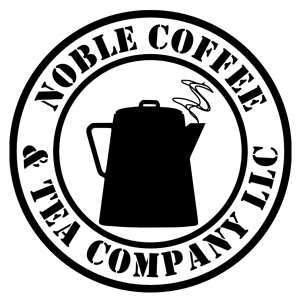 Noble Coffee & Tea: On our recent visit to Indianapolis (check out our travelogue below), we stayed north of the city in Noblesville, a fun mid sized city of just over 50,000. They boast an historic town square where you'll find an inviting stop for coffee or tea, the appropriately named Noble Coffee and Tea. They've been around since 1996 and have been roasting their own sourced coffee beans since 1998 …
More than just a place to stop for a great cup of coffee, the business focuses on buying the highest quality specialty grade coffee available. At their store and also at their website, you'll find many unique limited offerings, including Fair Trade and Rainforest Alliance Certified Coffees when available. They've shipped their coffees all across the United States and are happy to ship some to you, direct from the heart of The Hoosier State …
Check out their selection of signature blend, single origin, and flavored coffees at the Noble Coffee and Tea website, or better still visit downtown Noblesville next time you're in the central Indiana area. We think you'll agree it'll be the best cup of coffee you've had in a long time!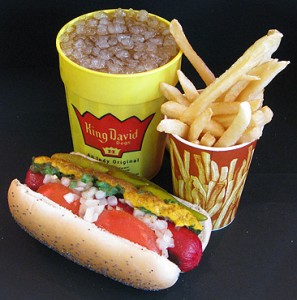 King David Dogs: The last few times we've visited Indianapolis, we discovered a great hot dog joint called King David Dogs. They're located downtown not far from the iconic Soldiers & Sailors Monument (see our "Visiting Indianapolis" travelogue below).
Even though this place has only been around since 2006, its roots date back to the early 1940's when local Hene Meat Company produced a special frank that was beloved throughout the city. The original owner's grandson, Brent Joseph and his wife Hannah resurrected the original recipe and an Indianapolis legend was reborn …
When you visit, you'll see the menu isn't complicated although you can get your grilled hot dog dressed pretty much any way you like it. They're 1/4 pound all beef dogs and to say they're fantastic is an understatement!
More importantly, for those who can't get to Indy, they're available in five pound packages directly from the King David Dogs website. A really traditional gift from downtown Indianapolis!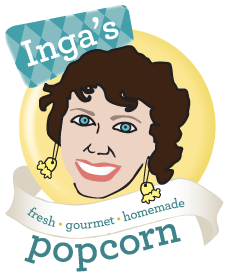 Inga's Popcorn: Zionsville, IN is home to Inga's Popcorn, founded and operated by owner Inga Smith, who opened this homemade gourmet popcorn business in 2011. Inga uses Indiana grown organic popcorn to create a variety of appealing flavors which are available in many retail locations in the Bloomington area and beyond …
Take a look at the lineup of creative flavors at their website, where you can also order the popcorn for yourself or as a gift. Chocolate Peanut Butter Crunch, Pumpkin Pie Spiced Caramel, Snickerdoodle, and White Cheddar Cheese are just a few – she even makes a variety just perfect for those cold Midwestern nights called Snow Storm, which features caramel along with white & dark chocolate drizzled on top. Sign me up!
You can order in a variety of sizes from a quart bag to a 3.5 gallon tin – the perfect Made in Indiana gift for someone special! Click through to Inga's site to learn more and to order …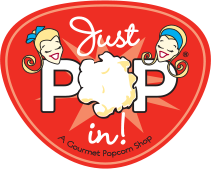 Just Pop In: Over the years, we've grown to love Indianapolis. At first (many years ago), we simply drove through on our way to Cincinnati, one of our favorite cities. Recently though, Indianapolis has become a preferred long weekend destination for us – the city is teeming with great restaurants, recreational opportunities, live music, and historical sites.
We are also fond of several of the city's neighborhoods, Broad Ripple in particular. A vibrant, lively area that's a favorite for visitors and locals alike, this neighborhood northeast of the city center is a destination unto itself. When you visit, and we hope you do, be on the lookout for a really cool gourmet popcorn shop called Just Pop In …
Just Pop In is best described as a celebration of popcorn. The shop offers tins, gifts, wedding favors, and all sorts of interesting popcorn flavors. And if you happen to be in their Guilford Avenue location and see two sparkling women who look exactly alike, your eyes aren't deceiving you … Just Pop In is owned by twin sisters! (Learn more about the owners at their website) …
We were particularly impressed with Just Pop In's connection with their community. For a great Indianapolis themed gift, check out their "Local Flavors" collection. Just Pop In has partnered with other uniquely Indianapolis companies like Sun King Brewing, 4 Birds Bakery, Hoosier Momma and more to create flavored popcorn that pays homage to the specific local business! As an example, the "Hoosier Momma Blood Mary" popcorn carries the flavor profile of the excellent Hoosier Momma Bloody Mary Mix (see profile below). A wonderful locally focused idea!
You can order any of the Just Pop In specialties directly at their website. They've also got a satellite location in the Indianapolis International Airport in Terminal B!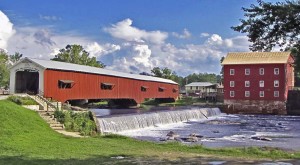 Bridgeton Mill: Historic Bridgeton Mill is the oldest continually operating mill in Indiana. Situated in the rural town of Bridgeton not far from Terre Haute, the area is well known for covered bridges, the most famous of which is adjacent to the mill as you can see in the picture …
Bridgeton Mill was purchased and renovated in the 1990's and now creates over 40 different all natural stone ground products. Current ownership notes that business picked up significantly in the last ten years when people rediscovered "real" food!
Every day, wheat is ground into flour and corn into meal to create products made with minimal processing, no additives, and no preservatives. Choose from Buckwheat Pancake Mix, Blue Cornmeal, Whole Wheat Pastry Flour, and many more. You can shop directly at the Mill's website and they'll ship fresh products directly to your door. Great gifts for the foodie on your list!
Check out the Mill's site to learn more of their history and see all their natural products …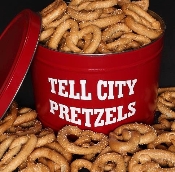 Tell City Pretzels: Tell City is located in the far southern part of the state, adjacent to the Ohio River and just across from Kentucky. Situated roughly between Evansville on the west and Louisville on the east, one of the most enduring businesses you'll find in the area is the Tell City Pretzel Company …
With roots dating back to 1858, Tell City Pretzel Company has been creating their hand crafted pretzels for generations. They're made from an original recipe and are hand twisted and then baked to perfection. They're a southern Indiana tradition and are just now being discovered by pretzel lovers in other parts of the country.
In general, you'll only find Tell City Pretzels in the southern Indiana area, but thankfully you can order at their online store! You can order them in the Classic original flavor, with extra, light, or no salt, or baked "well done" – whatever your pretzel taste buds desire!
A great traditional gift from The Hoosier State!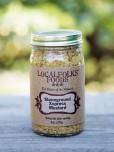 Local Folks Foods: This interesting Indiana company was founded by Steve and Anita Spencer from their family farm in Sheridan, IN. They began creating a line of natural and wholesome foods from simple ingredients that embodied the Midwest identity. They have expanded the business to include other local producers and market the products regionally with the help of food industry experts.
Their line can be found in Whole Foods locations and via home delivery in the Midwest as well as online …
Local Folks Foods offers a line of salsa (from mild to hot), pizza and pasta sauce, hot sauce, barbecue sauces, and more. Try their table friendly products like their ketchup (made without corn syrup) and the delightful Stone Ground Express Mustard, a hearty full flavored mustard containing a bit of fresh jalapeno for bite …
Visit the Local Folks Food website to learn their full story and experience all their products …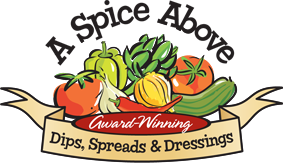 A Spice Above: Here's an easy and convenient Indiana made gift appropriate for anyone on your list. A Spice Above from Crown Point, IN makes a tasty variety of dip mixes just perfect for anyone who likes to entertain but strives to keep things easy …
Some of the flavors available include Aged Alpine Asiago, Cha Cha Chipotle, Dilly Delight, and Spectacular Spinach. They can be used as dips, spreads, or dressings. All in all there are 18 different flavors, so no matter your taste bud preferences, there's A Spice Above dip mix for you!
These mixes are very reasonably priced and there are quantity discounts … five dips for $20, so try a few different flavors. You can order directly at their website, which is ASpiceAbove.com …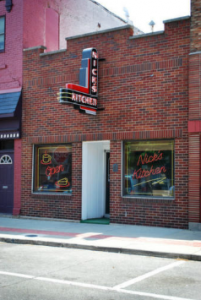 Nick's Kitchen: Huntington, IN is located in the northeast part of the state, just off Interstate 69 and home to the U.S. Vice President's Museum, a unique destination honoring all of the country's vice presidents. It is also home to the iconic Nick's Kitchen, a small downtown restaurant that has been serving residents since 1908 …
This 100+ year old restaurant is best known for two specialties – pork tenderloin sandwiches and dessert pies. You'll have to visit Nick's to try one of the pork tenderloin sandwiches (well worth it!), but you can order their fantastic pies online at their website …
Pies come in five different flavors … cherry, apple, peach, black raspberry, and sugar cream. It's the sugar cream pie you'll especially want to try. It's kind of like a traditional southern chess pie and it's quite possibly the most perfect dessert ever …
We stopped here not long ago after a visit to the Vice President's Museum … Nick's has all kinds of historical photos on the wall depicting the area's history and it's a warm, welcoming place in the heart of town. If you can't make it in person, get the flavor of Nick's by ordering a sugar cream pie – enjoy!
LM Sugarbush Maple Syrup: Also known as "North America's Original Sugar", pure maple syrup is hard to find in stores … your best bet is buying directly from a farm with groves of maple trees which yield the sap necessary to make the syrup …
LM Sugarbush has been producing pure maple syrup from their southern Indiana farm since 1981. Did you know it takes 50 gallons of sap from a maple tree to make one gallon of syrup? Pure maple syrup comes from 100% boiled down maple tree sap (no additives) and that's what you'll get from the folks at LM Sugarbush …
Another little known fact is that maple syrup from this part of the country tends to be darker and have a fuller flavor than what you can get on the East Coast. You can use it for baking and cooking, as well as traditional uses atop pancakes and waffles …
LM Sugarbush also hosts an annual Maple Syrup Festival over two weekends each year … there are demonstrations, entertainment, tours, lots of good food, and of course, plenty of maple syrup and maple candy! Check their website for all the details …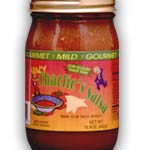 Crazy Charlie's Salsa: A friend recently brought us back a jar of Crazy Charlie's Salsa from a weekend trip to Indiana … we were glad he did!
Based in Fishers, IN this small company makes a wide range of salsa flavors and related products, including their award winning chili sauce. The salsa comes in mild, medium, and hot heat levels … we had the mild and it is fantastic!
They also make an Island Mango salsa, as well as a black bean and corn style. You can use their chili sauce as a convenient base for a batch of chili … just add a pound of meat and beans and you're all set!
Order any of Crazy Charlie's products directly from their website … the ingredients are Indiana grown!
Sechler's Pickles: Located in St. Joe, IN about 20 miles from Fort Wayne, Sechler's Pickles makes an amazing variety of gourmet pickles and pickle related products. They've been around since 1914, and they're still owned and operated by the Sechler family …
A year ago, we were given a four pack (four pints) gift package of Sechler Pickles as a gift. You can order the same gift pack, which included Garlic Dills, Sweet Bread and Butter Slices, Candied Sweet Mixed Pickles, and unique Candied Sweet Orange Strip Pickles. It's easy to tell why Sechler's has been around for close to 100 years … the pickles are really, really good with just the right amount of snap and crunch!
If you're ever near St. Joe, you can arrange a tour of the Sechler Pickle Factory. Check their website for dates and times of scheduled tours …

Maple Leaf Farms Duck Products: Maple Leaf Farms in Leesburg is one of the nation's largest processors and purveyors of duck … in fact, if you're shopping for frozen duck at your local supermarket for a holiday meal, chances are great you'll see the Maple Leaf Farms name …
If you can't find duck products to your liking locally, you can buy duck online at the Maple Leaf Farm's online store. Some of the many products include duck sausage, appetizers, confit, and even items that are fully cooked!
Shoup's Country Foods: Shoup's Country Foods in Frankfort, IN started out as a small custom meat processing plant and has grown into a catering business, retail operation, and national mail order shipper of meat, seasoning, and related products …
Shoup's is renowned for their pork. You can order their specialty, the "Mini Hog Roast" online and have one of their bbq sized pork roasts delivered. The roast is completely seasoned and all you have to do is cook it in the oven or on the grill (suggestions are included).
You can also order their barbecue sauce, pork seasonings, and another specialty known as Hogburgers, which are like hamburgers but are made from ground pork …
Deluxe sauce and seasoning gift baskets are available as well. Check the Shoup's website for more details …
Yoder Popcorn: Located in Topeka, IN in the heart of Indiana Amish Country, Yoder Popcorn has been around since 1936. They create many different varieties of popcorn which you can order already popped or ready for your popcorn popper or microwave …
At the Yoder Popcorn website, you can check out all of their popcorn, caramel corn, and gift baskets ready to ship anywhere in the United States. You can also buy their excellent popcorn seasoning and even an old fashioned popcorn popper!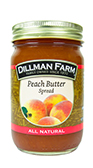 Dillman Farm: Dillman Farm of Bloomington, IN is well known in the state for their apple butter, pumpkin butter, and other flavors of farm fresh jams and jellies. Owned and operated by the same family since 1970, Dillman Farm uses only whole fruit and pure cane sugar, with no corn syrup or preservatives of any kind added …
The farm makes over 100 varieties of fruit butter spreads, preserves, barbecue sauces, mustard, and salsa products on site. We recommend their peach butter as well as the corn salsa as two "must try" products …
See their entire product line online at DillmanFarm.com …
MADE IN INDIANA GIFTS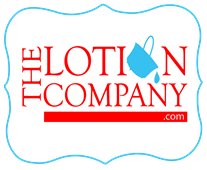 The Lotion Company: We're so pleased to introduce you to a small family owned business based in Muncie making some of the best moisturizing lotion and related skin care products you'll ever use …
The business is The Lotion Company, and they're known for their full body moisturizer, made in a variety of creative fragrances. They were kind enough to send us samples and we are so impressed – the moisturizer soaks right in and just a little works the whole day!
Known specifically as "24 Hour Skin Therapy", this wonderful moisturizing lotion is enhanced with aloe vera as well as macadamia oil and sesame oil to deeply nourish your skin. It's made in different scents (including "Free & Clear" which is scent free) and is packaged in creative containers like milk bottles and Ball Jars, making it perfect for gift giving …
In addition to 24 Hour Skin Therapy, check out the Lotion Company website and you'll discover products like Farmer's Hands, the ideal solution for the roughest, driest chapped hands, and Dancer's Feet, for those hard working soles. There's Lip Balm too. They've got you covered from head to toe!
Some of the scents you can pamper yourself with include Spring Cherry, Vanilla Bean, Kiwi Mango, Lavender, Fresh Breeze, and several more. There are twelve in all, including the "Free and Clear" we mentioned, which is unscented and excellent if you're wearing perfume …
What most impressed us about the moisturizer is how concentrated it is … this is not lotion from the corner drug store you need to slather on. Just a little bit goes a long way, and your skin is left feeling soft, smooth, healthy, and very touchable …
Visit The Lotion Company website to see all their products and to order. Fundraising and wholesale opportunities are available as well. Best of all, they're family owned and local – proudly based in Muncie, Indiana! We are so delighted to feature them here on our Made in Indiana page …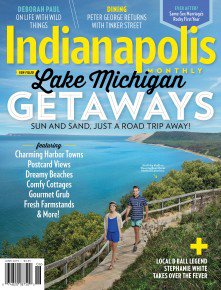 Indianapolis Monthly: Here's a great economical gift idea for hte Hoosier on your list … a subscription to Indianapolis Monthly, in our estimation the state's premier dining, lifestyle, and travel magazine.
Even if you don't live within the city limits, this magazine is relevant to any Indianan because their scope of coverage extends to the whole state. We're very impressed with their travel coverage in particular – there are lots of features on day trips within Indiana, along with up to date information on happenings in The Circle City and beyond.
Subscriptions are very reasonable and available in print or digital versions. You can even "bundle" the two and enjoy Indianapolis Monthly in your living room or on the go wherever you are …
Click through to their site to view the subscription options …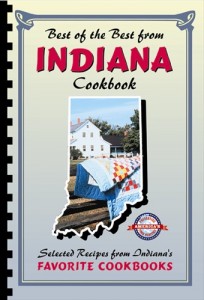 Best of the Best From Indiana: That's the name of this beautiful cookbook written and compiled by Gwen McKee and Barbara Moseley. It's 288 pages of recipes from The Hoosier State, from the sand dunes to The Circle City to the scenic southern by ways …
Beautifully illustrated, this cookbook is the perfect gift for any Indiana resident or one who holds the state near and dear to their heart.
Mudslide Cake, Pork Tenderloin with Mustard Sauce, Indy Chili, and Hoosier Potato Salad are just a few of the recipes awaiting you in this entertaining book …
You can get your copy direct from Quail Ridge Press at this link.
Enjoy the flavors of Indiana!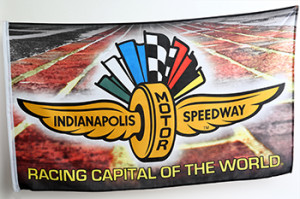 Indianapolis Motor Speedway: If you've never been to the Indianapolis 500, we recommend putting it on your bucket list. Even if you're not a big car racing fan, the excitement, drama, and spectacle is second to none and something you'll never forget. I was fortunate enough to attend twice in the mid 1970's as my dad had connections in the meat business in Indianapolis …
The speedway and grounds are one of the biggest attractions in Indianapolis. The 2.5 mile brick oval track can be toured, and a bus will take you around the track to experience the steep banked curves. You'll wonder how on earth the race car drivers do it!
The 500 is about as Indiana (and America) as you can get. The speedway has an on site and online gift shop where you can purchase all sorts of Indy 500 memorabilia and clothing items. Pictured is a very cool logo flag that'd look perfect in any race enthusiast's den or sports room!
Check out the online gift shop at IndianapolisMotorSpeedway.com …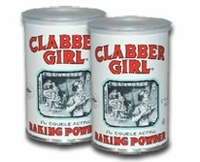 Clabber Girl Baking Products: Clabber Girl Baking Powder has been one of the most trusted names in kitchens across the country for almost 115 years. Based in Terre Haute, Clabber Girl is a company synonymous with baking … their products include not only baking powder, but baking soda, cookie and cake mixes, and more.
The Clabber Girl Factory Store is a great place to visit in Terre Haute, where you can learn about the rich heritage of the company and enjoy lunch in their cafe … but if it's not convenient to get to Indiana, you can shop for products at the Clabber Girl online store …
Weaver Furniture Sales: Located in Shipshewana in the northeast part of the state, Weaver Furniture is a leader in handcrafted Amish furniture for your home …
From dining room tables to bedroom sets, and from children's furniture to office furniture, the Amish craftsmen at Weaver Furniture Sales will craft pieces for your home that will last for generations. They will also work with you on an individual basis should you have a specific piece or design in mind …
Shipping across the U.S. is done by PackShipUSA standards and within 200 miles, Weaver Furniture can arrange delivery and set up in your home.
Learn more about their quality handcrafted furniture at Weaver Furniture Sales …

Hoosier Bat Company: The Hoosier Bat Company of Valparaiso is a well known manufacturer of baseball and softball bats, but they also create home decor pieces and jewelry incorporating a baseball or softball theme. The home plate wall clock shown is just one example …
Many current and former major league players have used Hoosier Bat Company bats, like Frank Thomas, Magglio Ordonez, Harold Baines and dozens more. You can order baseball or softball bats online from their site, as well as jewelry, clocks, bar stools, and more. The designs are really clever and make for a great conversation piece!
MADE IN INDIANA LOCAL ART
Todd Pletcher Pottery: Based just outside of Goshen in a home pottery studio, ceramic artist Todd Pletcher creates a wide variety of pottery, including bowls, plates, mugs, and other one of a kind gift items …
Todd and his partner Anna relocated back to Indiana from the Chicago area where Todd taught night classes in pottery. Since moving back to Indiana in 2010, the couple happily devotes full time effort to the creative process.
Visit the Pletcher Pottery website and linked Etsy store to see examples of the craftsmanship. These pieces will add a touch of unmistakable beauty to any room! Pottery also makes a wonderful gift – many families pass down specific pieces as legacy items from generation to generation.
Help support local Indiana artists by checking out Todd's site … you'll be sure to find something absolutely perfect for your home …
Dick Lehman Pottery: Dick Lehman has produced magnificent ceramic pottery pieces from his Elkhart, IN studio for over 30 years. His extensive worldwide travels have duly influenced his work, which you'll see when you visit his online gallery at DickLehman.com …
The wall vase shown is just one example of the intricacies of Dick's work. This vase is wood fired with all natural ash glazing … no hand glazing applied. Many of his pieces are one of a kind …
Dick's studio on Elkhart is open to the public six days a week. He shares the space with three additional potters he employs to create frequently requested pottery pieces and to allow them to gain experience for their own pottery creations …
Pottery like this is an excellent gift from Indiana … or just for yourself. It will be admired and appreciated for years, and more than likely passed down as a family heirloom …
Clay City Pottery: Since 1885, Clay City Pottery has been firing and glazing stoneware and other functional pieces of pottery in the small central Indiana town of Clay City, about an hour southeast of Terre Haute …
Clay City Pottery's stoneware is exceptionally functional. The glazes contain no lead, so the pieces are safe for all kinds of foods, hot or cold. Each piece is safe for the dishwasher, oven, and microwave. And you can serve food directly from the stoneware … the pottery helps keep your cooking warm!
You can order Clay City Pottery bowl items online via their website. An Indiana institution, a gift of Clay City Pottery will be appreciated for years to come!
MADE IN INDIANA DESSERTS & SWEETS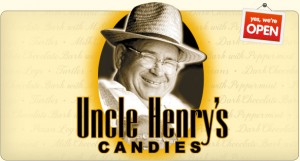 Uncle Henry's Candies: Cicero, IN is a town of about 5,000 residents located in Hamilton County just north of Indianapolis. For over 30 years, it's been home to Uncle Henry's Candies, owned and operated by Carl Harvey, who learned the art of candy making from, you guessed it, his Uncle Henry …
Uncle Henry's Candies creates their specialty treats for gift baskets, corporate gifts and occasions, special events … and you! At their website, you'll see the wide variety of sweet goodness they make, including milk & dark chocolate bark, turtles, peanut clusters, pecan logs, and more.
You can order directly from the site and have the candies shipped right to your doorstep, or to anyone who appreciates a Made in Indiana gift!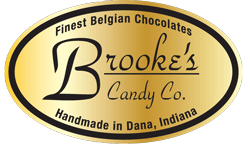 Brooke's Candy Company: Dana is a small west central Indiana town located about 1/2 hour north of Terre Haute and a few miles east of the Illinois border. It's the hometown of Brooke Schmidt, owner of a creative, growing candy company bearing her name …
Brooke's Candy Company has roots dating years before its founding in 2004. When Brooke was a young teen, she made mints for her sister Dana's wedding shower (Dana and their mom are also involved in the business). The mints went over so well that Brooke was flooded with orders for more, and a passion was born!
Now, the company makes a wide variety of confectionery treats from their small factory in Dana, including mints, toffee, fudge, caramels, turtles, and more. They've been featured in Midwest Living Magazine and the TV show Heartland Highways. They were also selected as an addition to the Grammy Bags for the Stars, and word of Brooke's delicious specialties has been steadily growing!
Even if you're not a sweets person, check out the company's gluten free mixes for Banana Bread, Chocolate Chip Cookies, and Fudgy Brownies to bring the taste of central Indiana to your home. Along with their chocolates, they're a great gift idea and available for shipping directly from the Brooke's Candy Co. website linked above. Wholesale opportunities are available as well – check her site for details!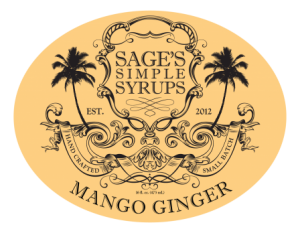 Sage's Simple Syrups: Indianapolis is one of our favorite weekend getaway cities, and on a recent research visit for our "Visiting America's State Capital Cities" feature, we learned of (and sampled) the wonderful small batch flavored syrups being made by a creative Indiana based business, Sage's Simple Syrups …
Owned and operated by Ryan & Bryna O'Neill, the company hand mixes syrups for both alcoholic and non alcoholic cocktails, only limited by your imagination. The syrups are made with all natural ingredients, including pure cane sugar, and mix well with any of your favorite libations for an added layer of flavor.
They're available in eight different varieties: Coffee Vanilla Bean, Cucumber Basil, Lime Mint, Guava, Raspberry, Mango Ginger, Peach Lavender, and Roasted Apple. Want to create the perfect mojito? Try some of the Lime Mint syrup, and for a cool summer refresher, mix the Raspberry into lemonade or iced tea …
Sage's Simple Syrups are available at specialty outlets throughout central and southern Indiana (there's an updated list at their site) and also at their online store. A perfect gift for the mixologist in your life, or someone who aspires to be!
Click through to their website to learn more about all the flavors and to order …
DeBrand Fine Chocolates: Founded in 1987 and with three locations in Fort Wayne, DeBrand is synonymous with chocolate in The Hoosier State. With an array of chocolates and specialty confections, a gift of DeBrand Chocolates is an exquisite gift from Indiana.
Some of the DeBrand products you'll find at their website include chocolate covered caramels with sea salt, seasonal chocolates, giant caramel apples, truffles, and many more. One of the most popular gift items is the DeBrand Classic Collection. It's available in various sizes and can be ordered in assortments or by chocolate type. Hint: Try their all natural fruit creams!
Pretzels, marshmallows, and ice cream toppings are some of the company's favorites. DeBrand specializes in corporate gifts, wedding and baby shower favors, and gift baskets & towers …
Visit their site to see all the unique products, chocolate and otherwise! A perfect Indiana themed gift!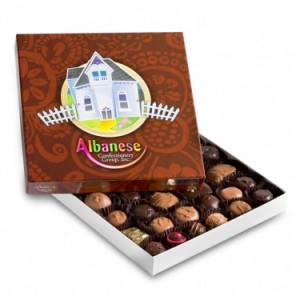 Albanese Candy: Specializing in gummies, chocolates, nut mixes, and other sweet treats, Albanese Candy is embarking on their fourth decade in business. They're located right on Lincoln Highway in Merrillville, about 45 minutes southwest of Chicago in northwest Indiana …
If you're a fan of gummie candies, you won't find much better than those from Albanese. They've fresh, fruity, and available in literally dozens of shapes and flavors. They even make chocolate covered gummies – the best of both worlds! In fact, if you're ever in the area, they offer guided group tours as well as self guided tours so you can see how these unique candies are made …
Albanese Candy also offers a number of gift packages, like the one pictured. It contains an assortment of pecan patties, peanut butter meltaways, dark chocolate caramels, chocolate toffee with almonds, and more. Oh My! What a treat direct from The Hoosier State …
To learn more and to order, click through to the Albanese Candy website linked above …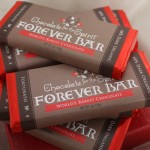 Chocolate For The Spirit: This Hoosier State chocolatier is well known in local circles for their decadent chocolate treats, but there is one type of chocolate in particular which attracts customers from all over. It's known as the World's Rarest Chocolate …
The chocolate is known as Pure Nacional, which originated in Equador in the 1600's. It proved so popular it was one of the top chocolates available in European and American markets for decades until the cacao trees were devastated by disease in 1916. The famed chocolate known for its delicate fruit and floral flavor was thought to be lost forever …
Many decades later, a mother tree fruiting the same rare white cacao bean was discovered in Peru. The chocolate was once again produced … described as a treasure with an intense but mellow flavor with no traces of bitterness. It is now used by Chocolate For The Spirit in specially made candy bars, available to you or as a gift …
Check out their website for more information about the World's Rarest Chocolate and all of their other chocolate specialties …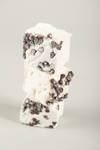 240 Sweet Artisan Marshmallows: This Columbus, IN small artisan baking company counts among its many specialty creations the gourmet marshmallow. Now, these aren't the kind of marshmallows you'd find in a bag at the grocery store … they're handcrafted with natural ingredients in small batches. The different flavors available have varying densities and textures … an out of the ordinary delicious sweet treat!
240 Sweet creates dozens of marshmallow flavors … pictured is the peppermint chip. Each flavor comes in a variety of packaging, appropriate for both small and large parties!
You can purchase online and they'll ship directly to your home or business. Don't worry about the marshmallows going stale … they retain their peak freshness level for a month or more!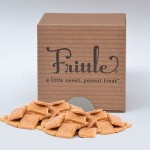 Newfangled Confections: This artisan candy maker in Indianapolis makes a unique peanut butter candy called Frittle, which are bite size squares of peanut butter goodness …
They look like hard candies, but Frittles are actually soft and won't stick to your teeth like toffee and brittle. They come in a variety of flavors too … original, sesame toasted, and coconut.
Newfangled Confections also makes wonderful sweet and spicy pecans, pralines, and gift packs for anyone on your list …
Give the sweet taste of Indiana!

Rise 'N Roll Bakery: This Indiana bakery mini chain has over a dozen locations in the state, clustered mostly in the northeast area. They're known for their traditional bakery items like donuts, cakes, pastries, and cookies, but their go to item for us is their Pecan Crunch …
This scrumptious concoction is like a mix of candy and bakery … it has a tantalizing but not overpowering sweetness, and yet the wholesomeness of baked goods. It's available in four different varieties online. In addition to pecan crunch, you can also order cashew, peanut, and mixed nut.
Order some for you or a sweet toothed friend at the Rise 'N Roll Bakery website …
South Bend Chocolate Company: If you're ever driving through South Bend with your windows open, you'll understand why many locals insist South Bend is more than just Notre Dame football …
When the wind is blowing the right direction, you'll notice the sweet tantalizing aroma of the South Bend Chocolate Company hard at work creating their latest batches of chocolates …
The company is best known for their chocolate toffee, covered in either milk or dark chocolate, and assortments by the pound. We especially like the chocolate covered peanuts and the pixies, or turtles if you prefer. They also create all sorts of specialty chocolate treats for the holidays. You can have all their products shipped directly to you or a friend; check their website for all the details …
MADE IN INDIANA HOT SAUCE, SPICES, & CONDIMENTS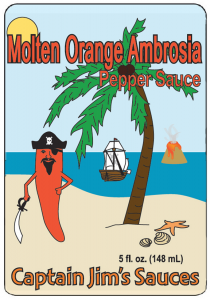 Captain Jim's Sauces: This small Hoosier State company makes a line of hot sauces created from Indiana grown peppers. Did you know many of the peppers thought to only grow in the Caribbean do quite well in the warm, humid summers here?
Captain Jim is Jim Kirk, who got his nickname sometime after the appearance of Star Trek on television in the 60's. Jim is pretty good at barbecue and in the last ten years or so has tried his hand at making hot sauces, courtesy of a co-workers garden abundance. After giving his sauces away to friends and family for a few years, he was encouraged to market them … and here we are!
The product line includes five different sauces using habanero, cayenne, and scotch bonnet peppers. Two varieties even feature sweet Indiana made honey! We were able to sample and buy a bottle of Captain Jim's Molten Orange Sauce, one of the types containing honey. It's excellent in tacos, on scrambled eggs, and in stir fry dishes. And we're sure many more culinary creations!
You can find Captain Jim's Sauces around Indianapolis and farther afield (there's a list of stores at their website) or you can order any or all of them online. A truly local made in Indiana product!
s.a.l.t. sisters: This amazing Goshen, IN company began in 2007, fueled by the vision of founder and owner Charmane Skillen to create exceptional seasonings from Nature's basic elements. Recognizing the benefits of unrefined sea salt, Charmane's company has developed a classic line of flavored sea salts as well as herb mixes, pure flavored cane sugars, and much more. The company is named after Charmane's four daughters Sydney, Alexis, Lauren, and Taylor …
Endorsed by prominent chefs as well as the food industry media, the mission of s.a.l.t. sisters remains intact – to help consumers flavor foods in a simple manner using responsibly harvested ingredients. Now available in most states and of course at their online store, some of these enticing seasonings include Applewood Smoked Sea Salt, Lemon and Lavender Herb Mix, and Dark Cocoa Cane Sugar just to name a few …
At their website, you'll also find ideal gifts for the chef or foodie on your list. Choose from dip mixes like Sesame Ginger and Smoky BBQ or Honey Glaze and poultry rubs. Simple solutions to create natural, healthy meals! Gift packages are also available, like the Salty Dog Sea Salt sampler set shown …
Check out their site to learn more about this vibrant endeavor and to order for yourself or as a gift!
Chesterville Pepper Company: This small Indiana company has been creating several eye opening hot pepper sauces, courtesy of founder and owner Tina Tillman. An organic gardener and self proclaimed foodie, Tina and her extended family helpers have made a name for themselves with some really interesting sauces, jellies, and more …
One of Tina's most distinctive sauces is called Fistful of Pineapple, and a fistful it is! Kind of like a teriyaki sauce bursting with pineapple flavor, it is augmented by flecks of the rare Dorset Naga pepper, one of the hottest peppers around. Use this sauce with any rice dish – it's a wonderful sweet & hot sensation!
Another unique product, the likes of which we haven't seen before, is Sangre del Diablo. It's a spicy ketchup infused with ghost chiles – a wonderful change of pace from standard store bought ketchup. Use it like you would any other ketchup, but prepare yourself for a totally addicting taste bud experience!
Order any of Tina's products at the Chesterville Pepper Company online store. Don't forget to check out their unique salsa line too!

Best Boy and Company: This creative and socially minded company based in Roanoke, IN creates BBQ sauces, fudge sauces, and spice blends with all natural ingredients in various flavors. More importantly, 100% of their profits are donated to 501 c3 charitable organizations benefiting families and children … bravo!
We learned of this company courtesy of Samantha Aulick of 240 Sweet (see their write up below) …
Best Boy and Co. make three styles of BBQ sauce … Original, Adobo, and Carolina mustard style. We're most enchanted with their three appealingly named hot sauces: Blonde, Brunette, and Redhead …
The Redhead is our kind of hot sauce … just enough heat to let you know it's there along with a bit of sweetness. Use it on casseroles, stir fry dishes, stews, soups, and … well, you get the idea. You'll also find some tasty dessert sauces as well as spice blends …
Order some of these great products for yourself or as a Made in Indiana gift! Visit their website for additional details …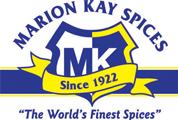 Marion Kay Spices: Founded in 1922 in Missouri, Marion Kay Spices has been located in Brownstown, IN since 1949. Known as "The World's Finest Spices", the company is well known for serving individual consumers and the food service industry for all their cooking and baking spice needs …
On the Marion Kay website, you can order these time tested spice blends for use at home, or as a gift. Blends, rubs, herbs, and specialty spices are just a few of the items you'll find …
There are also many varieties of salt and MSG free spices available, as well as a zesty product line called JR Mad's. This line includes everything from a special fish breading to chili mix to bloody mary spices. Everything you need to keep your kitchen humming!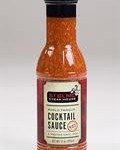 St. Elmo Cocktail Sauce: St. Elmo Steak House in downtown Indianapolis has been a legendary landmark since opening in 1902 … a visit to the city is not complete without dinner at St. Elmo's …
In addition to their steaks and historic atmosphere, St. Elmo is known for their signature shrimp cocktails, flavored by their one of a kind cocktail sauce …
This cocktail sauce is now available to you online at the St. Elmo store. Order a bottle or two for yourself or as gifts … there is free shipping on orders of five bottles or more …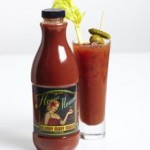 Hoosier Momma Bloody Mary Mixes: While we're on the subject of spicy items from Indiana, let us introduce you to Hoosier Momma, a relatively young company turning out some great drink mixers …
The flagship product in the Hoosier Momma line is their Bloody Mary Mixer, available online in both original and spicy varieties …
This mixer is thick, eye opening, and makes the ideal bloody mary. The company has won several drink competition awards and continues to expand their distribution nationally. You can find them in some large chains like WalMart, Costco, and more. Or, you can order online if you can't find it locally …
Hoosier Momma is a shelf stable product – it'll hold up for 18 months if unopened and 6-8 weeks after you've made a drink with it. Highly recommended for bloody mary drinkers!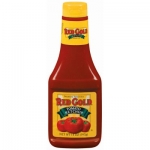 Red Gold Tomato Products: Based in Elwood, Red Gold is one of the Midwest's largest producers of condiments and tomato based products, like sauces, salsa, and of course ketchup. We discovered Red Gold ketchup at one of our favorite local tavern/grills and have been buying it ever since …
Red Gold products are readily available in the Midwest, but if you can't find them locally you can order them online at the Red Gold site. You can also order Red Gold t-shirts, hats, sweatshirts, and other fun apparel …
MADE IN INDIANA HONEY

Laney Honey: Dave and Kay Laney began beekeeping as hobby in the 1970's and began marketing their Wildflower Honey in 1982. The honey proved so popular that the company began making varietal honeys and contracting with other beekeepers across the country to keep up with demand. Today, Laney Honey is a well known producer of both local and specialty honey from a wide range of floral sources …
Their operation is unique and it provides a glimpse into the pure, natural honey industry (as opposed to mass produced and imported honey). Laney's Indiana bees produce Autumn Wildflower, Dune Country, Goldenrod, and Wildflower Honey, all of which are available from their website. These, of course, are local Hoosier State honeys, as the bees pollinate flowers within the local area.
Other honey offered by the company is created when their bees are shipped to other parts of the country. A good example is their Orange Blossom Honey, where their bees are shipped to Florida during the winter to pollinate the orange blossom plants. Laney Honey also contracts with other beekeepers and it is important to note no artificial flavors are added to the honey … the flavor is derived from flowers located in different parts of the country. All of their honey is natural and non pasteurized, so you'll realize the many health benefits from enjoying pure raw honey. We bought some from our local specialty food market which stocks various local honeys and it is fantastic!
To learn more and to place an order, click through to the Laney Honey website …
History of Indiana
Indiana Trivia and Fun Facts

1). Indiana's state motto is "The Crossroads of America" …

2). At the first Indianapolis 500, the winner's average speed was 75 miles per hour …

3). There really is an Indiana town named Santa Claus. As you might imagine, there is quite a demand for letters to be postmarked each December from the town's post office …

4). Indiana is known for its rich limestone deposits. Many famous buildings were built using Indiana limestone, including the Pentagon, Chicago's Tribune Tower, and the Empire State Building …

5). No U.S. President was born in Indiana thus far. The 23rd President, Benjamin Harrison, was associated with Indiana and his historic site is located in Indianapolis. He was born in Ohio …

6). Three Vice Presidents were born in Indiana – Thomas Marshall, Mike Pence, and Dan Quayle …

7). Indiana is the leading popcorn producing state in America …
We've Got More Indiana Made Products To Come! Tell Us About Your Favorites By Commenting Via Our Contact Us Page …
Visiting Indianapolis, Indiana's State Capital City
Welcome to our travelogue series "Visiting America's State Capital Cities", where we introduce you to all 50 of America's state capitals. We hope you're enjoying these as much as we are visiting these cities and writing about them!
Indianapolis has long been one of our favorite long weekend destinations. From our home in suburban Chicago, it's a 3 1/2 hour drive, and we've been coming here for 40+ years now. Originally, we used to circle around the city on our way to Cincinnati. Then over time, we discovered some of Indianapolis' many charms and made it a stand alone destination.
A city that's very rich in history, this area appeals to everyone. It's a great restaurant town. They're crazy about their sports here. The city's parks and natural vistas are second to none, and getting around is easy. So what's not to like??
A little known fact …
Did you know Indianapolis has more monuments than any city in the United States other than Washington, D.C.?
History is honored and respected here, and the city's centerpiece is the acclaimed Soldiers and Sailors Monument, opened in 1901 and still the downtown focal point.
More trivia: One of the city's original nicknames was "Nap Town", supposedly in reference to a perceived lack of night life and cultural attractions. Talk about outdated! If anything, you'll have a hard time squeezing enough hours out of the day (and night) to see everything …
As you'll learn below, there's a lot more to discover here beyond monuments and speedways. We love this city and are always pleasantly surprised by something new each time we visit. Join us!
Indianapolis: An Overview
At a population of close to 1 million, Indianapolis is the 12th largest city in the U.S. For trivia buffs, it's also the state capital city most geographically centered within its state borders. Maybe this is because it's a "planned" city – in the early 1820's Indiana's political leaders literally picked this spot for the capital location.
It's situated along the White River, which meanders through the city and provides the backdrop for some of the spectacular parks found here, most notably White River State Park. There's ample green space around town, and visitors and citizens alike love to play outdoors along the river's banks …
Sometimes referred to as The Crossroads of America, Indianapolis is very easy to get to. Interstates 65, 70, and 74 intersect with the city and I-465 provides convenient access to suburbs and serves as a traveler bypass. A business and transportation hub, Indy is also known as a sports headquarters. The city is showcased every year by events like the NCAA Basketball Tournaments, the NFL Scouting Combine, and the famed Indy 500. But no matter your interest, there's something here for everyone …
We've been visiting here for over 40 years, the first time to see the 1973 Indianapolis 500 (still have the ticket stub!). Since then, it's been a welcome long weekend getaway for concerts, the restaurant scene, exploration of history, and more.
For a first time visitor, a weekend or long weekend is just about right. You can see many of the major attractions and enjoy the city's hospitality. If you're like us, you'll return again and again – there's always something happening in Indy and we're confident you'll thoroughly enjoy your visits …
What To See & Do
A great place to begin a visit to any city is their downtown. In Indianapolis, this approach is especially ideal because that's where you'll experience the iconic Soldiers and Sailors Monument.
This monument is the focal point of the city – it stands 284 feet tall and not long ago underwent several years of extensive rehabilitation. Climbing the stairs to the top for a bird's eye view of downtown is considered a right of passage here, but if your feet aren't up to it, don't worry, there's an elevator!
There'a well done Civil War museum at the base of the monument, and notice the circle bordering the grounds – it's the main reason why one of the city's long standing nicknames is The Circle City …
From here, you're in the heart of downtown. If you're in town for a sporting event, the city's main venues are just a stone's throw away and there are plenty of places to eat and drink nearby.
You're also close to three other can't miss destinations – Mass Avenue, the State Capitol, and White River State Park …
Let's start with the State Capitol Building as it's only a two block walk from the Monument on Washington Street. Completed in 1888, this is one of the state's most historic buildings. It's made from Indiana limestone and white oak – be sure to see the beautiful stained glass in the rotunda.
You can take a guided tour or opt for the self guided version six days a week. From here, you're only a few blocks away from White River State Park and the bustling Mass Avenue shopping & entertainment district. They're in opposite directions (the Park is a few blocks west of the downtown core and Mass Avenue is several blocks to the north and east), but you can easily hit the highlights of downtown, the Park, and Mass Avenue in a full day …
We recommend getting your bearings downtown first, then exploring White River State Park, then hitting Mass Avenue for late afternoon on into the evening. If you're staying downtown, getting back to your hotel from any of these three destinations is a breeze …
White River State Park is one of the crown jewel urban green spaces in America, let alone Indiana. As the name implies, the White River flows through it and it's the main reason why Indianapolis was selected as the site for the capital almost 200 years ago. The river isn't deep enough for commercial traffic, but it's more than ample for kayaking, canoes, and other water leisure activities …
The Park will draw you back again and again – we see something new every time in town. Concerts are held here, the very underrated Indianapolis Zoo is here, and it's a haven for walkers, hikers, and joggers.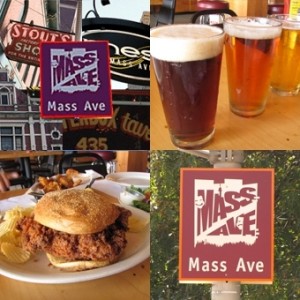 At the other end of the spectrum, so to speak, is the Mass Avenue district. It's short for Massachusetts Avenue, which is one of several angle direction streets originating from the city center like spokes on a bicycle. This area has been gaining steam for the last 20 years and is now one of the city's go-to districts for shopping, entertainment, and dining. It's a lot of fun to arrive down here late in the afternoon to hit a few shops and then linger for happy hour and dinner …
The Mass Avenue district has a very helpful website we accessed before we visited … it's got all kinds of interactive maps, listing of places by block, and descriptions. See it at DiscoverMassAve.com …
If you're a history person like we are, very close to Mass Avenue is the stately home of America's 23rd President, Benjamin Harrison. It's always worth the time to visit a President's home, if only to see the handsome architecture of another era. The Harrison Home is surrounded by beautiful gardens and there are informative tours given daily.
Broad Ripple, located several miles from downtown on the north east side of the city, Is one of the area's original shopping and dining districts. It's pretty easy to access off of I-465 and you can get there in 15 minutes or so from the city center. A visit here is well worth it!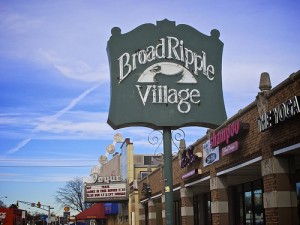 We stop in Broad Ripple every time we visit Indianapolis. Runners, walkers, and bikers do their thing along the Broad Ripple Canal, a scenic urban waterway that offers a nice back drop. There are independent shops galore, and where there are shops, there are restaurants and bars. Plan to spend at least a few hours here … you'll find yourself being drawn here again and again to see what's new and revisit old favorites …
Last but certainly not least is the famed Indianapolis Motor Speedway. This, of course, is where the Indy 500 race takes place very May over the Memorial Day weekend. It's one of the city's biggest annual showcases, so plan ahead because hotel rooms are booked far in advance.
The race itself is quite a spectacle, and something that should be on your life to do list even if you're not a fan of motor sports. But if you're not up for the race itself, you can tour the track any time of year and get a glimpse of all the behind the scenes activities. The tour's highlight is driving around the 2.5 mile oval track via small bus. You won't reach the speed of the race cars, but you'll get to experience the famous banked curves. Circling around the track will give you a whole new level of respect for the race's drivers …
There are dozens and dozens of other Indianapolis highlights, but if you see all or most of what we've mentioned over the course of a weekend, you've done a good job acclimating yourself …
Indianapolis Eats: Our Recommendations
Indianapolis is quite the foodie town, so whatever it is you're craving, you'll find it here. Being creatures of habit and big fans of historic, independent places, we tend to revisit old favorites. The only issue with that approach – we keep finding more great places each time we visit!
Following is some of our preferred spots for eats and drinks …
Perhaps the best known and most revered dining destination in the city is the legendary St. Elmo's Steakhouse in the heart of downtown on Illinois Street. A nationally recognized and beloved steakhouse, it's best known for their spectacular jumbo shrimp cocktail and fork tender steaks. St. Elmo's is expensive, but dining here at least once is well worth the dent in your wallet. They also offer an attractive upstairs Prohibition era bar that has become as popular as the restaurant itself. This is one place you'll want to reserve your table well in advance to avoid disappointment …
On the complete opposite end of the spectrum is a hot dog place that's located in the heart of the city – King David Dogs. Casual and inexpensive, this joint is just as beloved as St. Elmo's. If you're walking and exploring, stop in for a quick lunch. Their menu isn't complicated – in fact there's really just two sections of it, "Signature Dogs" and "Not Dogs". Try the Indy Dog, a 1/4 pound all beef beauty dressed with onions, mustard, and sport peppers. The fries are great and so is the chili!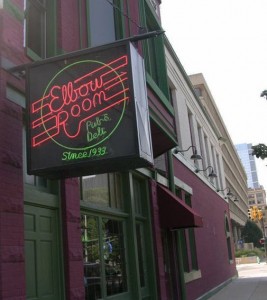 Three other places very near downtown that draw us back again and again are the Elbo Room Pub, Milano Inn, and Indiana's oldest bar, the Slippery Noodle …
The Elbo Room is tucked into an historic narrow building and offers fantastic pork tenderloin sandwiches (some say the best in the city). They've been around since 1933 but it's a really cool blend of modern and old school. Even if you're not hungry for their pub specialties, salads, and appetizers, it's a great place to stop for a cold one or two …
For Italian food, consider a stop at the Milano Inn, located just southeast of downtown on College Street. One of our favorites, this place has been serving casual fare since 1934 (told you we love historic places!) and their patio provides a fantastic view of the skyline. Everything they turn out here is top notch (try the Asparagus & Artichoke Penne) and be sure to save room for their spumoni or cannoli for dessert. As an added bonus, their patio hosts lots of dog friendly events, complete with special menu items for dogs with proceeds donated to area animal charities. A fantastic spot for lunch or dinner …
Indiana's oldest bar (dating back to the 1850's) is located on Meridian Street a few blocks south of downtown across from White River State Park. It's the Slippery Noodle Inn, a great blues bar with live music every evening. The Noodle is more known as a drinking establishment, but they've got surprisingly good pub food here, including great burgers and wraps. Check out the list of celebrities who've been here … it's impressive!
Up in Broad Ripple, you'll find ample choices for eating and drinking. We pretty much try different ones every time in town, but have a particular fondness for the Broad Ripple Brew Pub, the patio at Flatwater, and a great beer bar called Twenty Tap. The website linked provides an excellent resource for the area and links to these restaurants and more. Be sure to spend an evening here …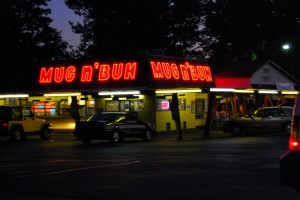 Finally, over by the speedway, you'll find Mug 'n Bun, a super casual drive in spot. Eat at the picnic tables off to the side or just flash your lights and a server will come to your car and bring a tray with your food. Very Americana and an Indianapolis favored destination for decades …
At the Mug 'n Bun, they're known for their fantastic pork tenderloin sandwiches that literally burst out of the toasted bun. Root beer, hot dogs, shakes, and burgers are served fast and fresh. A fun place, the Mug 'n Bun is an Indianapolis icon and won't strain your wallet …
Summary & Learn More About Indianapolis
Most folks don't think of Indiana's capital city as a vacation destination per se, but it sure is a fun town to visit for a few days! If you're a Midwesterner, Indianapolis is easy to reach, easy to get around, and there's plenty to see and do no matter your interests.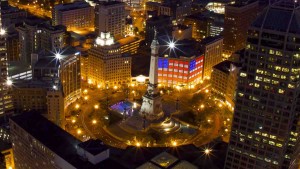 Truly a city of neighborhoods, Indy offers destination quality shopping and dining districts like Mass Avenue and Broad Ripple. It's a sports town, with major events like The Final Four and the 500 commmanding the national sports headlines. And the urban green space of White River State Park, the city's spectacular outdoor backdrop, really sets Indianapolis apart as a destination not to miss …
If you're planning a visit here, shoot for a long weekend. We love coming here in the mid fall, when days are pleasantly warm and nights are cool and comfortable. But Indianapolis will have the welcome mat out any time of year!
We hope this travelogue has given you a useful overview and whetted your appetite for a visit. For more in depth information, including places to stay, check out the Visit Indy website for all the information you'll need to acquaint yourself with this Midwestern gem.
Thanks for reading and enjoy Indianapolis!