Made In Washington Quick Facts
This Post is about Made in Washington Gifts and Specialty Washington Products
Want To See Your Business / Products On Our Made In Washington Page?
Visit "Advertise With Us"!
FEATURED MADE IN

WASHINGTON

BUSINESS

ES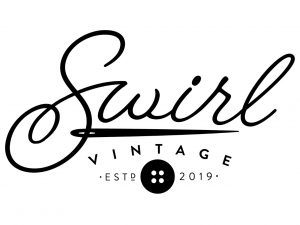 Swirl Vintage: We're pleased to introduce a brand new venture from Seattle, Swirl Vintage. Stylish, breezy Swirl Vintage dresses are the inspiration of college friends (Go Cougs!) Shawn Underwood and Jill Price-Crawley. With a goal of
"keeping it local" they found contract sewers in the Seattle area and they source all their vintage trim locally …
Their vintage-inspired simple wrap dresses are 100% lightweight cotton—perfect for warm weather. You will find details that make your dress stand apart as no two are the same …
A community minded business, Swirl Vintage sets aside part of the proceeds from each dress sale to support Mary's Place, a Seattle nonprofit organization providing safe inclusive shelter and related services to women. Jill and Shawn strongly believe in giving back to the community and Mary's Place was the perfect fit for their female-powered business …
Click through to the Swirl Vintage website, linked in bold above, to discover their one of a kind designs. Made In Seattle!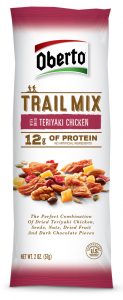 Oberto Brands: While waiting around an airport is likely no one's favorite thing to do, sometimes it offers advantages …
Recently, while waiting for a flight on the west coast, we wandered over to an airline terminal convenience store as hunger pangs descended upon us. Seeking a healthy, high protein snack, we settled on a bag of Oberto Brand Trail Mix with Jerky …
This delicious and satisfying mixture of jerky and trail mix hit the spot, and led us to learning more about the company. Oberto Brands is a Seattle area company housing three distinct brands. The three brands, all with their own distinct mission, are Oberto, Cattleman's Cut, and Pacific Reserve Gold, all in the high protein snack food niche …
Distributed nationally, you'll find all three brands not only in airports, but stores near you. Products include several varieties of all natural beef jerky, snack sticks, the aforementioned jerky / trail mix, and more.
There's a list of stores (by category) where you can find their products at the Oberto Brands website, and also links to options for buying online. Next time you're waiting in an airport, stuck in traffic, or just sitting at your desk, grab a bag of these satisfying and good-for-you snacks!
AlternaSweets: AlternaSweets is a Washington based company producing sauces sweetened without sugar or high fructose corn syrup. Instead, they're sweetened with stevia …
Stevia is part of the sunflower family and is about 300 times sweeter than sugar. It is very safe and is being used more and more every day. It has been utilized in Japan for decades …
Stevia has no effect on blood sugar levels and contains no calories, which helps account for its growing popularity …
Alternasweet's best seller is their Sweet & Smokey BBQ Sauce, pictured. It's a blend of premium spices with a touch of molasses added for that familiar barbecue twang. Best of all, it's super low carb and contains no artificial sweeteners!
If you enjoy a ketchup offering a little boldness, try Alternasweet's Bold & Tangy Ketchup. It strikes the perfect balance between tangy and sweet and makes the perfect accompaniment to burgers, oven browned potatoes, or anything that'd benefit from a jolt of flavor. It's very low sodium, gluten free, and perfect for your low carb eating plan …
The products are friendly for diabetics and you'd never know they don't contain any sugar! Combo packs of Ketchup and BBQ Sauce are available as well. As a special bonus, shipping is free! Be sure to use code SGU at checkout for your special State Gifts USA discount …
Source Denim: In the last several months we've undertaken an effort to locate local independent blue jean and denim manufacturers across the U.S. – there are several, which you'll find on assorted state pages of State Gifts USA …
In Washington, Seattle to be specific, Source Denim makes jeans from fresh denim with no added chemicals or treatments for coloring and shrinking …
This company has a workshop in California, but they're headquartered in Seattle and much of the work is performed in Seattle, which is why they're listed here. In any event, these classic jeans have a tailored, professional look combined with the flexibility you expect from a good pair of jeans. They're naturally stain and odor resistant so you can wear them more often in between washes …
At the Source Denim website, you can order a pair hassle free, along with classic denim work aprons and sturdy denim totes …
Discover the difference in style and durability vs. mass produced jeans!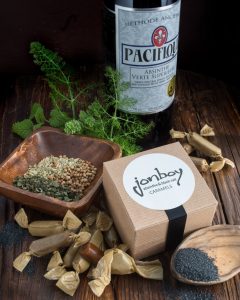 Jonboy Caramels: Based in the Ballard neighborhood of Seattle, this thriving small business uses creative ingredients like Pacific Absinthe and blackberry and raspberry juice from local berry farms in their artisan caramels. What's equally noteworthy is the absence of certain other ingredients … no corn syrup or things you can't pronounce!
Jonboy Caramels uses local cream, butter, organic brown rice syrup, and organic cane sugar to make their spectacular caramels which have created quite the buzz in Seattle's farmers market circuit. Some of the caramel varieties you'll find at their site (they sell online via mail order too) are Key Lime with Sea Salt, Whiskey with Smoked Salt, and the aforementioned Absinthe with Black Salt …
Visit their website, check them out locally in the Seattle area, or go ahead and order online!
Simple and Crisp: Creators of quite possibly the healthiest crackers available on the market, Washington's Simple and Crisp is creating quite a name for themselves with their dried fruit crackers …
Delicious with cheese, dips, and by themselves, these fruit crackers are made from real dried fruit, sliced then delicately dried, thses crackers offer the very best of nature in every bite …
You can get them in four different varieties – Apple, Blood Orange, Pear, and Orange. Visit the Simple and Crisp website to see the variety packs and try all four flavors!
You can find them locally at area specialty food markets, or of course, online …

Bonache Hot Sauce: Based in Ballard, WA, this small business creates four different hot sauces, all of which are perfect accompaniments for all your culinary creations …
The four sauces are Piri, Socorro, Habanero, and Hatch (in order of hottest to mildest). They're made with ingredients like fresh and dried peppers, fresh lemon juice, vegetables, spices, and pure cane sugar …
We like their hatch sauce, made from Hatch peppers which have always been one of our favorites. Their mildest sauce, it's fantastic on any Mexican themed dish or in a stir fry …
Visit the Bonache Hot Sauces website to learn more and to order online …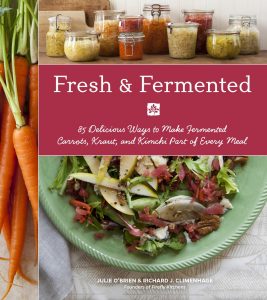 Firefly Kitchens: This Washington small business creates a line of naturally fermented foods like Kimchi, Salsa, and various types of Sauerkraut. These foods are completely raw and naturally preserved, with artificial agents to speed up the process …
Some of the noteworthy products in the Firefly Kitchens selection includes Ruby Red Kraut and Yin Yang Carrots. The Ruby Red Kraut gets the color from red cabbage and beets, along with carrots for flavor and and texture. Yin Yang Carrots are a best seller – slightly sweet and crunchy, perfect as an appetizer!
You can buy Firefly Kitchens products locally (there's a list of retail outlets on their site). We specifically want to call your attention to their cookbook called "'Fresh and Fermented". It's available for purchase at their website and explores almost 100 ways to include naturally fermented foods into your meals …
Great natural foods coming from the great state of Washington!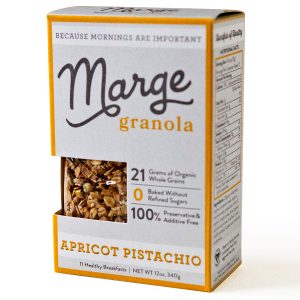 Marge Granola: This Seattle based baking company specializes in creating small batch granola and cereal. The company uses organic grains, nuts, seeds, organic maple syrup, and a blend of spices. The end result is fantastic!
Only non GMO ingredients are used in the products, and no refined sugar is used. More importantly, Marge Granola sources from area farms in the Pacific Northwest … this is truly a local effort …
Take a look at their website which spotlights all of their products, including the Apricot Pistachio Granola shown …
Tasty local products from Washington!
Ballard Bee Honey: We love trying different types of honey whenever we travel. Honey is much like wine … it taste depends on where it's made …
Honey's flavor depends upon the flowers the bees pollinate, which is why you'l sometimes see honey that's darker or lighter than you're used to. It's really a lot of fun sampling the differences and we encourage you to seek out local honey whenever you hit the road!
In Washington, the Ballard Bee Company produces some interesting honey you should check out. Among the varieties available at their website are Wildflower, Cream, Dark Cream, and a special blend called Apiarist Reserve Select …
All by Washington bees, from Washington flowers, and Made in Washington!
Click through to their site to learn more …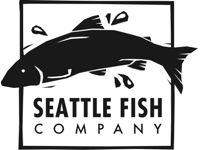 Seattle Fish Company: The name says it all for this northwest purveyor of fresh fish and other enjoyables – simply put they do fish and they do it well!
If you're looking to enjoy some of the Seattle area's seafood bounty, no matter where you live, check out the Seattle Fish Company website. The selction is vast, anything from King Salmon to Halibut to Fresh Tuna and more …
The company also offers side dishes like crab cakes, cioppino, and clam chowder. One stop shopping for your next special dinner, or a great corporate or thank you gift idea! Click through to their webiste for all the details …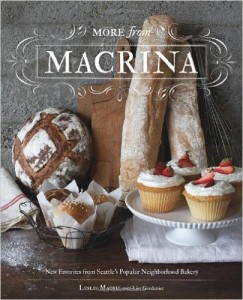 Macrina Bakery: This classic Seattle neighborhood bakery has been turning out European influenced specialty baked goods since being founded in 1993 by owner Leslie Mackie. Known for their wedding cakes, breads, pies, and holiday goodies, the bakery also operates three cafes in the city …
A special recipe book titled "More From Macrina: New Favorites From Seattle's Popular Neighborhood Bakery" has been released and it's available from the "More From Macrina" tab at the bottom of their website's home page. This book offers recipes for the bakery's touted artisanal breads, along with recipes for pies, cakes, cookies, and more.
Sprinkled with neighborhood stories, the book is a wonderful gift for any Seattle resident who appreciates the value of small businesses to the community. Click through to learn more!
Torch Illumination Company: This Seattle based independent candle company creates a series of uniquely scented candles that are the perfect Made in Washington gift for anyone on your list who appreciates an environmentally friendly product …
For starters, Torch Illumination uses all natural soy wax, recyclable tin containers, and locally sourced fragrance oils. Further, the candles are packaged with 100% recycled labeling, and 10% of the profits from every sale are donated to environmental causes.
But all that aside, the candles smell great! Choose from 4 ounce and 8 ounce sizes in scents like Red Currant, Honey Almond, Blood Orange, Vanilla Sweetgrass, and more.
You can order directly at the Torch Illumination website and have them shipped directly to your door or that of your gift recipient. Economical and sure to be enjoyed gifts – Made in Seattle!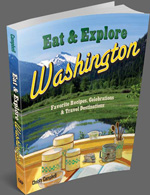 Eat & Explore Washington: We recently discovered a publishing company, Great American Publishers, that's in the midst of compiling a special cookbook for each of the 50 states. The Evergreen State's title is published, and it's called Eat & Explore Washngton. They did a really nice job with this volume!
This engaging 272 page book includes recipes which are uniquely Washington, like Apple Cinnamon Sticky Buns, Fried Razor Clams, Strawberry Sensation Caprisi Salad, and many more. Also included is a traveler's companion list and feature of many of the state's popular events – perfect for visitors who want to get to know Washington and equally useful to natives …
A perfect economical gift, the book is available directly from the publisher's site linked above …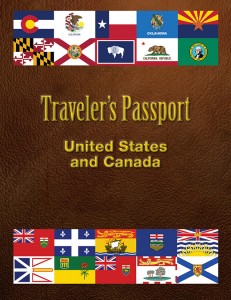 Traveler's Passport To The United States & Canada: Dr. Ron Snipe and his wife Betsy of Port Angeles, WA have written a really handy and useful paperback book for travelers of all ages. They were kind enough to send us a copy and we're pleased to tell our readers all about it …
It's called Traveler's Passport United States and Canada and it's a really useful resource for keeping track of the states and provinces you visit on road trips. This clever book contains a brief write up on every state, including a photo of the state flag, capital building, and a space for the traveler to note the dates they visited.
The Traveler's Passport also contains colored outline maps, trivia for each state and province, and important facts to help enhance your traveling experience. This little book is not only a great educational tool for children, but it's also a handy resource guide for those who enjoy knowing a bit more about the places they visit, and those still on their travel "to do" list. Ron and Betsy have also recently introduced a companion edition, "Traveler's Passport National Parks", which spotlights almost 70 National Parks in the United States and Canada …
A great gift, you can order both Traveler's Passports directly from the link above. The perfect helpful paperbacks for the traveler on your list!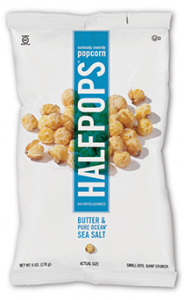 Half Pops: This Seattle area company creates a snack that's such a great idea it's a wonder why no one figured out how to do it a long time ago …
Think of a batch of popcorn and consider which kernels taste the best. The half popped ones, right? Everybody loves those! And so Half Pops made it happen … they air pop popcorn kernels halfway to create a unique and delicious popcorn snack appropriately dubbed Half Pops!
They're available in specialty markets in Washington, and the company has partnered with World Pantry to bring their great taste to anyone in the continental United States. You can order them in four different flavors – Chipotle Barbecue, Butter & Sea Salt, Aged White Cheddar, and Caramel & Sea Salt. Buy them in 2 ounce or six ounce bags, and multi packs are available as well.
A great gift for the person who enjoys creative snacks, and isn't that everyone??
Trilby's BBQ Sauces: A Pacific Northwest bbq tradition since 1976, Trilby's sauces combine a bit of classic Kansas City flavor along with those of The Evergreen State. Founded by Trilby Wiedman almost 40 years ago, the business was purchased in 2011 by Marilee and Christo Weber, who have taken the company to a new level with the addition of more sauces, seasonings, and dip mixes …
Two of the newer products offering a Washington state twist are Trilby's Mild Marionberry and Chipotle Marionberry BBQ Sauces. These northwest grown berries add a new dimension to the sauce's flavor, and it's well known in Q circles how well select fruits pair with grilled slow cooked meat.
Trilby's also makes a variety of BBQ Dry Rubs and Dip Mixes, all of which are available online from their website. The Dip Mixes are very versatile – combine them with two cups of your favorite mixer (salad dressing, mayonnaise, cream cheese, etc.), chill, and you've got yourself a wonderful dip perfect for any gathering. Try the Hearty Horseradish Dip on roast beef sandwiches!
Combination and gift packages are available as well. Check out the Trilby's website to order!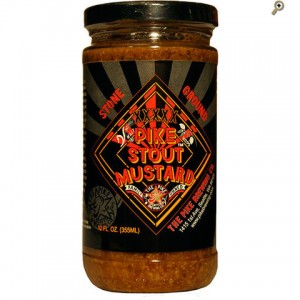 Pike XXXXX Stout Stone Ground Mustard: Every once in a while when we need ideas for companies and products here at State Gifts USA, we look in our own refrigerator or cabinets. Whenever we travel, we always come back with more bags than we left with because we're always finding great locally made products we just can't seem to live without!
Such was the case a few years ago on a visit to Seattle and the Pacific Northwest. A visit to the iconic Pike Brewing Company introduced us to their wonderful Pike XXXXX Stout Stone Ground Mustard, make using a splash of their flagship stout ale. If you're a fan of great mustard like we are, try this one! It's hearty and offers just a bit of sweet flavor to balance the mustard's vinegar (there's a bit of brown sugar in it).
Great on sandwiches or any type of roast meat, you can also use it as a wonderful pork marinade, if you can bear to use most of a jar at one time! We tend to hoard it, but go ahead and use it liberally, you'll love it! You can find this and some of Pike Brewing Company's other condiments available at their website – click on Shop Pike. We love trying different styles of mustard, and this is one of the best we've had. Enjoy!

Lopez Island Farm: Located in the San Juan Islands, this small scale environmentally friendly farm is well known in the area for their pasture raised pork and lamb products as well as their specialty foods made from local ingredients and those grown on their own farm …
While their meat is only sold locally, their food products are sold online. Did you know the San Juan Islands are famous for their apples? The weather conditions in this part of the country are ideal for apple growing and Lopez Island Farm uses these and other fruit to create some unique and flavorful syrups and chutneys.
One you won't see often is their Marionberry Syrup, pictured. A specialty crop found in this part of the country, marionberries are paired with apple cider to create a syrup like no other. If you'd like, use it as a dessert topping on ice cream or pound cake, and of course it's fantastic on pancakes and waffles too!
Click through to their site to see all the specialty products from the farm. You can order via PayPal and the farm will ship your selections directly to your door!
Honey Ridge Farms: This very inventive company, located in the far southwestern portion of the state, is the result of five generations of family beekeeping. Honey Ridge Farms produces and sources honey from several regions across the country to make their honey based food products like honey cremes, grilling sauce, vinegars, and more …
The company's honey cremes are their signature items – they're a blend of creamy honey with locally grown fruit in flavors like apricot, blackberry, and cranberry just to name a few. Their highly acclaimed Balsamic Honey Vinegar is ideal for salads, roasted meats, and seafood dishes.
Honey Ridge Farms also creates two varieties of Honey Grilling Sauces. They're made in Medium & Hot styles and are perfect for using as a glaze for chicken, ribs, and pork. Many delectable recipes are available on their site …
Combination packs and gift crates are also available as well as fruit butter, preserves, and other Pacific Northwest items. Click through to learn more and to place your order …
Mustard and Co.: Founded in 2013, Seattle based Mustard and Co. burst onto the culinary scene with a line of three bold mustards that'll change the way you view this traditional condiment. Combining natural local ingredients with creative flavor profiles has become their calling card and we're looking forward to see how this creative young company progresses in years to come …
For starters, their flagship product is a Honey Curry Mustard, made with fresh ground mustard seed, organic olive oil, balsamic vinegar, raw honey, and an organic curry blend. The perfect complement for salmon! Pair their Garlic Dill Mustard with potato or egg salad, and enjoy their partnership with Oregon's Jacobsen Salt in their tangy Brown variety.
These one of a kind gourmet mustard flavors are available in 3 packs at the Mustard and Co. website, where you'll also find creative recipes for their uses. Great new products Made in Seattle!

Lynnae's Gourmet Pickles: Based in Tacoma, the foundation for this gourmet pickle company is a 100+ year old recipe from the great grandmother of Lynnae Schneller. Lynnae and her sister in law Ali Cullinane started marketing the closely guarded recipe and even appeared on the popular television program Shark Tank …
This small company, which has received rave reviews in The Wall Street Journal, Oprah Magazine, and now State Gifts USA, makes two varieties of pickles in spears and chips. Mrs. Pickles, their signature product, are sweet & sour dills, and "Hot Mama" are a spicier version which offer a jalapeno kick to the original recipe. This growing firm is producing over 10,000 jars monthly and the pickles are available in over half the states in the U.S. Of course, you can also purchase them online at the Lynnae's Gourmet Pickles website.
We're so pleased to feature from-the-ground-up companies that take a treasured family recipe and bring it to market for everyone to enjoy! Click through to their site and learn more about them and place an order for yourself or as a tasty gift …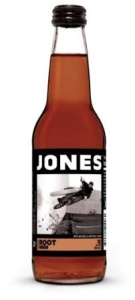 Jones Soda: Across the country, you'll find a few smaller independent soda manufacturers in a world more or less dominated by Coke and Pepsi. One such innovative company is Jones Soda of Seattle. They've been around for almost 20 years and have differentiated themselves by making great tasting flavors and innovative packaging featuring their customers …
In terms of their soda, they use only pure cane sugar – no artificial sweeteners – in their regular line and also offer a line of sugar free sodas called Zilch. Meaning, no sugar and no calories. We're big fans of their root beer, which you can buy directly from the Jones Soda website if you can't find it in a store near you. They also make a variety of other interesting flavors, including Green Apple, Strawberry-Lime, Crushed Melon, Blue Bubblegum, and more …
As for their packaging, customers are invited to post pictures at their website – they might be used on one of the Jones Soda labels, which change frequently. Hey, who wouldn't want their picture on the label of their favorite soda??
Visit their site to learn more and pick up some product or Jones Soda swag while you're there …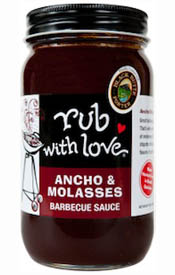 Rub With Love: Rub With Love is a line of sauces and rubs developed by the Tom Douglas restaurant group of Seattle – the company manages over a dozen farm-to-table restaurants in the metro area and grows their fresh produce at their own Prosser Farm in the Yakima Valley …
The company also does catering and hosts educational events like cooking classes and charitable endeavors. We became acquainted with their products from a friend of ours who does business in Seattle and dines at several of the Tom Douglas restaurants …
One product in particular we really like is Ancho Molasses Barbecue Sauce. If you like a smoky combination of sweet and slightly spicy barbecue sauces, try this one! The molasses brings the sweet, while the ancho chili powder and anaheim peppers offer the smoky goodness. Another of the ingredients is a local dark porter ale, which blends beautifully with the sweet and spicy flavors …
You can buy this and other sauces and rubs at the Tom Douglas online store. A tasty Emerald City gift!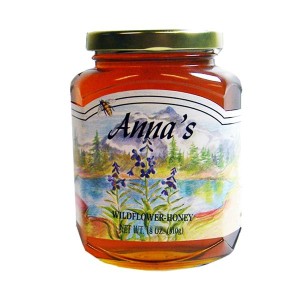 Anna's Honey: Located in Kent, Anna's Honey was established in 1980 and named after the founder's great grandmother, who was an early Washington state settler. The company produces numerous varieties of wildflower and clover honey and is one of the best known honey producers in the state …
As you may know from reading State Gifts USA, we're passionate about local honey. Raw unpasteurized honey, such as those made by Anna's Honey, offer significant health benefits. Honey is known to aid the digestive system, provide a source of consistent long term energy, and help stabilize blood sugar swings. It is also very beneficial for local allergy sufferers since it helps build a tolerance to seasonal allergies.
Further, it's a real treat to sample honey produced in different parts of the country. The flavor differs depending on where the bees pollinate, so no two honeys are exactly the same. You can use honey as a healthier substitute for sugar and it's an excellent addition to many recipes …
Anna's Honey is sold online and shipped anywhere in the country. Their flavored honeys are the result of bees visiting plants like blueberry, raspberry, and more. Local honey is a great gift too! Visit their website to learn more …
San Juan Island Sea Salt: Located on the island of the same name, San Juan Island Sea Salt makes two of our favorite artisan products – sea salt and local honey. We love trying each, as there are subtle flavor differences in each product depending where they originate …
The process for making sea salt starts with harvesting sea water and then allowing it to evaporate. San Juan Island Sea Salt is one of the few producers who completely rely on sun evaporation. It's a slower process, but it allows the whole full flavor of the end product to shine through.
The finished salt is coarsely ground and can be used sparingly – it's an excellent finishing salt or as a seasoning for any meat or vegetable dish …
This wonderful salt, along with their honey, is available at their website. The company maintains twenty beehives, and the pure raw wildflower honey carries the flavors of local flowers like clover, phacelia, wild mustard, and more.
Fantastic locally made products from San Juan Island!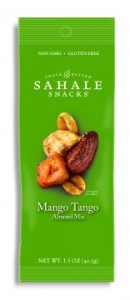 Sahale Snacks: A friend who does business in Seattle brought us back a couple bags of Sahale Snacks from The Emerald City recently and we just had to tell you about them …
Based in Seattle, Sahale Snacks creates a line of healthy, delicious snacks using whole ingredients like almonds, cashews, and pistachios. These nuts are combined with preservative free dried fruit and mixed with pure ingredients like organic honey, vanilla beans, and pure cinnamon. It might sound simple, and we suppose at its core it really is, but sometimes "simple" yields the best results. And the results in this case are a variety of crunchy and naturally sweet snacks ideal for anyone on the go or as a healthy pick me up any time of day …
Here are just some of the flavors made by the company: Raspberry Crumble Cashew Mix, Mango Tango Almond Mix, Pomegranate Pistachios, and Cashews With Pomegranate & Vanilla. Sahale Snacks also makes a line of products called Crunchers, which are similar in consistency and texture to coarse granola. We tried a bag of Almonds With Cranberries, Sesame Seeds & Honey and loved it! It's glazed with honey and ground vanilla beans to add a bit of sweetness to the mix.
You can find Sahale Snacks in selected locations of mega retailers … we saw some at a 7 Eleven store recently. Or, order directly from their website! They make a great sweet and salty thank you gift for the healthy snacker on your list!
Mt. Townsend Creamery: We thoroughly enjoy featuring artisan cheese companies here on State Gifts USA. Cheese is much like wine and honey in a way – the flavor carries the characteristics of its local area, and as such, the palate of products like these differ from state to state …
In Washington, one of the best known and most beloved producers of cheese is the Mt. Townsend Creamery, located in Port Townsend and available to millions at the iconic Pike Place Market in Seattle. Founded in 2005, the company is inspired by their local surroundings, a one of kind area where the Puget Sound meets the Pacific Ocean. Historically, the Olympic Peninsula has been a prolific dairy farm area, and now Mt. Townsend carries on the tradition by using milk for their cheese from a multi generation area dairy farm …
Mt. Townsend's cheese have garnered an international reputation for their exquisite flavor, and they're now available at their online store. Choose from any of their flavors – they're described in detail on their site and are certain to be appreciated by anyone on your gift list. Tasting, serving, and pairing notes are included … enjoy the celebrated experience of Mt. Townsend Creamery cheese!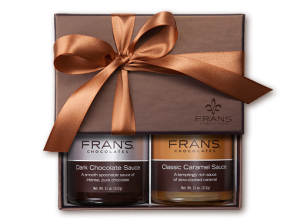 Fran's Chocolates: One of Seattle's foremost destinations for fine chocolates and other sweet treats is Fran's Chocolates, owned and operated by master chocolatier Fran Bigelow and her family. Reportedly a favorite of President Obama and the First Lady, Fran's is well known for their delicious caramels and decadent truffles …
Caramels are available in classic light and dark chocolate varieties, as well as their award winning Gray Salt and Smoked Salt Caramels. If you're a fan of truffles, these handcrafted delights are made with fresh local organic cream and are available in standard as well as unique flavors like hazelnut, Oolong tea, and single malt whiskey …
A wonderful gift from Washington is their pairing of chocolate sauces, shown. It includes a jar each of the dark chocolate and caramel sauces. Also available are a fresh raspberry sauce and a dark hot chocolate mix …
Click through to their site to order for yourself or as a sure to be well received gift!
Beecher's Handmade Cheese: Beecher's was founded in 2003 and has become a destination stop at Seattle's renowned Pike Place Market, and more recently, also in New York City's Flatiron District. Known for their artisan natural ingredient cheese, Beecher's is now one of the most renowned cheese makers in Washington …
At Beecher's Handmade Cheese online store, you can purchase any of their famous cheese, like their robust flavored Flagship or the highly regarded Marco Polo, made with milled peppercorns. The cheese is shipped in one pound increments or as part of a Beecher's gift package …
The online store also sells and ships Beecher's well known side dishes, which have gained national publicity. Choose from Smoked Flagship Mac & Cheese, Mac & Cheese with Pork and Mushrooms, and more. They're shipped frozen – just heat and serve!
Beecher's Gift Collections are a perfect idea for a Seattle themed gift, or for birthdays, Father's Day, holidays, or any occasion. Visit the Beecher's site to see all your options and to order!
Black Market Hot Sauce: This small company based in Everson, WA makes a line of hot pepper sauces with some tasty ingredients …
Black Market's sauces range from a tongue tingling Habanero – Pineapple to varying heat levels of Mild, Medium, and Habanero (Hot). Each of these sauces contains fresh peppers, a bit of garlic, ginger, lime, and more …
One particular sauce the company makes, Cambodian, is great as a dipping sauce. It offers a fruity hot flavor and is ideal with hot appetizers. It has a medium heat level and is the perfect combination of sweet and hot – complements your culinary creations and doesn't overwhelm them!
You can order these sauces from the Black Market Hot Sauce website. There's a discount on cases of ten and also a two bottle deal and Buy Three, Get One Free option. A great gift for guys – we love getting hot sauces as a gift!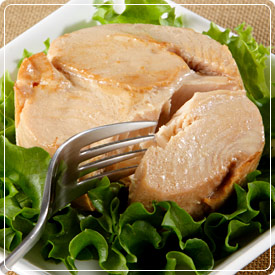 Fishing Vessel St. Jude: Known by the name of the company's fishing vessel, St. Jude, owners Joe and Joyce Malley have built a thriving business on troll caught albacore tuna in the waters of the Pacific Ocean …
The St. Jude is a 95 foot vessel which fishes all year long from northern to southern Pacific waters. The prize is albacore tuna, which are caught individually using hooks and lures (dolphin free). The daily catch is limited so the tuna can be processed and frozen immediately, right on the boat.
Albacore tuna is a mild flavored fish with a soft texture that's extremely good for you. They're a great source of Omega 3 oils and a recommended part of a healthy, low fat diet. These albacore are filleted, cut into steaks, then cooked in a pressure canner. There's minimal processing, so the catch is packed as fresh as any you'll taste …
You can buy canned albacore tuna, tuna fillets, and gift package variety packs on the St. Jude Fishing Vessel website. They offer some enticing flavors, such as Mediterranean style, dill, smoked, garlic, and jalpeno. Albacore jerky is available too!
Visit their website to learn more of their story and to order …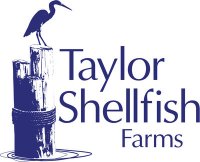 Taylor Shellfish Farms: In a state well known for ultra fresh seafood and shellfish, one of the most recognizable names in the industry is Taylor Shellfish Farms in the Puget Sound region. Started well over 100 years ago, the company is now the largest producer of farmed shellfish in the United States …
Owned and operated by three generations of the Taylor family, the company sustainably farms shellfish like clams and oysters in their various seafood farming locations. They are the acknowledged leader when it comes to the rare geoduck, the largest burrowing clam in the world. Geoduck (pronounced "gooeyduck") is prized at sushi restaurants. The neck meat has a mild flavor and the texture of a crisp cucumber, while the body meat is even milder and can be fried or steamed …
Taylor offers an online store for convenient shopping and some of the items you'll find there include geoduck, Manila clams, Olympia oysters, shucked oysters, and more. Visit their site to learn more about their story and to order shellfish for yourself or as a special gift …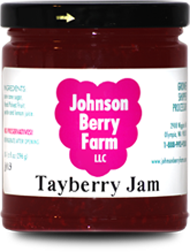 Johnson Berry Farm: Johnson Berry Farm is located in Olympia, Washington's capital city. Olympia is at the southern tip of Puget Sound, making the climate ideal for growing strawberries, boysenberries, golden raspberries, and more …
These fresh berries are the primary ingredient in Johnson Berry Farm jams. One particular product that caught our eye is Tayberry Jam. A tayberry, originally from Scotland, is a cross between Scottish raspberries and blackberries. It is dark red, looks like a raspberry, and has a sweet, rich flavor …
Take a look at the farm's website to see more interesting jam flavors. You can buy them individually or in gift packages … a sweet fresh gift from The Evergreen State!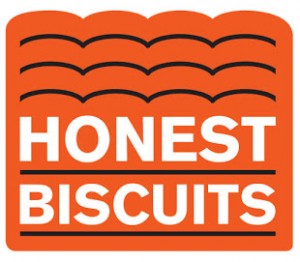 Honest Biscuits: Seattle based Honest Biscuits is creating quite a buzz about their signature products, described as "Honest To Goodness Kick Ass Biscuits" …
These biscuits are made with local Washington state ingredients, like local dairy and Shepherd's Grain Flour. They're light and fluffy on the inside, with a slight golden brown crunch on the outside …
Some of the more popular flavors are Sweet Potato, made with local sweet potatoes and cinnamon, Pike Place (made with local Beecher's cheese), and The MacGregor (made with bacon, cheese, and carmelized onions).
These biscuits are available to ship to you online from the Honest Biscuits online store. Order in four packs, a dozen, mini biscuits, or a biscuit mix to do it yourself!
Herbn'FarmNW Spice Blends: Seattle based Herbn'FarmNW is the project of Seattle native Ras Levi Peynado, who found his passion by following his mother and father's footsteps …
Ras' career path was as a barber until he founded the company in 2013. His mother worked as the Farm Program Manager of the Pike Place Market, and his father was a Jamaican farmer. Ras began experimenting with recipes and growing herbs in his Seattle yard, growing from seed and harvesting multiple times per year.
Now, he is a regular vendor at the Pike Place Market and also sells his unique herb and spice blends via his website …
You will find all sorts of interesting culinary herbs designed to make your cooking more fun by enhancing your food's natural flavors. Salmon rub, steak seasoning, and sweet and spicy rub are just a few of his signature products. You can order the Market Favorite Gift Set (shown) and receive jar of Ras' Jamaican Rub free! A great gift from the iconic Pike Place Market …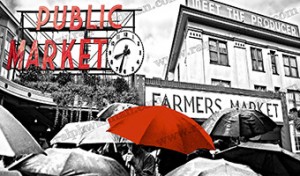 Ralph Widman Photography: We love local art, and seek it out every time we travel. Our home is adorned with prints from many of the places we've been fortunate enough to visit in the United States …
We particularly enjoy photographers and artists who focus on their local surroundings. One such photographer is Ralph Widman of Seattle, who owns his own firm Ralph Widman Photography. Ralph displays and sells many of his works in the legendary Pike Place Market in Seattle, as well as at his website.
His work covers famous Seattle landmarks and skyline scenes, although his photography is not limited to the Great Northwest. Page through his online galleries and you'll see what we mean! The photos are compelling and beautiful, and the prices are very reasonable …
history of Washington
Washington Trivia and Fun Facts

1). The state is named after America's first president, George Washington. It is the only state named after a president …

2). Washington is the largest producer of apples in the country …

3). Spokane is the smallest city to ever host a World's Fair …

4). A person from Washington is known as a "Washingtonian" …

5). Washington was admitted to the Union on November 11, 1889. It was the 42nd state …

6). Washington also leads the nation in production of red raspberries, hops, and pears …

7). When Mt. St. Helen's erupted in 1980, the mountain lost more than 1,100 feet in elevation …

8). The state's deepest lake is Lake Chelan, which stretches about 50 miles long at an average width of one mile. The lake's maximum depth is 1,486 feet …
Canter-Berry Farms: Located in the shadow of Mt. Rainier, Canter-Berry Farms is well known for their blueberries and blueberry related products. The Evergreen State is well know for its prolific fruit crops, particularly berries which thrive in this Pacific Northwest climate …
Canter-Berry Farms, so named because of their blueberries and stable of beautiful American Saddlebred Horses, has been family owned since 1954 and has sold their blueberry products at Seattle's Pike Place market for many years.
You can buy these fresh products at the Canter-Berry website, including blueberry jam, vinegar, syrup, and several combination gift baskets. A great gift for someone who enjoys the fresh flavor of Washington!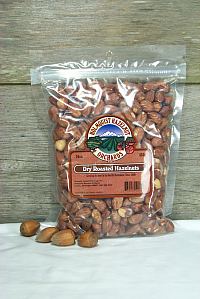 Holmquist Hazelnuts: This family run farm in the Nooksack River Valley has been growing hazelnut trees for well over 80 years. A fixture at Seattle's Pike Place Market, Holmquist Hazelnut Orchards is the state's largest producer of these nuts, which are commonly found in mixes …
But these aren't just any hazelnuts. They're the DuChilly variety, a thinner skinned and sweeter nut than you'll typically find. The orchard sells them dry roasted, lightly salted, and in various flavors including covered in several types of light and dark chocolate …
They also offer unique hazelnut based products, like oil, butter, and hazelnut flour. The flour is excellent for creating desserts, and there are ample recipes at their website!
Enjoy a real taste of the Evergreen State!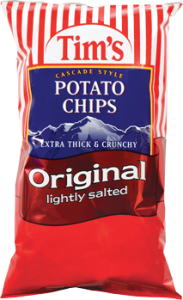 Tim's Cascade Snacks: Founded in 1986, Algona, WA based Tim's Cascade Snacks is best known for their Original Flavor Tim's Chips, a thick cut crispy delicious chip that has been honored as Seattle's best potato chip. The company makes over a dozen flavors of chips, including kettle style and reduced fat …
Tim's is also well known for their ring snacks and popcorn, including sweet onion ring and barbecue ring flavors. The company has grown steadily in the past 25+ years and is now available in several northwest states beyond Washington and selected areas overseas …
We were fortunate enough to find out about these chips on a recent visit to Washington … they are some of the best we've ever had (and we are big potato chip fans!). They're crunchy, hold up well to dips, and offer a fresh potato taste …
Order yourself some Tim's or as a made in Washington gift! Visit their site at Tim's Chips …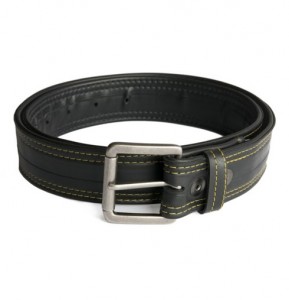 Alchemy Goods: This innovative Seattle company does something really cool … they upcycle old bicycle tire inner tubes and craft them into useful accessories like wallets, laptop carriers, shoulder bags, backpacks, belts, and more. Thus far they've upcycled over 400,000 bike tire tubes … bravo!
Alchemy Goods offers a wide variety of this useful accessories for sale on their website. They also accept your spent bike tire tubes directly for recycling, as well as work with local bike shops and national chains like Trek to coordinate collection.
We love companies that do things like this and encourage you to take a look at their unique items and order one or more for yourself or as a gift!
Liberty Orchards Aplets and Cotlets: Since 1920, Liberty Orchards of Cashmere, WA has been using their local fruit orchards to create some of the most unique candies you'll find in the Evergreen State …
The two candies are called aplets and cotlets, made with Washington apples and Washington apricots respectively. They're kind of a rectangle shaped candy as you can see, enhanced by the addition of walnuts to make them an irresistable fruity and nutty combination …
I first tried them on our family's visit to the Spokane World's Fair in 1974 and seek them out every time we travel out to Washington … they're worth the search!
Liberty Orchards candy making plant is a popular Washington attraction, receiving thousands of yearly visitors to view their candy operation. If you can't get to the Evergreen State, order the unique gift of aplets and cotlets online … they are nothing short of fantastic!
Rite In The Rain: The Evergreen State tends to be rainy, and Tacoma based Rite in the Rain provides a convenient solution for people who need to conduct business in wet and inclement weather …
Their products are patented all weather writing paper that sheds water and allows you to write in rainy and snowy weather without smearing or soggy paper …
They make writing paper, copier paper, notebooks, loose leaf paper, and all weather pens. Ideal for those who need to work outdoors!
Learn more at Rite in the Rain …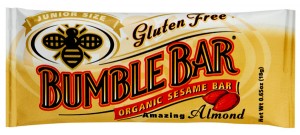 Bumble Bars: This Spokane area company has produced certified organic gluten free energy bars since 1995. They're called Bumble Bars and they're available in 14 flavors …
Each bar contains 3-5 grams of fiber and 5-7 grams of protein. Organic nuts and fruit are used in the bars so they're free of pesticides and herbicides.
Flavors include Classic Cashew, Mixed Nut Medley, Chocolate Crisp, Harvest Hazelnut, Chocolate Mint, and more. You can order any of the flavors at BumbleBar.com …
Feathered Friends Sleeping Bags: This Seattle based company focuses on keeping people warm – wherever they are! Feathered Friends makes a line of sleeping bags, down garments, bedding, active wear clothing, and outdoor gear …
Feathered Friends products are made with goose down … one of the warmest fabric fillings you can buy.
Goose down is a natural insulator from whatever Mother Nature can throw at an active outdoors enthusiast. Further, down packs easily, is low in weight, and extremely durable …
Feathered Friends sleeping bags feature a fabric treatment known as NanoSphere, which serves as a water repellent. Water simply beads up and rolls off the outer fabric shell, thereby keeping you dry and virtually self cleaning the sleeping bag …
The company was founded in 1972 and is still family owned … click over to their website to see their down comforter guide as well as a helpful how-to guide for choosing a sleeping bag …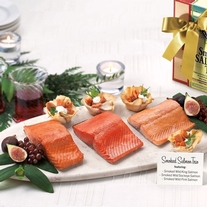 SeaBear Smoked Salmon: Located in Anacortes in Washington's San Juan Islands, SeaBear Smokehouse has been sharing the seafood bounty of the Great Northwest for over 55 years …
Known most for their smoked salmon products, SeaBear is one stop shopping for some of the best seafood packages you'll find anywhere. They offer halibut, king crab legs, chowder, shellfish, and other artisan foods and desserts …
Choose from one of their many gift baskets or create your own from their many seafood specialties. SeaBear also features a buyer's club which offers discounts for purchasing larger quantities …
Smoked northwest seafood is one of the best gifts to give a client or business associate, and surprisingly affordable. For more information, visit the SeaBear website …
Hidden Acres Gourmet Jams: Moving away from the Pacific Coast, you'll find Hidden Acres Farm atop Green Bluff just north of Spokane.
Hidden Acres grows fruit and berries which they use to create a line of specialty jellies and jams. One is their huckleberry jam, made from berries found primarily in the Northwest states …
The farm is also known for apples, and you can enjoy the fruit of their labor with Golden Delicious and Macintosh Apple Sauce, as shown …
Hidden Acres also produces syrups, gourmet flavored vinegar, and apple butter …
Visit them at HiddenAcresWA.com …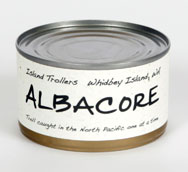 Island Trollers Albacore Tuna: Located on Washington's Whidbey Island, Island Trollers is a sustainable fishery canning sashimi grade albacore tuna …
The fish are dolphin safe, caught one at a time by hook and line in the waters off the Washington coast by American fishermen. The tuna is raw packed with a pinch of sea salt or other flavorings like jalapeno, habanero, smoked, caper, or garlic, which is the flavor we prefer …
The tuna is cooked only once it its natural juice … one of the healthiest fish to eat!
You can buy Island Trollers tuna in cases of 12 or 24 cans, or via one of their convenient gift boxes … they ship anywhere in the United States!
AJ's Edible Arts: Based in Pasco, WA AJ's Edible Arts specializes in mustard, dry mixes, sauces, and gourmet food gift boxes …
They're best known for their Walla Walla Sweet Onion Mustard. Walla Walla sweet onions are the west coast version of Georgia's famed Vidalia onion … or is it the other way around?
Regardless, they are one of the best sweet onions you can buy (sooo good sliced raw on hamburgers!) and they're an integral part of this hand crafted mustard …
There are actually several varieties of this mustard, including one with whole mustard seeds included, which gives a crunchy texture to the mustard in case you use it as a dip. There are also flavors with smoked bacon, horseradish, beets, dill, and roasted garlic …
Take a look at all the different mustard they make and order a few jars at AJ's Edible Arts …
Rill's Specialty Foods: From central Washington comes Rill's Specialty Foods, a small family owned company that packages easy to prepare soup and chowder mixes … just add water and you're 90% done!
The vast majority of ingredients used in the soup mixes are locally grown, so the soups are a real taste of The Evergreen State. The business began as a small rural cafe and grocery store almost 30 years ago and blossomed into a specialty food company when customers kept asking for mixes so they could replicate the cafe's soups at home …
There are over three dozen mixes available so you're certain to find one that suits your taste buds … visit the Rill's Specialty Foods site to learn more and buy …
Mt. St. Helen's Jewelry: In May, 1980, Washington's Mt. St. Helen's erupted, devastating a 200 square mile area and strewing volcanic ash and rock fragments throughout the surrounding area …
A beautiful green stone was created from the eruption … pulverized rock from over 15 miles into the earth's core under conditions of high heat and pressure. The stone is a beautiful shade of deep green, with a high degree of sparkle and the durability of quartz …
Various pieces of jewelry like rings, pendants, and earrings are created from the stones by the Mt. St. Helen's Gift Shop near Toutle, WA in the shadow of the volcano. You can browse the collection online and order a truly unique gift from The Evergreen State!
Liberty Bottleworks: This cool company in Union Gap, WA makes the only American made 100% recycled metal bottles in the marketplace. These water bottles are made with 100% recycled metal and are strong, durable, convenient, and eco friendly …
They offer a variety of different designs, all with sharp graphics and images to reflect your personal style. Take a look at what Liberty Bottleworks is doing by visiting their website …
More Made In Washington Products Are On The Way … Be Sure To Tell Us About Your Favorites By Visiting Our Advertise with Us Page!