Made In Arkansas Quick Facts
See Our "Visiting Little Rock" Travelogue … Scroll Down
This Post is about Made in Arkansas Gifts and Specialty Arkansas Products
Want To See Your Business / Products On Our Made In Arkansas Page?
Visit "Advertise With Us"!
Arkansas is one of our states with ample home grown and home made products. Small businesses seem to thrive here, from great BBQ joints to candy makers to wine and juice producers.
We've visited Arkansas several times, tried most of the products listed below, and find interesting new items every time we visit! We encourage you to discover their unique Arkansas stories!
FEATURED MADE IN A

RKANSAS

BUSINESS

ES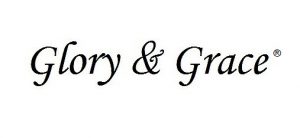 Glory and Grace: Those familiar with northwest Arkansas frequently sing the praises of the beautiful Beaver Lake area, situated due east of Bentonville and Rogers and northeast of Fayetteville. Known across the region for its spectacular fishing and breathtaking scenery, Beaver Lake is home to a growing family owned and operated business we're proud to feature on our Made in Arkansas page …
Introducing Glory and Grace, a home and office decor company featuring specially curated items you'll be thrilled to add to your living or work space. Operating with a passionate commitment to customer focus and integrity, most of this Natural State company's products are one of a kind handcrafted items designed to spotlight your sense of style and space …
In business since 2000, Glory and Grace is best known for their "At Home Collection", featuring garden accessories, organizational and storage products, wall art, and much more. Whether you're seeking accent furnishings, shabby chic antique items, or simply a stylish organizational piece, you'll find it at Glory and Grace …
At the "Shop All Collections" tab linked above, you'll see the entire selection, just waiting to be added to your decor. Many of Glory and Grace's items are hand painted and hand finished, adding the perfect decor touch to any room in your home or office. We particularly like the rustic adjustable height metal stool with solid wood top, pictured. It's one of many unique items that'll add a touch of rustic practical style to your kitchen or office …
If you're looking for a house warming, thank you, or "just because" gift, don't miss the Gifts and Gifts Under $30 collections, where you'll find over 80 ideas sure to please even the most hard-to-buy-for person on your list. Glory and Grace will ship right to your door, and all orders are insured and packed with the utmost of care. Click through to the Glory and Grace website to view the entire collection and place your order …
Be sure to stay connected to Glory and Grace – new products are continually added to their inventory. Also, they're very close to introducing a line of Arkansas produced artisan blend sugars, salts, and peppers. When they're ready to reach out to foodies, you can be assured we'll be talking about it here on State Gifts USA!
MADE IN ARKANSAS GIFTS

Bourbon and Boots: Based in Little Rock, Bourbon and Boots is a Southern inspired lifestyle brand that distributes an exclusive line of over 1,200 unique handcrafted products inspired by the creative energy and passion of the South …
Appealing to those with Southern roots or those who simply appreciate authenticity, craftsmanship, and timeless style, Bourbon and Boots celebrates the values of the South. From home decor to personal fragrances to … well, bourbon and boots, you'll discover the ultimate shopping experience at their appealing website …
If you're struggling to find the perfect gift idea for anyone on your list, you'll be inspired with an online visit to Bourbon and Boots. We love their Southern Kitchen Collection, where you'll find items like a Reclaimed Wine Barrel Salad and Serving Bowl and a set of handsome Mango Wood Shot Cups. The selection features creative, handcrafted, and practical gifts that will delight your gift recipient at any occasion …

We also like the Southern Jewelry section, which spotlights casually elegant Southern designed necklaces, bracelets, earrings, rings, and much more for both gals and guys. Watches, cuff links, sunglasses, and elegant pens are also available, and don't miss the Best Friends Forever Collection featuring great gifts for your very own "BFF" …
Be sure to also check out the "Occasions" tab, where you'll find Gifts For Her, Gifts For Him, Groomsman Gifts, Corporate Gifts, and more. There's even a section for Patriotic Gifts, and if you live south of the Arkansas border, take a look at the handcrafted Texas State Seal decorative bench …
Bourbon and Boots is a one stop destination for Southern inspired gifts designed to delight anyone on your list who appreciates quality, craftsmanship, and understated class. Be prepared to be impressed!
Pig Trail Trading Company: In Arkansas, it's ALL about the Razorback fans. It's what brings folks together as family and friends. Good food, good times … and the occasional hoot and holler!
For generations Arkansans have been traveling "The Pig Trail" to Fayetteville. In years gone by it was a two-lane winding road through the Ozark Mountains. Today, you get there a little faster via I-49, but it's still the pig trail making those from The Natural State "Arkansas 49ers."
The good people of Arkansas love their team and love wearing the red and white. It's good old-fashioned Arkansas fun. Join in and find the pig that best describes you on one of these handsomely designed t-shirts!
The Pig Trail Trading Company has designs for every age. You can order them in just about any size, long or short-sleeved, men, missy, youth or toddler. Special request orders are gladly accepted!
Check out the Pig Trail Trading Company Etsy Store for the complete selection.
Also, learn more by visiting their website at www.ThePigTrailTradingCompany.com …
We're proud to feature this fun small business on our Made in Arkansas page!
Dan's Whetstone Company: Since 1976, this Pearcy, AR small business has been crafting whetstones and related products from Arkansas quarried materials. Owner Danny Kirshman oversees the operation which produces hundreds of Arkansas products for industrial and sporting goods uses …
Whether you need a stone for knife sharpening or some other purpose, company personnel will guide you toward the proper product for your suited purpose. Dan's Whetstone owns several local quarries that will ensure production for generations …
We really like these sandstone coasters, designed to soak up beverage moisture and prevent unsightly rings on your furniture or the coasters themselves. Several scenes inspired by The Natural State are available and you can order directly at their website, linked above …
Click through to learn more about this thriving Arkansas business …
Stone County Ironworks: Known as "America's Blackwmith Shop", this company is based in Mountain View, AR – about an hour north of Little Rock.
Anything you'd guess you'll find from a blacksmith can be found at the Stone County Ironworks website. They offer quite a selection and most items can be shipped right to your door …
Tables, beds, chairs, home accents, and specialty pieces will all lend a unique touch to your living spaces …
The handsome table shown is a great example of the work being done here. Click through to their website to learn more about this company and see their proud craftsmanship.
Proudly Made in Arkansas!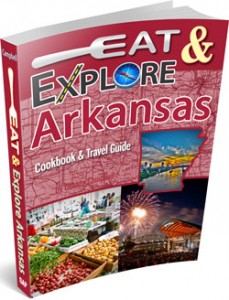 Eat & Explore Arkansas: State themed cookbooks are a wonderful gift idea, and a company by the name of Great American Publishers is releasing a series of cookbooks focusing on each of the 50 states in the near future. First in the series is Eat & Explore Arkansas Cookbook, a 256 page ode to The Natural State.
This cookbook offers recipes such as Ozark slaw, Bread Pudding With Sorghum Sauce, Tamale Pie, Broiled Tomatoes, and scores of dessert recipes for any occasion. Also included are full color pictures and profiles of some of the state's favorite events and destinations …
An economical and useful gift for anyone on your list, you can buy a copy of Eat & Explore Arkansas at the Great American Publishers website, linked above.
Enjoy the great tastes of The Natural State!
The Bath Factory: Owned and operated by Michele Pappagallo, this small business is a fixture in the heart of the Hot Springs business district on bustling Central Avenue. If you're fortunate enough to visit this historic resort town, be sure to take time to stroll this main thoroughfare, where you'll find quite a number of local businesses like The Bath Factory …
Michele specializes in creating affordable, luxurious bath and body products for men and women. She handcrafts Bath Factory's products on site in her soap studio, using natural ingredients like fruit oils, herbs, botanicals, and more. The selection of soap colors and fragrances is something to behold!
In addition to artisan soap, bath scrubs, salts, facial & skin care items, and more bath essentials are available. There's even a Pet Care section featuring liquid and bar doggie shampoos designed to keep bugs away and give your pooch a soft, rich coat.
Put Hot Springs on your list of places to visit, and in the meantime, click through to The Bath Factory's website to see their entire selection and to order. A great gift idea!
Bella Vita Artisan Jewelry: We're pleased to tell you about this small Little Rock based company owned and operated by Brandy Thomason McNair, who definitely has a flair for creating stylish and affordable jewelry! Brandy creates necklaces, charms, bracelets, and more incorporating all sorts of clever themes …
For Arkansas fans, take a look at the Razorback earrings shown … little brass hogs dangle from 3 inch long earrings made with antique gold plated ear wires. Perfect for game day!
Brandy also makes Native State Necklaces (for all 50 states), beautiful mason jar necklaces with a small brass charm shaped like a mason jar (very southern!), marathon necklaces, and all sorts of other really unique jewelry that'll dress up any outfit!
All her current creations are available at the Bella Vita Jewels Etsy shop where you'll see beautiful photos of her artistry and ideas for Arkansas themed jewelry gifts. Approachable, stylish, and fun!
Larkmartin Soaps: We talk quite a bit about Hot Springs on this page, both in our Little Rock travelogue as well as in spotlights on some of this historic city's businesses. Of course, Hot Springs is famous for their thermal hot springs water, which has been drawing visitors to the area for well over 100 years …
As you might imagine, a cottage industry of sorts has blossomed from the presence of these springs and the healing and relaxation properties of the water. The days of the iconic bath houses have mostly passed, replaced by day spas and small businesses catering to spring water bath goods. One such local company is Larkmartin Soaps, founded and owned by local resident Briana Moore. Briana uses high quality plant based oils, herbs, and local spring water to create a line of handmade soaps and pampering bath products …
For a real Southern themed gift, consider a bar or two of Larkmartin's Muscadine Wine Soap. Wine from one of the state's wineries, Post Famille, is used in the batch making process, providing a wonderful fragrance and soft, fresh and clean skin. It's one of dozens of varieties you'll find at their website, along with bath scrubs, body creams, and much more …
If you can't visit Hot Springs in the near future, Larkmartin Soaps is the next best thing!
Southern Soy Scents: We're very pleased to introduce you to an Arkansas Delta candle maker, Southern Soy Scents. This small company is located in the community of Marion, about ten miles from the Mississippi River in the heart of Arkansas soybean country …
Using soy wax created from soybeans, Southern Soy Scents is owned by Crystal and Stan Warner. The candles are clean burning with virtually no soot and infused with fragrances through the entire candle – you'll get the same great scent from top to bottom!
Check out the Scent Descriptions page on the Southern Soy Scents website – there are over two dozen to choose from and the candles are available in recycled wine bottle style, along with traditional jars, tins, and very cool looking tumbler glass candles. Scents range from Fresh Fruit, Christmas Tree, Pecan, and "Date Night" just to name a few …
These candles are great gifts for someone who appreciates a small business Arkansas made product! See their site to view all the different candles and scents available. They'll ship directly to your door!
Robinson Lane Designs: Owned and operated by Little Rock based jewelry designer Christy Bourns, this company offers a beautiful line of necklaces, earrings, and special personalized jewelry inspired by Christy's surroundings and artistic influences. She uses organic elements like natural metals and reclaimed jewelry to design pieces that speak to everyone's life journey …
One compelling segment of the Robinson Lane Designs product line is the State Collection. Christy, whose art has been exhibited in the Arkansas Capital Building (see our Little Rock feature at the bottom of this page), creates state shaped necklaces like the ones shown. They're crafted in either brass or nickel and you have your choice of chain length and type. You can also have these stylish necklaces personalized with a heart or the words "Born and Raised" or "Home". What a great state themed gift item!
You can find any of the State Collection at the Robinson Lane website, along with a wide variety of specialty and personalized pieces to accent any wardrobe. Wonderful gift ideas for that special someone on your list, designed and made in The Natural State …
Bathhouse Soapery and Caldarium: This attractive store is located right on Central Avenue across from Bathhouse Row in Hot Springs. We discovered it on our last visit to Arkansas, bought a few of their handmade soaps as gifts, and now we're introducing them to our State Gifts USA readers …
Bathhouse Soapery is owned by Charlene Simon, a master soap maker who has been making soap from scratch for over 15 years. If you can't make it to Hot Springs, be sure to click through to her website as some of the soap varieties are practically intoxicating! To give you a sense, just a few of the varieties are Fig & Milk, Honey Pear, Malted Vanilla, and Tobacco & Rum. There's even a variety called Hot Springs, made with eucalyptus and mint, ideal for both gals and guys …
Bathhouse Soapery and Caldarium is much more than just soap, though. Just a small portion of their home made product line includes foaming body scrubs, balms and salves, home fragrances, milk daily facials, perfume oils, and more.
We can tell you with assurance these are ideal gifts from Hot Springs (our friends loved the soaps!). Order some of their products for yourself or as a sure to please gift …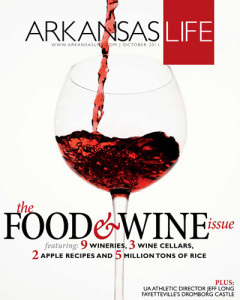 Arkansas Life Magazine: Most of the 50 states feature a statewide magazine with features about the state's lifestyle, shopping, dining, and special destinations.
These magazines make a great state themed gift, and we'll be featuring as many as we can here at State Gifts USA. We'll start with the premier lifestyle magazine from one of our favorite states, Arkansas Life …
You can give Arkansas Life as a gift subscription and have it sent directly to the recipient's door step.
Each issue features news, events, wellness topics, dining destinations, and much more. There's a digital edition as well!
Subscribe directly at the Arkansas Life website …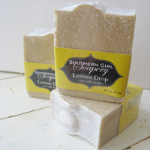 Southern Girl Soapery: Here's another small company we learned about on our recent visit to Little Rock … it's Southern Girl Soapery, who creates handmade soap inspired by Southern scents and traditions.
All the soaps are cut and wrapped by hand, made with ingredients from local farms. Colors and scents come from natural ingredients, never the chemicals you'll find in most standard soaps …
Check out their online store and you'll find luxury bath soap, lip balms, bath creams, and all sorts of stuff guys will enjoy, like shaving soaps and after shave lotions …
Gift sets are also available … a nice Little Rock themed gift for someone special!
HeMan Tools: Not meaning macho, but rather the average, reasonable man who expects and appreciates the extraordinary, this Little Rock area company does indeed create the exceptional …
HeMan creates tools and practical items with lifetime guarantees … they're confident you'll hand these tools down to your heirs. These are tools any "he man" or woman, or a young person just getting started with handling tools will appreciate and treasure. You can buy anything from pruning knives to shears to ultra sturdy battery cables!
Pictured is an Arkansas whetstone, the perfect sharpening tool for your knives (and who doesn't need a knife sharpener?). It has separate finishes for honing and finishing, and is large enough to handle even your bigger knives …
The company also makes handsome and practical home accessories, like wall mounts, fireplace tools, mirror frames, and a lot more. Take a look at the HeMan Tools website and see all the interesting things they create … a great Arkansas gift!
MADE IN ARKANSAS BARBECUE
Chipotle Joe's Dipping & Grilling Sauces: Based just east of Little Rock, this small business is a testimony to the American way … if you can't find a product you really like, make a better one!
That's the back story of Chipotle Joe's. Owner Bobby Whitfield hosted a barbecue and didn't want to serve store bought sauces to his guests, so he created a savory dipping and grilling sauce from his own recipe. It went over so well that Bobby decided to bottle and market his sauces, which have expanded to three different varieties …
The product line is known as Chipotle Joe's Dipping & Grilling Sauces, made with all natural ingredients (Bobby grows his own chipotle peppers). This is the real deal – no corn syrup or stuff you can't pronounce.
The three varieties are Mild, Hot, and Hot Mustard. If you barbecue, you know what to do with them … baste onto grilled meats, use them as marinades, or just dip your masterpieces into any of the sauces for a real southern taste treat!
Click through to the Chipotle Joe's website to learn more. If you're from The Natural State, there's a list of retail locations where you can find the products. If not, order online directly through their store, and you can have these sauces shipped right to your door. Good stuff from Arkansas!
JJ's BBQ: An underrated barbecue state, Arkansas doesn't get as much press as some of the other BBQ meccas from around the country. But we've been delighted to find some extraordinary Q in The Natural State …
One such spot is located in the southern part of the state not far from the Louisiana border in the small town of El Dorado. It's JJ's BBQ, as much of a Southern home style small town restaurant as it is barbecue joint. Make no mistake though, this place turns out some really good ribs, chicken, pork, and all the great side dishes you'd expect from a place with "BBQ" in its name …
We really liked their sauce, which we later found you can order directly from their website. It's smoky and delicious and pairs up well with anything you might have cooking on the grill. Also at the "Store" icon on their site you'll see bottles of their Spice Mix which makes a perfect rub for slow smoking that pork butt or rack of ribs you've been meaning to do up just right …
If you're traveling in southern Arkansas, pay them a visit, but in the meantime stop by their website and order some sauce … you'll see what we're raving about!
Woody's Bar-B-Q: Established in 1985, Woody's has become the most popular destination in Waldenburg, a small town in the northeast part of the state and is known as the place where you get "the whole pig on a bun". While that may be a slight exaggeration, the moniker refers to Woody's hefty pork sandwiches which have become known to folks all across the region and beyond …
Woody's is also well known for their barbecue sauces, and if you can't make it to Waldenburg, there's good news as you can order it online from the Woody's Bar-B-Q online store. They make two varieties – Original and Hickory, both available in hot or mild. We prefer the Original as it's the perfect balance between tangy and just a touch of sweetness.
Woody's also offers their Original Marinade & Baste and several seasonings, including their Dry Rub & Seasoning. You can order in various combination packs and sauce sizes up to a gallon.
The perfect gift for the barbecue lover in your life, direct from northeast Arkansas …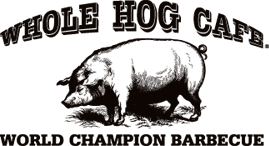 Whole Hog BBQ: We love great barbecue and seek it out every time we're on the road. While perhaps not as renowned as some of the nation's barbecue capitals, Arkansas is a BBQ hot spot unto itself.
There are some terrific barbecue restaurants in the state, like McClard's in Hot Springs (see below) and many others. On our recent visit to Little Rock, we discovered the wonderful Whole Hog Cafe, feasting on a bountiful Whole Hog Platter which contains pulled pork, beef brisket, ribs, and sides …
Whole Hog has two Little Rock locations (try the one on Cantrell Road) and several locations elsewhere in The Diamond State. We can best describe Arkansas barbecue as a mix between Kansas City style and Texas style, which makes sense as the state sits between the two …
But describe it however you'd like, because regardless, it's 100% delicious. Whole Hog Cafe is well known for their six different bbq sauces, ranging from mild to volcano. You can order any of these sauces by mail order from their website, or better yet, a pack of all six in a handy gift tote!
What a great gift from Arkansas for anyone who appreciates the art of fine barbecue!
McClard's BBQ – Hot Springs:
Located about six blocks off the main drag in downtown Hot Springs, McClard's is one of Arkansas' most revered barbecue restaurants. Prices are inexpensive, service is swift, and the barbecue is as good as it gets! Their house recipe McClards BBQ sauce is renowned and help put the restaurant on the map for the last 80+ years …
Hot Springs itself is an interesting town with a lot of history, in addition to their renowned hot water springs that gave the town its name. Most of the old bath houses are closed, but there are numerous spa services, good restaurants, historical sites, and plenty of nightlife.
And if you're a baseball fan, you'll be surprised to learn about all the spring training baseball history that took place in the town. The visitors bureau has introduced a Hot Springs historic baseball trail which leads you to the sites where some of the game's greats graced the town with their presence …
MADE IN ARKANSAS SPECIALTY FOODS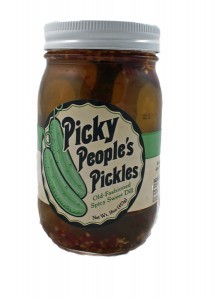 Picky People's Pickles: We love a freshly made crunchy dill pickle, and if you feel the same way, you should know about the beauties being made by this small company out of Heber Springs …
The company is called Picky People's Pickles and although we don't know that only picky people will enjoy them, they sure are good! What makes them special is they're dill pickles which are a little bit spicy and a little bit sweet – the best combination!
You can find them in area stores around Heber Springs but if you're not passing through that way any time soon, we also found a source to buy them online …
Enjoy the taste of The Natural State!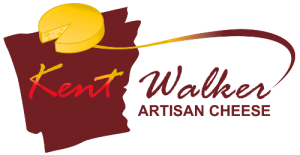 Kent Walker Artisan Cheese: You might not think of Arkansas as a dairy state, but if you've ever spent any time exploring some of the state's rural, natural areas you'd probably have a different take …
The Natural State is flush with dairy farms – it's common to see cows and goats grazing on the lush pastures of the Arkansas landscape. It stands to reason that artisan cheese makers are springing up across the state, and one example is Kent Walker Artisan Cheese. When you visit Little Rock, which we hope you do, you can visit their tasting room retail operation, take a tour, and even see cheese being made. Located right downtown on Cross Street, the combination retail outlet and production facility is a magnet for visitors. You can enjoy a glass of local beer or wine along with a cheese sampler platter, and if you happen to visit on a production day, fresh cheese curds are available for sampling!
At their website, you can see the different varieties they produce, both in year around and specialty offerings. There's also a link to their online partner store where you can buy some for yourself or as a gift. Locally made cheese is a perfect holiday gift – one which shows you've a fan of supporting small local businesses. Choose from Habanero Cheddar, Goat Feta & Gouda, Garlic Montasio, and an English style (but Arkansas Made) cheddar like cheese called Leicester.
A great choice direct from Little Rock …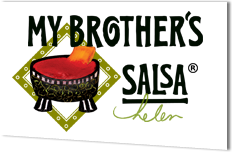 My Brother's Salsa: It's often said family recipes are the best recipes, and sometimes, they're special enough to launch a family business. That's part of the story for Helen Lampkin of The Natural State, who was given a salsa recipe from her older brother …
After a few tweaks, Helen began sharing the salsa with her family, friends, and neighbors to rave reviews. Encouraged by their enthusiasm, she started her family owned and operated business, appropriately called My Brother's Salsa, in 2003 …
Now, the company makes nine different varieties of salsa and their own corn tortilla chips to go with them! Varieties range from Mild, Medium, and Hot to specialties like Peach Tomatillo, Cranberry Orange, and Cucumber Tomato. These traditional and creative flavors make a great Made in Arkansas gift!
You can order My Brother's Salsa directly at their website in custom packs in quantities of three to twelve jars, as well as salsa gift packs which include their home made chips. Enjoy!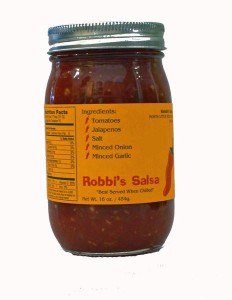 Robbi's Salsa: We had an absolute blast the last time we visited Arkansas … we drove down and on the way back the car was packed with locally made products we picked up in The Natural State.
One product in particular was Robbi's Salsa, which we unfortunately we didn't try until we arrived back home. Unfortunate in the sense we only bought one jar! It's made in North Little Rock and although the ingredients aren't anything unusual (tomatoes, jalapenos, salt, minced onions & garlic), however they put it all together is really something special. Quite possibly the best salsa we've eaten out of a jar!
We visited their Facebook page and it appears they only distribute locally, but after a little digging we found it's sold online at a cool shop in Eureka Springs called Gourmet Eureka. You'll find it in their online store in the Marinades, Sauces, & Dips category …
Give it a try – this stuff is so good we even spooned some atop a pizza and baked it in – fantastic!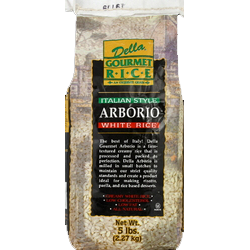 Della Rice: Della Rice is the brand name for rice products developed and packaged by the Specialty Rice, Inc. company of Brinkley, AR. The east central Delta area of Arkansas is renowned as one of the best places in the world to grow rice due to the rich soil and ideal weather conditions, and Della Rice is packaged in standard white rice and numerous other varieties you might not be aware of.
The company's rice products include Arobrio, Jasmine, Basmati, Quinoa blends, and Organic Brown Rice. Most of their products are exceptionally easy to cook in 15 minutes or less. There's a comprehensive list of recipes on their website to guide you on how to best serve their specialty rice blends …
You can purchase any of the Della Rice products directly at their website. And remember, the best rice is grown in Arkansas! Enjoy!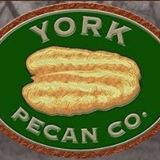 York Pecan Company: Family owned and operated, the York Pecan Company is located Forman in the far southwest corner of Arkansas. Slightly northwest from Texarkana, Forman is near the Red River and just a few miles from both the Texas and Oklahoma borders …
The rich soil here is ideal for pecan trees. In fact, this area of the country is often known as the pecan belt. It's where the bulk of the nation's pecans are grown, in large groves of native pecan trees that produce some of the largest, plumpest pecans anywhere …
York Pecan Company has been around since the 1950's and ships their pecans all over the country. At their online store, you can buy mammoth halves, roasted halves, and chopped pecans in quantities up to 30 pounds. Fresh and very good for you, pecans are always a welcome gift!
Visit their website to place your order and enjoy a taste of southwest Arkansas …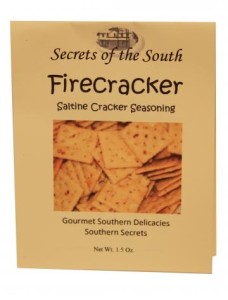 Secrets of the South: Founded in 1993 and based in Gillett in the southeast portion of the state, Secrets of the South is well known for their Arkansas inspired gourmet mixes. The company makes soup, dip, dessert, and cheese ball mixes, along with specialty spices, jams, jellies, and more …
We were given one of their seasoning mixes as a gift recently and wanted to tell you about it …
It's their Firecracker Saltine Cracker Seasoning, pictured. Saltines are one of our favorite snacks but truth be told, they can be a little ho-hum after a while. Secrets of the South Firecracker Seasoning is specifically designed to perk up Saltines, giving them a pleasant, mildly spicy blast of flavor without being too salty. In fact, it's one of the more unique seasonings we've seen because we've never heard or thought of seasoning a Saltine cracker!
Of course, the company produces a wide range of other products as well, many of which can be used to create party dips or appetizer spreads. Check out their line of pepper jellies too!
Visit their website to view the entire Secrets of the South product line. Made in Arkansas!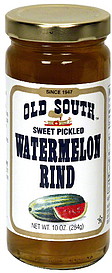 Bryant Preserving Company: Did you know Arkansas is one of the nation's leading watermelon producing states? It's true, and watermelon from Arkansas is prized due to its especially rich, juicy, delicious flavor. Some say it's the limestone in the soil that helps create the taste difference, but whatever it is, next time you're in The Natural State, try one of their locally grown watermelons!
We found a couple of unique watermelon products from the Bryant Preserving Company of Alma, AR. The first is jarred pickled watermelon rind, pictured. Eat it right out of the jar or wrap it in bacon as an appetizer.
The second product is their Watermelon Rind Barbecue Sauce, a robust sauce augmented with the sweet taste of watermelon rind. Try it on grilled pork – it is fantastic!
Bryant Preserving Company also produces several other interesting pickled products. You can order by the jar or by the case directly at their website. A truly "Arkansas" gift!
Arkansas Rice Depot: This worthwhile organization was founded in 1982 to help combat hunger in Arkansas, where 1 in 6 citizens struggle to feed their families. The Arkansas Rice Depot distributes almost 9 million pounds of food and food supplies yearly and 98% of their operating budget is spent on buying and distributing food to those living under the poverty line …
On a related note, did you know Arkansas is one of the nation's leading rice producing states? Given this fact, the Arkansas Rice Depot has an online store with some great local products, many of which are rice related. There are gift packages, unique rice blends, and more.
All proceeds from gift shop sales help feed hungry kids, families, and senior citizens. Take a look!
War Eagle Mill: Located near the north Arkansas town of Rogers, War Eagle Mill has been a working mill since the 1830's. Grains are milled into organic flour daily at the site, which is one of northern Arkansas' most famous attractions …
The Mill offers tours, a country store, and an on site restaurant featuring many of their own products.
The War Eagle Mill online store offers a convenient way to enjoy their products. You'll find kitchenware, specialty flour, grains and cereals, jams, jellies, and gift packages available. There's a wide assortment of gifts – perfect for anyone on your Arkansas list …
J + M Cheese Straws: Cheese straws are a legendary snack throughout the south, rivaling potato chips, pretzels, and the like. They're crunchy, yet delicate, and if you've never tried them it needs to be on your bucket list. Little Rock based J+M Foods sells cheese straws online so you can get your fix! It's a real taste of the south …
Burge's Smoked Turkeys: This place was highly recommended to us during our visit to Little Rock … and are we glad we stopped! We enjoyed lunch in their storefront, but the real star is Burge's Smoked Turkeys They're unlike any turkey you've ever tried … and they ship all across the country.
If you're ever in Little Rock (a very underrated small city by the way), visit them at their location in a charming neighborhood known as The Heights, just 10 minutes from downtown …
Liz and Linda's Pepper Jelly: We brought a few jars of this family run company's jelly products as a thank you gift to some friends and they raved about it … we wish we'd saved a jar for ourselves!
The company makes several different jellies, but Liz and Linda's Golden Pecan Pepper Jelly has won several awards at national food shows. It's made with yellow bell peppers and pecans and sounds perfect for crackers!
Mountain Valley Spring Water: This company, based in Hot Springs, is one of the oldest bottled water companies in America. They've offered home delivery for decades … in fact I remember my aunt having home delivery when I was a young boy in the 60's …
Visit their Mountain Valley Spring Water Store to learn their story and pick up some swag …
House of Webster: This well known Arkansas company is famous for a wide variety of interesting condiments and southern style relishes. They make all sorts of fruit preserves, bbq sauce, syrups and a whole lot more. Visit the House of Webster website to see all their products and have a gift pack shipped to you or a friend …
Suzanne's Fruit Farm: Located in south central Arkansas about 1.5 hours from Little Rock, Suzannes Fruit Farm is actually a pick-your-own farm with an online presence. It's a great source for Arkansas made preserves and sauces … be sure to check out the Arkansas gift pack which is filled with all sorts of different preserves, and the gift baskets themselves are hand woven in Arkansas …
Post Familie Vineyards: Did you know that Arkansas has a thriving wine country? It's located in the west central part of the state, about two hours from Little Rock and an hour or so east of Fort Smith on the Texas border …
The largest winery in this area, and in Arkansas, is Post Familie, in the small charming town of Altus. Their online store offers gifts of wine related items, juice, and preserves direct from Arkansas wine country.
The area is nestled in the mountainous part of Arkansas … the scenery along the way is beautiful and there are several wineries to visit in the immediate area. it's a perfect overnight trip from Little Rock, and just 45 minutes from Fort Smith on the Arkansas-Texas border.
Petit Jean Meats: This company has been an Arkansas staple since the 1920's and are best known for their smoked pork products like ham, bacon, and sausage. Pork is smoked "low and slow" … 18 hours over hickory logs to give it a rich, distinct flavor …
Petit Jean meats are served all over the state, and you can order some for yourself or as a gift too!
Their hams are particularly notable, and great for holiday entertaining … you can buy them bone in, boneless, or spiral sliced. They also offer numerous gift packs and related items. Learn more about Petit Jean Meats by visiting their website at Petit Jean Meats …
MADE IN ARKANSAS DESSERTS & SWEETS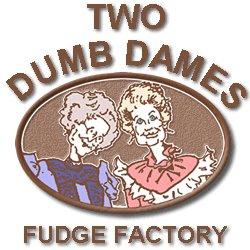 Two Dumb Dames Fudge Factory: If you've ever been to historic Eureka Springs, you know about this family business. Two Dumb Dames Fudge Factory has been a Eureka Springs tradition for visitors and locals alike since 1980 …
Whimsically named after the mother-daughter due of Hallie McGowan Chambers and Jonell Powers Sullivan, the business is now aided by 4th and even 5th generation family members. Their specialty, of course, is fudge – although salt water taffy, chocolate specialties, and old fashioned candies add to the allure …
Fudge is available in over two dozen flavors, including such delectable varieties as Banana Cream Pie, Dark Chocolate Raspberries & Cream, Peanut Butter, and Chocolate Caramel Pecan. Seasonal specialties and gift boxes are also available.
Click through to their site and see the "Online Store" tab for everything you can order online if your travels aren't taking you to Eureka Springs. If you're in town, be sure to pop in!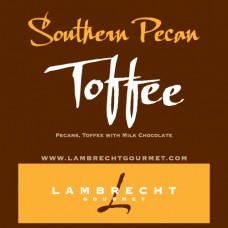 Lambrecht Gourmet Toffee: Heber Springs is a charming Arkansas town about 45 minutes north of Little Rock in the north central part of the state. It's the home of Lambrecht Gourmet, makers of artisan award winning toffee that is rapidly gaining a national reputation …
We discovered Lambrecht Gourmet Toffee on our recent trip to Little Rock and tried the specialty Southern Pecan variety. It's bursting with nuts, buttery crunchy toffee, and rich chocolate. It's one of dozens of flavors they create, including white and dark chocolate toffees featuring macadamia nuts, hazelnuts, almonds, and more!
You can find Lambrecht's in a few gift shops in Little Rock as well as an expanding range of locations in Arkansas, Texas, and farther afield. Of course, they're also available at their online store in small bags, gift tins, and gift boxes.
A sure to be appreciated treat from Arkansas! See their site for more details and to order …
The Crispery Crispycakes: Another really cool company we discovered on our recent visit to Little Rock is The Crispery. They make delectable marshmallow and crispy rice treats in numerous flavors (think Rice Crispy Treats but way better!).
Founded in 1995, The Crispery creates these wonderful treats soft and gooey, never hard and sticky. They've been featured on countless national publications, television shows like Good Morning America and the Today Show, and are found in specialty boutiques around the country …
The first Crispycake we tried was the Caramel and Cream, pictured. Wow! One of the best snack treats we've ever had, and many of the other flavors are just as good. They make a Banana Chip Crispycake, as well as several chocolate flavors and one called Peppermint Twist …
You can order Crispycakes online at their website, and they also offer special occasion and sampler gift boxes so you can try all the flavors! They make great gifts too … tell someone how sweet they are, Arkansas style!
MADE IN ARKANSAS HOT SAUCE, SPICES, & CONDIMENTS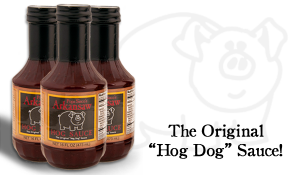 Arkansaw Hog Sauce: We're pleased to introduce you to this small company in Harrison, AR not far from the Missouri border. Their namesake product is "Popa Sisco's Arkansaw Hog Sauce" and it's an all purpose sauce you can use as a traditional BBQ sauce, ketchup substitute, or for any other purpose …
The company is owned and operated by Ray and Kathy Sisco. Ray has always been called "Popa" by his grandchildren and when it came time to name his signature sauce, Popa Sisco's Arkansaw Hog Sauce was a natural choice!
You'll find some really interesting recipes at their website, where you can also purchase the Hog Sauce in 16 ounce bottles, gallons, and cases. We like the "Original Hog Dog" recipe, calling for pulled pork, hot dog buns, coleslaw, and Hog Sauce. There's a good one for Barbecue Chicken Pizza too!
Check them out at ArkansawHogSauce.com and place your order for a real taste of The Natural State!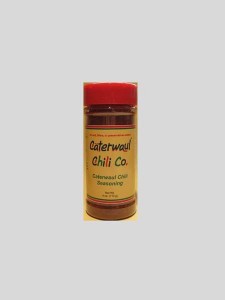 Caterwaul Chili: Are you a fan of a great bowl of chili? We sure are, and we love trying different regional recipes, chili mixes, and spices. In Little Rock, there's a small company called Caterwaul Chili making a fantastic spice mix that'll liven up your next batch!
Made with fresh dried peppers, herbs, and special spices, this concentrated spice mix adds a deep, rich flavor to your chili, whether you're using ground chuck, cubed steak, pork, or even vegetarian style. There's no added salt, flour, sugar, or thickening agents, so the spice tends to go further than most traditional mixes …
Use if for soups, stews, pork chop seasoning, and of course as your go to chili powder. Special recipes are available at their website. It's available in retail stores in The Natural State (there's a list on their site) and you can buy it online from the Caterwaul Chili online store. Ideal as part of an Arkansas themed gift … let's face it, who doesn't like a good batch of chili??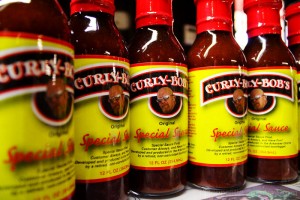 Curly Bob's Special Sauce: On our most recent visit to Little Rock (one of our favorite Southern cities as you'll see below), we were shopping at a small local grocery store in The Heights neighborhood and bought a few local products. One was kind of a barbecue looking sauce called Curly Bob's Special Sauce …
It didn't look like the typical molasses and brown sugar type of bbq sauce – and it isn't. It's made by a retired 30 year Army veteran named Robert Rolf, who hails from Conway. After he started sporting the shaved head look which adorns the labels of his sauce, a bartender dubbed him Curly Bob and the name stuck!
He started making his own sauce in the garage of his home, giving it away to friends. Persuaded to market it, Bob has done just that – it's now in over 200 locations. Not quite a barbecue sauce, it's got a spicy kick although it's not hot. You can use it on just about anything, from meat off the grill to roasted vegetables or as a dipping sauce for french fries and sandwiches. It's really good!
After looking around a bit, we found it for sale online from a wonderful shop we've been to in Eureka called Gourmet Eureka. Look on their site in the Marinades, Sauces, & Dips category and you'll see it right there!
Buy two bottles at least … you'll love it!
Townsend Spice & Supply: Based in the small northern Arkansas town of Melbourne, Townsend Spice & Supply is well known in the barbecue world. They're a blender of spice mixes for many iconic BBQ outposts, such as the Sonny's Barbecue chain, and supply butchers, sausage makers, and backyard grill masters with the supplies needed for any size operation …
Townsend recently opened a retail and online store where you can purchase some of their legendary spice mixes and rubs. One of our favorites is their Chili Seasoning which we discovered on our recent visit to the area. We've been known to make up a mean batch of chili ourselves, but this spice mix is just about as good as it gets. There's a little heat, but not too much to overwhelm … just the way we like it!
Rib rubs, Chipotle seasoning, steak rub, and even a spaghetti & pizza seasoning are just a few of the retail products you'll find at the Townsend Spice & Supply online store. If you enjoy making your own sausage or jerky, they've got you covered too!
Gift boxes and baskets are also available – a great idea for the backyard griller in your life! Visit their website to help you fire up the grill!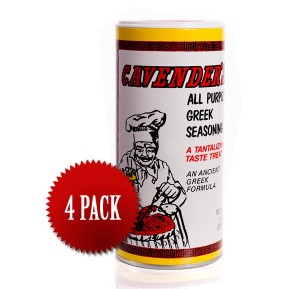 Cavender's All Purpose Greek Seasoning: Cavender's All Purpose Greek Seasoning is an Arkansas tradition. It's been made in the northwest part of the state since 1970, and prides itself on the secret blend of 13 spices in the original seasoning … "no other spices needed!".
We bought a bottle on our recent Arkansas trip, and it is outstanding with any pork dish. We also used it on ground lamb in a Greek style pasta dish (pastitsio) and it really added a wonderful flavor …
You can Cavender's Seasoning online in the original or salt free version … check out their site for some tasty recipes too!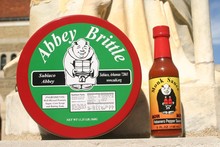 Monk Sauce: One of the more interesting products we encountered on a recent trip to the Natural State is a product called Monk Sauce. It's made by Benedictine monks who live at the Subiaco Abbey in Subiaco, AR.
On a mission to South America, one of the monks learned about growing habanero peppers and creating hot sauce from the ripened peppers. He brought back seeds from the South American pepper plants and they now grow in abundance in the Abbey's garden plots.
Two types of Monk Sauce are produced, a red and a green. The red sauce is made from more mature peppers left on the plant until they turn to red from green. The flavor (and heat level) are noticeably more pronounced than most other hot sauces because more peppers are used per batch than normal. The taste is full and rich and not watery like some similar sauces tend to be …
You can order Monk Sauce online, along with a unique brittle also made by the monks … what a unique gift from Arkansas!

River Valley Pepper Sauce: We're always on the lookout for unique cooking sauces and hot sauces, and on our most recent trip to Little Rock, we found the excellent River Valley Pepper Sauce at a local specialty store in The Heights …
The sauce is made in Russellville and it's perfect to spice up any kind of rice dish. In fact, white rice with a few sauteed bell peppers and some River Valley Pepper Sauce drizzled in makes a satisfying and healthy meal!
The sauce itself is tangy with a hot bite, but not so hot that it leaves your mouth smoldering. Pour it into stews or pot roast, you'll love it!
You can order at their site by the bottle or for a case of twelve bottles. Get a case and pass some along to your culinary oriented friends and neighbors …
MADE IN ARKANSAS LOCAL ART
Ed Wade Studios Fine Art: A native of Milwaukee and current resident of the small Arkansas town of Marianna, Edward Wade Jr. specializes in watercolors and draws his inspiration from life itself and his surroundings. Rather than seeking out a particular object or person to artistically express, Edward looks for shapes and moments which often go unnoticed. A lifelong student of art, he allows nature to stand on its own and captures the rural beauty of The Natural State in many of his works …
At the Ed Wade Studios website, you'll find two online galleries where you'll see (and can purchase) a representation of his works. Bold, vibrant colors are a trademark of his art – whether it's a simple street scene or a pastoral scene depicted in his painting "Country Life" shown in the picture.
Edward's works are available as prints in three different sizes at very reasonable prices. We are big fans of local art and supporting talented local artists and we hope you are too! Click through to his site to see many of his compelling works …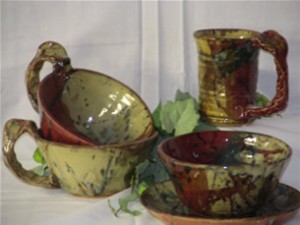 Miller's Mud Mill Pottery: Located in the Arkansas Delta area in the town of Dumas, Miller's Mud Mill Pottery is run by Gail Miller, who creates stunning pottery pieces like the set shown …
Dumas is a town of about 5000, located 90 miles southeast of Little Rock. It's located along the Great River Road National Scenic Byway. The area is agricultural in nature and a lot of cotton is grown on area farms and plantations. The town was made famous in the late 1920's by a song called "I'm A Ding Dong Daddy From Dumas" …
Miller's Mud Mill creates functional pottery which can also be displayed as art pieces … the pottery ranges from dinner sets to vases to bowls, trays, and jugs. Any of the available pottery pieces can be shipped … a great hand made Arkansas gift!
Check out the Miller's Mud Mill site for Gail's latest creations …
Poor Richard's Art Gallery: We were directed to Poor Richard's when we inquired several Arkansas locals about a good place to shop for art pieces made by Arkansas natives …
Located in Rogers in the northwest part of the state, Poor Richard's Art Gallery specializes in local artists. On their website and at the gallery, you'll find examples from painters, potters, glass blowers, ceramic artists, and more …
If you're looking for Arkansas art, Poor Richard's is an excellent one stop destination!
ARKANSAS CONSERVATION & WILDLIFE ORGANIZATIONS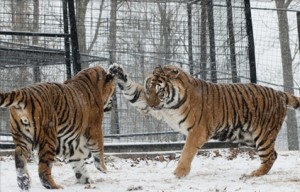 Turpentine Creek Wildlife Refuge: We're very happy to introduce you to Turpentine Creek, located just outside of historic Eureka Springs. The mission of this self funded refuge is to provide a lifetime home and shelter for abandoned, mistreated, and neglected "big cats", with an emphasis on lions, tigers, leopards, and cougars …
Turpentine Creek Wildlife Refuge is one of less than 20 such organizations in the country, and one of the largest. They receive no funds from government sources, relying on admission fees, donations, and sales of merchandise. Founded over 20 years ago, Turpentine Creek is now home to over 100 of these majestic creatures, along with numerous other wild animals like bears, birds, other mammals, and more …
The majority of these animals were given up by people who sadly decided they wanted a wild animal as a pet. Unfortunately, it never works out too well and these big cats are often abandoned. At Turpentine Creek, a team of trained specialists tends to the needs of these creatures, the majority of whom are housed in natural habitats which mimic their native surroundings …
Tours are given of the facility daily, and there are educational programs presented as well. Animals are up for "adoption", which directly helps provide food and care for their lifetime …
You can also support Turpentine Creek by making a purchase from their gift shop or making a direct donation. Links to both are available on their website …
A visit here is ideal when paired with some time spent in nearby Eureka Springs, one of the state's most historic and attractive destinations …
History of Early Arkansas
Arkansas Trivia and Fun Facts

1). The state's highest point is Mt. Magazine, at 2,753 feet …

2). Many famous country recording artists were born in Arkansas. They include Johnny Cash, Tracy Lawrence, Conway Twitty, and Glen Campbell …

3). Many major league baseball teams once held their spring training camps in Hot Springs. Today, there is a Hot Springs historic spring training baseball trail which documents famous baseball sites from the town's past …

4). Alma, Arkansas claims to be the spinach capital of the world …

5). Arkansas has the only active diamond mine in the United States. It is open to the public, and if you find 'em, you get to keep 'em!

6). Arkansas became the nation's 25th state when it was admitted to the Union on June 15, 1836 …

7). The official state insect of Arkansas is the honey bee …

8). Arkansas is the leading producer of rice in the country …
Tell us about your favorite Arkansas made products … comment via our Contact Us page!
Visiting Little Rock, The Capital City Of Arkansas
Welcome to the 4th in our travelogue series, "Visiting America's State Capital Cities". Before we start, here's a little background about how this series came about …
We've always had an interest in history, and a passion for traveling. Whenever we visit a state, we always try to make time to visit the capital city. While it's fun for us to see the various capital buildings and gain greater insight into each of the 50 states, the fact of the matter is that most state capital cities are vibrant, interesting places.
Because of the volume of visitors these cities receive, you can bet there are always great restaurants, interesting small businesses, shopping, and attractions. Granted, some of the capitals are bigger, like Boston or Atlanta or Phoenix, and they're destinations on their own.
Others, like Montgomery, AL or Pierre, SD or even Little Rock aren't prominent tourist destinations per se, but as you'll see as we progress through all 50 state capitals, they are well worth a visit and offer some pleasant surprises!
We visited Little Rock as part of a one week vacation that took us through St. Louis, Ste. Genevieve, and Cape Girardeau in Missouri. We spent three nights in Little Rock, fitting in a day trip to Hot Springs, and then spent a few days in Memphis. What a wonderful trip – one we'll always remember fondly!
And so, with that said, let's start this travelogue with a story that occurred during our stay in Arkansas' capital city …
We asked a few locals to recommend a casual tavern serving good bar food in the city … burgers, etc. along with a cold beer. Normally, we sniff these types of places out on our own, but we wanted some other opinions. Two locals recommended we stop in at a place called The Town Pump, about ten minutes from downtown off Cantrell Road.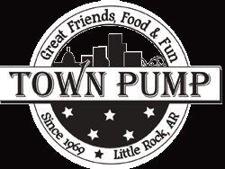 The Town Pump is kind of a roadhouse looking place, nothing fancy to say the least. One might call it a dive bar. There were plenty of cars and trucks in the parking lot just past lunch time and we pulled in.
With the lunch crowd thinning out, we chatted with the bartender who asked us "What brings you to Little Rock?". To which we responded, "We always wanted to see your city and we're really enjoying it!"
Somewhat surprised, she smiled and said, "You're the first people I ever heard say that. NO one comes here just to see the city!". She asked where we'd been, what we'd done, and where we planned to visit. We told her about seeing the River Market, Clinton Presidential Center, the Hillcrest and The Heights neighborhoods, walking the pedestrian bridge across the Arkansas River, and more.
And then she said, "Wow. I need to do some of those things! I never thought about how much we really do have here … thanks for opening up my eyes!"
We hope she ended up exploring more of her city. And we hope you get a chance to visit Little Rock, one of the friendliest small cities in the south!
Little Rock: What To See & Do
Little Rock isn't a huge city, at least in comparison to bigger U.S. cities like Dallas, Chicago, etc. The population is just a bit over 180,000 and it's fairly easy to get around here even though Little Rock is a river town and part of it is built on bluffs, meaning plenty of curvy and angular streets.
The city is centrally located in the center of Arkansas, about two hours via Interstate 40 from Memphis. Most travelers enter the city via I-40, and from the bridge crossing the Arkansas River you'll see two of Little Rock's prime attractions – The River Market and the Clinton Presidential Center.
Little Rock's River Market area was a downtown renewal project intended to get people back downtown. It's a colorful, lively scene from morning to late at night. In the market itself, there are dozens of vendors offering a variety of goods and services, everything from breakfast to doing your banking.
This general area is also Little Rock's nightlife hub, although there are numerous other options around the city. River Market's location by the Arkansas River is one of its many appeals … you can access the river trail (great for biking, jogging, or walking) or walk across the river via a pedestrian bridge. Your best bet is to drop by mid or late afternoon. Check out the Market vendors, stroll around the water front, and then stay for happy hour and dinner …
Just a few short blocks away, accessible by trolley or a pleasant walk, is the Clinton Presidential Center. Consisting of the former president's library and expansive museum, a visit is well worth a few hours whether former President Clinton was a favorite of yours or not.
The museum is focused as much on the presidency itself as it is on President Clinton. An impressive, gleaming structure, the campus offers a compelling visit for anyone with an interest in America. On our visit, a guide told us we just missed a visit by the former president himself – he is known to drop in and chat with visitors when he is in the city. School groups are prevalent many mornings, so this is a great place to visit in the afternoon, especially if you're visiting Little Rock in the warmer months …
We mentioned before that Little Rock is partially built on bluffs rising from the Arkansas River. Atop these bluffs is where you'll find two of the city's most appealing neighborhoods – Hillcrest and The Heights. Mostly residential in nature, each offers a several block long commercial strip with specialty stores, restaurants, and other services tucked along side streets.
Hillcrest is only a five to ten minute jaunt from downtown, and The Heights are practically adjacent, perhaps another five minutes. It's in these two neighborhoods where you'll really get a feel for Little Rock and its people – and you'll for sure want to shop and dine in each!
Depending how intently you like to shop, you should plan for a couple hours in each area. If you're not a shopper (like me), no worries! There are plenty of inviting places to drop in for a cold one or a quick appetizer. Both areas are lush with parks and historic architecture, with some of Little Rock's most beautiful homes located in each. Great for a late morning stroll before lunch!
Another attraction you won't miss, at least visually, is the Arkansas Capitol Building. Visible from just about anywhere in the city, it's modeled after the U.S. Capitol and we learned it has been used as a stand in location in several movies.
The building was completed in 1915 and you can take a free guided tour weekdays from 9 a.m. to 3 p.m. The architecture is stunning and the Capitol Gift Shop is a great place to pick up souvenirs. If your tour coincides with the lunch hour, stop at the lower level Capitol Cafe for a quick bite. It's open until after the lunch hour on weekdays, and who knows, you may run into the Arkansas governor!
Dining: Our Favorite Little Rock Eats
There's no shortage of good food in Little Rock, and on our visit we stopped at restaurants in different parts of the city to get a flavor for the area. The city is very easy to navigate – just about anywhere you want to go is less than 15 minutes from downtown.
Little Rock has a thriving barbecue scene, not surprising since Arkansas is situated between the BBQ meccas of Texas, Memphis, and Missouri. You'll get a mix of all three styles here, with sauces and sides nodding to regional influences.
Two good choices for Little Rock barbecue are Sim's, with a location just south of downtown at 24th and Broadway, or Whole Hog Cafe, a small regional chain located on Cantrell Road (see our feature above). Sim's, which has been around since 1937, offers a signature mustard vinegar sauce while Whole Hog leans to Kansas City style ribs and pulled pork. If you're staying downtown, either are less than ten minutes drive …
For another legendary barbecue spot, check out our spotlight on McClard's in Hot Springs. About a 50 minute drive from Little Rock, Hot Springs National Park is a perfect day trip, or better still an overnight destination from the capital. The town is renowned for the famous natural hot water springs flowing from underground and has been a resort town for well over 100 years. Learn more about Hot Springs at HotSprings.org …
Back in Little Rock, we didn't eat at any of the River Market eateries, but there's no shortage of options there. It's probably the most convenient and lively dinner and nightlife area in the city. Since we'd spent a fair amount of time during the day there, we wandered to both Hillcrest and The Heights to check out the many dining options …
For pizza, salads, sandwiches, and great people watching in both Hillcrest and The Heights, a good choice is the U.S. Pizza Company. They have a location in each area, both with outside patios. We really enjoyed the Hillcrest location right on Kavanaugh Boulevard – casual and fun!
In The Heights, a Little Rock "must do" is Burge's Smoked Turkey, a perfect lunch spot. They're famous for their smoked turkey (see feature above) and ham. Tucked away in a small shopping center in the neighborhood, Burge's draws crowds from all over the city for their smoked turkey salad sandwiches. A casual place, it's a great stop while you're exploring The Heights …
If you're a fan of enjoying happy hour with a great view, you won't do better in Little Rock than Cajun's Wharf, located on Cantrell Road not too far from The Town Pump. Their big outside deck overlooking the Arkansas River is as good as it gets around sundown. A lively fun place, Cajun's Wharf is also a great spot for dinner and live music later in the evening …
For some great house made beers, stop at Vino's Brewpub on 7th Street at the edge of downtown. Vino's serves food for the mostly younger crowd that piles in with their growlers for beer to go, but the beer is the star. There's a rotating selection of taps here at Little Rock's original brewpub. Try their Cream Ale for something tasty and quaffable!
Learn More About Little Rock
Little Rock is such a cool little city, we can't say enough good things about it! We found that a three night stay was just enough, although if we do it again, we'd probably spend a night kicking back in Hot Springs instead of rushing through it on a day trip.
What we were most impressed by was the friendliness of the people. Everywhere we went, we were greeted with a smile and it really felt like we were being welcomed by the city. We happened to stop in a small liquor store in Hillcrest two days in a row, once to buy some beer and once for a soda and bottled water, and on the second visit we were treated like long standing regulars …
There is, of course, much more to Little Rock than what we've mentioned here. Other day trip opportunities abound, and there are many more areas of the city where you'll find ample dining, shopping, and entertainment options.
Thankfully, the Little Rock Visitors Bureau does a great job showcasing the city. We spent a lot of time on the site before we visited, and then dug a little deeper into specific attraction, neighborhood, and restaurant web sites. And our very comfortable and accommodating hotel, the historic Legacy Hotel downtown, was a wonderful place to stay! Clean, comfortable, and reasonably priced, we'd recommend it to anyone.
Summary
In summary, if you're traveling anywhere near Arkansas, plan to spend at least a night or two in Little Rock. You might not see everything (we sure didn't!), but what you'll experience is sure to be enjoyable!