Made In Texas Quick Facts
This Post is about Made in Texas Gifts and Specialty Texas Products
Want To See Your Business / Products On Our Made In Texas Page?
Visit "Advertise With Us"!
FEATURED MADE IN

TEXAS

BUSINESS

ES

Austin Roof Specialists: Here at State Gifts USA, it always gives us a special sense of pride to spotlight local businesses who've grown from the ground up …
Back in 1972, Austin area native Gary Luton founded a small family owned roofing business. Focusing on roof repair, replacement, and remodeling with an emphasis on reliability and customer care, this small company soon made a name for itself …
Fast forward almost five decades, and Austin Roof Specialists has become one of the most well known, trusted, and respected roofing contractors in central Texas …
At Austin Roof Specialists, you can count on work that's completed correctly and according to spec standards. The company is proud to have earned the prestigious "A+" rating from the Better Business Bureau along with a perfect Five Star rating on Google Reviews …
Whether your needs encompass residential or commercial roofing, Austin Roof Specialists stands ready to serve you. Their full range of services include tile and metal roof replacement, repair, maintenance, inspections, siding, skylight replacement, and more. See the complete list of services at the Austin Roof Specialists website …
No matter where you're located in the greater Austin area, this family owned and operated roofing company is available to discuss and resolve any roofing issues you may be facing. Service areas include Austin, Georgetown, Horseshoe Bay, Bee Cave, Cedar Park, and surrounding areas …
Click through to the Austin Roof Specialists website, linked above, to learn more or get a free estimate. We are proud to feature this long standing local business here on our Made in Texas page!
Max Lang Belts and Buckles: We love introducing our readers to businesses whose products and values echo those of their home state …
In The Lone Star State, there's no better example than the classic, authentic product line of Houston's Max Lang Belts and Buckles …
Without question, this is a true Texas company with a storied history of craftsmanship with roots dating back to the late 1970's. The business was founded by Max Lang, a talented silversmith who initially crafted silver bridle sets for show horse owners. Soon thereafter, Max began crafting saddle silver and eventually belts and buckles. With that, the foundation of a storied Texas business was born …
Fast forward a few decades … Max's considerable skills have been passed on to his son Chris Lang, a talented silversmith in his own right. Chris has successfully guided the company's expansion to a thriving internet presence along with a brick and mortar storefront presence on Richmond Avenue in Houston …
If you're looking for a one of kind handcrafted Made in Texas gift for someone special or even just for yourself, drop by the Max Lang Belts and Buckles website, where you'll find a wide array of belt buckles, money clips, and much more. We're particularly impressed with the company's full line of cuff link sets and accessories, including pocket knives, bracelets, key rings, pendants, and wallets. Need a gift for her? You won't go wrong with the classic "Love Texas" pendant (shown), mounted on an attractive, durable 20 inch sterling chain …
While you're visiting their site, not to be missed are the heart and soul of the company's product line – handsome belt buckles. Available in a variety of styles, formal or casual, these belt buckles will last for decades. They're all crafted from 100% sterling silver, in the same time honored Max Lang tradition. The top photo shows just one of many belt buckles available, titled "The Plano". A finely hand produced buckle from Max Lang Belts and Buckles makes a wonderful legacy gift you'll be proud to pass down from generation to generation …
The company is also pleased to design custom pieces to meet your needs and can incorporate special designs, logos, characters, and insignia into your chosen piece. Entertainment legends like Willie Nelson, Linda Carter, and Loretta Lynn are just a few worldwide celebrities who are proud owners of Max Lang products. You'll be equally proud to own one or more, as will those on your gift list …
A perfect Made In Texas gift idea for any age recipient and any occasion throughout the year! Visit the Max Lang Belts and Buckles website, linked above, to view the entire selection or when in Houston, stop by their retail store …
We're very honored to showcase this iconic family owned company on our Made in Texas page!
Absolutely World Class: We're pleased to introduce you to Absolutely World Class, a family owned and operated business founded in 1991 in iconic Abilene, TX. Known throughout The Lone Star State as a producer of award winning sauces and specialty foods, Absolutely World Class is proud to bring you a lineup of Texas Made products offering the rich, distinctive flavor Texans love …
Featuring a line of barbecue sauces, picante salsa, beef jerky, and "Sweet 'N Wild" Jalapenos, the company uses only the freshest ingredients to ensure an absolutely unforgettable taste. Available in three varieties, Absolutely World Class barbecue sauces are a long time customer favorite. Whether your taste buds favor a mild or spicy BBQ experience, they've got you covered!
"Absolutely Mild" BBQ Sauce is a smooth, mild offering that'll bring out the flavor of your grilled creations, and it's perfect for the whole family. Best selling "Mildly Wild" BBQ Sauce is rich and savory with a full bodied flavor that pairs perfectly with any recipe …
A notch higher on the spicy scale is "Absolutely Wild" – it's perfect if you love a sauce that's spicy but still flavorful. This bold, smoky sauce will satisfy barbecue lovers who seek the heat and enjoy a perfect balance of flavor and spice …
This vibrant business also offers an enticing variety of specialty foods, all of which you'll find at the Absolutely World Class online store. Don't miss their one of a kind Sweet 'N Wild Jalapenos – these crisp, freshly packed jalapenos offer the irresistible combination of sweet and hot and are the perfect accompaniment to nachos, burgers, beans, or any dish needing a little pick me up. And for a true Texas taste sensation, discover their award winning Mild and Slow Hot Picante Salsas. A welcome addition to traditional Tex-Mex fare, these salsas are packed with traditional picante flavor and proudly live up to the Absolutely World Class name …
Finally, if you or anyone on your Texas gift list is a beef jerky fan, check out the three varieties of beef jerky, each marinated in a different Absolutely World Class barbecue sauce. We're especially drawn to the "Sweet 'N Wild" Beef Jerky, accented by a touch of honey for a special sweet and spicy flavor.
If you live locally, you'll find the entire line of Absolutely World Class offerings at grocers and independent specialty stores across Texas and some neighboring states. Check the "Locations" tab at their website, linked above, for specifics. Or, order directly online from their online store, also linked above. Hint: the Absolutely World Class Gift Pack (shown) makes the perfect Made in Texas gift …
Click through to learn more and place your order. You can't get any better than Absolutely World Class!
Texas Wine Maps & Gifts: When you think of The Lone Star State, a number of Texas traditions come to mind … barbecue, football, great music, and beautiful scenery just to name a few. But how about wine?
Texas actually has a thriving (and quite well respected) local wine industry. Wineries can be found all across the state, with a particular foothold in Texas Hill Country, where the climate and terrain is exceptionally conducive to growing wine grapes.
Texans love their local wines, as do a growing number of U.S. wine consumers and connoisseurs. With these wonderful wineries and Texas wines becoming so popular, we're pleased to introduce you to this local Hill Country family owned business that celebrates the Texas wine scene …
They're Texas Wine Maps & Gifts and they offer a clever and convenient way to discover over 70 area wineries via an interactive, mobile friendly Texas Hill Country Wine Region Map …
Designed by owners Jennifer and Lance Sterling, this map is the ultimate souvenir (and guide) to the Hill Country wineries. The map itself (shown) is ready for framing and display in your bar area or anywhere in your home and is available laminated if you wish. The interactive map serves as a directory and includes winery addresses, hours, and contact information. There's also information about each winery's pet policy and on site picnic facilities to help plan your wine excursion …
At the Texas Wine Maps & Gifts online store you'll find many other Texas and wine themed gifts, like apparel, jewelry, home decor, and much more. We particularly like this very cool cowboy boot wine cork cage … a great way to showcase your Texas wine pride!
While you're there at their site, be sure to check out the selection of stylish USA made wine barrel furniture and unique wine themed gifts like wine earrings, necklaces, and over four dozen great gift ideas for guys and gals …
We love family owned local businesses like Texas Wine Maps & Gifts that showcase the best of The Lone Star State. Click through and shop online!
San Saba Soap Company: If you've been reading State Gifts USA for a while, you know we're enthusiastic advocates of natural handmade soap – it's much healthier for your skin (and longer lasting) than any mass produced soap on the market. That's why we're so pleased to introduce you to this Texas Hill Country small business …
San Saba Soap Company is a vibrant family owned business founded on an appreciation for environmentally friendly ingredients and a passion for luxury natural bath soaps. Local Texas agricultural products are used to craft each bar, along with steam distilled essential oils to leave your skin feeling youthful and refreshed …
Located in the Hill Country town of San Saba about an hour outside of Austin, the company uses Texas made olive oil to help create a long lasting, rich lathering soap that's ideal as a gift for someone special (or just for yourself!). Shop their collection online and choose from varieties like Lemongrass-Lavender, White Tea-Hibiscus, or the Lone Star State themed Brown Sugar & Texas Fig. The latter is an especially fresh scented bar featuring Texas figs and brown sugar – the local figs are brimming with Vitamin A and beta carotene while the brown sugar acts as an invigorating natural moisturizer …
In addition to their attractive soaps, San Saba Soap Company offers Heirloom Body & Hand Oil as well as Heirloom Face & Beard Oil. These premium soothing oils not only soften and protect your hands and face, they're pleasantly aromatic and ultra hydrating – perfect for those on your gift list any time of year.
If you live locally, visit their website and click on the "Locations" tab for the growing list of retail locations where you can purchase these luxury natural soaps. Of course, you can also order directly from their online store for doorstep delivery anywhere in the country …
We're proud to feature San Saba Soap Company on our Made in Texas page and we can't wait to follow their progress! Click through to discover more of their story and see the entire selection …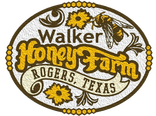 Walker Honey Farm: We love featuring honey producers from different states because honey is such a unique product. Not only is it the only edible insect produced food, but its taste depends greatly upon the area it is produced. The flowers and plants the bees visit and pollinate are unique from region to region, and so is the flavor of honey …
Since 1930, Walker Honey Farm has produced a unique array of raw natural honey – visit their website and you'll see such varieties as Clover, Pecan Honeydew, Mesquite, Alfalfa, Orange Blossom, Christmas Berry, and more. Based in central Texas between Waco and Austin, the Honey Farm's bees have an expansive selection of flower and plant varieties to pollinate!
The Farm also produces related goods like honey based soap, candles, and health & beauty aids. You can select from their many specialty foods too, like honey nut butters, syrups, honey jerky, honey candy, and others.
All are available directly at their website – great gift ideas made in central Texas!

Mateo's Gourmet Salsa: Frisco, TX is just north of Dallas, and it's the home of a salsa and related products company owned by Andrew Robbins, who grew up loving authentic Mexican style dishes. Unable to locate a natural ingredient salsa as good as his dad's, he brought the recipe to market – it's now on retail shelves all over the Dallas-Fort Worth market and beyond.
The company is Mateo's Gourmet Salsa, and it's available in Mild, Medium, Hot and Salsa Verde varieties. We tried the Mild and it's got a nice pleasant zip to it and you can really taste the fresh ingredients~
Mateo's also makes Bloody Mary Mixes, Enchilada Sauce, and a line of barbecue sauces. Learn more about them at their website – there's a list of stores in the area where you can buy the products. Click on the "Buy Online" tab and you can purchase by the case and have it shipped to your doorstep …
This salsa is great – give it a try!

Jolly Jack's Hot Sauce: We stumbled across this Texas made hot sauce quite by accident. It's made by the folks who run the Sea Island Shrimp House restaurants in the San Antonio area.
They're a small local chain of seven restaurants scattered around the metro area and as the name suggests, their specialty is Gulf shrimp and they do a really good job with them …
Being hot sauce fans, we tried some of the Jolly Jack's Hot Sauce on our order of shrimp and loved it! We were glad to see you can order it online from their site, along with a few of their signature spice blends, Shrimp House Ketchup, and logo swag.
If you like a tasty hot sauce that complements but doesn't overwhelm your seafood, try Jolly Jack's. Great on omelets and scrambled eggs too!
Click through on the link above to go directly to the Shrimp House online store …
Frenchie's Fabulous Nut Company: This suburban Dallas family run operation produces a sweet and spicy buttery nut mix that has people talking … we found some in a Dallas area wine store a while back and we haven't been able to stop talking about it either!
Beautifully packaged as you can see by the picture, this nut mix has a spectacular array of ingredients. First are the seven types of nuts – cashews, macadamia nuts, pecans, Brazil nuts, walnuts, peanuts, and almonds. Add to that some brown sugar and molasses for sweetness. Top it off with sesame sticks and some spices to give it a little kick, and you've got a snacking masterpiece …
Order yourself some at the Frenchie's website – just click on the "Get Ya Some!" menu tab and you'll be taken to their online store. Don't do like we did and only buy one bag … trust us, you'll crave more! Good stuff Made in Texas …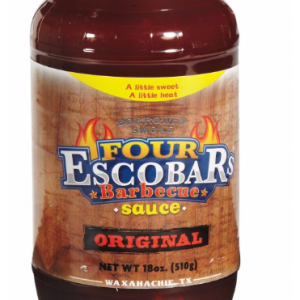 Four Escobars Sauces: The town of Waxahachie is located just south of Dallas adjacent to Interstate 35E, and it's the home of the Escobar family, who are becoming well known in the barbecue community for their specialty BBQ sauces …
The family owned and operated business turns out three varieties … Original, Honey, and Raspberry Barbecue Sauces. We tried the original and loved it – bold, a little spicy (but not too much), with a satisfying tang and aftertaste.
We don't have a whole bunch more information about the product other than we found it at a local store in Waxahachie and there's a short list of stores that carry the products at the Four Escobars website. It's also available for purchase online – go to the "Product" tab on the site and you'll see a link for HEB Markets … click on that and you'll be taken to a page where you can order.
It's Texas and it's barbecue – it's gotta be good and it is!
Squirrel Brand Company: This company, producers of Squirrel Brand and Southern Style Nuts brand names, has been around for a long time. Founded in 1888 in Massachusetts, they're now based in McKinney, TX and are well known for their gourmet flavored nuts and more …
We wanted to spotlight them here on our Made in Texas page for their absolutely fantastic peanut butter. If you're a peanut butter fan, try Squirrel Brand peanut butter – we're confident you'll think it's one of the best you've ever tried!
This gourmet creation is all natural, vegan, and gluten free. Even if none of that matters to you, here's one thing that will – it tastes great! The peanuts are ground with an antique mill and the texture is a cross between creamy and crunchy … creamy and crunchy fans alike will be satisfied!
Click through to the Squirrel Brand site to discover this top of the class peanut butter along with all their other delectable nut products …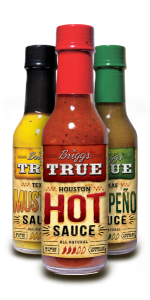 Briggs True Texas Sauces & Seasonings: The brainchild of Michael Briggs, this vibrant company really personifies The Lone Star State … it's bold, down to earth, and offers something for everyone!
If you like to cook and have a passion for life, you'll love knowing about Briggs True. From a culinary standpoint, they create a line of specialty sauces, seasonings, and rubs. They're available in over two dozen different flavor varieties and in combination Texas Gift Packs, including a handy Min Bottle Six Pack …
For something to get your tongue wagging, check out their Houston Hot Sauce, a lively beauty made from fire roasted chiles and selected spices – it's dynamite on scrambled eggs or in a Bloody Mary! Also acquaint yourself with their Mustard Sauce (try it with shrimp) and Jalapeno Sauce, perfect to liven up any southwestern specialty.
You'll also find a full selection of meat rubs and spices at their site, along with some good looking swag! One of their combination packs makes a perfect Made in Texas gift. Click through to get some for yourelf or for someone on your list …
Texas Toffee Queen: We love when a creative culinary mind adds a unique regional touch to a tried and true specialty, and such is the case with Nancy Lalumia and her thriving small business. Known as Texas Toffee Queen, LLC and based in Dallas, Nancy uses fresh, real ingredients along with a flair for making delightful award winning toffee in 11 mouth watering flavors …
If you're a Texan, or simply have a Texan on your gift list, you'll love the flavor varieties of Nancy's toffee. Like a little heat with your sweet? How about Dark Chocolate Salted Jalapeno, made with sea salt and a spicy kick of jalapeno, or White Chocolate Mango, created with dried mangoes, spices, and a bit of cayenne for a crunchy, spicy kick? These are just two of the unique, fun flavors you'll find at the Texas Toffee Queen website, where you can order for yourself or as a Texas made gift in sizes ranging from 3 ounces to 5 pounds …
Check out some of Texas Toffee Queen's other varieties if you're craving something traditional – this growing small company has garnered accolades at the National Zest Fest and were also a "Quest For Texas Best" Finalist. With flavors like White Chocolate Peppermint, Dark Chocolate Espresso, and White Chocolate Cranberry (among others), it's easy to see why the positive press keeps rolling in!
For special occasions and corporate gifts, Nancy can dazzle your toffee's packaging with colorful ribbons and personalized tags to add just the right touch. A perfect thank you or appreciation gesture for that important client or simply someone you love …
Click through to the Texas Toffee Queen site to discover all the delectable toffee they're creating just for you. You can order right at their online store or contact Nancy directly for special orders.
Proudly Made in The Lone Star State!
Sweet Heat Jam Company: We enjoy publicizing success stories, and this Lone Star State company is certainly one of them. It's inspired and founded by young culinary artist and entrepreneur Nolan Stilwell, who has taken advantage of life's opportunities to realize his dream of business ownership …
Nolan was born with Down's Syndrome but hasn't let it become an insurmountable obstacle. With the support and encouragement of family, teachers, and community, he developed a line of gourmet jams called Nolan's Sweet Heat. The business taps into Nolan's culinary strengths and his prolific garden bursting with hot peppers! He makes several cases of fresh jellies and jams weekly and has become a respected businessman in his local Katy, TX area …
Visit the Sweet Heat website to see all the varieties currently available. There are ten different types, starting with the Sweet heat Original jam. This tasty concoction is made with entire jalapeno peppers (seeds and all) which gives it a full, rich, and unique flavor. For a real Texas treat, order yourself some Blue heat, made with locally grown blueberries and jalapeno peppers.
From lower heat to higher heat, you're sure to find a Sweet Heat jam that strikes your fancy. Use them in appetizer recipes for something a little different!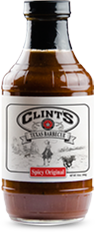 Clint's Salsa & Sauces: You may have seen this San Antonio based company's products in the salsa section of your local grocer – they're probably most famous for their signature Clint's Medium Salsa, their most popular offering. But did a little deeper, because Clint's not only makes some of the best Texas salsa you'll find, but they do an outstanding job with barbecue sauces too!
We discovered Clint's lesser known salsas and sauces on a recent visit to The Lone Star State. On the salsa side, check out their Chipotle and Roasted Serrano varieties – both with a medium heat level and all kinds of flavorful!
But we want to specifically talk about Clint's BBQ sauces. Three varieties are available, starting with Clint's Original and Moppin' Sauce, both featuring the flavors of roasted serrano peppers. If you like a little heat, opt for Spicy Original and be prepared to order a case – it's that good!
You can order any of Clint's salsa and sauces at their website if your local store doesn't carry their whole product line. For a great gift, check out the Texas Salsa Sampler, a convenient three pack anyone on your list will appreciate, especially those salsa lovers!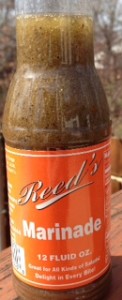 Reed's Italian Dressing & Marinade: We learned about Reed's Italian Dressing & Marinade on our last visit through the Texas Panhandle area – this small company is based in Borger, just northeast of Amarillo …
We don't know a whole lot about the company other than they make two excellent products, their Italian Dressing and their Marinade. An acquaintance of ours turned us onto the Marinade – it's fairly similar to an Italian dressing but what impressed us most was how tender our chicken breasts were after only an hour of marinading …
We later used it for some flank steak, a traditionally chewy cut of meat we like to use for tacos and fajitas. Two hours of marinading did the trick!
If you like marinades with an Italian dressing flavor, try this one, we loved it! You can order either of the products in half or full case lots directly at the Reeds Dressing website. Great flavors from the Panhandle!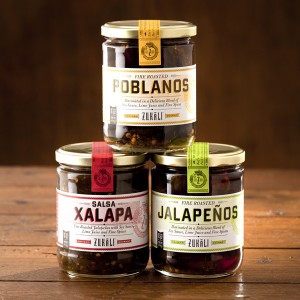 Zukali Mexican Gourmet: Owner and founder Cesar Sanchez started his company with small beginnings and a passion for preparing roasted peppers and salsa for his friends and families. After perfecting a recipe for fire roasted jalapenos, he received so many compliments and encouragement that he decide to start his Plano based company, Zukali Mexican Gourmet.
Check out the Zukali website to see some of the really interesting products they're making. Roasted Jalapenos have been joined by Fire Roasted Poblanos and a line of six creative salsas representing the variety of styles found not only in Texas, but throughout South America …
One of the flavors you'd be hard pressed to find anywhere else is called Pasaporte Peru Aji Salsa, which featured the Aji pepper commonly found in Peru. The pepper offers a smoky, slightly sweet flavor that pairs well with any chicken or pork dish (think pork enchiladas!). Another is Pasaporte Brazil Samba Salsa which features guava fruit – definitely not your run of the mill salsas and Made in America with a worldly culinary flair!
If you're not sure which flavor to buy, Zukali offers an array of 3 Packs – a great way to sample! Learn more about this growing Lone Star State company and order directly at their site …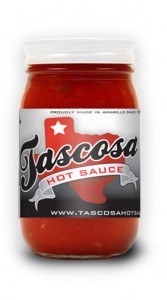 Tascosa Hot Sauce: We love nosing around local grocery stores when we travel. You can find all sorts of interesting food specialties you can't get at home – every time we visit another state a couple of grocery stores are always on our to do list! Might not sound glamorous, but fun is where you find it, right??
On a recent visit to Texas we were doing just that – exploring a grocery store near Amarillo. Sure enough we found a product we'd never seen before – Tascosa Hot Sauce. Wow is it good! It's made by a local company of the same name that's been around in one form or another for well over 50 years that now solely concentrates on their sauces, which are available in Original, Mild, and Hot.
We'd describe it more like a salsa than a hot sauce, but no matter, you can use it just as you would any other hot sauce (or salsa). It's bursting with fresh tomato and pepper flavor, perfect on tacos or enchiladas or simply with tortilla chips. And we'll add Amarillo is a really cool town with very nice locals! When a few of them found out about State Gifts USA, they were overflowing with recommendations!
You can order Tascosa Hot Sauce directly at their website – opt for the Mixed case so you can enjoy them all!

Texas Olive Ranch: Did you know Texas has become a significant olive growing state? In the Middle Rio Grande Valley area near Carrizo Springs, about 40,000 olive trees thrive at the Texas Olive Ranch. The climate here is similar to southern Spain, and Spanish variety olive treess like arbequina and arbosana do very well here …
Of course, the natural output from these plump, ripe olives is a series of olive oils, both Extra Virgin and flavored. The Ranch also produces a line of balsamic vinegars, and all their products can be purchased directly from their online store.
We are fans of their Rattlesnake Cracked Pepper & Chipotle Olive Oil, so named because it offers a bit of a bite. The oil is infused with chipotle chiles and cracked pepper to make an ideal dipping oil for crusty bread. You can also use it in your favorite recipes!
Another of their uniquely Texas products is the Rio Orange Olive Oil. Arbequina oil is infused with oranges grown in the Rio Grande Valley (yes, oranges thrive here too!) and it's quite a taste treat. If you're looking for a gift for that culinary type on your list from The Lone Star State, click through to the Texas Olive Ranch site … they'll ship directly to your door!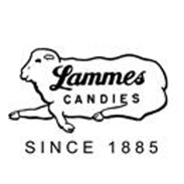 Lammes Candies: An Texas tradition since 1885, this 5th generation family owned and operated company is known throughout the Austin and Hill Country region. Best known for their signature Texas Chewie Pecan Pralines, the company makes over 1,000 different confections, many of which can be ordered online at their website …
Lammes Candies traditional lamb logo, pictured, was developed so the general public know how to pronounce the Lamme family name. It has been a familiar site to Austinites for generations – especially at gift giving occasions. All of their candy gifts are wrapped in seasonal paper and personalized for your gift recipient at no charge – a nice touch!
In addition to their outstanding pralines, you'll also find another specialty creation called Longhorns, which are Texas grown pecans clustered in caramel and milk chocolate. It has always been the Lammes tradition to use only Texas grown pecans, so if you're looking for a Texas themed gift, you've found one!
You can browse their catalog online and order any of their products for yourself or someone special. Order from Lammes Candies and be a part of Austin tradition!
Perini Ranch Beef Tenderloin: We're very proud to introduce you to one of our favorite Texas restaurants – Perini Ranch Steakhouse on Highway 89 in Buffalo Gap, TX about ten miles south of Abilene …
A true Texas steakhouse, Perini Ranch has the feel of an old time western movie setting. Winner of a James Beard Foundation "America's Classics" award, the restaurant was established in an old hay barn on the ranch property by founder Tom Perini. The casual welcoming setting reminds one of a roadhouse where you'd expect to find great food, cold beer, and warm community hospitality. It delivers on all three!
Perini Ranch Steahouse has been praised by several prominent publications like Texas Monthly, Food Network Magazine, and now StateGiftsUSA.com. Their menu captures the spirit of The Lone Star State, with grilled ribeyes, strip steaks, and hefty burgers leading the way. They're grilled over mesquite wood, a tree common to Texas. When you eat here, don't pass up the garlic potatoes or the whiskey flavored bread pudding for dessert!
The steakhouse is probably best known for their mesquite peppered beef tenderloin, a veritable masterpiece of grilled meat. So tender that it can practically be cut with a fork, it's magnificent in its simplicity. The beef tenderloin became so popular that it's now shipped across the country to Perini Ranch fans everywhere. Each tenderloin weighs in at a hefty 2 1/2 pounds or so and can comfortably feed six. It's also an ideal appetizer served with your favorite horseradish sauce!
Learn more about the iconic Perini Ranch Steakhouse at their website, and experience the beef tenderloin for yourself! A wonderful gift from the Abilene area …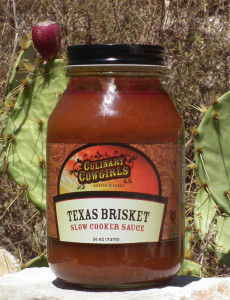 Culinary Cowgirls: This Austin based small business creates a savory line of dressings, deli dips and soups, and slow cooker sauces with a Texas twist. Take a gander at these flavor combinations … Roasted Poblano with Pumpkin Seeds, Texas Pecan Vinaigrette, Posole with Roasted Green Chiles, and Jalapeno Ranch with Pesto. Those are just four of the Culinary Cowgirls specialties you'll find at their site …
Perhaps the Cowgirl's signature products are their Slow Cooker Sauces. Designed to be used in your slow cooker or crock pot, these sauces take the complicated out of creating a delicious, satisfying meal. Texas Brisket Sauce includes tomatoes, onions, and a Texas style spicy kick and all you add is meat. Campfire Chicken Sauce is ideal for making chicken burritos or enchiladas, while Roadhouse Ribs Sauce has a bit of citrus which pairs perfectly with pork, beef, and chicken. Convenient and all natural!
Salsa, spices, barbecue sauces, and pasta sauces round out the Culinary Cowgirls product line. You'll find them in locations all over the Lone Star State as well as selected stores in Oklahoma, Louisiana, and at the Whole Foods in Little Rock. For easier shopping, visit their Online Store where you can see all their products and full descriptions. Enjoy a great taste of Texas!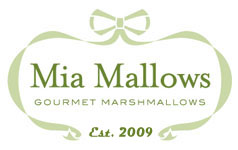 Mia Mallows: Remember when marshmallows were pretty much limited to roasting over a campfire? Well not anymore … they've become an artisan treat that adds a touch of elegance to any gathering …
Based in San Antonio, Mia Mallows is a growing small company that has carved out a niche creating these tasty treats. As you'll see on their site, Mia Mallows offers a wide variety of marshmallow flavors, from their vanilla original to banana, chocolate, coffee, and eggnog (a great idea for holiday occasions!) …
These marshmallows are hand cut into 1 1/2 inch cubes and they're gluten free. Perfect for kids parties, or any party actually, they're the perfect antidote for run of the mill dips and desserts.
Visit the Mia Mallows site to order and see all the cool flavors they're creating!
Alamo Pecan & Coffee: Located in almost the exact geographical center of the state, the town of San Saba lies in the heart of Texas pecan country. In fact, this town of just over 3,000 people is often referred to as the "Pecan Capital of the World" due to the proliferation of pecan tree groves in the immediate area …
One of the companies adding to the town's reputation for great pecans and related products is Alamo Pecan & Coffee. They are well known within the state and nationally for pecan gifts, pecan candies and pies, holiday and corporate gift baskets, and specialty coffees. In fact, one of their most popular coffee roasts is their Texas Pecan Coffee …
Baking and snacking pecans are both available from their online store, as well as southern pecan pies and an excellent pecan brittle. Gift tins like the one shown are popular anytime-of-year gifts too!
For some nice add on's, Alamo Pecan and Coffee also carry a variety of pickled products like asparagus, okra, dilled green beans, candied jalapenos, and more. See their website for all your gift giving options!
Confituras Small Batch Jams & Sea Salt: Texas is known for many wonderful things. But it's safe to say artisan small batch jams and sea salt won't top anyone's list when they think of The Lone Star State. But the state is actually quite prolific in fruit production – sunny days and cooler nights help grow some of the sweetest fruit you'll find anywhere …
And as for sea salt, well, The Gulf of Mexico is on the state's southern edge. A small Texas company called Confituras is making quite a name for itself on both fronts. They create a line of small batch jams in traditional and not so traditional flavors. A few examples are Lavender Peach, Wild Plum, Blueberry Basil, Blackberry, and many more …
Their flavored sea salts, which have gained notice from local publications, aren't made with evaporated sea water from the Gulf of Mexico. They're actually harvested from centuries old protected mines near Galveston Bay and offer a unique color – the salt crystals are a light lavender gray.
Owner Stephanie McClenny blends the harvested salt with organic flavorings to create varieties like Orange Chile, Valley Lemon, and their signature Cowgirl Salt made with lemon and pink peppercorn. The flavorings are picked just days before jars are sold, so the salt is exceptionally fresh and vibrant. Just a small pinch is ample to season fish, chicken, salads, or anything on your dinner plate.
Confituras jams are sold on their website; contact the company directly to inquire about buying the sea salt. Great gifts from Texas!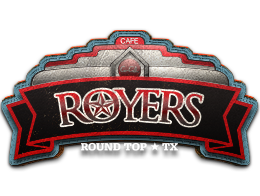 Royers Round Top Cafe: Round Top is a tiny Texas town situated almost exactly between Austin and Houston. For those frequently traveling the route between the two cities, a favorite lunch and dinner stop is Royers Round Top Cafe. Owned by Bud Royer and his family since 1987, the Cafe is well known in this part of the state and beyond due to their gourmet comfort food and legendary pies …
In recent years, the demand for Royers hand made pies became so great that the Cafe started shipping them to customers around the country. They're famous for several of their varieties, including Bud's Butterscotch Chip Pie and a classic Buttermilk Pie. The Cafe even ships smaller versions of their pies in case you can't decide on a flavor or want to send a truly unique gift to a client or loved one …
For a lasting impression, Royers Round Top Cafe also offers three monthly plans – three month, six month, and a twelve month pie of the month gift. A different variety is shipped around the middle of the month – a great gift idea from The Lone Star State!
Visit the Cafe's site and click on "Store" to see all the details …

Bravado Spice Company: This Lone Star State company prides themselves on the bold, assertive taste of their three hot sauces, each made with different peppers and fruit …
First is Bravado's Pineapple & Habanero Hot Sauce, which beyond the first two ingredients is augmented with yellow bell peppers and a bit of garlic. Then there's Jalapeno & Green Apple, great on tacos or any Mexican style dish and made with fresh chipotle peppers for a slightly smoky taste …
Finally, the hottest of the three – Ghost Pepper & Blueberry, made with fresh berries and a bit of cracked black pepper. Try a little bit mixed in with a cold pasta salad …
If you're a fan of fruit forward hot sauces like we are, give these three a try!
You'll find them in specialty markets in Texas or better yet, directly at the Bravado Spice Company website …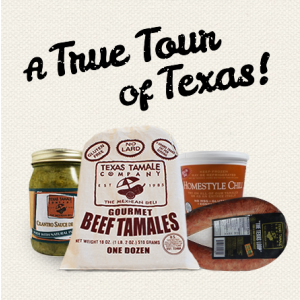 Texas Tamale Company: Being from the south side of Chicago, I learned a thing or two about good tamales. The secret is in the filling – a real authentic tamale offers a tasty filling of beef, pork, chicken, or even spinach, not some pasty substance that can't be defined …
It's a shame more people don't know about really good tamales, because they're an excellent meal (or snack) and actually very healthy when not cooked in lard. So with that said, let's introduce you to the Texas Tamale Company, a Houston based outfit making some of the best tamales we've ever had …
Texas Tamale Company got their start with a humble outdoor cart on Houston's west side over 30 years ago. When word of their mouth watering beef and pork tamales began to spread, the company quickly outgrew the cart and now they're one of the biggest tamale producers in the state …
But you don't need to live in Houston to get a hold of these beauties … Texas Tamale offers numerous gift packs for sale online, like the "Texas Sampler" shown. Choose from beef, pork, black bean, chicken, or spinach tamales, as well as sauce and chili. Included is a round of smoked Texas sausage to complete the meal! Just heat and serve …
A great gift for anyone who loves Texas and needs to experience a really good tamale! Click through to their website to see all their gift giving options …
Brazos Valley Cheese: This Waco based artisan cheese company was founded in late 2005 and has been growing and expanding ever since. Founded by Rebeccah Salmeri and co owned with her cousin Marc Kuehl, Brazos Valley Cheese creates award winning cow's milk cheese with no preservatives, artificial flavors, or coloring …
One of their many intriguing products is their Horseradish Pecan Cheddar, pictured. This white cheddar cheese is made with roasted Texas pecans and zesty horseradish. Enjoy a slice on your deli sandwich and you won't want or need any other condiments!
Brazos Valley Cheese also makes smoked gouda, brie, and more. Assortment packs are available directly from their website – enjoy the fresh taste of the Brazos River Valley!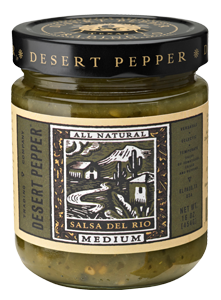 Desert Pepper Trading Company: Based in El Paso, the Desert Pepper Trading Company makes a line of salsa, dips, and barbecue sauces incorporating their location at the confluence of Texas, New Mexico, and Mexico …
If you're lucky, you can find Desert Pepper Trading Company salsas in larger grocery stores near you, but if not, they're all available online from their website. The salsas in particular are bright, flavorful mixes with a smoky heat from mild, medium, and hot peppers along with citrus overtones. We are big fans of the Salsa Del Rio (pictured), a mixture of tomatillos, lime, and other peppers. It's one of our "go to" salsas whenever we cook Mexican dishes …
Another great Desert Pepper product to try is their Honey Pecan Barbecue Sauce. Pecans, of course, are a prominent Texas crop, and this sauce offers a sweet heat complemented by a rich pecan flavor. We've actually used it in stir fry dishes – it adds a welcome diversity to traditional Asian style sauces.
See all the Desert Pepper Trading Company products and order some for yourself or as a tasty Lone Star State gift directly at their website, linked above …
Love Creek Orchards: Located in Medina, TX just northwest of San Antonio, Love Creek Orchards is known as an area family friendly attraction featuring an expansive orchard, pumpkin patch, and their nearby well known "The Apple Store". Folks from the San Antonio area and beyond stop here for pick your own apples, their tree nursery, and lunch at The Patio Cafe …
Love Creek Orchards is also known for their delicious apple pies and apple bread, and numerous other Texas favorites. The apple pies were recently lauded by Southern Living Magazine and can be shipped anywhere in the country …
Their online store features apple and pecan specialty pies, as well as gift baskets, homemade jams, jellies, and syrups, and breakfast mixes. Be sure to try the apple cherry jam – it's fantastic!
If you're looking for a gift from Texas beyond the usual barbecue, check out the Love Creek Orchards website … their gift boxes are an excellent all in one idea!
Salt Lick BBQ: If there's a Holy Grail of barbecue places, Salt Lick might just be it …
Now that's high praise, because there are hundreds of barbecue places across the country that are nothing less than outstanding. We're proud to say we've been to many of them and it's a complete joy to discover a new barbecue mecca. But Salt Lick BBQ, located in Driftwood about 20 minutes outside of Austin, is a one of a kind place with one of a kind barbecue …
The main attraction here (other than the food) is the huge central fire and smoke pit where meat is smoked and mopped with sauce to bring out the natural flavors. It's a mouth watering experience – one you'll understand when you show up before the place opens and there's already a long line! Brisket and sausage are two stars of the show here, although no matter what you order, it's bound to be great …
Anyone visiting Austin should carve out the time to come on by. But Salt Lick BBQ fortunately offers a solution for folks who can't get to the Lone Star State – online ordering. Sauce, salsa, and dry rub gift packages are available, along with brisket, pork and beef ribs, Hill Country smoked sausage, and more. Yup, my mouth is watering just thinking about it!
Want an iconic gift from Texas? Visit Salt Lick's website and you're well on your way!
Texas Traditions: Texas Traditions is a specialty food company based out of Georgetown, TX and it's just the type of company we like to spotlight here at State Gifts USA …
In late 2011, the company was gifted to the Culinary Heritage Institute, a non profit organization dedicated to preserving the Lone Star State's culinary past while promoting the culinary future. Texas Traditons products are all based on traditional Texas ingredients and recipes, and now all proceeds from these products go directly toward supporting CHI's outreach and educational programs …
Some of the products include a line of jellies that are truly Texan! Starting with Prickly Pear Cactus Jelly and ranging to Mesquite Bean Jelly, they're made with traditional Texas ingredients. Their popular season salt, Texas Hot Salt (pictured), can be used as a rub or in the same manner as standard salt …
The company is very popular for their gift packages and corporate gifts. Anyone who's from Texas, or loves Texas, is sure to appreciate a gift from Texas Traditions. Take a look at their well done website to see recipes, all the individual products, and their one stop shopping gift combinations …
Rudy's BBQ: One of the best ways to discover great BBQ joints is to ask a local. On a business trip to San Antonio over 20 years ago, I was directed to Rudy's BBQ in Leon Springs, northwest of the city just off Interstate 10 …
It looked like a great place for barbecue … a big silver trough filled with ice cold pop and beer and tender moist brisket served with a half loaf of sliced white bread. No frills … no problem!
I'm not sure if the Leon Springs location was Rudy's first, but since then they've expanded not only in San Antonio but across Texas and surrounding states. My dad and I enjoyed a visit to a new Rudy's location in Chandler, AZ not long ago. The brisket is better than ever and you can still grab a bottle of beer from a big silver trough!
Being Texas barbecue, Rudy's is renowned for their brisket. Of course, they also serve smoked sausage, turkey, pulled chicken, pork loin, and ribs. Best of all, even if you don't live in or near Texas, you can order Rudy's to be shipped wherever you are.
Brisket, smoked sausage, ribs, and more are available directly from Rudy's BBQ online store. Free shipping on meat orders of $125 or more!
Texas Blue Topaz Jewelry: If you're looking for a truly representative gift from a particular state, we recommend jewelry adorned with the state's gem stone. In the Lone Star State, the gemstone is Texas Blue Topaz, a beautiful stone that works perfectly in both women's and men's jewelry styles …
Probably the best place to buy Texas Blue Topaz Jewelry is from Lone Star Jewelry in Austin. As the name implies, Lone Star Jewelry specializes in rings, pendants, earrings, and other jewelry with a Texas feel. There's nothing more Texas than Blue Topaz!
Austin artist Sandy Talen creates attractive Texas Topaz jewelry from stones mined in state. She creates rings for both men and women, wire pendants, Blue Topaz earrings, and bracelets. Sandy also specializes in birthstone jewelry … there's a special piece of jewelry for everyone here!
Click on the link above to see all the selections from Lone Star Jewelry, and own a little piece of Texas!
Circle 21 Candle Company: Ok, we're happy to admit it … we are passionate about recycling and upcycling. That's why we love companies who reuse otherwise trashed items and turn them into something functional …
Such is the case with Amarillo, TX based Circle 21 Candle Company … they take old wine bottles they gather locally, clean and sand them, and make handsome soy wax candles. Each candle gets a personal touch, down to the hot branded cork with the Circle 21 name …
Many of the scents evoke the Lone Star State, like Adobe Sunset, Plantation Cotton, and Orchard Lane. Each candle containing 12 oz. of wax offers about 60 hours of burn time …
You can buy these candles at the Circle 21 website … what a good looking and practical gift from Amarillo!
History of Texas
Texas Trivia and Fun Facts

1). The world's largest parking lot is located at the Dallas / Fort Worth International Airport …

2). Texas is the largest state by total area of any of the contiguous United States …

3). "Texas" is a Hasinai Indian word meaning "friends" …

4). Six republic's flags have flown over Texas. Spain, France, Mexico, the Confederacy, and the United States are five. The sixth was the independent Republic of Texas which was flown when Texas was independent from 1836 to 1845 …

5). The Texas State Capitol building is the largest of any state capitol building in terms of square footage. It is also the 2nd tallest state capitol building in the United States, behind Louisiana …

6). Texas was admitted into the Union on December 29, 1845 as the 28th state …

7). The Texas city of Tyler is named after President John Tyler. The 10th President was instrumental in arranging the treaty which ultimately brought Texas into the Union …

8). Two U.S. Presidents were born in Texas (thus far). They were Dwight Eisenhower and Lyndon Johnson …

9). John Wayne was an honorary Texas Ranger. The Texas Rangers are a law enforcement agency with statewide jurisdiction …

10). Appropriately enough, the state dish of Texas is chili …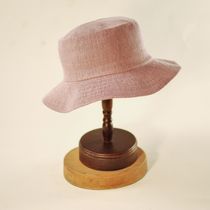 Hat Box, A Modern Habadashery: We encountered this cool store on Austin's famed Sixth Street. If you're looking for a traditional stylish hat, or a casual hat for a cocktail party, Hat Box has got you covered. They carry styles for men and women, including retro chic hats for guys and unique casual styles for women …
The Hat Box website has an online store with all sorts of selections, including overseas designers and Texas designers. The site also has a very helpful section about how to properly determine your hat size and tips for proper hat care …
If you're ever in Austin, check out their original location on Sixth, but if not, drop by their website and do your shopping there!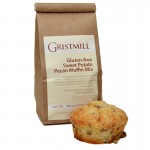 Homestead Gristmill: The Homestead Gristmill in Waco, TX has a long and interesting history. Originally built in roughly 1760, the mill was located in western New Jersey. It operated as a gristmill until 1918, ultimately falling into disuse and disrepair until 2001 …
At that point, craftsmen from Texas arranged to dismantle the mill and restore it in a new location in central Texas. Today, the Homestead Gristmill grinds fresh whole wheat flour and corn meal into baking and cookie mixes and hot cereal mix, just as it did over 100 years ago …
Check their online store for all the Homestead Gristmill products … two which are especially fun to make (and delicious to eat) are the Sweet Potato Muffin Mix and the Cinnamon Streusel Muffin Mix. Combine them with a few of their other products for a great gift from the Lone Star State!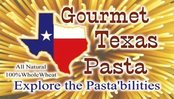 Gourmet Texas Pasta: If you're a fan of pasta but don't like that "overstuffed" feeling when you eat the traditional style, we recommend you try whole wheat pasta. Specifically, the 100% Durum Wheat Pasta made by Austin's Gourmet Texas Pasta.
This pasta doesn't need a bunch of sauce slathered on top to be really good … it's made with fresh vegetables for flavoring, a few spices, fresh herbs, and a little olive oil. Eat and enjoy it on its own, or add a bit of sauteed fresh vegetables, chicken breast, and grated cheese for a satisfying pasta dinner!
The company makes pasta in different styles, i.e. linguine, fettuccine, etc. in enticing flavor combinations like spinach, basil, and garlic. They offer Cajun style, Asian style, and even a spicy red curry for those who like a little heat …
Click through to the Gourmet Texas Pasta website to see their creativity in action …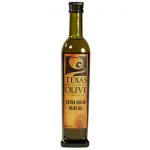 Texas Hill Country Olive Company: Located on 17 acres of land in the picturesque Hill Country town of Dripping Springs, the Texas Hill Country Olive Company is the only certified olive orchard in the state of Texas …
The family owned company, founded in 2009, produces extra virgin olive oil, over a dozen balsamic vinegars, and olive oil based bath and body products …
Their award winning olive oils are extra virgin, which means the olives are pressed at cooler temperatures within 24 hours of being picked. This ensures the smoothest, best flavor just perfect for cooking or added directly to artisan breads or salads …
This part of Texas is perfect for growing olives … the climate is almost identical to Italy's olive growing region. The limestone rich soil, warm days, and cooler nights create an ideal scenario for successfully growing several different varieties of olives used to make the oil …
Combo packs and gift sets are available for purchase at their website … you can even join the Texas Hill Country Olive Company olive oil club or adopt an olive tree!
Eilenberger's Bakery: Eilenberger's is a traditional old fashioned bakery that has been a mainstay in historic downtown Palestine, TX since 1898 …
They're most famous for Texas fruit cakes, but we fell in love with their Texas Pecan Cakes. Texas is one of the nation's largest pecan growing states, and Eilenberger's takes full advantage. Their pecan cakes are loaded with local pecans, as well as dates, cherries, a bit of pineapple and honey …
It's a taste sensation unlike any other and you can have them shipped directly from Eilenberger's online store …
Dublin Bottling Works: Based in Dublin, TX the Dublin Bottling Works is the oldest soda bottling plant in Texas. They've been making specialty soda for over 120 years …
In addition to their flagship vintage cola, Dublin Bottling Works makes several other vibrant flavors like sweet peach, grapefruit, blueberry, and vanilla creme. If you're in the mood for something more traditional, they make an excellent root beer and a ginger ale too …
The products can be hard to find outside of the Lone Star State, but you can order any of their sodas online and have them shipped directly to you or as a gift …
Texas Perfect Poppers: Jalapeno poppers are big in Texas, but they're sometimes quite messy to cook … parts of the pepper cook unevenly and the cream cheese tends to ooze all over …
An ingenious grilling platter made by Texas Perfect Poppers resolves those issues with their Texas Perfect Popper Kits. Each kit contains a grill rack (like the one shown shaped like Texas), recipe book, and 300 skewers …
The pepper slots are 2 inch circles and the skewers are 4 inches long, which prevents the pepper from touching the hot metal of the grill and ensures everything cooks evenly …
You can order these grill kits online in a variety of designs …
Black's BBQ: How many times have you watched one of those Food Network shows about great barbecue and wish you could enjoy some without having to travel?
Well now you can enjoy authentic Texas barbecue delivered right to your door from legendary Black's BBQ who've been doing barbecue right since 1932 in Lockhart, TX.
Black's will ship you (or a gift recipient) any type of their delicious barbecue overnight for you to enjoy at home. Black's makes everything you might want to satisfy your craving, from Texas beef brisket to perfectly smoked sausages to chicken, ribs, and turkey. And Black's BBQ is actually one of the renowned Texas BBQ restaurants that have been featured on the Food Network!
What a great gift for someone who is craving a taste of The Lone Star State!
George Boutwell Texas Art: GBoutwell.com Texas artist George Boutwell creates a series of Texas scenes in watercolor paintings, prints, cards, and calendars. He was named Texas Artist of the Year in 2006 was Art Director for Texas Highways Magazine …
George strives to capture the spirit of The Lone Star State in every work he creates, whether it's a wildlife painting, rural scene, or a Texas roadside vista …
You can see many of George's works at his website GBoutwell.com and bring one of his works into your home as a reminder of time spent in Texas …
Brad Braune Prints and Paintings: Another well known Texas artist is Brad Braune, whose work "Elephant Mountain" is shown here …
Digital prints are made in extremely limited quantities of 50 or less and personally signed by Brad. Brad was born in Abilene and now makes his home in San Antonio. He was professionally trained as an architect and now teaches art and paints full time.
Brad's art has been exhibited both nationally and internationally …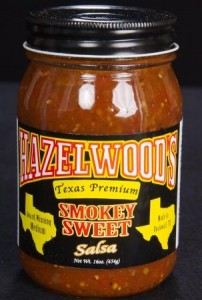 Hazel Woods Foods Salsa: If we had to pick an ideal salsa, it'd be one that has a little bit of a bite (but not too much) and a sweet flavor to go along with it …
That's what we found in Hazel Woods Food's Texas Smokey Sweet Salsa, pictured. It's a blend of tomato, onion, garlic, peppers, and spices that keeps the taste interesting but not overwhelmingly hot …
The company, based in Rockwall, TX makes four different flavors, from mild to hot, so if you like salsa at either end of the heat spectrum, they've got one for you!
Check out their site at Hazel Woods Foods …
Granddaddy's Sweet Southern Heat Hot Sauce: This Midland, TX based company makes an all purpose sauce called Granddaddy's Sweet Southern Heat Hot Sauce. It's best described as a combination Tennessee hot sauce mixed with a Texas barbecue sauce, and it can be used for dipping, grilling, basting, or marinating … the sauce is ready to use right out of the jar!
You can buy a jar of Granddaddy's Sweet Southern Heat Hot Sauce for $7 directly from their website …
Kylito's Salsa: Another really good salsa made in Texas is Kylito's, based in Lubbock …
They make five different heat levels of their salsa (the Kylito's Original is pictured), ranging from Gentle, Original, Roasted, Hot, and Scorching.
We've tried the Original … loved it … add it to an omelet for a breakfast eye opener!
You can order Kylito's Salsa directly from their site at Kylitos.com …
Butler's Smokehouse: Butler's Smokehouse is located in Stephenville, TX which is known as the "Cowboy Capital of the World" …
Butler's is a traditional smokehouse producing smoked meat, sausage, cheese, jerky, and other specialty products. They caught our eye because they make a "Vintage Cola Beef Jerky", made using cola from the nearby Dublin Bottling Works. The cola adds a sweet flavor to the beef jerky …
Butler's offers several gift baskets containing a variety of their products … excellent one stop shopping for a truly Texas style gift! Their site can be found at Butler's Smokehouse …
Klein Brothers Texas Foods: Klein's Fine Foods of Tomball, TX has a great slogan: "Made in Texas By Texans Who Love Texas" … now that about covers it, doesn't it?
The Klein Family has had a presence in Texas since 1854 and they've been in the retail food business for over 90 years. If you're looking for a Texas gift basket, Klein's is your kind of place. They sell nuts, fruits, snack mixes, jams, jellies, condiments, bbq sauce, spice, honey, pickled vegetables and more from their online store, and you can combine a whole bunch of these items into a gift basket …
Pictured is the Lone Star State Gift Box, which includes several of their products, and it's one of the smaller gift packages Klein's offers!
Check out their site for all your gift giving options …
We'll Have Many More Texas Made Products To Come … Tell Us About Your Favorites By Reaching Out On Our Contact Us Page!