Made In Pennsylvania Quick Facts
This Post is about Made in Pennsylvania Gifts and Specialty Pennsylvania Products
Want To See Your Business / Products On Our Made In Pennsylvania Page?
Visit "Advertise With Us"!
FEATURED MADE IN

PENNSYLVANIA

BUSINESS

ES
Farmstead Fresh Cheese: Pennsylvania is quite an agricultural state, and dairy farms dot the landscape from east to west and north to south. Over the last 20 years, cheese making has again become a big part of agricultural life, and quality cheeses from The Keystone State are now making their name in national circles …
Farmstead Fresh is a co-op of sorts based in Winfield, PA. Winfield is near the Susquehanna River, north of Harrisburg and southwest of Wilkes-Barre …
The company's purpose is to assist small diary farms and cheese makers in marketing their products online. This is raw milk cheese, meaning the milk is unpasteurized. All the cheese is aged for a minimum of 60 days to meet FDA standards and the result is exceptionally smooth, rich, and creamy flavor profiles …
Farmstead Fresh offers many styles of Pennsylvania cheese for purchase at their website, including Baby Swiss, Feta, Havarti, Sharp Cheddar, Jalapeno Pepper Jack, and others. They'll ship anywhere in the country – a wonderful Made in Pennsylvania gift!
Visit the Farmstead Fresh website to learn more and place your order …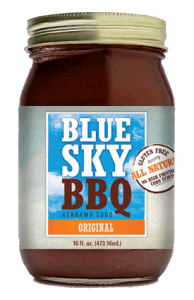 Blue Sky BBQ: From Sewickly, PA about 10 miles outside of Pittsburgh comes the Blue Sky BBQ Company which makes a specialty red barbecue sauce inspired by owner Andrew Cordell's grandmother from Alabama. This is exactly the kind of BBQ sauce we seek out on our travels – sweet and smoky with a little bit of a spicy kick at the end.
Blue Sky contains no artificial ingredients, GMO's, none of that stuff. There's no high fructose corn syrup and you'll taste the molasses which gives the sauce its sweet bent.
This small company also makes a BBQ Seasoning & Rub and you buy both products at their website. Who says good barbecue sauce can only be from certain parts of the country??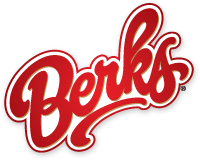 Berks Foods: Are you a hot dog fan? Well, if you're enjoying one in The Keystone State, chances are it's from Reading and more specifically, from Berks Foods …
Berks Packing Company has been around for over 80 years and they're known throughout the eastern United States as making some of the best hot dogs around. We're big fans of their Grill Hot Dogs which are a blend of beef and pork, but if you're an all beef fan, their All Beef Hot Dogs are for you. If you like a little extra pizazz, try the Fiesta Franks, a blend of beef & pork along with jalapeno peppers and American Cheese …
In addition to hot dogs, Berks is known for their ring bologna, ham, sausages & brats, deli meats, and more. If you're craving a taste of Pennsylvania, you can order Berks hot dogs and ring bologna directly from their website. A fun gift for someone who likes to eat!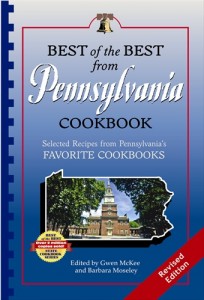 Best of the Best From Pennsylvania: If you're looking for an economical and sure to be treasured Pennsylvania themed gift, consider this newly revised cookbook which draws from the state's best published recipes …
It's titled Best of the Best From Pennsylvania and it's available from Quail Ridge Press. This cookbook contains treasured recipes from almost 100 of The Keystone State's famous recipe books all in one place. You'll find helpful instructions on how to create some of the state's best known culinary specialties in your own home.
The original edition of this book was published in 2003 and it has now been newly compiled and revised. Get recipes for everything from soft pretzels to pepperoni bread to the specialty drink known as "Groundhog Special" …
The perfect gift for anyone who loves Pennsylvania!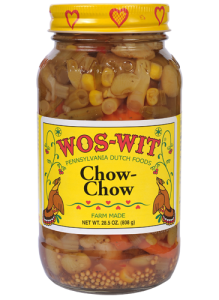 Wos-Wit Pennsylvania Dutch Foods: We've known about this company for years … we've enjoyed their Chow Chow on hot dogs, sandwiches, and mixed in to pasta salads for as long as we can remember. But Pennsylvania Dutch Foods, located near Tamaqua, PA offers a lot more than specialty pickled vegetables!
First, about the company's name. "Wos-Wit" is Dutch for "What would you like" and the answer to that question is likely one of their dozens of specialty food products. At their online store you'll find bacon dressing, jams and preserves, spiced fruit, fruit butters, and their famous Chow Chow. If you're unfamiliar with it, chow chow is well known throughout the southern states as well as Pennsylvania Dutch County. It's basically a mixture of pickled vegetables and spices and can be made spicy or mild and with or without mustard (we like them all!).
You'll also find some unique products you might not see elsewhere, like Pickled Watermelon Rind, Quince Jelly, and Beet & Horseradish Relish. Whatever you choose, it'll be a virtual trip through Pennsylvania Dutch Country!
Click through to their site to see all that's offered …
TorchBearer Sauces: If you're like us, you're a card carrying member of the "culinary curious" club. Always on the lookout for a new ingredient, a new flavor combination, a new sauce … yup we know exactly how you feel. Three Pennsylvania friends who own an up and coming sauce & condiment company know how you feel too!
The company in question is TorchBearer Sauces, and we're proud to feature them here on our Made in Pennsylvania page. These guys are pushing the boundaries, with an impressive line of 20 (and growing) products ranging from table sauces to smoky salsas to off the Scoville scale hot sauces …
The business started humbly with an habanero jam created from an excess of garden peppers. Fast forward a few years, and TorchBearer has been featured on "Good Morning America" and is a consistent award winner at some of the more prominent gourmet food festivals in the country …
Far more than just blow your doors off hot sauces, this company creates products mirroring their slogan, "Accidentally Healthy, Intentionally Delicious". Take for example their creamy Oh My Garlic Aoli Sauce. This versatile standout works well with any dish, from salads to your favorite recipes. Or how about their original Sultry Sauce, made with mandarin oranges, habanero peppers, and all natural spices. And if you like it hotter than hot, opt for Zombie Apocalypse. This bad boy is concocted with ghost peppers, habaneros, and carrots and mandarin oranges for an appealing citrusy hot balance …
While you're at their site, be sure to check out the Recipes page. There you'll find dozens of ideas for using TorchBearer Sauces in appetizers, main courses, drinks, desserts, and more. You can even submit your own recipe if you'd like. For your next Pennsylvania party, try the one for spicy pretzels (Shelly's Spicy Pretzels). Easy to make and wow do they sound fantastic …
Looking for a one of a kind gift? Consider TorchBearer's "Best Sellers Mini Bottle Gift Pack". It contains eight sample size bottles of their most popular sauce concoctions, including Oh My Garlic, Sultry Hot Sauce, Zombie Apocalypse, and more. Something really special from The Keystone State!
You can buy any of the TorchBearer sauces directly at their website – keep them for yourself or give them away as gifts. Or better yet … both!
Termini Bros. Bakery: If you're into history and great food, there aren't many better cities than Philadelphia. Every time we get the chance to visit, we discover another local gem! On our most recent visit, we were tipped off to a City of Brotherly Love landmark on S. 8th Street …
It's the Termini Bros. Bakery, a family owned and operated Philadelphia classic that has been around since 1921. Renowned to area residents, this Italian-American bakery specializes in cannolis, pastries, cakes, and legendary cookies.
In addition to their original 8th Street location in south Philly, they've got a few other locations around the city, including the famed Reading Terminal Market (a foodie's paradise!). Everything is made at the original bakery production area to meet meticulous standards and ensure top quality. The biggest challenge is deciding what to get – everything is delicious!
The bakery also ships many of their specialties nationwide, including cookie trays, gift boxes, cakes, and pastry gifts. The selection is amazing and a gift from Termini Bros. Bakery is sure to bring a smile!
Click through to their website to learn their story and to order for yourself or a loved one …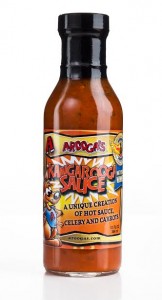 Arooga's: On a recent visit to The Keystone State's capital city, Harrisburg, we were seeking a casual comfortable place for lunch and were turned onto Arooga's. They're a growing local chain with locations predominantly in eastern Pennsylvania and they've got the sports bar concept and menu down pat …
A great place for a beer and to catch the game, Arooga's menu features everything you'd expect and a few surprises – great burgers, wraps, salads, wings, and local specialties like cheesteaks and pretzel sandwiches. They offer a great tap list, service is swift and friendly, and prices are reasonable!
Oh, and don't forget their wings. The various sauces they serve are memorable – everything from traditional wing sauce to BBQ style sauces and all kinds in between. If you get a chance, try their Kangarooga Sauce – it's been an award winner at wing festivals and it's great in stir fry dishes or as a dipping sauce. Featuring a pleasant zippy hotness, it's made with habaneros, honey, jalapenos, diced carrots & celery, and jalapenos. A winner!
You can order any of the varieties for shipment right to your door at the Arooga's Sauce page on their site. A flavorful gift from Harrisburg and sure to be appreciated by anyone who loves good food! Check their site out to discover all their locations and drop by when you're in the area …
Revello's Old Forge Style Pizza: Old Forge is a northeastern Pennsylvania town of just under 9,000 located a short drive from Wilkes-Barre and Scranton. And they're known as "The Pizza Capital of the World" … really!
Old Forge, a former mining town, is home to well over a dozen pizzerias. The town's main drag is flush with them, and on weekend nights you'll see lines out the door at many of them. The pizza is one of a kind – it's baked on rectangular trays, has a crust that's a pale white color, and the blend of cheese used is unlike anywhere else. Here, a whole pizza is called a "tray", and individual pieces aren't called slices, they're known as "cuts". If you visit, now you know the local lingo!
One of the most famous pizzerias in town is Revello's Pizza – they've been around since 1967. And most importantly, they ship full trays via UPS! You can order either their Traditional Red or their Revello's White Pizza and have a real Keystone State kind of party! And if you ever get to Old Forge, stop in, they're right in the heart of town on Main Street …
Click through to learn more about them and The Pizza Capital of the World!
Big Dave's Specialty Sauces & BBQ: This small company is located in Holtwood, a small village along the eastern banks of the Susquehanna River in the southeast part of the state just north of the Maryland border. They're well known in the area as a barbecue event caterer and make a line of specialty jams and sauces …
The product line from Big Dave's Sauces isn't extensive, but it's big in flavor and very versatile. The company makes two varieties of jams, Peach & Pepper as well as Strawberry Jalapeno. These sweet and spicy creations are great on crackers and you can also use them as a glaze for pork or chicken dishes to add a zesty flavor …
Big Dave's sauces include a Honey – Chipotle BBQ Sauce and their signature product, Wildfire Sauce. If you like a little blast of heat with your chicken wings, order a few bottles of this stuff! It's also good as a dipping sauce for appetizers or anything off the grill!
You can order any of these products directly at the Big Dave's website via PayPal – Tasty local products from southern Pennsylvania!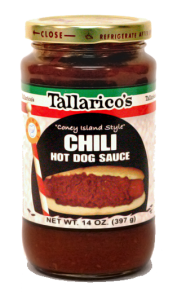 Tallarico Foods: Founded in 1957, Tallarico Foods actually has its roots from a family corner grocery store in Bethlehem, PA. The Tallarico family ran the store and featured their popular homemade pasta sauces and later, a Philly Cheesesteak sauce. These two products are still at the forefront of the company's product line …
Today, Tallarico Foods creates sweet & hot pepper specialty products and a full line of sauces. They're beloved in The Keystone State as well as surrounding areas, and you can order any of them directly at the company's online store.
On our last trip through Pennsylvania, we picked up a jar each of Tallarico's Coney Island Hot Dog Sauce and their Philly Style Steak Sandwich Sauce. They're fantastic! You can use the Hot Dog Sauce in tacos as well as hot dogs, and the Steak Sandwich Sauce is versatile enough for any grilled sandwich. We drizzled some over a baked chicken hoagie and oh yeah, did it hit the spot …
Tasty, authentic gifts from Bethlehem, PA for anyone who loves great food, including yourself!
Brown's Orchards & Farm Market: A southern Pennsylvania tradition dating back to the late 1940's, Brown's Orchards & Farm Market combines an almost 8,000 square foot market situated on 200 acres of fruit orchards and vegetable fields. An area destination, the Market features a retail greenhouse, coffee bar, deli, and more with 170+ employees …
Brown's is well known for their fresh fruit and vegetable gift boxes which can be shipped anywhere in the country. Pictured is the Taste of Home Fruit Bakery Basket – it contains an assortment of apples from the orchard, pumpkin bread, banana bread, cherry pudding loaf, and a jar of Brown's Apple Butter. You can also order apple cider, college care packages, seasonal boxes, and other fruit and bakery packages …
If you're in the southern Pennsylvania area, visit them in Loganville, a few miles south of York and not far from the Maryland – Pennsylvania border. To learn more, click through to the Brown's Orchards website …

Wild Mountain Gourmet: This small company, known especially for their varieties of gourmet mustard, was founded by Brooke Sehenuk, who'd been cooking in her family's kitchen since elementary school. Her love of family gatherings inspired her to start her own food business and after just a few years of grass roots marketing, the company's products are now wholesaled nationally …
The company is best known for their signature product, Sweet & Spicy Mustard. It's one of nine different varieties available, including a very Pennsylvania style called Beer & Garlic Mustard that's made with iconic Yuengling Lager. Try it with a bratwurst or other grilled sausages!
Wild Mountain Gourmet's Sweet & Spicy Mustard was recognized as the grand champion winner in the prestigious Napa Valley Mustard Festival, besting over 350 entrants. Use it as you would any standard mustard, or as a dipping sauce for appetizers. Brooke offers a number of recipes for the Sweet & Spicy along with her other mustards in her blog, which you can find at her website. The site also offers a cool Build Your Own Basket feature for gift giving – check out the full line of products at the Wild Mountain Gourmet online store, including their Wing Sauce, Barbecue Sauce, and more. Tasty gifts from north central Pennsylvania!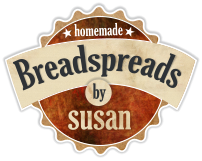 Breadspreads By Susan: This Pittsburgh area company was founded in 2003 by Susan Carl, who decided to start a business from her favorite hobby of creating homemade jams, jellies, and mustards …
Starting with just a few traditional flavors, Susan has grown the business to over 100 different varieties. She still sells at area farmers markets and also at the company's beautiful website. Most of the ingredients for her products come right from her family's 130 acre farm or from neighboring farmers …
At her site, you'll find all the tried and true flavors you'd expect and also several you may not be familiar with. Just a few of her unique jams include Black and Blue, a combination of blackberries and blueberries, Cherry Rhubarb, and a seldom seen Elderberry Jam. Sweet Pepper Mustard, Pumpkin Butter, and Apple Butter are also part of the Breadspreads By Susan product line and multiple jar discounts are available at her online store …
Visit Susan's site to see all the natural and delicious products she's making!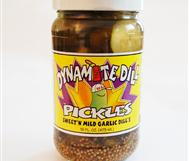 The Original Pennsylvania Pickle Company: There's nothing like a great fresh pickle! We enjoy sampling pickles from different manufacturers across the country and never cease to be amazed at the subtle flavor differences. With unique spices and flavor combinations, the humble pickle has been elevated to one of the world's great condiments! And recently on an excursion through The Keystone State, we were able to try a few varieties from The Original Pennsylvania Pickle Company, who markets their products under the "Dynamite Dill" label …
Based in historic Lancaster, the company makes five different styles of classic dill pickles and three hot sauces / marinades. We bought a jar of Sweet 'n Mild Garlic Dills locally and went through them in a matter of days! They're really good … not overly sweet and the garlic balances out the sweetness. They're great right out of the jar or to dress up your burgers or hot dogs.
You'll find the entire line of Dynamite Dills (and the sauces) at the company website where you can order individual jars, variety packs, and more. Choose from Garlic Deli Dills, Jalapeno Garlic, Hot Habanero Garlic, and Sweet 'n Chipotle Garlic Dills (we loved these too!). The Dynamite Dill Gift Packages make an ideal gift! Click through to their website for all the details …
Bryner's Classics Hot Sauce: This family run company in western Pennsylvania was founded by Bruce and Tina Bryner, who grow peppers organically on their farm and use them in their line of unique hot sauces. The Bryner's make five different sauces ranging from mild to hot, so no matter what your taste buds like in a hot sauce, they've got something just for you!
Starting with Momma's Mild, each of the five is a blend of peppers mixed with ingredients like garlic, onion, and a bit of citrus and brown sugar for sweetness. Momma's Mild uses cayenne and chili peppers with just a hint of heat, while Melina's Extreme brings the warmth with a robust blend of habanero peppers with a blast of garlic. Their signature sauce, Bryner's Best, is a brown habanero sauce with the perfect mix of hot and sweet. Use this one to add character to your stew and stir fry dishes!
You'll find Bryner's Classics Hot Sauce in some stores in the western part of The Keystone State and better yet you can order via PayPal directly at their website. If you're undecided, they offer a sample pack of four of their sauces in smaller bottles.
We loved Bryner's Best, but check out their site and decide which best fits your heat profile! We are big fans of Momma's Mild … it's the perfect hot sauce for people who don't like it too hot. It adds a flavorful twist to tacos, soups, and any kind of rice dish. Get some for yourself or anyone on your list … everyone likes the gift of locally made hot sauce!
Cooney's Mountain Mustard: Here's a tasty product from the small town of Austin in the mountainous north central part of the state … it's Cooney's Mountain Mustard, a family owned and operated company making a unique tangy mustard relish …
Cooney's makes two styles of their mustard relish, which can be used just like a normal mustard but also as a dipping sauce for chicken tenders, crackers, cheese sticks, etc. The first is their Regular style, which has a bit of a bite (but not too much), and the second is their Mild version. They're made with fresh peppers, turmeric, onions, vinegar, and assorted spices and they're really good! One of our friends who travels to northern Pennsylvania on business had a jar of the Mild and served it with burgers at a backyard BBQ at his place, and we immediately sat up and took notice!
You can order Cooney's directly from their website in eight or sixteen ounce jars and they've also got gift packs available. There's also a list of locations in the state who carry Cooney's on their website. Get a hold of a jar or two for yourself – really good stuff from The Keystone State!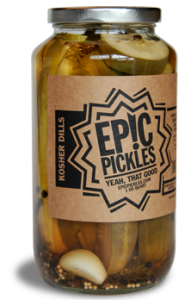 Epic Pickles: Want to try a really good pickle? Get a jar of Spicy Pickles from the Epic Pickles company of York, PA. It's one of several varieties the company makes from fresh area produce. We were fortunate enough to be given a jar as a thank you gift recently from one of our friends who travels out that way on business …
Epic Pickles are a growing young company focusing on all things, well, pickled! In addition to kosher dills, hot dills, and the aforementioned spicy dills, they pickle other vegetables and also make a specialty variety called Chesapeakles, made with some of the same spices Chesapeake Bay crabs made famous.
Cauliflower, string beans, okra, asparagus, onions, and carrots all get the same Epic treatment. You can order many of the Epic Pickles products directly on their website. An awesome gift from The Keystone State!
Click on the "Buy Now" link on their website and you can get your very own Epic fix!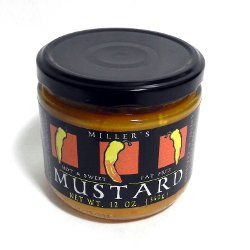 Miller's Mustard: If you've read State Gifts USA for a while, you'll know we're passionate (crazy?) about mustard … especially trying different kinds. There are so many great mustards made here in the U.S. that it'd basically be a full time gig trying them all …
With that said, one one small family owned and operated mustard company located in Gibsonia, PA recently caught our eye. It's Miller's Mustard, who make two varieties with the key ingredient being banana peppers. Interesting!
Banana peppers can be hot or basically mild – we've been growing them in our garden for years. Miller's makes both a mild and hot version of their mustard. Another key ingredient is tumeric – a deep, earthy spice that's one of our favorites. Paprika and other spices round things out along with vinegar, mustard seed, and fresh peppers …
Gibsonia, by the way, is located not far north of Pittsburgh just off the Pennsylvania Turnpike. There's a link on their website where you can buy online, so if you're mustard aficionados like us, give them both a try! A cool gift from western Pennsylvania!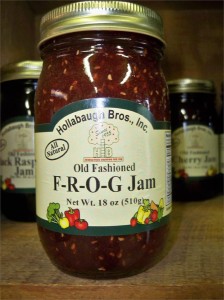 Hollabaugh Brothers Fruit Farm & Market: Since 1955, the Hollabaugh Brothers fruit and vegetable has been located in the southern Pennsylvania town of Biglerville, just north of Gettysburg. This fertile rural area is ideal for growing a wide variety of vegetables and fruit, and this 500 acre farm yields apples, peaches, pears, blueberries, corn, tomatoes, plums, and many more …
These days the farm is known for their expansive retail market, featuring an on site bakery, family fun activities, and of course freshly picked fruit and produce. The market features a plethora of local meats and gourmet food products, as well as a Bee Room where you can watch a hive of honeybees hard at work!
For those not in the immediate area, Hollabaugh Brothers Market offers a convenient online e-store where you can purchase many of their specialty products. Two of their jams are particularly noteworthy … Bluegoose Jam (a combination of blueberries and gooseberries) and the one of a kind F.R.O.G. Jam (pictured), a combination of figs, raspberries, orange, and ginger. You'll also find numerous fruit gift baskets depending on what's fresh, syrups, apple butter, cider, applesauce, and dozens of great gift ideas …
A wonderful taste of southern Pennsylvania! Visit their website and click on E-Store to see their current selection and to place your order …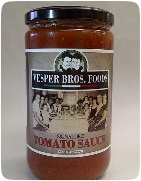 Vesper Brothers Foods: Twin brothers Bill and John Vesper have been in the food business their whole lives. Ever since they grew tall enough to see over the counter, they helped out at their father's Italian style market and delicatessen in Wayne …
The two brothers grew up with a passion for cooking and have developed a line of signature sauces to reflect that passion. Very popular in the Philadelphia area, the sauces are available at many Whole Foods locations in the area. Vesper Brothers is well known for their Signature Tomato Sauce, best used with any type of pasta dish (there are recipes on their website). They also make a spicy version of the sauce, as well as a pizza sauce if you like to make your own pizza – a fun and rewarding thing to do!
Local mushrooms and hand made pasta are just a few other items available at the Vesper Brothers Foods website. Click through to order for yourself or as a gift!
Home Sweet Home Grown: This exciting little company is creating some wonderful hot pepper sauces, recently drawing the attention of Bon Appetit Magazine. Based in Kutztown, PA they grow peppers in their very own field, converting an old corn field to an organic pepper farm …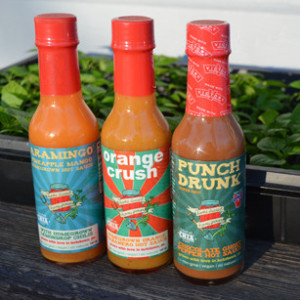 Home Sweet Home Grown produces three types of hot sauce, as well as specialty salts like habanero and ghost pepper seasoning salts. The three sauces are called Aramingo, Orange Crush, and Punch Drunk and you may well find them on a specialty store shelf near you as the company is generating positive PR and expanding their reach …</b?home>
Aramingo is made with a fruity hot blend of pineapple, mango, and habanero peppers, while Orange Crush is a tangy blend of orange habanero peppers, carrots, and citrus. Punch Drunk, their hottest offering, features ghost peppers, smoked garlic, and a dose of stout (dark ale) and raw cacao …
All three of these vibrant sauces are available in single bottles, but better yet, order their gift pack and get all three! More details are available at the Home Sweet Home Grown website …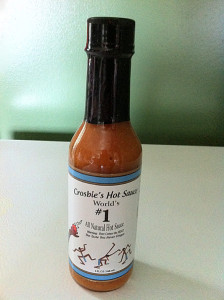 Crosbie's Hot Sauce: The Crosbie family of Pottstown, PA has been making hot sauce for over 40 years and in recent years decided to share their creation with hot sauce lovers everywhere …
The sauce is simply enough called Crosbie's Hot Sauce and it's quite delicious! It's made with habanero peppers, garlic, vinegar, and a bit of salt and it has a heat level to complement your food rather than overwhelming it (we like that!).
You can use Crosbie's Hot Sauce just like any other hot sauce – add it to your favorite dishes or use a bit as a marinade for fish or pork chops or chicken. It can also be used as a wing sauce, and the sauce's orange color fits very well in that regard. It has a thin consistency so it's easy to add it liberally to any food according to your taste. The heat won't knock you out but you'll definitely feel it!
You can order Crosbie's by the bottle or case at their website – enjoy!
Brookfield Maple Products: Probably like most people, when we think of Pennsylvania, maple syrup doesn't immediately come to mind. But The Keystone State does have a thriving maple products industry, exemplified by Brookfield Maple Products located in Tioga County very near the Pennsylvania – New York border …
In operation as a business for over 15 years, this family owned company produces maple syrup, maple candies, granulate maple sugar, and maple cream. A great Pennsylvania themed gift, these products represent a true gift from the land …
You can order all these maple based products, and gift baskets, at the Brookfield Maple Products website.
Try the maple walnut topping and the maple sugar – ideal on baked breakfast items or added to an after dinner treat!

Hank's Beverage Company: Best known for their root beer, Hank's Beverage Company produces a line of gourmet sodas and ice tea products. The company began in the Philadelphia area and introduced their fantastic root beer in 1996. Almost 20 years and several additional flavors later, you can find Hank's in most states around the country and enjoyed by millions …
Hank's flavors include regular and diet root beer, black cherry, vanilla cream, orange cream, and birch beer, a Pennsylvania specialty. The company has an online store where you can buy any of the flavors mentioned, as well as variety packs.
Online orders are shipped by the Pennsylvania Developmental Disabilities Corporation, an agency that helps developmentally disabled people lead productive lives and reach their potential.
Try Hank's Root Beer – it's one of the best you'll find!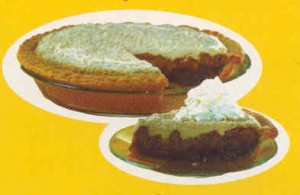 Dutch Haven Shoofly Pie: Shoofly pie is a Pennsylvania Dutch Country specialty that is also known by other names in southern states. The pie is a molasses based creation with crumbs on top which got its name because the sweet molasses scent would attract flies that needed to be "shoo'd" away …
Since 1946, Dutch Haven on Route 30 in the heart of Amish country has been making these pies … in fact they are probably the best known Shoofly Pie experts in the country! You can order a Shoofly pie (or more) online and have it shipped anywhere in the country. The Dutch Haven website also features an online store where you can buy all sorts of Amish made items ranging from clothing to crafts to home decor …
A great gift from Pennsylvania Dutch Country!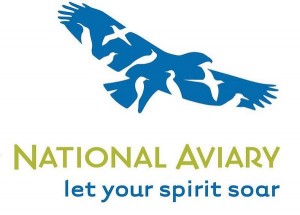 National Aviary: Pittsburgh is one of our favorite U.S. cities … the great restaurants, nice people, and many attractions make it a consistent destination on our travels.
On Pittsburgh's near north side, just a few blocks north of the baseball and football stadiums, you'll find the National Aviary, America's premier bird zoo. Equally fun for both kids and adults, the Aviary is an interactive experience allowing you to get up and close to fascinating exotic bird species …
At the Aviary, you'll see birds like African Grey Parrots, Falcons, Bald Eagles, Snowy Owls and dozens more. Participatory shows are held daily, allowing you to interact with these birds and learn about their personalities and characteristics. The birds all live in a pseudo wild setting which mimics their natural habitat. Many of the birds have been rescued and given a second chance at life …
The non profit Aviary is dependent on memberships and donations to function. You can "adopt" any of the birds via the giving program at Aviary.org and help these beautiful creatures educate the general public …
The National Aviary is a "must see" for anyone visiting Pittsburgh … an experience not to forget! The facility is within blocks of two of the city's wonderful historic restaurants … the Park House Tavern on Ohio Street (Pittsburgh's oldest tavern) and Max's Allegheny Tavern on Suisman Street (a wonderful cozy German restaurant). Enjoy!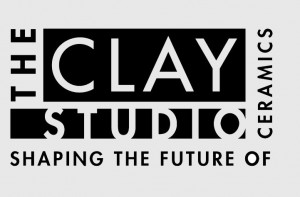 The Clay Studio: The Clay Studio is a non profit educational institute dedicated to ceramic arts. It is located in the Old City area of Philadelphia, and for the last 40 years it has been a hub for ceramic artists, students, and the local community …
The Clay Studio is an important pillar of ceramic art creation and has hosted artists from over 30 different countries as part of their Guest-in-Residence program. The goal is to expose artists and the community to different cultures and showcase the artist's work through exhibitions and lectures …
Many of the current artists offer their works for purchase at The Clay Studio website. You'll find both functional ceramic pieces as well as decorative works, and much more. Jewelry, gifts, clothing, and carrying bags are also a part of their offerings. There's something for everyone … in all price ranges!
Visit their site to learn more about their educational efforts and to own a wonderful gift from Pennsylvania!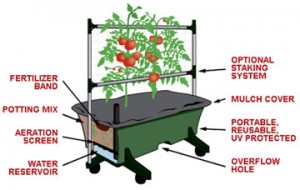 Earth Box: This Scranton, PA company makes what is being called "The Ultimate Gardening System" …
It's the Earth Box, a unique self irrigated planter that allows any small space gardener to grow fresh vegetables, herbs, and tomatoes on balconies, rooftops, and patios …
Earth Box is a maintenance free growing system that controls soil conditions and requires no digging or weeding. Just add plants, water, and provide adequate sunlight!
The Earth Box differs from planters and raised garden beds because it is self watering and portable (you can buy casters to move it around). Perfect for those who like to garden but don't have enough space! It can even be moved indoors to grow plants that don't need outdoor exposure …
Learn more at their website and see the many varieties of Earth Box available for you or as a gift for the gardener on your list …
History of Pennsylvania
Pennsylvania Trivia and Fun Facts

1). Pittsburgh was host to the very first World Series night game in 1971 …

2). The Big Mac was invented by a McDonald's franchise owner near Pittsburgh in 1967. The following year, McDonald's rolled out the famous burger nationally …

3). Philadelphia was the capital of the United States from 1790 to 1800 before Washington, D.C. was constructed …

4). Thus far, James Buchanan is the only U.S. President to be born in Pennsylvania. Buchanan, the 15th President, was born in Lancaster, where his famous estate Wheatland serves as the former president's national historical site …

5). Gettysburg was a small hamlet in extreme southern Pennsylvania when it became the site of the Civil War's largest battle in July, 1863. The Union and Confederate armies met here rather unexpectedly, as the Confederates were attempting to advance on Harrisburg, further north …

6). Of the 13 original colonies, Pennsylvania is the only one not bordering the Atlantic Ocean …

7). In 1909, Forbes Field in Pittsburgh's Oakland neighborhood was the first steel and concrete baseball stadium built in the U.S. Though Forbes Field was demolished in 1972, a portion of the center field wall is still standing and on display in the original location …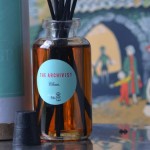 Green Market Purveying: Based in Langhorne, PA this small company creates candles and natural bath products. We were attracted to their diffuser kits like the one shown, which is the Lavender Reed Diffuser Kit, an attractive addition to any room to help neutralize the air and provide a sense of calm …
The kit contains eight natural reeds, four ounces of diffuser oil, and a recycled glass apothecary bottle. You can also peruse their collection of candles containing natural scents like lemon and cucumber and cinnamon and mint …
You'll find these nautral, eco friendly products at the Green Market Purveying website. They'll ship directly to you or as a gift …

Bookbinder Specialties: Based in Media, PA Bookbinder Specialties carries on the tastes and tradition of Old Original Bookbinder's restaurant. Formerly located in the heart of downtown Philadelphia for over 140 years, Bookbinder's was famous for their chowders, soups, and stews …
The restaurant closed a few years ago and the site is currently being refurbished to hopefully include the tavern aspect of the legendary restaurant. In the meantime, many of the key recipes have been preserved and are now packaged and marketed under the supervision of Bookbinder Specialties.
Available in many grocers on the east coast, the company packages many of the famous soups, stews, and chowders which were staples of the restaurant's menu. You can order these products in single cans or case lots, like their famous oyster stew (shown) …
We'll keep you posted on the progress of the Old Original Bookbinder's space in downtown Philadelphia!
All Clad Cookware: Based in Canonsburg, PA All Clad is one of the best names in cookware products. Everything is made with American metals and local labor …
You can generally find All Clad products in cookware and kitchen stores, and you can also order online. They offer numerous cookware sets, like the one pictured.
These sets make a great housewarming gift, shower or bridal gift, or just for someone who needs some new high quality pots and pans!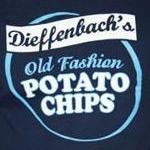 Pennsylvania Chips and Pretzels: If Pennsylvania isn't America's snack food capital, it probably should be!
There are numerous manufacturers of pretzels, potato chips, and snack food in The Keystone State. Some are large and distribute nationally, while others are more local in scope. Either way, for someone who loves Pennsylvania, a gift from one of these companies is sure to please …
Even if you don't want to have the actual product shipped, most of these companies have t-shirts, sweatshirts, and other swag that any Pennsylvanian at heart would be proud to wear …
We've listed out several of the state's snack food manufacturers, and linked to their websites so you can take a look for yourself …
Bachman Company of Reading, since 1884 …
Dieffenbach's, based in Womelsdorf and founded in 1964 …
Good's Potato Chips, in Adamstown in Lancaster County since 1886 …
Hartley's Potato Chips in Lewistown since 1935 …
Herr's Snack Foods, one of Pennsylvania's largest snack food manufacturers, founded in 1946, based in Lancaster and is one of the state's popular tourist attractions …

Martin's Chips, located in Thomasville and founded in 1941 …
Troyer Farms Snack Foods, headquartered in York …
Utz Snacks, another large snack food producer. The company owns several smaller potato chip producers across the country – they're based in Hanover and offer very popular tours of their factory …
Unique Pretzel Co. of Reading who make a "split open" pretzel (hence the name Unique!) … they've been around since the 1880's.
Hammond Pretzels, also based in Lancaster, has made hand rolled sour dough pretzels since 1931 …
As you can tell, there's a lot of Pennsylvania history in these companies. All of them sell their products online and represent a real taste of The Keystone State!
Herlocher's Dipping Mustard: And what goes good with pretzels? Mustard of course!
Herlocher Foods of State College, PA has been making their famous Dipping Mustard since the late 1970's …
It's available in large grocery stores in many parts of the country, about 30 states, but if you can't find it locally, you can order from their website.
A sweeter style mustard, it's not just good with pretzels … any deli sandwich will taste better with Herlocher's!
Seltzer's Lebanon Bologna: If you're looking for products or gift packages offering a real taste of the heart of The Keystone State, be sure to check out Seltzer's Lebanon Bologna site to check out the variety of products they have for you …
First and foremost is their bologna. This isn't the prepackaged stuff you see at your local grocer … this is real smokehouse bologna that's rich and sweet tasting without needless preservatives. We'd venture to say even if you don't normally care for bologna, you will very likely enjoy Seltzer's … it is that good!
Seltzer's also sells boneless Dutch Country Hams, bacon and two Keystone State specialties, Shoofly Pie and Scrapple. Shoofly Pie is a sweet molasses filled pie that originally got its name because flies were attracted to the aroma and needed to be shoo'd away.
Scrapple is the opposite end of the spectrum … it's kind of like a meat loaf made with pork scraps and trimmings and mixed with cornmeal and buckwheat flour and shaped in to a loaf which is sliced and served. Both the Shoofly Pie and Scrapple are well known in eastern Pennsylvania and surrounding areas …
Seltzer's is based in Palmyra, PA and ships all over the country …
Jake and Amos Apple Butter: Jake and Amos is a Myerstown, PA company specializing in canning fruit and vegetable products. Starting with Amish recipes, Jake and Amos are best known for their spreadable fruit butters like apple butter and pumpkin butter …
The Jake and Amos product line has grown to over five dozen specialty items. including several types of salsa, pickle relishes, and chow chow. The apple butter (pictured) is a favorite of ours at breakfast. Spread it on toast, bagles, or English muffins … it's also the perfect complement to peanut butter at lunch time …
You can order Jake and Amos products directly online at their website …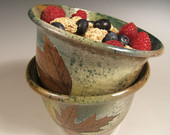 Pots By de Parrot Shop owner Steve de Parrot of Lititz, PA creates beautiful and functional stoneware pottery, tiles, and decorative art from his Etsy shop.
He also creates cabinet stoneware knobs to brighten up your kitchen decor – see all of Steve's work at Pots By de Perrot …
Philly Cheesesteaks: One of Philadelphia's most famous traditions is the one of a kind Philly Cheesesteak sandwiches. They're made with Black Angus Sirloin, either sliced or chopped depending on the establishment, and served on a soft hoagie roll.
And then of course, there's the cheese. Philly Cheesesteaks can be ordered smothered in Cheese Wiz, or made with other sliced cheese, like provolone (our favorite). It's a one of a kind taste experience that's truly Philadelphia!
If you travel around the city and ask the locals, they'll steer you to their favorite cheesesteak haunt. The most well known are Pat's King of Steaks and Geno's, both on 9th Street, and Jim's Steaks on South Street. When you're in Philly, try them all and see which you like best!
We found a source to have Philly cheesesteaks shipped to you … it's Campo's Deli, a tradition in itself on Market Street since 1947. They have several cheesesteak packages to order, some of which include other Pennsylvania taste treats …
Bollman Hat Company: Bollman's is America's oldest hat company, established in 1868. They make dress hats for both men and women, and if you're ever looking for a retro style hat, this is the place to find it …
Bollman's markets a Heritage Collection of their hats which you can see and buy here: Bollman's Heritage Collection. The Heritage Collection is a series of men's dress hats … one from each decade from the 1870's to today. Pictured is a 1930's style classic fedora …
Also check out Bollman's main website at BollmanHats.com. The company is located in Adamstown, PA.

Asher's Chocolates: Asher's has been making chocolates in Souderton, PA for a long time … since 1892 in fact. If you're looking for one stop shopping for a Pennsylvania made gift, Asher's Chocolates is a good choice …
Choose from one of their colorful gift baskets, available in a variety of themes, or pick out one or more of Asher's many candy and chocolate specialties. They're particularly known for their vanilla caramels!
Martin Guitars: This legendary guitar maker has been around since 1833 and boasts some of the biggest names in music as fans of their guitars …
Legendary names like Johnny Cash and Elvis Presley strummed on Martin guitars, as do current legends like Bob Dylan, Eric Clapton, Paul Simon, Travis Tritt, and each of Crosby, Stills, and Nash …
Even if you don't play guitar, you can celebrate this legendary American company and its many contributions to music by checking out the 1833 Shop which offers all sorts of Martin memorabilia which make great gifts for the music lover on your list …
The Martin Guitar Company is located in Nazareth, PA – their guitar factory is a popular visitor attraction.
Ener-Gel Insoles: Want to give someone a case of the happy feet? Get them a pair of Ener-Gel insoles from this family owned business located in Penn Run, PA …
Ener-Gel Insoles are designed to fit snugly and comfortably in any type of shoe. They drastically diminish the pounding your feet take on a daily basis, whether you're athletically inclined or just need to be on your feet for hours at a time …
Made with American labor and materials, Ener-Gel insoles are designed to alleviate foot pain resulting from lack of arch and heel support. They also help your body's natural alignment and can help rid you of hip, ankle, and lower back pain.
Make your feet happy! Order online from the Ener-Gel website …
Kutztown Bottling Works: The Kutztown Bottling Works has been making soda and birch beer in Kutztown, PA for well over 100 years. Even today, their flavored sodas use original, time tested recipes … only pure cane sugar is used … and Kutztown sodas are unique in that they do not contain caffeine and never have …
Flavors include root beer, red creme soda, ginger beer, sarsaparilla, orange creme, grape, black cherry, and birch beer.
You can order any of the flavors online, either in 24 oz. plastic bottles or 12 oz. glass bottles …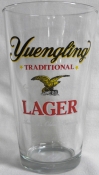 Yuengling Brewery: Officially called the D.G. Yuengling and Sons Brewery, Yuengling has been around since 1829 which makes it American's oldest brewery. This iconic brewery turns out several flagship brands of beer, like Yuengling Lager, Black and Tan, Porter, and Lord Chesterfield Ale. Finding a Yuengling on tap is one of the first things we do whenever we travel to Pennsylvania!
For many years, Yuengling could only be found in eastern Pennsylvania, near the original brewery in Pottsville. That has changed over recent years, particularly with the addition of a satellite Yuengling plant in Florida. In general, you can find Yuengling products in most of the eastern half of the United States …
While the brewery can't ship you a case online, you can order some great Yuengling gear at the Yuengling online store. A great gift for you or someone who appreciates a great beer!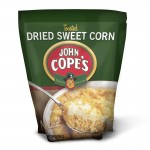 Cope's Dried Toasted Sweet Corn: This product from Pennsylvania Dutch Country has been around since 1900. It's John Cope's dried and toasted sweet corn, which is harvested, air dried, and packaged in resealable pouches for convenience and easy storage …
Toasted and dried sweet corn is a Keystone State staple and is used in any recipe that calls for corn, like quiches, chowder, and fritters. It's got an exceptionally sweet, fresh taste !
You can order packets online at the John Cope's online store …
A real treat from Pennsylvania Dutch Country!
More Pennsylvania Made Products On The Way … Tell Us About Your Favorites!