Made In New York Quick Facts
This Post is about Made in New York Gifts and Specialty New York Products
Want To See Your Business / Products On Our Made In New York Page?
Visit "Advertise With Us"!
FEATURED MADE IN

NEW YORK

BUSINESS

ES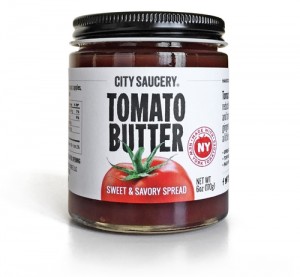 City Saucery: We've been following the progress of this New York based business for a while and are pleased to feature them here on our Made in New York page …
They're City Saucery, a family owned and operated business making some of the best tomato based cooking sauces you've ever tasted. Using locally grown tomatoes along with herbs and ingredients from area farms, City Saucery produces some remarkably fresh sauces bursting with flavor.
Consider their innovative Tomato Butter, pictured. We were given a jar of this spreadable deliciousness by a friend who travels to New York on business – we haven't stopped raving about it! It's made from a reduction of fresh tomatoes and local apples and combined with ginger, brown sugar, and spices. Described as a little sweet, a little tangy, and a lot delicious, Tomato Butter is perfect on warmed focaccia bread. For s special treat, spread some on a toasted or grilled burger bun … your taste buds will thank you!
City Saucery also makes a line of sweet, smoky, and spicy tomato sauces as well as jarred sweet preserved summer tomatoes infused with fresh basil. If you or someone you know likes to cook Italian inspired dishes, these products will take them to a new level!
You can order any of these innovative sauces directly at their website – a sure to be appreciated gift from New York!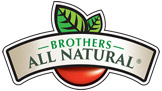 Brothers All Natural Fruit Snacks: This Rochester, NY company is one of the nation's leaders in producing all natural freeze dried fruit snacks – if you enjoy snacking healthy for yourself or your family, you should know about these innovative healthy treats …
Available at major retailers and their website BrothersAllNatural.com, their signature Fruit Crisps are made 100% freeze dried fruit with nothing else added. They come in 12 different flavors including a special Disney themed line that'll appeal to youngsters. The company also makes Fruit Clusters and a hot breakfast cereal called Fruit & Oats, which combines two ingredients – freeze dried fruit and real oats. Hearty and delicious!
Click through to their website to learn more about Brothers All Natural and to order or find where you can purchase their innovative products. Direct from Rochester, New York!

Mike's Hot Honey: This Brooklyn small business combines two of the best culinary ingredients known to man – sweet natural honey and smoky chili peppers. The net result is honey infused with peppers, the perfect complement to a wide variety of foods …
Mike's Hot Honey began in 2011 with locally harvested honey and a recipe of owner and founder Michael Kurtz. Michael learned of chili pepper infused honey while living abroad and honed his own unique recipe. While apprenticing at a local Brooklyn pizza parlor, he began experimenting with the honey atop the pizza, to rave reviews from customers.
Michael began bottling the honey and soon a new business was born. Even if you don't live in Brooklyn, you can purchase some of this unique honey directly at his website. It's great basted on ribs, pairs wonderfully well with all kinds of cheese, and works perfectly with chicken and pork dishes.
A simple combination, but extraordinary results! Direct from Brooklyn …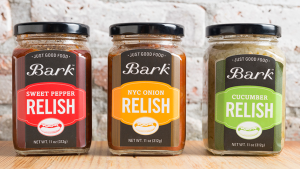 Bark Hot Dogs & Relish: There are lots of great hot dog joints in and around New York City … one of our new favorites is a place we discovered on Bleecker Street in Greenwich Village called Bark Hot Dogs. We've always been partial to hot dogs containing pork, and the beauties served here are made with a mix of pork and beef. They're roasted on a griddle and then basted with Bark's special butter mixture and wow are they good!
As tasty as these dogs are with just a dab of mustard, they're especially fantastic with one of the three Bark relishes, which you can buy online at their store, linked above. They make a Sweet Pepper Relish that's similar to a chow chow, a Cucumber Relish that's our favorite, and a NYC Onion Relish that also adds a nice touch to the burgers on their menu.
Bark also has a location in Brooklyn, and we suspect more to come. Stop here next time you're in New York City, you'll thank us! Click through to their store and order the relish three pack for yourself or the foodie on your list …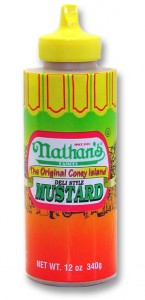 Nathan's Famous: I'll confess to being a hot dog aficionado. Growing up on Chicago's south side, a great lunch or dinner was enjoying a hot dog or two from one of the many steamed hot dog carts dotting the street corners. And to this day, one of the great joys of traveling around the country is experiencing some of the legendary hot dog joints located across the United States …
In New York, one of the best and most well known is Nathan's Famous, which has been a Coney Island people magnet since 1916. You've probably enjoyed their famous franks – they're available in all 50 states and Nathan's casual restaurants are located all over the world.
But what you may not be aware of is their special blend mustard. It makes those great hot dogs something special! If you've got a Nathan's Famous location near you, it'll be served on your dogs. If not, you can now buy it online at the Nathan's website. Of course, it's not just for hot dogs! Try it on deli sandwiches and we bet it'll become one of your favorite condiments!
Click through to their site to order the mustard, and pick up some other Nathan's goodies while you're there …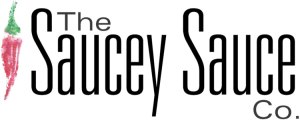 The Saucey Sauce Company: This Brooklyn based brother and sister owned business is turning out some really interesting sauces and condiments based on their mother's recipes (See? Mom knows best …)
The Saucey Sauce Company uses ultra fresh ingredients like chiles, garlic, ginger, lemon, and more to create a line of sauces you can use as marinades, salad dressing, dipping, or finishing sauces. We had the opportunity to try their Spicy Ketchup when a friend who travels to New York on business brought us back both varieties the company makes …
The first is a Hot Habanero Ketchup that's not only a welcome twist to your burgers and fries but also really perks up a bland meatloaf recipe. Of course, we're sure you can come up with more creative uses, but the point is, this is no ordinary ketchup – it pushed the boundaries!
The other variety is Sweet Jalapeno Ketchup, and if you like the sweet & spicy combination like we do, you'll love this … the sweetness of pure cane sugar is perfectly balanced with ripe tomatoes and zippy jalapenos. If you know someone who likes ketchup, click through and order them the Spicy Ketchup Two Pack!
While you're at their site, check out everything else Saucey Sauce is doing … Spicy Garlic, Fresh Lemon, Sweet Ginger, and Brown Sugar Ginger Glaze are among their other savory and versatile sauces.
Great stuff from Brooklyn!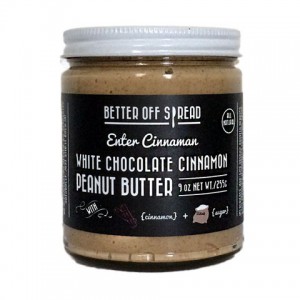 Better Off Spread: We learned of this creative Brooklyn company from a neighbor of ours who frequently travels to the NYC area on business. He brought us back a jar of one of this company's nut butters – a fantastic creation called "The Ace of Spice" to be exact …
The company is Better Off Spread and their flagship products are gourmet nut butters offering flavor profiles that'll get your creative juices flowing in the kitchen. The Ace of Spice jar we tried looks and spreads like a peanut butter but offers so much more! Sure, you can use it on two slices of fresh bread, but think outside the box – this stuff is perfect to mix into stir fry dishes, in wraps and burritos, or stirred into leftover spaghetti noodles for a quick Asian style treat. It offers the spiciness of ground organic Szechuan peppercorns, black sesame seeds, grond red chili peppers, and sea salt. Unlike any nut butter you've ever tried!
Ace of Spice is just one of many flavors the company offers, another being the White Chocolate Cinnamon Peanut Butter shown. They're all available for purchase online at their website. Their business is expanding distribution in many locations across the country (check the "Find Us" page for stores near you), and be sure to check out their combination packs so you can try more than one variety.
An inventive company doing some wonderful and flavorful things!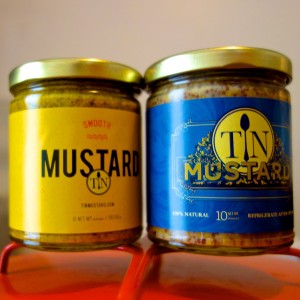 Tin Mustard: We're always on the lookout for really good mustard, and we're pleased to tell you about one (two, actually) made in the heart of Brooklyn …
The company is called Tin Mustard and it's owned and operated by a Slovenian born chef named Tin Dizdarevic. He originally developed a mustard to pair with a charcuterie platter he was serving and did he ever create a winning recipe!
The original, Whole Grain, is a whole grain mustard without any of the bitterness or overly vinegar flavor some such mustards possess. This one features a creamy texture and the mustard seeds are whole, not ground. That means you get to experience the nifty little crunch of the seeds – it's akin to enjoying a slice of really good whole grain bread that somehow offers a creamy dimension. If my description doesn't make much sense, well, try it for yourself and you'll see what I'm talking about!
Tin Mustard also makes a smoother variety, introduced in Spring, 2014. Appropriately enough, it's called Smooth and it offers the same great flavor.
If you like a great mustard, all we can say is try this stuff. A friend brought us a jar of each (you can order at their website) and we were literally looking for things to put it on … it's that good!
A really nice culinary gift from Brooklyn – click through to learn more and order …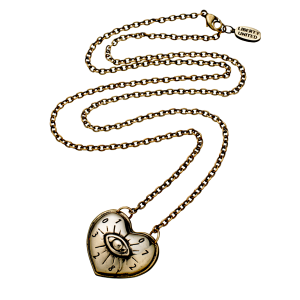 Liberty United: We're very pleased to feature this socially responsible and creative company – they design and create beautiful jewelry and art pieces made from recycled illegal guns and bullets collected from several partner communities across the United States …
Liberty United works with law enforcement staff in high crime communities to remove and recycle illegal firearms out of the streets. The recycled parts are crafted by talented artists to create bracelets, earrings, necklaces, rings, and more. Each finished piece is adorned with the serial number of the illegal firearm and proceeds are donated directly to anti gun violence programs in cities throughout the country.
You can shop directly at their website and help unite against gun violence. The designs of these items (like the pendant show) are extraordinary – an exquisite gift!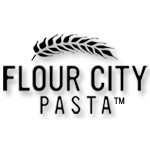 Flour City Pasta: Did you know Rochester, NY was once known as The Flour City? At one time, Rochester was the nation's leading flour producing city, and that tradition continues with an artisan pasta company located in nearby Macedon known as Flour City Pasta …
This creative company uses organic flour and organic vegetables, fruit, and herbs to make flavored pastas that put store bought boxed pasta to shame. If you've never tried home made pasta before, you'll be amazed at the difference – much more flavorful, less starchy, and a real joy to serve!
Flour City Pasta's varieties include papardelle, fettucine, linguine, and flavored blends like their Pizza Blend, a unique mix of tomato basil, mushroom, garlic & oregano in a variety of shapes. You can order any of their pasta online and they also offer a few handsomely packaged gift boxes containing their pasta and locally produced oil and sauce.
If you have someone culinary oriented on your gift list, they'll love this! See their website for all the selections and to order directly …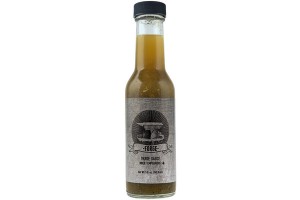 Forge Hot Sauce: Founded in Rochester and now produced in Syracuse, Forge Hot Sauce presently makes two varieties of sauces, a Hot and a Verde. They're growing rapidly and you can find the sauces on shelves of specialty food retailers in both cities and online via a link we share below …
We got a chance to enjoy both, courtesy of a friend of ours who lives near Syracuse. The Hot is a combination of hot and sweet with a vinegar kick and Thai chili peppers. Goes great in any rice dish! The Verde contains jalapeno and poblano peppers, giving it a more subtle heat. Try it with tacos as we did, or drizzle it atop pork chops or a pork roast …
Forge's sauces have been featured in Food & Wine and on Epicurious.com and we expect to hear more positive press on them soon! If you don't have a friend near Syracuse, you can buy the sauces from this page at Mouth.com. Enjoy the distinct taste of these sauces, direct from The Salt City …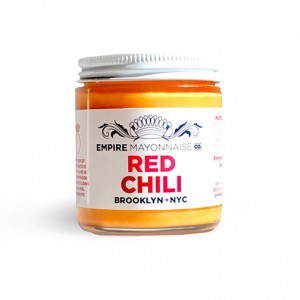 Empire Mayonnaise Company: We've featured countless specialty food products here at State Gifts USA over the past year. However, we've never featured a gourmet mayonnaise company until now, and we are so proud to introduce you to the Empire Mayonnaise Company, owned by chef Sam Mason and designer Elizabeth Valleau of Brooklyn …
The company was founded in 2011 and has been steadily building a lively buzz about their products ever since. They've been featured in several prominent publications (Wall Street Journal, Real Simple, and more) for their artisan flavored varieties of mayonnaise that are truly unique and one of a kind …
Empire Mayonnaise isn't your standard buy-a-big-jar-off-the-shelf variety. Their entire line is made with non GMO oils, cage free pasture raised eggs, and seasonal ingredients. There are over a dozen varieties, and flavors rotate throughout the year. Just a few of their mayo creations available at their website are White Truffle, Ghost Pepper, Sriracha, Roasted Garlic, and Red Chili. If you're into traditional, they've got you covered with their Classic variety too …
You prepare and serve top quality meals in your home – why not dress them up with top quality mayonnaise? Learn more about this cool company and order a few jars for yourself or as a gift directly at their website … a great culinary gift from Brooklyn!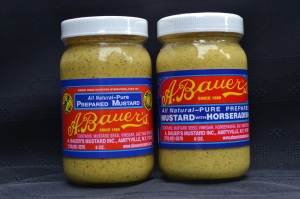 A. Bauer's Mustard: We just love authentic old school mustard, and we're pleased to introduce you to one! It's A. Bauer's Mustard, family owned and made in New York since 1888 …
A true deli mustard, A. Bauer's can stand up to any sandwich, sausage, or recipe. Slightly coarse ground, this hearty condiment has been pleasing New Yorkers for generations. The company has been family owned and operated and is now in the capable hands of August Bauer's great great grandson Bart Druery.
The company makes two types of mustard – their original prepared mustard and a variety with horseradish. You can order either directly at the A. Bauer's website in packs of six, twelve, or 24 jars. Go big, get the 24 pack, and turn your friends and family on to this wonderful mustard that's been making people happy for over 125 years!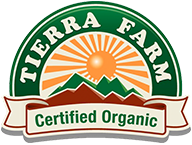 Tierra Farm: Located just south of Albany, Tierra Farm is a certified organic manufacturer of nuts and dried fruits. The company dry roasts and flavors nuts and seeds, grind nuts for their nut butters, and blend a variety of trail mixes. Everything is done hand prepared in small batches to ensure freshness …
We are big fans of the Tierra Farm line of nut butters. For a break from traditional peanut butter, try them! There are seven to choose from at their website – we especially like the Maple Pecan variety. It's fantastic spread over French Toast and even better as part of a gourmet PB&J sandwich …
These nut butters are made with hazelnuts, almonds, and cashews in addition to pecans. Another we've tried and really liked is the Chocolate Hazelnut flavor. You can order unsalted versions too!
Tierra Farm also offers a line of trail mixes, granola products, flavored dry roasted nuts, and more. For a flavorful treat, try their Curry Cashews! You can order them along with the rest of their product line directly at their site and they'll ship directly to your door …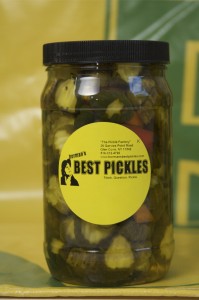 Horman's Best Pickles: Established in Long Island in 2003 by owner Nick Horman, Horman's Best are best described as throwback pickles, like the kind your grandmother used to make. Yes, they make Kosher Dills and Bread & Butter pickles, but some of the other varieties take time honored pickle traditions and add a new twist …
How about honey mustard pickles? Or Horseradish Pickles, affably described as the Kosher Dills' loud yet lovable cousin? Horman's Best makes ten varieties of pickles in all, some unique and some traditional, as well as hot cherry peppers and pickled tomatoes.
Perhaps their most interesting variety is called Red Flannel, a sweet style pickle. Red peppers are mixed in with the brine to balance the sweetness and its name comes from the red and green appearance. Great on hamburgers and deli sandwiches!
Why settle for grocery store pickles when you can get some of these? Stop by the Horman's Best Pickles website to order something really good from Long Island!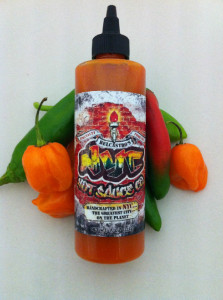 NYC Hot Sauce Company: Hey all you hot sauce lovers out there, here's a good one you should try direct from New York City! It's called Habanero Hot Sauce, made by the NYC Hot Sauce Company with local New York state ingredients and no preservatives …
It's not a burn-your-mouth hot sauce, but there's plenty of zip – it's made with habanero peppers, lime juice, Creole seasonings, carrots, onions, celery, and garlic.
Use it on scrambled eggs, in tacos and other Mexican style dishes, in stews, soups, chili, and more. Add a dash to your tuna or chicken salad and give it a welcome jolt of flavor!
Buy it online at the NYC Hot Sauce website in single bottles, two packs, or cased of 8 ounce bottles.
A convenient and tasty gift from The Big Apple!
Salvere Farm Garlic: This family owned and operated farm is located in Marietta, NY near Otisco Lake. A traditional farm growing a mix of vegetables, herbs, and fruit, Salvere Farm is becoming known for their many varieties of fresh garlic and garlic powder …
Garlic is another farm product we enjoy featuring here at State Gifts USA. Much like honey, many folks think "garlic is garlic", but that couldn't be further from the truth. There are hundreds of garlic varieties being grown around the world – Salvere Farm grows and sells several of them as you'll see on their website. Some of the flavor characteristics are described, along with photos of many …
Further, garlic can differ in flavor depending where it's grown. The rich soil of central New York is ideal for growing this healthy herb, and we were delighted to learn Salvere Farm sells it online as long as supplies last. As mentioned, they also offer garlic powder and scapes, which are technically a flower stalk of the garlic plant and used like a shallot or green onion in cooking …
Visit the farm's website to learn more about garlic and to place an order …
Junior's Most Fabulous Cheesecakes: Since 1950, Junior's has been a Brooklyn, and American tradition. Their original location at the corner of Flatbush and DeKalb Avenues has served generations of Brooklynites and customers from all over the world. Known for their full service comfort food menu, they're famous for their cheesecakes, which have rightfully earned the nickname "most fabulous" …
Featured by numerous publications and national media, a Junior's cheesecake is an iconic representation of Brooklyn and New York. They're available by mail order in all of the classic flavors … New York Plain, Strawberry, Brooklyn Crumb, Cherry Crumb, Chocolate Swirl, and more. Specialty and seasonal varieties are also available for purchase, as are layer cakes and Junior's collectibles …
Junior's Cheesecake is one of many "must do" stops when visiting New York City and Brooklyn. It truly evokes the history of the area and is adorned with all sorts of Brooklyn memorabilia. Enjoy a great meal, and save room for dessert!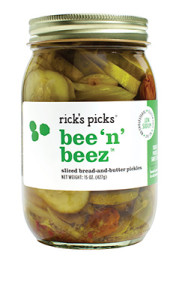 Rick's Picks: Based out of New York City, Rick's Picks is a pickle company founded in 2004 by owner Rick Field. Rick grew up on a farm in Vermont and discovered a passion for pickling vegetables. Like many great success stories, his passion is now his business!
Rick's Picks now jars over a dozen varieties of pickles, along with beets, beans, and assorted other specialties. Sweet pickles, spicy pickles, dills, and garlic dills are just a few of the varieties available …
If you enjoy trying different types of pickles, you'll want to check out the many combination and gift packs offered at Rick's site. One that caught our eye is the Bloody Mary Pack, which contains sriracha & habanero spiced pickles, spicy dill beans, and paprika smoked okra. What a great party gift!
Learn more about the different varieties of Rick's Picks and order directly at their website …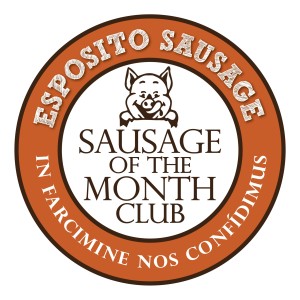 Esposito's Sausage: Esposito's Sausage is a New York City legend – they've been located on 38th Street since 1933. Here you can find any number of fine sausages, both in varieties you know and others you've probably never tasted …
Browse the online Esposito Sausage catalog and have any of their daily made sausages delivered to you – fresh! We've long enjoyed their Sweet Italian Sausage, but if that's not your style, opt for Irish Style Bangers, Chorizo, Bratwurst, Andouille, Kielbasa, Chicken Sausages, and many more …
One of the wonderful gift ideas from Esposito's is their Sausage of the Month Club. An ideal gift for business associates and friends, you can order this club for a specified amount of months and the recipient will receive different sausages in a shipment every month. Discounts are available for time periods exceeding three months.
If there's a foodie on your list, you won't go wrong with Esposito's Sausages! Click through to their website to see all their products and your gift giving options …
Blue J Syrups: New York City spirits buyer Jason Albaum wasn't completely satisfied with the available fruit syrups to match with artisan cocktails, so he set out to create his own …
The result is Blue J Syrups, a line of fruit based cocktail syrups featuring locally sourced fruit and herbs. Mainly intended for use in beverages, they're also a fine addition to cooking, baking, and even snow cones!
Four varieties are available at the Blue J Syrups website. They are Lime & Sage, Mango Hibiscus, Spiced Pear, and Earl Grey & Lavender. The latter is a combination of Earl Grey tea, organic lavender, and cane sugar. Use these syrups on a one to one ratio with spirits, or turn on your creative side to concoct a brand new libation of your own!
Learn more about these syrups at their site …
Spelt Right Foods: We learned of this Brooklyn based bakery from a friend, who tried their products on a recent visit to New York and gave them the thumbs up …
The "spelt" in their name refers to the grain spelt, which is a type of wheat that is commonly grown in Europe but infrequently seen here. The spelt grain is almond shaped, almost like a piece of orzo pasta, and is very low in fat and extremely good for you. Some bakers, like Spelt Rite, are using the grain in their baked goods due to spelt's hearty taste and health benefits …
Spelt Right Foods offers artisan breads, bagels, and pizza dough which you can purchase online at their site. The bagels are subtle and light – not the heavy globs of dough you sometimes get with a standard bagel. Bread flavors include cinnamon raisin, whole grain, and rosemary, and there are several flavors of bagels …
If you've got a health conscious person on your gift list, or you want to eat healthier yourself without sacrificing taste, place an order with Spelt Right!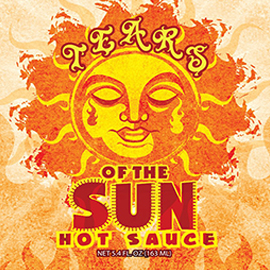 High River Sauces: Music industry veteran and heavy metal cookbook author Steve Seabury is the founder and owner of High River Sauces, an award winning New York based hot sauce company …
Steve's line of sauces reflect the personality of a good hard rock band – powerful, energetic, and always in tune. Four different varieties of sauces are available, beginning with Tears of the Sun, a tantalizing mixture of habanero peppers and tropical fruit. Next is a fiery blend called Rogue, made with Jolokia and Moruga Scorpion peppers along with blood orange, apples, pears, and brown sugar among other ingredients …
The two sauces above are winners of the 2014 World Championship Golden Chile Award in their respective categories. The company also makes a funky sauce called Foo Foo Mamma Choo, created with a blend of roasted peppers, ginger, garlic, herbs, and spices. A fourth limited edition sauce called Grapes of Wrath is a holiday style sauce – check the High River Sauces site for availability.
You can buy these sauces individually or in six packs or 12 pack cases. Order some for yourself and enjoy the rockin' taste of New York!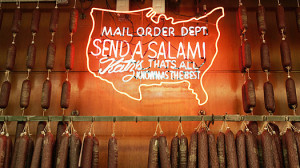 Katz's Delicatessen: Located on the lower east side of Manhattan since 1888, Katz's Delicatessen is one of our favorite places to eat in New York City. Their deli sandwiches, especially their pastrami, are legendary! Katz's is truly a must-do lunch stop for anyone visiting New York …
Katz's online store now offers nationwide shipping. You can order a special gift from New York City like their famous salami, corned beef, brisket, frankfurters, knockwurst, and other meats. You can also order loaves of their signature rye bread. Wearables and other souvenir items are available as well …
Check out their site for all the details …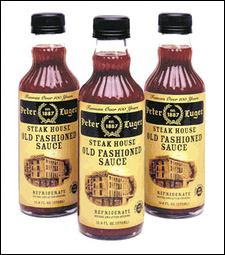 Peter Luger Steak House: We're very proud to feature Peter Luger Steak House, a legendary Brooklyn institution serving world class steaks since 1887 …
Peter Luger's is more than just a steak house, it's a worldwide destination. The original Brooklyn location location has been featured in so many gourmet magazines and foodie shows that it's impossible to chronicle. Of the hundreds of great restaurants in the metro NYC area, this place stands behind none. The steaks are magnificent cuts of meat, and perfectly prepared. The atmosphere is nostalgic and total class. The service is impeccable and you'll remember your meal for years and years …
If you can't get to Brooklyn any time soon, you can order Peter Luger's Steak Sauce, as well as their legendary steaks, online at their Peter Luger gift shop. A gift box of their steaks includes bottles of sauce and makes a wonderful corporate gift.
Here's hoping you get to visit and enjoy a meal at the Peter Luger Steak House!
Zabar's: If you're ever visiting New York City, one of the many "must stop" places is Zabar's, located at 80th and Broadway since 1934. Zabar's is a cherished institution best known for their bagels, coffee, and smoked fish …
Zabar's offers everything from smoked meats to pastries to housewares … truly a one stop shopping experience! Their gift boxes are legendary gifts, and they're themed for specific events … office party, condolence, celebration, thank you, and so on …
They even have an auto ship program where you'll receive their famous bagels and store roast coffee shipped to you at regular intervals!
It's really a cool place, and family owned. To this day, there is always a member of the Zabar family present at the store. If you can't make it to the Big Apple, visit them online at Zabars.com …

Winetini: We love companies who use recycling as the basis of their business. More and more companies are taking unused and unwanted items which would otherwise end up in a landfill and recycling them into useful, decorative, and eye catching items.
One such company is Winetini in Rochester. They use recycled bottles to create flat bottle plates, bowls, martini pitchers, wine glasses, and more. The flat bottle serving tray shown is ideal for appetizers and makes a fun and unique gift …
Winetini melts down liquor, beer, and wine bottles to create these flat bottle plates and other items. They are happy to work with you if you have your own special bottle … their biggest sellers are personalized items for weddings and special events. You can also supply your own label which they can use in a specialty item just for you …
The company also makes candles, party lights, night lights, and salt and pepper shakers using the same process. Their motto is "Saving The Earth One Drink At A Time" … cheers to that idea!
Be sure to check out the Winetini.com website to see everything they're doing …
New Hope Mills: New Hope Mills has been synonymous with fresh, wholesome grain and flour based products for over 190 years. The original grain and flour mill is still standing in Auburn, NY and although production has shifted to a nearby facility, the tradition of quality continues …
New Hope Mills is best known for their legendary pancake mix, but the product line extends to other baking mixes, organic products, and salad dressings, just for starters …
You'll find New Hope Mills products in specialty retailers, but if not, you can order any of their products at their website. A terrific gift is any of the New Hope Mills gift packages, like the "Baker's Bundle" which is shown. This sure-to-please package contains cookie mixes, bread and muffin mix, and a cloth bag of cranberry bread mix …
It's just one of the many gift ideas you'll find at the New Hope Mills website …
Amagansett Sea Salt: Sea salt is a finishing salt which allows you to use less salt when cooking your food … sea salt is more natural and concentrated and it allows you to simply sprinkle it on your food after it has been prepared.
Amagansett is a small town on Long Island, and this where Amagansett Sea Salt is harvested. The entire process is done by hand, from the collection of sea water to the sun and wind helping the salt form into small crystals. The end result is a mild, sweet, and slightly briny taste that is far superior to normal salt …
You can buy this wonderful sea salt and sea salt blends directly from the Amagansett website. They also sell gift packs and even have a Sea Salt of the Month Club … a perfect gift for your "salty" friends and family!
History of New York
New York Trivia and Fun Facts

1). Did you know New York City has over 720 miles of subway tracks?

2). Chittenago is the birthplace of author L. Frank Baum. He wrote the famous story "The Wizard of Oz" …

3). New York City was the first capital of the United States …

4). New York was the first state to require cars to display license plates …

5). The Genesee River is a rare river that flows south to north …

6). The legendary Woodstock Music and Arts Fair held in Bethel in August, 1969 was the second live appearance by Crosby, Stills, Nash, and Young. Their first public appearance was in Chicago a few days earlier …

7). The Anchor Bar (see listing) in Buffalo is credited with popularizing the chicken wing …

8). Seneca Lake, part of the Finger Lakes chain, is the deepest lake in the state. It bottoms out at 618 feet deep.
Beekman 1802 Mercantile: This very cool small company has been gaining a lot of positive press nationally for their unique mixture of quality goods. From house and home wares to delicacies to artisan soaps, this Sharon Springs outfit truly defines the old fashioned customer focused mercantile …
One of their most unique and fun products is their Around The World Hot Cocoa Spice Kit, shown. The kit includes a sturdy tray of nine different freshly ground spices which take the simple pleasure of a mug of hot chocolate and turn it into a culinary travelogue …
Spices include West Indies nutmeg, Asian ginger, Vietnamese star anise, and more. Simply add a pinch of each spice to your cocoa per the enclosed instructions …
Beekman 1802 Mercantile has an engaging website with all sorts of interesting goods, with great ideas for perfect gifts or just for yourself!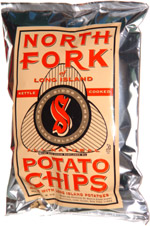 North Fork Potato Chips: The "North Fork" in North Fork Potato Chips refers to the north fork of Long Island, where the Sidor family has farmed potatoes since 1910. In the 1970's, the family began making potato chips with their own potatoes and kettle cooked them in pure sunflower oil …
Fast forward to today, and North Fork Potato Chips may be a small producer of potato chips, but they're big on taste. Potatoes are harvested and made into chips the very same day to bring you the freshest chips imaginable. No preservatives whatsoever are used, and the use of sunflower oil brings out more of the fresh potato taste …
North Fork Chips makes several flavors – learn more about them and order some chips at their website …
Anchor Bar: If you're ever in the Niagara Falls area, we really encourage you to explore Buffalo. It's only 20 minutes or so from downtown Buffalo to the Falls, and the city is a convenient place to stay. Buffalo has several attractions of its own … and it's a great restaurant town!
We've visited Buffalo twice recently and really got to know the city and appreciate its charms. One of the best known destinations in Buffalo is the famous Anchor Bar, the originator of what are now known as Buffalo wings …
The chicken wings at the Anchor Bar are every bit as good as advertised (we actually think they're better than advertised!). We enjoyed a wonderful meal here of wings and a beef on weck sandwich, washed down with another western New York specialty, Genesee Cream Ale on draught. If there's such a thing as Buffalo Bliss … that was it!
If you've got a taste for arguably the best chicken wings in America, you can order wings directly from the Anchor Bar along with any of their sauces. The sauces aren't only used for chicken wings … we use them with tacos and other foods that taste better with a little kick!
Parkside Sponge Candy: A Buffalo and western New York tradition since 1927, Parkside Candy makes a special kind of sweet chocolate treat unique to this general area. It's sponge candy, which might sound a little weird but wow is it good …
Sponge candy has an outer coating of chocolate, typically milk chocolate. The candy's center is what makes it unique, though. While it's difficult to describe, the center is kind of a molasses flavored nougat that's slightly crispy and crunchy at first, and then literally melts in your mouth.
The candy got its name because the center nougat has little tiny holes in it … like a sponge!
We've only seen sponge candy in western New York and Erie, Pennsylvania. There are probably more areas where you can find it, but we loved the fresh sponge candy at Parkside from their Main Street store. Order it by the pound for a real taste of western New York!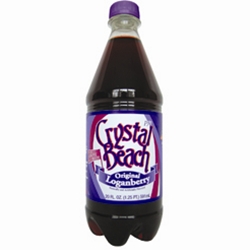 Crystal Beach Loganberry Soda: We'd never heard of loganberry soda before our visit to Buffalo. We discovered it during a visit to one of city's many legendary hot dog places … Louie's in Elmwood Village.
Anxious to try some of the local traditions, we ordered a loganberry soda, which is simply referred to as a loganberry. The best way to describe it is a delicious cross between ripe juicy blackberries and raspberries … and it went surprisingly well with hot dogs!
The most popular brand of loganberry soda seems to be PJ's Crystal Beach, whose website we've linked to above. We've not seen loganberry soda elsewhere in the country, so order some online for yourself or as part of a Buffalo themed gift!
Buffalo Food Specialties: We want to share a few more Buffalo food specialties we experienced on our visits to the city. As we mentioned above, there is an incredible amount of really good restaurants in the city, probably in part due to Buffalo's many long standing food companies …
While there are dozens of products from the city we can spotlight, three really stood out to us. The first is Sahlen's Hot Dogs, which are sold all over town. The second is Pott's Pierogis, a favorite of Buffalo's sizable Polish community, and last but not least is Weber's Mustard, which of course matches perfectly with Sahlen's …
We love visiting different cities and sampling their local specialties … and we love bringing them to your attention here at StateGiftsUSA.com … after all, why not let everyone in on the fun??
You can order all of these wonderful products online as a taste of Buffalo. What a terrific gift to introduce someone to the city, or just to enjoy yourself!

Zweigle's Hot Dog Sauce: Switching the focus to another underrated city in New York, Rochester is home to many great products, including one we didn't think we'd like …
Being from Chicago, we never put ketchup on hot dogs. Ever. But in Rochester, they use hot dog sauce as a condiment, so on a recent visit to the city we decided to lean on the old saying, "When in Rome, do as the Romans do …".
Zweigle's Hot Dog Sauce is a ketchup based condiment (actually a tomato based condiment, as is ketchup) which contains other chopped ingredients like peppers and onions. It's made by Zweigle's, a Rochester company that has been around since 1880. They make hot dogs, sausages, and other meat products as well as hot dog sauce and a mustard based hot dog relish (pictured) …
We don't use Zweigle's Hot Dog Sauce on hot dogs … but love it on hamburgers … shhh don't tell!
Nance's Wing Sauce and Mustards: Another great product coming out of Rochester is Nance's Wing Sauce. They also make a line of mustards, both of which you can order online at this site.
The wing sauce comes in a few different heat levels … we like the mild variety because we don't fry chicken wings at home but we do make a lot of different chicken dishes.
The mild Nance's Wing Sauce can be used as a marinade or a finishing sauce … it works really well when brushed on chicken being grilled. We've also used it on pork chops and grilled pork tenderloin. If we're cooking indoors, we just heat a bit of Nance's in a saucepan and spoon it over the finished dish …
Order some online and try it for yourself!
Saratoga Peanut Butter Company: Normally we like peanut butter straight up, without any added ingredients. But this stuff is nothing short of spectacular …
This take on peanut butter made by the Saratoga Peanut Butter Company is outrageously good. It's a combination of almond butter which is blended with Saratoga's plain peanut butter. But that's not all … added to the mix are red cranberries, flax seeds, sunflower seeds for crunch, a bit of pure clover honey and a dash of cinnamon. If that sounds really good, it's because it is!
You can order this delicious Saratoga Peanut Butter blend, called Adirondack, along with their other peanut butter varieties …
If you've got a peanut butter fan on your gift list, this will make them smile!
Joey's Pasta Sauce: Moving east from Rochester is Syracuse, a city located just north of the famed Finger Lakes region.
There's a strong Italian-American presence in Syracuse, so it's no surprise you'll find some great Italian food here …
One of our favorites is Joey's Pasta Sauce, which emanates from a well known area restaurant of the same name.
It's not available directly from the restaurant website, but we located a good online source for Joey's Pasta Sauce and other Syracuse favorites.
Browse the site and see all the goodies Syracuse has to offer!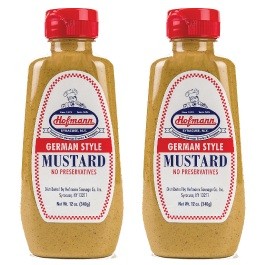 Hofmann's Mustard: Another Syracuse tradition is Hofmann's, a manufacturer of hot dogs, sausages, and other deli products since 1879 …
Stop at just about any hot dog stand in the city and chances are they'll be serving Hofmann's hot dogs. They go exceptionally well with Hofmann's Mustard, a German style bold and hearty mustard that stands up to anything you can put between two slices of bread or in a bun …
The Hofmann's online store offers individual products and gift packs with hot dogs, sausages, and mustard … everything you need for a tailgate!
Uncle Sam's Candies: This company has been a Schenectady tradition for over 80 years. They make all kinds of candy, but are best known for their Famous Butter Crunch, which is legendary in upstate New York …
The butter crunch is created by cooking butter crunch in a copper kettle and then poured over a giant marble slab. Chocolate is poured on top, along with fresh roasted crushed almonds. It contains no corn syrup and has a nice snap; thin enough to offer a crunch and not too thick to break your teeth!
You can order any of Uncle Sam's candy creations directly from their website …
New York State Fair Spiedie Sauce: So what's a spiedie, you might ask?
The term "spiedie" is an offshoot of the Italian word "spiedo", which means spit (as in a grill). It's a sandwich originally made with cubed and skewered lamb meat and served right off the grill on a fresh sub roll. A shish kebob sandwich of sorts …
Now, spiedies are made with any kind of meat and not just lamb. Basically, whatever meat you prefer. The meat is usually marinated for 24 hours in Spiedie Sauce, which helps flavor and tenderize the meat, and then cooked over a grill, or spit.
This is another New York tradition you really don't see anywhere else. There are several different brands of spiedie sauce you can buy, but the most famous is New York State Fair Spiedie Sauce, pictured here. It's a unique flavor that's really New York!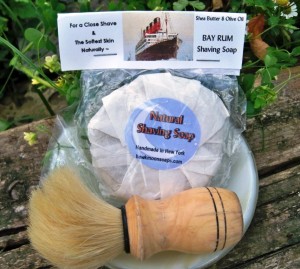 Hawk Moon Soaps: A small business based out of Varysubrg, NY Hawk Moon Soaps makes unscented natural bath and body soaps and related products …
One unique product they create is a natural shaving soap for men. It's a traditional way of shaving … wet the soap and use a shaving brush to lather your face and then shave …
The soap actually lasts a lot longer than traditional shaving foams or gels, and it's more eco friendly as well.
Check out the Hawk Moon Soaps website to see all the different soaps they create … there's even one for dogs!
Finding Solace In Nature Jewelry: A husband and wife team are the impetus behind Finding Solace In Nature Jewelry. Jewelry pieces, like the pendant shown, are created from beach stones and beach glass personally collected from the shores of Lake Ontario …
These stones and glass are naturally scrubbed by churning waves and sand. When they ultimately land on the beach, they are literally works of art unto themselves …
These jewelry pieces are hand crafted one at a time and sold in very limited quantities … a wonderful gift from The Empire State!
Many More New York Made Products To Come … Do You Have A Favorite Product That Is New York Made? Tell Us About It by visiting "Advertise with us" page.