Made In Colorado Quick Facts
See Our "Visiting Denver" Travelogue … Scroll Down
This Post is about Made in Colorado Gifts and Specialty Colorado Products
Want To See Your Business / Products On Our Made In Colorado Page?
Visit "Advertise With Us"!
FEATURED MADE IN

COLORADO

BUSINESS

ES
High Country Candles: Here at State Gifts USA, we love spotlighting small businesses whose products capture the essence of their home state. That's why we're so pleased to introduce you to an Eagle, CO candle company that's rapidly gaining local and national attention …
High Country Candles is owned and operated by Eagle native Debby Beard, who has made candles for family and friends for years. Drawing her inspiration from spectacular Centennial State surroundings, Debby has introduced a product line which encompasses the true spirit of Colorado …
Debby has long been inspired by her locale. The town of Eagle is tucked just south of Interstate 70, west of Vail and at the edge of the White River National Forest. It's also a short drive from the spectacular Rocky Mountain National Park. The combination of lush forests and majestic mountains manifests itself in each of Debby's candle creations …
High Country Candles offers a unique array of sensory pleasing collections that make perfect gifts for anyone who loves Colorado. One unique feature is the proprietary wax blend of 90% coconut and 10% soy wax, which burns longer and extends the candle's scent. These scents are spotlighted in each High Country Candle collection, which include Colorado Mountain Towns, Valley Towns, and the Colorado Sports Fan Collection …
The Mountain Town Collection (pictured above) captures the familiar scents of each location. The Breckenridge candle, for example, offers the scent of a vibrant ski lodge fireplace, while the Telluride candle has the aroma of eucalyptus and spearmint …
If a Colorado sports fan is on your list, check out High Country Candle's Sports Fan Collection. This set features candles designed to capture the feel of attending a game in person, like the Colorado Rockies candle which offers a freshly cut grass aroma – creative and fun!
Any of the High Country Candles are available in two sizes, two ounce or eight ounce. The two ounce tins are sold in the four scent collections and both sizes are available directly online at the High Country Candles website. If you live locally, you'll also find them showcased at the Eagle Welcome Center …
Candles offer the perfect personal touch for any occasion and are ideal for individual or corporate giving. Anyone who loves The Centennial State will love to receive one (or more) as the ideal Made in Colorado gift! Click through to the High Country Candles website, linked above, to learn more …
MADE IN COLORADO HOT SAUCE, SPICES, & CONDIMENTS

Danny Cash Hot Sauce: This multi talented Denver company is a manufacturer of premium hot sauces, mixers, condiments, and more. A friend of ours brought us back a bottle of their fantastic Bottled Up Anger Hot Sauce (pictured), which combines the very underrated Serrano pepper with lime, garlic, and an habanero pepper finish …
Bottled Up Anger is one of over a dozen hot sauces produced by the company, who also private label for other hot sauce companies. They have a retail store in Denver, so stop in if you live locally. Otherwise, check out their website at DannyCash.com where you can order for delivery to your doorstep …
In addition to their line of hot sauces, this Colorado business makes salad dressings, barbecue sauces, and an enticing garlic habanero mustard. We're especially intrigued by their line of Bloody Mary mixes too!
Visit them online to discover the full line of products and to place your order …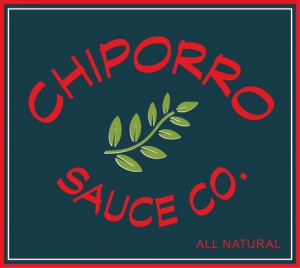 Chiporro Sauce Company: If you're hot sauce aficionados like we are, you've got to try the lineup from this Centennial State business …
They're the Chiporro Sauce Company and they've been getting noticed in Colorado and beyond for their line of cooking sauces made in small batches from all natural ingredients. We had the opportunity to try their Hawaiian BBQ Sauce, which is as much hot sauce as it is a basting and dipping sauce. Perfectly balanced and bursting with fresh fruit, this sauce works wonderfully well in a stir fry dish, pork, or grilled fish …
The company makes five different sauces (for now), including one called Wicked Hot for all you folks who like to sweat a little bit when you eat. It's got a healthy dose of fresh habaneros that pack a wallop!
Click through to their website to learn all about them – you can order there as well as discover where you can buy their sauces in Colorado …
Dram Apothecary: This interesting small company is located in the former silver mining town of Silver Plume, a ghost town whose heyday was many decades ago. Housed in a former bakery which was once a mining supply shop, Dram Apothecary combines the cocktail and herbal plant cultures to create a line of bitters, teas, and artisan mixers …
Dram uses organic and wild Colorado herbs which are self foraged to develop their bitters and syrups. No synthetic or artificial ingredients are used and if you've got someone on your list who enjoys creating cocktails, these are the perfect gifts! In addition to drinks, you can add bitters to baked goods, juice, tea, or sparkling water for a unique and special taste sensation. A handsome bitters gift set containing all five of their flavors is available via the "Shop" page at their website.
While you're there, check out the limited quantities of Pine syrup and Juniper Rose Syrup – the pine syrup is literally akin to having the Rocky Mountains in a bottle and can be used in any number of recipes. It's outstanding on fresh baked muffins!
Click through to the Dram Apothecary site and take a look at all their products – big time creativity from a thriving Colorado small business!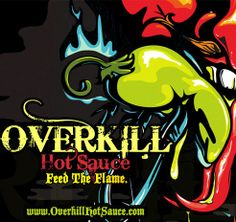 Overkill Hot Sauces: If you enjoy small batch hot sauces made with fresh, natural ingredients, you'll be pleased to know about this Colorado company. They make six different hot sauces created with a mix of flavors and ingredients that'll perk up your tongue and taste buds …
Caribbean Lime, Chipotle, Garlic Serrano, Red Habanero, Mango Pineapple, and Multiple Personalities Hot Sauce make up the hot sauce product line. Multiple Personalities offers toasted coconut, smoked paprika, honey, onion and garlic along with habanero and ghost peppers for heat. If you like things hot, try this one!
If you're a fan of sweet and hot like us, try the Mango Pineapple. Habanero peppers are added to a mango pineapple mash to create this sauce – use it on stir fry dishes! For fish and chicken entrees, add a bit of Overkill Hot Sauce Caribbean Lime. The blend of fresh lime, cane sugar, and serrano peppers will complement any grilled dish …
Order any or all of the Overkill line directly from their website – they'll ship right to your door. Feed The Flame!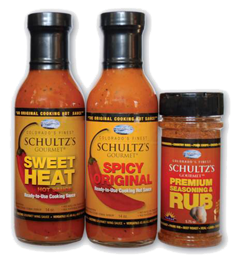 Schultz's Gourmet: This Boulder, CO based company creates a line of cooking and hot sauces, seasonings, and snacks made with fresh Colorado ingredients. They've been named one of the Top 250 Manufacturers in Colorado by Colorado Business Magazine and were recently named a Colorado Company To Watch …
They're best known for their Spicy Original Cooking Hot Sauce, which is made with a blend of fresh peppers, fresh garlic, vinegar, and olive oil. It offers a nice bite of heat but doesn't overwhelm the flavor of your food … try it on stir fry dishes or atop fish and chicken.
Schultz's Gourmet also makes a sweet-hot sauce, appropriately enough called Sweet Heat Cooking Hot Sauce. This sauce combines the ingredients listed above with high altitude Colorado honey and pure cane brown sugar. If you like a little sweet with your heat, this one is for you! The company creates a Premium Seasoning & Rub as well as Gourmet Spicy Almonds and Sweet Heat Cashews …
Check out their story at the Schultz's Gourmet website where you can order any of their products to be shipped directly to your door …

High Altitude Gourmet: Based in Denver, High Altitude Gourmet creates an enticing line of hot sauces, salsa, condiments, and mixers in a wide variety of flavors and styles. We had a friend send us a few of their products as a thank you gift and we need to do her more favors, these products are really good!
We're big fans of specialty mustard, so we were delighted when we got to experience High Altitude Gourmet's Habanero Garlic Mustard. In addition to the garlic and habanero, this mustard is made with serrano peppers and lime. Unique and tasty, it pairs really well with grilled pork tenderloin!
We also throughly enjoyed two of their hot sauces – Habanero Chipotle and Garlic Serrano. The first has a bit of lime added to balance out the heat (great on tacos) and the second also featured lime and a blast of fresh garlic and peppers. These and all their other products are available directly at their website in single bottles or multi packs …
Liven up your meals with High Altitude Gourmet products direct from The Centennial State!
Horsetooth Hot Sauce: This family owned Fort Collins company has been making an array of hot sauces, barbecue sauces, and Bloody Mary mixes since 2008. Available in stores in Colorado and several surrounding states, they're best known for their spicy and full flavored line of hot pepper sauces …
Horsetooth's hot sauce offer a unique flavor profile with some ingredients you won't normally find in hot pepper sauces. Witness their "The O Face" sauce, made with habanero peppers and tamed with the addition of sweet carrots and cantaloupe. An ideal combination of hot and sweet!
Just as intruiging is one of Horsetooth Hot Sauce's barbecue sauces named "Aloha Mr. Hand", a veritable party of habaneros and pineapple blended together to sauce up your next feast. The company also makes two Bloody Mary mixes that'll come alive with a few drops of any of their hot sauces!
Visit the Horsetooth Hot Sauce site to see all the products – they offer a handy hot sauce combination gift box (shown) for those seeking a Made in Colorado gift …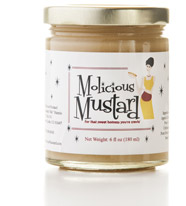 Molicious Mustard: Recently, a friend traveling in Colorado brought me back a jar of Molicious Mustard and said "You should add this to your Colorado page …". Well, we taste tested the mustard and couldn't add it here fast enough!
Molicious Mustard is a sweet and tangy blend that's great on sandwiches and hot dogs (and many other types of food Id imagine!). It really has a unique taste … kind of eye opening but not overwhelming … just a really, really good mustard that's ideal for you or as a gift!
The company is based in New Castle, Colorado and you can order from their site …
Aspen Cornucopia Basil Vinaigrette: Based in New Castle CO, this small company bottles a salad dressing / marinade that some people have said is so good "I can drink it with a straw!" …
That's high praise, and although we probably wouldn't drink it, the freshness bursts from the bottle. The basil vinaigrette is bottled within two days of picking the ingredients, and it makes a fantastic marinade for pork, fish, or chicken. And, of course, it's excellent as a salad dressing …
You can buy Aspen Cornucopia Basil Vinaigrette here …
MADE IN COLORADO LOCAL ART
Cullum's Wildlife Art: One of the best gifts to yourself or your family is local artwork. Art captures the essence of time and place, retaining and bringing back the memories of special vacations, visits, or time spent.
We like to publicize local artists here at State Gifts USA, particularly those whose subject matter is the wildlife or vistas of their home state. That's why we're pleased to introduce you to Cullum's Wildlife Art, showcasing the works of Colorado artist Bill Cullum. Bill specializes in Colorado's wildlife, like the print shown of a majestic elk crossing the Colorado River.
At his website, you can browse through the many original works or limited edition prints that highlight Bill's talents. Also available are works of sculpture, cards, mugs, and more …
You can order directly online and your purchase will be delivered right to your door, or that of your gift recipient. Click through to the site linked above to see all your options …
MADE IN COLORADO HONEY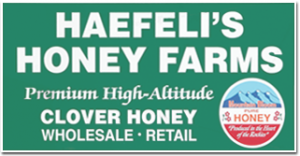 Haefeli Honey: Located in the southwestern part of the state, the small community of Del Norte lies adjacent to the Rio Grande National Forest. It's in this high plains environment where bees pollinate the abundant wildflowers to create delectable honey for the past 100+ years …
You may know that not all honey is the same – the flavor and even color and consistency differ depending on where it is sourced. A true local product, honey is like wine in a way … the complexities are almost entirely based upon the surroundings and the environment. We have long enjoyed tasting honey in different locales during our travels and are continually amazed at the subtle differences …
At their retail shop just off Route 160 in Del Norte and from their online store, Haefeli Honey offers you the fruits of their labor. Raw, unrefined honey, candles, beeswax, and gift boxes are just some of the products you'll find.
Visit their website and get yourself an edible treasure from The Centennial State!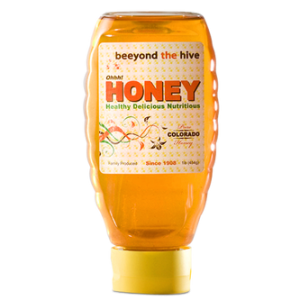 Beeyond The Hive: It stands to reason The Centennial State is a prolific honey producing state. Everywhere you travel within Colorado, you'll see wide tracts of land blooming with wildflowers. They grow in abundance here, along with bountiful fruit orchards which thrive in the warm days and cool nights …
One Colorado company called Beeyond The Hive has a family history of honey production dating back to 1906. It's owned by the Johnston family, who also own two related companies, The Colorado Honey Company and Johnston Honey Farms. They're the documented oldest honey producing enterprise in the state and offer all sorts of honey and honey based products …
At their online store, you'll find Raw Wildflower Honey, Orange Blossom Honey, Creamed Honey, Gift Packages, and much more. There's a lso a wide selection of beauty products like beeswax lotions, candles, and soap.
Honey, as you may know, is extremely good for you – it's a natural source of energy and helps ward off common maladies. If you live locally in Colorado, it's also an excellent natural way to mitigate the effects of seasonal allergies.
Click through to their website's store to order!
Frangiosa Farm Honey: Did you know that just like wineries, honey producers are located in every state? And similar to wine, honey offers a different flavor profile according to the terroir of origin. More simply put, a honey produced in Colorado, for example, will have a different taste than a honey produced in Georgia …
Now, we're not saying one is better than the other, and to draw again from the wine analogy, the best wine for you is the one you like best! The same is true with honey. We enjoy tasting local honey from different states across America and sharing information about local producers here at State Gifts USA …
In Colorado, a great place to order local honey online is from the good folks at Frangiosa Farm Honey near Parker. Beekeeper Nick French offers his pure, raw Colorado honey in pint and quart jars at his online store, along with a special Adopt A Beehive program. This program helps establish new bee colonies which are vital to our ecology. A wonderful gift for the eco conscious person on your list, the recipient receives an ownership certificate, updates on the bee colony, and a jar of honey …
You can purchase Colorado raw honey and read more about the adoption program at their website …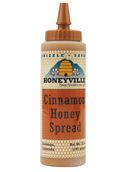 Honeyville Colorado: Located in beautiful and historic Durango in the far southwestern section of Colorado, this company has been in the honey business since 1918.
They make a full range of honey products (and more) including table honey, whipped honey, jams, sauces, and toppings …
All their products are available to you at the Honeyville Colorado site, and be sure to visit the Bee Store for all kinds of honey related products …
MADE IN COLORADO GIFTS
Colorado Crafted: One of the most frequent inquiries we receive here at State Gifts USA is "Where can I order a gift box with all of "x" state's products??" And we love having an answer if the state in question is Colorado … introducing Colorado Crafted, based in Longmont and the best source we know for Centennial State themed gift packages …
Colorado Crafted creates beautifully packaged gift boxes brimming with the finest Colorado artisan goods. The contents aren't something you'll typically find in grocery stores … think more farm stands, specialty markets, and small independent producers …
If you enjoy sampling exceptional small batch edibles, take a look at the Colorado Crafted website, linked above. You'll find gifts targeted for your office, for him, for her, and themed gifts like chocolate and bath & body. You can also conveniently shop by price and right now there's free shipping across the U.S.!
If you live locally, you can also arrange for on site pickup in downtown Longmont – visit the website's "About" tab and see the drop down "Local Pickup" for details …
Colorado Crafted is shopping for local artisan goods made easy – we're proud to showcase them on our Made in Colorado page!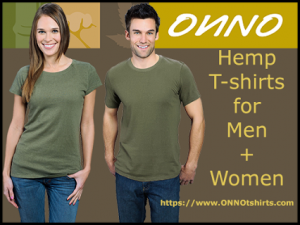 Onno T-Shirts: From Boulder, CO comes this innovative t-shirt company creating earth friendly t-shirts and more for men and women. We call them innovative because instead of using traditional materials, they're using bamboo, hemp, and organic cotton …
Bamboo and hemp are two of the fastest growing and most plentiful plants on the planet. Bamboo is a type of grass that grows rapidly in ponds, lakes, and streams … often up to a foot a day. Hemp is a natural plant (a weed actually) that is very hardy and thrives without the use of pesticides or other chemicals. These sustainable shirts are durable, rugged, wash well, and look great …
Check out the Onno T-Shirts website to see all the different varieties available – you can shop right there at their online store. Cool tote bags are waiting for you as well! A creative gift idea and made in Colorado!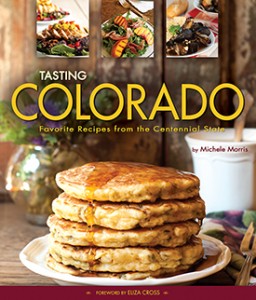 Tasting Colorado: Here's a nice all purpose gift idea that anyone with a connection to Colorado will appreciate … it's a cookbook titled "Tasting Colorado: Favorite Recipes From The Centennial State".
This cookbook was put together by Michele Morris, a Denver based sommelier who offers private cooking lessons. It's a collection of treasured recipes from some of the state's most beloved restaurants, guest ranches, and lodges. Accented with beautiful pictures, the book contains recipes ranging from Colorado Classics to exquisite Western fare …
You can learn more about Tasting Colorado here at the FarCountry Press website. While you're there, check out their many other Centennial State related titles too!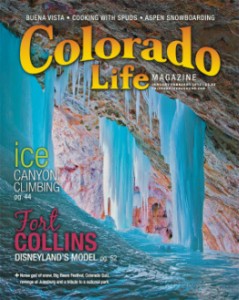 Colorado Life Magazine: One of our go to gifts for a newly relocated friend or relative is the magazine spotlighting their state. In Colorado, it's definitely Colorado Life Magazine, The Centennial State's premier lifestyle publication …
Published six times a year, each issue contains stunning photography, stories about Colorado's most interesting people and places, and so much more. You'll get an insight into what makes the state great along with tips on travel destinations, dining, current events, and leisure activities.
You can order subscriptions for yourself or as a gift directly at their website. It's just about the most economical and sure to be appreciated gift that says "Welcome to Colorado!"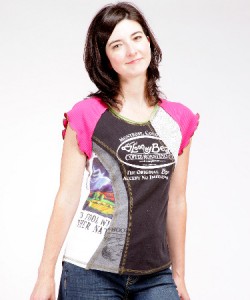 Elisabethan Eco Fashion: Based in western Colorado, Elisabethan is an eco friendly women's fashion manufacturer led by owner and designer Elisabeth Delehaunty. Elisabeth and her team sort through mounds of second hand textiles, t-shirts, sweaters, and other garments to determine what is still usable …
The chosen garments are gently laundered and hand cut from Elisabeth's many designs. They're then stitched, sewn, and finished into fun and colorful eco friendly fashionable garments, like the blouse shown …
Whatever isn't used is donated to local thrift stores, in keeping with the company's motto of "new, not more". Elisabethan creates tops, skirts, and fashion accessories in an ever changing selection. No two items are the same, and you'll feel great buying and wearing these garments knowing they were created from cast off clothing that would otherwise be thrown away or wasted … a terrific gift for the eco conscious gal on your list!
Check out everything Elisabethan is creating at their website, linked above …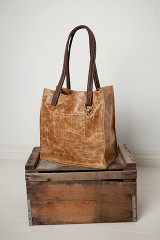 Cibado Handcrafted Leather Bags and Goods: Cibado is a small one woman operation specializing in unique handcrafted leather handbags and purses. They're based in Glenwood Springs and all the work is done in a small studio where one of a kind bags are created from buffalo leather …
The bags are modern in convenience yet have an Old West feel … locally sourced antique horse tack and hardware are incorporated into each design and meticulously attached.
Most of the work is done by hand with great attention to detail … check out the gallery on the Cibado site to see the process and the end products.
You can shop online and own one of these beautiful, sturdy, functional bags. What a great gift from Colorado as well!
The Re-Giftables: Elyse Hutchinson of New Castle, CO is a talented individual who creates functional fashion accessories from upcycled gift cards …
Browse the Re-Giftables Etsy Shop to see many of her unique designs, including necklaces and money clips … all one of a kind items!

Sally Melia Upcycled Bags: Sally Melia is a design artist from Glenwood Springs who creates shopping bags and small purses from materials that would otherwise end up in the trash. Bravo! These upcycled bags are hand sewn and can be used as functional carrying bags or as a colorful fashion accessory …
See all of Sally's creations online here at Completely Colorado ….
Paws Barkery: Paws Barkery from Evergreen CO produces a line of hand made all natural dog treats in three flavors dogs love … carob, peanut butter, and Snickerdoodle. The Snickerdoodle has real cinnamon and vanilla in the recipe, and carob is a safe chocolate substitute (chocolate is toxic for dogs!) but tastes just like the real thing.
All the ingredients in Paws Barkery dog treats are completely natural and allergen free. All the treats are medium sized, so they're perfect for the small, medium, and big dogs in your life …
And did you know peanut butter is helpful for itchy dog skin? You can order Paws Barkery treats online here …
Smart Wool: Smart Wool of Steamboat Springs produces wool garments like hats, gloves, socks, and outerwear. While that in and of itself isn't unusual, the type of wool used to produce these garments is quite different than most …
Smart Wool uses Merino wool. Merino sheep are native to the southern hemisphere, where they are subjected to some of the most extreme climate conditions on earth. It's extremely hot in the summer and extremely cold in the winter, so the sheep have adapted by growing wool that keeps them warm in winter and cool in summer …
Further, woolen garments from Smart Wool are very soft to the touch (and to your skin). If you've shied away from wool garments because they tend to be scratchy, try Smart Wool and see how comfortable premium wool can be!
ItzaDog Recycled Dog Collars and Leashes: We're big on fashion accessories made from recycled and upcycled materials, and here are a few for your four legged friends!
ItzaDog, of Denver makes dog collars and leashes from recycled advertising billboards. No two are alike, and the collars and leashes are very durable … comparable to denim. Over time they take on a classic vintage look, just like a pair of faded jeans …
They also make a unique product called the pet silencer, which attaches to your dog's ID tags to prevent them from clanging around and making all sorts of nuisance noises. Clever!
MADE IN COLORADO DESSERTS & SWEETS
Victory Love and Cookies: If you ever get the chance to visit Denver (see our travelogue below), stop by the West Highlands neighborhood. It's a part of the city where independent businesses thrive and you'll find all kinds of creative artisans creating specialty products with pride, passion, and purpose …
One of these creative people is Kristy Greenwood, who runs her small company called Victory Love and Cookies at The Denver Bread Company on 32nd Avenue. Simply put, as Kristy states on her website, she bakes "amazing cookies for amazing people". Rapidly gaining a national following, the cookies are all natural and contain no artificial ingredients, no preservatives, and nothing you can't pronounce …
More importantly, the flavors and tastes are nothing short of spectacular. Consider Diablo, a sinful mixture of chocolate, cayenne pepper, and cinnamon, or Lemon Lucy, a delectable chewy lemony treat. Kristy's Strawberry Margarita variety was just featured by The Food Network as one of the best cookies from coast to coast …
You don't need to visit The Mile High City to experience the great tastes of Victory Love and Cookies. Click through to their website and visit the "Shop" tab and you can get them delivered anywhere in the country, either for yourself or as an impressive Made in Denver gift. Enjoy!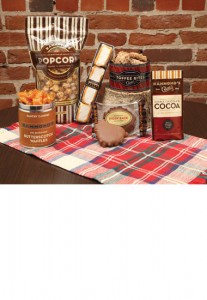 Hammond's Candies: Usually we're right on top and well aware of historic home town businesses, but even with a recent visit to Denver we were unaware of the city's most legendary candy company. Thankfully, Hammond's Candies was pointed out to us by a friend who's from Denver, so better late than never, we're proud to introduce you to them!
Since 1920, Hammond's has been creating sweet confections for the good folks of The Mile High City, including chocolates, taffy, caramel corn, peanut brittle, and much more. One of their most recent creations is a chocolate bar called Pigs N' Taters which takes the combination of sweet & salty to a new level. As the name implies, it's a milk chocolate bar mixed with bits of bacon and potato chips. Another of their creations is their PB & J Sandwich, a chocolate bar mixed with bits of peanut butter and jelly!
Hammond's offers all sorts of unique treats, gift packages, and tins for the ideal Colorado themed gift. They also stock many varieties of nostalgic candy! Check out their site to see all their selections and to order …
Decadence Gourmet Cheesecakes: Home of the Original Cheesecakes In A Jar, this inspiring small company is making quite a name for themselves with their innovate concept. Founder and owner Lee Mathis grew up on the Jersey Shore with a passion for cooking. Life eventually led Lee out west and ultimately to Colorado, where his fortunes changed and a company began …
Lee enrolled in a local college culinary course and earned an instructor's praise for his cheesecake recipe. Encouraged, Lee began baking in earnest, using a business incubator commercial kitchen. He took samples of his cheesecakes around to various local Grand Junction area restaurants, and finding initial success, formed his own company, Decadence Gourmet Cheesecakes. Then the story took another turn …
In late 2005, Lee ran into an administrator from the culinary school who suggested he bake his cheesecakes in single serving jars. After several attempts, Lee perfected the process and introduced his line of Original Cheesecakes in a Jar in 2006.
Now, over 20 different flavors of Cheesecakes in a Jar are available, including dessert flavors, seasonal cheesecakes, and savory appetizer varieties. They're available from the Decadence Gourmet Cheesecake website (linked above) in 6-Pack Gift Boxes and cases of 24 – an ideal corporate gift or for anyone who appreciates a really good cheesecake (and isn't that just about everyone?!?) …
Learn more about Lee and his innovative cheesecakes by clicking through to his website …
Helliemae's Salt Caramels: Owner Ellen Daehnik of Denver has produced rich, complex caramels for a growing market since late 2010. Salt caramels are a unique type of caramel … dark with a deep taste and coated with flaky sea salt.
They're made in a variety of interesting flavors (spices), including chile, cardamom, coffee, and more. There's even a specialty caramel of the month club with a different taste sensation arriving at your door every four weeks …
You can check out the selection of caramel flavors at SaltCaramels.com …
Andrews Candy Company: Andrews Candy Company has been around since 1955. They're now located just west of Colorado Springs after many years in Arkansas …
Best known for their brittle, the company makes several flavors like peanut, cashew, pecan, and even sunflower brittle!
You can order Andrews Candy Company brittle online, along with the rest of their specialty candies …
MADE IN COLORADO SPECIALTY FOODS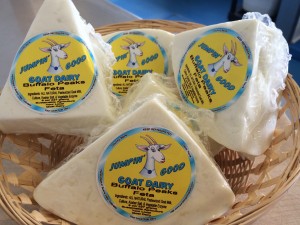 Jumpin' Good Goat Dairy: Located in Buena Vista at the foot of the Collegiate Peaks, this sustainable dairy farm has produced award winning goat cheese since their founding in 1997 …
A family owned operation, the farm has been featured on The Cooking Channel, PBS, Good Housekeeping and more for their highly acclaimed cheese varieties like cheddar and chevre. If you've never tried cheddar goat cheese, put it on your to do list! The goats here graze peacefully on 40+ acres and produce a rich milk which is processed and cave aged into some of the finest goat cheese in the west …
At their online store, you'll see all of the cheese available for sale – you can have them shipped anywhere in the U.S.! Local honey, goat milk soap, and special gift baskets are available as well. Click through and check out the wide variety of cheese made by the highest elevation goat dairy in the country!
A wonderful gift idea from The Centennial State …
M.M. Local Foods: This innovative company is at the forefront of bringing the best products of local Colorado farmers to the rest of the United States – they partner with farmers to package the best pickled, fermented, and preserved produce at the peak of freshness so everyone can enjoy the farm to table experience.
They're M.M. Local Foods and at their site you'll find some otherwise unavailable specialties from Colorado. A perfect example is The Foodie Six Pack shown which contains a wonderful variety of pickled products from The Centennial State's farms. Included are pears, peaches, ripe tomatoes with basil, pickled pearl onions, pickled beets, and medium chile peppers …
If there's a foodie on your gift list who appreciates the importance of supporting local farmers, this is the perfect Colorado gift! Check out the MM Local Foods selection directly at their website and be sure to visit their sister site covering the Pacific Northwest …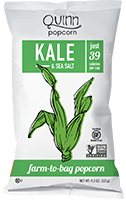 Quinn Popcorn: We're pleased to introduce you to Quinn Popcorn, a Centennial State company that makes our all time favorite snack, popcorn!
The company produces microwaveable and already popped varieties in some really interesting flavors. How about Cheddar & Chipotle, Popcorn with Organic Coconut Oil, Kale 7 Sea Salt, and Hickory Smoked Cheddar just for starters. Only real ingredients are used and their microwave bags are made from compostable paper with no chemical coatings. Quinn Popcorn has a really neat feature on their website where you can look up each ingredient in your popcorn bag to see where it comes from (hint: it's all from the USA).
More importantly, this stuff is delicious. We spotted a display at one of the stores in our area, bought two bags, and loved it! And isn't sharing the love what popcorn is all about??
You'll find a store locater on their website and you can buy it online there too, of course. If you know someone who appreciates really good popcorn, buy them some from Quinn Popcorn – they'll love you even more!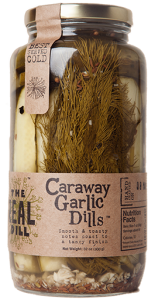 The Real Dill: We've always been big fans of pickles. The elevation of the humble pickle to one might say artisan status has been a delight to us as we highlight small businesses here on State Gifts USA. And judging by your feedback, our readers and visitors like pickles too! Hardly a week goes by when we're not tipped off to a local pickling company, almost always accompanied by the phrase, "You've just got to try these!" …
And so it was with The Real Dill, a Denver based small business founded in 2012. Two friends, Justin Park and Tyler DuBois, formed the company after receiving overwhelmingly high praise for a batch of pickles they provided as wedding favors when Justin got married. Since then, they've enthusiastically created a variety of styles, using a hand made approach and using natural ingredients and their own recipes and pickling techniques …
Available at specialty stores and local restaurants in The Centennial State, distribution of their product is expanding to other states as well. They're beautifully packaged and with varieties like Jalapeno Honey Dills and Caraway Garlic Dills (pictured), the company is becoming a pickle force to be reckoned with!
There's a list of stores carrying The Real Dill pickles on their website, along with a link where you can purchase them online to be shipped to your door or as a unique Colorado made gift. At present, there are seven varieties in all – and don't forget to try their new Bloody Mary Mix …
Enjoy the fresh artisan flavor of Colorado with The Real Dill!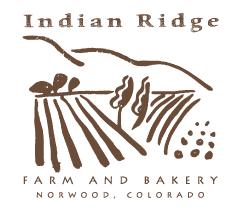 Indian Ridge Farm & Bakery: Known for their signature product called Addictive Granola, Indian Ridge Farm & Bakery is located in Norwood, CO and also has an operation in Boulder. If you've ever turned your nose up at granola thinking it's lacking in flavor, we encourage you to try this product because it will change your mind!
On our most recent trip through The Centennial State, we picked up a bag of Addictive Granola as a car snack. The bag we bought was their flagship product called Original Honey Almond. Intrigued by the ingredient list showing local Colorado honey, we gave it a try and it is just what the name says – addicting! We don't eat a whole lot of granola but this is far and away the best we've ever had.
Original Honey Almond contains a blend of organic oats, crunchy sunflower seeds, almonds, honey, and pure vanilla. The perfect combination of crunchy and sweet! The company makes gluten free versions as well as a Chia Cherry variety, made with chia seeds and local tart cherries.
A great healthy Colorado gift for yourself or anyone who likes to eat healthy! You can buy any of the Indian Ridge Farm & Bakery granola products by the pound or in convenient 12 ounce pouches. Check their website to see where you can buy locally in Colorado or order directly online!
Pappardelle's: This Denver based company is known as one of the premier fresh pasta companies in the Rocky Mountain states and has earned their motto "The Fine Art of Pasta". Since 1984, Papardelle's has been known by pasta lovers and the celebrity set as creating some of the finest fresh pasta anywhere …
We've enjoyed some of Pappardelle's Pasta over the years on trips to Denver … their Artichoke & Lemon Ravioli is other-worldly … but we're here to brag on their pesto sauces. We were never that big on pesto sauces until one of our Naperville buddies here introduced us to his freshly made pesto (which we're still trying to get him to market!), and that led us to actively seek out locally made pesto. We've not enjoyed better than what's made at Pappardelle's! Our favorite is the Traditional Basil Pesto but we also absolutely love their Cilantro & Roasted Poblano Chile Pesto – it has the earthy, smoky flavor of both the cilantro and poblano peppers along with the traditional pesto spike of garlic. They've got great pesto recipes on the Pappardelle's site too!
Of course, the company is best known for their fresh pasta. They also make a variety of other sauces, like their Portabella & Roasted Garlic Sauce, a great match with any of their signature products.
A gift of Pappardelle's is ideal for any budding chef or your favorite loved one who enjoys puttering around the kitchen. Direct from The Mile High City!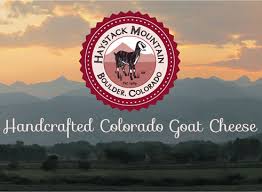 Haystack Mountain Goat Cheese: We've featured a number of goat cheese producers from all over America here at State Gifts USA. One of our readers, who prefers cow's milk cheese, wondered why while simultaneously downplaying the taste and character of goat cheese …
First, we love almost every kind of cheese, and with that said, let's talk about why we're so passionate in seeking out high quality American made goat cheese.
One selfish personal reason is goat cheese is naturally lower in fat than other cheese. Yet like its counterpart, it's very high in calcium, protein, and scores of helpful nutrients.
Next, if a goat cheese is well made, the flavor will be very clean and fresh, without any aromas which may have you thinking it smells like a goat! Lastly, and we did not know this, but if you're unfortunate enough to be lactose intolerant, goat cheese is a good option for you as it is more easily digestible …
Now, let's introduce you to Haystack Mountain Goat Cheese. They are an award winning nationally recognized goat dairy based in Boulder County turning out some pretty exceptional products.
The company has been around for over 25 years and their goat cheese can be found in some of the nation's most prominent cheese caves and stores. If you're looking for a true Made in Colorado gift, you'll find it here! We'd like to call your attention to a gift package available at their site called The Foothills Collection. It consists of five of their goat cheeses, local honey, and artisan crackers – ideal for a Colorado tasting party!
Various flavors and other gift packages are available at their online store. Click through to learn more and to bring the taste of The Centennial State into your home!
Davis Family Farms: The town of Palisade on the western slope of the Rocky Mountains is an exceptional place to grow peaches. Located in a valley, the area offers warm days and cool nights which are ideal conditions to grow several varieties of peaches …
Davis Family Farms, which does business as Nana's Fruit and Jam Shack, features a ten acre orchard with 2,000 peach trees. The peaches are sold fresh at their markets in Palisade and Steamboat Springs, as well as turned into some wonderful peach based products like jams, jellies, syrup, and salsa …
A dozen varieties of jam are available, all made from local fresh fruit. Their peach syrup brings a new taste dimension to waffles and pancakes and the peach salsa is absolutely the freshest you'll find!
Click through to the Davis Family Farms website to learn more about their fresh Colorado peach products!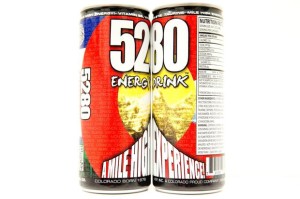 5280 Energy Drink: 5280 Energy Drink is a clean, refreshing energy drink without the cloying aftertaste so often found with big brand name energy drinks. 5280 can be enjoyed as a traditional pick me up but also as a mixer in your favorite cocktails …
If you live in Colorado, you can find 5280 Energy Drink in retail outlets across the state. If you don't live close, you can order 5280 by the case and they'll have it shipped to your door …
The company partners with a very worthwhile organization called Colorado Supporting Our Troops and have arranged shipments of 5280 to service men and women across the globe. You can donate a case for our troops too … details are available at their website.
Enjoy an energetic Mile High Experience with 5280 Energy Drink!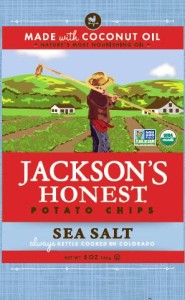 Jackson's Honest Potato Chips: In our never ending quest to learn about all the small potato chip manufacturers in the U.S. we found this Colorado company focused on creating a healthier chip (and we're all for that!) …
The company is Jackson's Honest Chips and they differ from any other potato chip producers because they fry in coconut oil. Coconut oil is known to be a much healthier cooking oil than traditional vegetable oils, so you end up with a much healthier snack! Potatoes are sourced from organic family farms and the tag line on their bags reads "From the field, the farmer, and the fryer … to you."
The chips are available in several varieties, including Sea Salt, Salt and Vinegar, and Sweet Potato Chips. You can order online at their website … the chips are sold in different quantities and sizes depending on your needs.
Try these healthy, natural chips from The Centennial State!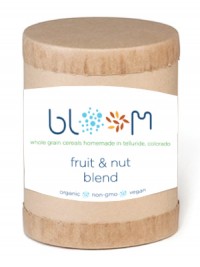 Bloom Telluride: Bloom Telluride is a breakfast cereal company, and what makes them unique is their cereals made from grains, seeds, legumes, nuts, and fruit. The cereals are all natural, preservative free, and made with nutrition and great taste in mind …
We love companies like this … those that do things a little differently. While there are many breakfast cereal companies, there are none we know of who make cereals like their Power Bloom Blend. It's made with volcano and wild rice, lentils, almonds, ground cinnamon, quinoa, chia seeds, and more healthy ingredients. The end result is a satisfying, filling breakfast that's much much better for you than traditional cereals.
Bloom Telluride creates three other flavors. Their flagship product is Pure Bloom, and there's also Fruit and Nut Bloom and Butcher and Baker Bloom.
The company was founded by Tiffany Lyga, who was determined to create a different and more healthy style of breakfast cereal for her family. The company has grown by word of mouth and now you can buy their cereals directly from the Bloom Telluride website … enjoy!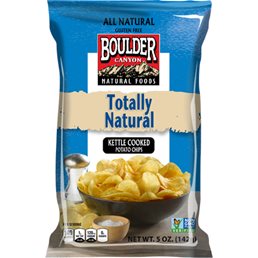 Boulder Canyon Foods: In our ongoing quest to taste potato chips from across the U.S. we came across Boulder Canyon Foods out of the Centennial State. Since 1994, they've made kettle cooked potato chips using sunflower or safflower oil …
These chips are thick cut so they're nice and sturdy. Boulder Canyon offers a distinctive line of flavors, nineteen in fact, and the chips have zero trans fat and cholesterol …
Some of the flavors stand on their own so well you won't even need to augment the flavor with a dip … cheddar and jalapeno, Hickory BBQ, Malt Vinegar Sea Salt, and Spinach Artichoke are just a few Boulder Canyon Chips that'll tempt your taste buds …
You can buy Boulder Canyon Chips online right here and have them shipped your way …
Colorado History
Colorado Trivia and Fun Facts

1). In terms of land area, Colorado is the 8th largest state in America …

2). Colorado became a state in 1876, which is why the state's nickname is The Centennial State …

3). The federal government is the largest land owner in Colorado. The government owns about 1/3 of the state's acreage …

4). Denver is known as the Mile High City. The 13th step of the state capitol building is exactly one mile above sea level – 5,280 feet.

5). Colorado is a great beer drinking state! There are more microbreweries per capita here than any other state …

6). The Royal Gorge Bridge is the highest suspension bridge in the world. It spans 1,053 feet over the Arkansas River near Canon City …

7). Known for being home to many high altitude vistas, The Centennial State has 54 mountain peaks over 14,000 feet in height …

8). The longest continuous street in the United States is Colfax Avenue in Denver …
Ela Family Farms: This family owned organic fruit farm is located on the western slope of the Rocky Mountains just outside of Hotchkiss … they specialize in cherries, pears, apples, and peaches. Most folks don't think of Colorado as a fruit growing state, but the western slope provides bright sunny days and cool nights, absolutely ideal conditions for fruit to grow and ripen to its absolute peak …
The farm ships fruit gift packages all across the country and creates many related products exclusively using their own fruit. The Ela Family Farms online store carries a wide variety of "Fresh From Colorado" items that make great gifts, including jams, fruit butters, dried fruit, and their wonderful fresh applesauce called Apples Aplenty …
Be sure to look at their combo gift packs, which contain a mixture of applesauce, peach jam, applesauce, and dried fruit. Experience the fresh taste of the Centennial State!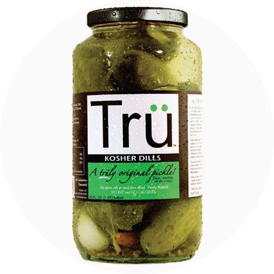 Tru Pickles: Littleton based Tru Pickles jars a variety of interesting pickle oriented products, all based on decades old family recipes.
In addition to standard and very tasty dill pickles, you'll also find bread and butter slices, smoked black pepper pickles, hot dills, and an eye opening bloody mary mix called Smokin' Mary …
You can buy any of these products online for yourself or as a gift at the Tru Pickles website, where you'll also find a number of great recipes like pickle wraps, grilled cheese, and pickle spread … everything tastes better with pickles!
MouCo Cheese: Based in Fort Collins, this Colorado cheese maker is turning out a very interesting range of cheese, like Camembert, a creamy Truffello, and several other sweet and spicy varieties. These aren't your standard flavors, and that's what makes Mouco's cheese so interesting!
Visit them online and buy their cheese direct from the source at MouCo.com …

True Toniqs: This Boulder based outfit offers a twist on health drinks, creating what they call functional tonics that actually work. Their two main products are Brain Toniq, a caffeine free drink infused with helpful plants and compounds which improve mental focus and clarity. The other product, also caffeine free, is called Trim Toniq, a drink designed to curb appetite and hunger pangs …
Interesting stuff! Order either product online at BrainToniq.com …
Justin's Nut Butter: If you like chocolate and almonds, you'll love Justin's Almond Nut Butter. As the name implies, it's like a peanut butter but its two main ingredients are chocolate and almonds.
The product, made in Boulder, is spreadable just like peanut butter. You can buy directly from the Justin's website and find a bunch of interesting recipes too!
Bobo's Oat Bars: Out of Boulder, Bobo's Oat Bars are on the go healthy snack bars made with all natural organic ingredients that don't sacrifice taste. Some of the flavors include coconut, cranberry orange, banana, chocolate, apricot, and maple pecan. There are also four gluten free varieties and Bobo's Oat Bars are kosher certified!
Learn more and buy them online at BobosOatBars.com …
Know Other Colorado Made Products? Tell Us About Them! Comment Via Our Contact Us Page …
Visiting Denver – Colorado's Capital City
One of the first long family vacations I remember was a two week trip out west, to South Dakota, Wyoming, and Colorado. And as much as I enjoyed seeing Mt. Rushmore, Yellowstone, and Jackson Hole, one of the most lasting memories of that long ago sojourn was my first visit to Denver, The Mile High City.
Being from Chicago's south side in the shadow of our bustling downtown area, it was always a treat to experience other big cities … and it still is! In the ensuing decades, we've been fortunate enough to visit Denver more than a handful of times. The city's bright sunny days and clear, sparkling air that feels like natural air conditioning never cease to amaze. Denver remains one of our favorite western U.S. cities, and it's our pleasure to write this brief travelogue.
Denver, of course, is an ideal starting point of you're an outdoors person. You're within a short drive of some of the country's best ski areas – Breckenridge, Keystone, and Summit County ski resorts are all a relatively easy reach from the city. Boulder, a thriving small attractive city, is only 35 minutes to the north.
Truly a four season destination, Denver rolls out the welcome mat no matter what time of year you visit. The amenities and excitement of a big city are at your fingertips, and you can escape into the wide open spaces of the great outdoors in less than an hour …
Follow along as we discover (or rediscover) one of America's great cities – the Mile High City of Denver …
The Mile High City – An Overview
When you talk with people about Denver, most think it's in the midst of the Rocky Mountains. That's not exactly true, as Denver is actually situated on a high plains area, several miles east of the foothills of the Rocky Mountain range. But the city's nickname is no misnomer – the 13th step of the State Capitol building is exactly 5, 280 feet (one mile) above sea level …
Perhaps Denver is so closely identified with mountainous terrain because every scenic vantage point in Denver offers a backdrop of majestic mountains in the distance. That same scenery is almost always bracketed by bright blue skies – the city basks in an average of 300 sunny days per year!
In terms of population, Denver is the 23rd most populous city in America with almost 635,000 residents. The metro area is home to more than 2.7 people. Diversity is one of the city's strengths, as over 30% of Denver's population is Hispanic and 10% are African American.
Denver is a fun place to visit – there's a youthful vibrancy here, plenty to see and do, lots of unique neighborhoods and shopping districts, and more terrific places to eat than most cities. If you're a fan of great beer, rest assured there's always a thriving brewpub or microbrewery nearby no matter where you are in the metro area …
Let's introduce you to some of the must see attractions in the metro area …
What To See & Do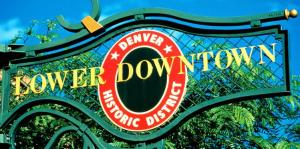 If you really want to experience Denver, immerse yourself in its many walkable neighborhoods. From shopping in Cherry Creek to taking in a ballgame in Lower Downtown (Lo Do) to the beautiful architecture of Highlands, exploring Denver's neighborhoods is a great way to get to know the city.
Denver is pretty easy to get around and there's ample public transportation, including an innovate bicycle sharing program. However you get around, a good place to start is by exploring the close together LoDo, Larimer Square, and 16th Street Mall areas. The latter is an excellent place to start your day.
the 16th Street Mall is a mile long pedestrian strip that's teeming with cafes, shops, restaurants, and more. One of the most well known shops in the city is here, Rockmount Ranch Wear on Wazee Street. There's a vast selection of western style shirts, hats, and accessories here – they've been around since 1946 and the shop attracts dignitaries and celebrities the world over. Not far from here is one of the nation's largest independent bookstores, The Tattered Cover on 16th Street. It's a great place to browse and pick up a few fascinating books by local authors …
Nearby Lo Do is a must see. It's most lively at night or when there's a ballgame at Coors Field, the kingpin destination of the neighborhood. One of the city's leading restaurant and nightlife areas, Lo Do is 28 square blocks of live music, sports bars, and entertainment. We spent the better part of a day strolling around Lo Do and still weren't able to see it all! If you can, catch a tour of Coors Field, home to the city's baseball team, the Colorado Rockies. Tours are offered daily seasonally and the views are magnificent!
If shopping is your thing, you won't go wrong at the Cherry Creek district, located on east 1st Avenue. The district actually has two separate areas – Cherry Creek North and the Cherry Creek Shopping Center. The former is a 16 block area of independent shops, boutiques, and restaurants, while the latter is adjacent and offers over 150 brand name stores. Ample dining choices make this a great dinner destination …
For a bit of Americana, visit the famous gold domed Colorado State Capitol Building on East Colfax Avenue. Free tours are offered weekdays, and from here you're just a couple blocks from the Denver Mint. Get up close and personal with the coin and currency making process. The tours take about an hour and are highly enjoyable for young and not-as-young. The Denver Mint is one of only two U.S. Mints (the other is in Philadelphia) and you can pick up some really cool souvenirs after the tour …
Finally, for beer lovers, hit up the charming small town of Golden, about ten miles west of the city to tour the expansive Coors Brewery. Tours are free and self guided, and those over 21 can enjoy complimentary samples afterwards in the Coors hospitality center. Coors is just one of many breweries in the immediate area – check the great beer directory site at BeerMe.com for all the comings and goings in the world of beer …
Denver Eats – Our Dining Recommendations
One of our favorite historic restaurants in Denver is the Buckhorn Exchange, one of the city's oldest restaurants & saloon and less than ten minutes from downtown. Denver is well known for prime steaks and this place has them in spades. The Buckhorn Exchange is well known for their hunting lodge atmosphere and wild game is a primary focus of their menu. Established in 1893, it's known as the city's original steakhouse.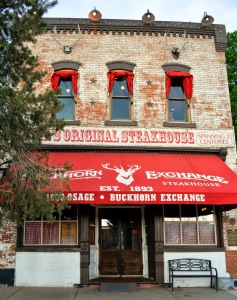 In addition to prime steaks, you'll find a one of a kind menu here. Buffalo steaks, elk, quail, pot roast, and the house specialty, Rocky Mountain Oysters, are just a few items featured on their expansive menu. As a plus if you're not driving, there's a light rail stop just across the street …
Another historic place that's an ideal breakfast destination is downtown's Sam's No. 3 Diner & Bar. We don't know anything about #'s 1 & 2, but we do know this spot has outstanding comfort food with a Mexican twist. Omelettes are at the top of the list for those in the know, as well as breakfast burritos and juicy burgers. They've been around since 1927 and have been featured on The Food Network – they're a Denver institution! You'll find them at 1500 Curtis Street …
If all you want is a great cheeseburger and drinks in a classic atmosphere, stop in at the renowned My Brother's Bar on 15th Street just north of the river. This joint, and we say that in the coolest sense of the word, has been around for over 130 years and was one of the Denver hangouts of Jack Kerouac, Allen Ginsberg, and members of The Beat Generation. Their specialties are burgers and onion rings and this place too has gotten high praise from The Food Network. if you're looking for a fancy spit and polish spot – this isn't it! My Brother's Bar has rough hewn wooden shelves, an antique cash register that has probably been there for decades, and no TV sets. Turn off your cell phone, soak in the historic surroundings, and enjoy some great conversation!
Summary & Learn More About Denver
There's so much more to Denver than this brief travelogue holds. You can get a really good feel for the city in three full days, i.e. a long weekend, but to really explore the neighborhoods you'll need at least a couple more days. Checking out the restaurants and brew pubs will take at least that long!
When we visited, we found ourselves lamenting all we missed after we left. You can either envy the locals, or plan for a return visit!
Of course, there are all kinds of destinations not far from the city as well. Boulder is one, a cool little city that's exceptionally rich in brewpubs, and the famed ski areas about 90 minutes away. Outdoor activities are plentiful all year around – it's a wonderful area of the country if you're a hiker or skier!
Denver is really easy to reach – there are non stop flights from just about anywhere in the U.S. and major interstates criss cross the city. Bring enough clothes with you – it can be 35 degrees one day and 70 the next! Summer and Fall are excellent times to visit The Mile High City, but the welcome mat is out all year long. Learn more about the city and surrounding area at Denver.org, an excellent resource for things to do, hotels, and restaurants.
We hope you too get a chance to visit this beautiful city and find it as enjoyable as we did!