Made In Maryland Quick Facts
See Our "Visiting Annapolis" Travelogue … Scroll Down
This Post is about Made in Maryland Gifts and Specialty Maryland Products
Want To See Your Business / Products On Our Made In Maryland Page?
Visit "Advertise With Us"!
FEATURED MADE IN

MARYLAND

BUSINESS

ES
Columbia Fragrance:
We're very pleased to introduce you to this vibrant Maryland company, founded in 2013. Columbia Fragrance Company creates fragrance solutions for your home like scented candles, melts, and sprays. Using recycled and reusable containers and packaging, they feature a series of fragrance collections which will appeal to you or anyone on your gift giving list …
This creative small business offers a wide range of products for your home and more, including body products, diffuser oils, and gel air fresheners. We love companies that bring a "scents" of aromatic bliss into your life!
If you're drawn to products that represent the unique fabric of America like we are, check out Columbia Fragrance Company's fabulous Americana Collection, one of the most clever ideas we've seen in a while. The Americana Collection is a special series of candles celebrating the unique culture and scents of the 50 states. Thirty five states are represented in the collection, with more to come. Pictured is the Maryland representative called "On The Chesapeake" … it's a candle made with a custom blend of paraffin and soy waxes that's not only eco friendly but also offers long lasting color and scent …
This candle embodies the essence of Maryland life – the scent is reminiscent of ocean mist and the fresh breeze of the Chesapeake Bay. It's one of dozens of state themed candles in the Americana Collection … a wonderful gift idea for any occasion!
We also love the unique Candle of the Month Club, a great "set it and forget it" gift for that special someone who'll appreciate your thoughtfulness all twelve months of the year. Every calendar month, a new selection from Columbia Fragrance Company arrives directly at their doorstep – a sure to please gift solution for the holidays and beyond …
Visit the Columbia Fragrance website to see all they have to offer for your home, for yourself, and for your gift list. They make shopping easy … you can shop by fragrance as well as by product. Be sure to check out the Sales and Specials tab for some great deals …
Proudly Made in Maryland!
Mouth Party Caramel: We're always excited when one of our readers reaches out to us and tips us off to a great small business in their state. Recently, we received an email telling us about a Timonium, MD company that made us sit up and take notice …
They're Mouth Party Caramel and folks from The Old Line State just rave about them! Their caramels are made fresh to order on a first come, first serve basis using all natural ingredients with no artificial flavors or preservatives …
Mouth Party features five standard flavor caramels which are available year around … choose from Original, Sea Salt, Chocolate Sea Salt, Chesapeake (made with Old Bay seasoning) and OMG!. The latter is a house specialty soft caramel blanketed with smooth milk chocolate and dusted with fleur de sel on top …
All of Mouth Party's caramels retain their freshness for up to four month unrefrigerated, although we've been told by Marylanders they wouldn't know because they're so good they never last that long! Visit their website and click on the "Shop" tab where you'll find individual caramels and an assortment of great gift ideas. Looking for a special occasion gift? Order one or more of Mouth Party Caramel gift boxes … and get a few for yourself while you're at it!
As an added bonus, there's free shipping on all orders of $75 or more. Enjoy!
Joyful Bath Co.: This inventive North Bethesda, MD business is a testament to the old saying, "If you want something done right, do it yourself!" …
Owner Rochel Roland was never comfortable with mass produced bath products. She found they were usually overloaded with fragrances and chemicals and decided to follow her passion for "mixology" to create her own using essential oils and organic salts. The end result is Joyful Bath Co., a small business with both a retail boutique and internet presence. Rochel produces a natural line of bath soaps, bath salts and scrubs, and sure to be appreciated gift sets. She even creates products specially formulated for babies and pets!
We personally have used handcrafted natural soap for years – it's so much better for your skin and longer lasting too! Joyful Bath lets you shop via your favorite fragrance – click through to their site and you'll see what we mean. Some of the wonderful scents awaiting you include peppermint, lavender, vanilla, grapefruit, and eucalyptus …
If you live in the area, stop by and shop in person at Rochel's boutique in North Bethesda. Or, shop from the comfort of your home online – she'll ship right to your door …
Click through and discover the difference all natural handmade soap will make to your skin. Makes a great gift for anyone on your list …
Nautical North: One of the many cool shops in Annapolis is located on Dock Street and will put you in the sea faring frame of mind. It's Nautical North, a charming store filled with charts, maps, clocks, and other nautical themed decor.
Not strictly limited to the Chesapeake Bay region, Nautical North offers charts and maps of bodies of water and coastlines all across America and beyond. Perfect for hanging, they're beautifully designed and offer a handsome accent to any room in your home. At the shop and also online, you can purchase maps, clocks, charts, trays, and even cribbage boards.
A perfect gift for anyone who appreciates getting out on the water! Click through to their website to see the current selection … custom work is available as well. Stop in to see them when you're in Maryland's capital!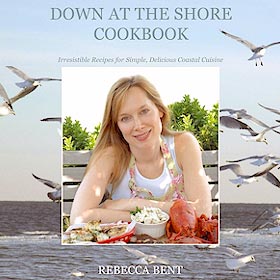 The Crab Place Maryland Cookbooks: Located in Crisfield, The Crab Place is one of the best places in the state to know if you want fresh Maryland seafood delivered directly to your door. Whether it's hard or soft shelled crabs, crab meat, oysters, crab cakes, or fresh fish, The Crab Place will cater to your needs …
In addition to their seafood selections, We'd like to call your attention to their selection of Maryland focused cookbooks, available directly from their website. From the "Down At The Shore" cookbook (pictured) to the "Maryland Seafood Cookbook" to the "Flavor of Chesapeake Bay", the recipes within will have you cooking like a native Marylander.
Four cookbooks are available in all, and each makes a wonderful economical gift for the culinary oriented person on your gift list. Click through to their website at CrabPlace.com and go to the "Cookbooks" menu icon.
And don't forget their world class Maryland seafood – needless to say it makes a great gift too!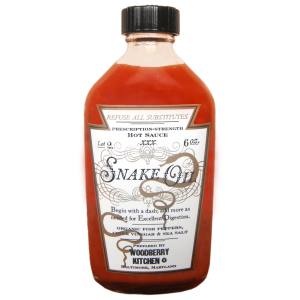 Woodberry Kitchen Snake Oil Hot Sauce: This Baltimore dining establishment is specifically the type we seek out when traveling – they emphasize local growers, regional specialties, and focus on the area's agricultural traditions to develop the menu and please their guests.
If you find yourself in the Baltimore area, check them out, but for those unable to dine at their location, Woodberry Kitchen has developed a "Woodberry Pantry" line of products they not only use in their recipes, but also make available for purchase online. One in particular caught our eye, as it's definitely something unique to the Chesapeake Bay area.
The product is Snake Oil Hot Sauce, pictured. It's made with specialty peppers called fish peppers, a long, narrow beauty of a pepper which formerly grew in abundance in Maryland. Woodberry Kitchen works closely with a pair of area farms which have reintroduced the fish pepper as a crop, and a great idea was born …
The organic peppers are hand ground and aged for a year in oak barrels and then bottled, resulting in a bold, peppery hot sauce that's the perfect complement to seafood dishes and more. Each bottle is handsomely packaged in a printed canvas bag – what a nice gift for the culinary oriented person on your list!
Check out the Woodberry Pantry store, where you'll also find all sorts of specialty jams, jellies, sauces, and more. Direct from Maryland!
Berger Cookies: What's the best place to find iconic local products from other states in the country (other than this website, of course!)? Our vote goes to grocery stores. Yup, the humble grocery store, where we always try to stop when visiting another state. We're passionate about discovering local products and local cuisine from other parts of the country! On a recent visit to Maryland and surrounding states, we experienced the fine products of a legendary Baltimore company whose roots date back almost 180 years to the 1800's …
They're Berger Cookies, a family owned company making the hand dipped chocolate fudge cookies shown in the picture. Soft, chewy, and oh so delicious, ask anyone in and around Baltimore about them and you'll get a knowing smile and nod …
Berger's also creates delicious Half Cakes, which are just that – half a cake – made with pound cake and the same fudge as you'll love on their cookies. The Half Cakes are offered in Original and Coconut flavors, and just like the cookies they're available for purchase via the Berger web site.
If you live in Maryland and surrounding states, you'll find Berger products at most grocery stores, so don't miss out! Otherwise, click through to their site and do your ordering online. Special gift tins are available too. Experience the wonderful flavors of one of Baltimore's most mouth watering companies!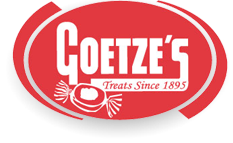 Goetze's Candy Company: We're very proud to feature Goetze's Candy Company, a Baltimore tradition since 1895. This 5th generation family owned company's products can been found in candy aisles all across America – you're probably familiar with their best known products – Cow Tales and Caramel Creams, perhaps better known as "bullseyes" …
What you may not have known is that Caramel Creams are available in five different flavors – vanilla, chocolate, licorice, strawberry, and apple. Cow Tales, which are an elongated version of Caramel Creams, were introduced in 1984 and are available in the same flavors …
At their new online store, Goetze's offers all kinds of seasonal and gift items including various sizes of their packaged confections. What a fun gift for kids of all ages … be sure to check out their assortment baskets filled with Caramel Creams and Cow Tales!
And to really show off some Baltimore pride, order one of their Goetze Candy baseball caps – they're very cool!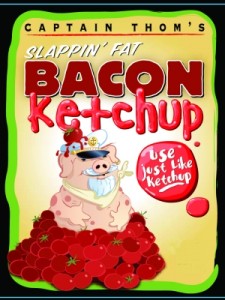 Captain Thom's Chili Pepper Company: This Baltimore based company is a great source for all sorts of dried chili peppers and powders, but they also create a variety of sauces and condiments unlike any others we've seen. In particular, they make a Bacon Ketchup and seriously, what isn't made better by adding bacon?
This specialty ketchup is called Captain Thom's Slappin' Fat Bacon Ketchup and it's available at their website on the Wing Sauces page which we've linked for you. We bought a bottle on our recent excursion through Maryland and it is really some good stuff – use it like a regular ketchup but also mix it into casseroles, stews, or meatloaf. You'll find out what you've been missing all these years!
In addition, Captain Thom's also makes marinades, hot sauces, wing sauces, an all sorts of bottled goodies to add a dose of personality to whatever you're cooking … at their home page there's a list of stores in the Maryland area where you can buy their products. Order online too!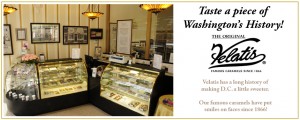 Velatis Caramels: Now based in Silver Spring, Velatis Caramels have a long, storied history. Founded in Richmond, VA before the Civil War, the company was a familiar presence in Washington, D.C. for well over 100 years until the mid 1990's.
Velatis was resurrected by the Servais family in 1997 and ultimately settled in Silver Spring. The original European style recipes are still used to create these soft, creamy caramels that have been favorites in this area for generations. Today, you can order their legendary caramels, toffee, and ice cream toppings directly at the Velatis website. If you've ever enjoyed these caramels, you know whey they're so absolutely memorable!
Flavors include Vanilla Cashew, Apple Spice, Chocolate, Vanilla, Rocky Road, and more. Assortment packs are available, and for a special treat, don't forget about their famous Vanilla Caramel Ice Cream Topping.
Click through to order and enjoy a taste of the Velatis tradition!
Chesapeake Bay Crab Cakes & More: If you're looking for a one stop shopping experience for Maryland and Chesapeake Bay food specialties, you've found it with this Owings Mills based company. It's Chesapeake Bay Crab Cakes and not only do they offer wonderful gifts of this spectacular and one of a kind delicacy, they also create many other legendary appetizers, entrees, and desserts Marylanders love …
If entrees like Seafood Shepherds Pie or Crab Quiche pique your curiosity, check out their website under the Entrees tab. You can order any of them for yourself or as a gift for the lucky someone on your list. Appetizers include Chesapeake Bay Baby Crab Cakes and desserts include decadent specialties like Maryland's own Smith Island Cakes, Granny Smith Coffee Cakes, and many more.
A wonderful all in one gift is the Maryland Tin, pictured. It offers a wide array of some of the state's best known specialties, like Old Bay Seasoning, clam dip mix, salt water taffy, and lemon cookies …
Click through to see all their product selections for the perfect Old Line State themed gift …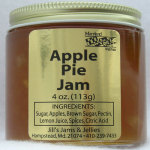 Jill's Jams, Mixes, & More: Owned and operated by Jill Gebhart, this small company creates a line of old fashioned jams, jellies, soup and appetizer mixes, and as their name indicates, "more"!
Using local Maryland fruit, Jill makes jams in the traditional manner – atop a stove, hand stirred, and made in small batches. The company operates a wholesale and retail operation and ships to over 1,200 stores across the U.S. as well as to your doorstep. Their retail store is located in Westminster, MD in the Town Mall …
In addition to tasty jam flavors like Apple Pie, Blackberry, and Cranberry Walnut, Jill's Jams, Mixes, & More offers a few Maryland themed specialty mixes. A Cream of Crab Soup Mix and a Chicken Chesapeake Dip Mix are available and make a wonderful themed gift from The Old Line State. Over three dozen different mixes for soups, appetizers, scones, and drinks are available, so click through to their website to see all the tasty products they're creating!
MeatCrafters: Growing up with a dad who spent his entire career in the meat business taught me a few things about buying quality meat. As our tastes have matured, we've learned to appreciate the art of charcuterie and the unique, complex flavors that result from the aging and smoking process …
A company in Bethesda, MD adds to the fine tradition of charcuterie. They're MeatCrafters, a passionate outfit creating artisan salami, cured meats, and sausages that push the flavor boundaries into new, welcome territory while at the same time respecting age old traditions. At their website, you'll find descriptions of each of the sausage and salami products they make, including a few with nods to the local area. One is MeatCrafters Chesapeake Salami, made with traditional Maryland Crab seasoning. Another is their take on Capital Half Smokes, a DC traditional sausage that's half pork and half beef …
Thankfully, all the MeatCrafters products are available for purchase online via PayPal. The company also offers a special corporate gift program. But order yourself a gift first! Even if you're not in the mood to buy, visit the MeatCrafters website – you'll discover flavor combinations you've probably never encountered!
The perfect gift from Maryland for the gourmand on your list …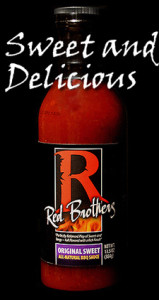 Red Brothers Barbecue Sauces: Whenever we're traveling, we make it a point to poke around in local specialty stores, particularly those that focus on carrying locally made products. While "tried and true" is comforting on one level, there's a real sense of enjoyment in experiencing unique taste sensations from different parts of the country.
Not long ago on our visit to the eastern seaboard, we spent some time in Maryland and found a few shops who carried a fair amount of Maryland made products. We're always on the lookout for great locally made barbecue sauces and would like to introduce you to Red Brothers BBQ sauces, made by the Layton brothers from old family recipes.
We were able to try and enjoy their Sweet & Delicous BBQ Sauce, one of three currently made. The name is spot on because this sauce is just that – sweet and delicious! It's just as good as a dipping sauce as it is slathered on your ribs or bbq pork sandwiches. It's worth seeking out and is available in a growing number of specialty markets in The Old Line State and beyond.
Red Brothers makes two other varieties with plans to introduce more in the future. In addition to the Sweet & Delicious, you can order Spicy & Satisfying and Fiery Hot at their website. Opt for the 3 Pack Sampler to enjoy all three and get free shipping!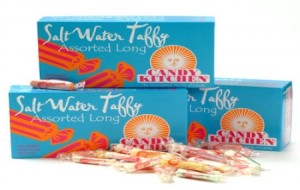 Candy Kitchen: An Ocean City tradition for over 75 years, the Candy Kitchen is the place to go on the boardwalk for fudge, taffy, gummies, chocolates, and more. Fudge and their famous salt water taffy is made fresh daily in a wide array of flavors and styles and makes a perfect Maryland gift!
Candy Kitchen is best identified with the Ocean City area as they have multiple locations there, but they can also be found in Rehoboth Beach, DE and in Virginia. Their online store offers a variety of gift packages of all their confections – we are partial to Candy Kitchen's Chocolate Mint fudge, we've never had better!
You can buy fudge in one pound increments and taffy in all sorts of combinations (try the orange creamsicle!). Click through to their online store to order – they ship all over the country!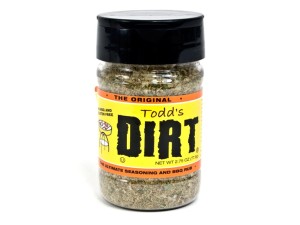 Todd's Dirt: We found this product the last time we were on the East Coast, and we've got to tell you, their marketing works!
Picture yourself in a store and you walk past a display of a bottled product that says "Dirt". Bet you'd at least stop and take a look! We did. Of course, it's not really dirt, it's Todd's Dirt Seasoning, made in Severna Park, MD. It's an all purpose seasoning mix which got the name Dirt because, well, it looks like a mixture of grass and dirt. It's not though … it's really good and complements just about anything you sprinkle it on. Corn on the cob, pork tenderloin, burgers, grilled chicken, fish, and more will sparkle when you add a little Dirt! And hey, great marketing works once, but if the product isn't good, so much for that! But this stuff is outstanding, and quite frankly it's kind of fun to ask someone to "Please Pass the Dirt"!!
The Original Dirt is the company's flagship product, but they've subsequently branched into other seasoning blends like Crabby Dirt and Bayou Dirt, as well as two marinades for those who prefer seasoning and marinating their food in liquid form.
Looking for a fun Maryland gift? Order the "Let's Get Dirty" 3 bottle gift pack and put some Dirt in someone's stocking!
Fire Fly Farms Creamery & Market: Fire Fly Farms is a creamery and market located in Garrett County in the extreme northwest mountainous section of Maryland. This small company specializes in goat cheese and makes several award winning varieties which have garnered the attention of the artisan food press …
From their creamy and dense Allegheny Chevre to their irresistible Mountain Top Bleu, Fire Fly Farms has consistently taken home awards from the American Cheese Society. These beautiful robust cheeses are meant to be enjoyed on their own as an appetizer, but they are versatile enough to serve in any manner. They pair wonderfully well with wine, and in fact, the Fire Fly Farms website offers helpful wine suggestions for each cheese …
If you're looking for a Maryland gift, the farm offers Sampler Cheese Packs and handsome gift crates containing a variety of cheese along with other local products. They make a wonderful gift from this often overlooked part of The Old Line State! Garrett County is the farthest west county in the state, and the farm is actually located in the small town of Accidental. After doing a bit of research, we learned that a citizen of Accident is called an Accidental!
Click through to their site to discover all they're doing and to learn more about Fire Fly Farms goat cheese!
Banner Bee Company: If you've been reading State Gifts USA for any length of time, you know we love talking about honey. A true artisan product, a honey's taste is dictated by the area in which the bees pollinate. We are always pleasantly surprised when we try a new honey produced in a different part of the country – the flavor is always unique!
In Maryland, one of the most prominent producers of fine honey is the Banner Bee Company, owned and operated by the Langworthy family for two generations. The company's apiaries are located on farms across three northern Maryland counties, ensuring a wide spectrum of flowers for the bees to pollinate!
We were so pleased to learn of Banner Bee's commitment to educating people about the importance of honeybees and the challenges they face. All of the company's products are 100% biodegradable and contain no artificial preservatives, colors, or dyes. In addition to honey, the company makes a line of honey based bath and body products as well as a variety of beeswax candles and more …
If you're looking for a truly unique Maryland themed gift, consider one of the gift packages available at the Banner Bee website. The one picture includes honey, a beeswax candle, and a natural fiber drawstring bag with a wooden honey dipper!
Learn more about Maryland honey and the Banner Bee Company at their website …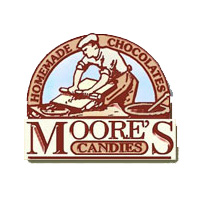 Moore's Candies: We've visited Baltimore quite a few times and try to arrange at least a day there every time we travel in the area. The foodie scene is fantastic, from wandering around the iconic Lexington Market to all the great places tucked away in Fells Point and Little Italy …
Another Baltimore find is Moore's Candies on Pinewood Avenue. They've been a Baltimore institution for almost 100 years and also have a retail store in Bel Air. In addition to being locally beloved, Moore's consistently receives national praise, in publications like the Los Angeles Times and The Food Network …
Moore's specializes in gourmet chocolates, many with a unique Maryland twist. Check out their site and choose "Maryland" from the menu options. You'll see solid milk chocolate Chesapeake Crabs, a Maryland Crab Chocolate Pizza, and several other Old Line State themed items.
Click through to their website to see all these unique treats. If you've ever in Baltimore, stop by their factory store for a tour!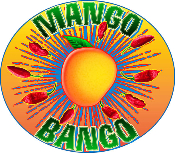 Infusion Hot Sauce: This small Rockville company creates four distinctly delicious hot sauces made with fresh peppers, garlic, fine vinegar, and spices. Founder and chef Alan Kuzminsky creates these sauces himself and promises there are no ingredients in his hot sauces you can't spell or pronounce …
The company's four sauces are named Firepower, Dragonfire, Hypernova, and Mango Bango. Firepower is a deep flavored sauce made with jalapeno, habanero, and red fresno peppers. Dragonfire uses jalapeno, serrano, and passilla peppers and has a more subtle flavor …
Hypernova is made with a mix of peppers and matches up well with Asian cuisine as well as barbecue dishes. If you like a bit of fruit with your hot sauces, try Mango Bango, a blend of mango puree and smoky hot peppers like scotch bonnet and ghost peppers …
Infusion Hot Sauce also does private labeling and will custom blend a sauce just for your restaurant or company as well. You can purchase any of these flavorful hot sauces at their online store, either in single bottles or gift packs …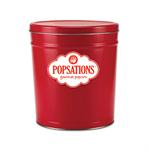 Popsations Gourmet Popcorn: This Baltimore area company is one of Maryland's premier popcorn vendors, with their "Crabby Caramel" flavor being a true Maryland staple …
Available in a variety of sizes and gift tins, Popsations has some really interesting popcorn flavors. Choose from caramel, dark chocolate, milk chocolate, white chocolate peppermint, and more. The Crabby Caramel flavor, for instance, is sprinkled with iconic Old Bay Seasoning …
If you're gift shopping, there's a nice selection of decorative tins, or go with the classic red as shown in the picture … click through to the Popsations site to check out your options!
Smith Island Cakes: Smith Island is a small remote island located 10 miles off the extreme southern tip of Maryland in the Chesapeake Bay. The island consists of three small fishing villages and is accessible only by ferry …
Since the 1800's, a special layer cake dessert has been created here called Smith Island Cake. As fisherman would depart the island for days or weeks at a time, they'd bring along these cakes topped with fudge, which kept longer than traditional icing. The layer aspect of the cake symbolized togetherness, not only with their fellow fishermen but with their families back on the island …
Today, Smith Island Cakes are Maryland's official state dessert and are renowned as important parts of celebrations across Maryland. They're made by the Smith Island Baking Company located in the tiny village of Ewell on Smith Island.
You can order these delicious cakes and have them shipped anywhere in the United States. The original flavor is chocolate, but they also make lemon cream, pumpkin spice, strawberry and cream, coconut, red velvet, chocolate raspberry, and chocolate and peanut butter …
Be a part of the Smith Island tradition and enjoy a true taste of Maryland!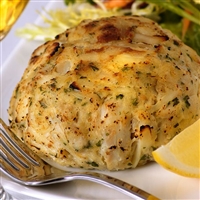 Angelina's of Maryland: Angelina's of Maryland specializes in crab cakes based on a recipe from a family restaurant established in Baltimore in 1952. Although the restaurant has since closed, the company has a thriving mail order business shipping various styles of crab cakes and other specialty items across the country …
You can order the Restaurant Original Crab Cake, a hefty 1/2 pounder made with blue crab … you'll love it, the crab cake contains just enough binders to keep the lump crab together. They also offer steamed and seasoned crabs for shipment, as well as crab meat already out of the shell (no cracking needed!)
Angelina's also creates their own Maryland Crab Soup, Cream of Crab Soup, Lobster Bisque, and other crab related delicacies …
You can have any of these items shipped directly to your door! To learn more, visit them at CrabCake.com …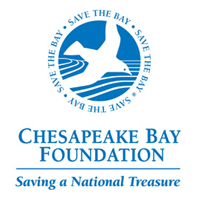 Chesapeake Bay Foundation: The Chesapeake Bay Foundation is a non profit organization dedicated to improving the water and wildlife habitat of the Chesapeake Bay and its tributary rivers.
This is accomplished through the Foundation's lobbying, education, and field work efforts which help provide resiliency to the entire Chesapeake Bay system …
The organization was founded in 1967 and their programs have helped serve 1.5 million through their study centers. Their membership now numbers over 200,000 and their efforts have been lauded by both private and public sector leaders …
Via the Chesapeake Bay Foundation Online Giving Catalog, you can directly help the Foundation help the bay through some unique gifts. You can arrange to grow native oysters, plant native trees, build reef balls, or provide a CBF field experience for a student, among other options …
Or, simply join the Foundation or get a gift membership for someone who cares about the Chesapeake Bay …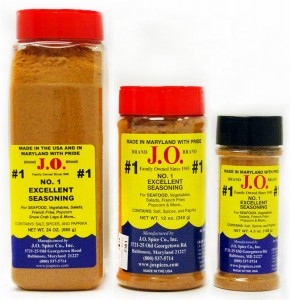 J.O. Spice Company: The J.O. Spice Company is a Baltimore legend … they've been family owned since 1945 and are most known for their wonderful crab and seafood multipurpose spice, Brand No. 1 …
Brand No. 1 is technically a seafood spice (great on shrimp or crab) but it's much more versatile. We use it in tuna and chicken salad as part of the recipe … it's also a nice zesty touch in soup and stir fry dishes too. Our favorite use is on any kind of white delicate fish, like orange roughy or tilapia. It brings out the fish flavor without overwhelming it like some spices tend to do …
The J.O. Spice Co. online store carries all their spice products and related items like crab mallets, hot sauces, and gift packages for a Maryland style treat. The company has expanded their retail operation and is broadening their focus to include engraved gifts, cooking accessories, and personalized glassware. Perfect for wedding gifts, engagement parties, showers, or any gathering of good friends and family!
Get the taste of Maryland (and so much more) delivered right to your door!
History of Maryland
Maryland Trivia and Fun Facts

1). Everyone knows the famous Washington Monument, but did you know the first monument dedicated to the Father of Our Country is located in Baltimore's Mt. Vernon neighborhood? It is also called the Washington Monument …

2). Smith Island is Maryland's only inhabited off shore island. For more about Smith Island and their famous cakes, see their listing above …

3). Hall of Fame baseball players Babe Ruth, Cal Ripken, Jr., Lefty Grove, Jimmy Foxx, and Al Kaline were all born in Baltimore …

4). Maryland is a heavily forested state. 43% of the state's land area is forested …

5). Maryland is the nation's leading harvester and producer of blue crabs …

6). For a brief time, Annapolis was the capital of the United States …

7). The highest point in Maryland is Backbone Mountain – it is 3,360 feet high …
Ruff Again: Based in Boonsboro, MD this small family owned company helps reduce the world's carbon paw print … they create dog leashes and collars from recycled seat belts and bike tires.
We love eco friendly companies like this … repurposing discarded items into useful and fashionable accessories for your dog friends. As you can see, the end products are colorful and eye catching – they'll make your best pal the envy of the dog park!
Three product lines are available … Spin It, Tread It, and Click It. Spin It products are made from used bicycle tire tubes and Tread It products from recycled bike tires. The Click It series are created from reclaimed seat belts and textile webbing. Keep this stuff from clogging up landfills and put them on your pooch!
Check out Ruff Again products and their full story at their website … you can order these cool dog accessories directly online.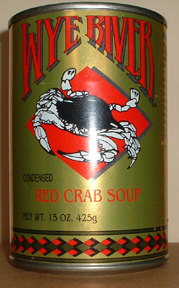 Wye River Seasonings: Wye River Seasonings on Maryland's Kent Island has been around since 1985, producing interesting seafood spices and and other delicacies you'll have a hard time finding elsewhere …
Our favorite Wye River Seasoning product is their condensed red crab soup. Bursting with crab and vegetables, all you need to do for an Old Line State feast is add water and heat. They also make a cream of crab soup, an oyster stew, and various seasoning blends for crab and other seafood …
All in all, Wye River Seasonings offers over 40 different products, all of which can be shipped anywhere in the country. Visit their website for all the details. Try their Original Red Seasoning too … really good on fish or in a Bloody Mary!
Dolle's Salt Water Taffy: Dolle's is Ocean City's longest operating candy company … they've been a fixture on the boardwalk since 1910. Although Dolle's makes all kinds of sweet treat creations, they're best known for their soft and chewy salt water taffy …
Dolle's will ship anywhere in the country, in gift tins or in stylish retro gift boxes like the one shown. They make 16 different flavors, and most gift boxes have an assortment of all sixteen. Or, you can choose your favorite flavor!
After almost 104 years, the Dolle family still owns and operates the iconic Ocean City location. Check out all the candy products they make and discover the Dolle's history at Dolles.com …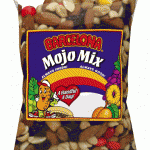 Barcelona Nuts: Barcelona Nuts have been one of the east coast's most well known roasters of nuts for almost 90 years. Based in Baltimore since 1924, the company produces a line of nuts, seeds, and trail mixes which you'll commonly find in grocery and convenience stores …
If you can't get your hands on the Barcelona Nuts line, you can order online. They're also known for cotton candy, which is packed in nitrogen flushed packaging which ensures freshness for up to a year …
Corradetti Glass Studio: Located in Baltimore, Corradetti is a glass blowing studio creating one of a kind art pieces, like the one shown here …
Corradetti's designs are colorful and spectacular. Each piece is completely distinct, making this a wonderful gift of local art for the person on your list who appreciates Maryland and fine craftmanship. Check out the Corradetti website to see all their designs …
Gator Ron's Sauces: Out of Bethesda, Gator Ron's sauces and mixes are based on the recipes of Ron Griffith. A salesman by trade, Ron loved to grill and tinkered with various sauce recipes for years until ultimately deciding to pursue a business to market and sell his creations …
Unfortunately, Ron was diagnosed with ALS and passed away a few years ago. He shared his recipes and dreams with his wife Connie, who ultimately establisehd Gator Ron's Sauces and Mixes to fulfill Ron's dreams.
The company makes wing sauces, bloody mary mixes, and barbecue sauces. Proceeds from every bottle sold are donated to John Hopkins Research Center to help the cause of finding a treatment and cure for ALS disease …
Kent Island Crab Cakes: If you've got a craving for Maryland crab cakes (and who could blame you??), you can order them online from Kent Island Crab Cakes, located in Stevensville, MD …
Not only can you get crab cakes delivered, but the company also offers other Maryland seafood delights, like crab cake sliders, jumbo soft crabs, red snapper fillets, and crab stuffed chicken breasts …
A perfect gift for a client or business associate, you can also give a gift certificate to allow your recipient to create their own seafood feast!
Mama Vida Blue Crab Salsa: Mama Vida's of Randallstown, MD has been producing Italian specialty food items since 1990. Among their best known products is a blue crab salsa (pictured), as well as green olive tapenade, marinara sauces, and steak sauces …
You can order any of the Mama Vida products online. The Blue Crab Salsa is really something … the sweet, delectable crab blends nicely with the tangy salsa!
Max and Ruffy's Dog Treats: Max and Ruffy's dog treats are unique because unlike most pet treat products, they are made with no animal products. These vegan treats are as close as you'll get to homemade …
Max and Ruffy's dog treats come in two sizes (as shown) … original and mini bites, so no matter the size of your furry friend, there's a size available for them. The mini bites are perfect for filling a kong or another of your dog's favorite toys …
These treats come in a resealable bag and will remain fresh for one year. There's no need for refrigeration.
The company only uses human grade ingredients in these dog treats … their slogan is "If we won't eat it, we won't include it". Some of the available flavors include the banana/coconut shown above, blueberry, sweet potato and alfalfa, butternut squash and kelp, and pumpkin.
There's even a pizza flavor, made with garlic, oregano, tomato paste, and parsley! Order any of the flavors online at the Max and Ruffy's store …
Millstream Farm Pumpkin Rolls: Millstream Farm's pumpkin rolls are made with a combination of ingredients you might not necessarily expect to go together … spiced pumpkin cake and cream cheese … but it works!
Based in Denton on Maryland's eastern shore, Millstream Farm creates not only pumpkin rolls but also lemon rolls, tiramisu rolls, and gingersnap cookies.
You can order pumpkin rolls and more of their products online at MillstreamFarm.net …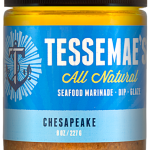 TesseMae's Marinades, Sauces, and Dips: Tessemae's All Natural of Essex, MD creates a line of over 25 salad dressings, dips, marinades, and salsa …
We were first introduced to the company after tasting their Chesapeake seafood marinade and dip. We actually used it as an appetizer dip with crackers … delicious! They also make a zesty barbecue sauce and several other dips we've tried. You can order TesseMae's salad dressings and marinades online if you can't find them in your local supermarket …
Wyre Naturals: Based in Elkton, MD Wyre Naturals offers hand made natural soaps, honey, bath products, and healthy products for your dog …
One of the more interesting soaps they make is a jewel weed bar, which is infused with locally harvested jewel weed. This herb is a natural remedy for many skin allergies, as well as poison ivy and poison oak. Any of the Wyre Naturals bars are gentle enough to be used on even the most sensitive skin. You can even use them as a natural shampoo … they won't strip your hair of essential oils like most shampoos …
For your dog, they offer lavender mint and rosemary mint bars, which provide a natural repellent for pesky flies, ticks, fleas and other pests that annoy dogs. See how lush and shiny your dog's coat becomes when you bathe them in natural soaps instead of harsh dog shampoo …
Blue Claw Company: The Blue Claw Company of Maryland is a luggage manufacturer … specifically smaller luggage you can use as an overnight bag …
I was given a Blue Claw Company overnight bag as a gift recently, and now I take it everywhere I travel. The bags are sturdy, good looking, and easy to wipe off with a soft cloth if and when they get dirty in an airport or hotel room …
One of these bags is a great gift for anyone in your life who travels. Check out their entire line of gear and luggage online at the Blue Claw Company website …
Otterbein's Bakery: Otterbein's Bakery in Baltimore is an east coast tradition since 1881. They offer everything you'd expect from a local bakery, along with some special distinctive treats that would be appreciated by anyone as a great gift …
Otterbein's is best known for their cookies in colorful gift tins. Our favorites are the lemon cookies, but there are all sorts available. Normally, you can only find Otterbein's products in grocery stores in the Baltimore and Washinton, D.C. area, but you can order via Otterbein's store as well …
The Otterbein's Combination tin is shown … sure to be appreciated by anyone on your list who knows Baltimore!
Fisher's Popcorn: The Maryland shore is one of the east coast's most popular summer vacation destinations, particularly bustling Ocean City, where families have come for generations. One of the most revered destinations in Ocean City is Fisher's Popcorn, a landmark here since 1937 …
Fisher's ships popcorn all over the country. They typically pack in tins with scenic Maryland beach photos, as shown. Caramel corn and caramel corn with peanuts are signature products. Another is the Old Bay popcorn, which is sprinkled with the famous Old Bay seafood seasoning … a real taste of the Maryland shore!
Mick's Cream of Crab Soup: Mick's Cream of Crab Soup began in a small restaurant in southern Maryland in the late 1960's called Mick's Quail Inn. The restaurant is no more, but the soup recipes live on …
Mick's is available in three flavors … cream of crab, lobster bisque, and seafood chowder. These are condensed soups, so just add half and half (or 2% milk if you prefer), heat and serve …
You can also make a great crab dip from the soup … the recipe is on the can. Order Mick's Cream of Crab soup online here …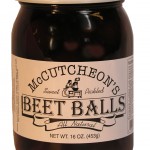 McCutcheon's Beet Balls: If you like pickled beets, try these …
They've been made by McCutcheon's Apple Products, Inc. since 1938. McCutcheon's is best known for apple butters, fruit preserves, and a natural peanut butter, but it's the pickled beets that caught our attention. They're small round beets that are pickled and packed in pint jars … an old fashioned favorite!
Check out all their products online, or when in Maryland visit the McCutcheon's store in downtown Frederick …
More Maryland Made Products To Come … Tell Us About Your Favorites! Reach Out To Us Via Our Contact Us Page …
A Visit To Maryland's State Capital … Annapolis!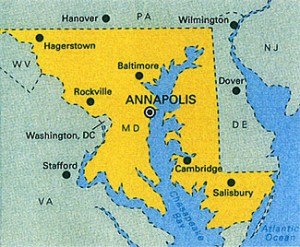 Welcome to our continuing travelogue series "Visiting America's State Capital Cities" as we visit Maryland's capital, historic and picturesque Annapolis. This small city of just under 40,000 holds a unique distinction in America's history … for a brief time in the 1780's it was once the capital of the United States …
A wonderful walking town, Annapolis is situated on the eastern shores of Chesapeake Bay and has been dubbed "The Boating Capital of the World". It's bursting with historical attractions and the restaurant scene is second to none. No matter your passions or reasons for visiting, you're sure to enjoy yourself here …
In this travelogue, we'll guide you to some of the city's attractions and historic restaurants. Seafood takes center stage here, but like most port cities, you'll find culinary influences from all over the globe. And you can enjoy the ubiquitous Baltimore specialty, the pit beef sandwich!
Join us as we spend a couple of days by the bay in Maryland's capital city, Annapolis!
Annapolis – An Introduction
When we first started to plan our visit, we were surprised to learn of this city's proximity to Baltimore and Washington, D.C. Annapolis sits a short 26 miles due south of Baltimore and only 32 miles east of our nation's capital. This gives Annapolis the distinction of being the closest state capital to the national capital. As you might expect given the close proximity, you'll find quite a few day trip visitors from both locales – although traffic is always unpredictable around the District of Columbia, you can easily reach Annapolis within an hour.
This city is best known as the home of the American Naval Academy, along with prestigious St. John's University. For history buffs, it's as good as it gets here – the city's other nickname is "A Museum Without Walls" …
One aspect of Annapolis we found especially appealing is its proximity to water. It's both a river town and an ocean town (more or less) as it's snuggled against both the Severn River and Chesapeake Bay. This region gets a fair amount of rain throughout the year, but winters are generally mild. Since the city is relatively low lying, when hurricanes blow up the East Coast some flooding occurs … but other than that you're likely to experience pleasant weather, moderated by the location near the ocean.
As we mentioned, the Navy is a big presence here, and boating is a major pastime, and industry. If you have the chance to get out on a vessel here, do it for sure. We took a cruise out on the bay – the fresh air is exhilarating!
The city itself is one of neighborhoods, both geographically and in local's lingo. Annapolis contains five main neighborhoods, all of which are very close together and each with their own particular charms. You can easily walk the city and see all five in a day or two … every one features restaurants, art galleries, shops, entertainment, historic attractions, and more.
For the record, the five neighborhoods are Eastport, the City Dock & Main Street, West Annapolis, West Street, and State Circle. The latter is where the Maryland State House is located – the dome atop the building is the town's landmark and how folks here generally judge distance and location.
We recommend spending two days here if you can. It might be hard to do with world class cities like Washington D.C. and Baltimore looming nearby, as well as Maryland and Delaware coastal attractions to the south and east. But there's a real joy to kicking back and enjoying the waterfront ambiance in Annapolis – it's one big reason why this town is so popular with visitors the world over!
What To See & Do In Annapolis:
For a city its size, Annapolis holds a treasure trove of attractions. Some folks come here specifically to enjoy the boating culture – others drink in the history, shops, and restaurant scene. We like to explore a bit of everything, without getting too deep into any one activity.
Our list of sites to see pretty much reflects that philosophy. To really get to know this city, you'd have to visit more than once, as it seems more secrets and pleasant surprises unfold around every corner. For example, two days isn't remotely enough time to sample all the great restaurants and taverns here – although we did give it the old college try!
Here are some of the highlights of Annapolis in our estimation. Use the list to follow or create your own special agenda! Either way, you'll surely enjoy your time in the capital of The Old Line State.
Visit the U.S. Naval Academy Museum – One of the city's many museums is that of the U.S. Naval Academy. You'll see all sorts of fascinating exhibits, a short film about the history & impact of the Navy, and you can probably catch a glimpse of the Midshipmen in the midst of drills and formations.
Check out the informational website at UNNABSD.com.
Take A Cruise On Chesapeake Bay: If the weather is cooperative, get a different perspective of the capital from the waters of the Chesapeake Bay! A variety of sightseeing cruises are available and the fresh air is invigorating to say the least. Learn more at CruisesOnTheBay.com.
Maryland State House: The focal point of Annapolis, the Maryland State House is steeped in history and is the oldest continually operating capitol building in America. This is the site where our nation's founding fathers met during the time Annapolis was essentially the capital of the United States. See where Washington, Jefferson, Madison, Adams, and a whole host of famous American patriots met and conducted the nation's business.
Tours are available daily and typically last about an hour. Find out more at MarylandStateHouse.com.
Stroll the Annapolis Neighborhoods: As mentioned above, the capital consists of five distinct but interconnected neighborhoods. Don't fret if you're walking along and suddenly find yourself leaving one and into another – that's how the city is set up! Each of the neighborhoods has shopping, dining, and sightseeing opportunities, and you really should experience all five if possible.
We recommend accessing a good map of the city via the Annapolis Visitor's website we list below, and set out on foot. If you've got a day and a half, you'll be able to experience them all!
Quiet Waters Park: Located immediately south of downtown, this 300+ acre park features paved walking trails, a dog friendly beach area, community activities, galleries, and more. This is where Annapolis residents come to get a close up touch of nature …
Water views are all around and in the summer and fall there's usually live music taking place at the park's pavilion. The park is beloved and a community organization has sprung to safeguard and preserve it for future generations. Get more information at the Friends of Quiet Waters Park website.
Lastly, be sure to stroll around and drop in at some of the city's historic watering holes, some among the oldest in the country. We'll talk about them below, but for purposes of this "see and do" section, we've got to say that one of our prevailing memories of Annapolis was walking the city and stopping in to a few historic pubs. Even if you don't imbibe, most have really good food and an inviting atmosphere … you'll capture the spirit of Annapolis!
Which of course is the perfect lead in to our next section – Annapolis Eats!
Annapolis Eats: Our Dining Choices:
If you've read any of our other "Visiting America's State Capital Cities" travelogues, you know our restaurant preferences skew toward historic, local, and independent. Nothing against chain restaurants, but we figure you can find those easily enough on your own.
Annapolis isn't a big city, and most of these restaurants/taverns are within easy walking distance of one another. This part of the country is known for the fresh seafood, so we had an eye out for that, as well as Baltimore's famed pit beef sandwiches. Due to proximity and demand, you'll find these on certain menus in Annapolis. A pit beef sandwich is basically a beef roast that has been cooked low and slow on a barbecue or "pit". It's served on a soft roll with a unique concoction called tiger sauce, which isn't a commercial sauce but usually a homemade concoction that's mayonnaise based. The meat is typically served medium rare and the sandwich is fantastic! Don't miss enjoying one while in Maryland!
Here are a few of the places we really liked …

Middleton Tavern: This is one of the historic places we referenced above … any place where George Washington, Benjamin Franklin, and Thomas Jefferson used to hang out should be on anyone's must visit list …
Established in 1750, the Middleton Tavern has always been one of the social hubs in Annapolis. It still is, and features a fantastic waterfront location, live entertainment, and a menu ranging from fresh fish to great steaks.
Known for their raw bar, visit the Tavern for spectacular oysters, Maryland crab, raw clams, steamed shrimp, and more. Opt for the daily fresh fish special – it's bound to be a winner!
Lunch prices are a little cheaper than dinner, but any time of day is perfect for a visit …
Reynolds Tavern: If it's possible to be more historic than Middleton Tavern, this Annapolis legend is the place. It dates back to 1747 and features a lively courtyard and two intimate dining rooms. We liked the cozy 1747 Pub, which offers unique craft beers on tap, including one brewed specially for the Tavern.
The crab cake sandwiches here are fantastic! We also enjoyed the pan seared rockfish, a local specialty …
McGarvery's Saloon & Oyster Bar: A classic American saloon, McGarvery's is a relative newcomer … they've only been around since 1975!
All kidding aside, this is a great place. Housed in an historic building not far from the water, McGarvery's has a lively happy hour featuring oyster shooters and reasonably priced appetizers. It gets lively here later on, usually with live music and a friendly crowd. As you might expect from their name, oysters and clams are the star of the show here, but the rest of the menu is comparatively budget friendly and very approachable. Stop here at least for a drink – the bar is a fun place to hang out!
Pit Boys: If you've got a taste for a Pit Beef Sandwich, here's where to get a great one in Annapolis. Located on the west side of the city on Chinquapin Round Road, Pit Boys is more or less a take out BBQ joint with a Maryland twist. By the latter, we mean they also do steamed crabs and pit beef sandwiches, a Baltimore specialty.
Take your pick from beef (our favorite), chicken, or turkey and enjoy an overstuffed sandwich on a soft roll … this sandwich will show you what you've been missing if you've never had a "pit beef". The BBQ looked pretty good too!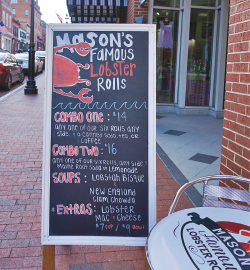 There are literally dozens of other places to try in Annapolis – we recommend exploring the city by foot to see some of the many restaurants, taverns, and pubs with your own eyes and go from there. A few more we experienced (or are on our list to try) are Storm Brothers Ice Cream Factory, Davis Pub, O'Leary's Seafood, Pip's Dock Street Dogs, and Mason's Famous Lobster Rolls. You won't go hungry in Maryland's capital, that's for sure!
Summary and Learn More About Annapolis: Despite having visited our nation's capital and Baltimore several times over the years, we never made it to Annapolis until now. We're so glad we visited – the waterfront location is everything it's cracked up to be. If you like getting out on the water, come here! The boating culture permeates the area and sailing on Chesapeake Bay is truly an experience to remember …
In addition to its storied history, our most indelible impression of Annapolis is that it's a foodie town. You won't find fresher fish anywhere and the locals are always happy to point the way to unique Maryland specialties.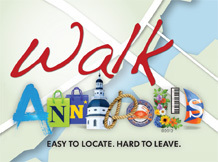 Bring your walking shoes … this is a great town to explore on foot, and most of all, don't rush through it! The city's charms unfold before your eyes as you explore block after block, sometimes veering off on an angle street to check out a cool shop or restaurant.
You can combine a visit to Annapolis very easily with a trip to our nation's capital or Baltimore. We suggest you allow two full days here to really immerse yourself in the city. It's not hard to get here … but it's hard to leave. We'd come back here in a flash when we have the opportunity – this is truly one of America's gems!
For an excellent overview of Maryland's capital and to help plan your visit, check out VisitAnnapolis.org. There you'll find in depth information about accommodations, things to do, and much more.
Thanks for reading!