Made In Missouri Quick Facts
This Post is about Made in Missouri Gifts and Specialty Missouri Products
Want To See Your Business / Products On Our Made In Missouri Page?
Visit "Advertise With Us"!
FEATURED MADE IN

MISSOURI

BUSINESS

ES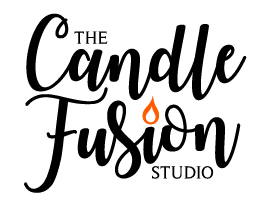 The Candle Fusion Studio: St. Louis has long been one of our favorite cities. It's brimming with history, fun and lively neighborhoods, and a strong appreciation and support of hardworking small businesses …
One St. Louis neighborhood not to miss is the Central West End. Just minutes west of downtown, the CWE is where you'll find scores of shops, historic architecture, and establishments for food and drink. On McPherson Avenue a few blocks south of Delmar Boulevard is a festive, hands on small business we're excited to introduce to State Gifts USA readers … The Candle Fusion Studio.
Established in 2016, The Candle Fusion Studio is housed in bright, vibrant surroundings that heighten your sense of creativity. The studio celebrates the art of candle making and encourages guests to create their very own signature scent …
The studio's on site "candle bar" is always available for guests to pour candles, which are clean burning and soy based. And in addition to candles, you can create other home fragrance products, like room sprays, body sprays, and spa salts. Choose from 100 different scents to suit your individual preferences, or to create a special, personal gift for anyone on your gift list …
The Candle Fusion Studio welcomes group parties, small and larger events, corporate gatherings, and special occasion celebrations. For those not living in the St. Louis area, the studio has recently opened their Candle Fusion Studio online store, where you'll discover hand poured premium fragrance soy wax candles and much more. Be sure to check out the many enticing scents … Autumn Leaves, Baked Bread, Hazelnut, and Orange Zest are just a few …
Also not to be missed are the Studio's Mediterranean spa salts and wax tarts. Add a few spoon fulls of the spa salts to your bath for a soothing, relaxing experience. Freshen any living space with their unique wax tarts, which fragrance your home for up to 8 hours without the worry of an open flame …
The Candle Fusion Studio also offers private labeling and corporate branding / client appreciation opportunities – click through to their website to discover all they offer … and if you live in the greater St. Louis area, stop in for a visit and find the perfect personal gift.
Proudly Made in St. Louis!
Hendrickson's Original: One of the joys of traveling is stopping in local specialty markets and checking out all the products you don't find at home …
On a recent trip to south central Illinois, we visited a specialty grocer and brought home a variety of products from surrounding states to try. We found a real gem in Hendrickson's Original, a unique salad dressing and marinade that's made in St. Charles, MO.
Family owned and operated since 1931, Hendrickson's flagship product is their Henrickson's Original, a sweet vinegar and olive oil salad dressing that's equally adept as a marinade and seasoning. Made with apple cider vinegar, olive oil, sugar, and a special blend of spices, it's a dressing with a one of a kind sweet, healthy flavor profile …
Use it on a fresh garden salad, or experiment a little. We marinaded a few chicken breasts with Hendrickson's and loved the flavoring and tenderizing effect. Pour it over sliced tomatoes for a healthy treat or add it to vegetable medleys for a delicious finishing touch …
Hendrickson's also produces a Classic Italian Dressing and if you live locally, you'll find a Store Locater tab at their website. Single serve pouches are available too!
Check out the Hendrickson's Gift Box (shown) – a great gift for the chef on your list or anyone who appreciates healthy and fresh!
Made in Missouri …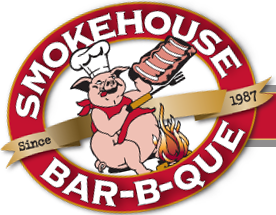 Smokehouse Barbecue: Smokehouse BBQ has been a Show Me State tradition for almost 30 years … they're fun, casual spots located in four Missouri locations – Kansas City, Gladstone, Columbia, and Independence. Best known for their Rib Platters, Smokehouse is also a destination for brisket, burnt ends, pit beans, cheesy corn, and sweet potato fries. They also serve a very underrated cheeseburger! Bottom line, you won't go hungry here …
Somkehouse BBQ is perfect whether you want to dine in, carry out, or have it delivered across the country. They're one of the few KC style BBQ joints with a thriving online ordering system that allows you to experience great BBQ no matter where you live.
Smokehouse offers over a dozen different packages to allow you and your group to get your KC BBQ fix. We like the Holiday Feast package, which includes just about everything – ribs, brisket, pit beans, burnt ends, cheesy corn, and sauce. It feeds about 10 people and makes a great gift!
Go to their site and click on the "Gifts" icon … you'll see all the packages to choose from. You can't go wrong with Kansas City barbecue!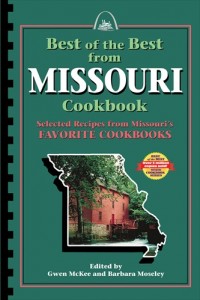 Best of the Best From Missouri Cookbook: Looking for an economical gift for someone special from The Show Me State? Consider this compilation of Missouri's best cookbooks put together by the good folks at Quail Ridge Press …
This soft cover beautifully photographed volume contains over 400 Missouri-centric recipes on almost 300 pages. The recipes are compiled from cookbooks old and new and include traditional dishes plus new takes on old specialties. A few of the state favorites you'll find on the pages are barbecue specialties, Southwest Missouri Blueberry Cream Cheese Muffins, Ozark Pudding, and more …
A great gift idea for anyone who holds a warm feeling for Missouri, it's available for order directly at the Quail Ridge Press website. This company has been doing a great job putting together cookbooks profiling each of the 50 state's best known recipes.
Here's a direct link to the Missouri Cookbook page …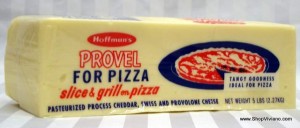 Provel Cheese: If you're a pizza fan, you probably already know about the various styles from across the country. There's Chicago style, New York style, and so on. When I worked for my dad in St. Louis many years ago, I was introduced to St. Louis style pizza and the key ingredient that makes this style special …
It's provel cheese, which isn't necessarily unique to St. Louis although it's not easy to find. Provel is a blend of provolone, swiss, and cheddar cheese. It has a low melting point and an unbelievably smooth and creamy texture. It's used on pizza here and on many other dishes calling for cheese because it's so good.
We particularly love provel cheese grated into salads. It brings new life to deli sandwiches and casseroles too! An iconic company on Shaw Boulevard on The Hill ships provel across the country to anyone longing for this unique cheese. They're J. Viviano & Sons, and at their website you'll see the wide variety of sauces, condiments, and cheese they sell. They've been around since 1949 and definitely know what they're doing …
The provel is packed in 5 pound packages and if you've never tried it, believe me it won't last long! Try making your own pizza with this stuff and you'll be a fan for life …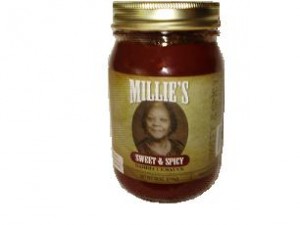 Millie's Barbecue Sauce: A well deserved shout out here to America's farmers markets – they're where you'll find not only fresh farm produce but also locally made products that might otherwise fly under the radar. On a recent visit to St. Louis, we became acquainted with one such product, courtesy of the iconic Soulard Market just a skip and a jump south from the downtown core …
Locally owned by Craig & Toni Brown, Millie's Barbecue Sauce is based on the sauce created by Craig's mother Millie. The couple developed the company from the ground up and are now partnering with a local firm to bottle and help keep up with demand …
This small operation makes two varieties of sauces – Sweet & Tasty and Sweet & Spicy. They're both excellent! A perfect balance of sweet and tangy, the Sweet & Spicy adds a pleasing jolt of heat for those who like a little kick. As good as these sauces are on pork sandwiches, do yourself a favor and mix a spoonful or two into potato salad! We admit we did it by accident at first but the results are something special!
Help out a small St. Louis business who are making some really good sauces – if you don't live in the area you can buy directly from the Web Store located at their site. Show Me the good sauce!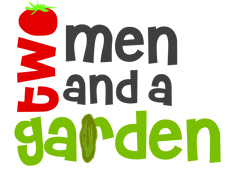 Two Men & A Garden: This small company was formed when two families decided to combine their backyard gardens and share the tasks of planting, weeding, tilling soil, and enjoying the seasonal bounty!
It's Two Men & A Garden, located in the St. Louis suburb of Fenton. The combined gardens began producing so many cucumbers, tomatoes, and peppers that a business idea was hatched – make salsa and pickle the cucumbers and sell the products locally. The idea was a big success, and now this small business is partnering with local farms to help keep up with demand …
They make a line of ultra fresh salsa, in mild, medium, and hot varieties. Another variety is their unique Strawberry Salsa, using locally grown strawberries, along with Peach and Hot Mango flavors …
As for the cucumbers, they're made into Dills, Spicy Dills, and Sweet Pickles, all of which are now available directly at the Two Men & A Garden website. They've also begun offering a couple of nice gift packages you can mix and match between your favorite pickles and salsa!
To learn more, click through to their site where you can see all their products and order …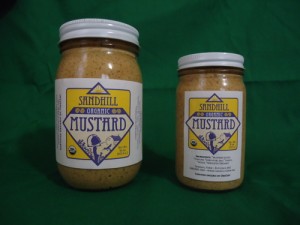 Sandhill Farm: Everyone seems to have a favorite condiment, and ours is mustard. It's fair to say we're always on the lookout for great tasting mustard and we love introducing them to you here on State Gifts USA!
Our latest mustard discovery is produced by Sandhill Farm, an income sharing egalitarian community in rural Scotland County in the northeast corner of the state. The community practices organic and sustainable farming and market their products locally in Missouri in addition to their online store …
Sandhill Farm is best known for their sorghum, a natural sweetener that's used as a table syrup or in baking and sauces. You can purchase it at their site along with their mustard, which we found in a store in Columbia. It's a spicy natural brown mustard, made with their own sorghum, vinegar, and garlic grown on the farm. Excellent as a dipping mustard, it's also really good on deli sandwiches!
Try it for yourself and see. The Farm has a list of retail outlets in Missouri and farther afield on their website, or just order it online. Great stuff from Northeast Missouri!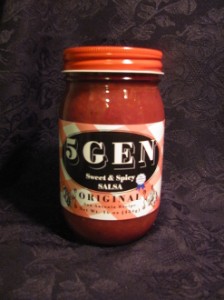 5 Gen Salsa: One of our favorite pastimes when traveling is poking around local grocery stores. Not only will you find some terrific local products but you'll also meet some really nice people! On a drive through the heart of Missouri not long ago, we discovered 5 Gen Salsa at a Hy-Vee store in Jefferson City …
We should've bought more than just one jar! This happens to us a lot, but we were nonetheless pleased to learn about and sample this fantastic salsa. We don't know a whole lot about the company, but it's called 5 Gen because the recipe has been passed down through five generations – and we can understand why!
We bought their Original Sweet & Spicy variety (they also make a Chunky style). This stuff is so good you can use it as a condiment instead of strictly a salsa – we spooned it on a burger instead of ketchup and the next morning it went on our scrambled eggs. Needless to say it also works well on tacos or any Mexican style dish.
The company also makes a Bloody Mary Mix, and just introduced a gourmet ketchup based on their original family recipe. All the products are available directly at their website. Very flavorful and direct from the heart of The Show Me State!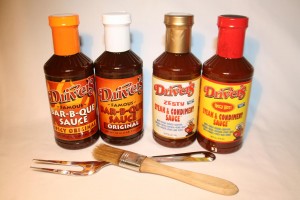 Driver's Foods: Better known in the Jeffeson City and mid Missouri area as Driver's BBQ, this specialty foods company is family owned and overseen by Annette Driver. Her father Clarence was a well known Missouri Barbecue Champion and opened the family's first restaurant in 1989.
Annette has taken the company to a new level, including marketing the famous Driver's BBQ Sauce. The sauce is available in Original and Spicy varieties, and if you like good barbecue you'll love this sauce! We came across it recently on a trip through Missouri and used it on our pulled pork and as a dipping sauce with roasted potatoes. With a touch of sweet and deep, rich flavors, this stuff is the real deal!
Driver's BBQ Sauce is legendary in The Show Me State and makes a perfect gift for anyone who loves Missouri. They also make Steak & Condiments Sauces and their Dry Rub, all of which you can order from their website.
Discover just what we're talking about – bring some Driver's into your home!
St. Louis Gooey Butter Cake: If you've spent any length of time in St. Louis, you already know about Gooey Butter Cake. I worked one summer in St. Louis at my dad's meat packing plant and enjoying Gooey Butter Cake for dessert is one of my favorite memories of that time …
If you're not familiar, let's start off by saying this is a distinctly St. Louis thing. We've not seen this style of cake anywhere else in the United States. Basically, St. Louis Gooey Butter Cake features a dense yellow cake like crust which is then filled with a mixture of eggs, cream cheese, butter, and powdered sugar. It's available in dozens of different flavors like Traditional, Pumpkin, Chocolate, Lemon, Key Lime, Chocolate Raspberry, and countless more …
This iconic dessert treat has finally expanded outside the environs of The Lou, courtesy of the fine folks at Park Avenue Coffee (linked above). Not only to they bake these cakes daily and sell them at their Lafayette Square and other locations, but they'll also ship them to those longing for their distinct flavor. They've been featured on The Food Network and won the competition for the best Gooey Butter Cake in the city …
They also sell mixes to make the Gooey Butter Cake at home, and if you like to bake, the recipe to create your own is pretty simple. Click through to their site, and under the Shop tab you'll see all the varieties you can order. Take our word for it – it's one of the best cakes you'll ever have!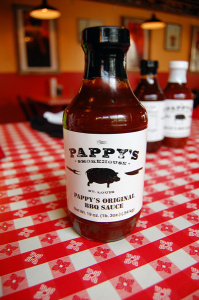 Pappy's Smokehouse: Whenever we travel, we're always on the lookout for great barbecue. No matter where you visit in the U.S., you're probably not too far from some good Q. On a recent trip through St. Louis, we discovered a really good BBQ joint a couple miles west of downtown on Olive Street near the St. Louis University campus. It's called Pappy's Smokehouse and the locals have discovered it – the restaurant sells out almost every day!
Pappy's calls themselves Memphis style barbecue but what struck us is how they smoke their meats. Instead of the traditional hickory wood, they use softer apple and cherry wood for the slow smoking process. Hickory can sometimes be harsh and smoking over apple and cherry imparts a faint fruity flavor which we enjoy. In our estimation they're perfect for the process of slow smoking pork!
We also really enjoyed Pappy's barbecue sauces, all of which you can buy online at their website. Pappy's Original, shown, is indeed a Memphis style sauce with a peppery kick. Holly's Hot is as it sounds – a hot bbq sauce that'll wake up your taste buds and Jane's Sweet is a thicker Kansas City style sauce with a sweet flavor we loved.
Next time through St. Louis, stop here for lunch. You won't go wrong and the place is easy to find – if you happen to not see it, you'll probably catch a whiff of slow smoked barbecue driving by! Otherwise, visit Pappy's Smokehouse online to order any of their sauces and cool logo items …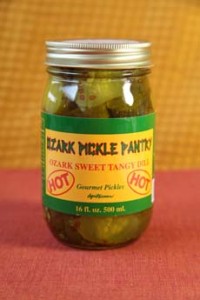 Ozark Pickle Pantry: There's nothing quite like a fresh, crunchy pickle, and that's what you'll get from the folks at Ozark Pickle Pantry based in the Lake of the Ozarks. This small company makes four varieties of specialty pickles that are renowned in this area and now shipped nationwide …
Their best selling variety is Ozark Sweet Tangy Dills, which start with a burst of sweet flavor. Then, you'll get the traditional dill taste, followed by a tangy kick at the end. The company also makes a hot version of their Tangy Dills which won a first place award at the national Fiery Food Challenge.
Ozark Bread & Butter and their new Pickles & Peppers round out the product line. The Bread & Butter Pickles have a nice sweet flavor – perfect for livening up your lunch time sandwich!
Enjoy the fresh taste of Missouri! You can order directly at the Ozark Pickle Pantry website …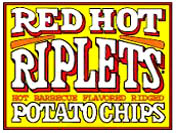 Old Vienna Red Hot Riplets: A real St. Louis institution, Old Vienna Red Hot Riplets are barbecue flavored potato chips made with hot sauce. In the summer of 1980 when I worked at my dad's meat packing plant in St. Louis, I remember eating small bags of Riplets at lunch with a co-worker who loved them …
The company is based in Fenton and has been around in one incarnation or another since the mid 1930's. They're most famous for the original Red Hot Riplets, but they also make a Cheesy version, hot corn chips, cheese and hot cheese popcorn, and several other flavored chips. If you're dealing with another ho hum sandwich for lunch, spice it up with some Old Vienna snacks!
At the Old Vienna online store, you can order any of their snacks in cases of various sized bags. Believe me, it will be hard to eat just one small bag, they're really good!
A great gift for someone with a soft spot for St. Louis and you can be certain anyone born and raised there will know about Red Hot Riplets!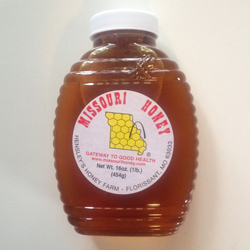 Hensley's Honey Farm: Located in the St. Louis area, Hensley's Honey Farm is a great source of local raw honey for local residents as well as those (like us!) who enjoy tasting honey produced in different parts of the country …
As you probably know and as we emphasize here on State Gifts USA, not all honey is the same. Local honey that is raw and unpasteurized offers significant health benefits, including a natural energy boost, more restful sleep, relief from allergy symptoms, stabilizing blood sugar levels, and many more. In contrast, the mass produced grocery store bought honey has been overly filtered and pasteurized which removes all of the helpful ingredients (like pollen) found in natural honey …
Hensley's markets their honey as Missouri Honey and also makes honey related products like skin and lip balm, milk and honey soap, and of course their natural honey. The honey is found in many stores in the St. Louis metro area and also online at their website in various sized containers. See their site for more information and to order …
And did you know … honey is the only food product created by insects eaten by man??
Wicked Cactus Gourmet Hot Sauces: One of our favorite things to do when we travel is to check out local food products we don't see in our area outside of Chicago. We've been visiting St. Louis for well over 30 years and it's always fun to check out old favorites and discover new specialties …
Last time we were in The Show Me State, we discovered a St. Louis area company creating a specialty line of gourmet hot sauces. They're known as Wicked Cactus Sauce, and if you like trying different hot sauces, make it a point to check them out!
We were fortunate enough to try two of their line of nine hot sauces, all of which are profiled and sold at the Wicked Cactus Sauce website. The first we tried is called Cobra Venom, a great addition to stir fry dishes that's not as dangerous as the name implies. A mix of Thai peppers, lime juice, coriander, and garlic gives Cobra Venom a moderate heat that adds a bit of zip to rice based meals. It's also great with Mexican dishes!
The second sauce we tried is Viva La Raza, a milder green sauce made from tomatillos, serranos, and jalapenos. Try this one with tacos or on pita bread sandwiches … also adds an interesting dimension to chicken salad! And for those of you who like your sauces hot, Wicked Cactus has you covered. At their site, you'll find descriptions of all their currently available sauces, including a heat level rating of one to five. "Show Me" the hot sauce!
Click through to their site to order via PayPal …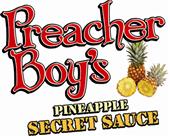 Preacher Boy's Secret Sauce: Preacher Boy's Secret Sauce is a line of six different all purpose sauces developed by a Lebanon, MO minister by the name of Don Anderson. After making his specialty sauce for family and friends for years and garnering rave reviews, Don decided to take his sauces public in 2011 …
These sauces can be used as traditional barbecue sauce but are much more versatile. They can be used for basting, as a marinade, or simply as a dipping sauce for your favorite foods. Flavors currently available include the Original, Sweet Onion, Sweet With Heat, Sweet Chipotle, Peach, Sweet Inferno, and Pineapple Secret Sauce.
If you live in Missouri, you'll find Preacher Boy's sauces in grocery stores around the Lebanon and Branson area, or of course you can buy them online at the Preacher Boy's Secret Sauce website …
At their site, you'll also find all sorts of combination and specialty tailgate packs – a cool gift!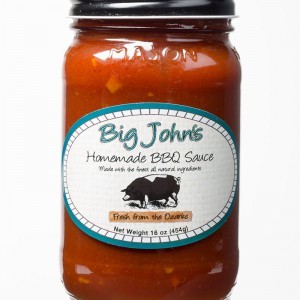 Circle B Ranch: Circle B Ranch is a hog farm located in far southwest Missouri, about 30 miles east of Springfield. They're well known for their world class pork products, either fresh or smoked …
While we've never tried any of their pork product, they're reputed to be excellent. But we have tried their signature Big John's BBQ Sauce (and it is excellent!). It's got some unique ingredients, like hot sauce, molasses, ground mustard, red pepper flakes, brown sugar, and cider vinegar.
As you can probably surmise, it's a combination sweet and hot that naturally goes well with pulled pork sandwiches or ribs or any other barbecued meats for that matter …
You can order the sauce online at Circle B Ranch Pork along with a couple of other sauces they make and any of their cuts of pork …
A tasty gift from southwest Missouri!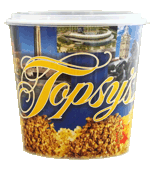 Topsy's Popcorn: A Kansas City, MO tradition since the 1940's, Topsy's Popcorn is the best known popcorn in the area. They were the very first merchant in the Country Club Plaza and they've got locations all over the Kansas City metro area …
Topsy's is renowned for their many flavors of popcorn packed in colorful tins. Especially popular during the holidays, Topsy's Popcorn is also an ideal corporate or special occasion gift. You can choose from a variety of tins and flavors – the Caramel Pecan is one of our favorites!
If you're in Kansas City, be sure to stop at one of their stores and order a flavored limeade drink. They're made on demand with fresh limes in regular and cherry flavors. We love walking around the Plaza to shop and see the sights and we're almost always carrying some of Topsy's products with us!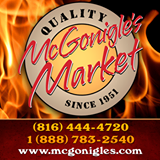 McGonigle's Market: If you've ever been lucky enough to have dined out in Kansas City and wondered where those magnificent KC Strip Steaks came from, chances are the answer is McGonigle's Market. They've been a Kansas City legend since 1951, located at the corner of Ward Parkway and 79th Street in the city …
Kind of an old fashioned traditional butcher shop, McGonigle's is a great place to stop for lunch as well. They offer some sort of special every day – it might be something barbecue, it might be a sandwich special, but it's always something reasonably priced and fantastic …
McGonigle's ships their famous hand trimmed steaks and other items across the country in special packs with dry ice. Your steaks will arrive fresh and ready to grill and serve! Choose from strip steaks, T-Bones, Filet Mignons, ribeyes, porterhouse, and more. You can also get magnificent beef roasts, lamb, pork roasts, and pork chops.
A one of a kind place in KC, MO!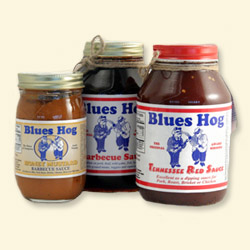 Blues Hog BBQ Company: Blues Hog BBQ is a barbecue catering and sauce company located in the small town of Perry. The town is in the northeast part of Missouri, northwest of Columbia and southwest of Hannibal …
We found their sauces at our local Garden Fresh Market and promptly bought a jar of each of the three on the shelf. There's the Original Blues Hog Barbecue Sauce, a sweet and spicy gem that reminds us a bit of KC style sauces. Second, there's Honey Mustard Barbecue Sauce, which you can also use as a dipping sauce or even a salad dressing …
Finally, there's Tennessee Red, a spicy vinegar peppery southern style sauce that's great on a chopped pork or pulled chicken sandwich. Excellent as a marinade as well!
Blues Hog also makes a variety of rubs and gourmet sauces, like their Raspberry Chipotle Sauce. You can buy any of the Blues Hog products directly at their online store – great as a gift from The Show Me State!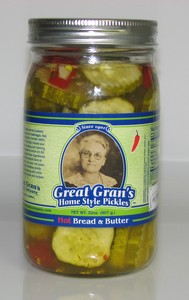 Great Gran's Pickle Company: Jack Williams is the great grandson of an Italian immigrant by the name of Angeline Morrelli-Buzzetti who settled on a southern Missouri farm with her husband. She carried with her from Italy a recipe for canning dill pickles, and the recipe passed to Jack's grandmother and then to his mother …
Unable to find pickles to his liking, Jack tracked down his great grandmother's recipe from his aunt and experimented a bit. The result is a pickle company called Great Gran's Pickle Company which makes dills along with bread and butter chips (mild and hot). The pickles are produced in Olathe, KS but the company is based on the Missouri side of Kansas City and the history of these pickles originated in southern Missouri …
These pickles are crunchy, with just the right amount of vinegar and spices to let you know you're eating a pickled cucumber. They're available in stores in metro Kansas City, and also online via a link on the company website.
Jack's great grandmother is pictured on every jar, so you know these pickles have to be good!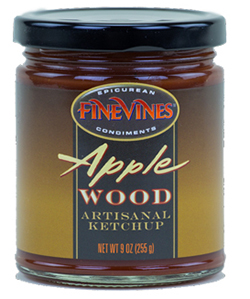 Fine Vines Artisanal Ketchup: If your first thought upon seeing this feature is "why artisanal ketchup?", you're probably not alone, but then again, you probably haven't tasted the 12 flavors of ketchup from this Independence, MO based company …
To directly answer the "why" question, let's start with what these creative flavors don't have … no gluten and no high fructose corn syrup like mass produced brands. These ketchups are so flavorful you can use them in recipes – anything from sloppy joe's to chicken wings to appetizer dishes (check out the recipes on their website).
But Fine Vines Ketchup isn't too fancy to overshadow your favorite cheeseburger, steak, or french fries. Flavors include Smoked Serrano, Grill Smoke, Savory Sweet, and more. We are partial to the Apple Wood flavor (pictured) and use it frequently with pork dishes as a dipping sauce or glaze. Try it on a grilled pork tenderloin!
You can find Fine Vines Artisanal Ketchup in many food stores in the KC area, as well as across Kansas and Missouri. They're in some locations farther afield, but your best bet is ordering directly from their website. Order three or more jars and shipping is free!
Fitz's Root Beer: One of our favorite St. Louis areas is the Delmar Loop, a six block stretch of Delmar Boulevard in University City (known locally as U-City) immediately west of St. Louis proper. The Delmar Loop, so named because streetcars used to circle back around here, is a vibrant area filled with stores, pubs, restaurants, a movie theater, and the St. Louis Walk of Fame.
The Walk of Fame is similar to Hollywood's famous Walk of Fame. Stars are embedded into the sidewalks honoring famous St. Louis citizens well known to the world. Chuck Berry, Tina Turner, Stan Musial, and actor Kevin Kline are just a few who are honored with a star along the Walk of Fame …
One of our favorite St. Louis restaurants is located in the heart of the area, Fitz's Root Beer. Fitz's actually bottles their root beer and specialty sodas on site – the bottling line is visible from every seat in the restaurant. It's a fun casual place where you can enjoy great sandwiches, salads, appetizers, pizza … and of course root beer floats!
If you ever get to Fitz's, you'll grow to love it like we do. Recently, Fitz's established Fitz's Online Store where you can buy their famous root beer and their many other flavors. They sell variety packs too in case you can't make up your mind!
There's other Fitz's swag available too, like t-shirts, hats, key chains, bottle openers, etc. Discover Fitz's – A St. Louis icon!
Persimmon Hill Farm: Persimmon Hill Farm is a family owned operation that's a combination berry, fruit, and mushroom farm combined with gourmet food producer. The farm started in 1982 and now produces over thirty gourmet food products and ships them all across the country …
The farm is located in Lampe, a small town just north of the Missouri-Arkansas border and not far from Branson. They're probably best known for their gourmet blueberry muffins, affectionately known as Thunder Muffins. These huge muffins are bursting with blueberries grown on the farm and sprinkled with a cinnamon sugar topping. Just warm them up a bit and serve!
Persimmon Hill Farm also creates gourmet jams, shiitake mushroom products, barbecue sauce, syrups, and other specialty foods. Their gift baskets are very popular gifts for holidays, thank you presents, or just about any occasion!
Order the fresh taste of the Show Me State directly at their website!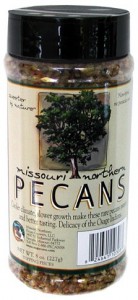 Missouri Northern Pecan Growers: Pecans are typically grown in southern states like Texas, Mississippi, New Mexico, and so on. So it was a surprise to learn about Missouri Northern Pecan Growers, based in Nevada, Missouri …
Nevada (pronounced "Ne-VAY-da") is located in far western Missouri, not far from the Kansas border. It's due south of metro Kansas City and northwest of Springfield, MO. In the area, there several pecan groves maintained by growers who formed the cooperative. This is the farthest north pecans grow in the U.S. …
These pecans are similar to pecans you'd find in the grocery store, with two exceptions. First, they are slightly smaller. Second, they have a sweeter, richer taste than traditional pecans. The first time you try them you'll notice the difference!
Missouri Northern Pecan Growers sell their pecans online in packages, gift boxes, and a handy sprinkle jar if you plan to use them for baking or salads. These pecans are organic, meaning no herbicides, pesticides, or fungicides are used on the pecan trees.
A great gift idea from Missouri! Check their website for additional details …
Imo's Pizza: Being born and raised on the south side of Chicago teaches one a few things about good pizza. Traveling around the U.S. teaches one a few more things about pizza …
Most everyone knows about the various regional pizza specialties … there's Chicago style deep dish, New York style thin slices, and Detroit style thick rectangular shaped pizza. But what about St. Louis style?
There is indeed a St. Louis style of pizza. Traditionally, it's made on a yeast free very thin crust with Provel cheese instead of the more standard mozzarella. It's also cut into squares or rectangles instead of wedges. Most of the other ingredients are the same … the key differences to other styles is the very thin crust and the use of Provel cheese …
One of the first originators of St. Louis style pizza is Imo's Pizza, which started in 1964 and has now grown to over 80 locations. There are locations all over the St. Louis area, the state of Missouri, and all the way to Kansas City …
As long as your area isn't serviced by an Imo's location, you can get their pizza shipped to you. They're shipped every day to people across the country craving the unique taste of a St. Louis style pizza …
Check their website and click on Out of Town Shipping at the page bottom for all the details …
History of Missouri
Missouri Trivia and Fun Facts

1). The 1904 World's Fair, held in St. Louis, is remembered as the birthplace of the hot dog, iced tea, and the ice cream cone …

2). Missouri borders eight states. It shares this distinction with Tennessee. Ironically, the two states share a small border with one another. The seven other Missouri neighbors are Arkansas, Illinois, Iowa, Kansas, Kentucky, Nebraska, and Oklahoma …

3). The Eads Bridge in St. Louis, which spans over the Mississippi River, was the first arched steel truss bridge in the world …

4). In 1818, St. Louis University became the first university founded west of the Mississippi River …

5). America's first wine region was established in Missouri in the 1830's and 1840's by German immigrants in and around the town of Hermann, about 50 minutes west of St. Louis …

6). The famed Gateway Arch was completed in October, 1965. It is anchored by foundations sunk 60 feet into the ground and is built to sway 18 inches in extremely high winds …

7). The 33rd U.S. President, Harry Truman, was born in Lamar. His former home and presidential museum are located in Independence …

8). The highest point of elevation in the state is Taum Sauk Mountain at 1,772 feet …
Syberg's Wing Sauce: We visit St. Louis quite a bit and have gotten to know the city quite well. My dad was part owner of a meat packing business there in the 1970's and I worked there one summer. Over the past 30+ years, we've been there for long weekends many times and have come to know the great neighborhoods and great tastes that make up this Midwestern city on the Mississippi …
For a casual meal and a fun happy hour, it's hard to top Syberg's. They're famous for their pizza, shark bites, and especially their wings. Syberg's has several locations in the metro area … we like the one on Market Street adjacent to downtown.
Their wing sauce and how they cook their wings is what sets them apart. The wings are served crispy and the sauce is an eye opener but not over-the-top-burn-your-mouth hot. Their restaurants are family owned, friendly, and everything is fresh. In short, a great gathering spot!
If you can't make it to St. Louis, get (or give) a taste of the city from the Syberg's website. They sell bottles of their famous wing sauce and will ship it anywhere in the U.S.!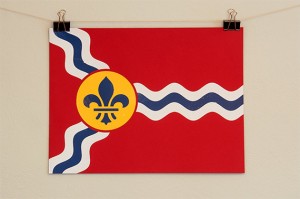 Brick City STL: Do you know someone with a soft spot for the city of St. Louis?
If so, turn them on to Brick City STL, a small St. Louis shop which also sells their cool prints on Etsy …
Pictured is a hand made high quality print of the St. Louis flag … it's very reasonably priced and would make a great accent piece in someone's home (St. Louis or not!).
There are several other prints to choose from as well, including maps of the city and rapid transit prints …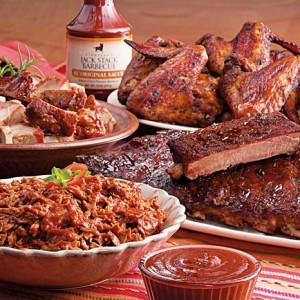 Jack Stack Barbecue: Officially known as Fiorella's Jack Stack Barbecue, this is one of the revered names in the Kansas City, MO (and KS) bbq scene …
We first went here to the original location at 135th and Holmes in 1995. It's in a south suburb of Kansas City called Martin City, and it's on the Missouri side so that's why we have it listed here. Three other locations abound in the KC area, two of which are in the Show Me State …
Jack Stack Barbecue is known for doing lots of things well … pulled pork, ribs, sausage to name a few. We suggest trying the burnt ends, a KC bbq tradition which are basically what they're called … slightly burnt and crispy edges of meat that create a taste sensation like no other!
Jack Stack is one of a few KC BBQ establishments that will mail order ship a BBQ feast anywhere across the country. They offer a create your own super sampler package which lets you pick out a lot of one thing or a little bit of everything …
If you love barbecue, try Jack Stack! If you're ever in the area, it's one of the most comfortable, casual, really good eating spots you'll find …

Blue Owl Sweet and Sour Dressing: The Blue Owl Restaurant and Bakery is located in historic downtown Kimmswick, and they're famous for baked goods, but we want to introduce you to another of their creations …
Blue Owl Sweet and Sour Dressing has been a staple at the restaurant since they opened in 1985. As the name implies, it's a sweet and tangy dressing that's not only good on salads, but as a sandwich condiment as well …
Kimmswick is a great little town to visit, just a stone's throw from the Mississippi River just off Interstate 55 …
Zia's on The Hill Sauces and Dressings: St. Louis is one of our favorite cities … we've spent a lot of time there exploring the many great shops and restaurants around town. One of our top St, Louis destinations is The Hill, an iconic Italian neighborhood a few miles west of downtown.
On every block, you'll find well known Italian restaurants on The Hill, as well as interesting independent shops (we profile on of them below). You really can't go wrong at any of the restaurants, although passions run high as to which is "the best". One that certainly makes our list is Zia's, located on Wilson Avenue …
You can buy Zia's sauces online, and there's one in particular we recommend. It's Zia's White Wine Lemon Sauce, which can be used as a marinade, dressing, or drizzled atop pasta, fish, or meat. Zia's also sells their pasta sauce and other dressings from their online store, so you can give a taste of St. Louis to the chef in your life. And if you've never been to The Hill, add it to your travel destination list!
Chase Candy Company Cherry Mash: Located in St. Joseph, the Chase Candy Company is one of America's oldest, dating back to 1876. The company makes all kinds of sweet treats, but is best known for a chocolate and cherry candy bar known as the Cherry Mash …
The Cherry Mash bar has a soft cherry flavored center containing maraschino cherries, topped with chopped roasted peanuts and covered with chocolate. If that sounds great, let us assure you … it is!
You can buy Cherry Mash bars and other Chase Candies online at the Chase Candy Shoppe … they ship all over the country.
Peculiar Spice Company Peculiar, MO is located 20 miles south of Kansas City. As the story goes, when the town's founders were trying to come up with a name, all the names they brought up were already taken. Exasperated, a few spoke up and said "Just give us a peculiar name!". It stuck, and generations later Peculiar is home to the Peculiar Spice Company.
The company markets a line of appetizer dips, soup and dessert mixes, and sandwich mixes. We like the Hawaiian Chicken Salad mix (shown). All you need is a can of crushed pineapple, Miracle Whip, and 3 cups of diced chicken or turkey. Mix it all together, refrigerate to let it all meld, and you've got a tasty lunch!
You can order any of the mixes Peculiar Spice offers online at PeculiarSpice.com …
Swiss Meat and Sausage Company: In the heart of Missouri Wine Country is the charming town of Hermann, a popular Midwest weekend destination and near the home of the Swiss Meat and Sausage Company …
Founded in 1965, the company is known as the official bratwurst supplier to the University of Missouri, as well as for their summer sausage, German bologna, and cheese.
A great gift for anyone seeking a taste of Missouri is the Swiss Pride Gift Box (pictured), which includes all three of the aforementioned products.
Order online and have any of Swiss Meat and Sausage Company's products shipped directly …
Volpi Foods – St. Louis: Another of our favorite businesses on The Hill in St. Louis is Volpi Foods, known for their specialty Italian meat products since the early 1900's …
Volpi makes old world styles of salami, prosciutto, capocolla, and artisan cheese. Check out their site, VolpiFoods.com to see their entire product line and order online …
Float Trip Pickles: A small company based in Springfield, MO Float Trip Pickles began when a father and two sons took on an annual float trip on the North Fork River near Springfield. They always carried along family recipe pickles and relish, and it led to a profitable business idea …
On a recent trip to Missouri, we were able to try Float Trip Pickles Sweet and Spicy Pickle and Jalapeno Relish (pictured).
The name describes the taste … it's a combination of sweet and spicy pickles mixed with jalapeno peppers and fine cut into a relish. Try it on hot dogs!
You can order Float Trip Pickle products online at their website, linked above …
Gates BBQ: Kansas City is well known as one of America's primary destinations for barbecue. There are hundreds of bbq restaurants in the metro KC area, and ample debate as to which is best. While it's literally impossible to quantify "best", there are no Kansas city barbeque locations as well known as Gates …
Gates BBQ is actually a small local chain, with six locations in the area. Whenever you enter one of their restaurants, you are immediately greeted with the Gates standard, "Hi, May I Help You?", as well as the wonderful aroma of ribs, pulled pork, and more.
Gates makes four varieties of their signature sauce, which offers the Kansas City style sweet flavor (delicious!). Choose from Original, Sweet and Mild, Mild, and Extra Hot. A gift pack of Gates BBQ sauce makes an ideal Missouri gift!
Watch this page for more Kansas City and Missouri BBQ products …
Herbaria Soap: Another great place to visit on The Hill in St. Louis is Herbaria Soap, a manufacturer of all natural soaps that are made without any artificial ingredients. We have used soap from Herbaria since a visit in 2011. Their Gardener's Choice soap is gentle on your hands but extremely effective, and the Herbaria shampoo bar leaves hair soft, silky, and manageable …
When you visit their location, chances are you'll be greeted by the Herbaria mascot, a wonderful dog named Soapy. Of course, Herbaria also makes a dog shampoo bar!
Be sure to visit the Herbaria website to see Soapy touring all the popular St. Louis visitor sites …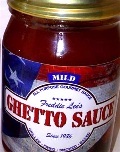 Freddie Lee's Ghetto Sauce: Back in the mid 80's, Freddie Lee and his wife were outside their home slathering their home made sauce on some grilling meat. Police sirens filled the air from a neighborhood disturbance down their street, and the Lee's decided to call their special concoction "Ghetto Sauce" …
Ghetto Sauce is one part barbecue sauce, one part grilling sauce, and one part dipping sauce for your favorite foods. Use it on anything … grilled meat, stew, pasta, or drizzled on appetizers. It's available in mild and spicy versions, and usually you can only find it in the St. Louis area …
We discovered a handy online source for Ghetto Sauce called "It's A St. Louis Thing" where you can bring this tasty and tangy all purpose sauce right to your door. Try it! It'll send your taste buds jumping …
Billy Goat Potato Chips: The Billy Goat Restaurant and Bar opened in 2002 in St. Louis as a gastro pub serving their house made artisan potato chips to complement their entrees and appetizers. The chips have proven to be so popular that the Billy Goat now manufactures them separately and sells them online …
Billy Goat Potato Chips are razor thin and incredibly crisp, with a light seasoning to complement the potato taste.
They're available in several different flavors, from original to red or green chile dust to a spicy ghost pepper flavor.
They sell in combination packs so you can try all the flavors, or just pick your favorite! A tasty gift direct from St. Louis …
More Missouri Made Products To Come … Tell Us About Your Favorite Made In Missouri Products By Commenting Via Our Contact Us Page …