Made In West Virginia Quick Facts
This Post is about Made in West Virginia Gifts and Specialty West Virginia Products
Want To See Your Business / Products On Our Made In West Virginia Page?
Visit "Advertise With Us"!
FEATURED MADE IN

WEST VIRGINIA

BUSINESS

ES
Wild Rose Soap Company: From Shepherdstown, this small West Virginia business produces a line of hand made soap, candles, and bath and body products …
We've long been advocates of local hand made soap since it's so much better for your skin and is more economical. Hand made soaps are more concentrated, last longer, and are made with natural ingredients and essential oils. They're very effective even as shampoo bars and if you've got four legged furry friends, these natural soaps will give your pet's coat a shiny glow …
We particularly like local soap makers who create soaps inspired by local specialties, and Wild Rose Soap Company does just that. Examples include their West Virginia Hard Cider Soap (pictured) and Rose Wine Soap, made with local wine …
At their website, there's information as to where you can buy locally if you live in The Mountain State, and a link to the Wild Rose Soap online store …
Great West Virginia Made gifts for anyone on your list, any time of year!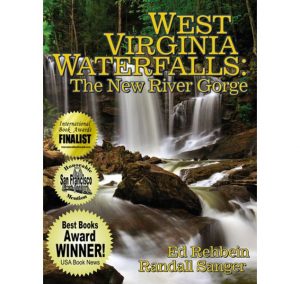 West Virginia Waterfalls: If you've ever traveled the scenic byways of West Virginia, you've probably seen the natural beauty of the many waterfalls dotting the landscape. The Mountain State offers over one hundred spectacular waterfalls, and many of them are highlighted in a wonderful guide and picture book called West Virginia Waterfalls: The New River Gorge.
Jointly written by photographers Ed Rehbein and Randall Sanger, this coffee table style book is the perfect gift for anyone who loves the state. It's 112 pages chock full of color photographs and descriptions of the waterfalls, along with 16 pull out maps and guides to help you find them on your travels.
You can order it directly from the website linked above. Ideal for nature lovers, hikers, outdoorsmen, or anyone who enjoys getting out and seeing the sites!
Click through for all the details …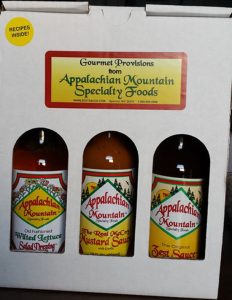 Appalachian Mountain Specialty Foods: Owned and operated by Veronica and Greg Stover, this family owned Mountain State company offers a tempting product line of sauces, glazes, and salad dressings. The Stover's are new owners of the company since 2013 and they've created a new buzz of enthusiasm for this small business best known for their tangy and versatile Zest Sauce …
One of eight offerings in the product line, Zest Sauce is a uniquely delicious flavoring and marinade sauce made from a mix of wine, tomatoes, mustard, red wine vinegar, and spices. It's perfect as a slow cooker marinade or to add some "zest" to soups, stews, pasta salad, and more.
Zest Sauce is joined in the lineup by The Real McCoy Mustard Sauce, Copperhead Bloody Mary Mix, Old Fashioned Wilted Lettuce Salad Dressing, and something truly unique to West Virginia, Ramp Dressing. Ramps (wild leeks) grow in selected areas of the Appalachians and are a tried and true springtime delicacy for those in the know …
The Ramp Dressing is a light vinaigrette infused with the flavor of ramps and will be appreciated by any West Virginian or anyone who loves the state and its cuisine. Appalachian Mountain Specialty Foods distributes their products to retail locations all across the state (there's a handy list at their website) and sells directly online. Be sure to check out the attractive gift boxes like the one pictured … you or that lucky someone can enjoy a nice sampling of their products!
Click through to learn more about this enterprising West Virginia business …

Frooper's Gourmet Central: This Romney, WV specialty food company is the result of a five generation family farm which produces fruit by the bushel full …
The product line of Frooper's Gourmet Central is something to behold. They produce over 100 unique products in a wide variety of cateogries … here are just a few of them: Jams, Jellies, Hot Sauces, Barbecue Sauces, Syrups, Salsa, and Condiments.
At their site, you can see the entire product line and buy at their online store. Worth seeking out is their special blend hot sauce called Hillbilly Holer'n Hot Sauce (pictured). Try it in stews, on fish sandwiches, or any rice based dish – fantastic!
If you live in the area, you'll find Frooper's products at select Whole Foods locations, farmers markets, and independent stores. The company also co-packs and private labels – contact them for more details …
Mountaineer Brand: If you or someone on your gift list sports a beard, you need to know about this West Virginia company …
They're Mountaineer Brand, a business started in 2013 that's based in Shepherdstown along the Potomac River. The company's specialty are all natural beard care and shaving products for me who want something a little bit better than the usual mass produced items.
Mountaineer's website showcases their complete line of products, and you can also buy them there, including gift sets and combination packages. Beard oil, washes, shampoos, and grooming tools are among the many items you'll see, along with shaving soaps, lip balm, and hand & body care products. If you've got a guy who's hard to buy for, rest assured you'll find something he'll appreciate here!
Visit this innovative company's website and help support this West Virginia small business …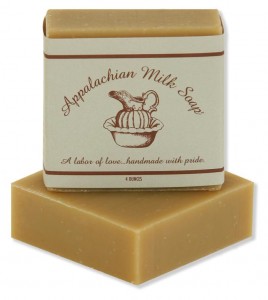 Appalachian Milk Soap: This handmade soap and body care products company is based in Hamlin, WV, a small community west of Charleston and not far from the Ohio and Kentucky borders. Their pride and joy is their goat milk soaps, made by owner Susan Jacks and her staff. Goat milk soap, in case you've never tried it, is exceptionally good for your skin due to the higher fat content of goat milk.
Often used to help treat skin conditions like eczema, you'll notice the difference from mass produced soap. These soaps have roughly the same pH balance as your skin, so there's no "dried out" feeling you get from other soaps. We have personally used goat milk soap for many years and wouldn't dream of switching back …
Appalachian Milk Soap makes a variety of scents appropriate for both men and women, which you'll see at their website. Also, they make a dog shampoo bar called "Furry Friends" which offers the same benefits of goat milk soap to your best dog friend …
The business is also known for their related bath and personal care products, like their "Skeetergon" bug repellant which contains citronella, sweet orange and clove leaf essential oils and no DEET. It's safe to use anywhere on your skin, keeps pesky mosquitoes away, and smells good too!
Visit the Appalachian Milk Soap website – handmade soap makes a wonderful personal gift!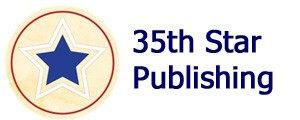 35th Star Publishing: Literature about a state's traditions, customs, and history always makes a thoughtful, wonderful gift. Knowledge is one of the best gifts to give, after all, and this Charleston based small publisher is devoted to filling the West Virginia local history and folklore niche …
They're 35th Star Publishing and they focus on titles from independent local authors who are often overlooked by large publishing houses. Specializing in non fiction, 35th Star offers a selection of titles about Appalachia and more specifically, The Mountain State.
Publishing arrangements are very author friendly, and for the consumer, you can buy titles direct from their site via PayPal. They're active at the West Virginia Book Festival and new titles are added to their website on an ongoing basis. If you're looking for a literary gift from the state, look no further than 35th Star!
Indian Water Maple Syrup: We bet you didn't know maple syrup is being made in West Virginia!
Well, it's true … since 1987, Indian Water Maple Company has been making maple syrup and just recently started offering their syrup for sale online via their website. A true Made in West Virginia gift idea!
The business is owned and operated by Ed & Karen Hartman and their three sons. When they first started over 25 years ago, their first output was only a few gallons, but steady persistence and slowly growing the business have led them to where they are now – one of the biggest maple syrup producers in the state. They're located in the small community of New Creek. The hamlet is located near Routes 50 and 220 in the northeast portion of the state, just a few miles from the Maryland border …
Visit their site to see the different sizes and varieties of maple syrup available … enjoy!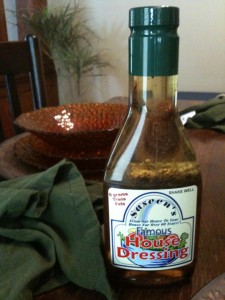 Saseen's Famous House Dressing: We love nosing around local grocery stores whenever we travel in hopes of finding a local gem. If you ever find yourself at a food store in or near Wheeling, look for this wonderful sweet and tangy salad dressing – it's fantastic!
It's called Saseen's Famous House Dressing and it's been a big hit for over 40 years. Customers of a family restaurant of the same name in Wheeling kept asking for the recipe so ownership decided to bottle the dressing and sell it commercially …
It's great on any type of fresh greens and also as a marinade. The sweet and sour taste is one of a kind!
We found an online store selling Saseen's Dressing here. Enjoy!
T & L Hot Dogs: Ok, so what exactly is a West Virginia style hot dog?
Well, it's pretty simple actually, but the end result is extraordinary! It begins with a steamed bun, and on top is placed a hot dog (grilled or steamed), sweet creamy coleslaw, chopped onions, mustard, and hot dog sauce. Variations are offered all across the state … some without coleslaw (depending where you're at). But the key ingredient is the chili sauce, or hot dog sauce as it's commonly called.
Best described as a thin consistency chili, this sauce is the essence of the West Virginia hot dog. One of our favorite places to pick up a few of these tasty creations is at T & L Hot Dogs, who have a handful of locations in the north part of the state. They actually sell their chili hot dog sauce online at their site in one or two pound insulated packages and ship it all over the country (get the two pound – you'll love it and it's a better deal).
Also at their site, you can check out the menu and see their locations. We visited them in Clarksburg – they're also in Bridgeport and elsewhere. Try their milk shakes too!

Marble King: Paden City, WV is a small town nestled along the Ohio River in the northwest portion of the state. Since the late 1940's it has been home to a company that makes over 1,000,000 marbles a day, the very appropriately named Marble King …
This proud West Virginia company uses 100% lead free glass to produce all kinds of marble novelties. Did you know marbles can be used to create some really attractive pieces of jewelry? You'll see examples at the online store at their website. The company also takes custom orders and also makes decorative marbles along with those used for industrial purposes …
For something unique from The Mountain State, check out The Marble King!
Paul's Specialties: "Paul" is Paul Estler of Huntington, WV who crafts functional items from local West Virginia hardwoods as well as reclaimed wood from homes and barns …
Paul creates items like the round handle cutting board shown, lazy susans, coat racks, wine bottle and glass holders, and more. Many items, like the cutting board, are made from a combination of different woods, in this case cherry, maple, and walnut …
While Paul specializes in cutting boards and lazy susans, his talents extend far beyond beyond those pieces – he crafts an impressive variety of wooden items in various colors and sizes …
You can see many of Paul's Specialties at his Etsy Shop. Shipping is free within the U.S.!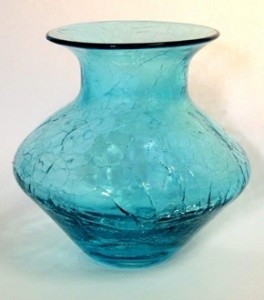 Blenko Glass: Milton, WV is a town of about 2,500 in the central west section of the state. The town is best known for their annual Pumpkin Festival and as the home of legendary Blenko Glass, an American institution since 1893 …
The company produces a wide range of glass products for decorative and functional use as well as architectural projects. Their home ware pieces are routinely prized as beloved family heirlooms and are treasured by collectors worldwide.
Holiday and birth stone ornaments, bowls, decanters, vases, pitchers, and every day glassware are just a few of the items you'll find at their online store. Be sure to check out their special edition items and newly released products – we love their new Bermuda Blue color, pictured in the vase shown …
If you're looking for a genuine made in West Virginia gift that will be treasured for years and years, look no further than something special from Blenko Glass!
DeFluri's Fine Chocolates: Located in the heart of historic Martinsburg, DeFluri's is one of the most beloved chocolate makers in The Mountain State. They're especially known for their award winning truffles but also garner raves for toffees, soft chewy caramels, and much more …
Founded in 1985, the company also caters to corporate clients and can label your chocolate themed gifts for your prized customers and most important clients. You can also order many of their delicious masterpieces at the DeFluri's online store as a wonderful made in West Virginia gift. We especially like their "Puppy Paws" (pictured), made with pecans, premium chocolate, and the finest caramel cream. Guaranteed to please!
Click through to the DeFluri's website to see all they're creating and to place your order …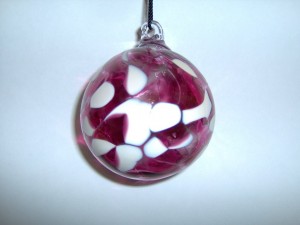 Appalachian Glass Products: The State of West Virginia has a long storied history of glass and art glass production, and no one does it better than this company on Highway 33 in Weston …
They're Appalachian Glass Products, and they're keeping the glass making tradition in The Mountain State alive and well. They produce a wide range of whimsical and decorative home decor and accessory items, like the beautiful holiday ornament shown …
At their online store, you can browse through some of their current offerings for either yourself or as a gift. Expertly made by their local glass works craftsmen, these pieces will be treasured by your family.
Oil lamps, teardrop necklaces, and ornamental sun catchers are just a few of the items you'll see at their site. Click through and order one for your home! A true memento of West Virginia …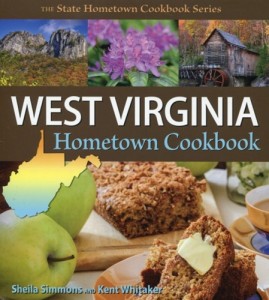 West Virginia Book Company: For anyone who has a soft spot for The Mountain State, there's no better gift than a beautiful book about the state's culture and what makes it special. That's why we're so pleased to add the West Viginia Book Company to our page. It's a one stop shop for books about the state and local interest topics …
The company works with schools, libraries, bookstores, and retail shops to help spread the word about their West Virginia related titles. You can buy directly online and your order is usually shipped the same day, whether to yourself or as a gift. Just about any topic imaginable is available from their website …
You can search either by topic of interest or via author's last name – cooking, history, biographies, Appalachian studies, children's books, fiction, and DVD's are just a few of the sections to explore. If you're interested in the area's Civil War history or even the true story of the Hatfields & the McCoys, they've got you covered! A sure to be appreciated gift for the WV native on your list …
Click through to see all their titles. Every state should be home to a store like this!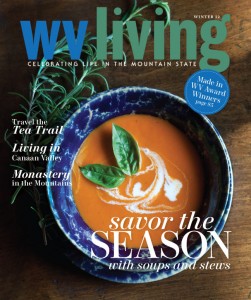 West Virginia Living: We truly enjoy state themed magazines, and every time we travel to a new state we try to get a copy in advance to help us get the lay of the land. In West Virginia, the best publication to seek out is WV Living, a fantastic easy reading and enjoyable reference published quarterly.
Each issue contains interesting stories and features about The Mountain State and its people, perfect whether you're a first time visitor or long time resident. You'll find beautiful photos from around the state and spotlights on events, specialty food and local recipes, things to do, the art and culture scene, and much more.
You can order a yearly subscription online for yourself or as a gift, and as an added bonus, each subscription includes a complimentary copy of their WV Living outdoors issue, published every fall.
One of the most useful and economical West Virginia focused gifts you'll find, this terrific magazine covers the state like no other publication. Click through to their website to get all the details …
Stewart's Hot Dogs: Have you ever been to Huntington, WV? It's another of America's undiscovered gems, a cool little city that's often dubbed "The Most Northern Southern City in the U.S." or conversely "The Most Southern Northern City in the U.S.". We'll leave it for you to decide, but this thriving metro area is located in the southwestern part of the state along the Ohio and Guyandotte Rivers, adjacent to both Ohio and Kentucky. It's a city of many diverse neighborhoods and many great underrated places to eat …
For a casual inexpensive meal that's truly Huntington, stop at Stewart's Hot Dogs, a small drive in on 5th Avenue that's been around since the 1930's. As the name implies, they're famous for their hot dogs. Among other things, they're also known for their chili, hamburgers, grilled chicken sandwiches, & more.
We visited here not long ago and had a fantastic lunch! Stewart's ships their hot dogs anywhere in the country for folks longing for their distinctive flavor or for hot dog fans who've never tried them. They're typically served "West Virginia Style" with hot dog sauce, mustard, and chopped onions. Try a Slaw Dog with creamy cole slaw on top. We loved them!
Click through to their website to learn more and to place your order for hot dogs and cool Stewart's logo wearables. Get a real taste of The Mountain State and show off your WV Pride!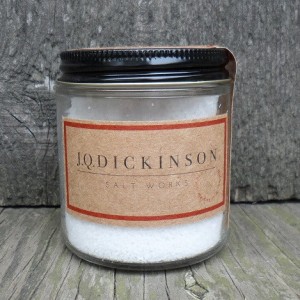 J.Q. Dickinson Salt Works: This small family owned operation revives a 200 year salt production legacy in Malden, WV near the banks of the Kanawha River. This small batch organic finishing salt is naturally sourced from an ancient sea beneath the mountains of Appalachia …
An underground brine aquifer is used to collect the salt, which is then processed by mountain breezes and the power of the sun – no artificial heating treatments are used. The end result is a beautiful crystal salt that's best used as a finishing salt much like you would a sea salt …
J. Q. Dickinson Salt has garnered many glowing reviews from executive chefs across the country as well as those using the salts in their own kitchen. At their website, you can choose from various sizes of packages, including clever gift sets and cases of small 3.5 ounce jars just perfect for gift giving!
Click through to discover more of their story and to order …
Fiesta Dinnerware: Did you know the famous Fiesta Dinnerware is made in West Virginia? Created by the Homer Laughlin China Company of Newell, WV these colorful dinnerware sets have been an American tradition since being introduced in 1936.
The Fiesta line actually has an interesting history … when it was introduced in the 1930's the colors and design reflected the popularity of Art Deco. In the early 1970's, the line was discontinued due to changing styles although it remained highly popular with collectors.
In the mid 1980's, the Laughlin Company was approached by Bloomingdale's to produce a retro dinner line. Fiesta was given new life and the resurgence continues to this day – over a half billion dinnerware pieces have been produced and the line now comes in 38 different colors …
You'll find Fiesta dinnerware at many stores across the country but if you're looking for a certain piece, you can order it directly at their online store. An American icon, directly from The Mountain State!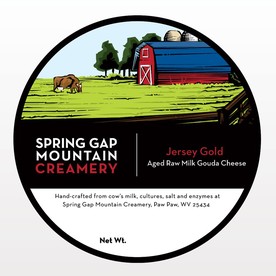 Spring Gap Mountain Creamery: This creamery was established on a 32 acre farm in Paw Paw in 2009. The following year, cheese production began and the creamery's cheese has been making quite a name for itself at area farmers markets and via online sales. Paw Paw, by the way, is a small town in the extreme northeast section of West Virginia, adjacent to the Maryland border and very close to Virginia as well …
Spring Gap Mountain offers several different cheese varieties, four of which you can purchase online. The four are Farmhouse Feta, Jersey Gold Gouda, Shenandoah Sunrise Tomme, and Sophie's Select Cheddar. The cheddar is named for the owner's dog, and the cheddar is her favorite!
The Shenandoah Sunrise is their most popular, a French farmstead style cheese that offers a tangy finish and pairs well with fruit. Sounds great for a warm summer day!
The gift of artisan cheese is a wonderful nod to a particular state or area, and will definitely be appreciated by anyone on your list. Visit the Spring Gap Mountain website to order …
Bridge View Candles: This West Virginia small company creates handsome home decor candles from upscale wine and liquor bottles which are cleverly repurposed and given a second life …
After hand cutting the bottle, it is polished to a smooth finish and poured with clean burning soy wax. The candles are then fitted with a handmade wooden lid crafted from local barn wood which are hand stained with an oil finish. The type of wood varies from cypress to mahogany to chestnut, oak, poplar, or walnut. The end result is as much a work of art as a candle!
Bridge View Candles come in a variety of different scents and look great in your home! Soy wax are also the longest burning candles available, so each will offer many hours of fragrant, peaceful enjoyment. Artisan candles also make a special gift – click through to their website to see all the different varieties available …
Spirit Horse Studios: We are so pleased to introduce you to the wonderful art created by Heather Elmore, founder and owner of Spirit Horse Studios located in West Virginia. We learned of Heather and her work via the East End Bazaar, a summer marketplace in the East End neighborhood of Charleston. The East End Bazaar is typically held weekly and features an array of local artists and locally made products …
Heather's primary inspiration comes from the companion animal world, particularly horses. At her website's gallery, you'll see beautiful original works capturing the vibrancy and spirit of these magnificent animals. As time permits, Heather also accepts portrait commissions for your companion animal and also completes pieces in polymer clay. An in demand artist, she was recently contracted to illustrate a children's book. She continues to create her own works in her studio and offers a selection of originals and prints for sale at her website …
Original works from a local artist are one of the best mementos you can acquire as a special memory of an area you've visited. We were inspired by a couple we knew who decorated their home exclusively with various pieces of artwork purchased from places they've seen on their travels. It's a lasting personal statement as well as a wonderful conversation starter!
Visit the Spirit Horse Studios website to see some of Heather's fine work …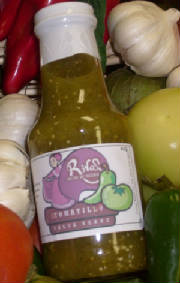 Rivas Salsas: Founded in Shepherdstown, WV in 2004, Rivas Salsas de Mexico have been proudly made in The Mountain State for over ten years, and were awarded a Certificate of Recognition by the state's governor in recognition of their continued efforts to grow and expand a local business …
The company makes a variety of salsas based on decades old family recipes. No matter your salsa heat preference, Rivas Salsas have got you covered. Starting with their mild and tomatillo varieties to their La Buena Habanero, you'll find a salsa matching your palate …
Check out the descriptions of all the different salsas at their online store, where you can also order a bottle or two or more to be shipped to your doorstep or as a gift. Enjoy the spicy flavor of West Virginia!
The Greenbrier: Known as "America's Resort", The Greenbrier has been hosting guests from around the world since 1778. Located in the heart of the Allegheny Mountains in White Sulpher Springs, the resort features over 700 rooms, a world class golf course, casino, five star spa, fine dining, and more.
Long a destination for gatherings, meetings, and weddings, The Greenbrier is also known for designer boutiques and spectacular shopping opportunities. Guests return year after year, creating and honoring family traditions carried on from generation to generation …
If you've never visited this legendary resort, put it on your to do list. Situated on 10,000 acres, the setting, service, and amenities are second to none. Best of all, The Greenbrier is warm and welcoming, a place where anyone will feel pampered and welcome …
If your immediate plans don't allow you a personal visit, you can shop online for signature Greenbrier items like apparel, art, sweets and treats, and much more. Many of their Chef's Specialty items are one of a kind, like their Greenbrier Peaches, Coconut Pound Cake, or Honey Roasted Peanut Butter (shown) just to name a few …
We sincerely hope your travels take you to The Greenbrier. It's an American treasure!
Woodbine Jams and Jellies: The small town of Richwood, WV is located almost due east of Charleston in the eastern part of the state. Located amidst the Yew Mountains, Richwood is known as the Ramp Capital of the World, but not the type of ramp you might be thinking of …
A ramp is a wild plant, a leek actually. It's part of the onion and garlic family and looks a little like a wild onion when it grows. Appropriately, a ramp tastes a bit like a mild onion and grows abundantly in this general area. It's used in cooking, and also in a special batch jelly made by Woodbine Jams and Jellies, a small local producer based here …
In addition to ramp jelly, Woodbine Jams and Jellies uses locally picked fruit to make a wide spectrum of tasty spreads. Flavors like blackberry, raspberry, strawberry, crab apple, and plum are just several of the varieties you can purchase at their website. We've never tried the ramp jelly so we can't really comment, but it's said to be quite tasty when spread on crusty bread or anything grilled, like pork or chicken. Regardless, it's a true taste of West Virginia and hard to find online!
Click through to the Woodbine Jams and Jellies site to order, and experience this unique taste of The Mountain State!
Sunny Hollow Farms: Sunny Hollow Farms is located in the small West Virginia town of Auburn, in the heart of the state. The expansive farm has roots dating back to the 1800's and is now known for their fresh seasonal produce and specialty food products reflecting the pride of The Mountain State …
Sunny Hollow Farms offers everything from dip and dressings to canned specialties to sauces and mustard. If you're looking for something authentically West Virginia, check out their Country Barbecue Sauce or their Raspberry Honey Mustard.
They also offer a variety of pickles and a great sandwich addition called Candied Hot Pepper Chow Chow. Like a relish, chow chow is used on hamburgers, hot dogs, or in your tuna or potato salad recipe. It adds a nice zip and is great as an appetizer!
Click through to the Sunny Hollow Farms site to see all they're creating and to order …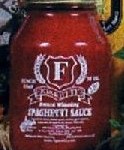 Figaretti Pasta Sauce: Figaretti's Restaurant has been a Wheeling mainstay since the late 1940's, known for its warm family atmosphere and freshly prepared Italian style food at reasonable prices. It all started with the sauce!
Figaretti's Pasta Sauce, a family recipe, was jarred and sold to local stores beginning in the early 40's. The sauce became so popular that members of the Figaretti family opened a restaurant to feature it … the restaurant is still owned and run by members of the family over 60 years later …
You can find the sauce in gourmet stores in Wheeling and western Ohio, or you can order a four pack or more directly at their online sauce store. A great gift from Wheeling!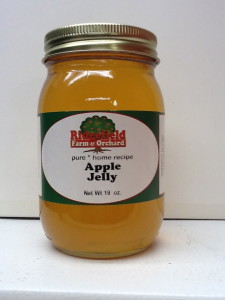 Ridgefield Farm and Orchard: Located in historic Harpers Ferry, Ridgefield Farm and Orchard has been a working farm for well over a century. A year around destination for family farm activities, it's just over an hour's drive from both Baltimore and Washington, D.C. …
The farm is very well known for their apples and apple picking. Rows and rows of dwarf apple trees make this a beloved activity for area visitors. The apples are also used in many of their farm fresh products, which you can purchase online from their store …
Among the several apple based products you'll find are apple butter, apple jelly, and apple butter barbecue sauce. The farm also offers preserves like blackberry, strawberry raspberry, and strawberry rhubarb. We're partial to their pumpkin butter – a real treat any time of the year!
Learn about the farm and order from their store at RidgefieldFarm.com …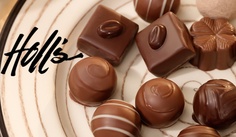 Holl's Chocolates: Founder Fritz Holl opened his own Swiss chocolate company in West Virginia in the mid 1980's after 25 years of working for an Ohio chocolate company. Originally trained in Switzerland, Fritz created the same Swiss chocolate specialties he mastered in prior years, to the delight of his West Virginia customers …
Fast forward more than 25 years and now Fritz's son Dominique Holl and his wife Michelle run the business, with stores in Vienna, WV and the Capital Market Shops in Charleston. They now ship their specialties across the country as well as meeting the local demand …
Truffles, caramels, nut specialties, and light and dark chocolate are Holl's best sellers. At the Holl's website, you'll also find boxed collections, seasonal specialties, dessert sauces, and more. Don't worry about ordering during the warmer months, as Holl's offers guaranteed hot weather shipping!
Holl's is the number one name in authentic artisan chocolates in West Virginia. A great gift for the West Virginian on your list, they're absolutely something you must try for yourself as well!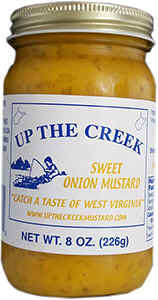 Up The Creek Mustard: Located in Montgomery in the southern part of the state, Up The Creek Mustard is a small company making some very interesting mustards and sauces. Started over 15 years ago with their flagship Famous Pepper Mustard, the company now produces seven different flavors of mustard along with a highly popular Hot Dog Sauce …
At the Up The Creek Mustard website, you'll find some great recipes, including one for a West Virginia Style Hot Dog using their Hot Dog Sauce. Over Memorial Day weekend we made West Virginia style hot dogs for some fellow Chicagoans. In a nutshell, a steamed hot dog is topped with cole slaw and chopped onions with Up The Creek mustard and hot dog sauce added. Chicago guys are notoriously stubborn about how their hot dogs are served … but we were all converts! The cole slaw, Up the Creek Hot Dog Sauce and Sweet Onion Mustard, and chopped onions meld together beautifully – try one for yourself – you'll love it!
You can order their mustard and hot dog sauce in quantities of six jars. We recommend the mix and match option so you can try several different flavors (and the hot dog sauce!). Shipping is free, so go ahead and order a few for yourself and your friends …
As their slogan says, "Catch A Taste Of West Virginia"!
Orr's Farm Market: A family owned and operated orchard and market, Orr's started as a fruit orchard in the mid 1950's. A farm market was added in 1995 to serve the local Martinsburg community. The market features farm fresh products as well as activities like Pick Your Own, school tours, and their very own bison herd …
Best of all, it's not required that you live near Martinsburg to enjoy fresh products from their farm. You can order gift packages for yourself or as gifts and have them sent anywhere in the country. Orr's ships fresh apples during season, as well as packages of homemade jams, baking mixes, and their famous Harvest Pear and Apple Raisin Walnut cakes.
Great gifts direct from the heart of West Virginia! Learn more at Orr's Farm Market …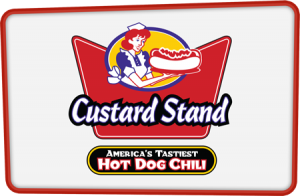 The Custard Stand: A West Virginia favorite for almost 25 years, The Custard Stand started as a take out dairy themed restaurant in Webster Springs in 1991. One of the menu items was an old family recipe for hot dog chili, i.e. chili to ladle over hot dogs …
The chili proved extremely popular and in 1993, a separate business was established to handle wholesale distribution of the chili. It's now available all across West Virginia and in many surrounding states in grocery stores, Wal Mart, convenience stores, and at several additional Custard Stand restaurants …
If you're not located near The Mountain State, the chili is available for purchase online. You can have it shipped in single serving containers or more economical five gallon tubs. If you like a good chili dog like we do, try this stuff! Add a little mustard and some freshly chopped sweet onions and you're all set!
Buy chili from The Custard Stand for your next gathering or as a special gift from West Virginia …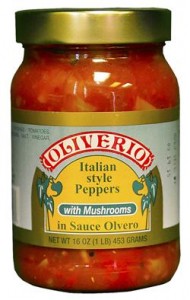 Oliverio Italian Style Peppers: Here at State Gifts USA, we are big fans of Italian style peppers and condiments. Part of that fondness comes from growing up on Chicago's south side in Bridgeport, where great Italian style cooking was an integral part of the neighborhood …
It has been fascinating in our travels to discover wonderful Italian style food specialties in other parts of the country. If these types of products are of interest to you as they are to us, be sure to try the products from Oliverio Italian Style Peppers of Clarksburg, WV.
The roots of the business stretch back to the 1930's, and this family owned and operated business has been packing peppers for the public to enjoy since 1972. Their range of products include peppers in sauce, pepper mixes packed in vinegar, and pizza and pasta sauces.
The sauces are intended to be paired with and added to a meat dish to create a hearty, satisfying meal. Simply heat the sauce and pour it over chicken, pasta, or anything you'd like. The Medium Peppers With Mushrooms is fantastic over spaghetti and grilled chicken … give it a try!
You can order jars in case lots or convenient variety packs of their many products directly at their website …
History of West Virginia
West Virginia Trivia and Fun Facts

1). West Virginia was formerly a part of Virginia. In the midst of the Civil War in July, 1863 President Lincoln issued a proclamation admitting West Virginia into the Union as a separate state …

2). Spruce Knob is the highest point in West Virginia at 4,861 feet elevation …

3). West Virginia's capital was formerly Wheeling. Charleston became the permanent capital in 1877 …

4). The New River Gorge Bridge is the longest steel arch bridge in the country …

5). West Virginia's motto is "Mountaineers Are Always Free" …

6). The Golden Delicious apple originated in West Virginia …

7). Coal was formerly the top industry in West Virginia. Now, tourism takes the top spot …

8). The world's first brick street was laid in Charleston in 1870 …

9). One of the state's most beloved culinary tradition is the West Virginia style hot dog. It features a steamed bun, hot dog, mustard, chopped onions, chili hot dog sauce, and sweet creamy coleslaw …

Worth Woods Dulcimers: The unique looking stringed instrument you see to your left is a dulcimer. It looks a little like a small guitar and some of the sounds are similar, but the dulcimer is a totally unique instrument …
The dulcimer has a Scottish and Irish history, and you'll hear it in traditional Irish and Scottish music. It is also a big part of Appalachian music and the beauty of the dulcimer's music is kept alive and thriving by many West Virginian artists …
A dulcimer is not played standing up like a guitar; rather, it's played on one's lap. These beautiful instruments aren't commonly found, but they're made by artist and craftsman Robert Worth, who founded a company devoted to dulcimers called Worth Woods.
Robert hand crafts dulcimers and offers them for sale at his website. For a string musician, this is a unique and wonderful gift made in West Virginia!
Fenton Art Glass: Located in Williamstown, WV, we learned about this historic company from one of our readers. Founded in 1905, Fenton is one of the world's largest producers of art glass products. Currently, the company specializes in handcrafted glass jewelry like beads and teardrop earrings …
Fenton Art Glass recently introduced a line of sterling silver jewelry accessories. The company's products have been so popular over the years that active collectors clubs are prevalent all over the country …
A pair of beautiful cobalt teardrop earrings are shown … they're just one of many items you can browse and buy at the Fenton Art Glass website. There's also a store locator page on their site should you want to shop at an authorized Fenton Glass dealer near you …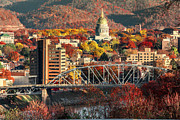 West Virginia Artist Mary Almond: Whenever we travel, we always seek out artist prints depicting the area we've visited … in fact the bulk of the artwork on our home's walls are places we've been fortunate enough to visit …
West Virginia is a really beautiful state, a mix of mountains, gorges, bridges, rivers, and natural scenery. Many of the state's cities are highly enjoyable places to visit for a few days or a long weekend … the people are friendly, the shops are unique, and the food is great!
We found a noted West Virginia artist who creates West Virginia scenes in paintings, prints, and note cards among her large portfolio. Her name is Mary Almond, whose work is available online and in national parks, galleries, and museum stores across the country …
We especially like this print of West Virginia's capital city, Charleston. It really captures the soul of the city and the natural beauty which surrounds it. You can buy many of Mary's prints in various sizes directly at her website … a fantastic souvenir or memory of The Mountain State!
WenWeave: Located in Barbour County, accomplished yarn artist Wendy Clark creates beautiful and functional wearables and household accessories from hand dyed yarn …
Wendy creates one of a kind items like the scarf shown, as well as shawls and hand towels. These items are created in the time honored process of using floor looms and threading each end of yarn one at a time into the loom …
Her work is available at selected museum stores, art galleries, and artisan shops nationally (there's a current list at her website) and you can also buy directly at WenWeave.com. A wonderful hand created gift from beautiful West Virginia!
Mister Bee's Potato Chips: Owned by the West Virginia Potato Chip Company, Mister Bee's is the only producer of potato chips in The Mountain State and was been around since 1951 …
Mr. Bee's Potato Chips come in original, barbecue, and sour cream and onion flavors. The company also makes tortilla chips, queso dip, salsa, and pork skins …
You can buy Mr. Bee's Chips online in a variety of different sized bags and cases. Check their site for details …
Tamarack – The Best of West Virginia: We learned about Tamarack and the Tamarack Foundation from West Virginia artist Wendy Clark (see Wen Weave above). Located in Beckley, WV just off the West Virginia Turnpike, Tamarack is an almost 60,000 square foot facility showcasing the state's hand made crafts, arts, and cuisine …
The facility contains working studios for West Virginia artists, a theater, meeting facilities, gallery, and a "Taste of West Virginia" food court. To our knowledge, it is the only facility of its kind in the United States …
A true cooperative venture, Tamarack effectively combines the vision of artists, community members, and public officials across the state. Founded as an economic development project, Tamarack is a self sufficient operation which bolsters the economic sustainability of West Virginia artisans and creates jobs within the state …
You can contact the facility via the Tamarack website and their staff can tell you more about their operation and goods for sale. The related Tamarack Foundation has been instrumental in raising the profile of numerous artists from the state and serves as a model for like minded initiatives across the country. Check them out!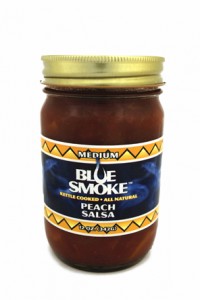 Blue Smoke Salsa: Blue Smoke Gourmet Salsa of Ansted, WV is a small company making a line of salsa products …
All of the produce used to make the salsa is from local West Virginia farmers, making a gift of Blue Smoke Salsa a real taste of The Mountain State!
Blue Smoke also makes apple butter, baked goods, jams, and mustard in addition to various heat levels of salsa.
Pictured is the Peach Salsa which we purchased on a recent trip to West Virginia … it's got a medium heat level and a fruity kick …
Try it with chips, or it's really good mixed into an omelet!
You can order any of Blue Smoke Salsa's products directly from their website …
Pepperoni Rolls: If you were to ask a West Virginian what the state's most beloved food specialty is, they'd undoubtedly mention pepperoni rolls …
Pepperoni rolls were a staple of local miners as a handy lunch or snack they could easily carry down into the mine.
Basically, a pepperoni roll is a soft baked roll or turnover with cheese and slices of pepperoni or a pepperoni stick inside … they come in various forms but usually look like a small submarine sandwich.
Now, they're a popular item at local bakeries and casual restaurants. You can order pepperoni rolls online and have them shipped anywhere from Rogers and Mazza Bakery, located in Clarksburg, WV …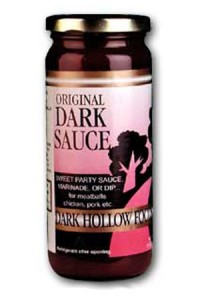 Dark Hollow Sauce: Here's another interesting sauce made in West Virginia …
It's called Dark Hollow Sauce … a cranberry colored sweet sauce that's not quite a salsa, not quite a BBQ sauce, and not an Asian style sauce.
It's unique both in taste and appearance; use it as a finishing sauce on chicken or any meat dish, or as a dipping sauce for french fries or chicken fingers or appetizers. We've used it both as a dipping sauce for egg rolls and also added a few tablespoons into our pork stir fry recipe …
There's a hot variety of Dark Sauce too – it has cayenne pepper added for a spicy bite …
You can order jars of Dark Sauce online right here …

Uncle Bunk's Condiments: Established in 2003, Uncle Bunk's condiments of Sistersville, WV is known for making "condiments with a kick" …
Some of Uncle Bunk's original products include a pepper sauce, sweet pickles, and a medium hot mustard relish which is nothing short of fantastic … use it in recipes or spooned over a hot dog.
They also make spices and rubs and offer all sorts of specialty gift boxes and baskets on their site … some are shipped in wooden crates also made in The Mountain State!
Check out Uncle Bunk's site for all the details and more information …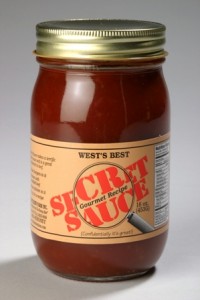 Thistle Dew Farm: Located about 40 miles south of Wheeling in Proctor, WV Thistle Dew Farms is known for their honey and honey based products …
They also make a gourmet sauce we really like called "Secret Sauce". It's a tomato based sauce you can serve with steak or to brush on grilled chicken and pork …
Secret Sauce has a nice onion flavor; it's not too spicy and has a nice sweet finish.
We used Secret Sauce to marinade a pork tenderloin before grilling with excellent results …
Great as a dipping sauce too! Also try some of their honey which is produced on site at the farm and related items like soap, candles, personal care products and more.
See all the Thistle Dew Farm products on their website – they'll ship all over the U.S.!
West Virginia Fruit and Berry: This Bridgeport, WV operation produces a line of jams, fruit butters, and pepper jams … all made with local fruit.
If you're looking for a simple, no fuss West Virginia themed gift, visit the West Virginia Fruit and Berry online store.
There are over 30 different products waiting there for you, any of which you can have shipped anywhere in the country …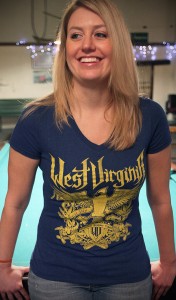 Made in WV T-Shirts: These t-shirts aren't the same old tacky ones you see in airport shops … they're high quality men's and women's uniquely designed shirts made by (and for) West Virginians or anyone who loves the state …
Made in Morgantown by a company appropriately named Made in West Virginia, the designs will show off your West Virginia pride …
Click on their website to see their ever growing catalog …
We've Got More West Virginia Made Products On The Way … Tell Us About Your Favorite Mountain State Products By visiting Our Contact Us Page …