Made In Massachusetts Quick Facts
This Post is about Made in Massachusetts Gifts and Specialty Massachusetts Products
Want To See Your Business / Products On Our Made In Massachusetts Page?
Visit "Advertise With Us"!
FEATURED MADE IN

MASSACHUSETTS

BUSINESS

ES
Wooden Pen Works: Here at State Gifts USA, we're continually impressed with the creativeness and craftsmanship of products made by U.S. small businesses …
A prime example can be found in the distinctive product line of a small Billerica, MA company by the name of Wooden Pen Works. Owner Michael Doyle handcrafts a handsome line of one of a kind items just perfect for individual and corporate gift giving …
We're particularly drawn to Michael's striking Town Line Signs like the Billerica sign shown. These signs are meticulously detailed and are perfect for anyone on your gift list with a fondness for a particular location. Of course, you can specifically order the city, town, or location of your choice, anywhere in the United States or world …
Wooden Pen Works, as the name suggests, is also well known for their beautiful wooden pens (also pictured). They're crafted from some of the best hardwoods in the world and will last for decades. Check out the varied selection directly at the Wooden Pen Works website, which we've linked for your convenience …
Michael also offers several other products sure to please any gift recipient, like non wood pens, laser engraved pens, and pens engraved with your family's Coat of Arms. Custom engraving is also available and custom orders are welcomed!
Click through to the Wooden Pen Works website and put the "wow factor" back in your gift giving. Proudly Made in Massachusetts!
McCrea's Candies: Boston based McCrea's Candies is known for its use of striking seasonings to produce provocatively-flavored caramel candies. McCrea's signature product features Hawaiian black lava sea salt swirled into caramel to provide a salty-sweet mouthful. Additional flavor combinations include Basil Cayenne, Ginger Fusion, Curried Butternut, and Rosemary Truffle Sea Salt. The company also offers such classic flavors as vanilla, chocolate, maple, mocha, and coffee …
This Bay State small business was recently selected by Martha Stewart as an American Made finalist, by USA Today as a Best Gift For Foodies and by People Magazine for inclusion in the publication's gala gift bags. McCrea's is also a Good Foods award winner, a distinguished national award for food crafters who make food products that taste delicious and are made from responsibly sourced ingredients ….
A deluxe caramel that is handcrafted in small batches, McCrea's Candies caramel makes the perfect gift for anyone on your list at any time of year. The company uses only local, real-food ingredients and packages its caramel in beautiful compostable containers. Everything is made in America!
McCrea's Candies caramel is available for purchase online and in retail outlets throughout North America. Prices range from $4-55 depending on gift size – which means they can provide yummy small presents as well as wonderful gifts meant to be shared …
Click through to their website, linked above, to order as a gift or even just for yourself!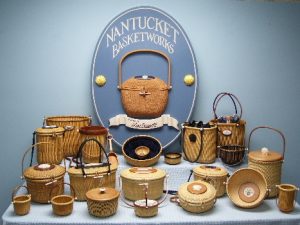 Nantucket Basketworks of Cape Cod: If you're looking for a handcrafted gift direct from Cape Cod, you've come to the right place …
We're pleased to introduce you to Nantucket Basketworks of Cape Cod, a maker of distinctive Nantucket Lightship baskets. Traditionally created by crewmen of lightship vessels at sea, these baskets come in a variety of sizes as you can see by the picture …
These baskets make a wonderful gift as they offer many distinctive features and are actually hand woven. It takes about six weeks for a basket to be completed, and you can order them directly at the Nantucket Baskets website. They're made from either rattan or cane and woven into a solid base – a long lasting gift you'll be proud to share or showcase with friends and family members …
Click through to their site to learn more about their handsome baskets and how to order …
Boston Coffee Cake : Since 1992, this Massachusetts business has been turning out delicious baked treats continually praised as "America's Best Coffee Cakes". Beginning with their Original Cinnamon Walnut Coffee Cake and now branching out to countless other varieties, Boston Coffee Cake is the standard bearer for other bakers to follow …
Moist and bursting with flavor, these delicacies are available for purchase online in full size and mini versions, making for an ideal gift for any occasion. Some of the flavors include Golden Pumpkin, Cranberry Orange Walnut, Applicious, Blueberry Blizzard, Triple Chocolate, and many more. They'll ship right to your doorstep or that of your gift recipient …
You're one click away from some of the most delicious gifts ever!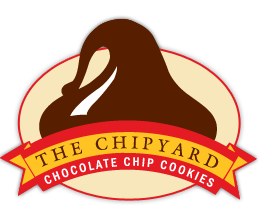 The Boston Chipyard: This chocolate chip cookie mecca is located with historic Faneuil Hall Marketplace, and when you visit, you'll have a hard time deciphering whether the crowds are there for the historic Hall or for the spectacular cookies!
Acclaimed as the finest chocolate chip cookies in America, Boston Chipyard offers a selection unlike you'll see anywhere else. From their Original to Mint Chocolate Chip, there's a flavor here for everyone …
They've got a thriving online business which you'll see at their website – cookies are shipped fresh to fans across America every week and they make great gifts too. You can order in two dozen increments and believe us when we tell you, you'll want at least that many … these cookies are really something special!
Click through to their site to learn more …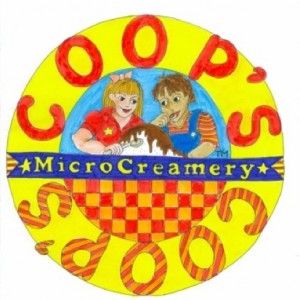 Coop's Micro Creamery: Marc "Coop" Cooper is an electrical engineer by education, but he's best known for his expertise in frozen desserts. Over the years, Marc has produced ice cream under the Harrell's label and won a dozen Best of Boston awards. He has produced millions of ice cream treats for such famous outlets as Legal Sea Foods, and now he's operating his own micro creamery producing related specialties.
Much like his ice cream, the new line of products relies on pure, natural ingredients with no filler or artificial additives. Coop's makes Hot Fudge, Salted Caramel Sauce (which is fantastic!), and a cocoa mix product called Cocoa Felice …
The Salted Caramel Sauce, which we enjoyed with vanilla ice cream, contains no corn syrup, glutens, or GMO's. It doesn't need anything other than the natural ingredients which make it taste so great! It's quite possibly the best caramel sauce we've ever had … get yourself some!
At the Coop's Micro Creamery website, you'll find a list of locations in Massachusetts where it's carried. Also, there's a list of outlets carrying it online if you're like us and live outside of The Bay State.
A great gift for someone sweet who likes sweet things!
Klara's Gourmet: Based in the western part of the state, this gourmet cookie company is owned and operated by Klara Sotonova, who founded the business in 2006. A native of the Czech Republic, Klara brought with her treasured family recipes dating back generations. These recipes now form the backbone of her company, which features a line of exceptionally delicious cookies baked in the time honored Old World way …
Czech holiday traditions always include home baked cookies and other delectable treats. Klara taps into this tradition with varieties like Vanilla Walnut Crescents, classic Linzer Cookies (made with jam), and Ginger Shortbread, to name a few. Chocolate fanatic? Be sure to try the Double Chocolate Sea Salt Shortbread variety, along with the Chocolate Coconut Macaroons, a Christmas specialty (but fantastic any time of year!).
Klara's Gourmet also offers corporate gifts and an attractive selection of gift baskets – just perfect for the person on your list who's hard to please. Take a look at the "Everything Basket", which includes a package of all their cookies to make certain there's plenty to share! You can also order individual flavors in multiples of eight or twelve ounce bags – ideal for any gathering or holiday celebration …
Click through to learn more about Klara's Gourmet and enjoy the rich flavor of the Czech Republic and The Bay State!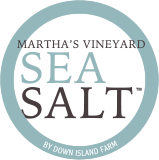 Martha's Vineyard Sea Salt: Martha's Vineyard is an 87 square mile island about a 40 minute ferry ride away from the Massachusetts mainland. Breezy, temperate winters give way to crisp spring seasons, followed by pleasantly warm and comfortable summers. The island has about 16,000 permanent residents and thousands of summer visitors, ranging from weekend vacationers to Presidents of the United States …
This beautiful and iconic island was once home to a thriving salt industry when salt was used as a preservative before refrigeration. Now, the salt industry is back on the island as Martha's Vineyard Sea Salt became the fist salt producer here since before the Civil War …
We talk a great deal about sea salt here at State Gifts USA because we use the product frequently when we cook. We enjoy trying different sea salts from around the U.S. because they all feature their very own flavor profile. Sea salt is more concentrated than regular table salt, so you can use less but at the same time enjoy the true flavor of The Bay State…
Martha's Vineyard Sea Salt was established in 2013 and is making quite the name for themselves. They've been featured recently in Zagat and their harvested sea salt is being used by many prominent chefs in the Boston and New England area …
A package of their salt is a wonderful gift from Martha's Vineyard, just perfect for the chef or foodie in your life! The company continues to introduce new flavors, including Smoked Oak, Blueberry Honey, Sel Minerale, and Lemon Dill. You can purchase Martha's Vineyard sea salt online at their website and have it shipped anywhere in the country …

Nick's Original Coney Island Hot Dogs: Located in Fall River, Nick's is an institution dating back to 1920. Popular with locals and the celebrity set whenever they're in town, Nick's is famous for their Coney dogs – wieners tucked into a steamed hot dog bun topped with yellow mustard, chopped onions, and a unique meat based topping known as Coney sauce …
Coney sauce has been compared to chili, but that's not quite accurate. It's thinner, more like a gravy, though it's made with many of the ingredients used in chili. Finely ground lean ground beef is used along with spices to create a topping that's made to soak a bit into the steamed bun, creating a taste sensation like no other. The Coney's at Nick's are legendary!
Nick's has worked to package their sauce into dry spice packets as a result of customer demand from across the country. You can order them at Nick's Coney Sauce and make your own Coney's at home – there's lots of relevant information at their site. You simply mix the spice packet with water and lean ground beef, mash it a bit with a potato masher, simmer per the instructions, and you're all set …
Easy to prepare and a fun economical gift for anyone who loves The Bay State, or just a good Coney!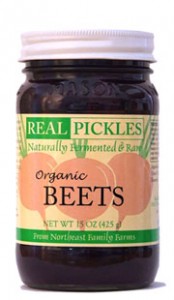 Real Pickles: This small company is located in Greenfield, a town of about 18,000 located in Franklin County in the northwestern section of the state. And although they're known for the pickles for which they're named, Real Picles also produces several other unique pickled products you'll want to know about …
Made using 100% organic ingredients, their naturally fermented pickles are available in Dill, Spicy, and Garlic Dill varieties. Beyond pickles, they offer Ginger Carrots, Beet products, Sauerkraut, Pickled Red Cabbage, Kimchi, and a Tomatillo Hot Sauce. Committed to a regional, organic food system, their products are available to be shipped in the New England states as well as New York, New Jersey, and Pennsylvania …
If you live in their general area, you can order their natural, organic pickled products in 4-packs, cases of 12, or 1 gallon buckets. Click through to their website to see their whole story and learn more!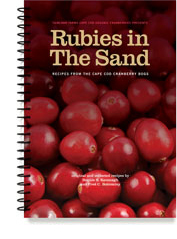 Fairland Farms: Massachusetts is one of the leading cranberry producing states, and in the forefront of that effort is Fairland Farms of North Attleboro …
Fairland Farms is the caretaker of numerous cranberry bogs in the southeastern part of the state, many of which date back before the Civil War. Experts in both wet harvesting and dry picking of cranberries, the Farm sells dried, fresh, and frozen cranberries directly from their website.
Did you know cranberries are one of only three native berries to the United States (the others are Concord grapes and blueberries)? Cranberry farming has been an important agricultural staple in The Bay State for centuries, and this super food berry has never been more popular …
Fairland Farms is the producer of the definitive cranberry text, "Rubies in the Sand", a spiral bound cookbook and resource guide containing over 200 cranberry recipes. It's available at their website and makes a great gift for anyone who wants to know more about this native berry that's the pride of Massachusetts!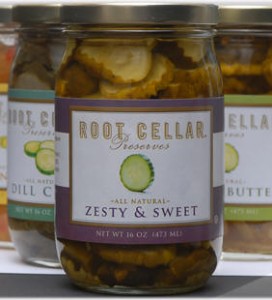 Root Cellar Preserves: This innovative Bay State company is bringing back the time honored traditions of pickling and preserving fruits and vegetables – they've created a line of pickles offering some bold new flavors that are sure to delight pickle lovers across Massachusetts and beyond …
They're Root Cellar Preserves, owned and operated by Susan and Lorne Jones, and their pickles have generated a positive buzz throughout the northeast. They can be found in Williams-Sonoma and Donelan's stores and were featured at the Fancy Foods Show. Their lineup includes traditional favorites like Crispy Dills and Spicy Dill Pickle Chunks, plus some you probably haven't experienced like Apple Cinnamon Pickles …
One of the company's pickles is dubbed "America's First Crossover Picle", a clever moniker for their Zesty & Sweet Pickle Chips. They're a little of everything – sweet, dill, zesty, and offer a bit of heat. Perfect for the taste buds that can't quite decide!
You can order any of their pickles directly from their online store. Also, Root Cellar Preserves actively supports the restoration and repair of several historical Massachusetts farmsteads – learn more about these important projects at the Preservation page at their website …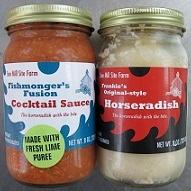 Saw Mill Site Farm Horseradish: Located in the western part of the state, Saw Mill Site Farm is one of New England's experts in processing and packaging horseradish and related products. Best known for their Frankie's Horseradish, the company also produces horseradish with mustard, beets, and cranberries.
You'll find Saw Mill Site Farm products all over the northeastern states, which is where we found a jar of another of their items, Firshmonger's Fusion Cocktail Sauce. And what a fusion it is – ingredients include piquin peppers, horseradish, wasabi, capers, organic ketchup, cucumbers, and fresh lime puree. It's unlike any tartar or seafood sauce you've ever tried – we wish we'd bought more!
Their Cocktail Sauce is a hearty blend that goes just as well on raw clams and oysters as it does on a delicate piece of white fish. We even used a spoonful on fish tacos – fantastic!
If you live in the northeastern states, check the Saw Mill Site Farm website – they've got a handy list of stores where you can buy any of their products in person. Or, go directly online! If you've got someone culinary oriented on your gift list, any of their products will make a welcomed gift …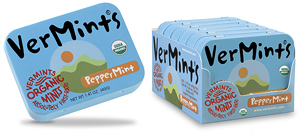 VerMints: Founded in Vermont in 2000, this certified organic company creates a line of all natural breath freshening mints. They're now headquartered in Braintree, and their six flavors of mints are GMO free, gluten free, and 100% completely organic and natural …
Named after the Latin word for "true" (Ver), their flagship product is VerMints Organic Peppermint, and it's unlike any mint you've ever tried. The mints are sweetened with organic maple syrup and infused with actual peppermint leaves – no strange and hard to pronounce ingredients!
Five other flavors are also offered, including Cinnamon, Wintergreen, Gingermint, Chai, and Cafe Express. No animal products are used in the manufacturing process. Most importantly, these mints taste great! It is really a pleasure to discover mints that aren't loaded with artificial ingredients …
You can find VerMints at specialty stores across the country (there's a distributors list on their site) and you can also order any of their flavors directly at VerMints.com …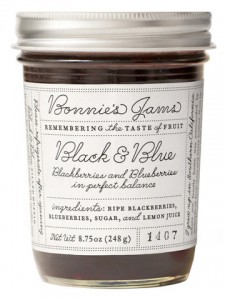 Bonnie's Jams: We love this small Cambridge based company's tag line: "Remembering The Taste Of Fruit". They produce a line of artisan jams in flavors inspired by the bountiful agricultural areas of our country, including local berries from The Bay State …
Recently recognized by Oprah Winfrey's Favorite Things, Bonnie's Jams are made the old fashioned way – in small batches with real fruit, sugar, a bit of lemon juice and no additives. Highlights of their product line include Black & Blue, a mixture of blackberries and blueberries, and Peach Ginger, a blend of juicy ripe peaches and candied ginger …
Founder and Owner Bonnie Shershow has had her products featured in Food & Wine, The New York Times, The Washington Post, Boston Herald, and now here at State Gifts USA! You can find these wonderful jams at specialty markets across the country (check the list on their website) and directly online. For something special, gift packs are available as well!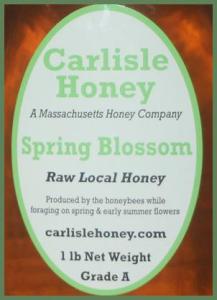 Carlisle Honey: We are big fans of local honey and always seek it out from small area producers whenever we travel. Raw honey direct from the bee hive is exceptionally good for you – it's an excellent source of natural energy and offers many other health benefits …
Located in Tyngsboro in the northeast section of the state, Carlisle Honey is one of New England's most popular honey producers. In fact, they shipped their honey to all 50 states in 2013!
Both spring and summer honey are available, and though these aren't "official" names, they denote honey harvested in the different seasons. The spring variety is lighter in color, resulting from the bees pollinating spring flowers and area fruit trees. It has a pleasing light floral flavor!
A darker, richer flavored honey results from bees pollinating the more mature summer flowers. The color is noticeably darker and it's excellent right out of the jar or used in or atop baked goods and other recipes. We use honey as a natural sweetener in our stir fry dishes with delicious results!
You can order Carlisle Honey directly from their website in various sizes and forms, as well as bees wax candles. A wonderful Massachusetts gift for anyone on your list – or just for yourself!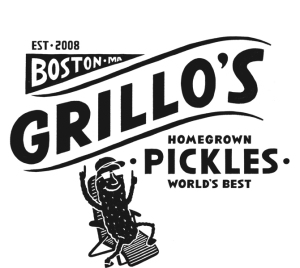 Grillo's Pickles: Founder Travis Grillo opened this small company in 2008 by tapping into a 100 year old family recipe for pickles. One of his first efforts at spreading the word came by selling the pickles out of a wooden cart in the famed Boston Common. Word soon spread about the fresh, crunchy flavor of Grillo's Pickles and they're now found at Fenway Park and specialty grocers around the Boston and New England area …
Grillo's makes two varieties they'll send out anywhere in the country – Original and Hot. They're packaged and shipped cold and come in containers of 16 spears. The Hot variety packs quite a punch – great as a garnishment for a Bloody Mary or to complement a deli sandwich. You can mix and match the pickles and they're shipped Fed Ex Two Day Air to ensure maximum freshness.
If you're in Boston, stop by their retail store on Cambridge Street in Cambridge to enjoy a few pickles in person! Click through to the Grillo's website to learn more …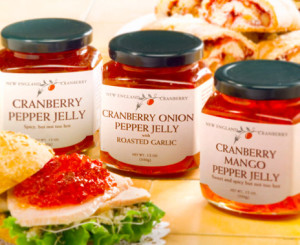 New England Cranberry Company: Founded in Lynn, MA in 1994, New England Cranberry Company has consistently pushed the boundaries for all natural innovative products utilizing one of the state's most beloved and prolific crops. From their flagship product, Colonial Cranberry Sauce, to the company's latest preserves, relishes, and condiments, New England Cranberry has been the go to source for everything cranberry …
We are big fans of the company's Cranberry Mustard. It's tangy with just a touch of sweetness and we use it on grilled chicken breast. We spread a thin layer about halfway through the grilling process and let it glaze on the chicken. It's great served over rice or just on its own!
New England Cranberry also makes cranberry preserves and a fantastic cranberry apple butter which is a real treat when mixed with ice cream! Their website offers dozen of suggestions and recipes for their cranberry specialties, including many healthy ideas to incorporate this super fruit into your diet …
New England Cranberry Company products can be found at specialty food retailers in many states, but for easier shopping click through to their website. Gift packages are available as well!
Fire Cider: We found this small company making a really interesting consumable product and wanted to share it with our State Gifts USA readers … the product is called Fire Cider, best described as a tonic based on a New England folk remedy of combining raw apple cider vinegar and honey. The Massachusetts company behind Fire Cider is Shire City Herbals, who make the tonic in Greenfield …
So what is Fire Cider? Well, it's a tonic intended to be taken a teaspoon or so at a time a couple times daily. It's made with organic apple cider vinegar, local wildflower honey, organic citrus, ginger, onions, garlic, turmeric, horseradish, and habanero peppers. Everything except the honey is organic and since vinegar and honey are natural preservatives, the Fire Cider is never heated or refrigerated as it is made. It has a natural, slightly spicy flavor with a small amount of heat from the horseradish and the habaneros, but it's nowhere near the heat level of, say, a hot sauce.
You can mix Fire Cider with alcohol, juice, tea, or any mixer. It provides a pleasant burst of energy and is said to improve one's immune and digestive systems …
A really interesting product from The Bay State! You can order Fire Cider online from the company's website in anything from 8 ounce bottles to one gallon containers. Try it for what ails you!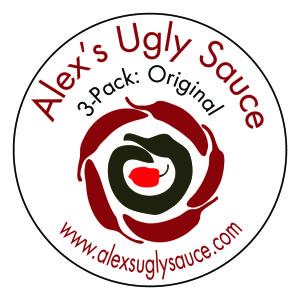 Alex's Ugly Sauce: Based in the Boston neighborhood of Roslindale, Alex's Ugly Sauce uses local Massachusetts produce and honey to create their line of artisan hot sauces. We're not sure why they're called Ugly, because the sauces both look and taste good, but no matter, they're well worth your time to check out!
This small company makes four different hot sauces, and on the "Blends" page on their website, they do a nice job ranking them on the heat scale. Their Cayano, which ranks a 5 on their 1 – 10 hotness scale, is made with cayenne and serrano peppers. Original Alex's Ugly Sauce adds habanero peppers to the mix for a little more heat, while Habanero uses only those peppers …
They also make a special edition sauce called Dragon which combines Thai Dragon and habanero peppers with some local honey for that hot & sweet combination people love so much. It's made in limited quantities, so grab some when you can!
You can order any of the Alex's Ugly Sauces online at their website. They've got great deals on combination packs and you'll save on shipping! A tasty gift from Boston!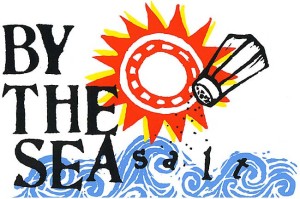 By The Sea Salt: Made in Martha's Vineyard, By The Sea Salt isn't actually a sea salt but rather an all purpose seasoning. Made with a blend of Kosher salt and herbs, it's for use on just about anything you'd imagine … fish, burgers, steaks, pork chops, chicken, and anything else you've got cooking …
By The Sea Salt has a lemon citrus background flavor, and given where it's made, it makes great sense to use with fish. Use it as a marinade a few hours before grilling or baking a fish filet to help bring out the flavor. You can sprinkle it on just before cooking, but we prefer seasoning at least an hour in advance …
There's a new version out with a little spicier flavor, it's called Jose Can You Sea Salt. It adds a little bite and zest to whatever you're making and can be used as a rub as well as a sprinkle on seasoning.
You can order either (or both!) of these seasonings in four ounce jars directly at their website. Directly from Martha's Vineyard!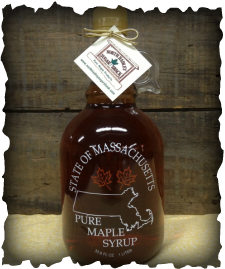 North Hadley Sugar Shack: Located in the Pioneer Valley area of the state, North Hadley Sugar Shack is a destination for maple syrup as well as family fun activities. This beautiful farm has been producing syrup for over 20 years and recently opened an expansive Farm Market and two acre farm animal interactive area …
This is one of over one hundred maple syrup producers in The Bay State. Though Vermont and New Hampshire are generally acknowledged as leaders in the industry, Massachusetts takes a back seat to no state when it comes to maple syrup output. At the North Hadley online market, you can order syrup in glass or plastic jugs in a variety of sizes and grades. Light, medium, and dark amber are available according to your taste preferences and maple cream and candies can be purchased as well …
The farm also offers other home made products via the store, like pancake mixes, honey, and a series of jams and condiments. Combine several in a gift basket!
Order and enjoy the truly Massachusetts made products from the North Hadley Sugar Shack!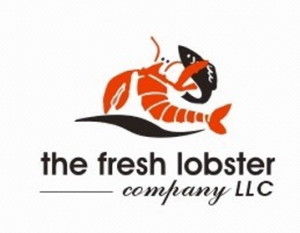 The Fresh Lobster Company: Based in historic Gloucester, The Fresh Lobster Company specializes in shipping fresh seafood anywhere in the United States, directly to your doorstep …
Known for their signature Seafood of the Month Club, The Fresh Lobster Company offers fresh fish fillets like Atlantic Cod, Haddock, Salmon, Tuna, and more. You can also order whole fish, sushi, crab, and of course lobster …
Specialty gift baskets are also available, like a New England Clam Bake, Chowder Gift Package, Surf & Turf, and a Gourmet Prepared Seafood Sampler. An outstanding gift for anyone who appreciates fine seafood! Visit their site to see all your ordering options …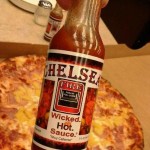 Chelsea Fire Hot Sauce: For those of you who like it hot, here's a hot sauce made in Chelsea, MA that'll set your tongue wagging …
It's Chelsea Fire Hot Sauce, named after two devastating fire from the town's history. The hot sauce contains both habanero and ghost peppers, so it's high on the heat scale. Vinegar and spices help round things off – try it mixed into a pasta salad to liven things up!
A portion of the proceeds from every sale is donated to the Fallen Heroes fund at FireHero.org … you can order directly at the Chelsea Fire Hot Sauce website …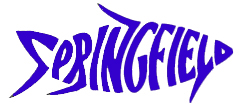 Rachael's Springfield Smoked Fish: A Springfield, MA landmark since 1934, this company is known for their freshly caught and smoked seafood delicacies. Formerly known as Axler's Springfield Smoked Fish, the company was bought by Rachael's Food Corporation in 2011 …
Rachael's Springfield Smoked Fish smokes fish in the traditional manner … with real wood fires in small monitored batches. No liquid smoke or powdered spices are used, and each finished product is carefully packed to ensure peak freshness for every customer. Whitefish, chubs, mackerel, Atlantic salmon, trout, bluefish, and pickled herring are just a few of their many specialties …
Combination packages are also available – a wonderful gift! They'll ship all across the country, so check their website for all the details. Try the herring, it's fantastic!
Relish The Harvest: This small Chicopee, MA company creates three unique relish products based on a decades old family recipe …
It's zucchini relish, made with fresh local vegetables and peppers. The first is a Sweet Zucchini Relish, which you can use as a condiment on burgers or as part of an appetizer. The second is a combination Sweet & Hot Zucchini Relish, which adds some hot peppers to the mix to provide an element of heat …
The company's newest product is a Hot Pepper Spread. It's sweetened with honey and carries a higher heat level than the Sweet & Hot Relish. Mix it with cream cheese for a spicy appetizer dish or spread it atop a fish filet before baking …
There are several great recipes for using both of the relish products and the pepper spread on the Relish The Harvest website. They accept PayPal for quick and easy ordering. Get yourself a farm fresh taste of Massachusetts!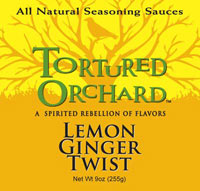 Tortured Orchard: Based in North Egremont, MA, Tortured Orchard is a gourmet seasoning sauce and catering company. They make a line of flavorful, creative sauces which can be used as condiments, dipping sauces, marinades, dressings, and more …
Using fresh, 100% all natural ingredients, these approachable creations are intended for chefs of any ability level. Flavor varieties such as Lemon Ginger Twist turn ordinary into extraordinary. Baste a little of any of their sauces on your chicken, fish, or pork and you've got an instant gourmet meal …
In addition to Lemon Ginger Twist, Tortured Orchard offers Sweet Apple Blush, made with local cranberries, apples, and apricots. Delicious over baked goods! Or try their Golden Sauce, a mustard based creation augmented by peppers and spices – try this one on any type of meat, particularly if you're cooking on the barbecue grill …
You can buy any of these finishing sauces (five in all) at the Tortured Orchard website. We recommend the Sampler Pack – you'll get to taste all five!
Millie's Pierogi: Growing up in Chicago's Bridgeport neighborhood, I was very fortunate to be surrounded by some wonderful ethnic style cooking. Whether it was from local restaurants or family and friends, there was always great European style specialties to sample and enjoy …
My mother's side was a mixture of Polish and Bohemian. One of the family's recipes was for pierogi, which are two thin slices of dough wrapped around a filling and then boiled or fried. In a way, they're similar to Italian style ravioli, except the fillings are different. Polish pierogi are filled with the likes of cabbage, cheese, potato and cheese, onions, and even fruit like prunes or blueberries!
There's a small Massachusetts company named Millie's Pierogi who make these little pillows of goodness and will ship them across the country for you or as a gift. They've got a great selection of fillings, and the pierogi are first boiled and then shipped fresh … just heat and serve!
Millie's sells pierogi by the tray (about a pound each), as well as other Polish specialties. There's even some cool Millie's swag like t-shirts, sweatshirts, and caps!
Cape Cod Lavender Farm: Here's a unique Massachusetts company we learned about from Cape Cod Cranberry Harvest (see below). Founded in 1995, the Cape Cod Lavender Farm is located on 12 off the beaten track acres in the village of Harwich on Cape Cod. It is one of the largest lavender farms on the eastern seaboard …
Lavender is a fragrant and versatile plant that can be used as a soothing agent or in cooking. Lavender shampoos are known to stimulate hair growth (great for us 50 ish guys) and the scent of a lavender candle is a proven stress reliever. The farm hosts over 10,000 visitors yearly and is proud to share the benefits of lavender with visitors …
At their website, Cape Cod Lavender Farm offers several lavender based products to tempt your senses and augment your culinary creations. Choose from gentle lavender shampoo, soothing lavender body wash and hand cream, lavender soap, and more.
If you or someone on your gift list enjoys cooking, order them a gift of culinary lavender, lavender and lemon marmalade, and more …
What a wonderful gift idea from beautiful Cape Cod!
Cape Cod Cookie Company: The Cape Cod Cookie Company is a small mom-and-pop operation run by Carrie-Lee and Matthew Touhey, with a little help from their children. The two always dreamed of owning a bakery, and their cookies are showcased at local farmers markets, fairs, and events (and now online!) …
The cookies are made fresh daily from local ingredients by order. They're soft baked and big, and make an excellent gift directly from beautiful Cape Cod! One product which looks particularly appealing is the Dennis Dipped With Sea Salt … it's an oatmeal based cookie half dipped in dark chocolate and sprinkled on top with locally harvested sea salt.
Cape Cod Cookie Company also makes fun and unique cookie sandwiches as well as a handy Cookie of the Month Club (six or twelve months). Now who on your gift list wouldn't enjoy getting cookies in the mail every month??
Click through to their online store to see all the choices and to place an order …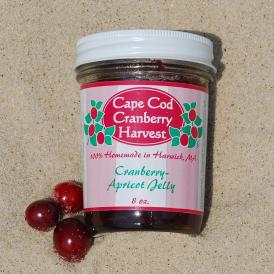 Cape Cod Cranberry Harvest: This local Cape Cod company specializing in cranberry jellies was founded by two moms who met via their children's playgroup. They became friends and business partners, creating a wide spectrum of artisan cranberry jellies using fresh fruit, herbs, and local Cape Cod cranberries …
Over a dozen flavors are made, including cranberry mint, cranberry pepper garlic, cranberry raspberry, and cranberry apricot (shown). You can use these jellies on bagels, scones, toast, or as an appetizer condiment on crackers. In fact, there's a wonderful recipe for a Monte Cristo sandwich on their website using their white cranberry pepper jelly as an ingredient …
You can order individual jars or in multi packs as part of a gift basket. We did not know cranberries are prolific on beautiful Cape Cod! Order some of these jellies from Cape Cod Cranberry Harvest for yourself or as an ideal gift from Massachusetts!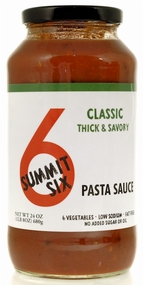 Joslin Foods Pasta Sauce: Founded by Jennifer Joslin, Josline Foods is a small pasta sauce manufacturer who create sauces designed to be healthier than traditional sauces …
Their primary sauce, Summit 6 Classic Thick and Savory, is bursting with six different vegetables.
They include carrots, eggplant, garlic, green beans, tomatoes, and red cabbage. It can be used as a traditional pasta sauce or as a pizza or soup base …
The sauce is fat free, low sodium, and all natural without added sugar. A spicy version is available too!
You can order Joslin Foods Pasta Sauce online from the Famous Foods website …
History of Massachusetts
Massachusetts Trivia and Fun Facts

1). The state dog of Massachusetts is the Boston Terrier, a cross between an English Terrier and an English Bulldog …

2). Massachusetts is one of the nation's leaders in cranberry production. Accordingly, cranberry juice is the official state beverage …

3). Maine was once a part of Massachusetts until it became a state on its own in 1820 …

4). The first organized basketball game was played in Springfield, MA in 1891. Today, the city is home to the Basketball Hall of Fame …

5). To date, four U.S. Presidents were born in Massachusetts. They are John Adams, his son John Quincy Adams, John F. Kennedy, and George H.W. Bush …

6). Boston Common became the first public park in America in 1634 …

7). Revere Beach is the oldest public beach in the United States …

8). In 1781, Massachusetts was the first state to recognize July 4th as a state holiday.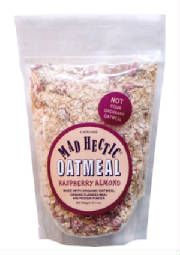 Mad Hectic Foods: Did you know that all oatmeal is not created equal?
Now we're not being discriminatory or arbitrary, we're simply introducing you to the high protein all natural oatmeal from Mad Hectic Foods of South Dartmouth, MA …
Mad Hectic Oatmeal contains no artificial sweeteners, colors, or trans fat. It contains ground organic flax seed meal which is loaded with Omega 3 vitamins …
There's a reason why mom always told you to eat your oatmeal. It's extremely healthy for you!
Mad Hectic Oatmeal comes in seven different flavors – they even have a chocolate raspberry flavor! Now if that doesn't make you want to get up and have breakfast in the morning …
Gift packages containing all seven flavors are available, or you can simply order by flavor …
You can order any of these oatmeals directly at the Made Hectic Foods online store …
Plum Island Soap Company: Plum Island is a small barrier island located just off the northern coast of Massachusetts, and it's here you'll find the Plum Island Soap Company. Founded in 1999, this small company produces bath products using pure, simple ingredients without any dyes, chemicals, or perfumes …
We personally love small artisan soap makers and use these types of products daily. Not only are they far better for your skin than mass produced soap, but they last longer too!
Plum Island Soap products include bar soap, face moisturizer and scrub, lip balm, shaving products for men, and even pet stuff! Gift packages are available including a great one for guys called "The Man Can" which contains everything a guy needs to look and smell good …
Go to the Plum Island Soap website to see all their natural products … a great "Made in Massachusetts" gift idea!
Gray's Grist Mill: One of the oldest continually operating grist mills in New England, Gray's has been around for over 350 years. Its location gives both the states of Massachusetts and Rhode Island claim to this historical treasure … the mailing address is Westport, MA though most of the mill property is on the Rhode Island side of the state border, technically in Adamsville, RI (the state line runs through the mill's pond). We'll go with The Bay State here as that's the official mailing address …
No matter the location, Gray's grinds a local flint corn native to this immediate area. The corn is very hard to grow and difficult to grind … it needs to grow in relative isolation since it mutates when contacted with any other corn strain.
The mill grinds the corn into johnnycake meal … which end up as small corn cakes well known to these parts for centuries. The corn is also used to create pancake and waffle mix.
Order a special taste of Massachusetts (or Rhode Island!) directly from Gray's Grist Mill … you'll find all sorts of great recipes on their site too!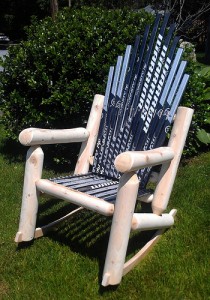 Ski Chair Recycled Furniture: We love small companies who repurpose unused and unwanted items into practical and useful home furnishings …
We feature them as often as we can at State Gifts USA, and this time it's Ski Chair of Millbury, MA. This small innovative company manufactures recycled furniture from sports equipment like snow skis, snow and surf boards, hockey sticks (shown at left), golf clubs, and more.
The used sports equipment is cleaned up and used as parts of rockers, chairs, swings, benches, wine racks, and coat racks. The designs are ingenious and a great, functional conversation piece …
Ideal for the sports oriented person in your life, you can see Ski Chair's many unique designs and place an order directly at their website, linked above …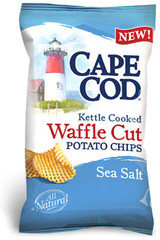 Cape Cod Chips: Since 1980, Cape Cod Chips have been making potato chips and natural snacks in Hyannis, MA on beautiful Cape Cod. In fact, their factory tour is one of Cape Cod's biggest tourist attractions …
To us though, their potato chips are the biggest attraction … they're kettle cooked … crispy and crunchy and not too salty, and sturdy enough to stand up to dips.
Cape Cod Chips are generally available nationally, but you can "build your own case" online via the Cape Cod Chips gift shop.
Our favorites are the original style and the new waffle cut variety … how about you?
Massachusetts Local Art: One of the best gifts you can give to someone who loves a certain part of the country is local art by skilled painters, craftsmen, and artists. We like to collect prints and paintings and other art from our travels and display it in our home as a reminder of all the wonderful places we've been fortunate enough to visit …
We want to share a great website we found that has listings of Massachusetts artists … it's NorthQuabbinWoods.org and there you'll find local artisans creating paintings, pottery, fabric art, glass blowing, jewelry, metalworking, woodworking, and more. All the products are locally made in Massachusetts and there are links for every artist's website and how to contact them and view their works.
Local art is a wonderful gift, and a great addition to any home decor. Plus, you're supporting small local businesses and encouraging entrepreneurial spirit!
Cormier's Gold Sauces: Cormier's Kitchen in Stoneham, MA has been creating a line of full bodied, zesty sauces and marinades since 1980. We bought a few bottles the last time we were in Massachusetts and we're pleased to let you know you can now order Cormier's Gold Sauces online …
Cormier's makes five different cooking sauces … cracked black pepper, ginger and garlic, double garlic, garlic and jalapeno, and orange burst. We've tried both the double garlic and orange burst sauces, and we love them!
To use them, just add a few tablespoons or however much you want to any kind of dish, like pork, chicken, or fish. We cook a lot of stir fry dishes and use these two sauces mixed in with the chopped vegetables and meat.
You can use them as a marinade too … the double garlic sauce adds a great flavor and tenderizes as well!
Polar Beverage: Since 1882, Polar Beverage of Worcester, MA has been making flavored sodas like birch beer, black cherry, orange cream, root beer, and standard cola flavors serving the northeast market …
They also make drink mixers, flavored seltzers, and bottle a nationally known spring water. You can usually find Polar products in large grocery stores, but if you're craving a particular flavor (or know someone else who is), Polar Beverage will ship individual orders via Fed Ex ground. Contact Polar via their website for more details …
Smith's Country Cheese: Located in Winchendon, Smith's Country Cheese is particularly known for their gouda, havarti, and cheddar cheese, as well as their gouda spreads …
The farmstead is demonstrating their commitment to renewable energy by installing a solar energy system which reduces their standard power consumption by 50%. You can order their award winning gouda cheese either plain, naturally smoked, or with caraway, cumin, or sun dried tomatoes.
Their gouda spreads offer even more interesting flavor profiles, like gouda with bacon, or dill, onion and chives, and gouda with horseradish …
Real Pickles: Real Pickles of Greenfield, MA jars pickles, as I'm sure you can imagine by their name – but it's another of their products that caught our attention …
Pictured is Real Pickles Garlic Sauerkraut which contains Massachusetts grown cabbage and garlic. It's a great alternative to standard sauerkraut!
Real Pickles also offers spicy dill pickles, garlic dills, kimchi, ginger carrots, beets, and an excellent tomatillo hot sauce that works well with tacos, enchiladas, or burritos …
You can order Real Pickles products online, but they don't ship everywhere in the United States. It's best to check with them about your order, depending where you live. A good idea for a gift is the Mix 'n Match package, where you can choose either a four or twelve jar assortment of products …
Great Hill Bleu Cheese: Great Hill Blue (or bleu if you prefer) is a Marion, MA based creamery producing artisan bleu cheese. All of their cheese is produced at the Great Hill farmstead located about 50 miles south of Boston …
The cheese is a little more dense with yellow tint versus standard bleu cheese since no food coloring or bleach are added to the product …
You can order bleu cheese online from GreatHillBlue.com . There are four different sizes available … six pounds, three pounds, 1.5 pound, and twelve ounces …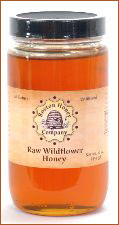 Boston Honey Company: If you enjoy using honey at breakfast like we do, you'll come to find a measure of satisfaction from tasting different honey from different areas of the country.
All honey is not the same. The flavor largely depends on the flowers accessible to the bees, and other environmental factors. The Boston Honey Company of Holliston, MA offers six types of locally produced honey, all with a slightly different taste profile …
We've always preferred wildflower honey … it has a rich, complex taste because the honey is comprised of nectar from many different wildflowers. Other honeys offer similarly complex palates and colors, depending on the plants involved.
Half the fun is tasting all the different honey and deciding which you like best! And a gift of honey is a real gift of local pride, since the entire process from flower to honey is dependent on a specific local area …
Bay Shore Chowders: Located in Boston right on the harbor, Bay Shore Chowders is one of your best bets to buy New England clam chowder, fish chowder, and other chowders and bisques online …
Bay Shore Chowders is a family owned company that has been based at Boston's Fish Pier since 1982. The company supplies their chowders and bisques to many New England restaurants. The clam chowder is thickened the traditional way (with a roux) and only contains hand shucked clams …
They'll ship anywhere in the U.S. and all you'll need to do is heat and serve!
We've Got A Lot More Massachusetts Made Products To Add … What Are Some Of Yours? Add Your Comment Via Our Contact Us Page …