Made In New Jersey Quick Facts
This Post is about Made in New Jersey Gifts and Specialty New Jersey Products
Want To See Your Business / Products On Our Made In New Jersey Page?
Visit "Advertise With Us"!
FEATURED MADE IN

NEW JERSEY

BUSINESS

ES
Linda Park Photography: It's always a joy to feature talented local photographers, and we're pleased to introduce you to a Garden State photographer who also counts gardening as one of her life's passions …
Based out of Princeton, Linda Park is a nature and landscaper photographer who expertly captures the best of nature in New Jersey and beyond. Her work is showcased at Linda Park Photography, where you can view and purchase some of Linda's finest work, including the beautiful tranquil Lake Carnegie photo shown …
A master gardener, Linda's site also features a nature and garden blog which offers practical gardening tips, updates, and occasional specials. Be sure to subscribe to Linda's update list to receive notices about new photos and a 20% discount on your purchases …
Click through to discover Linda's photographic talents … there's sure to be a special image which will add a touch of vibrant color and tranquility to any room in your home …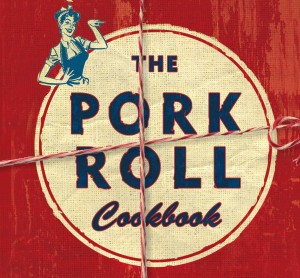 The Pork Roll Cookbook: If there's anything that's uniquely New Jersey, it's pork roll. This smoked and processed meat is a trade secret combination of meat and spices packaged in a loaf and then sliced in portions. It's usually fried and served on a soft roll with cheese (or your condiments of choice) as a hearty lunch …
Prok roll originated in Trenton so it's fitting the author of this cookbook writes for the Times of Trenton. She's Jersey native Jenna Pizzi and with the help of fellow writer and recipe guru Susan Sprague Yeske has put together a remarkable ode to this Mid Atlantic favorite …
Recently published by Cider Mill Press, it has created quite a buzz in The Garden State and makes a great gift, whether or not you appreciate the not-so-subtleties of the ubiquitous pork roll. But if you've got someone from New Jersey on your list, this is about as good an idea as it gets …
The Pork Roll Cookbook is available at bookstores in the state and also online …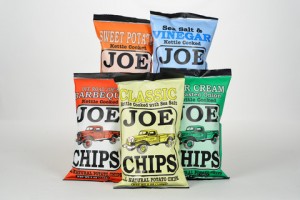 Joe Tea & Chips: We readily admit to potato chips being one of our guilty food pleasures. Whenever we travel, we always seek out local potato chip manufacturers to buy a bag or two of their chips. And take it from us, there are some really good potato chips being made across the United States!
On a recent trip to the east coast, we discovered a brand of kettle cooked chips we really like – they're made in New Jersey by the Joe Tea & Chips company of Upper Montclair. The company is well known for their unique flavored ice teas, which you'll find in independent stores across the Eastern Seaboard. They recently introduced their line of potato chips, and we're glad they did!
Joe Tea Chips are available in seven different flavors. We didn't try them all, but the BBQ and Sweet Potato flavors are fantastic … the other varieties are Classic with Sea Salt, Toasted Onion & Sour Cream, Sea Salt & Vinegar, Salt & Pepper, and Jalapeno.
We link directly to the Joe Tea My Shopify store above … you can buy their many flavors of tea and also the chips online there. Give them a try – direct from The Garden State!
Two Guys Tomato Sauces: Tomatoes are probably The Garden State's best known and most sought after agricultural product – there's nothing quite like their texture and rich, full flavor. For those of us without close access to these delicious wonders of nature, the next best thing are the tomato sauces from Two Guys Food Group – they're literally bursting with world class New Jersey tomato goodness!
The "two guys" are Scott Stark and David Stoff, Jersey natives and friends from college who decided to combine their food passions by creating low sodium, gluten free tomato sauces with no added sugars. They're available in three different varieites – Classic Marinara, Classic Spicy, and Tomato Basil. Use them in your favorite recipes or simply heat and ladle over pasta – fantastic!
All three sauces can be found on a growing number of store shelves in the New York / New Jersey area, check the "Where To Buy" link at their website. You can also order them online in convenient three packs, six packs, or cases. You'll get a sampling of each flavor so you an choose your favorite. A great gift idea proudly made in The Garden State with those world famous New Jersey tomatoes!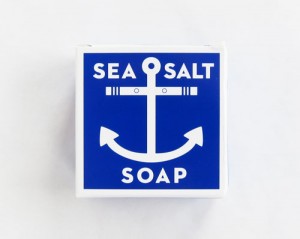 L.E.H. Soap: L.E.H. stands for Little Egg Harbor and this Marmora based company has been hand crafting all natural soaps and body care products since 1997. With locations in Marmora, Smithville, and Rehoboth, DE the firm's products are a favorite with shore visitors and locals alike …
At the L.E.H. Soap website, you can browse and purchase any of their soaps, lotions and balms, bath items, natural remedies, and more. They've created an organic hair care line and we particularly like their men's soaps, with scents like Bay Rum and Sea Salt.
L.E.H. Soaps offer a rich lather and will soften and moisturize your skin. Natural herbs, flowers, and spices are part of the soap ingredients and help exfoliate your skin. Plus, natural bar soaps last a lot longer! We've been using small batch hand made soap for years and would never go back to those which are mass produced.
Check out their website to see all they're doing and to order for yourself or as a gift!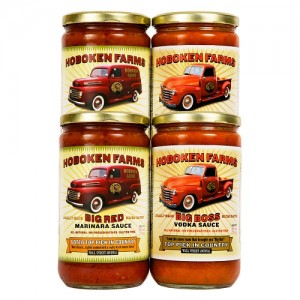 Hoboken Farms: A multifaceted New Jersey company, Hoboken Farms has maintained a strong presence in The Garden State since 1992. Their business includes catering operations, The Awesome Sandwich Shop in Summit, and serving their artisan breads, meats, and cheese at over 30 farmers markets across the state …
One of the company's many specialties is their Big Red Marinara Sauce, voted best in the country in a Wall Street Journal judging. Made with local ingredients, the sauce is a true reflection of the the state's Italian – American roots. It's joined by their Big Boss Vodka Sauce, made from plum tomatoes and heavy cream with no preservatives …
Perfect on any traditional Italian style dish, Big Red and Big Boss are both available in small quantities to case lots at the Hoboken Farms online store. If you'd like to try them both, get the combination pack!
A fantastic New Jersey made gift for yourself or the foodie on your list …
Whale's Tale Cape May: Cape May is without question our favorite New Jersey town. We had the opportunity to enjoy a day in this invigorating seaside resort town after taking the Cape May Ferry over from Lewes, Delaware. Known as America's Oldest Seaside Resort, it's located at the southern tip of The Garden State, where the Atlantic Ocean and Delaware Bay converge.
This walkers and shoppers town offers many wonderful stores and local products, a few of which are spotlighted on this page. A favorite for area shoppers for over 40 years is Whale's Tale, an enticing shop offering local handicrafts, gifts, jewelry, Cape May books, and much more.
One of the special local items Whale's Tale carries is sea glass jewelry, collected and created by local artists. We particularly liked the piece shown, created from a mold of a real sea urchin and adorned with colorful sea glass …
Several varieties are available at the Whale's Tale online store – a very stylish gift from Cape May!
Tassot Apiaries Honey: You've heard us sing the praises of local honey here on State Gifts USA. Not only does local honey provide personal health benefits, local beekeepers are important to area agriculture because so many plants depend on bees for pollination.
Non processed honey is an excellent antidote for seasonal allergies and an important part of a healthy diet. Did you know a spoonful of raw honey before going to bed can help you sleep better? It's just one of the many health benefits you'll realize when adding locally produced honey to your daily routine …
Tassot Apiaries is a perfect example of a local honey producer. They're located in Milford, northwest of Trenton in the western edge of New Jersey, across the Delaware River from Pennsylvania. They maintain bee colonies all across the state and are known as one of the foremost experts on beekeeping and honey production in The Garden State …
You can buy this honey, along with candles, honey sticks, and beeswax soap directly at their website via PayPal. Several varieties are available – a great gift from New Jersey!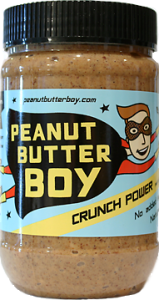 Peanut Butter Boy: Peanut Butter Boy is actually Nick Strand of Hoboken, who actually is one of the country's (world's?) most passionate peanut butter aficionados. If you need proof, check out the very cool Peanut Butter Boy website where Nick shares many unique recipes and uses for peanut butter!
After trying nearly every available peanut butter on the market and sharing his thoughts about them, Nick set about making his own. The finished products are two 100% natural peanut butters called Super Smooth and Crunch Power. Each contains only three ingredients – roasted peanuts, pure sea salt, and a dash of sustainable palm oil to help prevent the peanut oil from separating.
One unique aspect of Peanut Butter Boy Peanut Butter is unblanched peanuts are used. That means the skins are left on which adds more flavor, fiber, and antioxidants to the end product.
Super Smooth and Crunch Power are available at a growing number of outlets in the metro New York City area, or you can order single jars and combo packs online at the Peanut Butter Boy store. And even if you're not in the market to buy, check out Nick's blog and recipes at his site. It's peanut butter heaven!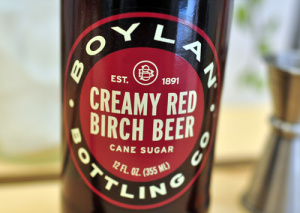 Boylan Bottling Company: Founded in 1891 by a Patterson, NJ pharmacist named William Boylan, this company is now known as the state's preeminent gourmet soda manufacturer. The company's first product made back then was a birch beer, which is still produced today along with several other beloved, flavorful sodas …
Headquartered in the small borough of Teterboro in the northeast part of the state, Boylan Bottling offers four specialty sodas as the core of their product line – Creme Soda, Root Beer, Ginger Ale, and Black Cherry. Ask any native New Jerseyite about them … they'll know!
Boylan's also makes a delicious Creamy Red Birch Beer which is enhanced with real vanilla to create a smoother version of the company's traditional Birch Beer. Seltzers, Cane Cola, Orange, and Grape sodas are also produced, as is their popular Shirley Temple, a mixture of ginger ale and cherry …
Boylan's Sodas are set apart because they're made using real cane sugar and not artificial flavorings. It may be more expensive to make, but you can bet they taste better! Best of all, you can buy any of the Boylan Bottling products directly online at their website in convenient 12 packs. Logo merchandise is also available!
A wonderful gift for anyone with a soft spot for The Garden State!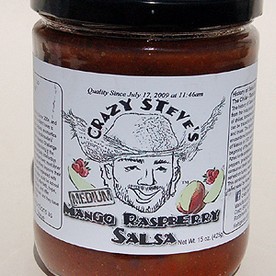 Crazy Steve's Pickles & Salsa: We admit it, we're a bit of a sucker for locally made products. When we see something interesting on the shelves, it tends to come home with us, even when we travel. That's what happened on a recent trip through The Garden State …
We happened across a few jars of salsa from a local New Jersey company called Crazy Steve's Pickles & Salsa. Well, if Steve is crazy, he's crazy like a fox because the salsa he makes is really good! After doing a bit of research, we found out the company makes several varieties of pickles too. We didn't get to try any, but they're available at the Crazy Steve online store (the link above goes directly to it). The salsas we tried were the Medium Mesquite Fire Roasted Salsa and the Mango Raspberry variety. They're both medium heat level, which is what we like. Jalapenos and a bit of habanero create the heat, while fire roasted tomatoes and fresh mango and red raspberries balance things out …
Crazy Steve's also makes three different Bloody Mary mixes and a half dozen varieties of pickles, all of which you can purchase online and have shipped. Get a little Crazy! Direct from The Garden State …
The Original Fudge Kitchen: Synonymous with New Jersey shore towns, The Original Fudge Kitchen has been creating salt water taffy, fudge, macaroons, premium chocolates, and dozens of other sweet treats for over 40 years. They have six locations in The Garden State … two in Cape May, two in the Wildwoods, one in Stone Harbor, and also in Ocean City on the boardwalk …
You'd be hard pressed to find a better New Jersey themed gift than the Fudge Kitchen Fudge & Taffy Combo Gift Box. It contains six pieces of their famous whipped cream fudge and assorted salt water taffy. Choose from almost two dozen flavors of fudge, including Vanilla Marshmallow, Chocolate Peanut Butter, Bing Cherry Vanilla, and many more.
Salt water taffy is available in chocolate covered or standard variety, and we recommend you try their Vanilla Bean flavor … it is spectacular! Over a dozen flavors are available in all, and they come in handsome gift boxes just perfect for anyone on your list.
Stop by the Fudge Kitchens website to order, or better yet, visit any of their locations in person. It's a real taste of coastal New Jersey!
Cape May Popcorn Factory: If you're a fan of Cape May like we are, another place you'll want to visit (in addition to those places we feature below) is the Cape May Popcorn Factory, located right on Perry Street. Of course you'll catch the enticing aroma of freshly popped popcorn before you enter … believe me it draws you in!
Popcorn is one of the best thank you or corporate gifts you can send, and Cape May Popcorn offers numerous colorful tins containing the flavor(s) of your choice. When we visited, we enjoyed the caramel popcorn with nuts as well as the Chicago style variety which is caramel and cheddar cheese. We Chicagoans like to try any food titled "Chicago style"! There are over 30 varieties to choose from …
If you're not planning a visit to beautiful Cape May anytime soon, you can order directly from the Cape May Popcorn website. We haven't met anyone who doesn't appreciate a gift of popcorn!
Scott Griswold, Jr. Art: Ocean City based photographer and artist Scott Griswold, Jr. is the son and namesake of famous portrait artist Scott Griswold, but he's making a name for himself with his stunning works like the Cape May print shown …
At his site, you'll see Scott focuses on many subject matters and areas of the U.S. – his southern New Jersey works are only a small part of his portfolio. He uses what he terms a digital painting technique – he creates images using digital technology in concert with his original photographs. You can actually have one of his images produced in a size that best fits your decor!
Scott has a year around showroom in Ocean City, but you can view his works and purchase online at Scott Griswold, Jr. Art. Just click on "Shop" and use the drop down menu to select the category that interests you. There are quite a few images of Cape May, Ocean City, and other southern New Jersey locations … any would make a wonderful gift!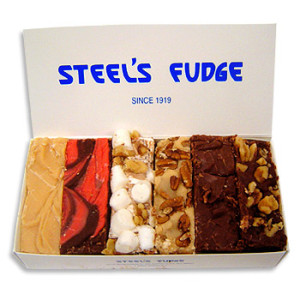 Steel's Fudge: There's nothing quite like strolling an oceanfront boardwalk enjoying the salt sea air and enjoying an iconic sweet treat. In Atlantic City and Ocean City, one of the best ways to enjoy the boardwalk is with a slice of Steel's Fudge …
Since 1919, Steel's Fudge has been one of the go to places at these most American of destinations. With two locations in Atlantic City and one in Ocean City, you're never far from a Steel's fix!
Though Steel's is best known for their fudge, they also make salt water taffy and a wide variety of candy confections. Try their peanut brittle – you'll come back for more!
At their website, Steel's ships their fudge and other treats all across the country. We like the one pound box of fudge, shown. It has six slices of their fudge in flavors of your choice!
Order for yourself or send some as a gift from the New Jersey oceanfront!
The Lobster House: One of the most popular and beloved dining destinations in southern New Jersey is The Lobster House, located right on the Cape May harbor front. A decades long favorite of Cape May residents and visitors alike, The Lobster House offers the freshest seafood and drinks in one of the most picturesque and relaxing settings anywhere …
When you visit, you can choose from indoor dining in a unique nautical decor, dockside in the fresh sea air, or on the deck of the adjacent 130 foot sailing vessel, The Schooner American. Watch all the passing yachts cruising the Cape May Harbor and enjoy fresh oysters, clams, lobster rolls, and more along with one of their specialty libations …
At their Fish Market and also online, you can order a unique taste of the area with the Cape May Clam Bake. Containing everything you need for your own Cape May experience at home, the Clam Bake contains two lobsters, 18 clams, 18 shrimp, and 18 mussels. It's shipped Fed Ex overnight to anywhere in the U.S.!
Cape May Peanut Butter Company: Cape May is without question our favorite Garden State destination. We spent the better part of a day here, arriving on the Cape May ferry from Lewes, Delaware. This iconic resort town is situated at the extreme southern edge of New Jersey, adjacent to both the Delaware Bay and the Atlantic Ocean. The salt air breezes perfectly complement the town's leisurely pace, and we plan to spend more time here as soon as we can …
The town is the home of the Cape May Peanut Butter Company, who make a variety of freshly ground nut butters whose quality far surpasses anything you'd buy in the grocery store. They're best known for their honey roasted peanut butter, and also make cashew butter, almond butter, butterscotch peanut butter, and more …
Being peanut butter aficionados, we thoroughly enjoyed tasting a few of their products and bringing a few jars back with us. For anyone who enjoys peanut butter, try their flavors! They're naturally made and contain just a bit of sea salt for a fresh, unique taste. We found ourselves enjoying it right out of the jar!
And who wouldn't love a gift of artisan peanut butter? Click through to their site to see all of their products and to get some for yourself …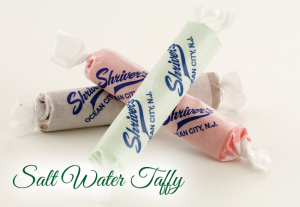 Shriver's: A New Jersey institution, Shriver's has been making salt water taffy, fudge, and other delicious confections at the boardwalk in Ocean City since 1898 …
As one of America's foremost taffy makers, millions enjoy their sweet treats every summer – and now all year long! Their iconic salt water taffy is available at the Shriver's online store in various sizes and flavor combinations (the two and three pound assortments are very popular!). You can also have fudge shipped anywhere in the country – a great gift idea from the Jersey Shore …
Their store also features Ocean City souvenirs, Shriver's shirts and hat, and enough gift box options to keep you shopping for days! If you're ever in Ocean City on the boardwalk, be sure to stop in. They're located at 9th & Boardwalk – a real slice of Americana!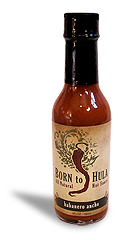 Born To Hula Sauces: This Highlands, NJ company creates a line of sauces ranging from mild to super hot and everything in between using locally sourced peppers from The Garden State …
Fresh peppers like guajillo, habanero, ancho, cayenne, and more are used to make products like Born To Hula's Mild Sauce, kind of a red pepper sauce in the Louisiana style but milder and more versatile. Medium Heat sauces are made with red bell peppers, anchos, habaneros, guajillos, lime, and spices. We especially enjoy their Smokin' Pineapple, a mild sauce made with peppers, spices, and fresh pineapple – great on grilled chicken and fish!
All in all, six different sauces are available, so no matter if you like a little more heat or a little less, Born To Hula has got you covered!
You can buy any of their sauces in single bottles or larger quantities via PayPal directly at their site …
The Artisan Tree: This New Jersey based small company creates a line of natural handmade soaps from plant based ingredients. Olive oil, coconut oil, cocoa butter, and shea butter are just a few of the ingredients going into these natural soaps …
Varieties like Grapefruit Lavender, Eucalyptus Citrus, and Cocoa Mint are designed to soften your skin without drying it out like most commercially produced soaps. You can use these soaps as body bars or even as a shampoo bar – you'll be surprised at how much softer and manageable you hair will be as opposed to using standard shampoo. We've been using natural handmade soaps like these as a shampoo for years and have noticed the difference!
You can order any of The Artisan Tree soaps, lip balms, and other gift items directly at their website. You'll find it at TheArtisanTree.com …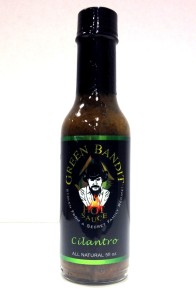 Green Bandit Cilantro Hot Sauce: We learned of this New Jersey made hot sauce recently when a friend had us over for a Mexican style dinner.
He's a big fan of this hot sauce, and now we are too!
The heat in Green Bandit comes from habanero peppers. As the name states, cilantro is one of the key ingredients, along with lemon juice, garlic powder, apple cider vinegar, and ginger …
It's a slow burning heat – use a few drops on a taco, enchilada, or any Mexican dish. The flavor will complement anything you cook! We actually mixed in a spoonful of Green Bandit with our meat and pepper medley when preparing a taco dinner, and the sauce is all we needed for heat and spice. It goes exceptionally well with chicken!
You can buy bottles of Green Bandit Cilantro Hot Sauce right here …
Griggstown Farm: Established in 1975, Griggstown Farm is located near Princeton in Somerset County, NJ. The farm began as a quail farm and has since grown to be a processor of poultry and prepared specialty foods for local visitors and online shoppers …
Griggstown is well known on the east coast for their natural free range turkeys – they sell out every year at Thanksgiving! They're also known for chicken pot pies, and these are not your standard store bought variety pot pies as you can see …
Known as "The Best Chicken Pot Pie On The East Coast", these pies are stuffed with five different farm fresh vegetables and large chunks of chicken. They're available in two sizes – a 9 inch variety that feeds four or a 5 incher that feeds one or two …
Griggstown Farm also offers chicken sausages, fruit pies, other savory pies, poultry, soups, and more. Order one of their Value Packs, which combines several of these scrumptious items and helps you save on shipping costs …
Click through to their website and taste the freshness of The Garden State!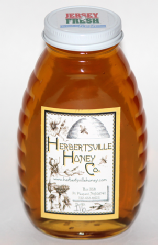 Herbertsville Honey Company: This small company based in Point Pleasant, NJ is one of The Garden State's best known producers of honey and honey related products. Whenever we travel, we always like to try honey from different parts of the country, as they all taste slightly (or quite a bit!) different due to the bees being exposed to different types of flowers …
Herbertsville Honey has their hives based in the central agricultural part of the state. All the honey they produce is genuine wildflower honey, so you'll taste a fresher, more clean flavor than most honey you'll find at the grocery store. They also make some unusual varieties, like buckwheat honey as well as walnuts & cranberries in honey and chile pepper infused honey …
Check out the Herbertsville Honey website to see all the different varieties of honey and their honey based products. A real Grown-In-New Jersey gift for yourself or someone special on your list!
Terhune Orchards: Located on a 200 acre fruit and vegetable orchard in Princeton, Terhune Orchards is an area destination for their many family friendly activities, farm store, and winery …
The orchard is well known for their pick-your-own apples, strawberries, cherries, blackberries, pumpkins, and more. You can even pick your own asparagus! The farm originated in the 1930's and has grown and expanded under the Mount family, owners since the 1970's …
You don't have to live near Princeton to experience the fresh taste of Terhune Orchards. Pictured is the Taste of New Jersey Gift Box. It contains Terhune Orchard apples, local honey and chocolates, New Jersey popcorn, and a variety of baked treats created in their on site bakery. It's one of almost two dozen gift baskets and boxes which make a wonderful memento of The Garden State …
You can also order apple cider, cider donuts, and cookie assortments at their web store. Enjoy the orchard fresh flavor of New Jersey!
Frank's Pickled Peppers: Frank's Pickled Peppers is a small Dayton, NJ company creating all sorts of interesting pickled products from the abundant fresh produce grown in The Garden State …
The product line includes everything from dilly beans to sweet and spicy salsa to pickled eggplant chutney. Frank's products have won numerous local awards and are available both locally and via their online store at their website …
Two of the more interesting products are their Picalilly Relish and the Pickled Chili Pepper Rings. Picalilly is a type of relish that's known by several different names across the United States. In the south, it's usually known as chow chow. In other areas, it's known as sweet relish. Picalilly was a prevalent term for the product in the Midwest many years ago, but not as much today.
Use Picalilly Relish on hot dogs, hamburgers, or in any type of mixed salad like chicken or tuna. It adds a nice sweet dimension to the taste!
The other product, Pickled Chili Pepper Rings, are made with New Jersey grown hot peppers. The peppers are sliced into rings and then pickled and jarred. Use them on salads or any type of sandwich for a nice little zesty eye opener!
Check out the Frank's Pickled Peppers website to see all their products and to order …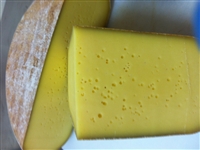 Cherry Grove Farm: Located in Lawrenceville, Cherry Grove Farm is situated on 230 acres of the New Jersey countryside. An organic farm, their herd of dairy cows graze daily in rotating areas to ensure they're eating fresh grass. The end result is an impressive group of artisan cheese direct from The Garden State …
The farm is also known for their pork and lamb products as well as organic eggs. For online shoppers, you can access their artisan cheese which can be shipped anywhere in the country. The variety is enticing – brie, cheddar, and a Swiss style cheese known as Rosedale are just three types available.
You can also buy gift packages, like the Taste of Lawrenceville which includes two types of jack cheese along with locally made chutney and crackers.
For more information about their cheese and to order, visit the Cherry Grove Farm website …
Dr. Pickle: This Paterson, NJ small company has made their name and marketed their products through farmers markets and street fairs in the Tri-State area, and now with an online presence …
Doctor Pickle packs several types of pickles, peppers, giardiniera, sauerkraut, and more in quart and gallon sizes. Taste the freshness of The Garden State in every bite! Pickles come in sweet as well as sour varieties, hot cherry peppers either whole or sliced, and hard to find pickled green tomatoes are available as well …
Products are shipped on Mondays and Tuesdays to ensure freshness … direct from the fields to your door. Try their sauerkraut and their marinated mushrooms!
You can order directly at the Dr. Pickle website …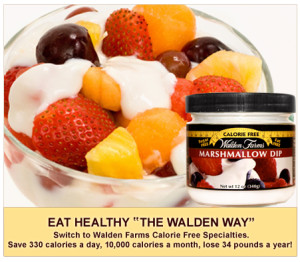 Walden Farms: Since 1972, this New Jersey company has been at the forefront of the healthy foods movement. Over 40 years later, Walden Farms creates a complete line of healthy condiments with no fat, calories, carbs, gluten, or sugars …
Walking in one of our local supermarkets recently, I saw a tag line sign adjacent to a display of Walden Farms Salad Dressings. It said "Save 10,000 Calories A Month The Walden Way", and while tag lines like that usually don't draw me in, the look of the salad dressing appealed to me. It was their Chipotle Ranch Dressing, and I normally shy away from ranch dressings due to their fat content even though I love the taste. If you feel the same way, try Walden Farms Chipotle Ranch – it is terrific!
Click through to their website to see their literally hundreds of healthy condiments. Another catching my attention is their Marshmallow Dip, another flavor I love but tend to avoid to help me stay in shape!
Walden Farms products are generally available at large grocers everywhere, but you can order specific products and create a nice gift pack from New Jersey at their online store …
Grab 'Em Snack Plantain Chips: Located in Hillsborough, Grab 'Em Snacks fills a unique niche in the snack food industry. Their primary products are plantain chips, a delicious healthy snack with a similar crunch to potato chips but much more sturdy in texture …
Plantains are similar to bananas. They're actually part of the banana family but can only be consumed after being baked or fried. Plantains grow abundantly in tropical climates and are sometimes known as the pasta or potato of the Caribbean.
Plantain chips are highly nutritious, containing ample amounts of Vitamin A and C as well as dietary fiber. More importantly, they taste great and are a perfect match with any type of party dip or right out of the bag!
Grab 'Em Snacks makes seven different varieties of plantain chips, ranging from Sea Salt to Red Chili to Cinnamon. They've been featured on Rachael Ray's "Snack of the Day" segment and are available for purchase at the Grab 'Em Snacks website! Click through to see all their flavors as well as the many nutritional benefits of plantain chips …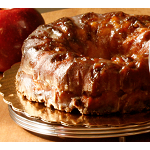 Mortgage Apple Cakes: Here's a heartwarming story about a New Jersey resident who, when facing what seemed like insurmountable difficulty, leaned on her strengths and started a thriving business …
Several years ago, Angela Logan was facing foreclosure. She committed to baking 100 of her special recipe apple cakes to save her home. She received a bit of local publicity, sales started flowing in locally and across the country, and the crisis was thankfully averted. Angela formed a company called Mortgage Apple Cakes and they now have a line of four different apple cakes …
The cakes are made with Gala and Red Delicious apples and have a moist home made taste topped with butter and cream cheese frosting. Choose from the Original Mortgage Apple Cupcake, Apple Rum Upside Down Cake, Caramel Apple Cake, or Apple Pound Cake with White Chocolate Drizzle …
You can have any of these cakes shipped directly to your door from Angela's website, linked above. A great story, and a great taste!
Peony's Envy: The whimsically named Peony's Envy is a nursery and display garden located in Bernardsville, NJ quite near both Philadelphia and New York City. We learned of them via the Chicago Flower and Garden Show, one of many national shows they appear at during the year …
Peony's Envy ships peonies nationwide during the cool and cold months (September to May) and tends to their large nursery the remainder of the year. As much as we love peonies, we were attracted to the company not so much for their live flowers but their unique peony themed gift items like jewelry and home and garden art.
Owner Kathleen Gagan has partnered with artists from across the U.S. to create jewelry inspired by peony seeds and branches. You can shop for earrings, bangles, rings, pendants, bracelets, and more. The stud seed earrings shown come in either bronze or .925 sterling silver … an ideal gift for the flower lover on your list!
Check out the Peony's Envy website to see the entire collection and to order …

Hillside Candy: This Hillside, NJ company is known as the company who creates "Confections For A Healthy Lifestyle" …
Hillside Candy produces a delicious selection of Made in The Garden State confections like organic, sugar free, gluten free, and diabetic candy. They also create traditional candies (made with sugar), so no one is left out!
The company is a pioneer in the sugar free confection market and is the producer of the well known GoLightly sugar free line. The company is family owned and operated and located near Newark Airport …
One of their newest sugar free products that's generating a positive buzz for the company is NRG Shock Drops. These berry flavored small candy discs provide hours of energy without the sugar crash you'd get from traditional energy drinks …
You can order NRG Shock Drops and all the other Hillside Candy products at their online store …
History of New Jersey
New Jersey Trivia and Fun Facts

1). The boardwalk in Atlantic City is the longest in the world …

2). If you've ever played Monopoly, the board properties are named after Atlantic City streets …

3). New Jersey has the highest population density in the United States …

4). Did you know New Jersey is the actual home of New York's two pro football teams, the Giants and the Jets?

5). New Jersey is, rather surprisingly, a very agricultural state. Two of the best known crops are tomatoes and sweet corn. The state motto is "The Garden State" …

6). Cape May is recognized as being the oldest resort area in the United States …

7). Grover Cleveland, the 22nd (and 24th) President of the United States, was born in New Jersey …

8). Other famous New Jersey natives include Frank Sinatra, Bruce Springsteen, Whitney Houston, and Jon Bon Jovi …
General Pencil Company: Pencils are kind of taken for granted I suppose, but did you ever stop to consider where the pencil in your desk drawer was made?
Chance are great it is made by the General Pencil Company of Jersey City, NJ. After all, they're one of the nation's leaders in pencils and have been making these traditional writing and drawing instruments since 1889 …
The company is also a leader in producing supplies for artists, particularly pencil and charcoal artists. They offer a number of products to help children learn to draw at their online store, as well as a few educational project kits … one in particular is a great do-it-yourself project called the "How A Pencil Is Made" Kit.
There's also drawing kits, how to books, specialty art items, and of course, pencils!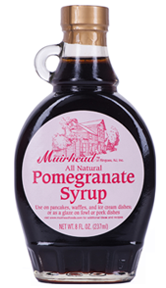 Muirhead Foods: Based in Ringoes, NJ Muirhead Foods makes all kinds of unique products to help keep things fun and tasty in your kitchen …
The company produces fruit butters, sauces, mustard, chutneys, and more.
Pictured is their unique pomegranate syrup which is just as delicious over vanilla ice cream as it is on pancakes …
Family owned and operated since 1974, Muirhead Foods offers direct access to their products via their online store.
While you're there, check out the many recipes as well as the convenient gift packs and boxes which make a great Garden State gift!
First Field Ketchup: First Field of Princeton, NJ uses one of New Jersey's most famous agricultural crops … the Jersey Tomato … and turns it into one of the freshest, best ketchup tastes we've ever tried!
The ketchup is made with fresh tomatoes, not tomato sauce or paste as is the case with most other ketchup products. They also use fresh local New Jersey onions rather than onion powder. The result is a ketchup bursting with flavor that you'll turn to over and over again …
The ketchup comes in two flavors – original and roasted. The roasted style is made with fresh poblano peppers, which imparts a rich, smoky roasted flavor.
A true taste of The Garden State! Order online at First-Field.com …
Blair's Death Sauce: This company in Highlands, NJ makes a line of sauces and snacks which strive to shake up your taste buds …
Blair's Death Sauces (yes, they're really called Death Sauces) are made with the hottest of hot peppers like habanero and scotch bonnet. That's not to say they're all hot and no flavor, though …
We've tried a couple of the sauces and our favorite is Sweet Death Sauce, which offers ample mango flavors and is excellent on any pork dish or mixed into stir fry dishes. If you like really hot sauces, say for chicken wings, order some of Blair's Death Sauces and go for it!
Every bottle has a unique skull key chain adorning the bottle, as shown …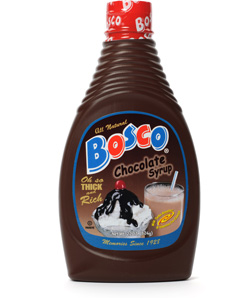 Bosco Chocolate Syrup: Since 1928, Bosco has been a favorite of kids of all ages. Known primarily for Bosco's Chocolate Syrup, they make other flavored syrups as well as Bosco Chocolate Bars and a Bosco chocolate fountain drink. The products are made in Towaco, NJ.
You can normally find Bosco Chocolate Syrup in most larger grocery stores. It's used to make chocolate milk out of regular milk … just add a squirt of Bosco to a glass of cold milk and voila!
If you can't find Bosco products in your area, check out the Bosco website which tells Bosco's story and links to their preferred online source to buy.
They also have several Bosco t-shirts you can buy to show your good taste!
Fat Murray's Dog Treats: A small home business based in Montville, Fat Murray's Dog Treats was named after the owner's basset hound, named Murray. Murray, whose picture is on their website, isn't fat at all, but he has been designated the company's CEO (Chief Eating Officer) …
Fat Murray's dog treats contain no preservatives, no sugar, no dyes, and no artificial coloring. In other words, all natural and good for your dog!
You can order online … we especially liked the "New Jersey Paws" (shown), which are made with cheese and yogurt. There are all kinds of other flavors and shapes too, so be sure to wander around their site …
Fralinger's Salt Water Taffy: Fralinger's is an Atlantic City tradition. Located on the famous Boardwalk at New York Avenue, Fralinger's has been around as the first name in salt water taffy since 1885 …
Fralinger's offers 16 flavors of salt water taffy, all individually wrapped. They're as colorful as they are soft and chewy, and make the perfect New Jersey gift for anyone with a sweet tooth!
The company produces an amazing 600,000 pounds of salt water taffy yearly. The name "salt water" taffy allegedly originated when a Boardwalk taffy stand was sprayed with a gush of seawater, dousing the inventory and causing the owner to wryly dub the taffy "salt water taffy". For the record, salt water is not an ingredient in these candies …
Fralinger's ships their products all over the country. Souvenir tins depicting Atlantic City scenes are the most popular gift items …
White House Subs – Atlantic City: Another Atlantic City tradition is the White House Sub Shop on Arctic Avenue, which has been serving delicious Italian and American style submarine sandwiches since 1946 …
They're a small place (pictured), but big on taste. Presidents have eaten here, as have many of the entertainers who've graced Atlantic City venues over the years. I was so pleased to enjoy lunch here while on a business trip several years ago … it's a must visit if you stop in Atlantic City!
White House Subs will ship submarine sandwiches across the country via next day air. It might be a little expensive, but well worth it! Not to mention, it's a great gift for anyone with connections to New Jersey or Atlantic City … check their website for shipping details.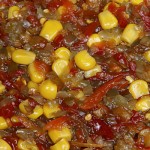 PickleLicious: As the name implies, PickleLicious packages various pickle products in a variety of flavors. The Teaneck, NJ firm has been in business since 1995 …
They make a really interesting variety of pickles, like horseradish pickles, sweet and sour dills, and sweet chili chips. Also, you can order olives, pickled condiments, tapenades, sauces, and relish products like the sweet heat relish shown in the picture …
Order direct from their online store at PickleLicious.com …
We'll Be Adding More New Jersey Made Products Very Soon! In The Meantime, Tell Us About Your Favorite Garden State Products By Commenting At Our Contact Us Page …