Made In South Dakota Quick Facts
This Post is about Made in South Dakota Gifts and Specialty South Dakota Products
Want To See Your Business / Products On Our Made In South Dakota Page?
Visit "Advertise With Us"!
FEATURED MADE IN

SOUTH DAKOTA

BUSINESS

ES
South Dakota Popcorn Company: The South Dakota Popcorn Company of Pierre provides gourmet microwave popcorn as well as honey roasted sunflower kernels and many flavorful popcorns. Give your popcorn taste buds a tasty treat!
The company is also well known for their South Dakota themed gift baskets, so if you're wanting to send someone a themed South Dakota gift, check out their website at SDPopcorn.com. Businesseses should contact South Dakota Popcorn Company for their private labels which make perfect gifts.
The photo shows their "Dakota Homesteader" gift basket, which contains six different South Dakota made products, including a bag of yellow cheddar cheese popcorn. A perfect house warming present or special occasion gift!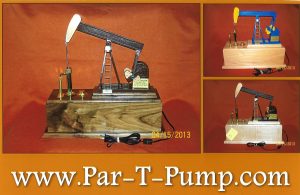 Par-T-Pump: We love featuring good old fashioned American ingenuity here at State Gifts USA …
And this creative online business is a perfect example …
Created and owned by South Dakota native Bud Pack, the flagship product of the business is the patented Par-T-Pump and just wait until you see this clever invention in action …
The Par-T-Pump is a hand made life like representation of a traditional old field pump jack commonly used in oil fields throughout the world. But here's the ingenious twist – the Par-T-Pump doesn't pump oil, it holds a half gallon of your favorite hard liquor and pumps out a perfectly measured shot with each stroke!
The perfect gift idea for a home bar or anyone who appreciates fine craftsmanship, the Par-T-Pump is meticulously constructed with a solid wood base in your choice of walnut, oak, or maple. The pump jack is assembled by hand and can be customized in your choice of three paint colors. You can even further customize with an engraved name plate and lettered beam …
The original idea for the Par-T-Pump resulted from Bud creating a miniature oil well pumpjack from his wife's alarm clock for the grandkids. Their dad, who owns a lounge, suggested creating a version that'd dispense whiskey or other spirits, and Bud accepted the challenge. The end result is a one of a kind product and thriving South Dakota internet based business …
Visit the Par-T-Pump online store to see the many varieties available. Have a family member or trusted business associate who likes to entertain? The Part-T-Pump is calling their name!
And if you'd like to see the Par-T-Pump in action, visit the site's home page. Scroll down and you'll see a short video of the Par-T-Pump hard at work dispensing the perfect shot to another satisfied guest …
We're so proud to feature Bud's innovative invention here on our Made in South Dakota page. Click through to his website to discover all the details …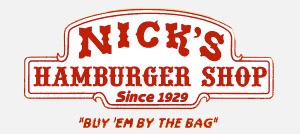 Nick's Hamburger Shop: Brookings, SD is a fun mid size town in the eastern part of the state, not far west from the Minnesota border. It's best known as the home of South Dakota State University and also as the location of a legendary hamburger restaurant …
The latter is Nick's Hamburgers, a rite of passage for any SDSU student as well as residents and anyone visiting Brookings. A staple at the corner of 4th and Main since 1929, Nick's serves their one of a kind ground chuck burgers on a small square sheet of wax paper. The burgers aren't large – akin to a slider – and it's common to buy them by the sack full. They're fantastic!
The menu here is simple … burgers, chips, shakes, and homemade pie. Anyone traveling on Interstate 29 through eastern South Dakota should make it a point to stop here …
Nick's has an online gift shop if you can't visit in person – t-shirts, hats, an anniversary book, and watercolor print of the restaurant are all available. Anyone who has been here would love to have a little something from Nick's … a Brookings legend!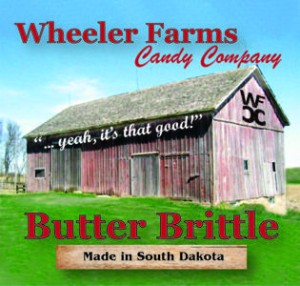 Wheeler Farms Candy Company: Piedmont, SD is a small town on the eastern edge of the Black Hills National Forest, just northwest of Rapid City off Interstate 90. It's home to Wheeler Farms Candy, well known in the state for their Pecan Butter Brittle.
Still a family operation, this small business recently branched out to share their brittle with a larger audience. They've also started making Caramel Apple Pecan Butter Brittle and Peanut Brittle with a few more flavors on the way. Wheeler Farms is very proud that their brittle won't stick to your teeth because it's made in the traditional manner – more nuts and less sugar!
Help support American small business and visit Wheeler Farms Candy online to place your order. A tasty Made in South Dakota gift!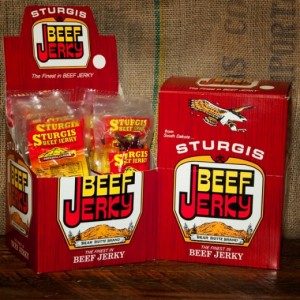 Sturgis Jerky: Direct from downtown Sturgis, home of the famous annual motorcycle rally, this family owned business has been producing beef jerky locally since 1964. They've been certified organic since 2006 and use only 100% beef top round steak and the finest spices to create their signature jerky.
Sturgis Jerky is a true American success story – they started out selling their product to area townspeople and soon branched out to bars and retail outlets in the area. After a few years, their products were in demand throughout South Dakota, and then across the country. They've increased their brand awareness via the motorcycle rally and now do a thriving mail order business from people throughout the U.S. who've sampled and continue to crave their jerky …
At their website, you can order Sturgis Jerky in Original Beef, Buffalo, Teriyaki, and Pepper varieties. They're packaged in a variety of sizes and make a great gift for the jerky enthusiasts on your list!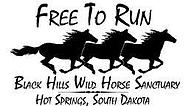 Black Hills Wild Horse Sanctuary: If you're ever visiting the Black Hills area of South Dakota, be sure to drive to the town of Hot Springs in the southern part of the region. As the name implies, the town is famous for their natural warm water springs and is also amidst the beautiful, natural scenery of the state …
Just east of Hot Springs is a wonderful attraction, the Black Hills Wild Horse Sanctuary. Established almost 30 years ago by famed naturalist Dayton Hyde, the Sanctuary is an 11,000 acre wildlife preserve dedicated to wild horses. Over 500 Mustang horses roam the grounds here, just as they did hundreds of years ago before civilization swallowed up their habitat …
The Sanctuary is one of the last places in America where these beautiful animals are allowed to roam and run freely. They share the land with other animals like elk, deer, wild turkeys, and others. Guided tours are run daily and you'll get the opportunity to experience these horses and learn about their habits.
The Black Hills Wild Horse Sanctuary offers mustang adoption programs where you've given the opportunity to not only support their feeding and care, but also name a horse. In addition, they have an online gift shop at their website which offers books, calendars, and many items for youngsters …
Visit them online to learn more, and be sure to make the Sanctuary a part of your South Dakota vacation …
Black Hills Gold Jewelry: The state jewelry of South Dakota, Black Hills Gold is made only in the Black Hills region of the state and nowhere else. The tradition began in the 1870's when the first gold rush occurred in the state and the distinct styles and craftsmanship make this a much sought after jewelry style …
Typically, you can only buy these pieces in the Mt. Rushmore State – usually in towns like Rapid City, Sturgis, Spearfish, and Hot Springs. In the interest of our readers, we've sourced an online store where you can buy Black Hills Gold jewelry. Rings, pendants, earrings, bracelets, necklaces, and special jewelry sets are all available …
A wonderful personal gift direct from South Dakota, Black Hills Gold jewelry is sure to please! Click through to see the many styles you can order online and have shipped directly to your door …
South Dakota Art Museum Store: Lately on our travels, we've really been getting into exploring smaller cities. It's a lot of fun to discover independent restaurants, shops, and all the friendly people who definitely appreciate visitors to their town. It's a great way to understand and experience the true essence of our 50 states …
One such appealing small city is Brookings, SD. It's in the southeastern part of the state, not far from the Minnesota border. Brookings is home is South Dakota State University, which adds a vibrant, youthful vibe to the community. Should your travels bring you here, be sure to stop at the South Dakota Art Museum, and more specifically, their gift shop. It's one of the best places in the state to find original local art, prints, and other goods made in The Mount Rushmore State like jewelry and pottery.
The museum's gift shop is also available as an online store where you can browse through their selection and have items shipped to your doorstep. It's an excellent one stop shopping destination if you're looking for something representative of the state. And be sure to spend an afternoon or evening in Brookings – it's a cool little city!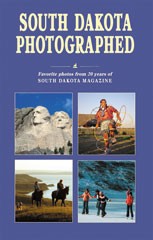 South Dakota Photographed: We're planning a trip to The Mount Rushmore State in the near future and got to talking about the state to a friend of ours who visits family there. He pulled out his copy of this beautiful photographic essay titled South Dakota Photographed. If you've never visited South Dakota, this book will inspire you to do it!
It's 267 pages chock full of photographs from 20 years of the South Dakota Magazine archives.
It occurred to us that this book would make a wonderful gift for anyone with a fondness for the state, or as a travel inspiration!
You can order a copy directly from the link above. Enjoy!
Wick'r Bean Candle Company: Michelle Gorsuch owner of Wick'r Bean Candle Company handcrafts soy candles and wax melts in a variety of luscious scents. Located in Hot Springs, SD in the far southwest corner of the state known as the "Southern Gateway to the Black Hills", Michelle's candle company started as a craft activity with her children. From there it turned into into a hobby, eventually blossoming into a thriving small business.
Her soy jar candles and wax melts (safe for scentsy warmers) are available in many delectable fragrances such as banana nut bread, frosted carrot cake, pomegranate cider, and toasted marshmallow. Yum, just typing those makes our mouth water!! And boy do they make your home smell nice!
Did you know? … soy candles are soot free burning cleaner and longer than traditional candles.
Wick'r Bean's popular jar candles make excellent gifts! We love to keep several on hand for hostess, birthday, or housewarming gifts. They're reasonably priced and attractively packaged. Who doesn't like candles?
Check out the Wick'r Bean Candle Etsy Shop showcasing Michelle's beautiful candles offered in several different sizes and over 40 creative scents!
Dakota Expressions: Founded and operated by Dan and Robin Shearer of Sioux Falls, Dakota Expressions specializes in custom laser engraved & embroidered gifts for the special people and important occasions in your life …
Bags, totes, glassware, flasks, and custom bamboo and beechwood items are just a few of the personalized gifts you'll find at the Dakota Expressions Etsy shop. Perfect for weddings, showers, anniversaries, birthdays, and any special occasion event you can imagine, Dakota Expressions features quick turnaround time and choice of your design or created by Dan & Robin's expertise. There's a fantastic collection of groomsmen gift ideas and you'll also find items ideal for housewarming gifts or even for your own home …
Over 400 items are featured in their online shop – we especially like the garden tote pictured. It's the perfect gift for mom or the special gardener in your life! Help her keep those garden tools organized with this beautiful sturdy handmade item … direct from South Dakota!
Click through to see the entire selection at Dakota Expressions and take the hassle out of gift giving!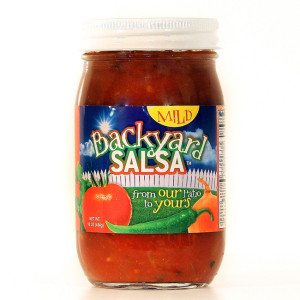 Backyard Salsa: A Sioux Falls company, Backyard Salsa has grown from a backyard operation in 2007 to a full fledged food company. Their product line includes four varieties of salsa, Bloody Mary mixers, and two distinct cooking sauces …
Best known for their namesake product, Backyard Salsa offers Mild, Hot, Black Bean & Corn, and Ghost Pepper Salsas. On our recent trip through the state, we were able to try the Mild variety after seeing it in a local grocery store. It's really good! It has a chunky texture and an ever-so-slight kick – the garlic, spices, onions, and peppers blend beautifully!
At their website, you'll also find Backyard Salsa's BBQ Sauce, as well as a Wing Sauce and their two Bloody Mary mixers. If you like a little heat in your Bloody, opt for the Chipotle variety! If you or someone you know enjoys a good Bloody Mary (like me!), they're a great South Dakota themed gift.
You can order any of their products at their online store and there's a comprehensive retail outlet list on the site … they're carried all over The Mount Rushmore State and in many other Upper Midwest locations!
Char's Kitchen: Based on a farm near the eastern South Dakota town of Turton, Char's Kitchen is owned by Charlene Barrie with help from her husband, family, and employees. For almost 20 years, this busy small company has been making a line of jams, jellies, salsa, pickles, and syrup. The business goes through 1,000 pounds of rhubarb, 1,600 pounds of chokecherries, and 500 pounds of plums every year!
Char started out selling her products at fairs, festivals, and local events. This is still an important part of her business, along with numerous retail locations who carry her specialty foods. At the Char's Kitchen website you'll find an online store offering the products to you or as a special gift. You'll find plenty of South Dakota favorites, like chokecherry and wild plum jams, pumpkin butter, elderberry syrup, and more …
Tasty products from The Mount Rushmore State you'll be proud to give as gifts! Click through to their site to see all they have to offer …
Harmony Cream Soaps: If you're a fan of hand made natural soaps like we are, allow us to introduce you to Harmony Cream Soaps of Newell, SD …
Harmony Cream makes goat milk soaps, and everything is done by hand. The goats are milked, the soaps are mixed and prepared, and the finished product is wrapped and packed. Goat milk soap is very good for your skin as it has a pH level very close to your own skin and is much gentler than traditional soap. It's great for sensitive skin and can be used on your face as well as your body …
These creamy soaps are available in several different varieties, depending on your needs and your skin type. Harmony Cream also makes liquid soap, aloe cream lotions, and even a natural laundry soap!
To see all their products and to order, click through to the Harmony Cream Soaps website linked above …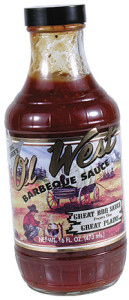 Ol' West Barbecue Sauce: We received a bottle of Ol' West Barbecue Sauce recently as part of a thank you gift. It's really good, so we wanted to share this South Dakota made product with you …
We don't know a whole lot about the company, but the sauce itself is just the way we like it – rich and thick so you can not only use it as a bbq sauce, but also as a dipping sauce. You can see the spices within the sauce, with big flakes of pepper and more. It's got a bit of brown sugar in there (according to our taste buds) so if you like a touch of sweet with your Q sauces, like we do, this one is for you!
Their website isn't all that much, but there are a few testimonials, including one from legendary rocker Ted Nugent. Maybe this sauce is "Just What The Doctor Ordered" for Terrible Ted! Regardless, you can order Ol' West BBQ Sauce on their site in 20 ounce bottles and gallon jugs. Enjoy!
Steamboat's Game and Fish: Have you ever tried smoked pheasant? Put it on your bucket list if you haven't, because it's a delicacy not to be missed! Pheasant, of course, is a wild game bird seen fairly commonly in the Great Plains states and the fine folks in South Dakota know exactly how to hickory smoke them as part of a real Mount Rushmore State feast!
We found a multifaceted family owned and operated company in downtown Pierre that packs and ships smoked pheasant to your door. It's technically called Steamboat's Inc. but has four distinct divisions of the enterprise focused around enjoyment of the great outdoors. Part of the operation deals with packing and shipping wild game, including pheasant …
The pheasant is hickory smoked and vaccum packed for freshness before shipping. They're processed when ordered and will stay fresh for up to six weeks in the refrigerator and a year in your freezer. Click through to the Steamboat's site, click on "Store" and you'll be taken to a page where you can order smoked pheasant, smoked salmon, and venison summer sausage …
Enjoy a real South Dakota style treat!
Terry Redlin Art: Watertown, SD is home to the Redlin Art Center, focused on the works of nationally renowned artist and South Dakota native Terry Redlin. Mr. Redlin's works in the wildlife and Americana subject matters have made him one of the most collected artists in the country …
The Redlin Art Center displays over 150 original paintings done by Mr. Redlin – every painting he has completed since 1985. Many of his works from prior years are also displayed, and his earlier works are purchased by the Center as they become available from collectors and estates. The Center was donated to the state by Mr. Redlin in appreciation for having received a college scholarship in his younger days …
For art collectors, especially those with an appreciation of South Dakota, numerous prints and collectibles of Mr. Redlin's work are available for purchase both online and at the Center. Proceeds help benefit the Redlin Foundation, which operates the center and helps maintain free admission …
You can see a gallery of Terry Redlin art at the Center's website and make a purchase at their online gift shop. Own a classic piece of South Dakota history!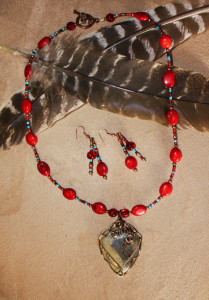 Lakota Luck: We really enjoy seeing the work of independent craftspeople whose work is inspired by their surroundings and heritage. Such is the case with an outfit marketing their wares on Etsy called Lakota Luck …
Drawing from her native Lakota Sioux heritage, the shop's owner creates a wide variety of jewelry and accessories in the spirit of Native American and South Dakota designs …
The piece pictured is just one of dozens available at the Lakota Luck Etsy store. It's a native wrapped agate gemstone with red corals necklace and earring set on antique brass wires.
Pendants, necklaces, and earrings highlight the shop's offerings, all made with a hint of Native American design and culture …
Beautiful hand made gifts from South Dakota! Click through to see some of these gorgeous one of a kind pieces and to order for yourself or for someone special …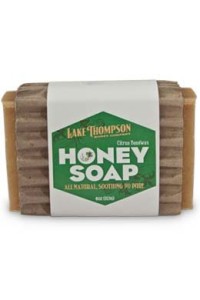 Lake Thompson Honey: This 3rd generation family run beekeeping operation is located in the small town of Oldham, in the eastern part of the state about 45 minutes west of Brookings. The company produces a wide range of honey and honey related products like candles, hand creams, lotions, soap, and even wood polish! All products are made with natural ingredients, and the honey itself is minimally processed and drawn from their own 2,000 bee hives …
We have always enjoyed tasting honey produced in different parts of the country because the honey's taste reflects its natural surroundings. A gift of honey from a particular state is something that is a true taste of the state – there's nothing quite like it! At Lake Thompson Honey, you can order creamed honey, raw South Dakota clover honey, round comb honey, and more in a variety of container sizes.
Also try their honey soaps, made with lavender, citrus, beeswax, and sweet orange. These honey based soaps leave your skin and hair soft, smooth, clean, and nourished!
Check the Lake Thompson Honey website to see all their products and to order for yourself or as a special reminder of The Mount Rushmore State …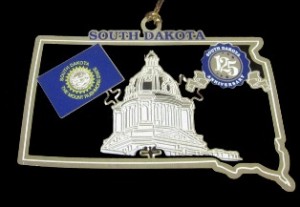 South Dakota Historical Society Heritage Store: We learned of this South Dakota centric shop on a visit to the State Capitol Building in Pierre. The Heritage Store is the official shop for the South Dakota Historical Society Foundation, and proceeds benefit the Society.
They've got a great selection of South Dakota themed items, as well as art and a few food items made in the state, many of which we've featured below. You can check their online store to see books reflecting the state's history, as well as items like a South Dakota statehood pin and the beautiful ornament shown.
You can find the store and shop online here at the South Dakota Historical Society …
Dakota Gypsy: Whenever we have a few extra moments online, we love hanging around Etsy.com to look for locally made art. Etsy is a great place to find local artists from all around the country showcasing and selling their unique creations. One such vendor is Dakota Gypsy, a family of artists and craftsmen based in Custer, SD …
The family creates a wide variety of hand crafted products like leather and antler art, wood carvings, stained glass, and more. We were struck by the piece shown, which in our estimation really captures The Mount Rushmore State. It's a beautiful bison gourd sculpture display – the bison's horns are crafted from deer antler arrowheads mounted on a stand and perfect for your desk or as a display. Don't worry, it's not as big as a real bison, it measures about four inches high and five inches long!
There's all kinds of cool items offered in the Dakota Gypsy Etsy shop, so be sure to check it out and order a piece of two for yourself or as a special gift …
Chubby Chipmunk Hand Dipped Chocolates: This creative chocolate shop located in historic Deadwood specializes in exquisite chocolate truffles. Not only are they enjoyed locally by residents and visitors to Deadwood, but also by customers all across the country …
Truffles are hand made in small batches and do they ever look good! Shown in the picture is a truffle called Strawberry Passion, made with dark chocolate and filled with blended strawberries. It's one of many you can find at the Chubby Chipmunk online store. Even if you're not in the market for chocolates, click through just to see the picture of these creations!
In addition to the truffles themselves, the company packs their gift items in South Dakota themed tins, like a four truffle cowboy hat or acorn shaped decorative tin …
Cool gifts from South Dakota!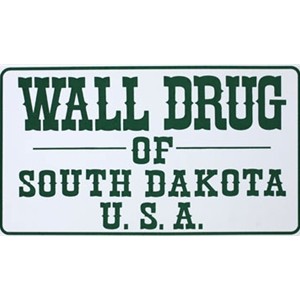 Wall Drug: Commonly dubbed "America's Favorite Roadside Attraction", Wall Drug is a family friendly destination that's not to be missed while traveling across South Dakota …
Wall Drug is located in Wall, SD just off Interstate 90, about 50 miles east of Rapid City and about 75 miles from Mt. Rushmore. It's a sprawling complex of shopping and entertainment … a great place to get something to eat, stretch your legs, and take pictures. An iconic slice of Americana!
While we normally don't list tourist and sightseeing locations on State Gifts USA, Wall Drug has a great online gift shop. You'll find all kinds of South Dakota souvenirs, as well as famous Black Hills gold jewelry, t-shirts, pottery, and much more …
If you can't get to South Dakota to visit Wall Drug, check them out online!
South Dakota Rugs: A small one woman operation in Rosholt, SD South Dakota Rugs makes one of a kind throw rugs to fit any decor …
Created on a weaving loom in the owner's smoke free and pet free home, these beautiful rugs are made without rubber backing, so they'll work on any type of floor. They machine wash in cool water and can be dried in your dryer on the gentle cycle …
The rug shown is made from recycled blue jeans! As you can see from the colors, it will match any of your room's decor and is sturdy enough to last for decades …
There are over 50 different styles and patterns available at the South Dakota Rugs Etsy Store. Check out the selection and bring one of these one of a kind rugs into your home!
Sioux Pottery: Based in Rapid City, Sioux Pottery has featured Native American made pottery since 1958. A wide variety of handmade pottery pieces are made from the red clay of the Black Hills area and decorated with designs sacred to the Lakota culture …
These beautiful works of art are created by Sioux Indian artists, who can be seen working on site at the factory location. Visitors are welcome and can view the entire process from start to finish …
At the Sioux Pottery online store, you'll see hundreds of stunning pieces, including vases, urns, stoneware, Lakota artwork, and more …
Sioux Pottery is a wonderful collectible as well as beautiful functional art for your home. Truly a special gift from South Dakota!
Furch's Sauces Based in Rapid City in the Black Hills area of South Dakota, Furch's Sauces is a small company making three different types of sauces with varying degrees of heat …
The first is called Ghostly Habanero, a blend of habanero and ghost peppers. If you know anything about those two peppers, you'll know this is one hot hot sauce! The heat level on Ghostly Habanero is a nine out of ten …
The second product, Black Hills Gold, is a mix of sweet and hot. It's got the habanero peppers for heat, and mango and pineapple for the sweet. My kind of sauce! Great over rice and stir fry dishes …
The third Furch's Sauces product is called Electric Lime. It's made with serrano peppers, so it's a little less hot, and has fresh lime added. Use it on anything, but it's perfect for tacos and Mexican style dishes …
If you're ever visiting the Black Hills, you'll find these sauces in some stores, but if you want them now or want to give them as a gift, there's a link on the Furch's Sauce site for online orders …
Roger Wagoner Designs: A member of the Artists of the Black Hills, Roger Wagoner is a Black Hawk, SD based designer and creator of fine jewelry and sculpture. We were attracted to many of his pieces as many offer a South Dakota theme or use the agate (the state gemstone) in their design …
Some of the beautiful items you'll see on his website are pendants featuring Black Hills Gold and wild berry designs, both lasting symbols of The Mount Rushmore State. The pendant shown features 10k red and green Black Hills Gold leaves and a sterling silver wild berry adornment on an 18 inch chain. There are dozens of other designs available, including agate rings and miniature sculpted bison earrings …
Custom designs are also available. You can purchase directly from the Roger Wagoner Designs website for a stunning jewelry memento from South Dakota, as a gift for someone special or just for yourself!
Wooden Knife Fry Bread Mix: Fry bread is an easy to make campfire style bread, actually a bit like a tortilla as shown. In South Dakota, the Sioux Indians commonly made fry bread while migrating and the mixes from the Wooden Knife Company harken back to those times …
Fry bread is typically used to make Indian (Native American) style tacos. The mix itself is convenient because all you have to do is add water and fry. You can add honey to the finished fry bread as a breakfast treat or a tasty snack. You can also use them as tortillas, either as a side dish or part of a main course …
You can order this fry bread mix from the Wooden Knife Company, based in the heart of South Dakota's Badlands. There's an adjacent cafe of the same name where you can try the fry bread if you're ever traveling out that way …
Watercolor South Dakota Print: Here's a really cool print for someone who loves South Dakota … it's created by noted map artist Mike Reagan.
This 16 x 20 art print is sold unframed and suitable for the frame of your choice and hung on the wall of your home or office, or as a great gift!
The print is available from the South Dakota Magazine Shop. They also carry several pictorial books featuring the Mount Rushmore State, as well as a comprehensive pictorial history cocktail table book created for South Dakota's 125th anniversary.
In addition to the print or one of the books, subscriptions to South Dakota Magazine are available. The bi-monthly magazine features beautiful photographs and stories about people and life in the state in every issue. It's an excellent economical gift for anyone with ties to South Dakota!
Red Door Creations Corn Jewelry: The husband and wife team of Tara and Andrew Barney have been hand crafting specialty jewelry for well over 10 years and offer a unique twist on native South Dakota corn …
Their company, Red Door Creations creates jewelry like earrings, pendants, and bracelets which feature actual South Dakota corn. Corn kernels are dried, coated, and drilled to create an affordable, beautiful gift from the Mount Rushmore State …
The necklace shown was made using 60 kernels of corn which are coated with an extremely durable coating and drilled with a high speed jeweler's drill. The necklace is augmented with glass beads and faux pearls to create a lovely piece that is grown, harvested, and crafted in South Dakota!
Prices are very affordable and there's a really nice selection available – click through to their website to see everything Red Door Creations has to offer. What a clever idea … and a great locally made gift!

Prairie Passions Native American Art: For a gift that's truly South Dakota, consider a purchase from Prairie Passions, an online gallery of quality art, jewelry, and hand made crafts by members of the Oglala Lakota (Sioux) Native American tribe. Proceeds from the sale of these beautiful items go toward creating economic and life development for Lakota artists …
The artist's primary base of operation is the Pine Ridge Reservation, which is one of the poorest areas of the state, if not the country. These talented artists create watercolor prints, jewelry, and craft items to showcase their culture while allowing them to move toward a better life …
Browse through the Prairie Passions online gallery to see apparel, prints, jewelry, and much more … prices are very reasonable! You can also learn about the individual artists who create these fine works …
These are truly special gifts made in the Mount Rushmore State …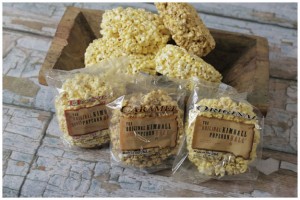 The Original Kimball Popcorn Ball: Sometimes when you travel, some of the best discoveries are made at gas station convenience stores (really!) …
On a car trip to South Dakota not long ago, we stopped for gas … and a snacking hunger struck. Wanting something a little different, we picked up two Original Kimball Popcorn Balls. Now if you're thinking "What's so special about popcorn balls?" then we encourage you to try these and you'll find out!
Kimball Popcorn Balls are a luscious mixture of freshly popped corn mixed in a marshmallow blend and then sealed for freshness. They're made locally in Kimball, SD and there's nothing like it! We honed in on the original flavor but they also make a caramel popcorn ball and one with honey (using local South Dakota honey) …
We've never tasted anything quite like it, and once you try them we bet you'll say the same. You can order Kimball Popcorn Balls in any of the three flavors in cases of 10 or 24 …
History of South Dakota
South Dakota Trivia and Fun Facts

1). The capital of South Dakota, Pierre, is America's most mispronounced state capital city. It's pronounced "Peer", not "Pee-AIR" like a Frenchman's first name …

2). South Dakota was admitted to the Union on November 2, 1889. It was the 40th state …

3). Pierre is the only state capital name that doesn't share any letters with its state name …

4). Before it was known as Mt. Rushmore, the rock formation was known as Mountain of Rock …

5). The famed Mt. Rushmore sculpture was undertaken in 1927 and completed to its present state in 1941. Originally, plans called for the four presidents (Washington, Jefferson, Lincoln, and Theodore Roosevelt) to be sculpted to their waist rather than just their heads …

6). The highest point in South Dakota is Harney Peak at 7,242 feet …

7). Black Hills National Cemetery is known as "Arlington of the West" …

8). The carvings of the four presidents at Mt. Rushmore are 60 feet tall …

9). The noses of each president on Mt. Rushmore are 20+ feet long. Their mouths are about 18 feet and their eyes are about 11 feet wide each …

10). As one of America's most popular attractions, Mt. Rushmore receives about 3 million yearly visitors.

11). The men who worked carving Mt. Rushmore were paid about $8 per day, considered an excellent wage at the time.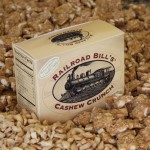 Railroad Bill's Cashew Crunch: Made in the heart of the Black Hills region, Railroad Bill's Cashew Crunch is renowned in these parts. It's an irresistable blend of cashews, butter, sugars, and a coconut topping all mixed together …
The product caught the attention of the famed "60 Minutes" television show a few years ago and was featured there … and now it's featured on State Gifts USA!
You can order the original flavor or a chocolate covered cashew crunch in half pound or one pound boxes. We recommend the one pound box because you'll love this stuff!
Check out this and other Railroad Bill products at this website …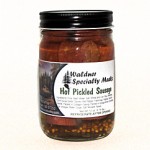 Whetstone Valley Preserves: Near the small town of Milbank is Whetstone Valley Preserves, who make a variety of natural fruit jams and preserves from locally sourced South Dakota fruit …
You'll find all sorts of interesting flavors on their website, along with a few interesting pickled meat products …
Pickled meats include habanero sticks, hot pickled sausage, and pickled polish sausage.
Try something different, direct from South Dakota!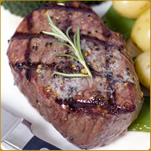 Dakota Buffalo Company: It's well known that buffalo meat is much healthier for you vs. standard red meat. But did you know it's easier to cook than standard cuts of red meat?
Buffalo burgers and steaks have less fat, so they cook for shorter times and at lower temperatures. They taste great too! Buffalo comes in the exact same cuts as beef, like filet mignons, strip steaks, rib eye steaks, tenderloin, etc. so you can order the same cuts you're familiar with … or give them as a sure-to-be-appreciated gift.
You can have fresh frozen buffalo meat delivered directly to your door and experience this popular taste sensation for yourself …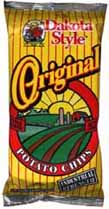 Dakota Style Chips and Snacks: Based in Clark, SD Dakota Style Chips and Snacks is one of South Dakota's largest snack manufacturers.
They make several varieties of potato chips as well as sunflower seeds, sunflower kernels, and salad toppers. Just about any type of grab-and-go snack you can imagine, this company makes!
The potato chips are kettle cooked and have to be one of the crunchiest chips we've ever tried … a great taste sensation from the Mount Rushmore state …
You can order Dakota Style chips and snacks directly from their website, as well as gift boxes which contain a sample of all of their products …
Calla Candy: Calla Candy's owner Vicki Rothstein has been making batches of candy at her Mobridge, SD confectionery kitchen since 1991. The company is well known in the Mount Rushmore State for their English Toffee, made with chopped walnuts, butter, sugar, and chocolate.
Calla Candy also makes pastels, which are chocolate covered pieces of dried fruit, like blueberries and cherries.
They also carry a local line of spice mixes and offer gift baskets for a South Dakota themed gift …
Dimock Dairy: Dimock Dairy is the longest established cheese producer in the state, dating back over 80 years to 1931. Dimock makes traditional types of cheese like cheddar, colby, and Monterey Jack, along with some interesting varieties like bleu cheddar, white cheddar with pepperoni, and a colby with bacon and onion flavor …
Dimock Dairy is also known for their cheese spreads, which come in five different flavors. Check out their site at DimockDairy.com to see all the cheese products they produce. You can order different sizes of gift boxes like the one shown which contains six one pound blocks of cheese …

Hebda Family Produce: Hebda Family Produce is a large fruit and vegetable growing farm just west of Mission Hill, SD. They do a large U-Pick business and are very active at local farmers markets and events …
They also have an online presence where you can order many of their products. Jellies, jams, spaghetti sauce, condiments, and pickled vegetables are just a few of the local items you can have shipped to you or as a gift …
Recently, we were able to try their Black Bean and Corn Salsa, and it's excellent! About as fresh a salsa you'll ever find, absolutely bursting with flavor …
Check out their website to see all the products they have to offer. It's at HebdaProduce.com …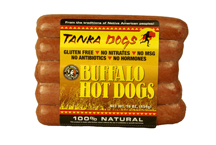 Native American Natural Foods: We recently learned about this company, founded in 2006 on the Pine Ridge Indian Reservation. Their mission is to promote a line of products reflecting traditional Native American ways of wellness through natural foods and healthy choices …
The company's main product line is "Tanka", which means large or great. More specifically, it is a feeling, a way of life that includes speaking good words and backing them up by good actions. The Tanka line includes Tanka Snack Bars, Tanka Snack Sticks, Bites, and Tanka Hot Dogs (pictured).
The snack bars are made from buffalo meat and cranberries. The Snack Sticks and Bites are made from buffalo meat, spices, and cranberries, similar to a jerky. They also make a summer sausage!
You can see all of these unique products at the Native American Natural Foods website. They also offer several gift baskets which combine all of their products into one package, a great one stop gift idea!
We've Got A Lot More Made In South Dakota Products To Come! In The Meantime, Tell Us About Your Favorites By visiting Advertise with Us Page…..