Made In Kentucky Quick Facts
See Our "Visiting Frankfort" Travelogue … Scroll Down
This Post is about Made in Kentucky Gifts and Specialty Kentucky Products
Want To See Your Business / Products On Our Made In Kentucky Page?
Visit "Advertise With Us"!
FEATURED MADE IN

KENTUCKY

BUSINESS

ES

Earthy Browns Natural Products: Here at State Gifts USA, we love introducing you to small family owned and operated businesses creating healthy, beneficial and natural products. One such small business is based in Louisville and run by Paul Brown, his wife Kaye, and their children …
The company is Earthy Browns and they produce a full line of natural products including beeswax lip balms, liquid and bar soaps, moisturizers, shaving products, and more …
A man of many talents, Paul is a beekeeper who breeds his own bees from Kentucky stock. This dedication to the concepts of natural and local forms the foundation of Earthy Brown's business philosophy … a positive step toward hand crafted, sustainable, and safe products. The entire line is beneficial to your well being and that of your family …
Operating from an Old Louisville certified commercial kitchen, the company's products are 100% natural and biodegradable. Check out the "Our Products" page at EarthyBrowns.com to see the complete line. Bar soaps are made with Organic Extra Virgin Olive Oil and essential oils for a long lasting deep cleansing experience that's exceptionally gentle on your skin. We especially like the Mint Julep Bar – a true product of The Bluegrass State made with Kentucky Spring Water and Kentucky Bourbon!
Also take a look at the Beeswax Balms … they're wonderful natural personal care products not only for your lips, but they're also great for conditioning and softening hard working hands, elbows, feet, and even beards. Liquid soaps and moisturizers make ideal personal gifts for anyone on your list, and for that handsome guy in your life, order one or more of Earthy Brown's Shaving Soap Bars. They're naturally moisturizing and can be used with any type of razor …
If you live locally, visit the Douglass Loop Farmers Market to buy Earthy Brown's Honey in season. This honey is truly local – all the bee hives are located within the Louisville city limits. Local honey is exceptionally good for you and helps ward off seasonal allergies, colds, flu, and serves as a natural energy booster …
Visit the Earthy Brown website to learn more about them and all their products. Gift sets and wholesale opportunities are available, and at the website you'll see a growing list of retail outlets …
Members of both the Kentucky Proud and Kentucky Crafted initiatives, we're delighted to spotlight Earthy Brown's on our Made in Kentucky page. You can order directly from their website and they'll deliver to your doorstep anywhere in U.S.!
Glier's Goetta: Covington is a fun river town just across the Ohio River from Cincinnati. It's steeped in a long history of German influences, dating back to the 1800's when German immigrants settled in this area of the country …
If you're from the Covington area, you know about goetta (pronounced "get-uh"). It's a German style breakfast sausage made with a blend of beef, pork, onions, spices, and steel cut oats. It's unique to the Ohio River Valley and it's fantastic!
Packaged in a roll, goetta is easily prepared – just slice off an inch thick patty and brown well on both sides. We enjoy it every time we visit the area!
Most of the goetta you'll find is made by Glier's Goetta, a Covington based business that's been around for over 125 years. We were pleased to learn they now ship goetta anywhere across the United States – just click through to their website and click on the "Buy Goetta" tab. Made in Kentucky!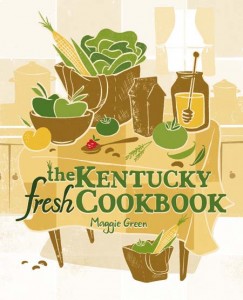 Kentucky Fresh Cookbook: If you're looking for a practical, economical gift for someone who loves Kentucky, consider the Kentucky Fresh cookbook written by Lexington native and well known cookbook editor Maggie Green …
A beautifully illustrated edition features over 200 recipes representing the best of The Bluegrass State. Many of the recipes use Kentucky's favorite ingredients and you'll find tried and true favorites as well as exciting new dishes.
Buttermilk Cornbread, Burgoo, and Cheddar Pimento Cheese Sandwiches are just three recipes featured in a book that every Kentuckian should own. This volume also offers new ideas to serve at some of the state's traditional get togethers, like Octoberfest, Derby Week, and Friday fish frys.
Click through to this page to learn more about the Kentucky Fresh Cookbook. There's a link to purchase there too …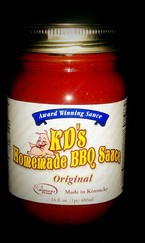 KD's Barbecue Sauce: This true Kentucky style barbecue sauce is made by KD's Manufacturing, a small batch co packing and production facility for Kentucky Proud products. It's owned by Kevin McKee, a chef in the state for many years who now devotes his full time efforts to pursuing his passion …
This sauce has got the spicy, peppery, tomato zing you expect from barbecue sauces from The Bluegrass State. We found it for sale in the Lexington area and loved it! You can order it directly from the KD's BBQ Sauce website, and if you live locally the site has an up to date list of where to buy it retail.
KD"s also makes some other interesting products, like Moonshine BBQ Sauce and Moonshine Cherries, both made with "the real thing" as the name suggests. Check them out for a true taste of Kentucky!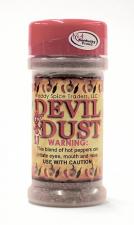 Devil Dust: Don't worry, Devil Dust isn't scary – it's scary good!
Developed by Mike Darst of Waddy Spice Traders in Waddy, KY, Devil Dust is a seasoning made from dehydrated fresh peppers (a proprietary mix) that adds a lively "zing" to just about any food imaginable. We were given a bottle from a neighbor who frequently gets to The Bluegrass State on business, and believe me, it was gone in no time!
Devil Dust can be used on cold side dishes like cole slaw, potato salad, and pasta salad. It adds a kick of heat and is a lot healthier for you than salty seasoning mixes. You can use it as a meat rub, to liven up your scrambled eggs, or sprinkle it atop a frozen pizza to make it come alive.
We loved it mixed into oven browned potatoes and dip mixes – the uses are practically endless! There's a handful of creative recipes on the Devil Dust website where you can also order a few bottles via PayPal.
Once you try this stuff, you'll want more! Direct from Kentucky …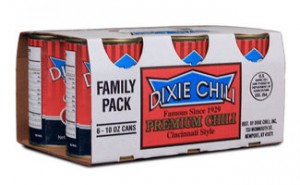 Dixie Chili: One of the many attractions in the Cincinnati metro area is just across the Ohio River, known as the "Kentucky side". Whether it's Covington's river front dining establishments or Newport's entertainment district and world class aquarium, this segment of the Cincinnati area is certainly worthy of your attention. Also in Newport is a culinary landmark – the legendary Dixie Chili, a go to spot for the phenomenon known as Cincinnati style chili since 1929 …
If you've never had this type of chili, it's really something special! It's actually a Greek recipe, and there's a savory mixture of spices which include cinnamon, cumin, and even a bit of chocolate. No one knows for sure (except those who make it), but it is beloved by chili fans everywhere …
At Dixie Chili's three locations (Newport, Covington, & Erlanger), you can order famous Cheese Coneys or a heaping plate of 5-way. In case you aren't sure, 5-way means chili over a bed of spaghetti noodles, chopped onions, beans, and fluffy grated cheese. It's a northern Kentucky tradition!
If you can't get to Newport any time soon, you can order Dixie's legendary chili directly at their website. You can also get a "Chili Survival Kit", a great gift idea, and lots of Dixie Chili wearables.
Click through to their site and enjoy some of the best chili in America!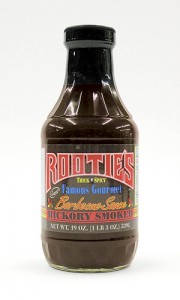 Rootie's BBQ Sauce: This barbecue sauce comes courtesy of Rootie's Sports Bar & Grill, located on busy Westport Road in Louisville. A city we love to visit, Louisville is well known for their arts, natural scenery, riverfront setting, and food and drink (to name a few). Convieniently located in the east central part of the country, Louisville is a perfect weekend destination – longer if you can take the time.
We've been visiting the city for 25 years now and always discover something new. This time, it was Rootie's, courtesy of a few locals recommendations who touted their charcoal grilled chicken wings and fun, casual vibe. We're always up for that, and in addition to the great wings, we really liked their thick, spicy barbecue sauce. So here it is!
Of course, you can use this sauce to dress up chicken wings, but try it on a pulled pork sandwich like we did. It's a mix of slightly sweet and slightly spicy – perfect as a dipping sauce too!
Stop by Rootie's when you're in Louisville, and click on the Products link on their site, where you can find a link to order the sauce online. Enjoy!
Beaumont Inn: The Beaumont Inn is truly a special place. Located in Harrodsburg in the heart of Bluegrass Country near Lexington, it is the state's oldest family operated country inn. The Inn is an official sponsor of the renowned Kentucky Bourbon Trail and has been welcoming guests to their historic setting since 1919.
Equally famous for their accommodations as well as food & drink, the Inn features a Main Dining Room serving many Kentucky specialties like fried chicken and corn meal batter cakes made from their very own house made corn meal. In the adjacent Old Owl Tavern and Owl's Nest Lounge, you can partake in an unrivaled selection of fine bourbon made in many of the famous distilleries located nearby …
We specifically want to introduce you to the Beaumont Inn online gift shop. Here you'll find the Inn's Corn Meal Batter Cake Mix, their special Brown Sugar Syrup, and one of a kind Green Tomato Relish. A friend of ours brought us back a jar of this relish, which is made on site, and we've been pining for it ever since! Use it like you would any relish or chow chow – we took the suggestion listed on the product description and mixed it into potato salad … fantastic!
We haven't stayed at The Beaumont Inn (yet) but it'll be our place of choice when we visit the Bourbon Trail in the near future. If you're traveling in the area, check them out! And in the meantime, get a flavor for the place via their online gift shop. Enjoy something special from Kentucky!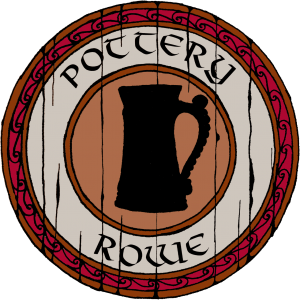 Pottery Rowe: Melvin Rowe is the owner and creative energy behind Pottery Rowe, a studio he operates on his Kentucky horse farm. A full time potter for over 30 years, Melvin develops all the designs and glazes for his handsome handcrafted pottery …
Pottery is a lasting and personal gift for anyone special in your life. Individual pieces or collections become treasured heirlooms, something to be passed from generation to generation. At Melvin's site, you'll see many examples of his work which can be ordered directly online. Mugs, carafes, plates, bowls, and dinnerware are just a few of the functional and decorative items he creates …
You can choose from a series of glaze patterns for your pottery, and each piece is non toxic, dishwasher and microwave safe. A perfect gift, these one of a kind pieces will last for decades with a minimum of care. Click through to the Pottery Rowe website to see Melvin's works!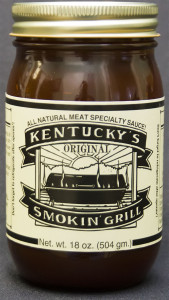 Kentucky's Smokin' Grill: For over 40 years, Danville's Dave Kleckner has been a fixture on the Kentucky barbecue circuit. What started out with backyard cookouts soon turned into a hobby and ultimately a business called Kentucky's Smokin' Grill …
Over time, Dave became dissatisfied with bottled sauces on the market so he ultimately developed his own. Starting with Kentucky's Smokin' Grill Original, the product line has expanded to a Spicy variety and a hotter version dubbed "Too Hot For You!" that really packs the wow for those who like it hot …
The sauces are all natural, with no vinegar or preservatives. They're full bodied and really stick to ribs, pork shoulder, or whatever you've got on the grill. Kentucky is one of America's underrated barbecue regions and Dave's sauces do the Commonwealth proud!
You can order any of these sauces at Dave's website – they're available in single jars, cases, and variety packs. Also try his Grand Reserve Spiced Honey Mustard!
Fine gifts from The Bluegrass State for the barbecue fan on your list!
Bauer's Candies: Have you ever heard of a "Modjeska"? If you're from Kentucky, you probably have, but for the rest of us, here's the story …
In the early 1880's, a famous Polish theater actress performed at the McCauley Theater in Louisville. Her performance enthralled a local candy manufacturer, who asked and received permission to name it after her. She was Helena Modjeska and her name is now associated with a special candy treat most associated with Bauer's Candies of Lawrenceburg, KY.
We've served Modjeskas at our Kentucky Derby parties for years, and they never fail to wow our guests. They're a soft marshmallow center surrounded by a rich caramel coating, and sometimes even dipped in chocolate. Individually wrapped to retain their freshness, Modjeskas are hands down one of the best confections you'll eat … they're THAT good!
Bauer's has been making Modjeskas since 1889 and are synonymous with this Kentucky treat. They sell them in a variety of sizes, including combination gift boxes of original and chocolate if you can't decide which sounds better. They're made year around and are especially popular during Derby Week.
Order some Modjeskas from Bauer's Candies and enjoy a real taste of The Bluegrass State!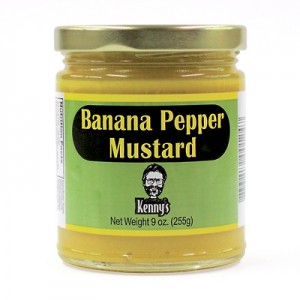 Kenny's Banana Pepper Mustard: We admit it, we're mustard people. We're always trying different types of American made mustard – whenever we travel we pick up a few jars of some new mustard we've never tried. I suppose there can be worse addictions, right? Anyway, on a recent visit through The Bluegrass State, we came across this excellent banana pepper mustard made by a Kentucky company called Kenny's Gourmet.
We don't know a whole lot about the company other than they're located in Bardstown and this mustard is really good. We grow banana peppers every summer – they're one of our favorite peppers offering just a bit of heat, but not too much. Paired with mustard is just perfect! Use this mustard like any other – we especially like it on ham or turkey sandwiches!
We found an online outlet for Kenny's Banana Pepper Mustard here. We'll try to find out more about Kenny's Gourmet and fill you in, but in the meantime if you're a mustard guy or gal … or if you know someone who is … this would make a fine Kentucky gift!

Screamin' Mimi's: This family run Lexington based company is the result of a special salsa made for years by Mimi Cox, who learned the secret from her mother and grandmother. Mimi's daughter Donna and Donna's husband Bill formed a company in 1992 to market the salsa and Screamin' Mimi's was born …
Over thirty years later, the company makes three heat levels of Screamin' Mimi's Salsa … Sweet Hot, Sweet Hotter, and Sweet Hottest. They're made with a blend of special spices, sweet peppers, ripe tomatoes, jalapenos, and garlic. In addition to salsa, the family has branched their product line out to include a line of corn chips and sauces in an appealing variety of flavors and styles …
One of their sauces is perfect for stir fry dishes – Spicy Sweet & Sour Sauce. They also make a Pepper Sauce with a Tabasco red pepper flavor and a special Kentucky Bourbon Marinade (try it with pork!).
Buy any of their salsas or sauces by the case at the Screamin' Mimi's online store, or check out the handy gift packs which combine an array of the product line. Eight different Gift Packs are available – perfect for anyone on your list! A great gift idea from the The Bluegrass State …
Boone Creek Creamery: We discovered this urban cheese maker at the vibrant Lexington Farmers Market, a great source of locally grown and fresh products if you live in The Bluegrass State. Held seasonally on Saturdays and Sunday, the Market has turned into a gathering place for merchants, shoppers, and local residents alike …
The folks at Boone Creek Creamery use milk from grass fed cows to create a line of unique cheeses that have garnered a national following. Not your ordinary run of the mill cheeses, choose from varieties like Jumpin' Jack Java, a Dutch style cheese infused with coffee, a mesquite smoked Gruyere, or their Blackberry Serenade, a Gruyere infused with blackberry wine. Over 20 varieties are available directly from their online store …
Boone Creek Creamery also offers a Cheese of the Month Club – you'll receive two different varieties each month and you can subscribe for three months, six months, or a year. And while you're at their website, be sure to order some of their unique Kentucky Derby cheese. It's a cheddar infused with bourbon!
The company also sells gift baskets and cheese boards, an ideal thank you gift for someone special on your list! See their site for all the details …
Honey Acres Farm: Tom and Kathy Harshfield own Honey Acres Farm located in Shepherdsville, a town of just over 11,000 located on the Salt River just south of Louisville. The farm produces Lil's Pure Honey as well as beeswax candles, both of which are available for purchase through the online store at their website.
We've often discussed the many benefits of raw unprocessed honey. It is nature's natural sweetener and helps regulate blood sugar levels as well as supplying a natural, healthy energy boost. A spoonful of honey at bed time even helps you achieve a sounder, more restful sleep pattern …
Honey Acres Farm's honey is unprocessed, only filtered to remove inedible debris from the hive. It's straight from the hive to you, which is what you want if you're buying honey for health benefits. We are big fans of trying local honey from different parts of the country – it is fascinating to note the subtle flavor differences! Check out their website for your purchase options for both honey and beeswax candles …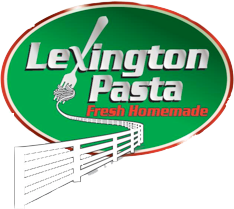 Lexington Pasta Company: On a recent visit to Lexington, we stopped for dinner at a popular local place, Nick Ryan's Saloon. One of our entrees was a pasta dish and we were so impressed with it, we were determined to find out if the pasta, obviously fresh, was made by a local company. It turns out it was …
The local company is Lexington Pasta, and we were able to buy some to take home from the Lexington Farmers Market the next day. The story of the company resonated with us as well. It was formed and is owned by two former college buddies who went to school in Cleveland, OH and worked during college at restaurants in the city's Little Italy area, where we've eaten many times over the years. After burning out on corporate life, the company was formed in 2009 and their pasta can be found at grocers in central Kentucky as well as online at their website …
Their specialties are long and short pasta, gnocchi, ravioli, and flavored pasta like lemon pepper, spinach, roasted red pepper, beet, and many more (Beet Pasta … hmmm … sounds good!). They also have a unique variety of ravioli products … Three Cheese Spinach, Chicken Prosciutto, Mushroom Trio, and Four Cheese. We bought some of their ravioli and the word "fantastic" doesn't quite cut it!
Lexington Pasta ships to all 50 states. What a unique gift from this cool Kentucky city!

Louisville Honey Company: Now here's a cool gift from Louisville … local honey made within the city limits in the Old Louisville neighborhood!
We are big fans of natural, local honey. If you're an allergy sufferer, try taking a few teaspoons of local raw honey per day … the pollen within the honey will ease your symptoms. Unpasteurized honey offers many other health benefits too, and the added bonus is it tastes great!
As you probably know, especially if you've been reading this site, not all honey is the same. A honey's flavor is dictated by the flowers the bees pollinate, so there are thousands of different flavor profiles. We always seek out local honey whenever we travel!
Louisville Honey Company has been around since 2009. Their all natural honey is available in two sizes and also in 14 ounce creamed honey, perfect for spreading on toast or croissants or any baked treats!
Quantities are limited – visit their site to see what's available and to place your order …
Paw Prints Bakery: We love featuring dog bakeries that use local ingredients as we're big believers in feeding our dog friends food and treats with as few artificial ingredients as possible. We found out about Paw Prints Bakery via the Lexington Farmers Market and bought a few bags of their treats for our neighborhood dog friends …
Paw Prints Bakery makes five flavors of dog treats – peanut butter, chicken, beef & cheese, apple bits, and pumpkin. Variety bags are available too. Our neighborhood dogs gave them the paws up!
You can order them in half or full pound bags or colorful gift tins. They also sell various decorative Christmas themed tins so you can place something yummy under the tree for your best pal!
Click through to the Paw Prints site to learn more and to order …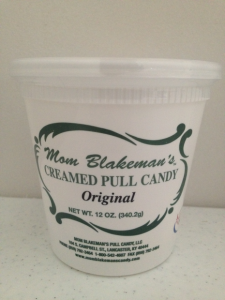 Mom Blakeman's Candy: This small company has roots dating back to the 1940's when founder Maxine Blakeman started making a distinct creamed pull candy for customers at her restaurant on the Lancaster, KY public square …
Similar to a taffy but creamier and more flexible, creamed pull candy is still being made here in Lancaster in honor of Maxine "Mom" Blakeman. It is one of The Bluegrass State's best kept secrets!
Mom Blakeman's Creamed Pull Candy is made in several different flavors, including strawberry, chocolate, peppermint, orange, and peanut butter. It's a real treat and unlike any candy you've tasted!
A wonderful holiday gift, you can order it any time of year in tubs like the one shown or decorative tins with scenic, birthday, and holiday themes …
Buy directly from the Mom Blakeman's online store at their website and enjoy a unique taste of Kentucky!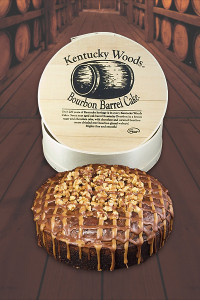 Kentucky Woods Bourbon Barrel Cakes: We enjoy a good bourbon, so naturally Kentucky is one of our favorite states. And as good as bourbon is to sip, it's equally adept for use in recipes. We cook with bourbon fairly frequently, but our efforts pale in comparison to a special cake you'll only find via The Bluegrass State …
It's the Kentucky Woods Bourbon Barrel Cake, created by Louisville artisan baker Adam Matthew Burckle. Adam is also well known for his many varieties of cheesecake and cheesecake samplers, stemming from family recipes dating back to the early 1960's.
As good as the cheesecakes are, in our estimation the Bourbon Barrel Cake is the star attraction. It's a moist brown sugar chocolate cake made with pure maple and topped with walnuts, chocolate, and a caramel bourbon icing. Aged Kentucky bourbon is used during the baking process to provide a nutty maple flavor. The alcohol in the bourbon burns off during baking, leaving only the essence and flavor of this truly American fine spirit.
Each cake is over three pounds and packed in a genuine American made barrel wood box. What a great Kentucky themed gift, or even just for yourself and your family!
You can order these cakes, along with cheesecakes and other baked delights, directly at their website …
Mark's Feed Store: Mark's Feed Store has been a Louisville barbecue destination for over 25 years. Their Eastern Kentucky style of bbq has made it one of the more popular spots in town, whether it's the original Bardstown Road restaurant or their four other metro locations …
While they're best known for their slow smoked falling-off-the-bone ribs, Mark's Feed Store offers a number of Kentucky specialties on their menu, like burgoo, fried pickles, cornbread, and sweet potato fries. They also serve a really good fish sandwich and cheesburger too!
For dessert, don't miss the Buttermilk Pie – it's one of the best desserts in Louisville!
We've visited Mark's Feed Store many times and were delighted when we noticed recently they now sell their sauces and barbecue feasts at their online store. They make three kinds of BBQ sauce – Original, Hot, and Red. We most prefer the Original, made with a dab of mustard, but the other two are excellent as well!
For a special taste of The Bluegrass State, order up one of Mark's Feed Store Feasts. Five are available, offering burgoo, ribs, and barbecue meats. Anyone who likes good BBQ would love to receive "A Taste of Mark's" which includes ribs, burgoo, baked beans, pulled pork and a bottle of Red Sauce …
Now I'm hungry!!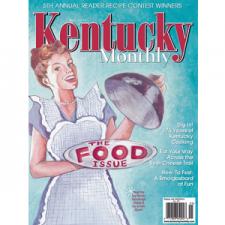 Kentucky Monthly: If you're looking for an economical gift that definitely says "Kentucky", how about a gift subscription to Kentucky Monthly Magazine? This full color glossy publication is the Commonwealth's premier monthly magazine, covering events, destinations, lifestyle, and much more …
Kentucky Monthly is the state's premier source for travel ideas, dining tips, and home & garden ideas. Each issue features beautiful photography of Kentucky's people and places, and allows the reader to feel the pulse of The Bluegrass State …
Any Kentuckian or frequent visitor will appreciate a subscription to this publication, which is very reasonably priced. Also check out the Kentucky Monthly online store, which offers some wonderful Kentucky exclusives from selected vendors across the state …
Broadbent's: We learned about Broadbent's quite by accident after using their fantastic sweet and tangy mustard on a deli sandwich during a recent visit to Kentucky. After looking further into the company, we discovered they're actually more famous for their award winning hams than their mustard!
In either case, Broadbent's is a Kentucky tradition. Based in Kuttawa, they've been around for over 100 years and have been shipping their smoked hams across the country since the mid 1960's. These hams are Broadbent's flagship product, and they're available in various styles, whole or sliced, cooked and uncooked.
The company is also well known for their many gift packages, including the "BLT Blast" (shown). Whether you want to send a gift package of ham, bacon, smoked sausage, sauces, or condiments, Broadbent's has got you covered. Shop by price, or event … they're well known as a go to location for Christmas and Father's Day gifts!
Click through to their website to see all your gift giving options. A guaranteed great taste of The Bluegrass State!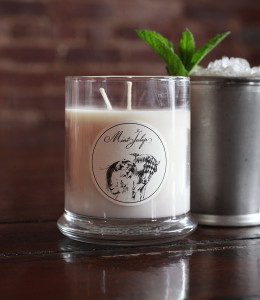 Kentucky For Kentucky: We really like straightforward people, and straightforward companies too. So we sat up and paid attention when we learned about Kentucky For Kentucky whose self described mission is "to engage and inform the world by promoting Kentucky people, places, and products … and to kick ass for the Commonwealth!" …
The company has been featured in Ad Age, KickStarter, the Los Angeles Times, and now State Gifts USA. At their website, you'll find all sorts of Kentucky themed products, each embodying the pride and spirit of the Bluegrass State.
Among the products catching our eye are the "Scents of the Commonwealth" line of candles, featuring scents to evoke memories and visions of Kentucky. You'll find scents like Mint Julep, Thoroughbred, Bluegrass, and even Fried Chicken and Trailer Park!
Cool T-Shirts, prints, hats, stationery, postcards, flasks, and tote bags are just a few of the items you'll find on their site. Great gift ideas for a Kentuckian or anyone with a soft spot for their Old Kentucky Home!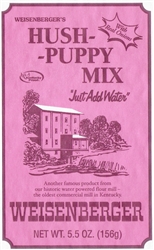 Weisenberger Mill: A central Kentucky landmark since 1865, the Weisenberger Mill is a traditional mill creating products for baking, like flours, mixes, and specialty ground grains …
The handsome mill sits in Midway, KY and has been run by members of the Weisenberger family since its inception almost 150 years ago. They're well known for flours, corn meal, grits, and mixes. Try the Hushpuppy Mix (shown) which is very easy to prepare … just add water!
Weisenberger Mill also offers several different gift packages which make an ideal gift from the Bluegrass State. One appealing gift box is called "Southerner" and it contains mixes for cornbread, corn muffin mix, spoonbread, and buttermilk biscuits.
Click through to the Weisenberger site to discover their history and order a few of their traditional baking products …
Amelia Stamps Pottery: Kentucky is home to many outstanding pottery artists creating beautiful works, like Lexington's Amelia Stamps. The small flower espresso cup and saucer shown is just one example of her eye appealing efforts …
Amelia designs her pieces from her home studio and uses elegant white stoneware just perfect for casual or more formal settings. She creates custom pieces to order and has completed works in dinnerware, serving pieces, and displayable art …
Amelia's work is displayed in art galleries nationwide and can be purchased onsite as well as online at her Etsy store. Her website, AmeliaStamps.com, has a list of locations selling her pottery as well as more details and a link to her Etsy store …
Handmade pottery from a local artist is one of the best gifts to give or receive from the Bluegrass State. Check out Amelia's site to see all of her current pieces available …
The Exceller Fund: Did you ever wonder what happens to thoroughbred race horses after their racing career is over? It's commonly thought the stallions are retired to horse farms to stud, but sadly that isn't always the case. Many of these horses are slaughtered well before their time, usually for the European horse meat market …
In Lexington, KY there's a non profit organization we'd like to spotlight. It's called The Exceller Fund and their stated mission is to "Provide A Future Beyond The Finish Line". The non profit organization acquires thoroughbreds that are at risk for slaughter after their racing careers are finished. The horses are adopted out to private farms and in many cases transitioned to a second career.
The fund provides lifetime care for these horses, including food, shelter, and medical care. With good care, a horse can live into their late 20's or even longer. The Exceller Fund is dependent upon donations from the racing industry and people who simply love horses.
They also have a gift shop with various equine related items that make great gifts! Pictured is the horse the fund was named after, Exceller, who sadly was slaughtered and prompted the formation of this organization. Visit their site to learn about all the horses that are living out their normal lives, and how the Exceller Fund operates …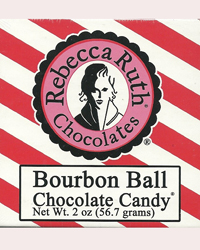 Rebecca Ruth Candies: One of the Bluegrass State's famous candy companies is Rebecca Ruth Candies, located in Frankfort for almost 100 years. They were founded in 1919 and are best known as the originator of bourbon balls, a unique liquor filled creamy chocolate that is synonymous with Kentucky and Kentucky Derby parties …
The Rebecca Ruth Candy Factory and Museum is located in the historic South Frankfort District and is open for tours and sampling. Frankfort, a small walkable city and Kentucky's capital, is a great location from which to base a tour of Kentucky. You're close to both Louisville, Lexington, and the famous Kentucky Bourbon Trail …
If you haven't tried bourbon balls before, cross it off your to do list and order a pound or two from Rebecca Ruth, the inventors of this uniquely Kentucky candy!
History of Kentucky
Kentucky Trivia and Fun Facts

1). Chewing gum was invented in Louisville in 1873 …

2). Kentucky's state song was written by Stephen Foster and is titled, "My Old Kentucky Home" …

3). Kentucky is bordered by seven states, trailing only Missouri and Tennessee who border eight. The seven states are Indiana, Illinois, Tennessee, West Virginia, Ohio, Missouri, and Virginia …

4). The state's motto is "United We Stand, Divided We Fall" …

5). The very first Kentucky Fried Chicken restaurant is located in the town of Corbin. The location was originally owned and operated by Colonel Sanders …

6). The first Mother's Day observance was held in Henderson in 1887 …

7). Kentucky native Alben Barkley was the nation's oldest Vice President (71) when he assumed the office in early 1949 …
Berea College Crafts: Berea College is one of the most interesting establishments of higher learning in the country. The college focuses on providing advanced educational opportunities for financially challenged Appalachian families who under ordinary circumstances would not be able to pursue college as an option …
Berea charges no tuition, and to help provide scholarships for students in need, they run Berea College Crafts. This program has Berea students crafting ceramics, woodworking, woven items, furniture, and more.
Proceeds from the items are used to fund scholarships while helping build ancillary skills for the students. These student craftsmen work on a variety of designs to create items, both standard and involving their own designs and creativity …
Click through the the Berea College Crafts website to learn more about the end products and the college itself. Order an item for yourself or as a handmade gift from Kentucky!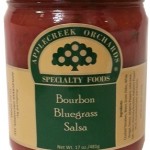 Apple Creek Orchards Specialty Foods: This Nicholasville, KY company is known for producing marinades, sauces, salsa, and more with many products flavored with real Kentucky bourbon …
One of our favorites is the Bourbon Bluegrass Salsa, which features the flavor of habanero peppers soaked in bourbon … what a great idea for a Kentucky Derby party!
You can also get jams and jellies made with local fruit and some fruit butters like plum and apple …
Be sure to check out their Kentucky themed gourmet gift packages … several of their products packaged together for a real Kentucky taste treat! See all the details at the Apple Creek Orchards website …

Rattlesnake Hill Farm Gourmet Garlic: Located in Bloomfield, KY Rattlesnake Hill Farm is a sustainable farm specializing in gourmet garlic and heirloom vegetables. The farm processes the garlic into some of the most interesting garlic based products we've ever seen …
Some of the featured products include garlic jelly, a bourbon garlic sauce, bourbon smoked garlic salt, and a garlic mustard …
The jelly can be used as a glaze and mixes well with mustard as a unique dipping sauce. They also make a wonderful bourbon smoked red pepper which perks up omelets and chili …
You can order any of these farm fresh products at the Rattlesnake Hill Farm website and they'll ship them right to you or to someone who would appreciate a gourmet gift from the Bluegrass State!
Small Batch Bourbon Furniture: Did you ever wonder what happens to bourbon barrels when the bourbon is bottled?
Well, some of the barrels are sold to distilleries and breweries who age other spirits and beer inside the barrels, and others are used to make unique furniture like the "bourbon stool" shown …
A small company in Lawrenceburg, KY called Maynard Studios crafts these items by hand using old bourbon barrels. The studio creates tables, chairs, bar stools, sofa tables, and all sorts of decorative and practical furniture for your home … ideal for the eco conscious bourbon lover!
You can buy these mostly one of a kind items online from a Frankfort store by the name of Completely Kentucky who also offer all kinds of Kentucky made crafts and other items from the Bluegrass State …
Muth's Candies: A Louisville tradition since 1921, Muth's Candies is best known for two of its best selling favorites … modjeskas and bourbon balls.
Modjeskas (pictured) are a unique, irresistable candy featuring a butter cream caramel coating with a marshmallow center. Bourbon balls have a nougat filling with real bourbon added, and then dipped in milk or dark chocolate …
Both candies are prevalent during Kentucky Derby festivities, but they're popular all year long. Muth's is one of the city's most famous, and most revered candy makers.
Order modjeskas, bourbon balls, and other great candies at Muth's Candies …

Derby Pie: Another long standing Louisville tradition is Derby Pie, made exclusively by Kern's Kitchen of Kentucky.
While anyone can make a "Derby Pie", only Kern's Kitchen has the trademarked name and recipe and the right to call it Derby Pie. Others may be as good, but they're chocolate nut pies, and not the real thing …
If that sounds a little confusing, order a Derby Pie for yourself from one of Kern's Kitchen's licensed vendors. The pie is shipped frozen. We recommend you slice the pie before warming it up … trust us, it's easier that way!
No matter where or how you try a Derby Pie, it's a Kentucky taste treat like no other!
Kentucky Inspired Art, by Wandia Newman: Whenever we travel, we always look for paintings or prints of local scenes from wherever we visit … it's a great keepsake of our travels and a great conversation piece in our home!
Kentucky native Wandia Newman is an architect and owner of Louisville based Wandia Newman Designs. Her site showcases Kentucky inspired art in a variety of mediums, including pen and ink drawings, color lithographs, Kentucky Derby prints (shown at left), and more art based items like glassware, prints, stationery, totes, and more …
Peruse the Wandia Newman Design site and consider adding a unique piece of Kentucky inspired art to your home, or as a gift for someone who holds Kentucky near and dear to their heart …
Louisville Slugger: One of Louisville's top attractions is the Louisville Slugger Factory and Museum, where baseball fans of all ages can tour and learn how famed Louisville Slugger bats are made …
Even if you're not interested in baseball, you can shop the Slugger Museum site online. They offer quite a few interesting gifts and memorabilia, including personalized bats which have your personal signature, or that of a gift recipient, engraved into the bat barrel.
You can also buy all sorts of Louisville Slugger apparel, sure to be appreciated by any fan of baseball, Louisville, or Kentucky in general …
Moonlite BBQ: Barbecue in Kentucky is big business, and almost as notable as other U.S. bbq hot spots like North Carolina, Texas, and Kansas City. In the western part of the state, burgoo and mutton are Kentucky barbecue mainstays …
No BBQ restaurant is more noted for their mutton than Moonlite BBQ of Owensboro, a town adjacent to the Ohio River. Mutton often carries a stigma as being tough and chewy, but not the way it's done at Moonlite! Moonlite cooks their mutton on a barbecue pit for about 14 hours. About half way through the cooking process, the mutton is "dipped" in Moonlite's special mutton sauce (appropriately called "Dip"). This sauce is a brown, vinegar based concoction which keeps the meat moist and tenderizes it at the same time …
Moonlite BBQ is one of the most famous barbecue restaurants in the country. You can order mutton, dip, bbq sauce, and other Moonlite specialties online. I had some sent to my dad in Arizona for Father's Day and he was really pleased with how carefully it was packed and shipped, not to mention how much he enjoyed it!
Kentucky Pottery: Louisville is known for many things, from bourbon to barbecue to the ubiquitous Churchill Downs and the Kentucky Derby. But the city is also known for two of the most prominent pottery companies in the United States, Hadley Pottery and Louisville Stoneware …
Founded in 1940 by Mary Alice Hadley, Hadley Pottery is well known and sought after for it's blue and white traditional patterns. One of Hadley's current Christmas pieces is shown. Their factory store is a must see attraction in Louisville, and you can order pottery pieces online …
Louisville Stoneware has an even longer history, dating back almost 200 years. In fact, it's the oldest pottery manufacturer in the country! Their location in downtown Louisville is very popular for visitors who enjoy making their own pottery …
You can buy Louisville Pottery online from their site, and don't forget you can personalize pottery items for gift giving, like name plates, pet bowls, serving plates, mugs, and more …
Meacham Country Hams: Since 1932, Meacham Country Hams have been a true Kentucky delicacy. Really, there are two states known for the quality of their cured smoked hams … Kentucky and Virginia. Meacham still cures their hams the old fashioned way … with the key ingredients being smoke, salt, and time. Meacham hams are aged a full two years before being declared ready to serve …
Meacham hams are popular during the holiday season, but you can order them any time of the year at MeachamHams.com. Hams are offered cooked or uncooked, sliced or whole. They also sell numerous other Kentucky food products, like Derby Pie, bourbon barrel cake, and bourbon balls.
Churchill Downs Kentucky Derby Store: Located at the famous track, the Churchill Downs Kentucky Derby Store is the best place to order anything related to this highly celebrated annual horse race …
If you've ever been to Louisville during Derby Week, you'll become swept up and enchanted with all the time honored traditions surrounding the race. The entire week is one giant celebration! And the week's events culminate with the Kentucky Derby, known as "The Most Exciting Two Minutes In Sports" …
We've thrown Derby Parties for years … complete with Derby related party favors, a complete Kentucky menu with modjeskas, bourbon balls, hot browns, and my special recipe mint juleps. We get everything we need for the party at the Official Kentucky Derby Store and you can too! Kentucky Derby parties are a blast … guaranteed fun for friends, neighbors, and family!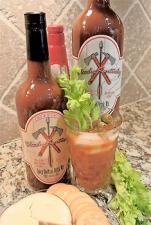 Bloody Kentucky Drink Mix: If you've been reading through this page and wondering when we'd get to bourbon, well, here's something that's a unique twist on bourbon …
It's called "Bloody Kentucky Drink Mix", which is a twist on the traditional bloody mary. Bloody Mary's are traditionally made with vodka, but in Kentucky it's a little different! This full bodied drink mix is created to mix with Kentucky bourbon instead of vodka. Of course, you can use vodka if you want … the mix still serves as a great eye opener … but we like mixing it with bourbon.
We recommend using a regular bar bourbon because you'll be mixing it instead of serving it straight. Jim Beam Black Label is a good choice, as is Old Forrester, but use whatever bourbon you like best. You can order the mix here in either the regular or spicy version. We like the regular recipe, but if you like spicy bloody mary's, go for it!
Ale-8-One Soft Drinks: Based in Winchester, KY since 1926, Ale-8-One ("A Late One") bottles soft drinks and salsa for the Kentucky market and some surrounding states …
Their famous soft drink, simply called Ale-8-One, is a unique but easy to drink lightly carbonated soda that reminds some of a cross between ginger ale and a lemon lime soda like Sprite. It's a taste all it's own, and it is uniquely Kentucky.
Ale-8-One is the only soda invented in Kentucky that is still in existence. If you live outside their distribution area, which is roughly defined as Kentucky and parts of southern Ohio and Indiana, you can order it online. Soda and Ale-8-One salsas, barbecue sauce, and logo apparel are available at the Ale-8-One online store …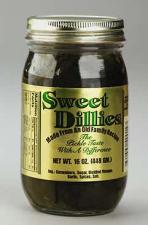 Sweet Dillies Pickles: Sweet Dillies Pickles are made in Crestwood, KY and they are one of the more unique pickles you'll find anywhere …
They look like traditional sweet bread and butter pickle chips, and that's the first taste sensation you'll get.
Then, the next taste hitting your taste buds is the dill pickle taste. You have to try them to see what we mean!
Sweet Dillies also offer a distinct crunch, almost like a potato chip. Like nothing else you've tried …
You can order Sweet Dillies in 16 ounce jars …
Crosley Radios: Since the 1920's, Crosley Radio has been a national leader in distinctive radios and associated music and sound equipment like turntables, compact disc players, accessories and more.
Founded in Cincinnati, the company is now headquartered in Louisville and has carved out a niche in retro radios, telephones, record players, and other products for your home.
The Crosley Corsair radio shown is styled like a 1960's car, and features AM / FM radio, programmable CD player and dual alarms …
What a cool retro touch for your home decor! See all their products at Crosley Radio …
There Are Many More Kentucky Made Products To Come … Tell Us About Your Favorites! Reach Out To Us Via Our Contact Us Page …
Visiting Kentucky's State Capital City – Frankfort
Any time is the perfect time to visit Kentucky, but we're partial to the middle part of fall. The days are still warm and the nights are pleasantly cool. There's dew on the morning bluegrass and the mint juleps taste mighty fine this time of year!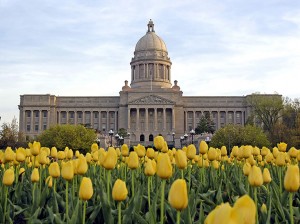 So on a recent visit to Louisville, Lexington, and the Kentucky Bourbon Trail, we fit in an overnight stop in the Commonwealth's capital city, charming Frankfort. More or less directly situated between Kentucky's two largest cities, Frankfort is an ideal place to stay should accommodations become tight in Louisville and Lexington, which frequently happens during thoroughbred racing season …
It's only 30 miles from here to Lexington, and less than an hour to Louisville, so most people stop in Frankfort to refuel or visit the famed Buffalo Trace Distillery. But it's a pleasant overnight destination if you have the time, or if you enjoy staying in smaller towns vs. bigger cities.
As far as state capitals go, Frankfort is one of the smallest – the population is just a shade over 27,000, making it the 5th smallest capital city in the nation. Despite its relatively small size, Frankfort is home to Kentucky State University and boasts the aforementioned Buffalo Trace Distillery, famous throughout the world for their many fine bourbons. And it's exceptionally scenic here … we were taken by the hilly terrain and the meandering, peaceful Kentucky River which makes a 90 degree turn right near the center of town.
Join us as we share a bit of insider knowledge about Kentucky's capital. We're continuing on our journey of visiting all 50 of America's state capital cities and we're glad to have you along!
Introducing Frankfort
After arriving in town, we asked an employee at the State Capitol how Frankfort got its name. He told us the town was named after an early pioneer named Stephen Frank, who was killed during a skirmish with Native Americans at a ford in the now Kentucky River. "Frank's Ford" became "Frankfort" and there you have it ….
Since Frankfort is small, it's an easy city to navigate – the hardest part is tracking the winding river twisting through town! Most of the downtown is on the north side of the river, just as it has been since the late 1700's. The area south of the river is generally considered part of downtown but often referred to as South Frankfort. On the west bank, the neighborhood is called Bellepoint. Much of the city's activity is concentrated north of the river, and that's where we spent the bulk of our visit …
This part of the state is hilly, and reminded us a bit of southern Ohio and parts of West Virginia, which holds some logic as both are fairly close. We found Frankfort to be a bit "northern" and a bit "southern", and the city's history has roots in both. At certain times during the Civil War, Frankfort was alternately occupied by both Union and Confederate forces …
You can probably cover this cool small city in a day, on your way to Kentucky's two larger cities. But we wanted to relax a bit and enjoy a few sights a day trip wouldn't allow. We enjoyed a friendly sightseeing cruise on the river (we'll talk about it below), visited the State Capitol, and the Buffalo Trace Distillery. There was also enough time to wander around the downtown and visit a handful of independent shops.
Ideally, plan to spend at least an afternoon. Even if you can't spare more than a few hours, remember Frankfort is within easy driving distance of both Louisville and Lexington. Next time we're visiting either of those, we'll be stopping back in the capital city!
What To See & Do
We had about 10 hours to see Frankfort, arriving about 9 a.m. Plans were to head to Lexington first thing the next morning, so with a full agenda, we set off to visit the famed Buffalo Trace Distillery on the north side of town …
Being big bourbon fans, visiting this historic distillery was a real treat! Formerly known by several different monikers, this business claims to be the oldest continuously operating distillery in the country.
Some of the bourbon brands made here which may be familiar to you include Buffalo Trace, Ancient Age, Blanton's, and Elmer T. Lee Single Barrel. The facility tour starts with an informative film showcasing the company's evolution and continues with a stroll through the barrel house, where you'll catch the alluring whiff of bourbon aging in charred barrels. You'll also see the bottling line where production takes place … watch bottles being filled, labels attached, packing, and so on.
Tours last about an hour and finish with a bourbon tasting if you wish. You can catch a free tour every day of the week; they usually depart every hour on the hour.
If you're hungry after the tour (we were!), you can pop in at the Firehouse Sandwich Stop, housed in one of the old distillery buildings just steps from the Visitor's Center. It's operated by the local Staxx Barbecue restaurant and offers a nice selection of sandwiches, soups, and boxed lunches. The Sandwich Stop is open from April to October – try the chicken salad, it's outstanding!
From here, we had our sights set on a visit to the capitol complex before joining a sightseeing cruise on the Kentucky River. Frankfort is quite easy to get around, and it's only a few minutes to get to the Capitol from Buffalo Trace. Situated adjacent to the river, the building opened in 1910 and is listed on the National Register of Historic Places. The earlier capitol building, dating from 1830, is still standing downtown and also worth a look.
Kentucky's Capitol is open six days a week from April to October and Monday through Friday during the colder months. We recommend taking a Building and Grounds Self Guided Walking Tour – you can follow along by downloading the brochures from this page. You'll see the building and all the important government functions, along with the beautiful grounds. It's a nice walk too – about 1.25 miles through the grounds (a perfect activity after lunch).
On the walk, you'll see a rose garden, a thriving example of the state tree (Kentucky Coffee Tree), various historical markers, and picturesque views of the complex and rolling landscape beyond. Best of all, the walking tours are free and can be done at your own pace …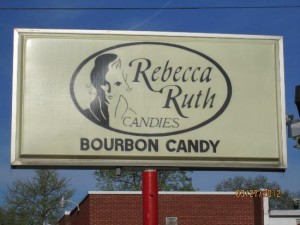 From here, it was time for an exploration of downtown's shops and restaurants. We had a few hours to get to know the city before our 6 p.m. boat ride, and there are a few places you shouldn't miss …
First is the legendary Rebecca Ruth Candy Factory, located on 2nd Street just south of the river and a Frankfort landmark since 1919. They ship their famous candies like bourbon balls and creams across the country and offer short tours of the candy making process. Want to fit in? Buy a bag of bourbon balls and stroll around town!
Bourbon balls, invented here at Rebecca Ruth, are a mixture of rich dark chocolate and bourbon. They offer a distinctive taste that says "Kentucky" – you can read our profile of this company by scrolling up on the page …
Frankfort is also a wonderful art focused town, perfect if you like to bring home a print or decorative piece from your travels as we do. In the downtown area, stop at Completely Kentucky, Eclectic Mix, and Grand Gallery for options to add to your personal collection.
We also liked visiting a store on St. Clair Street called Vibrant Life, which specializes in healing treatments and natural products. It's a good place to pick up some natural creams and soap, and the store is a relaxing respite after a few hours of walking …
Another can't miss destination is Poor Richard's Bookstore, in the heart of town in the 200 block of Broadway. If you like poking around bookstores, stop in. They offer thousands of titles with an emphasis on state history and Kentucky authors. No matter your reading preference, you're sure to find something here! The store is also a hub for downtown events, so if you want to find out what's going on around town, you can get the scoop here …
Just steps away on Broadway is the Kentucky Coffee Tree Cafe, which takes on a different personality depending on when you drop by. During the morning hours, it's a coffee house, serving all your wake up favorites along with a light breakfast menu. At mid day, the menu turns to sandwiches, soups, and salads and is a good choice for lunch. During late afternoon when we visited, it's a good place to relax with a few drinks from their extensive selection of wine, beer, and spirits. In the evening, you're likely to be in the midst of live music performances – it's one of the downtown area's top gathering spots! We drifted by again after dinner and things were just starting to get lively …
We happened to be in town on a Wednesday, and at the Kentucky River View Park downtown, you can arrange a free river sightseeing tour aboard the Nancy Wilkerson by calling ahead (information linked here). The cruises run from the end of May through October and it's a fairly small boat – the capacity is 8 and you really need to reserve in advance. The cruise is about 90 minutes and departs Monday, Wednesday, Friday, and Saturday at 10:30 a.m. and also on Wednesdays at 6 p.m. You'll learn about Frankfort history, the Kentucky River, and hear a few anecdotes about local characters. Keep your eyes peeled for the occasional wildlife sighting along the banks!
After the cruise, it was time for a late dinner in downtown Frankfort …
Frankfort Eats – Our Dining Recommendations
We only had time for one meal in Frankfort (other than our lunch at the distillery). On the recommendation of one of our river cruise co-passengers, we opted for a great casual place called Jim's Seafood, located on Wilkinson Boulevard just a few blocks north of downtown.
This place is a local's gem specializing in seafood (the catfish is fantastic!), but you can also enjoy steaks, burgers, and all kinds of sandwiches. Whatever you do, save room for dessert, because you won't want to miss their homemade key lime pie and delicious blackberry cobbler …
Jim's is a family friendly spot located right on the river as you can see. They've been around since the 70's and it's a perennial favorite of anyone you talk to in town. They're open for lunch and dinner and even offer some local specialties like fried green tomatoes and fried banana peppers. We're told the cheeseburgers are exceptional!
Summary and Learn More About Frankfort
Kentucky's capital has a small town feel, even though it's home to more than 25,000 people. We visited in the fall, but don't let that stop you from stopping here any time during the year. Winters are comparatively mild, with only about ten inches of snow yearly, usually clustered in January and February. Spring is another delightful time to plan a trip to The Blue Grass State – flowers bloom early and it'll have you thinking warm thoughts!
If you're challenged for time, you can easily cover Frankfort in a day with a little planning. As we mentioned, Lexington is very close and Louisville is less than an hour away. Don't pass this fun town by – there are a number of unique attractions and stores you'll only find here!
The Visit Frankfort website does an excellent job providing details on all the attractions we mentioned here. They've also got informative sections about outdoor activities, restaurants, and more. It's an excellent resource for the capital area …
We're so glad we spent some quality time in Frankfort and hope you do the same. Thanks for reading!