Made In Florida Quick Facts
See Our "Visiting Tallahassee" Travelogue … Scroll Down
This Post is about Made in Florida Gifts and Specialty Florida Products
Want To See Your Business / Products On Our Made In Florida Page?
Visit "Advertise With Us"!
FEATURED MADE IN

FLORIDA

BUSINESS

ES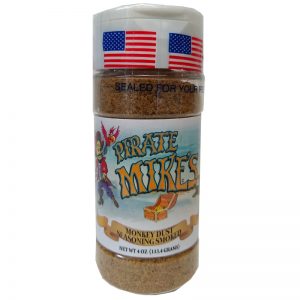 Pirate Mike's: Based in beautiful Fort Myers for over 30 years, Pirate Mike's is well known by world class chefs and the food industry at large. This energetic Florida business produces a line of quality spices and gourmet food products, one in particular which we're proud to introduce to you here on our Made in Florida page …
If you have a passion for the culinary arts and exotic flavors, you'll be thrilled to know about Pirate Mike's flagship product. It's known as Monkey Dust Original Seasoning, a proprietary blend of the freshest seasonings from around the world …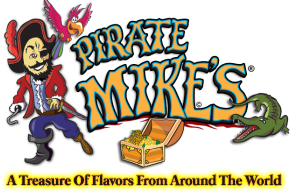 An all purpose seasoning, Monkey Dust is a flavorful blend that brings out the natural flavors in meat, seafood, grilled vegetables, and more. The perfect blend of black and white peppers and a secret blend of natural spices, Monkey Dust is perfect when dusted on poultry, seafood, and chops. It's versatile enough for salads and even livens up a fresh bowl of popcorn!
Available in Original, Smoked, and Hot, you'll find Monkey Dust online here at the Pirate Mike's website. Orders large and small can be shipped right to your door, and don't forget the complete line of Pirate Mike's other spice blends and more. Visit their website to discover unique Florida specialties like Bermuda Triangle Seasoning, Habanero Mango Hot Sauce, and Pirate Mike's Rice Blends …
Searching for a little culinary inspiration? Check out Pirate Mike's "Recipes" section … we love the easy-to-prepare Classic Chicken With Monkey Dust Original Seasoning! This and other Pirate Mike's recipes are just waiting for you to explore …
Click through to the Pirate Mike's website, linked above, and get your hands on Monkey Dust Original Seasoning, proudly Made in Florida!
MADE IN FLORIDA SPECIALTY FOODS

Old St. Augustine Gourmet: In addition to being America's oldest city, beautiful St. Augustine holds one other unique distinction. The area is home to the fantastic datil pepper, a luscious, smoky pepper that also offers a bit of heat …
The datil pepper is synonymous with St. Augustine, as it's practically the only place in the country where it grows prolifically. This pepper is perfect in any recipe (we love it in stir frys!) and is often used in relishes, hot sauces, and other condiments.
One of the best manufacturers of datil pepper products is Old St. Augustine Gourmet, a local family owned business that's all about the datil pepper. They create a line of specialty products featuring this unique pepper, including hot sauces, seasonings, spice blends, and more …
Visit their website, linked above, and check out some of their datil pepper selections. If you live in Florida, click on the "About" tab and the drop down Retail Locations tab to see where you can buy locally. Of course, you can also buy directly online at the website – gift packages are available as well …
If you're looking for the definitive Florida themed gift that's not the same old, same old, visit Old St. Augustine Gourmet for the real flavor of The Sunshine State …
Bradley's Country Store: We discovered the wonderful, time honored Bradley's Country Store on our recent visit to Tallahassee (see our travelogue at the bottom of this page). Located 12 miles outside the city on one of the area's famed canopy roads, Bradley's is best known for their house made sausage, smoked on the premises and shipped in gift boxes all over the country.
Bradley's is not only a good old fashioned country store stocked with their (and other local) food products and kitchen items, but a great place for lunch if you're in the area. They've been around since 1927 – 3rd & 4th generation Bradley's run the store and it's truly a Tallahassee area treasure.
Their smoked sausage is nothing short of fantastic, and they also grind their own corn meal and make their own cheese, a delicious hard to find variety called hoop cheese. Were we not flying back home, we would've stocked our entire car trunk full of the goodies they sell!
If you're looking for a Florida themed gift for someone, check out the Bradley's Country Store products pages. They've got all kinds of gift packages ready to ship, like the "Bradley's Complete" shown, with sausage, cheese, grits, honey, and more!
And if you're ever near Tallahassee, stop by. It's an experience like no other!

The Pickle Baron of Key West: Pickles have gone artisan, and down in the Florida Keys, a small company is combining traditional canning techniques with Caribbean flavors and influences …
If you're a pickle fan, Pickle Baron of Key West is right up your alley. They create pickle flavors the likes of which you've not seen before – how about Ginger-Basil Key Lime Pickles, or Key Lime Bread & Butter Slices, sweetened by fresh key lime juice?
Of course, more standard varieties are available too, like Wicked Hot and Dill-iscious Dills, along with a few other unique pickled products like Fiery Green Beans. At the Baron's website, be sure to check out their creation called Conch Candy. It's not a candy at all but it might as well be – Conch Candy is sliced jalapenos jarred in a sweet candy brine. They're great right out of the jar, or for the more adventurous, as a unique ice cream topping!
What an interesting gift idea direct from the Keys! Order for yourself or for someone special directly at their website …
Gingers Jams & Jellies: One of the great things about The Sunshine State is you'll find many products created from the bounty of the local citrus crop. One small company doing exactly that is based in Orlando, called Ginger's Jams & Jellies, although they produce more than those two items!
The company is most known for their line of jams and jellies using local fruit. At their site, you'll find delectable choices like Strawberry, Mango – Raspberry, and Blackberry jams as well as Guava, Mango – Passion Fruit, and Mayhaw jellies. Made with all natural ingredients in small batches, these are great gifts for anyone who'd enjoy a taste of Florida!
Gingers Jams & Jellies also offers fruit butters, marmalades, and pickled items like Bread & Butter Pickles and Cranberry – Apple Relish. No matter what fruit you enjoy, chances are they're got your taste buds covered!
Visit their site to order – you'll find their online store near the bottom of the home page. Customized gift crates are available too!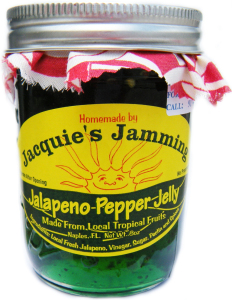 Jacquie's Jamming Jams: We found out about Jacquie's Jamming while doing a bit of research on Naples, FL where they're located. Owner Jacquie Hoare-Ward makes a line of jams and jellies based out of a small catering facility in the downtown Naples area and the products have made quite a name for themselves as uniquely Florida!
When we learned more about Jacquie's Jamming Jams, we were impressed with the fact that her products are made with fresh local fruit and no preservatives. Some of her specialties include Mango Jam, Mango Lemon Salsa, Calamondin Orange Marmalade, Strawberry & Passion Fruit Preserves, and the Jalapeno Pepper Jelly pictured. Serving suggestions are offered on her website and these and other flavors are available in four or eight ounce jars.
Be sure to visit the Recipe page on their website to see the Mango Marinated Fish Fillet and the Roasted Pork Loin recipes – guaranteed to make you think twice about what you're making for dinner!
Jacquie's Jamming Jams can also be purchased in a four jar gift set – a nice idea for something fresh from beautiful Naples!
J.W. Renfroe Pecan Company: Based in Pensacola and perhaps America's premier pecan company, J.W. Renfroe Pecan is a third generation family owned business. They've been around since 1956 and their retail store on Fairfield Drive is a bona fide must see Pensacola attraction …
Although best known for pecans, the company offers all types of other nuts, including hard to find black walnuts. Mixes, snacks, fudge, pralines, and local honey round out their product line, all of which you can order online at the Renfroe Pecan online store. Oh and we almost forgot … they also make a wonderful Southern Pecan Coffee, which is available in 8 ounce or one pound bags in both regular and decaffeinated.
If you're ever in or near Pensacola, be sure to stop at their store. It's known as the Nut House and you'll find all of the Renfroe nuts and related products in stock and ready for you to try. The store isn't far at all from this historic city's downtown area and harborfront – a terrific base of operations to explore the Florida Panhandle and nearby Gulf coast of Alabama and beyond …
Of course, natural and candied pecans are the star of the show. They're available in gift assortments, tins, and various sized bags. The glazed pecans are a special Florida treat!
Visit the Renfroe Pecan website to do a little shopping – they ship all over the country!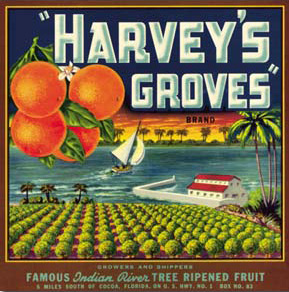 Harvey's Groves: The Sunshine State is of course well known for its wonderful citrus crops. No matter what type of fruit you enjoy, chances are great it's grown here …
Grapefruit, oranges, tangerines, tangelos, and even apples and pears are prolific here. And there's no gift that says Florida quite like a specialty box packed with fresh fruit. Since 1926, Harvey's Groves has been one of the state's leaders in shipping fruit gift baskets and boxes across the country.
Only shipped when fresh picked, Harvey's Groves fruit is grown near Rockledge and Merritt Island, just off the Atlantic Coast and east of Orlando. Their stores are popular Florida destinations on Highway 1 in Rockledge and also in West Melbourne and Cocoa Beach. One of their best selling gifts is their Citrus Fruit of the Month Club, which can be ordered for durations up to six months. Each month you'll receive nine pounds of fresh Florida fruit!
If it's off season, you can order any of Harvey's Groves jams, jellies, and marmalades. They're also available in gift sets – an ideal Florida themed thank you for anyone on your list!
Visit the Harvey's Grove website to learn more …
Indian River Fruit Company: Florida is known for having some of the best growing conditions for citrus in the world. Whether it's sweet delicious oranges, juicy tart grapefruit, or delectable tangerines, Florida citrus offers a taste like no other …
Indian River Fruit Company of Vero Beach ships this wonderful fresh fruit direct to consumers, either for yourself or as a gift. Notably, the fruit is still on the tree the day before it's shipped, so you can be assured of the freshest fruit imaginable …
You can order one type of fruit, or a mixed selection of several citrus varieties. You can also arrange to have fruit shipped every month to a client or family member … a healthy gift sure to be appreciated!
Uncle Matt's Organics Fresh Fruit Baskets: Based in Clermont, FL this company is best known for organic orange juice which is primarily distributed locally. But they've added to their offerings this year with a series of fresh fruit gift baskets …
These baskets, like the one shown, contain up to five pounds of grove fresh fruit in several varieties, including grapefruit, tangelos, and different types of oranges.
Some of the baskets include organically made jams and other organic treats. Learn more at Uncle Matt's Organics …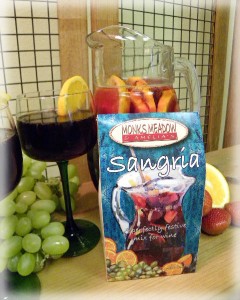 Monks Meadow: Monks Meadow of St. Petersburg is one of the best places to buy delicious edibles (and drinkables) from the Sunshine State …
The company has been making dips, baking mixes, quiches, soup mixes, drink mixes and more for over 25 years …
We're partial to the Sangria Frosty Freeze (shown). One package makes over a gallon of sangria, and you can freeze the mix if you prefer a sangria slushy as opposed to sipping.
Either way, it's a perfect made in Florida treat for a warm sunny day!
See all the Monks Meadow mixes at their site …
MADE IN FLORIDA DESSERTS & SWEETS
Sterlings Fudge Emporium: We love discovering family owned small businesses that make people happy, and this central Florida company does just that!
They're Sterlings Fudge Emporium and owner Suzanne Shafer is in the business of bringing smiles to her customer's faces with a delectable menu of 50+ varieties of fudge. From the tried and true to gourmet, exotic flavors, Suzanne and her team have been satisfying even the most ardent of fudge fans all across America …
With an emphasis on local, natural ingredients, Sterlings Fudge Emporium started with a core menu of five flavors … Banana, Chocolate, Maple, Peppermint, and Rocky Road. Since their introduction a few years ago, the selection has blossomed to well over 50, with more being added continuously …
If you're looking for a Made in Florida gift for yourself, a special client, or anyone on your list with a sweet tooth, Sterlings will ship anywhere in the country for a convenient flat rate. It's a sure to be appreciated gift, and you can choose from flavors like Chocolate Mint, Key Lime Pie, Lemon Blueberry, and Peanut Butter 'n Banana. If your taste buds are craving something even more creative, opt for Maple Bacon, Lemon Raspberry Tie Dye, Pistachio, and Vanilla Lavender. Special seasonal varieties are available too – check out the wide selection at the Sterlings Fudge Emporium online store …
And, if you want to be the person in the know at your next social gathering, check out the "Fudge Pairings" page, a handy reference for pairing fudge flavors with your favorite wine, beer, or spirits. Bring along a selection or two from Sterlings Fudge Emporium and you'll be a hit!
Discover the joy of Florida made fudge by visiting the Sterling Fudge Emporium website, linked above. It's the perfect gift for any occasion, from weddings to anniversaries and special occasions to housewarming gifts and more …
We are so proud to introduce you to this vibrant small business … Made in Florida!
Barb's Gourmet Brittles: On our recent visit to the Tallahassee area, we had the good fortune of finding this local gourmet candy and ice cream shop. Located just off Highway 27 near beautiful Lake Ella, it's owned an operated by Barbara McGarrah and known as Barb's Brittles …
Barb makes all kinds of sweet crunchy brittle and ships it all over the country. From standards like peanut brittle and cashew brittle, you'll see a whole variety of unique flavors. Lemon Pecan, Orange Macadamia, White Chocolate Pecan, Pistachio, and Pumpkin Seed are just a few. And if you're a chocolate lover, Barb has you covered – she creates over a dozen brittles with your choice of white or dark chocolate. And let me tell you … they're really good! A perfect Made in Florida gift for someone special …
Specialty cookies and gift trays are available as well. Visit Barb's website and click on "Buy Brittle" to see all your options. And if you're ever in Tallahassee, stop by and say hello!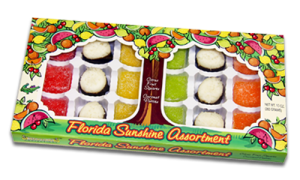 Anastasia Confections: This Orlando based company has been around for 30 years, creating confections, candies, and assorted treats with a Florida flavor. Most known for their Classic Original Coconut Patties, Anastasia Confections makes a unique array of tasty products beyond the scope of traditional candy makers …
The coconut patties are available in several different flavors, like key lime, rum, and pina colada. The patties are made with smooth shredded coconut filling which is then dipped in a rich dark chocolate coating. Enjoy them right out of the package, or for a warm weather treat, put them in the freezer for ten minutes or so for a nice coconut chill!
Anastasia Confections also offers specialty Florida themed treats, like jelly citrus fruit squares, alligator shaped candies, and more. Order a little of everything with their Florida Sunshine Assortment (pictured), which includes coconut patties and jelly fruit squares all in one …
Check out their site for all your options. Free shipping on orders over $49!
Mike's Pies: Now a national presence with his pies on menus of restaurants across America, Mike's Pies started as a small Tampa company and literally grew by word of mouth …
There really is a Mike and he really does quality control on his namesake pies. They've won multiple awards at the Great American Pie Festival and you'll find no preservatives, fillers, or artificial ingredients in any of their creations …
At the Mike's Pies online store, you can order six different pie flavors, including the legendary Killer Key Lime Pie and a delicious Southern Pecan Pie. Also available are seven varieties of cheesecake and even gluten free pies and brownies …
A great gift idea from Florida for anyone on your list! Check the Mike's Pie website to see all the options …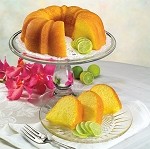 Dockside Market: Dockside Market has been a Key Largo institution for over 30 years. They're best known for their flavored bundt cakes, most prominently their Key Lime Cake which is flavored with juice from Florida key limes …
This moist and flavorful cake is just one of many you can find at the Dockside Market online store. Some of the flavors include Chocolate Rum, Calypso Coconut, Cabana Banana, and Honeybell Orange. You can buy them individually or in sampler packs which contain small bundt cakes in eight different flavors …
In addition to these cakes, the Dockside Market also creates a line of Florida themed cookies and brownies, as well as hot sauces. There are several combination gift packs available … an ideal gift direct from the Florida Keys!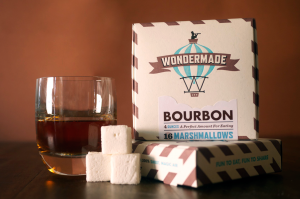 Wondermade: How about some gourmet marshmallows? Sound good? Well, they are!
Wondermade, from Orlando, has perfected the art of making gourmet marshmallows. These aren't the same marshmallows you'll find stuffed into a bag at the grocery store … these are flavored marshmallows cut into 1 x 1 squares just perfect for enjoying as a sweet treat …
One quick look at the Wondermade website will give you a glimpse of what you've been missing all these years eating ordinary marshmallows … they make these puffy pillows of goodness with flavors ranging from bourbon to raspberry to passion fruit to gold champagne to chocolate mint … in other words, they've got your marshmallow cravings covered!
You can order directly from their site, and Wondermade will get them right out to you or as a special made in Florida gift …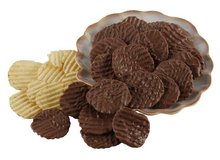 Chips 'N Chocolate: Chocolate and potato chips? YES!
Two common ingredients combine together to make a delicious snack treat, courtesy of Grimaldi Candies … ridged potato chips drenched in milk chocolate.
Grimaldi Candies has their primary location in the terrific central Florida town of Melbourne, about 90 minutes from Orlando near the Atlantic Coast. Melbourne has a walkable downtown area that's perfect for shopping, lunch, or dinner and drinks. We try to stop in every time we're in the Sunshine State …
You can order chips 'n chocolate direct from the Grimaldi Candies website and they'll send them your way …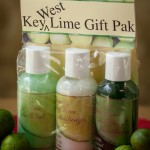 Key West Key Lime Shoppe: We stopped in this cool little store while in Key West. To put it simply, it is "everything key lime" …
Key limes are plentiful in Florida, and they offer a distinctly different taste than regular limes. Key lime pie is the most common dish made with these small (but big on flavor) limes, but there are a number of other related products sold at the shop and online at their website …
Some examples include key lime tea, key lime lip balm, key lime taffy, key lime salsa, and … well, you get the idea!
MADE IN FLORIDA BARBECUE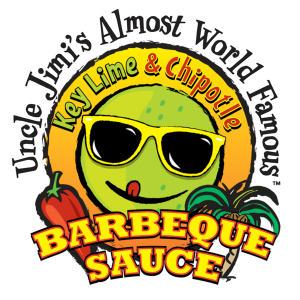 Uncle Jimi's Almost World Famous BBQ Sauce: Florida is known for all sorts of wonderful food products, but folks don't always equate great barbecue with The Sunshine State … especially BBQ Sauce crafted from Key Limes.
Those lucky enough to spend some time in Florida, though, will discover the state is brimming with outstanding BBQ joints as well as independent businesses creating some pretty spectacular barbecue products …
If you're a fan of award winning barbecue sauces, one independent business you should know about is based in Cape Coral, in southwest Florida near Ft. Meyers. The company is Uncle Jimi's Almost World Famous BBQ Sauce, the proud winner of two prestigious 2017 Scovie Awards for their signature Key Lime & Chipotle BBQ Sauce … owners Jim and Alison Brush know a bit about awards, having won several Blue Ribbons from the National Pie Championships for their Key Lime Pies.
Born from a long time love of grilling and smoking great meats, the business launched in 2006 after an almost two year process to get the barbecue sauce recipe just right. A unique blend of sweet, tart key limes and smoky chipotle peppers, this sauce adds a sunny Florida dimension to whatever you're grilling …

If you like things a little hotter, check out Uncle Jimi's Almost World Famous Key Lime Habanero BBQ Sauce; it combines a habanero kick with the unmistakable Florida Key Lime flavor. And while we're on the subject of hot, Uncle Jimi's offers two creative key lime themed sauces. They're Uncle Jimi's Key Lime Wing Wing Sauce and Uncle Jimi's Key Lime Hot Sauce (pictured), which offers the flavor profile of their signature barbecue sauce in a versatile hot sauce perfect for any dish needing a little extra jolt … Oysters? Clams? Bloody Mary?
At their website, you'll also find several creative barbecue related culinary creations to enhance your grilling, like Smoked Bacon Salts and Smoked & Infused Natural Sea Salts. Designed to bring out the flavor of meats or seafood you are smoking or grilling, these concentrated salts are also ideal for roasting or mixing into your favorite recipes.
While you are at the website, be sure to check out the recipe for Grilled Jumbo Gulf Shrimp (a Florida specialty!) and a great resource page titled Woods For Smoking which outlines several commonly used woods for smoking and a little background about each. From Alderwood to Pecan, learn about woods that pair best with specific cuts of meat and their specific flavor characteristics …
Uncle Jimi's Almost World Famous BBQ has been featured on The Food Network, CNBC, and is the recipient of several prominent awards and accolades in their home state of Florida. You can order their sauces directly from the company website along with their Hot Sauces, Smoked Bacon Salts, and Smoked & Infused Sea Salts.
If you live in the area, there is a comprehensive list of retail outlets on their site where you'll find the products locally. Wholesale opportunities are available as well – contact them directly for more details!
Click through to order this great Florida Made BBQ Sauce (and more)! We are proud to feature this thriving Sunshine State business here at State Gifts USA.
Art's BBQ: We're always on the lookout for good barbecue joints, a long standing habit I picked up from my dad, who spent 45 years in the meat business. In Winter Garden, FL just west of Orlando you'll find a really good one called Art's BBQ …
Art's is a family owned and operated business. Just get near it and catch the aroma of slow cooked meats and you'll know this is a good place to stop. Art is retired Air Force from Georgia and his wife Marilyn is from Arkansas, so you know you'll be getting some true Southern style bbq …
Meats are seasoned and slow smoked for up to 14 hours, the ribs are tender, the peach cobbler is outstanding, and well, you get the idea. Try Art's sauce, which you can buy online at their site. It's got a peppery kick with hints of sweetness to it … not Kansas City style, not Carolina style. We'll just call it "Art's Style" and encourage you to buy some!
The sauce is available in quantities of three or twelve (believe me you'll want more than one bottle!). You can also call them to have ribs or pulled pork shipped via Fed Ex. And if you're ever in the general Orlando area, stop in!
MADE IN FLORIDA GIFTS
Located between historic St. Augustine and Daytona Beach along Florida's Atlantic Coast, Palm Coast offers the best of Florida. Here you'll find sunny days, warm ocean breezes, and lush sub tropical foliage bordering on the spectacular. This welcoming community of 85,000 is also home to a small business we're proud to feature here at State Gifts USA – the appropriately named Southern Scents …
Truly representative of The Sunshine State, Southern Scents offers an impressive array of bath and body products incorporating some of Florida's most beloved fragrances. From hand and body lotions to hand molded soaps to bath & linen mists, there's something for everyone on your gift list …
You'll love all the enticing fragrances that make Southern Scents products a wonderful Made in Florida gift. Choose from spectacular scents like White Gardenia, Orange Blossom, Lavender Fields, and Pear Blossom – the entire product line is available in each. Made with only the finest ingredients, you'll delight in the silky smooth moisturizing qualities of Southern Scents lotions and soaps. Or, experience the essence of Florida with the very popular bath/linen mist. This refreshing mist will add a tropical touch to any room in your home and evoke special memories of this beautiful area …
For a special Florida made gift, visit the Southern Scents website and view the beautifully packaged gift sets. They include bath/linen mist, hand & body lotion, luxurious body butter, and moisturizing hand made soap. These gift packages include a personalized card for your lucky recipient and are sure to be appreciated for months to come!
Check out the "Gallery" tab at their website, linked above, to view the entire Southern Scents line, and then visit the "Go Shopping" tab to place your order …
Proudly Made in Florida along the Atlantic Coast!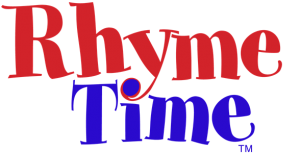 RhymeTime Storybooks: We love learning about talented local authors here at State Gifts USA and we're pleased to introduce you to Florida resident Debora Emmert, owner of RhymeTime Storybooks, publishers of a growing collection of fun and engaging children's titles …
Just in time for the holiday season, RhymeTime has released their latest book, "Jack the Cat: Christmas in Florida". This humorous and charming story follows the playful antics of Jack, a cat from The Sunshine State who navigates through the 12 Days of Christmas, with each day offering a new adventure.
Aimed at kids through age 8, "Jack the Cat: Christmas in Florida" makes a perfect stocking stuffer gift and is sure to delight young readers, animal lovers, or anyone in the holiday spirit. This creative, rhyming tale follows Jack through the holiday season, with each of the 12 Days of Christmas spotlighting Jack in fun, light hearted vignettes …
Young readers will especially delight in Jack walking with the elves, stocking the shelves (at the local animal shelter), decorating the palm tree, and even "snow" skiing down sand dunes! It's a fun holiday themed tale that'll become a cherished family tradition …
"Jack the Cat: Christmas in Florida" is just one of a five book lineup you'll discover at the RhymeTime Storybooks website. Three titles focus on the adventures of Jack, and two others feature red headed Willie and teach character values. Bring Jack the Cat into your home! You can purchase "Jack the Cat: Christmas in Florida" at Barnes and Noble online, and also at Amazon …
Be sure to stay tuned to RhymeTime Storybooks … more titles are on the way in 2018!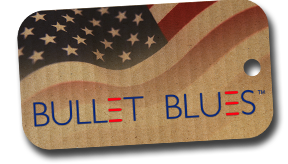 Bullet Blues: We're big fans of American made jeans. and when we learned of this Coral Springs, FL business we just had to get them onto our Made in Florida page …
They're Bullet Blues, a blue jean and apparel company crafting their line in the U.S. Not only do they specialize in blue jeans for both men and women, but there's a full selection of other wearables (ladies, check out their little black dresses!) …
Bullet Blues product line includes the likes of tops, dresses, skirts, button up shirts, t-shirts, belts, and of course, jeans. Check out their website – you'll find great gifts for both the guys and gals on your list and they'll ship anywhere in the country!
Their jeans are really good looking and as an added plus … they're all made right here in Florida!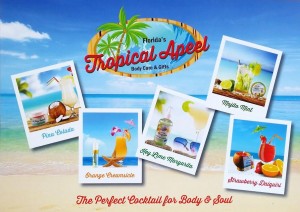 Tropical Apeel: Here at State Gifts USA, we love spotlighting creative businesses whose products capture the essence of their home state. There couldn't be a better of example than Tropical Apeel, located on the shores of the Gulf in Clearwater Beach …
This family owned and operated Sunshine State based company creates a unique line of all natural body care and fragrance products crafted from fresh locally grown Florida ingredients. Tropical Apeel's mission is to combine the joy of tropical beach life with the spirit of the state's natural resources in every product. From hydrating hand and body lotions to face & body sugar scrubs to tropical fragrance mist, there's something to delight everyone's senses! Everything in the Troical Apeel line is available in five tropical scents – Pina Colada, Key Lime Margarita, Strawberry Daiquiri, Mojito Mint, and Orange Creamsicle.
You should also know that this environmentally friendly company adheres to a strict criteria for the ingredients in their products. Ingredients must grow wild and be indigenous to Florida and be harvested locally. Further, they must be a renewable and sustainable resource that's friendly to the environment, animal life, and marine life. Most importantly, all ingredients are completely free of harmful parabens, petroleums, and toxic chemicals. If it's not good for your body and skin, it's not in a Tropical Apeel product!
You can view the entire selection awaiting you at the Tropical Apeel online store. Check out the Gift Sets (the perfect Made in Florida gift!), along with exfoliating soaps, lip balms, Loofah sponges, and attractive coconut shell candles. Wholesale opportunities are available and a portion of every sale is donated to area charities supporting the preservation of Florida's environmental resources, as well as the care and well being of people and animals.
We're very pleased to feature this creative business – for the perfect Florida cocktail for body and soul, click through and visit Tropical Apeel!

Write Turnz: Looking for a one of a kind Made in Florida gift? Check out the custom handcrafted writing instruments (and more) created by Jason Olson of Lithia, FL. His creative small business Write Turnz crafts reclaimed and repurposed materials into heirloom quality pens, sketch pencils, and even shaving utensils!
Old growth cypress trees from The Panhandle, reclaimed wood from homes and buildings, and even white tail deer antlers are just a few of the upcycled materials Jason works with to create these handsome pieces. The pens, stunning in design yet approachable and functional, feature classic lines and tell a unique story. Many are adorned with genuine Swarovski crystals or semi precious metals and make the perfect gift for anyone who appreciates fine detailed craftsmanship.
At the Write Turnz website, click on "Shop" and you'll see all the different styles available. Pens are created in fountain, rollerball, and ballpoint varieties. Have an aspiring artist on your list? Be sure to see the Write Turnz Setch Pencils, made with adjustable graphite shafts and a built in sharpener. We especially like "The Floridian", adorned with Sinker Cypress Wood reclaimed from rivers in the northern part of the state …
Whether for yourself or for someone special, these are gifts you'll be proud to give and even prouder to hand down to the next generation. Appealing and eye catching, writing instruments from Write Turnz are like no other!
Click through to their website, linked above, to see everything they're creating. Have an idea for a custom piece? Contact Jason directly and he'll be happy to discuss turning your dream into something special …
We're pleased to feature Write Turnz here on our Made in Florida page and urge you to pay them an online visit!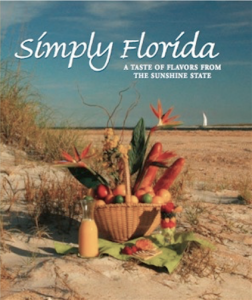 Simply Florida Cookbook: We love to cook (and travel) and it's a lot of fun to prepare some of the iconic recipes from across the United States. Recently, there's a been a trend to documenting the culinary culture of each of our 50 states via special edition cookbooks. They're a great way for chefs of all ability levels to really become acquainted with different regions.
In Florida, a division of the Family & Consumer Sciences agency is marketing a cookbook called Simply Florida. If you want to explore the wonderful flavors of The Sunshine State, this is a great place to start!
The book, which is available at the linked website, includes over 200 recipes, with chapters focusing on the state's dairy industry, seafood, beef, grains, and of course, citrus fruit.
The perfect economical Florida themed gift, you can have Simply Florida as part of your go to recipe arsenal by visiting their website …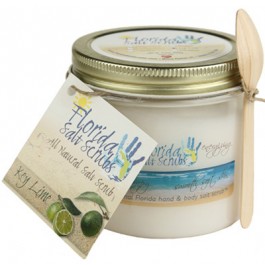 Florida Salt Scrubs: This Boca Raton based company uses Atlantic Ocean sea salt to create a variety of bath and body scrubs that make perfect gifts or just for pampering yourself!
Sal scrubs are used to exfoliate your skin while soothing and smoothing rough skin on feet, elbows, knees, and so on. One of the key ingredients of these scrubs is coconut oil, known as nature's natural moisturizer which works in concert with the naturally filtered sea salt harvested from natural mango groves …
Click through to the Florida Sea Scrubs website and you'll see the many scrub scents available – they include Key Line, Lemongrass, Orange, Vanilla, and more. A true natural made in Florida gift idea!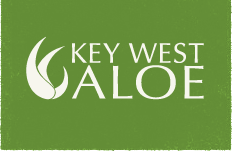 Key West Aloe: An amazing plant, the aloe is known for its healing properties, particularly on sunburned skin. But did you know aloe vera offers nutrients like Vitamins A, C, & E along with B Vitamins and Folic Acid which helps regenerate skin cells? This wonder plant is the basis for Key West Aloe, the leader in aloe products since 1971.
Known for more than just skin care products, this Conch Republic based company is also known for aloe based scented products, men's shaving creams, and pet products. Just as it calms the skin, the scent of aloe vera offers a calming effect on your pets as well!
We particularly like their Key West Aloe Soy Candles – they have a soothing island scent and a soot free 35 hour burning life. Almost as good as lounging on the beach!
Key West Aloe's website is a showcase for their many products, including gift sets that make the perfect Florida themed gift for both him and her. Click through to see everything they're creating that's good for your skin!
Naples Soap: This growing company was founded in Naples in 2009 by founder and company CEO Deanna Renda, a former nurse who'd sought natural and organic skin care products for those suffering from chronic skin issues. The result was Naples Soap Company, who have expanded from their initial 300 square foot space to six retail locations in southwest Florida and international locations in Japan. The company continues to expand their wholesale operations across the United States as well …
One of their primary products is their line of sea salt soaps. Naples Soap creates eighteen different varieties and scents, including Eucalyptus, Lime Blossom, Florida Sunrise & Sunset, and Sea Kelp. Gentle on your skin, these soaps make great gifts for yourself as well as anyone on your list!
The company also produces a line of shampoo bars. We've been using natural shampoo soap bars for years, resulting in cleaner, shinier, more manageable hair. Conditioner soap bars are available as well …
At the Naples Soap website, you'll also find moisturizers, scrubs, shaving soaps, and numerous products for those with sensitive skin, all made with the essence of southern Florida! Click through to their website to learn more and to order …
Kino Sandals: One of the most popular Made in Key West products to bring back from a Keys vacation is a pair of Kino Sandals. Founded in 1966, Kino Sandals is one of the best known and sought out businesses in the Keys – a must stop for visitors to the island.
Visitors can watch the sandal making in progress at their factory store on Fitzpatrick Street in the Kino Plaza and buy a pair to take home …
Men's, women's, and children's sandals are available in unique island style designs. Kino Sandals now offers website ordering for those who can't visit their store in person. These sandals are sturdy, well made, and stylish!
Shop for yourself at their online store – you'll be surprised how reasonable the prices are!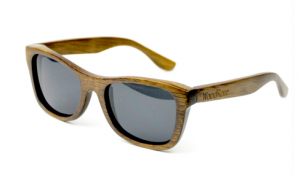 Woodroze Wooden Sunglasses: This innovative Orlando based company creates stylish sunglasses made from sustainably forested trees. They use both hard woods and soft woods and multiple trees are planted for each tree harvested …
The company also donates a percentage of the sales price for each pair sold to Mote Marin Laboratory, a Florida organization dedicated to protecting coral reefs off the Florida coast …
Check out all the interesting designs at the Woodroze website and add some style to your sunglasses collection! They also make IPhone cases from wood …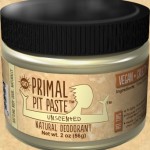 Primal Pit Paste: We saw some information about this Tampa based company and wanted to call them to your attention … they're Primal Pit Paste, and they create organic, all natural deodorants that are paraben and aluminum free.
Ingredients include organic coconut oil, organic shea butter, non aluminum baking soda, organic arrowroot powder, and organic essential oils. Their catchy tag line is "Killing The Odor Without Killing Your Body!"
These chemical free deodorants were originally developed for owner Amy Cazin's children, in an effort to keep them away from the harmful chemicals found in traditional store bought deodorants. The product is available for both kids and adults in 2 ounce jars and a handy stick for those on the go.
Their story is really interesting and they make a few other products too … check them out at Primal Pit Paste.
Tarpon Springs Sponges: Another of our favorite Florida towns is Tarpon Springs, located on the Gulf Coast north of Tampa. This Greek heritage community is known for their walkable harbor area, authentic Greek restaurants, and an active sponge harvesting industry …
Various stores in the heart of Tarpon Springs sell natural sponges to local residents and visitors alike. These aren't your typical dyed blue or yellow sponges you'd buy in a package at Wal Mart … these are naturally shaped sponges that were harvested from local waters probably just a day or so before. Use them just like any other sponge! They're particularly effective for exfoliating your face and body, as their natural gentle abrasive texture does wonders for your skin …
A good source for Tarpon Springs sponges is Tarpon Sponge, where you can learn about the sponge harvesting industry and buy sponges for your personal use or as a thoughtful gift …
Obvita Organics: Based in Parish, FL this company produces hand made organic skin care products and cosmetics. At their online site you'll find organic wellness products for facial care, eye care, hair care, products for men, and a full line of cosmetics …
There's also a full line of organic sun protection products, and items for baby care and pets! Pictured is the Herbal Pet Ointment which helps alleviate skin conditions for your pets, like dry coats and itchy skin …
Bella Star Naturals: Bella Star Naturals of St. Augustine makes an interesting array of organic and natural hand crafted soaps and essential oils …
Two of the more interesting soaps are Bug Off (pictured) made with shea butter, olive oil, and five essential oils that repel mosquitoes, gnats, and noseeums. The other is a dog shampoo bar made with peppermint and Vitamin E, designed to keep your dog's coat silky smooth and soft …
Bella Star Naturals also makes a product especially for your feet called Happy Feet, which offers a mild abrasive scrub quality to remove rough spots and keep your feet in top condition …
MADE IN FLORIDA HOT SAUCE, SPICES, & CONDIMENTS
Men PA'W Gourmet Sauces: From Cutler Bay, FL just south of Miami comes the delicious and eye opening Men PA'W Gourmet Sauces, Haitian style sauces brimming with the smoky hot flavor of habanero peppers …
These versatile sauces are made with all natural ingredients – peppers, olive oil, vinegar, and spices with no fillers or congealing additives. You can use it on any fish or rice dish, as they add a snappy, flavorful bite to any seafood meal.
We also like it in our stir fry chicken recipe, just drizzle Men PA'W Sauce over the chicken and vegetables as they simmer. Use it in a breakfast omelet as well!
There are two varieties available, mild and hot (we tried the hot). You can order directly on their website, in four or six ounce bottles … trust us, you'll want the six ounce, and more than one bottle!
A fun and economical Florida made gift for the foodie in your life!

Hot Sauce Harry's: If you love hot sauce like we do, you've got to check out Hot Sauce Harry's, a North Port, FL business that's all about sauces. You may have already checked them out without knowing it – they're one of the leaders in hot sauce private labeling and drop shipping. North Port, by the way, is in the southern part of the state, adjacent to Port Charlotte and Interstate 75 …
At the Hot Sauce Harry's website, you'll see what we mean. There's a vast selection of hot sauces, grilling sauces, salsa, barbecue sauces, gift and novelty packs, themed hot sauces, and a lot more. Wholesale opportunities are available too!
A one stop shopping experience, Hot Sauce Harry's delivers fast and on time. Click through to their website to see all your options!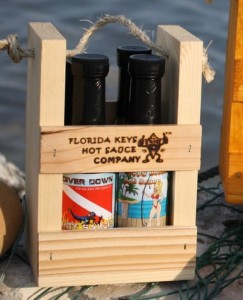 Florida Keys Hot Sauce Company: Founded in 2010, this small company creates a line of hot sauces reflecting the vibrant flavors of this wonderfully unique area of Florida …
Once you've visited the Keys, you'll never forget it! From Key Largo at the north end to Key West at the south, this 150 mile long stretch of islands is one of the most appealing areas in the country. Natural beauty, great food, and a care free atmosphere make a Keys vacation unlike any other …
We discovered the Florida Keys Hot Sauce products at a shop in Key Largo. They're available anywhere you visit in the area, as well as online at their website. They make almost 20 different varieties featuring just about every pepper available and range from savory and mild to hot and hotter!
We particularly liked one of their sauces called "Mile Marker 0" which references the mile marker at the end of U.S. Route 1 in Key West. It's a flavorful concoction that's not too hot and pairs well with grilled meat of fish, and is especially good in stir fry dishes!
Gift sets like the one shown are available as well. Click through to their site to learn more!
Only Herbs Gourmet Seasonings: This specialty spice company is based in Florda's beautiful Panhandle area in Panama City. Founded in 1996 by Sandra Jo Marshall, they're known for their all natural culinary blends and seasonings.
In addition to signature spices, Only Herbs creates a whimsical line of dips and spice blends called "Redneck Gormay". They're incredibly easy and convenient to make … just add a 16 ounce container of sour cream and let sit for 1/2 hour or so in your refrigerator. They're perfect for your next casual gathering – redneck or otherwise!
The company also makes four specialty seasonings which can be used on just about anything. Try their Original Blend, a mix of thirteen different spices along with sea salt. If you're looking for a fun gift, check out the Mason Jar Variety Gift Set (pictured) which includes five different products from the Redneck Gormay line. Tasty fun from the Panhandle!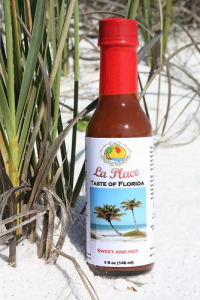 La Place Hot Sauces: Based in Fort Walton Beach in the Panhandle Region, this company makes a variety of hot sauces combining tropical fruit and hot peppers like ghost and habanero. Known as "A Spicy Little Taste of Florida", they're currently creating seven different hot sauces, three wing sauces, and a variety of spice mixes …
We found out about La Place Hot Sauces from a friend of ours who frequently vacations in The Panhandle. He brought us back a bottle of one of their sauces called "Taste of Florida", which is an appropriate name because this sauce is the perfect blend of hot and sweet! This combination is our favorite when it comes to hot sauces because the sauce tends to complement and not overwhelm our efforts in the kitchen …
We used Taste of Florida with sauteed tilapia and brown rice, and to liven up our chicken stir fry recipe. You can use it on just about anything, from fish dishes to chicken to pork or any rice based recipe …
If you're a fan of hotter hot sauces, La Place has you covered … visit their website and you'll see their creations with both habanero and ghost peppers in combination with tropical fruit like mango and papaya.
A combination gift set is also available if you want to try them all – click through to see the full product line and to place your order. A great specialty gift idea from Florida's Panhandle!
'A' Frame Sauce: One of our favorite Florida destinations is historic St. Augustine, American's oldest city and tucked away off the state's east coast south of Jacksonville and north of Daytona Beach. Beyond the history, scenic beauty, and fantastic seafood, one of the best reasons to visit St. Augustine is the plethora of datil pepper products …
The datil pepper is closely aligned with St. Augustine. Although they are cultivated elsewhere, more datil peppers come from here than anywhere else. They have an orange yellow color with a heat level similar to an habanero. But, unlike an habanero, the datil has a sweeter, fruitier flavor. Several local companies use the datil pepper to create sauces and other edibles, and it is frequently used in recipes here, especially those with seafood …
We spotlighted Minorcan Datil (see below) and now we'd like to introduce you to 'A' Frame Datil Pepper Sauce, created locally using organic datil peppers. This stuff is really good! It's a combination of red, orange, and yellow bell peppers along with spices and apple cider vinegar and, of course, datil peppers. We had a bottle given to us as a gift and loved it – you can use it on stir fry dishes as we did, scrambled eggs, tacos and burritos, chicken, fish, and just about anything you cook!
Created by local surfing buddies, the name 'A' Frame refers to a type of ocean wave beloved by surfers. This is really a great sauce, it has a bit of bite but also a bit of sweet and it's a great gift from Florida! Visit 'A' Frame Sauce to get some for yourself!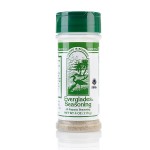 Everglades Seasonings: Everglades Seasonings was founded in 1976 and is well known for their signature product, Everglades All Purpose Seasoning. It's a spice mix that's a great match for just about anything, from popcorn to cuts of meat as a rub and tenderizer. The longer you leave it on, the more tender your meat will become …
We like it on chicken and use it often to season and tenderize chicken breast. You'll be surprised what a little rub of a good tenderizer will do for chicken breast! We rub Everglades on thawed out chicken in the morning and leave it in a covered pan or bowl until dinner time. The chicken has a wonderful flavor, retains moisture and juiciness and easily cooks in a skillet …
The company makes other varieties of seasonings, including low salt mixes, and hot and spicy seasoning. Pick up a few bottle of Everglades All Purpose Seasoning directly at the company website. It's really good stuff!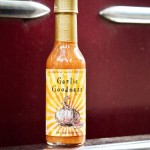 Intensity Academy Gourmet Sauces: This Tampa based small company makes all natural gourmet hot sauces in a variety of flavors and heat levels …
These sauces are ideal for your favorite recipes (they have many on their site), and the sauces complement your cooking as opposed to overwhelming it. They'll add a kick to any rice or seafood dish – we use them in stir fry dishes.
Of their many flavors, we like the Garlic Goodness and the Carrot Karma sauces. Garlic Goodness is thoroughly garlic … over 100 pounds of fresh garlic in every batch! Carrot Karma is a medium hot sauce made with a pepper blend, fresh carrots, and fresh lime. We used both in a shrimp dish and the results were spectacular!
Shop the Insanity Academy Gourmet Sauce site to see all their flavors and order some for yourself online …
Datil Pepper Products: Several years ago we were fortunate enough to visit St. Augustine, Florida, the small coastal city south of Jacksonville and north of Daytona Beach. In addition to being known as America's oldest city, St. Augustine is known for a plant that is indigenous to the area, the datil pepper …
Datil peppers are known for their sweet and somewhat smoky hot taste, making them ideal in recipes and as a primary ingredient in hot sauces and related products. Minorcan Datil in St. Augustine is the primary local source for datil pepper products, and you can order online …
We're big fans of their Minorcan Datil Hot Sauce, which is more sweet and hot than hot (the heat doesn't overpower the flavor). We use it in stir fry dishes, stews, in dips, and drizzled over freshly cooked seafood. Check their site for a complete description of all their products … the datil garlic mustard is another fantastic product!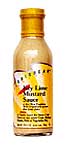 Floribbean Key Lime Mustard: Based in Sarasota, Floribbean Flo's offers some of the most interesting sauces, gourmet foods, and condimants you'll find in the Sunshine State …
One of our favorites is Floribbean Key Lime Mustard, which is just as it sounds … mustard with a pleasant key lime flavor. Use it on sandwiches, as a dip, or as a marinade. It's especially good on pork and seafood dishes!
You can order Floribbean Key Lime Mustard and all sorts of other uniquely Florida products online at Floribbean Flo's online store …

Joy's International Foods Garlic Spreads: This small company makes an array of spreadable garlic dips, tapenades, dips, and marinades which are all natural and ideal for snacking or using in recipes …
Choose from flavors like chipotle, artichoke, olive, sun dried tomato, and more. Our favorite is the Original Garlic Spread, which we use in Italian recipes and also as an accent ingredient in fish dishes. If you like garlic, you'll love this spread … it has twelve cloves of fresh garlic in every jar!
Order Garlic Joy products online at the Garlic Joy website …
Only Herbs Gourmet Seasonings: Located in Panama City, this company makes dozens of gourmet seasonings approachable enough for the every day kitchen. Their dip mixes are really easy to prepare … just add a 16 ounce container of sour cream and they're ready to serve!
You can buy fresh ground spices, as well as gift packs and individual mixes at OnlyHerbs.org …
MADE IN FLORIDA HONEY
Jammin' Jelly's Pure Raw Honey: We've always been big fans of pure local honey and enjoy telling you about local producers from across the country. In Astor Park, FL one of those producers is Jammin' Jelly's, which offers pure, infiltered honey with all of the health benefits intact …
You probably already know a spoonful of honey twice daily helps alleviate local allergy symptoms, but did you know about all the other benefits? Unfiltered raw honey is helpful for high cholesterol, arthritis, heart disease, bladder infections, the common cold, and more. At the Jammin' Jelly's website, check out their Honey & Cinnamon page for more helpful details.
While you're there, stop by their online store to see all the different varieties of honey they produce. Honey differs in flavor from location to location (flavor depends on what the bees pollinate). A northern Florida delicacy is Gallberry Honey, which is created when bees pollinate the gallberry bush. This plant is found primarily in the southeast part of the country in low pine barrens and the honey offers a rich flavor and golden color.
You'll also find Tupelo honey (from the White Tupelo tree), Orange Blossom Honey, and Wildflower Honey. You can order any in sizes ranging from 12 ounces to five pounds.
A wonderfully healthy gift idea from northern Florida!

St. Johns River Honey Company: Did you know not all types of honey are created equally? There are actually several different types of honey, all offering a slightly different flavor and consistency. The St. John's River Honey Company produces unique honeys like orange blossom, gallberry, palmetto, and wildflower honey, all of which you can buy online at their website …
Honey is a natural energy booster, in addition to providing numerous health benefits. Honey helps rid the body of colds and coughs, improves allergy and sinus problems, and contains numerous vitamins and antioxidants …
Be sure to try the Palmetto honey, seldom seen outside of Florida. It's a gourmet honey with a hearty, rich flavor …
The History of Florida Explained in 10 Minutes
Florida Trivia and Fun Facts

1). Florida is the southernmost state of the contiguous 48 states (Hawaii is the southernmost of the 50 states) …

2). A Miami Beach pharmacist is credited with inventing the first sun tan cream in 1943 …

3). Ever wonder how Gatorade got its name? The drink was named after the University of Florida's sports teams, the Gators …

4). St. Augustine, a beautiful small city in northeast Florida, is known as American's Oldest City. It is given that distinction because it is the oldest European settlement in the United States …

5). Florida's state beverage is orange juice …

6). Florida became the 27th state admitted to the Union in 1845 …

7). Florida has the second most coastline of any state at 1.350 miles. Only Alaska has more …

8). Pensacola is known as the "City of Seven Flags" because it has been claimed at one time or another by seven different sovereigns. Interestingly, Amelia Island, in the extreme northeast part of the state adjacent to the Georgia border, has been claimed by eight sovereigns …

9). Tallahassee was a compromise choice as the state's capital. In the early 1820's, two opposing factions lobbied for St. Augustine and Pensacola. The area which is now Tallahassee is located almost exactly between the two …

10). The highest natural elevation in Florida is only 345 feet. It's Britton Hill, located in northern Walton County just two miles from the Alabama border. It's the lowest state high point in the 50 states.
FLORIDA CONSERVATION & WILDLIFE ORGANIZATIONS
Save The Manatee: Manatees are an endangered species of mammal who live in the coastal waters of Florida. They are gentle, slow moving creatures whose primary diet is the plant life in these waters. Unfortunately, manatees often fall victim to boating traffic, commercial fish nets, and other man made hazards that disrupt their natural habitat …
Save The Manatee is a 501c non profit organization dedicated to saving and helping these large sea creatures, whose numbers have dwindled to about 5000 in the wild. You can "Adopt A Manatee" or shop in their online gift shop, and the proceeds help provide for care of injured manatees as well as promote conservation and preservation efforts …
A donation to SaveTheManatee.org is an ideal gift for wildlife lovers, children, or anyone who loves animals …
Comment Via Our Contact Us Page About Your Favorite Florida Made Products!
Visiting Tallahassee, Florida's State Capital City
Welcome once again to our rotating series, "Visiting America's State Capital Cities". We're very pleased to give you a travelogue overview of one of our favorite Sunshine State cities, Tallahassee!
Florida's state capital is located in the north central section of the state, in the eastern part of the
Panhandle and only about 20 miles south of the Florida – Georgia border. Moderated by the Gulf of Mexico just over an hour's drive away, this city of 185,000+ is a wonderful mixture of culture, history, and college pride. Join us as we explore this charming and inviting Southern city!
Tallahassee Overview
In the early 1820's when Florida was just a territory, discussion centered around the potential location of a territorial capital. Rival factions threw their support behind both Pensacola and St. Augustine, and in 1824 a compromise was struck – the capital would be established at a spot between the two settlements. The location became known as Tallahassee, which has grown to a metro area population of over 375,000.
Although numbers and measurements change often, Florida's capital is the 125th largest city in the United States, a center for higher learning, state government, shipping, and agriculture. It's also known for great restaurants and shopping! Steeped in history, Tallahassee is a wonderful area to visit, convenient to the Panhandle beaches area as well as the north Florida Atlantic coastal region.
We spent two nights here, combining it with a visit to Pensacola, Mobile AL and The Emerald Coast. Two full days provides a good overview of this friendly city. A wonderful time to visit is during January, when temperatures hover in the mid 60's and the rest of the nation is in the midst of deep freeze conditions.
Summers here are quite warm, as you might expect. May through September presents humid temperatures in the 80's and 90's, but October through April are generally very pleasant and perfect for exploring the area. Our January visit could be summed up in two words – absolutely perfect!
Long known as a college town, Tallahassee is home to both Florida State University (FSU) and Florida A&M University, the two primary institutes of higher learning. Football Saturdays for home FSU games are a vibrant affair, with much of the city's attention focused on the team's exploits …
As you might surmise, the state government is the city's largest employer, followed by education and health care. In the past 20 years, the greater Tallahassee are has become known as a destination for winter visitors, who enjoy the moderate temperatures and many cultural attractions surrounding the city …
What To See & Do In Tallahassee
Affectionately known by locals as "Tally", the city is a blend of several types of attractions – cultural, natural, and uniquely local. We always like to get our bearings when visiting a new city, and there's no better way than stopping at the observation deck atop the Florida State Capitol Building. Free of charge and located on the 22nd floor, the observation area includes a rotating display of paintings from some of the state's most prominent artists. Located on one of the city's main drags, Monroe Street, the Capitol Building also offers self guided tours with a helpful brochure detailing the building's history and features.
Another good way to get your bearings is to stroll through the Park Avenue Historic District, Tallahassee's oldest continuous green space. Sprinkled with historic homes and several parks, it's the site of many special events held throughout the year. NOTE: At the same linked website, you'll find several downloadable brochures for self guided tours, two of which we followed. The first is the Downtown Waling Tour, a great way to stretch your legs on a pleasant day, and the Canopy Roads driving tours, which highlight the beautiful overhanging Spanish Moss trees the city is famous for …
The Downtown Walking Tour, which we highly recommend, includes the Capitol Building, Visitor's Center, and examples of Tallahassee's historic architecture. The Park Avenue District is immediately adjacent to downtown, so you can do as we did and take one walking tour on successive mornings.
Another area you'll want to see is the nearby Railroad Square Art Park, a collection of shops and artist galleries housed in old warehouses dating back to the World War II era. Shop here for local art, clothes, antiques, vintage items, and much more! And if you're so inclined, stop for a beer at Tallahassee's largest production brewery, the Proof Brewing Company, who offer an outdoor beer garden in the heart of the park.
On Centerville Road, one of the area's nine canopy roads, you'll find a Tallahassee must see, Bradley's Country Store. They've been owned and operated by the same family since 1927 and are best known for their house made sausages and stone ground grits. They also offer many kitchen and houseware products – a great place to buy a local gift for someone back home. Take advantage of their "Lunch on the Front Porch" special too, featuring their famous sausages.
Tallahassee is home to countless picturesque parks, any of which make for an ideal picnic lunch spot! We particularly enjoyed Lake Ella, located on north Monroe Street. You can stroll around the lake while enjoying an ice cream cone purchased from one of the several shops ringing the small, peaceful lake. We saw lots of locals walking their dogs around the lake – the dogs were having a ball!
Are you a shopper?? If so, Tallahassee is a great place to be! Be sure to visit the independent shops at midtown's Miracle Plaza for southern chic fashions and a cool shop called Alumni Hall who'll make sure you fit right in with all kinds of FSU gear and more. Or check out Ten Thousand Villages, a fair trade shop with unique goods from around the world.
On Monroe Street, stop and shop for sweet treats at Barb's Gourmet Brittles (hint: the pecan brittle is fantastic). Nearby is Nomads Art Gallery, a great place to pick up some local art as a remembrance of your visit, and My Favorite Books, where you'll find an eclectic selection of gently used books and many titles by local authors. Railroad Square, mentioned above, is another shopping destination to explore …
Tallahassee Eats – Our Dining Recommendations
If you've read through any of our other state capital cities travelogues, you know we like to focus on local independent restaurants. In Tallahassee, there are ample choices – two full days wasn't near enough time to dent our list of places to try …
Downtown on Adams Street just a very short stroll from the Capitol building is Andrew's Capital Grill & Bar, a popular choice for government personnel and area visitors for over 40 years. A fun, casual place with a large outdoor patio, this place is a great choice no matter the time of day.
Along with its adjacent sister restaurant, Andrew's 228, the Grill has a longstanding policy of hiring local college students to help them work their way through school. The owner, Andy Reiss, is locally known as "Mr. Downtown" for his decades of efforts to improve Tallahassee's economic viability.
Stop in for lunch and you can expect a menu of fresh, hefty offerings like burgers, sandwiches, and plate specials. Get the grouper sandwich – it's ultra fresh and delicious!
On busy Monroe Street, one of city's main arteries, check out Barnacle Bill's for fresh Florida seafood. Yellow fin tuna, snapper, gumbo, stone crab, oysters and more are well represented here at this city landmark that's been serving satisfied customers for 30 yeas. A fun, lively place, Barnacle Bill's is also a good spot for wings, burgers, and other casual fare.
Another of Tallahassee's well known casual seafood spots is Bird's Oyster Shack . Open Tuesdays through Saturdays, the local oysters from Apalachicola couldn't be fresher. Centrally located to both downtown and the FSU campus, there's live entertainment here most nights of the week, including good local bands, trivia night, karaoke, and comedy performers …
The menu here is small but very fresh and very good. If you like oysters, don't miss this place! You can get them raw, steamed, or baked with toppings. And if you're a night owl, this is quite the fun spot later on in the evening. Enjoy!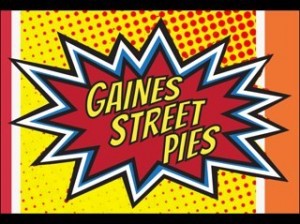 Finally, if you've got a yearning for good pizza, don't pass up Gaines Street Pies. We stopped here via a local's recommendation and enjoyed a casual meal of spinach artichoke dip and slices of cheese & sausage pizza. Friendly and accommodating, this is an excellent choice if you're on a budget – our total bill for the pizza and a couple of beers was less than $30.
Summary & Learn More About Tallahassee
We truly enjoyed our visit to this charming Florida capital city! Situated in a less traveled part of the state, Tallahassee is a fun city that's convenient to navigate.
You can easily combine a stop here with a Panhandle vacation. We spent a week in the area – we flew into Birmingham, AL and drove down to Mobile. From there it's a very short hop over to Pensacola and the Emerald Coast beach towns like Fort Walton Beach, Panama City, and so on. From this area, you can reach Tallahassee in just over an hour.
If you're in the vicinity, don't miss this city. The vibrancy of Florida State University alone is a reason to visit, and there are ample natural attractions that won't break your budget …
Historic architecture is abundant here … a downtown walking tour is highly recommended! You'll also find numerous shopping opportunities and inventive, moderately priced restaurants.
You can learn more about Florida's capital by visiting the very helpful VisitTallahassee.com website. The site will guide you through some of the city's high points and allow you to plan your visit according to your personal interests. If you're like us, you'll find plenty of reasons to embrace this city – we can't wait to come back for a return visit!
Thanks for reading, and enjoy Tallahassee …