Made In Tennessee Quick Facts
This Post is about Made in Tennessee Gifts and Specialty Tennessee Products
Want To See Your Business / Products On Our Made In Tennessee Page?
Visit "Advertise With Us"!
FEATURED MADE IN

TENNESSEE

BUSINESS

ES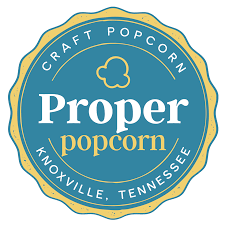 Proper Popcorn: Knoxville, TN is one of the most appealing small cities you'll find anywhere. Tucked into the higher elevations of northeast Tennessee, Knoxville is well known for friendly locals and a creative spirit that's evident in the city's many small businesses …
We're very pleased to spotlight another of these thriving small businesses here on our Made in Tennessee page. Located in Franklin Square on Knoxville's west side, Proper Popcorn brings the art and joy of craft popcorn to The Volunteer State and beyond …
If you live locally, stop in at Proper Popcorn for a unique classic concept experience. You'll find over four dozen flavor combinations of non GMO hand crafted small batch popcorn just waiting for you to enjoy. The spectrum of flavors is spectacular … choose from savory Milk Chocolate Drizzle, spicy Buffalo Flavor, sweet Strawberry Cheesecake, and over 50 others. More of a popcorn traditionalist? Proper Popcorn has you covered with their Movie Theater flavor, a buttery salty mix that'll have you reaching for another hand full …
We particularly like Proper Popcorn's specialty Freedom Mix – this red, white, and blue offering combines flavors of classic cherry, vanilla, and blueberry to create a one of a kind backyard gathering or 4th of July treat!
For those outside the Knoxville area, Proper Popcorn offers Make A Bag and Build A Tin options. Create a mix of your favorite flavors and have them shipped right to your door! Makes a great "any occasion" gift for someone special on your list too …
Click through to the Proper Popcorn website, linked above, to discover all the small batch hand crafted flavors just waiting for you. Be sure to visit the "Gifts" tab while you're there – there's an ever changing selection of popcorn themed gifts to make gift giving easy.
Proper Popcorn … proudly made in Knoxville, Tennessee!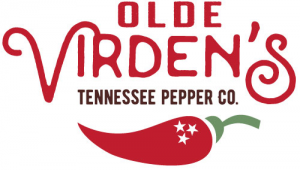 Olde Virden's Tennessee Pepper Co.: Here at State Gifts USA, we love spotlighting family owned and operated local companies whose products add to the enjoyment of food. As such, we're so pleased to introduce you to a small Gatlinburg business using locally grown ingredients to create something really special …
The company is Olde Virden's Tennessee Pepper Co. and it's the inspiration of Chris Virden and his wife Allyson. Driven by a desire to create something better, Chris embarked on a journey to create a pizza topping alternative to the same generic red pepper flakes found at every pizza restaurant in America …
Using a blend of five Tennessee grown peppers, a new company (and sensation) was born!
The company's flagship product is Olde Virden's Red Hot Sprinkle, and as the name implies, it's a spice mix for sprinkling atop pizza and your other favorite dishes. Chris and Allyson source peppers from local farms direct to their facility in Gatlinburg. The peppers are dehydrated the same day they arrive and carefully blended in small batches. To ensure optimal freshness, the end product is shipped within a week of being bottled …
Even if you're not a pizza fanatic, Olde Virden's is ideal to add to your other favorites. Scrambled eggs, deli style salads, pasta, fresh fish, soups, and even cocktails are just a few culinary creations that'll benefit from a "sprinkle". Think of Red Hot Sprinkle as your go to spice and pepper mix to add character and just a touch of heat to your meals …
A healthy alternative to traditional hot sauce, Red Hot Sprinkle is free of sodium, sugar, preservatives, and other additives. It's convenient to use – just pop open the top lid and sprinkle to your heart's content!
Olde Virden's offers Red Hot Sprinkle in original and fine grind varieties, and also a Spicy Verde Sprinkle for those who enjoy the rich, enticing flavor profile of chile verde. At their website, you'll find both varieties ready to be shipped directly to your door, along with combo packages and gift sets. If you live locally, check out the "Where To Find Us" page to see where you can purchase retail in Tennessee and surrounding states …
We should also mention Olde Virden's Chile Pepper Blends make great economical gifts for any occasion. If you've got someone on your list who enjoys spending time in the kitchen, do them a favor and "sprinkle" them with your generosity!
Click through to the Olde Virden's website (linked above) to discover their complete story and place your order. Made in Gatlinburg, Tennessee!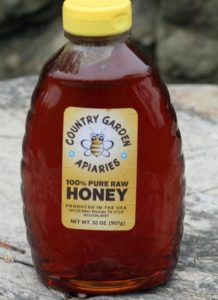 Country Garden Apiaries: If you're fortunate enough to travel around the United States, do your taste buds (and your overall health) a favor and seek out local honey wherever you visit …
We're big advocates of buying raw local honey. Not only is unprocessed honey extremely good for you, but the flavor will differ depending on its source. Bees, of course, are responsible for honey – depending on which flowers they pollinate brings a unique flavor profile to the end product …
In The Volunteer State, an excellent source for Tennessee Made honey is Country Garden Apiaries, an Etowah, TN family owned and operated business. They only sell 100% pure natural honey and best of all, you can order it for delivery right to your doorstep!
Available in sizes ranging from 12 ounces to 32 ounces, Country Garden Apiaries is as pure a taste of Tennessee as you'll find. Click through to their website, linked above, to learn more about them and to place your order.
Local honey is one of the best Made in Tennessee gifts you can buy, and one that's sure to be appreciated by anyone on your list …
Lorraine Frances: Owned and operated by Nashville based artist and jewelry designer Lorraine Wilson, this vibrant small business creates unique handmade jewelry and accessories from recycled and vintage materials, crystals, and metals …
The company is Lorraine Frances, and they're based out of their design studio on Clinton Street just west of downtown Nashville. A nationally known designer, Lorraine's artistic talents and love of antique components create one of a kind wearable art for women and men alike. Based on the belief that art is a celebration of life, Lorraine's jewelry reflects a sense of independent style and embraces the creative process …
Lorraine Frances jewelry and accessory designs are available in a broad range of stylish and approachable items. Visit the "Shop" tab at LorraineFrances.com to see the selection of bracelets, earrings, necklaces, accessories, and more. We particularly like the Rust and Denim Earrings (shown), which feature denim blue genuine Swarovski crystals. Equally matched with a little black dress or your favorite comfortable blue jeans, these earrings are representative of Lorraine's eye for design …
Be sure to explore the Necklace section, especially the Time Series which showcases one of a kind pieces incorporating watch faces in the designs. For a stylish and affordable gift, check out the "It's Five O'Clock Somewhere" Necklace, also shown here and available in Antique Brass or Antique Silver. Hundreds of other stylish wearable art items are available incorporating antique coins, religious themes, and personalized pieces with your initials …
If you're looking to highlight your Volunteer State pride, you'll love the TN Deerskin Bracelet, shown to your right. The hand stamped Tennesse plate is available in Antique Brass, Silver, or Copper and in your choice of Black or Chocolate brown deerskin. Perfect as a Made in Tennessee gift, you can order this or any of their designs directly from the website.
If you live in the Nashville area, visit the Lorraine Frances studio at 1200 Clinton Street, or visit the "Retail Locations" tab for a growing list of retail outlets for the line. And if you own or know of a store that would benefit from carrying Lorraine Frances designs, visit the Wholesale tab and their staff will reach out to you promptly …
We are delighted to spotlight this one of a kind creative small business on our Made in Tennessee page!
Moonshine Mountain Cookie Company: We're very pleased to feature this Knoxville small business whose business it is to bring a smile to your face with their distinctive special recipe gourmet cookies – some of which even contain a dash of genuine Tennessee moonshine!
Owned and operated by three long time friends and University of Tennessee graduates, Moonshine Mountain Cookies began in 1988 with a small batch of gourmet cookies created for a Halloween promotion. Customer response was immediate and enthusiastic, and after several years of encouragement from family and friends, the cookie company was formed …
What sets Moonshine Mountain's creations apart from any cookies you've ever enjoyed are the creative flavor combinations and thick chewy center … at their website (www.MoonshineMountainCookies.com) you'll find specialties like "Happy Pappy", "Rocky Top", and "Caramel by the Sea". Let's have a virtual taste!
Happy Pappy (Apple Pie) pairs sweet white chocolate, a blend of spices, and genuine Apple Pie Moonshine. Topped with a light glaze, it's the perfect Made in Tennessee corporate or thank you gift. Not to be outdone is Rocky Top (Creamy Chocolate Chip), a nod to UT's own Volunteers, which features creamy milk chocolate and golden rolled oats. And be sure to buddy up to Caramel by the Sea (Salted Caramel Toffee), one of the company's best sellers. It's an irresistible blend of caramel bits, toffee, sea salt, milk chocolate and rolled oats. Wow!
If you're lucky enough to live in the Knoxville area, Moonshine Mountain can serve you locally, and for the rest of us, these fantastic gourmet cookies are just a click away at their website … they ship all across the country!
If you're looking for that special gift for clients, customers, co-workers, or anyone on your list, check out Moonshine Mountain's gift giving options. Who wouldn't appreciate and remember gourmet small batch cookies creatively packaged in Bakers Boxes or Burlap Wrapped Quart Jars??
For special occasions, milestone events, or just a fabulous family dessert, this vibrant Volunteer State business fits the bill! Click through to learn more and to place your order …
Tennessee Gifts: If you're looking for one stop shopping for gifts from The Volunteer State … you've just found it!
We're pleased to introduce you to Tennessee Gifts, a local Nashville area company that does the heavy lifting for you. They're experts at sourcing and compiling gift baskets and gift boxes filled with the very best of Tennessee. From iconic Goo Goo Clusters to scrumptious Loveless Biscuit Mix to fabulous Brittle Brothers Gourmet Peanut Brittle, it's the ideal choice that's sure to please …
Specializing in corporate gifts as well as "just because" and special occasions and events, you'll find something here to please everyone! Visit their website and see all the gift selections just waiting for you, like the "Taste of Tennessee" box shown. It contains eight different Tennessee Made edibles representing the special flavors of The Volunteer State …
A wide variety of packages are available, including such collections as "Grand Ole Breakfast", "Nashville Coffee and Conversation", and "Tennessee Triple Shot". During the holidays or throughout the year, Tennessee Gifts will create the perfect gift large or small. They'll gladly take the hassle out of corporate gift giving for you by compiling personalized packages according to your preferences and budget …
If you live locally, contact Tennessee Gifts regarding your upcoming special events. They'll put together memorable giveaways your guests will truly appreciate and enjoy …
Click through to their website, linked above, to discover all your gift giving options. We're proud to feature this vibrant small business on our Made in Tennessee page!
Free Reign Farm Goat Milk Soap: This family owned and operated farm is located in beautiful northeastern Tennessee in Elizabethton, adjacent to the Cherokee National Forest. Owners Bethany and David Banks specialize in rich and soothing goat milk soap made with all natural ingredients …
If you've never tried goat milk soap, you really should … your soft skin will thank you! Because goat milk is high in fat content, it's much better for retaining your skin's moisture and prevents that dry, chapped feeling. We've used goat milk soap for years and wouldn't dream of switching back to mass produced soap …
At the Free Reign Farm website, you can experience this luxurious soap for yourself. The Farm creates over two dozen different varieties, ideal for you or the guy or gal in your life. These soaps contain only natural herbs and essential oils in addition to goat milk – no preservatives, sulfates, or artificial dyes or colors …
Among the many scents available for you just a click away are Tropical Ice, an orange and spearmint soap, and Summer Romance, a lavender and lemongrass beauty. Free Reign Farm also offers Goat Milk Shaving Soap, Natural Laundry Soap, and even a special Pooch Shampoo Bar, designed to keep your favorite four legged friend's coat shiny and clean!
Handmade goat milk soap makes a wonderful personal gift any time of year. The Farm will ship directly to your door and you can order right at their handsome website, linked above. Gift sets are available too …
The perfect Made in Tennessee gift for anyone on your list, or as a special treat to pamper yourself!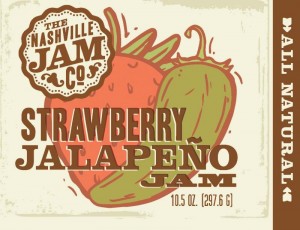 Nashville Jam Company: This family owned and operated business started like most small businesses do. Courtney and Gary Baron had an excess of produce from their garden and began making jams using all natural ingredients. They passed out jars as birthday and holiday gifts and were overwhelmed with the positive response – and a business was born!
Today, over a dozen different varieties are available. Among those offered are Blackberry, Blueberry, Apple Bourbon, Sweet Onion & Garlic, and Raspberry Jalapeno. At the Nashville Jam Company website, you'll see the entire selection … you can order many of the flavors along with gift crates containing jams and biscuit mix for a traditional Southern breakfast.
Click through to their site to learn more about them and the Nashville Jam Company products …
Haulin' Oats: This innovative Nashville based company is redefining oatmeal, all the way from the flavor to the packaging …
If you're one of those why shy away from oatmeal, try the creative flavors from Haulin' Oats. Organic rolled oats are topped with brown sugar, almond butter, a variety of spices, fruit, and flaxseed. Not only does this oatmeal taste great, but it's really good for you …
Specific flavors include Lavender Blue (blueberry), Cinnamon Girl (cinnamon), My Cherry Amour (cherry), Scarborough Pear (pear), and more. Musical creativity from The Music City!
In terms of the packaging, each serving is packed into a handsome wide mouth mason jar – all you need is some hot water to mix it up and a spoon to enjoy it. Combination packs and gift crates like the one shown are available directly at their website.
Give the gift of healthy eating!
Colt's Chocolates: Located in Nashville's up and coming Gulch neighborhood, Colt's Chocolates is owned and operated by well known Nashvillean Mackenzie Colt. Mackenzie had a stint on the long running TV show "Hee Haw" and then turned her attention to creating world class chocolates and desserts here in The Music City …
Known for exquisite taste and beautiful packaging, Colt's Chocolates is an in-the-know choice for corporate gifts around Nashville. Their chocolate covered marshmallows, almond-cherry chocolate bark, and smoked jalapeno candy bars are in high demand, along with their many other delights.
When in Nashville, take some time to visit Colt's – they're on Overton Street – and then explore the neighborhood. If you're visiting online, check out the Colt's Ultimate Gift Collection (pictured) – it's a generous sampling of many of their favorite chocolates and more! Made in Nashville and available to be shipped anywhere in the U.S.!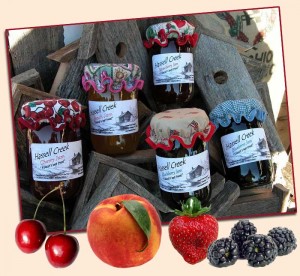 Hassell Creek Products: In eastern Tennessee south of Knoxville, there's a lot of fertile farmland adjacent to the Great Smoky Mountains National Park. A great example is in the tiny hamlet of Townsend, home to Hassell Creek Products, a family business producing a surprising array of locally grown specialties …
Most people don't realize a lot of fruit is grown in The Volunteer State. Hassell Creek produces jams, jellies, and fruit butters from what's grown here, including apples, peaches, strawberries, pumpkins, plums, and sweet potatoes to name but a few. Further, they offer smoked hams, pure honey, sorghum, and a wonderful Butter Pecan Syrup. All told, there are over four dozen different products to enjoy, all of which you can purchase via PayPal at their website.
Don't forget the Chow Chow for something uniquely Tennessee – it comes in Mild, Hot, and Extra Hot varieties. There's a three jar minimum purchase to help save on shipping costs, so feel free to put together your very own gift package!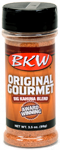 BKW Seasonings BKW stands for Big Kahuna Wings, a Knoxville tradition since 1997 that actually dates back to the 1960's. This family owned operation has been making their special seasoning blends for decades and their chicken wings routinely rank among the best in the city. Their location near the University of Tennessee campus has helped skyrocket their profile and folks know about their wings and seasonings all over the country …
BKW creates eight different seasonings and rubs, all designed to bring out the flavor in your food and not overwhelm it. Starting with the Big Kahuna Original Gourmet Blend to their zesty Fire Seasoning, there's something for everyone here …
For a great Made in Tennessee gift, consider the Seven Pack, which comes in a decorative box and can be customized to include your favoritess. All are available for purchase directly at the BKW Seasonings website. Taste what Knoxville has been talking about!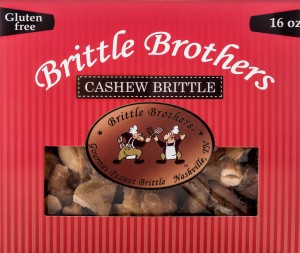 Brittle Brothers: If you find yourself shying away from peanut brittle because you're tired of it sticking to your teeth, it's time for you to meet this Tennessee company …
They're Brittle Brothers, founded in 2006 by John Spalding, a Nashville area resident who was searching for a brittle with more nuts and less corn syrup and sugar. He settled on an old family recipe which featured more healthy nuts and less things that stick to your teeth!
John's company makes several varieties of brittle, including traditional peanut, pecan, and cashew. They even produce a bacon brittle (how good does that sound??) …
Brittle Brothers products have become a big hit – they've been included in Swag Bags for Country Music, Grammy, and Academy Awards gatherings. You can order the brittle in bags, boxes, or gift tins directly at their website.
A wonderful Made in Nashville gift idea!
High Note Gifts: Here at State Gifts USA we get lots of requests for referrals to businesses who create city or state specific gift baskets. Perfect for thank you or corporate gifts, a collection of well known products from a specific local area is a sure fire hit.
In The Volunteer State, we discovered a Nashville company doing exactly that. They're High Note Gifts, and they create gift crates packed with products from some of the area's best artisan producers. They're carefully placed into a handsome wooden crate, adorned with a festive ribbon, and accented with your personalized custom message.
A great idea that's uniquely Nashville, the crates can be adorned with your company logo as a lasting reminder of your appreciation to valued clients. Crates are customizable to any budget and can be shipped anywhere in the country! Sweets, breakfast treats, handmade goods, candles, and specialty foods are just a few of the products included in these special gifts from The Music City …
Click through to the High Note Gifts site to see all your options!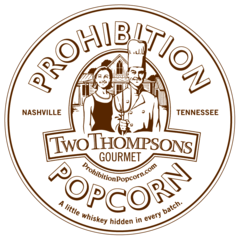 Prohibition Popcorn: We're big popcorn fans and just love discovering creative small businesses offering distinctive new twists on this classic snacking treat …
Nashville is home to one such company – Prohibition Popcorn, developed from the thriving Two Thompsons local catering business. While sweet and salty popcorn is nothing new, the company adds a dash of good Tennessee whisky to every batch to give their popcorn a one of a kind flavor profile.
There's also a bit of brown sugar, sea salt, and agave nectar added to the mix, making this popcorn truly unique and unlike any you've tried before! Perfect for client and office gifts, it's also a great idea as a party or wedding favor or simply as something special for the popcorn lover on your list …
At the Prohibition Popcorn website, there's a list of locations in their local area where you'll find it, and you can also order online. The popcorn is packed in easy to handle bags or handsome cracker jars in various sizes. Check out the good looking logo t-shirt too!
Emil Erwin Leather Goods: Based in Nashville, this leather and canvas goods company is owned and operated by Emil and Leslie Congdon. The "Erwin" stands for Erwin, TN a small Appalachian town where Emil learned to craft leather goods. What started as a hobby creating and selling leather bags has now turned into a full time business with a line of carrying bags, belts, wallets, and more …
Handcrafted at the couple's Nashville studio, Emil Erwin has national and international fans. Their products were first noticed by Imogene & Willie and are now highly sought after for their classic looks, durability, and practicality.
Available for purchase from their website, an Emil Erwin creation makes a great gift for yourself or anyone who appreciates fine craftmanship. Each of their products are guaranteed for life and are offered as handbags, totes, luggage, and all sorts of accessories.
View the entire selection online and bring one of these classics into your home, direct from Nashville!
Pointer Brand Jeans: The L.C. King Manufacturing Company of Bristol, TN has been making durable jeans for hardworking Americans since 1913. Over the decades, the company has been known as a work wear manufacturer, but their Pointer Brand jeans are the most durable and good looking jeans you've probably never heard of …
The company uses 100% blue denim U.S. cotton from American mills. They literally last for years on end! Rugged and cut for a comfortable fit, Pointer Brand jeans are among the best jeans on the market. The company also makes jackets, coats, shirts, shorts, skirts, and more. Check out their website – you'll see all their products and you can buy any of them directly online and they'll ship to your door …
You can also use the website's handy store finder feature to find a location near you. Get yourself a pair or two of an American classic … Pointer Brand jeans!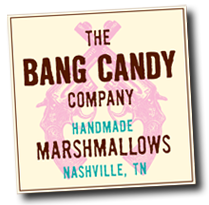 Bang Candy Company: Since its founding in 2010, Nashville based Bang Candy Company has enjoyed quite a fun culinary ride – they started by developing a line of handmade artisan marshmallows and have since branched out to flavored beverage syrups and specialty candies like barks and boozy caramels …
Let's start with the marshmallows, because, well, it's always fun to talk about marshmallows! Bang Candy creates them in a wide variety of unique flavors, like Blackcurrant Absinthe, Chocolate Chili, Toasted Coconut Almond, and Vanilla Peppermint. Gift packages, combination packs, and plain marshmallows are available too! All natural ingredients are used, with no artificial flavors or colors added …
The company's flavored syrups are designed to mix in lemonade, tea, cocktails, and desserts. You'll have fun experimenting with the flavors – they're available in Peach Basil Nectar, Smoke Spiced Orange, Strawberry Rhubarb, Pineapple Jalapeno Cilantro, and several more. Try them over ice cream or pound cake – or both!
For a unique grown up gift, don't overlook their Boozy Caramels. Hand cut caramels are made with specialty local spirits, like Belle Meade Bourbon and Corsair Red Absinthe – check the website for all your options.
A creative small company developing some wonderfully unique products!
Alewine Pottery: Founded and owned by Robert Alewine, this workshop and store is a local treasure in Gatlinburg. Located here for over 30 years, Alewine Pottery creates a wide range of functional and decorative stoneware, just perfect for your home or as a very special gift …
A must visit if you're in the Gatlinburg area, you can also view and buy selected pieces from their extensive inventory at their online store. Serving platters, plates, mugs, pitchers, and bowls are just a few of the vibrant, colorful items you'll see. You can also take a virtual tour of their gallery and workshop to learn how these beautiful pieces are created.
Local pottery art makes an ideal gift. It's truly local and helps support the arts as well as local businesses. Click through to the Alewine Pottery site and order a gift that will be enjoyed for decades …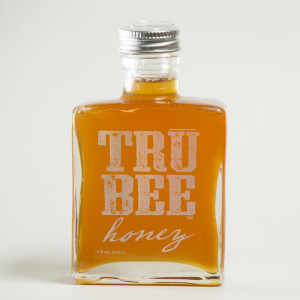 Tru Bee Honey: We've really gotten into honey the last couple of years, for a few different reasons. One is honey's health benefits – it helps diminish the effects of local allergies, it's an instant source of energy (try a spoonful around 2:30 p.m. at your desk!), and it can help mitigate high blood pressure. Of course, honey tastes good too, but we also have great respect for the honeybee's role in our food chain.
It's also a lot of fun to taste honey produced in different areas of the country. Depending on the types of flowers the bees pollinate, a honey's flavor can be light and mild or rich and full flavored. In fact, honey can differ from season to season (and often does) even if it's created in the very same area …
Just outside of the beautiful, historic town of Franklin just south of Nashville, Tru Bee Honey is producing some wonderful local honey that's distinctly different depending upon the season. A family member was kind enough to send us a bottle of their spring honey – very light colored and with a sweet floral taste. Excellent right out of the jar!
Tru Bee Honey brings their product to you directly as the bees intended. No excess processing or pasteurizing – just pure honey with all the health benefits intact. They of course market their honey and related products locally, but you can also order at their online store and have it shipped to you or a gift recipient. Be sure to check out the different "vintages" they offer – Tru Bee even barrel ages honey in bourbon barrels – what a cool gift that'd be for anyone who appreciates both honey and bourbon!
Crazy Good Specialty Foods: After many years of having the city on our "to do" list, we finally visited Memphis recently. In addition to the obligatory evening spent on Beale Street, we were fortunate enough to really explore the city. If you've been to Memphis and are planning to visit again, take time out to check out other areas of this classic city, like Midtown and some of the nearby suburban areas, and do a little shopping in some of the neighborhoods. We did, and that's where we found out about Crazy Good Specialty Foods and their line of salsa and sauces …
A local tipped us off to their Shabam! Red Pepper Sauce, praising it as the best red pepper sauce in the area. It's made to go with traditional Memphis specialties, like catfish, greens, chicken, and barbecue. We brought it home and added some to our tilapia and rice dish we have a couple times a month – it's excellent! Shabam! is not really that hot at all but it's got the nice peppery kick you want in a table sauce. And we love the name … it fits!
Crazy Good also makes their version of a Sriracha sauce called Ri Ra (pronounced "Ree Rah") and you'll find it available at their online store. Also take a look at their "Sweet Heat" sauce – we haven't tried it yet but aim to! It's a combination of sweet and hot and made for chicken, seafood, and any grilled dish.
If you're not visiting Memphis any time soon, visit the Crazy Good website to get some for yourself!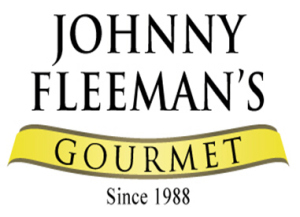 Johnny Fleeman's Gourmet: Located in Lawrenceburg, Johnny Fleeman's Gourmet has been around since 1988 and produces a line of gourmet sauces, marinades, and salad dressings. We learned of the company via a shopping visit to a local Kroger store in the area who carries some of the products. Lawrenceburg is a historic south central Tennessee town of about 11,000 located about 20 miles north of the Alabama border …
We purchased two of the company's products and thoroughly enjoyed both. The first is their Honey French Salad Dressing and the second is one of their signature products, Johnny Fleeman's Steak Marinade and Seasoning. The French dressing offers a unique variety of flavors, including honey and sweet onion and it's one of the best French dressings we've ever had …
You can use the Steak Marinade to tenderize and flavor your steaks (or burgers). Just coat the meat and place in a zip lock bag for 24 hours and then place on the grill. We particularly liked it because the Marinade is low in sodium – you're actually adding flavor instead of salt! Great for pork chops too!
You'll find Johnny Fleeman's products in large grocery stores in the mid South or directly via their website. Click through to see all their products and we hope you enjoy them as much as we did. Let us know what you think!
Blackberry Farm: In the eastern part of the state about a half hour from Knoxville sits a 4,200 acre haven known as Blackberry Farm. With a history stretching back over 80 years, this pastoral location in the foothills of the Great Smoky Mountains is well known for the Inn at Blackberry Farm. This beloved site for luxurious accommodations is a favorite for visitors from all over the world …
Building on a tradition of true Southern hospitality and gourmet cuisine, Blackberry Farm has developed an online store in order to share their one of a kind specialties with guests and anyone who wants to experience these artisan delights. Cheese, charcuterie, pickled and preserved items, and grain items are just a few of the items produced on site that you'll find at their website. Several are regional specialties while many others reflect the creativity of their culinary team …
One specific item of the many catching our eye is pickled ramps and ramp jam. If you didn't know, a ramp is part of the leek family and is found growing wild in the Appalachian area. It is somewhat hard to find and is prized in this part of the country. Pickled ramp can be used in a martini in place of an onion and also baked atop a pizza. Ramp pesto is also available, and can be used in a similar fashion to standard pasta with a Tennessee twist!
The Blackberry Farm online store is a delight to experience, and you're sure to find many great gift ideas! Recipes and suggestions for their many products are thoughtfully posted and are guaranteed to stir up your creativity! Click through to their website to learn more about this iconic American property and to shop for a special gift from Tennessee …
Tennessee Cheesecake: Founded in 1981 by Valerie Wilson, this family owned and operated company is based in Mount Juliet. Their claim to fame is a series of delicious southern style cheesecakes which are now proudly shipped all over America …
Click through to their website and see all of the 36 different varieties and flavors of cheesecake. A wonderful corporate or personal gift, Tennessee Cheesecake is a welcome addition to any gathering. Just to name a few flavors they create: Strawberry Swirl, Turtle, Original, Peppermint, Triple Chocolate, Cherry Swirl, and many more. Southern style pies and gift towers are also available!
Tennessee Cheesecake offers a Deal of the Week and will ship all over the country. If you're traveling near The Volunteer State, stop in at their retail store in Mount Juliet to say hello!
Clifty Farm Country Meats: You may have heard of or enjoyed the products from Clifty Farm Meats of Paris, TN. They've been around since 1954 and are carried in many large supermarkets, including Kroger, Sam's Club, and selected WalMart locations. And while we tend to focus on companies with primarily local distribution here at State Gifts USA, we're proud to feature Clifty Farm Country Meats because we've enjoyed their products for years and can personally recommend them as being some of the best you can buy …
While the company makes a wide variety of products, they are probably best known for their spiral sliced honey glazed country ham. A popular holiday item, these hams are available from their online store and weigh in at 5 – 7 pounds. They're shipped ready to eat and are some of the finest hams you'll ever enjoy, and this coming from a guy whose father sold pork products for a living!
Clifty Farms offers their hams in various sizes and packaging, from small packages of center ham slices and sampler packs which include bacon all the way up to 16+ pound unsliced whole hams. Be sure to check out their barbecue gift pack section of the online store too – it features back ribs, pulled pork, and more! A wide selection of smoked turkey and smoked sausage items are also available.
Check out the Clifty Farm online store for great gifts from The Volunteer State!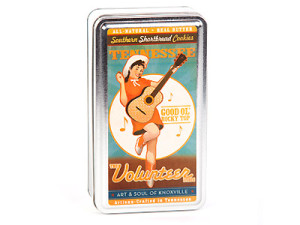 Willa's Shortbread: Located in central Tennessee since 2006, Willa's Shortbread has been around for over 30 years. The company is known for their one of a kind shortbread cookies and delectable cheese biscuits packed in handsome decorative tins …
If you've never tried Willa's melt in your mouth shortbread cookies, put it on your list! They're available in both full and bite sizes in handy boxes or the aforementioned tins. The cheese biscuits are flaky, soft, and moist – perfect as a side dish or drizzled with honey for breakfast!
For an ideal Tennessee themed gift, be sure to check out the Spirit Series at the Willa's Shortbread website. They offer both a Nashville and Knoxville series of tins filled with shortbread cookies and postcards depicting scenes evoking the spirit of these two legendary Volunteer State cities …
Willa's will also private label tins for special corporate gifts. Give the great taste of Tennessee!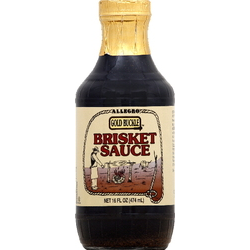 Allegro Marinade: Allegro Marinade of Paris, TN was actually founded in the 1950's when the original recipe was created by founders Betsy and Dave Wilcox. Served at their family restaurant in the 1970's, these marinades proved so popular that the family closed the restaurant and focused solely on the marinades. The company now makes nine different varieties of marinade, including the original, and a line of specialty barbecue sauces as well …
The Allegro Original Marinade is designed to tenderize and bring out the flavor in your food – it's ideal for any type of meat, poultry, or fish. It's 100% fat free and offers a palate of soy, lime, and garlic. You can find it in many large grocery stores nationwide or buy it online from the Allegro Marinade store …
We are big fans of one of their specialty sauces called Gold Buckle Brisket Sauce, pictured. While it's intended as a marinade for brisket, we use it quite a bit to marinade hamburgers. It's got a slight mesquite smoke taste and it's ideal to turn your burgers from good to great!
Check out the entire line of Allegro Marinades at their website …
Sweetwater Valley Farm: Located in the dairy rich area of eastern Tennessee, Sweetwater Valley Farm is a working dairy farm and area destination. Daily tours are given of the dairy and cheese making process, and family and special events are held on site frequently …
The farm is probably best known for their cheese – they make several varieties like specialty cheddars, colby, gouda, and numerous cheese gift baskets. They also offer all sorts of other specialty food products at their online store like salsa, honey, jams, barbecue sauce, and more …
The actual farm is located near the town of Philadelphia, TN which is located off Interstate 75 just northeast of Chattanooga toward Knoxville. You'll find their online store at SweetwaterValley.com. A great place to visit, the farm is open six days a week all year around and on Sundays during the summer months and the holiday season around Thanksgiving and Christmas …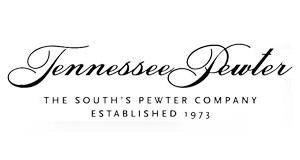 Tennessee Pewter: Based in Somerville, TN since being founded in 1973, Tennessee Pewter is known as "The South's Pewter Company". The beautiful and functional pewter pieces made here have graced fine tables and homes in the South – and everywhere around the country – for over four decades …
Tennessee Pewter hand forges various styles of pewter pieces for dining, entertaining, home decor, and special memories. At their online store, you'll find everything from goblets to serving dishes to jewelry, along with many lovely decorative items for your home …
Tennessee Pewter is also a popular choice for bridal registries, holiday gifts, birthdays, special celebrations, and more …
Click through to their site for tips about using and caring for pewter as well as a wide selection of one of a kind items. Wonderful gifts from The Volunteer State!
Made On Acorn Hill: One of my wife's favorite gifts for her gal friends is handmade soap from small local producers. There isn't a new city or area we travel in that she isn't stopping in at a local gift shop picking up a few locally made items (sometimes even for me!).
On our recent trip to Tennessee, she picked up a few bars of goat milk soap made by Made On Acorn Hill. I ended up the recipient of a soap bar called "Breathe Easy" – it's an invigorating scent, just perfect for groggy mornings to help get the day started. I liked it so much I asked her not to give away the other three bars she bought, but that was a "fail" on my part …
In any event, Made On Acorn Hill creates a wide variety of goat milk soaps, salves, lip balms, body care products, and more. The company is owned by two friends who share a passion for handmade gifts created with natural ingredients. In business since 2011, this small company has their products carried in dozens of stores in The Volunteer State …
You can order "Breathe Easy" and some of their other goat milk soaps for yourself – or do what my wife does and give them away as sure to be appreciated gifts! They're handmade with pride from Tennessee!
Jack's Barbecue: Nashville is such a cool city, for reasons far too numerous to list here, but rest assured great music and great dining options are two of them!
If (or should we say "when") you're downtown on Broadway in The District area, you'll find one of our favorite Tennessee destinations, Jack's Barbecue at 416 Broadway, where they've been since moving a few blocks in 1994.
Jack's couldn't possibly be in a better location (although there are three around town). They're steps away from the Ryman Auditorium, Ernest Tubb's Records, and the iconic Tootsie's Orchid Lounge. The enticing aroma of slow smoked barbecue specialties pulls in visitors from all over the world!
Jack's is kind of a mix and match of barbecue styles, as you'll detect a bit of Texas, Kansas City, Memphis, and North Carolina influences. And that's what makes it great! It's a casual, vibrant place that's a must stop whenever your travels take you to Nashville …
You can order a handy 4-Pack of Jack's Barbecue sauces online at the Jack's website, either as a special gift or to help you bring back some great memories of the Music City!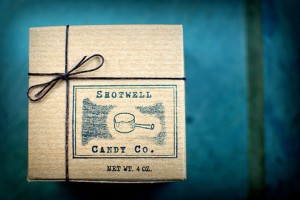 Shotwell Candy Company: Located in Memphis and founded by Jerrod and Lisa Smith, Shotwell Candy was named in honor of Jerrod's great grandfather L. Shotwell George. The company specializes in artisan caramels and creates unique flavors in both limited editions and year around availability …
Among the interesting flavors you'll find on their site are Five Spice Dark Chocolate Caramels and Old Fashioned Cocktail Caramels. The Old Fashioned Caramels are a take on the classic cocktail of the same name and are infused with aromatic bitters, bourbon, and orange extract.
The Five Spice Dark Chocolate Caramels contain five savory spices and are finished with sea salt. The caramels are hand cut and are packaged in hand stamped pinstripe boxes and affixed with a cord bow. A great gift idea!
None of the Shotwell Candy products contain corn syrup, and they're best eaten within a few weeks … although we doubt they'll last that long!
Check their website to see all the different varieties of caramels they make and to order a box or two!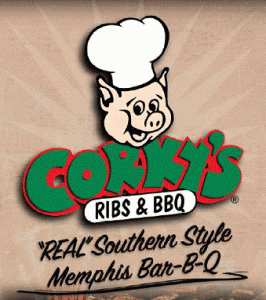 Corky's BBQ: On a recent vacation to the mid South, we were fortunate to spend three days in Memphis. We saw many of the great sites and did a barbecue pilgrimage to several of the city's revered BBQ restaurants, including the original Corky's location on Poplar on the east side …
Corky's has been around for 30 years … it's as famous a BBQ place as there is in Memphis and arguably across the country. They create all the barbecue staples … ribs, pulled pork, smoked sausage … and they've got a specialty cole slaw that's like no other! There's nothing as blissful in Memphis as topping a pulled pork sandwich with this marvelous cole slaw and adding some of Corky's sauces …
Not long after they opened in 1984, Corky's began receiving requests to ship to out of towners craving their barbecue. They've established a relationship with QVC and many of their products can be found in Sam's Club locations …
You can order Corky's BBQ directly from their online store and have it shipped anywhere across the country. A great gift from Memphis!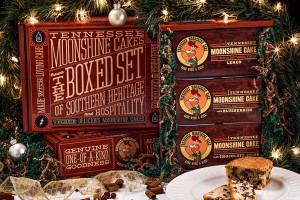 Tennessee Moonshine Cakes: This Chattanooga company makes small cakes in chocolate chip, lemon, and blueberry flavors that are liberally doused with Ole Smoky Tennessee White Lightin' Moonshine …
You get the best of both worlds … the alcohol burns off in the baking process, but you still get the great flavor of a whiskey cake! As an added bonus, the White Lightnin' keeps the cake moist and tasty …
Tennessee Moonshine Cakes packages their cakes in single servings or in handy gift box sets of three cakes of your choice. They're shipped in recycled cardboard boxes and packed with biodegradable shipping peanuts …
Order yourself a real taste of the Volunteer State! A great gift any time of year too!
Music City Suds: If you're looking for a more clever gift from Nashville than a refrigerator magnet or a tacky t-shirt, consider picking up something from Music City Suds …
They don't make beer, but they do make all natural handcrafted soaps and 100% soy wax candles which are adorned with monikers relating the the Music City's famous songs and artists …
As an example, one of their soaps is named "Friends in Aloe Places" and the candle shown in the picture is a clove scented candle named "Clove Miner's Daughter". Practical and clever!
They make other bath and body items too. The Music City Suds online store is divided into "Hit Singles" (soaps) and "Hot Singles" (candles) and it's well worth a visit just to see all the product's creative names!
And who wouldn't rather receive a gift of artisan soaps and soy candles than a tacky t-shirt???
History of Tennessee
Tennessee Trivia and Fun Facts

1). Tennessee is bordered by eight states, tied with Missouri. Coincidentally, Tennessee and Missouri share a border! The other neighbors are Alabama, Arkansas, Georgia, Kentucky, Mississippi, North Carolina, and Virginia …

2). The highest point in Tennessee is Clingman's Dome at 6,643 feet. It's located in the Great Smoky Mountains National Park …

3). The state's nickname, The Volunteer State, stemmed from the willingness of early residents to get involved in the Battle of New Orleans during the War of 1812 …

4). Tennessee is a highly agricultural state. Hot summers and cool winters allow many crops to thrive, and there are almost 80,000 farms in the state …

5). Murfreesboro is the geographical center of Tennessee …

6). Greeneville, in the far eastern portion of the state, is home to the historic site for the 17th President, Andrew Johnson. It is also home to the only monument in the United States dedicated to Civil War soldiers from both the Union and Confederate armies …

7). Memphis is Tennessee's most populous city, followed by Nashville …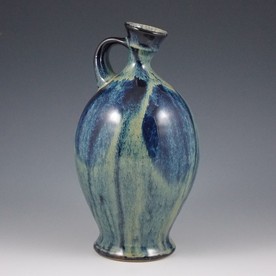 Botbyl Pottery: Botbyl Pottery and Companion Gallery in Humboldt, TN is the home of pottery artist Eric Botbyl, who not only displays his own creations in his gallery, but that of other artists as well …
The gallery itself and the online store features a wide array of pottery, including but not limited to coffee mugs, serving dishes, platters, teapots, wine goblets, and vases.
You can purchase anything in the online store and it'll be shipped right out to you or as a gift. Prices are surprisingly reasonable, so take a look!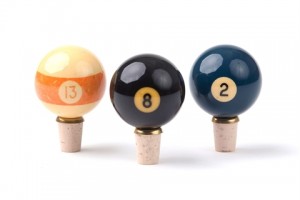 KnobStoppers: The Hester and Cook Design Group of Nashville creates functional, classic, and somewhat whimsical designs for home and entertaining accessories. One of their signature lines is KnobStoppers, which are wine bottle stoppers using upcycled doorknobs and other unique items …
Shown are their Billiard Ball KnobStoppers, made from vintage pool balls. They also have a classic monograms line, a variety using water spigots, and actual old doorknobs, among others …
KnobStoppers is only one of Hester and Cook's product line … at their website you'll discover stylish table and home products, wine racks, wall hooks, table runners, place mats, and quite a bit more. Really cool stuff here!
An ideal gift for someone with an eye for vintage and fun designs!

George Dickel Tennessee Whisky: A tip of the cap to the second best Tennessee Whiskey, distilled and aged right outside of Tullahoma in the southeastern part of the state … it's George Dickel Tennessee Whisky, and it's been made here since 1870 …
George Dickel traced his roots back to Scotland. He followed the Scottish tradition of spelling "whisky" without an "e" and that's how it remains on every bottle. Often confused with a bourbon, it is a unique whiskey (or whisky) because it is chilled before charcoal filtering. The charcoal filtering process is the main reason it is not bourbon; Jack Daniel's adds the same step although Dickel is the only Tennessee distillery who chills the whisky before filtering …
The George Dickel Distillery is a tourist attraction in its own right. Tens of thousands visit here annually to learn how this distinctive whisky is made. While you can't buy a bottle online (it's available wherever find spirits are sold) you can check out the Dickel online gift shop for some wearables and other swag bearing the iconic George Dickel name …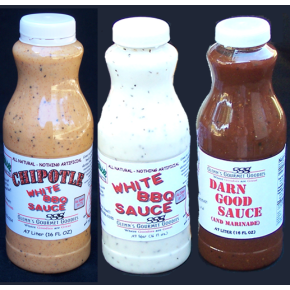 White Barbecue Sauce: White Barbecue Sauce isn't a company name; rather it's a style of barbecue sauce. Most say it originated in northern Alabama, but the sauce we're spotlighting is made in Fayetteville, TN by Glenn's Gourmet Goodies …
White bbq sauce is different than other traditional barbecue sauces because it is mayonnaise based. Vinegar is another key ingredient, as is black pepper, lemon juice, and sugar.
Traditionally, it was used as a dipping sauce, but at many Nashville BBQ haunts, most notably the iconic Hog Heaven, it's used on sandwiches …
It's definitely unique to this part of the country! Buy it online at the website linked above …
Lynchburg Cake and Candy: Located in Lynchburg, also the home of Jack Daniel's Tennessee Whiskey, Lynchburg Cake and Candy makes unique confections, many of which use Jack Daniel's as a key ingredient.
First is the Lynchburg Whiskey Cake, pictured, which is rich and moist with the flavor of Tennessee whiskey but no actual alcohol content since it's cooked out.
They also make Lynchburg Whiskey Balls, which are milk chocolate flavored with Jack Daniel's, as well as flavored pralines …
Lynchburg Cake and Candy is located a mile from the famous distillery. You can order online and have these delicacies shipped …
Sunshine Hollow Bakery Woozy Cakes: Sunshine Hollow, located in a lush valley about halfway between Knoxville and Chattanooga, is both a gourmand and gardener's delight. This 20 acre tract of land is literally blooming with thousands of perennials over eight miles of trails, and there's an on site bakery turning out some equally colorful products …
Sunshine Hollow is best known for pecan fruit cakes, as well as rum and bourbon cakes. Most prominently, a baked delight called Woozy Cake, flavored with dark rum. They also make bourbon cakes, which in actuality should be called Tennessee Whiskey cakes, but there's no reason to quibble when something tastes this good!
See these wonderful cakes and order one for yourself or as a gift at the Sleepy Hollow Bakery …
Hatch Show Print: A beloved Nashville tradition, Hatch Show Print is one of the oldest letter press print shops in the United States …
Their new larger location in downtown Nashville showcases more of the famous handmade prints depicting events, celebrities, Americana, and more. It's one of the more popular visitor attractions in the city and now you can bring some of their work into your home via the Hatch Show Print online store …
Many of their famous prints, like the one shown, have been duplicated into colorful posters which would be a nice addition to your home's decor or for someone who appreciates Nashville and Hatch Show Print artistry …
Lodge Manufacturing Cast Iron Cookware: For over 100 years, the Lodge Manufacturing Company in South Pittsburg, TN has made cast iron cookware, one of the longest lasting and most durable types of cookware available. In fact, it's not uncommon to see pieces of Lodge cookware handed down generation to generation …
From skillets to grill pans to Dutch ovens, Lodge makes it all and makes it to last. They offer cookware sets (a great wedding or shower gift) as well as individual pieces to add to your kitchen arsenal.
Take a look at the Lodge Cookware website to see the entire line …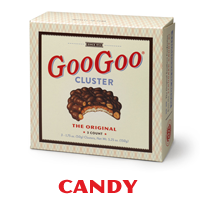 Goo Goo Clusters: Goo Goo Clusters have been a treasured Southern treat since 1912, when the first one was made in Nashville. The ingredients are still the same … chocolate, peanuts, caramel, and marshmallow nougat …
They can't always be found in stores across the country, so if you need a fix or want to send them to someone who appreciates this legendary Tennesssee treat, head over to GooGoo.com to see all the gift packages and Goo Goo collectors items. There's even a Goo Goo Cluster Hatch Show Print done for the company's 100th anniversary! The actual company is Standard Candy of Nashville …
Jack Daniel's Barrel Shop: Jack Daniel Tennessee Whiskey is arguably The Volunteer State's best known export. Enjoyed everywhere, Jack Daniel's is ofen confused with bourbon, but it's a very unique product of its own merit … Tennessee Whiskey. It is similar to bourbon, though, and can be used and enjoyed in the same manner.
You can find Jack Daniel's everywhere, both in bars and liquor stores. It's not only great for sipping, but it's wonderful to cook with too!
While you can't buy the actual whiskey online, you can show off your good taste with an item or two from the Barrel Shop. Artisans craft various functional home decor items out of actual barrel wood, like the planter shown.
You can buy an actual (empty) Jack Daniel's barrel, as well as end tables made from barrel wood, and even a two barrel home bar! The products are really cool, so check out the Barrel Shop to see everything they've got …
Ole Smoky Moonshine: The Ole Smoky Moonshine Distillery is located in Gatlinburg, TN and is just a stone's throw from the entrance to the Great Smoky Mountains National Park …
The distillery is a popular visitor attraction, not only for a taste of the moonshine, but to learn the history of making the alcohol which is also known as "white lightning".
A great gift from The Volunteer State is one of the many food products made by the distillery. They offer salsa, pickled vegetables, hot sauces, BBQ sauces, jams, and more. All of the products are made with a slight trace of 100 proof White Lightning for flavor …
To see all the food products available online, check out the Ole Smoky Mountain Gift Shop, and stop by for a tour if you're in the area …
Dinstuhl's Candy: Another Volunteer State sweet treat is Dinstuhl's Candy, which has been made in the Memphis area since 1902 …
Dinstuhl's has always been known for their southern specialties like chocolate pecan fudge, cashew crunch, and a unique candy called Heavenly Crunch, a delightful blend of white chocolate, peanuts, cashews, dried cranberries, pretzel bits, and Golden Graham cereal. Now how good does that sound?
Dinstuhl's ships all over the country daily, and offers several gift baskets and special occasion gifts … what a treat from Memphis!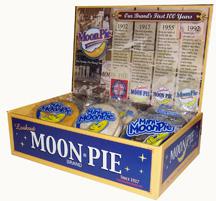 Moon Pie: The Moon Pie brand originated in 1917 in Chattanooga, and it is still one of the most popular treats made in Tennessee! Moon Pies are a unique concoction of a two chocolate coated graham cracker cookie wafers with a flavored marshmallow filling in between … either banana, chocolate, or vanilla.
They can be eaten right out of the wrapper, or refrigerated or even frozen …
Pictured is the Moon Pie Collector Box, which includes twelve Moon Pies (4 each chocolate, banana, and vanilla) packed in a retro cigar box that tells the history of the company … get one at MoonPie.com …
Haze and Company Salad Dressings: Haze and Company of Knoxville makes a line of seven different salad dressings with unique flavor combinations …
The flavors are buttermilk, dill, ginger lime, honey cinnamon, herb garden, poppy seed, and balsamic. Not only are these dressings perfect for any type of salad, they are excellent as marinades too …
Haze and Company dressings are usually only found in eastern Tennessee, but you can order them online at their website …
Benton's Country Hams: Since 1947, Benton's Country Hams of Madisonville, TN has been curing country hams for area fans and out of state shoppers.
The hams are slow cured with brown sugar for nine or ten months and sometimes even longer …
Benton's ships nationwide daily. You can order various sized hams, boneless hams, sliced hams … whatever your preference! They're very popular holiday gifts as well as for picnics and parties …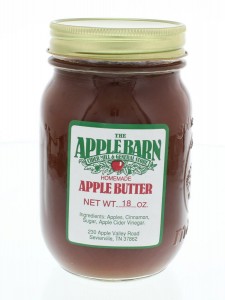 Apple Barn Cider Mill: The Apple Barn Cider Mill, commonly referred to simply as The Apple Barn, is located in Sevierville, TN in the shadow of the Great Smoky Mountains. As the name implies, the Apple Barn is everything apple, from cider to baked goods to jams, jellies, syrups, and much more …
The Apple Barn is a sprawling complex, complete with a cider bar, general store, restaurant, and winery. It's a very popular stop for visitors to the Great Smoky Mountains National Park. If your travels aren't taking you this way, click over to the Apple Barn Store where you'll see all the different products they make, edible and otherwise. A great souvenir from Tennessee and a thoughtful gift for any fan of The Volunteer State!

Tennessee River BBQ Sauce: We can't talk about Tennessee without talking about barbecue! The state is a haven for wonderful barbecue restaurants, from renowned Memphis BBQ in the western edge of the state to Nashville and Knoxville and Chattanooga further east …
On a recent trip to The Volunteer State, we made it a point to sample and buy as many local barbecue sauces as we could carry back. One we particularly liked was Tennessee River BBQ Sauce from Kingston, near the Tennessee River.
We bought the mild and plan to try the spicy … it has elements of Memphis style and Carolina vinegar style, but it's a unique taste unlike any other we've had. You just have to try it! As you can imagine, it's very good on pulled or chopped pork sandwiches, and versatile enough to be used on just about anything … we drizzled some on potato salad!
We've Got A Lot More Tennessee Made Products To Come! What Are Some Of Your Made In Tennessee Products? Reach out to use via Advertise with Us Page….